Have you ever stood in front of your (admittedly) full closet only to stare at your clothes and think that you have nothing to wear?
I know, you know, the feeling—overwhelming.
Well, it doesn't have to be that way. There is indeed a simpler, stress-free approach to dressing.
The fact that I am a Konvert of Marie Kondo's no-excuses approach to tidying (ever since I binge-watched her series on Netflix) and a lover of quiet luxury and the minimalist aesthetic most certainly contributed to my personal epiphany moment.
The promised land of effortless dressing? A capsule wardrobe.
If you're conjuring up images in your head of five identical black and white outfits hanging aimlessly in your wardrobe—tbh, the initial thoughts of a capsule closet left me yawning, too, at first—you're doing it wrong.
Creating a capsule wardrobe isn't about being boring, it's about refining your unique style, shopping fewer, better pieces to build a tailored collection of carefully considered pieces that you love and can't wait to wear again (and again).
Much easier said than done. I, too, experienced one too many wardrobe culls (I moved homes and countries several times over the years).
But once you've completed the transition, you'll have a much bigger appreciation for your wardrobe.
The TL;DR?
You will have fewer items in your wardrobe, but you'll have more outfits. Now we are talking!
If you already know exactly what you need most help with, you can jump straight to the section you are most interested in:
Oh, and if you're interested, we also have a dedicated capsule wardrobe guide for men.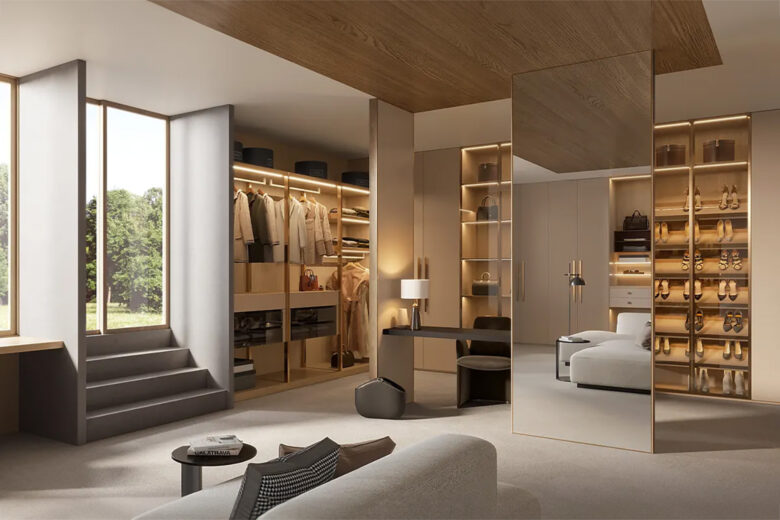 What is a capsule wardrobe?
A way of reducing stress in the morning, a reason to clear out your closet, a thoughtful wardrobe where less really is more; the definitions of a capsule wardrobe are endless.
The capsule concept is nothing new, but now more than ever, it seems timely. The actual capsule wardrobe meaning, in the words of British fashion icon and author Susie Faux, who coined the phrase in the 1970s, is "a collection of a few essential items of clothing that don't go out of fashion."
In other words, a capsule wardrobe is a carefully curated edit of versatile, timeless pieces suited to your personal style, lifestyle, and budget that mix-and-match ad infinitum and that you love to wear.
But there is more.
At Luxe Digital, we believe that a capsule wardrobe—sometimes also called an edited or minimalist wardrobe—isn't just a way of emptying out your cupboards: it's an entirely new shopping mindset. One that promises to benefit not only your daily habits and approach to style but also the planet (more on the benefits of a capsule wardrobe below).
A capsule wardrobe means shaking up the entire thought process behind shopping and refining it into an experience that puts sustainability, intention, and timelessness at the forefront of your shopping habits. And if you have been following us, you know this is exactly what our Conscious, Elevated Living philosophy is all about.
Buy less but best. Wear more—The motto of capsule wardrobes is as simple as that.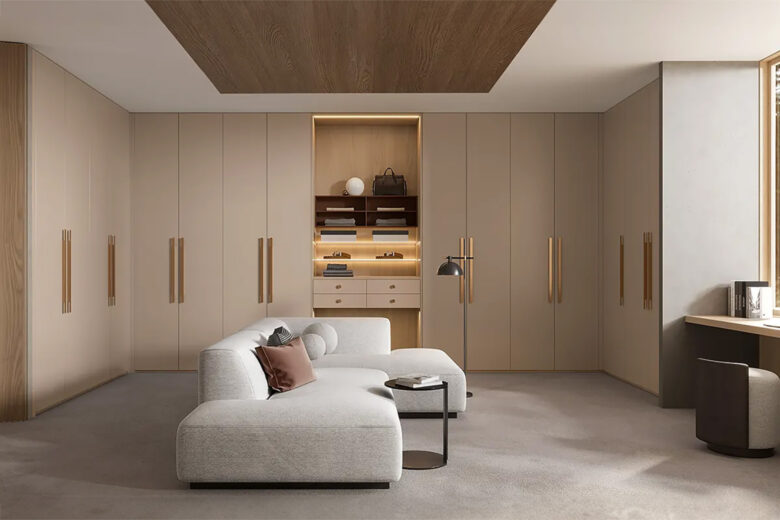 The benefits of a capsule wardrobe
At Luxe Digital, we believe in shopping smarter, which means choosing pieces that are well crafted, high quality, and ultimately make you happy. (See Luxe Digital's philosophy for evaluating the luxuries worth buying).
Here are some reasons why we love the capsule wardrobe mindset and why you'll love it too:
You will be able to afford nicer stuff yet save money: Take all of your impulse buys (You know, the ill-fitting clothes you bought because, well, SALE) out of the equation, and you'll find yourself richer. A capsule wardrobe is a great opportunity to treat yourself to pieces that you'll love wearing again and again and again. Think of all the money you'll save not buying lesser quality pieces every time one finds its way into your basket.
You'll reclaim your time: Your closet will be neat, and you'll be able to get dressed quickly, meaning more hours of your life back. Who doesn't want that?
You'll have less decision fatigue and overwhelm: If you're someone who struggles to pick an outfit in the morning, can never remember what's freshly cleaned, or frequently surprises yourself with the discovery of a missing long forgotten skirt, a capsule wardrobe could be the answer to your fashion-orientated prayers.
You won't run out of style: A capsule wardrobe comes with a guarantee of wearing everything you own. Rather than having a few pieces you adore and plenty more that you'll wear every so often, your wardrobe will be filled with a select number of interchangeable pieces that you can't wait to restyle. You'll start to realize that there's no need to buy into every trend just because everyone else is. How's that for a bit of personal growth?
You'll contribute to a more sustainable future: Converting to a capsule wardrobe makes a huge impact on the environment. Rewearing your clothes on the regular and buying fewer clothes is a great way to reduce your fashion footprint. Gone are the days of not being seen dead in the same outfit twice—sustainability is key here, and the new goal is to find clothes you adore so much you'll want to wear them whenever you can.
You will travel lighter and still be ready for anything: The whole idea of a capsule wardrobe is based on putting together a small but effective, timeless, and stylish collection that'll always work, whatever the occasion. And sticking to essentials will keep you from overpacking.
How to build a capsule wardrobe: A step-by-step guide
Unless you're already a die-hard capsule wardrober (in which case, you can probably skip this part anyway), you might be buying a lot of items that you don't especially need and, in some instances, don't even especially like.
But hopefully, this is about to change for the better, and I'll share how to do just that in 4 simple steps.
Step 1: Make an inventory of what you already own and declutter
Deep breath, because if you're figuring out how to create a capsule wardrobe, you'll first need to figure out how to minimize your wardrobe. And the first step to minimizing your wardrobe is to take everything—yes, ALL of it—out and try everything on.
You'll want to whittle down your collection to your base wardrobe, made up of the pieces you already reach for regularly. Wave goodbye to any clothes that you don't love, don't wear, or that don't fit.
In this world of capsule wardrobe-ing, organization is key. Take a good, hard look at what you have and divide those pieces into four piles:
Keep: Make a pile of the staples you love and wear on rotation. This pile will become your starting point for creating your capsule wardrobe.
Store for later: Classic pieces that you only wear on specific occasions or those that you love but that you won't be wearing for a while due to the weather. Pack these off-season pieces momentarily away to make some space in your current wardrobe. Check our round-up of the best packing cubes if you need a good storage solution.
Donate or sell: Pieces that are still in good condition but don't fit your current style, body type, or lifestyle. Donations to charities and second-hand resale sites are conscious alternatives for parting with things.
Recycle: Clothes that are worn out, stained or damaged beyond repair.
Pro tip: Follow the rule of three in your capsule wardrobe. The key to creating a capsule wardrobe is to ensure that each piece can sit effortlessly alongside at least three others in your wardrobe. And when you look at it like that, the outfit combinations are basically endless.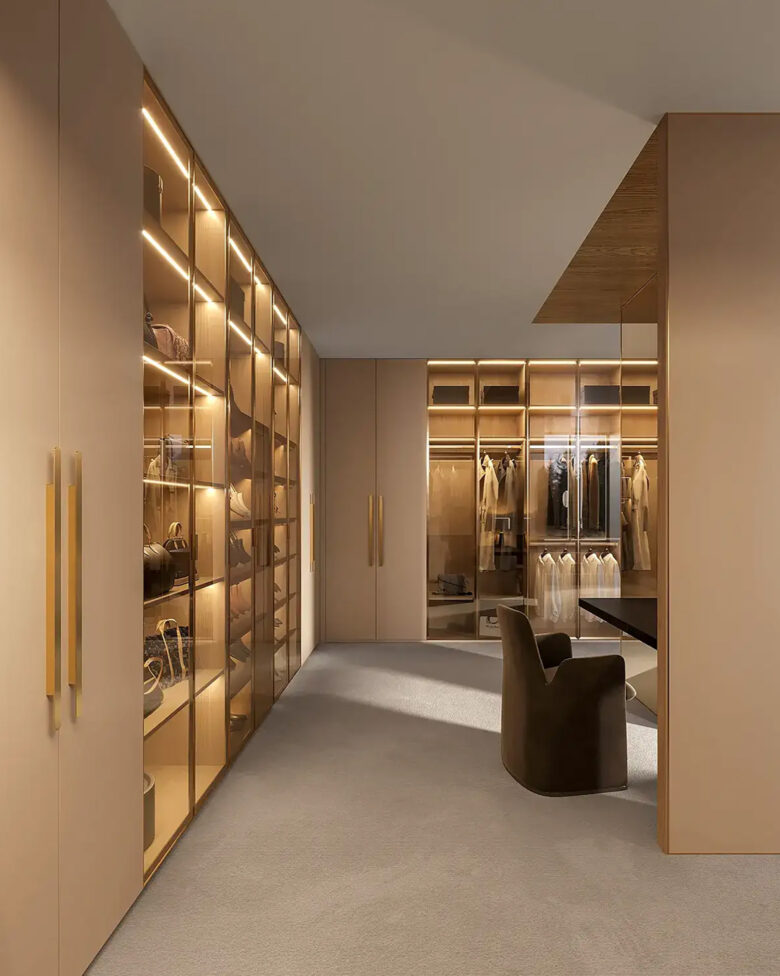 Step 2: Map out your capsule wardrobe and make a wishlist of what's missing
Get clear on your style and consider your lifestyle.
The beauty of a capsule wardrobe is that it's entirely personal to you.
Pay attention to the outfits that you love wearing and start looking for common traits of the pieces you constantly find yourself reaching for.
Why do you like them?
These insights will help you define your personal uniform—a collection of clothing that fits just how you like and that makes you feel confident. And no, it doesn't mean you have to act a la Steve Jobs and only wear a black turtleneck, jeans, and sneakers every single day (except if that's your vibes, of course). It can be as simple or as complex as you want it to be. And most importantly, it can be flexible.
Once you know your style, factor in your lifestyle.
What do you do for a living? Do you work in an office, or do you mostly WFH? What are your hobbies?
Then start to put together a list of the clothes you need for your daily life.
Pro tip: Opt for clothing that suits your current lifestyle and can be styled in different ways and worn in different contexts.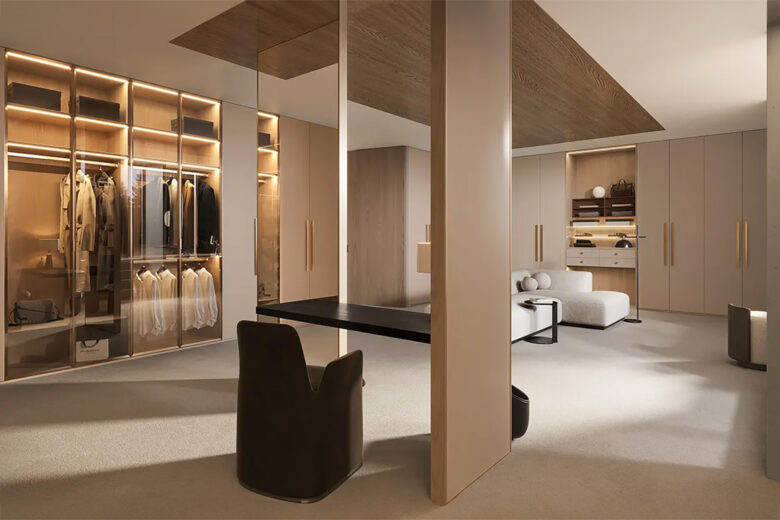 Step 3: Shop with intention
Now, the fun part: Equipped with your wardrobe wish list, it's time to go find your new favorites.
But first, set a budget. This will help you to stay on track and to avoid overspending when buying new pieces.
Don't rush to buy everything at once. It's fine to transition your current collection into a capsule wardrobe over a period of time rather than clearing everything out and desperately re-buying your new essentials. Don't cut any corners. If something doesn't fit exactly what you're looking for, don't buy it. Wait until you stumble upon the perfect piece rather than settling for something average you won't end up wearing. The whole point of creating a capsule wardrobe is to be very intentional and deliberate about the pieces that you are investing in.
When shopping, keep in mind these 4 rules to building the perfect capsule wardrobe:
Rule #1: Choose timeless designs
Focus on building a collection of high-quality pieces that will still look good seasons (or even years) from now, even if trends change.
Rule #2: Focus on quality over quantity
You don't necessarily need to buy expensive stuff, but you can spend a little more than you would usually do if you're confident that the piece you're buying will last you a long time and bring you joy every time you wear it.
If you want to become a more intentional shopper it's also important to educate yourself about the quality of fabrics you buy (see our guide to sustainable fabrics for more).
Another benefit of buying high-quality clothes from reputable brands is that, usually, they will retain their value on the secondhand market if, one day, you decide to part with them. This is especially true with accessories such as luxury watches and iconic luxury bags.
Rule #3: Pick versatile pieces
Multitasking is the name of the game here. Select interchangeable pieces that can easily be mixed and matched to create a variety of outfit combinations.
Consider how many different ways you can style each item and prefer pieces that can easily be dressed up or down.
Rule #4: Focus on cohesive colors
It's helpful to build your wardrobe around colors that will easily pair with a wide range of other shades and patterns. I personally love black, navy and neutral colors, which are inherently timeless, classic, and highly versatile. But it's perfectly fine if you prefer to integrate more vibrant colors, as long as they harmonize with your preferences and personality and you are committed to wearing those shades on repeat. (More on choosing your color palette in a minute.)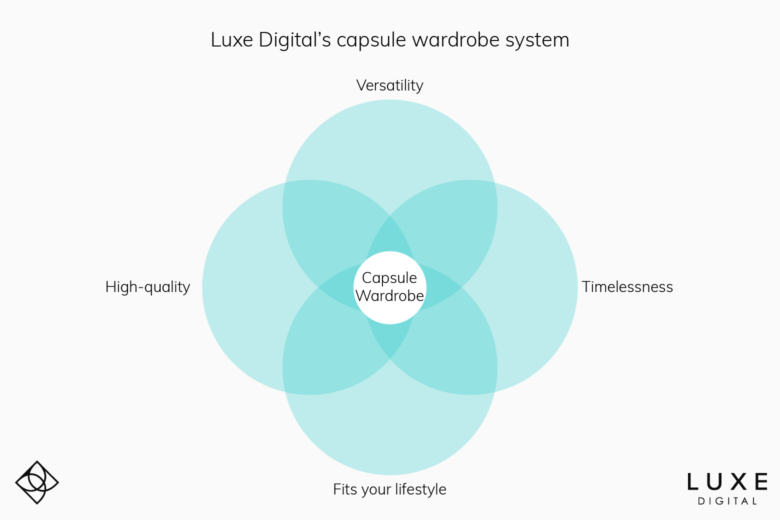 Step 4: Practice styling everyday outfits (Plan outfit ideas)
The whole point of a capsule wardrobe is to make getting dressed easy.
So once your capsule wardrobe is ready, it is good to take some time to put together a couple of outfit ideas. This way, you already know the pieces that can be mixed and matched.
If you've followed our guide and principles, this should be easy and quick since you can't go wrong with anything in your closet. You can also look at your Instagram feed and Pinterest boards for more outfit combinations inspiration.
Brands we love to shop for elevated essentials
When rounding out your closet, consider shopping secondhand or supporting brands that are more ethical and conscious (think recycled materials, natural fabrics, and social empowerment).
Check out our list of the best women shopping websites for some inspiration.
You can also head to our Better Brand Series to discover more brands that we love and learn about the stories behind them.
What are the best colors for a women's capsule wardrobe?
You might find it helpful to think of colors as a pyramid.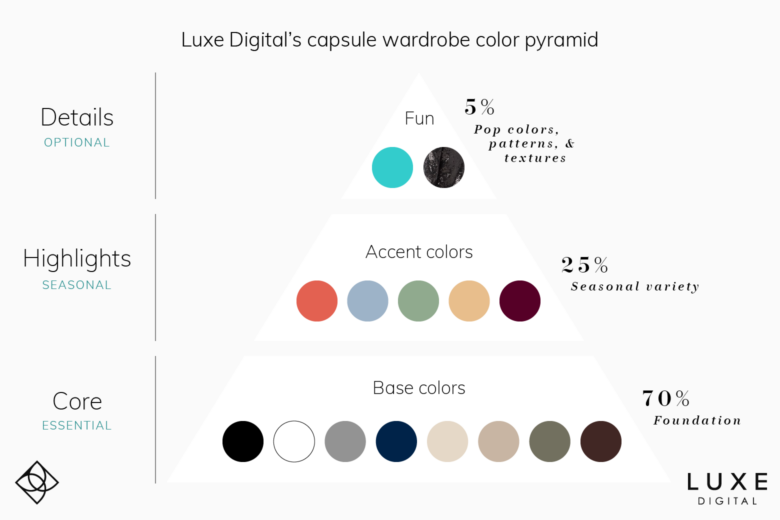 A capsule wardrobe is typically made up of one base color (mine is black) and a few neutral color essentials (think beige, white, ivory, grey or camel) that you can wear year-round that form the foundation of your color palette.
The second level is made of seasonal colors that work well for certain moments of the year or certain occasions.
Prints, pop colors, and patterns are completely optional. If you're someone who sticks resolutely to neutral shades anyway, don't feel like you need to throw in a lime green jumper or fluorescent pink jacket because it's trending.
We do not believe you must stick to a definite set of colors if you do not want to, however. The only rule here is to prefer matching colors for extra versatility and outfit combinations.
If you are unsure about how to best pick matching colors, read our color wheel guide for some inspiration.
Add accessories
Accessories for women are one of the best venues to show more (or less) of your personality.
To keep your closet organized and simple, we recommend to adop the same principles as for the rest of your wardrobe when choosing accessories. Focus on versatility, timelessness, quality, and something that you'll be happy to wear on a regular basis.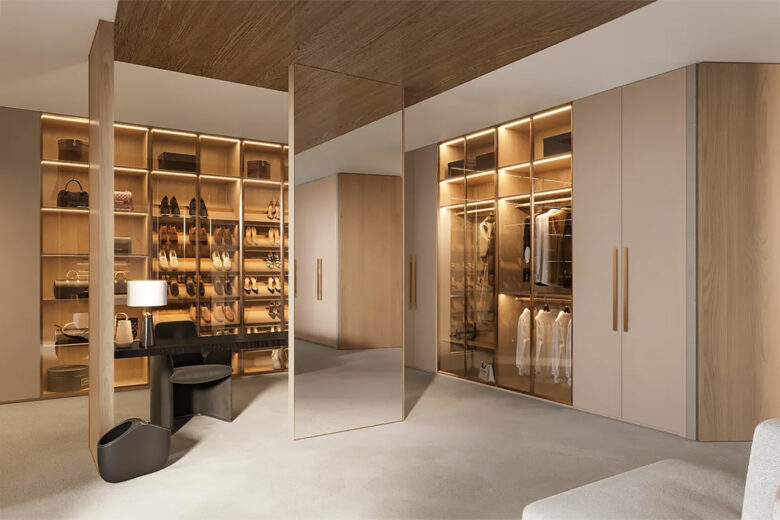 Capsule wardrobe essentials: Our checklist
Wondering how many clothes should be in a capsule wardrobe? Marie Kondo says to get rid of absolutely everything that doesn't bring you joy, and Caroline Rector says you should only have 37 items.
But here's the thing: it really is up to you.
At Luxe Digital, we believe it's important to shape your capsule wardrobe to fit you best. Meaning: Treat your capsule wardrobe as a flexible, customizable wardrobe system that should reflect you and your personal style—not a set of prescriptions. For example, if you're someone who spends a lot of time at home, you'll probably prefer more loungewear pieces and less formal wear. If you're someone who doesn't really wear jewelry, you might find yourself wanting to add an extra accent color to your capsule wardrobe to mix things up a little.
Consider our guide to capsule wardrobes a roadmap that you need to adapt to your taste and preferences for optimum results. If you need some inspiration, our suggested elevated essentials are a good foundation.
To make this guide as helpful as possible, we'll focus on the categories of clothes that you'll most likely need. Take what serves you from our list of essentials, and leave the rest.
Bottoms
Let's start with bottoms which I find to be the easiest starting point when building an outfit. Choose bottoms that are well-fitting, comfortable, and can be worn with multiple tops.
Denim jeans & shorts
Skinny jeans, mom jeans, boyfriend jeans, or high-waist jeans. You probably already know the styles of jeans you run to the most and flatter your figure best (If you need some inspiration, check out the best denim brands). For maximum versatility, it's good to have jeans in two different washes (dark wash, medium wash, or dark wash) plus a pair of black denim or another neutral color that are guaranteed to be on heavy rotation. Avoid duplicates, and keep only the best in a particular style or wash. I also recommend investing in high-quality denim shorts for hot days.
Tailored trousers
If there's one item that'll immediately make you feel like a high-powered woman who really and truly has her life together, it's a great pair of tailored trousers. Amazing in black or almost as versatile in navy, high-waisted tailored trousers are your secret weapon for getting away with wearing a casual t-shirt to work and still looking put together. The midpoint between smart and casual, dress up your tailored trousers by pairing them with a sophisticated pair of heels or turn up the streetwear chic look by adding some minimal white trainers. A slightly cropped pair with a firm crease down the front make for the perfect work pants. If you are looking to zhuzh up your fall/winter wardrobe, you can also include a pair of (faux) leather pants.
Midi skirt
Warmer than anticipated day at work? Pull on the midi skirt. Weekend brunch, but not sure if you're sitting indoors or outdoors? The midi skirt is the answer. Want to look cute and comfortable and wave goodbye to trousers for a change? You've guessed it: a mighty midi-length skirt is what you're looking for. Not convinced yet? There are midi skirts to suit every personality, from pleated to A-line, wrap skirts to silk skirts. There are two ways you can go with your midi skirt: choose a base color option for a failsafe minimalistic look or branch out with a patterned or accent color option to add a burst of freshness to your wardrobe.
Cotton or linen shorts
Versatile and comfortable, cotton and linen shorts can be dressed up or down, depending on the occasion. They can be worn with a variety of tops, including t-shirts, tank tops, blouses, and button-down shirts in summer. They can also be layered with sweaters or jackets in the cooler months.
Black leggings
Black leggings are a good fit for a capsule wardrobe because they can be worn with a variety of tops and be worn for a variety of activities—wear them with a t-shirt and sneakers for running errands or a blouse and heels for a more formal look (See our list of the best leggings for some great options). I love a good ponte legging that can carry you straight from work into your weekend plans without breaking stride.
Tops
Women's tops are varied and many: tank tops, T-shirts, shirts, but also sweaters, hoodies, and cardigans.
Tank top
Ideal for those shirts that are slightly more see-thru than first anticipated or wintery days when you want to layer up and avoid the cold, a tank top is ready and waiting to be worn whenever it's needed. Perfect for colder occasions when you're not quite at the point of braving thermals, a tank top will come to the rescue. Or, when the warmer months roll back around, team with a simple pair of jeans for a laidback look with sandals and a great pair of sunglasses.
T-shirt
It's impossible to overstate the versatility of a classic t-shirt, and the right one will slot the rest of your outfit together with ease and no time for hesitation. Simplistic and timeless, a white tee has the unbeatable quality of matching absolutely everything in your capsule wardrobe (I sometimes even throw one underneath a slip dress). Complement tanned arms during the summer months or throw on with a midi skirt for a quick weekend brunch outfit. Choose a crewneck or V-neck short sleeve cotton t-shirt in relaxed-but-not-quite-oversized fit and that sits at your hips for an everyday essential that can be dressed up or down. See our list of the best white t-shirts for women for our favorite options.
Shirts
There aren't many (if any) closet staples that can easily be styled up or down quite like a crisp white shirt—the ultimate in multi-functional dressing. Lazily half-tucked into jeans, thrown on top of a bikini as a cover-up, paired with tailored trousers… there's virtually no outfit that doesn't go well with a white shirt (See our list of the best women's white shirts for our favorite options). The trick when choosing your white shirt is to go for a high-quality natural fabric to escape any fears of see-thru accidents. Pick a button-down shirt in a relaxed fit for an effortlessly chic addition to your wardrobe. You can of course, play with colors (We love subtle stripes) and materials (a linen iteration is a must for warmer days).
Silk camisole aka Cami
A cami top is essentially the shorter sibling of the slip dress and just as versatile. The partial definition of "jeans and a nice top", a cami top is a great way to pull in one of your accent colors or patterned options while remaining subtle enough to blend well with the rest of your options. The obvious choice for a cami top is to pair it as the saying suggests—with your jeans. However, branch out by wearing your cami on top of your white t-shirt or tucked into tailored trousers for a day-to-night outfit that'll quickly become a new favorite.
Cozy-chic knit
I am bundling the different classic knit options (sweaters, hoodies, and cardigans) into a single section as they are mostly interchangeable. You'll just need to adapt your selection depending on the level of formality you want to achieve.
I recommend having at least one cashmere knit in your wardrobe. If you've never experienced 100% cashmere, fair warning: your comfort level is about to become a whole lot more luxe. It won't be the cheapest item in your capsule wardrobe but, it will be a sophisticated addition to your closet no matter how you'd describe your style. An essential purchase for transitional dressing (I love tossing mine over a summer slip dress during cooler nights), a cashmere knit will guarantee a sleek and stylish look while remaining practical. There aren't many better feelings than cracking the code of being sufficiently warm while looking great but a timeless cashmere knit will do just that.
Depending on your location's climate, I recommend having a couple of (crewneck) sweaters and everyday cardigans in different weights and neutral colors. If you want a sportier look, you can add a hoodie.
We've rounded up the best sweaters (and a deep dive best cashmere sweaters), best hoodies to help you pick the best options.
Dresses & Jumpsuits
Though we would recommend neutral dresses or jumpsuits you can dress up and down, prints can earn a spot in your capsule wardrobe if you can wear them in a few different ways.
Silk slip dress
A capsule wardrobe essential, the silk slip dress is your ticket to success no matter what season. Pair it with white trainers in the warmer months or wear on top of a white t-shirt or with a cardigan thrown on top when the weather gets cooler. Choose sustainable silk or satin fabric for a slip dress that'll last you for years to come. When it comes to colors, you can't go wrong with a black slip dress.
Go-to dress
Although a LBD a la Coco Chanel might be the obvious choice, don't feel you have to keep it black with your go-to dress. Choose one that makes you feel incredible every time you put it on. The goal is to find that one dress that you'll seek out new opportunities to wear.
Pro tip: Midi lengths dresses are generally more versatile than short and long dresses.
White sundress
I love a crisp white dress for sun-filled days. The white hue makes for a fresh canvas for accessorizing and styling from work to the weekend. Wear it with a blazer and ballet flats for the office, then swap for sneakers and sunglasses for casual outings.
Coats & Jackets
Outerwear is an essential component of any capsule wardrobe. These versatile pieces can be paired with different tops and sweaters to create countless stylish looks. Moreover, they keep you warm and cozy during the chilly months.
Blazer
A smart blazer instantly elevates whatever you're wearing underneath, making it the perfect smart casual essential to your capsule wardrobe. Choose a blazer in a neutral or base tone (black, navy or grey) and you'll be surprised how versatile it is. I love a nicely oversized blazer that can be worn undone for a smart finish or loosely buttoned for a more professional business casual look.
Check our selection of the best women's blazers for some inspiration.
Classic coat
When choosing your ideal winter coat, look for one that's nicely cut, sewn using premium quality materials, and is cozy enough to keep you warm all season. Again, you'll want to choose a winter coat in a base color to get the most wear out of it. Take into account different factors like length, style, material, and lining to make sure you hit the sweet spot for the go-with-everything winter coat you'll never tire of wearing.
Timeless trench
Perfect for cooler days or those times when layering is key, the trench coat—with its functional fabric and flattering silhouette—will prove indispensable for years to come. A gentle touch of military chic that's perfect for formal wear but also spontaneous shopping trips and weekends away. I love the trench coat and denim jeans combo, but it looks just as good over wide-leg trousers and dresses.
Have a look at our curated list if you are looking for the best trench coats for women.
Casual jacket
A denim jacket is a fail-safe outerwear staple for adding laidback appeal. When choosing your ideal denim jacket, pick one in a base neutral shade (I'm thinking mid to dark wash denim) that you can throw on top of slip dresses, tailored trousers, or midi skirts. The secret to a denim jacket's versatility lies in its styling, so opt for a slightly oversized fit that screams "boyfriend style but 100 times more fashionable".
Or take a ride on the wild side with a classic black leather jacket. I recommend avoiding heavy hardware and fringe, as these details can make the jacket look dated more quickly. Instead, opt for a simple design with clean lines. Check our list of the best women's leather jackets for options that are endlessly cool.
Functional wear
For purely functional wear, think about what you need, how often you will wear them, and how many times you will (realistically) do the laundry so you can determine the number of pieces you need in a typical week.
Sleepwear and bathrobes
This is totally optional. But if you are someone who value the comfort and luxury of nice sleepwear, opt for high-quality PJs that will last you for years.
We've rounded up a list of the best pajamas for women should you want to know the best options out there. I personally love washable silk pajamas and modal PJ sets for their luxurious feel. Just don't blame me if your PJ time slips in earlier.
Also, check our curated list of the best bathrobes for women for that hotel-like staycation feel.
Staple swimsuits
When it comes to swimwear, opt for classic swimwear silhouettes that are flattering and timeless. We love a black one-piece swimsuit or a simple triangle bikini for swimwear you can wear season after season.
Make sure to have a look at some of our favorite swimsuit brands for inspiration.
Loungewear
If you are someone who spends a lot of time at home, it's worth having a couple of loungewear sets (like shorts and a t-shirt or a sweatshirt and joggers) that are comfortable.
Check our list of the best loungewear brands.
Activewear / Workout
Simplify your morning sweat sessions by having a couple of workout pieces (joggers, lightweight tops, sports bras, sport jackets, shorts, yoga pants and leggings) that mix and match.
See our list of the best activewear brands for some inspiration.
Shoes
Put your best foot forward with some shoe essentials. When it comes to building your capsule shoerobe, comfort and versatility are the most important things to keep in mind.
Minimal trainers
Even if streetwear chic isn't your usual look, a pair of luxury sneakers is an excellent addition to your wardrobe. Once you've invested in a good pair, you'll wonder why you ever bothered wearing anything else.
The options are endless when it comes to minimal white trainers: they'll look great worn with everything from a midi skirt to tailored trousers or can also add a casual touch to a maxi dress. Brands like KOIO, Oliver Cabell, and Axel Arigato are all home to some of the coolest trainers around.
Everyday flats
A pair of comfortable flats is a non-negotiable: what else would you wear for those sleepy mornings at the office? And if you can't face a high heel, a comfortable flat shoe is set to be your new best friend.
Elevate your look without sacrificing style by choosing a pair with a pointed toe or timeless loafers, which give the illusion of formality without the aching soles at the end of the day. The perfect addition to your capsule wardrobe, the dressy flats will instantly fuse your look together every day of the week.
See our list of the most comfortable flats and best walking shoes to find the best options for you.
Classic heels
Suitable for everything from important business meetings to spontaneous fancy dinners, a great pair of heels is a must-have shoe. It should go without saying, but the perfect heels should be comfortable and that means they'll likely have a mid-height sole. Choose a pair in a neutral shade like black or nude with a heel of around 3″ (or lower) and wave goodbye to spending hours scrambling around in your wardrobe the next time a stylish event comes up.
I love classic pointed-toe stiletto pumps but if you prefer a more comfortable option, choose a pair with a block heel.
Read our heels guide if you want to better understand the many heel shapes, heights, and styles. Then check our curated list of the most comfortable heels to see the best options out there.
Pro tip: Invest in a couple of shoe clips to create completely different shoes in seconds.
All-weather boots
Ankle boots never go out of fashion and a staple pair will carry you through seasons to come. The perfect way to add a formal touch to any outfit, ankle boots have the additional benefits of being comfortable and stylish. Choose a flat pair or a pair with a slight heel for a wardrobe essential that spends more time on your feet than in your closet. Not sure where to start with ankle boots? Chelsea boots are always a safe bet and work with every kind of look. Choose a pair made from real or vegan leather for timeless appeal.
Of course, you can also opt for higher boots, but ankle boots tend to be better suited for all-year wear.
Flip flops or slides
Flip flops, thongs… Whatever you call them, they are pretty much synonymous with holiday relaxation. I love that I can turn them into my go-to house slippers, too. How is that for a versatile shoe! See our favorite styles in our curated list of the best flip flops for women.
If you do not like the Y-shape silhouette, you can opt for a pair of slides instead. We've rounded up the best slides for women for you to find the best one for you.
Both options are affordable and don't take much storage space, which makes them perfect for a minimalist wardrobe.
Walkable sandals
When it comes to summer shoes, I love the pared-back aesthetic of a strappy sandal (aka naked sandal) for partys, but day to day I prefer a supportive, flat sandal. See our list of the most comfortable sandals to find the best options.
Athletic trainers
A trusted pair of trainers is also worth having in your capsule wardrobe. Choose a pair that is adapted to your preferred workout.
We've rounded up the best workout shoes for women to help you find the perfect pair.
Bags
Due to their inherent functional nature, bags (perhaps more than any other accessories in our capsule wardrobe) need to be 100% tailored to our activities.
Think about your lifestyle. If, like me, you travel a lot for example, you'll need a durable travel bag. If you're always on the go, cross-body bags or belt bags are ideal for hands-free activities.
Pro tip: Make a list of your activities and the things you need for each one. Consider the space and elements each activity requires, and choose a bag that meets your needs. I recommend having a few go-to bags that can work for multiple occasions, so you don't have to constantly switch things out.
If in doubt, it's impossible to go wrong with the classic handbags from Louis Vuitton, YSL, Gucci, Chanel, Hermes, and Dior.
Everyday tote bag
The beauty of an oversized tote bag is that, as well as looking the part, it has room for absolutely everything. Sure, those "barely there" mini purses are cute but, when it comes to a busy day with lots planned, you want a failsafe all-rounder that can confidently hold everything that comes your way. Check some of our favorite everyday totes for some inspiration.
Work bag
When looking for an office-appropriate bag, I recommend choosing one in classic hues that complement any outfit. Make sure the bag is both chic and functional but also compact enough to carry around with confidence and durable to hold up through whatever journey life takes you. If you are looking for some work bags that really get the job done, check out our favorite options for some inspiration.
Cross-body bag or day clutch
I love the idea of having a versatile bag that can be used for both casual outings and more formal events.
One of the most practical bag styles, a cross body bag (see the best crossbody bags here) is the ultimate saving grace when you're trying to send a text, fork your prawn cocktail, or sip on champagne whilst keeping the essentials close by. It is easy to wear, convenient, and is a good fit for almost any occasion.
A compact clutch is another great option that seemingly transitioning from day wear to evening wear. See our curated list of the best clutches to find the right one for you.
Weekender or travel bag
The best travel bags are the best on-the-road companions. They are spacious when packing, convenient to transport, and double up as an everyday carry when you arrive at your destination. Perfect for last-minute trips or weekend getaways.
See our curated selection of the best travel totes and best weekender bags to travel in style.
Based on your needs, you can also check our dedicated guides to the following bag categories:
Timeless watches
From the Crowned King of horology (All hail Rolex!) to the Holy Trinity of watchmakers (Audemars Piguet, Patek Philippe, and Vacheron Constantin), a timeless timepiece from one of the trusted luxury watch brands is a lifelong investment that's likely to be passed down the generations—and probably the item from your capsule wardrobe that will maintain the most value on secondhand markets. So if you love wearing watches, I suggest spending time researching the best women's watches and really thinking about what you're looking for in terms of watch aesthetics and mechanics.
Jewelry as everyday embellishments
It's a common misconception that capsule wardrobes are boring and limiting. In fact, curating your closet into a capsule wardrobe is actually a great way to exercise your creativity while finding new ways to style each piece. Saying that, a brilliant way to make sure your outfits always have that final touch is to invest in a few pieces of jewelry.
Pro tip: I recommend you opt for jewelry pieces that are made from high-quality materials such as gold (white gold, yellow gold or rose gold), gold vermeil, or silver. This will ensure that your jewelry lasts for years to come. Don't be afraid to mix metals. Mixing metals can add interest to your jewelry collection.
Before heading to our favorite jewelry brands, check our guide to the different gold colors and learn about gold karats for a better understanding of the precious metal.
Earrings
I prefer pieces that are versatile and timeless that can be dressed up or down for any occasion.
I love small diamond studs for an understated look from desk to dinner, small gold hoops for carefree chicness and pearl drops for a touch of classic elegance.
If you need some inspiration, check out our curated selection of the best earrings.
Necklaces
It's no secret: a dazzling necklace is the key to a woman's heart. Personally, I prefer shorter necklaces that fall around the collar bone.
Thick or thin, a timeless gold chain necklace is a great choice for building up your look.
While a small pendant necklace is a great way to upgrade your chain necklace with more meaning (I am thinking of your birthstone, initials or Zodiac sign). And a pearl necklace is a failsafe classic that will absolutely never go out of style – for a more modern take, I'd recommend a choker style.
If you need some inspiration, check out our curated list of the best necklaces.
Bracelets
Cuff bracelets are a classic and sophisticated addition to any capsule wardrobe. I love tennis bracelets to jazz up casual to party outfits. And dainty bracelets are perfect for layering or wearing on their own.
If you need some inspiration, we've rounded up the best bracelets.
Rings
Besides my engagement ring and wedding band, I also love stackable gold rings. They're versatile and can be paired with different jewelry. I personally prefer smaller, delicate rings, but having a variety of sizes and styles is best for creating the perfect stacked look.
Pro tips: A jewelry box will help keep your jewels in good condition and easily select which pieces you want to wear.
Other small accessories
Small accessories that can help you get get the most out of your capsule wardrobe.
Classic sunglasses
This is a must-have, year-round. Apart from the fact they protect your eyes from harmful UV, sunglasses elevate any outfit, add an air of intrigue and mystery (there's something immediately flirtatious about dark shades), and conceal dark bags from last night's antics and any accidental eye-rolls. If you're only having one pair of sunglasses, opt for classics like aviators and wayfarers that won't date, preferably with polarized lenses.
Check our guide to sunglasses for more information, and if you need some inspiration, check out favorite shades.
Classic belt
Belts are more than just a way to keep your pants or skirts up! They're a great way to add a little extra something to your outfit.
Hat
Sun hats are a great way to hide a bad hair day and, of course, protect you from the sun. I especially love baseball caps and bucket hats for that cool off-duty model vibe.
Wallet
A small but mighty must-have accessory, I love how the right wallet seamlessly slips into our everyday routine. Check out our favorite designer wallets and card holders for some inspiration.
Frequently asked questions about capsule wardrobes for women
How many clothes should be in a capsule wardrobe?
There's no hard and fast rule as to how many items should be in a capsule wardrobe. But popular wisdom holds that a well-crafted capsule wardrobe for women typically consists of 25-50 pieces that can be mixed and matched to create a variety of outfits, but you can always have more or fewer than that. Check our illustrated guide to women's capsule wardrobe to learn more.
What does a capsule wardrobe mean?
A capsule wardrobe is a carefully curated collection of timeless items that can all be worn interchangeably. Each piece is chosen for its quality and versatility with the intention of lasting for years to come or promising a high resale value. It's an increasingly popular way of shopping sustainably while decluttering your life. Check our step-by-step guide to building a capsule wardrobe for inspiration and tips.
Can a capsule wardrobe be trendy?
Yes, a capsule wardrobe can include trend-led pieces if they align with your personal style and preferences. It's fine to occasionally buy into trends – life would be pretty dull if you said goodbye to shopping entirely – but the focus should be on buying high-quality clothes that transcend trendiness and that you can resell when the time comes.
What is the 333 method capsule wardrobe?
The 333 method capsule wardrobe is a minimalist fashion challenge created by Courtney Carver. The challenge involves choosing 33 items of clothing to wear for three months.