There's retail therapy — and then there's online retail therapy.
Shopping from home is addictively satisfying and almost dangerously easy. Just a few clicks, some taps on the keyboard, and you have yourself a brand new wardrobe. You basically never need to step foot inside a real store again. Women's clothing stores come to you instead.
The internet allows us to browse millions of products all from the comfort of our desk, sofa, or even our bed — and then get them delivered directly to our door. Online shopping is convenient and often cheaper too.
What's not so easy, however, is sussing out the endless number of online shopping destinations out there. Sure, choice is a luxury, but where to start?
How can you tell if an online store is everything it claims to be? You want to be assured that what you're buying is high-quality. Imagine the heartbreak of ordering what looked like an authentic Hermès Birkin bag at bargain price — but receiving a shabby knock-off through the post.
Online shopping doesn't need to be a risk though — as long as you do your homework. Verify the customer reviews, scan the policies, and ensure the payment system is secure.
We considered all these things when compiling our list of the 27 best online shopping websites for women. These digital fashion destinations have it all: high-quality products, speedy delivery, and, most importantly, an eye for high-impact fashion.
Not enough time to read the whole list? One of our favourite online shopping platforms for women is SSENSE, an online marketplace offering a carefully curated selection of both streetwear and luxury fashion. And we are also obsessing over Fashionphile's vast collection of highly discounted pre-owned handbags from all our favourite designers, easily browsed via their sleek and easy-to-navigate website.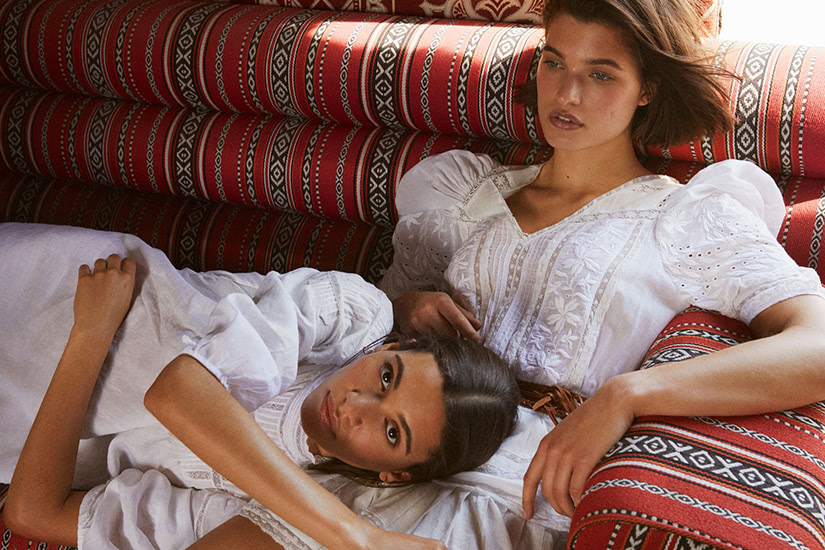 The 27 Best Online Shopping Sites for Women in 2020
---
All the websites featured on our list of the best online shopping sites for women in 2020 are independently selected by our team. If you buy something through our links, we may earn an affiliate commission at no extra cost to you.

Below the list of websites, you'll find more information on what to look for in a great shopping site, as well as our process to find great shopping sites and the most frequently asked questions from our readers.
1. LUISAVIAROMA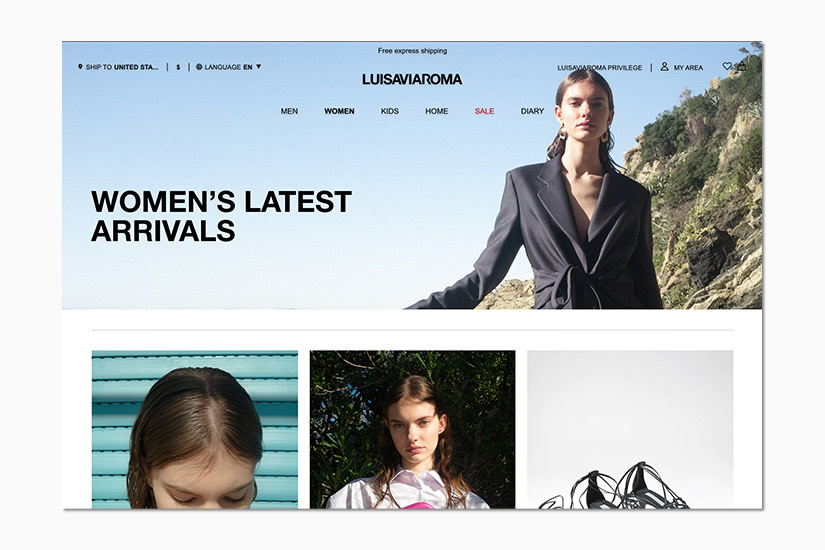 LUISAVIAROMA is a digital fashion destination featuring over 600 different luxury brands, from established names like Balenciaga and Gucci to emerging new designers. Online, you'll find a vast selection of clothing and accessories as well as home furnishings and beauty products.
The site and app are available in 9 different languages, and there's also worldwide shipping available. You'll receive your purchase in a beautiful box — the finishing touch to a truly luxury experience.
Best women's shopping website for: the latest luxury trends.
2. Fashionphile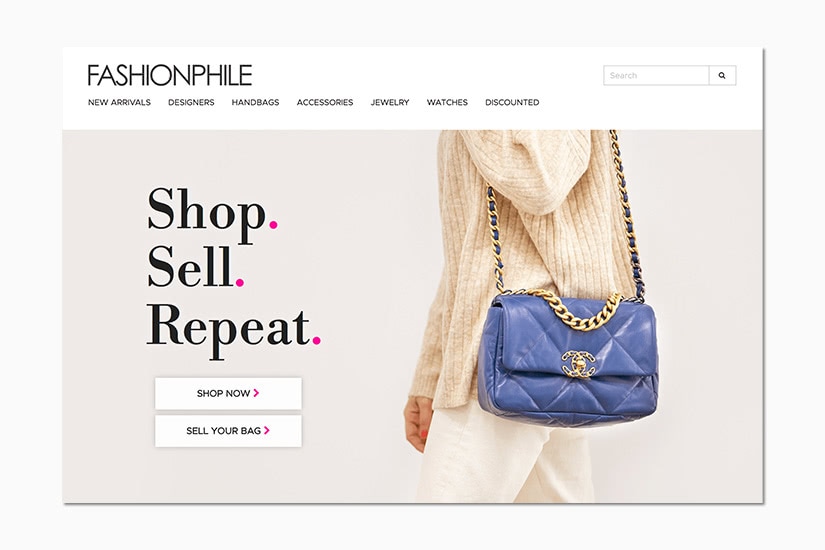 Offering customers access to a seemingly endless selection of pre-owned, vintage, rare, and limited edition handbags from the likes of Louis Vuitton and Prada, Fashionphile has made a name for itself as one of the world's leading resale platforms.
Using expert analysis and innovative new technology to verify the authenticity of each handbag, Fashionphile strives to combat the resale market's negative image. The site is sleek and easy to use, offering a convenient online solution that re-envisions the business of selling second-hand goods.
Not sure which designer to go for? Our rundown of the best designer work bags could inspire you.
Best's women's shopping website for: pre-owned luxury goods.
3. Runway Catalog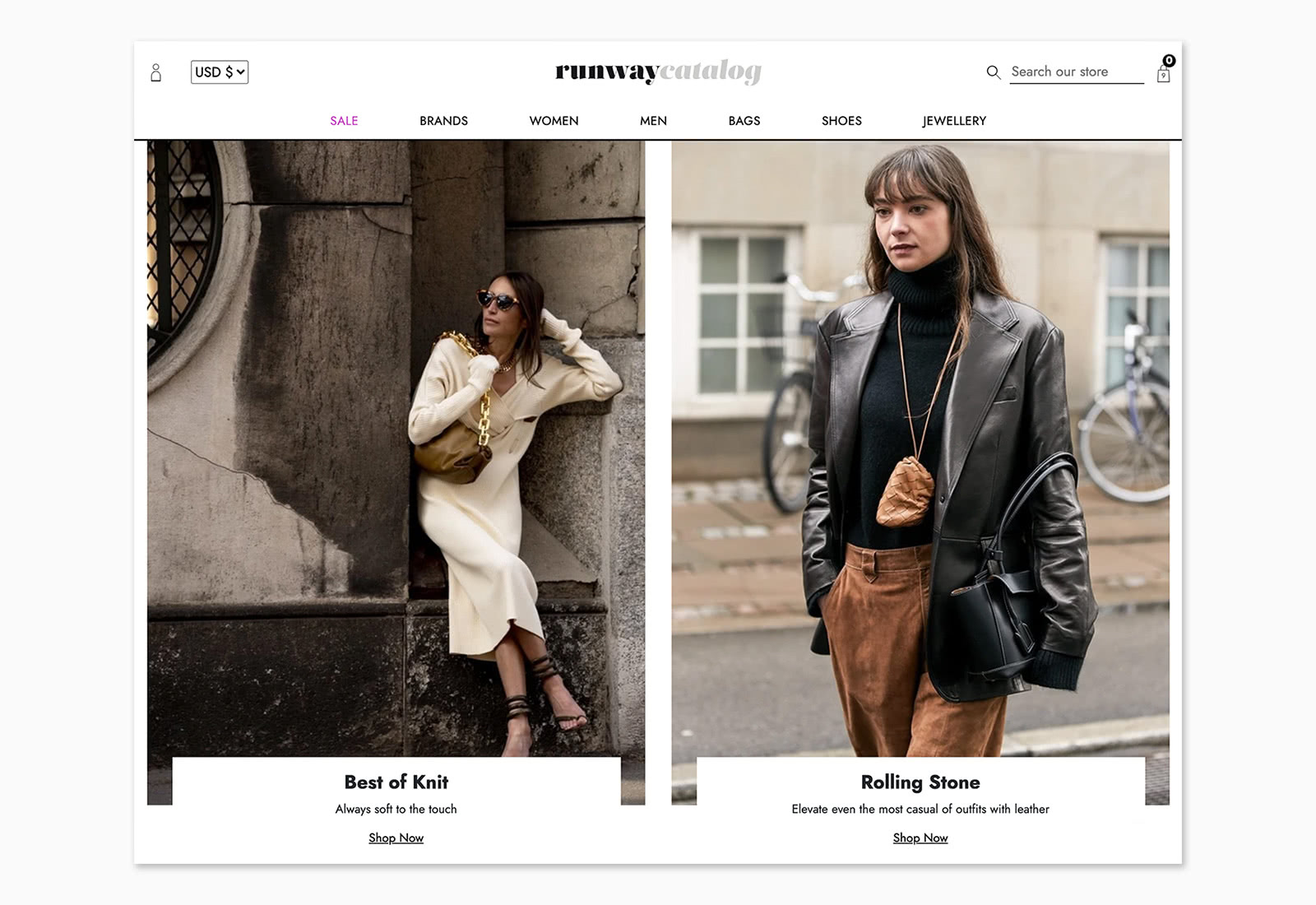 Up and coming online luxury store Runway Catalog is love at first site when it comes to finding authentic designer pieces at a discount. You can buy luxury fashion clothes and accessories from brands such as Gucci, Dior, Balmain, Chloe, Dries Van Noten, and many more at incredibly competitive prices.
The secret? The team behind Runway Catalog continuously negotiates discounts directly with luxury brands in Europe for end of season sale or stock clearance. They then pass on the savings directly to you!
Runway Catalog was founded by a mother-daughter duo with a passion for luxury fashion. After spending several years working at a globally-renowned fashion brand, the founders are now able to leverage their network and experience, to curate authentic, luxury items at a stunning steal of a price.
The online store is on a mission to make designer fashion more accessible and affordable. They want fashionistas to access exclusive luxury items from previous, current and upcoming designer collections without the hefty price tag.
New designer pieces drop weekly on the site with a huge range of variety to appeal to every style. We'll be visiting this site on repeat —There are always hidden gems and surprise treasures in their collection. But don't take too long to "add to cart", their pieces never stick around long!
Best online shopping website for: genuine designer clothes at a discounted price.
4. 24S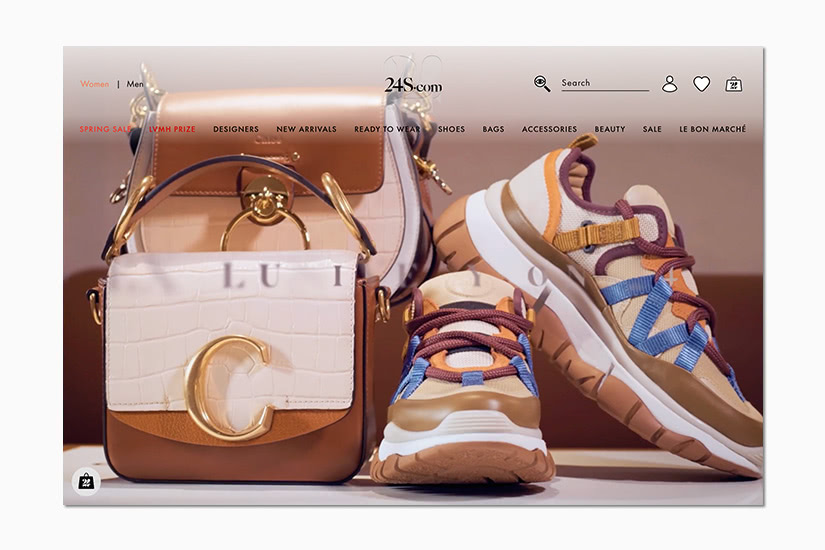 24S is a luxury marketplace offering customers access to products from over 200 different luxury brands — including Dior, Fendi, and Celine. Whether it's luggage, clothes, or cosmetics, 24S can help you make the perfect purchase on its smart and sophisticated digital platform.
Best women's clothing website for: premium luxury fashion.
5. SSENSE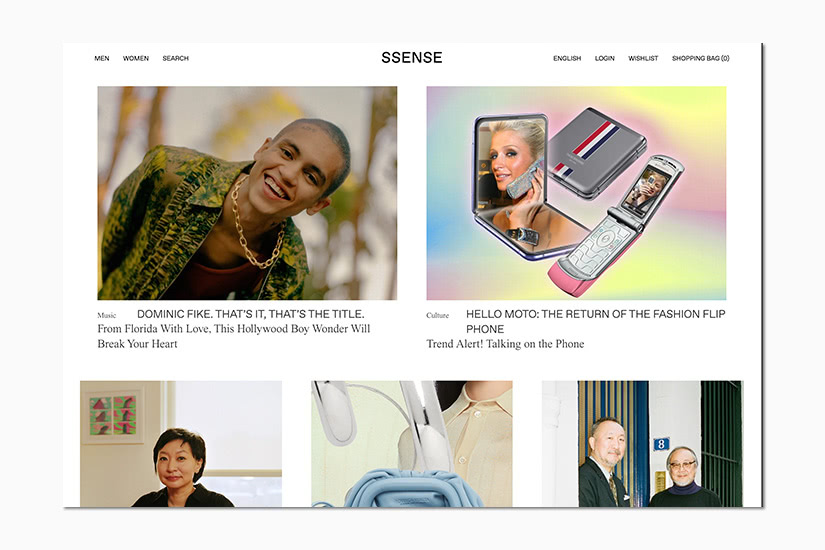 SSENSE is an online fashion operator offering shoppers a unique and thoughtfully curated selection of apparel that mixes streetwear and high fashion with pieces from some of the industry's most exclusive designers.
While it's a luxury retailer at heart, SSENSE has made a point of celebrating exciting new offerings from the worlds of art and music too, celebrating an interdisciplinary approach to fashion.
Best women's clothing website for: avant-garde design.
6. Farfetch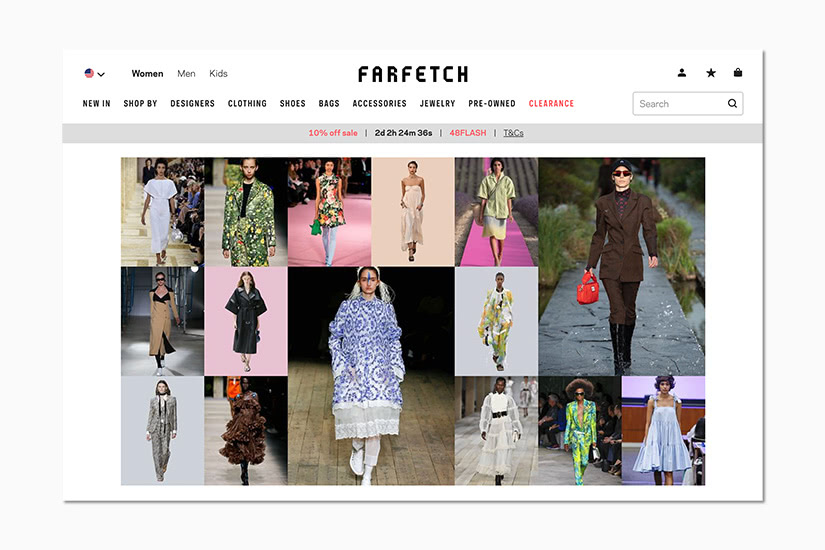 Farfetch, a pioneer in online luxury fashion, seeks to connect high-end fashion creators with curators and consumers around the world.
When you arrive on the site, you'll be introduced to a selection of clothing from 300 different boutiques from all over the world. This is the perfect site for sourcing a special and unique addition to your wardrobe.
Best women's clothing website for: streetwear luxury.
7. Oliver Cabell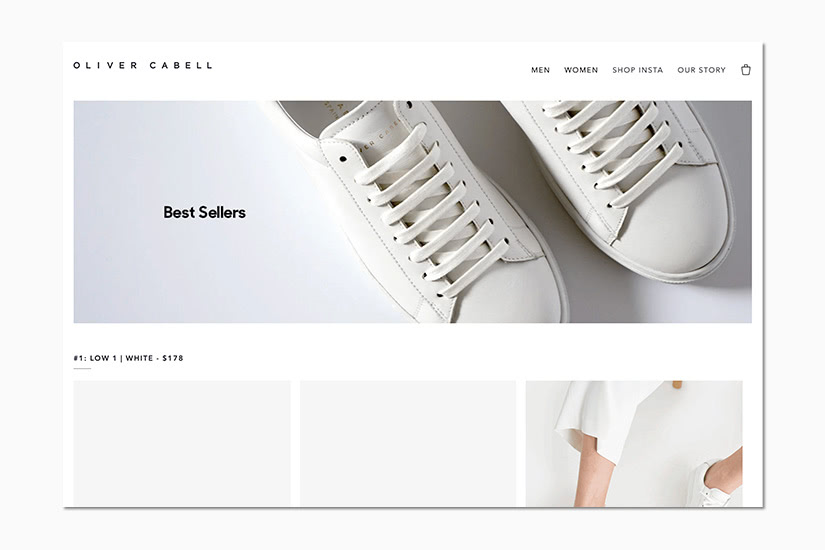 Oliver Cabell is a modern footwear brand that prides itself on using old-school techniques combined with innovative new technology. Their shoes are laid back yet luxurious and reviews testify to their versatility and high quality.
With a commitment to ethical practices and superb craftsmanship, Oliver Cabell is able to offer impeccable footwear at a substantially lower price than other luxury retailers by keeping overheads low. You can also read a price breakdown of each product online.
Best women's clothing website for: casual luxury footwear.
8. Vestiaire Collective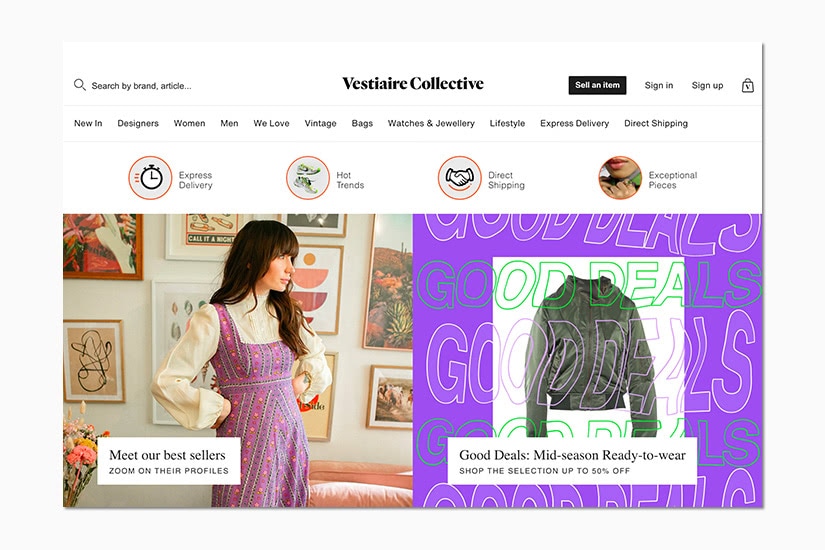 Luxury shoppers are increasingly motivated by sustainability concerns and resale platforms like Vestiaire Collective are working to reduce the fashion industry's carbon footprint by taking part in the circular economy.
An online marketplace where you can buy and sell pre-owned designer clothing and accessories, Vestiaire Collective offers a curated selection of products with new ones added daily and in-house experts to ensure the authenticity of each item.
Best women's clothing website for: eco-conscious high-fashion.
9. Rebag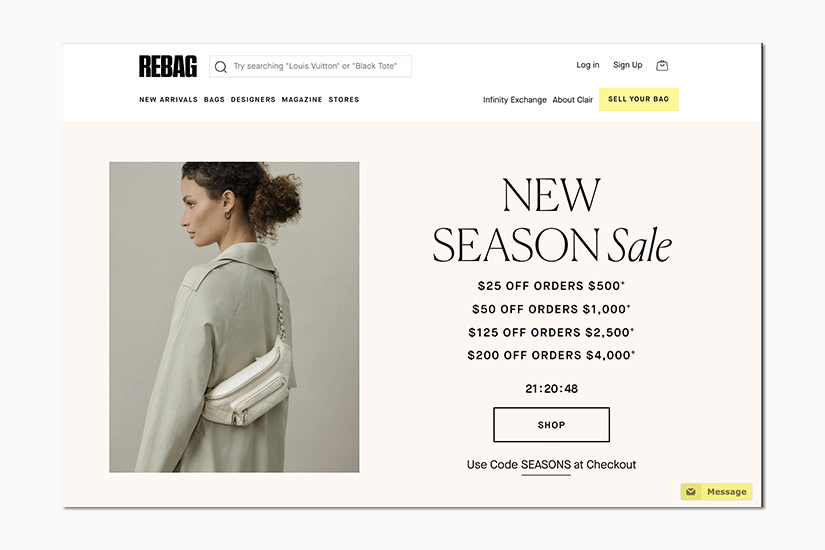 Rebag is a luxury accessory resale platform where you'll find highly-coveted designer handbags from over 50 brands, including Chanel, Hermès, and Gucci, among others. Experts work to ensure they are all the real deal and new bags are added each week.
The platform is also moving into the rental shopping arena with the Rebag Infinity program. Shoppers who purchase a handbag from Rebag can sell it back within six months for 70% of what they initially paid in store credit.
Best's women's shopping website for: designer handbags at a hefty discount or to rent.
10. Dior beauty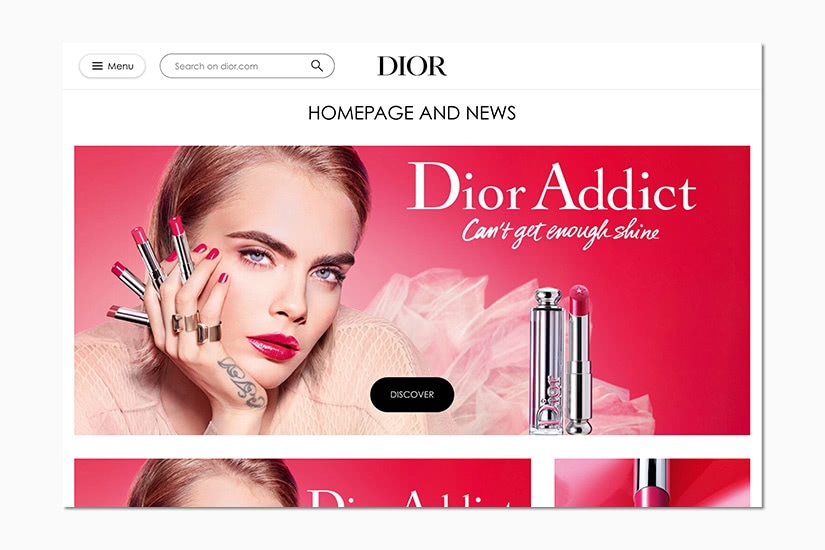 Dior needs no introduction. The luxury French fashion house is famous across the world, known for its supremely elegant collections, and the label has become synonymous with exclusive luxury.
So if it's exceptional cosmetics you're looking for, then Dior's online beauty range is one of the best places on the web to access high-end skincare products, from age-defying serums to powder foundations and sun care.
Best women's shopping website for: luxury cosmetics and skincare.
11. La Roche-Posay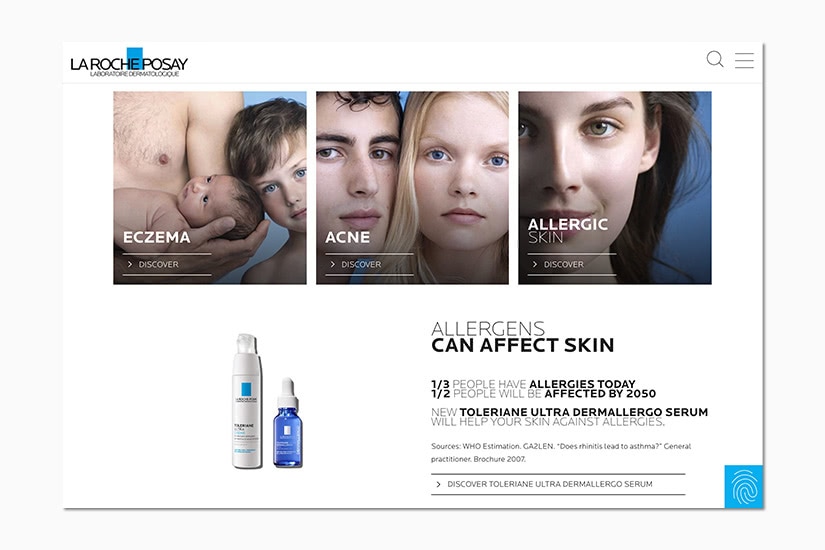 La Roche-Posay is a dermatologist-tested skincare brand whose suncream, in particular, is consistently ranked among the best products on the market. And as if that wasn't enough, their products have also been recommended by 90,000 dermatologists worldwide.
The company has also designed products suitable for those with conditions like acne and all their products have been allergy-tested on sensitive skin.
Best women's shopping website for: sun cream that really works.
12. Senreve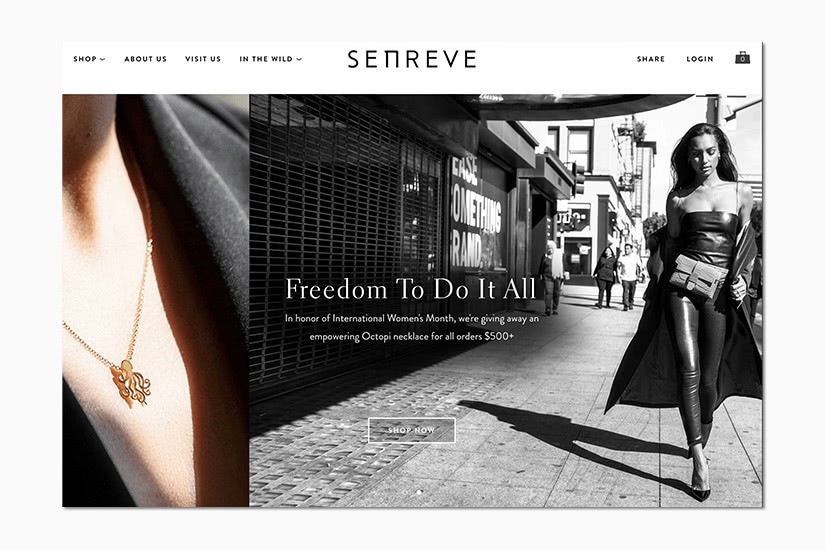 The name Senreve is derived from two French words: sense and rêve, meaning 'sense and dream'. These two contrasting concepts form the basis of the company's ethos, which is all about embracing opposites and dichotomies: tradition and innovation, the everyday and fantasy, high-fashion and versatility.
A Senreve handbag looks and feels luxurious — but is also practical, fulfilling all everyday needs. Lightweight and travel-friendly, you can carry it straight from the boardroom to after-work drinks.
Best women's shopping website for: functional luxury handbags.
13. The RealReal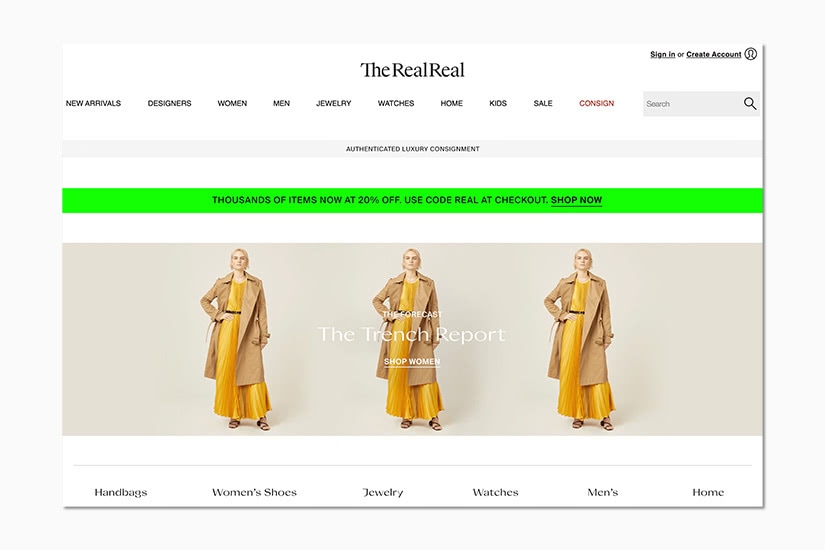 Ever heard of circular fashion? It's the concept of designing apparel that can be used and circulated within society for as long as possible. Rather than tossing out clothes after a season's wear, reclaiming clothing helps eliminate waste and protect the environment.
This is the concept behind The RealReal, which brings luxury goods to eco-conscious fashion-lovers worldwide. With its commitment to extend the life of high-end clothing, The RealReal is revolutionising our ideas about what luxury fashion is by reselling items from top designers on their online marketplace.
Best women's shopping website for: private luxury resale.
14. Vichy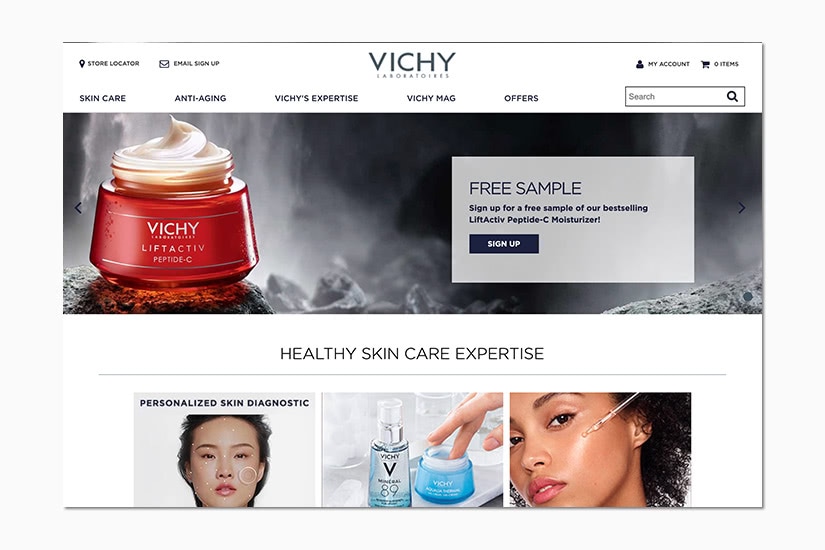 Vichy is a French skincare brand that combines cutting-edge scientific research with quality dermatological ingredients to offer you some of the best anti-ageing solutions on the market.
Founded in 1931 in the Auvergne, Vichy is a thought-leader in the world of skincare. Their products are specially formulated for sensitive skin and are free from parabens. The brand is also committed to sustainability, using ingredients from renewable sources and designing lightweight packaging that saves on plastic.
Best women's shopping website for: anti-ageing skincare.
15. Koio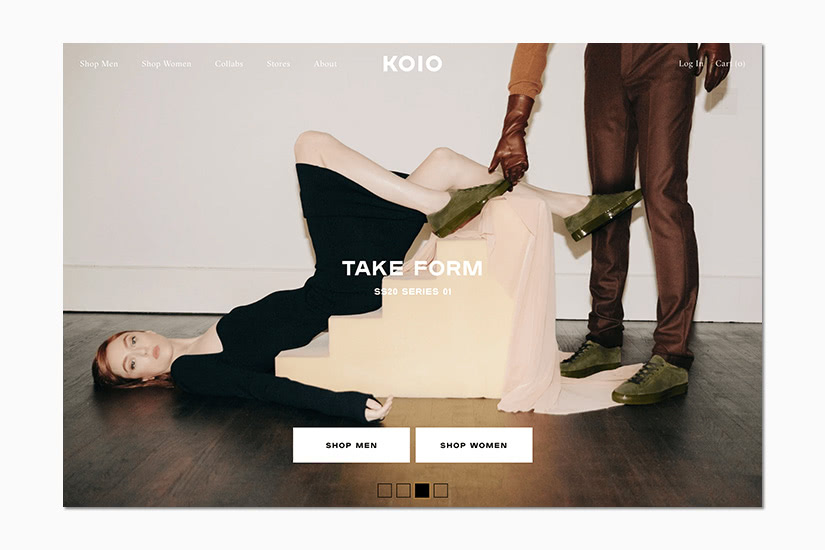 Fancy a pair of sneakers that look just as good in the boardroom as they do in a cocktail bar? Koio has you covered. Crafted from calfskin leather and hand-finished with impeccable attention to detail, versatility is the name of the game in a Koio sneaker. You really can wear them anywhere.
With a commitment to quality products, ethical manufacturing, and sleek design, Koio sneakers are now well-recognised as both comfortable and an expression of cutting-edge cool.
Best women's shopping website for: luxury sneakers that can be worn anywhere.
16. Luxury Garage Sale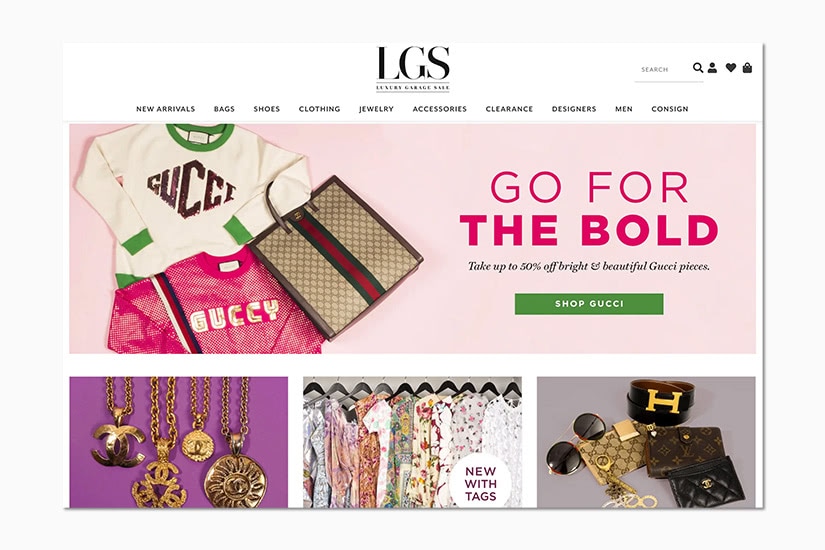 Luxury Garage Sale is a collection of authenticated, pre-owned luxury fashion pieces from brands including Chanel and Louboutin.
If you're looking for fantastic luxury apparel but don't want to blow your pay cheque, then Luxury Garage Sale has you covered. You can browse luxury goods 24/7 online, scrolling through selections that you know have been verified by in-house experts.
Best women's shopping website for: authenticated second-hand luxury apparel.
17. NET-A-PORTER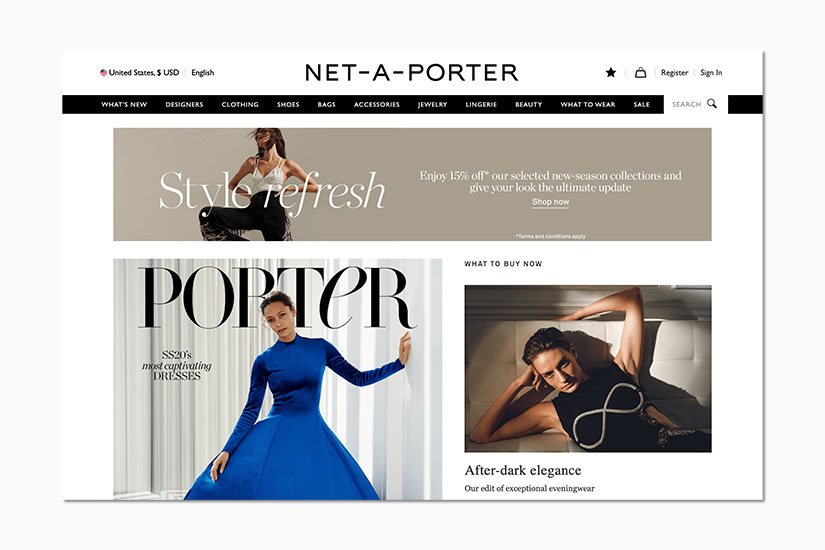 NET-A-PORTER is a pioneer in the online retail space. Founded in 2000, the brand has been offering fashion-lovers access to some of the world's most popular brands for decades now. No wonder it's one of the best women's clothing stores online.
There is express shipping to more than 170 countries — including same-day delivery to cities like London and Hong Kong. You'll also be treated to some of their luxurious signature packagings. Nothing quite as exciting as one of those black boxes turning up at your front door.
Best women's shopping website for: convenience, efficiency, and customer support.
18. MatchesFashion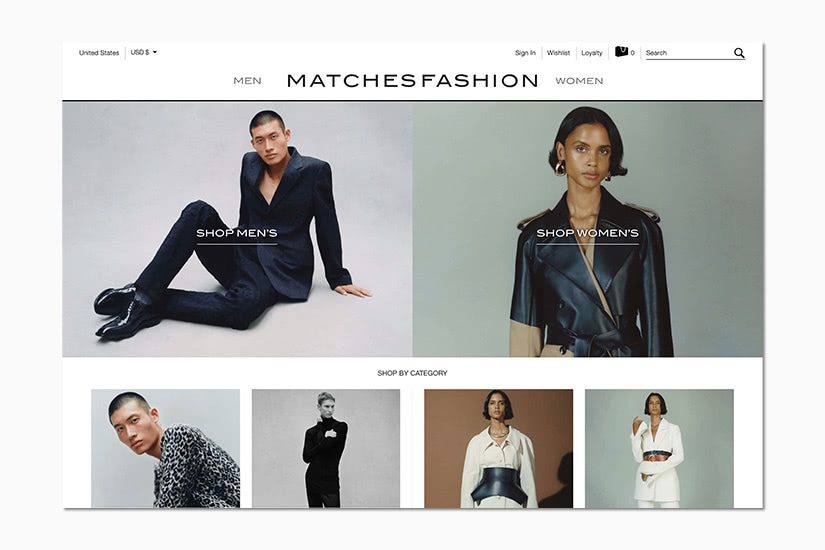 MatchesFashion is a luxury e-commerce platform offering customers access to over 450 established designers as well as emerging talent.
MatchesFashion offers delivery to over 176 countries and 24/7 advice and support through the fashion-concierge team, MyStylish. So whether you're scrolling through the website or browsing the app on your phone, you'll be treated to a seamless and satisfying luxury fashion experience.
Best women's shopping website for: wide-ranging choice of designers.
19. J.ING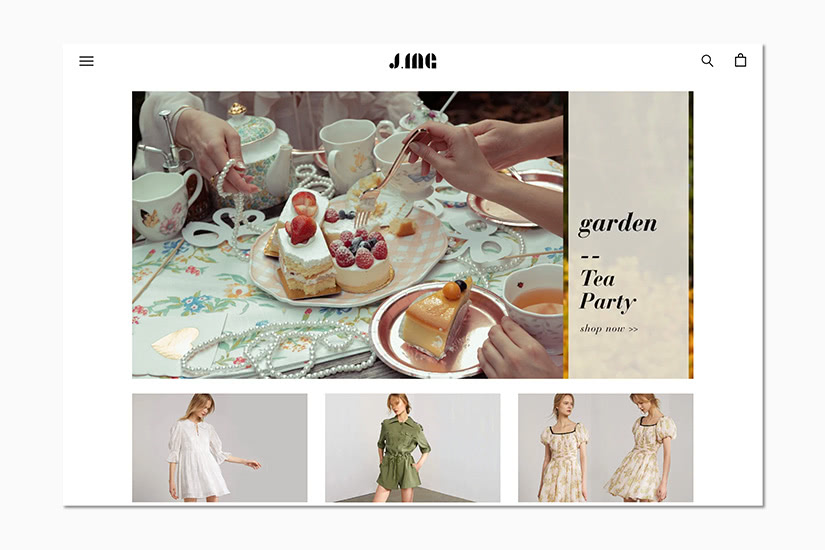 Looking for bold and beautiful pieces that push the boundaries of design? Fashion that is creative and not afraid to do something different? Then trendy clothing website J.ING could be for you.
A global lifestyle brand that combines high-fashion with meticulous attention to detail, J.ING offers customers clothes to suit their high-flying and jet-setting modern lives. The pieces are a combination of tailored and feminine, youthful and sophisticated. Check out our favourite summer looks from J.ING.
Best women's shopping website for: smart yet feminine apparel.
20. StockX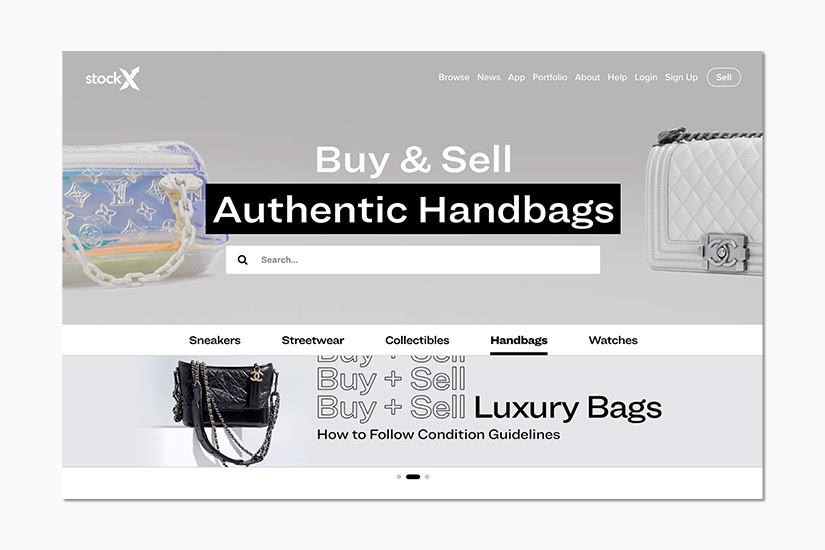 StockX is a sneaker resale startup where you can purchase highly-coveted designer shoes, all 100% authentic and verified by experts. And it's not just shoes. You can also browse their selection of streetwear, watches, and designer handbags.
The name reflects the concept behind the company. It's like a stock market but for fashion items. As well as its selection of luxury goods, the website provides current market value information and any loss or gain on products so you can make an informed decision and avoid overpaying.
Best women's shopping website for: pre-owned luxury shoes.
21. Kérastase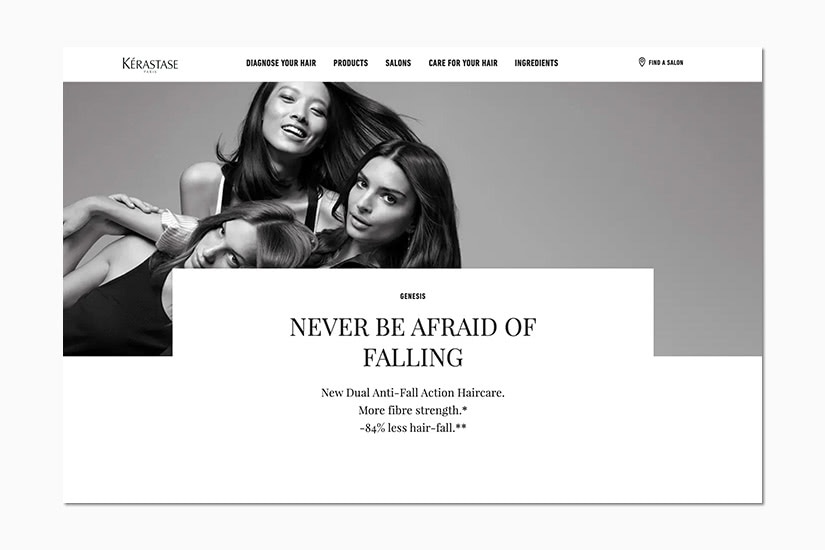 Kérastase is a luxury French haircare brand creating bespoke hair products and treatments that achieve incredible results.
Their site offers hair diagnostic tools to help you determine what your hair is craving and their products are tested by top hairdressers in salons across the world — further proof that they really work.
Best women's shopping website for: premium hair care.
22. Bob's Watches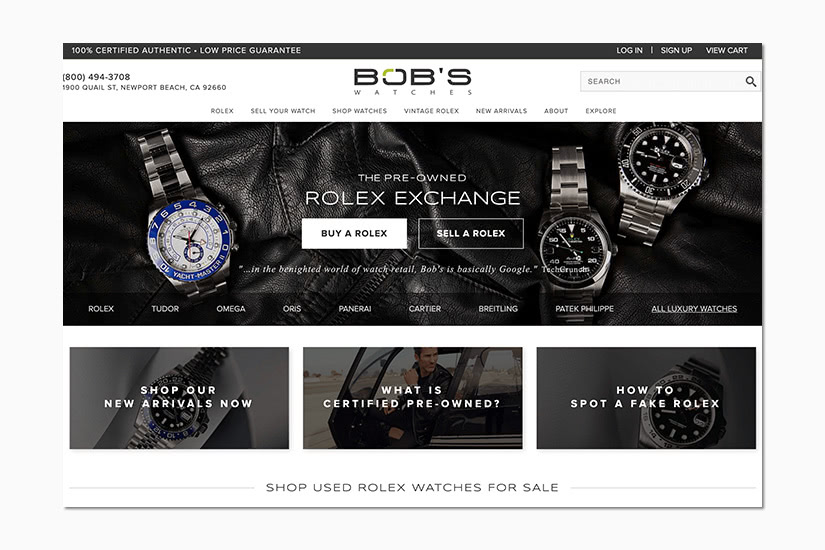 Another resale platform, Bob's Watches was actually the world's first pre-owned Rolex Exchange, offering customers vintage and used Rolex watches at market value.
Bob's Watches publishes the buy and sell values for each model. Full-disclosure means you can be assured that you're getting the best deal. All of their Rolex watches have been serviced and restored to mint condition and their selections include vintage and antique timepieces. They also sell other luxury brands like Omega and Cartier.
Best women's shopping website for: second-hand luxury watches.
23. Bloomingdale's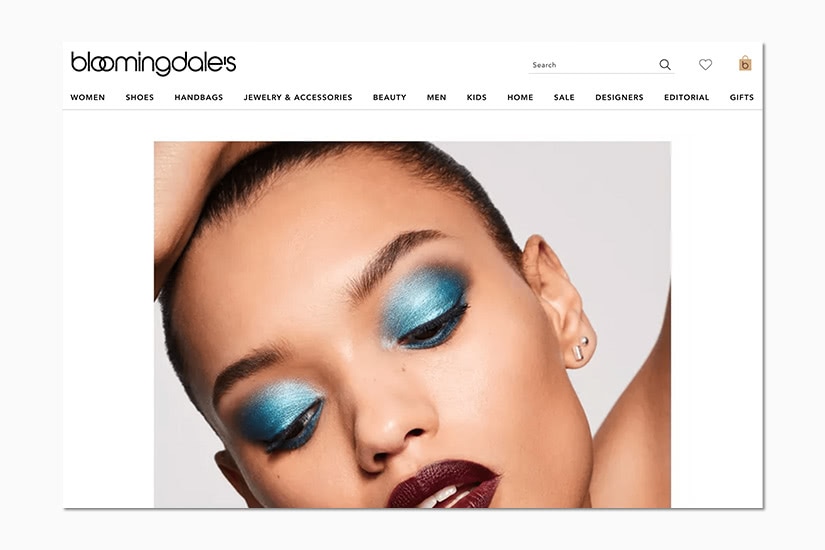 Who hasn't heard of the iconic department store, Bloomingdale's? But did you know you can shop Bloomingdale's online?
Not just that, but you can also make use of Bloomingdale's online subscription rental service. The service is called My List at Bloomingdale's. You pay $149 a month and can then select pieces you want to rent. Once they've arrived, you can wear them as long as you want — or swap them in for others.
Best women's clothing website for: online clothing rental subscription service.
24. Away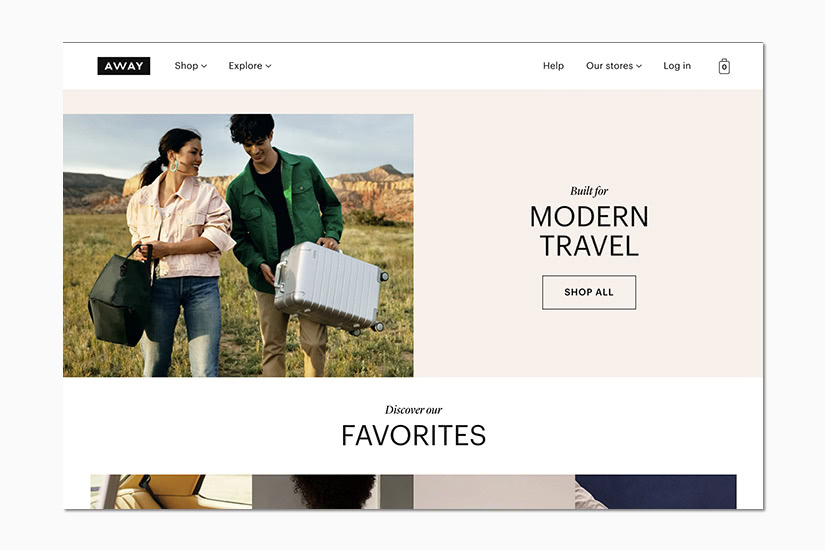 Away's range of travel suitcases has done something previously considered impossible. They have taken the suitcase — that rather boring travel necessity that people rarely think twice about — and transformed it into something as stylish and exclusive as a designer handbag.
Away's suitcases come in 12 standard colours and there's also the option to personalise your case. Most exciting, however, is the fact that they come with a built-in battery — so you can charge your phone or other USB device straight from your suitcase.
Best women's shopping website for: luxury suitcases with smart features.
25. Summersalt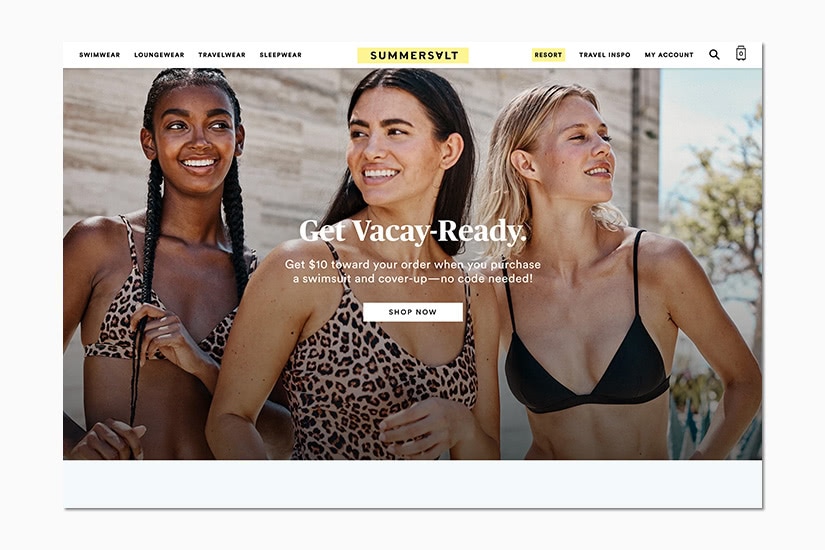 Summersalt is a designer swimwear brand with a difference. By selling directly to the consumer via their website, Summersalt can keep its prices down while still offering high-quality, high-end swimwear. It's one of our favourite trendy clothing websites at the moment.
With its colourful designs, the brand feels very modern and fresh and all their suits are UPF 50. They also sell loungewear, travel wear, and sleepwear. Their Everywhere pant, for example, has a pocket large enough to fit your passport in it, which is pretty convenient.
Summersalt also uses recycled materials to create their fabrics and packaging. So you can look stylish by the pool without costing the planet.
Best women's shopping website for: sustainable swimwear and clothing.
26. Boohoo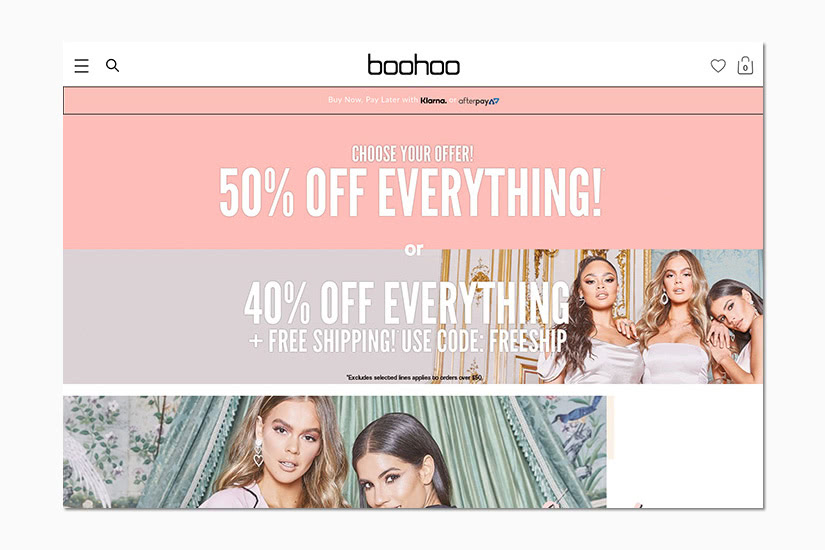 You may have heard some buzz around this young but incredibly popular brand which popped up on the fashion scene back in 2006. The online fashion boutique is known for thinking outside the box with its bold designs and welcome commitment to diversity, stocking clothes up to size 24.
With its refreshing 'fashion for all' attitude, Boohoo has women of all sizes covered, whether you're seeking something comfy to wear on the sofa or something special for date night.
Best women's shopping website for: plus size women's clothing.
27. Amazon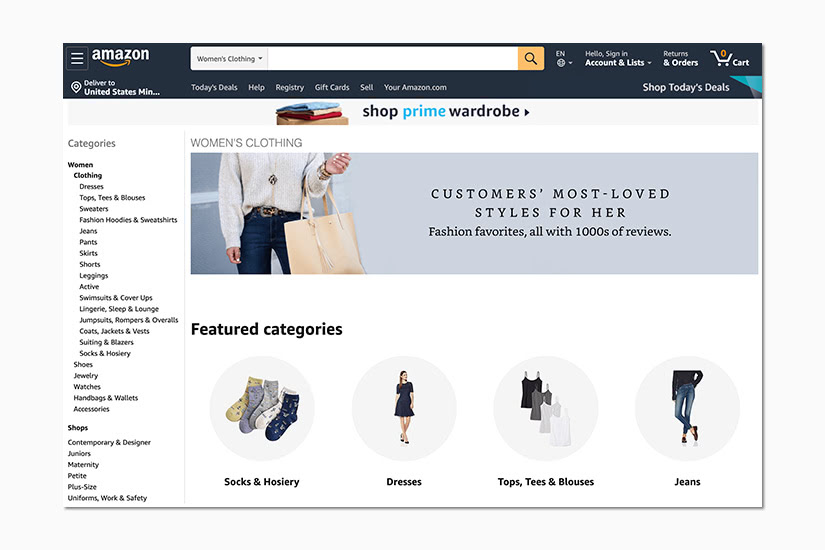 This list wouldn't be complete without mentioning the most popular online store in both the US and in the world. Life before Amazon is hard to remember and this retail megalith certainly knows how to deliver a winning customer experience.
There's a vast selection of women's clothing on the site, including workout gear and holiday essentials. But the real selling point of Amazon is its peerless shopping experience. Smooth and streamlined, it takes the convenience of online shopping to the next level. Oh, and many items are eligible for free shipping and returns.
Best women's shopping website for: affordable fashion, quick delivery.
Learn more about shopping online: what to look for in a great shopping site?
When shopping online, the first thing you should look for is the ease of use of the website. You want as few obstacles between you and check-out as possible. This means clear category pages and an easy-to-navigate digital interface.
In a world of Instagram and photo filters, we place a lot of value on appearances. So when it comes to online shopping, an attractive website is equally important as attractive products. We also expect well-written and engaging product descriptions — and the site should work just as well on mobile as it does on the website.
Of course, sites that offer promos and coupons are also favourites of ours. And a high number of reliable and positive reviews is obviously an advantage when it comes to purchasing from an online retailer.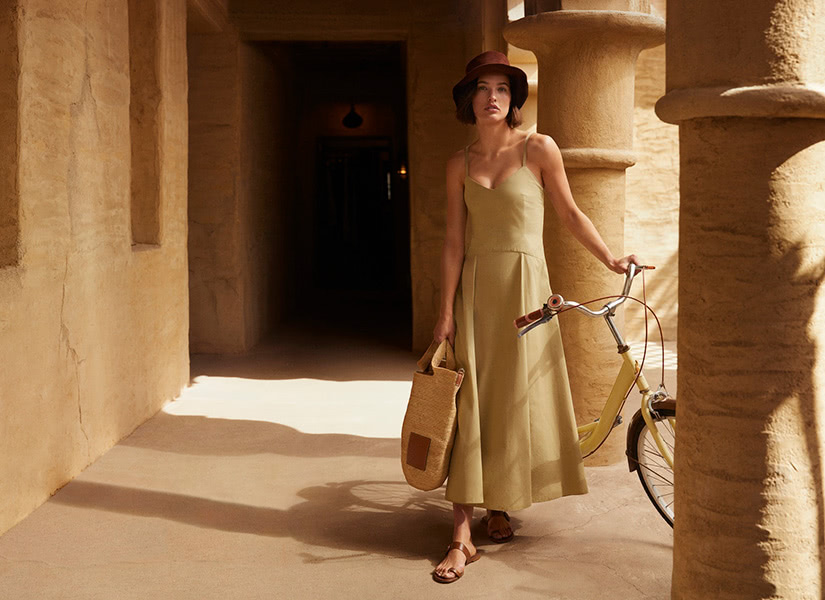 How we chose and ranked the best women's shopping sites of 2020
When selecting retailers for our rundown of the best shopping destinations for women online, we based our decisions on the following criteria:
Design. We wanted companies that showed a wholehearted commitment to outstanding design and impeccable quality of both materials and craftsmanship.
Tech-savvy. These online retail websites understand that modern shoppers want convenience and efficiency. We want to wear the best clothes out there — and to do so just with a click. And so these websites and apps are all easy to use and navigate, creating a pleasing and efficient customer journey from arrival to check-out.
Trust-worthy. It goes without saying that we only picked those websites who prioritise customer care. These are companies committed to building trusting relationships with consumers with payment and delivery policies that are clear, comprehensive, and designed to make your shopping experience pain-free.
Sustainability. Many of the companies and platforms on this list are among those embracing sustainable and ethical practices, further boosting them in our ranking.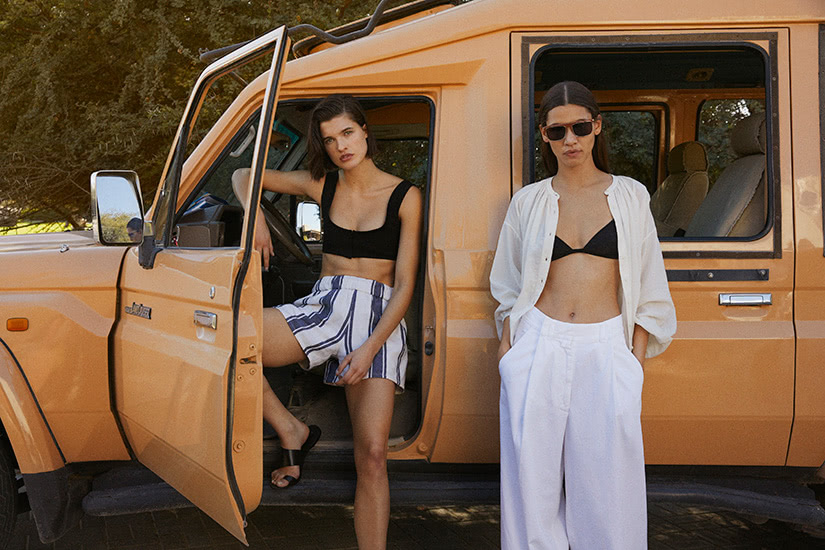 Frequently Asked Questions about online shopping websites
What are the best online clothing stores?
The best online clothing stores are NET-A-PORTER, LUISAVIAROMA, Fashionphile, 24S, SSENSE, and Farfetch. Our list features what we consider to be the top online clothing stores for women in 2020. Our rundown includes those destinations that we feel offer the highest quality products for the best prices as well as providing a smooth and enjoyable shopping experience.
Which online clothing stores are legit?
Every clothing store included on our list of the best online shopping sites for women is legitimate. When shopping online, you want to be sure you're getting what you're paying for. Reviews can indicate if an e-commerce site is real and trustworthy. If the website feels a bit amateur with a lot of bugs or typos, this can also be a warning sign. 
Similarly, if there's no clear refund policy, you should be on guard. And, when paying, the address bar should have https:// at the beginning, as well as a padlock symbol. This means the site is encrypted and any information you submit is safe.
What are the best online shopping sites?
The best online shopping sites are SSENSE and Fashionphile.  SSENSE is a fashion platform that sells a variety of products, from emerging independent designers to luxury high-fashion houses. Fashionphile, a pioneer in the resale business with its revolutionary concept of a secure and well-designed shopping destination for second-hand luxury handbags.
Where can I buy good clothes for cheap?
You can buy good clothes for cheap on the online shopping sites from our list. They are more cost-friendly than their traditional brick-and-mortar counterparts due to reduced overheads like rental costs and staff. 
Another good option if you're looking for luxury clothing without the accompanying price tag are resale platforms like Fashionphile or Luxury Garage Sale. Resale not only offers access to more budget-friendly luxury goods but also to limited capsule collections and rare vintage finds.
What is the most used online shopping site in the US?
The most used online shopping site in the US is Amazon. The e-commerce business is the most popular retailer in the United States. Amazon's vast selection of products and services makes almost anything we want accessible and available to us within 24 hours of ordering.
What is the most popular online shopping site in the world?
The most popular online shopping site in the world is Amazon. With so many millions of offerings for customers to browse and choose from, it's no wonder that Amazon is so popular. You can compare prices quickly and easily and find what you're looking for within seconds.