Ready to take your retail therapy to the next level? Online shopping is amazing when you know where to find the best deals on designer clothes and uncover the latest fashion trends.
Sure, choice is a luxury, but where should you start?
We'll make your next online shopping adventure a breeze. We've done all the homework for you to handpick the absolute best online shopping sites for women. We checked each store's return policies, tested their payment systems for safety, and bought their products ourselves, so you don't have to.
These digital fashion destinations have it all: high-quality clothes, shoes, and accessories, speedy delivery, and, most importantly, an eye for high-impact fashion.
In a rush? Not a problem. Just look at the table below to quickly find the online store that best matches what you're looking for. We've organized our list by what each store is best for, so you can quickly be on your way.
The best online shopping sites for women
1. LUISAVIAROMA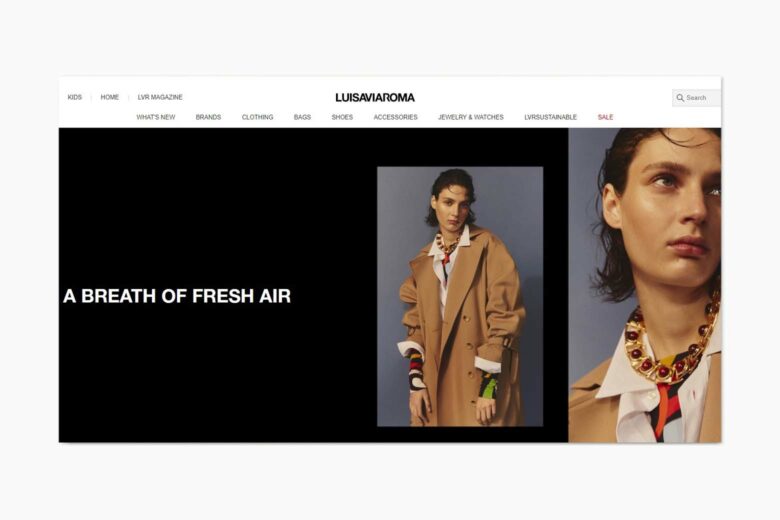 Curated with molto Italian flair (so much so that we coined the online destination One-click La Dolce Vita for everyone), LUISAVIAROMA is one of our favorite websites to shop for a large range of designer clothes.
The shopping site features over 600 different luxury brands, from established names like Balenciaga and Gucci to emerging new designers. Online, you'll find a vast selection of clothing and accessories as well as home furnishings and beauty products.
Best for: The latest luxury trends in designer clothes, accessories, and shoes.
| | |
| --- | --- |
| Shipping Policy: | Express shipping cost is $ 10. For orders shipped to multiple U.S. states, sales taxes will be calculated at checkout and will be collected and paid by LUISAVIAROMA. |
| Price range: | $$-$$$$ |
2. Fashionphile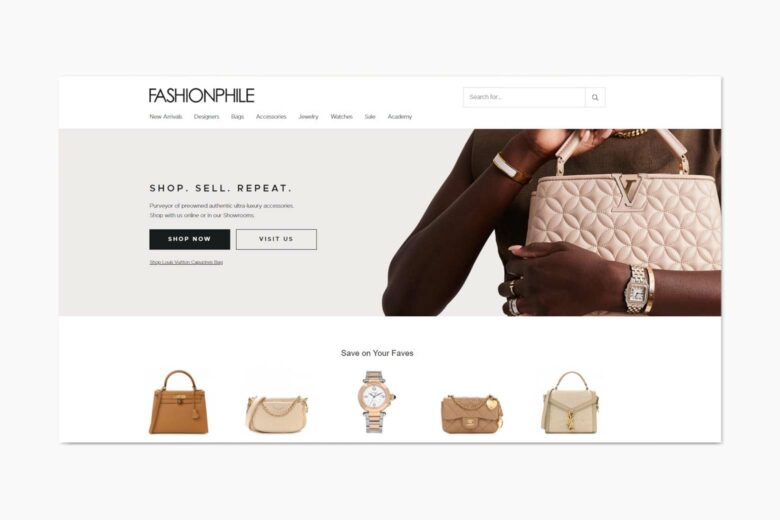 With a seemingly endless selection of pre-loved, vintage, rare, and limited edition handbags from the likes of Louis Vuitton and Prada, Fashionphile has made a name for itself as one of the world's best resale websites.
Using expert analysis and innovative technology to verify the authenticity of each handbag, Fashionphile strives to combat the resale market's negative image.
Not sure which designer to go for? Our rundown of the best designer work bags could inspire you.
Best for: pre-owned luxury handbags and watches.
| | |
| --- | --- |
| Shipping Policy: | Insured domestic shipping within the continental U.S. |
| Price range: | $$-$$$$ |
3. Rue La La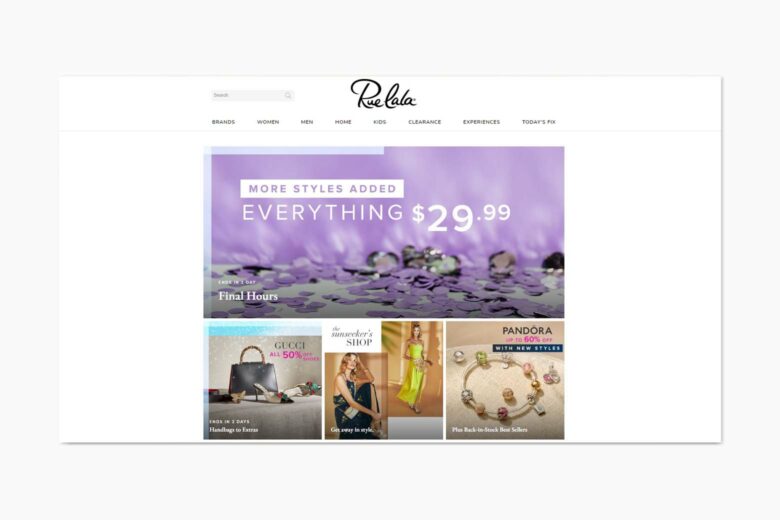 With a focus on young, affluent brand-conscious shoppers, Rue La La offers a combination of discounted designer pieces and high-end luxury products. Best of all, they give you up to 70% off retail prices through their "Boutique" sales — flash sales that run daily on the site.
No wonder it's currently at the top of our list of the best online outlet stores for discount designer clothes. Just sign up for their newsletter and you'll immediately receive alerts on their flash sales. Membership is always free.
Best for: daily deals and discounted luxury pieces.
| | |
| --- | --- |
| Shipping Policy: | Most Rue La La merchandise ships for a rate of $9.99 for standard shipping to the 48 contiguous United States. |
| Price range: | $-$$$ |
4. Cuyana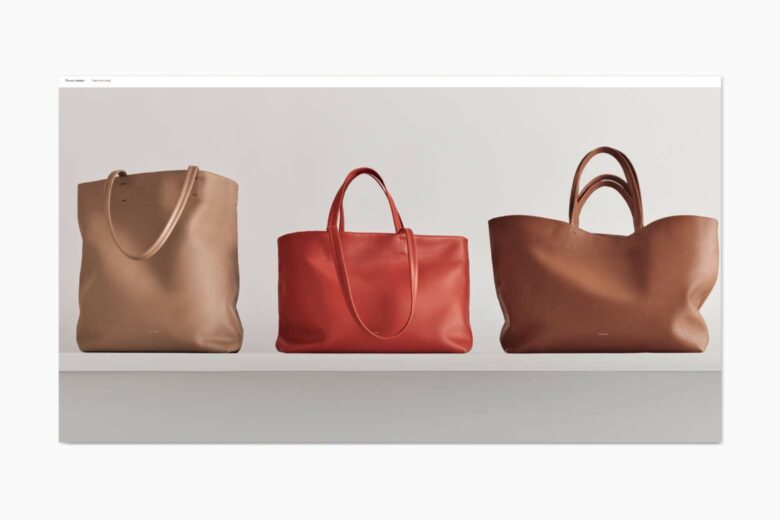 Beware, just opening Cuyana's gorgeous website will pull you into their mesmerizing universe (learn more about the Cuyana story). We're absolutely in love with everything the two young female designers at the head of the brand create. And best of all, Cuyana preaches sustainable fashion, encouraging you to buy less but better.
Best for: premium essentials, from clothing to handbags and jewelry.
| | |
| --- | --- |
| Shipping Policy: | Free shipping on orders over $95. |
| Price range: | $-$$ |
5. Aesop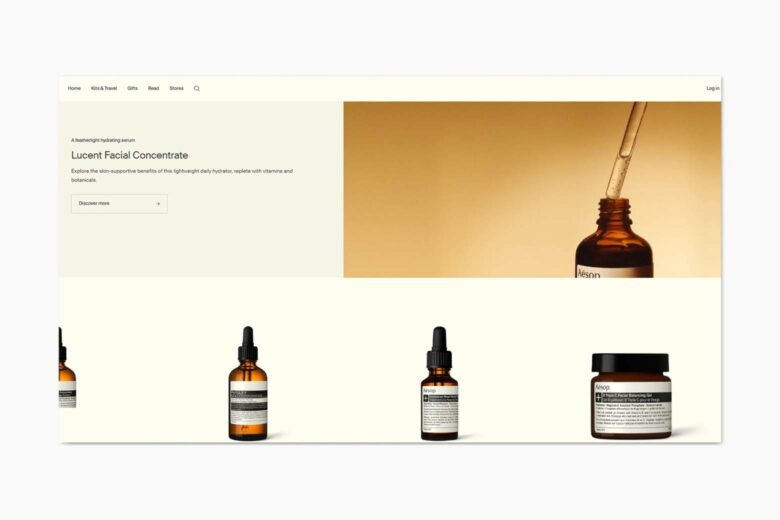 Do we still need to introduce Aesop? Our favorite beauty brand, famous for its excellent skincare products and stunning stores, is also available online. While you might not get the full store experience, their website is a real joy to navigate and makes it easy to purchase your favorite products. And best of all, Aesop always includes a few samples in your package so you don't miss out on their latest releases.
Best for: natural skincare solutions.
| | |
| --- | --- |
| Shipping Policy: | Europe- from 9-11€ |
| Price range: | $-$$ |
6. Senreve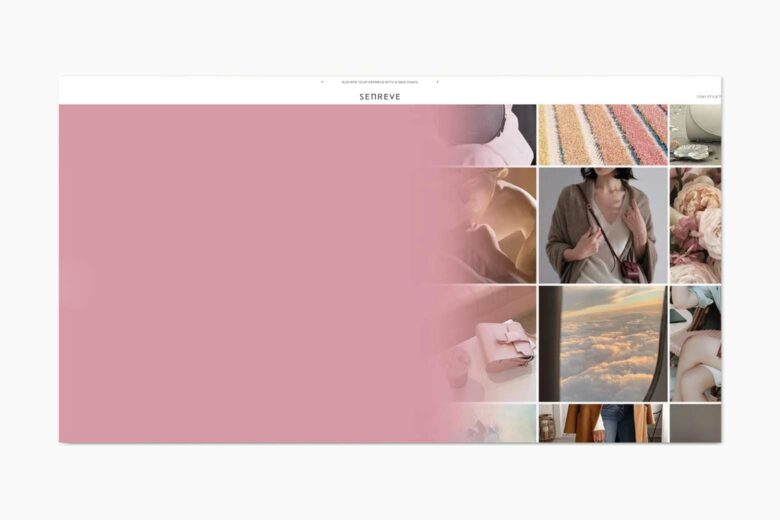 The name Senreve is a combination of two French words: sense and rêve, meaning 'sense and dream'. The company's ethos is all about embracing opposites and dichotomies: tradition and innovation, the everyday and fantasy, high-fashion and versatility.
A Senreve handbag looks and feels luxurious — but is also practical, fulfilling all everyday needs. Lightweight and travel-friendly, you can carry it straight from the boardroom to after-work drinks.
Best for: functional luxury handbags.
| | |
| --- | --- |
| Shipping Policy: | Complimentary US Ground shipping on US orders over $300. |
| Price range: | $$-$$$ |
7. Alo Yoga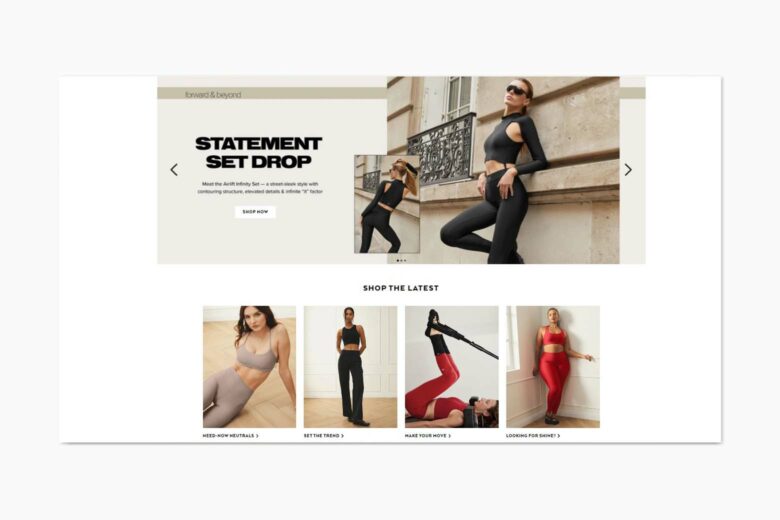 There's only one brand you need to check if you're after a functional, yet stylish new pair of leggings: Alo Yoga. Made famous by Hollywood celebrities, the athleisure brand is one of the bestselling at the moment with its clothing lines that can take you from the gym to the office (or your couch). Check our round-up of the best athleisure brands for women if you want to see more options.
Learn more about the Alo Yoga brand.
Best for: fashionable and high-quality sportswear.
| | |
| --- | --- |
| Shipping Policy: | FREE worldwide shipping (excluding taxes, duties and international processing). |
| Price range: | $-$$ |
8. NET-A-PORTER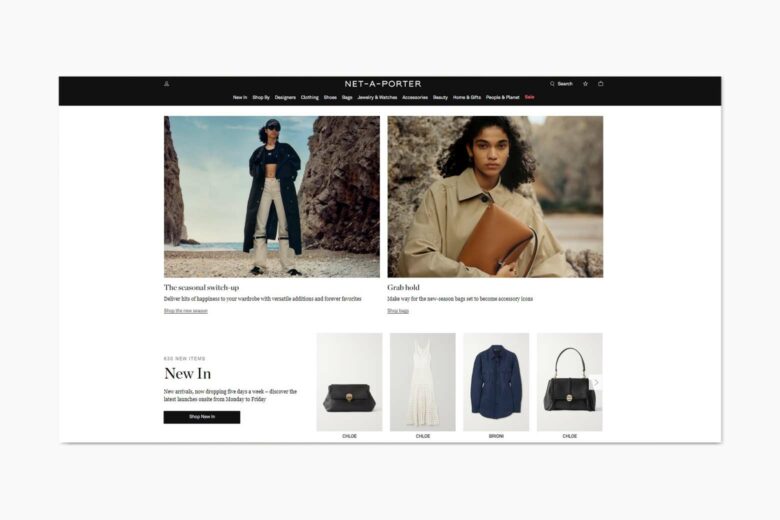 NET-A-PORTER is the place to go if you want to splurge on premium luxury clothes, shoes, bags, and accessories. The site has one of the largest inventory of luxury designer brands and offers a white glove delivery service. You'll find a healthy mix of traditional luxury goods and more edgy styles. They now also sell high-end Swiss watches on the site. No wonder it's one of the best women's clothing stores online.
NET-A-PORTER offers express shipping to more than 170 countries — including same-day delivery to cities like London and Hong Kong. You'll also be treated to some of their luxurious signature packaging. Nothing quite as exciting as one of those black boxes turning up at your front door.
Best for: convenience, efficiency, and customer support.
| | |
| --- | --- |
| Shipping Policy: | N/A |
| Price range: | $-$$$ |
9. gorjana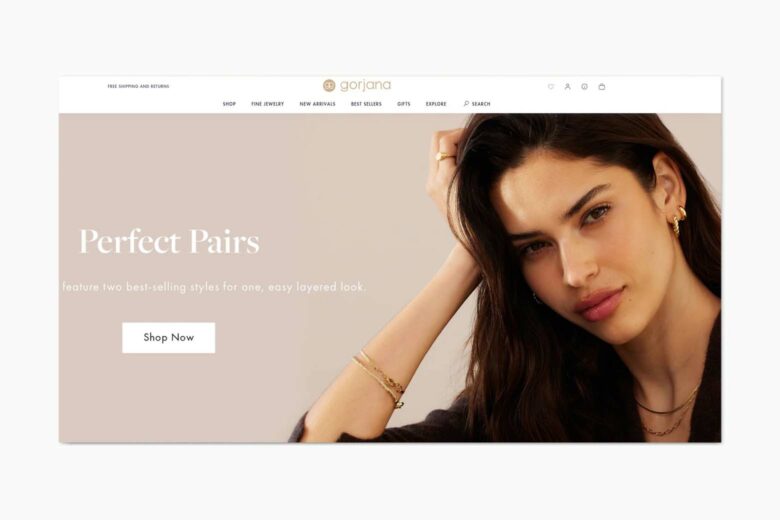 Fast becoming a Luxe Digital's readers favorite, gorjana is the best online store to shop for your everyday jewelry. The brand designs modern and minimalist jewelry for a relatively affordable price. If you want something cute and trendy to wear for any occasion, this is the place for you. gorjana is going above and beyond to offer the perfect earring, bracelet and necklace.
Best for: simple, stylish, and affordable jewelry for the modern woman.
| | |
| --- | --- |
| Shipping Policy: | Free standard shipping on all orders within the US and Puerto Rico. |
| Price range: | $-$$$ |
10. Oliver Cabell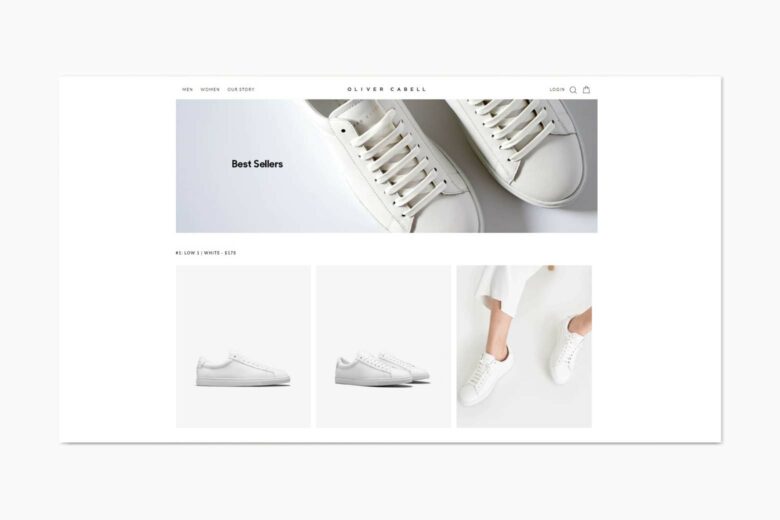 For the perfect minimalist pair of white sneakers, look no further than Oliver Cabell. The American footwear brand prides itself on using old-school techniques combined with innovative new technology and premium Italian leather. Their sneakers are laid back yet luxurious. We felt in love with Oliver Cabell after reviewing their most popular shoes. And we think you will too.
With a commitment to ethical practices and superb craftsmanship, Oliver Cabell is able to offer impeccable footwear at a substantially lower price than other luxury retailers by keeping overheads low. They're so confident in their pricing model that they show you exactly what each component of the shoe costs.
Check our story on Oliver Cabell's brand to learn more about the shoemaker.
Best for: casual luxury footwear.
| | |
| --- | --- |
| Shipping Policy: | Free shipping worldwide for orders over $200. |
| Price range: | $-$$ |
11. Vincero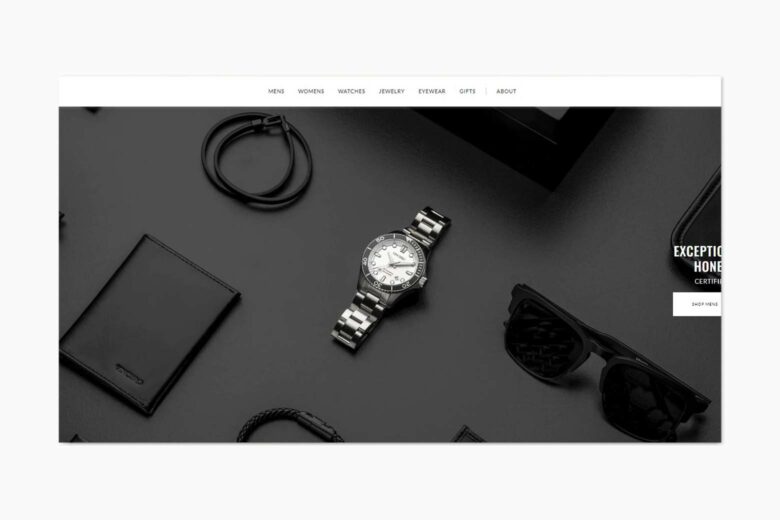 A watch that looks, feels, and ticks like an expensive Swiss watch but for a fraction of the price? Yes, please! Vincero is at the forefront of a little revolution in the world of analog watches. With a large range of timeless yet trendy design, the watch manufacturer offers high-quality watches at a fair price. No wonder it's currently at the top of our ranking of the best watch brands for women.
Best for: premium watches at an affordable price.
| | |
| --- | --- |
| Shipping Policy: | Free shipping over $100 |
| Price range: | $-$$ |
12. Brooklinen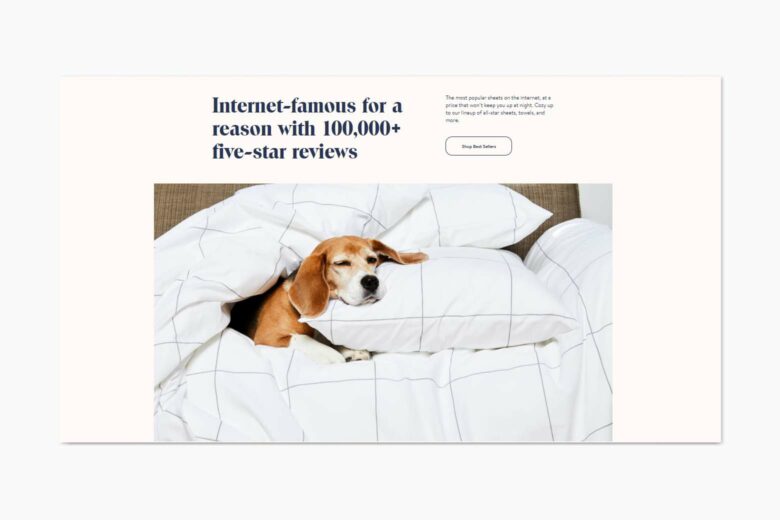 Ready to take a break from shopping for clothes and shoes online? Looking for something to upgrade your home? Brooklinen is our favorite website to buy premium bedsheets, towels, bathrobes and even pajamas that are super soft and comfy. And best of all, all their products are high quality yet budget-friendly thanks to their direct-to-consumer model. There's no middleman to bump up the price, so you get the best deals possible.
Best for: bedsheets, towels, bathrobes, loungewear.
| | |
| --- | --- |
| Shipping Policy: | Free shipping in the U.S. |
| Price range: | $-$$$ |
13. ASOS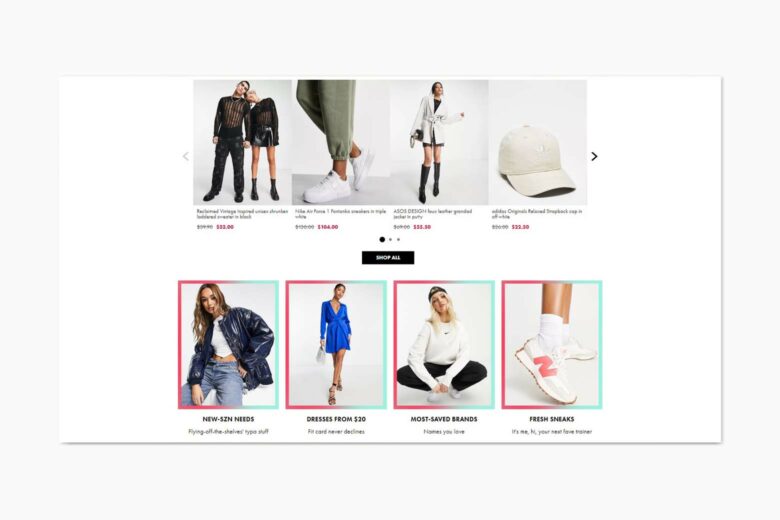 For accessible fashion shopping, you should take a look at ASOS' website. It's one of the best online destinations for the latest fashion trends and affordable streetwear styles. The store focuses on cool Scandy aesthetic but also offers clothes from brands such as Nike, Mango, Top Shop, and Bershka.
Best for: accessible everyday fashion.
| | |
| --- | --- |
| Shipping Policy: | Free Delivery. |
| Price range: | $-$$ |
14. SSENSE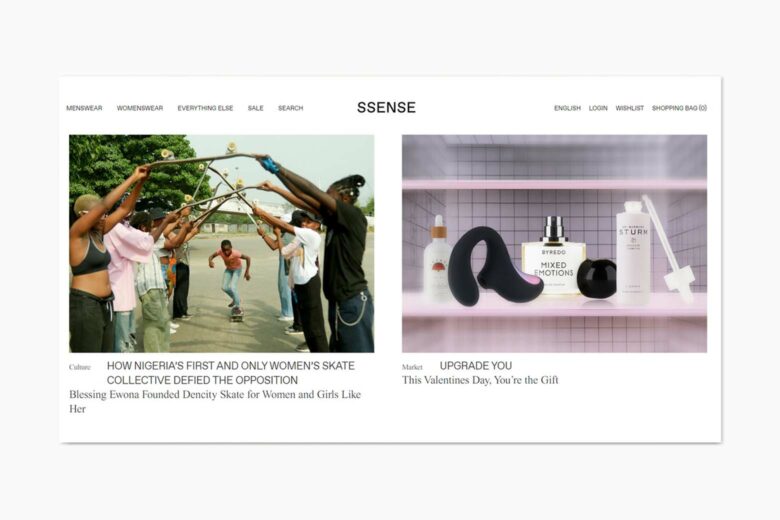 Online fashion retailer SSENSE focuses on a smaller and highly curated selection of apparel that mixes streetwear and high fashion with pieces from some of the industry's most exclusive designers.
While it's a luxury retailer at heart, SSENSE has made a point of celebrating exciting new offerings from the worlds of art and music too, celebrating an interdisciplinary approach to fashion.
Best for: avant-garde design.
| | |
| --- | --- |
| Shipping Policy: | Free shipping on full-price orders over $100 USD and other orders over $300 USD. |
| Price range: | $-$$$ |
15. FARFETCH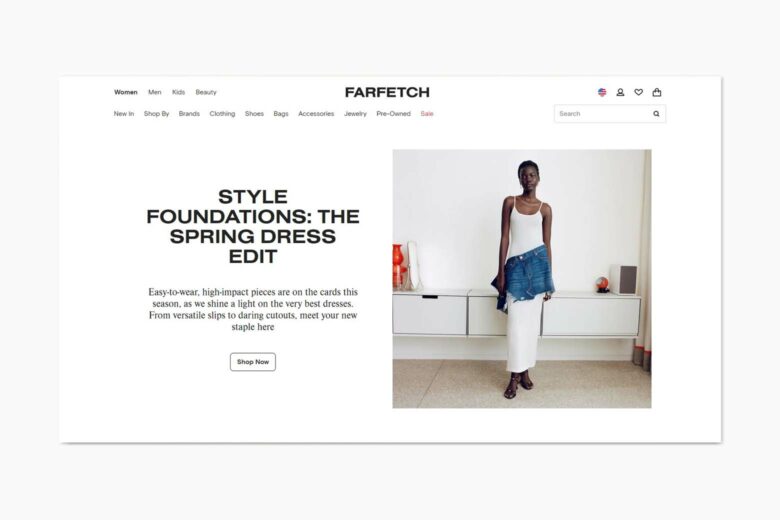 FARFETCH, a pioneer in online luxury fashion, seeks to connect high-end fashion creators with curators and consumers around the world.
As soon as you land on FARFETCH's site, you'll be introduced to a selection of clothing from 300 different boutiques from all over the world. This is the perfect site for sourcing a special and unique addition to your wardrobe.
Best for: streetwear luxury.
| | |
| --- | --- |
| Shipping Policy: | One delivery fee to most locations. |
| Price range: | $-$$$ |
16. Koio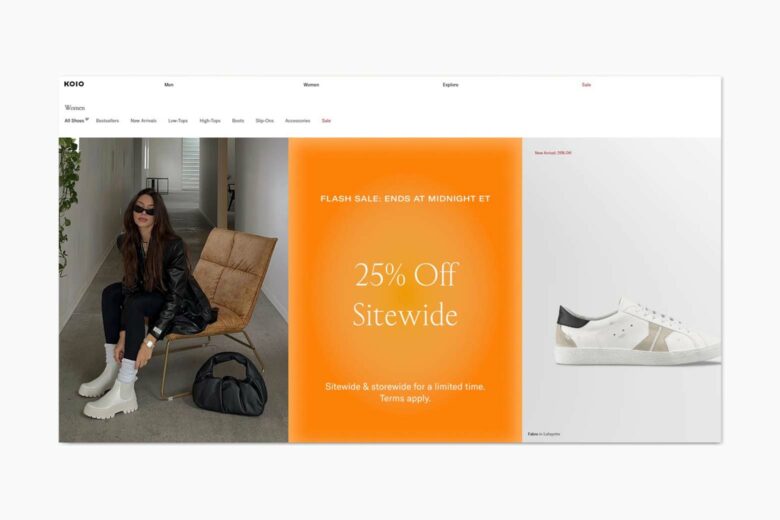 Fancy a pair of sneakers that look just as good in the boardroom as they do in a cocktail bar? Koio has you covered. Crafted from calfskin leather and hand-finished with impeccable attention to detail, versatility is the name of the game in a Koio sneaker. You really can wear them anywhere.
With a commitment to quality products, ethical manufacturing, and sleek design, Koio sneakers are celebrated as both comfortable and an expression of cutting-edge cool.
Best for: luxury sneakers that can be worn anywhere.
| | |
| --- | --- |
| Shipping Policy: | Free shipping applies only to domestic orders totaling $100+ |
| Price range: | $-$$ |
17. Bellroy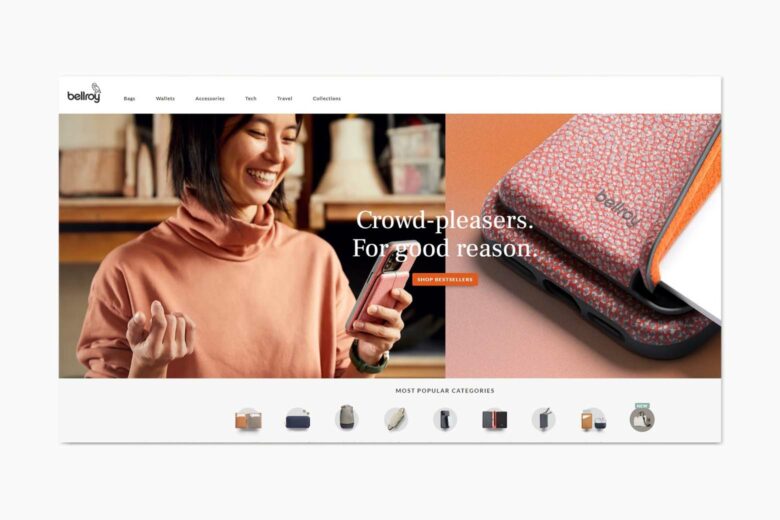 Style meets functionality. That's the best way to describe Australian accessories designer Bellroy. The brand creates the smartest wallets, pouches, and travel accessories you'll find online. A quick look at their collection and you'll be immediately converted. Best of all, Bellroy is committed to producing sustainably, so you can shop with confidence.
Best for: smartly designed wallets, pouches, and bags.
| | |
| --- | --- |
| Shipping Policy: | Shipping cost and delivery times are calculated at checkout. |
| Price range: | $-$$ |
18. Vestiaire Collective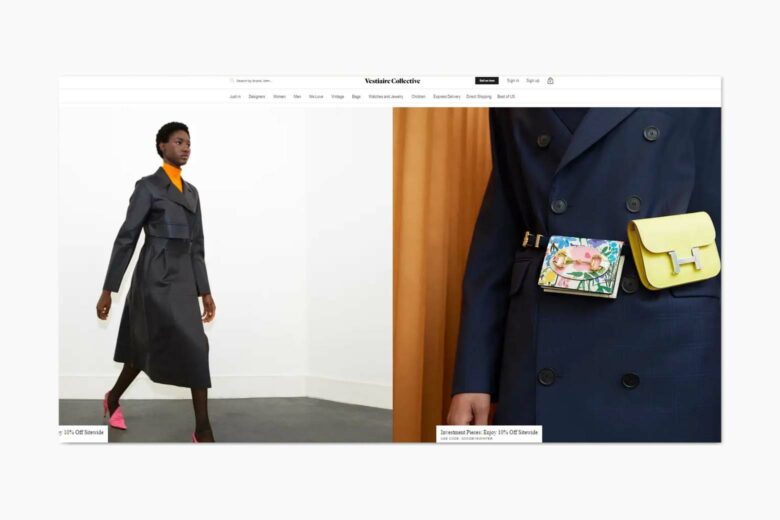 If you are, like many other luxury shoppers, increasingly motivated to support sustainability in fashion, resale website Vestiaire Collective should become a regular stop on your shopping list. The site is working to reduce the fashion industry's carbon footprint by promoting a circular economy.
An online marketplace where you can buy and sell pre-owned designer clothing and accessories, Vestiaire Collective offers a curated selection of products with new ones added daily and in-house experts to ensure the authenticity of each item.
Best for: eco-conscious high-fashion.
| | |
| --- | --- |
| Shipping Policy: | Shipping, customs and handling fees will vary depending on the location. |
| Price range: | $-$$$ |
19. Rebag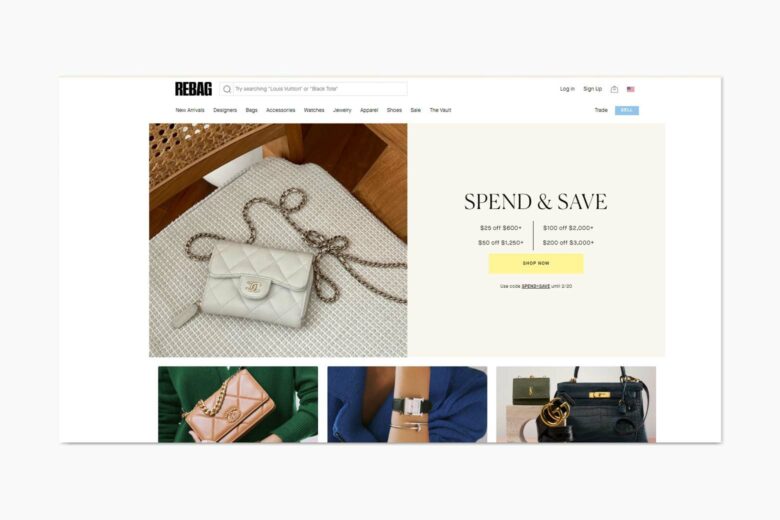 Rebag is a luxury accessory resale platform where you'll find highly-coveted designer handbags from over 50 brands, including Chanel, Hermès, and Gucci, among others. Experts work to ensure they are all the real deal and new bags are added each week.
The platform is also moving into the rental shopping arena with the Rebag Infinity program. Shoppers who purchase a handbag from Rebag can sell it back within six months for 70% of what they initially paid in store credit.
Best for: designer handbags at a hefty discount or to rent.
| | |
| --- | --- |
| Shipping Policy: | Free shipping on orders over $500. |
| Price range: | $$-$$$$ |
20. The RealReal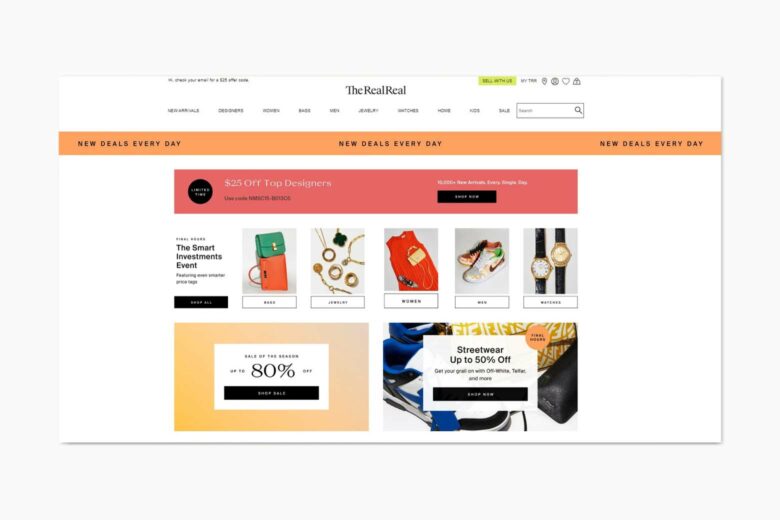 Another crowd favorite on our list of the best private sales websites, The RealReal brings luxury goods to eco-conscious fashion lovers worldwide through its consignment sales. With its commitment to extend the life of high-end clothing, The RealReal is revolutionizing our ideas about what luxury fashion is by reselling items from top designers on their online marketplace.
Best for: luxury consignment sales.
| | |
| --- | --- |
| Shipping Policy: | Standard $12.95, 3-5 Express $39.95 1-2 business days. |
| Price range: | $$-$$$$ |
21. 24S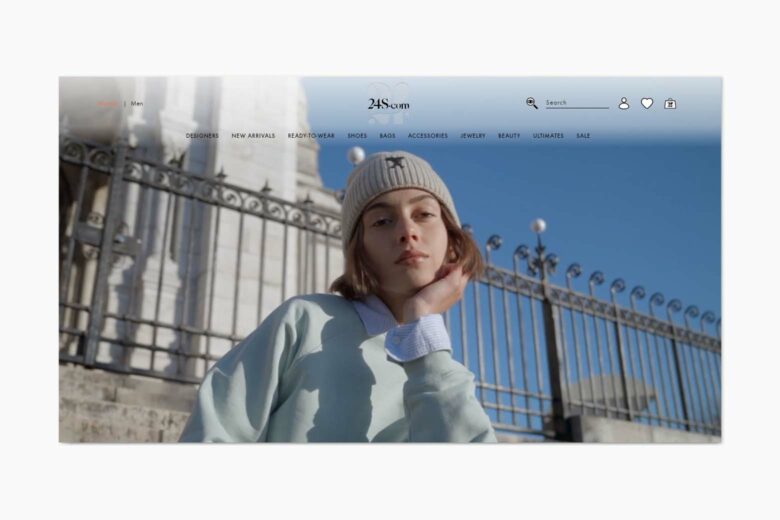 Owned and operated by LVMH, the group behind Louis Vuitton, 24S is an online luxury store with over 200 different luxury brands — including Dior, Fendi, and Celine. Whether it's luggage, clothes, or cosmetics, 24S can help you make the perfect purchase for that sophisticated Parisian chic look.
Best for: premium luxury fashion.
| | |
| --- | --- |
| Shipping Policy: | Free delivery on orders over $250 |
| Price range: | $$-$$$$ |
22. MatchesFashion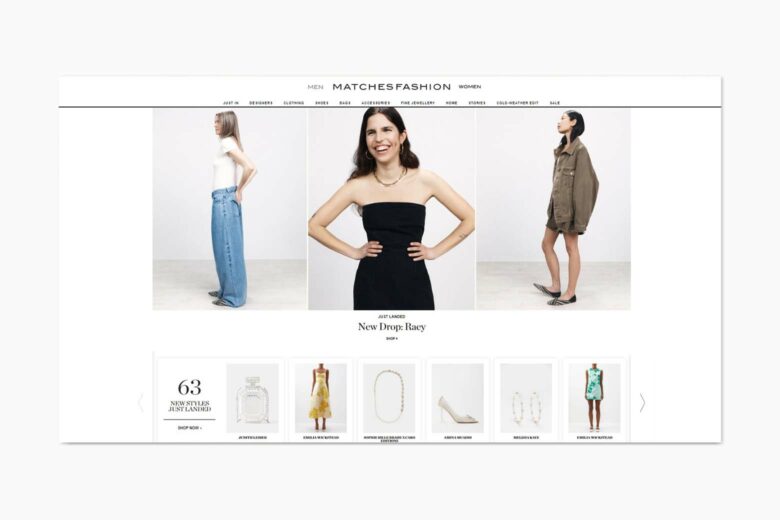 MatchesFashion is another good luxury e-commerce store to access over 450 established designers and emerging talents.
The online store delivers to over 176 countries. MatchesFashion will also give you 24/7 advice and support through their fashion-concierge team, MyStylish.
Best for: wide-ranging choice of designers.
| | |
| --- | --- |
| Shipping Policy: | Shipping cost and delivery times are calculated at checkout. |
| Price range: | $$-$$$$ |
23. Kérastase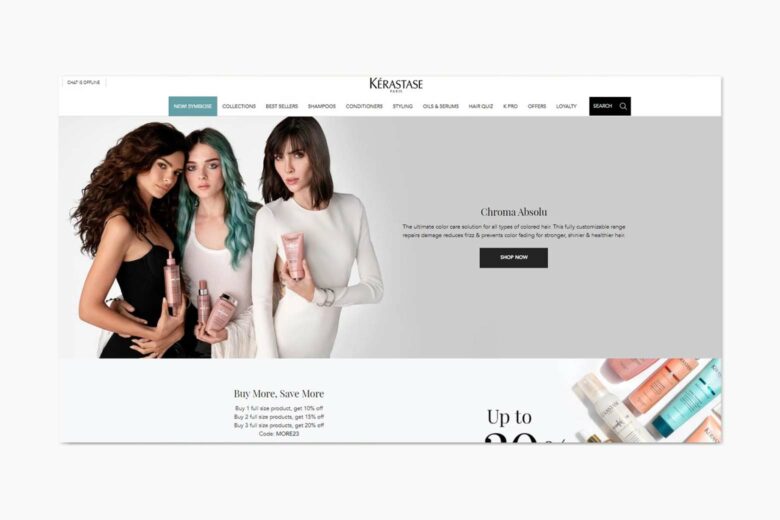 You've probably tried the famous French haircare brand Kérastase if you've visited a premium hair salon. The premium hair care brand is famous for creating bespoke hair products and treatments that achieve incredible results.
On the Kérastase's website, you'll be able to run your own hair diagnostic to help you determine what your hair is craving for and find the perfect products, tested by top hairdressers in salons across the world, to improve your hair.
Best for: premium hair care solutions.
| | |
| --- | --- |
| Shipping Policy: | Free shipping on all online orders. |
| Price range: | $-$$ |
24. Bloomingdale's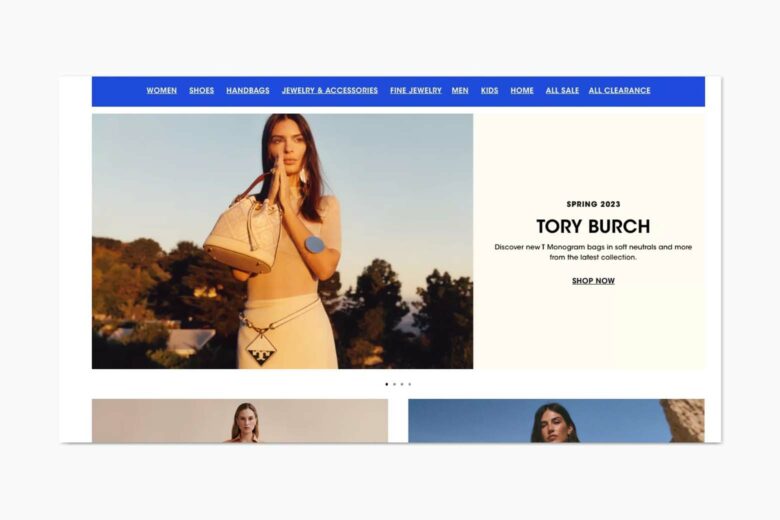 Who hasn't heard of the iconic department store, Bloomingdale's? But did you know you can shop Bloomingdale's online?
Not just that, but you can also make use of Bloomingdale's online subscription rental service. The service is called My List at Bloomingdale's. You pay $149 a month and can then select pieces you want to rent. Once they've arrived, you can wear them as long as you want — or swap them in for others.
Best for: online clothing rental subscription service.
| | |
| --- | --- |
| Shipping Policy: | Free on orders over $150.00 |
| Price range: | $-$$$ |
25. Away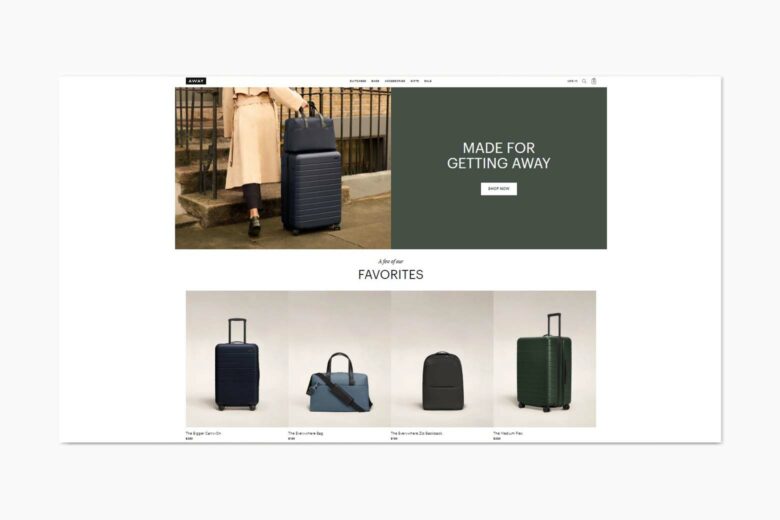 Away's range of travel suitcases has done something previously thought impossible: they have taken the suitcase — that rather boring travel necessity that people rarely think twice about — and transformed it into something as stylish and exclusive as a designer handbag.
Away's suitcases come in 12 standard colors and there's also the option to personalize your case. Most exciting, however, is the fact that they come with a built-in battery — so you can charge your phone or other USB device straight from your suitcase.
Best for: luxury suitcases with smart features.
| | |
| --- | --- |
| Shipping Policy: | Free shipping via DPD within the UK. |
| Price range: | $-$$ |
26. Summersalt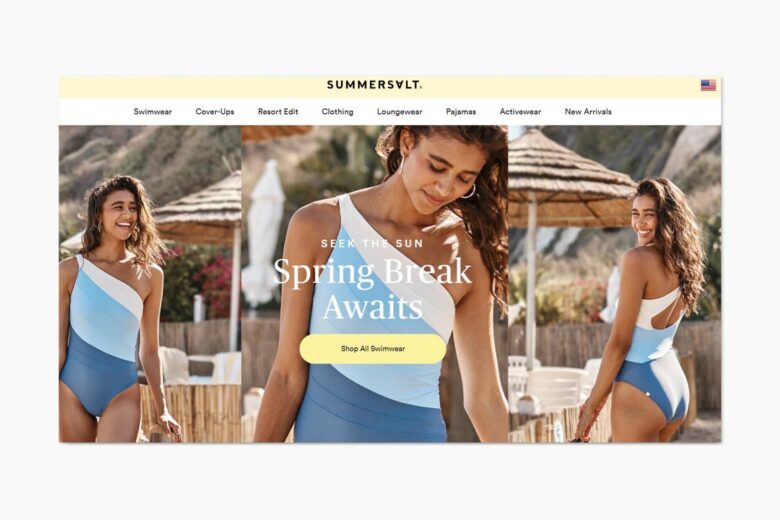 Looking for high-quality and cute swimwear sold at a budget-friendly price? Take a look at Summersalt's designer swimwear collection. By selling directly to the consumer via their website, Summersalt can keep its prices down while still offering stylish garments.
With its colorful designs, the brand feels very modern and fresh and all their suits are UPF 50. They also sell loungewear, travel wear, and sleepwear. Their Everywhere pant, for example, has a pocket large enough to fit your passport in it, which is pretty convenient.
Summersalt also uses recycled materials to create their fabrics and packaging. So you can look stylish by the pool without costing the planet.
Best for: sustainable swimwear and clothing.
| | |
| --- | --- |
| Shipping Policy: | Free shipping for US only. |
| Price range: | $-$$ |
27. Amazon Fashion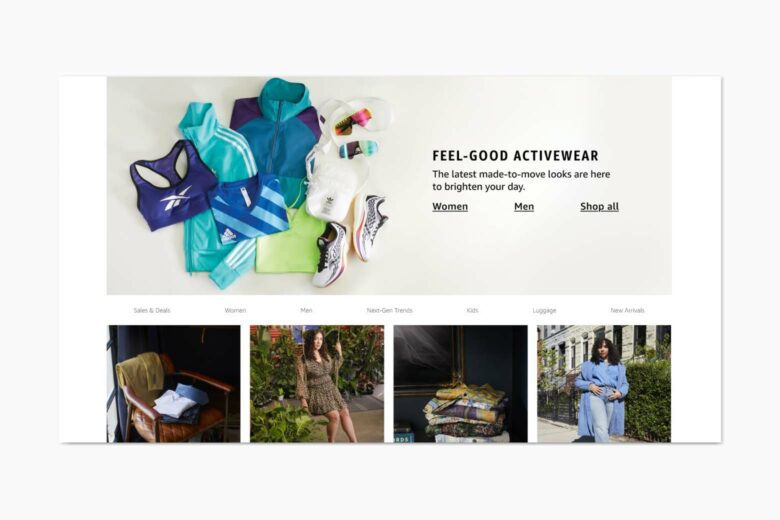 This list wouldn't be complete without mentioning the most popular online store in the world. Life before Amazon is hard to remember and this retail megalith certainly knows how to deliver a winning customer experience.
There's a vast selection of women's clothing on the site, including workout gear and holiday essentials. But the real selling point of Amazon is its peerless shopping experience. The dedicated Amazon Fashion page offers smooth and streamlined shopping. It takes the convenience of online shopping to the next level. Oh, and many items are eligible for free shipping and returns.
If you haven't tried it yet, you should take a closer look at the Amazon Prime Wardrobe service that now lets you choose up to eight items on the store and enjoy a free seven-day try-on period. You'll only need to pay for what you decide to keep after trying on the clothes at home. Sweet!
Best for: affordable fashion, speedy delivery.
| | |
| --- | --- |
| Shipping Policy: | Shipping rates and times depend on the shipping speed and the weight/size of the items. Free shipping with Amazon Prime. |
| Price range: | $-$$ |
28. KAAI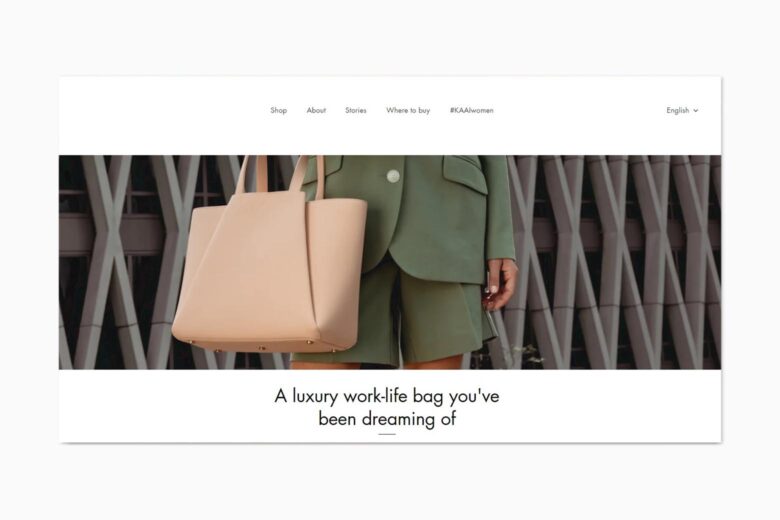 Getting a handle on juggling work and life, KAAI has some of the best designer work bags for women who mean business. From the oversized Helix tote to the convertible Mini Hero, each design features impeccable attention to details (think reinforced handles and metal feet to bear the weight of your laptop).
KAAI bags are delicately understated on the outside yet surprisingly intuitive on the inside. Made from the highest quality leathers, the timeless designs fuse femininity with functionality. And whilst they're based in Belgium, you don't have to hop on a flight to find your new life partner. You can find a bag to have and to hold from the convenience of your couch.
Best for: Holding up—from the boardroom to the bar.
| | |
| --- | --- |
| Shipping Policy: | Free international shipping on orders of $125 or more |
| Price range: | $$$ |
29. WHBM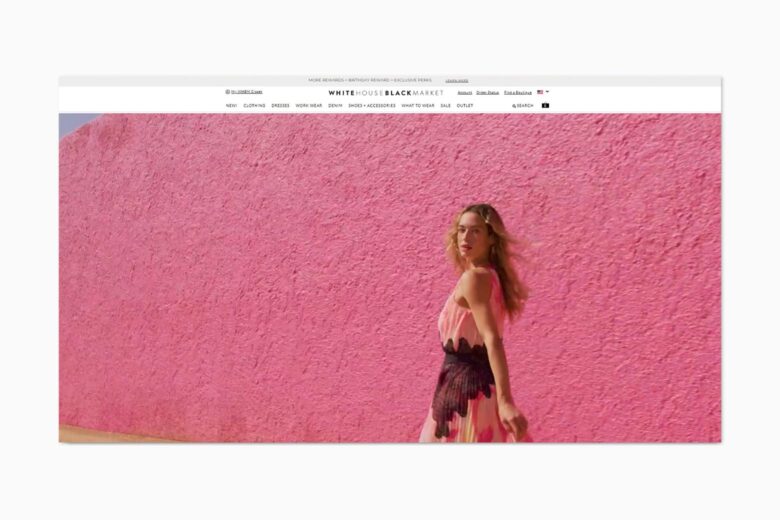 White House Black Market empowers women by embracing the concept of owning your contradictions. The online store emphasizes a black-and-white color palette. And whilst WHBM is undeniably timeless, the modern minimalist aesthetic is simultaneously always on-trend.
Made by women for women (an adage we'll forever celebrate), the thoughtful brand understands the multifaceted personalities of professional women and dresses us accordingly. From power dressing for the office to sultry sophistication on a first date, we may be dressed in black and white—but we prefer living in the gray.
Best for: Dressing in complementary contradictions.
| | |
| --- | --- |
| Shipping Policy: | Free domestic shipping on orders of $50 or more |
| Price range: | $$ |
30. On Running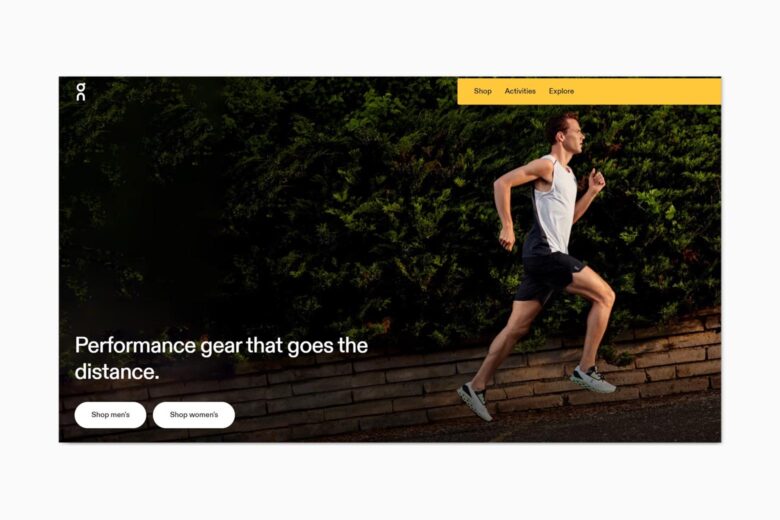 Chances are you've already overheard the more enthusiastic members of your running club harping on about On Running shoes. And if you want to keep up, there's no other way but to head to the brand's seamless online store.
On Running's signature cloud cushioning is the reason that the frontrunners never see out of breath. On Running's patented Helion foam is designed to reduce fatigue and lower the heart rate. And created with Swiss precision by running enthusiasts, everything about On Running is considered to give you the upper hand (or foot) on and off the track.
Best for: Taking podium.
| | |
| --- | --- |
| Shipping Policy: | Free domestic shipping on orders of $35 or more |
| Price range: | $$ |
31. Nordgreen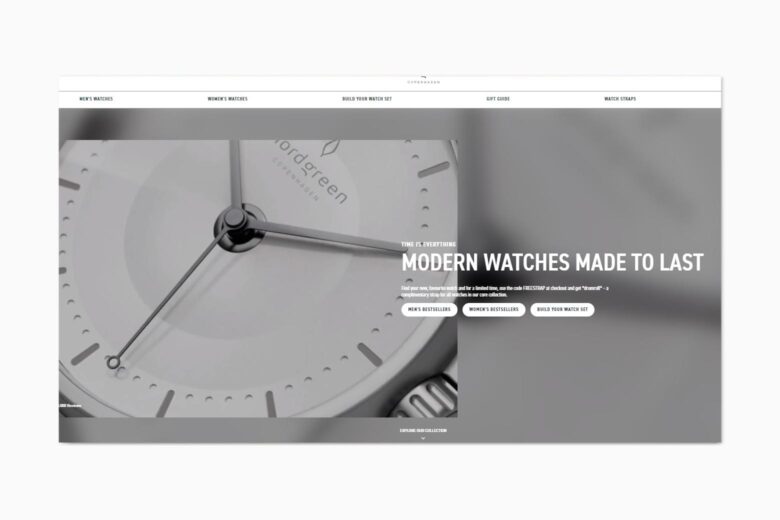 They're clean, creative, and conscious. Nordgreen watches and jewelry pieces may not be for everyone. But they are for those who appreciate sustainability in fashion, as well as minimalist designs.
Although it was only founded in 2017, Nordgreen has the elegance and refinement of all the time-honored classics—but without the assumed price tag. Simple and sophisticated, each minimalist watch exudes the quintessentially Nordic mood of polished practicality (More on this in our full Nordgreen watches review). So if you're looking for a high-quality watch that fits into formal and casual occasions (as well as your budget), we recommend scrolling through this brand's collection of Scandi-inspired staples.
Best for: Simple, sustainable, and Scandinavian.
| | |
| --- | --- |
| Shipping Policy: | Free international shipping |
| Price range: | $$ |
32. Soma Intimates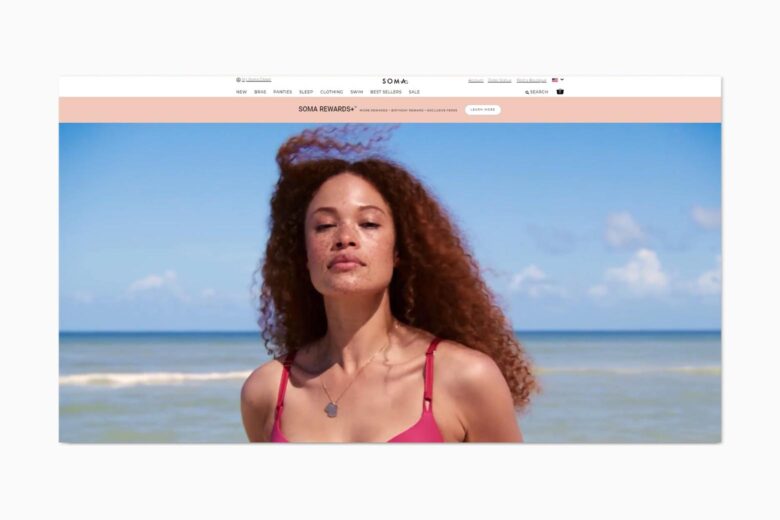 They say it's underneath what truly counts. But no brand embodies the all-hailed (yet rarely lived up to) adage like Soma Intimates. Emphasizing inclusivity and diversity, the brand's online store is void of impossibly thin models and photoshopped figures. Instead, Soma celebrates the female form with beautifully comfortable underwear for every form (See our Soma Intimates review for more).
Scrolling through Soma's online collections, we're reminded how good it feels to slip on underwear that looks and feels amazing. From wirefree fits for those long-awaited WFH days, to sultry lacey iterations for your romantic evening in, Soma's online store has all the support you need.
Best for: Confidence-inducing comfort.
| | |
| --- | --- |
| Shipping Policy: | Free domestic shipping on orders of $100 or more |
| Price range: | $$$ |
33. Canada Goose
On a wild goose chase to find high-quality Winter gear? Canada Goose has laid the golden egg in luxury adventure apparel (see our Canada Goose brand story). Renowned as the unofficial uniform for Hollywood film crew and actors, Canada Goose is famous both on and off the stage. Plus, they must know a thing or two about eliminating goosebumps if they're trusted with dressing environmental scientists for their annual trip to the Antarctic.
Whether you choose cult-favorite Puffer or the iconic Expedition Parka, Canada Goose jackets are the pinnacle of functional fashion. Although you won't have to climb Everest to get your hands on one—the Canada Goose online store offers free international shipping on all orders.
Best for: Empowering impossible expeditions.
| | |
| --- | --- |
| Shipping Policy: | Free international shipping |
| Price range: | $$$$ |
34. Emmy London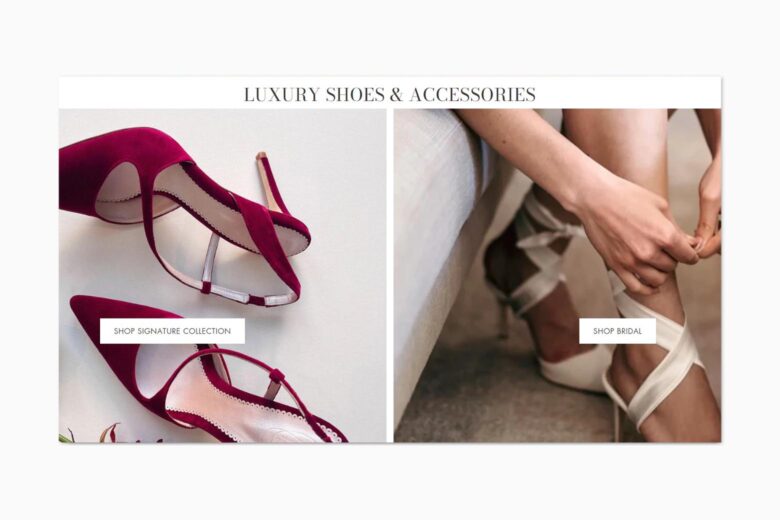 We're falling head over heels for comfortable elegance. And by that, we mean that perusing Emmy London's online store has quickly become our favorite pastime.
A favorite of the Royal family (read the Emmy London story), the British brand marries comfort with decadence. Made in London, each Emmy London shoe features unparalleled attention to detail and impeccable craftsmanship. And whether we're looking for a confident office kitten heel or an exquisitely embellished wedding shoe, the Emmy London online store is usually our first (digital) port of call.
Best for: Diamond-encrusted heels are a girl's (sole)mate.
| | |
| --- | --- |
| Shipping Policy: | Free international shipping on orders of $200 or more |
| Price range: | $$$ |
35. Axel Arigato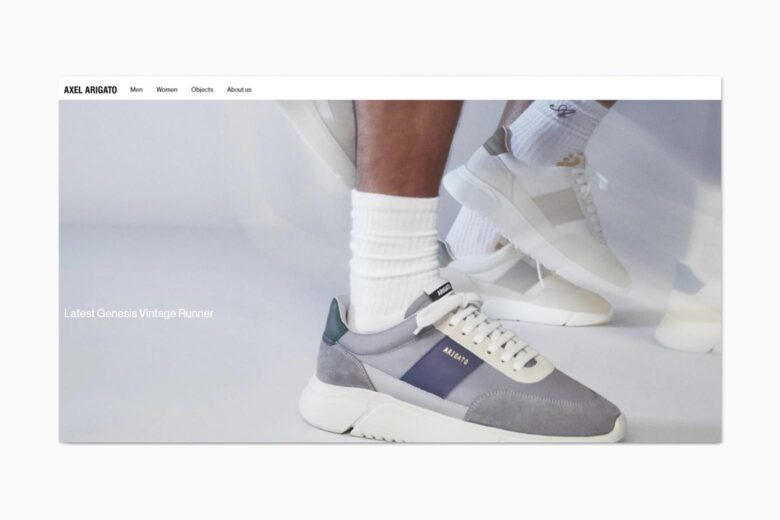 Power to the people! Axel Arigato is liberating us from the depressing choice between mediocre quality and unaffordable price tags—as well as the inconvenience of locating your nearest store. Axel Arigato's online store offers free shipping to over 130 countries. And they understand the urgency of receiving your first (or second or ninth) pair of Axel Arigatos, so expect record-time delivery.
Renowned for their clean sneakers, a pair of Axel Arigatos is quintessential to sneakerhead-status. But if you prefer to dress from head to toe (as we do) in the Swedish brand's avant-garde designs, its collections of hoodies, tees and jackets are worth adding to your cart too.
Best for: Acquiring sneakerhead-status.
| | |
| --- | --- |
| Shipping Policy: | Free domestic shipping |
| Price range: | $$$ |
36. Allbirds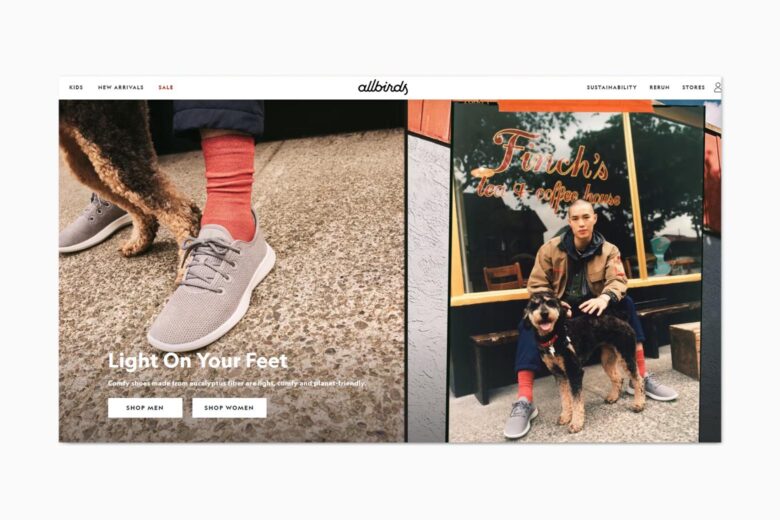 Getting carried away with online shopping can lead to shopper's guilt. Unless we've shopped sustainably—and then it's just another feather in our eco chic cap. As one of the most sustainable footwear brands, Allbirds is case in point. Check out with a full cart and you'll feel nothing but accomplished when your consciously boxed sneakers arrive on your doorstep.
Founded by New Zealand football captain, Tim Brown, Allbirds is flying high above other sneaker brands when it comes to combining comfort with style and sustainability. And made from eco-friendly materials, the minimalist shoes are as light (and breathable) on our feet as they are on the planet.
Best for: Guilt-free shopping sprees.
| | |
| --- | --- |
| Shipping Policy: | Free domestic shipping on orders of $75 or more |
| Price range: | $$ |
37. M.Gemi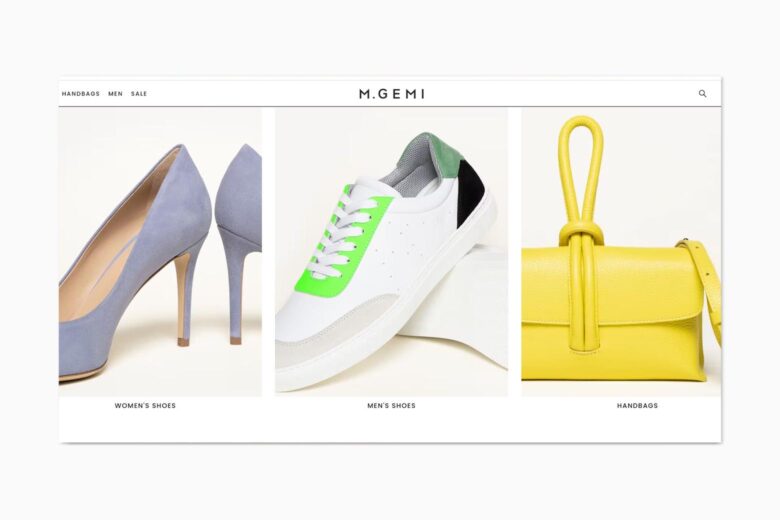 Sometimes all you need is a trip to Italy. And sometimes life just doesn't allow for it—in which case we recommend heading to M.Gemi's online store. It may not be the same as wandering through Sicily's cobblestone streets. But you will leave with a handcrafted pair of Italian shoes. And that has to be a close second to visiting the country itself.
M.Gemi releases a new design every Monday. And take it from us—if there's one way to combat Sunday blues, it's making a digital trip to the online store a weekly affair. 
Learn more about the history behind M.Gemi's brand.
Best for: Visiting Italy—sartorially.
| | |
| --- | --- |
| Shipping Policy: | Free domestic shipping |
| Price range: | $$$ |
38. Dagne Dover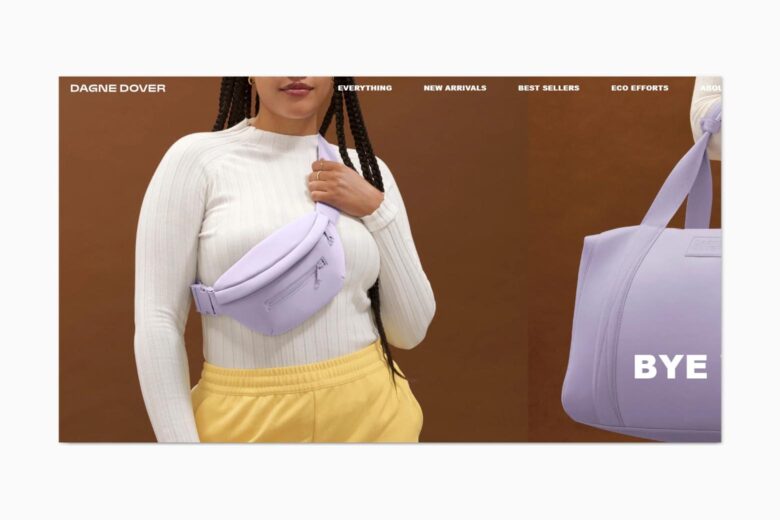 Booked a spontaneous weekend away without thinking through the details? Dagne Dover has got your back. The online store features everything from waterproof backpacks to baby-friendly diaper bags to quintessential travel belt bags.
A new dawn in functional fashion, the female-led brand was born to marry hyper-organization with a stylish minimalist aesthetic. Whether it's a plethora of pockets or a well-placed laptop sleeve, every accessory is exceptionally designed with careful attention to detail. Don't have time to traipse through the shops? All you have to do is head to the Dagne Dover online store—and then eagerly anticipate a speedy delivery.
Learn more about Dagne Dover's brand story.
Best for: Carefree spontaneity meets hyper-organization.
| | |
| --- | --- |
| Shipping Policy: | Free domestic shipping on orders of $75 or more |
| Price range: | $$ |
39. Naked Cashmere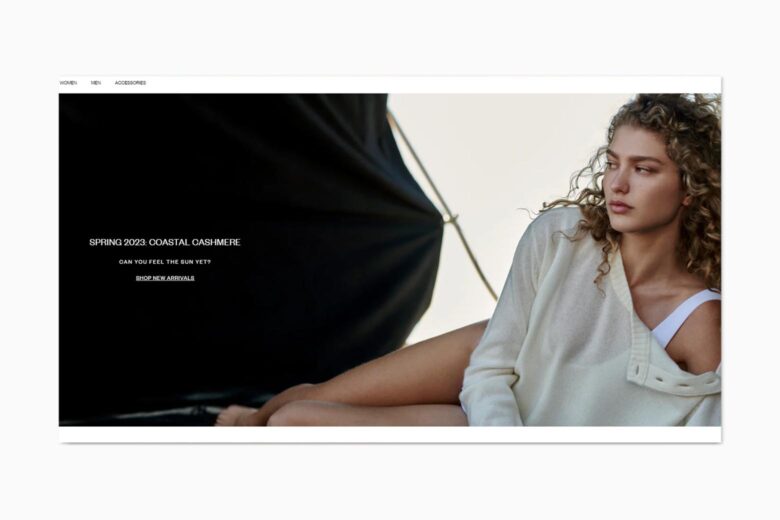 The antidote to rainy Winter days is the excuse to cocoon on the couch in Naked Cashmere. But it kind of defeats the purpose if you have to leave the house to buy your cashmere sweats. So the thoughtful brand made sure you wouldn't have to. Naked Cashmere's online store features the brand's full collection of cashmere apparel for men, women and kids.
Why Naked Cashmere? Simply put: Naked Cashmere is the G.O.A.T of sustainably sourced, affordable, luxury cashmere apparel.
Learn more about Naked Cashmere.
Best for: Cocooning in comfort.
| | |
| --- | --- |
| Shipping Policy: | Free domestic shipping |
| Price range: | $$$ |
40. Eberjey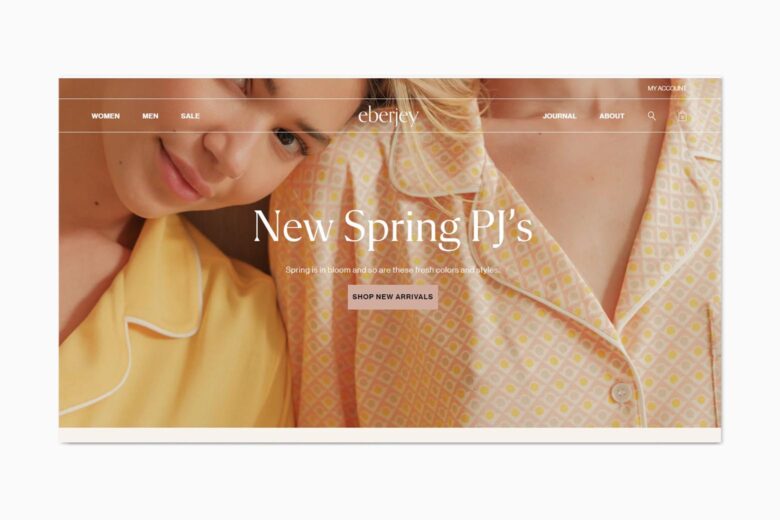 Eberjey is slowing down and appreciating the softer side of life. Care to join? The brand's online store is the digital equivalent of floating through the Miami-based boutique. But you don't have to leave your couch to enjoy it.
The brand may have started out with women's lingerie but today they're dressing just about anyone—from big name celebs to large loving families. Sourcing only the best materials, unparalleled comfort is the foundation of the brand. And it somewhere manages to achieve that without compromising the earth or style.
Learn more about Eberjey's brand story.
Best for: Our unofficial WFH uniform.
| | |
| --- | --- |
| Shipping Policy: | Free domestic shipping on orders of $100 or more |
| Price range: | $$$ |
41. Anthropologie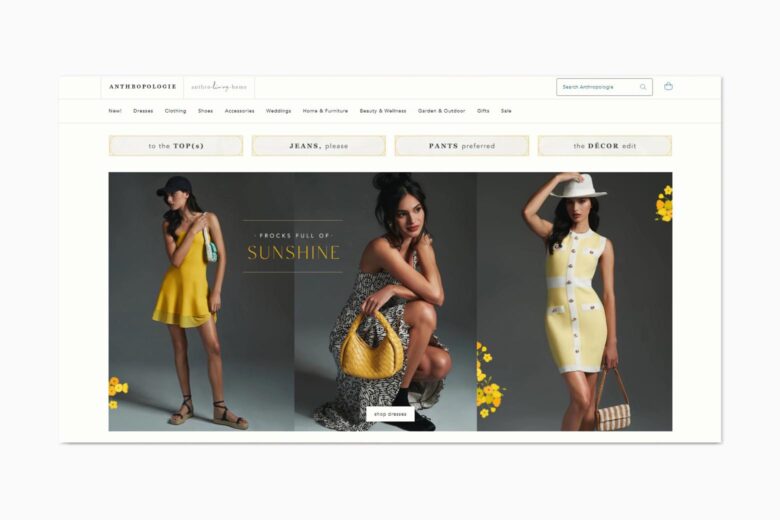 Don't be fooled by Anthropologie's boho aesthetic, the women's online store has something for everyone. From power trousers to dopamine dresses, Anthropologie hits the elusive sweet spot between classical and contemporary with a boho-chic heart.
Counting Julia Roberts, Madonna and Taylor Swift amongst its many fans, the retail mecca and lifestyle brand has edited the wardrobes and homes of a diverse selection of clientele. Whether we're looking for the best wedding guests, or to uplift our living rooms with the best pieces of furniture, you can usually find us scrolling through the Anthropologie online store.
Best for: Cool, classical and contemporary.
| | |
| --- | --- |
| Shipping Policy: | Free domestic shipping on orders of $50 or more |
| Price range: | $$ |
42. Randolph USA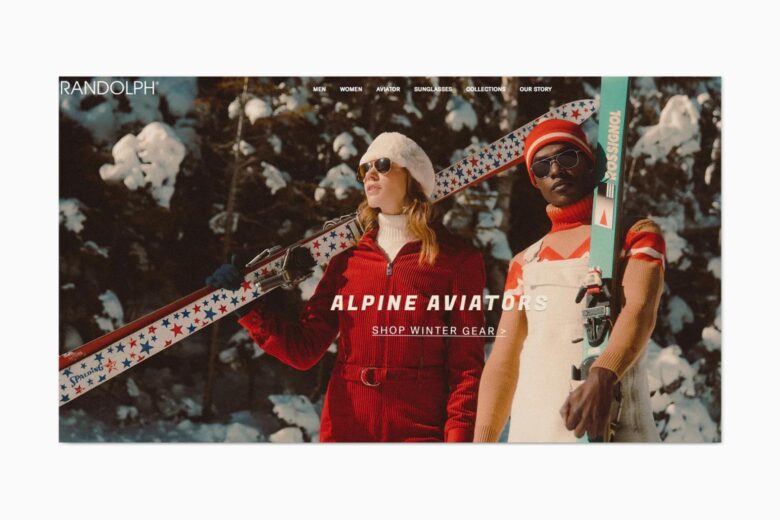 The best way to combat office fatigue? Head to Randolph's online sunglasses store and prepare for future beach breaks.
Born in the USA in 1973, Randolph caught our eye a few years ago, and the brand's quality sunglasses have been perched on our noses ever since. Randolph's polarized lenses reduce glare and improve visual clarity. Its production process includes over 200 meticulously monitored steps. And worn by the likes of Emma Stone, Amy Adams and Kendall Jenner, Randolph's women's aviators are already flying high above other brands.
Best for: Piloting new ways to defeat office fatigue.
| | |
| --- | --- |
| Shipping Policy: | Free domestic shipping on orders of $99 or more |
| Price range: | $$$ |
43. Andie Swim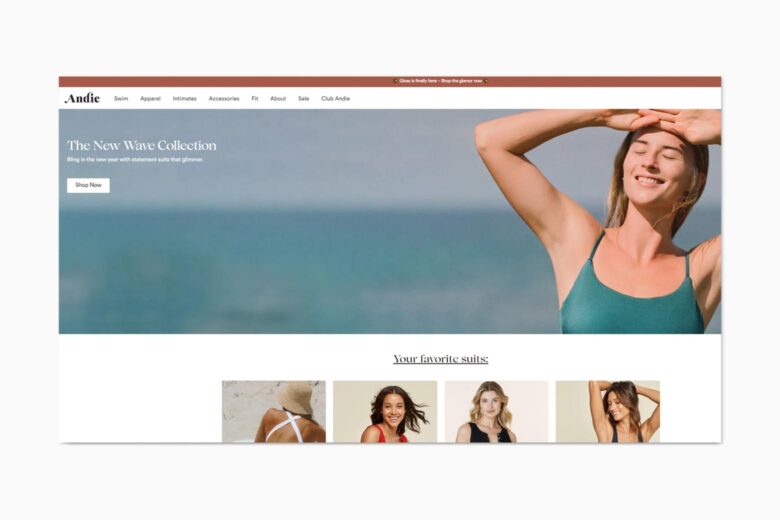 As we all know, buying a swimsuit at the end of Winter isn't always a confidence-inducing experience. Unflattering mirrors, poor lighting, and eyebrow-raising shop assistants—it's enough to put us back into our loungewear cocoons for good.
As one of the best swimsuit brands around, Andie Swim understands the plight of women looking to make a splash over the Summer (see our Andie Swim review). And the swimwear brand's seamless online store and easy returns make shopping for swimsuits a lot more enjoyable. The Andie Swim fit finder helps you find your most flattering fit. And once the options arrive at your doorstep, you're free to try them on in the comfort of your own home.
Best for: Feeling fit, fab, and flattered.
| | |
| --- | --- |
| Shipping Policy: | Free domestic shipping on orders of $125 or more |
| Price range: | $$$ |
44. Beis Travel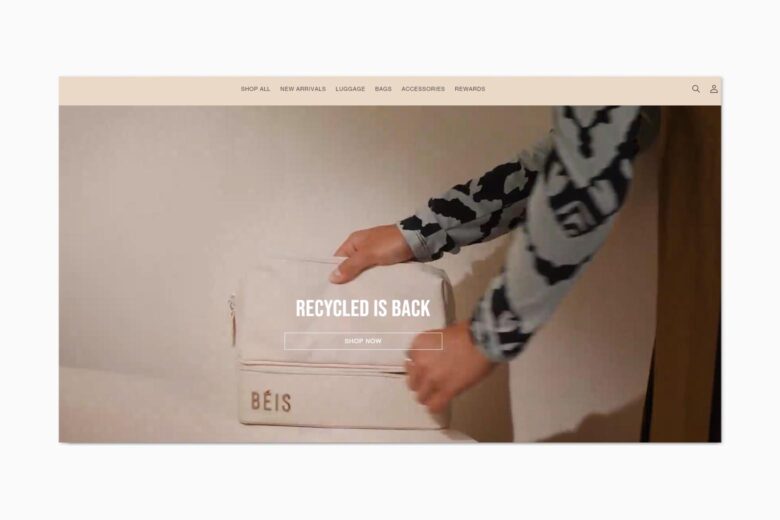 The stress of planning a holiday kind of defeats the purpose. Unless you shop online (when the boss isn't looking) and have everything delivered to your doorstep. And then it's a breeze.
Not sure where to start? Beis Travel's online store has everything you need to complete your trip. The brand's selection of weekender bags are compartmentalized and organized. Slick carry ons roll into business meetings in style. While Beis' larger luggage line has all you need for a last minute elopement.
Best for: A jet-setter lifestyle.
| | |
| --- | --- |
| Shipping Policy: | Free domestic shipping on orders of $150 or more |
| Price range: | $$ |
45. Horizn Studios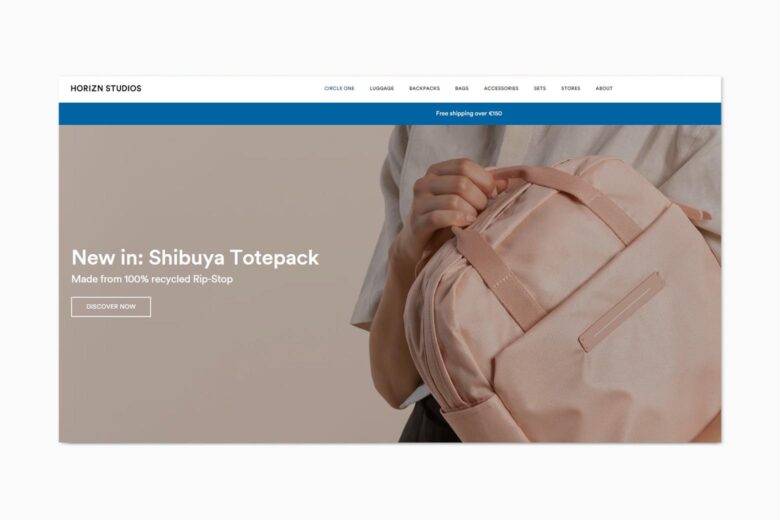 Fighting against the mundane, Horizn Studios was born to broaden our horizons with endless possibilities through its online store. Launched in Germany in 2015, the luxury travel brand marries sustainability with timeless designs and cutting-edge technologies—making it a go-to for eco-chic travelers and wanderlusting yogis.
Made from the highest quality materials, the sustainable brand goes the extra mile to ensure that its luggage needn't ever be replaced (see our full Horizn Studios review). Distinguished by vegan fabrics, smooth and silent Japanese wheels, and durable polycarbonate shells, unboxing your online purchase is just as exciting as booking your next getaway.
Best for: Unboxing broader horizons.
| | |
| --- | --- |
| Shipping Policy: | Free domestic shipping on orders of $250 or more |
| Price range: | $$$ |
46. MyTheresa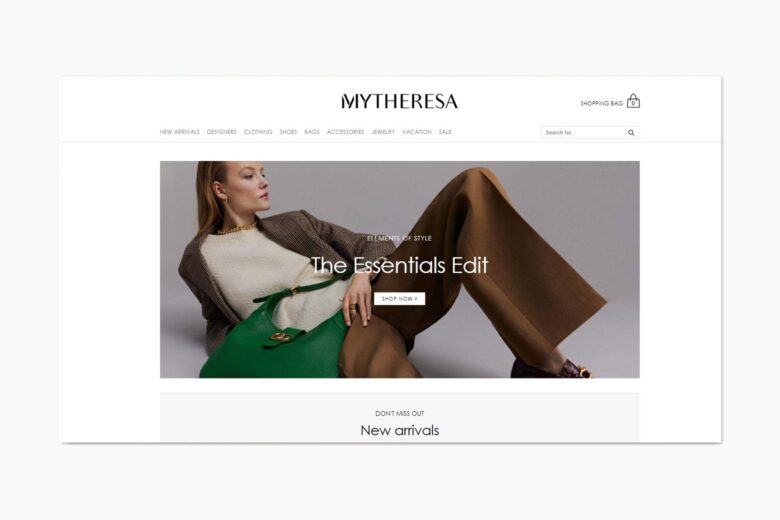 MyTheresa takes retail therapy to a whole new level—mostly because you don't have to emerge from your sweats to receive the necessary dopamine hit. MyTheresa is an online luxury fashion retailer based in Germany. It offers a carefully curated selection of apparel and accessories from over 200 affluent labels, including Gucci, Dolce & Gabbana and Balenciaga.
MyTheresa is constantly updated with the latest trends. Its speedy deliveries allow for last minute orders. And with seamless returns, you never have to worry about bad fits.
Best for: Leaving your outfit to the last minute.
| | |
| --- | --- |
| Shipping Policy: | Free domestic shipping on orders of $900 or more |
| Price range: | $$$$ |
47. Rimowa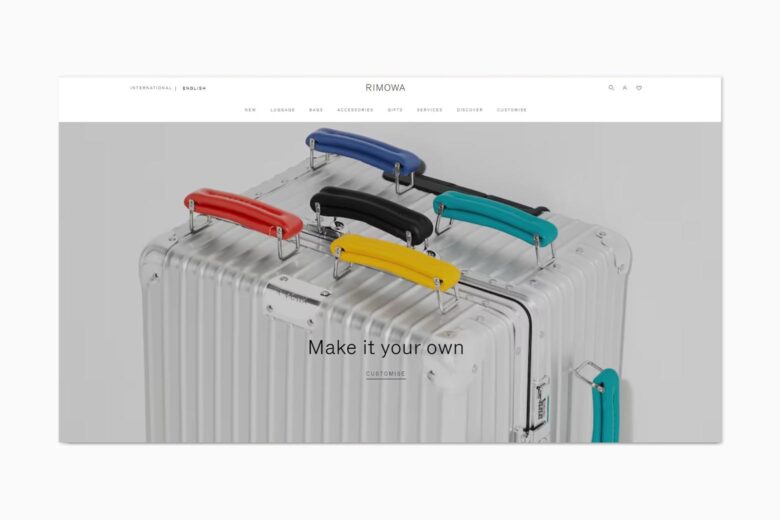 Founded in 1898 in Cologne, Germany, Rimowa has become one of the most prestigious brands in the world when it comes to premium suitcases and other travel items for both business and leisure travelers.
The online store features the brand's full collection of cases. From stylish backpacks to compact carry-ons to large but light iterations, every purchase on the official Rimowa site comes with a lifetime warranty. Whilst a dedicated team of experts provide concierge-like services to help you find exactly what you're looking for.
Best for: Keep calm and carry on.
| | |
| --- | --- |
| Shipping Policy: | Free domestic shipping on orders of $465 or more |
| Price range: | $$$$ |
48. Behno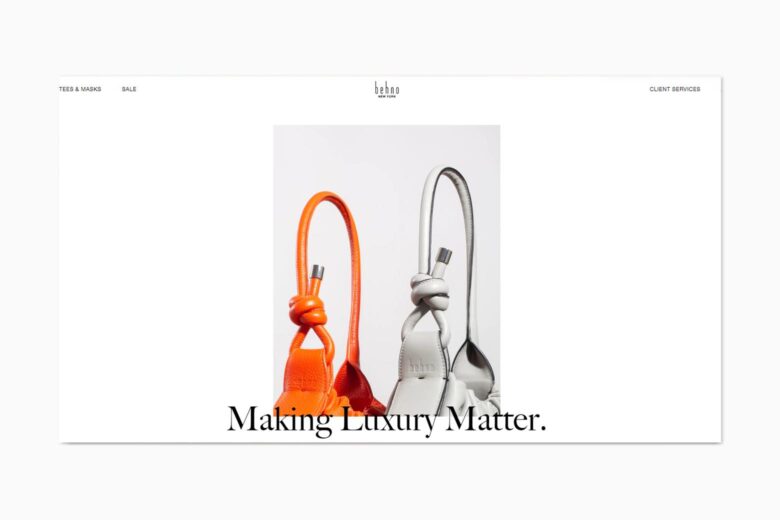 Yep, we all feel a little guilty after we add a little more to our cart than we initially attended. Unless it's a Behno cart—and then we just feel obliged to support the philanthropic brand.
But Behno isn't just about uplifting communities through ethical and empowering manufacturing practices, they've also got a handle of what it takes to produce handbags of unparalleled quality. The online bag store features an array of resplendent hues and silhouettes. And whether you opt for the it-girl approved Ina crossbody or the Tina baguette, the unboxing experience promises to be a wow moment.
Learn more about the history behind Behno and its sustainable handbags.
Best for: Uplifting communities—as well as our spirits.
| | |
| --- | --- |
| Shipping Policy: | Free domestic shipping |
| Price range: | $$$ |
49. Swarovski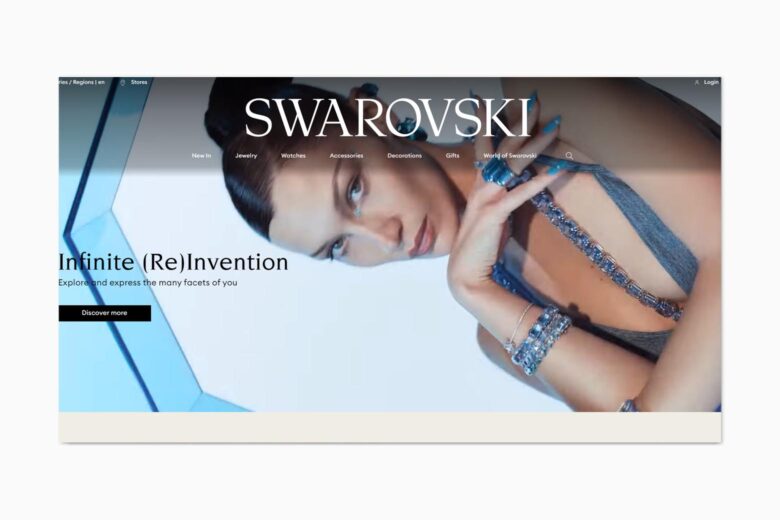 Make your feelings crystal clear with a Swarovski gift. Or show yourself a little appreciation with the brand's decadent accessories. Either way, Swarovski is our first-stop digital destination for all things sparkly and scintillating.
Founded in 1895, Swarovski is a cut above the rest when it comes to mastering the art of crystal cutting. And whilst its jewelry may be classical and timeless, the brand's online store is timely when it comes to speedy deliveries and seamless returns.
Best for: Making your feelings crystal clear.
| | |
| --- | --- |
| Shipping Policy: | Free domestic shipping on orders of $75 or more |
| Price range: | $$ |
50. Calpak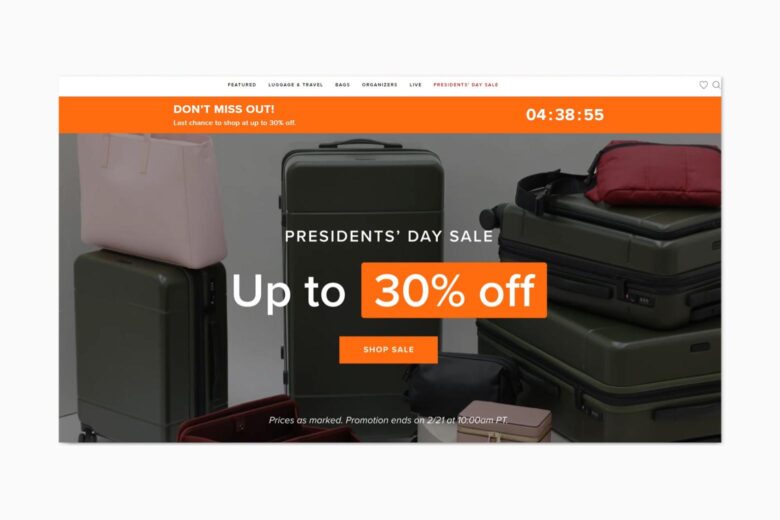 There are some things we quite enjoy buying in person. But luggage isn't one of them. And unless we're actually visiting a new city, we prefer not to have to wheel a new case around.
Enter: Calpak's online store. With an array of sizes and silhouettes, it's seamless to filter through exactly what you're looking for. While various hues and prints add a touch of your personality to every new carousel. Plus, one you check out, all you have to do is wait for your purchase to be wheeled straight to your door.
Best for: Compact convenience.
| | |
| --- | --- |
| Shipping Policy: | Free domestic shipping on orders of $75 or more |
| Price range: | $$ |
51. Tous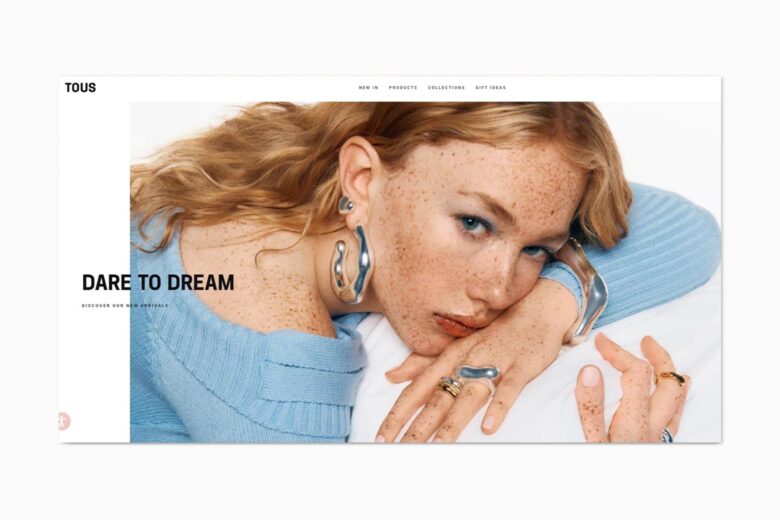 Tous makes expressing love effortless. Instead of stumbling for words or washing dishes, you can have a customized piece of jewelry or accessories delivered to your partner, friends, family or yourself in a matter of days.
Drawing inspiration from ethereal Spanish fortresses and scintillating seaside landscapes, Tous was founded in 1920 in Manresa, Catalonia. The high-end brand is chic and edgy with a timeless appeal. And whether it's an engraved ring or a personalized handbag, we feel seen and loved every time we unbox a new Tous delivery.
Best for: Love is in the air.
| | |
| --- | --- |
| Shipping Policy: | Free domestic shipping |
| Price range: | $$ |
52. Zappos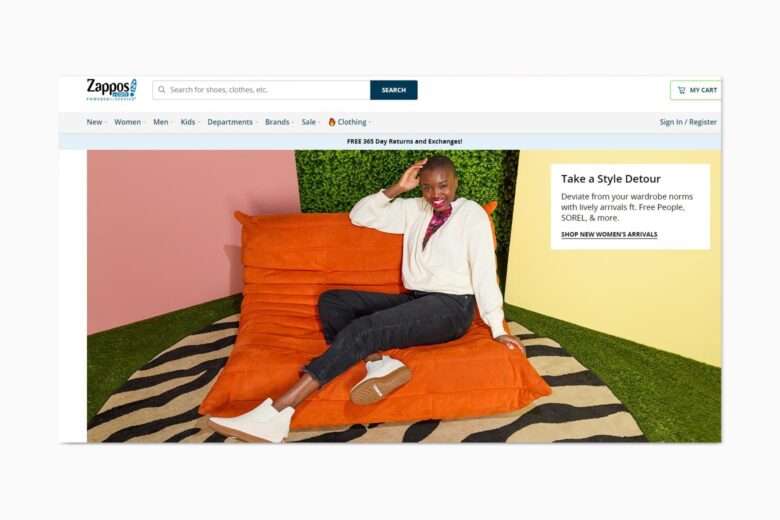 Looking for a new (sole)mate, but can't be bothered to put in the groundwork? Zappos is an American online footwear and clothing retailer, featuring all the top brands. From Nike to Dr Martens to Ugg, you're guaranteed to find a pair that understands your needs and desires.
Seeking a new training partner? The online store's vast collection of runners will sort you out. Netflix and Chill is more your thing? Zappos' snug slippers have got you covered. Itching for a girls night out? All you need is a fun pair of kitten heels.
Best for: The putting-your-feet-up kind of shoe shopping.
| | |
| --- | --- |
| Shipping Policy: | Free domestic shipping |
| Price range: | $$ |
Frequently asked questions about online shopping websites