Merci Coco Chanel—for inventing the world's most iconic fashion piece. Enter, the garment that needs no introduction: the little black dress. No three-letter acronym gets us quite so enthralled as the LBD.
An 'investment piece' that's thus far endured since the 1920s, we can confidently proclaim it's not going anywhere soon. Not least thanks to its versatility.
The LBD encompasses a whole genre of dresses, providing they meet those two key criteria: little, and black. This gives way to endless variations, from cocktail dresses (remember Princess Diana's 'revenge dress'?) to the understated, simple styles favored by off-duty models.
Its timelessness is proven, too. Each era has presented its own take on the classic little black dress, from Audrey Hepburn's Breakfast at Tiffany's attire in the swinging sixties, to the artful creations we see on runways today. The virtues of the little black dress are never-ending—find us a woman who doesn't look glorious in an LBD. Clue: You won't.
We've brought to you the very best little black dresses in town, no matter your style. So, make sure you've got a hanger or two spare—you're going to need them.
The 25 Best little black dresses
Check our special black dress style guide after the list to see exactly what you should pay attention to when shopping for an LBD online.
Cuyana Silk Dress: Best overall little black dress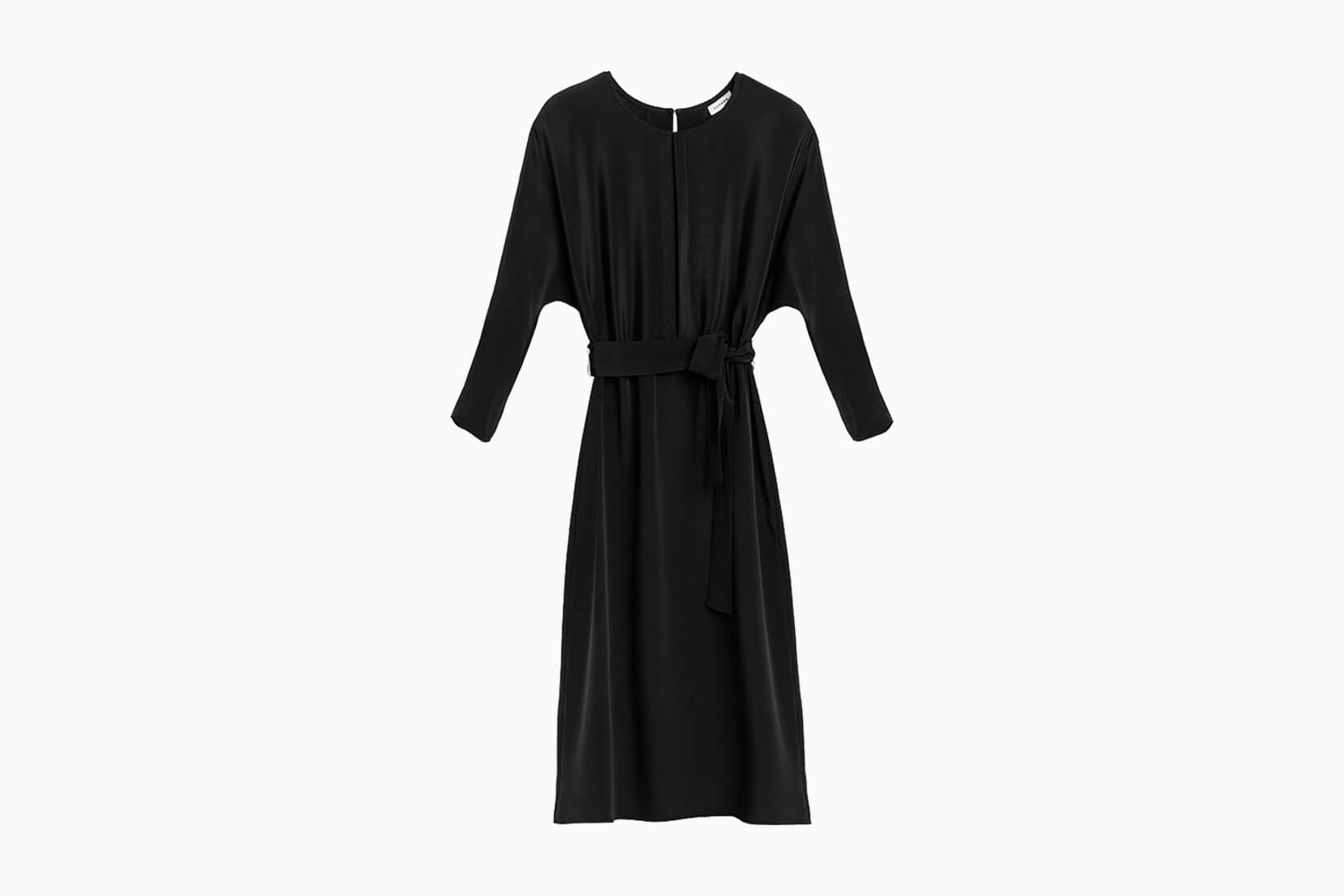 One glimpse of this little black dress by female-led New York brand Cuyana, and you'll see why we've placed it as The One. Universally flattering, it's the thoughtful details that count in this elegant LBD.
Not so 'little', the midi-length Cuyana Dolman-Sleeve Silk Dress is woven from premium three-ply silk that envelopes you like the most alluring dream you've ever had. The three-quarter sleeves, Torchon lace, and mischievous back keyhole detailing work as the ultimate trio to make this LBD stand out.
Offering a shift silhouette, this is the little black dress for women who love to look effortless, inspiring envy in onlookers who're sure to wonder how such simplicity can be so captivating.
Best for: A LBD that will steal your heart while you steal the show.
Balmain: Best luxury LBD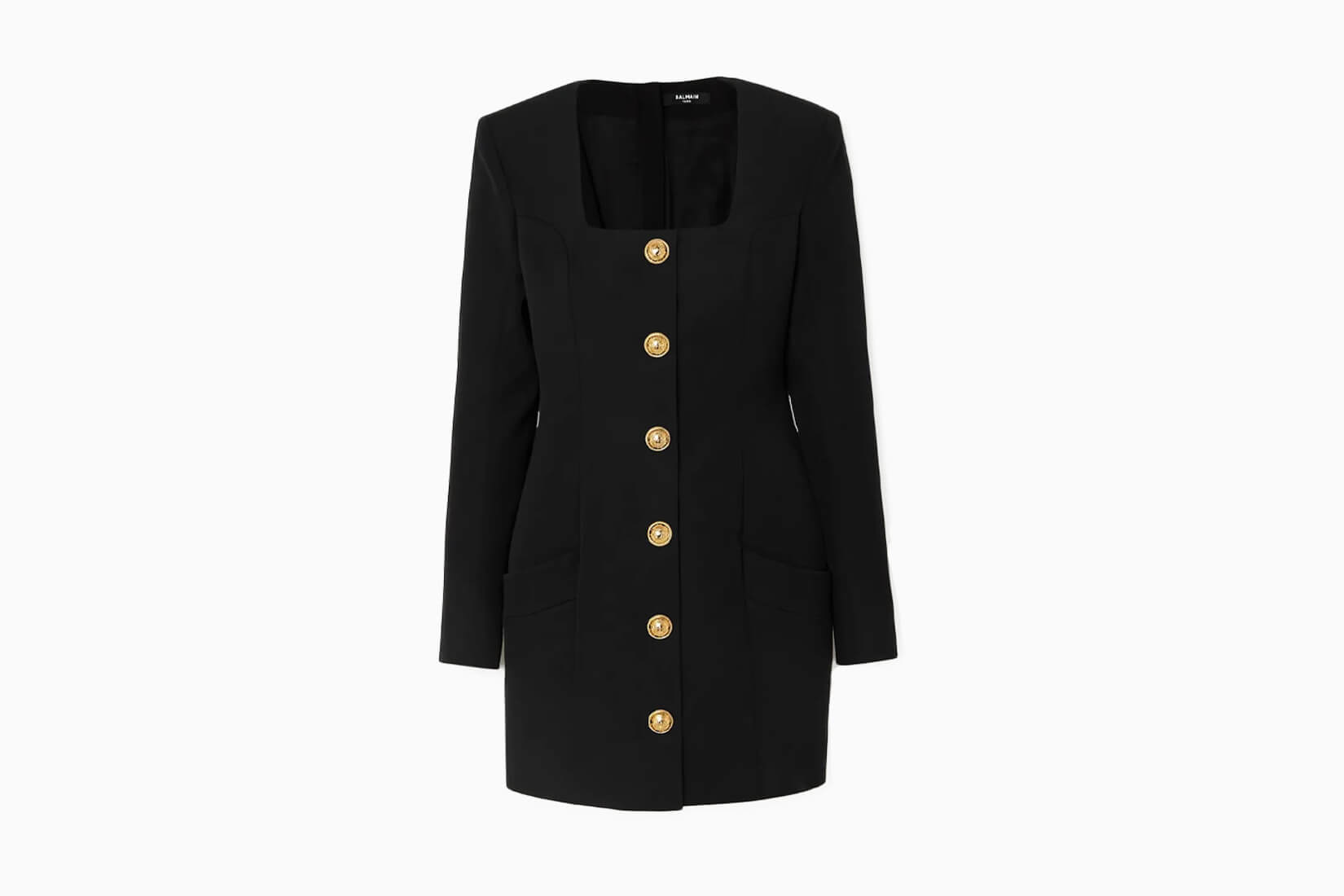 Parisian fashion house Balmain has been around since (nearly) the dawn of the LBD. It figures that they'd be rather hot on them by now. Blending retro structuring with military-style buttons, this little black dress looks like it was made for Jackie O.
The label's signature padded shoulders exert authority, power, and confidence (not unlike the fashion-icon former First Lady), with subtly structured grain de poudre wool softening the look. Statement gold zip detail embellishing the back and cuffs of this LBD propels it firmly into the 21st Century, and the super-short hemline would make even Twiggy blush—before trying to snap it up herself.
Match this short black fitted dress with Mary-Janes, heeled pumps, or nude stilettos for a timeless appeal, and go for bare legs to truly allow the dress to pop—just like the eyes of those who behold you rocking this Balmain Wool Mini Dress.
Best for: Women who love to own the room.
ASOS DESIGN: Best value LBD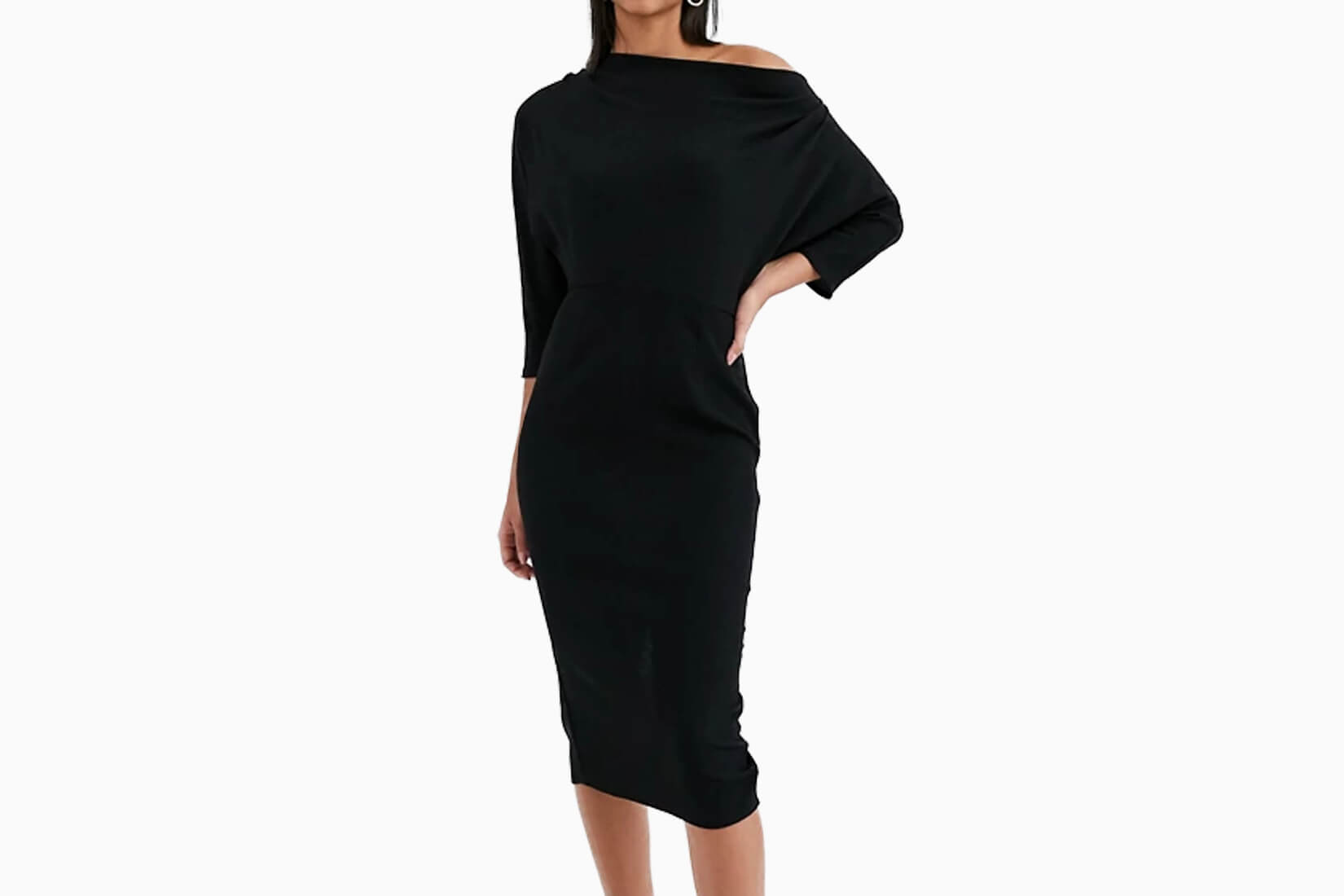 ASOS DESIGN regularly enchants us with its creative takes on classic pieces. The Fallen Shoulder Pencil Dress is like the lovechild of all of our favorite LBD's to date: it's off-the-shoulder, asymmetric, slim-fitting, and slightly structured.
Woven from a lightweight crepe, stepping into this dress will elevate you to dizzying elegance in an instant. The midi-length and close fit just beg to be paired with pillar-box red lipstick and some killer heels, while the slightly ruched sleeve detailing adds to the sophistication. Deceptively modest, this LBD reveals a cheeky slither of shoulder, perfectly offsetting the midi-length.
The ASOS DESIGN Fallen Shoulder Pencil Dress will work just as well at a cocktail soirée as it would a night on the town; simply select your accessories accordingly.
Best for: Those who know it's what you don't see that counts.
Givenchy: Best classic little black dress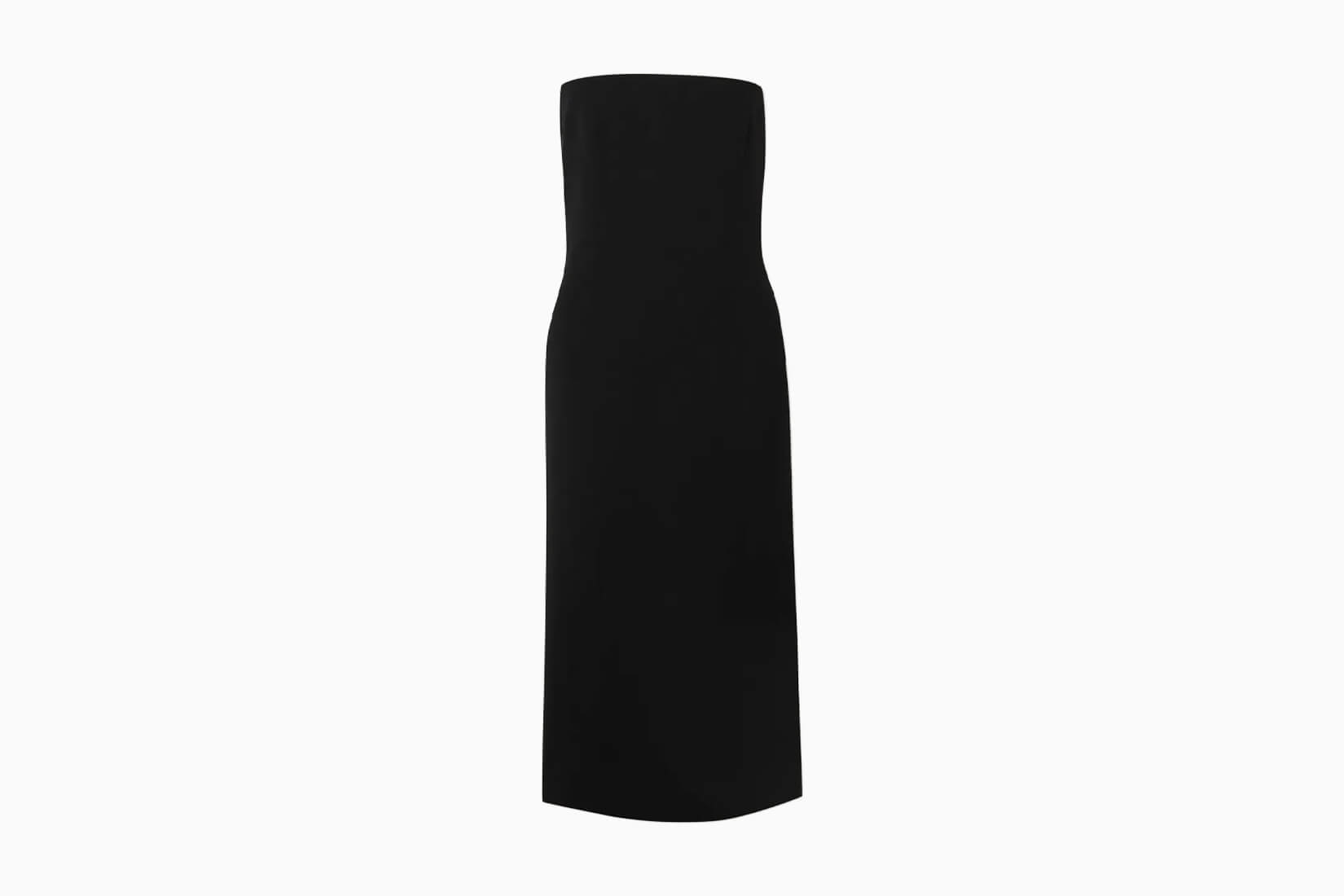 Nothing whispers effortless grace more than the Givenchy Crepe Midi Dress. The luxury designer's take on the classic LBD has us all in a quiver with its soft crepe and boned bodice. Inspired by those designed by founder Hubert back in the 60s, this strapless little black dress would've looked as en vogue then as it does today.
The best element of this classy little black dress is you can dress it up or down as you please. The elegant structure is assertive enough to speak for itself, but you're free to make it other-worldly with some bright statement earrings and a stand-out clutch.
The midi-length of the Givenchy Crepe Midi Dress keeps you safely on the right side of the '90s pop-star and looks refined when paired with some peep-toe heels or D'Orsays.
Best for: Women with a "no-muss, no-fuss" attitude.
LilySilk: Best casual LBD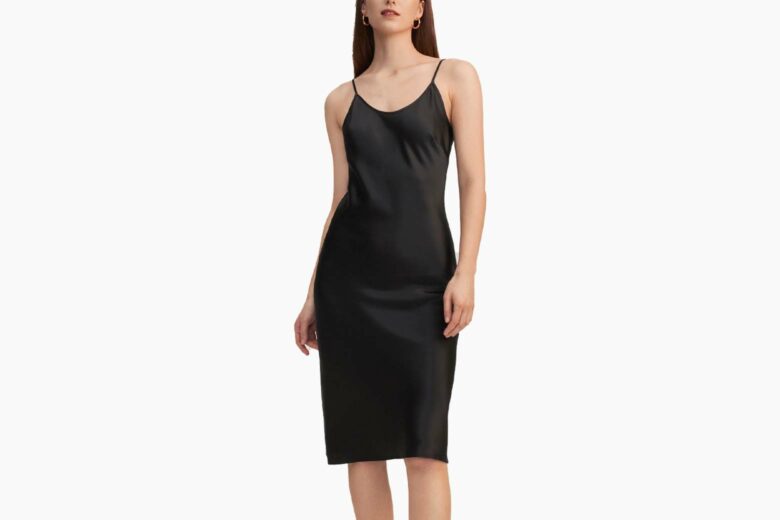 According to famous designer, Karl Lagerfeld, "one is never over-dressed or under-dressed with a Little Black Dress." Perhaps that's why we love them so much. After all, there are few wardrobe essentials that look as good paired with soaring stilettos and diamante earrings as they do with chunky sneakers and baseball caps.
As our best casual LBD, LilySilk's iteration highlights the more relaxed side of this capsule closet classic with its midi length and simple cami silhouette. Made from the brand's A Grade quality Mulberry Silk, this slip is remarkably soft against the skin. And we love that you can adjust the straps to fit your form flawlessly—a small yet undeniably significant detail.
Best for: Free-spirited flair.
Outdoor Voices: Best black dress to exercise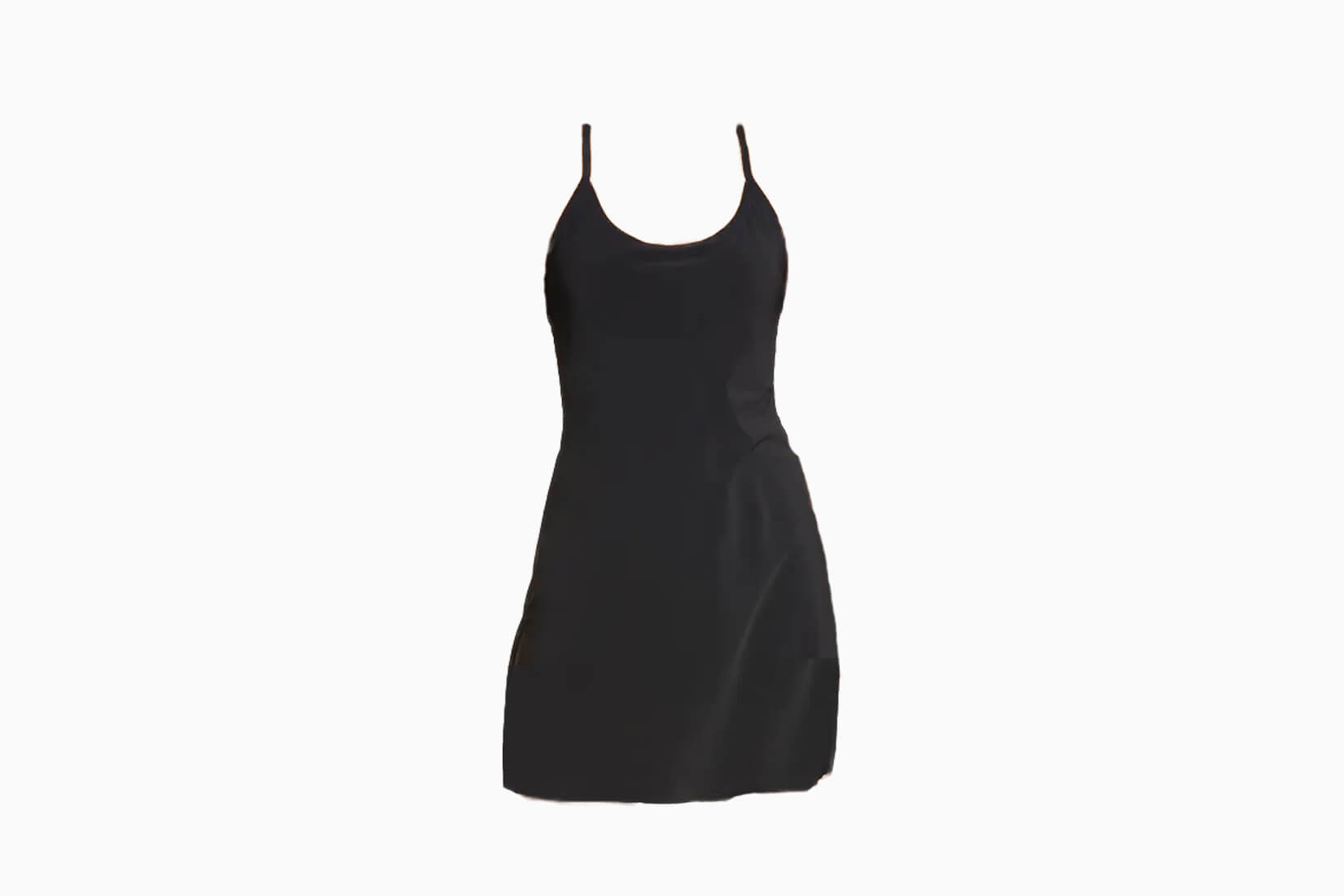 When we said the little black dress is versatile, we meant it. Nothing's stopping you from hitting the gym in an LBD, particularly if it happens to be this sporty-chic design by Outdoor Voices.
Whether you're hitting the tennis courts or heading out for a 5k run, this perfect little black dress is the ideal cohort. Made from breathable stretch fabric, the dress will move with you, allowing total freedom of movement so you can get your sweat on, unrestricted.
There's a concealed phone pocket in the built-in shorts, so you can still jog to your favorite tunes. Of course, the shorts will protect your modesty during that splits practice or high-kicks. The racer-back design and flippy hem make The Exercise Dress super playful, invigorating your fitness session and making you feel ready to take on the gym, and the world.
Best for: Burning calories in sizzling style.
Cuyana: Best tee dress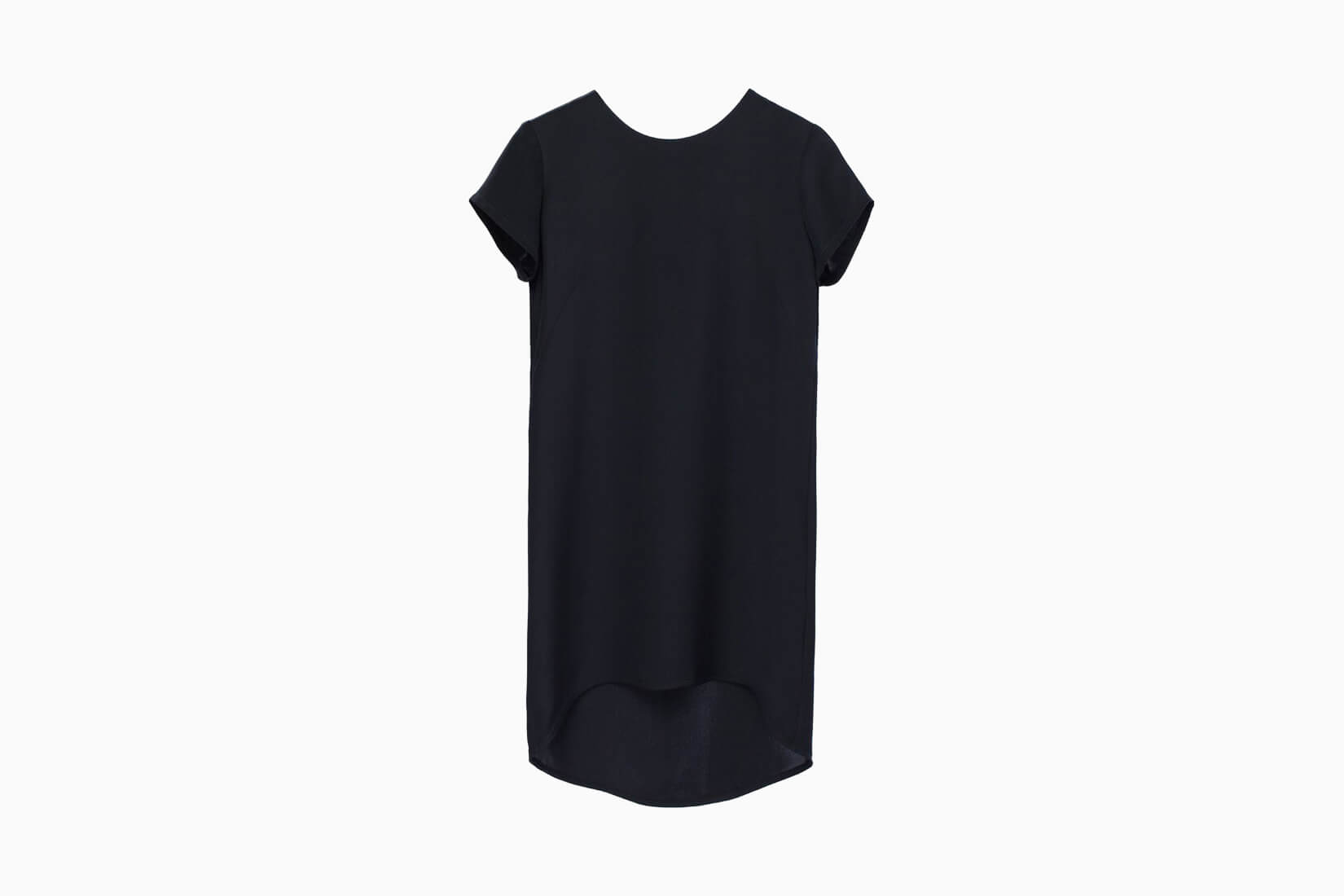 Slipping into Cuyana's Pleat-Back Tee Dress is like wrapping your body in swathes of silk. Well, that's essentially what you're doing. Crafted from 100% Chinese silk, this dress was designed with the brand's signature timelessness in mind. Elevated with the pleat detail and mischievous side slits, this Cuyana dress is far from your average tee dress.
The soft silk embodies luxury in the purest form, and it's the epitome of understated. Plus, it's minimalist in both design and environmental impact, so you can rock this little black dress knowing you're doing your bit for the planet.
The generous sleeves and scoop neck work to flatter just about every body shape, and you can draw in the waist with a wide belt for an hourglass silhouette.
Best for: Casual and understated elegance, with a twist.
Cuyana Charmeuse: Best slip dress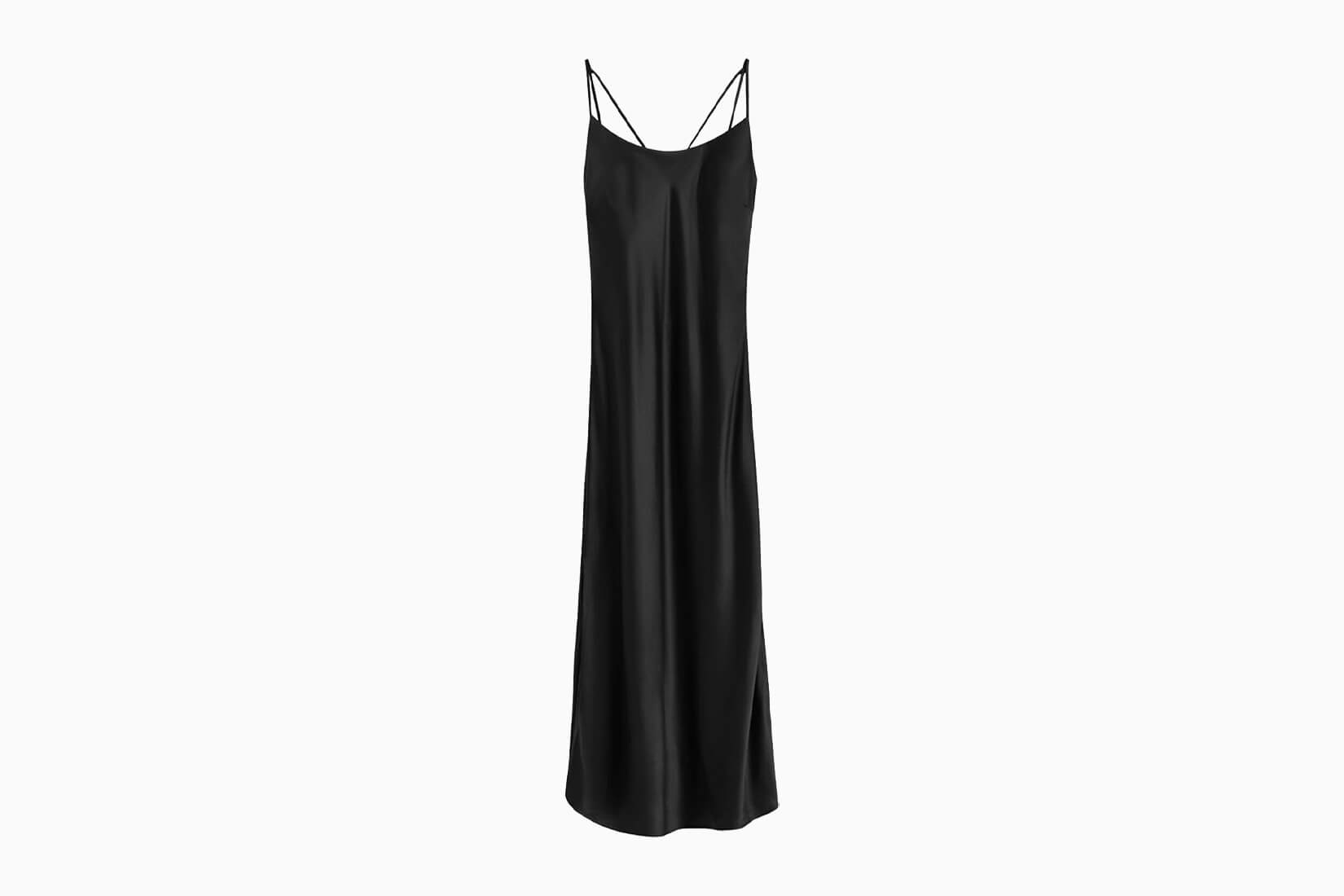 You'll be the belle of the ball (or the bar) wrapped in this elegant slip dress by Cuyana. Made for women, by women, the Charmeuse Slip Dress offers a figure-skimming fit that oozes sensuality. The easy-wear feel is offset by sultry side slits and a stunning criss-cross back detail, giving you the freedom to show off a chic bra, or go braless for a simple look.
Cut with a bias-silhouette, the relaxed flow of the Cuyana Charmeuse Slip Dress is designed to make you feel both charming and charmed. It works perfectly as a lone wolf (free of accessories, letting the dress do the talking), or as a backdrop to your favorite statement jewelry. The midi-length means your shoes won't be forgotten, either—pair this little black dress with strappy heels for Cinderella-esque elegance.
Best for: Flaunting femininity with a wink of devilish tease.
Norma Kamali: Best strapless LBD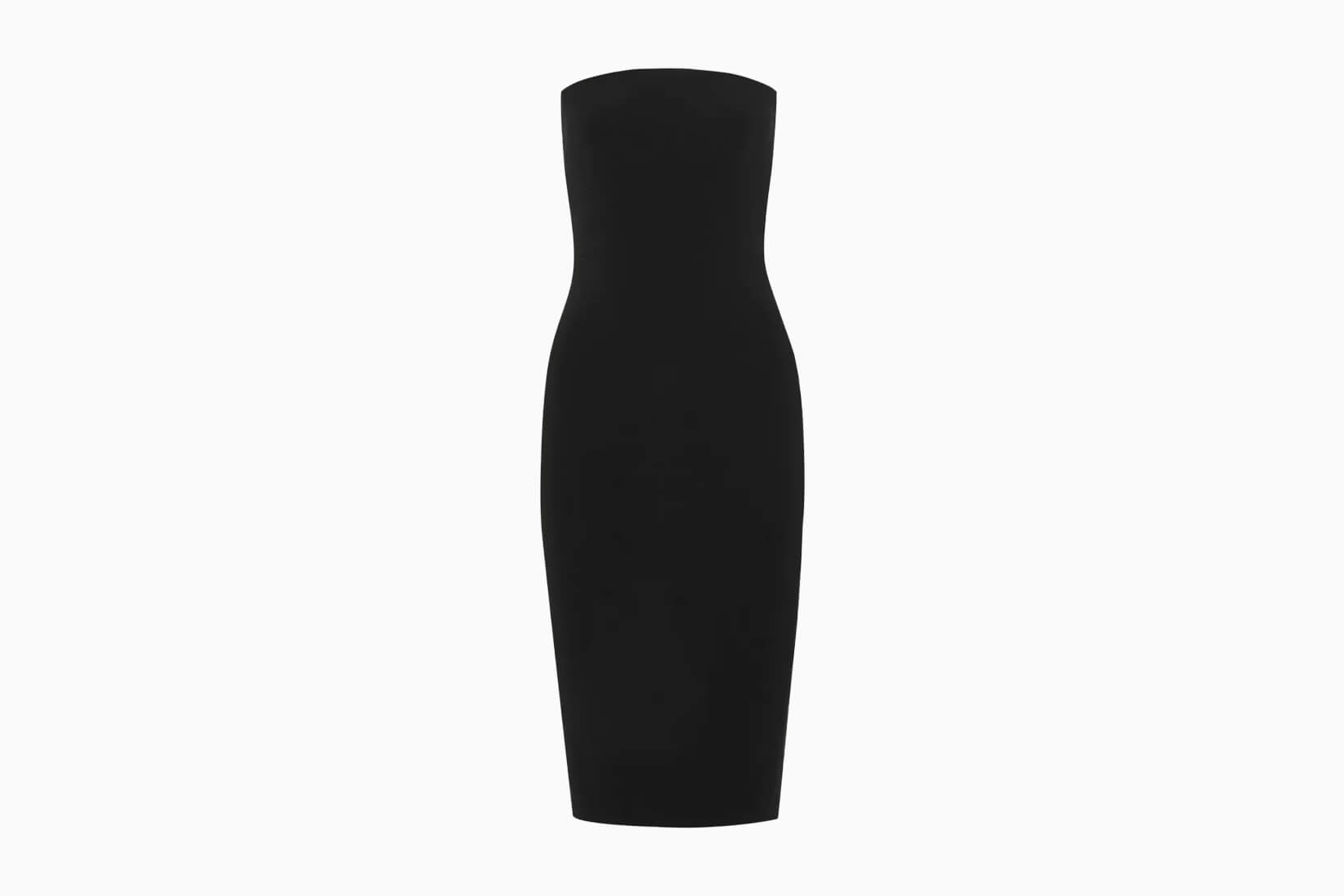 From the queen of versatility, Norma Kamali, comes the ultimate day-to-night strapless little black dress. Woven with the brand's signature stretch jersey, this dress is easy to slip into and feels soft-as-a-feather. Not to mention, it'll hug your curves like it hasn't seen them in years.
Hitting just below the knee, the Black Strapless Dress by Norma Kamali manages to be both demure and sultry at the same time. The strapless design leaves your décolletage a blank canvas. Accessorise with a slim chain necklace or a chunky statement piece—whatever suits your style best.
Pair it with plum lipstick and a golden tan for a balmy cocktail evening, or dress it down with a raffia bag and comfy flats for a casual-chic daytime look.
Best for: A dress that transcends day to night without fuss.
Dodo Bar Or: Best shirt dress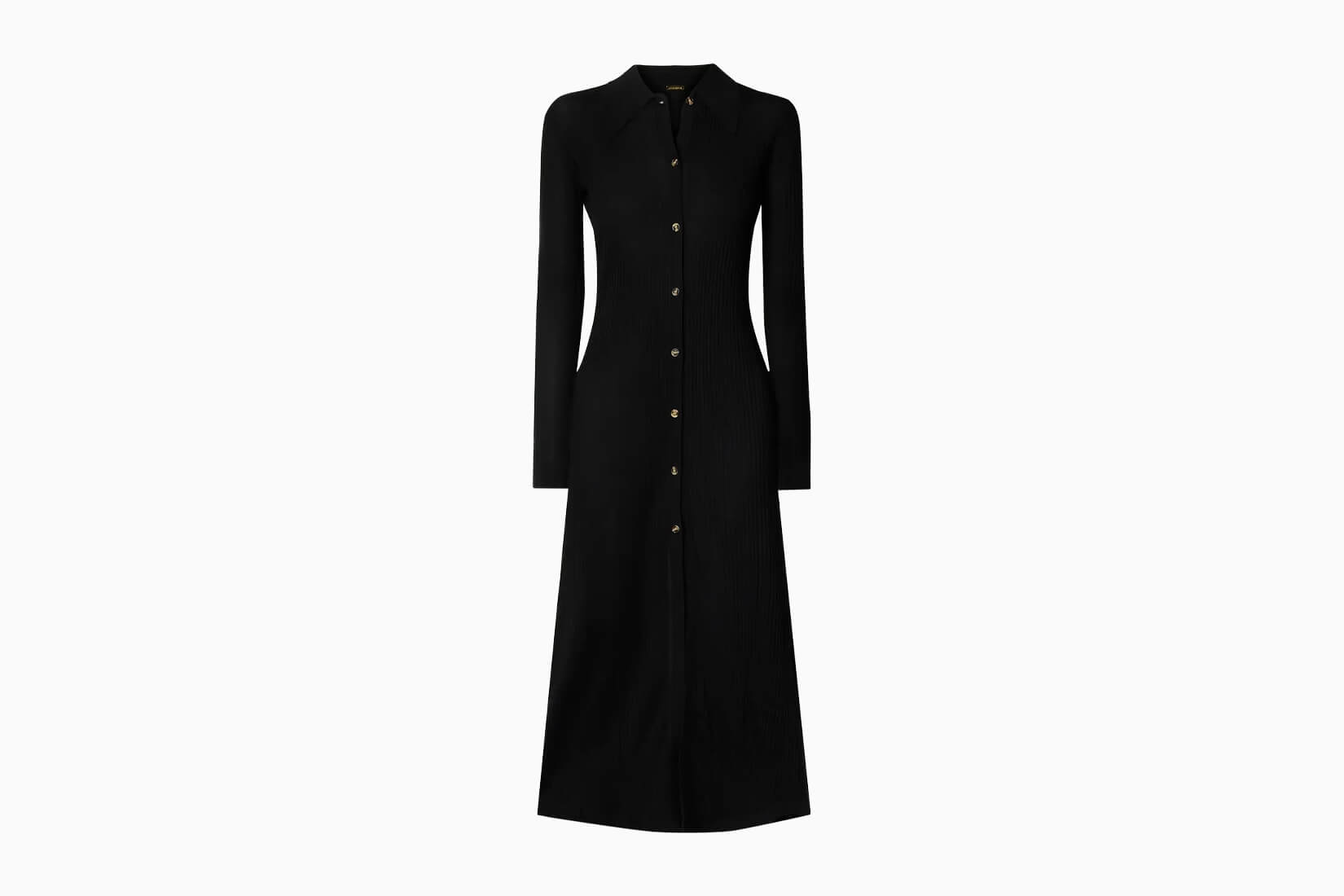 For a little back dress with a difference, try the Dodo Bar Or Black Elisha Dress on for size. The risk being, you'll never want to take it off. Woven from sumptuously soft ribbed knit, this dress has a close fit that'll embrace your curves like nothing else.
The retro collar and button-down detail work in harmony, offering a structured aesthetic that remains on the right side of casual. You can undo the buttons for a versatile LBC (Long Black Cardigan) or button-up for an LBD that means business (leave a few of those buttons undone for that dinner date, though).
The slim-fitting long sleeves are gorgeous, making this Dodo Bar Or Black Elisha Dress perfect for the transitional seasons.
Best for: Women who love their style to be as versatile as they are.
GANNI: Best leather little black dress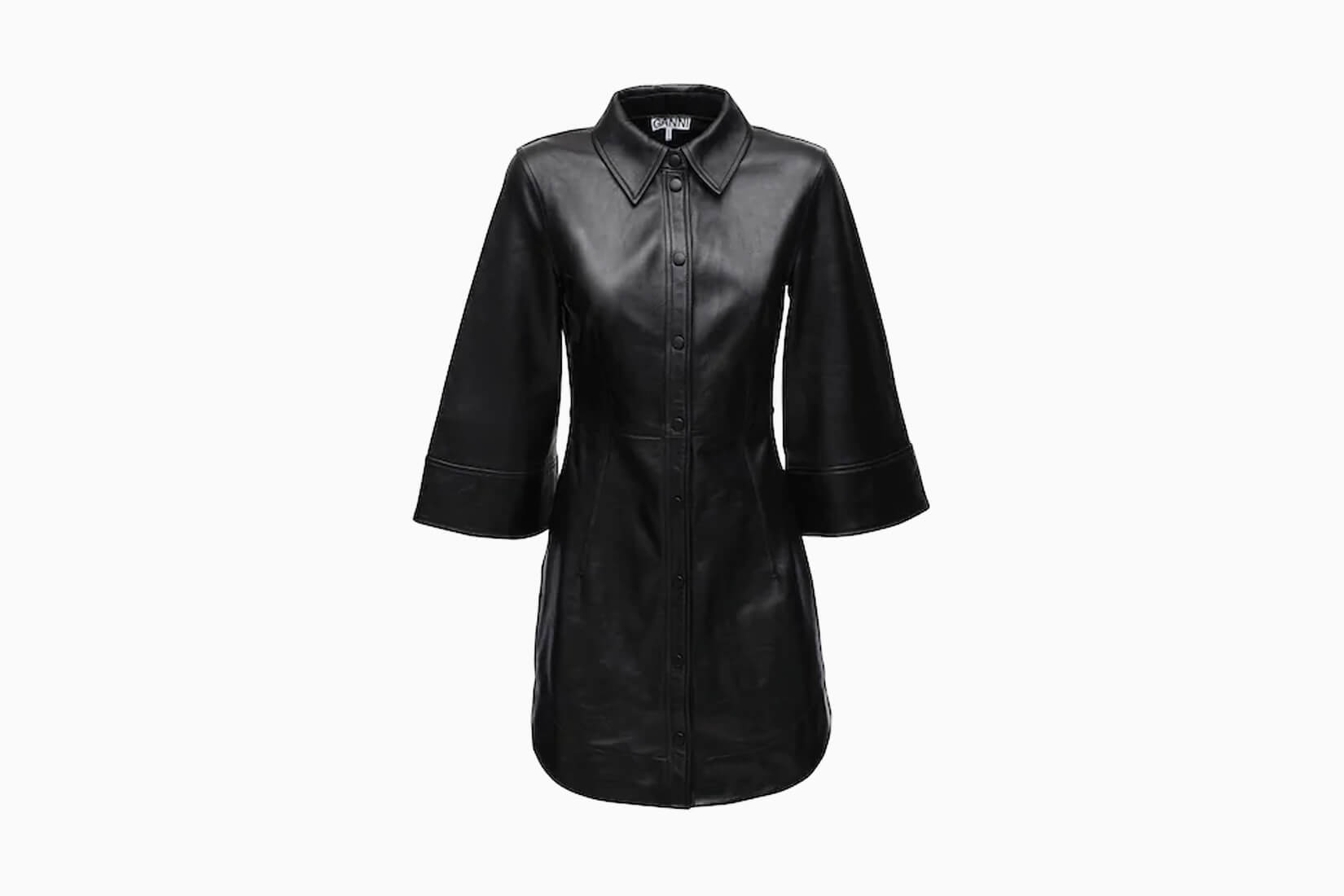 Leather has long been a favored fabric for the little black dress. And none do it better than GANNI, with their striking take on the classic style. Wide, three-quarter-length sleeves and careful structuring give this dress an intriguing silhouette, echoing vintage style with a modern twist.
Made from 100% lamb leather, this LBD oozes luxury. The shirt-collar, button-down detail and thigh-skimming hemline fall somewhere between Angelina Jolie in Mr and Mrs Smith, and something Bella Hadid might wear on an average Saturday. An intoxicating blend of androgynous and alluring, this little black dress is sure to cause some neck injuries as you saunter down the street.
Wear the GANNI Leather Mini Dress with bare legs for the ultimate contrast, and finish with your favorite pair of Louboutins or Chelsea boots for casual flair.
Best for: Proof that your rightful place is the center of attention.
Anine Bing: Best bodycon LBD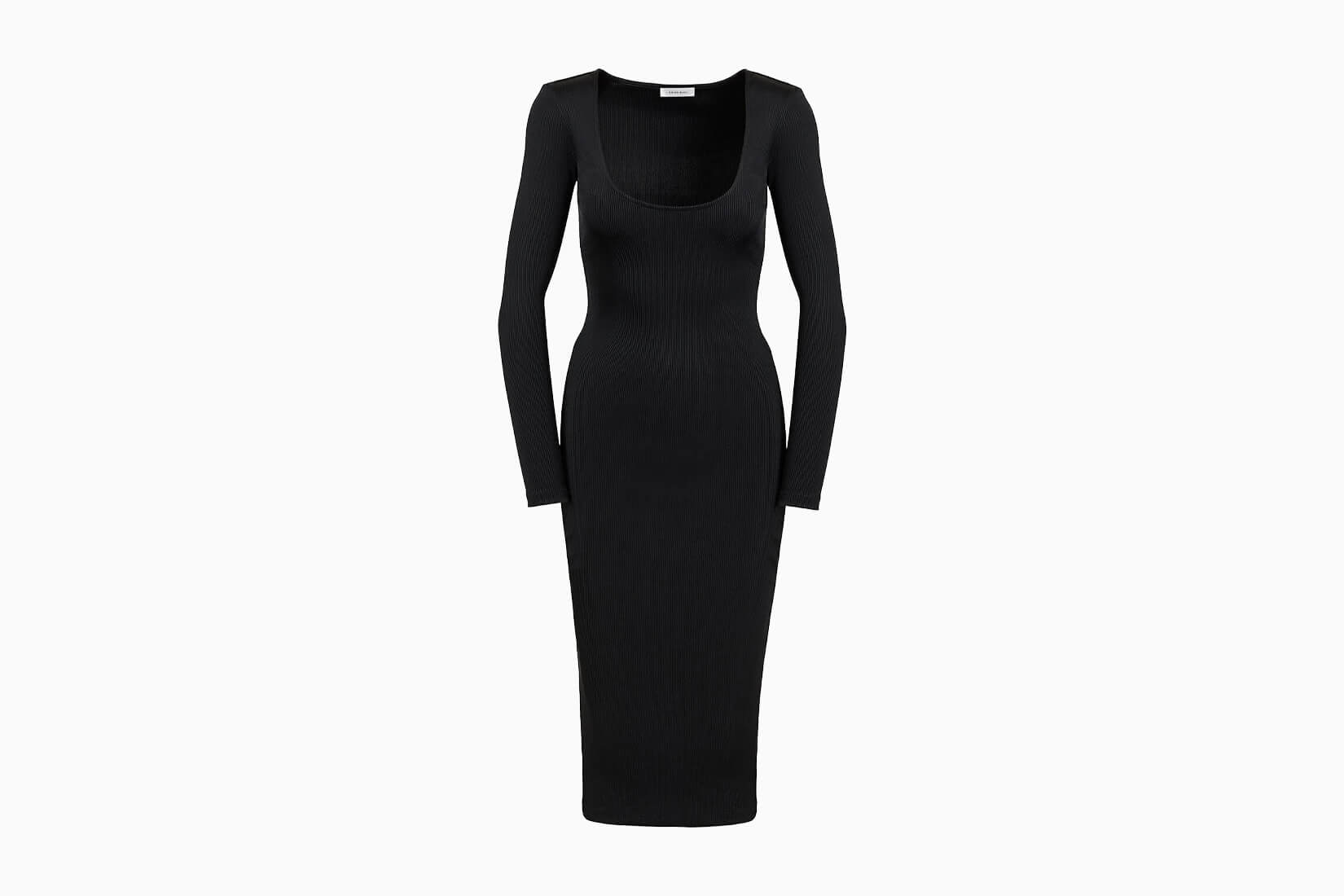 There's something about a scoop neckline and bodycon fit that just makes our mouths water. Artfully designed, the Montana Dress by LA brand Anine Bing embodies the Californian city's laid-back luxe, having you prepared for whatever the day (or night) may bring.
Wear it for lounging around the house (possibly hoping for unexpected visitors), or heading out to town. Seriously, this dress looks just as at home paired with some fluffy lounge slippers as with smart heels and a glitzy handbag.
The long sleeves and midi-length place the Anine Bing Montana Dress safely on the side of chic, with a bodycon fit that promises to stay in shape all day, whatever you get up to. Creating a silhouette that'll entrance anyone in your path, you're sure to radiate skyrocketing confidence sheathed in this simple black dress.
Best for: Feeling sultry even when chilling out.
Michael Kors: Best LBD for petites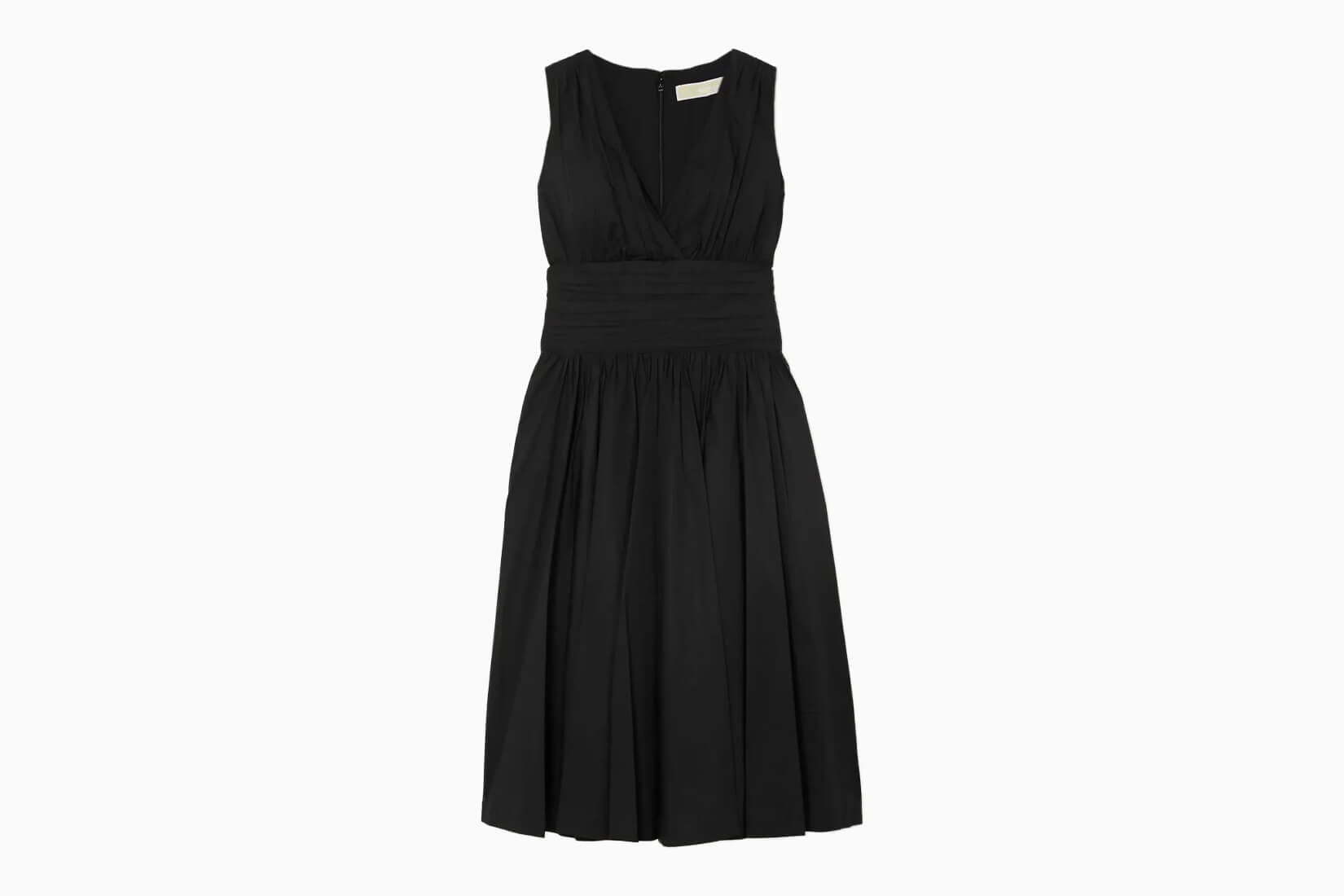 Putting the 'little' in little black dress, this incredibly cute LBD by Michael Kors is perfectly suited to petite women. Woven from cotton-blend poplin, the dress boasts gathered-waist detailing to create curves like the best of them, while the deep V-neck keeps things grown-up.
The pleated A-line skirt offers the ultimate swish when you sashay towards your dinner date, giving this dress a 40s-style charm. This little black dress for petites is light and breathable enough to become a summer-season mainstay, but pair it with a cozy knit and knee-high boots, and you're winter-ready, too.
Match this LBD with ballet flats for a cutesy retro aesthetic, or heeled pumps for a look that'll take you from soirée to swing dance. For petite women who love to showcase their exuberant personalities, the Michael Kors Poplin Midi Dress is a one-stop shop.
Best for: Iconic impact for petite women.
Closet London: Best plus-size little black dress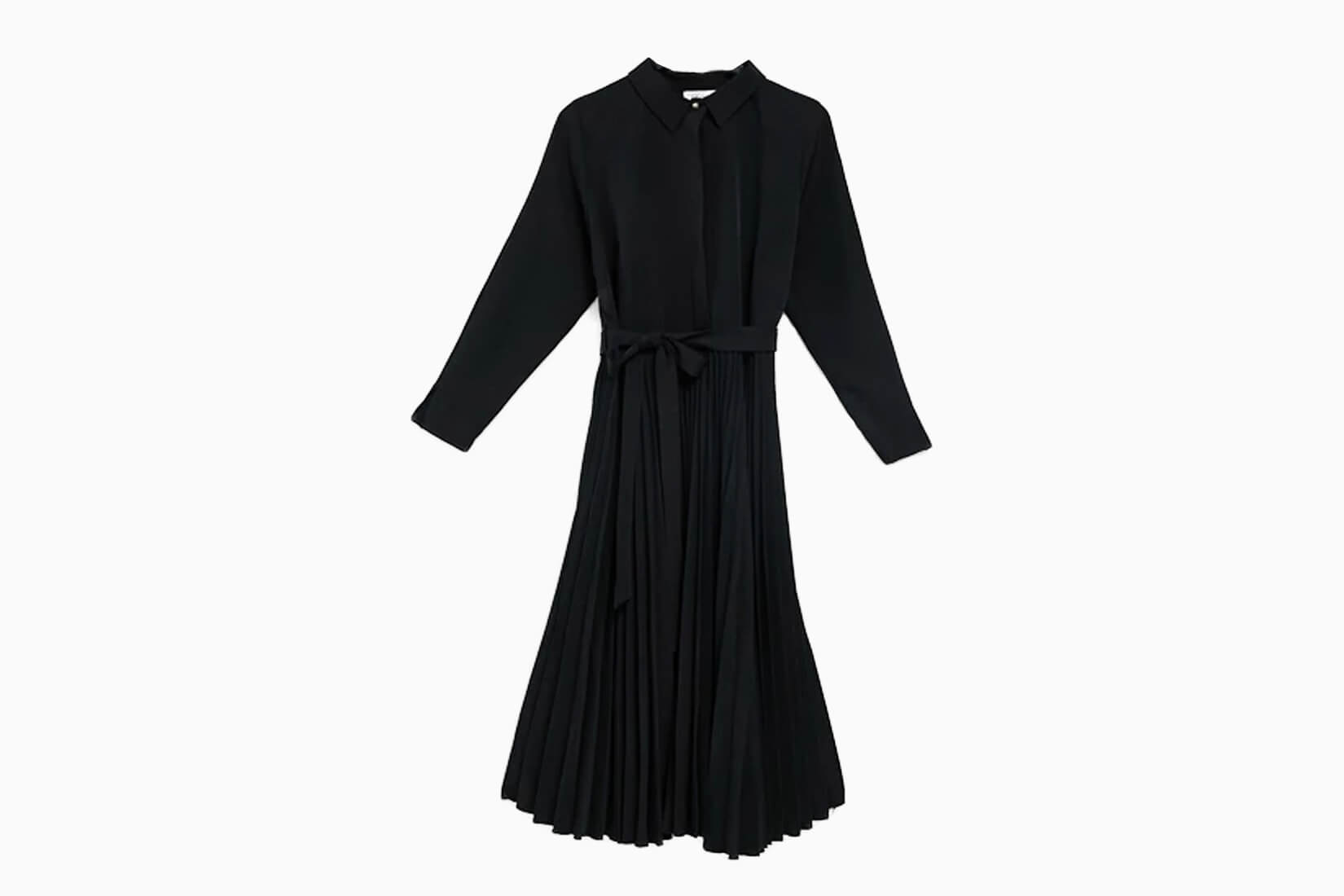 The little black dress was simply made to accentuate curves—just ask Marylin Monroe. We adore the Midi Dress by Closet London for its fit-and-flare fun, not to mention the playful pleats, chic collar, and flattering tie-waist.
The pleated skirt works to elongate your legs, falling just short of the ankle so you can truly feel that swishy skirt when you walk. The devil's in the details with this deceptively simple LBD, with the barely-there button and elegant long sleeves pulling everything together like a charm.
Made with day-to-night in mind, you can pair this LBD with chic tights and elegant pumps for a dreamy daytime look, or layers of glitzy jewels for a woman-about-town vibe. For plus-size women who dare to be different, the Closet London Plus Midi Dress will have you oozing confidence like there's no tomorrow.
Best for: Women who dare to be different.
Ninety Percent: Best LBD for lounging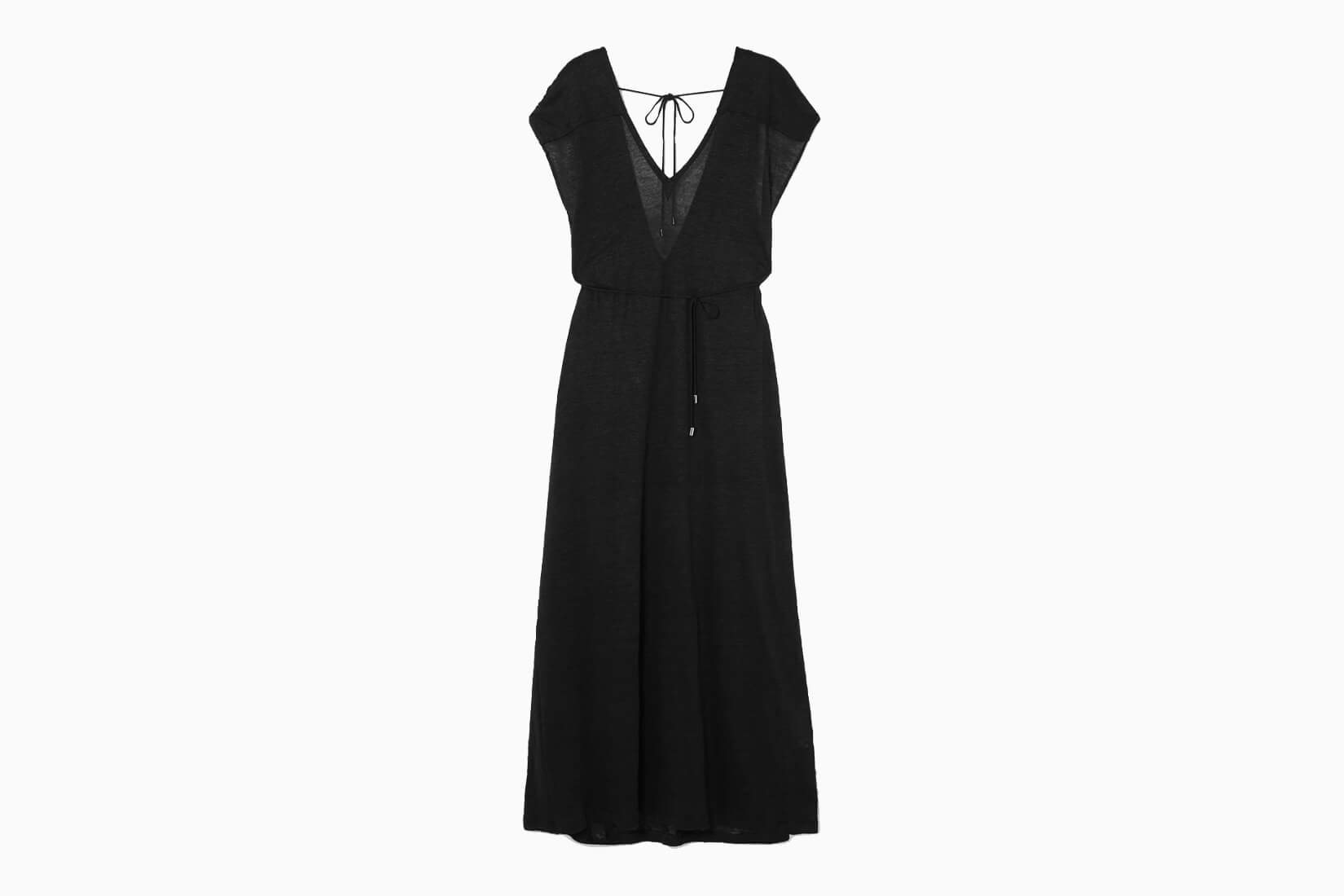 From super-sustainable brand Ninety Percent (where 90% of profits go to charitable causes), comes the Belted Maxi Dress. Exuding relaxed Riviera-chic, slipping into this ultra-casual maxi LBD is like sinking into a cushy sofa—due in no small part to the super-soft linen jersey.
The billowing silhouette remains cooler-than-cool, with a bohemian deep V-neck and subtly ruched shoulders making it the ultimate choice for that casual coffee date.
Of course, the star of the show is the belted waist, and the metal-tipped cords to add that glimmer of glamour to this little back dress. Drawing in at the waist, the Ninety Percent Belted Maxi Dress may be casual, but that won't stop you from becoming the envy of the house. Plus, the open-back design—held together with those elegant cords—allows you to reveal a hint of a bra strap, too.
Best for: Proving that loungewear can be fun, sexy, and sustainable.
Alexandre Vauthier: Best LBD for weddings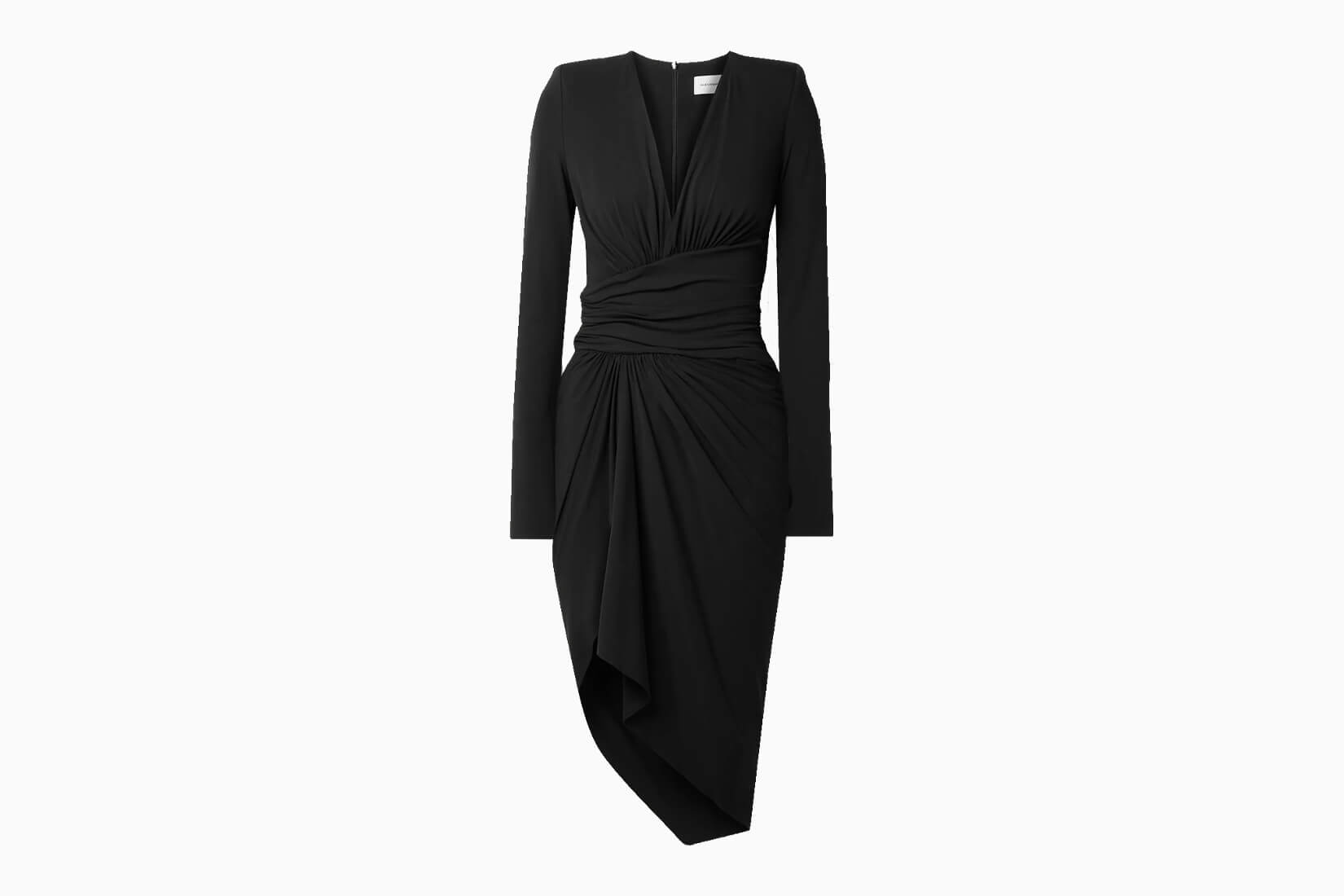 Attending weddings as a woman demands mastering the art of looking gorgeous, without looking like you're trying to outshine the bride. The struggle is real. However, with the Alexandre Vauthier Asymmetric Crepe Dress, you'll strike that balance.
Woven from a figure-hugging crepe, this dress is a masterpiece of origami. The artful design twists and turns in all the right places, culminating in a ruched waist that bestows that hourglass silhouette only wrap dresses can truly offer.
The asymmetric split hem creates even more structure, giving an elegant fishtail effect that makes princesses of us all. Even better, this LBD comes with a built-in bodysuit to keep you nice and secure, and the whole outfit is finished with internal shoulder pads, creating the perfect balance.
Calling all women who've recently RSVP'd: the Alexandre Vauthier Asymmetric Crepe Dress is perfect.
Best for: Making waves at the next big day.
Givenchy Chain-Trim: Best little black dress for cocktails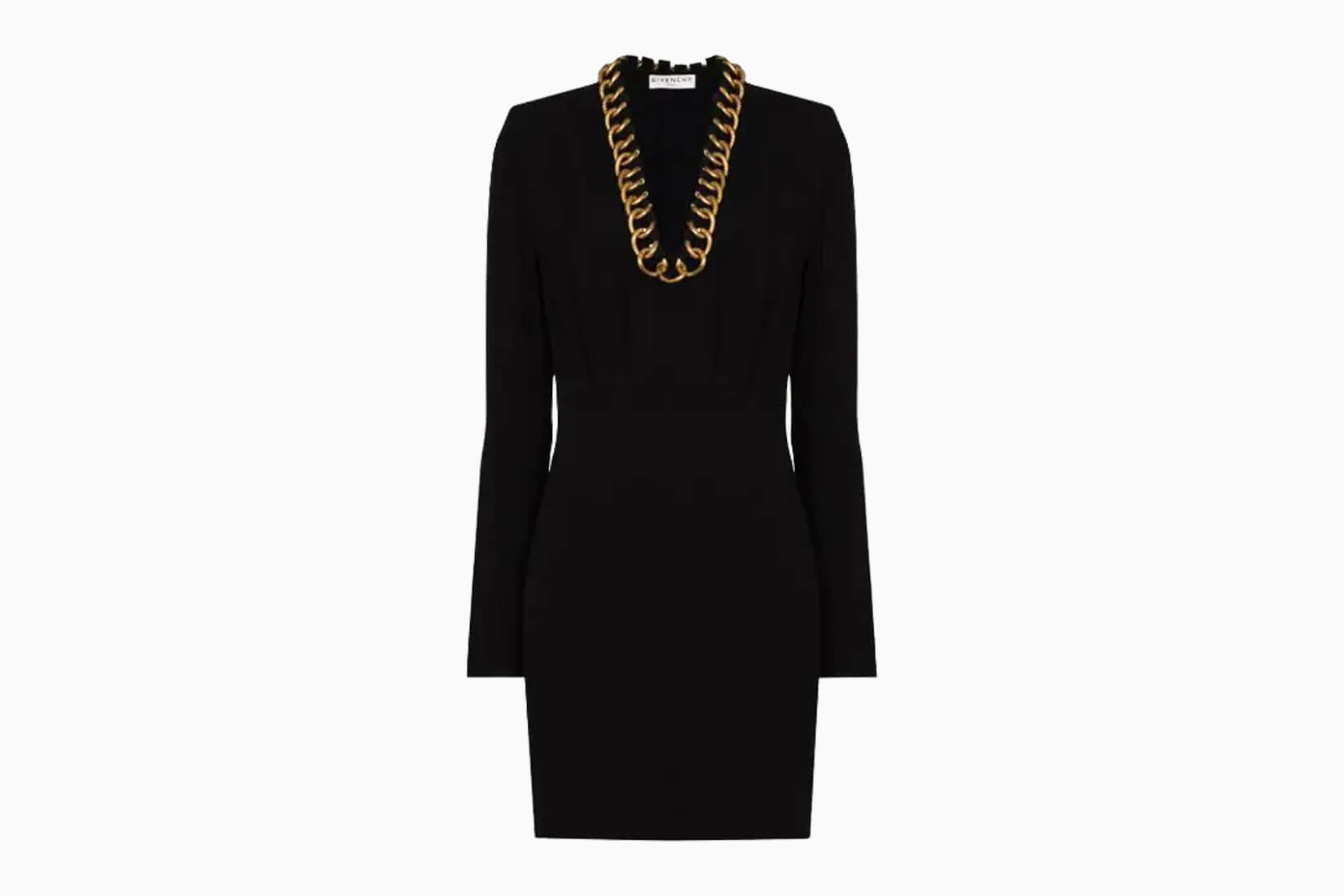 This cocktail-dress-meets-LBD by Givenchy is a masterful fusion of concepts. Channeling exquisite 80s style with its shoulder pads, and 60s chic with its short hemline, this little black dress is the ultimate combination. The perfect accessory to this is a Martini, though you can add your favorite jewels as you wish.
The elegant scoop-neck is offset by long sleeves, with the eye-catching gold chain neckline taking center stage. Drawing in at the waist, this luxurious mini will have you feeling a million dollars, even if you're simply making the most of happy hour.
Pair the Givenchy Chain-Trim Mini Dress with bare legs, chic ankle boots, and minimal jewelry to let that extravagant neckline take the limelight (and you with it). Throw on a weighty overcoat, and you're ready to paint the town red.
Best for: Those who are always on time for cocktail hour.
Anine Bing Elena: Best sequin LBD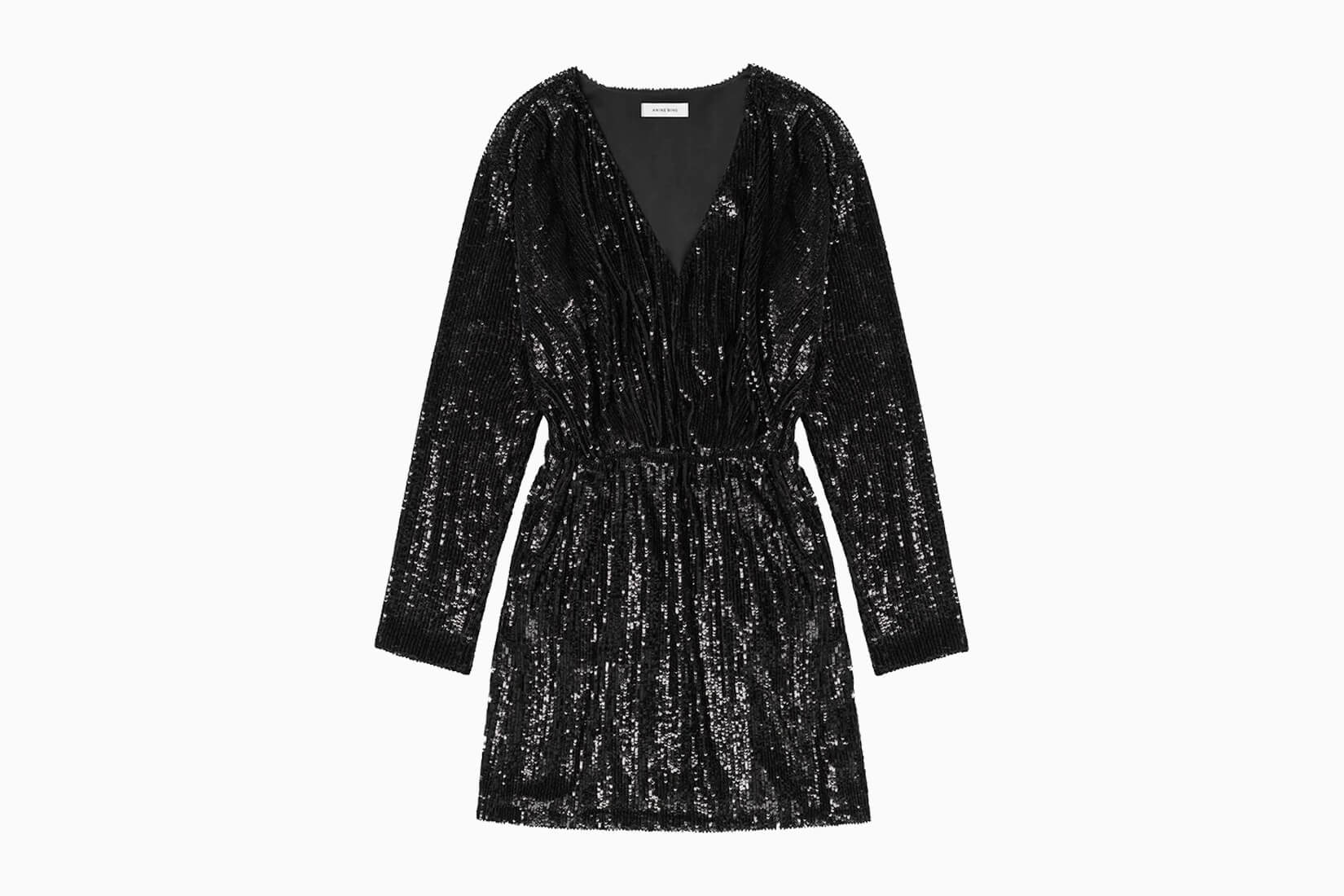 From LA-born brand Anine Bing comes the Elena Dress. Crafted with La La Land's glitzy atmosphere in mind, this glamorous sequin dress manages to be equal parts show-stopping and laid-back. Trust us, that's no easy feat.
The long-sleeved mini dress features a plunging V-neckline—simply made for showing off that holiday glow. There's a hidden hook-and-eye closure at the front too for a more covered-up look, so you can tailor this LBD for the occasion (i.e. meeting the in-laws).
Embellished with tonal black sequins all over, you'll shine like a star wherever you go in the Anine Bing Elena Dress. Plus, it's surprisingly functional: this sexy little black dress offers two deep pockets for your night-out essentials, too.
Best for: Being the life and glow of the party.
Theory: Best LBD with sleeves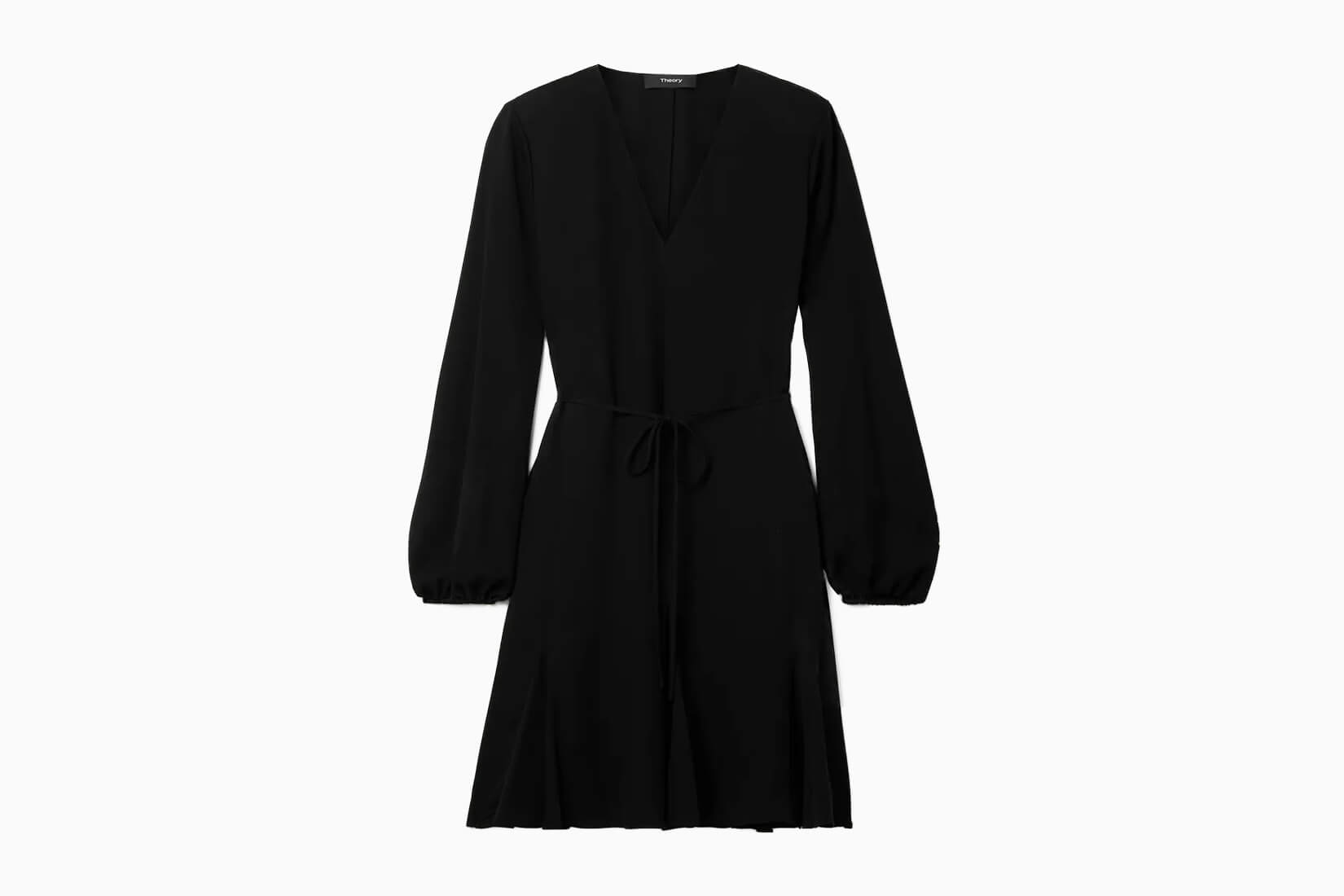 There's something about bell sleeves that just shower us with confidence, charm, and allure. The Theory Belted Mini Dress is cut from silk-crepe in a casual fit, with an elegant waist-tie belt to form an enviable silhouette.
The short, flared hem is gorgeously youthful while oozing sophistication at the same time. A subtle V-neckline draws the eye down to your waist, further defining that hourglass figure that just begs to be shown off. You can rock the Theory Belted Mini Dress without the belt for a carefree, Coachella-worthy style, too—just throw on some vintage cowboy boots and let your inner flower child run free.
This little black dress with sleeves is a one-way ticket to relaxed style and gives you the freedom to wear it how you want.
Best for: Those for whom freedom is a lifestyle.
St Agni: Best LBD for travel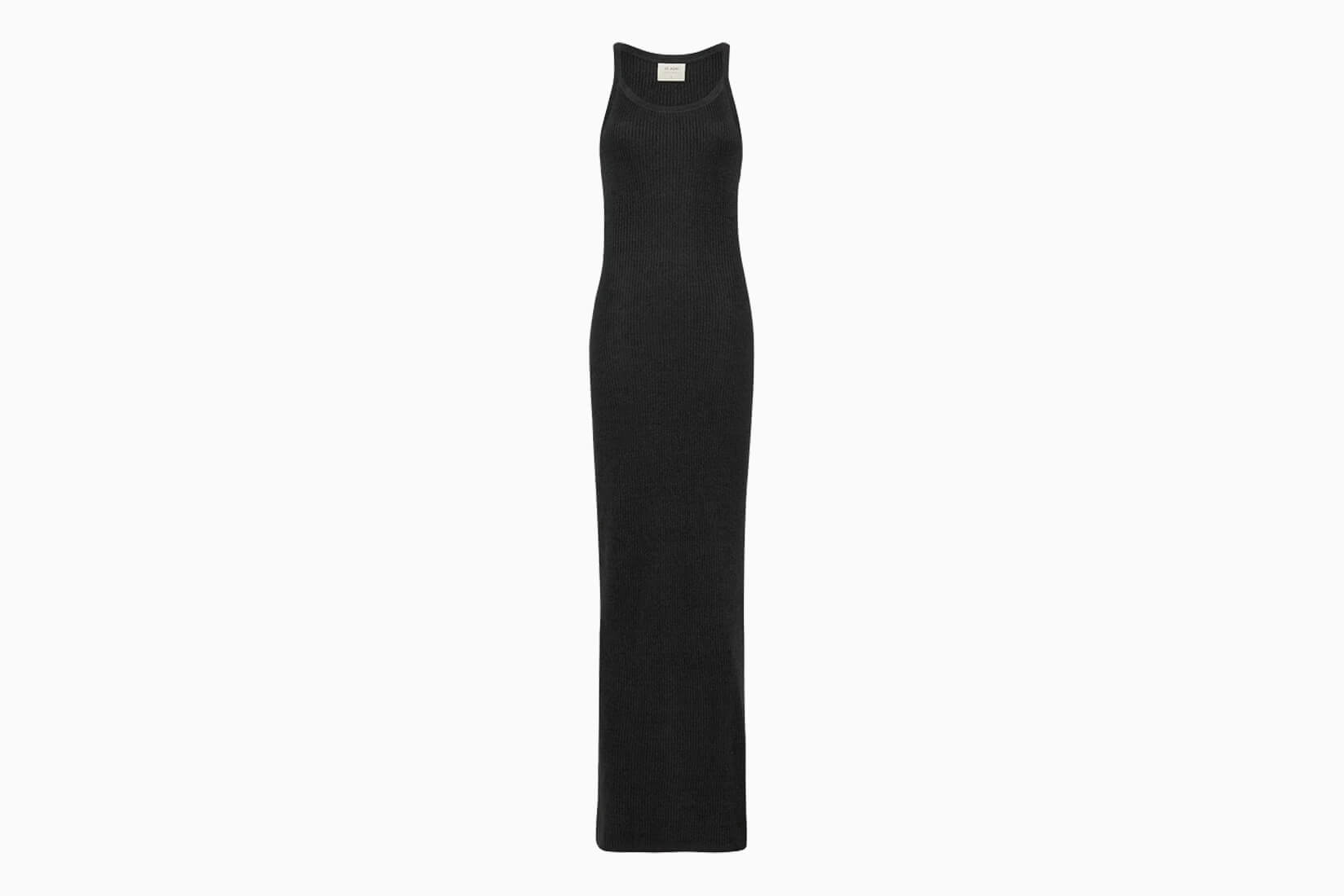 Who says you can't look chic in transit? With the Iman Linen Tank Dress by St Agni, you can look fabulous while staying comfy on a long journey. Whether you're flying, taking the train, or voyaging the seas, this travel-friendly Iman Linen Tank Dress will be on hand to ensure you're no less than perfectly comfortable.
Woven from 100% linen knit, this maxi LBD fits your figure like a second skin. Plus, it allows that all-important stretch for when you're sat down for hours. The scoop neck, racer-back, and drop sleeves combine to make this dress a guaranteed head-turner—even when you're competing with the dolled-up air hostesses.
Layer it up with a chunky knit or longline cardigan and a chic watch for elegant traveler chic, and match it up with sneakers or pumps for ultimate comfort.
Best for: A travel-friendly dress for women with wanderlust.
Marika Vera: Most versatile little black dress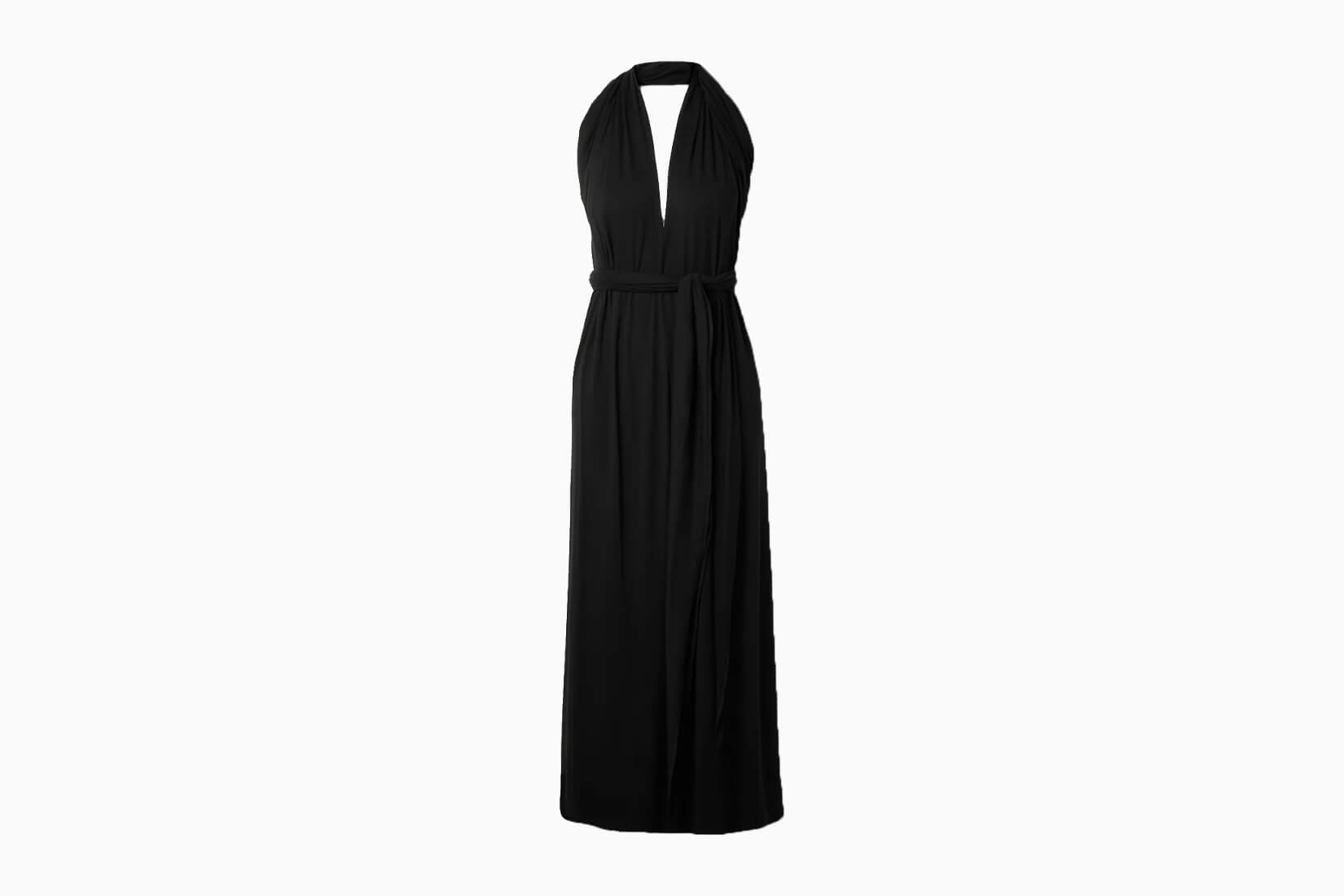 When it comes to LBDs, versatility is a prerequisite for many of us. However, the Marika Vera Alice Dress takes 'versatile' several steps further. The dress that's really multiple dresses, this LBD can be altered to fit your mood, taste, and occasion.
Made from a slinky stretch jersey, you can manipulate this little black dress in several ways. Opt for a chic halter-neck style, or spread the sleeves over your shoulders for a Grecian goddess look. Or, wear it with the cross-back and wide straps for a timeless aesthetic that'll become your go-to for dates, family events, and smoky cocktail evenings.
The wraparound design tailors to fit your shape, flowing loosely at the hip and ending at the ankle—the perfect length for showcasing your favorite heels. Of course, the versatility makes this Marika Vera Alice Dress exceptional value; you could wear it three evenings in a row and be complimented on your 'new dress' each time.
Best for: The ultimate shape-shifting LBD.
Saint Laurent: Best mini LBD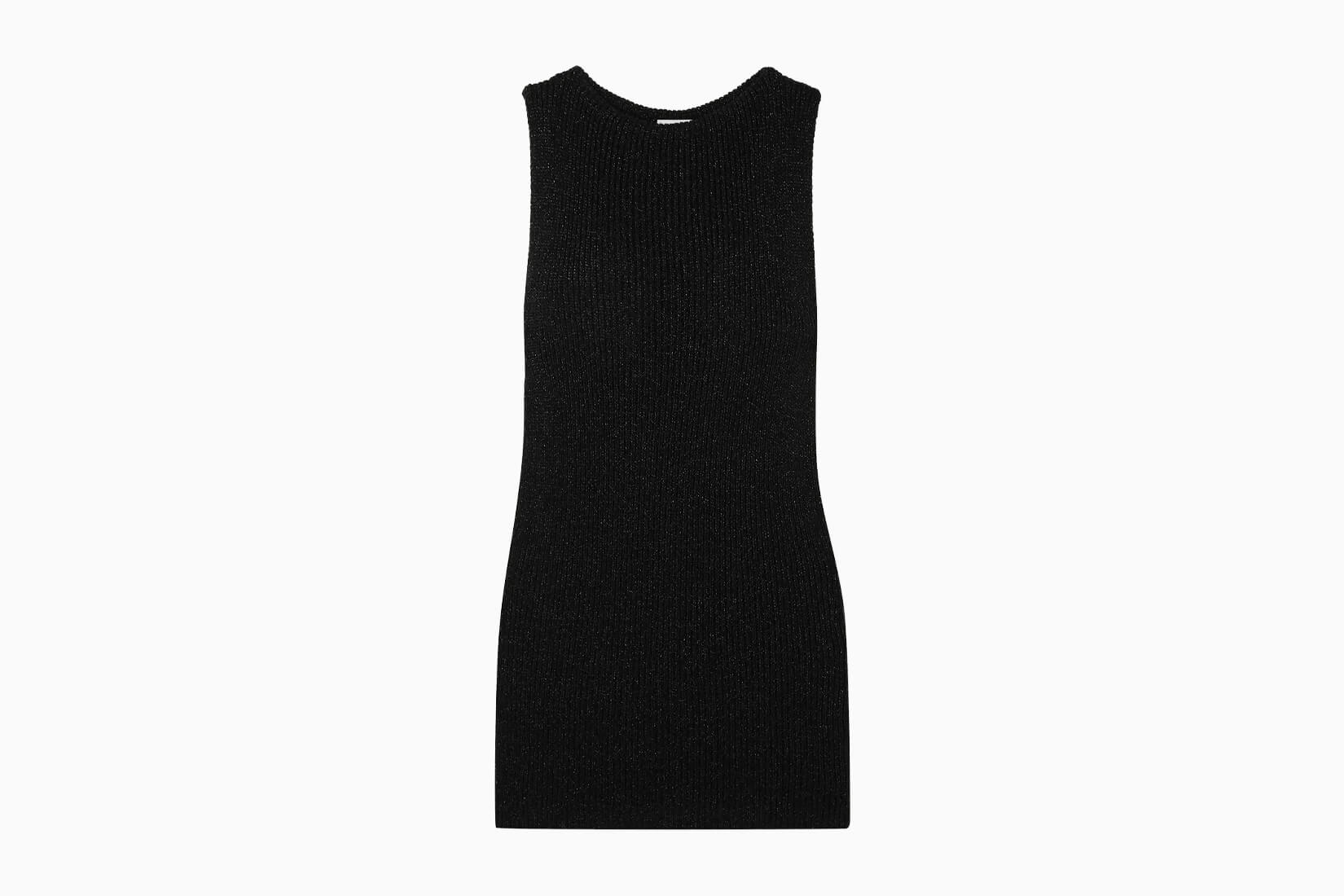 The Metallic Mini Dress is everything you'd expect from the French fashion house Saint Laurent. The short black dress envelopes your body like a glove, with the figure-hugging ribbed knit adorned with metallic flecks to make you dazzle all the more.
Designed with chic dropped sleeves and a demure crew neck to offset the vast expanse of legs you'll be rocking, this perfect little black dress is a 'throw-on-and-go' outfit like no other. Paired with platform heels and winged eyeliner, you'll be frogmarched to the front of the queue at any exclusive club, without a doubt.
You can pair this mini LBD with leggings and ankle boots for a daytime look, making it super versatile. Throw on a jacket and oversized scarf, and you'll be emanating city-girl chic. Simply put, the Saint Laurent Metallic Mini Dress offers a dash of sparkle to light up your night.
Best for: Letting your legs live their best life.
Reformation: Best midi little black dress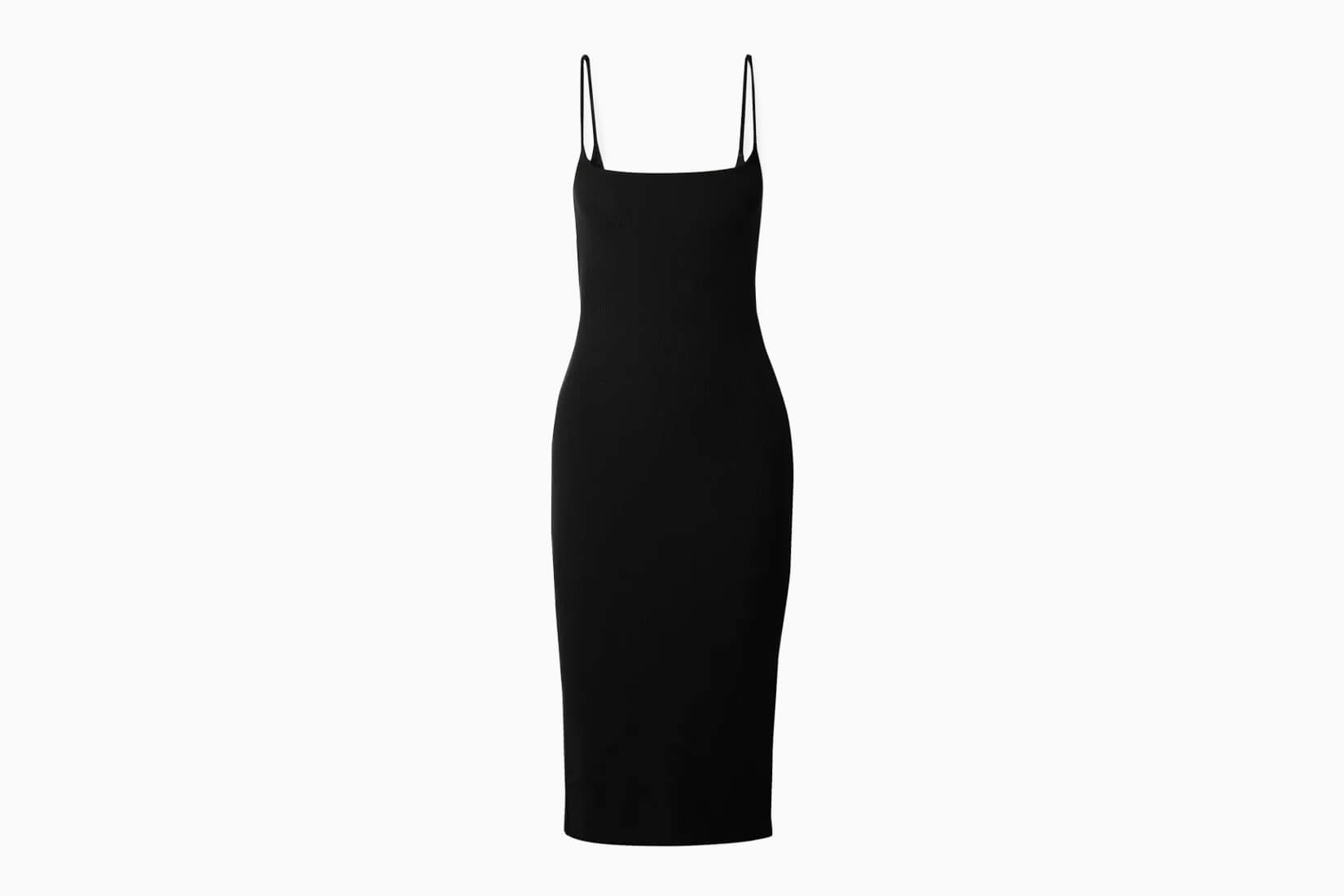 For a dress that's sustainable as it is stylish, look no further than eco-friendly brand Reformation's Milano Dress. Made from figure-hugging stretch-jersey, this dress will have you feeling wrapped up and stand out at the same time.
While the hero of this dress is the soft jersey, it'd be nothing without the fine details designed to flatter your body. A low, square neckline is framed with super-thin spaghetti straps, taking the best from 90s trends and morphing it into something timeless. The subtle (but very much there) split at the back serves to accentuate your curves further while offering functionality and freedom of movement.
This midi dress works beautifully on its own or paired with elegant jewelry. For a night out, pair it with drop earrings and a subtle necklace. For daytime chic, layer the Reformation Milano Dress under a retro cardigan or thick cable knit for ultimate chill-out vibes.
Best for: Ladies who love to layer.
Grace Karin: Best budget little black dress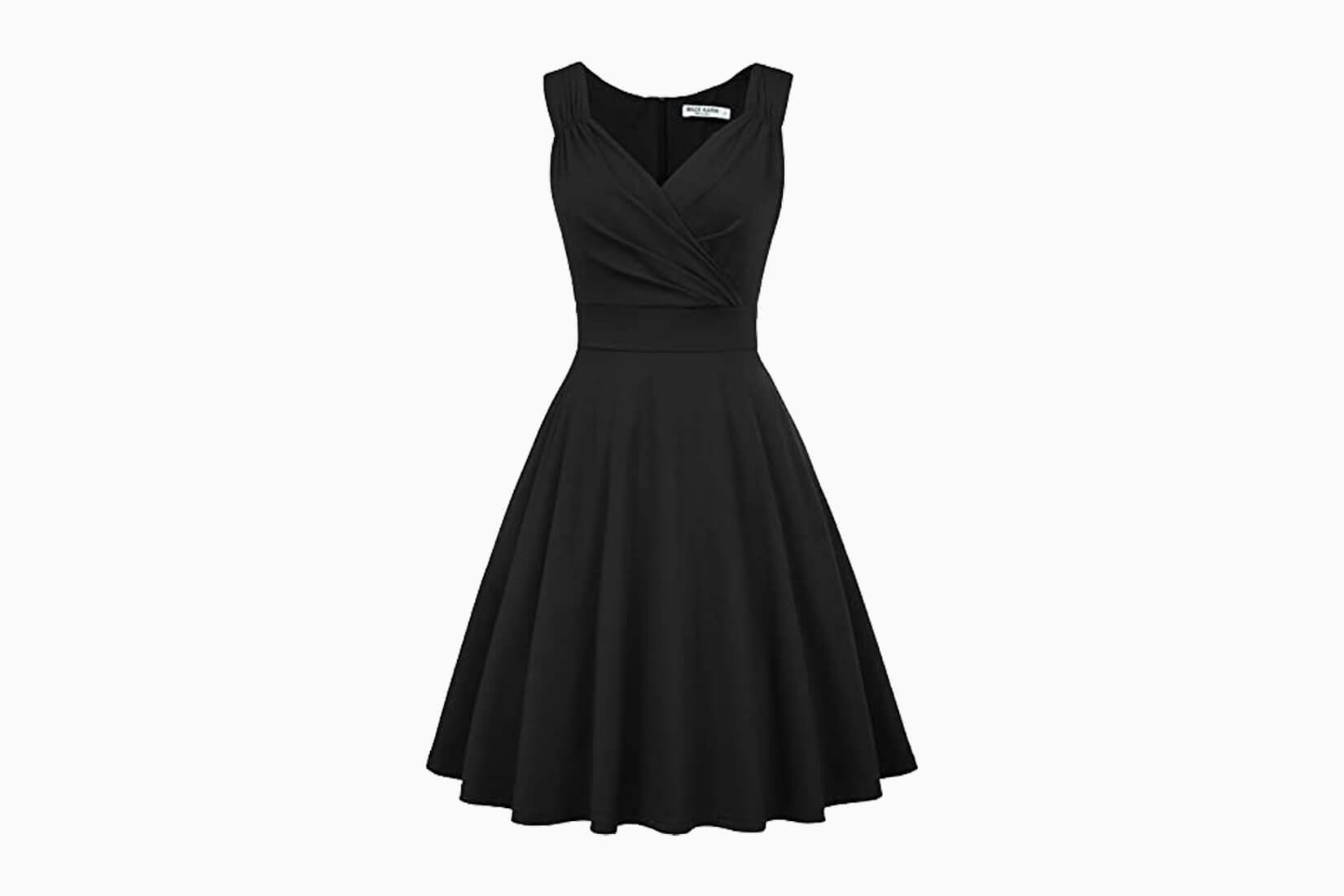 For a gorgeous LBD that won't burn a hole in your pocket (we can't speak for those cocktails though) the Grace Karin Cocktail Dress is a must-have. This ultimate little black dress offers a graceful design, effortlessly emphasizing your best features.
It's V-neck; it's sleeveless; it's A-line. It's simply beautiful. The swing-style skirt is just asking to be taken dancing, and the 50s style feel will have you jiving like it's 1955. Pinning in at the waist, this little black dress features a zip closure at the back to keep it close to your body, and the fun flared skirt stops just at the knee for true rockabilly style.
This formal little black dress is just the outfit for a night out or first date. It's incredibly flattering, so when you're seeking a little black dress for your body type, the Grace Karin Cocktail Dress is sure to fit the bill.
Best for: Looking a million dollars, without spending it.
ALAÏA: Most expensive LBD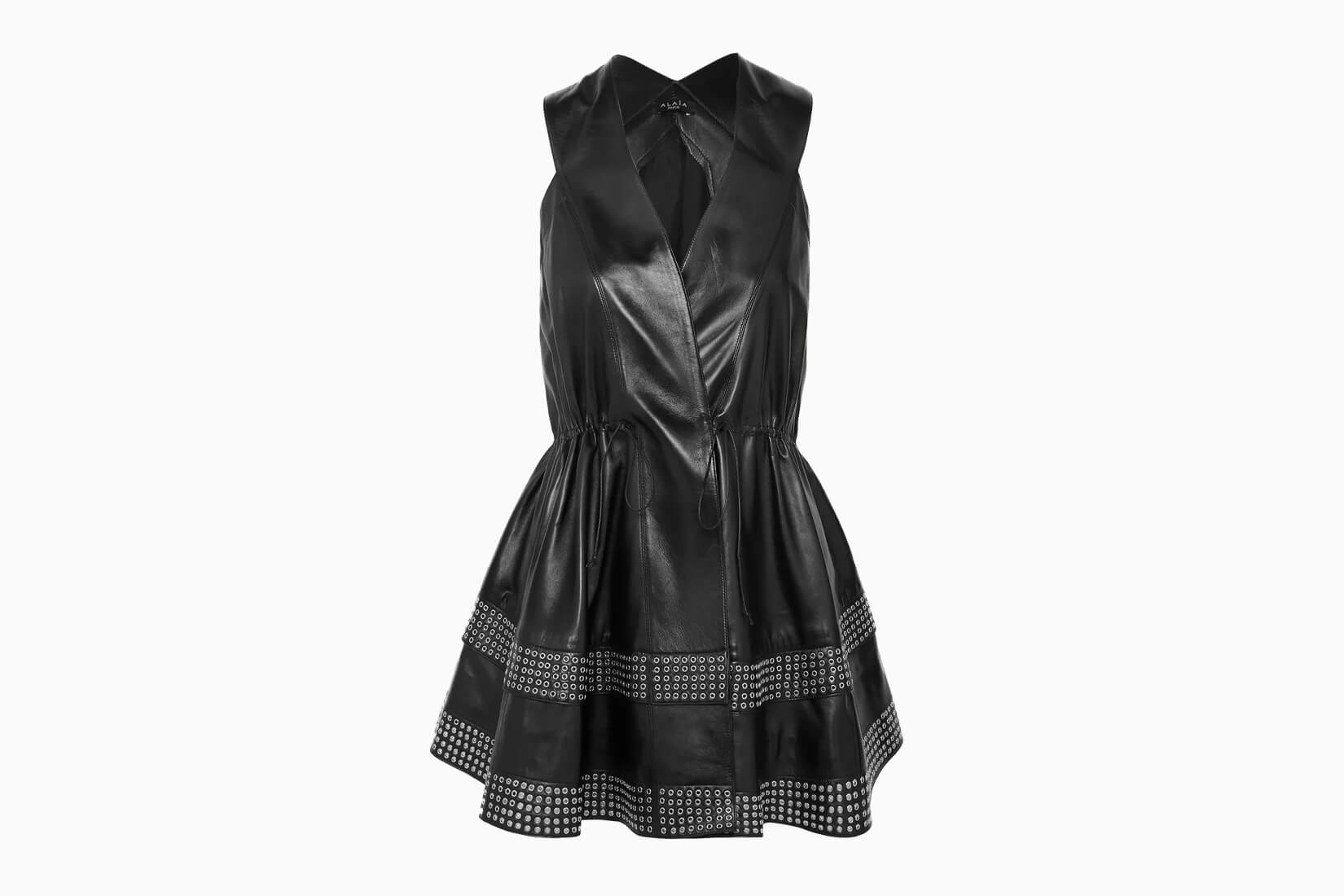 The brainchild of innovative designer Azzedine Alaia, the Leather Mini Dress is one for the red carpet. The visionary creator was one of the first designers to use leather to craft feminine silhouettes, offering a welcome alternative to the ubiquitous biker jackets and leather trousers.
Made from sumptuous, supple lambskin, this little black dress defies convention. Cascading down your body like silk, this ultra-mini LBD is finished with a flare-fit and subtly fitted bodice. A structured maze of silver eyelets embellishes the hem, elevating this little black dress to gorgeous new heights. Plus, the whole affair is brought together with a drawstring waist for a fitted feel.
Of course, you'll want to let the ALAÏA Leather Mini Dress take center stage with your outfit. Pair it with understated heels and a muted handbag, with minimal (if any) jewelry.
Best for: Awakening your femme fatale.
Style guide: How to wear your little black dress
LBDs are incredibly versatile—that's why we love them. However, if you need a little inspiration, read on for a few quick style tips:
For winter
It can be tricky knowing how to wear your LBD in the colder months. When it's chilly outside, it's best to use your winter coat, scarf, and other warming garments to make your outfit pop. Throw on a statement oversized coat and bright scarf to add a little zest to a wintery evening.
If your LBD is a statement piece (for example, it's structured or has embellishments) go for a more muted coat. However, if your LBD is on the more spartan side, you can opt for a faux-fur jacket or printed coat.
If your little black dress is strappy and you just can't not wear it (even though you'll freeze), simply layer it over a cute turtleneck or crewneck long-sleeve tee for extra warmth. We adore jewel tones in winter like emeralds, deep blues, and plummy purples.
Rustle up your favorite pair of thick tights. These will serve to keep you warm while allowing you to rock that LBD like you were born for it. Paired with chic boots and some stylish jewelry, you'll be itching to get out on the town.
For summer
Nothing makes an LBD pop like bare legs. This is truly the time for your little black dress to shine. When it comes to accessories for black dresses, you should opt for statement jewelry for more simple designs and subtle jewelry for stand-out dresses. The key is not to overdo it.
When it comes to shoes, strappy sandals are brilliant for party-girl vibes, while Chelsea boots are wonderful for a Saturday shopping trip.
Go bold with shimmers. As your dress will be the star of the show, you can experiment with glittery, glamorous pieces that'll elevate your outfit from just 'black dress', to The Ultimate LBD.
Think day-to-night. In summer, the days are long, and we're often out and about all day. Think ahead by planning your outfit around your LBD, bearing in mind you might end up in a bar later on. Bring some glitzy jewelry and a spare pair of heels with you for an easy day-to-night transition.
Frequently asked questions about the LBD
What is the perfect little black dress?
The perfect little black dress is different for every woman. Look for an LBD that suits your particular occasion while flattering your body shape. We adore Cuyana's Dolman-Sleeve Silk Dress. It's simple yet structured, incredibly versatile, and the three-ply silk feels luxurious against the skin.
Where do you wear a little black dress?
You can wear a little black dress pretty much anywhere and everywhere. The LBD is the most versatile of garments, and you can easily dress it up or down to match the occasion. Add jewelry and smart shoes for a formal event, or a knit cardigan and ankle boots for a toned-down look.
Who is famous for the little black dress?
Coco Chanel has become synonymous with the LBD. Accredited with its invention, Chanel brought the little black dress into popular culture back in the 1920s. It has remained as she intended; timeless, versatile, and accessible for all women.
What color shoes look best with a black dress?
While it's tough to go wrong, the general rule is that muted, nude colors look best with a black dress, simply because they allow the LBD to take center stage. Opt for nude pinks, blushes, or camels.
How do you spice up a simple black dress?
There are heaps of ways to spice up a simple black dress: Layer it over a ruffle shirt. Belt it. Add statement pieces of jewelry or a pair of statement shoes. Jazz it up with a chic hat and retro sunglasses. Let your imagination run wild.