Renowned for their cult-following and exclusive releases, Hermès handbags are the holy grail of luxury accessories. Symbolic of its French origins, the affluent label is immune to indifference. You're either turning your nose up at the six-figure price tags with an "I wouldn't buy one even if I could attitude." Or your social media feeds reflect a vision board where the Birkin and Kelly constantly compete for renewed infatuation. Either way, as the ultimate status symbol—mutually signed off by decades of it-girls and style icons—it's undeniable that Hermès has left its mark on the fashion industry. However, we believe that the time-honored label has done far more than that. 
We all know that not anybody can just buy a new Hermès Birkin. To be invited to make the purchase requires a record of loyalty and patiently waiting out year-long waiting lists. And whilst such unwavering exclusivity may rub many up the wrong way, it also makes a Hermès handbag an incredibly smart investment. In fact, because of such preferential treatment, many Hermès handbags increase in value, retailing for more second-hand than new. Fashion lovers rejoice: if everyone else can justify investing in art—we don't see why you can't invest in a timeless bag. After all, it does so much more than ornamenting a wall.
Hermès Birkin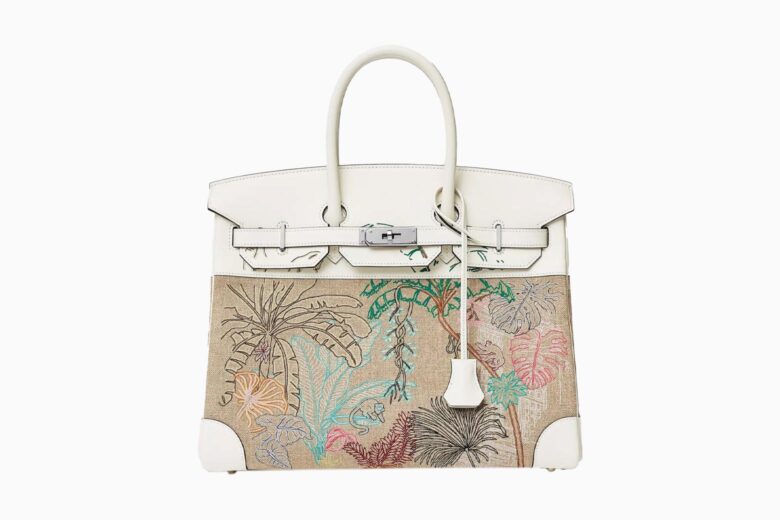 Flying high in affluent fashion circles, it could be considered ironic that the Hermès Birkin bag was born mid-flight on the back of a sickness bag. Serendipitously seated next to Hermès CEO and artistic director, Jean-Louis Dumas, young mother and it-girl, Jane Birkin, implored the designer to create a bag with greater functionality. Little did they know that the design would become the crème de la crème of the Hermes range—and of luxury handbags in general.
Today the iconic multi-pocketed rectangular silhouette comes in a range of sizes, colors and skins, with the exclusive bi-annual release remaining a secret to everyone but those invited to purchase a freshly minted Birkin. Thankfully for the rest of us, the resale market is equally impressive, albeit slightly more accessible.
Covetable and collectable in equal measure, the Hermès Birkin bag comes in four sizes: Birkin 25 (also known as the Baby Birkin), Birkin 30, Birkin 35, and Birkin 40. Conveniently, the clue is in the name: For example, a Birkin 30 bag is 30 centimeters wide across the base.
Best for: Worth the wait.
| | |
| --- | --- |
| Release: | 1984 |
| Retail price: | $10,000 – $56,000 |
Hermès Kelly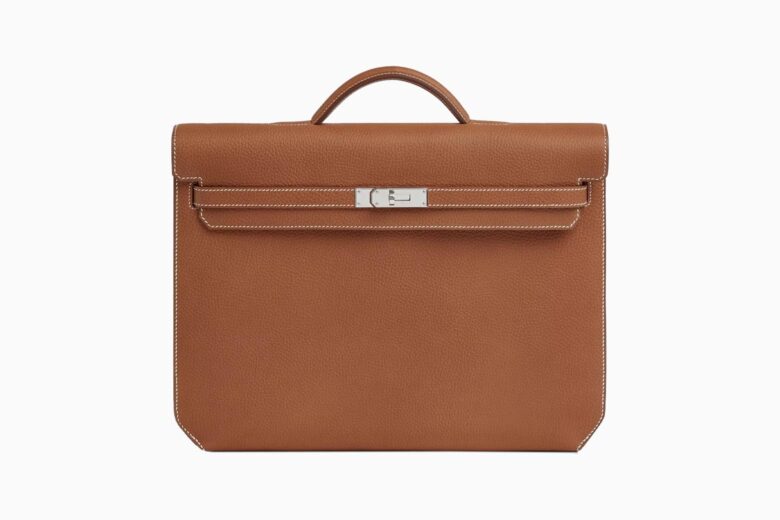 Effortlessly elegant and unapologetically sophisticated, the Hermès Kelly bag pays homage to Grace Kelly in style and name. After the actress-turned-Princess of Monaco famously used the handbag to conceal her baby bump, Hermès renamed the Sac-à-Dépêches, crediting the Princess for popularizing the timeless trapezoid silhouette.
Like Grace Kelly herself, the Kelly bag marries bold modernism with understated nobility. And whilst the Hermès handbag has been reimagined in a variety of hues, sizes, and fabrics, each iteration remains true to the original design with its signature triangular gussets, cutout flaps, shoulder straps, and double-sided strap clasp closure—making the Hermès Kelly instantly recognizable to fashion aficionados and novices alike.
Best for: Grace-fully chic style.
| | |
| --- | --- |
| Release: | 1935 |
| Retail price: | $11,000 – $51,000 |
Hermès Constance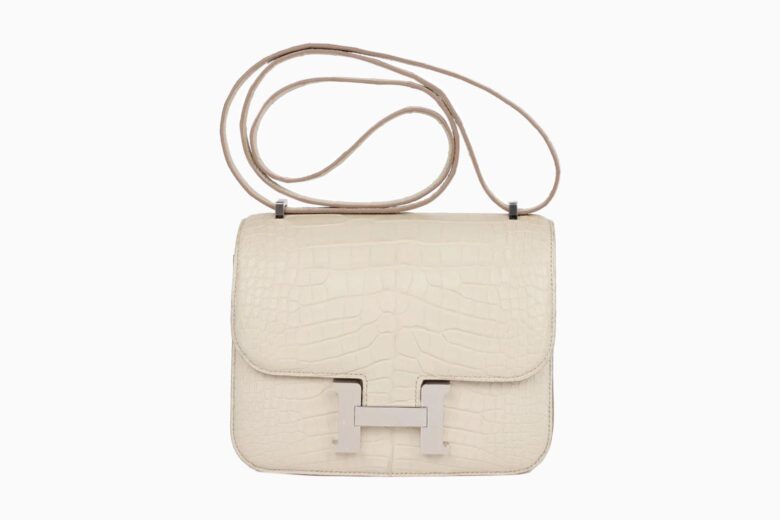 Celebrating continuity in a world of seasonal trends, Constance was created to be passed down to many future generations. Released on the day of the birth of Catherine Chaillet's—the designer—daughter, the timeless Hermès bag was named after the newborn. The iconic exaggerated H hardware alludes to the immortality of the elegant-but-contemporary label. Whilst the perfectly proportioned crossbody silhouette poses as a highly functional yet equally fashionable addition to any ensemble.
Like the Birkin and the Kelly Bag, the Hermès Constance cannot be purchased new online, but it can be found in perfect condition on many reputable e-retailers such as Farfetch and Fashionphile.
Best for: Mastering the art of contemporary continuity.
| | |
| --- | --- |
| Release: | 1959 |
| Retail price: | $11,000 – $60,-000 |
Hermès Haut à Courroies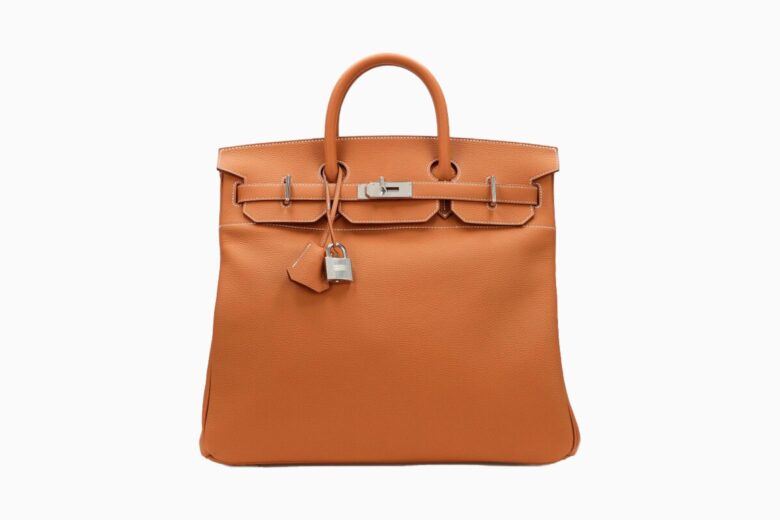 As the OG Hermès bag, the Haut à Courroies (HAC) carries with it the history of the affluent label. The tall, oversized silhouette was originally designed to carry saddles and riding boots. Whilst the brand's signature adoption of the indestructible saddle stitch gives it the ability to endure centuries of use—be it on horseback or screaming through airport security.
The ultimate designer travel bag, the Haut à Courroies counts Victoria Beckham, Kim Kardashian, and Travis Scott amongst its fans. Whilst the spacious interior makes it the antidote to any on-the-go day.
Best for: Tall, dark, and handsome, please.
| | |
| --- | --- |
| Release: | 1892 |
| Retail price: | $16,000 – $23,000 |
Hermès Picotin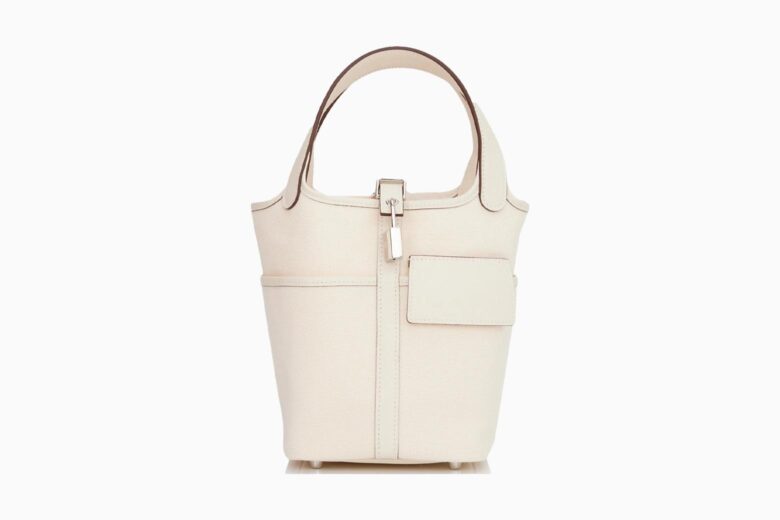 Taking its name from the measure of feed given to horses, the Hermès Picotin honors Parisian simplicity with its minimalist bucket silhouette and uncomplicated detailing. In fact, the only real accent is a subtle equestrian-inspired padlock, alluding to the mystery kept inside the Hermès Picotin by the individual.
As one of the most decadent totes, we're keeping our Picotin away from the stables and sticking to the streets. We adore the buttery soft leather iterations for an everyday elegant accessory or designer work bag. Whilst the canvas versions lend themselves to a slightly sportier (yet undeniably sophisticated) aesthetic.
Best for: Equestrian-inspired elegance in spades.
| | |
| --- | --- |
| Release: | 1958 |
| Retail price: | $2,875 |
Hermès Evelyne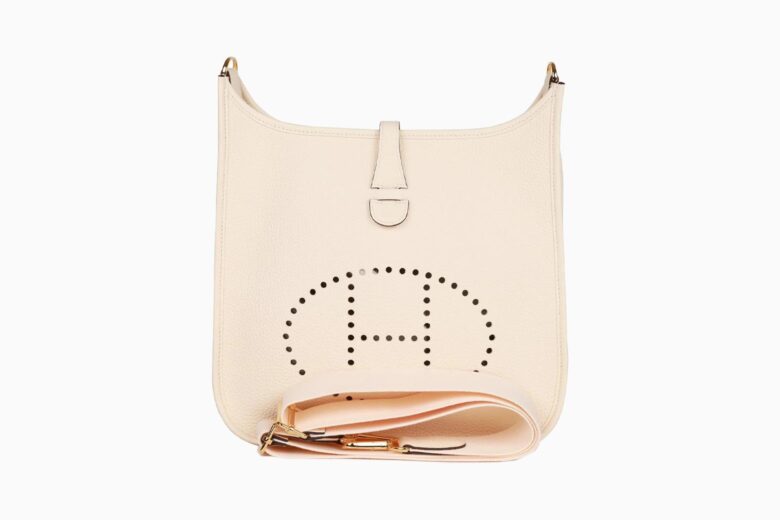 Distinguished by the exaggerated perforated H, the Hermès Evelyne bag marries casual-sporty-chic with designer decadence. Significant of the brand's equestrian roots, the perforated detailing was originally worn against the rider's body for optimal ventilation. But like many things Hermès, the once-practical accent now serves as the ultimate status symbol—worn outwards by in-the-know girls and high-profile faces worldwide.
With many generations of the Hermès Evelyne bag, additional features range from adjustable shoulder straps to exterior pockets, all of which speak to the highly functional yet unapologetically fashionable nature of the cult-favorite silhouette.
Best for: Equestrian essential turned luxury.
| | |
| --- | --- |
| Release: | 1978 |
| Retail price: | $1,900 |
Hermès Bolide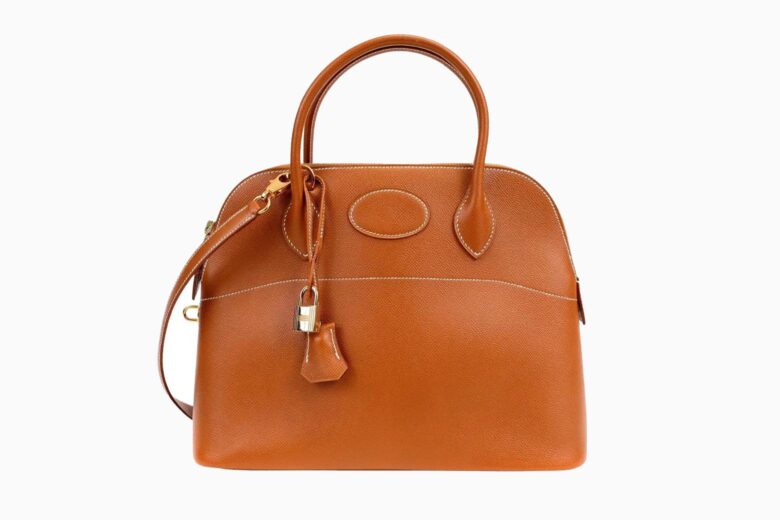 Understanding the importance of slow fashion for a fast-paced lifestyle, the Hermès Bolide doesn't succumb to the chaos of a life in motion. But rather it brings a piece of serenity to the mundane—such as airport lines and supermarket queues.
Drawing inspiration from Henry Ford's factory, the zip closure speaks to innovation that remains on-trend for centuries to come. And as one of the most iconic Hermès purses, other practical elements such as the removable shoulder strap make the Hermès Bolide far more than just a classical showpiece.
Best for: A frontrunner in functional fashion.
| | |
| --- | --- |
| Release: | 1982 |
| Retail price: | $365 – $8,700 |
Hermès Jypsière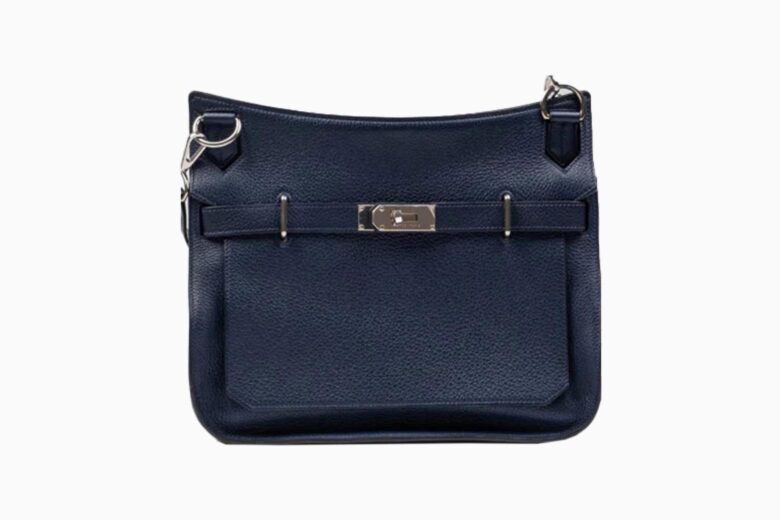 Acknowledging the transitional lifestyle of the predecessors to digital nomads—gypsies—the Jypsière speaks to a carefree and confident attitude with understated elegance. Positioned as a classic reinterpretation of the iconic Kelly bag, the messenger silhouette is designed for everyday use. The adjustable shoulder strap sits comfortably on the hip. And the slightly rounded bottom gives off a relaxed-yet-refined feel.
Style it with casual denims and off-the-shoulder knits as seen on Nicole Scherzinger or go full boho with a headscarf like Ella MacPhearson. Either way, Hermès Jypsière proves that you don't have to live in a caravan to adopt a free-spirited way of living.
Best for: With love from Paris.
| | |
| --- | --- |
| Release: | 2008 |
| Retail price: | $5,000 – $10,000 |
Hermès Herbag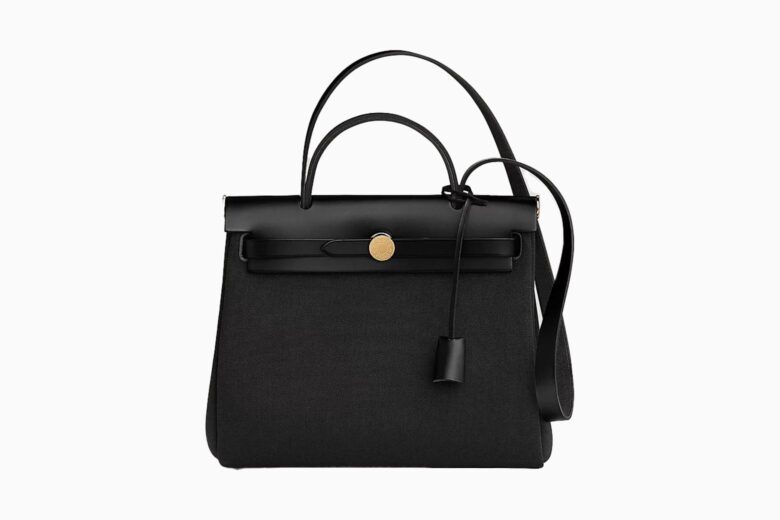 Two for the price of one is not something you expect to hear from one of the most popular luxury brands, Hermès. But the Herbag is exactly that. As one of the affluent label's most accessible designs, the top of the bag can be detached from the bottom for mix-and-match styling. Whilst the removable zipped pouch pulls double duty as one of our best designer wallets for women.
The canvas construction is endlessly durable and easy to wear with a slightly more relaxed feel. Whilst the overall aesthetic of the Herbag is reminiscent of the popularized Kelly bag in sophistication and style.
Best for: Multifaceted personalities.
| | |
| --- | --- |
| Release: | 2009 |
| Retail price: | $2,000 – $6,000 |
Hermès Garden Party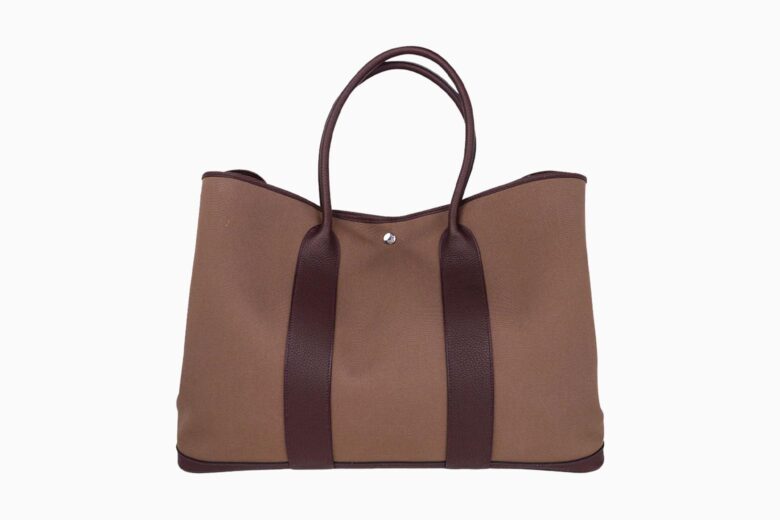 It's simple. The Hermès Garden Party bag is the designer equivalent of Mary Poppins' endless tote. And the spacious interior makes room enough for all the essentials—be it a hat stand or spontaneous picnic blanket.
Besides its generous dimensions, the casual nature of the bag is emphasized by the canvas exterior and leather accents. Whilst a range of fun prints reflects an outgoing, celebratory attitude. We think it's safe to say that the Hermès Garden Party lives up to its name in spirit and performance.
Best for: Pulling it out of the bag.
| | |
| --- | --- |
| Release: | 1964 |
| Retail price: | $2,000 – $28,000 |
Hermès Lindy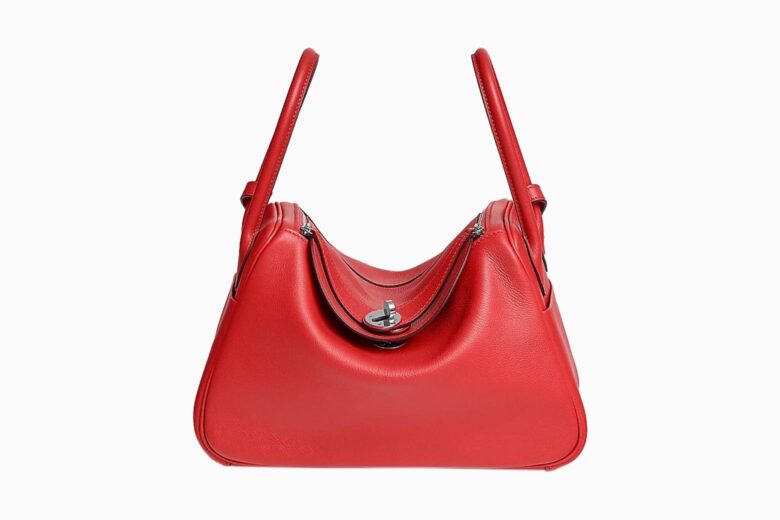 A tribute to the legendary street dance, the Lindy Hop, this Hermès handbag encapsulates the groove of the 1920s. The soft, supple leather silhouette moves to the rhythm of your everyday routine. Whilst the signature side handles allow the curvy structure to hug the body.
The gold-plated hardware adds a touch of pizazz to the effortlessly elegant Hermès bag. And the versatility of the design promises to keep up with your upbeat, on-the-go lifestyle.
Best for: A life in motion—but make it elegant.
| | |
| --- | --- |
| Release: | 2006 |
| Retail price: | $6,400 |
What makes Hermès bags so special?
Founded by Thierry Hermès in 1837, Hermès started as an equestrian harness workshop in Paris. And whilst the brand specialized in harnesses and saddles for European nobility, it was their equestrian-inspired handbags that stole the show. Hermès released its first bag—the Haut à Courroies—in 1892, designed specifically for carrying saddles and riding boots. This was followed by the Sac à Dépêches (now known as the Kelly), the Constance, and the Birkin—all of which remain household names to this day.
What are now renowned as status symbol accessories began as functional pieces. Not only did Hermès patent zip closures for maximum security, but perforated sides were designed for optimal ventilation whilst riding. Adjustable straps prioritized comfort. And perhaps most importantly, premium materials ensured endless durability and wearability. Hermès famously adopted the indestructible saddle stitch, which cannot be replicated by machinery. Therefore Hermès handbags are hand stitched by a single artisan, ensuring impeccable attention to detail and unparalleled craftsmanship.
Along with the bags' timeless aesthetics, the brand's exclusive approach to production resulted in years-long waiting lists, making them increase in value over time. Talk about a smart (and stylish) investment, right?
How much does a Hermès bag cost?
If you've tried to buy a Hermès bag, you'll know that it's not as simple as visiting the official website. Although you'll find a few smaller bags, most of the iconic silhouettes can only be purchased second hand. Therefore the cost of Hermès bags usually comes down to the specific model, how limited it is, as well as the condition that it's in.
The most popular hermès bag, the Birkin typically ranges between $10,000 to $56,000 on the resale market. Whilst less popularized silhouettes such as the Garden Party and Herbag may range between $2,000 to $10,000.
Is an Hermès bag an investment?
Absolutely. Like all hyper-limited purchases that are high in demand, a Hermès bag is more than just a status symbol—it can also be a super smart investment. Distinguishing itself from other affluent labels, one has to be invited to purchase most Hermès models new. This means that the minute you leave the Hermès store with a Birkin, Constance, Kelly or other iconic silhouette, it has almost certainly already increased in value.
With such a robust resale market, purchasing the right preloved Hermès bag can also be a smart financial decision. In general, limited edition styles, discontinued colors, and bags kept in perfect condition are bound to catch the attention of collectors, making them an excellent choice for fashion investors.
What is the most expensive Hermès bag ever sold?
Renowned as the ultimate status symbol, Birkin bags are the most exclusive, most sought-after—and naturally the most expensive Hermès bags. So how much is a Birkin bag? Or rather, how much could it be?
Made from rose gold and inlaid with 2,712 diamonds, the Sac Bijou Birkin took center stage in Hermès' Haute Bijouterie jewelry collection. The design was released in 2012 with a price tag of $2 million. And whilst the mini Birkin bag is fully functional, it was intended to be worn as a bracelet.
If we're calling the Sac Bijou Birkin a jewelry piece and not a bag, the most expensive Hermès bag ever sold would be the Birkin bag by Japanese designer Ginza Tanaka, which sold for $1.9 million in 2008. Made from platinum and adorned with over 2,000 white diamonds, only one was ever made and released. The embellished strap can be removed and used as a necklace while the encrusted 8 karat dazzling diamond can be worn as a brooch.
Where can you buy an Hermès bag?
Whilst smaller types of Hermès bags can be found on the brand's official site, if you're after one of the classics, you'll have to dig a little deeper. Of course, you could visit one of Hermès' boutique stores. But this may require a flight, and you aren't guaranteed to find what you are looking for as stock varies from one store to another. And if you're wondering how to buy a Birkin bag in particular, well that requires an invitation from the brand itself after years-long waiting lists.
Fortunately for those of us who aren't on Hermès' VIP list, we can find many signature models on reputable online retailers such as Farfetch, Fashionphile and Vestiaire Collective. Because the resale market is so robust, most Hermès bags are kept in impeccable condition, and finding the right one can actually be a really good investment.
What is the difference between a Kelly and a Birkin bag?
Both the Kelly bag and the Birkin are named after icons. And both have waitlists exclusively reserved for Hermès loyalists. So what sets them apart? In short, the Kelly epitomizes elegance with its signature clasp closure over the top, shoulder straps and trapezoid silhouette. Whilst the Birkin is recognized by its lock closure, shorter tote handles and rectangular silhouette, making it the better choice for everyday use.
Both models come in a range of sizes, colorways and materials, although the Kelly has greater variety, while the Birkin remains slightly more exclusive.
The colors of Hermès bags
Marrying time-honored silhouettes with soul-stirring hues, color is the language through which Hermès communicates with its cult following. And those well-versed in the brand's particular colloquialisms are likely already frequent users of terms such as: Vert Anglaise and Parchemin Pink. But for those who aren't, understanding why some shades of pink are ten times the value of others can be pretty confusing.
The extraordinary beauty of the affluent French label: exclusivity and mystery. One never knows what shades seasonal collections will bring in. And as a result, the brand's signature limited hues are renowned for garnering a dedicated following of their own. Classical colors such as black, red, navy, dark green, brown and beige/cream are regular features and easy to find on the resale market. Whilst signature exotic shades such as Himalaya White and Rose Azalee are limited editions and have become highly sought after on the resale market.
Which Hermès bag should I buy?
Buying and selling Hermès bags can be a great way to make money. But just like any investment, you have to know Hermès bags' names and prices. Iconic models such as the Birkin, Kelly and Constance are highly exclusive and sought after.
The best Birkin to invest in is the mini Birkin bag. Classical colors consistently sell well, whilst exotic hues can be a hit or miss. However the biggest factor in determining which second hand Hermès bag to buy ultimately comes down to what condition it's in and whether the Birkin bag price tag already reflects that or whether it can be sold for more.
Less exclusive models such as the Garden Party, Herbag and Evelyne are a lot more accessible. So if you're buying a Hermès bag to actually use, we would recommend looking at these silhouettes on reputable online stores like Farfetch.
Frequently asked questions about the most popular Hermès bags
Which Hermès is most popular?
Popularized by it-girl, Jane Birkin, in the 1980s, the Hermès Birkin bag garnered a cult following of its own. The Birkin's overnight fame and limited release resulted in long waiting lists. And today you have to be invited to purchase one from the brand itself. However, the Birkin bag is equally popular on the resale market, with the Birkin 25 being the most highly sought-after Birkin bag.
What is the famous Hermès bag called?
While many Hermès bags are iconic in their own right, the Birkin bag is renowned as the famous Hermès bag. Unknowingly seated next to Hermès CEO on a flight from London to Paris, Jane Birkin expressed a need for a more functional designer handbag. Exchanging the use of her name for the limited edition bag, Jane Birkin made the Birkin Bag a household name. And subsequently, it became the object of desire for all young women.
Who has the most Hermès bags?
Singapore flight attendant turned influencer, Jamie Chua is renowned for having the most Hermès bags. The socialite's collection exceeds 200 bags, all of which are displayed in her enormous walk-in closet.
Which Hermès bag is the hardest to get?
When it comes to Hermès bags' names and prices, the Birkin bag is easily the most exclusive, most sought after and therefore most expensive. With the comeback of smaller silhouettes, the Birkin 25 is particularly hard to find. Whilst exotic colors and materials are more exclusive than classical hues.