It's official: staying in is the new going out. It's time to hide away your fanciest outfits in favor of something far cozier: a stylish pair of women's pajamas that'll have you dreaming of crawling into bed.
Had a long day at work? Pull on your pajamas and feel an instant burst of comfort. Easy Sunday morning cooking up brunch? Your new favorite sleepwear has never been more suitable. Weekend movie marathon complete with all the trimmings? You guessed it — pajamas are the way forward.
Loungewear has become one of the most-used buzzwords, and now it's even easier to hunt down everything from silky smooth camisoles and luxury pajamas to cute sleepwear and even, in our opinion, the comfiest pajamas in the world.
Just don't blame us if you find it even harder to get out of your soft, cozy bed sheets in the morning.
The 23 best women's pajamas
To help you find the pajamas that are best for you, check our style guide to choosing the most sleepwear for women after the list.
Eberjey: Overall best women's pajamas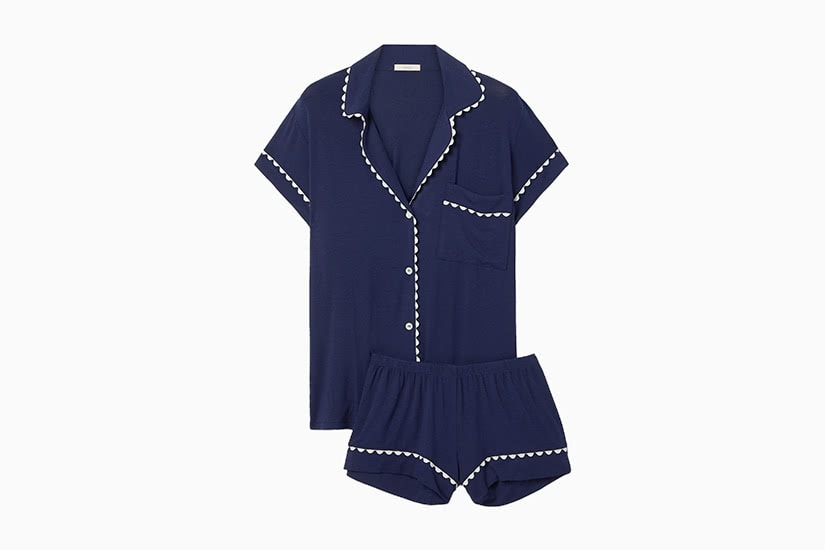 You'll doze off in utmost comfort, find excuses to work from home for an extra day and even cancel your early morning weekend plans once you've slept in Eberjey's pajamas. Guilty for doing all of the above while remaining cozy enough for you to stop caring entirely, the Eberjey's Rickrack-trimmed stretch-modal jersey pajama set will become the first thing you think about in the morning and your last thought before you go to sleep at night. Yes, like the romantic cliché, except far more deserving.
Stylish, practical, and comforting all at once, this cute navy pajama set by Eberjey comes in a relaxed fit that blends effortlessly with your morning coffee habit, and a traditional collar and piping add an extra special final touch.
| | |
| --- | --- |
| Best for: | Snoozing your alarm for an extra hour |
| Color: | Navy |
| Size range: | XS – L |
Olivia Von Halle Coco: Best luxury pajamas for women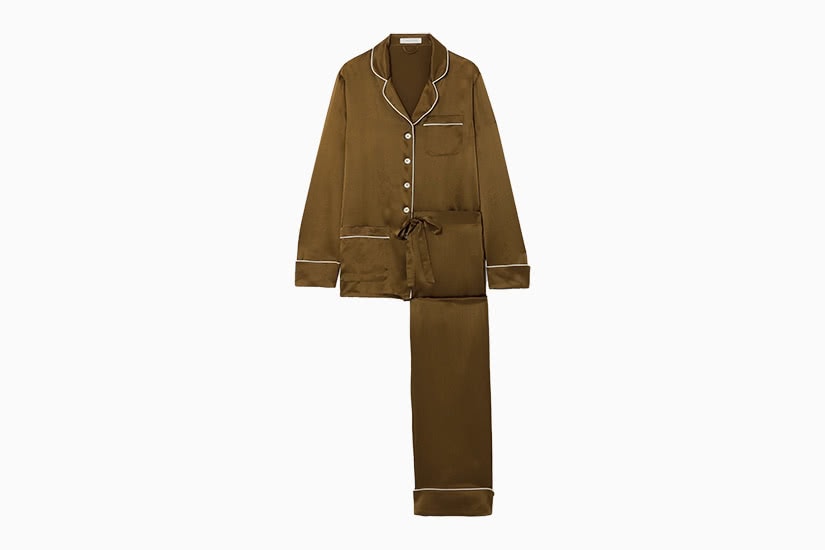 Even if you're not typically someone who immediately puts their pajamas on when arriving home from work, you'll strongly consider making the change when you've invested in a pair of luxury pajamas. A brilliant touch of self-care that'll have you longing for bedtime, a high-quality set is an essential to every woman's sleepwear wardrobe and is a great way of indulging without having to leave the house.
Olivia Von Halle's Coco silk-satin pajama set is so fashionable that you'll consider wearing it out of the house as well as in bed. Premium quality silk with a gleaming gold undertone will have you leaving this set neatly folded on top of your pillow so you can admire it even before you've fought the urge to put them on.
| | |
| --- | --- |
| Best for: | The picture-perfect definition of self-care |
| Color: | Army green, lavender |
| Size range: | XS – XL |
Ekouaer Sleepwear: Best value pajamas for women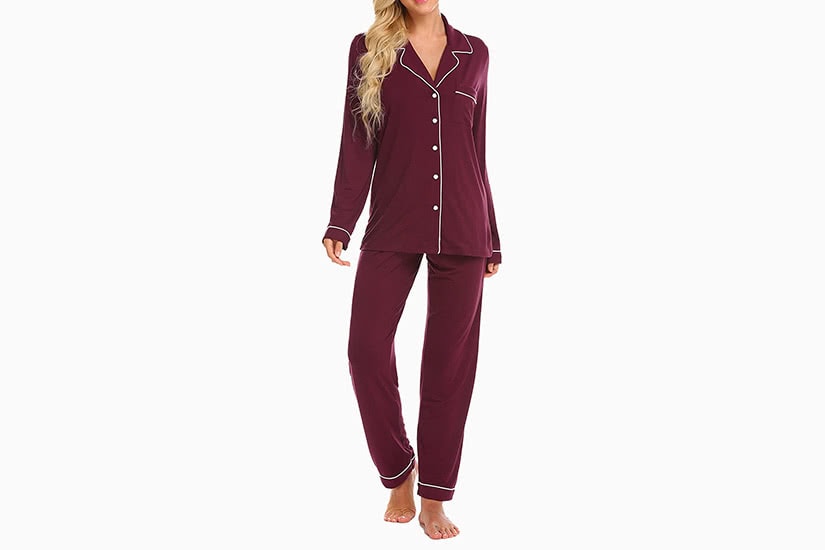 Comfort and style are a match made in heaven, and that's exactly what you'll be dreaming of when you hunt down the best women's sleepwear. A budget-friendly option that you'll hurriedly throw in the washing machine with time to dry before the evening approaches, these women's pajamas combine everything you need for sweet dreams and a well-rested night. Be prepared to wake up to the perfect temperature with these full-length pajamas adorning your body.
Ekouaer's Pajamas Set comes in almost every color of the sun, which means if you're someone who likes coordination, then you can probably find some that match the rest of your decor or your bedsheets. A relaxed fit with long sleeves that you can curl your fingers inside on colder nights, they promise to hug you through the coolest of evenings and allow you to wake up nicely refreshed. These super soft PJs are a brilliant everyday option.
| | |
| --- | --- |
| Best for: | Coordinating your PJs with your bedsheets |
| Color: | Burgundy, black, printed |
| Size range: | XS – XXL |
LilySilk: Best silk pajamas for women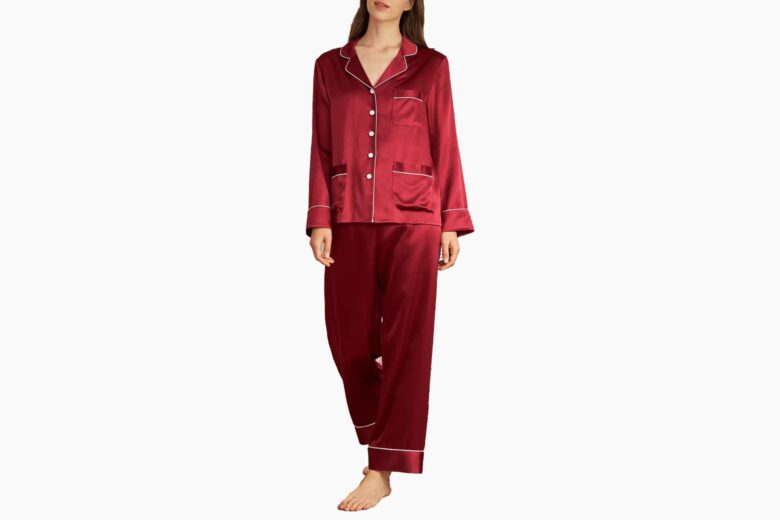 One of our biggest sleepwear frustrations is an elastic that constantly rides up or slides down in the night. Striking the perfect balance between fitting and freeing is no small feat. However, LilySilk has mastered it by only putting elastic in the back half of the waist, leaving the front smooth and unrestricted.
Available in a range of minimalist colors, from Claret red to Navy blue to Avocado green, this luxurious pajama set is made from the brand's signature A Grade quality Mulberry silk. And while we've tried many silk pajamas that have made our soul sing, we are yet to find a set as soft, smooth and breathable as this pair by LilySilk. The fact that they're equally dreamy for the planet is just a (much-appreciated) bonus.
| | |
| --- | --- |
| Best for: | Combining with a hydrating face mask and a glass of wine |
| Color: | Navy blue, Claret, Rosy pink, and more. |
| Size range: | XS – XXL |
Sleeper Satin: Best women's satin pajamas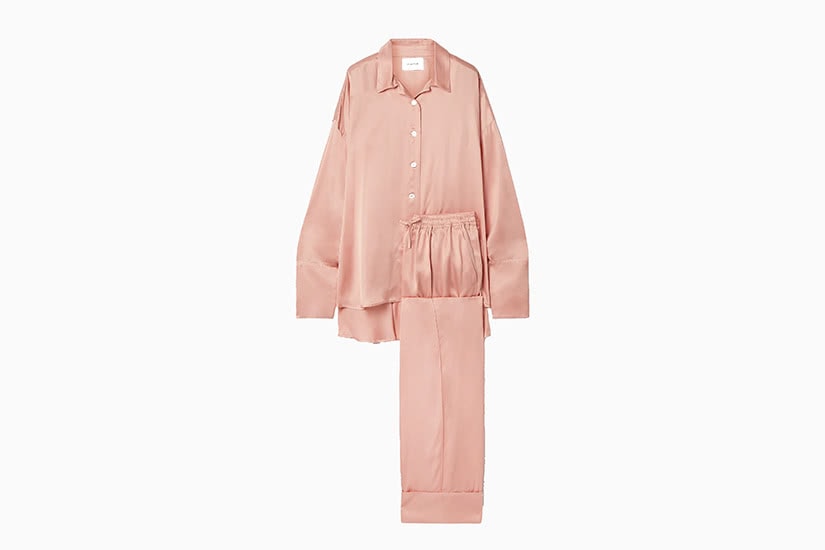 You'll never look forward to bedtime more than you will once you've added some Sleeper PJs to your nighttime wardrobe. Satin pajamas are a luxurious addition to sit alongside your flannels for those nights when you're not quite ready to say goodbye to style when you sleep. The oversized nature of these pajamas feels almost like a big, comforting hug enveloping you and the baby pink color is sweet and feminine.
Its fluid satin is light and lustrous, keeping you cozy in bed without being overbearing. If any pajamas can help you to sleep through the night without any disturbances, it's these. The Sleeper Satin pajama set is one that'll quickly become your new favorite with silky smooth material that you'll find yourself running your fingers across each night. The wide-leg pants and matching hair ribbons add a chic touch to this beautiful bedtime outfit.
| | |
| --- | --- |
| Best for: | Feeling absolutely irresistible |
| Color: | Baby pink |
| Size range: | One size |
Skin Paulina Pima: Best women's cotton pajamas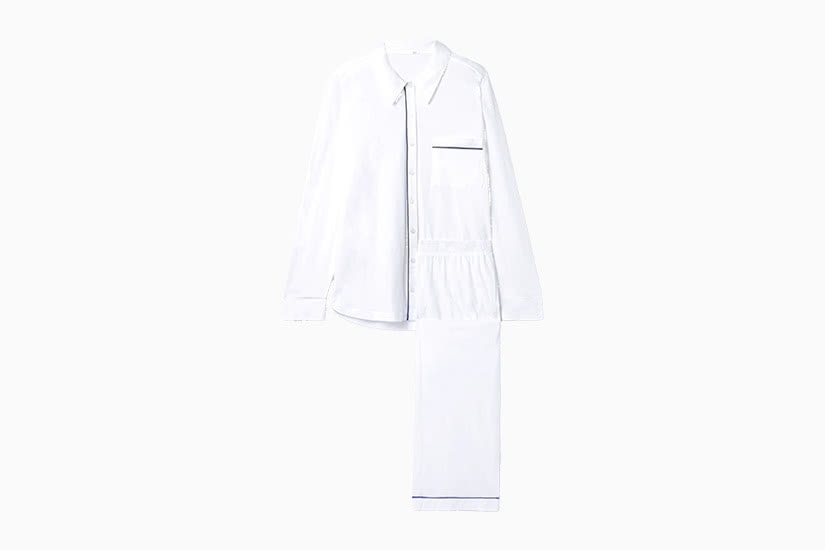 Cotton pajamas are a staple and you can never have too many in your life. A classic material and a traditional choice, cotton pajamas are breathable without being too lightweight and comforting without being too hot. You'll feel just as fresh the moment you put them on as you will when you wake up in the morning. A premium pair of cotton pajamas will see you through the year thanks to its versatile fabric and perpetual on-trend nature.
Keep it simple with a laidback and understated pair like Skin's Paulina Pima cotton-jersey pajama set. Full-length with long sleeves and a relaxed fit, these pajamas are ready to be pulled on fresh out the shower for a cozy evening of Netflix in bed or curling up with a good book before you fall asleep. Classic navy piping adds a touch of extra special detail.
| | |
| --- | --- |
| Best for: | A youthful throwback in all the best ways |
| Color: | White |
| Size range: | XS – XL |
Rails Darcie: Best women's flannel pajamas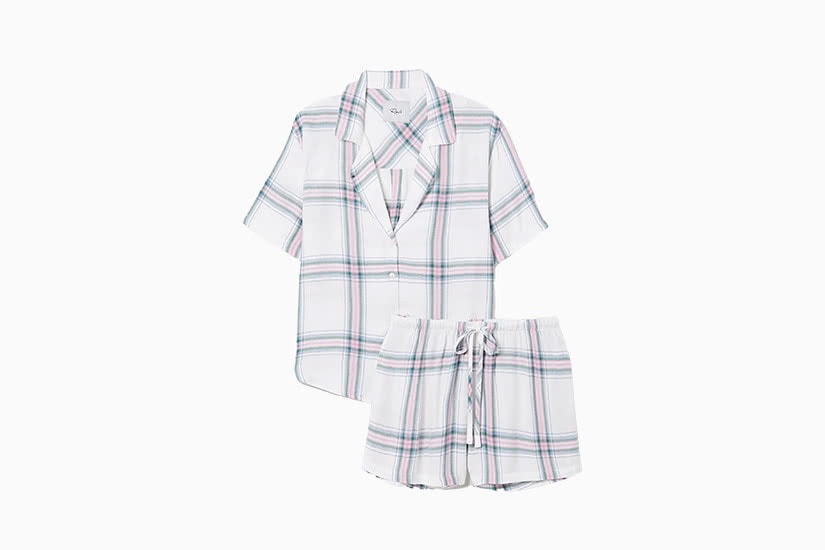 There's a reason why flannel pajamas are so popular and that's because, in the vast world of cozy clothes and nightwear, you can't fault them. A failsafe option that you'll pull on in times of comfort, flannel pajamas will have you dreaming of relaxing weekends and easy Sunday mornings with a freshly poured coffee in hand. Rails Darcie checked flannel pajama set is a pair you'll definitely get your money's worth from, wearing them again and again and only taking a quick break to put them in the wash.
And when they return, freshly laundered and smelling beautiful, you'd be forgiven for putting them straight back on — no matter what time of day it is. A cute pastel pink and green check pattern complements the vintage style of this pajama top and the ultra-sweet matching bottoms seal the deal for a cute and feminine pair that anyone would love.
| | |
| --- | --- |
| Best for: | The outfit equivalent of having someone stroke your hair |
| Color: | White |
| Size range: | XS – XL |
Sleeper Linen: Best linen pajamas for women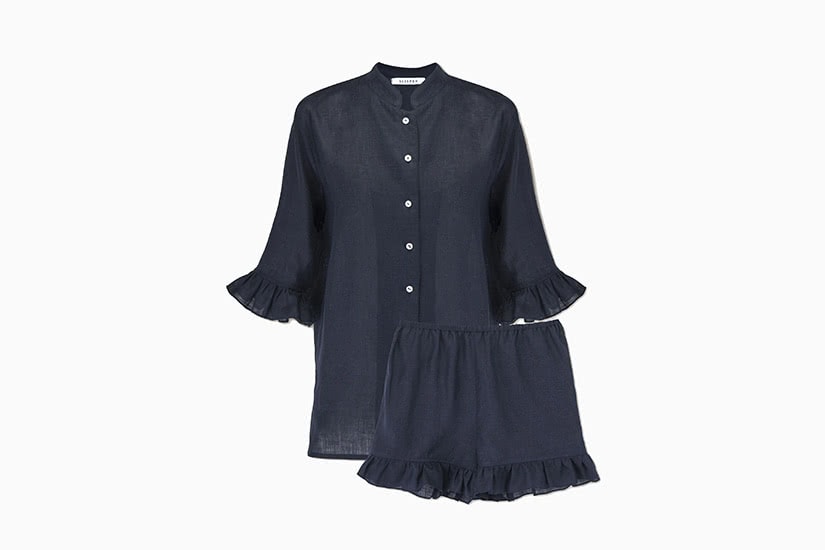 Few pieces of sleepwear are quite as stylish as those produced by Sleeper and the brand has, rightfully, made a name for itself among fashion editors and influencers as one to watch. And never has that rung more true than with Sleeper's linen pajamas — a pair that ensure you go to sleep and wake up just as on trend as you feel during day-to-day activities. Sleeper's Ruffled linen pajama set is as fashionable as it is cutesy.
Slightly oversized with ruffles on the arms and the legs, it's a set that blends the line between sleepwear and loungewear. A neat stand collar adds a formal touch and, when paired with some smart white trainers, you could probably get away with wearing these outside of the house, too. Cut from lightweight, breathable linen, these PJs are perfect to wear on warmer evenings.
| | |
| --- | --- |
| Best for: | Being Vogue-ready even at bedtime |
| Color: | Navy |
| Size range: | XS – XL |
Parachute: Best loungewear for women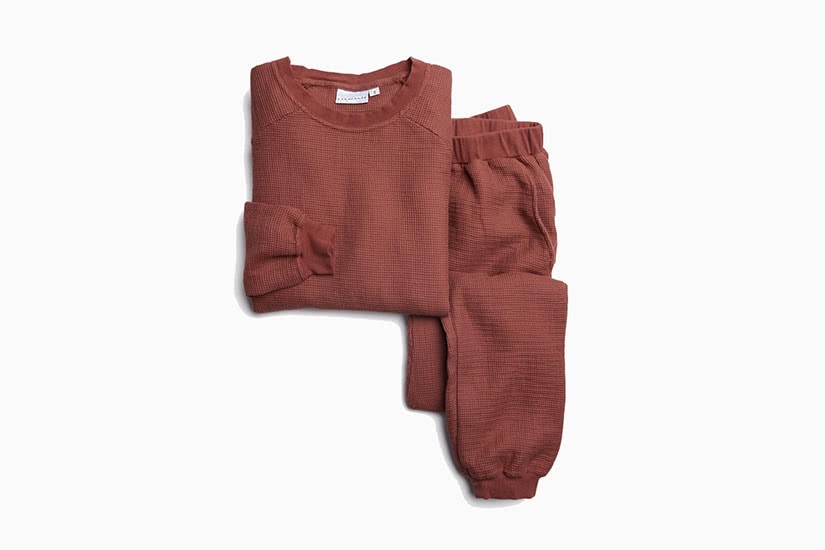 Loungewear is the word on everybody's lips this year and it's become the surprising trend we wished for but never predicted. A great option for working from home or casual Sunday morning brunch in bed, the Parachute Women's Waffle Lounge Set will see you through all of those occasions when you bail at last minute to put on a good film instead of going out. Comfy and cozy, they might even become your main reason for staying in the house.
This lounge set comes in two gorgeously muted shades that are stylish enough to wear together or separately. The perpetually-cool color-blocking trend will encourage you to wear the crew neck jumper and joggers at the same time, while the understated nature of both pieces makes them great for throwing on with mismatched options too. Popping to the shop has never looked so great.
| | |
| --- | --- |
| Best for: | Doubling up as your finest WFH gear |
| Color: | Clay, slate |
| Size range: | XS – XL |
Desmond & Dempsey: Best organic pajamas for women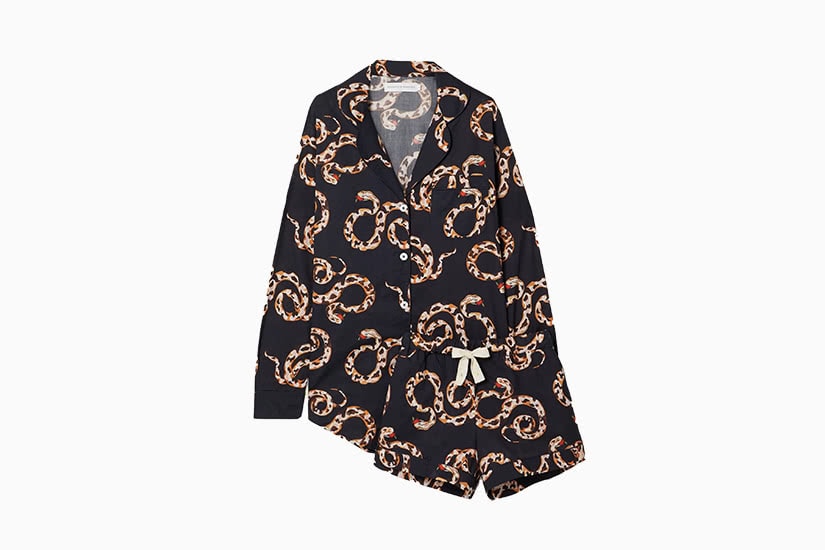 Organic pajamas ensure an extra boost of positivity before you go to bed knowing that you're supporting the fashion industry in a fashion-forward manner. Of course, it's always an added bonus when those sustainably-shopped pajamas look just as glamorous and high-quality as they feel.
Desmond and Dempsey's India printed organic cotton pajama set comes in a rich midnight blue shade that'll have you dreaming of exotic destinations across the planet. Slightly oversized with a one-of-a-kind print that's hand-painted in the brand's London workshop, these unique pajamas are a winning pair from start to finish. This India set is inspired by The Jungle Book and will have you gently thumbing the fabric while you daydream of your next holiday to a far-flung destination.
| | |
| --- | --- |
| Best for: | Any woman who loves to sleep as sustainably as she shops |
| Color: | Navy |
| Size range: | XS – XL |
DIDK: Cutest pajama set for women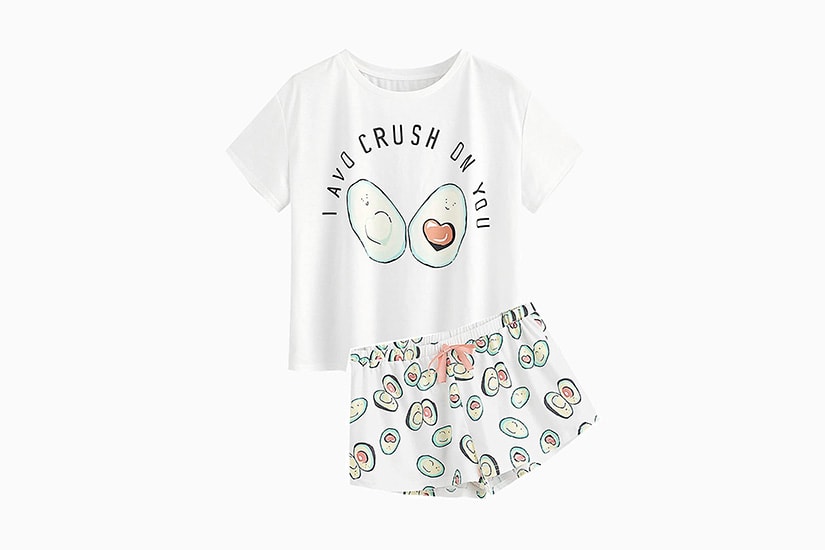 Sometimes after a long and stressful day, the only thing you want to do is get home, pull on your coziest pajamas, make a hot drink and get into bed. The sexy satins and luxurious silks are great, but might not offer the level of comfort that you're looking for. Enter: the cute printed PJs that won't win you any seduction points but will guarantee a feeling of restfulness and peace.
Even the most "high fashion" of women own a pair of these and that's because they can't be faulted for doing this exact job: providing comfort in times of stress. DIDK Women's Cute Cartoon Print Tee and Shorts come in a huge variety of mix-and-match prints, which means no matter whether you prefer cutesy avocado slogans, soft pink banana bottoms or palm-printed and panda patterned sets, there's a pair that you'll love.
| | |
| --- | --- |
| Best for: | Cuddling up with your childhood teddy one more time |
| Color: | White, baby pink, mint green |
| Size range: | XS – XXL |
Skin Pima: Best pajama shorts sets for women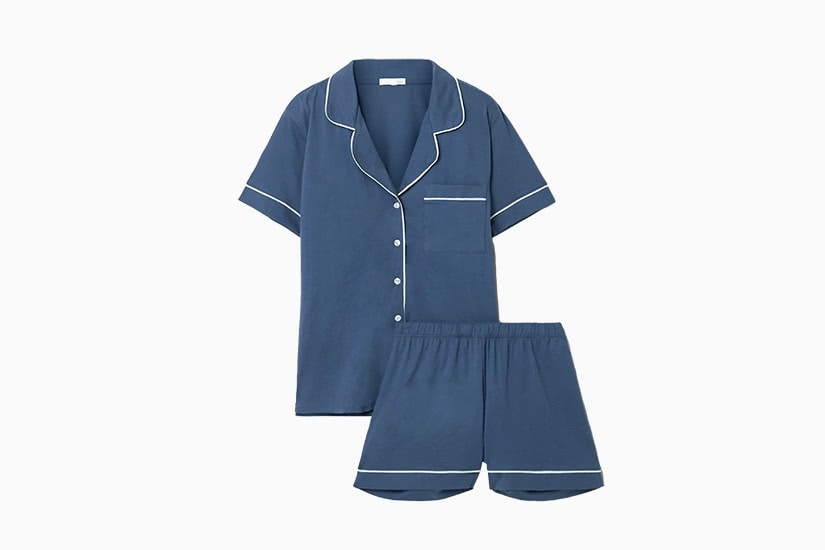 Pajama short sets are a key part of your wardrobe for summer times, transitional periods between seasons and for floating around the house before you're awake enough to have a shower and get dressed. The best pairs of pajama shorts are fashionable enough to kid any unsuspecting guests that you're already up and ready to go.
Skin's Pima cotton-jersey pajama set is so soft and soothing that it'll almost feel like a second skin —and one you'd be forgiven for wearing night after night. The nautical-esque design of these PJs is bang-on-trend and promises to never go out of style. But the main attraction to Skin's pajamas is just how inexplicably comfortable they are. Pima cotton jersey combines with a relaxed fit and lightweight, elasticated shorts in a pair of pajamas that tick all of the boxes.
| | |
| --- | --- |
| Best for: | Accompanying you on every weekend away |
| Color: | Blue |
| Size range: | XS – XL |
Summersalt Cloud 9: Best women's pajamas with long sleeves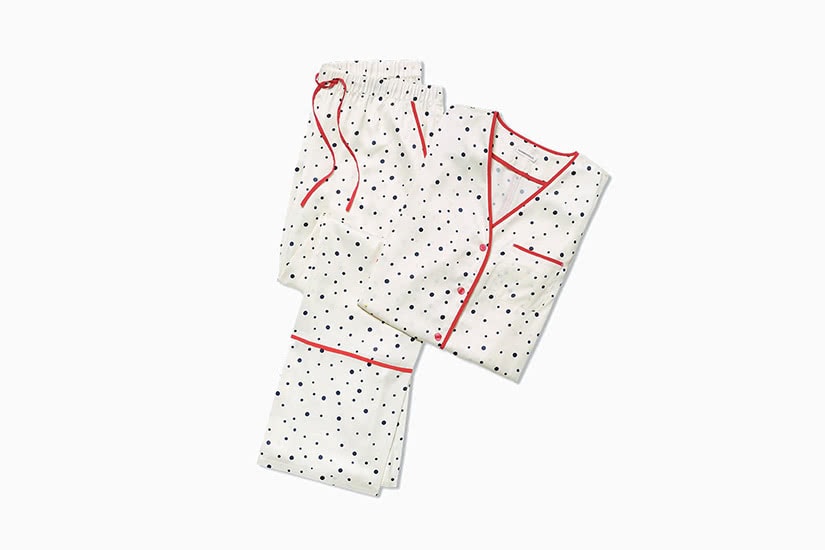 Those cold winter nights almost guarantee it's hard to get out of bed in the morning and we're about to make things even trickier — in the best way possible. You'll want to start stocking up on some warm and cozy pajamas before the cooler season hits and what better way to do just that than with a pair of Summersalt PJs? The Cloud 9 Silky PJ Set comes in a variety of eye-catching prints that'll help to wake you up, even if you can't quite make it out of bed yet.
The long sleeves are silky and soft, helping you to have a great night's sleep in an outfit that's made for colder occasions. Contrast piping and the addition of pockets also makes these a great option for lazing around in the morning. And if it doesn't feel cold enough but you want to wear them anyway, we wouldn't blame you for opening the windows or turning on the AC.
| | |
| --- | --- |
| Best for: | Curling up with a mug of tea |
| Color: | Leopard, rainbow, stripe |
| Size range: | XS – 2XL |
Summersalt All Day & Night: Most comfortable pajamas for women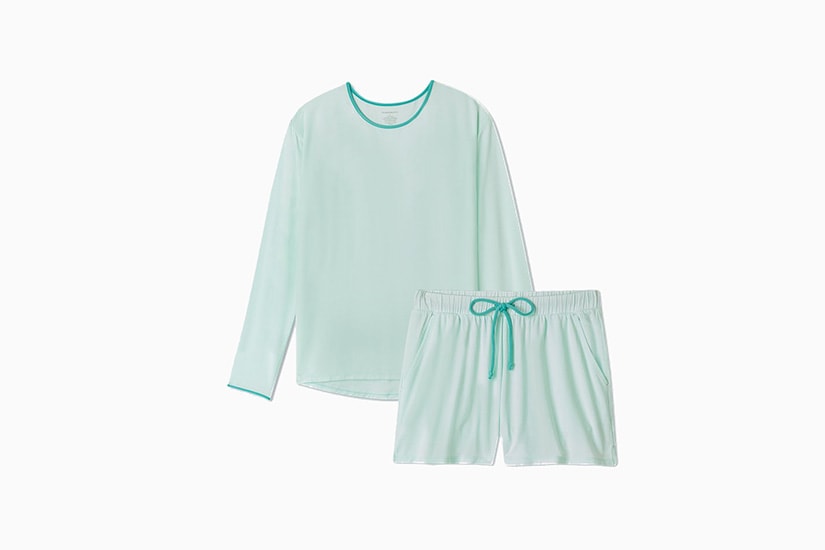 Comfortable pajamas are both a blessing and a curse and, while we firmly believe that all pajamas should be comfortable, these ones win the award for being unbelievably snug, warm, cozy, and any other similar words you can think of. If you're looking for a failsafe option that'll send you to sleep faster than listening to the football scores can, these pajamas are set to be your new nighttime BFF.
Summersalt The All Day & Night Shorts Set deserves its name as a day and night set, because you'll be hard-pressed to take these off once you've put them on. Short and sweet with long sleeves that are comforting without being overly warm, these pajamas are made using a buttery soft fabric and come in angelic pastel colors. If that wasn't enough to convince you, keep in mind that these PJs are also sustainably made.
| | |
| --- | --- |
| Best for: | A justified excuse for bailing on your night out |
| Color: | Mint, baby pink |
| Size range: | XS – 2XL |
Skin Mélange: Best women's pajamas for summer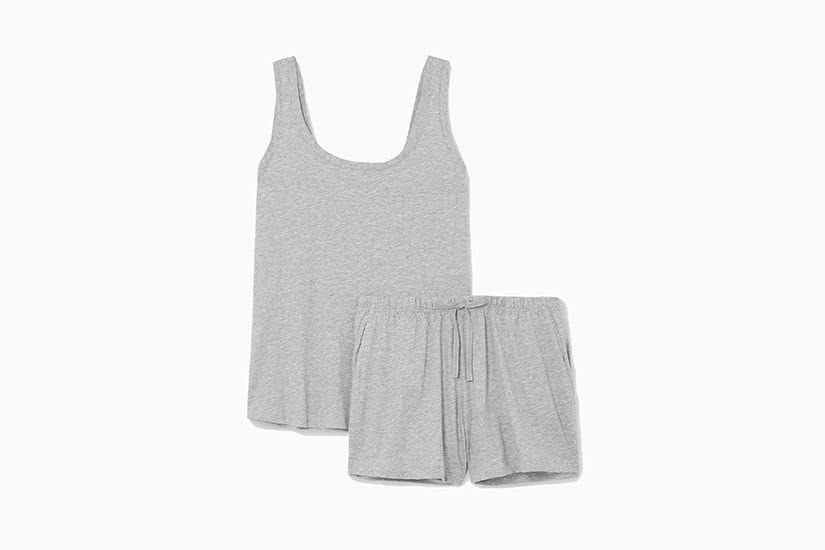 Those endless hot summer days sometimes end with a curse: the ability to leave you tossing and turning throughout the night, unable to sleep. A barely-there pair of pajamas that can work their magic and have you falling softly to sleep in no time comes from Skin. The brand's Mélange Pima cotton-jersey pajama set is gentle and soft in a chic heather grey color that's laid-back and understated.
The sleeveless and slightly oversized nature of this pair means you'll never feel too warm, with an airy finish that's suitable for even the hottest nights or the least effective air conditioning unit. Perfect from the moment your head touches the pillow to the morning when you're opening the curtains to dazzling sunshine, these pajamas will have you counting sheep in no time.
| | |
| --- | --- |
| Best for: | Getting excited for longer days and earlier sunrises |
| Color: | Grey |
| Size range: | XS – XL |
Angelina: Best women's pajamas for winter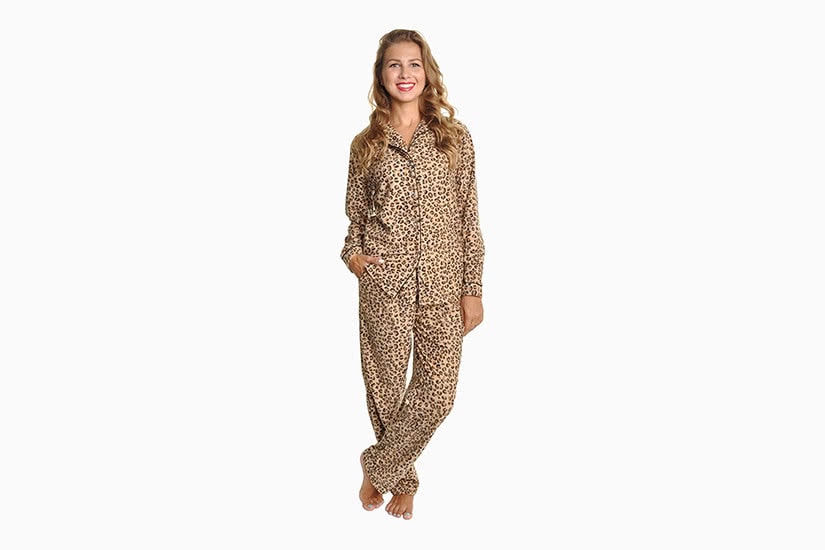 One of the best parts of winter, if not the best part, is that enviable cozy feeling when you're inside for the day, the central heating and the fire are both on and you're getting cozy on the sofa with a mug of steaming hot chocolate in front of you. No matter how much you love the summer months, it's hard to find someone who doesn't appreciate that unique wintery evening setting.
The perfect companion to your fresh-off-the-radiator fluffy socks and perfectly milky cocoa is a great pair of pajamas. These cozy fleece pajamas ensure that very special feeling of safety and security from the moment you slip them on. The Angelina Women's Cozy Fleece Pajama Set is your best bet for warm pajamas that will faithfully stop any yearnings for summer and come in a huge selection of colors.
| | |
| --- | --- |
| Best for: | Setting the pre-Christmas mood |
| Color: | Dotty, plaid, Christmas |
| Size range: | S – 4XL |
Latuza: Best women's pajamas for night sweats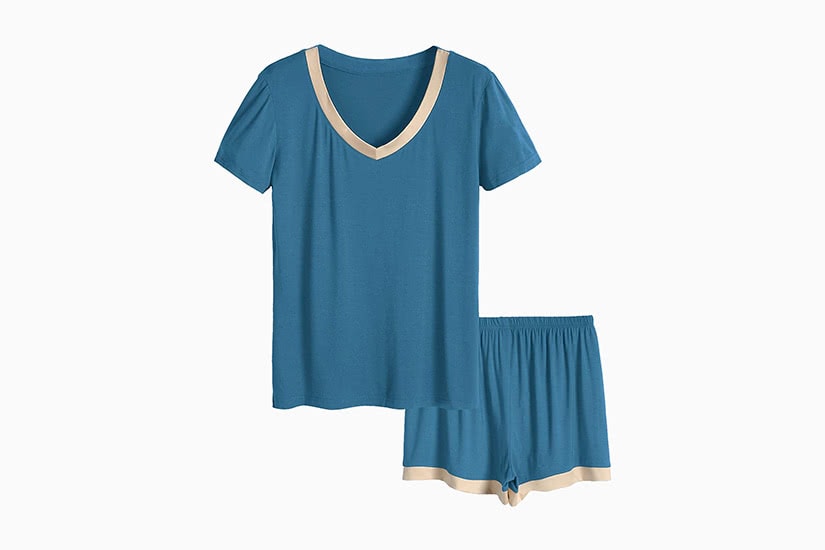 Lightweight pajamas are crucial if you're someone who suffers from night sweats. If you struggle with waking up in the night far warmer than anticipated, you've probably already made the jump to wearing shortie PJs for optimum air distribution. Our favorite pair to ensure you wake up fresh in the morning are Latuza Women's V-neck Sleepwear Short Sleeve Pajama Set.
In a stylish teal blue shade (with plenty of other options if you'd prefer), these pajamas are loose-fitting and soft and a real pleasure to slip on just before bedtime. A wide v-neck style means less chance of overheating in the middle of the night and a gentle bamboo material makes them a good quality as well as fashionable pair. This fabric is known for being slightly cooling as well as soft, which makes it perfect for night sweats or those summer evenings when it's just too hot inside and out.
| | |
| --- | --- |
| Best for: | Waking up feeling clean and refreshed |
| Color: | Teal, grey, lavender |
| Size range: | XS – 4XL |
Cuyana Pima Modal: Best night robe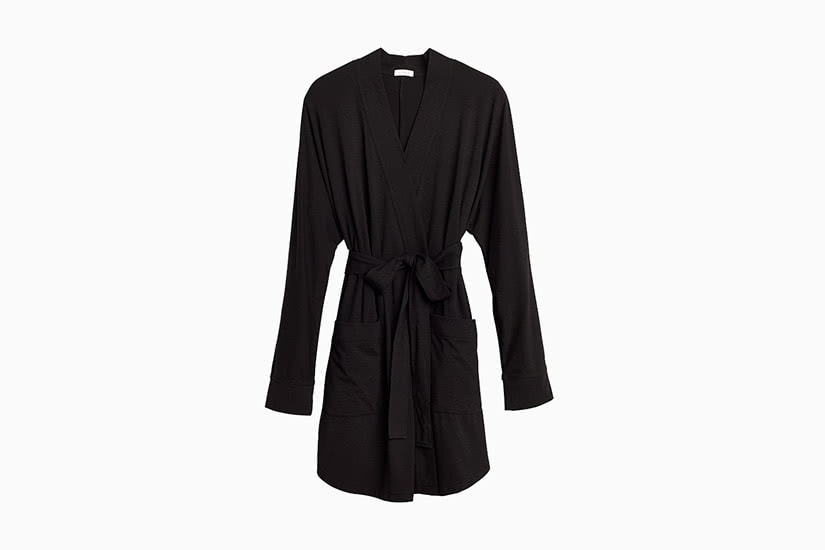 You'll want a robe in your closet for countless occasions. Along with chilly mornings, you'll find yourself throwing this on to make your first coffee of the day, when curling up on the sofa on a Sunday morning, and for spontaneously pulling on if the postman turns up earlier than anticipated. Bonus points if it's cute and cozy, which this one definitely is. Cuyana's Pima Modal Robe is set to become your new best friend and one that promises to stick around for a while.
This will be the robe that you struggle to bring yourself to take off when it's really very much time to get dressed, and the first thing you'll put on when you get home for the evening. Two neutral shades mean even the most fashion-conscious women won't have a problem styling this piece with the rest of their loungewear. Although, its luxurious fluffy material guarantees you'll fall in love with it anyway.
| | |
| --- | --- |
| Best for: | Snuggling up in bed looking the picture of serenity |
| Color: | Black, grey |
| Size range: | XS – L |
La Perla: Softest pajamas for women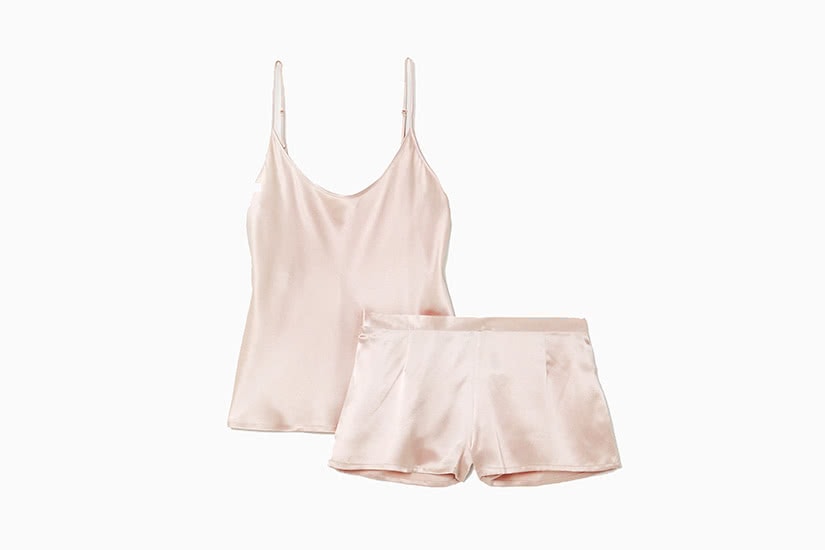 La Perla is one of those brands that you'll aspire to own as a teenager and then feel an overwhelming sense of joy and achievement when you can finally open your drawers and see your own pieces shining brightly. There's a reason this brand is so well known and it's for its ridiculously high-quality fabrics that promise to make you feel just like a queen.
The definition of luxe sleepwear, La Perla's Silk-satin pajama set is our top choice for achingly soft lightweight pajamas that you'll immediately add to your basket. Not many pajamas will make you feel the same way La Perla does and a whimsical baby pink shade is the magical, angelic finishing touch. The only way you could possibly upgrade this set would be by teaming it with a matching silk-satin robe and lying down to sleep on top of some beautiful silk pillowcases.
| | |
| --- | --- |
| Best for: | Swanning around the house with a glass of champagne in hand |
| Color: | Baby pink |
| Size range: | XXS – XL |
Skin Catherine: Best nightdress for women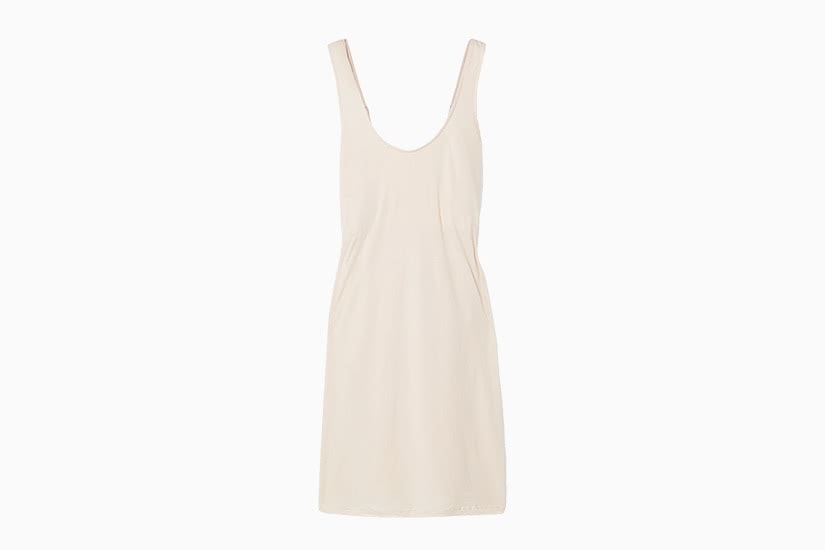 Nightdresses might remind you of Victorian times and of phrases like "retiring to my bedroom" but, in truth, nightdresses are making a comeback in more than one way. As well as being a popular high fashion choice for outerwear styling, nightdresses are rightfully regaining their popularity as a sleepwear staple. Avoid cliches of the past and dressing like your grandma by choosing a nightdress from a stylish brand like Skin and in a color that promises to let you slumber with sweet dreams.
Skin's Catherine Pima cotton-jersey nightdress is a popular and easygoing choice that you'll slip right into before climbing into bed. Pastel pink with a relaxed shape and cut means you'll be yawning as soon as you've spied this nightdress waiting on your pillowcase. A breathable fabric and a lined bust promise just the right level of support.
| | |
| --- | --- |
| Best for: | A modern take on a sleepwear classic |
| Color: | Pastel pink |
| Size range: | XS – XL |
Eberjey Gisele: Best pajama pants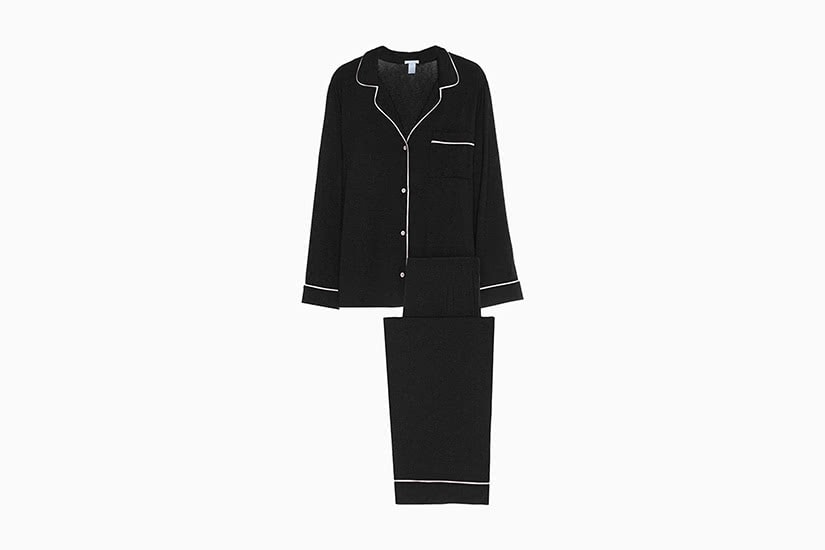 You'll sleep like a baby wearing Eberjey pajamas. Known for being extremely soft and slightly oversized, they're basically the stylish take on falling asleep wearing your boyfriend's clothes. But, of course, way more fashionable and in a much cooler colorway. Eberjey Gisele PJ Set wins our approval for best pants thanks to the inexplicably cozy material and the ability to send you straight to sleep in comfort.
Set to be your new favorite pajama bottoms, they'll make you feel extra snug on those cold autumn and winter evenings and you'll fall asleep like you're lying on a cloud. The best style for cozying up with a good book or a new Netflix series, the oversized nature of these pants means there's no judgment if you happen to top up your Netflix popcorn bowl once or twice while you're wearing them.
| | |
| --- | --- |
| Best for: | Being so comfy you'll 'accidentally' wear them out the house |
| Color: | Black, cream, grey |
| Size range: | XS – XL |
LONXU: Best budget pajamas for women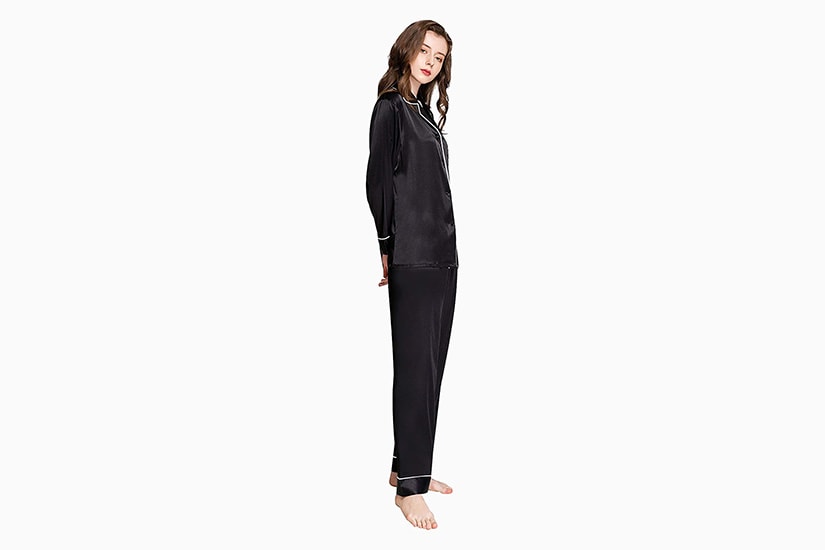 Contrary to what you might have assumed, silk pajamas don't have to be expensive and it's definitely possible to find a cute pair that won't keep you awake at night thinking about how much you spent. Budget options are widely available but not all of them are as silky smooth as the expensive ones. For a pair that feel incredible without costing too much, opt for LONXU Women's Silk Satin Pajamas.
As well as being our favorite budget PJs, they're also a great example of silk pajamas that are available at a low cost. This set comes in a full length, making them a perfectly versatile option for every season, and plenty of color choices to suit every woman. Contrast piping adds an extra layer of detailing and helps to make these pajamas look far more expensive than they actually are.
| | |
| --- | --- |
| Best for: | Those "what would I buy if I won the lottery?" daydreams |
| Color: | Black, red, purple |
| Size range: | XS – 3XL |
MENG: Most expensive pajamas for women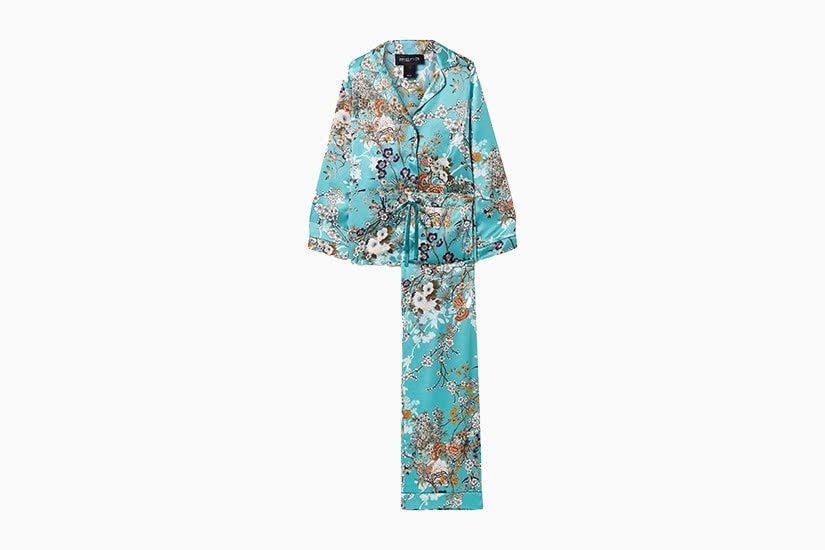 A pair of luxury pajamas is something that you should treat yourself to at least once in your lifetime. Premium quality and endlessly pretty, they'll be the pair that you take away on fancy holidays or bring out for an evening of self-care when you're going all out. MENG's Floral-print silk-satin pajama set is an incredibly beautiful set that you'll lust after until you finally give in and add them to your basket. Far too pretty to be brushed away with the rest of your sleepwear wardrobe, these pajamas deserve a rightful place on your pillowcase even just to admire.
The oriental print is made from a custom, hand-printed design and the color turquoise shade will make waking up on weekday mornings something to look forward to. And, it goes without saying, the silk-satin material of these PJs is unbeatable and made of flawless quality. Mornings never felt so luxurious.
| | |
| --- | --- |
| Best for: | Replacing your partner and falling asleep holding these instead |
| Color: | Turquoise |
| Size range: | UK 8 – 14 |
Style guide to women's pajamas
Pajamas come in all shapes and sizes but for the ultimate night's sleep, you'll want to spend some time finding your perfect pair.
Length
Long-sleeve PJs with full-length bottoms are far cozier but not ideal if you live in a warm climate or heat up easily at night. Shorter PJs are often the more versatile choice if you're looking for a pair to wear year-round.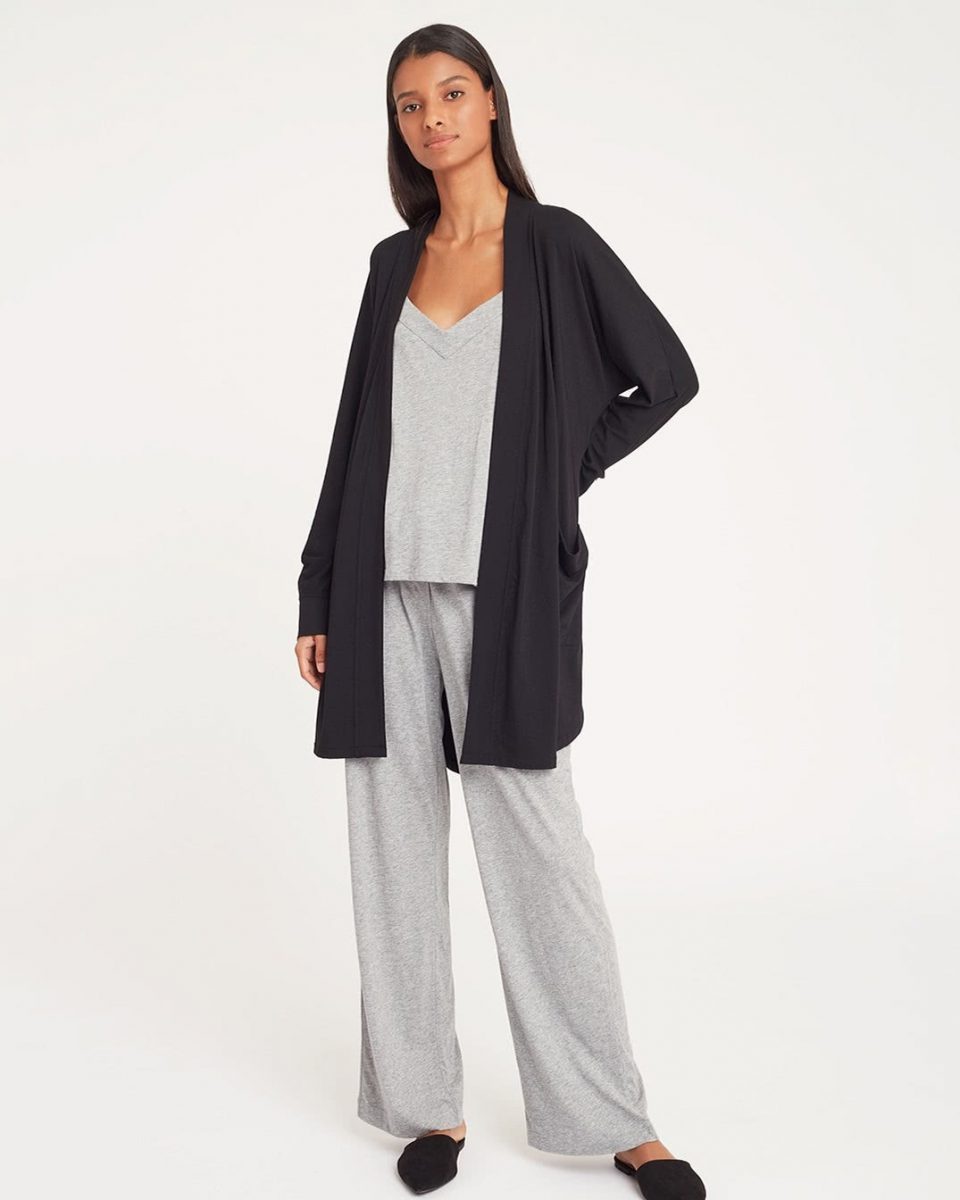 Material
Silk satin is the most luxurious option but if comfort is key, opt for cotton, flannel or linen. Those who suffer from night sweats should choose breathable and natural fabrics and anyone wanting a cozy pair for winter should look for fleece-lined fabrics.
Fit
Most pajamas come in a relaxed fit but, if you're looking to impress, a cute satin nightdress or sleek silky shorts and vest might be more suitable. Due to the relaxed fit, it's often fine to stick to your usual size rather than sizing up when it comes to pajamas, unless you're after a super oversized fit.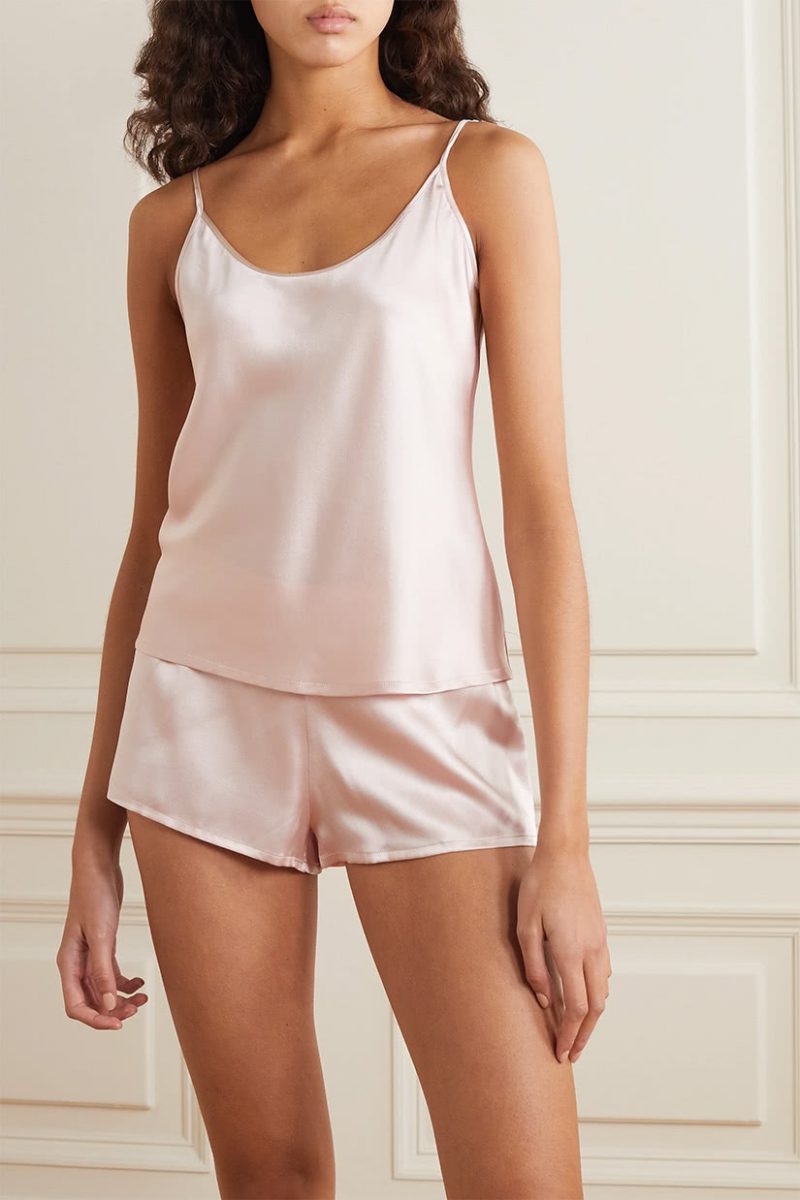 Frequently asked questions about women's pajamas
What are the most comfortable women's pajamas?
The most comfortable women's pajamas are the Summersalt The All Day & Night Shorts Set. These shortie PJs are made using a buttery soft fabric and are also sustainably made. They're lightweight, which makes them a perfect pair for transitional nights.
What is the best sleepwear?
Some of the best sleepwear comes from Skin, Sleeper, Ekouaer, and Eberjey. These brands all produce stylish ready-for-bed pieces that'll have you dreaming through the night. Check out our full guide to discover your new favorite PJs for every occasion.
What are the warmest pajamas?
Our favorite pajamas for the colder months are the Angelina Women's Cozy Fleece Pajama Set. These cozy fleece pajamas come in a traditional button-up style for optimum coziness and will keep you warm no matter how cold it is outside.