Arriving "fashionably late" is always better when you turn up looking your best without making everyone wait. These stylish slides kill two birds with one slip-on. They'll ground your fashion-forward ensemble in a snap. And you'll leave the house feeling like you own the day. It's for these reasons (along with many others), that we are officially declaring a versatile pair of slides the quintessential Summer staple.
Hassle-free and blister-free—sliders are void of backs and buckles. They'll save your back from bending down. While memory foam slides are renowned for miraculous foot-recovery. But the sumptuous shoes are far more than functional footwear. And while the Adidas comfort slides remain more popular than ever—who doesn't love a post-workout foot reprieve— a designer pair of leather sliders is a must-have in your capsule wardrobe.
Cuyana's Kilifis are everything you need with cushioned soles and feminine flair. Gucci distinguishes itself from other designers with its signature Double G motif. And Axel Arigato has released a pair of pool slides that you won't be able to live without. They'll still save your feet and your back. But now they'll save your day too (rush out in style).
So buckle up (or don't). It's time to get yourself a pair of our best slides for women.
The 20 best slides for women for effortless style
Cuyana Kilifi: Overall best slides for women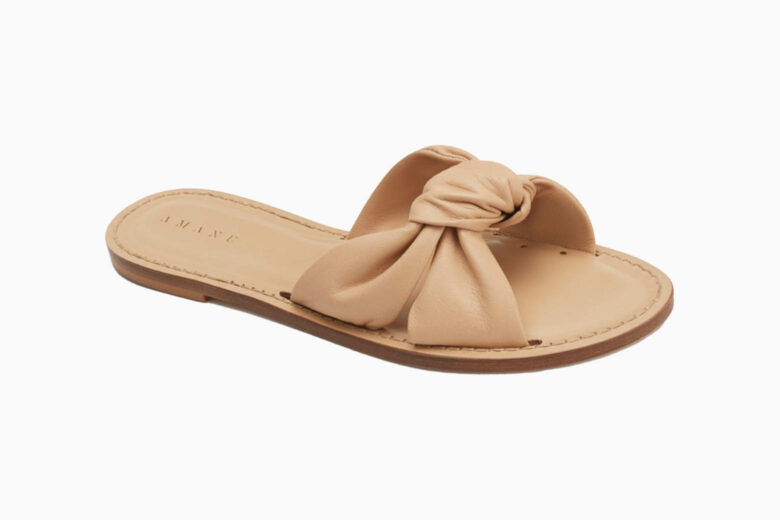 They're soft, sweet, and endlessly chic. These Cuyana slides tick all our boxes. The ruched detailing speaks to their on-trend feminine nature. While soft buttery leather protects their timelessness and ensures that they'll never go out of style. Neutral hues of beige or black encourage versatility by pairing well with any Summer ensemble.
These Cuyana Kilifis are your key to effortless elegance. And they do it all whilst taking care of our environment by using sustainable materials.
Best for: Modern minimalism with a feminine flair.
| | |
| --- | --- |
| Colors: | Black and Beige |
| Materials: | Leather |
Gucci: Best luxury women's sliders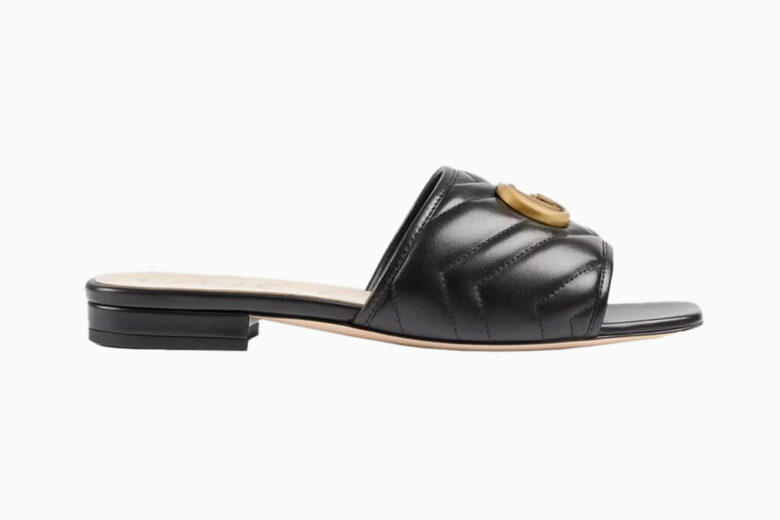 When we think Gucci, we think glam. And this pair reminds us exactly why by showcasing the iconic logo. The famous soft quilted leather stays true to the brand's demand for only the highest quality material. While the black hues set the tone for the signature contrasted Double G hardware. The thick strap allows for a more substantial Summer shoe. And the stacked heel is just enough to lift your style.
Pair these Summer staples with your best oversized sunglasses for the whole designer look.
Best for: Simple slides made glamorous.
| | |
| --- | --- |
| Colors: | Black |
| Materials: | Leather |
Nike Victori One: Best value women slides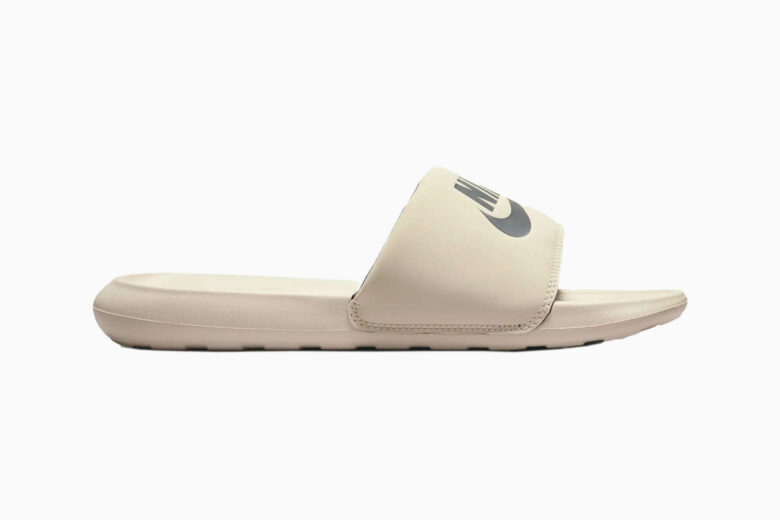 Just do it. Nike is famous for its comfortable flats. And these memory foam slides are no exception. They stop just short of running a marathon. And will accompany your long Summer walks in style. The athleisure footwear comes in eleven unique colors. If you can't decide, we adore the metallic bronze for versatile functionality with a fashion-forward twist.
These Nike Victory One slides are ready to take you absolutely anywhere. And once you come to rely on these Nike slides (as we do), you won't be able to look elsewhere.
Best for: Long walks in the park.
| | |
| --- | --- |
| Colors: | Black, White, Bronze |
| Materials: | Rubber |
M.Gemi The Clio: Best leather slides for women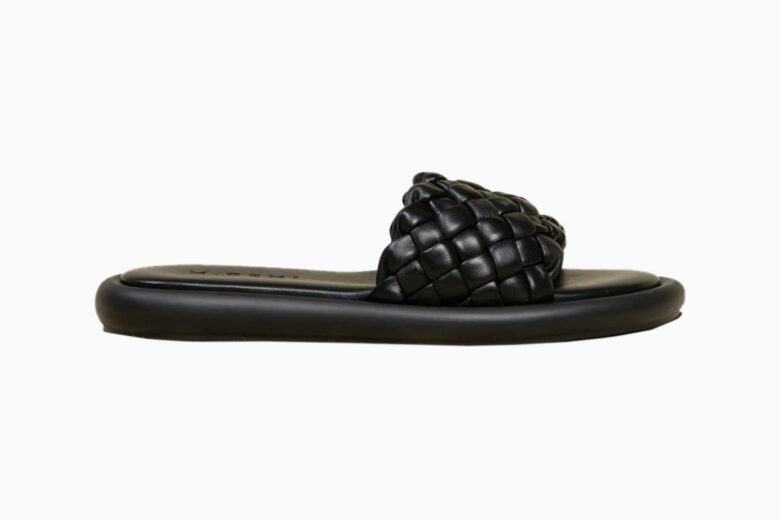 Quilted leather is back. And no one does it better than M.Gemi. These stylish slides will give your snug slippers a run for their money in comfort. The soft sock provides extra padding between the sole to cushion your foot. These fashionable footwear come in a variety of hues. Opt for gold, lavender, or white to contrast the black sole for that trendy edginess. Or choose black for monochromatic minimalism.
These M.Gemi slides are everything that we love about the Italian brand. And you really can't go wrong when styling.
Learn more about the story behind M.GEMI.
Best for: The MVP of functional fashion.
| | |
| --- | --- |
| Colors: | Black, Champagne Gold, White, Lavender |
| Materials: | Leather |
Axel Arigato: Best women's pool slides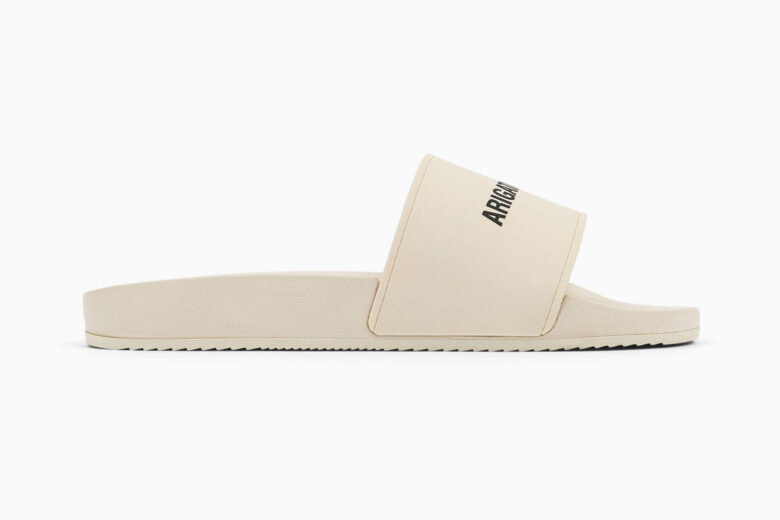 If you're here for the logomania trend, you'll go mad for these Axel Arigato's. The cheeky pair is totally on-trend with a loud black logo. Contrasted with a beige silhouette, they know exactly how to do luxury logos without putting a foot wrong. And the recycled rubber with soft cushioned soles is the perfect excuse to live in slippers all Summer long.
These cutting-edge slides by Axel Arigato pair well with decadent dresses and cheeky denims. Don't forget to pack your best designer sunhat and one-piece for the ultimate decadent resort look.
Best for: Lounging in logo luxury.
| | |
| --- | --- |
| Colors: | Beige |
| Materials: | Recycled rubber |
Allbirds Sugar Sliders: Best pillow slides for women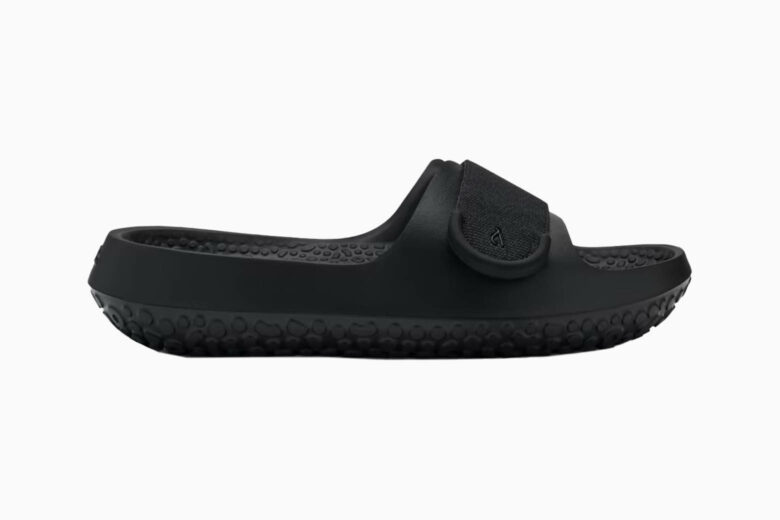 Sugar slides as sweet as honey. But with Allbird's iconic comfort. The limited buoyant orange is worthy of first mention. They're not for the faint-hearted. But if you're a fashion forerunner, you'll know how to pull these pillow slides off effortlessly. The black and blizzard colorways are equally luxurious for our minimalists at heart.
The trailblazing brand continues to make moves with its signature sustainable sugarcane SweetFoam materials. And as a result, these Allbirds' pillow slides feel like floating on clouds.
Learn more about the story behind Allbirds.
Best for: Contemporary designs take on cloud-like comfort.
| | |
| --- | --- |
| Colors: | Orange, Black, Gray |
| Materials: | Sugarcane SweetFoam |
Koio: Best beach slides for women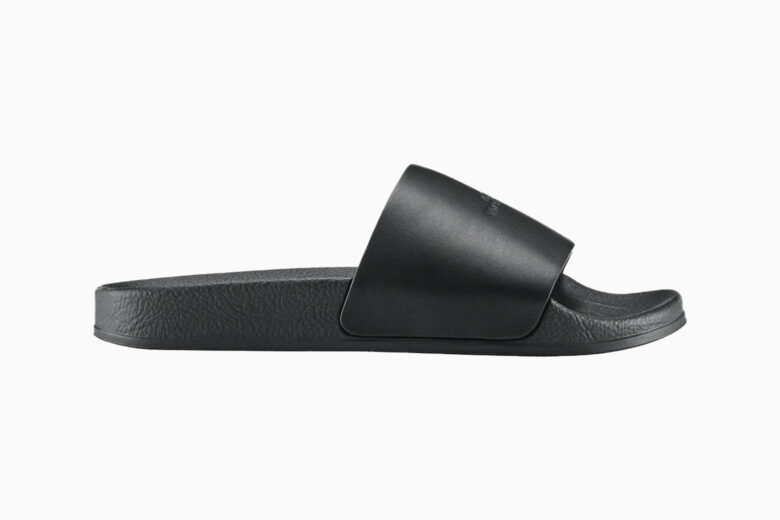 Known for their Instagrammable sneakers, Koio makes their luxury pairs in the same factories as big designer brands like Chanel and Hermes (minus the price tag). And although these women's slides are rid of hassling laces and heels—the high-end quality design is just as evident.
We adore the motif-embossed emerald upper contrasted with black soles on these Koio Elba. But monochromatic black or white pairs are designed for the less-is-more fashionistas. Either way, these beach slides deserve a place in your best travel tote for your next getaway (cue the bookings).
Best for: Branded beachwear.
| | |
| --- | --- |
| Colors: | Emerald, Black, White |
| Materials: | Leather |
Oliver Cabell: Best vegan designer slides for women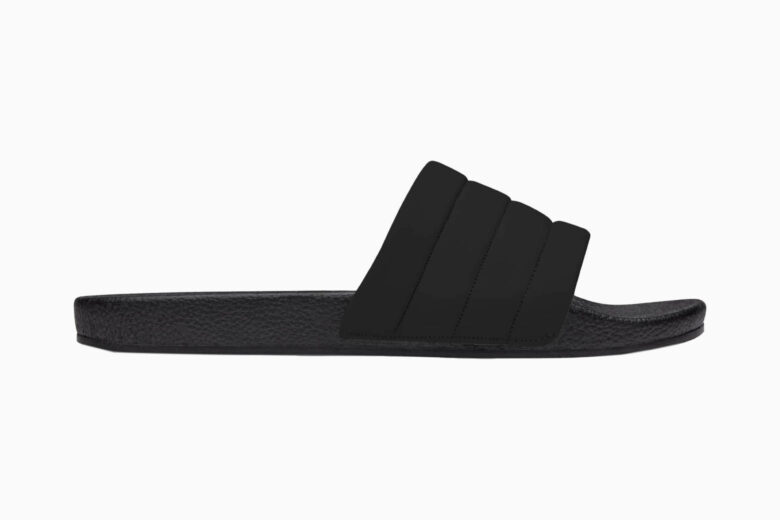 What's not to love about these vegan designer slides? They stay true to Oliver Cabell's signature modern minimalist style. The sleek black color makes them appropriate for your more dressy occasions without losing their signature slide practicality. And the puffer detailing is just enough to set them apart from every other Summer shoe.
What's the catch? Nothing. Except that you'd better act fast because these Oliver Cabell's black slide sandals are limited edition and they're bound to move quickly.
Check our in-depth review of Oliver Cabell's sneakers and our profile on Oliver Cabell's brand.
Best for: Vegan versatility.
| | |
| --- | --- |
| Colors: | Black |
| Materials: | Leather |
Adidas Adilette Comfort: Best post-workout slide shoes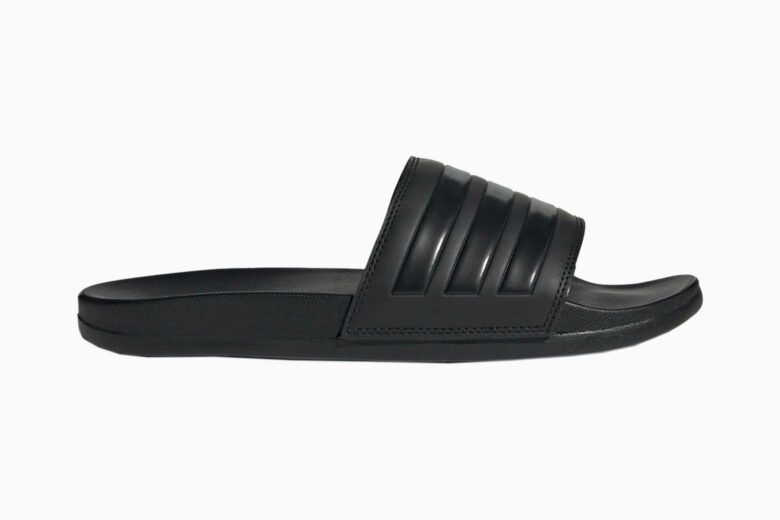 Nothing feels better than resting your fatigued feet in a pair of these Adidas slides after an endorphin inducing workout. While some treat themselves to extra food portions. We treat ourselves to Adilette comfort slides (or both). And what better motivation to get yourself moving?
Adidas is at the forefront of sporty slide fashion. And this pair will blow your socks off (quite literally post-workout). The soft pillowy pair is made with cloudfoam to re-energize your feet. And sleek black hues will see you walking out of the gym in style.
Best for: Movers and shakers in sporting modish styles.
| | |
| --- | --- |
| Colors: | Black |
| Materials: | Synthetic |
Birkenstock Arizona Essentials: Best waterproof rubber slides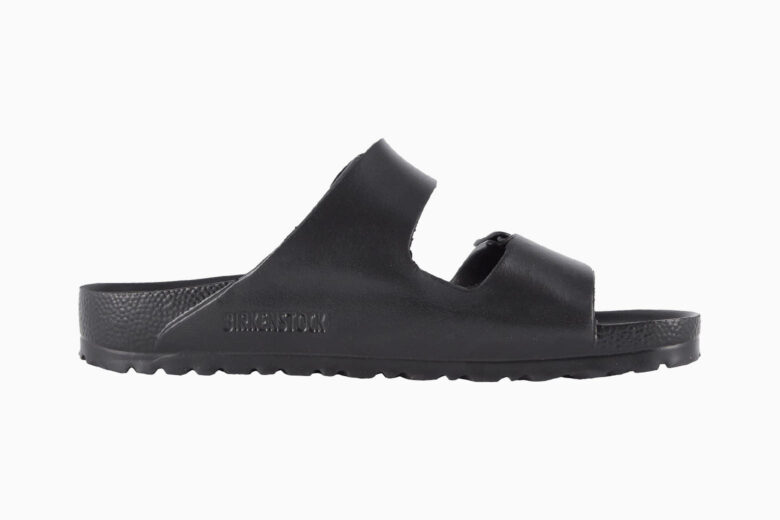 We'd be remiss to leave Birkenstocks out of our list of best luxury slides. But this pair isn't your typical Arizona. They're made from waterproof materials to weather subtropical climates, whilst still maintaining the iconic double-strap design.
These infamous slides come in eleven different colorways. And we think the price excuses multiple pairs. Opt for a vibrant red or popcorn yellow to make a splash. Or stick to what you know with a neutral black, khaki, or white.
Best for: Conquer wild weather with vibrant hues.
| | |
| --- | --- |
| Colors: | Red, Black, Yellow |
| Materials: | Synthetic |
Mansur Gavriel: Most comfortable slide sandals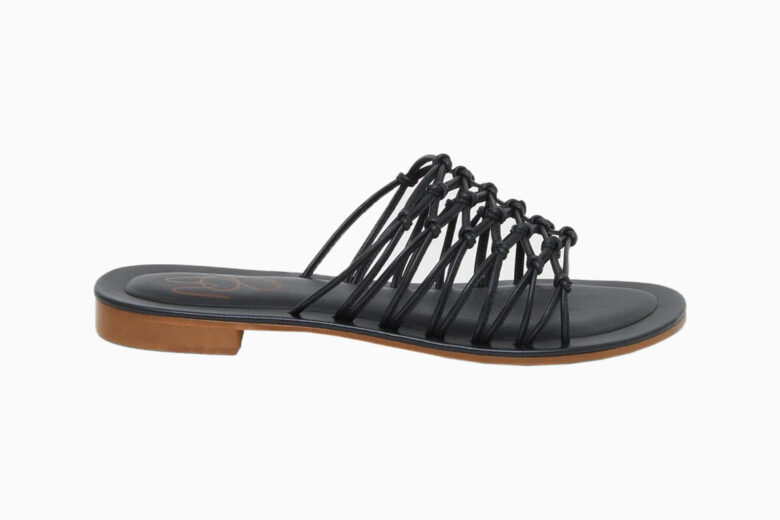 Best known for their distinctive approach to color and form, these Mignon slides are everything that we love about Mansur Gavriel. The artisanal style slip-on sandal feature leather-knotted uppers, perfect for a casual-chic style. Sky blue and sole orange encourage Summer spontaneity. While black and crema colorways exude timeless elegance.
Pair these luxe slides with everyday mom jeans to add an air of femininity. Or go wild with color-blocking for a bit of fun. Either way, you'll look like you know what you're doing in contemporary circles.
Best for: Casual color-blocking.
| | |
| --- | --- |
| Colors: | Orange, Blue and Black |
| Materials: | Leather |
Alo Yoga: Best faux leather women's sliders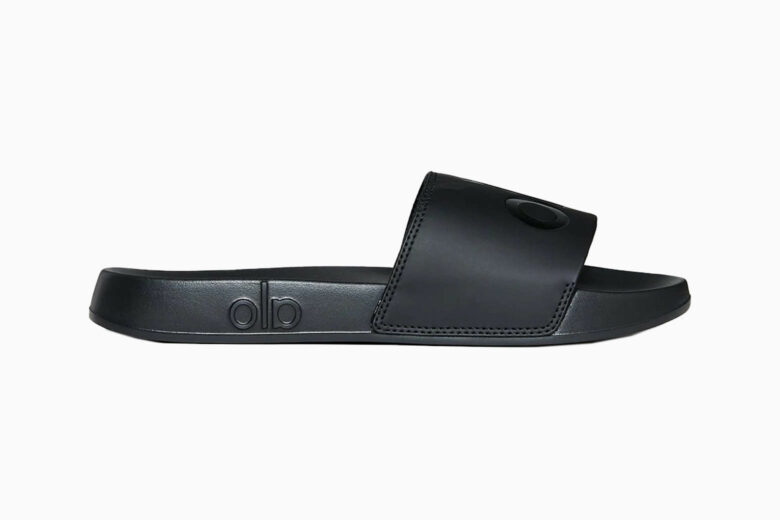 Large logos are all the rage this season. And this brand is right on-trend with monochromatic motifs. The sumptuously sporty style embodies chic-casual wear. And the contemporary colors take a lighthearted approach to workout wear with hot pinks and highlighter yellows. But if luminescent footwear isn't your thing, their black and white slides are eye-catching enough.
These Alo Yoga's faux leather slides will take you to the studio in style. And, with zen-like cushioning, your feet will never know you've left it.
Learn more about the Alo Yoga brand.
Best for: Stylish meditation.
| | |
| --- | --- |
| Colors: | Yellow, Pink, White |
| Materials: | Faux leather |
Chloe Woody: Best canvas slides for women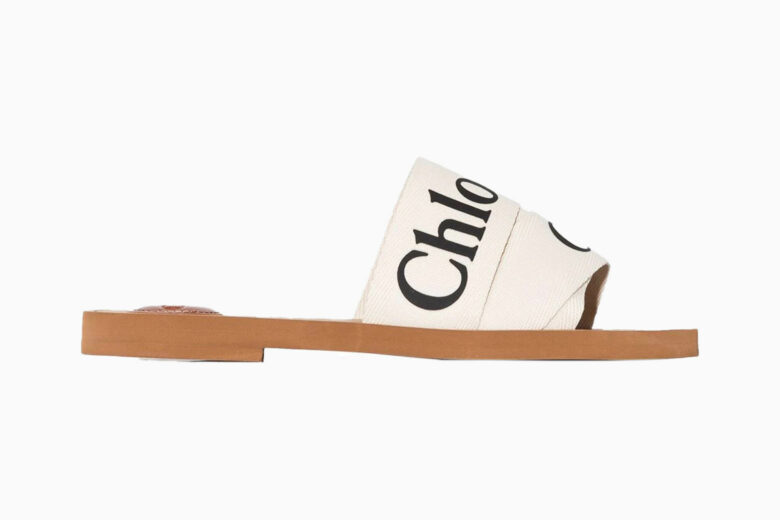 Black graphic lettering on beige canvas embodies the Chole's avant-garde designs. Set on a tan leather sole with a square toe, these Woody slides are forerunners in timeless trends. And a slight heel is just enough to finish off the look flawlessly.
These celebrated slides achieve the perfect balance between statement and versatility. And while they're anything but boring, the neutral color palette fits into any ensemble.
Best for: Logomania marries effortless elegance.
| | |
| --- | --- |
| Colors: | Beige |
| Materials: | Canvas |
Castaner: Best espadrille slides for women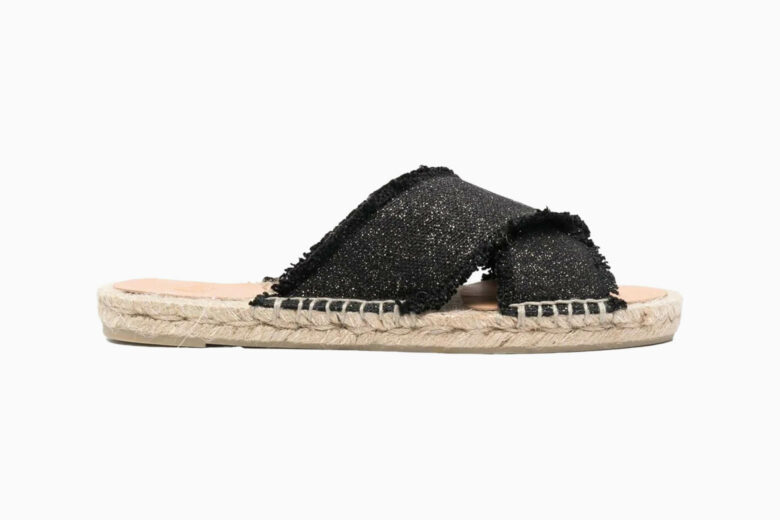 Merge seamless slip-ons with elegant espadrilles and you've got yourself a winning shoe. Castaner has knocked it out of the park once again with their Palmera frayed espadrille slides. Not only are they one of our best slides, but they're one of our favorite pairs of espadrilles too.
These cute slides are made to wear daily in soft cream or black. While a sparkly pair is a perfect shoe to flaunt on a rooftop bar in the evening (preferably in Barcelona).
Best for: Vacation versatility.
| | |
| --- | --- |
| Colors: | Cream and Black |
| Materials: | Canvas |
Anine Bing Lizzie: Best designer slides for women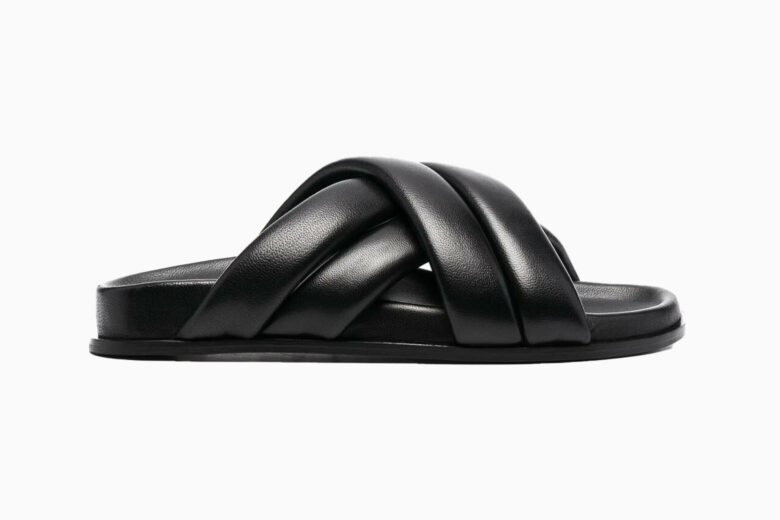 As a former model, Anine Bing understands the necessity of comfortable chic shoes. And this pair of designer slides is exactly that. The chunky cross-strap silhouette speaks to the brand's avant-garde designs. And their distinct fabrics know how to take their place in high-end circles.
These sumptuous slides come in Gingham wool for a contemporary countryside classic. While a teddy-bear caramel doubles up as slippers. And neutral leathers keep it clean for the minimalists at heart.
Best for: Chunky cross-straps for every occasion.
| | |
| --- | --- |
| Colors: | Black, Camel, Cognac + More |
| Materials: | Leather |
Proenza Schouler: Best black slide sandals for women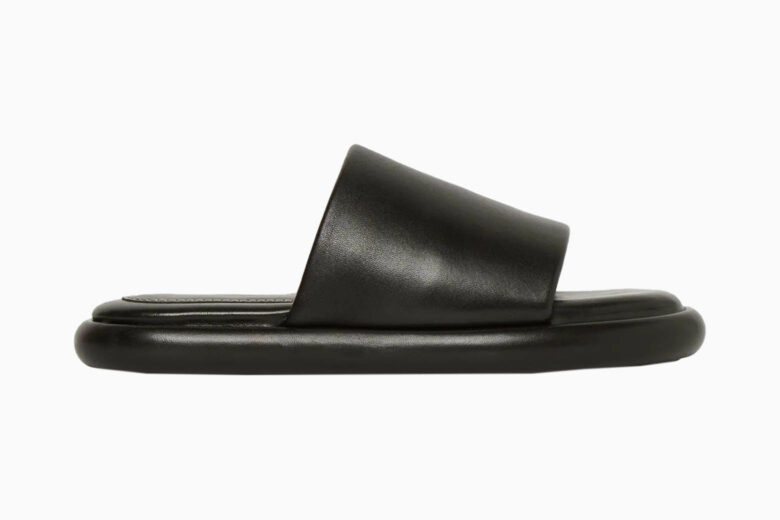 Your less is more style just got a contemporary update with these Proenza Schouler black slide sandals. The padded leather sole is the epitome of functional fashion. It provides cloud-like comfort while simultaneously adding to the modern design with a symmetrical rounded toe and heel.
The glossy black leather speaks to the shoe's timeless elegance. While a thick strap contributes towards these more substantial Summer sandals.
Best for: On-the-go styling.
| | |
| --- | --- |
| Colors: | Black |
| Materials: | Leather |
Dior: Best nude slides for women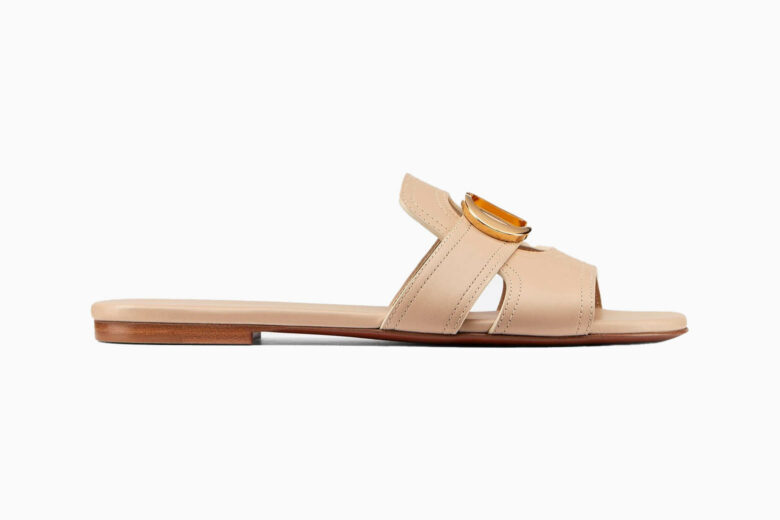 Tired of black? Nude slides are a fantastic alternative. They're just as versatile but a lot softer for those feminine numbers. This pair by Dior has got to be our favorite. The subtle color palette leaves more room for impeccable detailing without appearing over the top. And the brand's gold signature hardware is the only accessory you need.
These slides embody effortless sophistication in its simplest form. And they're the perfect summer shoes to dress up your denims without compromising on comfort.
Best for: Designer decadence.
| | |
| --- | --- |
| Colors: | Nude |
| Materials: | Leather |
Bottega Veneta: Best square-toe slide shoes for women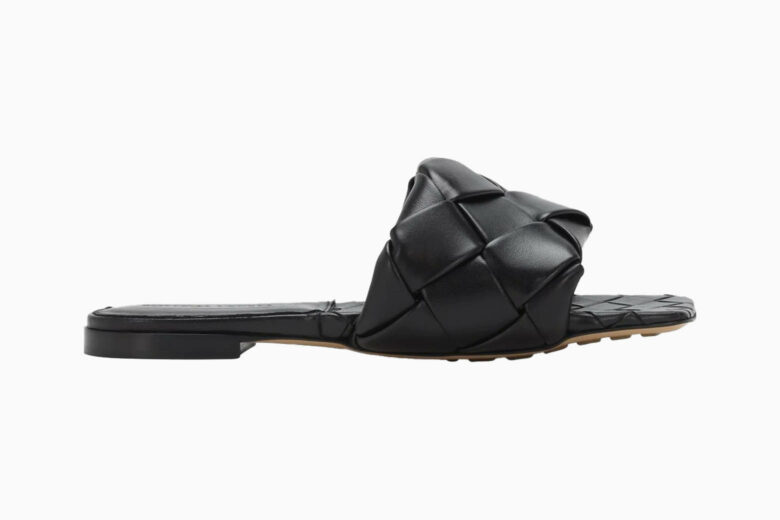 The square toe is very much still in fashion. And these Bottega Veneta slides are here to make sure of it. The clean-cut design is flawlessly complemented by a soft black quilted leather strap. Baby pink or yellow colorways are here to spice up your wardrobe. While black and white remain a quintessential closet staple.
These cute slides by Bottega Veneta are set on a tiny block heel to subtly elevate every outfit. And while we love to pair ours with casual denims, they go just as well with flowy florals.
| | |
| --- | --- |
| Colors: | Pink, Yellow and Black |
| Materials: | Leather |
Axel Arigato Magma Sandal: Best platform designer slides for women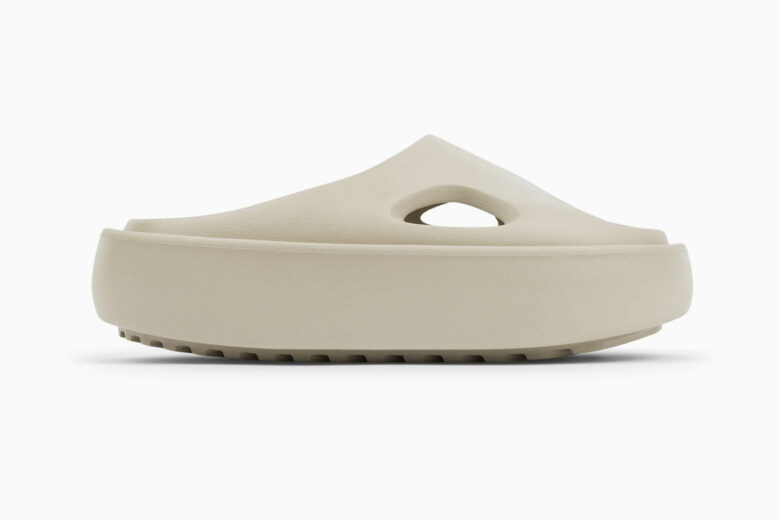 Our list of the best slides for women wouldn't be complete without a second pair of Axel Arigatos. And these platforms are just the pair to do it. The rounded platform sole takes avant-garde styles to new heights. And with such a distinct design, no other accents are necessary.
These monochromatic sand slides hardly go unnoticed. So be prepared to be showered with compliments when strutting them around the city streets.
Best for: Contemporary sculptures take the form of platform shoes.
| | |
| --- | --- |
| Colors: | Sand |
| Materials: | Bio-based EVA |
Saint Laurent: Best women's slide sandal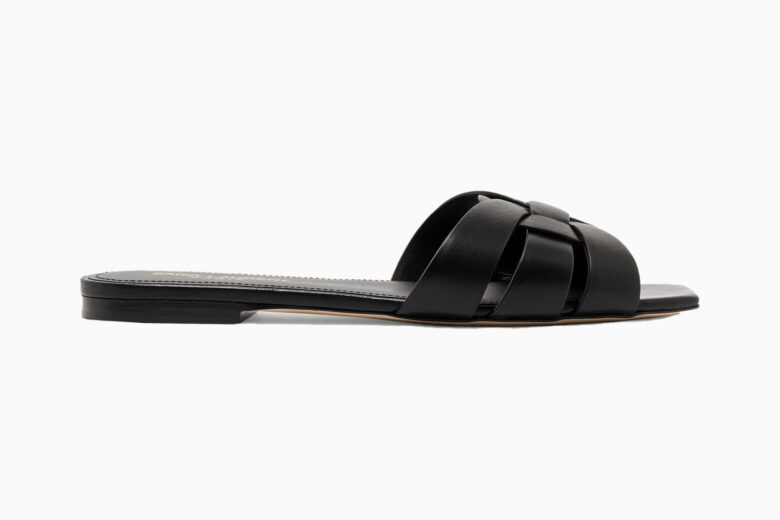 Renowned for their impeccable attention to detail, it's no surprise that Saint Laurent is amongst our most comfortable women's sandals. And this pair will let you know why. The woven detailing pairs perfectly with the simple silhouette. While the square toes speak to their cutting-edge style. And soft leather molds to your foot in a multitude of hues—from black to denim to tan.
These signature Tribute slides are waiting to be whisked away on a holiday. And if you're packing light, they promise to meet all your Summer shoe needs.
Best for: Delicate detailing that is (wholly) Saint Laurent.
| | |
| --- | --- |
| Colors: | Black, Tan, Denim |
| Materials: | Leather |
Frequently asked questions about women's slides
What are the most popular slides right now?
Adidas' memory foam slides are still effortlessly popular for post-workout reprieve. While Axel Arigato's recycled rubber slides are a fan favorite for luxury resort relaxation. Bottega Veneta's cute slides are adored by the on-the-go mothers. While you can't go wrong with any of these, our review of all the best slides for women will give you the best picture before you commit.
What are the most durable slides?
Durable slip-ons are no longer confined to the classic Adidas slides. All our high-quality brands are getting in on the seamless style. Allbirds has released a long-lasting pair in their signature sustainable materials. And Dior's timeless pair is made to be passed down to future generations. But for the best answer, we recommend reading our full review of all the best slides for women.
Are Nike slides good for walking?
It's no surprise that the Athletic brand is amongst our most comfortable slides. And while we'd recommend sticking to sneakers for your half marathon and intense workouts, Nike's sliders are ideal for airing your feet during a Summery walk in the park.
Are slide sandals in style?
Slide sandals are absolutely still in style. And let's pray that they never leave. Rid of blister-inducing straps or buckle-up hassles—there will never be a more seamless slip-on shoe. 
Are slides in fashion?
Slides are very much in fashion. In fact, we'd go as far as to say that slides are making their biggest comeback yet. With a variety of slides by high-end designer brands, there's no reason to bother with shoes that you can't slip off in an instant.