Flip-flops will always be a Summer staple for their effortless slip-on design. But they don't have the best reputation when it comes to style, sturdiness, or support. Well at least they didn't, until our favorite designers stepped in and signed off on the sumptuous shoe. We don't know if they all met around a table or if it just happened organically, but the top brands seem to have teamed up to reinvent the traditional rubber sandal to meet all our functional fashion requirements. Cue the luxury flip flop—your childhood iterations' older, wiser (and unapologetically chic) sister. 
If you're haunted by flip-flop straps breaking through an unreliable rubber hole midstep, we're here to restore your image of the timeless classic. Our top flip-flops are high quality and made from durable fabrics that are made to last. Your elegant leather renditions are perfect to hit up cobblestone pavements and boujee brunch bars alike. Waterproof EVA shrugs off rising tides and crashing waves. Memory foam soles feel like your favorite luxury mattress. While yoga mat platforms manifest your inner zen wherever you go.
Needless to say we're here for these comfortably chic iterations, but not all brands promise the same support or style. Our tip—choose your shoes wisely. Don't flip a coin, unless you're prepared to buy a flop.
Birkenstock Gizeh: Overall best flip-flops for women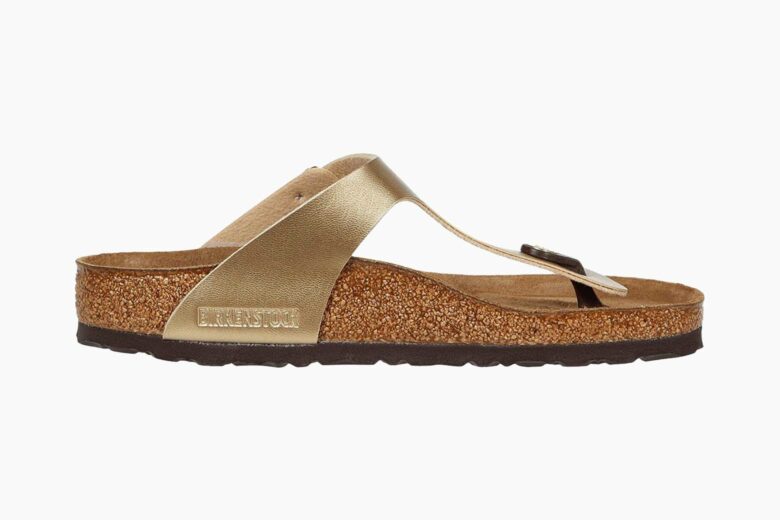 Living up to their stylish podiatric reputation, Birkenstock's Gizehs are our best flip-flops for women. Featuring the brand's iconic pliable cork sole, these sumptuous sandals mold to your feet in a customizable fashion. We love them in gold for that extra radiance, but hues such as black, mocha, and pearl white are equally alluring.
Best for: A frontrunner in functional fashion.
Material: Leather
Colors: Gold, Mocha, Pearl White + More
Roger Vivier: Best designer flip flop sandals for women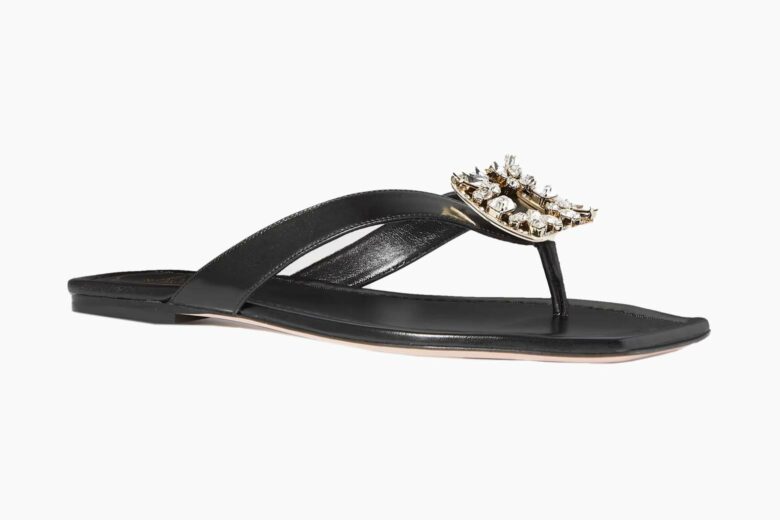 If Roger Viver set out to prove that flip-flops can be refined and elegant, they've certainly achieved that—and more. These leather flip flop sandals flaunt a chic square toe and a decadent crystal embellished buckle front and center. While padded footbeds maintain the shoes' signature comfort. 
Pair these opulent sandals with your best sunglasses to take the luxe factor one step further (as if they need it).
Best for: Flipping the staple's reputation to fashionable footwear.
Material: Leather
Color: Black
Havaianas: Best value women's flip-flops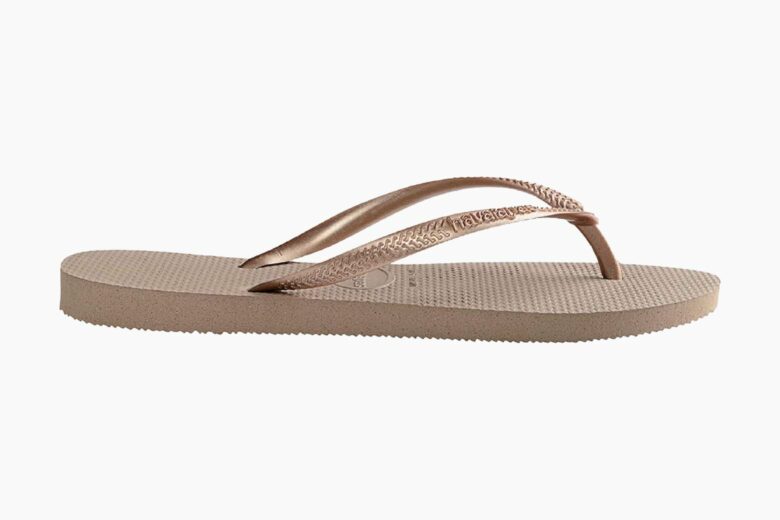 If your heart is on Havaianas, you're not alone. When we think of flip-flops in their purest form, we think of this iconic Brazilian brand. Made from rubber, the unassuming shoe strives to prove that the traditional design is still the most comfortable. While a huge range of hues leave room for your personal style to shine. 
Match these women's flip-flops with your best one piece and you're already packed for your coastal getaway.
Best for: Hava(ia)nas ooh na na.
Material: Rubber
Colors: Rose Gold, Pink, Black + More
Allbirds: Best sustainable cushioned flip-flops for women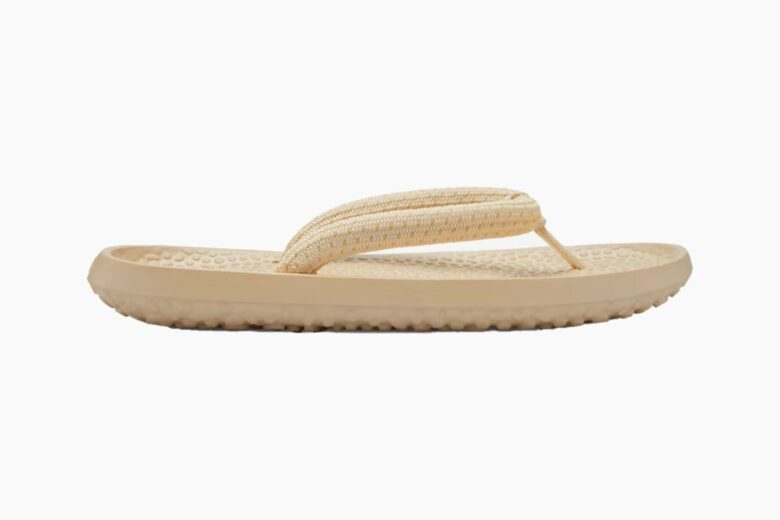 We adore Allbirds for its comfortable designs and strive towards sustainability. And you'll want to get your hands on (feet into) these cushioned flip-flops for both of those reasons. The eco-chic silhouette is made from the brand's signature sugarcane SweetFoam. While the lux beige colorway makes long strolls on the beach effortlessly stylish. 
Light enough to pop into your beach bag, you'll forget they're there (until the hot sand reminds you).
Best for: Eco chic comfort.
Material: SweetFoam
Colors: Beige, Black, Orange + More
Gucci: Best women's dressy flip-flops with heels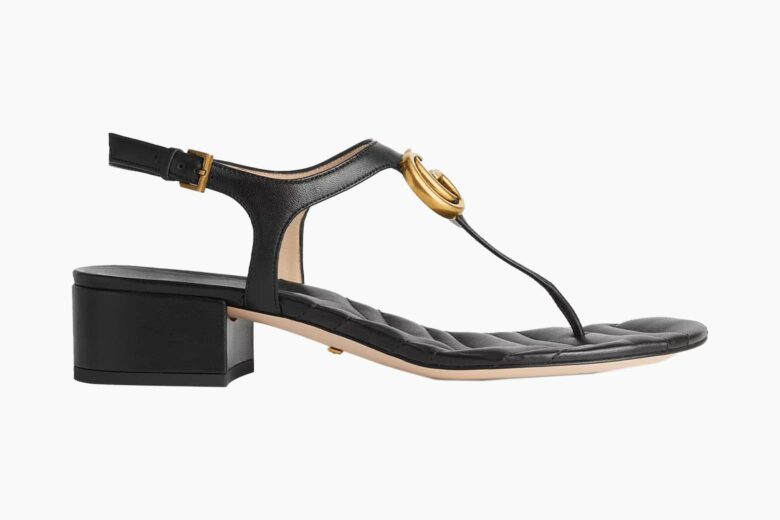 As soon as you see the iconic Gold Double G hardware, you know to expect decadence. And these Gucci dressy flip-flops embody the word in every way. While they maintain the style's practical allure, the black shiny leather contrasted by the luminous gold tone is the timeless finish to every scintillating evening ensemble (for a lifetime to come).
Best for: Decadent details fit for a fashion icon.
Material: Leather
Color: Black
Axel Arigato: Best chunky comfortable flip-flops for women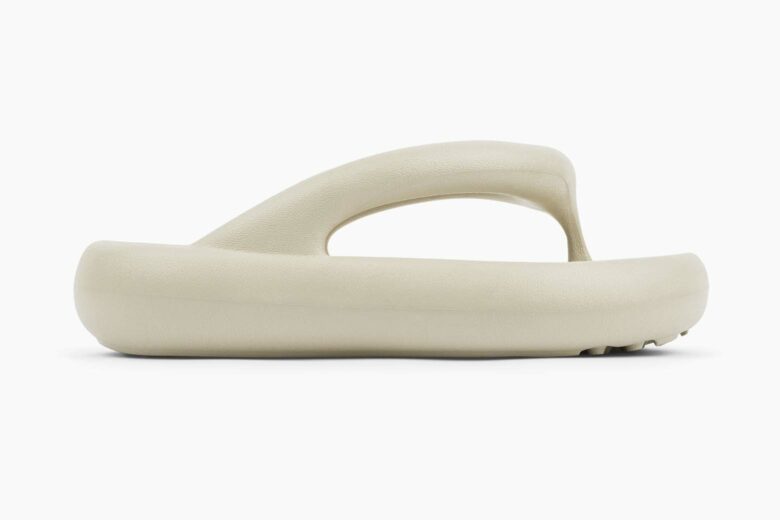 Renowned for its distinctive approach to modern minimalism, Axel Arigato is the king of chunky soles—as seen in these trendy sandals. The contemporary silhouette is inspired by the traditional comfortable flip-flops. While thick rounded soles speak to the brand's signature style. 
Pair this beige pair with your best swimsuit brand to take you from the shore to cocktail hour in a snap.
Best for: Avant-garde everything.
Material: Bio-based EVA
Color: Beige
Maison Margiela: Best white flip-flops for women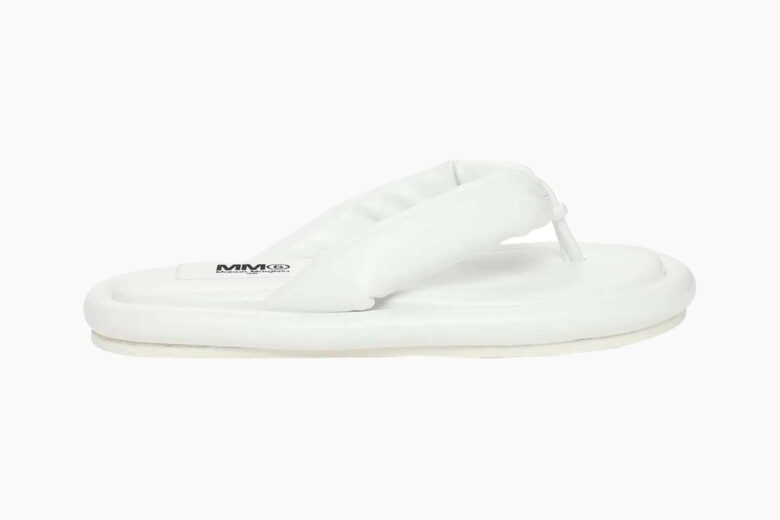 We're calling white the versatile color of the season. And this pair clearly agrees. Made from padded faux leather, these white flip-flops by Maison Margiela not only look like you're walking on cloud nine, but feel like it too. And while the clean colorway complements every getup, you can never go wrong with a little white dress.
Best for: White on white on white—the Summer startup edition.
Material: Faux leather
Color: White
Sanuk Yoga Sling: Best women's lightweight flip-flops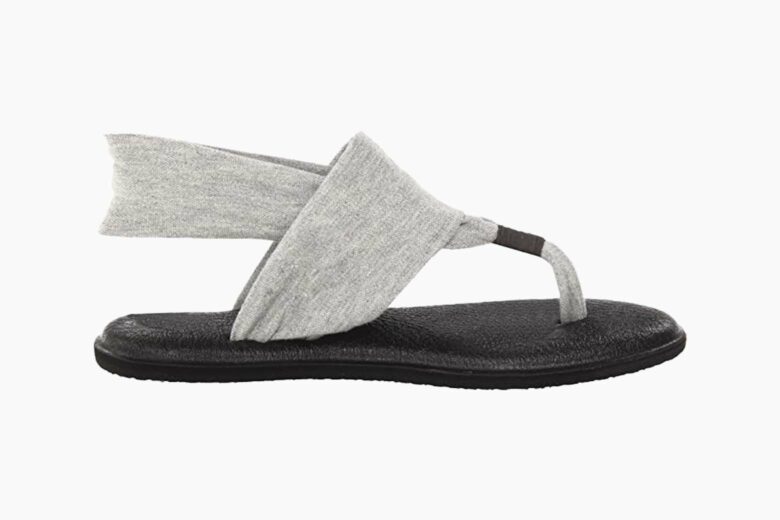 Famous for their relaxed styles and unparalleled comfort, Sanuk shoes epitomize our functional fashion mantra. And these Yoga Slings are case in point. The lightweight flip-flops manifest flexibility. While the vegan fabrics and rubber sponge sole are an effortless way to manifest your inner zen wherever you are.
Whether you're actually going to the studio or not (no one has to know), pair your Sanuk slings with a simple white tee and bamboo tights to live in workout wear (brunch-date approved).
Best for: Zen-like steps.
Material: Synthetic
Colors: Grey, Black, Burgundy + More
OluKai Ohana: Best black flip-flops for women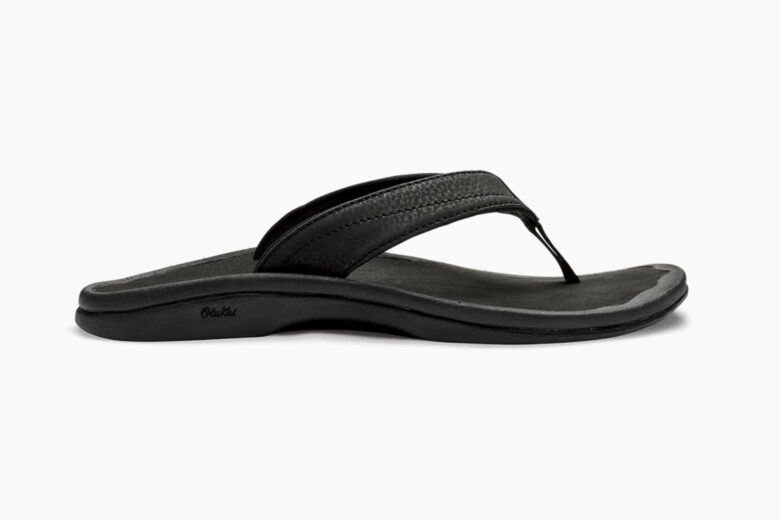 Translated to "ocean comfort," Olukai embodies the original purpose of the sea-born shoe. Made from quick-drying fabrics, the sleek black silhouette isn't scared of rising tides. While a compression molded footbed exudes beach tranquility all year round.
Buy these Hawaiian flip-flops for your next beach vacation. And we doubt you'll take them off when you return inland—they're that good. 
Best for: Taking the tranquility of the coast home with you.
Material: Synthetic
Colors: Black, Blue, Coral + More
Clarks Breeze: Best beach flip-flops for women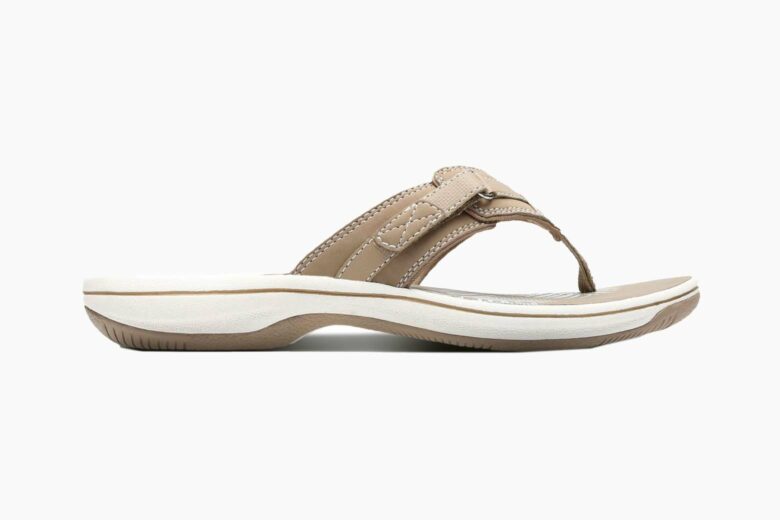 Here's the secret: walks on the beach are a lot more romantic without achy arches. Cue, Clarks' beach flip-flops. The taupe silhouette marries the classical flip flop shape with delicate contemporary details. While cushioned soles make every step a breeze.
All you need is an exaggerated sun hat and it's time to—take it back to the beach (smile if you sang that).
Best for: Beachin'.
Material: Synthetic
Colors: Taupe, Black, White + More
Vionic: Best arch support flip-flops for women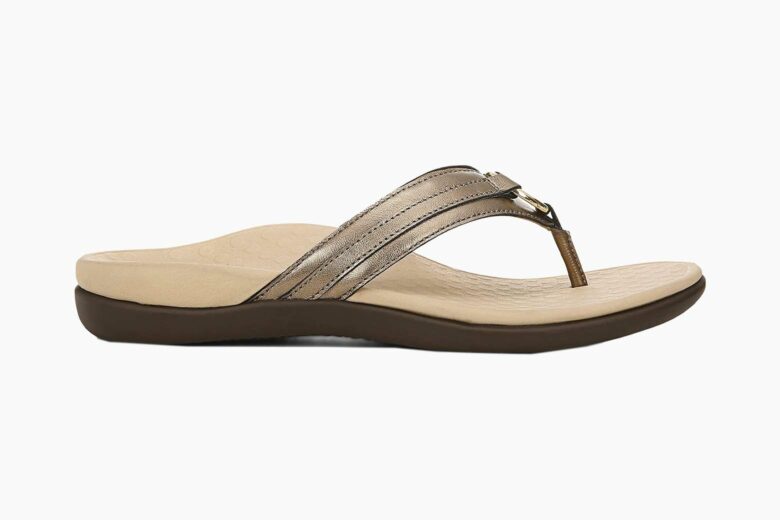 If you're planning to visit your podiatrist anytime soon, chances are they'll recommend a pair of Vionic arch support flip-flops. The high-tech shoes are designed to reduce overpronation and relieve plantar fasciitis. Translation: if you have foot problems, they're the kind of shoes you'll want to live in so buy more than one pair.
Best for: Podiatrist designed shoes get a stylish makeover.
Material: Leather
Colors: Bronze, Champagne, Black + More
Birkenstock Gizeh Eva: Best waterproof flip-flops for women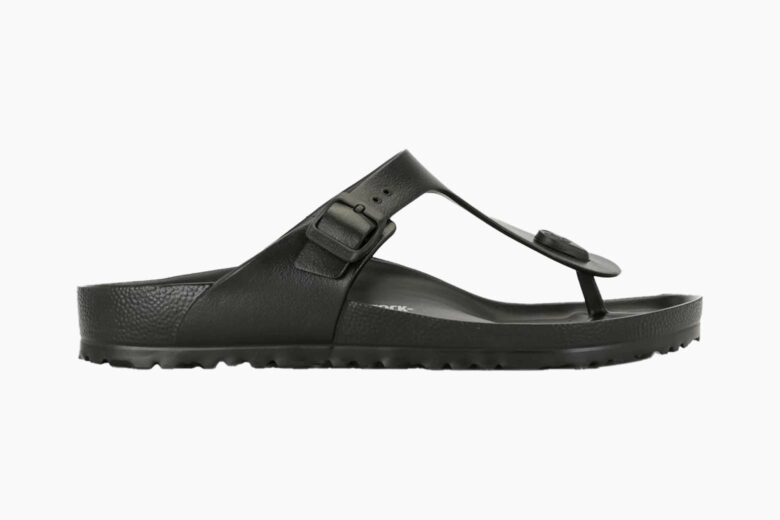 It's no secret that Birkenstock makes some of the best slides and most comfortable sandals What you may not know, is that their Eva collection is waterproof too—making them the perfect vacation shoe. Whether you're lounging at the pool, or dipping your toes into salty seas, these Gizeh Eva flip-flops love the odd splash.
Best for: Splashing around.
Material: PEVA
Color: Black
M.Gemi The Medio: Best leather flip-flops for women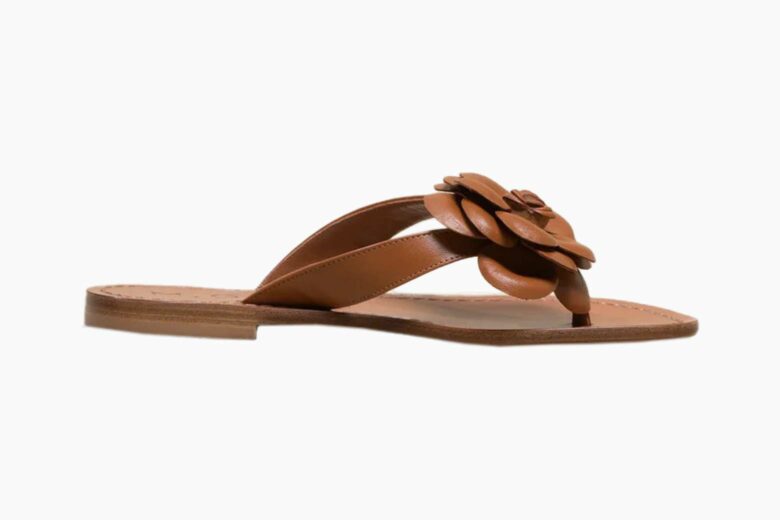 With M.Gemi embossed on the sole, you know to expect exceptionalism. But even with our expectations raised, these exquisite leather flip-flops blew our socks off (literally). 
The refined leather silhouette speaks to the elegantly exaggerated rose. And the impeccable craftsmanship honors M.Gemi's made-in-Italy commitment. The Saddle brown iteration maintains its timelessly classical appeal. While Jewel green is totally on-trend.
Best for: A budding relationship goes full bloom.
Material: Leather
Colors: Saddle, Green, Gold + More
FitFlop: Best rubber flip-flops for women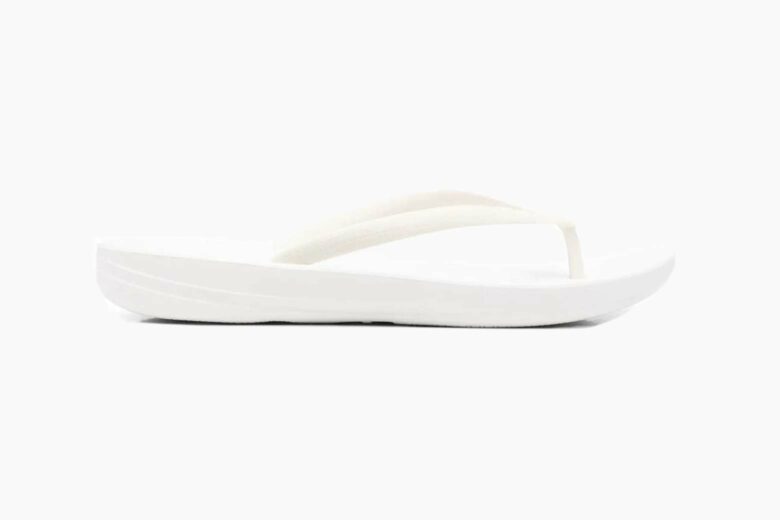 With years of experience in the flip flop game, FitFlop has perfected the comfort we seek in a relaxed shoe. The rubber flip-flops stay true to the classical thong style. While thick cushioned soles provide unparalleled support. Whether you're walking for miles or lounging around the house, there's never a good reason to part with these versatile Summer shoes. 
Best for: The equivalent of a daytime Summer slipper.
Material: Rubber
Color: White
Gianvito Rossi: Best platform flip-flops for women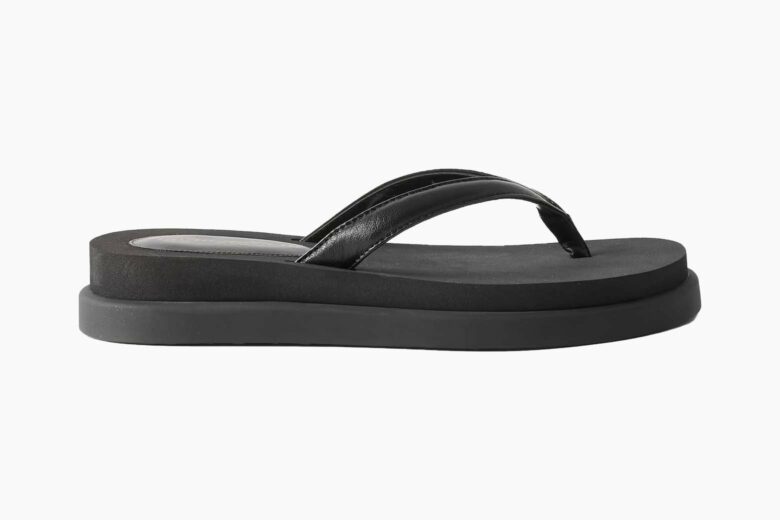 Gianvito Rossi takes the term elevated essentials quite literally with these versatile platform slides. Made in Italy, the supple leather straps stretch to your feet. The cushioned sole accommodates hours on foot. And the black colorway pairs well with absolutely anything.
Keep it casual with a short sleeve shirt. Or dress them up with your LBD. Either way, these shoes are some of the most comfortable flip-flops for everyday wear. 
Best for: Taking stylish practicalities to new heights.
Material: Leather
Color: Black
CamperLab Hastalavista: Best memory foam flip-flops for women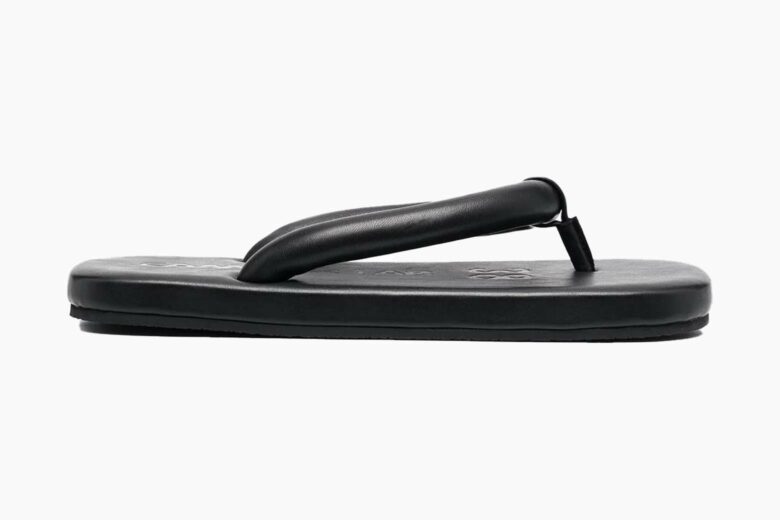 Camping trips get a glamping makeover with these CamperLab memory foam flip-flops. The soft footbed is enough to make rocky mountains feel like a bed of roses. While the black square toe silhouette adds a contemporary chic component to any rustic getaway. Plus, the LWG-certified leather is environmentally conscious and promotes sustainability. 
And with that, your adventure awaits. Hasta la vista.
Best for: Your favorite mattress in sandal form.
Material: Leather
Color: Black
Ancient Greek Sandals: Best women's dressy flip-flops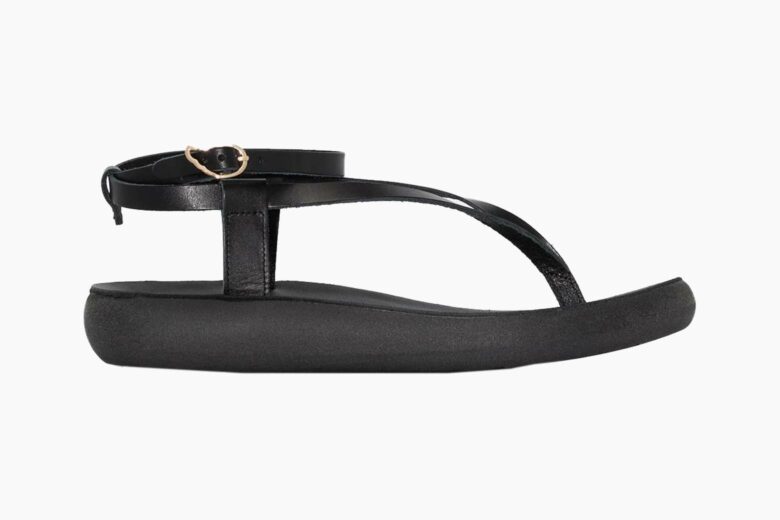 Inspired by the mythical gods and goddesses, Ancient Greek Sandals embody the ease of the city. And the Salomi flip-flops do just that with premium comfort, effortless versatility and timeless durability.
Made for cobblestone pavements and sandy shores alike, these black leather sandals are some of the most comfortable flip-flops for everyday vacation wear. Cue the bookings!
Best for: Putting gladiators in their place.
Material: Leather
Color: Black
Frequently asked questions about flip-flops for women
What brands of flip-flops are the most comfortable?
While flip-flops vary in style and design, the only imperative component is that they need to be comfortable. We love Birkenstock's Gizehs for everyday stylish comfort. Roger Vivier's crystal-embellished iteration is a stand-out pair for decadent comfort. And you can never go wrong with a pair (or two) of Havaianas. Check our list of the most comfortable women's flip-flops for more inspiration.
Which material is best for flip-flops?
You'll want to choose a material to fit the functionality. If you plan on using them on the beach a waterproof rubber pair is made to be splashed. If you're looking for timelessly durable renditions for everyday wear, leather is a win. And if you just need to rest your feet, memory foam will have you walking on cloud nine.
What are flip-flops good for?
Finding a stellar pair of flip-flops is no small (feet). But when you do, they're pretty much good for everything. A traditional rubber pair is made for the beach. A classical leather pair will take you from lunch to cobblestone streets in a snap. While designer embellishments bring refined comfort into your evening engagements.
Why are flip-flops so comfortable?
There's nothing better than sliding in a pair of luxury flip-flops at the end of a beach day. It's the combination of liberated toes, cushioned soles, and the effortless slip-on style that make them a quintessential closet staple for beach-lovers and comfort-seekers alike.