No matter how much you adore your matching leggings and sports bra combo, or rave about your incredible new running jacket, a good pair of workout shoes will always take the first place medal when it comes to important gym gear.
Because, ultimately, it doesn't matter how sleek your new activewear outfit is if your shoes aren't playing ball.
It might seem like one size fits all when you know your shoe size, but that couldn't be further from the truth when it comes to choosing the best workout shoes. Just like you'll choose a more flexible outfit for yoga than you would for team sports, you should adapt your gym shoes for each different type of workout to maximize the potential of each move.
You'll conquer your fastest mile time with a streamlined, lightweight pair of running shoes that ease pressure off your joints. But you'll want a completely different pair of athletic shoes when it comes to lifting weights: specifically those with a solid base for stability during dynamic movements.
So, before you head out on that run or sign up for a new gym membership, take some time to read through our guide and discover your next workout BFF in the form of the best gym shoes for women.
The 19 best workout shoes for women
Check our trainers buyers' guide after the list to see exactly what you should pay attention to when shopping for a new pair of workout shoes online.
Nike Air Zoom: Best overall women's athletic shoes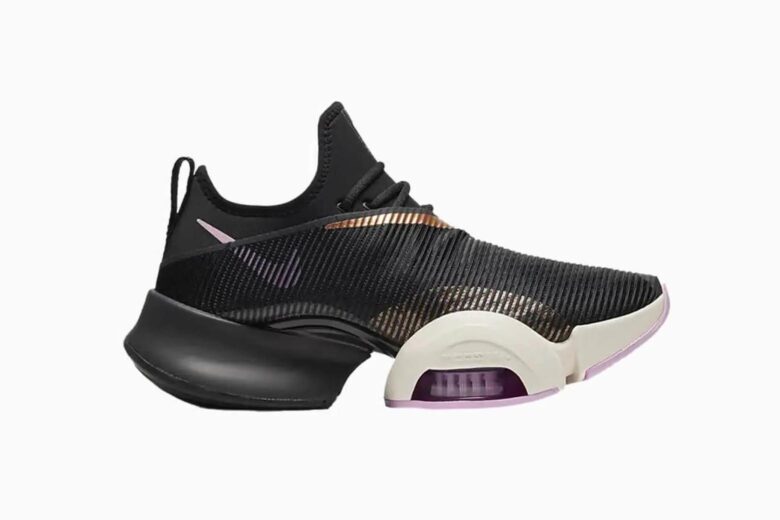 Spontaneous HIIT workout? Check. Heading out on a run? No problem. Weightlifting session with impressive PBs to reach? Worry not, because it doesn't matter what kind of workout you've got in mind: the Nike Air Zoom SuperRep will make sure you're comfortable and motivated from start to finish. The best women's workout trainers for those who like a bit of variety in the weekly routine, these training shoes tick all of the boxes for strength training, cardio sessions, and circuits without lacking in any department. 
Nike perpetually comes out on top when it comes to premium workout wear and it's easy to go niche if you've got one kind of workout in mind. But if you're looking for a pair of exercise shoes to bring along to every sweat session, these are the ones that'll perform the best. A cushioned sole adds bounce when you need it and mesh ribbing on the top helps keep your foot extra snug for moves like lateral bounds and lunges.
| | |
| --- | --- |
| Colors: | Black, cream, blush  |
| Best for: | Acting like a mini personal trainer straight from your feet. |
APL Athletic Propulsion Labs Techloom Tracer: Best high-end women's shoes for working out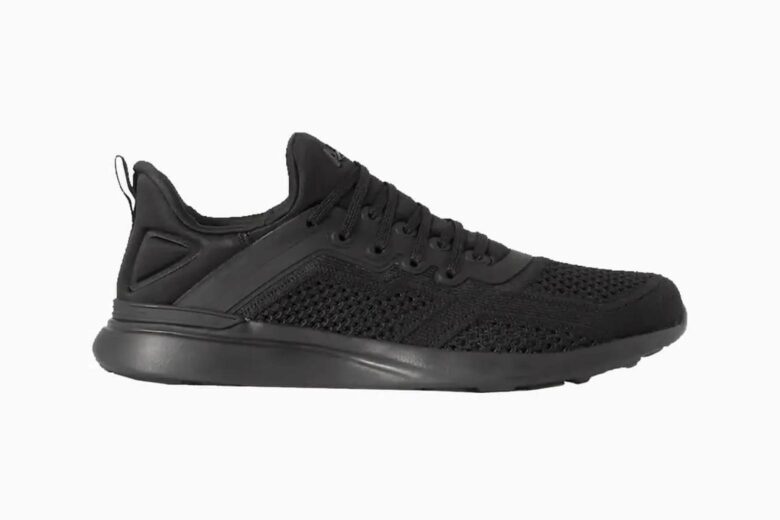 Your next boost of gym motivation comes in the form of APL Athletic Propulsion Labs' super sleek workout shoes — the TechLoom Tracer mesh and neoprene sneakers. Perfect for those mornings when you're really struggling to get out of bed and hit the gym, these trainers provide enough comfort, style, and performance to get even the sleepiest of gym-goers racing to jump up and pull on a pair of leggings and a sports bra. Ideal for adding stability during high-intensity workouts, these trainers are as premium as their jet-black colorway would suggest. 
The ideal trainer for starting up a new sport or trying out a new exercise-themed hobby, the TechLoom Tracers have the innate ability to put your brain in workout mode as soon as you've laced up each trainer. And — just a note on those laces — they're formulated with a special feature that minimizes loosening. Which means you'll never need to pause mid-run to tighten them up. 
| | |
| --- | --- |
| Colors: | Black |
| Best for: | Being the footwear equivalent of runner's high. |
Under Armour: Best value workout shoes for women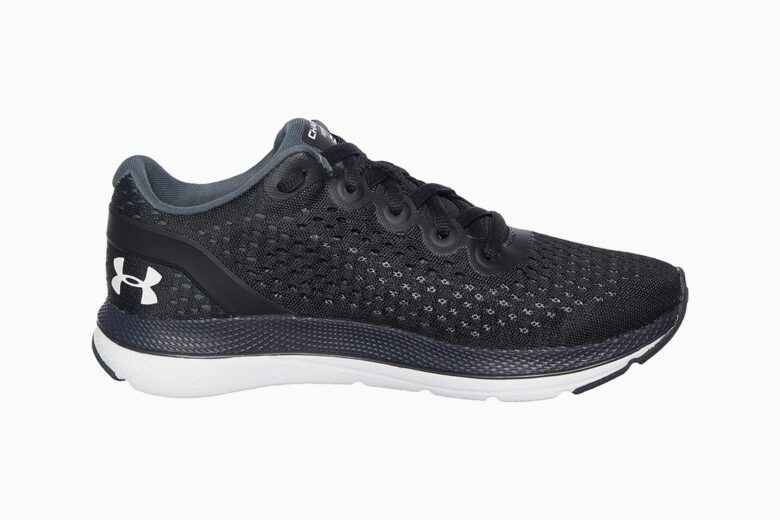 Let's be honest: workout gear can get expensive when you add up all of the different leggings, sports bras, warm-but-not-too-hot jackets for outdoor events, and everything in between. So adding a pair of expensive gym trainers into the equation can be intimidating and might even put you off of going out for a run after all. 
Sure, it's important to make sure the shoes you opt for are suitable for their purpose, which means you likely want to avoid anything low quality. But for a pair of budget-friendly workout trainers that'll consistently have your back (and your knees, ankles and hips) no matter what sport is on the table, look no further than Under Armour's Women's Charged Impulse Running Shoe. Available in almost every color under the sun, you'll have no trouble matching these to the rest of your gear.
| | |
| --- | --- |
| Colors: | A range including black, white, mint |
| Best for: | Giving you an excuse to buy more workout clothes. |
Adidas Originals: Best women's workout shoes for short runs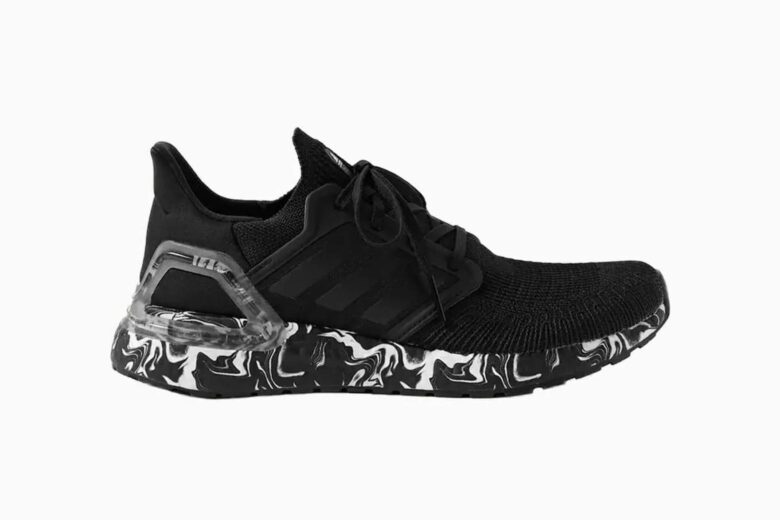 Adidas Originals is one of those failsafe brands that you likely first got into as a teenager and never really swayed away from. And there's a good reason for that: accessibly priced, excellent quality, and impeccably stylish: Adidas Originals will never let you down. The beauty of this combination makes Adidas Originals a great choice no matter what workout you're planning next but where they especially shine is on a short run. 
And Adidas Originals' Ultraboost 20 Glam Pack Primeblue are the dictionary definition of stylish and comfortable rolled into one. The cool monochrome marble-effect sole is inspired by urban nightlife and will match whatever playlist you've got singing into your ears on your next run. Better yet: they're also made from sustainably sourced Parley Ocean Plastic, which means you'll be doing your bit to save the oceans while running a few laps of your neighborhood.
| | |
| --- | --- |
| Colors: | Black |
| Best for: | For runs short of length but not of performance. |
Nike React: Best women's workout shoes for running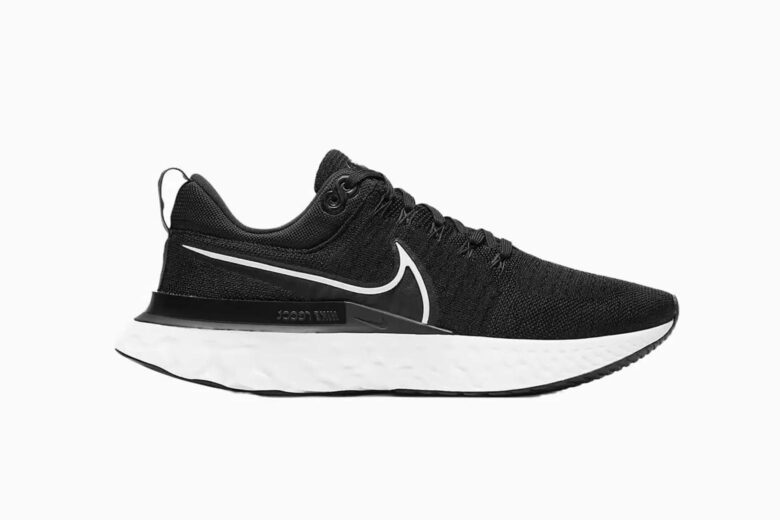 You'll easily shave seconds off of your marathon time, hit your fastest mile yet, and still have energy for a cool down when you've swapped your existing running shoes for a pair of Nikes. Specifically: the Nike React Infinity Run Flyknit 2, which are designed with injuries in mind so you finish your run almost as comfortably as you've started it. These are the trainers for anyone looking to either build up their running from scratch or to push forward with more endurance and distance in mind. 
Versatile enough for beginners right through to pros, these trusty running shoes will accompany you on everything from a spontaneous 5K to an ultra marathon, if that's what you're aiming for. A secure and cushioned base means no matter how heavy-footed you are, you'll still feel comfortable and supported with every step.
| | |
| --- | --- |
| Colors: | Black, white, grey  |
| Best for: | Downloading Strava and brainstorming your new favorite routes. |
Veja: Best women's workout shoes for walking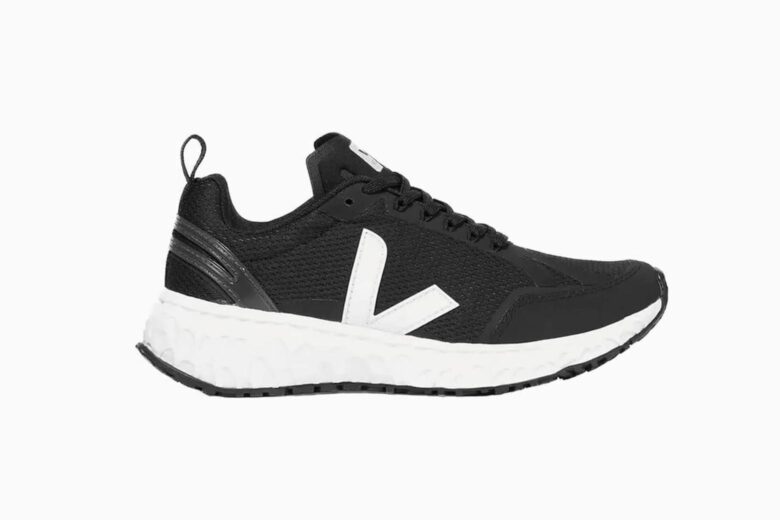 Workouts don't have to be high-intensity and sometimes there's nothing better than simply going for a nice stroll. Brush off the thoughts of attempting a 10k or running a half marathon if you'd just rather go for a wander and watch the world go by while still moving your body. Of course, that doesn't mean to say that Veja's + Condor sneakers aren't fit for anything more high intensity: these are also great workout shoes for speed walking or taking things up a notch. 
A chunky sole provides endless support and recycled materials used throughout add a sustainable touch to an already impressive pair of workout shoes. Veja is one of those up-and-coming brands soon to be seen on the toes of everyone, which adds an extra incentive to buy yourself a pair now. Suitable for early morning coffee runs, outdoor catch-ups with friends, and "about to miss the train" commutes, you'll want to wear these trainers everywhere.
| | |
| --- | --- |
| Colors: | Black, white |
| Best for: | Pairing with an excellent playlist or a good friend. |
Allbirds: Best sustainable workout shoes for women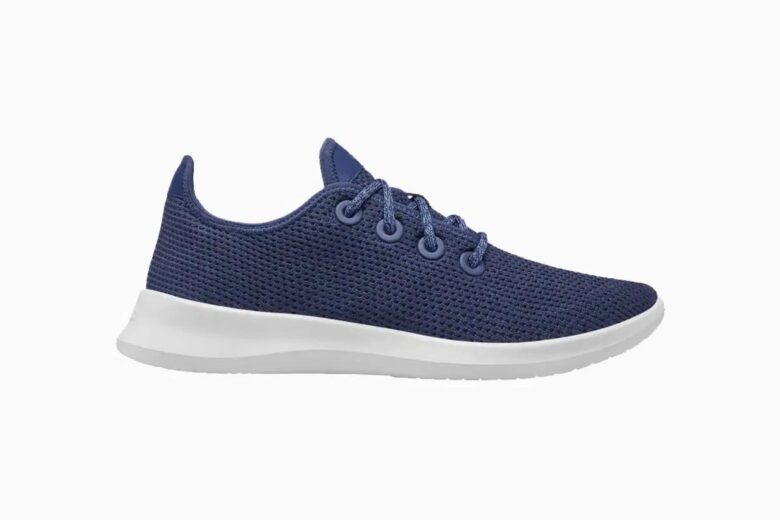 Brush off any thoughts that sustainable workout shoes can't compete with the big brands because Allbirds are disproving that theory once and for all. So much so that it's basically impossible to fault the Women's Tree Runners. Made from responsibly-sourced eucalyptus tree fibers, these shoes promise to elevate your workout experience without having any kind of negative effect on the planet. They're also super cute and available in plenty of different colors.
Tried and tested, the Women's Tree Runners are a great option for virtually any kind of workout: wear them for summer walks through the fields, team sports, HIIT sessions, or whatever sport-related hobby you find yourself trying next. They're lightweight enough to not drag you down when running and also promise to feel light and breezy no matter how long you're exercising for. Impressively, they also reduce odor, conform to your movements over time, and can be machine washed. 
Check our in-depth Allbirds review to learn more about the shoes, or read our story behind Allbirds to learn more about the brand itself.
| | |
| --- | --- |
| Colors: | White, blue, pink  |
| Best for: | Encouraging everyone you know to sign up for events like Run For The Oceans. |
Nike Metcon: Best cross-training workout shoes for women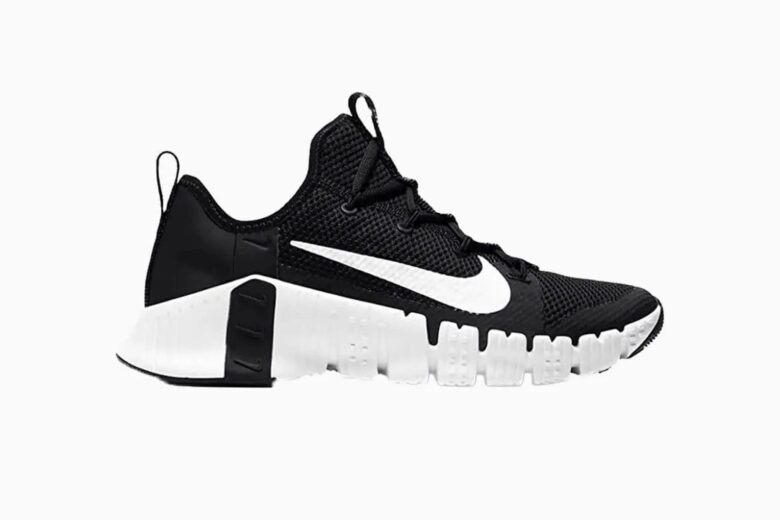 Nike has always retained its position as one of the first brands to come to mind when it comes to workout gear. And, as well as providing great workout clothes for basically any and every kind of sport, it also promises to create some of the most impressive workout shoes for women, too. The great thing about this brand is its ability to get niche with any kind of requirement, but sometimes the best shoes are those that are versatile and suitable for every occasion.
Enter: the Nike Metcon 5. It doesn't matter whether you're focusing on speed, endurance, balance or a combination of all three. These are the best cross-training, shoes that manage to effortlessly do it all, with its cushioned sole, lightweight style, and cool design. Set to become your new BFF and workout partner, this is your secret weapon for weightlifting and high-impact training, and will gladly accept any challenge you throw its way. 
| | |
| --- | --- |
| Colors: | Black, green, pink |
| Best for: | Being the all-rounder that you can always confidently count on. |
New Balance: Best women's at-home workout shoes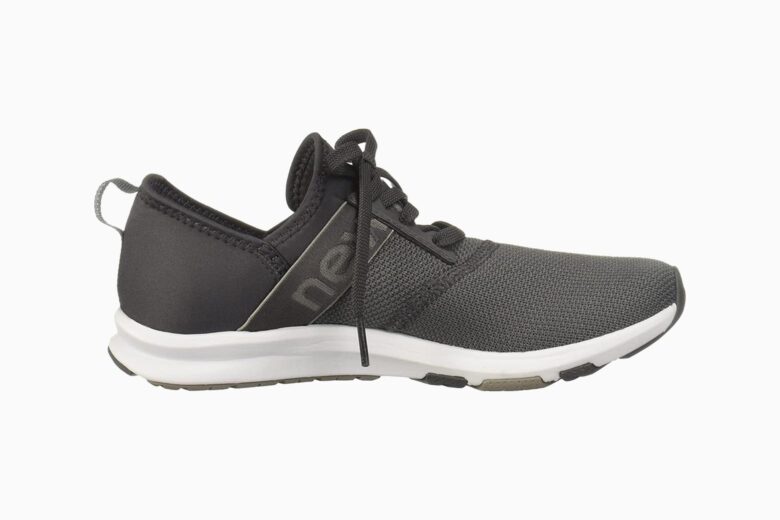 Just because you can't physically visit the gym doesn't mean you have to forego a workout. You just need the right shoes to keep you company and turn your home into a workout studio. Our favorite workout shoes when it comes to tackling those home workouts head-on are the New Balance Women's FuelCore Nergize V1 Sneaker. 
Lightweight and cushioned with a memory foam sole, you'll almost find yourself slipping these on just to wander around the house. But their comfort also comes with the magical ability to put your brain into workout mode, hunting down your yoga mat and slipping on your favorite gym gear. Snug and supportive, you'll find yourself scheduling more home workouts into your routine once these shoes are in your wardrobe.
| | |
| --- | --- |
| Colors: | White, dusky pink, mint  |
| Best for: | Wondering why you ever needed the gym in the first place. |
APL Athletic Propulsion Labs Techloom Bliss: Best post-workout shoes for women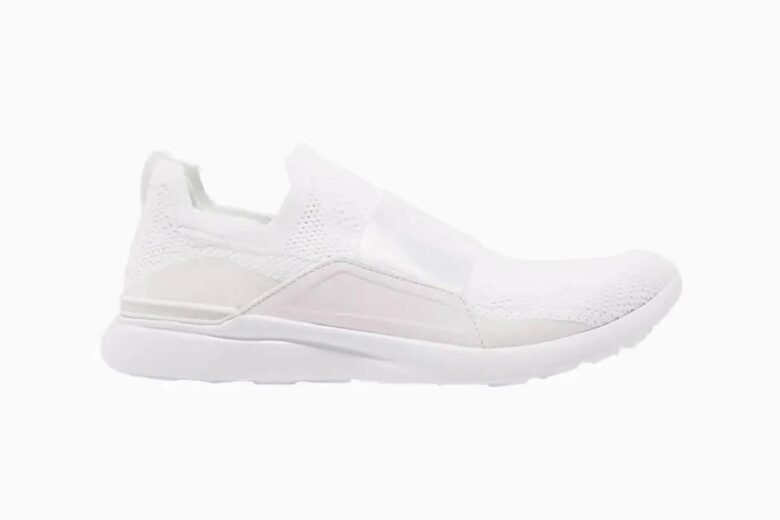 The equivalent of enjoying a delicious protein shake after your workout, the APL Athletic Propulsion Labs Techloom Bliss sneakers do exactly what they say on the tin. Cozy and soft enough to encourage you to get through that final set of burpees once and for all, these trainers are a treat for your toes that'll make even the toughest workout seem more than worthwhile. Lightweight and flexible, these mesh trainers are designed to feel barely there, offering protection to your feet without feeling clunky or heavy in the slightest. 
When you've dragged yourself through a new workout routine or finished your longest run yet, you'll find yourself dreaming of these trainers and the ultimate comfort they provide at the finish line. Your new motivation for pushing yourself even harder, they act as the shoe equivalent of a cozy blanket, comforting pat on the back, or cheat meal you treat yourself to after a long gym session.
| | |
| --- | --- |
| Colors: | White, black, silver  |
| Best for: | Setting as your phone background as a motivational reminder while you're on your longest run yet. |
Reebok: Best women's workout shoes for HIIT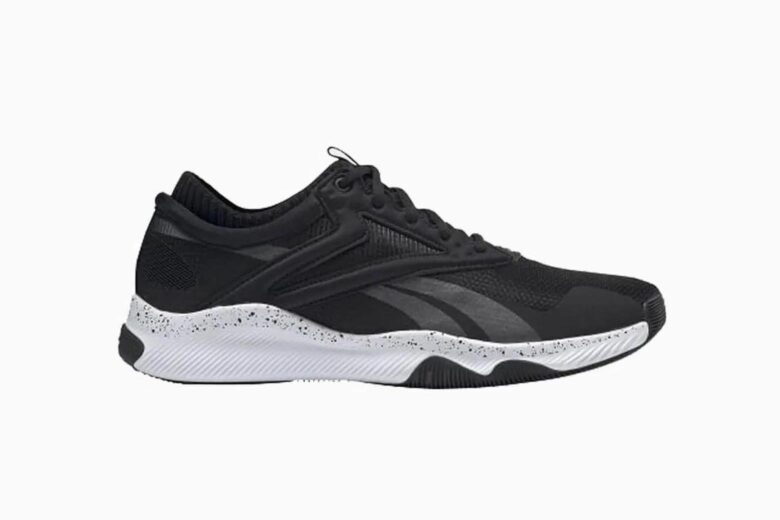 As the name would suggest, Reebok Women's HIIT Training Shoe Cross Trainer was designed to help you tackle HIIT sessions like no other shoe can. Impressive enough that you'll feel somewhere between naked and underdressed if you ever attempt a HIIT workout without them in your bag, these workout shoes combine all of the features necessary to help you hit your PB, complete an additional circuit and finish in first place without even trying too hard.
A mixed grip pattern offers solid traction in every direction, which means that no matter what sort of interval training is on the cards for your next workout, you'll feel supported from start to finish. A cushioned sole promises comfort for jumps, burpees, and other movement-based routines, and a bold design adds an extra boost of motivation knowing you look super suave while doing so. The premium quality lining also helps these workout shoes to always feel supportive without having to tighten them.
| | |
| --- | --- |
| Colors: | Black, white, grey |
| Best for: | Feeling like one of those women who effortlessly jumps from HIIT to charity work to pilates every morning |
Adidas: Best women's hiking shoes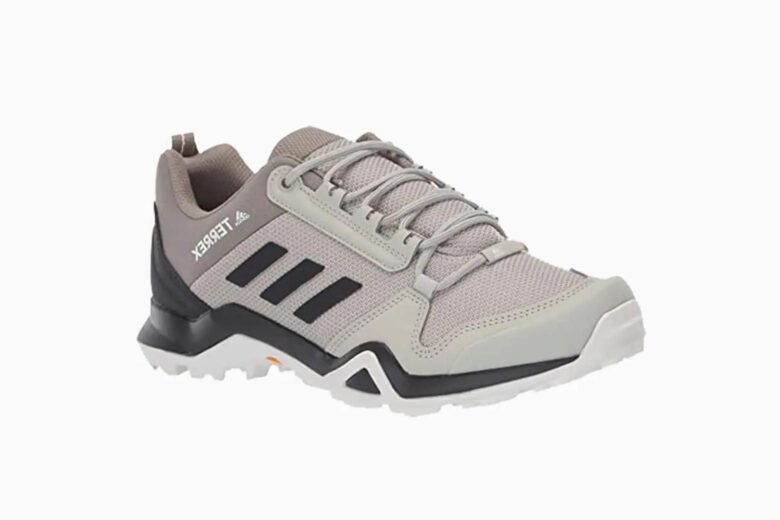 You might think "hiking shoes" and immediately picture the beige, ankle-height boots tucked away in cupboards from hikes enjoyed years ago. And if that's the one thing putting you off from scaling mountains, climbing steep paths, and experiencing some of the world's best views, the answer is only a few clicks away. Hiking shoes have had a fashionable resurgence and some of the best you can buy come from Adidas. 
The Adidas Terrex AX3 Hiking Shoes will easily assist you across any terrain, as rugged or as steep as can be. Suitable for both wet and dry conditions, these workout shoes are a brilliant option not only for hiking but also for any other outdoor activities. Heading out on a run across muddy paths or grassy lanes? Pair these with your warmest jacket and comfiest socks and you'll wonder why you didn't start exercising outdoors earlier.
| | |
| --- | --- |
| Colors: | Grey, indigo, black  |
| Best for: | Finally exploring your local green spaces a little more. |
Adidas Powerlift 4: Best weightlifting workout shoes for women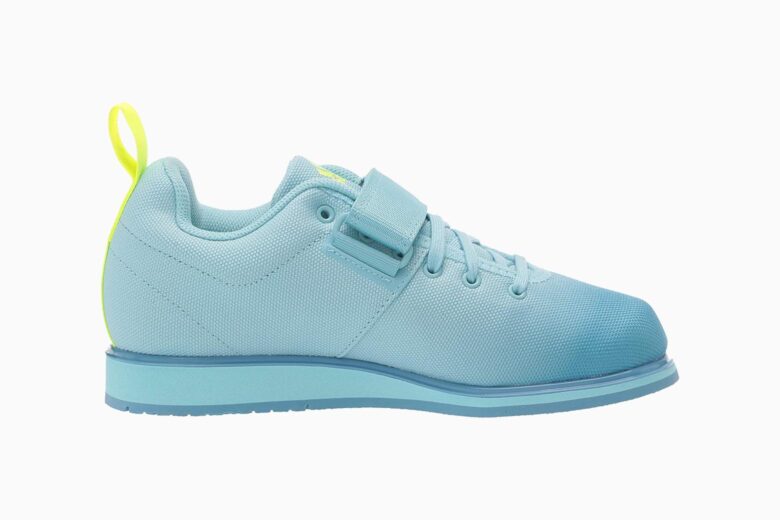 You'll want a sturdy, comfortable pair of shoes on your feet if you're a fan of weightlifting. Unlike other sports where a thin sole might be preferable, you'll want to feel entirely at ease whenever your workouts include picking up particularly heavy weights. Adidas Women's Powerlift 4 Cross Trainer is a cute and cozy workout shoe that combines style with practicality. 
Available in three pastel colors, the structural makeup of this trainer promises a complete 180 on any connotations one might have of the pastel colorways. Wear these trainers and you'll be able to focus entirely on lifting weights without any distractions. A flexible forefoot allows for the natural movement of your toes while lifting and a reinforced midfoot and raised heel both add stability when you're aiming to hit a PB. A slight added elevation means you'll feel suitably sturdy when squatting, lifting, and everything in between.
| | |
| --- | --- |
| Colors: | Mint, lilac, light green |
| Best for: | Giving you the confidence to feel more powerful than ever. |
Reebok Crossfit: Best crossfit shoes for women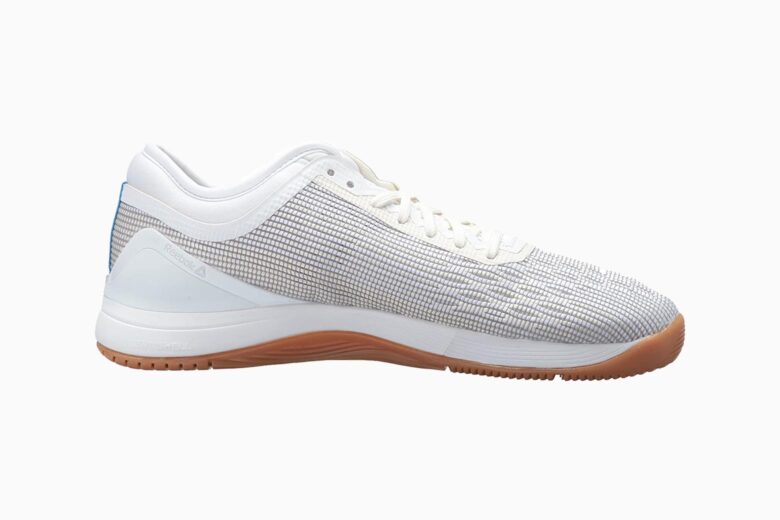 The best pairs of CrossFit shoes have a lot of boxes to tick in order to truly win their place at the top of the pile. The very nature of CrossFit means you'll need a pair of trainers that are supportive enough for those AMRAPs, lightweight enough to not weigh you down on box jumps, and spacious in the toe enough to provide room for proper weightlifting support in the soles. So if ever there was a workout that deserved a little more attention into finding the proper workout wear, it would be CrossFit. 
The best pair? Reebok Women's CROSSFIT Nano 8.0 Flexweave Cross Trainer. Efficient foot support makes any exercise an easy maneuver and durable material will never get worn down after months of daily morning workouts. Plenty of color options means you'll be able to find a pair to match all of your workout gear if you fancy coordinating from head to toe.
| | |
| --- | --- |
| Colors: | Black, chalk green, berry |
| Best for: | Incentivizing you to get up for the 6:00 am class. |
Adidas Court Team: Best workout shoes for arch support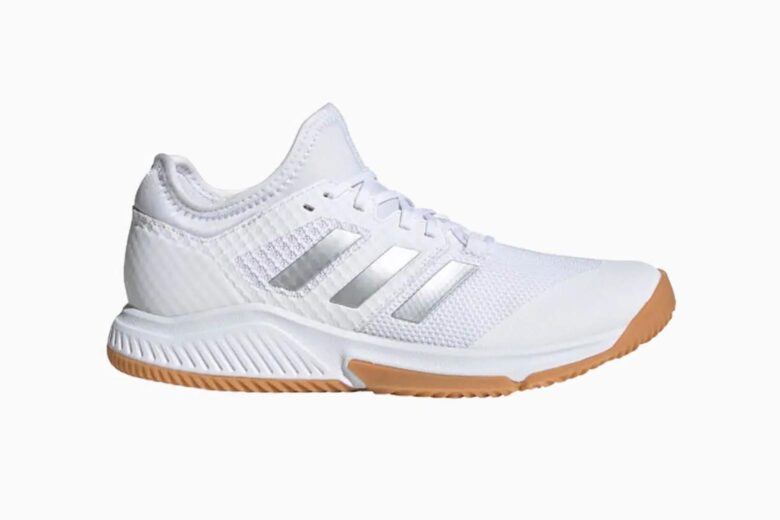 If you're someone who struggles with arch problems then you'll want to spend a little more time finding the perfect workout shoes to keep your feet and joints in the correct position throughout your workout. Even though it might seem tempting to throw on the same trainers you use for day-to-day life, it's crucial to find form-fitting workout shoes that hug your toes and provide a soft base to prevent any damage. 
Our favorite workout shoes for delivering just that are the Adidas Women's Court Team Bounce Cross Trainer. Cool enough to wear for everyday life while bringing together all of the important elements for a safe and supportive workout, these shoes with their slightly vintage design are a brilliant addition to your workout wardrobe. A flexible midsole offers lightweight energy while promising to firmly keep your foot in its correct position while a mesh upper will keep your toes cool throughout your routine.
| | |
| --- | --- |
| Colors: | White, black |
| Best for: | Making even the most difficult workout goals finally seem possible. |
New Balance 520: Best workout shoes for women with wide feet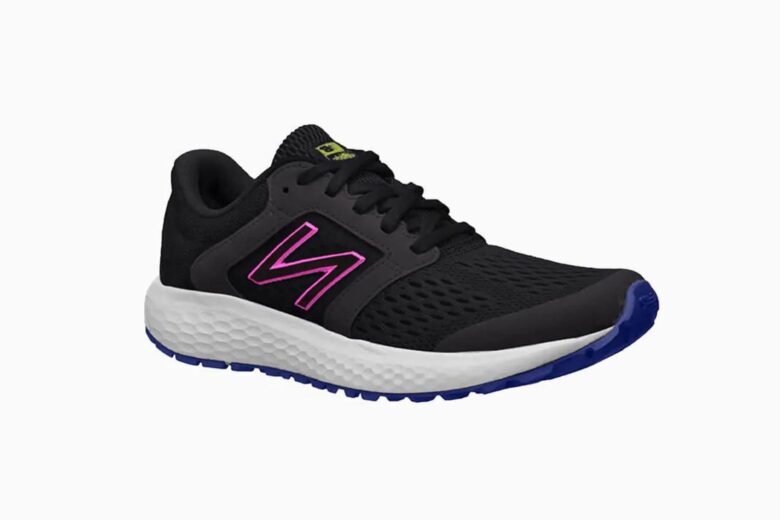 Comfort is key when it comes to exercise shoes and nothing will stop you heading to the gym faster than a too-tight pair of trainers that threaten to rub before you've even started your workout. But, on the flip side, trainers that are too large don't offer enough protection or support. So finding that midpoint is an important first step to any workout program to prevent damage or encouraging you to accidentally put your coziest socks and slippers back on instead. 
If you're someone who has wide feet, try the New Balance Women's 520 V5 Running Shoe. Comfort is key with these trainers and they promise to combine all the features necessary to actively encourage you to put them on your feet and head out for a run. The high level of cushioning is balanced out by this shoe's ultra-lightweight design, that's breathable, soft, supportive, and fashionable all at the same time.
| | |
| --- | --- |
| Colors: | Black, white, lilac  |
| Best for: | Workout-ready feet that don't want to feel tongue-tied. |
ASICS: Best workout shoes for women with flat feet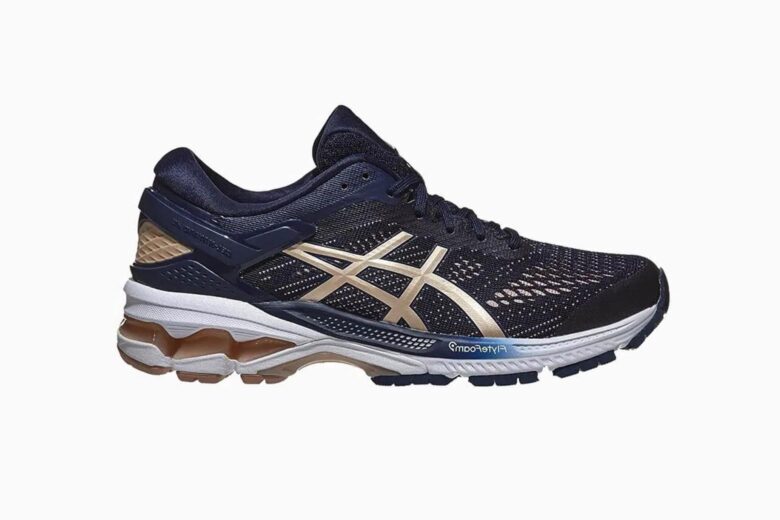 Find yourself a pair of running trainers suited to flat feet and suddenly you'll be tackling 5Ks, 10Ks, half marathons, and full marathons while laughing all the way. It's easy if you suffer from flat feet to disregard the very notion of running or more intensive workouts, but finding the perfect pair of trainers to support your arches can be the secret weapon to falling in love with exercise all over again. ASICS Women's Gel-Kayano 26 Running Shoes come highly recommended from podiatrists, running experts, and everyone in between. 
Professionally crafted and full of unique technology designed to support flat feet, these trainers do the work to restore your enjoyment from workouts without any damage or pain in sight. Those who have flat feet might be familiar with the heavy feeling that comes from running without a properly supported base, and ASICS' Trusstic System technology reduces the weight of the sole unit while retaining the structural integrity of the shoe…which, in human terms, means your weight is evenly distributed thanks to the shoe's makeup.
| | |
| --- | --- |
| Colors: | Navy, black, white  |
| Best for: | Helping you tackle those longer runs without fear of pain. |
Brooks: Best workout shoes for women with plantar fasciitis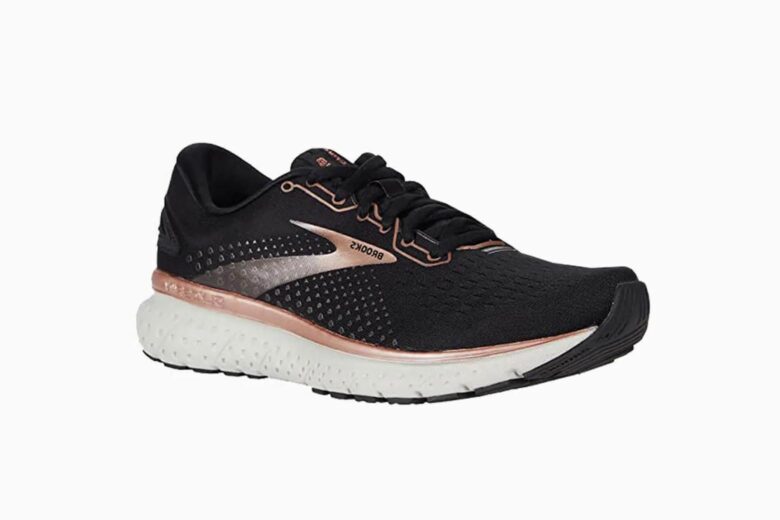 We're probably not the first to say it, but the Brooks Women's Glycerin 18 workout shoes are so comfortable that you'll find yourself slipping them on at any opportunity: a quick stroll for the weekly shop, running any kind of errands or simply just wearing around the house. Somehow existing as both a top-quality workout shoe and a premium source of comfort, these workout trainers are the perfect solution for anyone suffering with plantar fasciitis.
Combat any pain and inflammation on the bottom of the foot with a trainer that uses one-of-a-kind super-soft cushioning that's essentially just a cozy bed for your feet. The unique design of these shoes makes them a winning pair for most types of workout. You'll find them easily maneuverable for running, cross-training, weightlifting or general sessions at the gym.
| | |
| --- | --- |
| Colors: | Black, blue, white  |
| Best for: | Being the light at the end of the tunnel of your exercise-based foot pain problems. |
Troadlop: Best budget workout shoes for women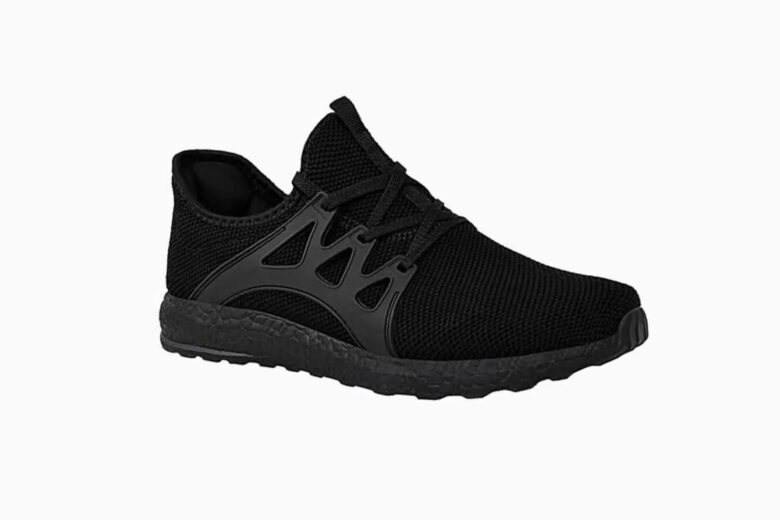 It's almost impossible not to feel a little proud of yourself when you discover budget-friendly workout gear that's stylish, good quality, and rain-friendly. But that's exactly what you'll find in the form of Troadlop Air Knitted Running Shoes. Using a similar design shape to many other high-end workout brands, these trainers are suitable for roadside runs when the rain decides to pour down, early morning strength workouts when you'd really rather just climb back into bed or that first nervous trip to a new workout class that you've been putting off for too long. 
As well as being light and breathable, their non-slip sole means there's no fear of slipping up after one too enthusiastic burpee, and a removable sock liner means there's plenty of additional room if need be. A huge color range — combined with the low price — means you'll likely have to stop yourself from buying a pair in all of your favorite colors.
| | |
| --- | --- |
| Colors: | A range including black, red, khaki  |
| Best for: | Repeatedly bringing them up in conversation with all of your workout friends. |
Buyers guide to women's workout shoes: How to choose a workout shoe
It's crucial before you start a new workout routine or take up a new exercise-based hobby to ensure you've got the right footwear to support it. The wrong style of shoe and you could end up with shin splints, joints out of alignment, or even worse. 
Generally speaking, if you're focusing on cardio routines or running, you'll want lightweight shoes that don't drag you down or add any extra weight to your movement. You'll also want workout shoes with plenty of cushioning, to offset and counteract any heavy movements or pressure on your ankles while you run.
You'll want to find a pair of trainers with more support and more space if you're weightlifting or choosing workouts with less movement. These shoes offer more structure from below, giving you an ideal base with room for flexibility within the shoe to prevent standing unevenly.
Before you choose your next pair of workout shoes…
It can be helpful to go to a specialist shop to get a "wet test" of your footprint. This will show how your weight is distributed as you move, giving you a better indication of what sort of support you could benefit from.
However, if you're looking to dip your (metaphorical and physical) toe into many different types of exercise as a beginner, a good pair of cross-training shoes will do the job.
What are cross-training shoes?
These hybrid trainers tackle each of the specific requirements above, allowing you to move, pull, squat, and run with ease while you decide if it's a movement you'd like to level up in. Cross-training shoes usually combine the cushioned heel of a running trainer with the stability of a weightlifting shoe and a lightweight finish that will never hold you back.
Frequently asked questions about women's workout shoes
What are the best shoes for gym workouts?
Some of the best women's gym shoes come from Nike, Adidas, ASICS, and Reebok. Check out our full guide to discover your new favorite workout shoes for women, for every type of routine.
What type of shoe is best for cardio workouts?
The best type of workout shoe for a cardio workout is a lightweight, breathable shoe with plenty of cushioning. We love the Nike Air Zoom or the Reebok HIIT Training Shoe Cross Trainer for cardio workouts. Read our full guide to check out all of our favorite workout shoes for women.
What kind of shoes should you wear to the gym?
You'll want different workout shoes for the gym depending on the sort of exercise you'll be doing. Gym shoes for cardio workouts vary hugely from those designed for weightlifting or endurance routines.
What are the best shoes for exercise walking?
The best shoes for walking are Veja's + Condor sneakers. Their chunky sole, breathable material, and cool, minimalist design all fuse together to provide a trainer that's perfect for low-intensity workouts like walking.