Hitting the sweet spot between pajamas and daywear, loungewear offers a happy medium. It's the clothing genre for which we're all making ample space in our hearts (and our wardrobes). Nipping to the shops in our pajamas is—and always will be—a faux pas. However, the best loungewear sets can take us seamlessly from sofa to supermarket, turning heads for all the right reasons.
This prolific clothing category means your crumpled tee and paint-smeared joggers can be thrown safely to the back of your wardrobe, emerging only for actual DIY projects or messy painting days.
If you choose well, slipping into an elegant loungewear set can feel as good as dressing up in your favorite LBD. Except you'll likely cause less of an uproar at the school run.
Armed with the best trendy loungewear, answering the doorbell on a WFH day eliminates that all-too-familiar panic of grabbing the closest socially-acceptable attire.
Fortunately, there are as many chic styles of loungewear as there are women who wear them. From pleated lounge pants to oversized turtleneck sweaters and luxe Pima cotton jumpsuits, the loungewear world is truly your (incredibly well-dressed) oyster. Whatever your style, we've handpicked the best loungewear for women to guarantee comfort without sacrificing chic.
The 39 best loungewear brands for women
Check our special women's loungewear style guide after the list to see exactly what you should pay attention to when shopping for new clothes for home online.
Cuyana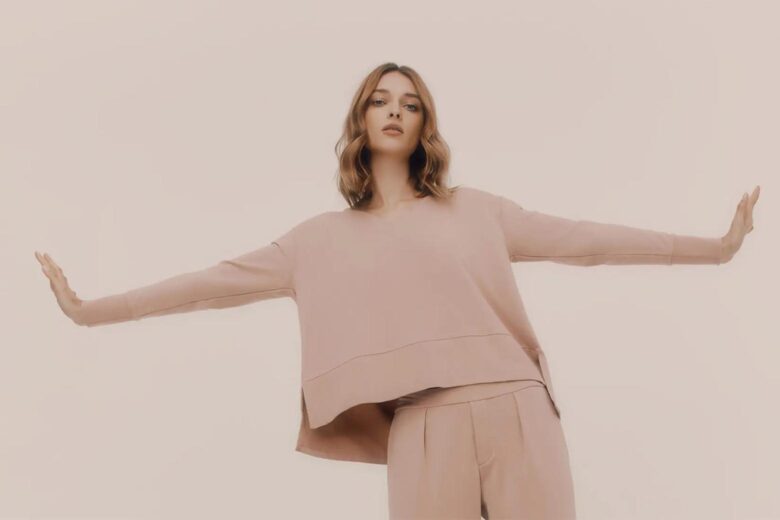 Female-led New York clothing brand Cuyana never fails to impress us. Their Cozy Essentials range is good and ready to see you through your day in style, whether you're WFH or enjoying a lazy Saturday sans plans.
Gifted at crafting timeless pieces that'll transcend trends, Cuyana uses premium fabrics (you haven't lived until you've worn their Pima cotton) to weave elegant silhouettes.
We adore the Baby Alpaca designs, which offer a more durable alternative to their woolen counterparts. You can easily mix and match any of Cuyana's garments to create an effortlessly chic loungewear look. Mindfully designed with quality fabrics, Cuyana is best for those who value their capsule wardrobe above fleeting trends.
| | |
| --- | --- |
| Style: | Thoughtful designs |
| Price: | $$ |
Brooklinen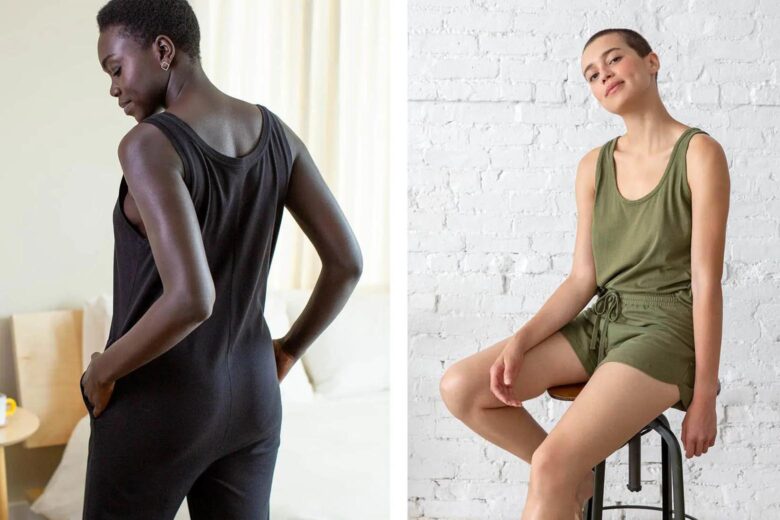 When it comes to comfort, Brooklinen is well-versed. Alongside their Bath and Bed ranges, their Loungewear range offers easy-to-wear garments to upgrade your lounge 'drobe, with each item designed to bundle you in soft, cozy chic.
Pick from classic hoodies to crew neck tees in a variety of understated tones. The Brooklinen loungewear range offers supreme versatility, with perennial styles that'll see you through decades to come. The tees and vests are perfect for pairing with your best lounge leggings for an effortless look that oozes quiet confidence.
| | |
| --- | --- |
| Style: | Carefree comfort |
| Price: | $ |
Skin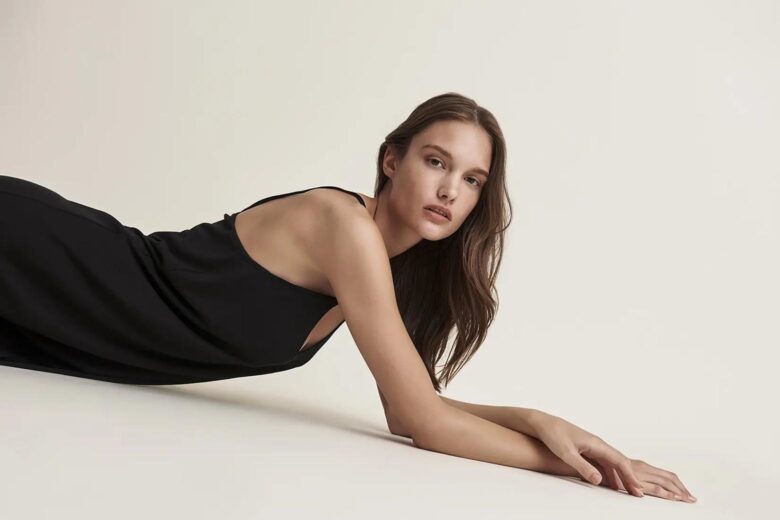 Natural and organic cotton is the order du jour over at New York-based brand Skin. Offering everything from ribbed cardigans to flowy cashmere lounge pants, Skin are masters at relaxation.
Their mindful approach to loungewear will have you feeling wholesome whether you're kicking back with a herbal tea or slaving over a mountain of paperwork.
The cashmere-blend pieces work like a charm to instill a sense of calm just as soon as you throw them on. The flattering fits and elegant styles are a one-way ticket to ultimate carefree style. Whatever a stay-home day looks like for you, Skin have you covered.
| | |
| --- | --- |
| Style: | Simple elegance |
| Price: | $$$ |
Summersalt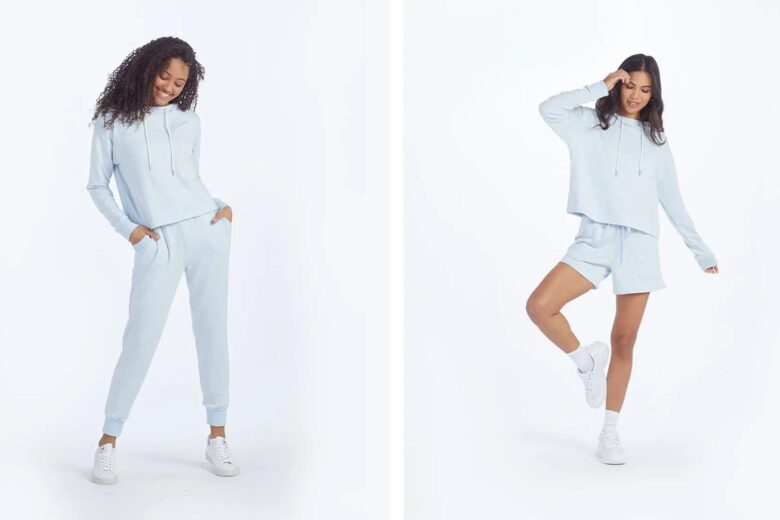 With a mantra that states 'comfortable doesn't have to mean underdressed', Summersalt clutches the key to our hearts. Their range of travel and loungewear essentials strike the perfect balance between put-together and un-done chic. And that's no easy feat. Bold colors blend with timeless designs to inspire that 'walking on sunshine' feel we all aim for.
Summersalt is simply a dream come true for comfort lovers (read: all of us). With heaps of striking garments that nod to street style, each piece will match each other like reunited lovers.
Plus, lots of their designs are made from recycled bottles, so you can treat yourself safely in the knowledge you're doing your bit for the planet.
| | |
| --- | --- |
| Style: | Loungewear with attitude |
| Price: | $$ |
Naked Cashmere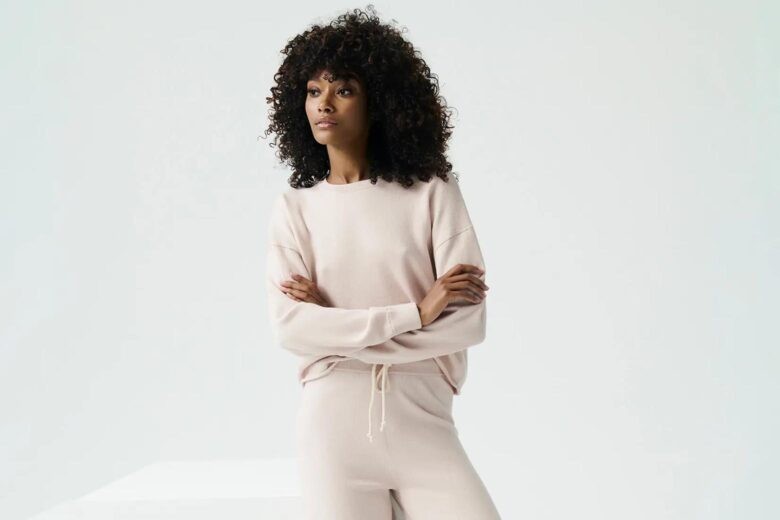 Naked Cashmere uses Fair Trade practices in crafting their elegant designs. Making luxury loungewear accessible, the brand uses sustainably-sourced cashmere yarns to weave their distinguished loungewear pieces.
They're the go-to brand for garms that will keep you comfy whether you're on the move (even if that only extends to heading to the shops) or chilling at home.
Fancy giving your dressing gown a run for its money? Throw on the gorgeously soft cable-knit Avril sweater. The chunky knits favored by Naked Cashmere are perfect for those with a penchant for Nordic style. You'll certainly know you're wearing 100% pure cashmere loungewear, with the soft swathes of fabric enveloping you in luxe.
Learn more about the story behind Naked Cashmere.
| | |
| --- | --- |
| Style: | Pure and wholesome |
| Price: | $$$ |
St Agni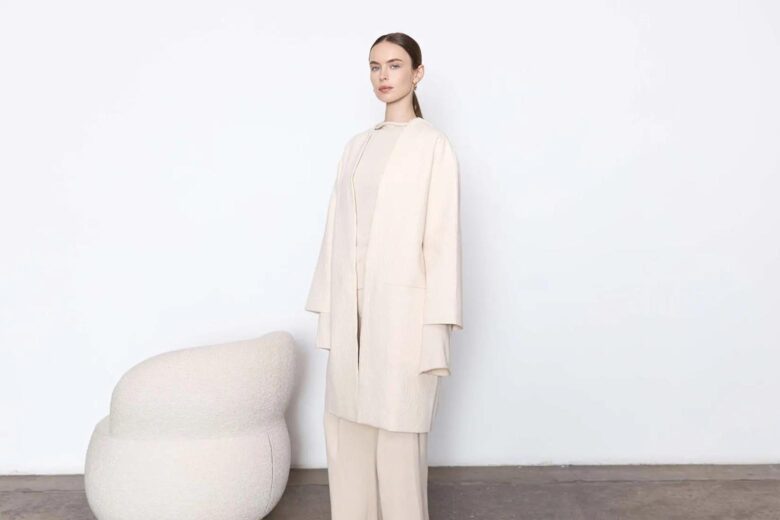 Founded in the bohemian heartland of Byron Bay, St Agni combines a 'less is more' philosophy with architecture and art-inspired designs.
Embodying the earthy, laid-back vibes of its hometown, the Australian brand's loungewear pieces effortlessly carry you through a lazy morning to brunch with friends—without making a pit stop at your wardrobe.
A natural color palette melds with sleek silhouettes to envelop you in comfy chic that's simple to dress up or down. The brand's humble beginning lives on through their simple pieces with a subtle nod to luxe. It's no wonder St Agni are wildly popular—their refined pieces are easy-to-wear and elegant, making loungewear royalty of us all.
| | |
| --- | --- |
| Style: | Beachy bohemia |
| Price: | $$$ |
Lunya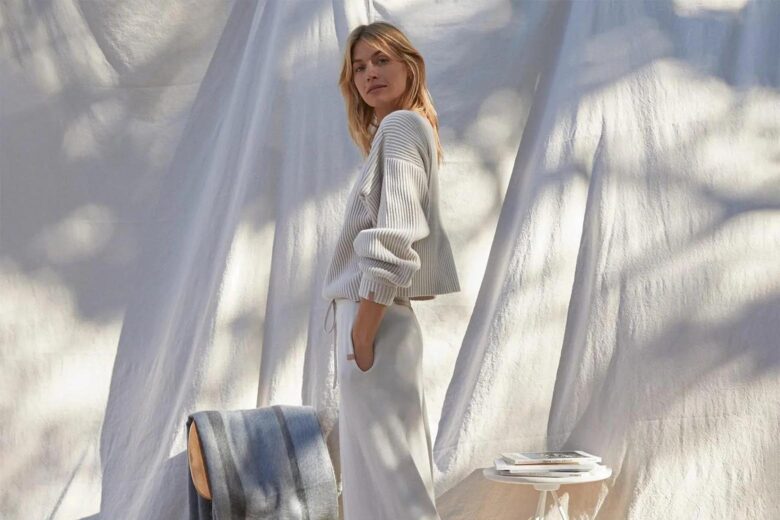 The epitome of minimalist chic, Santa Monica clothing brand Lunya have crafted the ultimate loungewear collection for those who adore simplicity. Our favorite element of this brand is that all of their pieces will pair with each other like a dream. Of course, the attention to detail given to each piece exudes a mindfulness we all need a little more of in our lives.
Lunya is best for channeling that relaxed California lifestyle into your everyday loungewear, no matter where you live. Pick from natural fibers like alpaca or Pima cotton, woven into cascading dresses, muted shirts, and comfy jersey trousers.
| | |
| --- | --- |
| Style: | Calm and peaceful luxe |
| Price: | $$$ |
Eres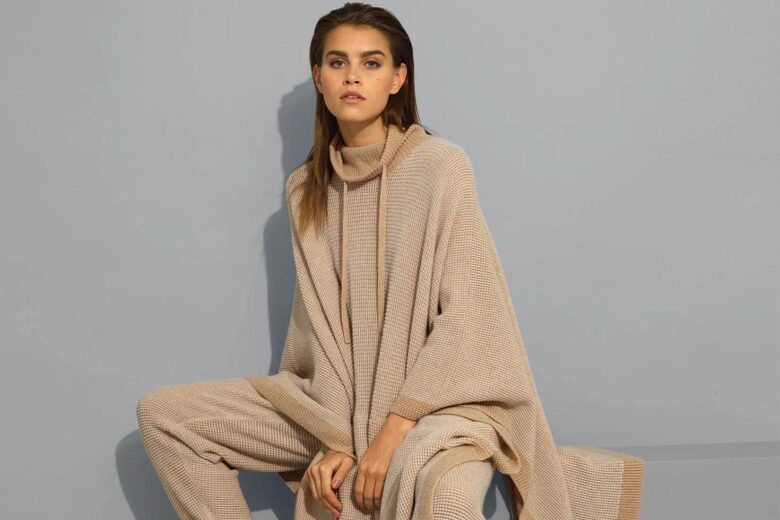 Celebrating the female form in all its glory, Eres are kingpins when it comes to innovative style. Striking cuts collide with bold colors to create eye-catching pieces that'll transport you to exotic climes—even if the furthest you're traveling is to the kitchen. The French label's signature fabric is peau douce, a fabric artfully designed to disguise perceived imperfections.
You'll find a veritable feast of vibrant prints and vivid shades that will have you itching to whip up a Pina Colada (hey, it's 5 o'clock somewhere). These sunny and energetic designs by Eres are best for revitalizing a grey day.
| | |
| --- | --- |
| Style: | Exotic fiesta (plus some chill) |
| Price: | $$$ |
Sleeper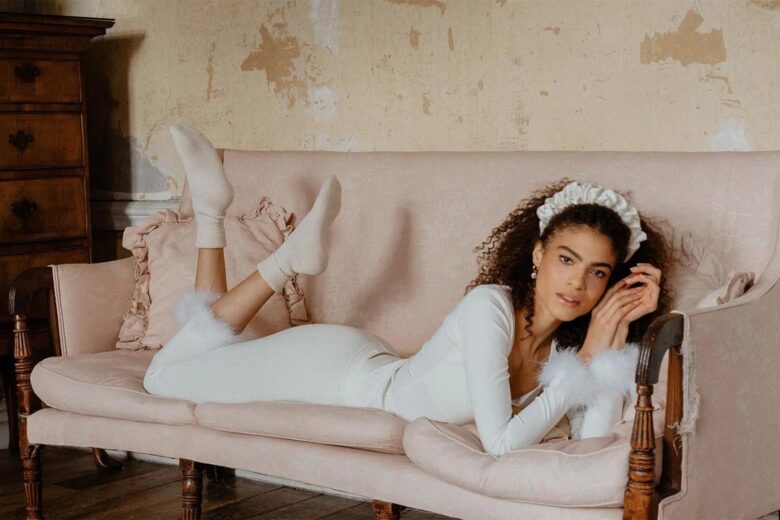 For languorous loungewear that you'll simply want to melt into, swing by Sleeper. The Kyiv-based brand certainly bring something new to the table (or the bed) with their Victoriana-style pieces. Expect crepe de Chine loungewear sets with feather trims and corset-detailed nightgowns from this prettier-than-a-peach brand.
Slip into a shirred off-the-shoulder nightie that'll have you at your balcony singing sonnets (or more likely, taking Insta-worthy selfies). Abundant in playful style yet comfy, Sleeper is the perfect choice for women who adore all things ultra-feminine.
Enjoy the sweetest slumber you've ever had, or throw on a pair of stylish sandals and head out on the town.
| | |
| --- | --- |
| Style: | Prim and playful |
| Price: | $$$ |
Allude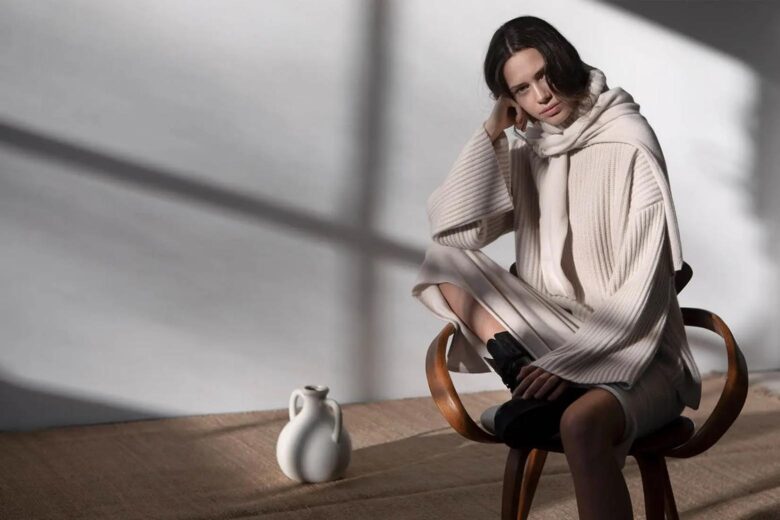 Luxury knitwear label Allude are making waves in the loungewear sphere. A conscious company, Allude ensures equality and fairness from source to shop. They are committed to quality and 'make do and mend', offering repairs on pre-made cashmere pieces to prevent unnecessary waste. Simply put, Allude embodies the values of pre-consumerism, leading the way for future generations.
Find muted hues and color pops in their casual collection with cardigans in classic stripes and midi-skirts woven from their sumptuous cashmere. Allude is the ideal choice for women who adore quality over quantity with their minimalist approach to fashion.
| | |
| --- | --- |
| Style: | Understated chic |
| Price: | $$$ |
Skims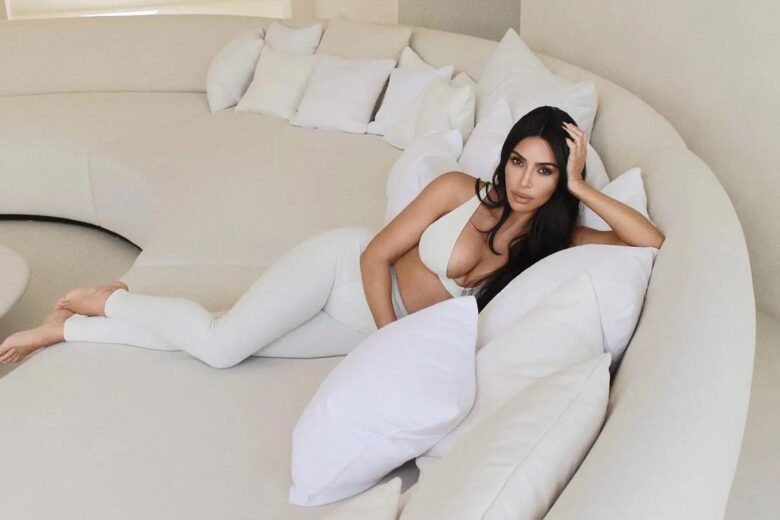 From Mrs Kardashian-West comes the most inclusive women's loungewear collection: Skims. With each piece designed to suit and flatter every body type, Skims work to celebrate diversity. Whether you're opting for the barely-there lingerie or slipping into one of the soft-as-a-feather loungewear pieces, you're sure to feel a million dollars. The plus-size loungewear collection is brimming with bouclé in a range of soft lounge outfits, from cute tanks to fluffy pants.
And the best part? You don't need a Kardashian bank account to treat yourself to these mouthwatering pieces. If you're seeking plus-size loungewear that's as affordable as it is chic, Skims is for you.
| | |
| --- | --- |
| Style: | Softly sumptuous |
| Price: | $ |
Alo Yoga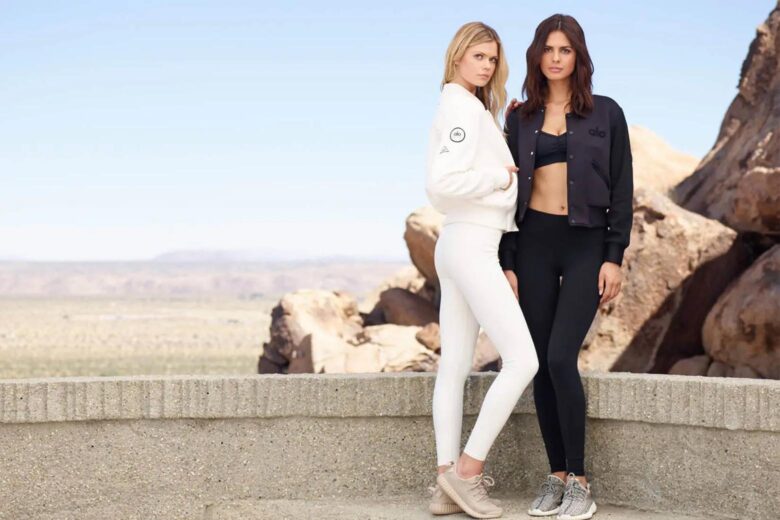 Any sage yogini will tell you that, in life, downtime is as important as downward dog. Alo Yoga promotes a wholesome lifestyle through their thoughtfully-designed clothing ranges, working to inspire you to flow on board the wellness train like you were born for it. Taking the Alo lifestyle off the yoga mat, their loungewear collection embodies calm and purity.
Find comfy sweatpants, bra tanks, low-key leggings, and spacious hoodies in an array of earthy hues. Without a doubt, Alo Yoga is the best loungewear brand for those seeking a sense of higher living. And hey, if you happen to find yourself on the mat clad in these garments, all the better.
| | |
| --- | --- |
| Style: | Spiritual sass |
| Price: | $ |
Anine Bing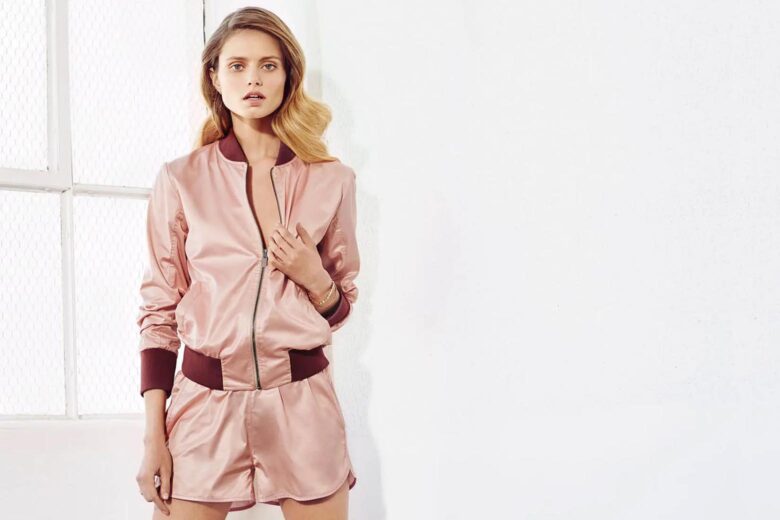 LA brand Anine Bing—developed by the synonymous founder—exudes a charismatic mix of all-American energy and Scandinavian simplicity. Truly a match made in heaven (well, LA, but whatever) the brand focuses on timeless pieces with a dash of playfulness.
The Lounge collection includes lacy camisoles and oversized motif tees, as well as soft bras that'll look just as good under a blazer as paired with some joggers.
Expect to find pieces emblazoned with the Anine Bing logo, too. Make no mistake; everyone will know who you're wearing with this powerhouse brand. Anine Bing is best for women who adore classic style, yet love to live life on the edge.
| | |
| --- | --- |
| Style: | Classic-cum-grunge |
| Price: | $$ |
Parachute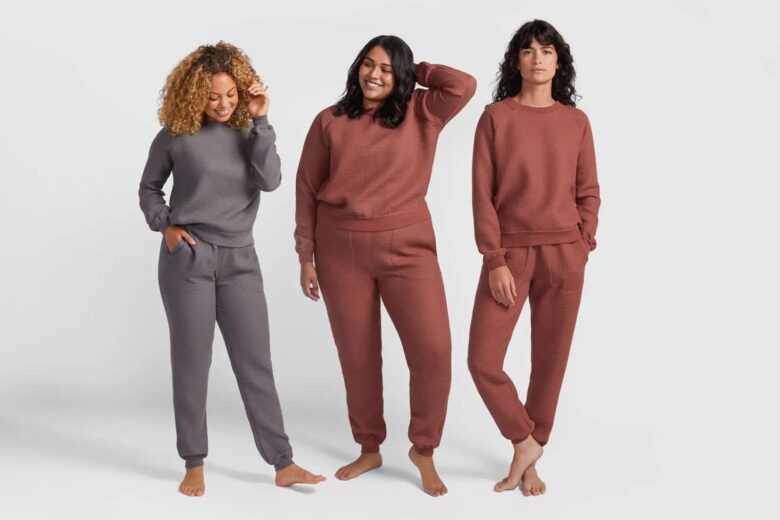 A brand first created to design the best mattress and bedsheets online, Parachute makes a natural transition to super comfy loungewear. The California-based home brand embodies individuality, encouraging women to be themselves, no matter what. We adore their commitment to bring more comfort to your world through premium, accessible essentials.
With a focus on homey comfort, Parachute offers bathrobe, lounge set, and slippers. The US brand blends European design masterfully, allowing you to craft the perfect loungewear outfit to suit your lifestyle. For women whose days are as unique as they are, Parachute is The One.
| | |
| --- | --- |
| Style: | Continental chic |
| Price: | $ |
Alala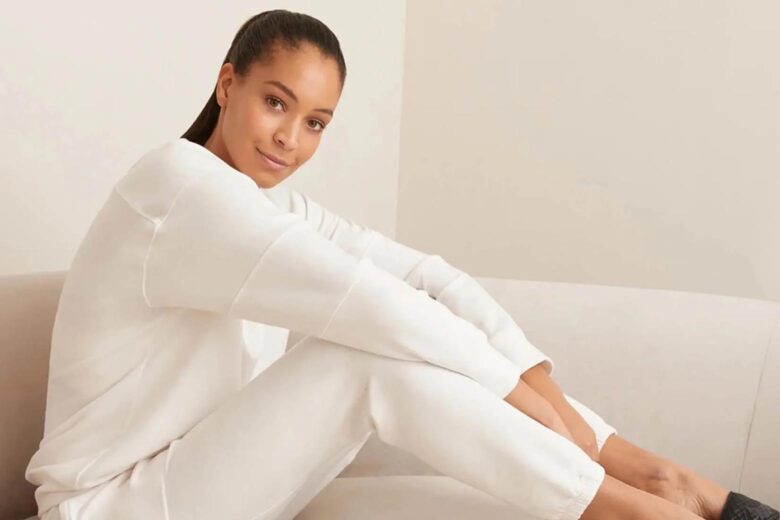 For a heady mix of lounge chic and street style, check out Alala's Luxe Lounge. Inspired by the hustle and bustle of New York City, Alala achieves a dynamic approach to loungewear with flying colors. Which incidentally, you won't find too much of in their collections. True to the downtown style, Alala bases their collection on muted and edgy hues. Think classic blacks, greys, and army greens.
Their lounge outfits can be as easily paired with slippers as biker boots, earning a huge thumbs up from us when it comes to versatility. Simply put, Alala is the best loungewear brand for women whose style is as sharp as their attitude.
| | |
| --- | --- |
| Style: | Downtown days |
| Price: | $$ |
Calvin Klein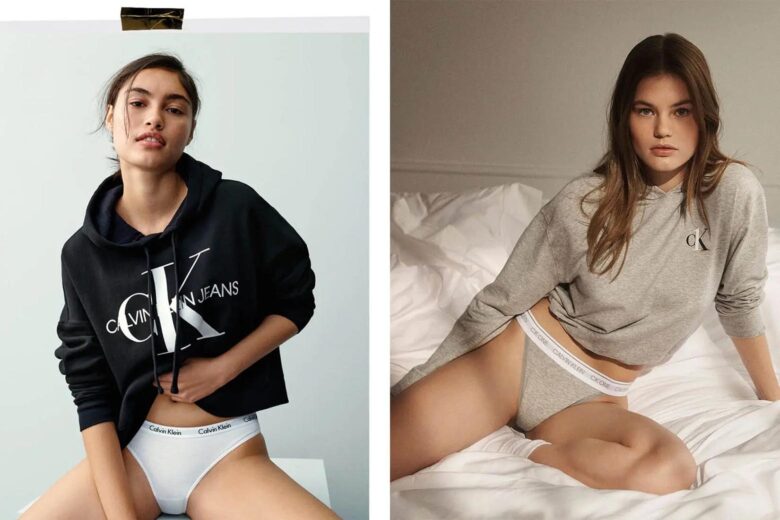 Is a loungewear list even complete without mentioning this beloved brand? Calvin Klein are loungewear bourgeoisie, with their stretchy, comfy, and androgynous approach to casual apparel. Crafted from the brand's signature pastels and muted hues, you'll find loungewear staples like wide-leg pants, soft bras, and roomy cropped pullovers.
For loungewear that's immediately recognizable (that iconic logo is rather ubiquitous), comfortable, and chic, Calvin Klein is the go-to brand. Each of the garments are easy to dress up or play down, and you'll have no problems running out for errands or simply curling up on the sofa with a book. For women who adore designer brands, Calvin Klein is the only way forward.
| | |
| --- | --- |
| Style: | Iconic loungewear |
| Price: | $ |
Olivia von Halle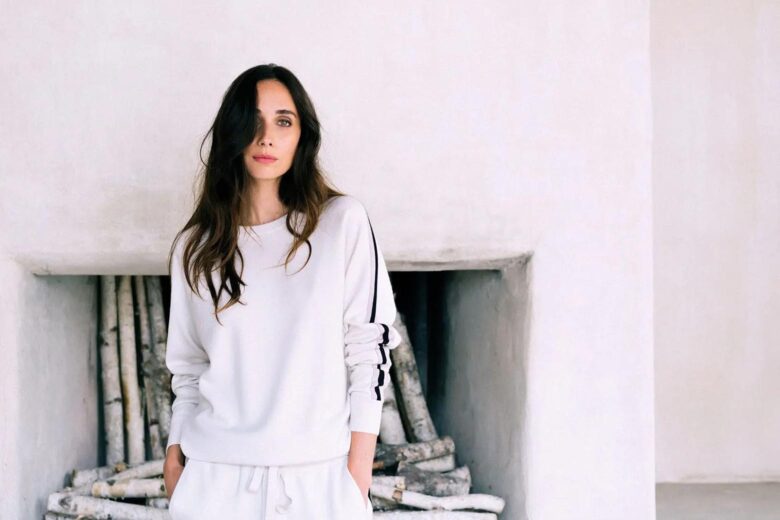 Transport back to the roaring twenties with Olivia von Halle's gorgeous take on the era's loungewear. Channel your inner Coco Chanel (who unknowingly inspired the collection) by slipping into one of Olivia von Halle's silky-satin loungewear sets in an array of Eastern-style prints. Silk satin and velvet steal the show here, with artfully-cut loungewear sets that will have you getting those jazz records out and popping a bottle of vintage bubbles.
While the pajamas emanate twenties chic, you can also opt for the brand's thoughtfully designed striped sweaters and track pants made from a silk and cashmere blend. For a style that sits somewhere between 1920s Paris and the stars of track and field, Olivia von Halle's collection shines.
| | |
| --- | --- |
| Style: | Retro glamour x sporty comfort |
| Price: | $$$ |
Ninety Percent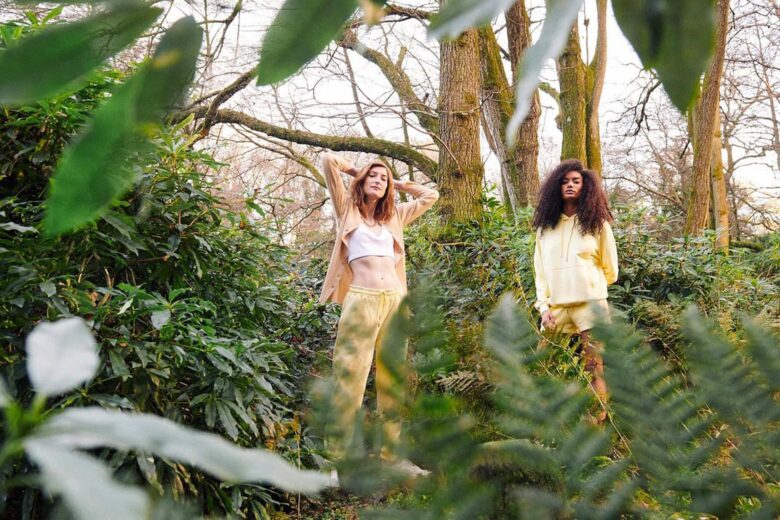 London-based label Ninety Percent are so-called because of their unfailing commitment to sustainability. For every item sold, 90% of the profits go to one of four charities—you can even choose which one. Every collection is crafted with sustainable fibers such as organic cotton and recycled polyester, too.
We simply adore the style diversity in this loungewear collection. Find off-the-shoulder tops, loose and lovely linen-jersey maxis, pastel tie-dyed hoodies, and much more elevated basics.
Everything is crafted with simplicity in mind, resulting in a wholesome collection that's as good for the Earth as it is for your wardrobe. If sustainability is your buzzword, Ninety Percent is the best loungewear brand for you by a country mile.
| | |
| --- | --- |
| Style: | Sustainable chic |
| Price: | $ |
Calé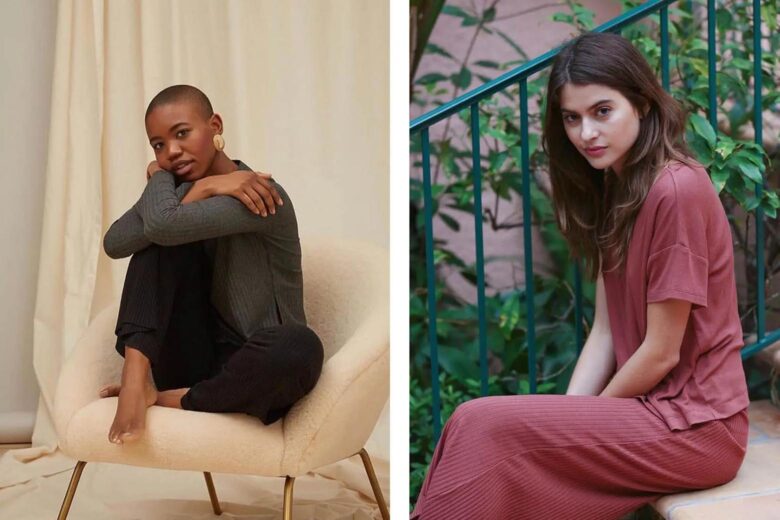 Francophiles will be able to translate Calé into 'comfy'—and that's exactly what Bandier's loungewear line is all about. Boasting fans like Taylor Swift and wellness goddess Gwyneth Paltrow, Calé presents a snug fusion of lounge and activewear.
The brand's take on classic loungewear staples include a gorgeously soft stretch-terry hoodie and stretch-terry flares among their star garments, as well as minimalist tanks that are fun to layer up.
Channeling a hint of retro '70s chic with their silhouettes, every piece embodies two primary values: comfort and versatility. New York-based label Calé is the perfect choice for women with a penchant for simplicity, who love their look to be as clean as their lifestyle.
| | |
| --- | --- |
| Style: | French girl flair |
| Price: | $ |
Norma Kamali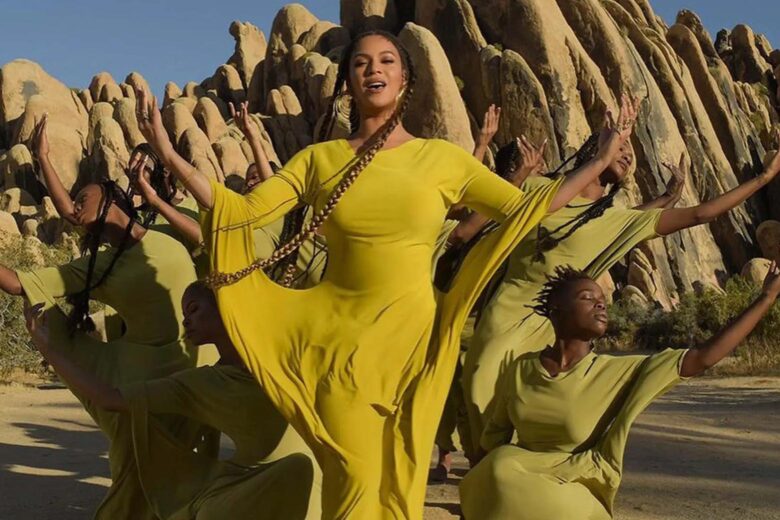 While New York-based designer Norma Kamali is revered in the fashion world for her bold takes on classic 40's beachwear, she also scores fantastically when it comes to languorous loungewear. Her loungewear collection features classic cuts and minimalist pieces to envelope you in pure comfort, with enviable style peppered throughout.
Turtleneck jumpers and wide-leg jersey pants are the order of the day at Norma Kamali, with loose-fitting tanks and stretch-modal dresses to complete the casual-cool vibe. Once could curate an entire loungewear wardrobe with just this collection, and never rock the same look twice.
Norma Kamali is an excellent choice for women who love to play with silhouettes thanks to the myriad chic cuts on offer.
| | |
| --- | --- |
| Style: | Striking silhouettes |
| Price: | $$ |
Rag & Bone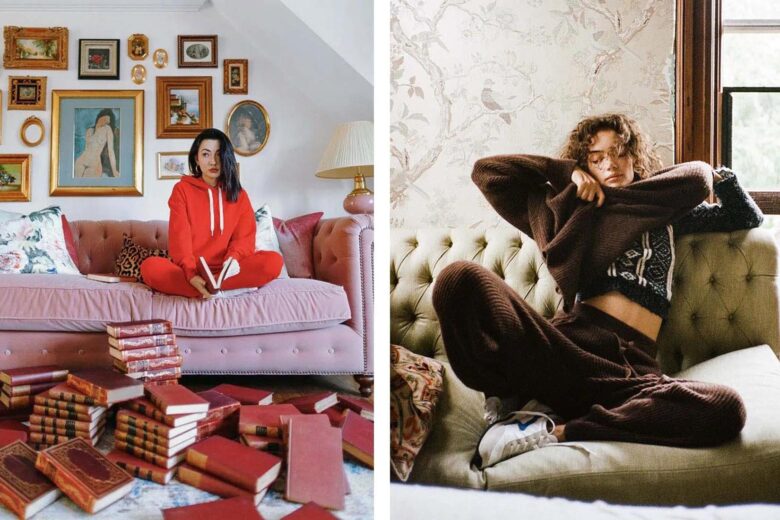 Rag & Bone are the masters of encapsulating the edgy, excitable atmosphere found on New York City's streets. However, there's a curveball. By blending classic British heritage with NYC street-style, a unique aesthetic is born. Rag & Bone have taken 'effortless' to the extreme, mixing these two parallel concepts to glorious effect.
You'll discover a casual take on the classic button-down shirt, made from jersey rather than crisp cotton (perfect for those Zoom meetings— no one will ever know). Have fun with the grungy turtleneck sweaters that'll have you channeling urban chic all day long. For bringing the energy of a lively city right to your doorstep, Rag & Bone is a great choice.
| | |
| --- | --- |
| Style: | Urban grunge |
| Price: | $$ |
Madeleine Thompson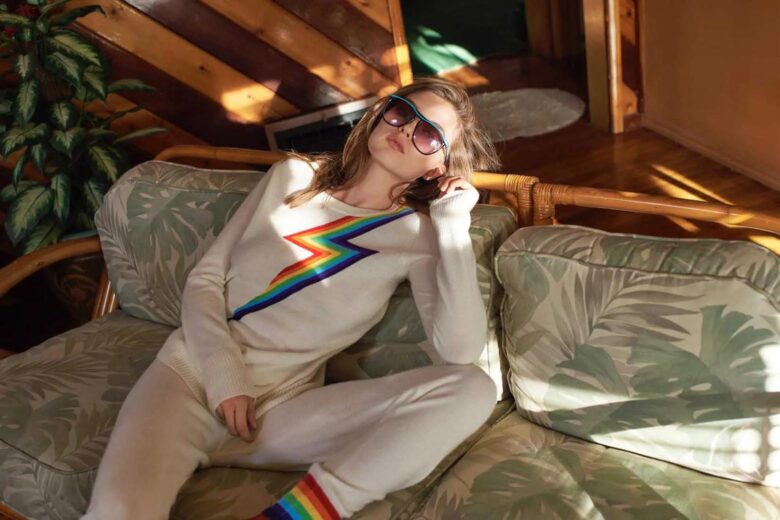 You may be familiar with the iconic beanie that brought Madeleine Thompson hurtling on to the scene way back when. While the waffle-knit style beanies still reign supreme, Madeleine has diversified to include a host of elegant and timeless women's knitted loungewear options.
The collection serves up garments like button-down belted cashmere jumpsuits and cropped cashmere sweaters (sensing a theme here?). Madeleine Thompson's cashmere wrap ponchos have earned their place on the shoulders of elegant women across the world, too. And guess what? All the pieces work wonderfully with that beanie. Any knit lounge set from this brand will satiate women with a passion for cashmere.
| | |
| --- | --- |
| Style: | Effortlessly elegant |
| Price: | $$$ |
RAEY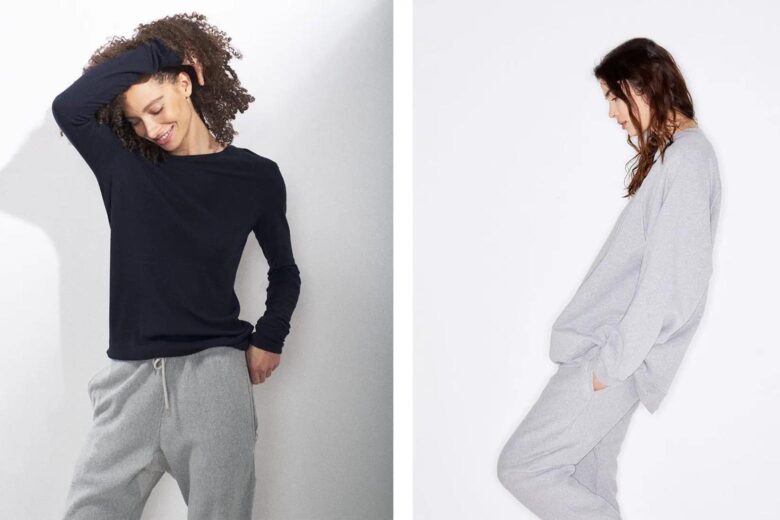 Raey are a multi-hyphenated bonanza when it comes to trendy loungewear: urban-meets-luxury-meets-androgynous is just one way to describe this dynamic loungewear brand. Utilizing thoughtfully curated luxury fabrics, Raey have crafted a cutting-edge range of women's loungewear, offering a one-way-ticket to Laid-Back City.
The clean, minimal vibe is channeled through Raey's creative twists on office wear, from well-blend shirts and deceptively soft trousers (which appear tailored to any uninformed onlookers—i.e., unexpected visitors).
Each piece is subtly androgynous, down to the chino trousers and v-neck sweaters. For women who adore playing with epicene style, Raey is a fantasy fulfilled.
| | |
| --- | --- |
| Style: | Squeaky clean and androgynous |
| Price: | $$$ |
Extreme Cashmere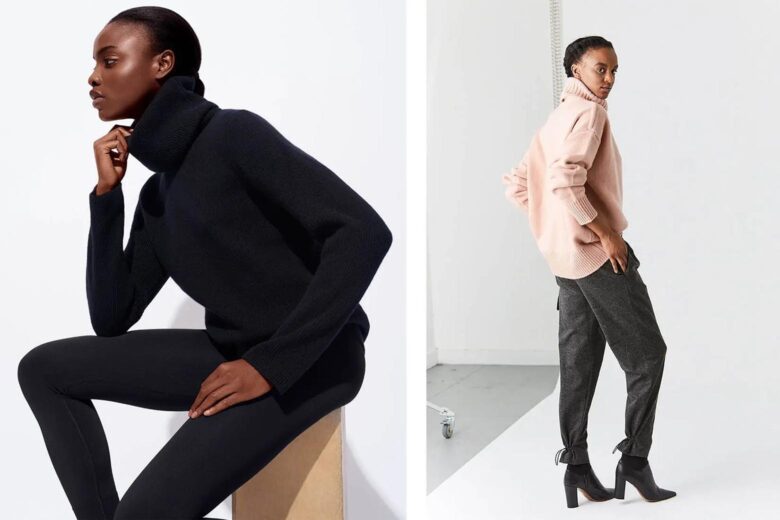 When it comes to loungewear, cashmere is king. And if cashmere is king, then Extreme Cashmere is, like, the Ace of Spades in the loungewear world. Formed by two talented designers who met working for famed British fashion house Joseph, the duo uses the softest, most strokable Mongolian goat cashmere to craft their designs.
From stretch-cashmere track pants to cashmere cardigans and midi skirts, you're sure to feel like you've fallen into a cloud clad in these sumptuous designs. The commitment to expert craftsmanship results in opulent pieces destined to elevate your loungewear wardrobe to dizzyingly soft new heights. Extreme Cashmere is simply irresistible for lovers of luxe and lounging.
| | |
| --- | --- |
| Style: | Muted grace |
| Price: | $$$ |
ASOS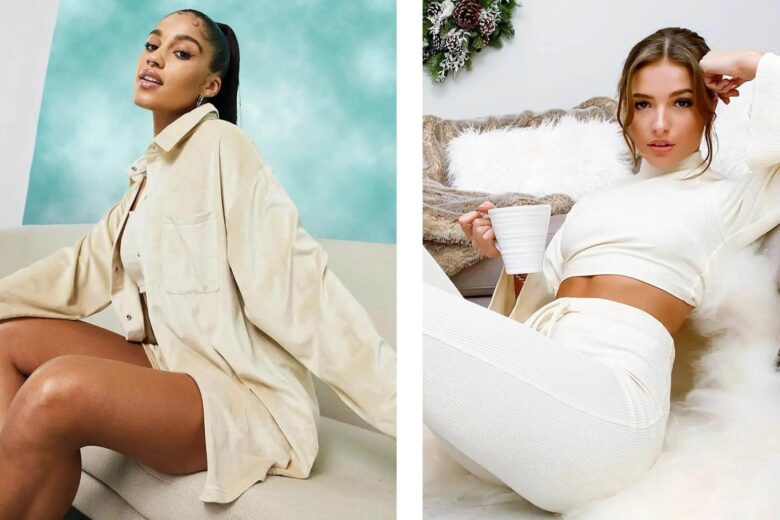 You'd be hard-pressed to find a fashion-forward woman who doesn't adore ASOS. Offering an endless array of unique loungewear sets, you're never short of options when perusing the ASOS site. Their own brand ASOS DESIGN has been mindfully created to tick all the boxes when it comes to cute loungewear sets and comfy clothes.
Find borg hoodies in pastel colors and matching co-ord sets which radiate casual chic. Thanks to their super-inclusive approach to bodies of all shapes and sizes, we firmly rate ASOS as home to the best loungewear for petites.
| | |
| --- | --- |
| Style: | Pretty in pastel |
| Price: | $ |
Les Tien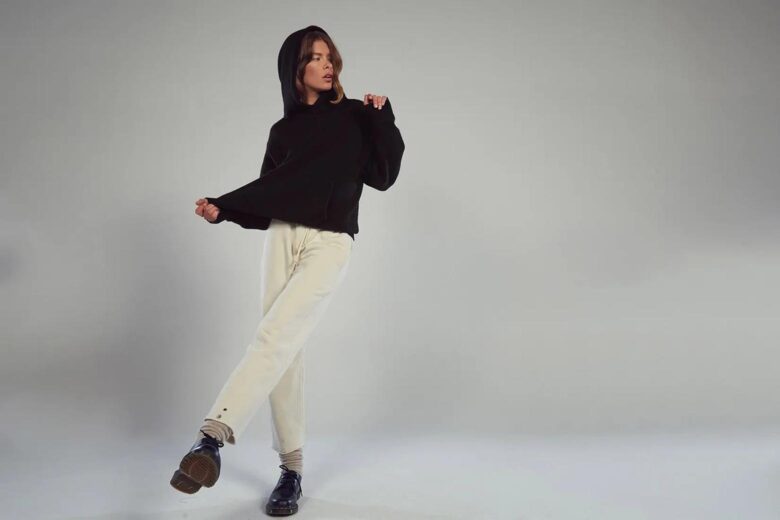 If your ideal loungewear set consists of two main items: a tracksuit top and some chic tracksuit bottoms, LA-based label Les Tien is the loungewear brand you need on your radar. The focus is on pure, simple styles crafted from premium fabrics. And boy, do they get it right. The fabrics drape over your body as if you've been wearing (and loving) them for years, bestowing that much-loved feel just as soon as the mailman comes.
Satiate your lust for vintage with their vintage-style cotton drawstring shorts and wrap up in the velvety velour hoodies for unrivaled comfort. The whole collection is unisex and comes in luxuriously muted colorways, too, so you and your boyfriend/husband/brother can switch up styles. For those who would wear a tracksuit to work if they could, Les Tien is 100% your new BFF.
| | |
| --- | --- |
| Style: | Vintage va-va-voom |
| Price: | $$$ |
La Ligne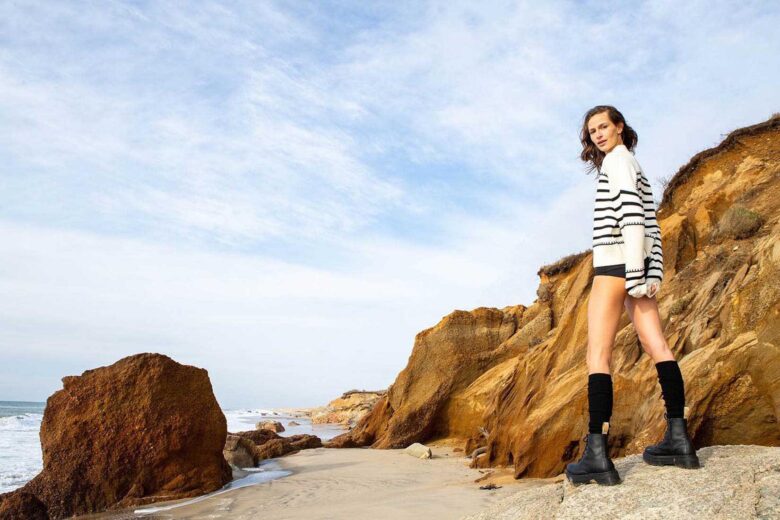 The love child of an erudite trio hailing from American Vogue and Rag & Bone, La Ligne lives to cleverly reinvent classic pieces. The artful triad brings a lifetime's worth of fashion expertise to the table, creating a modern/classic fusion in their pieces that just work. Their vast collection features lots of playful stripes and sailor-style button detailing, as well as fisherman jumpers and a festival of crepe de Chine dresses.
While the stripes steal the show at La Ligne, it's the pretty loungewear dresses that push our buttons, with their casual flowing drapery and pretty-as-a-prairie style. La Ligne offers endless possibilities for women who love to shake things up (in a cool, understated way).
| | |
| --- | --- |
| Style: | Primped and prairie |
| Price: | $$$ |
Suzie Kondi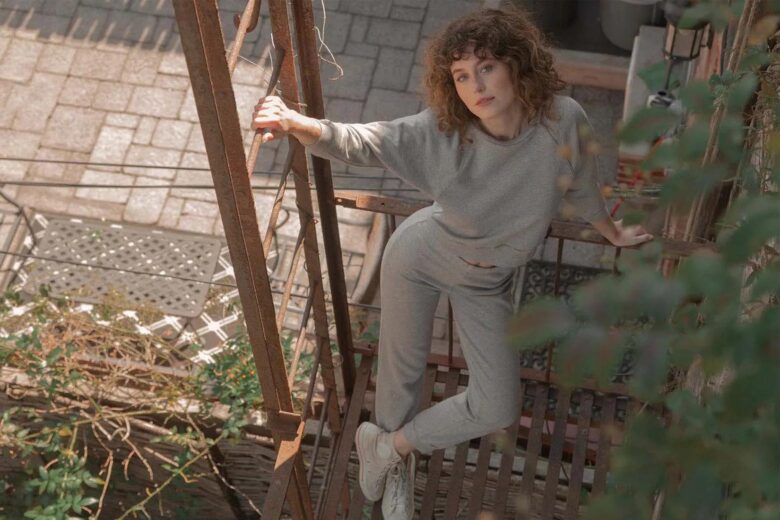 The diverse cultural heritage of Suzie Kondi is expressed through her unique loungewear collection. Originating from Australia, she embarked on a thirteen-month-long voyage to the Big Apple—New York City. Her sense of adventure is played out gorgeously in her collection, enriched with nods to her melting-pot heritage.
The striking colors are a treat for the eyes, with jewel shades running amok. Burnt orange, fuschia, and bubble-gum pink make Suzie Kondi's loungewear tracksuits stand out from the crowd in the best of ways. For ladies who love velour, intense shades, and eye-catching pieces (even when you're simply relaxing at home) Suzie Kondi is the brand for you.
| | |
| --- | --- |
| Style: | Retro color-pops |
| Price: | $$$ |
Carbon38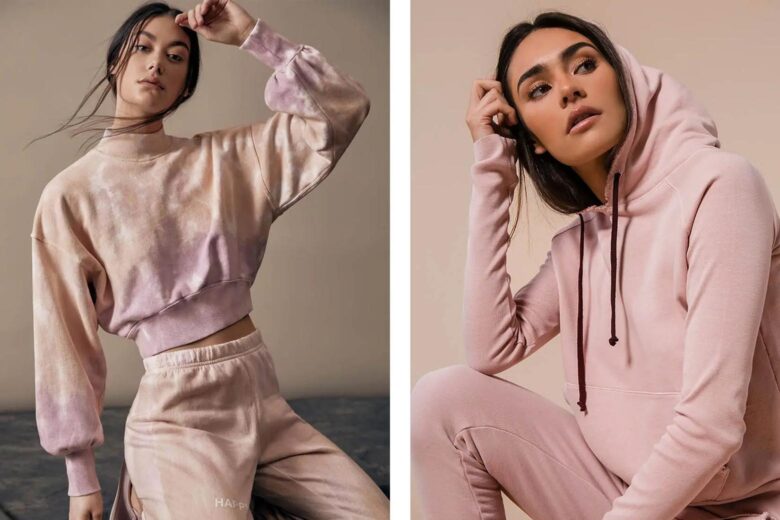 Nailing the blend of modern and retro, Carbon38 lives by the philosophy of Fit, Fabric, and Function. They've achieved the feat of crafting functional clothing that'll see you through, well, just about anything life throws at you.
Update your loungewear wardrobe with their track-style retro shorts, or make a statement with dogtooth-print cycling shorts. With such an impressive variety, there is truly something for everyone.
We mean it: You'll find soft leopard-print leggings (perfect for vegging on the sofa after a long day) plus enough cute tees to clothe everyone at NY Fashion Week. For lovers of sporty-chic, Carbon38 are a one-stop-shop.
| | |
| --- | --- |
| Style: | Snazzy loungewear |
| Price: | $ |
Bassike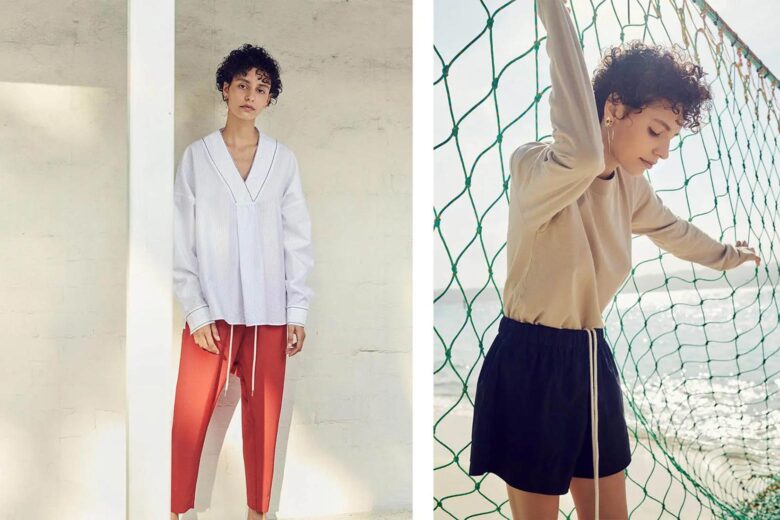 Coming from the sunny skies of the Land Down Under, Bassike is dedicated to sustainable practices. Most of their clothing is locally produced back in Australia. The jersey cotton ubiquitous in the brand's collection is GOTS-certified (meaning the fabrics are crafted from at least 70% organic textiles!). Safe to say, this brand is big on environmentalism.
The collection adheres to the brands clean and minimalist aesthetic, with a few nods to Australia's temperate climate thrown in for good measure. You can expect pastel tie-dyes and short t-shirt dresses (made from that gloriously organic cotton), as well as loose-fit sweatshirts. For easy-breezy women, Bassike is the way forward.
| | |
| --- | --- |
| Style: | Easy-living |
| Price: | $$$ |
Leset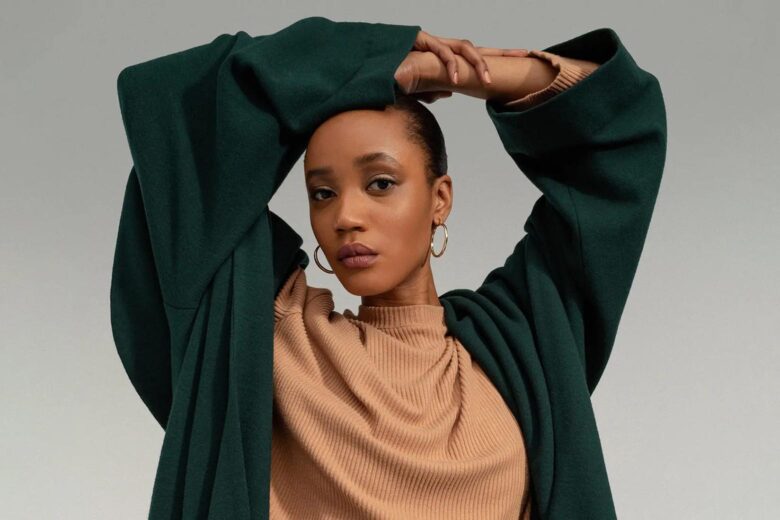 LA-based loungewear brand Leset has mastered the art of co-ords down to a T. What if a simple change of necklace, shoes, or statement cuff could be the difference between loungewear and date-night attire?
Leset has gone out of their way to prove this can be so. In their multifunctional collection you'll find heaps of complementing pieces in chic blacks and bright whites, peppered with vibrant prints that'll make you shine, even when you're staying 'in-in'.
This range is best for women who demand great things from their loungewear, as these garments will see you tirelessly from couch to cocktail bar with a simple accessory change.
| | |
| --- | --- |
| Style: | Modern and minimal |
| Price: | $$ |
ASCENO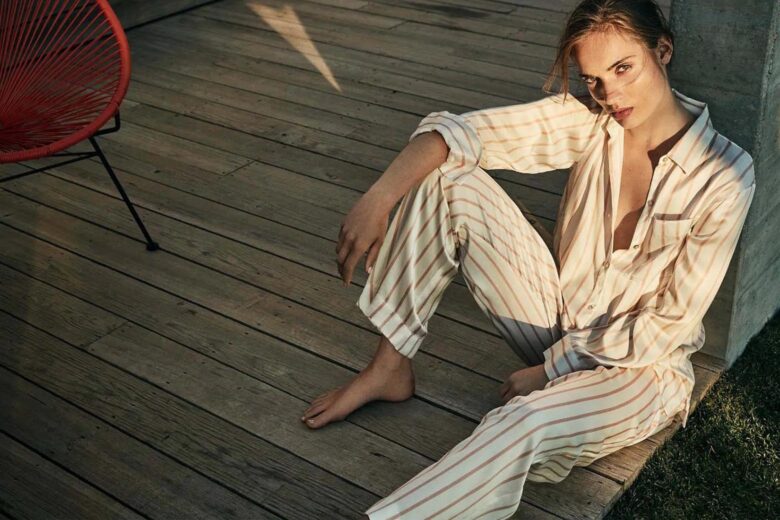 The forward-thinking founders of lounge and sleepwear brand ASCENO have identified the core attributes that many women yearn for from their loungewear: relaxed, carefree, and confident. They have unequivocally succeeded in their mission. ASCENO offers comfy ready-to-wear clothes which embody both contemporary style and timelessness.
With a focus on satin-silk loungewear and pajama sets, the brand achieves a level of sophistication that's tough to match. These ultimate loungewear sets are the epitome of luxe from linen and shimmery satin button-down shirts through to longline satin dresses. If feeling the soft touch of smooth satin against your skin is your idea of heaven, ASCENO is perfect.
| | |
| --- | --- |
| Style: | Satin-silk sensuality |
| Price: | $$ |
Varley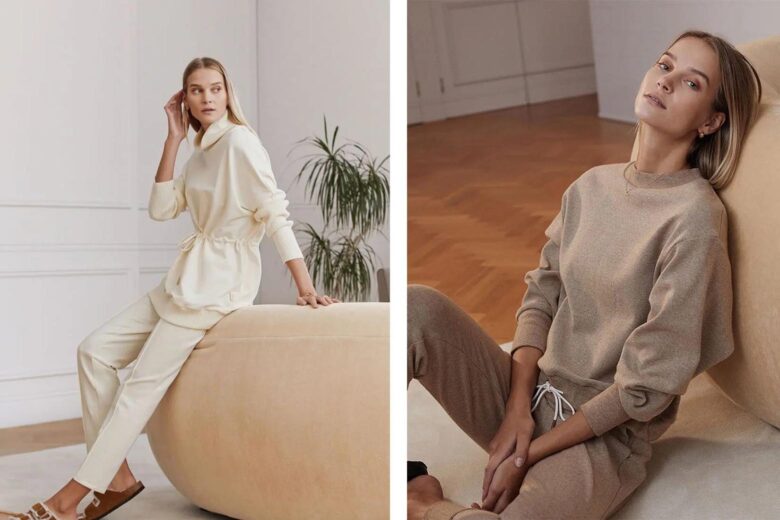 Taking inspiration from both sides of the pond, Varley has crafted the ultimate multi-tasking loungewear pieces. Employing technical architecture in their designs, each piece is carefully constructed to make you look your best, even when the only admirer is you.
You'll find a mix of contemporary prints (think leopard, snake, and geometric) peppered with classic pieces in block colors, making it super easy to mix and match these cute loungewear sets. Supportive bra tops add a sporty zing to knit sweatpants, or go all out with yoga leggings for a sporty-loungewear hybrid. For ladies who lunch before lacrosse, Varley is a dream come true.
| | |
| --- | --- |
| Style: | Streamlined sleek |
| Price: | $ |
Sporty & Rich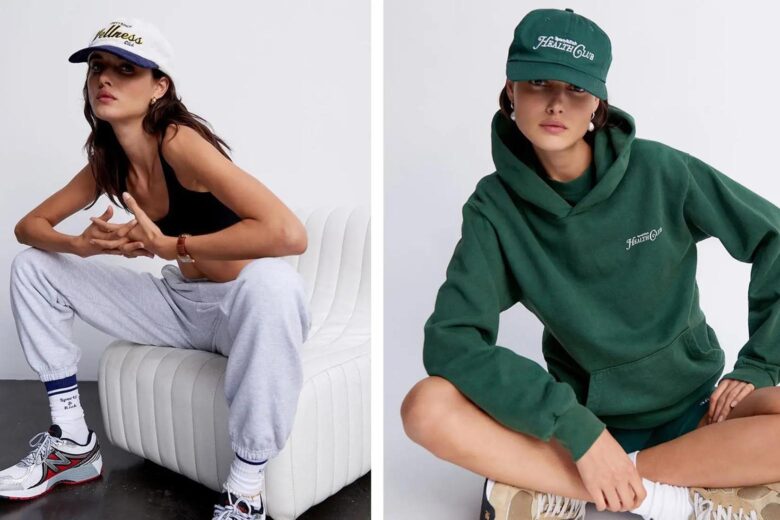 Ah, Sporty & Rich. That's the dream, are we right? While splashing out on fancy loungewear isn't going to help you reach billionaire status, it'll go a long way in making you feel a million bucks. With simplicity at its core, Sporty & Rich offers key pieces to see you through downtime and exercise with style for miles.
Artfully-cut hoodies match exquisitely with flattering pants to make chic loungewear sweatsuits, with a host of trendy minimalist tees to throw on underneath. For ultimate chic and minimal effort, Sporty & Rich is the quintessential sportswear-loungewear brand we all need.
| | |
| --- | --- |
| Style: | Sporty retro |
| Price: | $$ |
The Sleep Shirt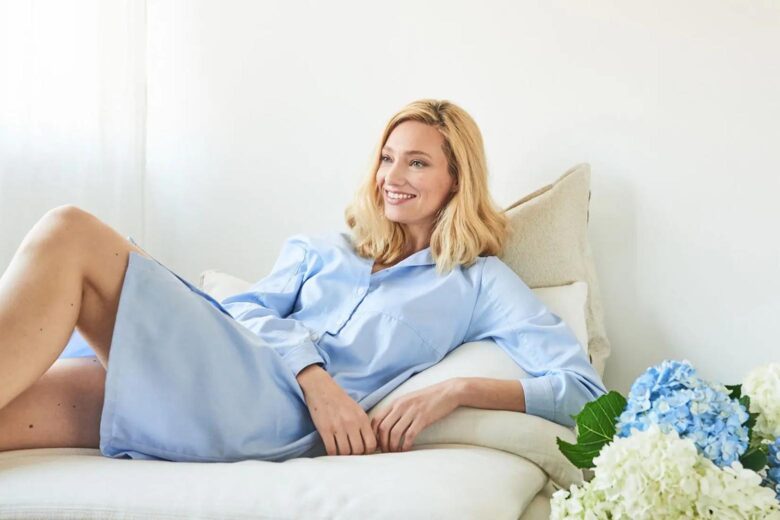 Hailing from Canada and Sweden, The Sleep Shirt offers loungewear designs to keep you cool in summer and toasty in winter. Created for a cozy night in whether you're flying solo or with a partner, The Sleep Shirt collection is both flirty and functional. The brand has opted for Japanese cotton to weave its iconic designs, leading to an ultra-soft touch that's simply irresistible.
The synonymous Sleep Shirts are wonderfully sexy paired with booty shorts or just your favorite lingerie. They're wonderful for women who feel the cold, as you can pair them with flannel bottoms (and maybe a hot chocolate) for a snug feel.
| | |
| --- | --- |
| Style: | Subtly sexy |
| Price: | $$ |
Free People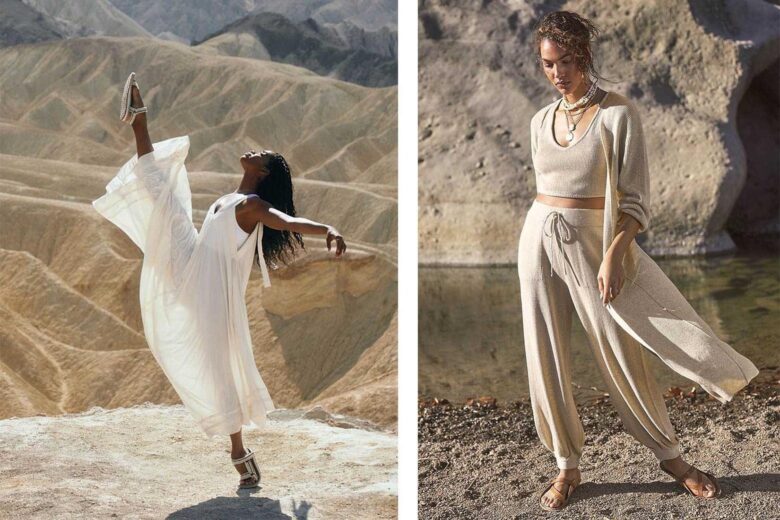 Bohemian fashion royalty Free People strike again with their just-the-right-side-of-hippie loungewear options. The brand was born in the 1970s (have you seen their flares?), with the boho customer at the core of their thinking. The free-thinking brand encourages spirituality, freedom, and expression with their clothing. Of course, their loungewear follows suit.
Silky-soft bralettes, easy-wearing co-ords, and shabby-chic tees make up these DIY loungewear sets. Flowy fabrics and relaxed fits make for super-easy pairings, giving you that über-cool feel that only bohemian-chic can truly offer. Hippie chicks, gather around: Free People was made for you.
M Lounge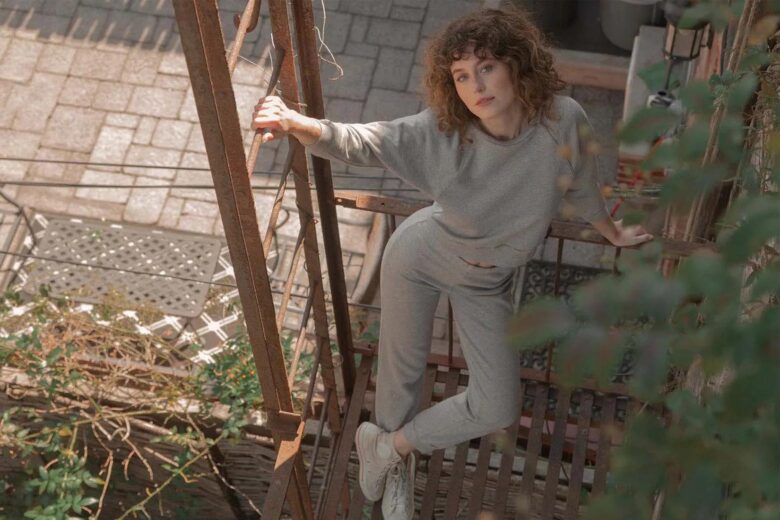 M Shed aims for structured tailoring in their soft-as-a-feather loungewear pieces. Slouchy chic meets architectural cuts to form a truly versatile look perfect for lounging, brunching, and dining. With a focus on 'one-and-done' styling, the brand offers a host of dresses and jumpsuits that you can simply glide into.
Rib-knit camis pair beautifully with wide-leg trousers, and cable-knit co-ords have a field day. Muted, earthy shades and chic greys make up this extraordinarily stylish palette, which is easy-as-pie to jazz up or tone down. All this, for a super affordable price. Women seeking cheap loungewear without sacrificing style, head to M Lounge.
| | |
| --- | --- |
| Style: | Structured and sharp |
| Price: | $ |
Pangaia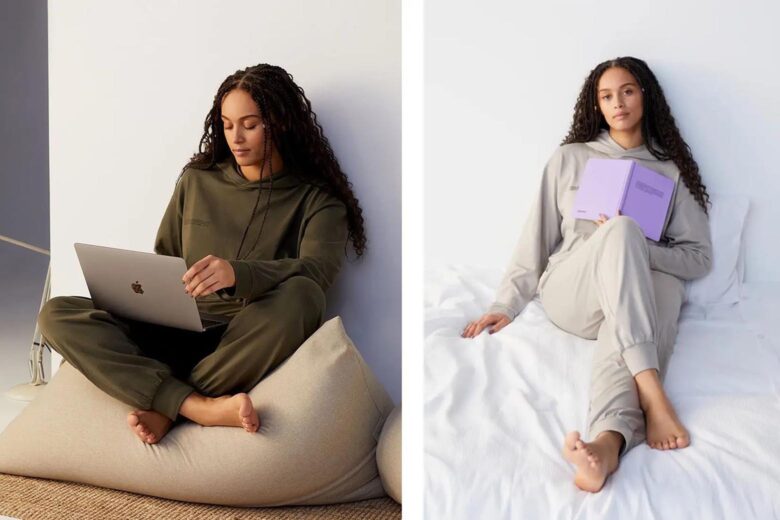 Pangaia does so much when it comes to the environment and ethical issues. It's hard to believe they can find the time to craft the exquisite pieces in their collection. Alas, they do, and the results are beautiful. They work to improve supply chain visibility, offset every resource they use, and generally aim to give more than they take. Now, that's a loungewear brand with values we're on board with.
With a plethora of sweatshirts, sweatpants, and hoodies on offer (with most of the fabrics coming from recycled sources, may we add) you'll be spoiled for choice with this celebrity-approved loungewear brand.
Choose from gorgeous pastel hues to brighten your day, or make an impact with their striking aubergines and deep blacks. For conscious consumers, it doesn't get better than Pangaia.
| | |
| --- | --- |
| Style: | Conscious-cool |
| Price: | $$ |
Terry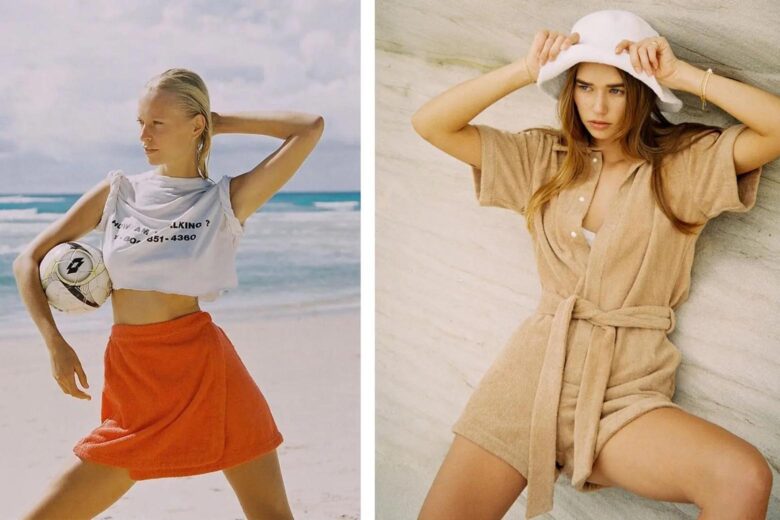 The unsung hero of cute loungewear sets, Terry exclusively uses (you guessed it) terry cotton in all of their designs. Crafted from premium terry toweling, the brand's chic and unique pieces are a joy to wear, any day of the week.
Oversized boxy tees are in abundance, as well as short tennis skirts and toweling tie-waist playsuits that can be thrown in a hot minute. The color-pop palette features bright reds and shocking pinks, as well as clean, bright whites. For a riviera-style that's both stylish and distinctive, Terry has got your back.
| | |
| --- | --- |
| Style: | Casual and comfy |
| Price: | $$ |
Loungewear: Demystified
What is loungewear?
You're forgiven for being a little confused when the term 'loungewear' started to be thrown around like there's no tomorrow. The buzzword is used to describe a (relatively) recent clothing category which offers a sweet spot between actual clothes and pajamas. You can find loungewear in countless different styles to suit your mood, style, and taste.
As many of us work from home and simply spend time relaxing or doing bits and pieces around the house, it's a wonder this clothing niche took so long to cotton on (pun intended).
Loungewear is typically woven from comfy fabrics like jersey cotton, silk-satin, cashmere, or wool. It serves to keep us cozy and comfy, while being totally socially acceptable to wear out of the house, too.
Loungewear vs. pajamas: What's the difference?
Though often interchangeable, the key difference between the two is this: Loungewear is made with versatility in mind. Loungewear sets are crafted to be dressed up or down (think slippers for home, or some statement accessories for going out).
A great example is the school run. Wearing your cozy PJs to pick up your little ones might gain you more than a few disapproving glances. With loungewear—not so. Striking a balance between smart and casual, loungewear paves the way for less outfit changes during the day, saving you time and effort.
Which loungewear is best for you?
Countless options can boggle the mind when it comes to selecting the right loungewear for your style. Read on for a few tips and tricks on choosing the right loungewear set for you:
Co-ords
Possibly the ultimate of all loungewear options, a good co-ord set will see you through breakfast to evening meal with ease. A co-ord set can consist of a knit cami and midi skirt, a jersey tee and flared trousers, and anything in between.
For cooler weather, opt for chunky knits that'll give you that cool retro style of times bygone.
For a modern flair, loose jersey tees and matching trousers are the way to go.
Co-ords are fabulous for those days where you don't know whether you're coming or going. Whatever happens, you'll be ready for it.
Mix and match
Mix-and-match loungewear is an excellent way of expressing your style, offering endless options to play around with.
Soft turtleneck sweaters are very in vogue, and paired with a comfy pair of jersey trousers or joggers your look is complete—with no possibility of a wardrobe malfunction.
Pair muted tones with equally subtle hues, or mix and match color-pops with black for a striking aesthetic. Whatever your preferred color scheme, you're sure to find the perfect comfy clothes for you.
One-and-done
'One-and-done' refers to pullover maxi dresses and jumpsuits that you can simply throw on, and be good-to-go in an instant. This loungewear style is perfect for those short on time (so, all of us), and they're versatile for quick transitions from lounging to errand-running or drinks with friends. Simply swap your slippers for sneakers or ankle boots, add some jewelry, and your loungewear maxi is a going-out dress. It's that easy.
Frequently asked questions
Where can I buy good loungewear?
You can buy good loungewear from a wide variety of loungewear brands online. We adore Cuyana for their understated pieces, St Agni for their tropical-style flowy garments, and Calvin Klein for their iconic style. Check out our guide to the best women's loungewear brands for more inspiration to suit your style and lifestyle.
Is loungewear the same as sleepwear?
Loungewear is not the same as sleepwear. While you can wear loungewear to bed, it's best saved for the waking hours. The terms are confusingly interchangeable, but generally speaking loungewear is designed to be worn while you're pottering around the house, and occasionally outside.
How can I make my loungewear look good?
You can make your loungewear look good by playing around with prints and block colors, and adding a few statement accessories and jewelry bits.
Can you wear loungewear out?
One of the best things about loungewear is you absolutely can wear it out. You won't be on the receiving end of disapproving looks when you head to the shop donning your loungewear, unlike pajamas.