To have and to hold from this day forward, for better, for worse. The right tote doesn't take its vows lightly.
A roomy interior will graciously accommodate your on-the-go lunch, stationery, a change of clothes and maybe even a tambourine (if that's your thing). While small tote bags are efficient at effortless pop-outs. And a tote purse takes your secrets tote-ally undercover. Soft, cushioned handles and light materials go easy on the arms at any age. And you know who'll be waiting at the door, fully-packed when you're nine months pregnant and ready to pop.
For richer or poorer, the once-off investment promises to always pull through. These travel tote bags make hopping on a plane look luxurious. While you may not know what your future holds, you can always count on a tantalizing tote to make you look good.
Until death do us part, takes on a literal interpretation with timeless designs and durable fabrics. These impeccable quality bags promise to last a lifetime. And in a world of fast fashion and toppling landfills, what better way to make a stance than with an immortal accessory to pass down to future generations. So while money can't buy happiness, it can get you a permanent partnership.
And we just happen to know the perfect companions to make you smile every morning.
The 21 best tote bags for women
KAAI Helix: Best overall tote bag for women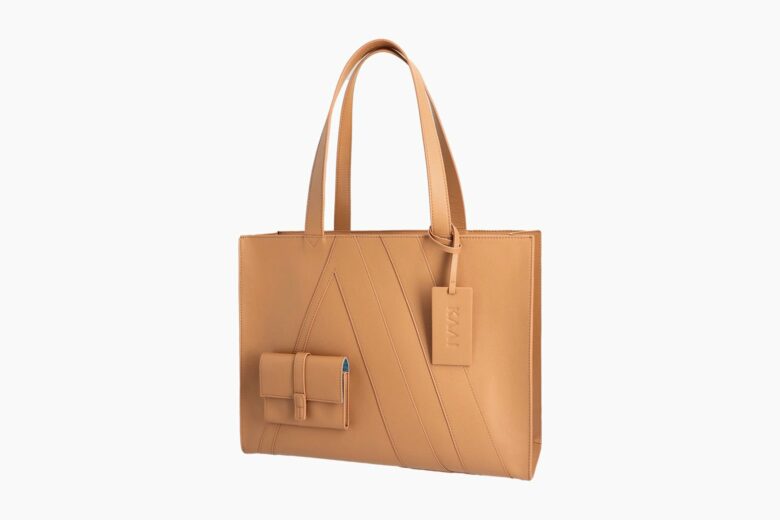 A carry-all that can actually carry all, the Helix by KAAI is designed to suit you effortlessly from work to weekends.
Crafted from buttery-smooth Italian leather, the Helix radiates effortless polish while the roomy interior is a masterclass in organization. Luxuriously lightweight yet heavy in functions, this XL tote can hold everything from your laptop to a water bottle, and even an extra pair of shoes.
(Oh, did we mention that it also features exterior pockets for easy access? Because they are. One at the front, and one at the back.)
| | |
| --- | --- |
| Best for: | A sleek yet spacious bag with bags of versatility. |
| Colors: | Black, moss green, camel |
Gucci Ophidia: Best designer tote bag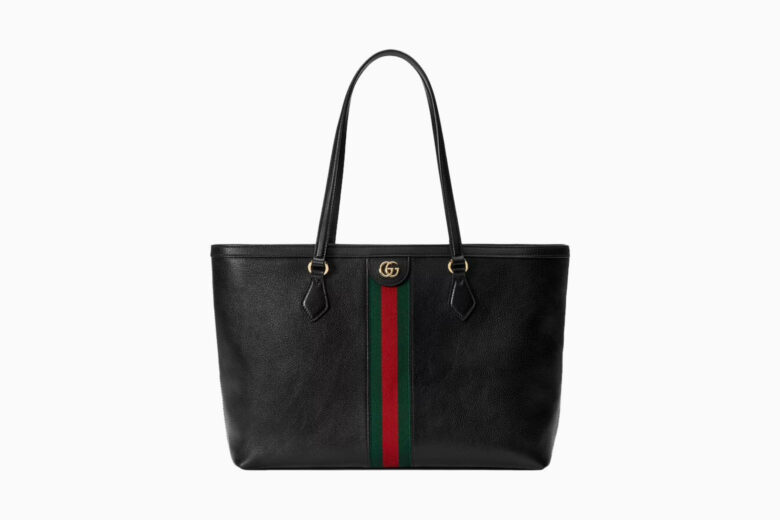 Gucci's iconic equestrian stripes embellished with the gold motif speaks for itself. This designer tote is more than a bag. It's an investment.
The simple silhouette oozes time-honored confidence. While vintage details enrich the classical design. And a sleek soft black leather alludes to effortless versatility. This retro style and signature statement accents celebrate the origins of the famous Italian brand. And this elegant tote confers such understated empowerment to its wearer.
| | |
| --- | --- |
| Best for: | Vintage versatility. |
| Colors: | Black |
Senreve Maestra: Best work bag for women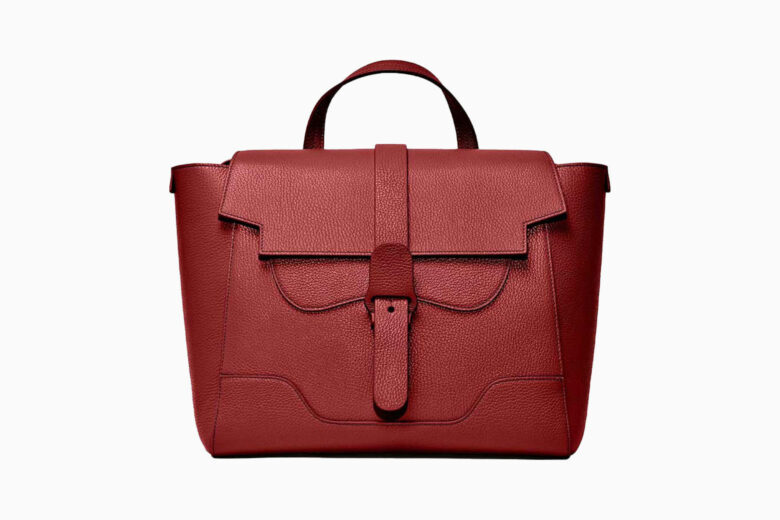 You know the tote handbags that you never unpack? The stylish silhouettes that double up as designer work bags? This tote by Senreve is exactly that. The Maestra bag is effusively versatile. It brings a new meaning to functional fashion with adjustable straps that transform the bag into a satchel, tote, crossbody or backpack. And the utilitarian style contains a plethora of pockets for office-style organization.
This sophisticated silhouette exudes chic confidence and is made for powerhouse working women. Who doesn't want to walk into a workspace stylishly equipped for any scenario?
| | |
| --- | --- |
| Best for: | Get organized with Shearer style management. |
| Colors: | Cement, chocolate, charcoal + more |
Cuyana System: Most versatile tote bag for women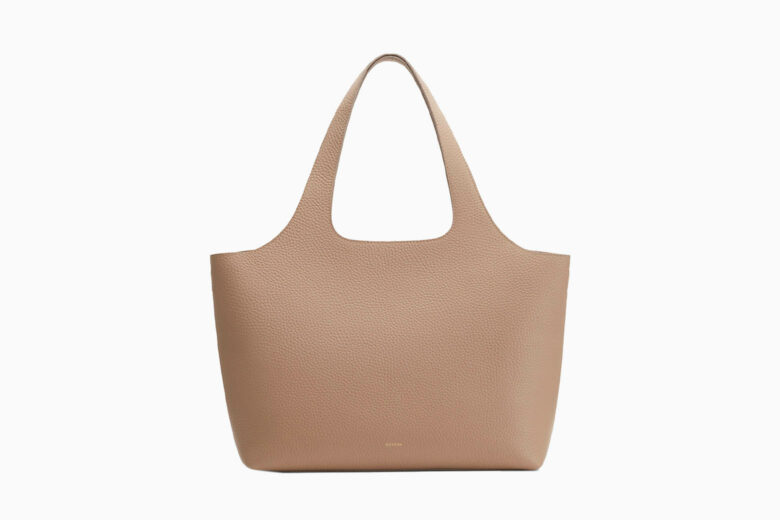 The Cuyana System Tote is at the top of our list when it comes to committing to your daily accessory. The durable design is made to last a lifetime. And its sumptuous sturdy stability promises to bear your burdens after a tough day at the office. The sophisticated hues speak to its classical simplicity. And the elegant pebbled leather entices us to an effortless weekend retreat.
This System Tote ticks every box on our checklist. And we can almost guarantee that—just like everything else by Cuyana—it's compatible with your chic styling.
| | |
| --- | --- |
| Best for: | Bringing out your best. |
| Colors: | Black, cappuccino, merlot + more |
Dagne Dover Allyn: Best tote bag for laptop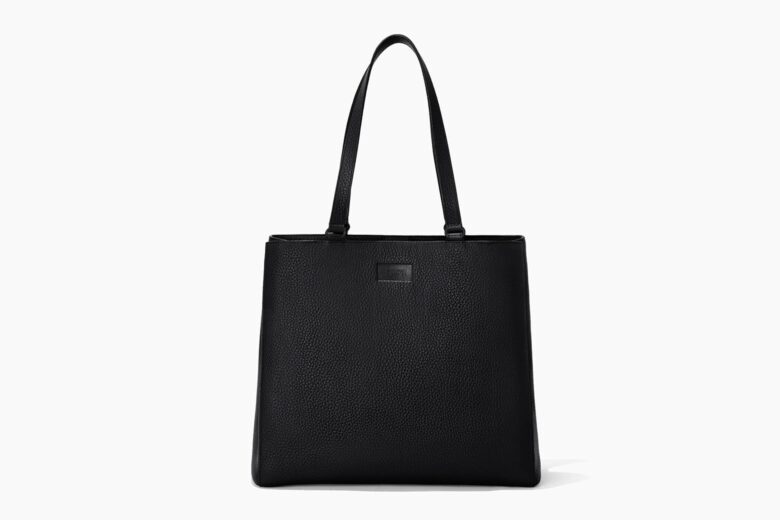 Looking for the best tote bags for laptops? This tantalizing tote fits the bill with its functional finesse. The large Allyn Tote effortlessly fits a change of clothes and a spare pair of comfortable flats. While a laptop sleeve means that you can move your office to a coffee shop in one slick movement.
This large tote bag will assist you through on-the-go work days and impromptu getaways seamlessly. And the natural pebbled leather silhouette will never go out of style.
Check our in-depth review of Dagne Dover's bags and our profile on Dagne Dover's brand.
| | |
| --- | --- |
| Best for: | Work-from-home wizards. |
| Colors: | Onyx, bone, ash blue + more |
Bellroy Tokyo: Best tote bag for school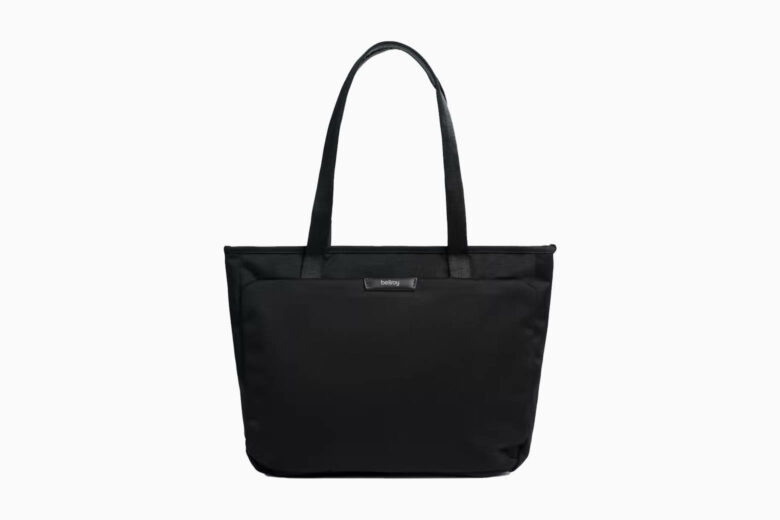 A too-cool-for-school aesthetic meets practical functionality in this rendition of the academic tote. A padded laptop pouch will protect your laptop from unforeseen crushing. And plenty of pockets keeps water bottles and headphones in their place. Soft-padded cushioning promises premium comfort. And durable, water-resistant eco-fabrics are strong enough to carry a plethora of knowledge.
The compact Bellroy Tokyo tote is big enough to fit your school essentials, including a jumper to combat classroom air conditioning. But the organized compartments take the unnecessary lug out of learning.
| | |
| --- | --- |
| Best for: | Flexible functionality. |
| Colors: | Bronze, black and ranger green |
Rimowa Never Still: Best luxury tote bags for travel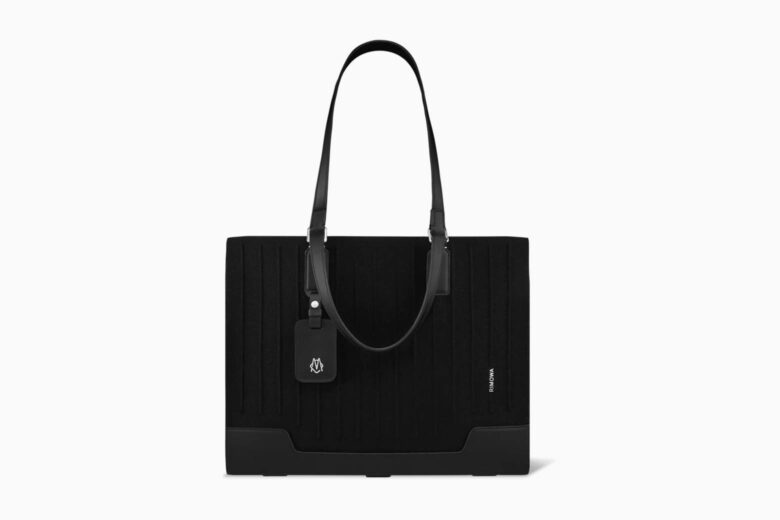 Rimowa marries avant-garde designs with practical functionality. And this large tote from its Never Still collection is no exception. The durable canvas is made to match a pragmatic attitude. A handy luggage sleeve and address tag make it a convenient carry-on companion. And the ribbed detailing speaks to the contemporary colorways.
You can get this Never Still large tote in a sleek black for Voguish versatility. While a beige and mango combination is a standout ensemble to trailblaze cutting edge fashion.
| | |
| --- | --- |
| Best for: | Impromptu weekends in Paris. |
| Colors: | Black and sand beige mango |
Mansur Gavriel Small Zip Tote: Best small tote bag with zipper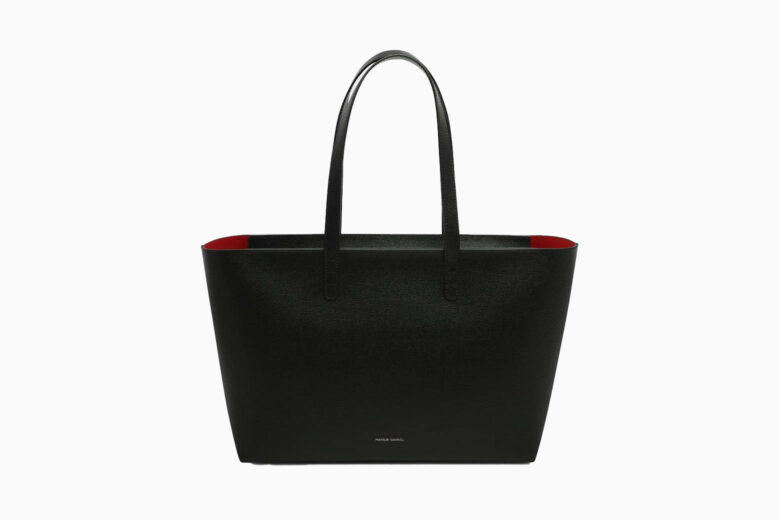 Zip up your secrets and head for the hills. Mansur Gavriel's small tote bags are nifty to tote around but large enough to fit a 13" laptop. The modern minimalist design comes in a range of gorgeous hues: subtle natural tones are made for daily outings, while vibrant poppy red will spruce up any simple ensemble.
Looking for a luxurious tote to accompany your solo shopping sprees? These interior zippers will ensure that nothing spills out along the way.
Learn more about the story behind Mansur Gavriel's brand.
| | |
| --- | --- |
| Best for: | Slipping in without slipping out. |
| Colors: | Crema, dahlia, black & red + more |
M.Gemi Elena: Best leather tote bag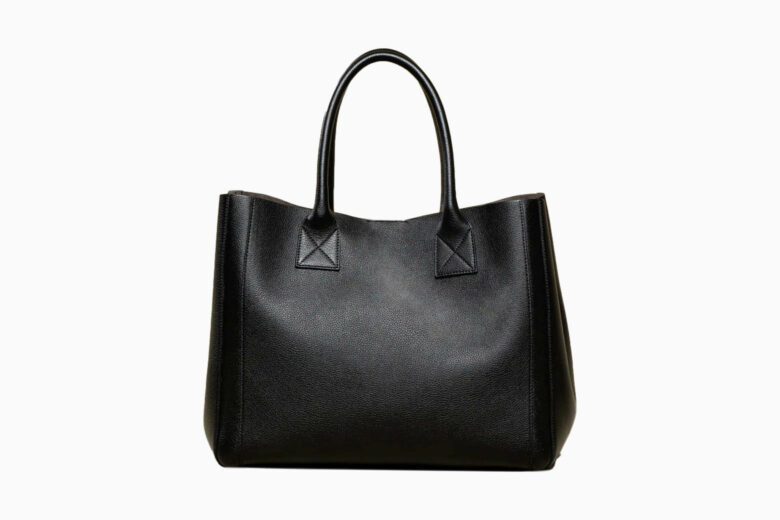 We love M. Gemi for their high-quality handcrafted leather accessories. But this Elena Grande Tote has managed to exceed our soaring expectations. The tumbled calf leather exudes elegant luxe. And the hand-painted edges and straps speak to their superlatively refined details. Ample pockets give homes to floating bits and pieces. And magnetic closure prevents impromptu spills.
The sophisticated silhouette of this leather tote whispers tones of subtle simplicity. And a range of niche colorways gives room for you to air your unique style.
Learn more about the story behind M.GEMI.
| | |
| --- | --- |
| Best for: | The decadent detailing found in hand painted edges. |
| Colors: | Oyster, tan, navy + more |
Away Packable Carryall: Best packable luxury tote bag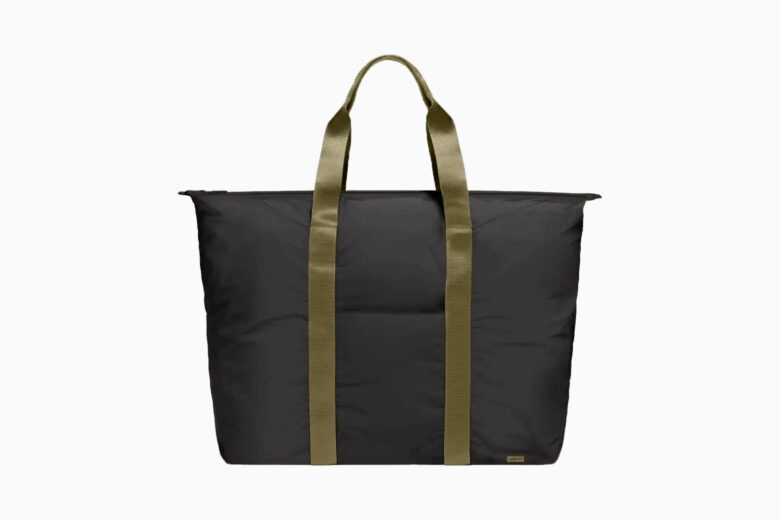 From the best check-in luggage to stylishly convenient carry-on luggage, this luxury travel brand takes the pain out of packing with its thoughtful designs. And Away's Packable Carryall is prime example. The travel tote always pulls through to accommodate a mountain of washing or spontaneous shopping sprees. And it neatly folds up when not in use.
The lightweight, water-resistant, recycled fabric speaks to the Away's signature polished practicality. And neutral navy's and blacks always fit in. While a vibrant orange was born to make a splash. Either way, this nifty tote is the quintessential addition to any well-packed luggage.
| | |
| --- | --- |
| Best for: | Saving the day out of nowhere. |
| Colors: | Black, navy and orange |
Dagne Dover Wade: Best large tote bag for moms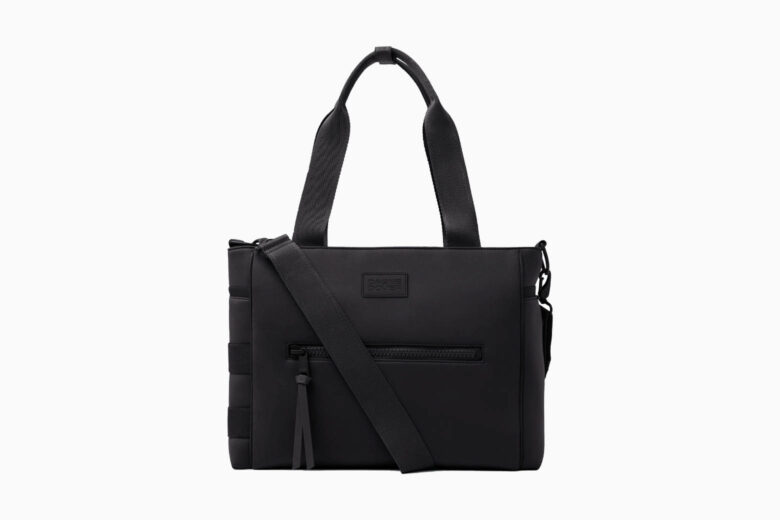 Young motherhood is a series of pulling something out of the bag (both metaphorically and literally). And you need the right bag to do it.
This large Dagne Dover appears to be your average trendy tote. But it doubles up as a lifesaving diaper bag. The spacious compartment has room enough for all your baby necessities. And it seamlessly clips onto a stroller or slides onto a luggage handle to save your arms. The outer zipper opening is made for accessible wipes. And the inclusion of an on-the-go changing mat speaks to the thoughtful details integral to the empathetic brand.
| | |
| --- | --- |
| Best for: | A Mary Poppins mom bag. |
| Colors: | Onyx, grey, dark moss + more |
Longchamp Le Pliage: Best tote for university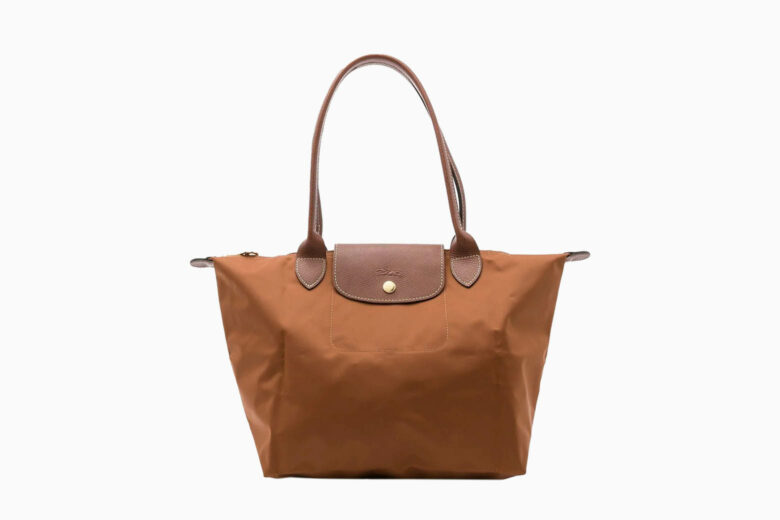 Inspired by the art of origami, this folding tote screams flexible versatility. University students are known for their life-in-motion lifestyle. And while you need a compact crossbody one minute—you may need a spacious satchel the next. This accommodating designer tote has got you covered for spontaneous book hauls and stacks of study notes. While a classic chic design simultaneously keeps your style on point at all times.
The versatile Longchamp tote comes in a timeless tan nylon fabric. And leather accents, along with an embossed logo add an air of elegance.
| | |
| --- | --- |
| Best for: | Studying in style. |
| Colors: | Tan |
Chloe Woody: Best large tote bag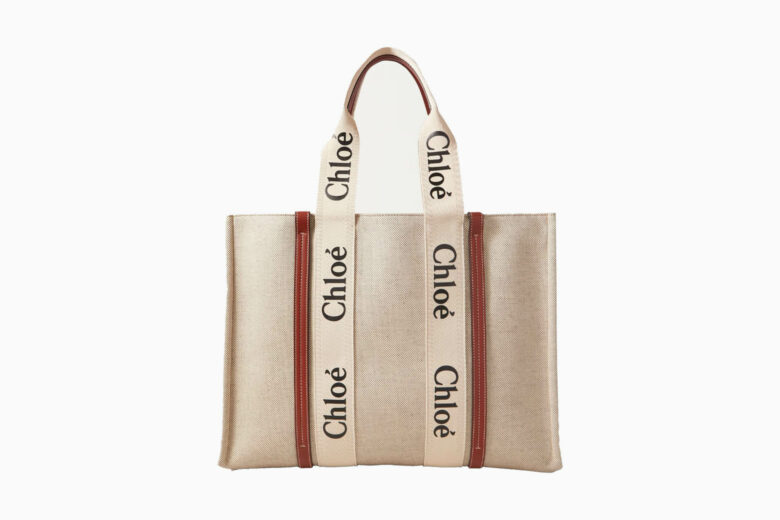 This designer canvas tote bag seamlessly marries versatility with state-of-the-art styling in typical Chloe fashion.
The spacious tote may be neutral, but the avant-garde design makes it anything but boring. The brand's signature bold logo runs vertically along all-encompassing straps. And black or tan leather trims speak to their iconic decadent detailing. This statement style isn't made to sit on the sidelines. Yet, the neutral colorway means that it effortlessly complements every outfit.
| | |
| --- | --- |
| Best for: | Hitting the elusive sweet spot between simplicity and statement. |
| Colors: | White |
Mansur Gavriel Everyday: Best everyday designer tote bag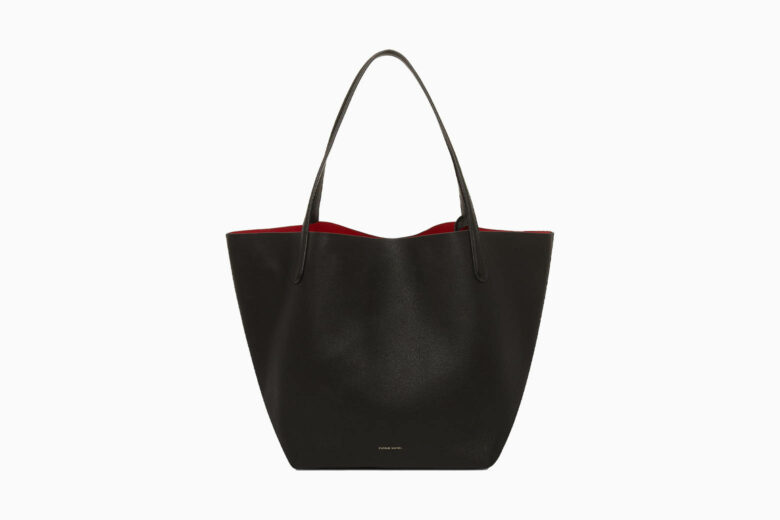 The modern, minimalist Mansur Gavriel Everyday Soft Tote is, as the name implies, pretty perfect for everyday use. The buttery Italian calf leather oozes opulence and luxury. The sturdy handles work hand in hand with the timeless design for a lifelong partnership. And while we love the black flamma for effortless versatility, The Everyday Tote comes in a range of soft neutral hues for subtle accessorizing.
| | |
| --- | --- |
| Best for: | Everyday ensembles. |
| Colors: | Black, crema, caramel + more |
Khaite Whipstitch: Best suede tote bag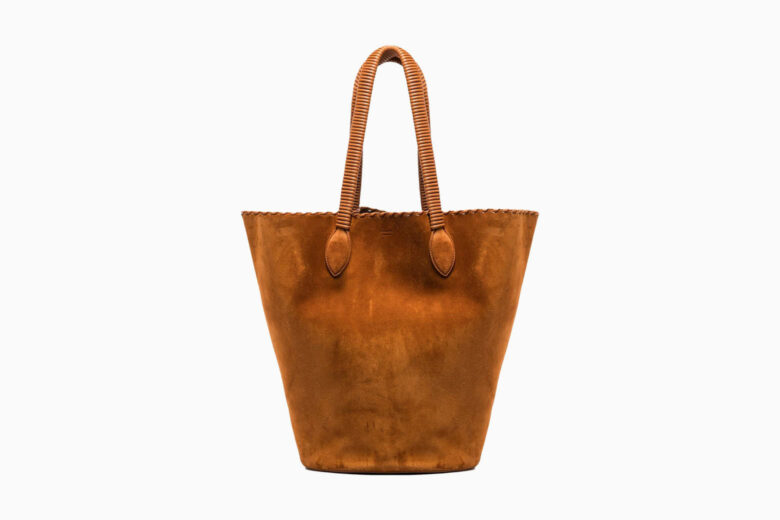 Casual and chic, this suede leather tote will whip any getup into shape on the spot. The suede exterior and whipstitching details add a Midwestern flair. While the tan leather embodies versatile sophistication. And the spacious interior takes the edge off of everyday errands.
This roomy tote by Khaite is designed with busy lifestyles in mind. And we're always surprised by just how much we can chuck in it along the way.
| | |
| --- | --- |
| Best for: | Whipping around town. |
| Colors: | Brown |
Marc Jacobs The Tote Bag: Best designer canvas tote bag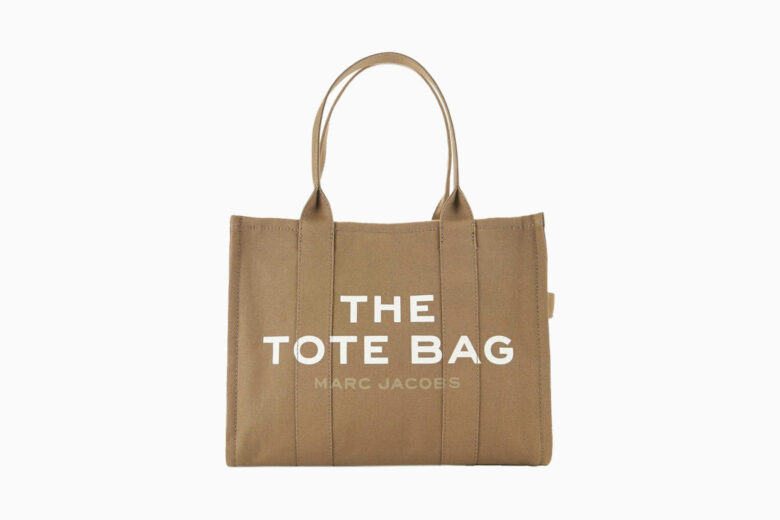 Take a masterclass in modern minimalism with simple silhouettes and loud logos. The woven cotton exterior of this designer tote by Marc Jacobs comes in clean colorways and embodies sophisticated finesse. While impeccable quality promises to endure countless outings. But nothing says Marc Jacobs like a screaming slogan. And this canvas tote says it exactly as it is, with 'the tote bag,' written in big bold letters.
It's no surprise that they rarely last long on the shelves. So you'd better act fast.
| | |
| --- | --- |
| Best for: | Being tote-ally in fashion. |
| Colors: | Slate green, black and beige |
Senreve Gemelli: Best vegan leather tote bag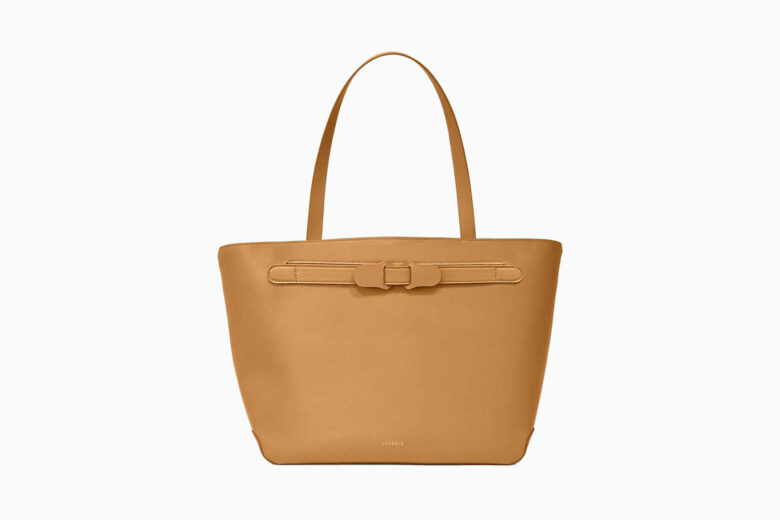 Vegan leather is leaving its mark in all the high end circles. When made well, it embodies the same opulence as its natural counterpart. And you can buy many different designs without feeling guilty.
This Senreve travel tote is everything with love about the conscious material and more. Named after the Italian name for 'twin', the Gemelli flaunts double buckles. This statement accent flawlessly embellishes an otherwise simple silhouette. And while a sleek black tone exudes refined sophistication, a vibrant yellow hue will spruce up your Summer ensembles on the spot.
| | |
| --- | --- |
| Best for: | Twinning with your best friend. |
| Colors: | Black and yellow |
Bellroy Tokyo Totepack: Best tote backpack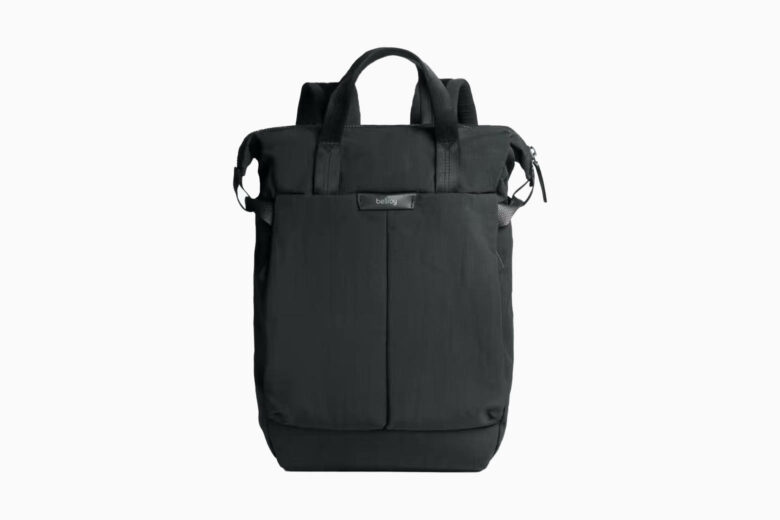 Whether you're eating lunch on the go or urgently replying to emails, you never know when you may need your tote to turn into a backpack. And while you may not have thought it possible, the Bellroy totepack does exactly that. Hands-free convenience has never been as stylish as this sleek silhouette. And the fashion icon flaunts multi-functional pockets, water-resistant fabrics and soft webbing handles.
This totepack is your new flexible friend as it effortlessly adapts to suit your ever-changing lifestyle needs.
| | |
| --- | --- |
| Best for: | Chic chameleon styling. |
| Colors: | Limestone, bronze, midnight + more |
Calpak Haven: Best travel tote with compartments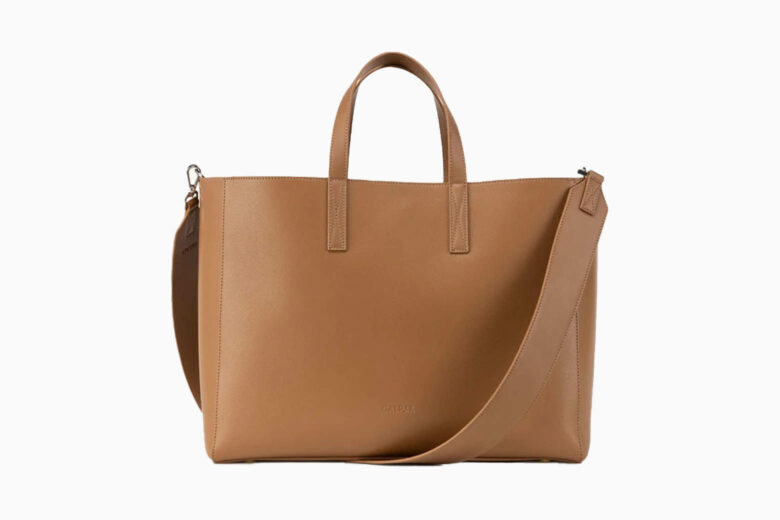 It's no secret that we are massive fans of countless compartments. There's nothing less stylish than constant scratching. And your kids will quickly grow tired of the question, "where are my keys?"
So let's vanquish the confusion once and for all with the Calpak Haven. The stylish totes are your minimalist accessories to dress up or down. And they easily double up as effortless work bags for women. The laptop sleeve will keep your Apple from your pears. And smaller sleeves make room for everything else.
| | |
| --- | --- |
| Best for: | Keeping tricks up (in) your sleeve. |
| Colors: | Toffee, petal, black + more |
Dagne Dover Pacific: Best tote bag for the beach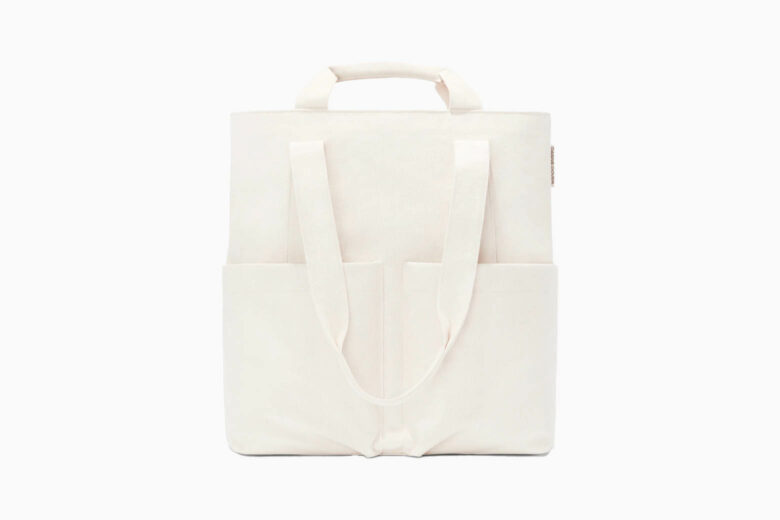 Raise your hands if you're itching for a coastal getaway? We'll raise one as we start to pack our Dagne Dover with the other. The organic cotton canvas is made to outlast endless beach vacations. And pockets on pockets on pockets promise to separate your sunscreen from your snacks. The wipeable interior lining signals stress-free spills. And a laptop sleeve allows for airplane productivity.
The natural black or beige totes effortlessly complement every swimsuit. And the limited denim edition is your favorite pair of mom jeans in the form of a bag.
| | |
| --- | --- |
| Best for: | Spontaneous beach weekends. |
| Colors: | Black, beige and denim. |
Isabel Marant Wardy: Best shopper bag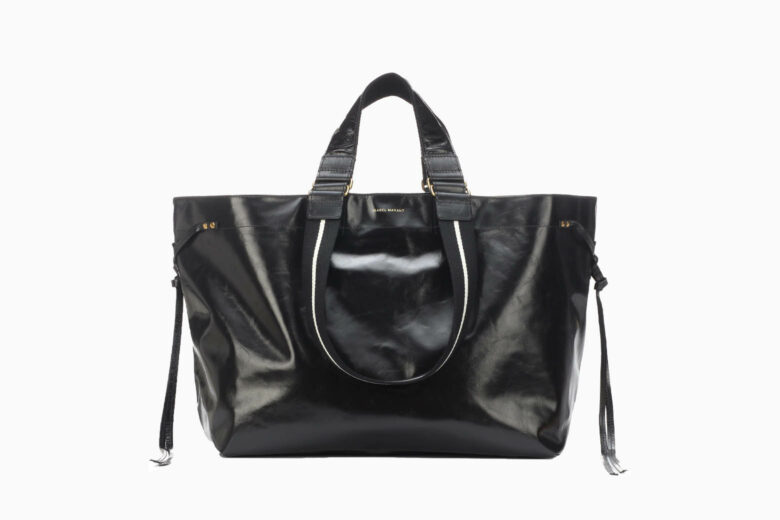 If you're looking for someone to tell you that you look good while you try on endless ensembles—this tantalizing tote is your new shopping accomplice.
It's impossible not to look fantastic while flaunting Isabel Marant. And this black, Wardy leather shopper takes the iconic brand to new heights. The sleek shine carries an air of Parisian finesse. While the sporty strap confers a laid back attitude to the designer tote. And paired with casual denims or delicate dresses, it's very difficult to ever go wrong.
| | |
| --- | --- |
| Best for: | A designer tote to accomplice your spending sprees. |
| Colors: | Black |
Frequently asked questions about the best tote bags for women
Which brand has the best tote bags?
Totes come in all shapes and sizes. And depending on the bag's purpose, different luxury brands speak to different intentions. We love Marc Jacobs signature tote for the modern minimalist woman. And Bellroy's Tokyo makes styling for school effortless. Cuyana and KAAI tick all the boxes for an everyday tote. And if you're looking for more beautiful tote bags, our full list of the best tote bags for women has got you covered for every scenario.
Which brand bag is best for women?
Every woman has a different lifestyle. But we love these brands for putting our daily needs and fashion desires at the forefront of all of their designs. The Dagne Dover Diaper Tote is a lifesaver for new moms. And Senreve understands the power of practical organization with countless compartments. While Isabel Marant rarely underestimates the necessity of a stylish tote for shopping sprees.
Which color of tote bag is the best?
You can never go wrong with black. Black is timeless, chic and brilliantly versatile. And while every woman needs a LBT (little black tote), we also recommend neutrals or poppy red to spruce it up on the mundane days.
What is a good everyday designer bag?
A good everyday designer bag is versatile and goes with everything. It is made of premium quality materials to last a lifetime. And it is timelessly designed to outlast seasonal trends. 
How do I choose a good tote bag?
To choose a good tote bag, you need to ask yourself what purpose you wish your tote to serve. If you are buying a bag to carry heavy books, a durable canvas fabric is foolproof. And if you're looking for a stylish iconic tote to accompany your everyday errands—a neutral colorway is always flexible. But our full list of the best tote bags for women is sure to include the one you've been looking for.