It doesn't matter whether you're the proud owner of a walk-in wardrobe or live by the rules of a perfectly curated capsule wardrobe: a pair of sneakers is a wardrobe essential for everyone — and we mean, everyone.
The best sneakers for women are those that are versatile: stylish enough to earn their place with your weekday style and comfortable enough so you'll look forward to slipping them on.
They're classy enough to give you a boost of confidence during work meetings and cosy enough to fall back on for those indecisive outfit days.
Classic sneakers; colourful sneakers; designer sneakers and dress sneakers: buying a new pair of trainers nowadays comes with plenty more opportunity for wear outside of the gym.
Of course, a great pair of gym sneakers is another wardrobe essential but in 2021 these will also be accompanying you to brunch, evening drinks, weekend trips and everything in between.
The 25 best sneakers for women
Check our special women's sneakers buying guide after the list to see exactly what you should pay attention to when shopping for a new pair of shoes online.
Axel Arigato Clean 90: Best overall sneakers for women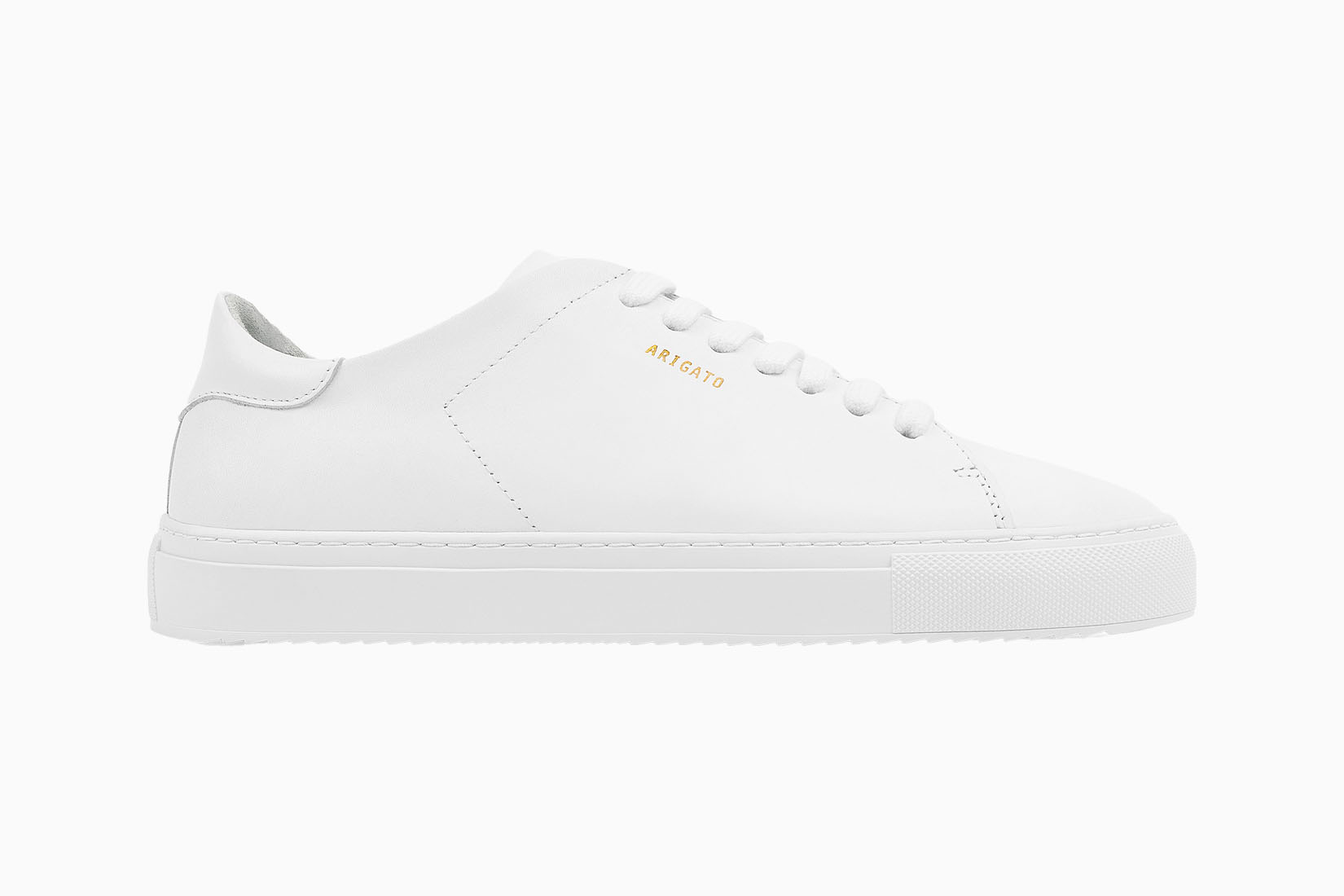 Practical and stylish, cosy and comfortable, unique and versatile enough to not need an extra 10 minutes of thinking time when outfit pairing. In short: Axel Arigato sneakers. Take it one step further and you'll find a pair that promise to do all of the above and maybe even a little more. The pair in question?
Axel Arigato's Clean 90. Clean by name and clean by nature, these are the sneakers you'll simultaneously want to admire in your wardrobe and also wear on every occasion possible. The shoes that will make you dig a little deeper into the world of leather repairs, cleaning materials and whitening creams. Fresh and understated, these trainers confidently walk into the world of luxe footwear without much competition at all. Buy them and get used to seeing the same minimalistic silhouette in all of your photos from now on.
Best for: Polished minimalism on a daily basis.
Gucci: Best designer sneakers for women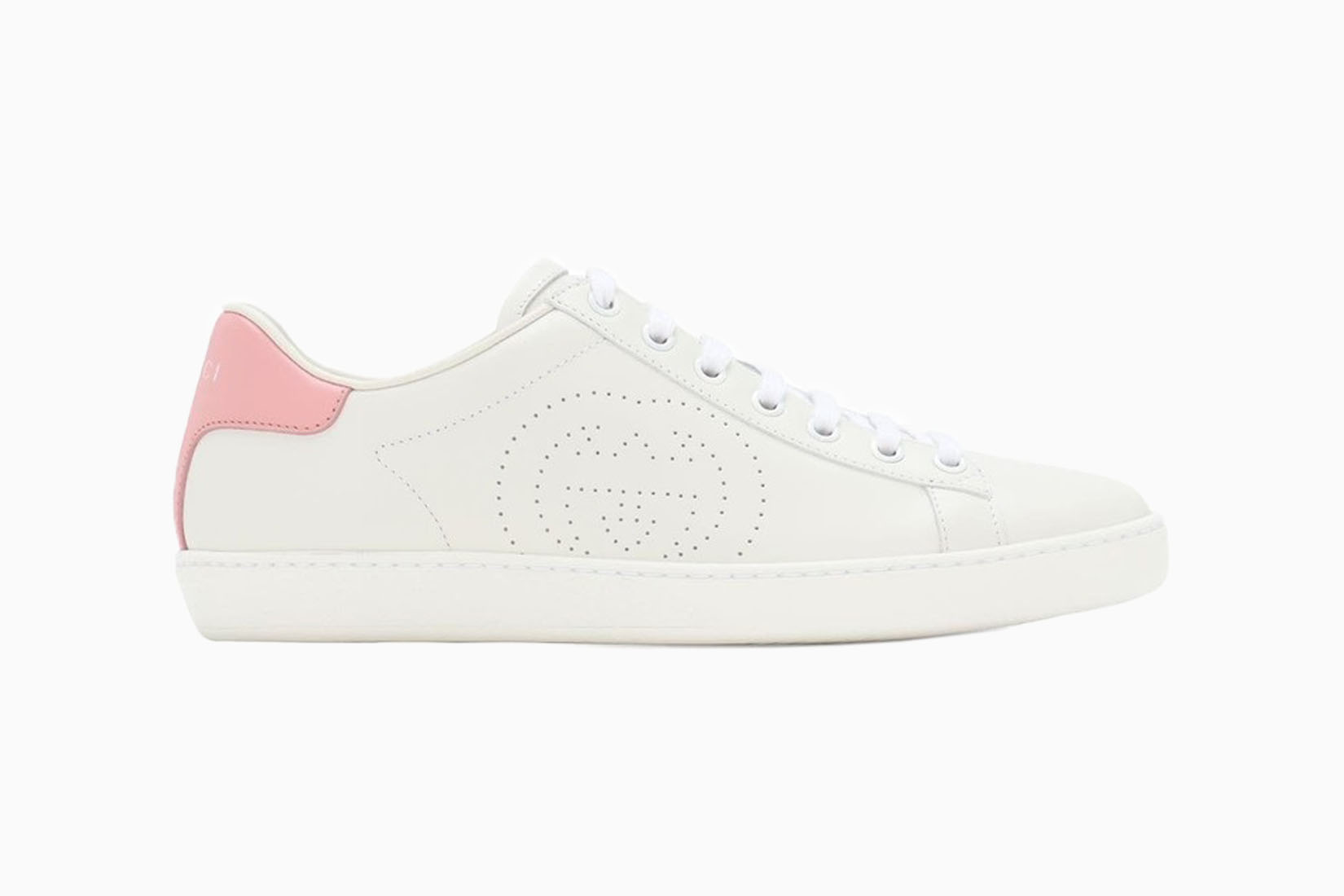 Gucci sneakers are some of the most popular designer shoes on the market and the brand has spent time over the last few years making a name for itself in the premium sneaker market. Sure, you could go all out with some of Gucci's more heavily embellished designs but for a pair that promise to hold their own with the rest of your outfit, look no further than Gucci's New Ace Leather Sneakers.
Luxe, smooth, white leather combines with a touch of baby pink on the heel, with the brand's iconic perforated logo on the side and a comfy inner to pull it all together. Designer sneakers don't come much better than Gucci's, and these trainers promise to look incredible and last for years on end. That's if you ever stop admiring them long enough to wear them rather than gazing at them in your shoe closet.
Best for: Taking your first steps into the Gucci footwear cult.
Nike: Best value sneakers for women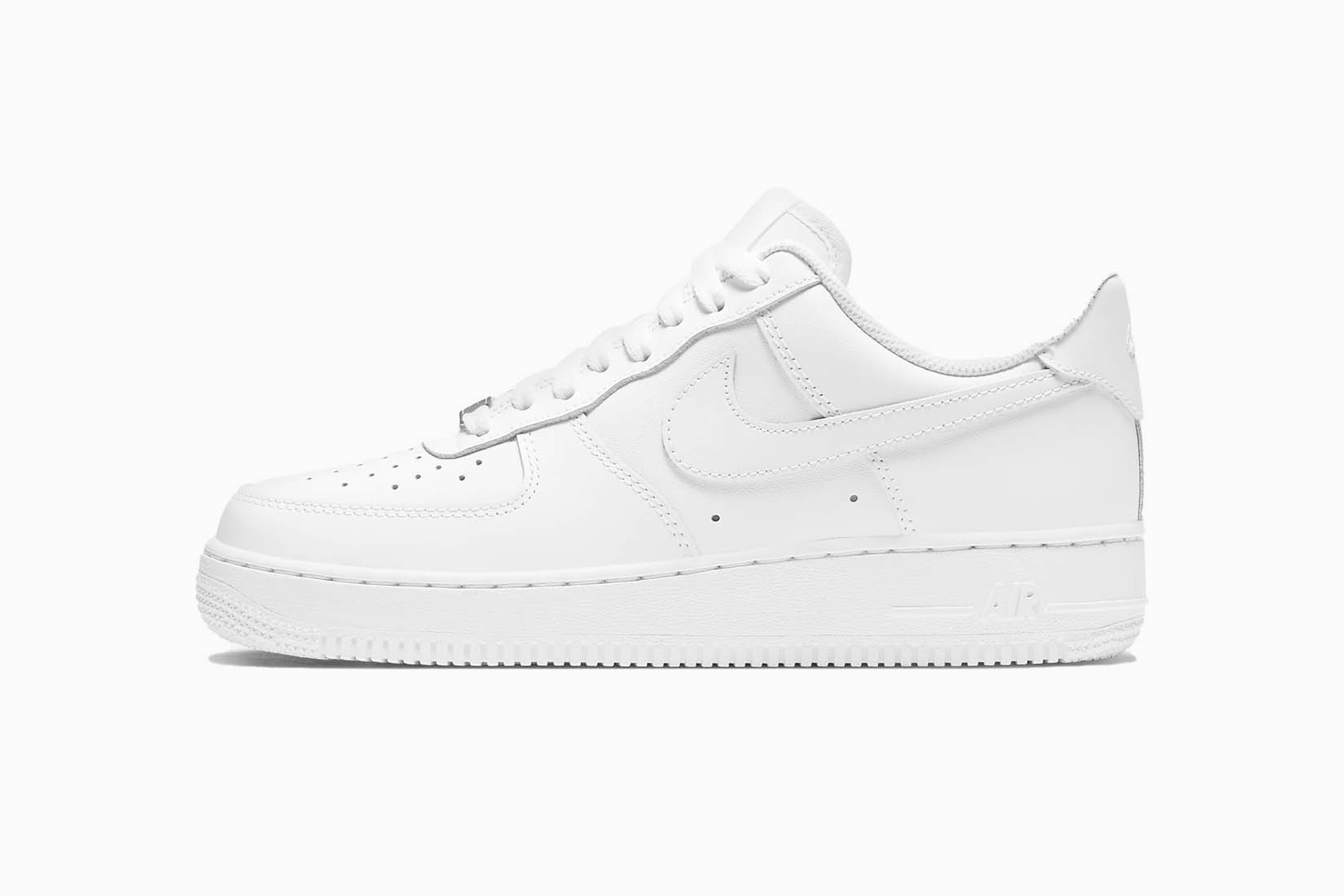 You can't go wrong with a pair of Nikes. Quick trip to the gym? Pull out the Nikes for a boost to your burpees. Heading out for a stroll with friends? Your Nikes offer blister-free fun to focus on catch ups and coffee. Smart casual meeting? Pair those Nikes, once again, with tailored trousers for effortless put together-ness.
The Nikes in question? We'd have to go for the Nike Air Force 1 '07. The kind of trainers that look just as stylish when they're bright white and fresh out the box as they do when they're a little battered and worn-in, a pair of Nike Air Forces are an easy addition to your wardrobe with crisp leather and bold white design. Chunky soles offer extra support and a dash of streetwear chic to any outfit. They're undoubtedly the best Nike white sneakers.
Best for: Spotting them first, browsing for an hour and inevitably circling back to buy them at the end.
Koio: Best white sneakers for women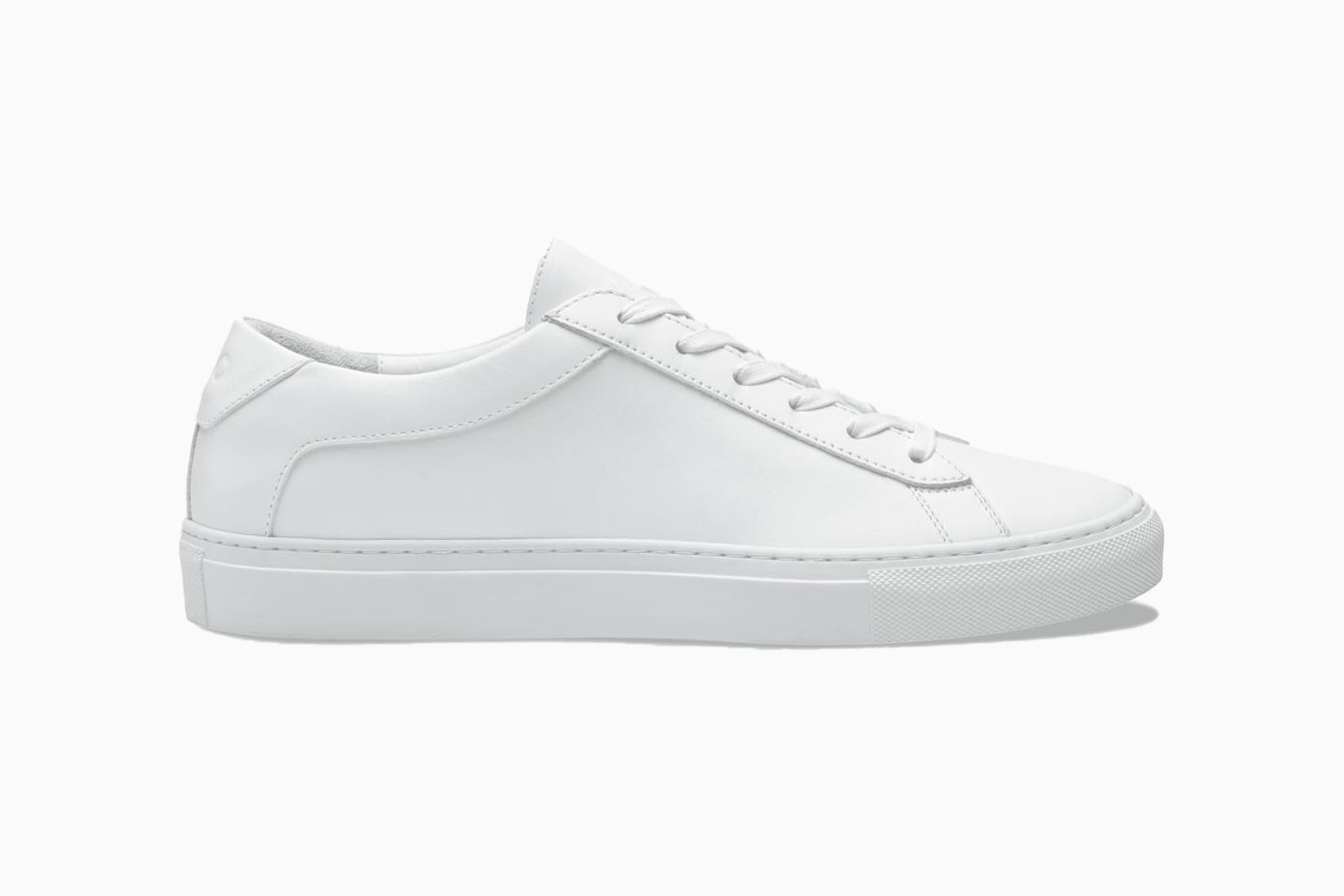 A good pair of white sneakers is an essential to any woman's capsule wardrobe. Colourful trainers are fun but a staple pair of white sneakers ensures comfortable outfit pairing no matter the occasion. Koio's Triple White are our favourite pair for keeping at the front of your wardrobe at all times, with their laidback cushion-cosy style. These are the sneakers you'll find yourself dreaming of whenever you're obliged to wear something a little more formal, and the pair you'll automatically throw in your bag ahead of any vaguely described occasion.
Not too casual and not too formal, these Koio white sneakers answer all of your "what shoes are suitable today?" questions in a cool, cosy and understated way. Buy yourself two pairs because these are set to become new favourites almost immediately.
Best for: Introducing you into the online world of sneaker cleaning communities in an effort to keep them squeaky clean.
Adidas Originals: Best classic sneakers for women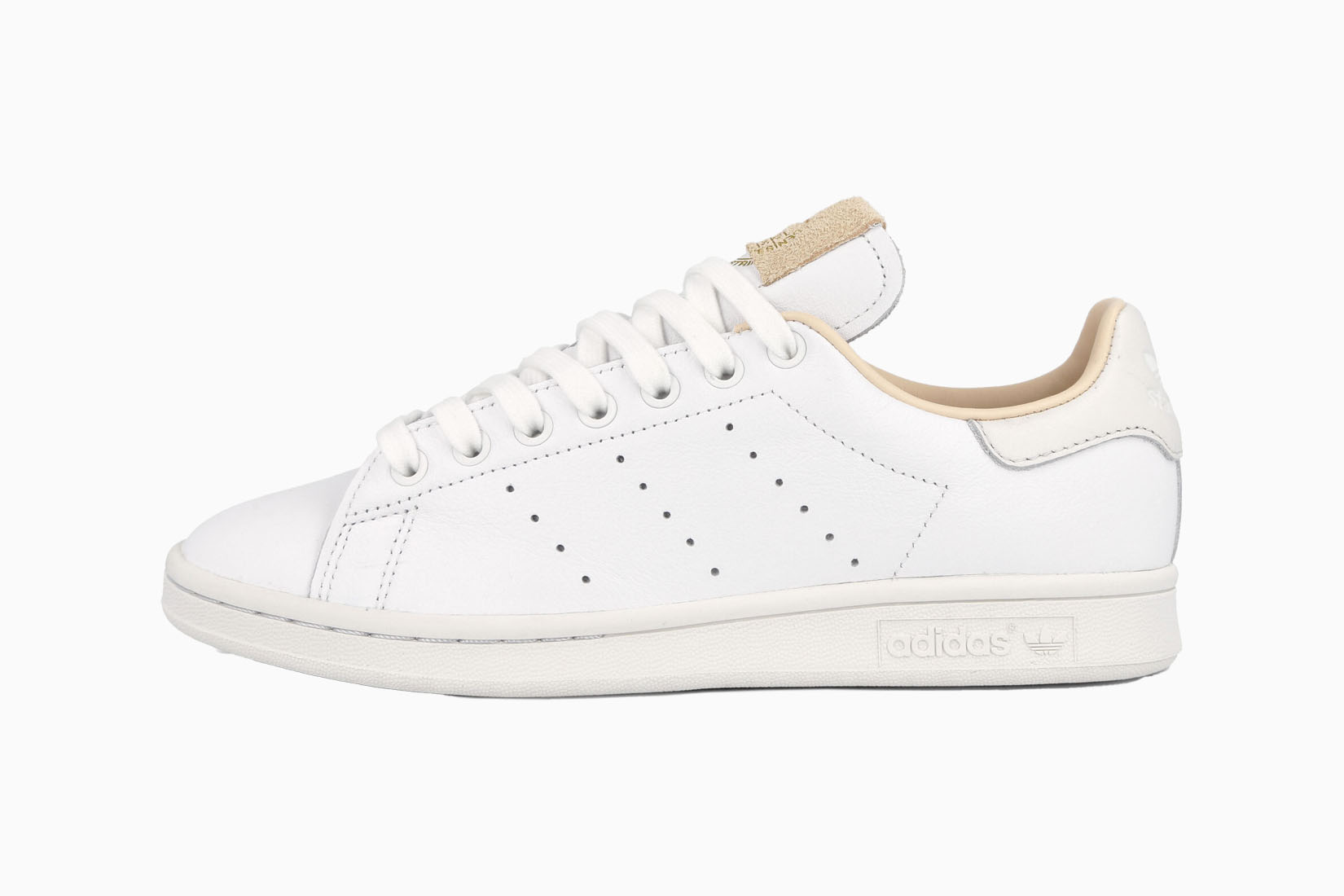 There's a good reason you'll spot Adidas Originals in basically any shoe store you ever enter. These classic sneakers are ubiquitous with comfort and style, carefully bridging the gap between being timeless and constantly in season. These Stan Smith leather sneakers are just as soft and supple as their leather outers would have you believe: a budget friendly addition to your weekday wardrobe that far surpasses comfort levels considering its price point.
Even if you're someone who would typically shy away from such a popular pair of sneakers, you'll likely find yourself admiring the Stan Smiths on the feet of your friends, before giving in and buying yourself your own pair. The only regret is not giving into them earlier. Like a comforting cup of tea or a favourite pair of pyjamas, you'll quickly struggle to imagine life without your Stan Smiths.
Best for: The little white sneaker as classic as the little black dress.
Oliver Cabell: Best minimalist sneakers for women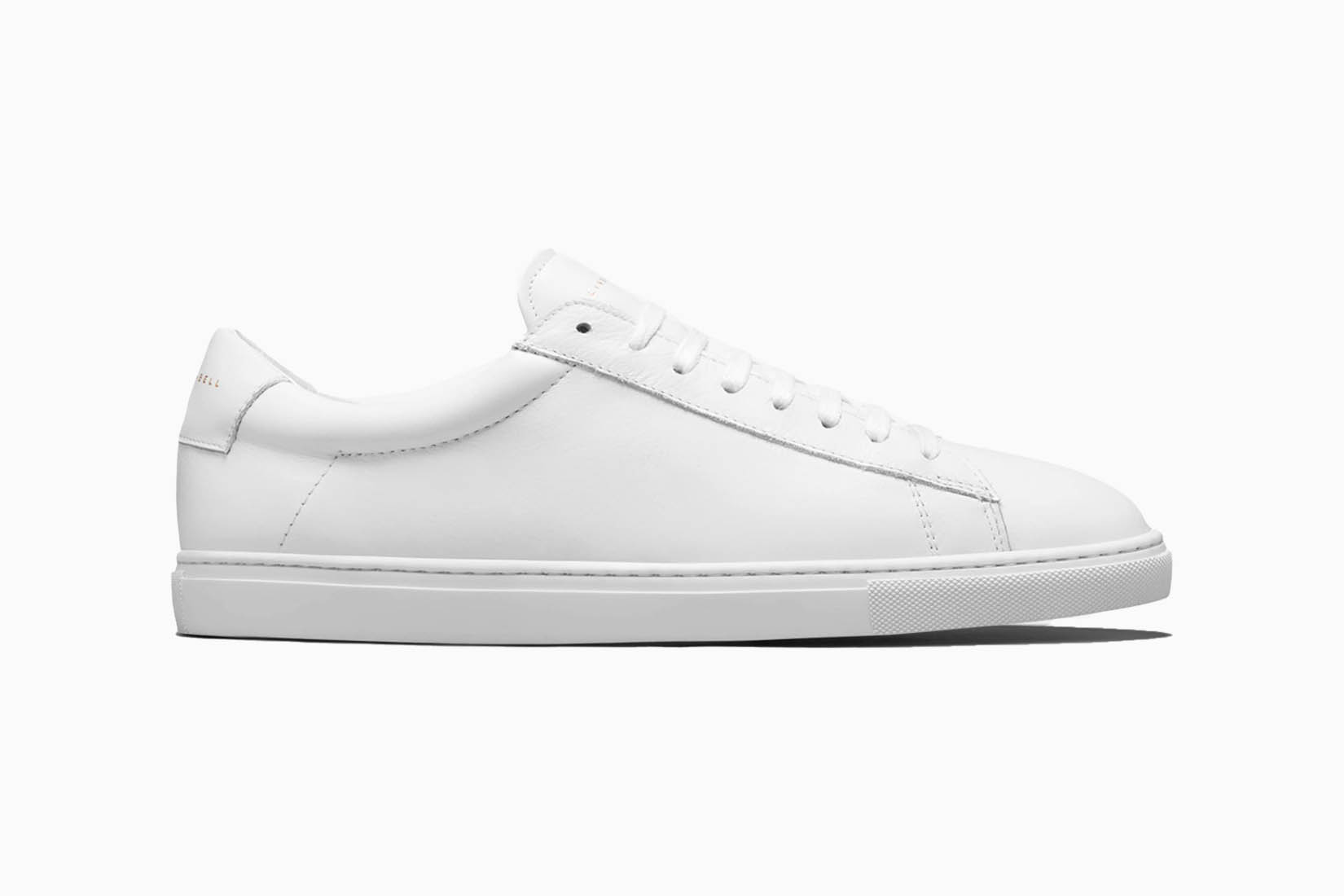 Oliver Cabell sneakers are iconic in every sense of the word. Taking the idea of the humble trainer and elevating it with buttery soft Italian leather and that famous silhouette, the Oliver Cabell Low 1 Sneakers are a wardrobe staple for any self-respecting sneakerhead. Understated enough to pair perfectly with any kind of outfit and with calfskin leather and Margom outsoles for optimum comfort, these minimalist sneakers will only ever leave your feet for a clean before you breathe a sigh of relief and quickly place them right back where they belong.
Oliver Cabell's status as a luxury Italian brand means you likely already know just how soft these trainers are before your paths finally cross. But, much like those super soft blankets or impossibly smooth, silky bed sheets, you can't quite appreciate the levels of comfort that come from these sneakers until you've got yourself a pair.
Best for: Understated, Italian chic with a unique touch.
Axel Arigato Genesis: Best black sneakers for women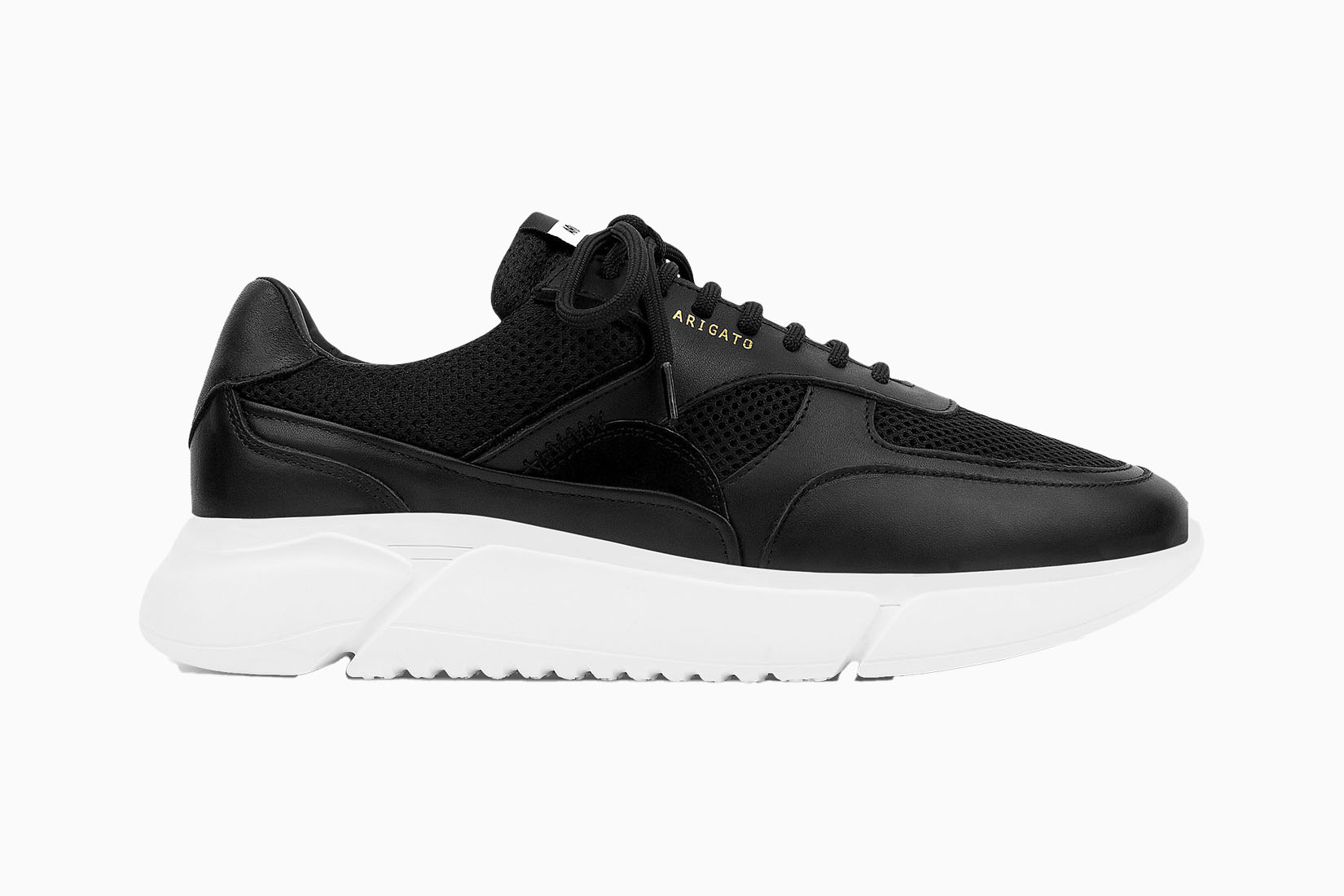 You can't go wrong with a pair of black sneakers. Great for adding a smart casual touch to any outfit, a staple pair of black sneakers will see you through all kinds of adventures. The best pair of black trainers will allow you to do all of the above without forgoing comforting and looking put together while doing so. Enter: Axel Arigato's Genesis Sneaker.
This minimalist runner perfectly combines a black upper with white sole that's chunky enough to stand to attention no matter what you pair them with. Drawing inspiration from retro silhouettes, the Genesis sneaker is modern and streamlined, nostalgic and contemporary, juxtaposing and effortlessly blending in. It's a sneaker of contrasts that easily brings life to even your 'back of the wardrobe' outfits and instantly adds a dash of vintage chic to your day.
Best for: Looking stylish even on potentially muddy occasions.
Balenciaga: Best chunky sneakers for women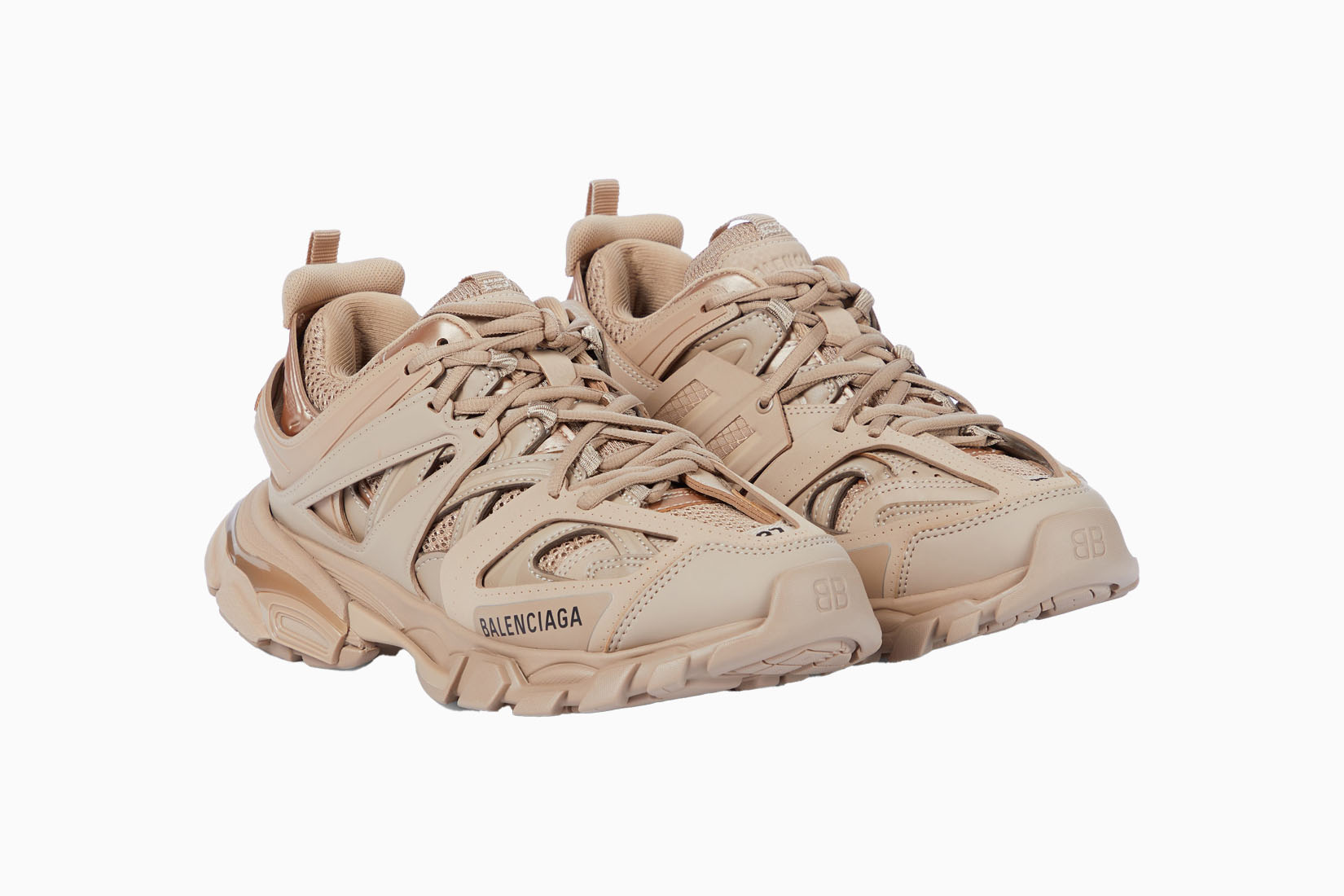 No sneaker better identifies changing fashion trends quite like Balenciaga. Step back even a few years ago and the concept of a chunky trainer would be something to quietly brush over. Modern times have come with a resurgence of chunky trainers like never before and Balenciaga is perpetually at the helm. If you're looking for a new chunky sneaker to boost your wardrobe, any of Balenciaga's will add a stylish twist.
But our favourites come in the form of the Balenciaga Track Sneakers. A muted colourway adds extra attention to an already confident trainer, with an impossibly comfy sole that's designed just as much for running as it is for pairing with your favourite streetwear picks. If they're good enough for the likes of Beyoncé Knowles, Kanye and Kylie Jenner, Balenciaga's uber cool chunky trainers are definitely cool enough to step any wardrobe up a notch.
Best for: Trying to slip your sneakers into every photo you take.
Common Projects: Best low top sneakers for women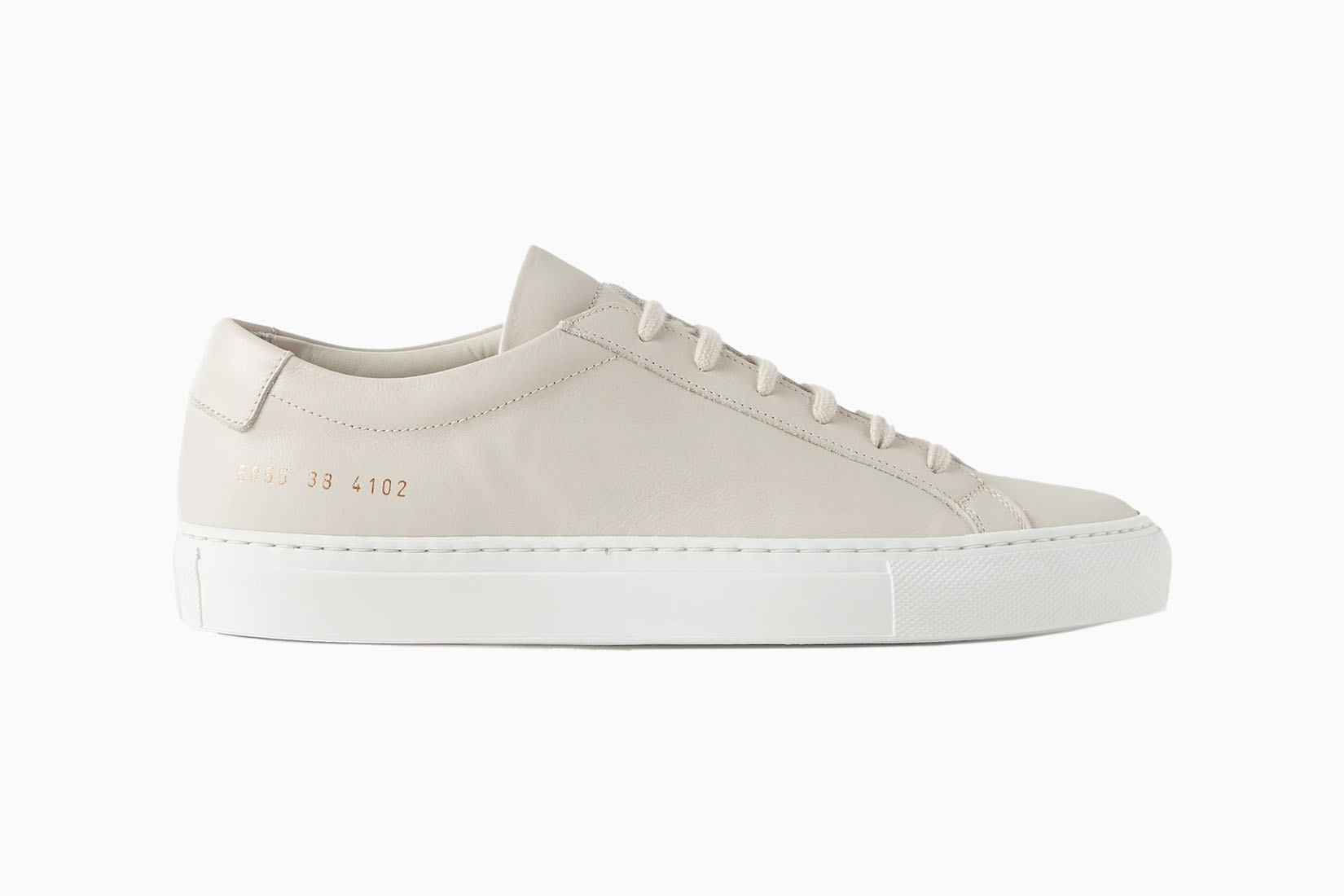 Common Projects' whole focus as a brand is to keep things simple: streamlined, understated and chilled out. Slip into a pair of Common Projects sneakers and immediately find yourself feeling a little more refreshed on even the most stressful of days. So it makes sense that the brand would produce the best women's low top sneakers: a pair that exemplify the very notion of laid back lazy days with their simple design and Italian leather.
The Common Projects Achilles sneakers are a winning addition to your wardrobe to infuse an instant dose of chic while letting the rest of your outfit continue to do the talking. Premium materials combine with timeless design and the brand's signature gilded serial number to produce a unique shoe that fulfils all of its criteria and more.
Best for: Proving that off-white is the new white.
Converse: Best high top women's sneakers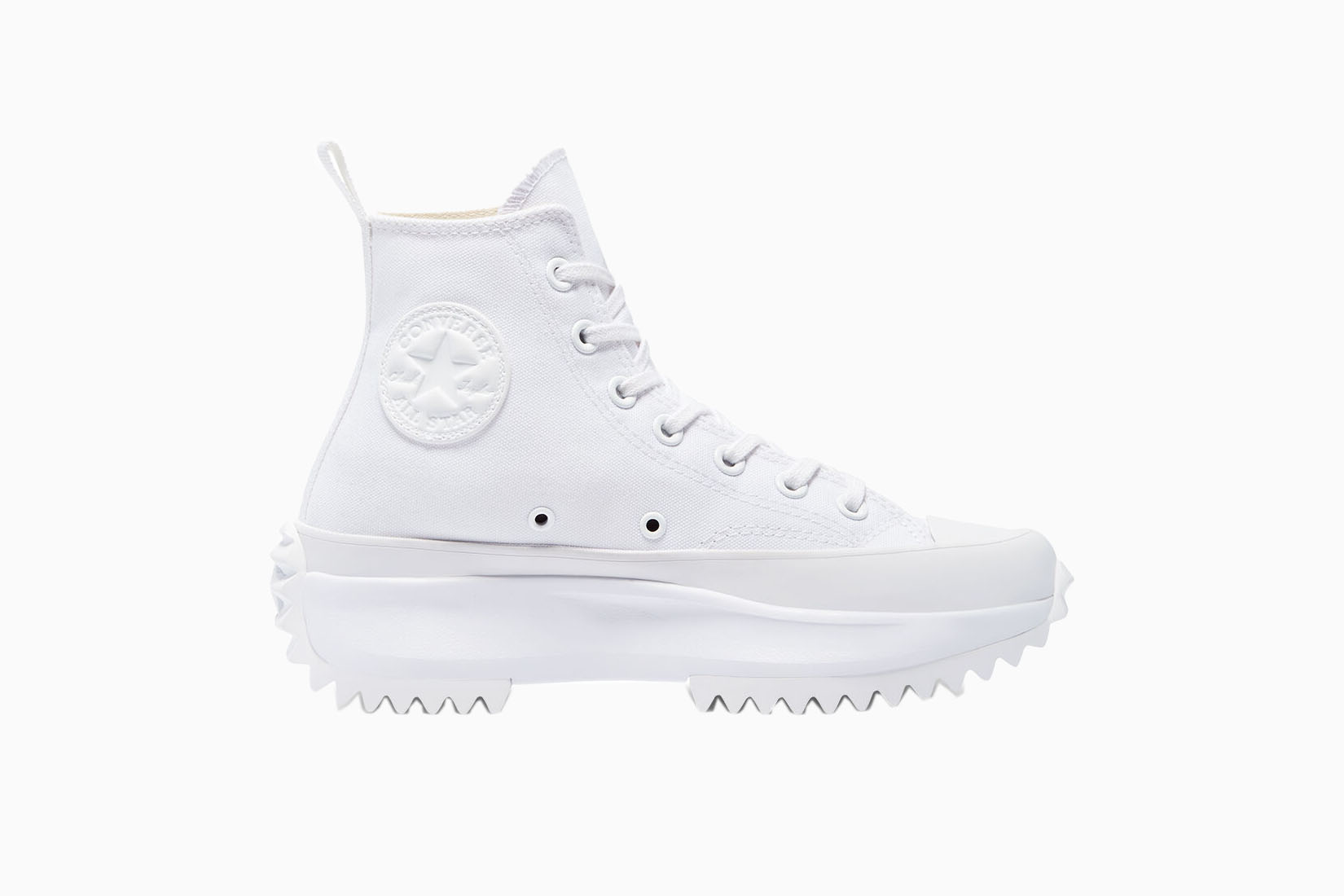 Some fashion styles should be kept in the past but Converse is absolutely not one of them. You probably bought your first pair of Converse as a child. Maybe your parents got your first pair (bright red or pink, anyone?) or perhaps you waited until you were a teenager to treat yourself to a cool pair of high tops. Either way, a pair of Converse has almost definitely adorned your feet in the past and if you don't currently have a pair in your wardrobe, it's time to change that.
We're all still huge fans of the standard Converse high top but the 2021 edition comes with a little extra boost – literally and metaphorically. The Converse Run Star Hike Sneakers come with an edgy, treaded rubber sole, reminiscent of worker chic with a healthy dose of understated cool. Think all the traditional Converse features with a little extra thrown in for good luck.
Best for: Bringing back your youth but making it cool.
Golden Goose: Best distressed sneakers for women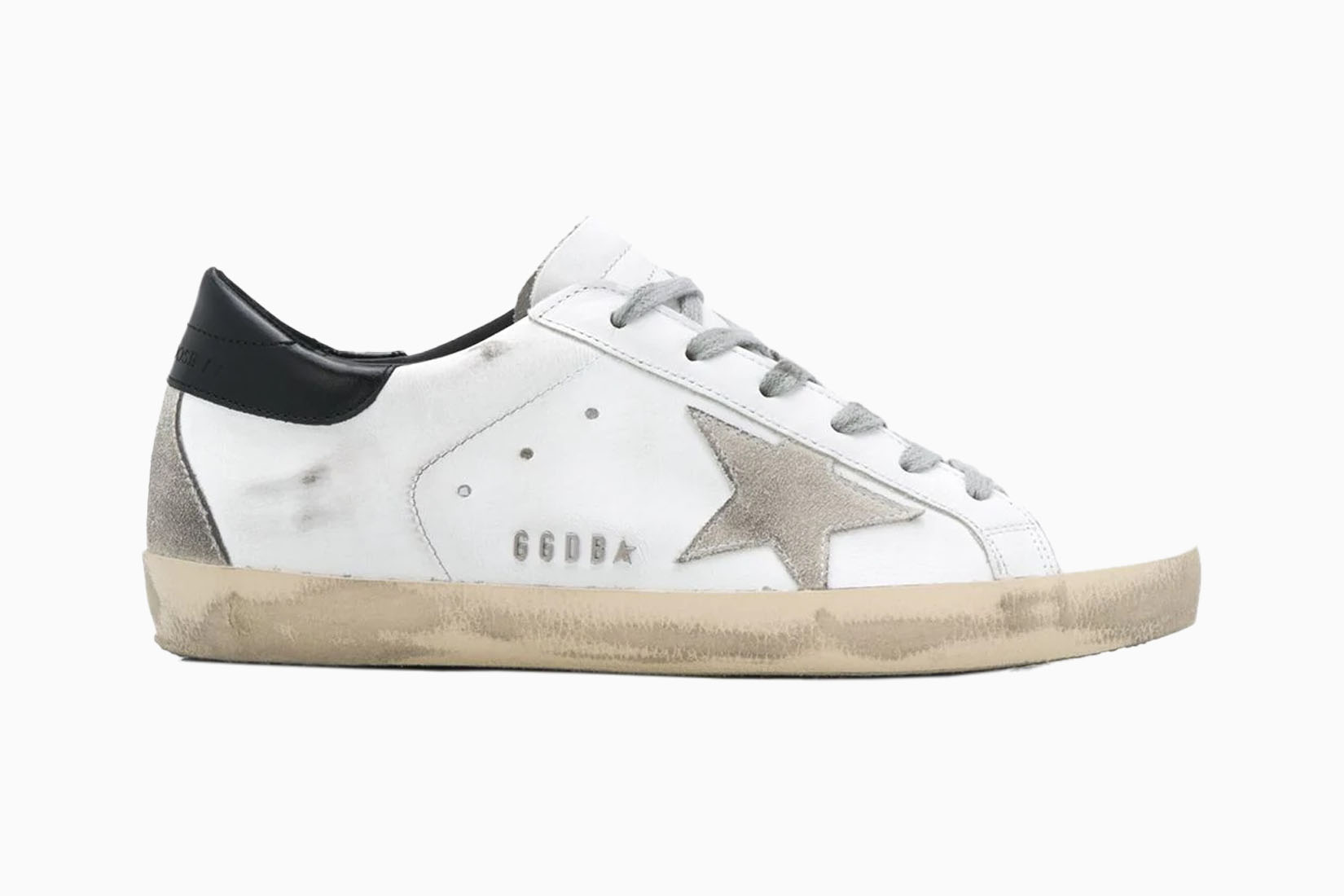 Distressed jeans are out and distressed trainers are in. Those carefully threaded, gently pulled and ever so slightly worn in sneakers show signs of age in the best way possible to add a casual touch to any outfit. The best distressed trainers come courtesy of Golden Goose – a brand that's known for adding a vintage touch to all of its garments in a way that's both stylish and versatile.
The Golden Goose Superstar low-top sneakers are the type that you can obviously tell are firm favourites. Both from the amount you'll wear them but also from the iconic distressing on either trainer, which you'll inevitably add to the more you pair them with your outfits. The major advantage of distressed trainers? The more you wear them, the better they look. And there's no need to keep them squeaky clean thanks to their detailing, either.
Best for: Unapologetically getting them dusty – because it's fashion.
Acne Studios: Best canvas women's sneakers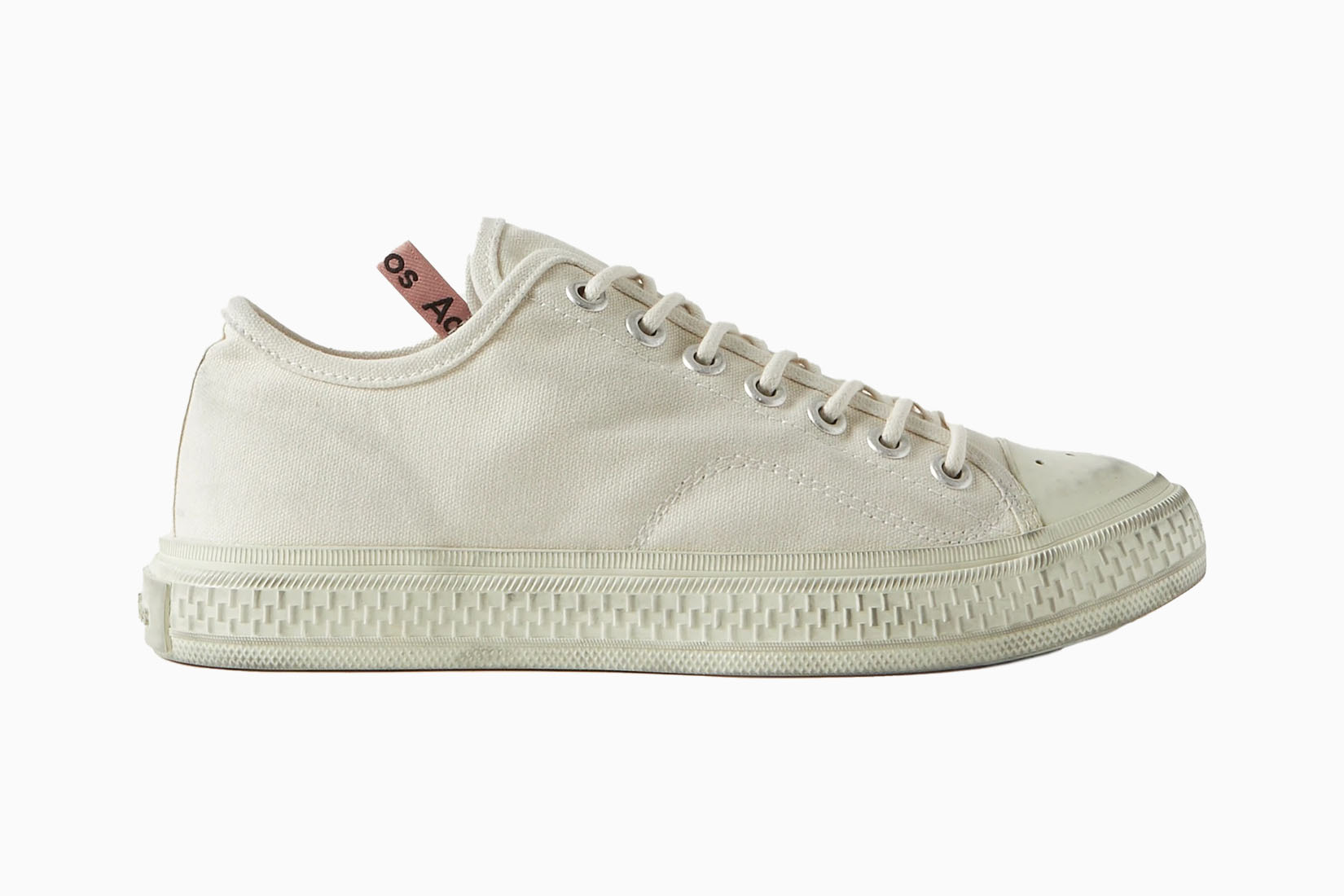 If ever there was a brand to prove that the understated look reigns supreme, it would be Acne Studios. Scandi-cool with a range of muted, chic shades, everything released by Acne – from its iconic scarves to its simple, supple trainers – is officially a great addition to your wardrobe. Acne Studios' Distressed canvas sneakers are made using high quality materials that take the environment into consideration.
Lightweight and versatile, they blend in with the rest of your wardrobe while quietly fending off compliments from every direction. The canvas nature of the sneakers makes them perfect for warm summer days and the ecru shade means they're just as comfortable being worn with bright colours or darker shades. Durable rubber toe caps, textured midsoles and those signature pink logo tags pull this shoe together into one of the best that Acne Studios has designed.
Best for: A blank canvas of a shoe that draws attention in every sense.
Essentials: Best women's tennis shoes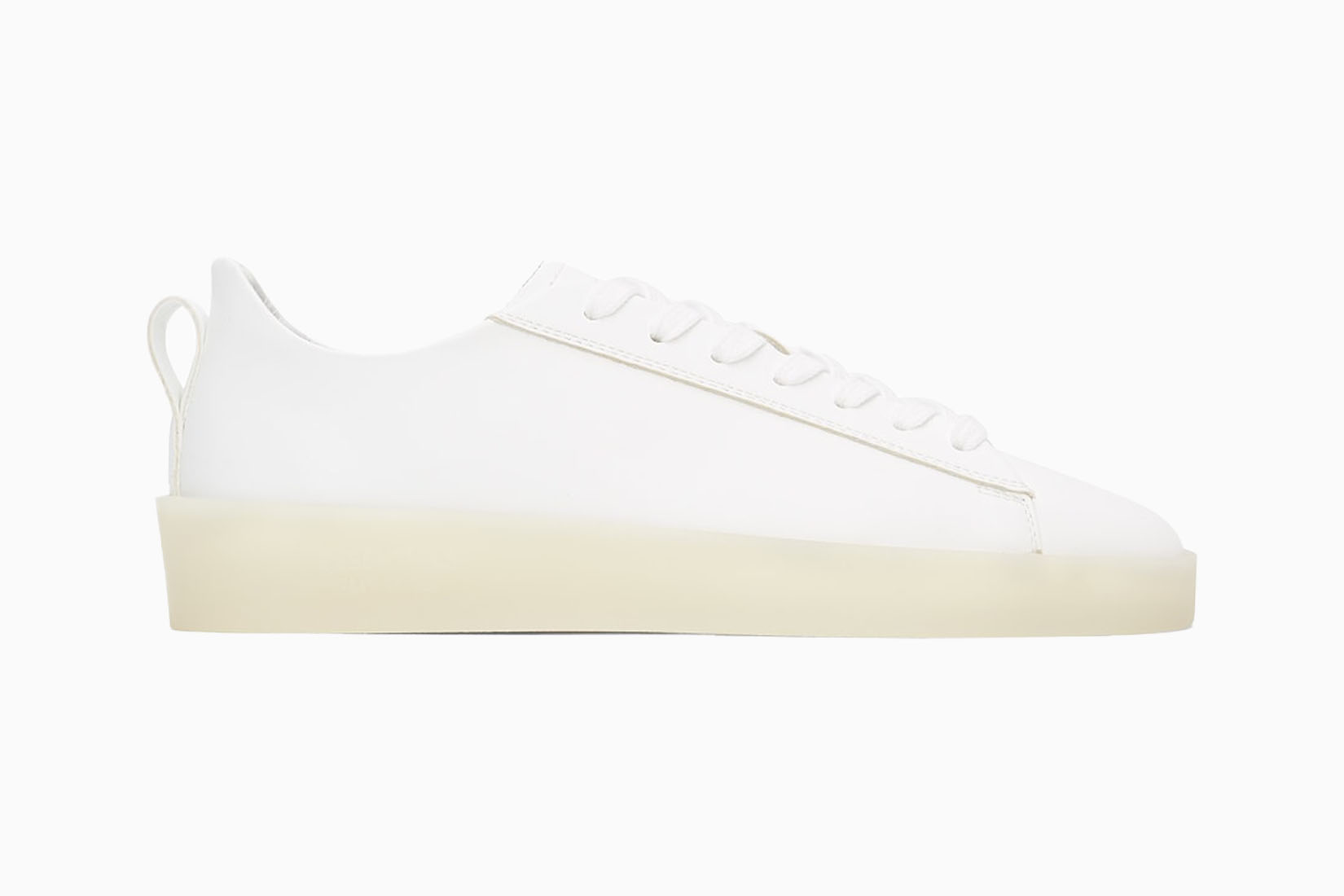 You could wear Essentials' White Tennis Low Sneakers for a game of tennis with your friends. But you could just as easily wear them for brunch, weekend catch ups or commuting on a busy weekday. Everything about these sneakers is designed with comfort in mind, from their round toe, leather footbed and treaded rubber outsole.
These are the sneakers that feel equally at home running around the tennis court as they do sitting still over a latte in the city centre. But premium materials like Italian calfskin leather and close attention to detail on the embossed logos means you might be more likely to pull these beauties out only when there's a guarantee they'll come home just as shiny white as they first left the house. Some white shoes are designed to get a little dirty but the Essentials White Tennis Low Sneakers deserve to be kept sparkling clean.
Best for: Wearing for tennis and 'forgetting' to change them afterwards.
Vans: Best suede sneakers for women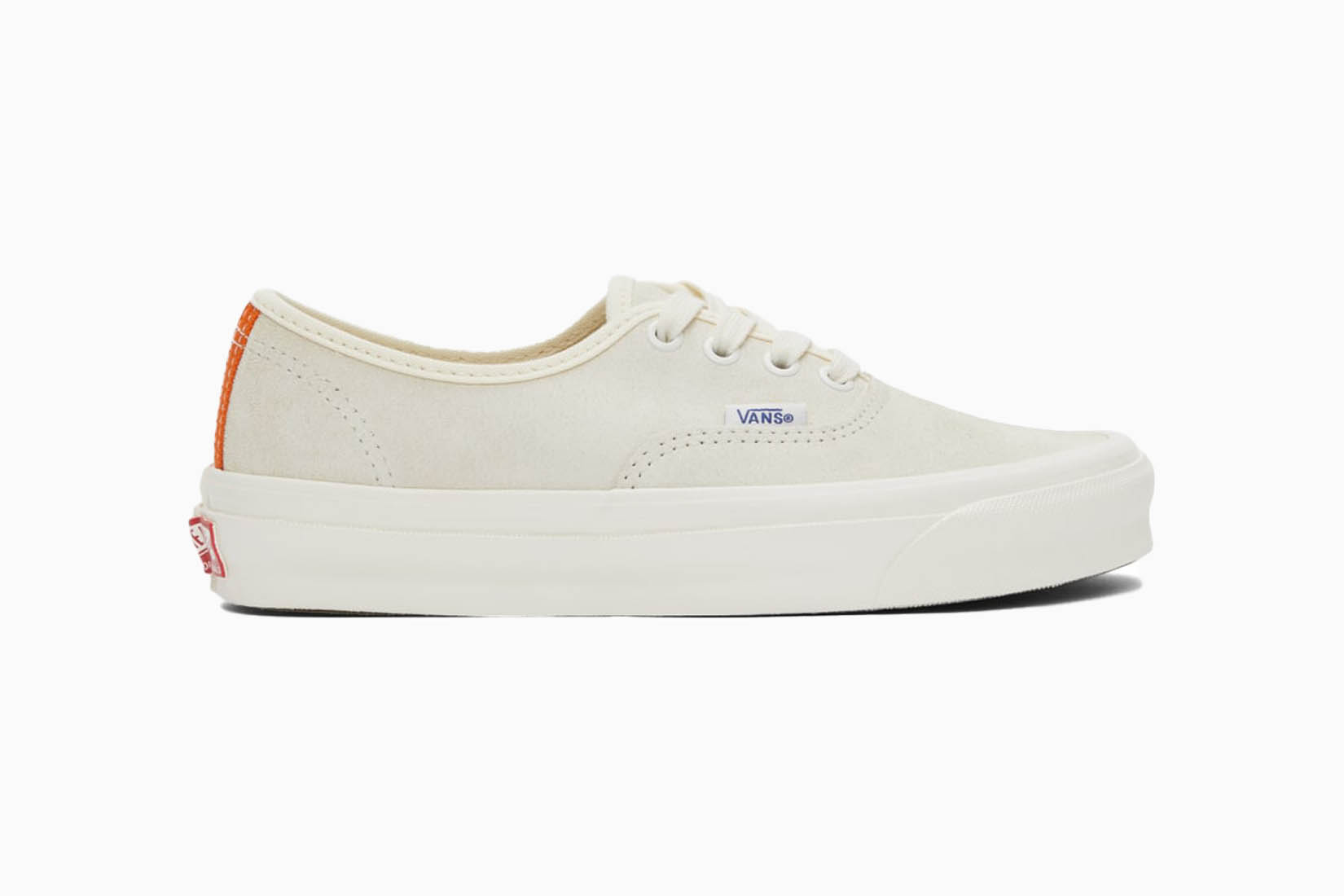 Vans are another one of those ubiquitous brands you'll remember admiring as a teenager and nothing much has changed since. Still super comfortable, still easy enough to wear on any occasion and still guaranteed good style, it's almost a sin to consider your shoe closet fully stocked until there's at least one pair of Vans proudly sitting there. But wave goodbye to the brightly coloured Vans of your youth and say hello to the more refined Vans of 2021 – the pair that promise to keep your toes just as cosy as they did years ago but in a shade that you'll smugly pull on every morning without wondering if they match or not.
The Vans Off-White Suede OG Authentic LX Sneakers will quickly become the OG of your wardrobe, in an off-white shade that adds a dose of vintage to your look without the need for '90s sweaters and huge logos.
Best for: Pairing with your favourite playlists from your teenage years.
Saint Laurent: Best women's dress sneakers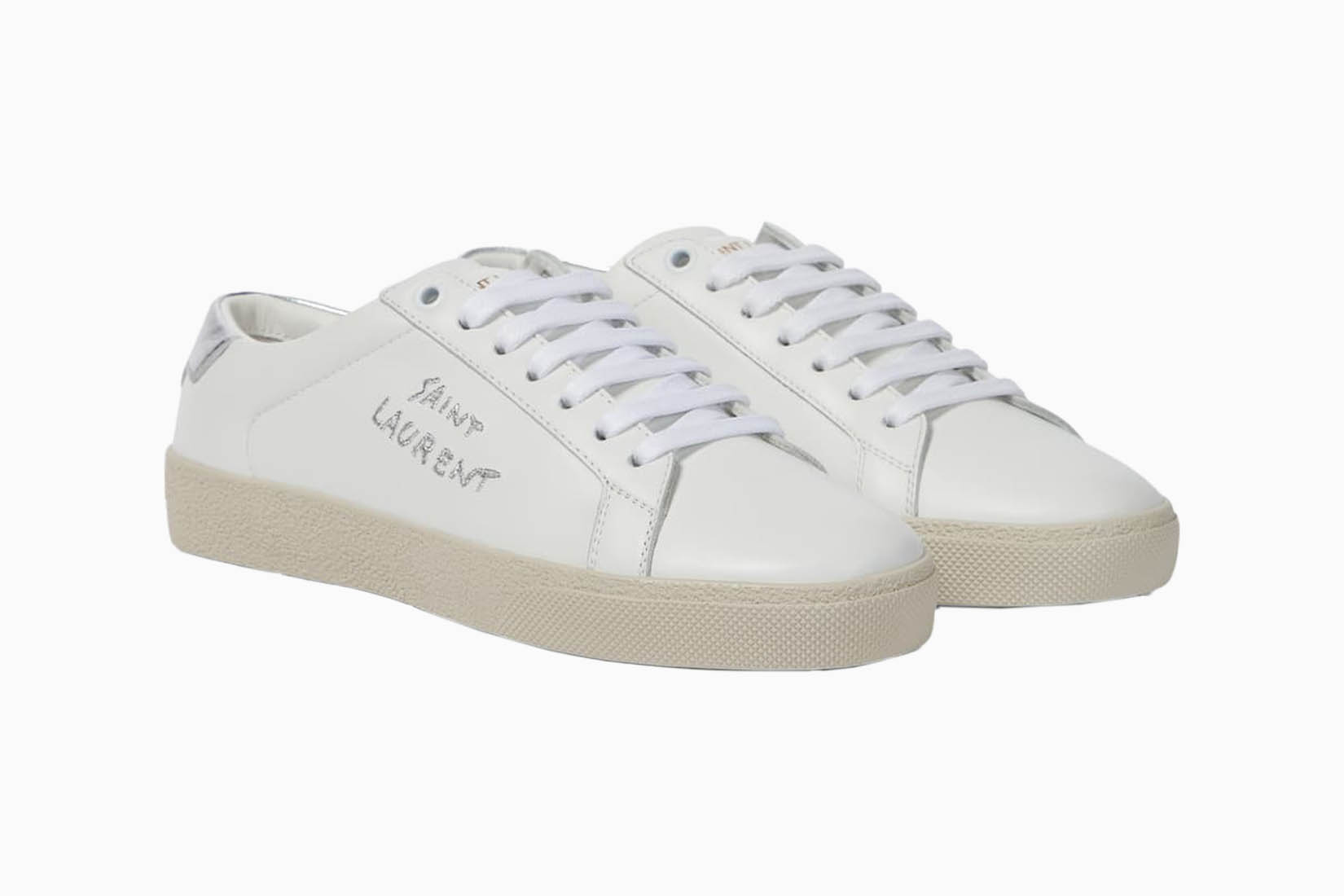 Dress sneakers are your secret to after-hours success: the missing piece in the puzzle when it comes to navigating comfort and style, the answer to your problems when it looks like most of your evening will be spent standing up, the soon-to-be firm favourite that you'll start to design future outfits around. A pair of dress sneakers that fulfils all of the above is one to be celebrated and appreciated above all, and our dress sneakers of choice come from an equally lauded brand.
The Saint Laurent Court Classic leather sneakers come with a level of innate confidence not usually found outside of the high heel aisle. But with these, you'll wave goodbye to the idea of needing extra inches below your heels and instead, embrace the smooth white calf leather and silver-tone accents for a new take on traditional evening wear.
Best for: Preparing to never need to wear high heels ever again.
Superga: Best casual sneakers for women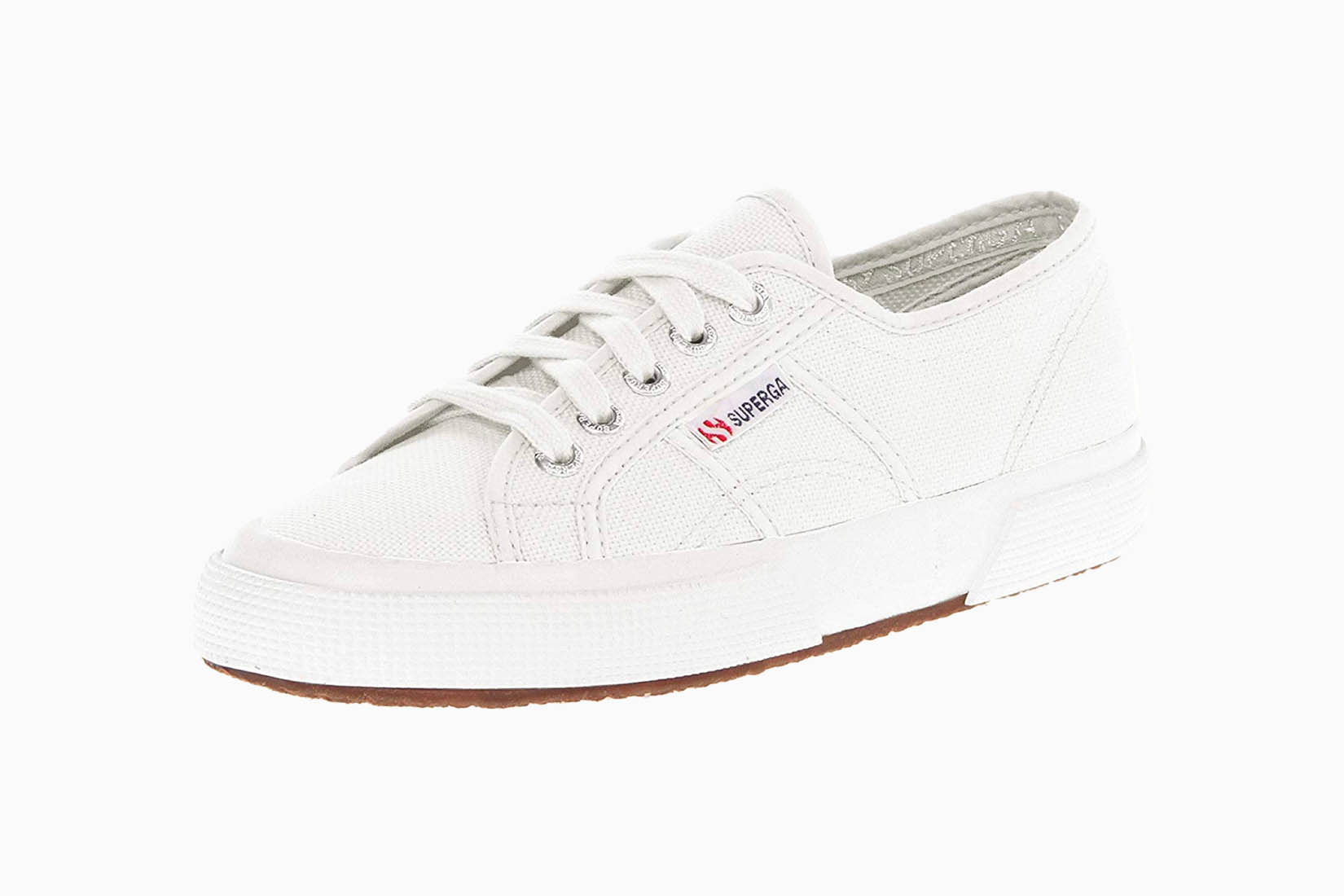 Casual sneakers should feel like an old friend: reliable, sturdy and always there when you need them. Superga's Classic Sneaker is an obvious choice when it comes to fulfilling exactly that role and, available in enough colours to stock up for every occasion, these trainers are casual and laid back in a classic style that blends in, in the best way possible.
Super comfortable and machine washable, Superga's trainers are the pair you'll reorder again and again. The adult equivalent of your favourite childhood teddy bear, these sneakers are cute, comfortable and endlessly reliable.
Best for: Feeling like a catch up with your best friend whenever you slip them on.
M.Gemi: Best slip-on sneakers for women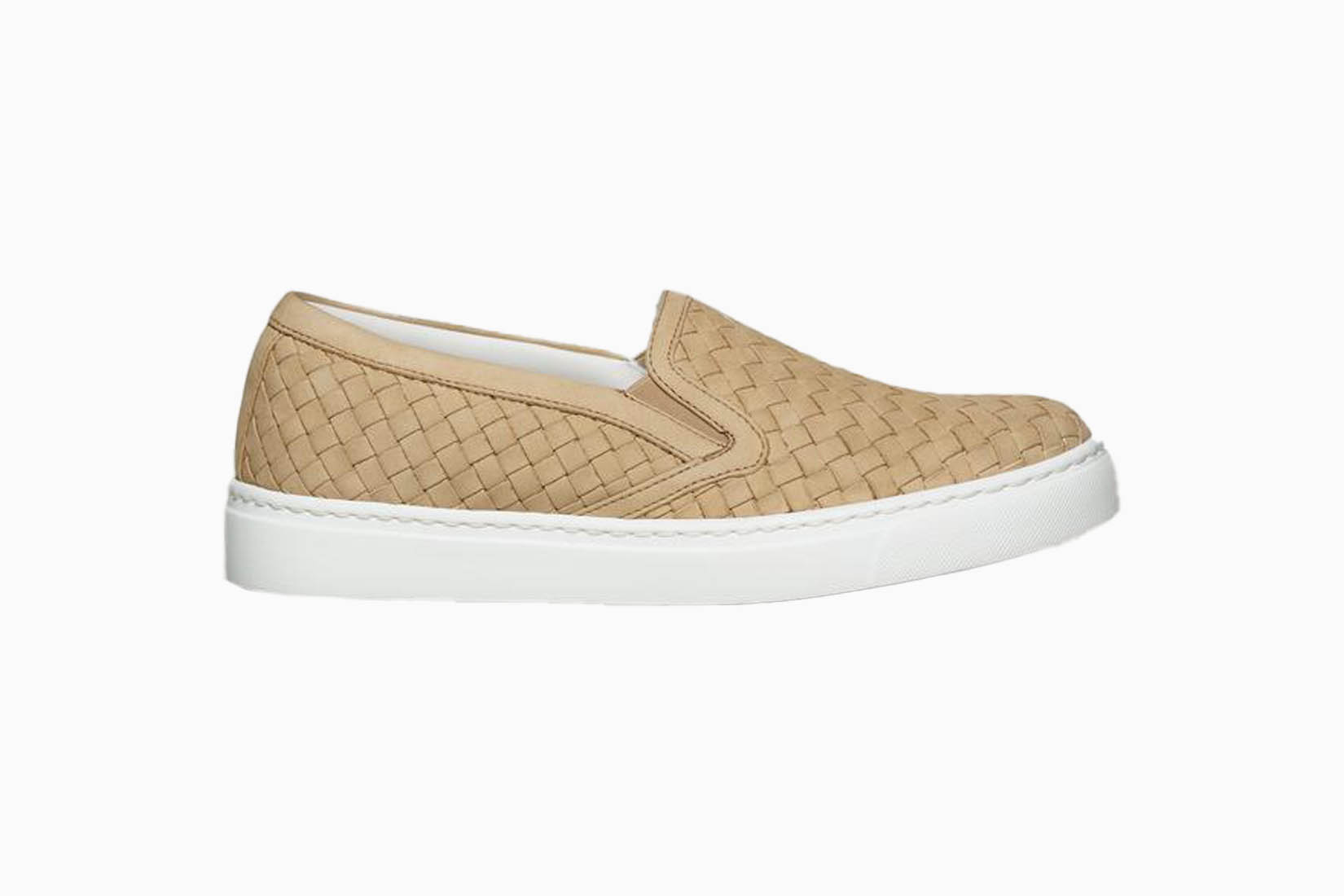 The beauty of M.Geni comes in many forms. First, the unique designs that the brand produces, with the finest materials and one-of-a-kind styles. Then, the almost unspeakably comfortable soles that your feet slip into. Finally? The overall effect, when you're walking out the door and look down with a dash of admiration. And M.Gemi's Woven Leather Sneakers are designed to not only look good, but also to slip into your lifestyle seamlessly.
These sneakers don't require any kind of effort in the form of laces – the slip on nature fuses perfectly with even the busiest of lifestyles. Available in a range of muted tones including olive, dove grey and black, these sneakers are effortlessly chic. A lightweight sole makes them walkable for even those unexpectedly long distances while the woven, rich leather adds a premium touch to your look.
Best for: Instant cool no matter how time conscious the occasion.
Alexander McQueen: Best women's platform sneakers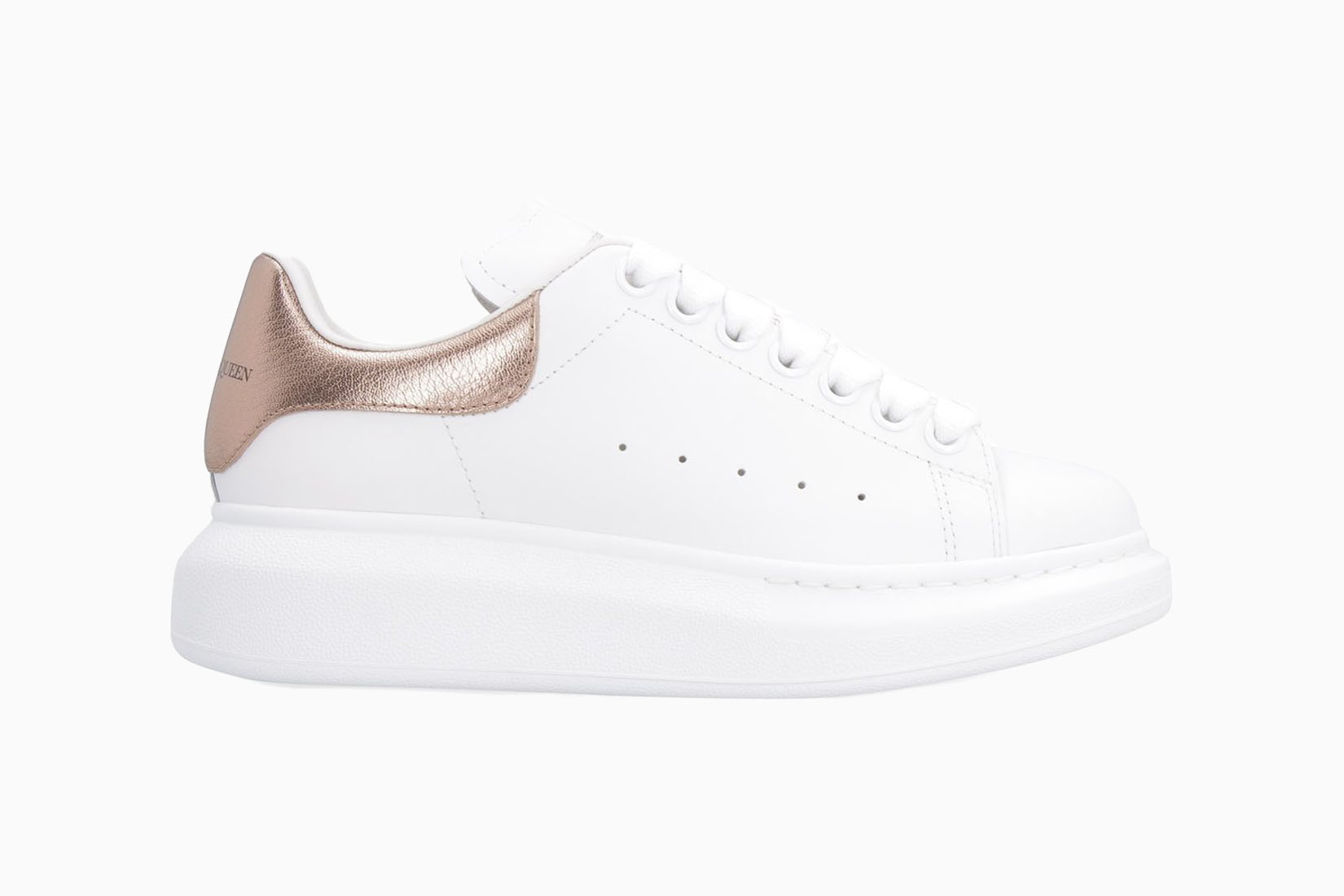 Much like gin and tonic, bread and butter or ham and cheese: think of platform sneakers and the only brand that should come to mind is Alexander McQueen. Known almost universally for being home to the best white platform sneakers and, within the same box, the best white chunky sneakers, Alexander McQueen trainers are an instant burst of refreshing energy for any sneaker head.
The Alexander McQueen Leather & Metallic Leather Sneakers bring together all of the features we know and love about the traditional white chunky trainers with a stepped-up addition of metallic leather on the heel. These trainers are trainers with personality: a pair that allow you to quite literally bounce into a room with a spring in your step. There might be many other brands out there producing similar white chunky trainers but the best ones undoubtedly come from Alexander McQueen.
Best for: Giving you that extra height physically and metaphorically.
Allbirds: Best women's sneakers for walking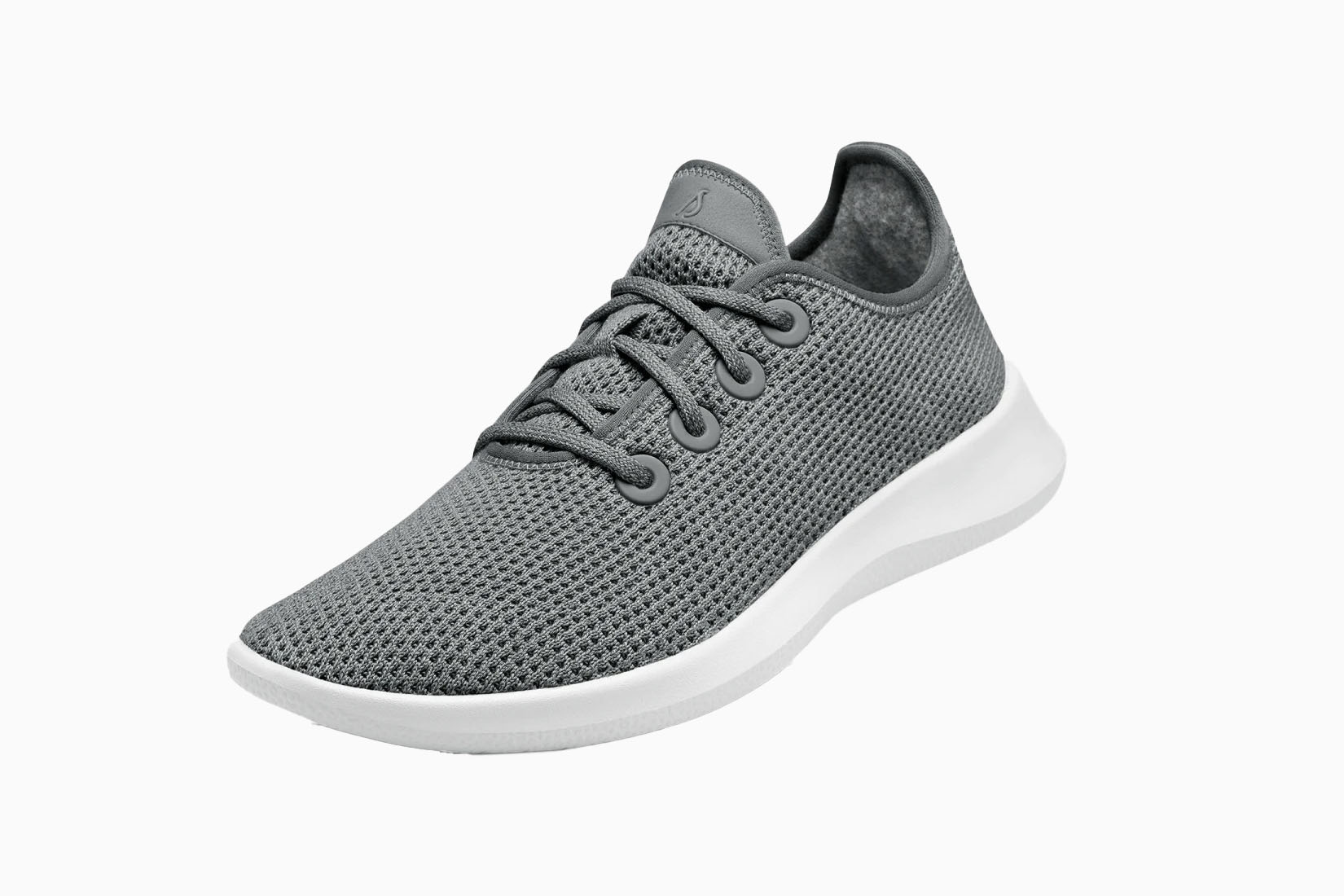 Trainers for walking might be a given. But not all trainers are created equally and while some of your favourite new pairs might get more than a few enviable glances over brunch, they might not fare quite so well when brunch has finished and you're attempting the long walk back to the station. And, when you look at the other side of the coin, it can seem like trainers specifically designed for walking seem to wave goodbye to the very notion of style and instead fixate on breathability and comfort.
Fortunately, Allbirds bridges that gap with something that ticks off all of the above and more. The Allbirds Tree Runners are ready and willing for all of your adventures, with their huge range of colourways (including grey, lilac, peach) and sustainably made materials. Allbirds are produced from eucalyptus trees, which makes them feel just as good on your feet as in your head. Check our in-depth Allbirds review to learn more about the brand.
Best for: Getting off the train a stop earlier to put them to good use.
Reebok: Best vintage sneakers for women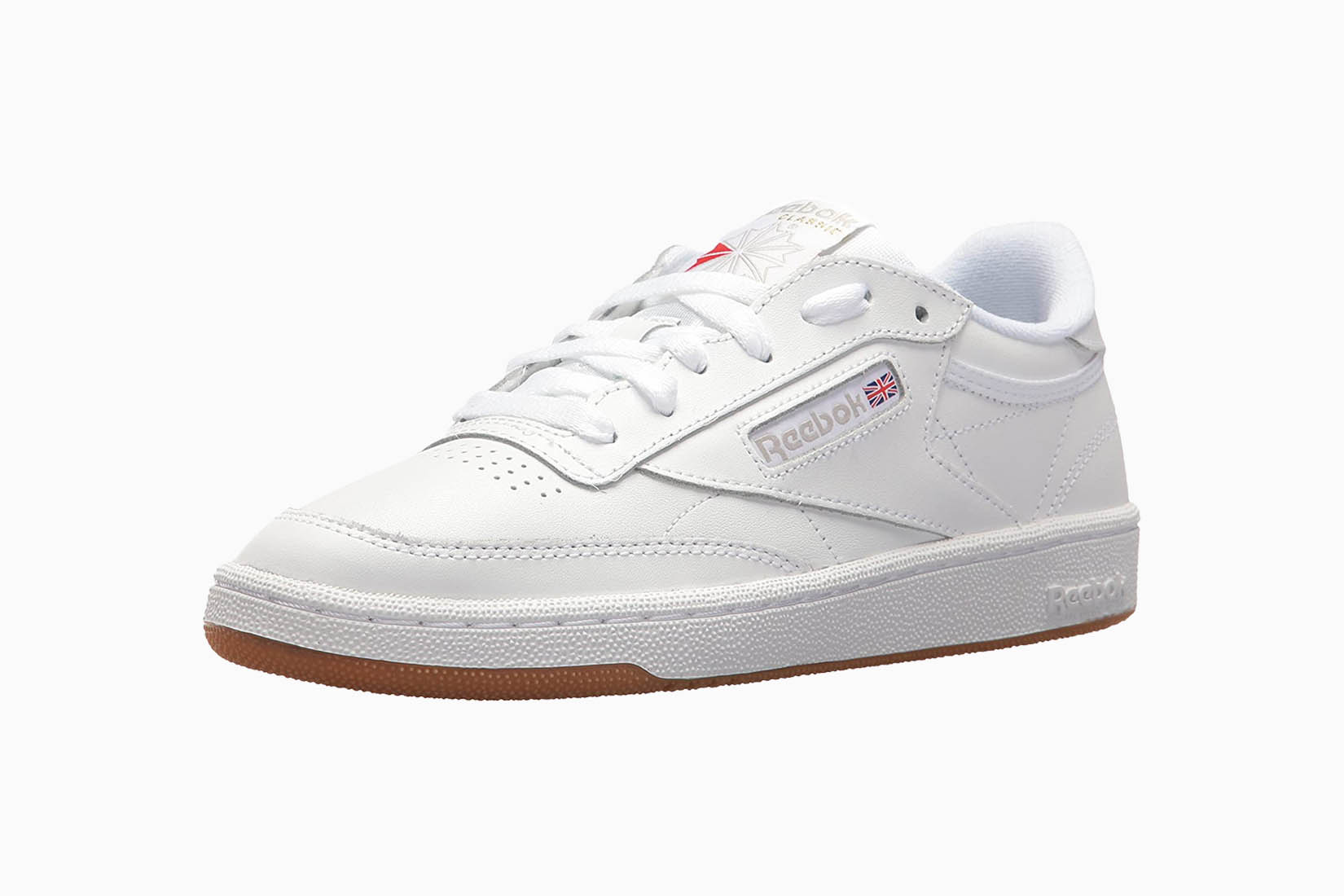 The best vintage sneakers combine all of the best bits of vintage with none of the not so glamorous parts. Think: the brightly coloured labels, chunky soles, retro style and appeal with none of the less-stylish scuffs or scents or damage that might come with actual vintage trainers. And, if you're looking to add a new pair of vintage kicks to your wardrobe, look no further than the tried and tested all-round favourite: Reebok. Once a staple for gym class at school, Reebok's careful resurgence into the streetwear scene has perpetually held it at the helm in recent years when it comes to fashionable vintage style shoes.
Reebok's Club C 85 Vintage Sneakers are reminiscent of the trainers of your youth in the best way possible. Bringing back days of adventures with friends but none of the freezing cold track running of your youth, these vintage trainers are here to stay.
Best for: Searching through the back of your wardrobe for more old college memories.
Nike Phantom React: Best women's sneakers for running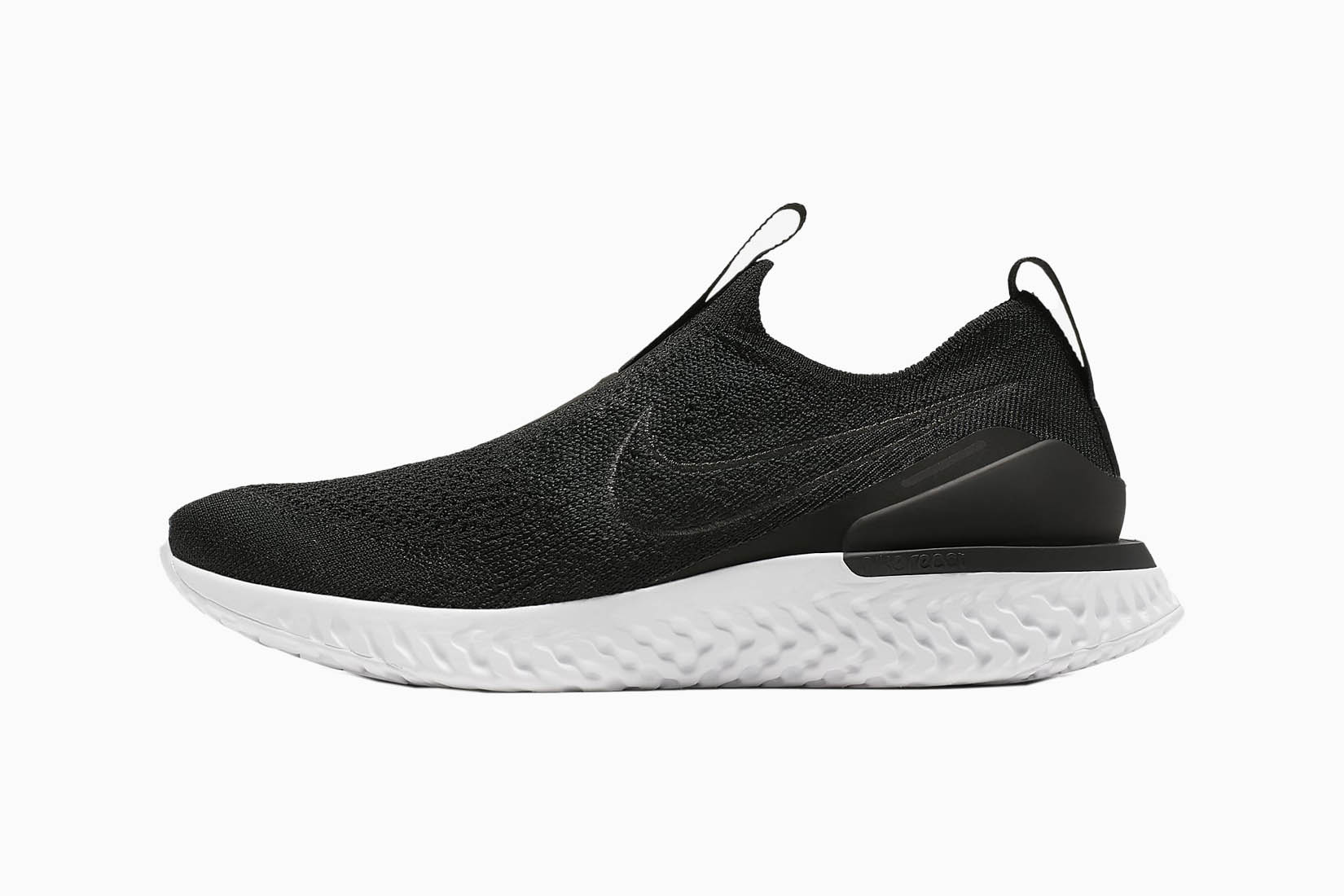 The best running sneakers make exercise a breeze. Those personal best 5Ks, spontaneous treadmill sessions at the gym and Saturday morning meet-ups with your most energetic of friends all suddenly become something to look forward to with the addition of a great pair of running trainers. Nike's Epic Phantom React Flyknit sneakers are the pair to help you achieve just that.
Even if you're not typically someone who sets an alarm for a 6am coffee and gym session, you'll second guess those morning sleep-ins once your new pair of Nike trainers are tempting you with their bounce and breeziness. A lace free, slip on design makes getting ready for a run an almost invisibly quick process and a sleek black colourway emerges effortlessly with the rest of your workout wardrobe.
Best for: Counteracting those scary 6am alarms.
New Balance: Best women's dad shoe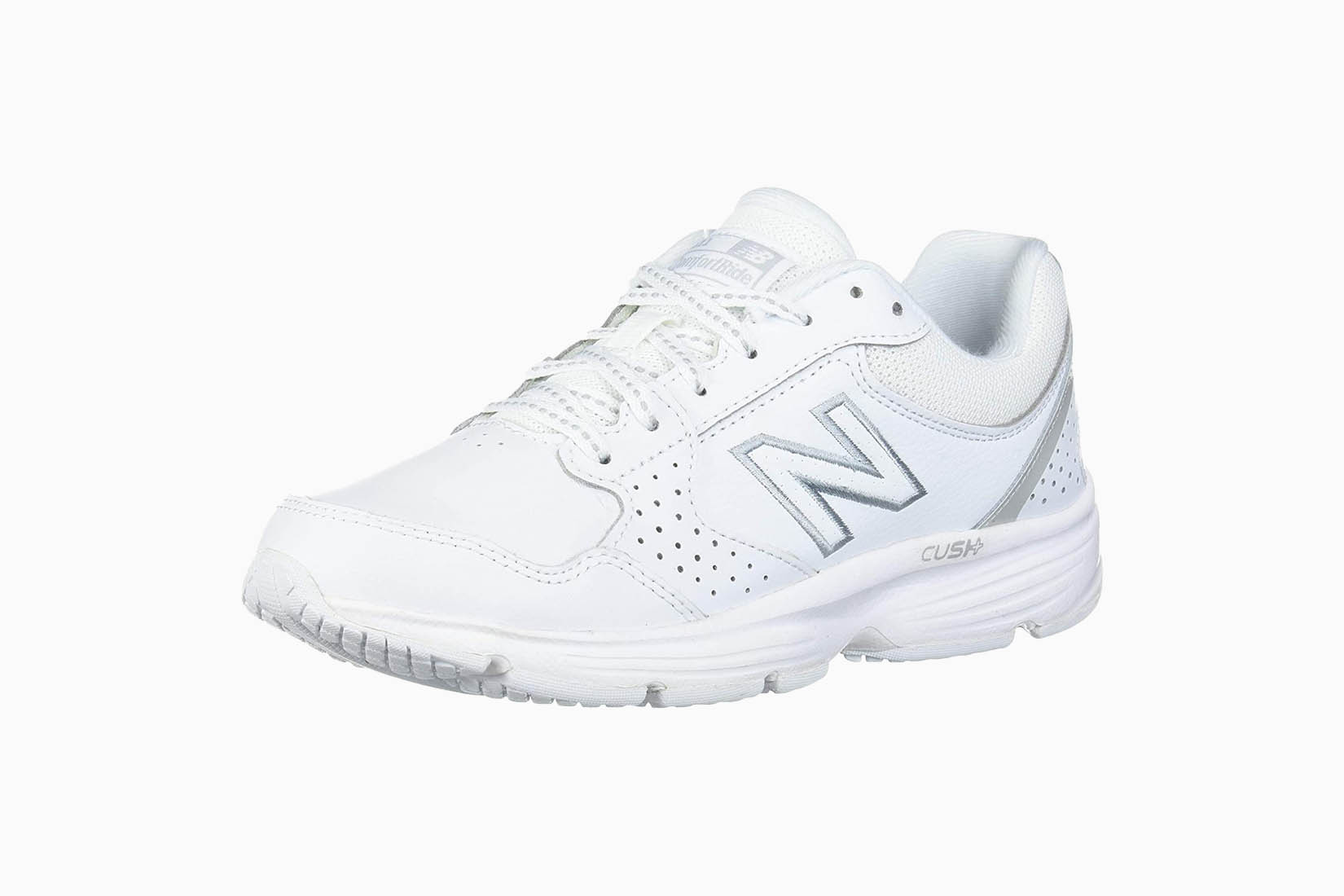 Even if you'd never typically consider your dad to be a style icon, no one can deny that the humble dad trainer is definitely back in fashion and looks set to stay there for the foreseeable future. The ultimate when it comes to comfortable footwear, it seems parents might have been – literally – one step ahead in the shoe game with sneakers that are versatile enough for an entire day's worth of activities but stylish enough to look cool doing so.
The trusty New Balance is the obvious choice when it comes to dad sneakers, and the New Balance Walking Shoe is top of the pile when it comes to a dad trainer that fulfils all the necessary criteria. Bright white to pair perfectly with black tailored trousers? Check. Comfy soles that'll make you second guess every other pair of shoes in your wardrobe? Check. Dad-enough so that your very own father might mistake them as his own? Check, check, check.
Best for: Forever being the butt of jokes from your (newly fashionable) dad.
Veja: Best sustainable sneakers for women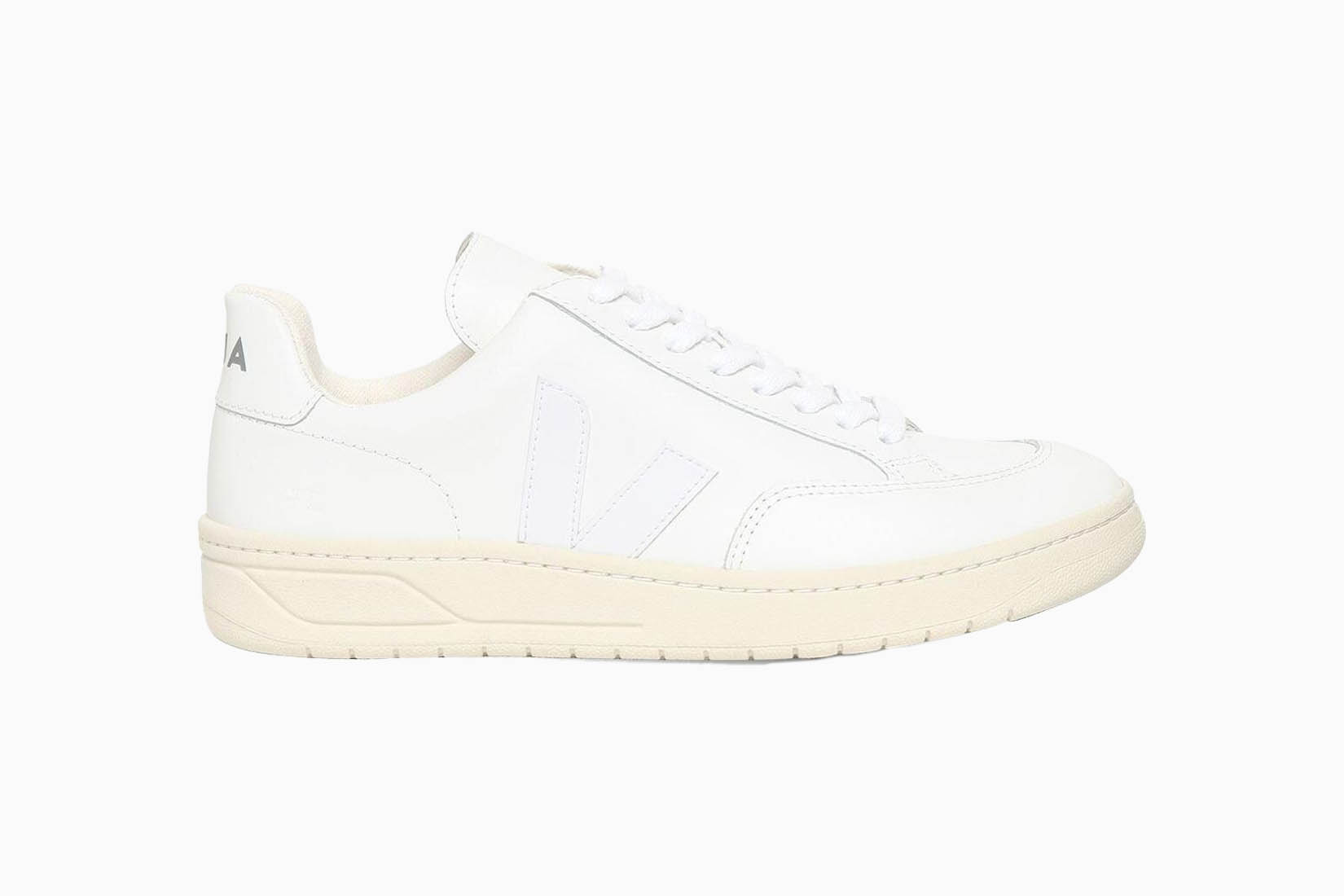 You'll walk with a newly refined spring in your step when you're wearing Veja trainers. The new kid on the block – or rather, the older kid on the block who's recently finding popularity – Veja produces a range of fashionable sneakers produced using only sustainable materials. All of Veja's trainers are made with raw materials sourced from organic farming and ecological agriculture, without chemicals or polluting processes.
It's hard to go wrong with any pair of Vejas – every shoe the brand releases is just as fashionable – but for a versatile option that looks just at home during Fashion Week as it does during your WFH sessions, opt for the V-12 Leather Sneakers.
Best for: Being the catalyst to improving your sustainable wardrobe.
Puma: Best budget sneakers for women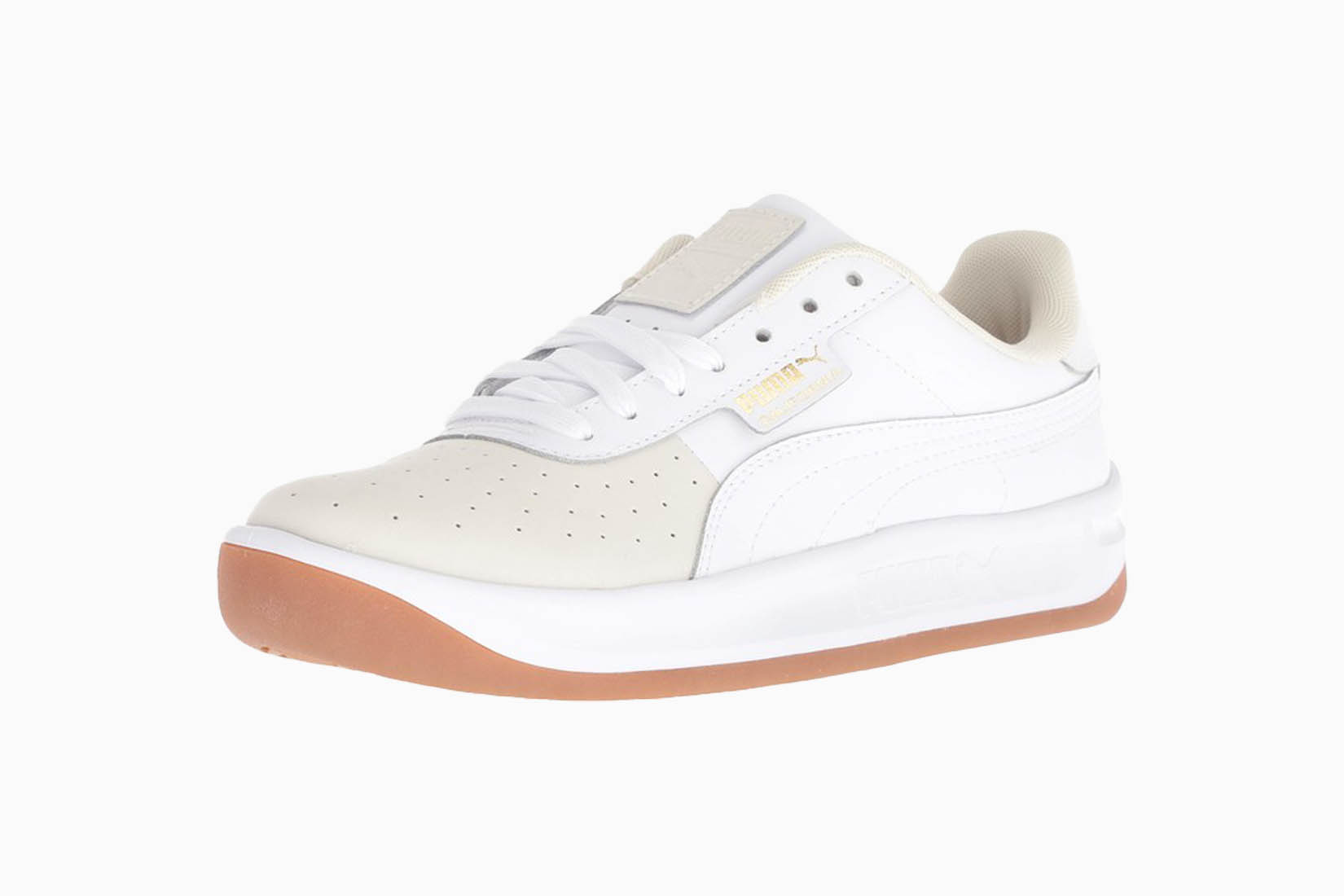 A good pair of Puma trainers is the footwear equivalent of your favourite cosy pair of pyjamas or the comfy white t-shirt you reach for when you can't be bothered to think up an outfit on a Monday morning. Reliable, yet smart enough to make it seem like you've made an effort. Better yet? They're budget friendly enough to buy a pair in every colour you fancy.
The PUMA California Sneakers come in a huge range of colours, including off-white, silver and black, and work perfectly as your new weekday sneaker from the Monday morning commute to the Friday evening spontaneous drinks. Laidback style fuses with a hint of '90s chic to create a trainer appreciated for its popularity as well as its comfort levels. Cute and stylish, they're a win-win pair for anyone looking for budget-friendly sneakers.
Best for: Being your fashion fallback on any occasion.
Roger Vivier: Most expensive sneakers for women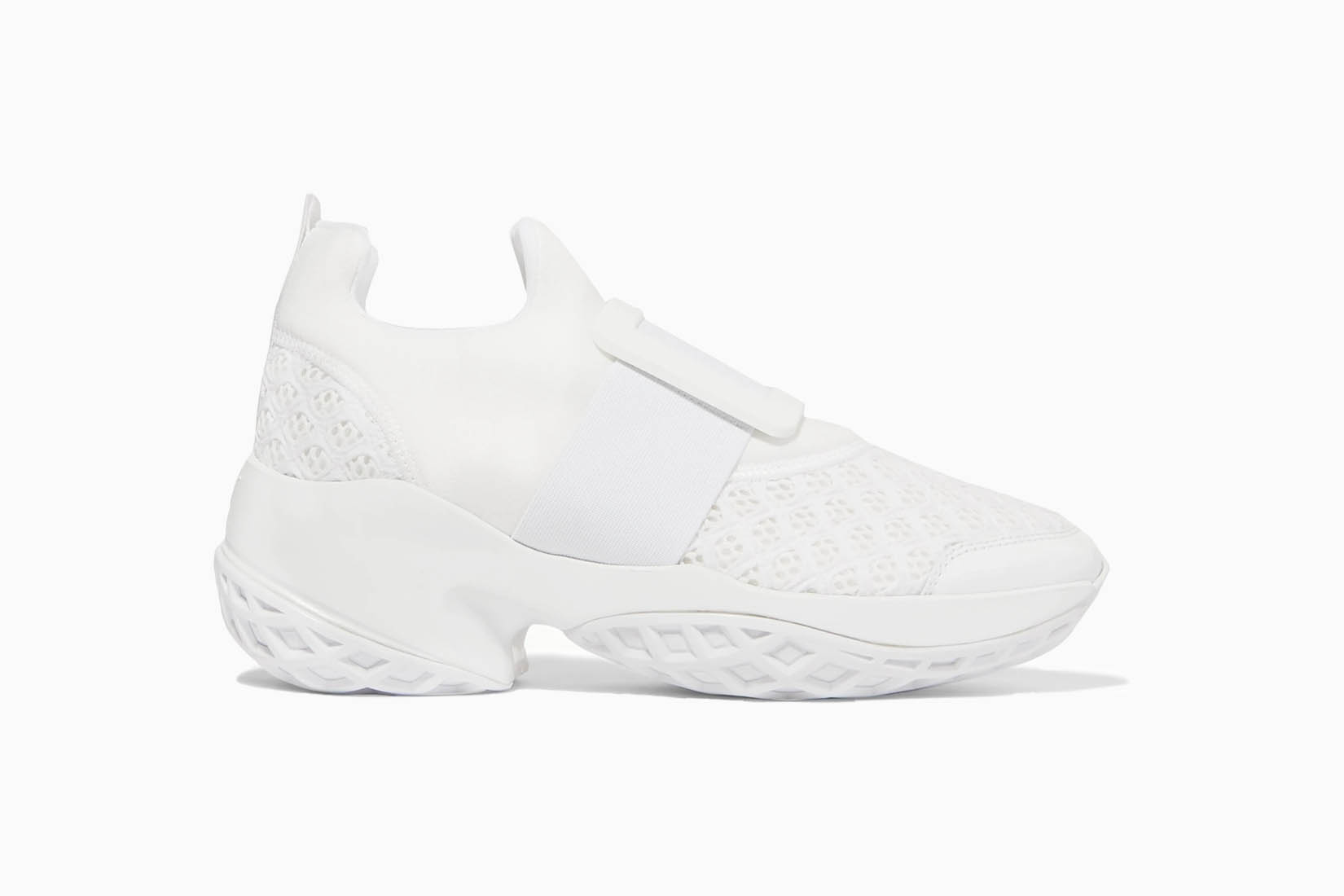 Luxe sneakers are the new luxe heels…but with far more wearability and opportunity. While there's nothing stopping you from donning your new designer heels to the corner shop or wearing them for a weekend stroll around the shops, a new pair of luxe sneakers might do the job a little better with added comfort by the end of your trip. So if you're thinking of branching out with a stylish pair of expensive sneakers, you might as well do it properly. The best option? Roger Vivier's Viv Run sneakers.
Refined and stylish, these Italian sneakers are instantly recognisable with their neoprene panels and thick, rounded soles. In true Vivier style, they're the first thing you'll notice when they enter a room, adding a dash of confidence and a healthy helping of style to even the most casual of outfits.
Best for: Suddenly understanding the sneakerheads who display all their trainers.
Buyers guide to best sneakers for women
Let's face it: there are thousands if not millions of pairs of sneakers on the market, which makes choosing the right pair something of a mission. So, before you dip your toe into the world of stylish kicks, it's important to figure out which are best suited to your needs and style.
Different styles
From the chunky sneaker and the dad sneaker right the way through to those designed for running or other exercise, you'll find sneakers with varying levels of support and comfort. If your new trainers will mostly be used for sports rather than casual occasions, you'll want sneakers made from breathable fabrics that are lightweight and super comfortable.
Material
The best women's sneakers are made using sustainable or natural materials that'll withstand a little wear and tear. Although these might typically be more expensive than artificial materials, they promise to last longer and almost always justify the higher cost.
Toe shape
Less of a problem with sneakers than other shoes but something to consider nonetheless: round toe sneakers offer more room than those with a narrower footbed. Choose round toe options if comfort is key or if you'll be moving around a lot.
Support
Again, something to consider more strongly if you're on the hunt for your next workout companion rather than if you're just looking for a clean white pair for a smart-casual look, comfort levels are important if you're planning on wearing your new sneakers for more than a few hours. Look for trainers with plenty of support around the ankle to stop feet from overcompensating when you're on the move.
Frequently asked questions about sneakers for women
What are the best women's sneakers for walking?
The best women's sneakers for walking are the Allbrds Tree Runners. Lightweight, versatile and available in a large range of colours, these women's sneakers flexibly conform to your movements and allow for airflow while you walk.  
What sneakers are in style now?
Chunky 'dad' sneakers, white sneakers, high top sneakers and sustainable sneakers are some of the most fashionable sneaker options right now. Read our full guide to discover the best women's sneakers for you.