We've all been there: dragging around a handbag, and a tote bag and an extra laptop bag, because we could not find the right business bag to carry all our daily essentials in style. The best work bags for #girlbosses should have a few key features:
First, your office-appropriate bag should be functional and roomy enough to carry all your work essentials plus more. Laptop? Check. Wallet, phone, and charger? Check. Notebook and pens. Check. Water bottle and makeup bag? Done and done. And maybe even some fun extras like workout clothes and a pair of sneakers.
They should also be chic and compact enough to carry around with confidence, from interviews and Very Important Meetings to your lunch errands and happy hours.
Finally, they should be durable to hold up through your daily commutes, work trips abroad, children drop-offs, and whatever journey life takes you next.
But finding business bags that are both chic and laptop-friendly can be hard work. Good news: we're about to make your (work) life really easy. We've hand-selected the best work bags for women that get the job done (pun intended). From work totes to designer laptop bags, convertible backpacks, messenger bags, and satchel bags, these chic work bags will fit all your daily must-haves comfortably. Mark our words: Equal parts fashion and function, they work 9 to 5 and beyond.
21 best work bags that get the job done
KAAI Midi Pyramid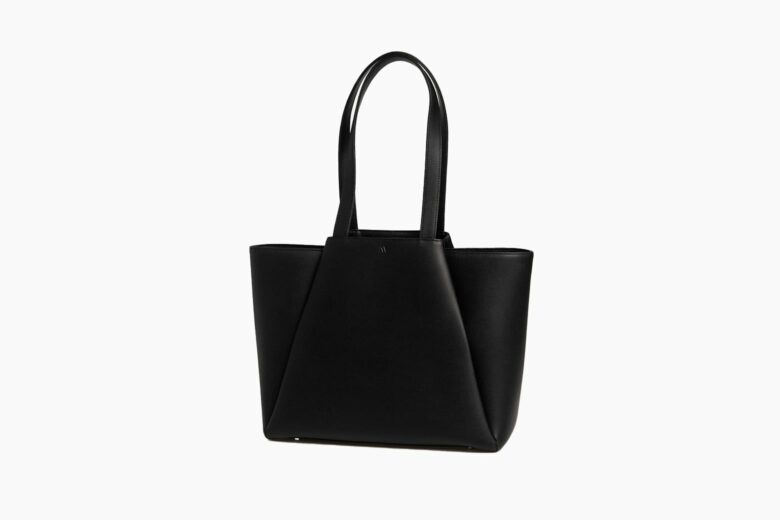 Blending functionality and feminine sophistication, this chic carryall by KAAI is the ultimate bag for work and weekends. The soft blue micro-suede lining interior is an organizational dream with its neat compartments and designated pockets for your phone, glasses, pens, lipsticks, and even a special holder for your water bottle or umbrella.
Eloquently shaped to shape your life moments and dreams, KAAI's Midi Pyramid is designed to go places without ever looking out of place. Plus, the sleek and timelessly chic exterior of the bag is scratch-, water- and stain-resistant.
No doubt, the Pyramid bag should sit right at the top of your Pyramid of Needs–in fact, we would go as far as saying this shoulder bag is the luxury work bag you have been dreaming of. Looking for an even greater multitasker? You must meet the brand's convertible Mini Hero.
| | |
| --- | --- |
| Space for: | 13-inch laptop |
| Style: | Work tote |
| Materials: | 100% Italian leather |
| Colors: | Black, Nude Pink, Terracotta + More |
Cuyana Classic Structured Leather Tote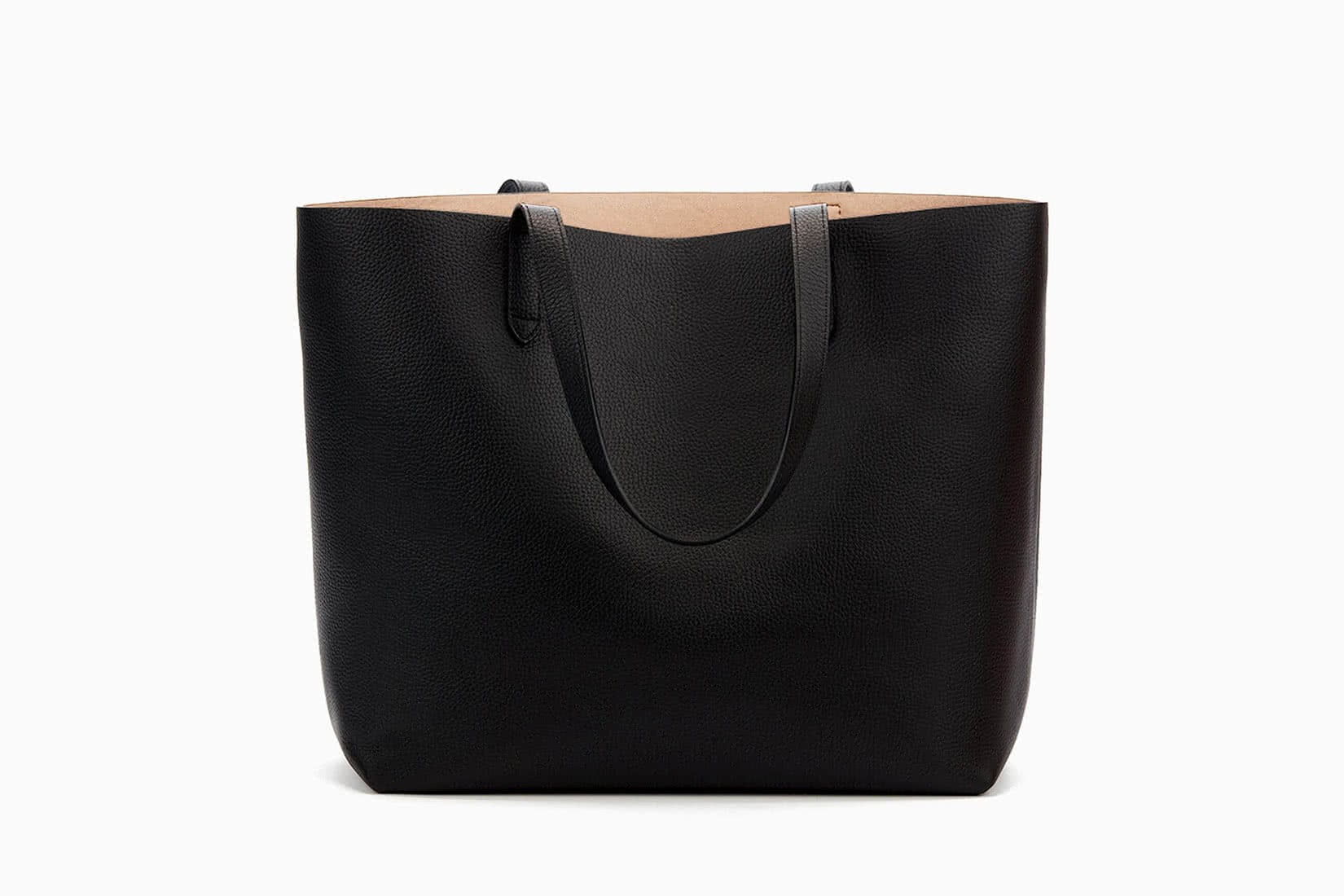 Look to Meghan Markle-approved brand, Cuyana, for the perfect architectural twist on the classic tote. Crafted from buttery-soft Italian leather, Cuyana Classic Structured Leather Tote is the effortlessly chic tote bag you'll buy now and rely on forever. Put-together, poised, and totes amazing—kind of like you.
This is roomy enough for all of your essentials (basically your entire mobile office and social life). It's also designed to be versatile enough to tote just about anywhere—from work to grocery runs, gym trips, all-day shopping excursions, and evenings out on the town.
You'll look like a major lady boss carrying this sleek, simple, and sustainable bag—and support a female-owned business while you're at it. (#womenempowerment: on)
Would prefer a work bag with compartments for optimized organization? No problem. Pair it with Cuyana's Tote Organization Insert with a place for everything, including keys, a 15-inch laptop, and a water bottle. And voila, the perfect Marie-Kondo-meets-Mary-Poppins-carryall.
In search of a tote bag with a zipper? The Classic Tote is also available with a zipper for extra secure storage.
| | |
| --- | --- |
| Space for: | 15-inch laptop |
| Style: | Work tote |
| Materials: | Responsibly tanned Italian leather |
| Colors: | Black, Caramel, Burgundy + More |
Senreve Maestra Leather Bag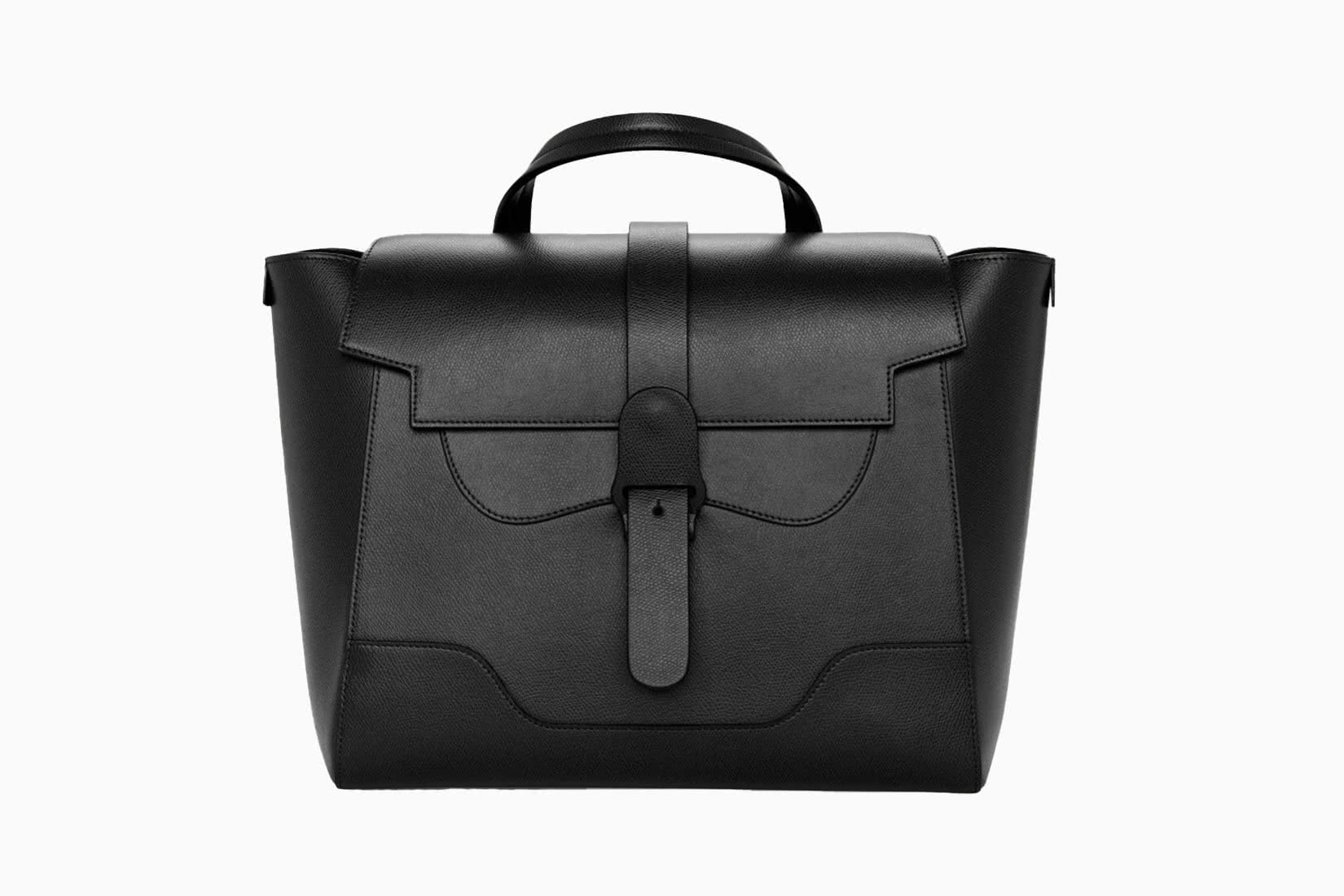 If it's stylish enough for Olivia Palermo and Priyanka Chopra, it's definitely chic for us.
But beyond fashion, perhaps one of the coolest features of this 100% genuine Italian leather bag is its super versatility: You're basically getting four work bags for the price of one—You can wear the convertible Senreve leather Maestra bag as a tote bag, shoulder bag, crossbody, or backpack.
The Maestra bag has a well-designed organization system with its eight interior compartments including a padded sleeve that can fit a 13″ laptop (while the central compartment fits up to a 15″ laptop). This leather tote bag for work comes in a wide range of different colorways to fit every style.
Stunning and capable of anything, the Maestra is built to withstand the wear and tear of daily use with its metal feet, stain-resistant micro-suede interior, and water-resistant exterior, making it great if you commute on an ebike or an escooter.
Even better: it comes with a lifetime warranty and a 100% vegan version of this luxury work bag is available for the most sustainable amongst us.
Learn more about the story behind Senreve.
| | |
| --- | --- |
| Space for: | 15-inch laptop |
| Style: | Convertible, Work tote/Satchel/Backpack/Crossbody |
| Materials: | Leather or Vegan leather |
| Colors: | Black, Sand, Cement + More |
Dagne Dover Medium Allyn Tote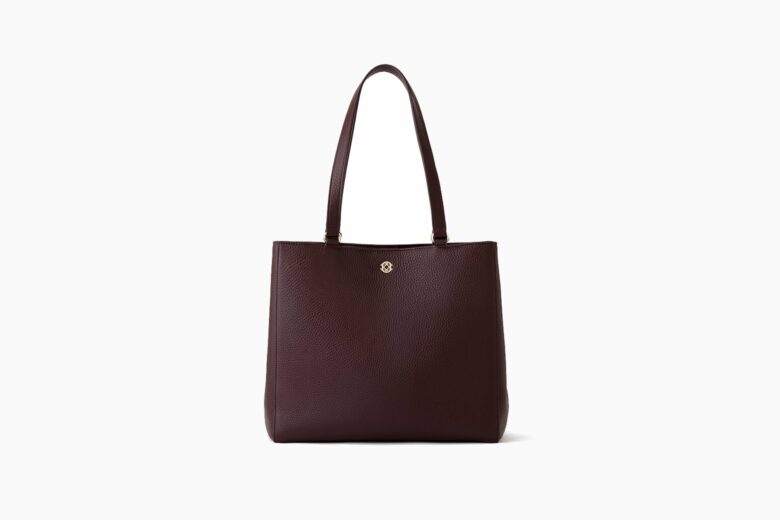 Stylish and spacious, this leather tote bag is the ultimate work-life companion—business in the front, party in the back.
Always ready for impromptu adventures, the Dagne Dover Allyn Tote features a neoprene laptop sleeve, a bottle holder, thoughtful interior pockets for just about anything you could ever need (wallet, phone, hand cream, and a change of clothes), and a seemingly-simple-lifesaving key leash.
Check our in-depth review of Dagne Dover's bags and our profile on Dagne Dover's brand.
| | |
| --- | --- |
| Space for: | 13-inch laptop (M) or 16-inch laptop (L) |
| Style: | Work tote |
| Materials: | Genuine pebbled leather |
| Colors: | Black, Bone, Graphite + More |
Saint Laurent Small Sac De Jour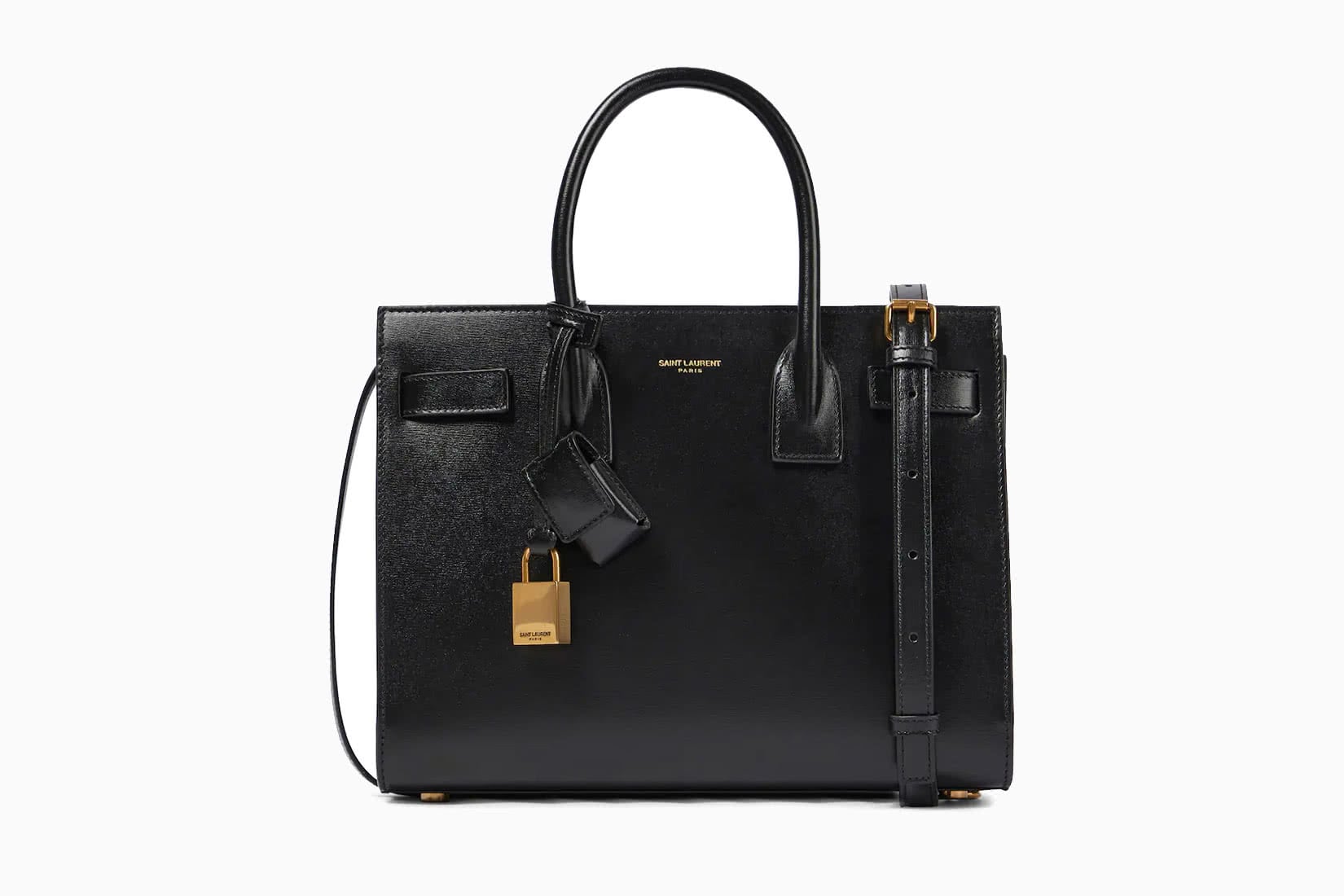 Celebrities are obsessed with this classic bag and so are we. It's named "day bag" for a reason—You'll be wearing the Sac De Jour by Saint Laurent day in, day out.
With its structured body and signature style that combines timeless Parisian elegance with contemporary finishes, the Saint Laurent Sac De Jour promises to be your go-to everyday bag for work and play.
The open-top design reveals a spacious inner including an interior zipped compartment to safely store your daily necessities.
The detachable and adjustable shoulder strap means you can wear this luxury work bag over the shoulder and across the body or by the top handle for a more formal look.
| | |
| --- | --- |
| Space for: | 11-inch iPad Pro |
| Style: | Satchel bag |
| Materials: | Leather |
| Colors: | Black, Crocodile effect + More |
RIMOWA Never Still Tote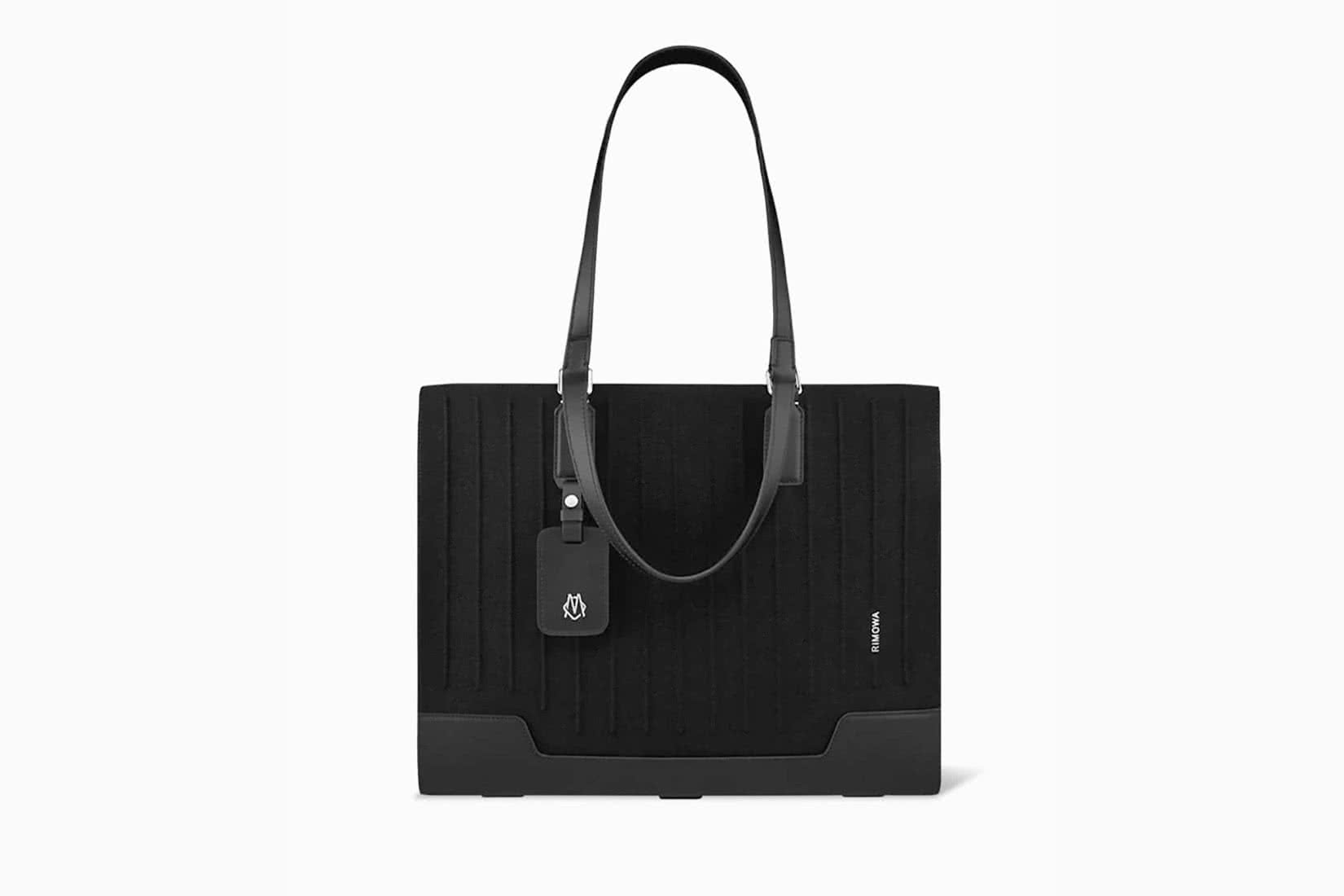 This thoughtfully designed, versatile, and well-structured tote by RIMOWA works even harder than you do.
Made in Italy from canvas and full-grain leather, this luxury work bag is spacious enough for all your daily essentials.
The perfect work bag for women on the go, RIMOWA's Never Still Tote can easily carry a 15" laptop plus an extra set of clothes for the gym or an overnight stay.
This business bag doubles as a travel tote—it features a handy strap at the back so you can easily attach it to your suitcase when traveling.
An innovative double-handle system allows for adaptable toting (over-shoulder or as a handbag). You'll definitely be toting around this chic carryall on repeat.
Check our review of RIMOWA's Never Still collection to see the other bags from the same line.
| | |
| --- | --- |
| Space for: | 15-inch laptop |
| Style: | Work tote |
| Materials: | Canvas, full grain leather |
| Colors: | Black, Pink |
Bellroy Tokyo Tote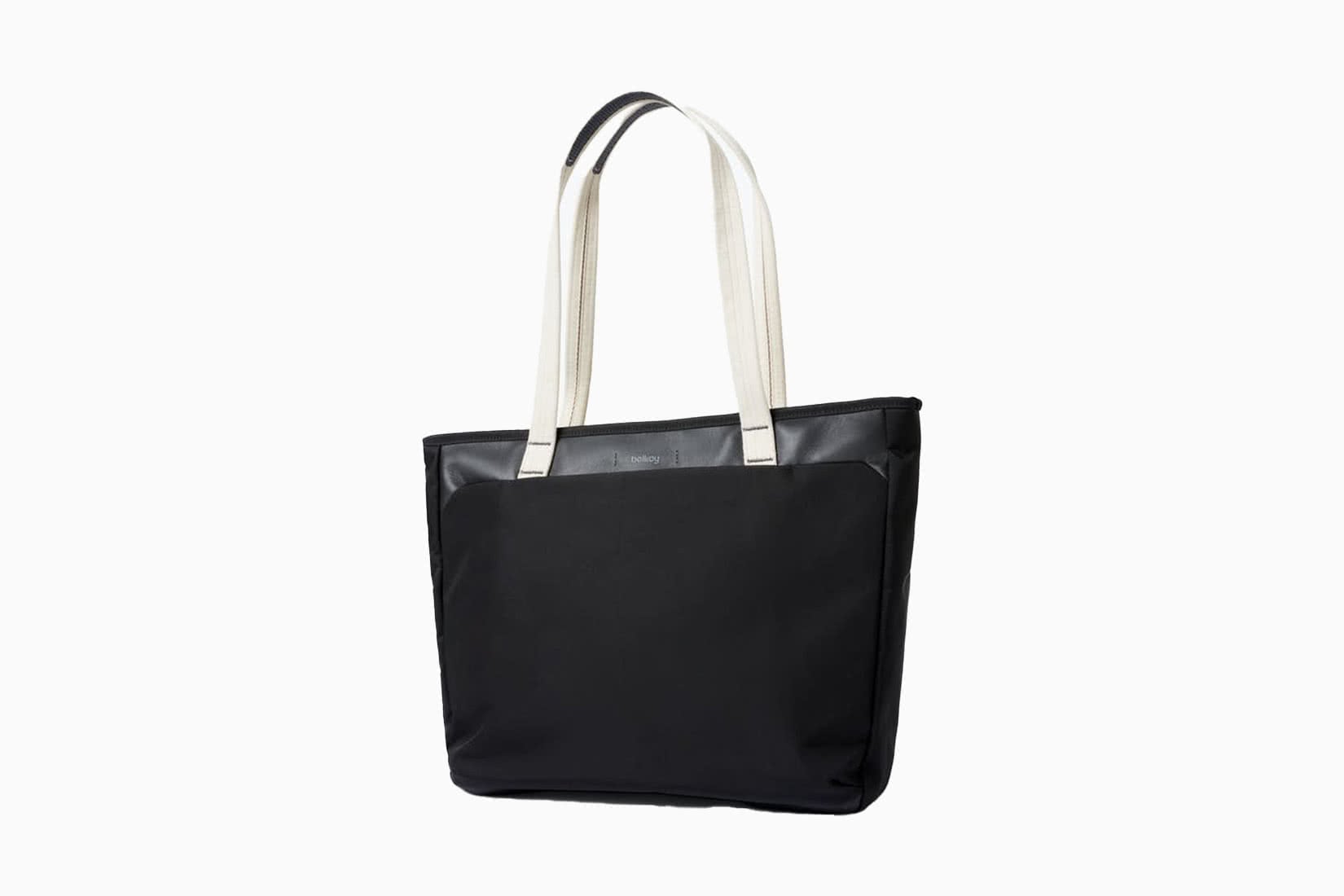 We love Bellroy for their smartly designed accessories and daily essentials. The Australian brand is now turning its attention to premium bags for women with this Tokyo Tote. Available in black or desert, this tote bag is made with premium, environmentally certified leather and woven fabric with a dedicated pocket for a 13" laptop or a tablet.
The inside packs a ton of little pockets to help keep things organized. There's a pop-out pocket to safely store your water bottle or an extra pair of comfortable flats.
On the outside, you'll find the brand's Aquaguard zipper to protect valuables from unexpected rain.
| | |
| --- | --- |
| Space for: | 13-inch laptop |
| Style: | Work tote |
| Materials: | Woven fabric, made from recycled materials |
| Colors: | Black/Sand |
Mansur Gavriel Small Zip Tote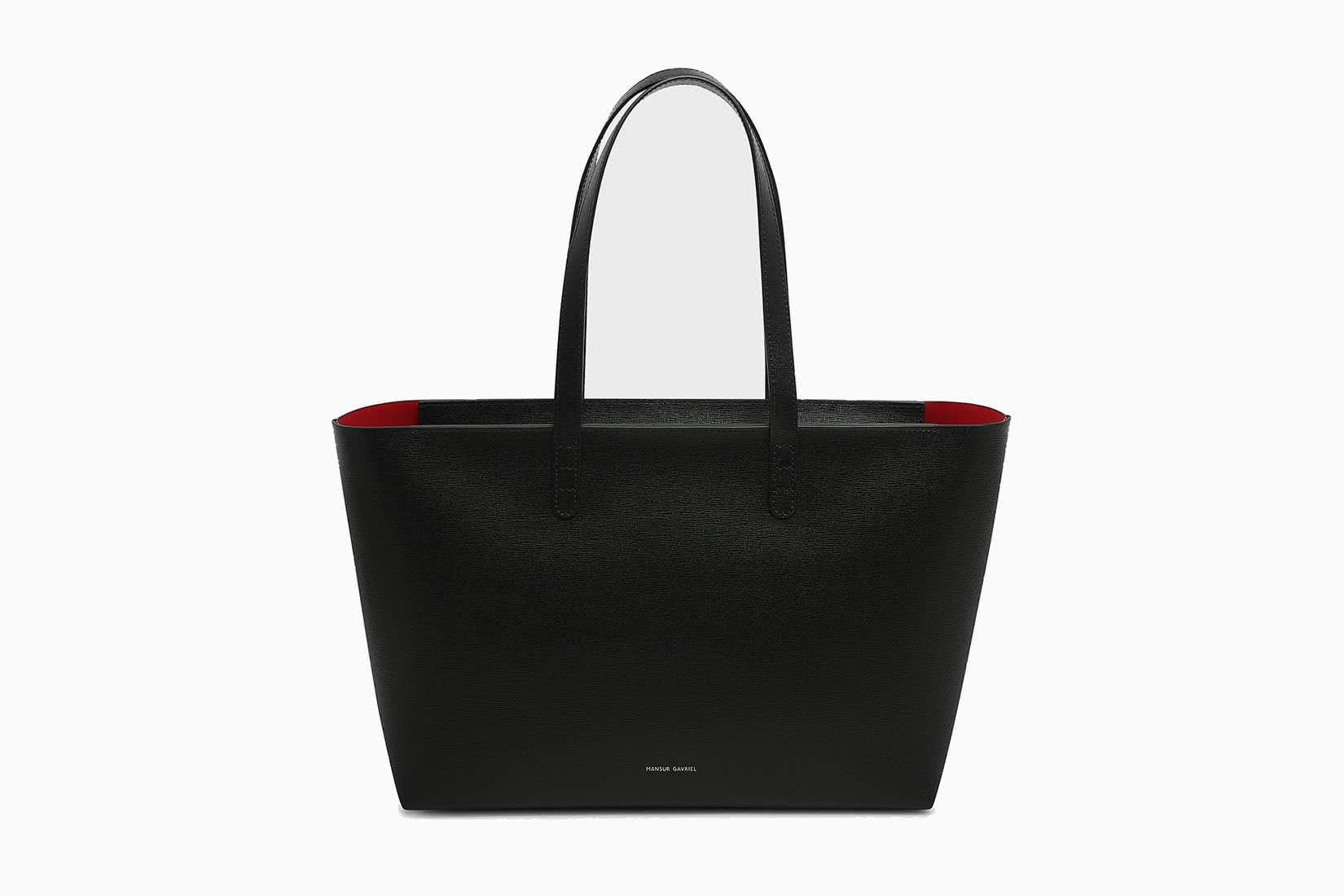 Mansur Gavriel Small Zip Tote is lightweight, yet spacious enough to fit your essentials (including a 13-inch laptop and miscellany you don't need but carry anyway) everywhere you go with elegance, making it great for even the busiest of commutes.
Made in Italy from vegetable-tanned textured leather, this small designer tote bag features clean lines and a structured silhouette that is beautifully modern.
Each bag comes with a detachable wallet and it has a zipper for added functionality and security.
We'd opt for the Black/Flamma to match your Louboutins but it also comes in other chic shades that will instantly raise your style game. Adding to cart—now.
Learn more about the story behind Mansur Gavriel's brand.
| | |
| --- | --- |
| Space for: | 13-inch laptop |
| Style: | Work tote |
| Materials: | Italian Saffiano leather |
| Colors: | Black, Beige, Red + More |
Away Latitude Tote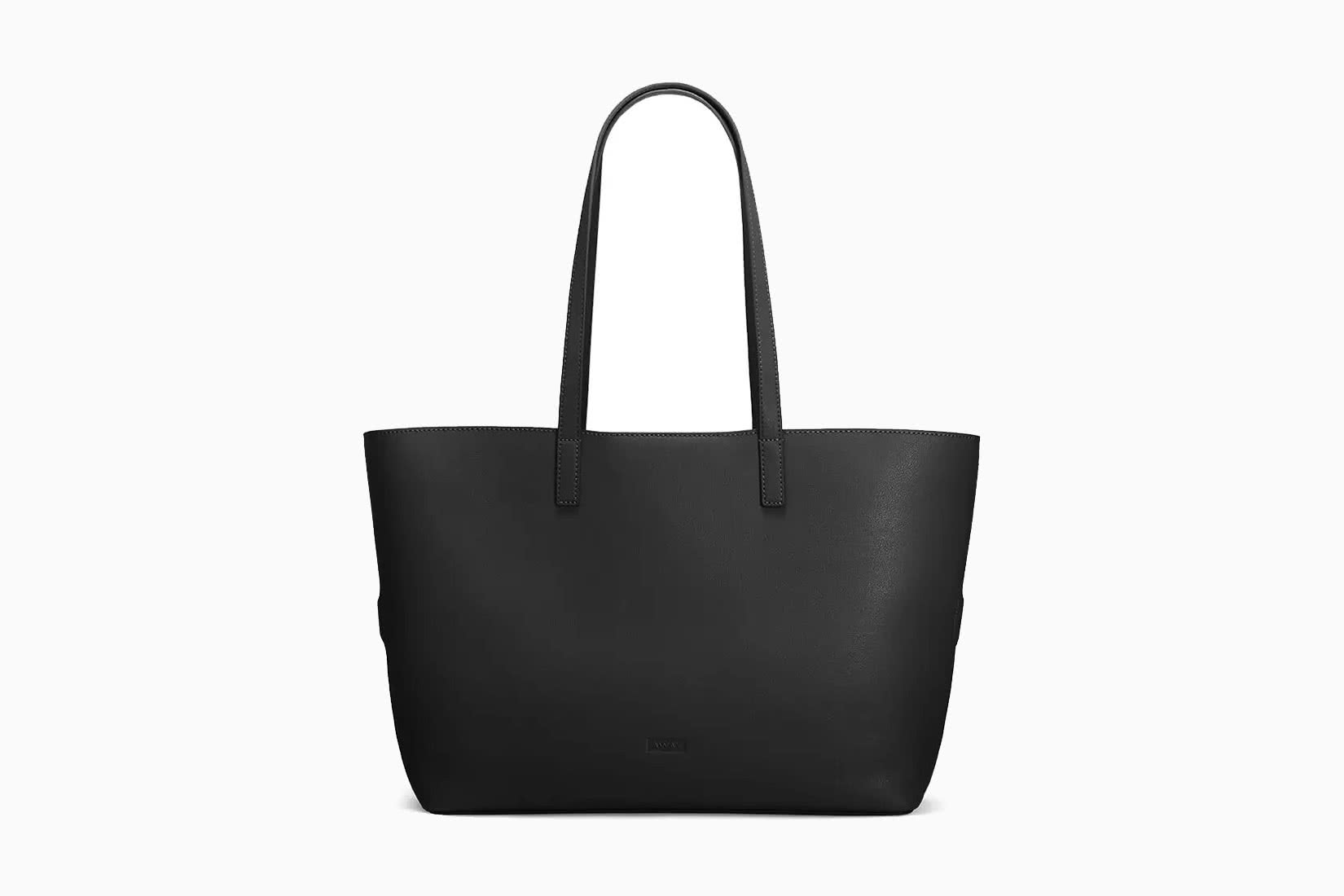 If you're looking for an easygoing work bag that you can seamlessly carry from the office to the airport, Away's Latitude Tote is for you (it is one of our favorite travel totes for a reason!).
Made from premium smooth leather, this sturdy tote bag has a roomy interior that can fit anything from work essentials to your workout shoes and leggings for those after-work fitness sessions.
Designed with travelers in mind, this tote bag comes with a magnetic closure top for easy access and a trolley strap that slips onto the handle of your suitcases. Just add some pouches for extra organization. And Away we go (sorry, had to!).
| | |
| --- | --- |
| Space for: | 15-inch laptop |
| Style: | Work tote |
| Materials: | Leather |
| Colors: | Black, Nude, Ruby |
Givenchy Antigona Soft Medium Leather Tote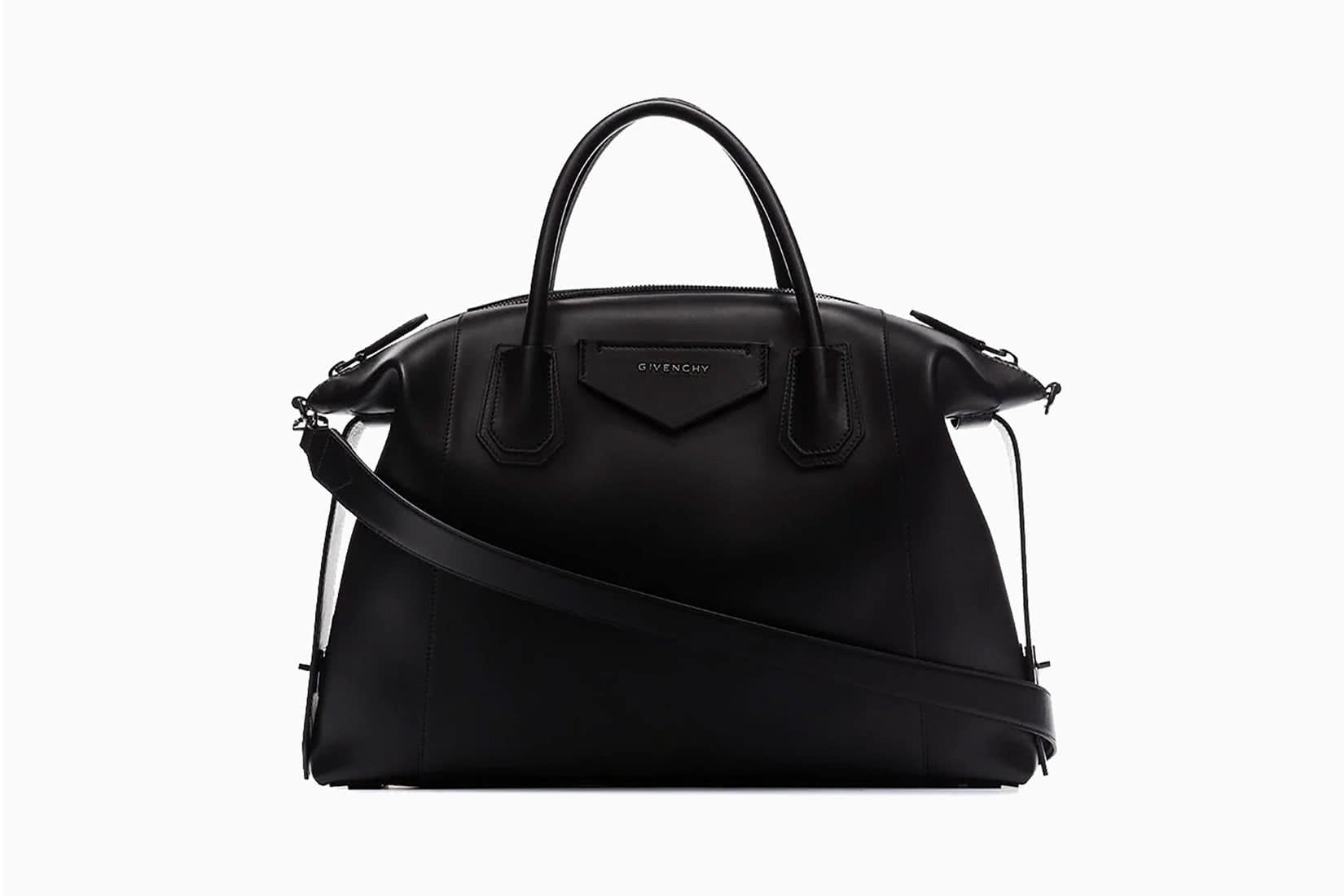 Practicality meets elegance with this 'soft' interpretation of Givenchy's coveted 'Antigona' tote seen on the shoulders of the likes of Khloe Kardashian and Rosie Huntington-Whiteley.
Add your 13-inch laptop, A4 notebook, a spare pair of heels and weekend necessities—this deceptively spacious work tote will carry it all. And it will do so with an effortless sense of timeless sophistication à la française.
With its slouchy shape that holds more than you'd first expect at first glance, this leather tote bag is sprinkled with a dash of charisma and understated confidence for all your on-your-best-behavior occasions.
| | |
| --- | --- |
| Space for: | 13-inch laptop |
| Style: | Work tote |
| Materials: | Calf leather |
| Colors: | Black, Grey, Taupe |
Gucci Double G Tote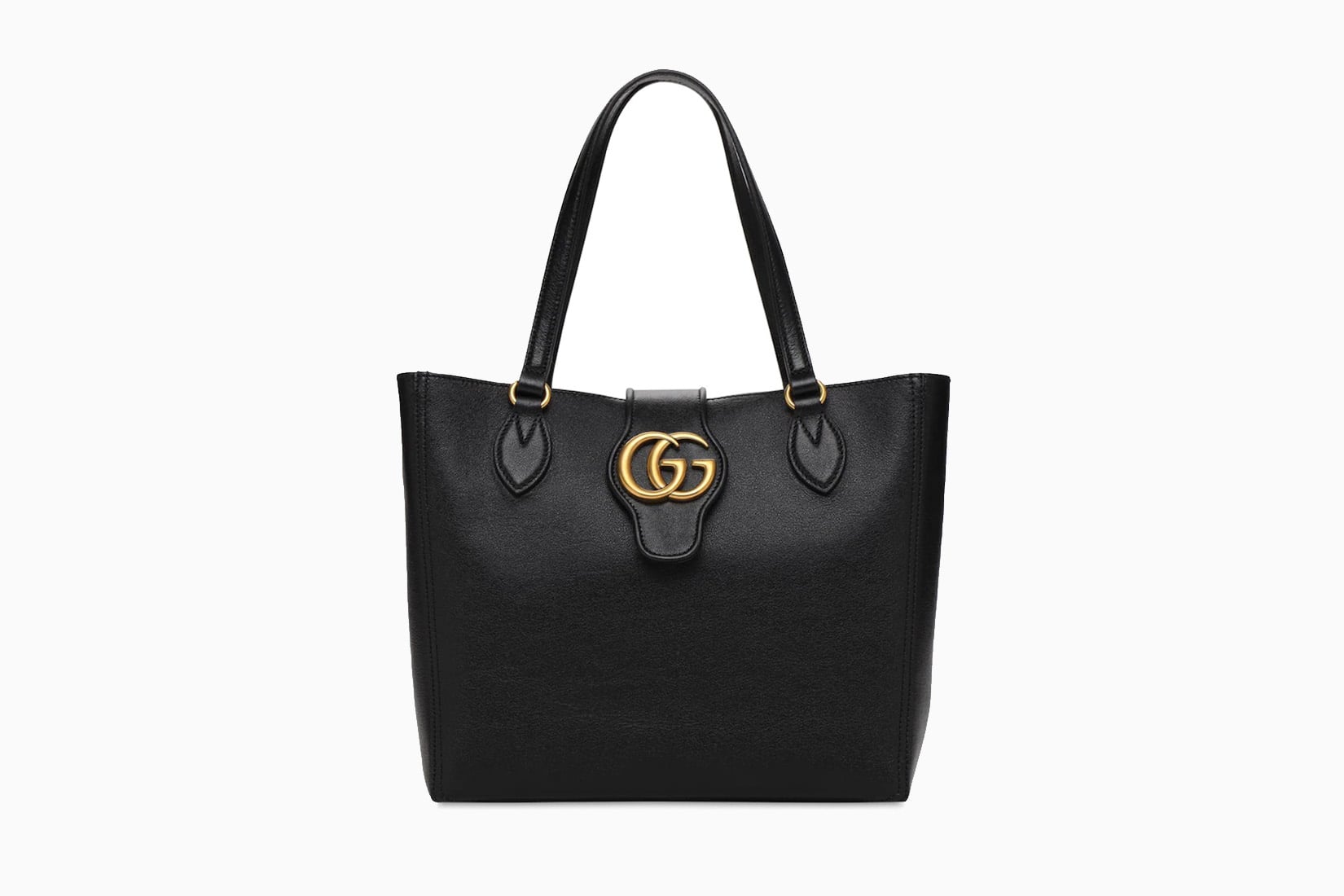 Add some vintage feel and a dose of Italian glamor to your work life with this office-friendly tote bag by Gucci.
Crafted in Italy from sustainable leather and embellished with a gold-tone Double G logo plaque, it's the perfect complement to turning heads.
The Gucci work tote comes with a zipped pouch to keep smaller items safe and organized, making it the ideal work bag for toting your everyday essentials and extras around town.
| | |
| --- | --- |
| Space for: | 13-inch laptop |
| Style: | Work tote |
| Materials: | Calf leather |
| Colors: | Black |
Bottega Veneta Medium Arco Tote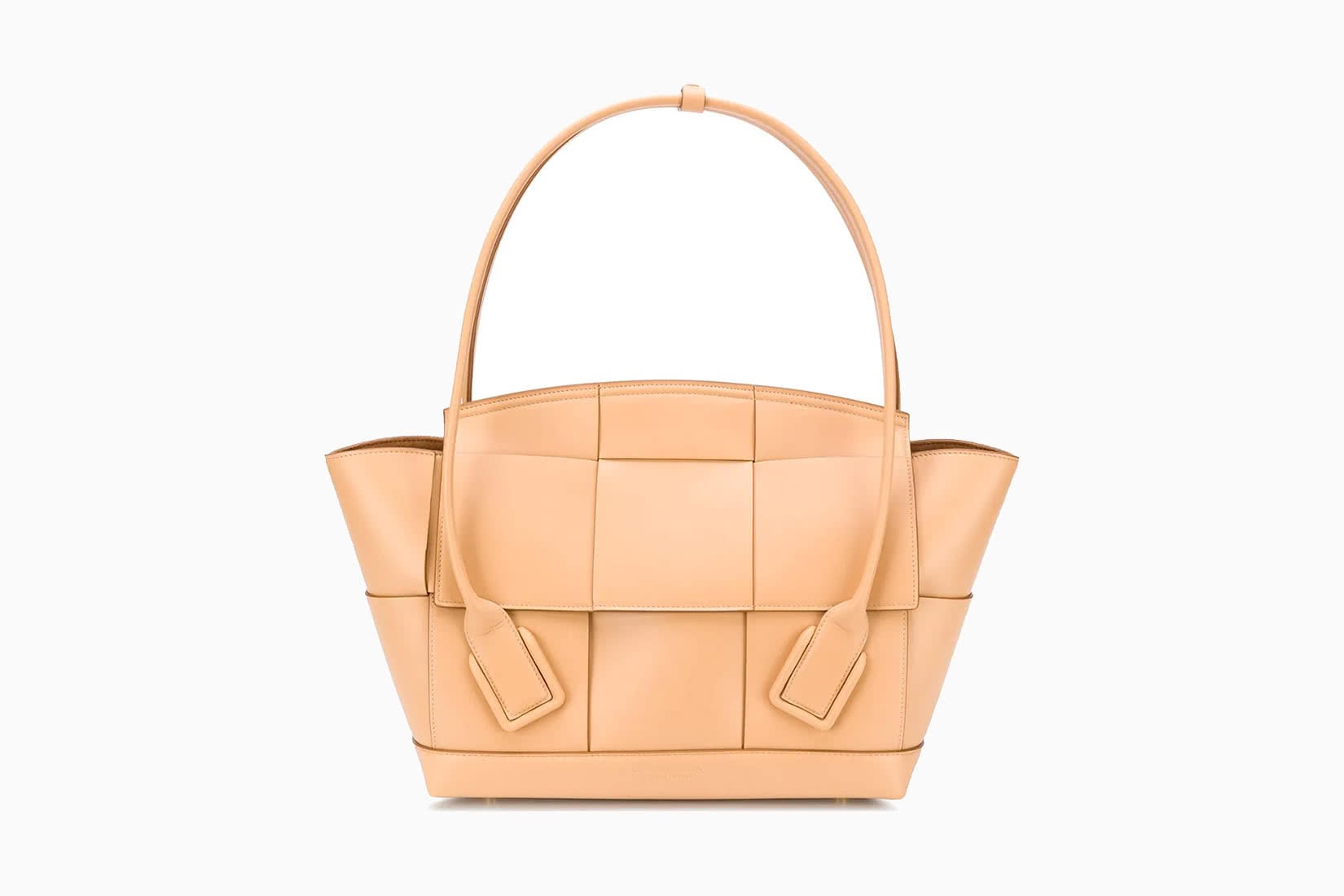 If you are looking for a bag that works overtime for you, look no further. We found the one-and-done work bag you'll use for years to come: the Bottega Veneta Medium Arco Tote.
With its sleek and timeless design in an oversized version of the Bottega Veneta's signature intrecciato weave, the Arco tote bag effortlessly oozes sophisticated elegance from work to weekends.
But it's more than just good looks. Inside you'll find plenty of room to carry all your daily essentials and then some.
| | |
| --- | --- |
| Space for: | 13-inch laptop |
| Style: | Work tote/Satchel |
| Materials: | Leather |
| Colors: | Dark Grape, Nude, Orange |
Calpak Kaya Laptop Backpack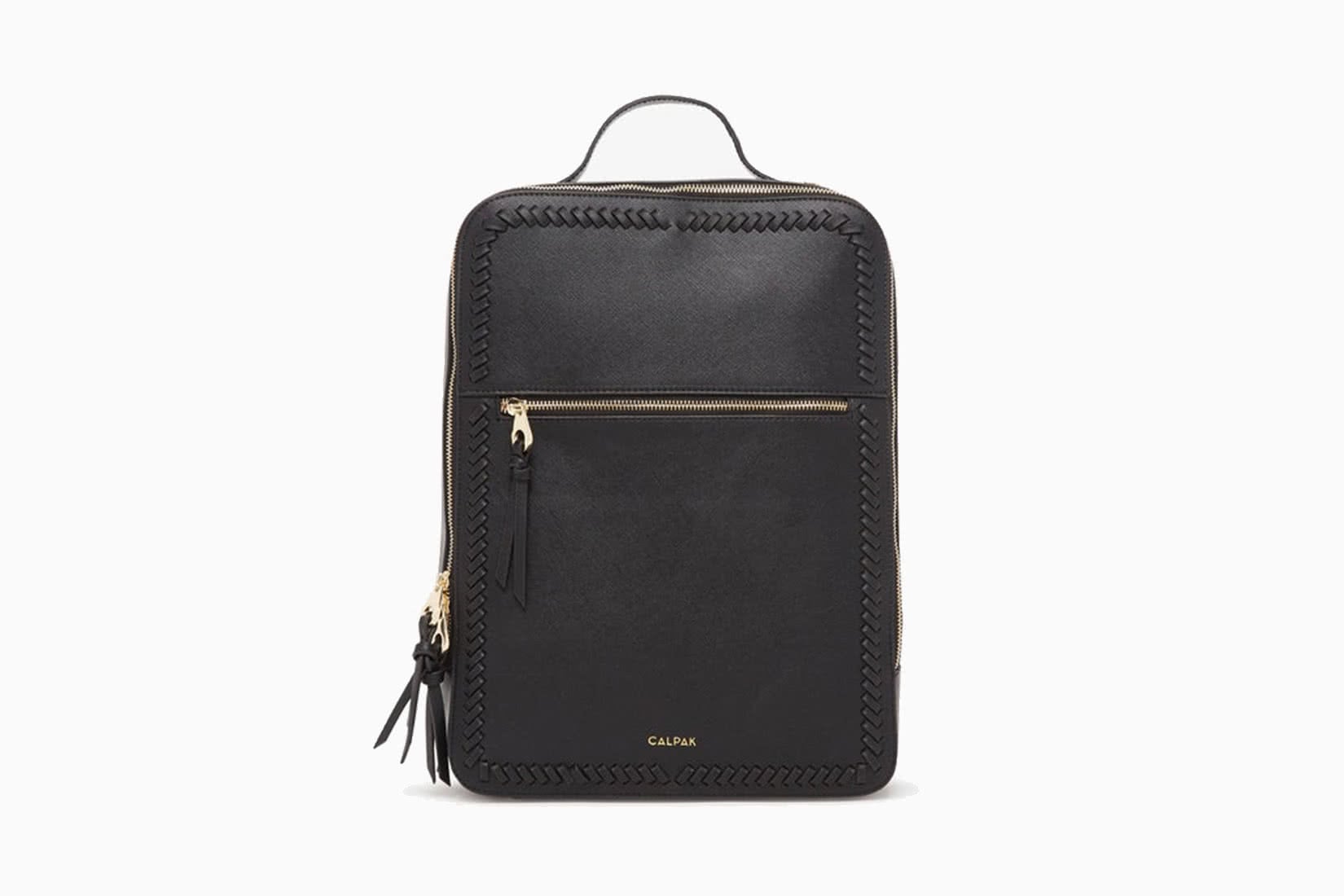 If you are looking for a sign that you are cut out for the digital nomad lifestyle (or simply love a convenient mobile office), this is the work bag for you.
The interior provides a surprising amount of functionality: a 15-inch laptop compartment and multiple interior pockets will help keep you organized.
Designed for your on-the-go lifestyle, this faux leather Calpak backpack for women features adjustable straps and a handy luggage sleeve trolley for easy travel.
| | |
| --- | --- |
| Space for: | 15-inch laptop |
| Style: | Work tote |
| Materials: | Coated canvas |
| Colors: | Black, Grey, Taupe |
Celine Mini Luggage Handbag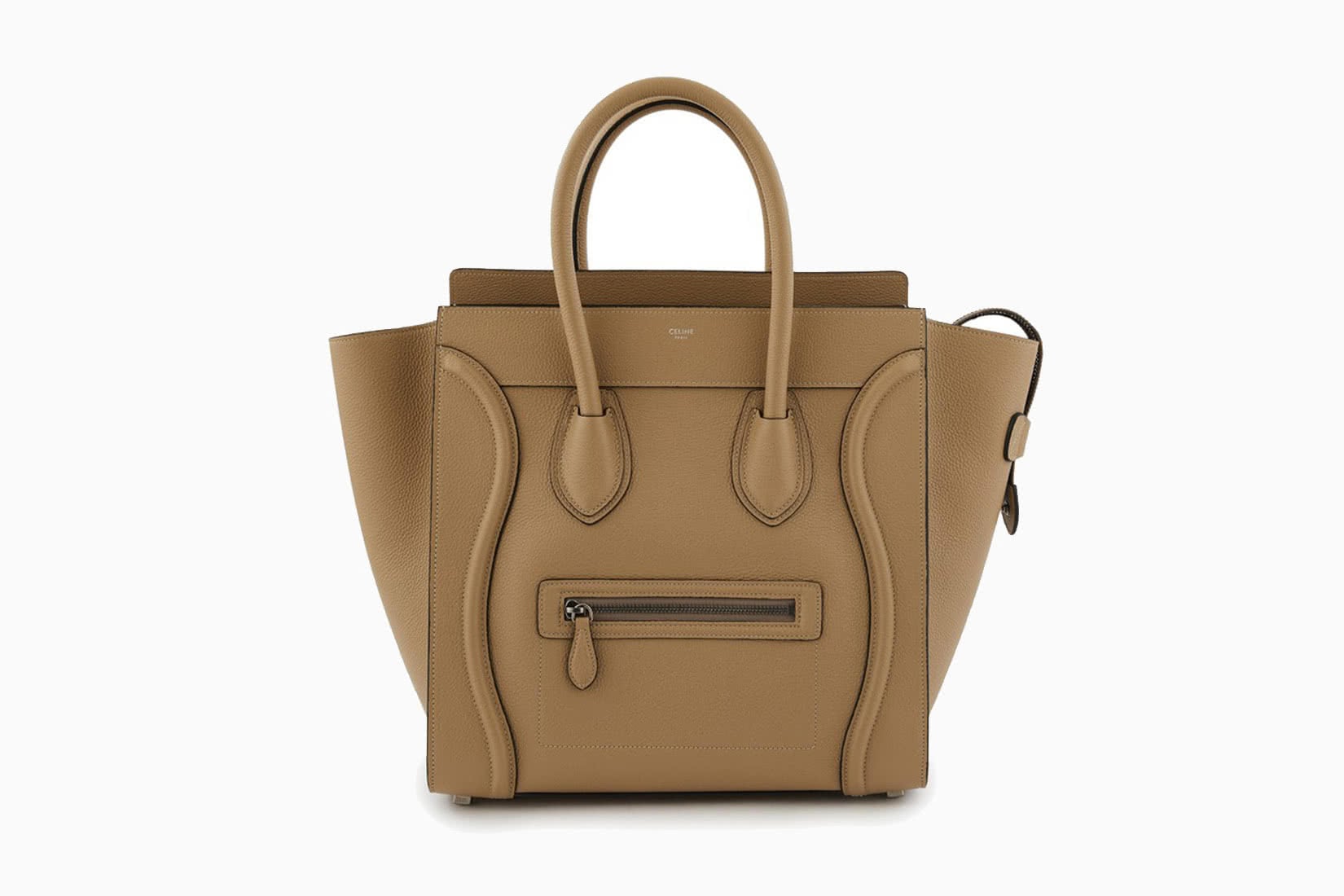 A favorite of Hollywood celebrities and boss ladies alike, you know the Celine Mini Luggage is a must-have.
It's structured, refined, and timeless with a simple and chic Parisian allure.
Surprisingly spacious, this work bag in drummed calfskin actually works with your urban lifestyle and instantly elevates your business casual look.
| | |
| --- | --- |
| Space for: | 13-inch laptop |
| Style: | Satchel |
| Materials: | Calf leather |
| Colors: | Grey, Dune |
Cuyana System Tote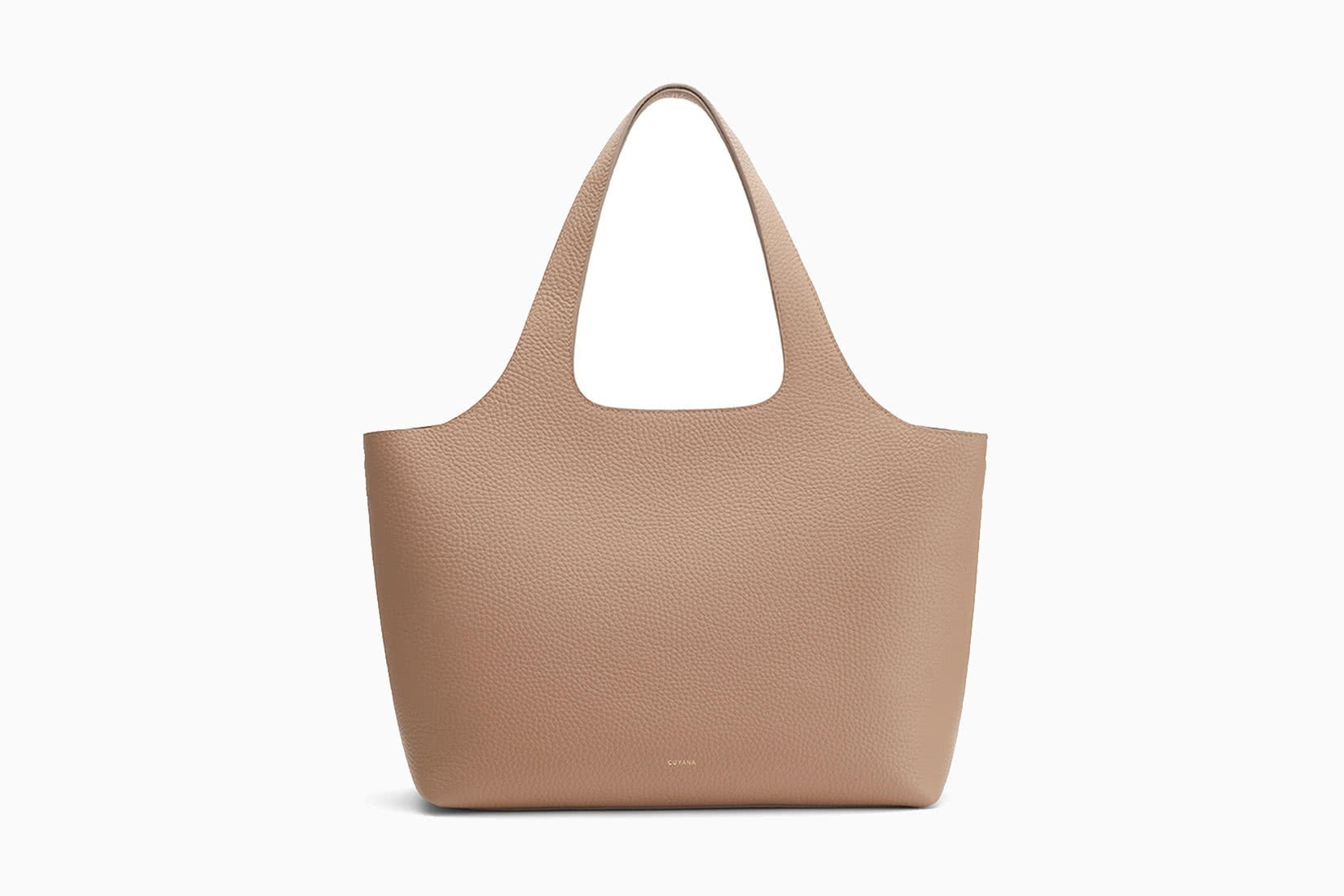 If, like us, you love systems that make lives simpler, easier and more efficient, let us introduce you to the Cuyana System Tote.
This work–life bag seamlessly combines with three compatible add-on accessories to carry you effortlessly from workdays to weekends: A Laptop Sleeve, a Flap Bag, and an Adjustable Strap can easily be integrated to the tote to suit your personal needs.
If that wasn't enough, the modular work bag is available in two sizes, 13 and 16 inches, to fit your laptop and it is made from responsibly-sourced leather.
You can monogram the System Tote for an extra custom touch.
Get yours before this 3-in-1 bag sells out—and it will, fast.
| | |
| --- | --- |
| Space for: | 13-inch laptop or 16-inch laptop |
| Style: | Work tote |
| Materials: | Responsibly tanned Italian leather |
| Colors: | Black, Olive, Cappuccino + More |
Behno Ina Large Shoulder Bag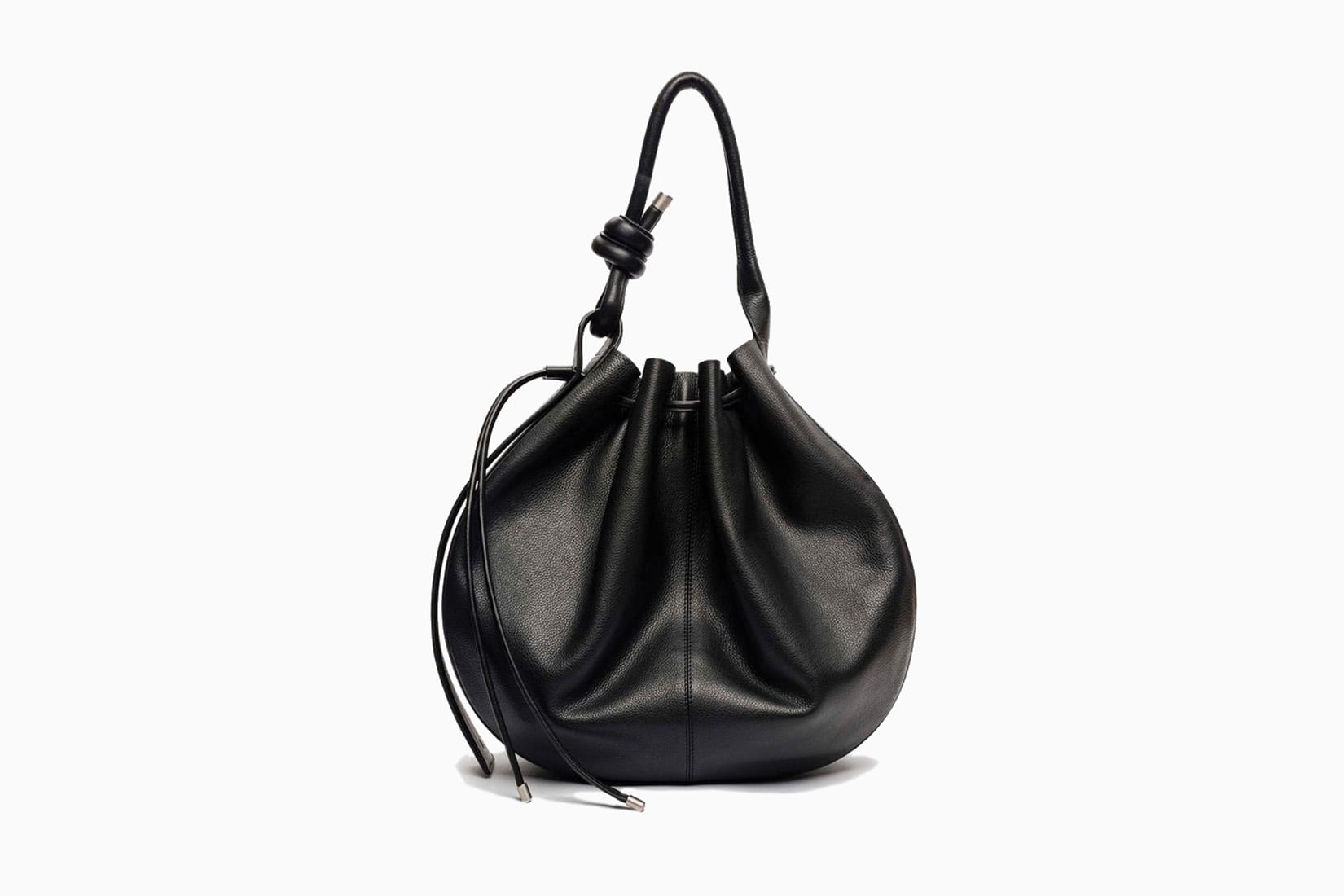 Work bag design doesn't have to be meh. If you love a modern classic look, this is the business bag for you.
Behno's Ina large pebble bag is a bestselling shoulder bag and for good reasons—it's spacious enough to fit all your daily must-haves comfortably and refined enough to tote it from the office to dinner and everywhere in-between.
Handcrafted with supple Italian pebble-grain leather, this consciously made shoulder bag is definitely the best way to welcome working hours with open arms (literally).
| | |
| --- | --- |
| Space for: | 15-inch laptop |
| Style: | Handbag |
| Materials: | Sustainable leather |
| Colors: | Black, Bone |
Longchamp Large Le Pliage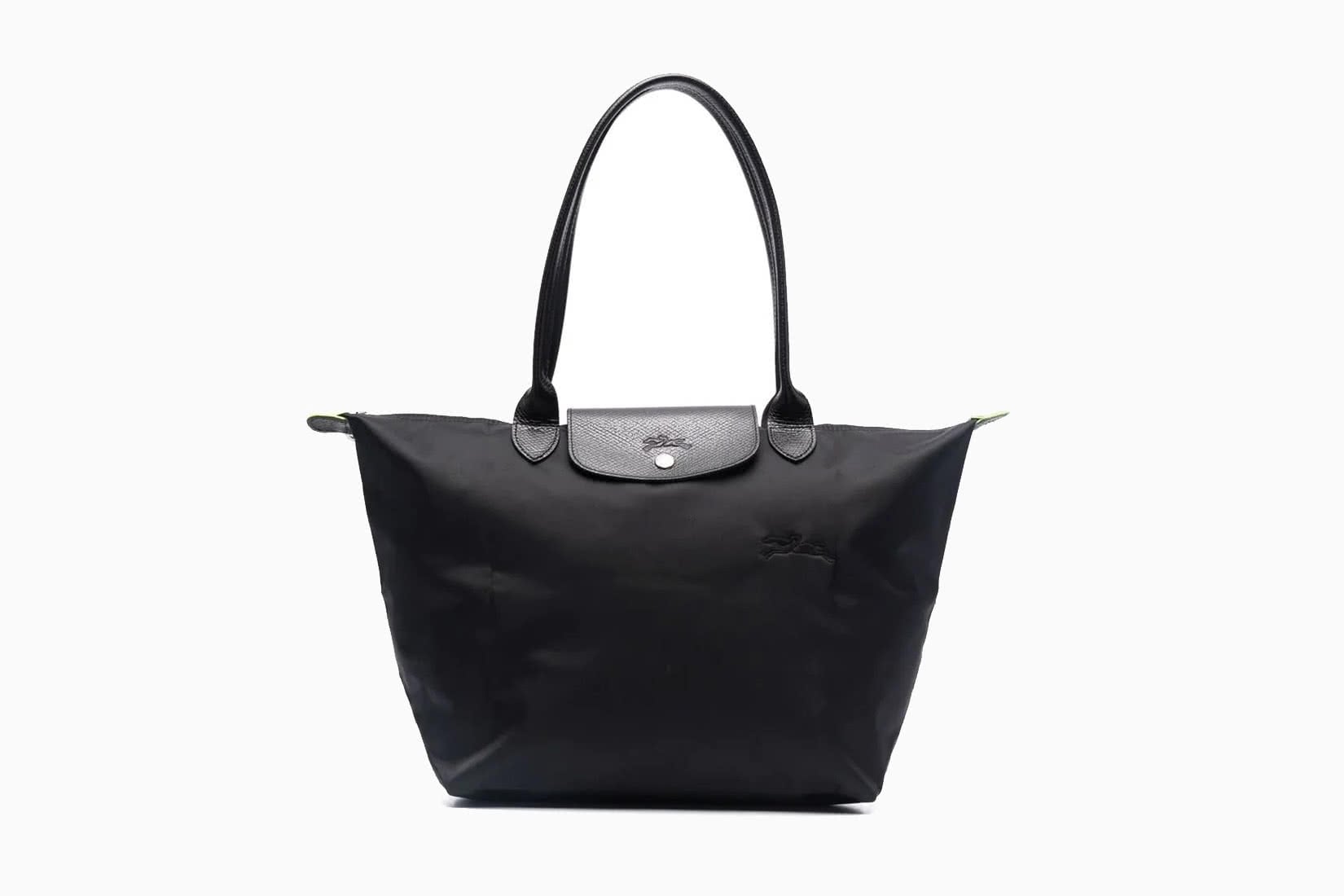 The Longchamp Le Pliage tote is perhaps the most popular work bag for women and college students everywhere and for good reasons—It's lightweight, it's roomy, the nylon is practical and durable and it comes in a wide range of colors.
Even better: Its origami-like style means it packs down easily (Its name means 'folding', after all) when not in use, making it the perfect travel tote too.
| | |
| --- | --- |
| Space for: | 15-inch laptop |
| Style: | Work tote |
| Materials: | Polyamide 100% |
| Colors: | Black, Navy + More |
Tory Burch Perry Large Tote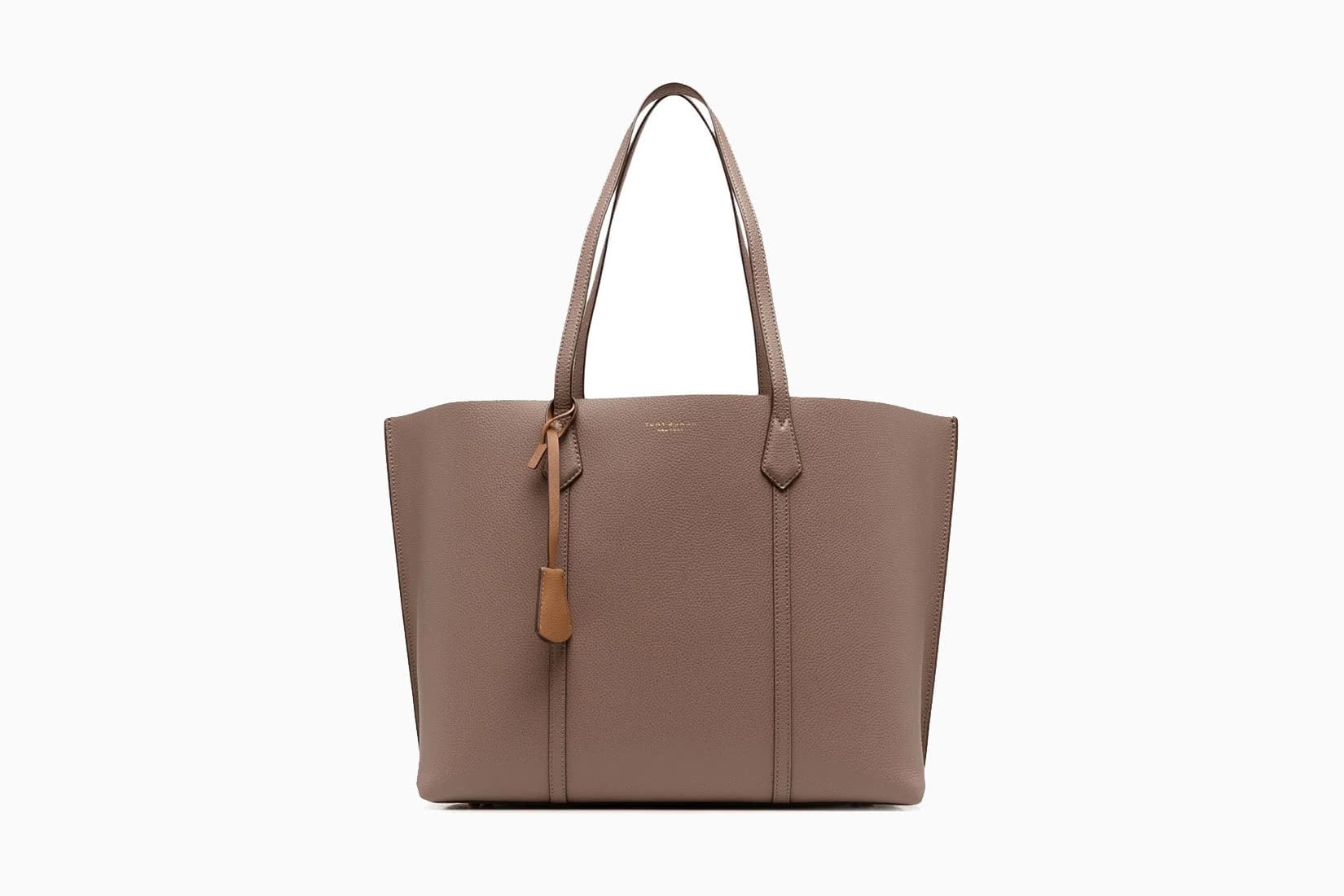 Crafted in luxurious pebbled leather, this lightweight multi-tasking tote from Tory Burch radiates effortless polish.
Soft and structured, It features a well-organized interior: two open compartments and a zip pocket that can hold your 13-inch laptop and keep your possessions in place.
Perfect for looking glamorous at a formal occasion or running errands.
| | |
| --- | --- |
| Space for: | 13-inch laptop |
| Style: | Work tote |
| Materials: | Leather |
| Colors: | Black, Rhubarb Red, Brown + More |
Senreve Gemelli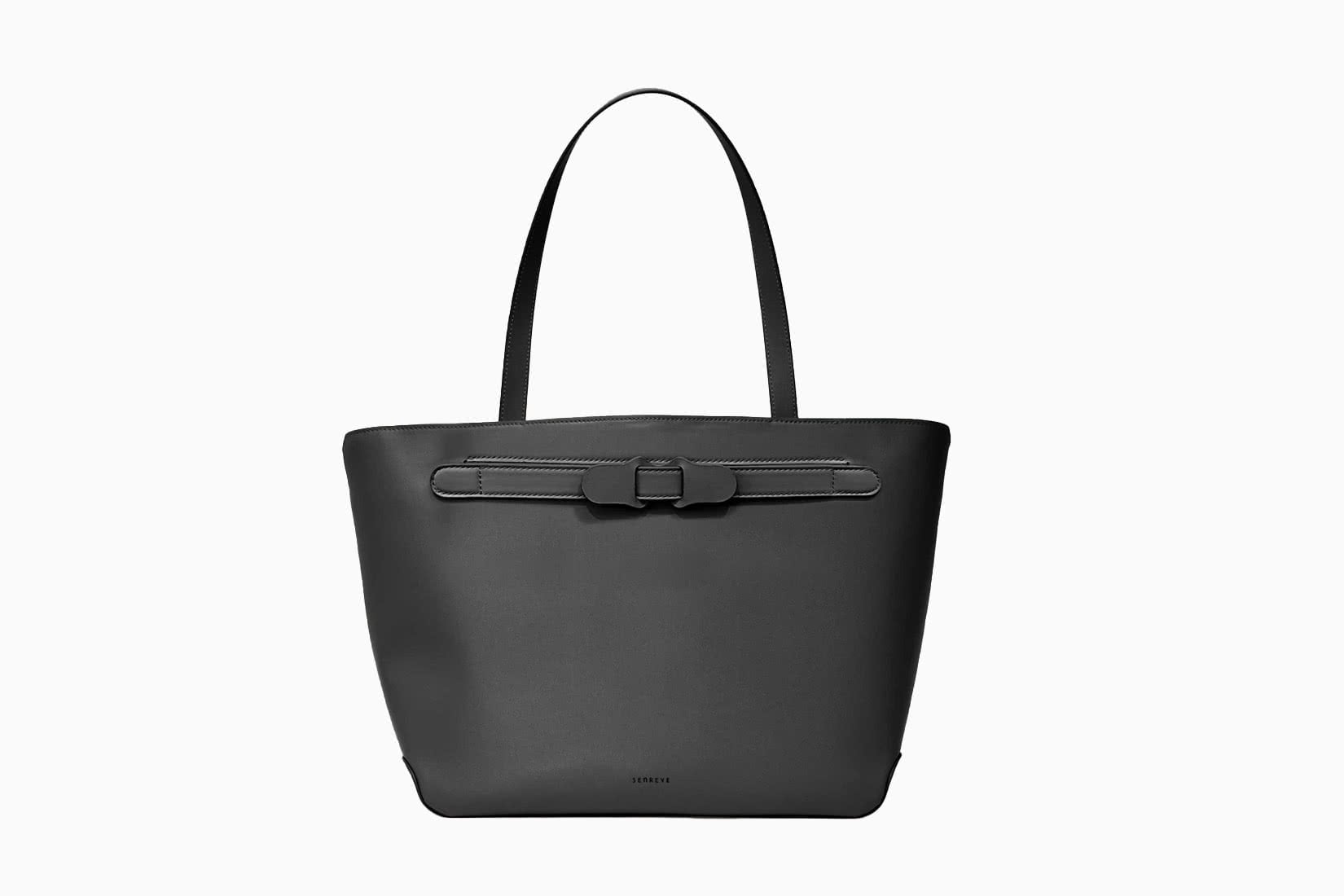 The Gemelli tote is Senreve's sustainable take on the carefree carryall.
Now here's something you don't see every day—a luxury work bag made from sustainable vegan Cactus Leather. How cool is that!
This work tote features an internal zipped pocket, seven internal slip lockets, and an elastic cord to secure your 15-inch laptop or tablet.
If cactus can become that functional and fashionable, you definitely can become anything you want toting this business bag around.
| | |
| --- | --- |
| Space for: | 15-inch laptop |
| Style: | Work tote |
| Materials: | Cactus leather (vegan) |
| Colors: | Midnight or Saddle |
Cuyana Messenger Bag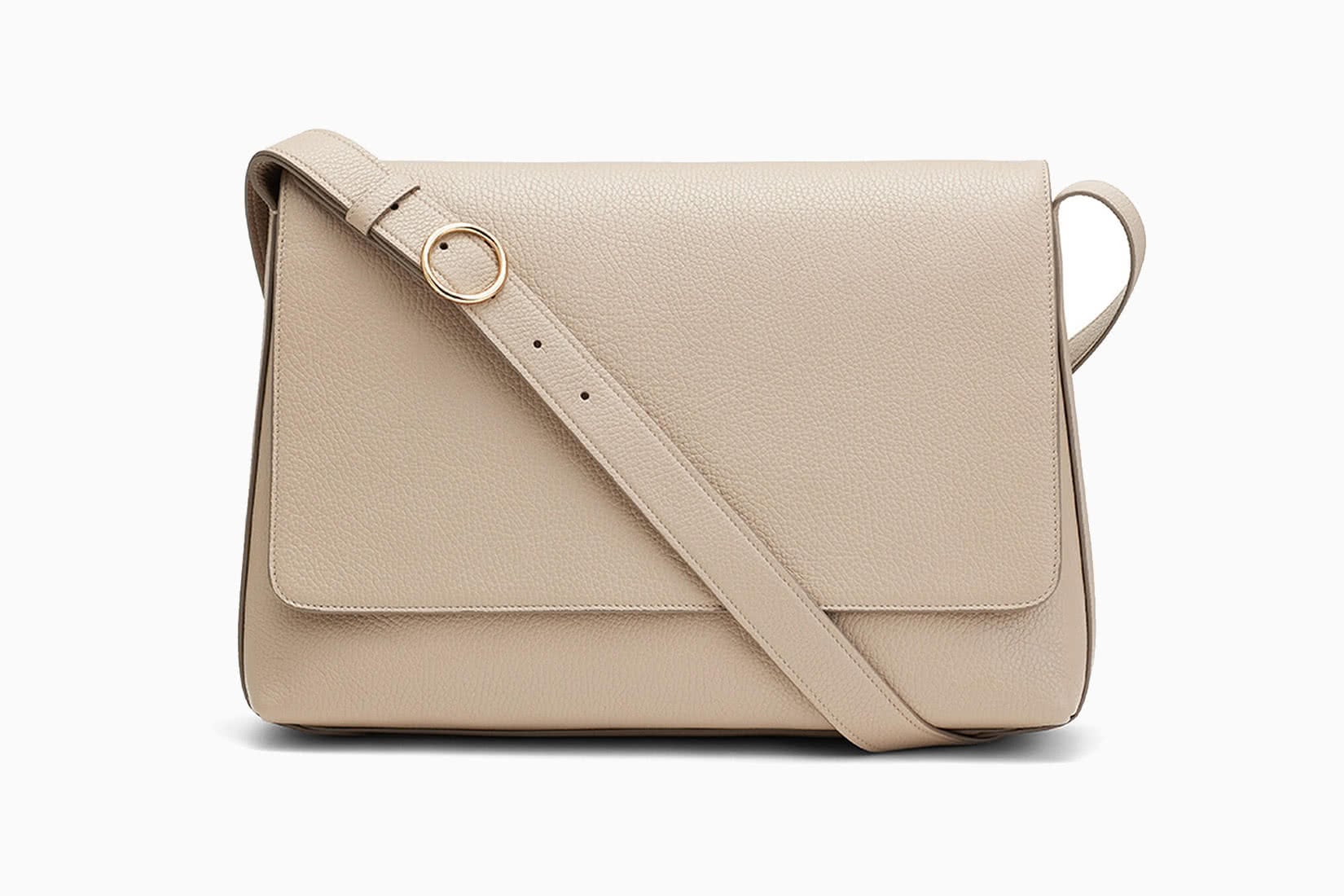 With its minimal look and small, sleek silhouette, it might not look like a laptop bag but it definitely is one. And an amazing one at that.
Available in both 13- and 16-inch versions, Cuyana Messenger Bag features a built-in laptop sleeve and spacious zip pocket to keep your most beloved belongings secure.
The adjustable shoulder strap provides extra comfort while carrying.
| | |
| --- | --- |
| Space for: | 13-inch laptop or 16-inch laptop |
| Style: | Messenger bag |
| Materials: | Responsibly tanned Italian leather |
| Colors: | Black, Cappuccino, Light Stone + More |
Kate Spade Margaux Tote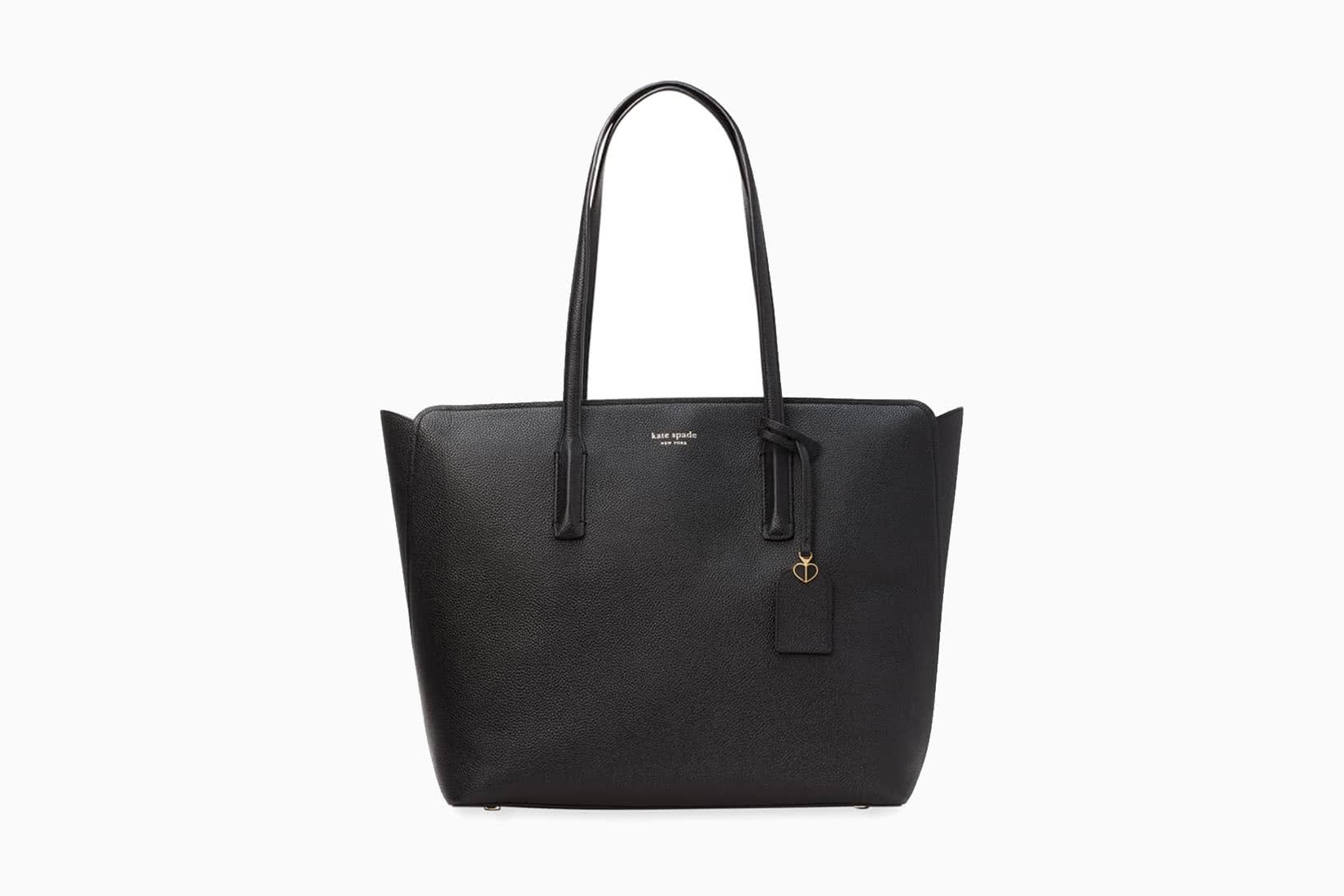 If you're looking for a stylish work tote at an affordable price, it's always a good idea to take a look at what Kate Spade has in store. The brand's Margaux collection is our preferred choice for bags that are simple yet elegant and spacious enough to carry your laptop or iPad.
The Kate Spade Margaux Tote is made from refined grain leather and is available in a range of colors to fit your outfit.
| | |
| --- | --- |
| Space for: | 13-inch laptop |
| Style: | Work tote |
| Materials: | Leather |
| Colors: | Black, Deep Cherry, Blazer Blue + More |
All your favorite work bags for less at Fashionphile
Buying a designer work bag can come with a hefty price tag, so finding your favorite style at a discount could make a significant difference for your wallet.
The good news is, you can find some of the absolute best authenticated pre-owned designer bags at Fashionphile. Explore their sleek website to scoop your favorite designer work bag up before it's gone.
Types of work bags for women: What kind of bag should I get for work?
The different types of work bags for women include:
Laptop Bag
As the name suggests, the primary purpose of a laptop bag is to carry a laptop and its accessories such as chargers and cables.
Briefcase
The quintessential classic work bag. A briefcase is a formal, narrow box-shaped bag equipped with a handle. A briefcase is a work bag used by professionals, especially for carrying business documents.
Work Tote
A tote bag is typically a carry-all bag with double top handles. It ranges from canvas to premium versions. Tote bags are usually light, spacious, and most commonly unfastened (though some modern versions now include zippers).
Satchel Bag
Satchels range in size, but a satchel bag is usually a structured bag with a rigid feel structure with a flat bottom and two short handles on top. No matter how much you put inside it, a Satchel bag maintains its beautiful shape, making this structured work bag suitable for women who are in more formal professions.
Backpack
If comfort is key and you'd rather carry everything on your back, backpacks make for great work bags for women.
What to look for in a women's work bag?
Size matters for women's work bags
Before you buy a work bag, consider what you'd need it for. Do you bring your whole office with you every day?
If you carry a laptop to work, prefer a work bag with a dedicated compartment that is sturdy enough to endure the weight and protect your device. Know the laptop size you want to fit in the bag.
Bonus: The best work bags for women have room for an extra pair of comfy shoes, too.
Pick your work bag in a neutral color and timeless design
A work bag should stand the test of time. Pick your bag in a neutral shade like black, tan, or brown, to effortlessly complement your workwear.
Invest in a work bag made of durable material
The material of a bag plays an important role in determining the quality of the work bag. Invest in a work bag that will stand the test of time.
Good news for the conscious people out there. Increasingly, animal-free leather alternatives that don't forfeit style are emerging.
Consider security features
It is surprising how many work bags for women don't have zippers. We personally prefer work bags that come with a theft-proof top zipper or some sort of top closure. Besides keeping everything safe inside during busy rush hour commutes, it tells people that you care about organization.
Think about your work bag's function
Ask yourself what you need to carry in your work bag and find a bag that accommodates that list. Some work bags for women have no compartments at all while others have plenty.
If you carry a lot of items, look for a work bag that contains enough inside pockets. If you don't, a simple exterior or interior pocket to store small essentials may suffice. Again, consider your work style and day-to-day needs to decide on the organizational features you require. For example, if you never find anything in your bag (guilty, here), you should opt for a more structured work bag that organizes all your necessities rather than a tote where all your tagalongs are swimming around in one large compartment.
Frequently asked questions about work bags for women
What are work bags?
A work bag is a bag that can carry your work necessities—sometimes, including a laptop—to your place of work. Check our list of the best work bags for women for some inspiration.
What is a work tote?
A work tote is typically a large, rectangular or square bag with long straps that can easily be slung over the shoulder that can carry your work essentials.
What is the ideal size of a work bag?
The size of a work bag varies, depending on what you want to carry. We personally love a work bag that can fit your laptop. Look at the dimensions before purchasing.
Can I use a work bag for school?
Of course, work bags are also great for schools, traveling, and plenty of other occasions. Work bags like Longchamp's Le Pliage Tote are loved by college students around the globe for their durability, versatility, and classic design.