Few materials have the aura of exclusivity and luxury that cashmere does. Sourced from the undercoat of goats in the Gobi Desert, cashmere is much lusted after for its unrivaled combination of softness, fineness, and warmth with minimum weight. Which is why a cashmere sweater is one of the most desirable additions to any woman's wardrobe.
Perhaps you accidentally shrunk your last cashmere sweater in the wash. Maybe the moths got to it. Or—worse still—the dry cleaners lost it. Or maybe you've never enjoyed the luxury of owning one. Whatever the reason, you're now on the hunt for the best women's cashmere sweaters. Something high-quality but not eye-wateringly expensive. Even better if it's eco-friendly.
Firstly, you'll be pleased to hear that affordable cashmere does exist. What's more, so does sustainable cashmere. There are also luxury cashmere sweaters in a whole range of styles and fits, from stole-it-from-my-boyfriend baggy to cute cropped cuts too.
We've picked out the best women's cashmere sweaters on sale today. Wear them on crisp winter walks, while sipping the finest tea in your favorite cafe, enjoying a glass of red wine at your local bar, at the office, or working from home.
Opt for a roll-neck cashmere sweater that does double duty as a scarf. Or a cashmere polo shirt for sporty energy. Or a designer cashmere sweater for fashion-set appeal. Forget any notion of knitwear being the hallmark of grannies and grandpas. These irresistible cashmere sweaters feel youthful and timeless, daring and delicate at once, and are so warm it's like the sartorial equivalent of a hug.
The 11 best cashmere sweaters for women
Check our special women's cashmere sweaters buyers' guide after the list to see exactly what you should pay attention to before purchasing a cashmere sweater online.
Cuyana: Best cashmere sweater overall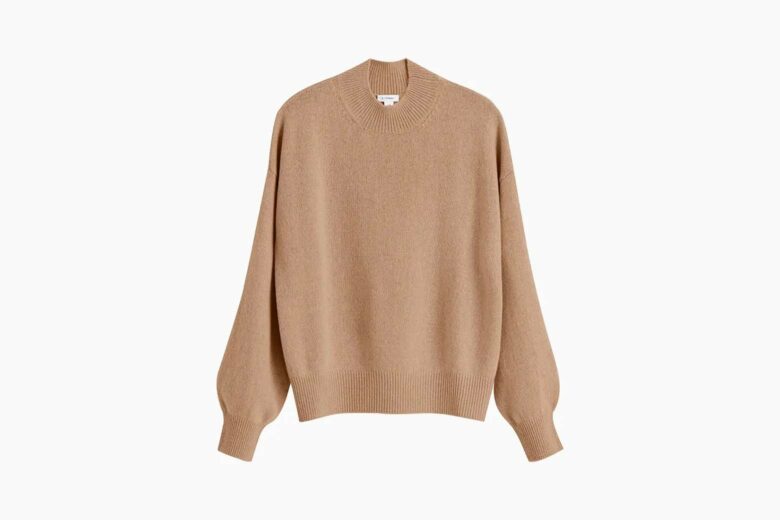 These days, the most stylish wardrobe staples come with sustainability credentials too. Which is why we're hankering after Cuyana's Recycled Cashmere Mock Neck Sweater.
This jumper is made of 95% recycled cashmere fibers, produced under the Global Recycle Standard, and sourced from the countless cashmere sweaters that are sent to landfill each year, giving them a new life as a valued part of our winter wardrobes.
The design itself also fulfills all our knitwear dreams with its dropped shoulders, subtle balloon sleeves, and slight crop cut, perfect for wearing untucked with a pair of high-waisted trousers.
With this cashmere sweater, Cuyana makes being eco-conscious easy. Why wouldn't you help the planet when you could look this good doing so?
Best for: Responsible eco-chic elegance and a versatile Monday-to-Sunday silhouette.
| | |
| --- | --- |
| Colors: | A range including camel, black, and beige |
| Material: | 95% cashmere, 5% wool |
Anine Bing: Best designer cashmere sweater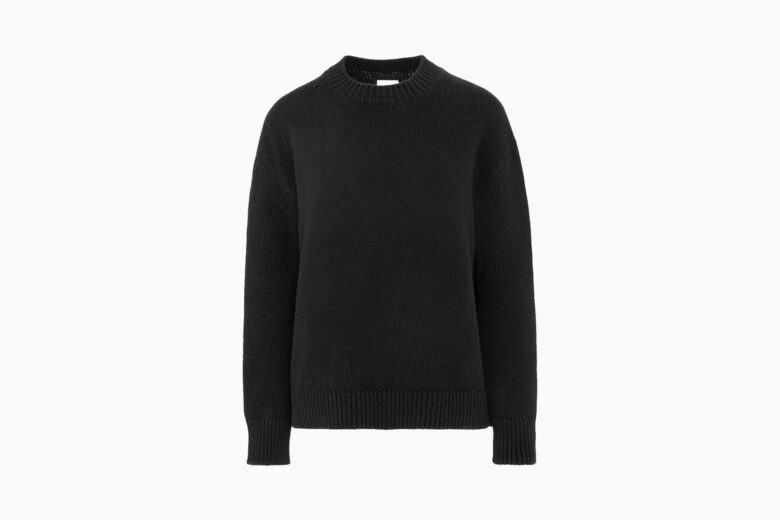 No one does easygoing elegance like Anine Bing. The LA-based brand is known for its fusion of sleek Scandinavian sophistication and West Coast cool, as exquisitely demonstrated by this 100 percent cashmere sweater.
One of our favorite things about cashmere jumpers is their layering potential. Transitional dressing is all about the layers, and this cashmere jumper is perfect for wearing under a coat and over a slinky top so you can undress as necessary depending on the temperature.
The design also has something romantically boyish about it with its oversized, slouchy, and laid-back fit—ideal for Saturday morning brunches and Sunday strolls in the park.
Admittedly not cheap, consider this Anine Bing Rosie sweater an investment, here to keep you cozy for many seasons to come.
Best for: Oversized winter essential that's classic without being conventional.
| | |
| --- | --- |
| Colors: | Black or grey |
| Material: | 100% cashmere |
LilySilk: Best value cashmere sweater for women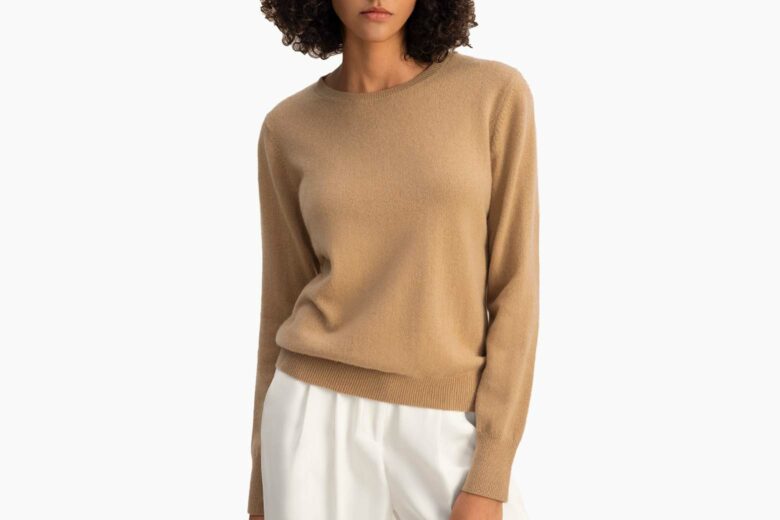 When it comes to cashmere sweaters, we expect to pay more. And while we're usually prepared to pay those for the exquisitely soft fabric, we're always elated to stumble across a high-quality cashmere sweater without the expected price tag. Enter: LilySilk's crewneck—our best-value cashmere sweater for women.
As one of our top-recommended capsule wardrobe basics, the charm of this sweater lies in its unlimited wearability and stylish practicality. Crafted from 100% Mongolian cashmere, the fabric offers a sumptuous feel against the skin, guaranteeing an itch-free experience. And despite its exceptional warmth, the sweater remains remarkably breathable, making this cashmere sweater a quintessential staple for transitional seasons.
Best for: Uncompromising quality without the crippling cost.
| | |
| --- | --- |
| Colors: | Camel, white, and navy blue |
| Material: | 100% cashmere |
Naked Cashmere: Best oversized cashmere sweater for women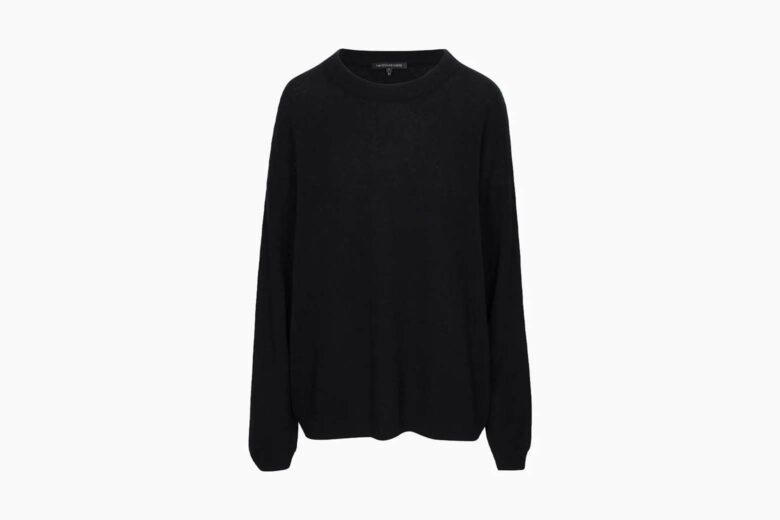 Naked Cashmere is a direct-to-consumer brand that's grabbing our attention with premium cashmere at affordable prices. Their cashmere is also sustainable, fair trade, and made according to animal welfare guidelines.
Hence why this autumn we're spending an unreasonable amount of time scouring the Naked Cashmere website for our next knitwear purchase. Our top pick? This Cherie sweater.
With its iconic and crowd-pleasing crew pullover style, this cashmere jumper goes with just about anything. One of the chicest oversized sweaters for women that we've come across, it's baggy in all the right places with laidback dropped shoulders that are ideal for lazy Sundays.
The beauty of an oversized sweater is that it looks like you stole it from your lover. Instantly and effortlessly enigmatic. Consider this Naked Cashmere sweater your new fail-proof weekend staple.
Learn more about the story behind Naked Cashmere.
Best for: Sophisticated meets slouchy in a sweater that's both relaxed and refined.
| | |
| --- | --- |
| Colors: | A range including black, olive green, and grey |
| Material: | 100% cashmere |
Joseph: Best black cashmere sweater for women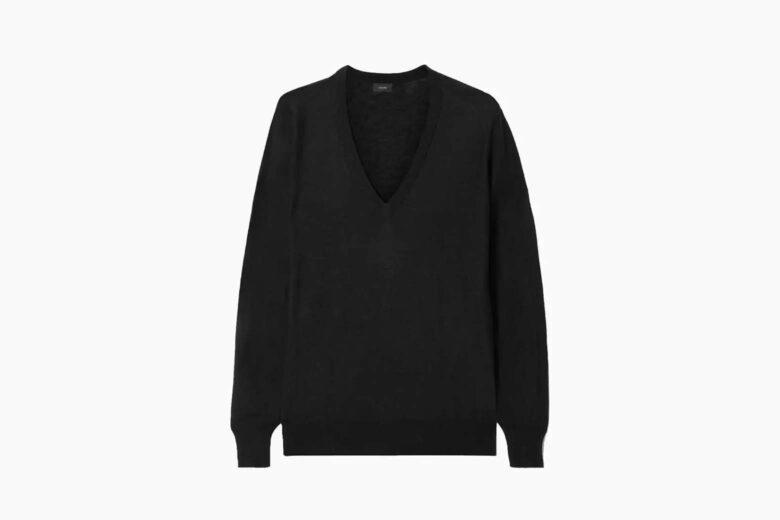 One of the most coveted and luxurious materials in existence, cashmere is best in timeless and versatile shades—particularly black. When you're spending this much on a sweater, you want to be sure that, one, it goes with everything, and, two, it won't constitute a fashion crime a few years from now.
Our favorite black cashmere sweater is this V-neck jumper from Joseph. A brand whose mission is to design luxury essentials that are clean-lined and immune to changing trends, Joseph has nailed it with this cashmere sweater, which is lightweight and cozy with a loose fit complemented by ribbed trims.
The V neckline is very flattering and calls out to be teamed with a statement necklace. Pair the Joseph's black sweater with tailored trousers or casual jeans. It can handle anything.
Best for: A timeless sweater that's sure to be your favorite, season after season after season.
| | |
| --- | --- |
| Colors: | Black |
| Material: | 100% cashmere |
Naadam: Best women's v-neck cashmere sweater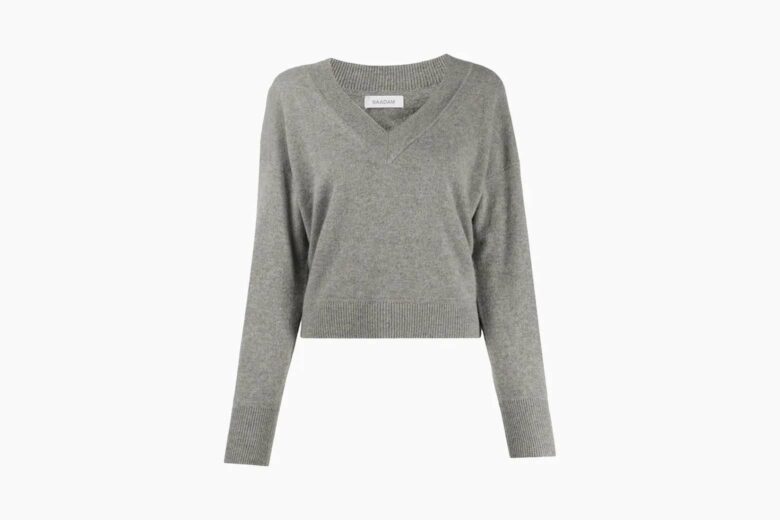 As we've established, V-neck sweaters look good on everyone. They're particularly good for those with larger busts and can create the illusion of extra height for those of us on the smaller side. Which is why we're racing to get our hands on this cute cropped grey v-neck jumper from Naadam.
Naadam is the sustainable luxury cashmere brand that's creating waves on the knitwear scene with its high-quality cashmere sourced from herders in Mongolia's Gobi Desert. Oh, and did we mention their sweaters are pretty affordable too?
This 100 percent cashmere sweater features ribbed cuffs and a hem with a cropped cut that will make you look extra leggy.
Best for: Trend-transcending style, fit for brunches, lunches, boardroom, or bar.
| | |
| --- | --- |
| Colors: | Grey or brown |
| Material: | 100% cashmere |
Arch4: Best women's cashmere polo shirt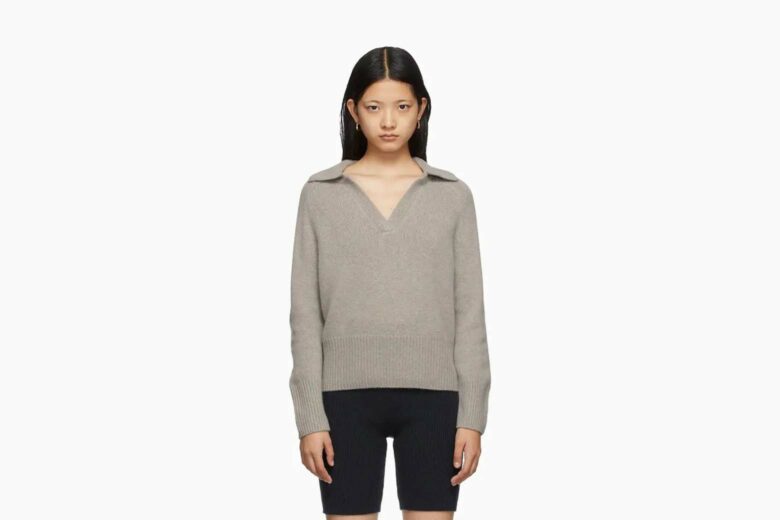 A cashmere polo sweater is exactly what your wardrobe is missing. This cool sporty take on the classic cashmere jumper is the ideal choice for occasions where a t-shirt is too casual but a shirt is too formal.
Arch4 is the London-based organic cashmere label that should be your first port of call for sustainable and long-lasting knitwear with classic and minimalist silhouettes. It uses organic dyes, and all production processes are undertaken with scrupulous attention to environmental standards.
The brand's yarn is sourced from baby goats in the Inner Mongolian mountains—which is quite surreal to consider when you're sipping the best cocktails in a trendy downtown bar wearing one of Arch4's gorgeous cashmere creations.
The Clifton Gate polo comes in a trendy shade of beige grey. Imagine it teamed with a pair of chunky gold earrings, figure-hugging black trousers, and your favorite ankle boots.
Best for: A creative spin on a classic with an alluringly athletic feel.
| | |
| --- | --- |
| Colors: | Grey |
| Material: | 100% cashmere |
Theory: Best cashmere crewneck sweater for women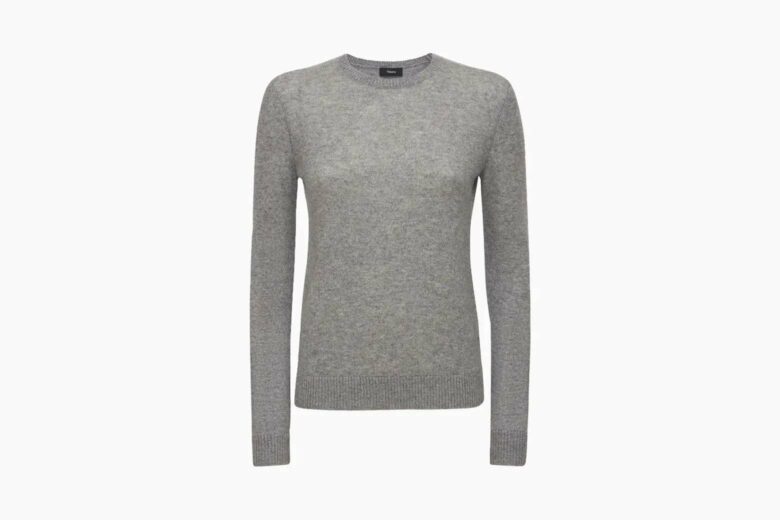 Crewnecks are a classic for a reason. They're iconic, functional, cool without trying, and make our necks look longer too. Wear them with skinny jeans and Converse for running errands, with a crisp white shirt for client meetings, and tuck into a pencil skirt for a Friday night date.
Theory makes elevated essentials destined to take your everyday attire up a notch. This 100 percent cashmere sweater is a case in point with its understated yet elegant profile. It comes in versatile grey or black. We'll forgive you if you end up adding both to your shopping cart.
Theory's cashmere sweater is our number one pick for those of you seeking bang for your buck. Whether it's in the office, bar, or on the school run, you'll get so much wear out of this sweater it'll pretty much pay for itself.
Best for: Cashmere that's traditional without feeling tired, modest without being mundane.
| | |
| --- | --- |
| Colors: | Black or grey |
| Material: | 100% cashmere |
The Row: Best cashmere turtleneck sweater for women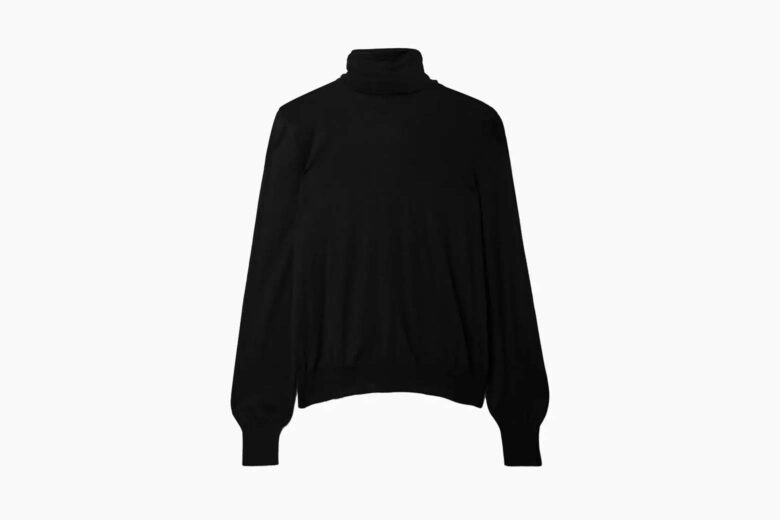 We don't think our love affair with turtlenecks will ever end. No other sweater style manages to be both refined and rebellious at the same time—or keep us so toasty warm. And our top cashmere turtleneck has to be this one by The Row.
The Row is all about immaculate styling, top-of-the-line materials, and impeccable attention to detail. The American brand takes inspiration from London's Savile Row, and all its designs are deceptively simple yet seriously sophisticated. Like this Lambeth cashmere turtleneck sweater which manages to be breathable while still keeping us warm. Cozy without getting clammy—who knew it was possible? We also love the slightly ballooned sleeves, which makes our wrists look slender and delicate and nicely round off the otherwise slouchy and relaxed fit.
Best for: A universally flattering addition to your fall wardrobe.
| | |
| --- | --- |
| Colors: | Black or navy |
| Material: | 100% cashmere |
Extreme Cashmere: Best women's cashmere roll neck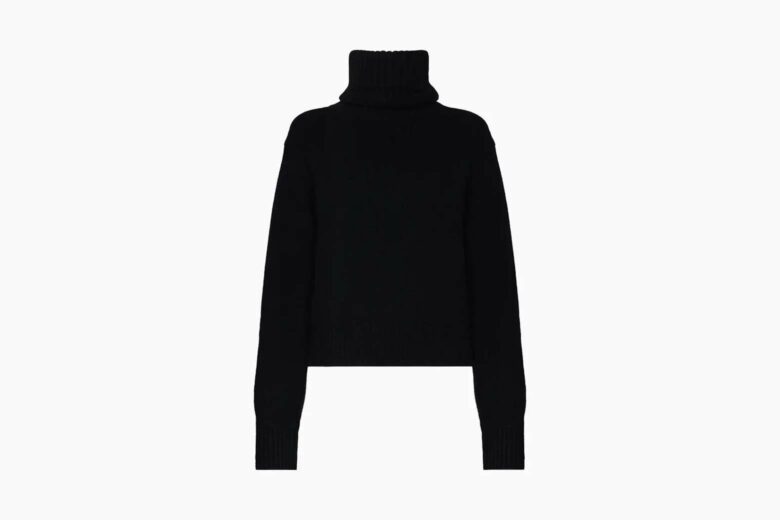 Roll necks are the perfect in-between-season attire, ideal for layering and for dressing up or down. Just imagine pairing this one by Extreme Cashmere with dungarees for an ultra-casual look, with a denim jacket for a coffee date, or a flirty mini-skirt for drinks with the girls.
This roll-neck cashmere sweater is made from a blend of cashmere, nylon, and Spandex which gives it a nice stretchy feel. In fact, Amsterdam-based brand Extreme Cashmere has made its name designing and manufacturing stretchy and luxurious loungewear—which is basically all we want in an age of remote work. Perfect for Zoom calls, this sweater feels as good as it looks.
Available in black for instant polish, consider this Happy roll neck cashmere jumper a superior choice when it comes to work-from-home outfits.
Best for: Instantly elevating your ensemble to a new level of urban cool.
| | |
| --- | --- |
| Colors: | Navy blue |
| Material: | 97% cashmere, 2% nylon, 1% Spandex/Elastane |
Brunello Cucinelli: Most expensive cashmere sweater for women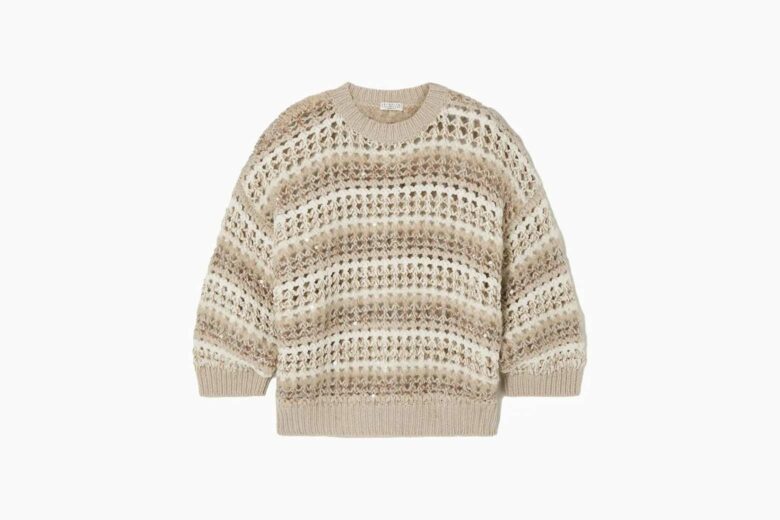 Sure, you probably should exercise some restraint and not splash out on a 100 percent cashmere sweater that's over $5,000. But life is short, and don't we all deserve a treat now and then?
This Brunello Cucinelli sweater has the kind of allure that can only come with a high-end price tag. Made in Italy from gorgeously earthy beige and ivory cashmere, it is embellished with sequins that glint in the light and add immediate glamour to an otherwise dull day-to-day.
The upscale vibe contrasts perfectly with the Brunello Cuccinelli luxury sweater's relaxed silhouette with a round neckline and ribbed trims while the open-knit means you can wear it from winter through to summer, from après-ski shindigs to sultry August evenings.
Best for: Snuggling down for the most sumptuous of winter hibernations.
| | |
| --- | --- |
| Colors: | Grey |
| Material: | 100% cashmere |
Buyers guide: how to choose a cashmere sweater
While cashmere jumpers are known for being iconic and classic, there are actually lots of variations on the standard silhouette, as well as other things to consider before buying, such as materials and colors. Here's what you need to know.
Fit and style
Different cashmere sweaters for women are designed to evoke different moods with a variety of shapes and styles on offer.
A snug and form-fitting cashmere jumper is traditional and timeless. Oversized and slouchy is a trendy option if you want something business casual and weekend-appropriate. Meanwhile, cropped cashmere sweaters are a stylish alternative, great with high-waisted skirts or trousers.
Materials
Cashmere comes from the undercoat of a certain type of goat, typically sourced from Mongolia or China. Because it takes a lot of cashmere to produce a single piece of clothing, it tends to be very expensive. Cashmere is also lightweight and breathable and is highly coveted for its softness and fineness. Unlike wool, it's not at all itchy so you can wear it directly against your skin.
The most high-end women's cashmere sweaters are made of 100% cashmere—also known as 'pure' cashmere. But you'll also find luxury cashmere sweaters made from a blend of materials, such as cashmere with nylon or elastane. This creates a fabric that has a bit of stretch in it.
Then there's silk-cashmere, a blend that's strong as well as soft, less prone to stretching, and cheaper. Another option is cotton-cashmere—cost-friendly but not so warm.
Colors
Due to their versatile and timeless nature, you'll find the majority of cashmere jumpers in a range of neutral colors, such as black, grey, navy, and beige. But there's also the option of pretty pastels if you want to inject a bit of color. Or why not explore rich jewel shades such as emerald green or crimson? Mustard yellow is also a trendy choice.
Neckline
There's a variety of necklines on offer when it comes to cashmere jumpers.
V-neck – this type of neckline reveals a small amount of chest, is almost universally flattering, and very versatile.
Crewneck – this is one of the most popular neckline styles when it comes to women's cashmere sweaters. It's flattering, classic, and snug.
Roll neck – aka a turtle neck, this is a close-fitting collar that extends up your neck and sometimes as high as the lower jaw.
Boat neck – this is a wide neckline that runs horizontally across your collarbone and is very flattering on most people.
Mock neck – short for 'mock turtleneck', this sits flat against your neck and is essentially like a turtleneck but less tight and constricting.
Sleeves
While most women's cashmere sweaters have long sleeves with ribbed cuffs, you'll also find more unusual options such as puffed or balloon sleeves, which can look retro and romantic, or bell sleeves that flare out and have a vintage bohemian feel.
Shoulders
Many luxury cashmere sweaters have drop shoulders. This means that the seam falls on the upper arm rather than the shoulder, creating a casual slouchy look.
Caring for your cashmere sweater
You need to wash your cashmere sweater very carefully if you want it to last. Never put it in the washing machine unless it's on a delicate cycle with cold water. Instead, wash it by hand with a gentle soap or invest in a cashmere-specific detergent.
Don't wring your cashmere sweater as this could stretch it out of shape. And lay it flat to dry rather than hanging it as this could stretch it too.
Frequently asked questions about cashmere sweaters for women
Which brand has the best cashmere?
Cuyana makes some of the best cashmere. The brand's cashmere is recycled from sweaters saved from landfills and is blended with 5% virgin wool. Naked Cashmere and Nadaam also make high-quality and sustainable cashmere.
Are cashmere sweaters worth the money?
Cashmere sweaters are generally worth the money. They can be considered an investment due to their superior quality. They are lightweight, warm, breathable, last a long time, are always in fashion, and can be worn year-round.
How much is a 100% cashmere sweater worth?
A 100% cashmere sweater can be worth between $1,00 and $3,000. The most expensive cashmere is generally sourced from the undercoat of Mongolian baby goats. This is considered the highest quality cashmere due to the long and hard-wearing fibers.