We're all for living in workout wear when your workout wear looks this good. Perhaps you're already guilty of turning up to brunch in tights and tee with the pretense of hitting the gym later. Or perhaps you're the one that turns up your nose at the people that do that. Either way, these pants may be bought with the intended purpose of morning Sun Salutations, but before long, they'll become a second skin.
The key to finding a fantastic pair of yoga pants ultimately comes down to comfort. Style is just a bonus. But if you know us, you'll know that we've managed to marry the two. These superlative iterations of the Lotus classic are as flexible as you'll be after a couple of Downward Dogs. And while breathable leggings mold to your skin and go with your flow, loose loungewear renditions are your excuse to stay in pajamas without anyone ever knowing.
Empowering us to try new things, you may even catch us taking a jog in our new breathable leggings. But for now, we're finding our inner zen (translate: transitioning from one pair of yoga pants to another). After all, lying horizontally is a pose too, isn't it?
Alo Yoga: Overall best yoga pants for women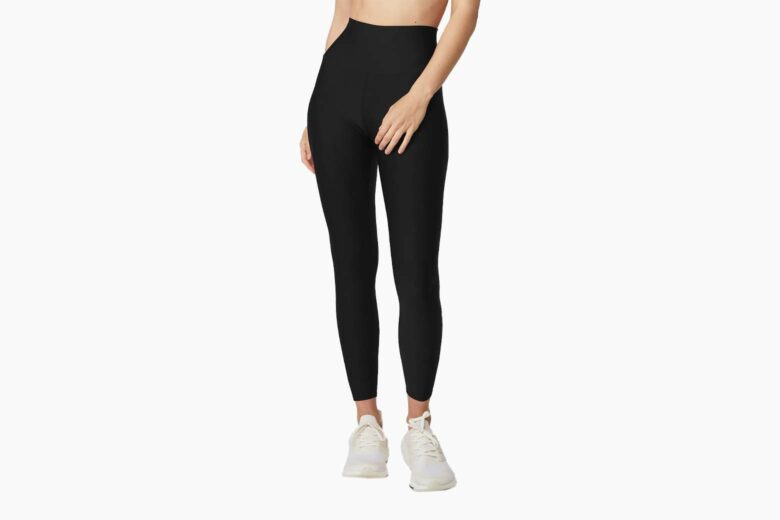 Renowned for making moves both on and off the mat, Alo Yoga is one of our best women's activewear brands. And this pair of extra breezy leggings leaves little question as to why. The ⅞ silhouette is made from the brand's signature micro-performance double-knit Airlift fabric with a second skin that sculpts your form seamlessly.
These Airlift yoga pants for women run the gamut in contemporary colorways. And whilst you can never go wrong with black for everyday versatility, we love the limited editions Cranberry and Rust.
Best for: Saying Alo to the new you.
| | |
| --- | --- |
| Material: | Double-knit Airlift |
| Pocket: | No |
| Sizes: | XXS-XL |
| Colors: | Black, Rust, Cranberry + More |
Tory Sport: Best designer yoga leggings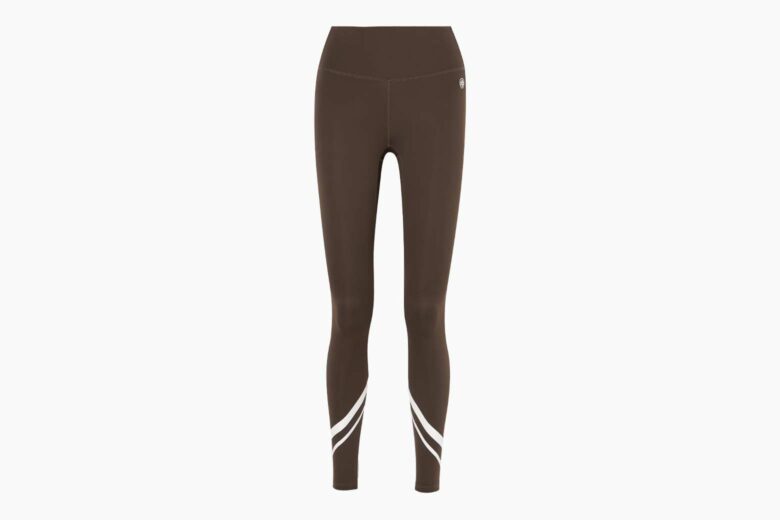 If they're a Tory Sport best-seller, you know you're on to something good. And whilst these old-school-inspired Chevron tights may have caught your eye with their rich brown hue and vintage white stripes, it's not until you try them on that you really understand why we're all raving about them. Made from stretch-TACTEL, their lightweight feel and ergonomic cut move effortlessly around your mat.
Pair these Tory Burch designer yoga leggings with your best trendy sneakers for a look that'll take you from the studio to Tiffany's in a snap.
Best for: Going with the (your) flow.
| | |
| --- | --- |
| Material: | Stretch-TACTEL |
| Pocket: | No |
| Sizes: | XS-XL |
| Colors: | Brown |
Baleaf: Best value women's yoga pants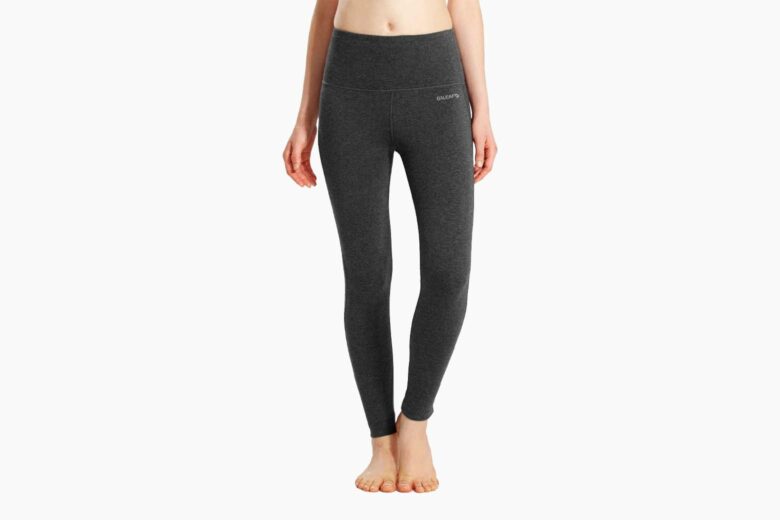 Launched in 2015, Baleaf is our best-kept secret (well, not anymore). The understated brand boasts remarkable quality without the matching price tag. And these women's yoga pants are not only breathable, stretchy, and moisture-wicking, but the high waistband promises to hide any late-night indulgences (no judgment here).
Take them for a spin into downward dog or wear them horizontal binging on Netflix's latest. Either way, you'll never want to take these flexible tights off. And why should you?
Best for: Baleafing in yourself.
| | |
| --- | --- |
| Material: | Nylon |
| Pocket: | No |
| Sizes: | XS-2XL |
| Colors: | Black, Denim, Grape + More |
Eberjey Elon: Best women's yoga pants for lounging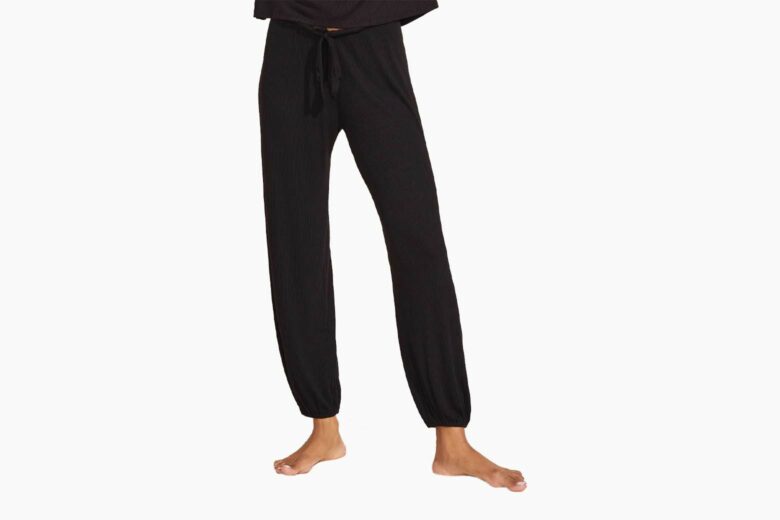 Eberjey's Elons are manifesting our inner mood. Perfect for lounging in, the airy ribbed fabrics float effortlessly off your hips. The waist tie ensures that they fit flawlessly (no squishing allowed). Whilst soft, neutral hues exude relaxed elegance. They're the pajamas you're actually allowed to wear all day, every day—airports and grocery shops included.
Pair these lavish yoga pants with your most comfortable bra, and we doubt you'll be moving from your couch—unless it's to the studio, of course.
Best for: Ladies who lounge.
| | |
| --- | --- |
| Material: | Rayon |
| Pocket: | No |
| Sizes: | XS-XL |
| Colors: | Black, Gray, Oatmeal + More |
Allbirds Natural Leggings: Best sustainable yoga pants for women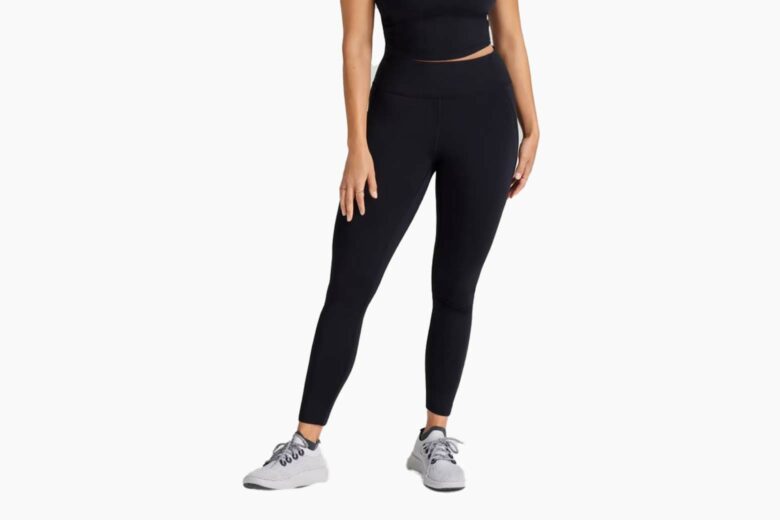 With some of the best workout shoes for women, it's no surprise that Allbird's yoga pants are equally alluring. Striving towards sustainability, the eco chic brand uses natural materials such as eucalyptus tree fiber and merino wool that not only protect the planet but also dry quickly and feel fantastic. Plus, they look as cool as they keep you—and that says a lot.
Whether you're squatting, stretching, or striding, these breathable leggings are an effortless way to break a sweat (without breaking the planet).
Learn more about the story behind Allbirds.
Best for: Sumptuous sustainability.
| | |
| --- | --- |
| Material: | Tencel Lyocell, Recycled Nylon, Merino Wool, Elastane |
| Pocket: | Yes |
| Sizes: | XS-2XL |
| Colors: | Black, Pine, Sienna + More |
ON Running: Best yoga sweatpants for women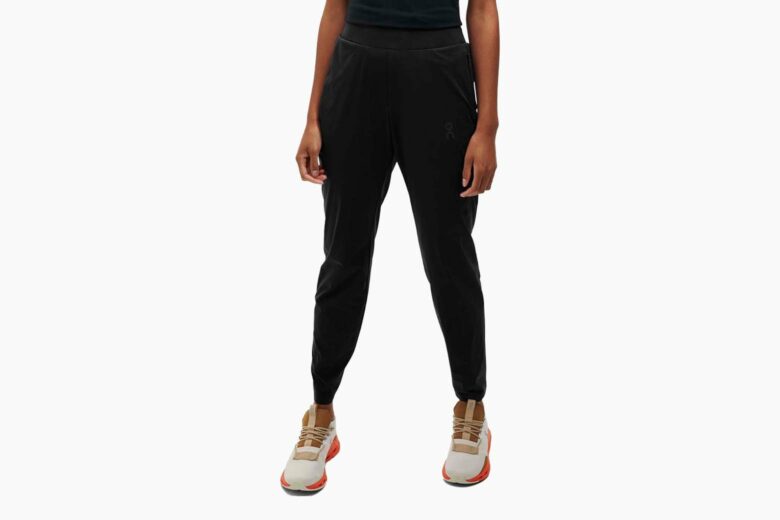 Some (we) would say that there's no better way to find your inner zen than in sweatpants. And if that's the case, you'll want to get into a pair of ON's lightweight pants. The sumptuous silhouette is made from breathable fabrics. While the innovative brand continues to reduce their footprint through sustainable initiatives.
Born on the Swiss Alps with the goal to revolutionize running, ON has also revolutionized our Vinyasa flows through these high-tech sweats. Check our ON Running sneakers review to learn more about the brand.
Best for: Merging high-tech innovations with your inner zen.
| | |
| --- | --- |
| Material: | Polyamide |
| Pocket: | Yes |
| Sizes: | XS-XL |
| Colors: | Black and Blue |
Nike: Best women's workout pants for hot yoga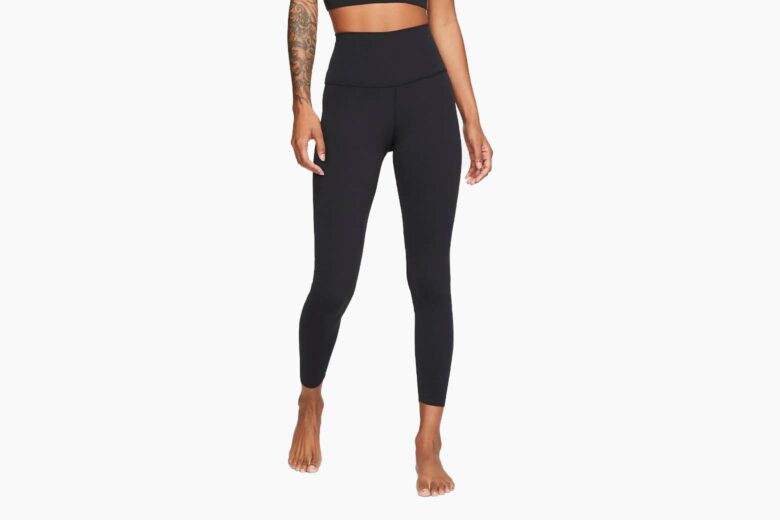 Trust Nike to turn up the heat (and turn heads) with these hot yoga luxe leggings. The sculpting silhouette passes the Handstand Scorpion test as it flexibly flows from one pose to another. And the sumptuously soft fabric is effortlessly stretchy while keeping you dry. We adore the vibrant orange rendition to match a sunny mood. Whilst the light gray, black or brown promise to appease our minimalists at heart.
Pair these workout pants with a matching sports bra to align your mind, body, and soul.
Best for: Taking the heat.
| | |
| --- | --- |
| Material: | Infinalon |
| Pocket: | No |
| Sizes: | XS-2XL |
| Colors: | Black, Blue, Orange + More |
Alala: Best seamless black yoga pants for women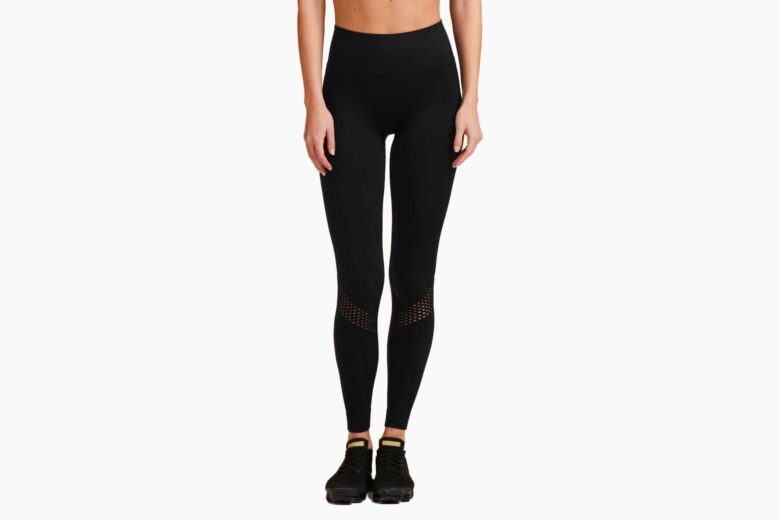 Renowned for their sophisticated downtown attitude, we love Alala's activewear. And these essential seamless tights are a favorite. The sumptuous silhouette features the brand's signature waistband for endless comfort. The mesh detailing on the sides looks as fresh as it makes you feel. And the dark tones are fashionably flexible, while effortlessly flattering every form.
If you're the type that frowns upon people who live in activewear, we think these Alala black yoga pants may just convert you.
Best for: Seamlessly sliding into Cobra.
| | |
| --- | --- |
| Material: | Nylon |
| Pocket: | No |
| Sizes: | S-L |
| Colors: | Black, Navy, Oxblood |
Beyond Yoga: Best women's flare yoga pants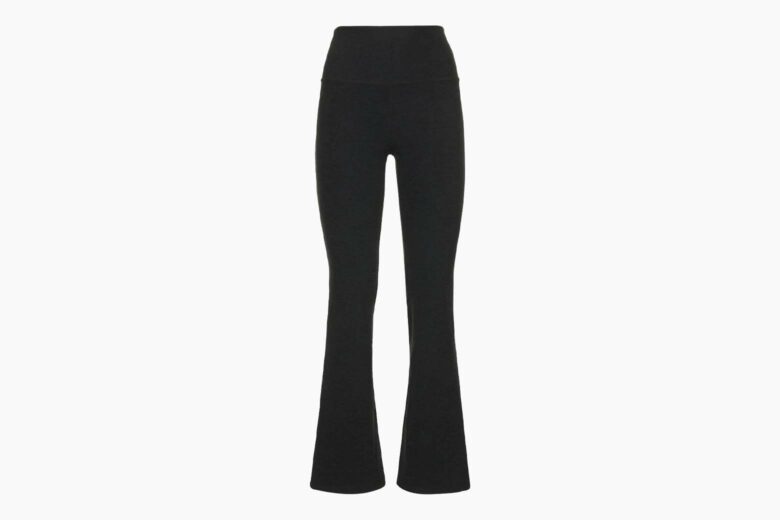 Striving for more, Beyond Yoga's pair empowers you to feel your best using multiple different methods. Crafted from the finest fabrics, the butter-soft silhouette molds effortlessly to your skin, encouraging you to get into a flow.
And after your morning's Sun Salutations, there's no need to dress for the school drop. The Californian brand's bootcut yoga pants are effortlessly flattering and stylishly chic. In fact, confining them to your mat would just be rude (to yourself and the pants).
Best for: Adding a fashionable flare to your flow.
| | |
| --- | --- |
| Material: | Polyester |
| Pocket: | No |
| Sizes: | XS-XL |
| Colors: | Black |
Hanro: Best loose yoga pants for women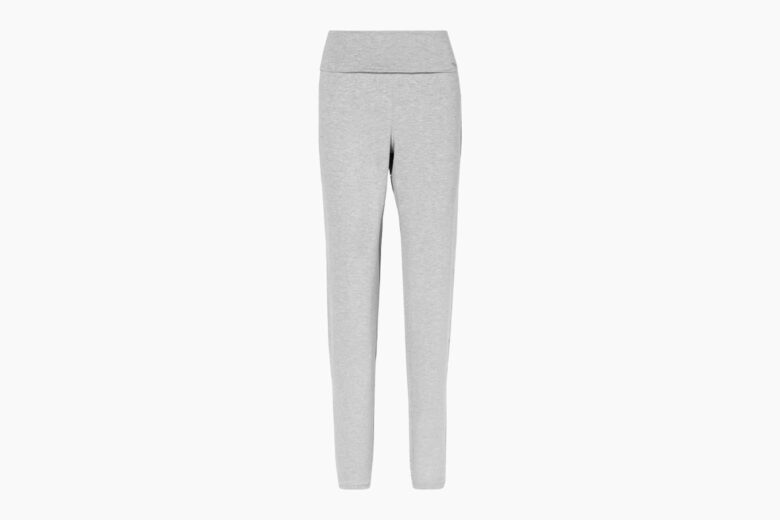 Hanro is known for pioneering wellness-inspired aesthetics. And if these wide leg yoga pants are anything to go by, we'll be keeping a close eye on the Swiss brand. The stretchy silhouette is made from their signature stretch-modal fabrics—perfect for any pose. While the soft light gray hue exudes your inner peace.
Whether we're walking our dogs or gliding into downward dog, we don't have a single bone to pick with these casual chic pants. And neither will you.
Best for: Casually chic down to the bone.
| | |
| --- | --- |
| Material: | Stretch-modal |
| Pocket: | No |
| Sizes: | XS-XL |
| Colors: | Gray |
Girlfriend Collective: Best high waisted yoga pants for women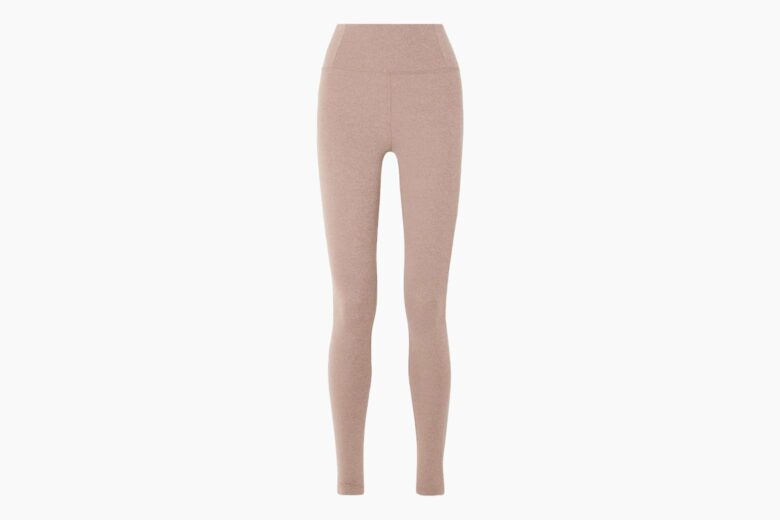 If only eliminating muffin-tops were always this simple. These high waisted yoga pants seamlessly sculpt your form—minimizing lumps and bumps along the way. And they feel fantastic doing it. The eco chic brand strives towards sustainability by using recycled fabrics. So while you're in Lotus, you can meditate on the fact that you just repurposed seventeen water bottles.
Not only is this taupe pair one of our best for yoga. They're one of our favorite leggings, full stop. From beach walks to brunch to boxing classes, they're game for anything.
Best for: Eating muffins.
| | |
| --- | --- |
| Material: | Recycled polyester |
| Pocket: | No |
| Sizes: | XXS-2XL |
| Colors: | Taupe |
The Upside: Best midi yoga pants for women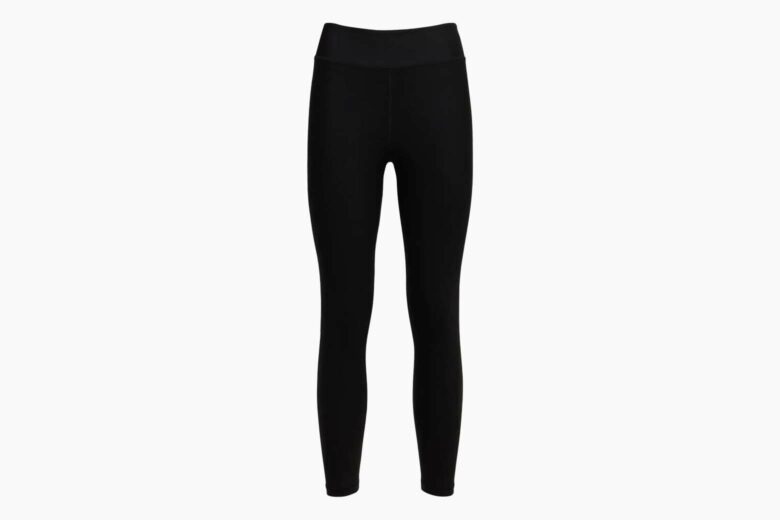 At the end of the day, you'll want your yoga pants to be as flexible as you'll be. And that's exactly what The Upside's pair is—flexible. The sleek black colorway pairs well with any vibrant or minimalist yoga clothes. The slender silhouette is manufactured from stretchy, quick-drying fabrics. While the midi elasticated waistband sits effortlessly above your hips without making itself known.
Did we forget to mention the pocket at the back of these luxe leggings? And with your bank card safely zipped in, you have every excuse to grab a green juice after the studio.
Best for: Flexible—on and off the mat.
| | |
| --- | --- |
| Material: | Polyamide |
| Pocket: | Yes |
| Sizes: | XS-XL |
| Colors: | Black |
Adidas: Best plus size women's yoga pants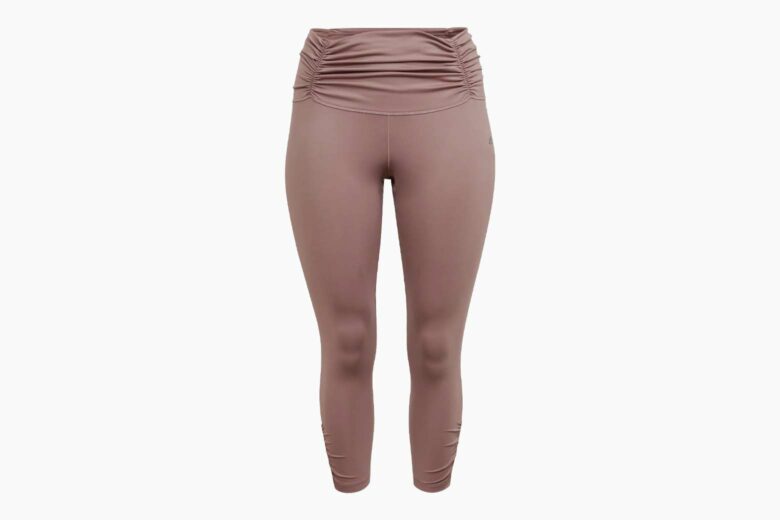 Designed to sculpt your form through contouring seams and endorphin-releasing flows, Adidas' plus size leggings tick all our boxes when it comes to workout wear. Crafted from the iconic brand's signature Adisoft fabric, this elevated essential feels better than wearing nothing at all. While the specific purple hue hits the elusive sweet spot between color and neutral.
Pair them with Adidas' matching sports bra for a look as aligned as you'll feel after a couple of flows in these sexy yoga pants.
Best for: The Michaelangelo of yoga pants.
| | |
| --- | --- |
| Material: | Recycled polyester |
| Pocket: | No |
| Sizes: | XL-4XL |
| Colors: | Purple |
Allbirds: Best capri yoga pants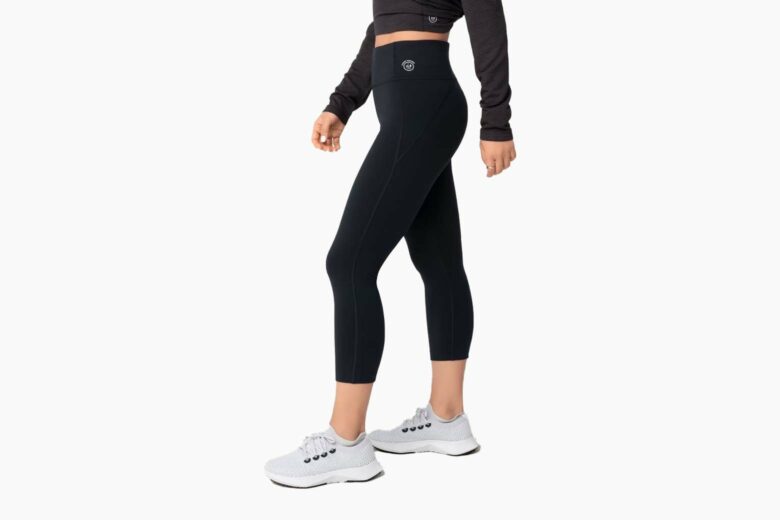 If you're looking for an excuse to live in workout wear, Allbirds' yoga capris are it. The tantalizing tights are made from the brand's signature sustainable fabrics. And whilst they strive to save the planet, the breathability of the natural fibers will simultaneously save you in a Bikram studio.
Designed for all types of workouts, these Allbirds capri yoga pants may not mention Vinyasa in the description. But we think the eco chic airy fabrics make perfect yoga clothes for women.
Best for: Getting grounded.
| | |
| --- | --- |
| Material: | Recycled nylon |
| Pocket: | No |
| Sizes: | XS-2XL |
| Colors: | Black, Navy and Pine |
Sweaty Betty: Best women's yoga pants with pockets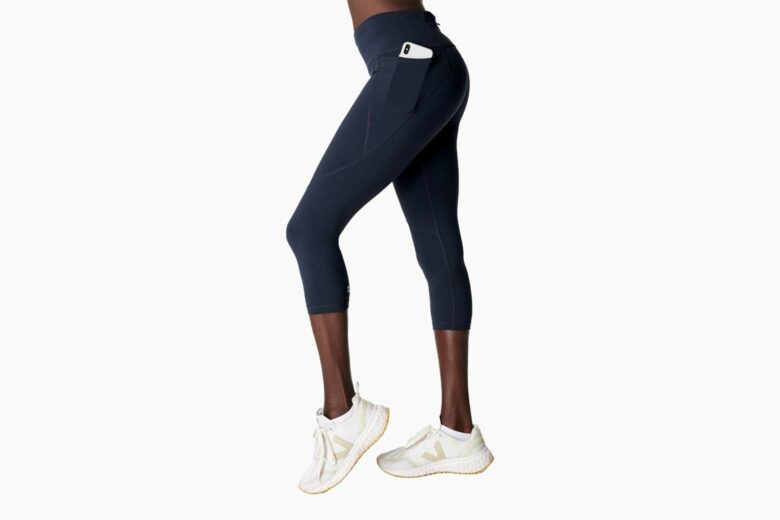 The only thing better than super stretchy yoga pants is super stretchy yoga pants with pockets. Sweaty Betty's iteration takes your hands-free mantra seriously with a plethora of pockets at the sides and back. While the flexible fabric is seamlessly flattering, sweat-wicking, and quick-drying. Could you ask for more from a pair of tights? We doubt it.
Pair these Sweaty Betty yoga pants with a matching gym bag or take a hands-free jog to the studio. Either way, you'll look good doing it.
Best for: Pockets, pockets, everywhere.
| | |
| --- | --- |
| Material: | Polyamide  |
| Pocket: | Yes |
| Sizes: | XXS-2XL |
| Colors: | Black, Green, Camo + More |
Frequently asked questions about yoga pants for women
What brand of yoga pants are best?
Ultimately finding the brand with the best yoga pants comes down to quality, functionality and personal preference. We love Alo Yoga for on-and-off-the-mat style, and Sweaty Betty's pants with pockets for hands-free navigation. Adidas has the best plus size pair. And Hanro is our favorite if you're looking for a looser fit. But to find your perfect match, we suggest reading our full review on all the best yoga pants brands for women.
Is there a difference between yoga pants and leggings?
Usually leggings refers to a tighter fit, usually made from stretchy, elasticated fabrics. The silhouette molds to your leg and sculpts your form. On the other hand, yoga pants include looser styles in loungewear fabrics such as wide leg cotton yoga pants.
Should yoga pants be tight or loose?
Yoga pants can be both tight and loose. If you prefer pants that mold to your skin and move with your flow, opt for leggings. Although leggings are form fitting by nature, they shouldn't squish your stomach and reduce breathability.  On the flip side, if you prefer performing your poses in loungewear, loose lightweight yoga pants are perfectly acceptable and endlessly comfortable.
Who makes the softest yoga pants?
Renowned for their luxurious loungewear, Eberjey's yoga pants are some of the softest we've tried. Made from their signature Adisoft fabrics, Adidas' iterations are also supremely soft. And we'll forever struggle to get out of Hanro's smooth loose renditions.