Take the elegant versatility of your favorite LBD. Marry it with the fresh, femininity of your floral frock. And await the birth of a little white dress. It's no secret that it won't bode well as a wedding guest outfit. But it'll make up for its lack of canape appearances by carrying you through every other occasion.
The LWD offers a refreshing take on effortless adaptability. And as a blank canvas, it provides many opportunities for minimalist or maximalist accessories. Embody the Grecian goddess look by adorning your long maxi summer dress with gold jewelry. Or opt for casual chic styling in linen and leather. Your everyday beach slip dress is your one-stop-shop for light-packing getaways. And fitted, leggier numbers are bound to make a splash at your next cocktail party.
The clean colorway leaves plenty of room to appreciate careful craftsmanship and decadent detailing. Whether it's scintillating sequins or avant-garde asymmetry, there are many ways to stand out at your more formal affairs. While your relaxed rendition doubles up as luxury loungewear, hinting at an afternoon read on holiday.
It's time to find your quintessential Summer staple.
Eberjey: Overall best white sundress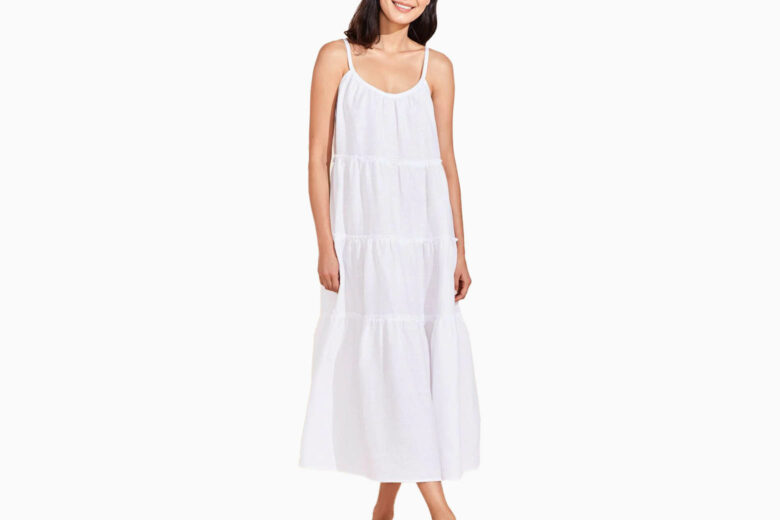 Renowned for its cozy pajamas, Eberjey is the Queen of luxury. And while we love snuggling down in nightwear, the only thing better is taking that comfort into your day to day. This long linen dress is breathable and effortlessly versatile—making it a must-pack for any beach vacation. Pair it with your best espadrilles and you've got a casual chic outfit that's hard to compete with.
Best for: Packing light for your beach getaway.
Chloe: Best white designer dress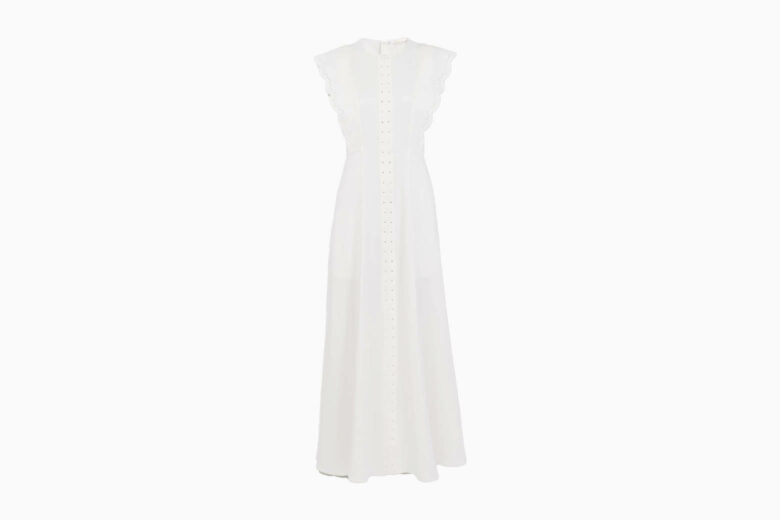 Broderie anglaise eyelets and scallops are the only accents you need this season. And when it comes to attention to detail, Chloe's long white dress knows exactly what it's doing. The subtle frills and feminine details are reminiscent of a romantic Summer fling. While the aloe-treated linen floats elegantly around your figure.
Best for: Decadent details take us back to the beach.
Belongsci: Best value white dress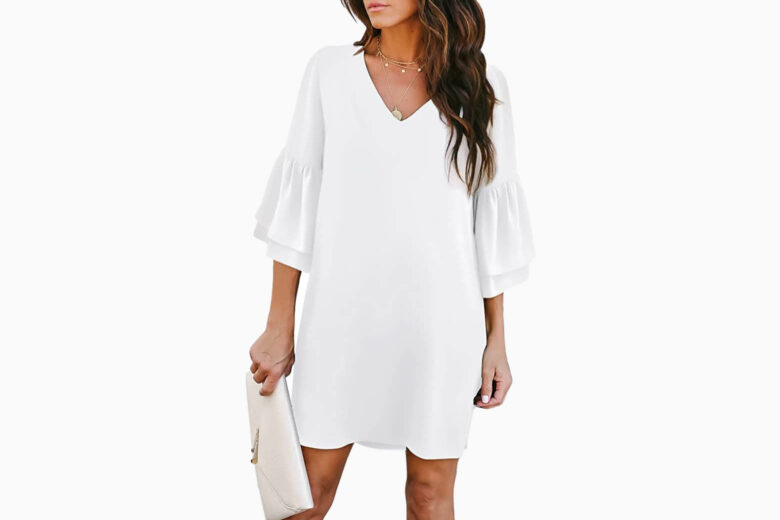 Who doesn't love a stylish piece without the price tag? With bell sleeves and soft chiffon, this Belongsci's white mini dress is exactly that. The feminine design is begging to be taken out for the night with a pair of heels. And the elegant style makes it perfect for your more formal affairs. While the shorter hemline perfectly marries the sophisticated style with an enticing edge.
Best for: Your blank canvas for a spontaneous night out.
Cuyana: Best white poplin dress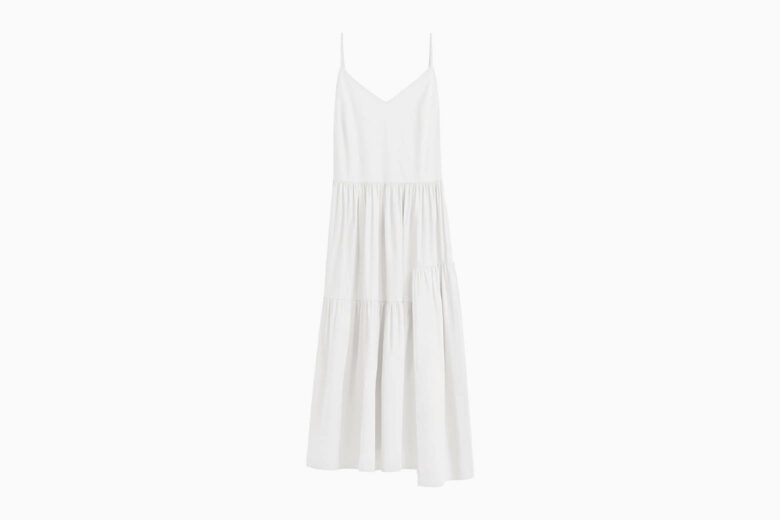 It's no secret that we adore Cuyana for its modern minimalist style. But this organic cotton white sundress has exceeded our highest expectations. The poplin silhouette embraces a Spring-time optimism with a flowy attitude. While the subtle asymmetry is everything we love about the sustainably stylish brand. Pair it with your most comfortable flats for a look that'll see you through many warmer seasons to come.
Best for: The modern romantic.
Naked Cashmere: Best white Summer maxi dress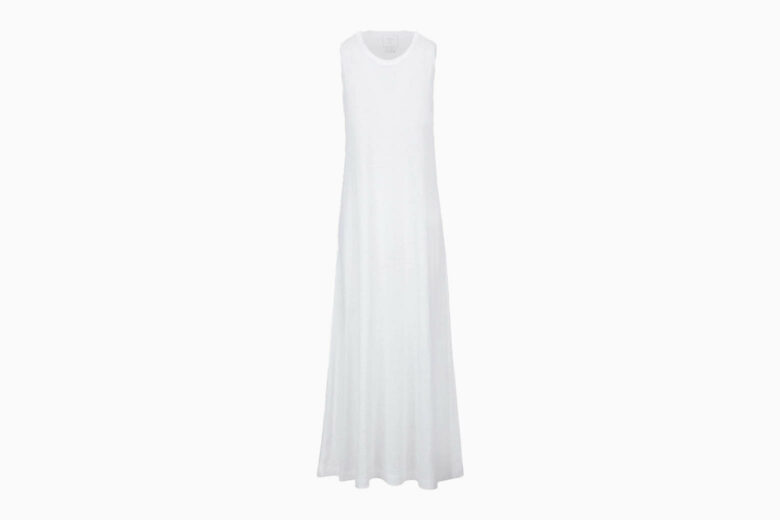 Sumptuous fabrics are inherent to the brand. And this soft linen blend is no exception. The breathable material falls effortlessly to form a relaxed sleeveless silhouette. And while it's comfortable enough to double up as loungewear—this Naked Cashmere long white dress deserves to be seen outside your home walls. Pair it with your best luxury sneakers for the ultimate effortlessly stylish ensemble.
Learn more about the story behind Naked Cashmere.
Best for: Matching the mood of any occasion.
Axel Arigato: Best white t-shirt dress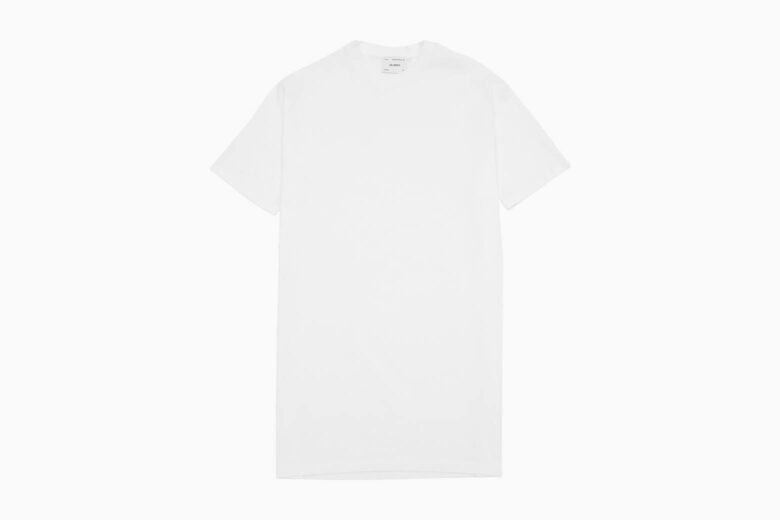 When in doubt, slip on a t-shirt dress. And more specifically, slip on this white t-shirt dress by Swedish label, Axel Arigato. The iconic designer brand perfects minimalism with avant-garde elements. And the contemporary crow neck, oversized sleeves, and subtle monogram speak to the brand's signature style. This white vacation dress meets all your getaway needs. And if you haven't booked one—now's the time.
Best for: Relaxed styles meet refined detailing.
Altuzarra: Best white shirt dress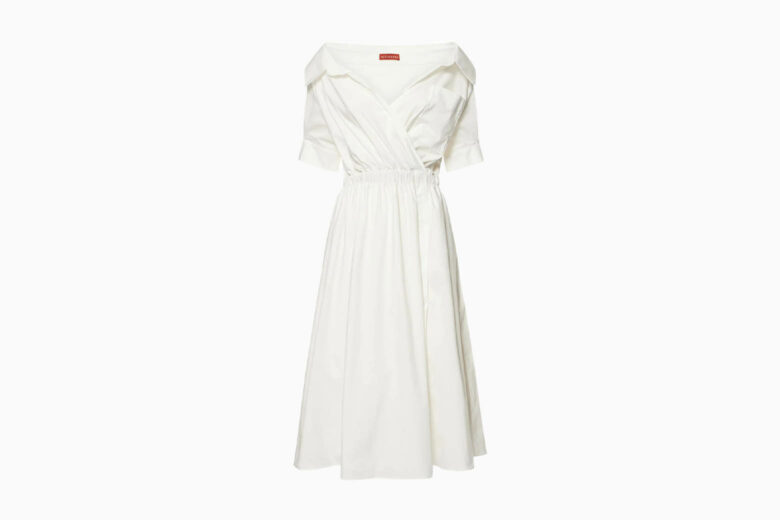 Altuzarra proves that shirt dresses can be feminine with this elegant rendition of the boyfriend classic. The relaxed design flaunts an airy cotton blend in a longer wrap-effect style. While the elasticated waist sculpts your silhouette. And the wide neckline shows off an elegant decolletage. Accent this Altuzarra white dress with a belt, strappy sandals, and your best designer sunglasses for the ultimate boujee-brunch outfit.
Best for: Shirt dresses get a feminine makeover.
Alo Yoga: Best athletic casual white Summer dress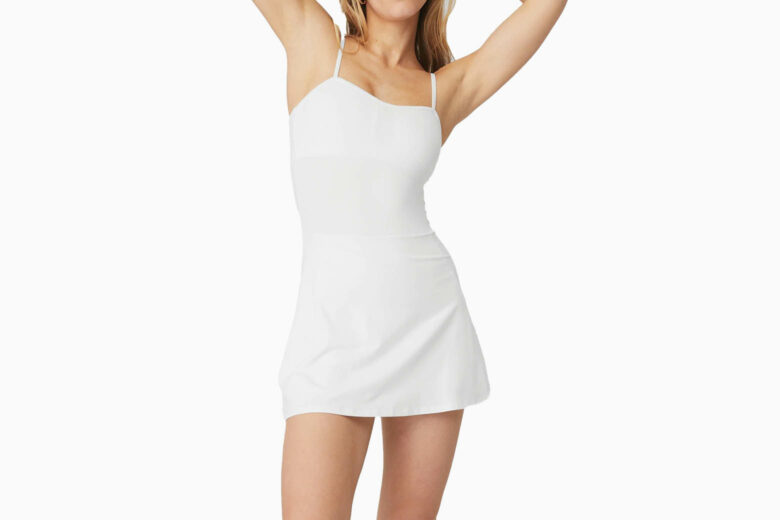 Serve up your best shot both on and off the court in Alo Yoga's athletic white Summer dress.
The tennis classic is made from the brand's signature Alosoft fabrics with a soft velvety, breathable feel. And the minimalist silhouette features a built-in bra and shorts—with athleticism being the perfect excuse to show off more leg. Pair it with your favorite white sneakers to ace the courtside aesthetic.
Learn more about the Alo Yoga brand.
Best for: Athletic aesthetics go to court.
Anthropologie: Best white vacation dress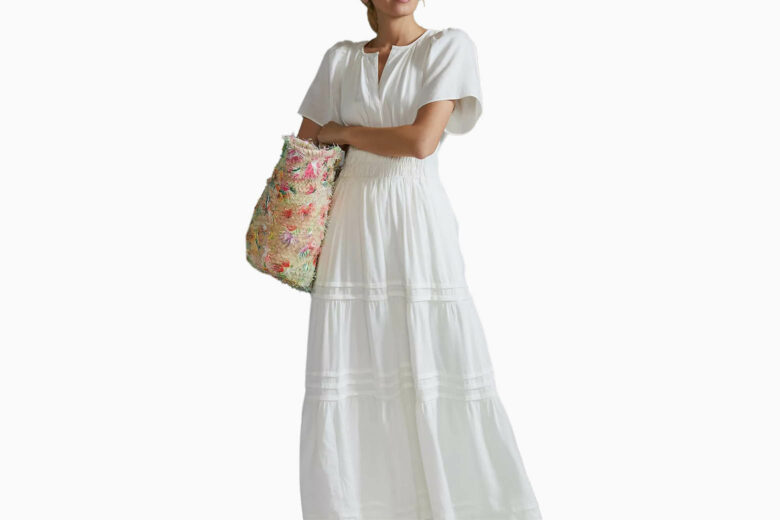 Anthropology's relaxed white linen maxi dress is calling you for a holiday. Care to join? We know we would. The linen rendition of the brand's bestselling dress is sure to make an equally popular splash this season. The cinched waist makes it impossibly flattering. While a tiered skirt sweeps the floor. And side pockets add a functionally fashionable touch.
Best for: Quick getaways.
Mare Mare x Anthropologie: Best white tube dress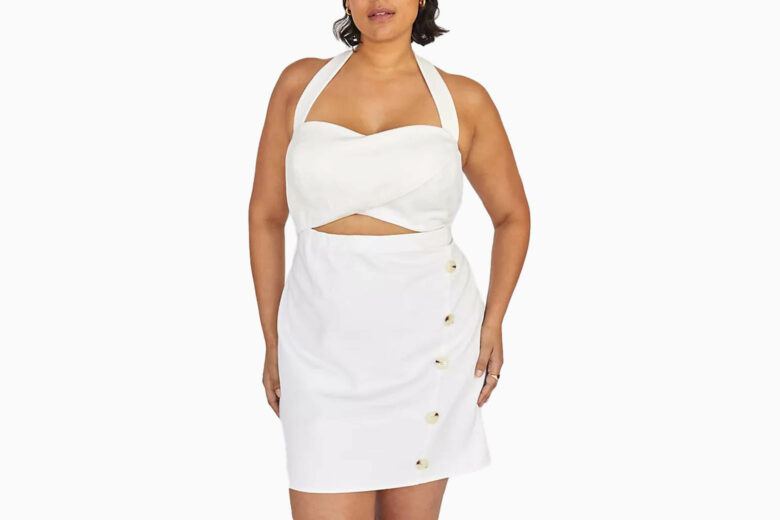 When Mare Mare and Anthropologie collaborate, you know that it'll be good. But this outcome is far more than we could have imagined. This elegant design features a tube top and fitted skirt with a retro cut out in between. While asymmetrical button embellishments take the sumptuous style one step further.
Best for: Retro cut-outs meet modern asymmetrical finishes.
Gucci: Most classy white dress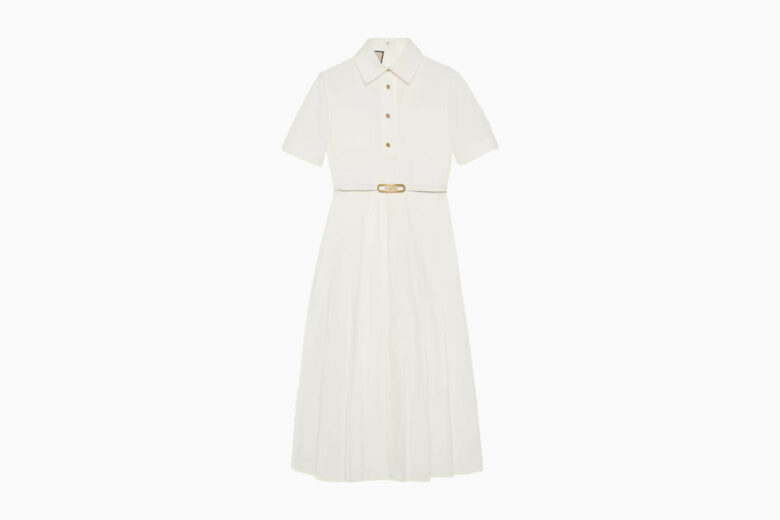 Gucci's classic never fails to impress on more formal occasions. And when presented with an opportunity to look your best, this cotton poplin is bound to do the trick. The preppy influences speak to the luxury house's signature style. And gold-tone metal buttons are perfectly complemented by the vintage-inspired, iconic GG buckle belt.
Best for: A classical piece that appreciates iconic elements.
Eberjey: Most comfortable casual white Summer dress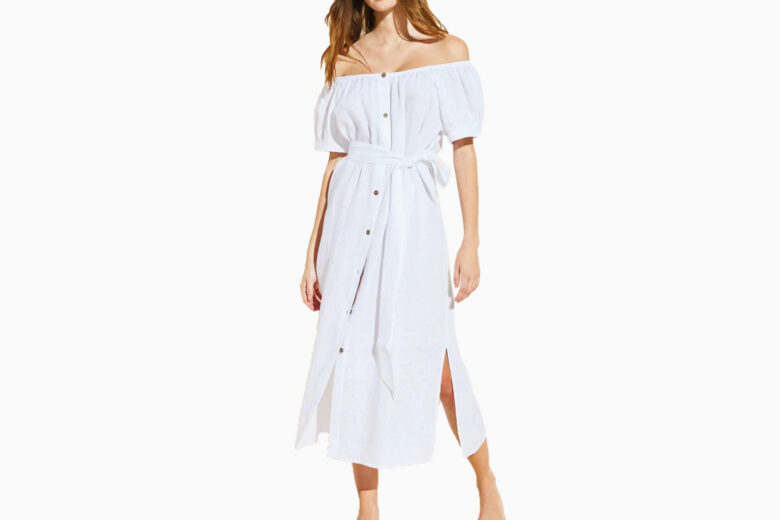 With comfort inherent to the luxury brand, it's no surprise that Eberjey's Harper linen dress is our most comfortable white beach dress for Summer. The breathable fabric falls effortlessly around your figure. And the off-shoulder neckline speaks to an elegant mood. While simple buttons down the front are all you need to complete the casual chic style.
Best for: Casual comfort gets a chic makeover.
Hunza G: Best white mini dress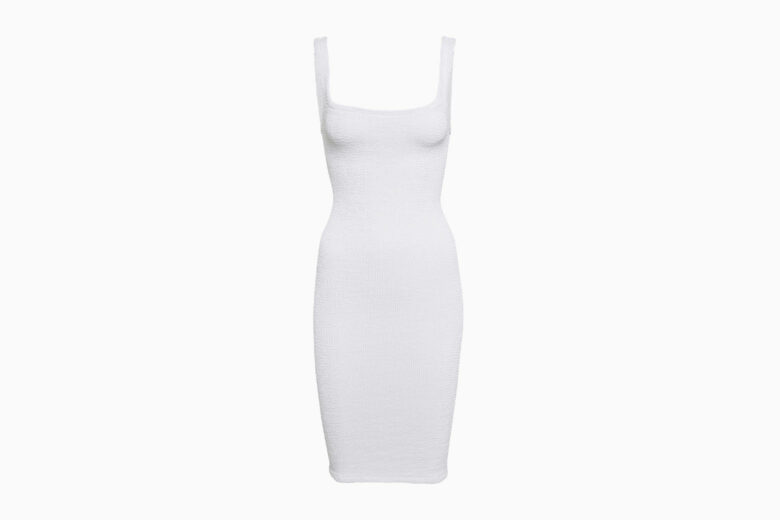 Famous for Julia Roberts' iconic outfit in Pretty Woman—Hunza G is one of our favorite swimsuit brands for women. And now that we've tried their dresses, we're adding that to their list of accolades too. This fitted white dress is a testament to the brand's eye for detail, as the sculpted silhouette flatters your form in the signature Nile fabric.
Best for: Capturing Patrick Swayze's heart.
St Agni: Best white wrap dress for summer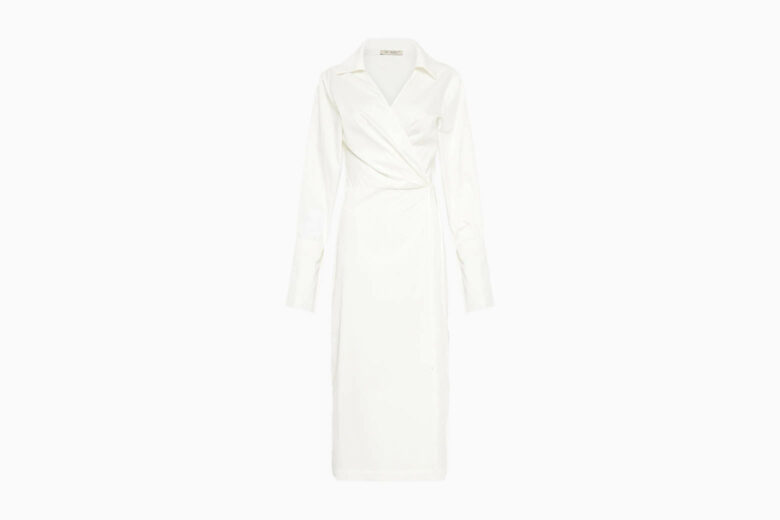 We're pretty sure you'll be wearing this elegant wrap dress by St Agni for decades to come. The wrap detailing speaks to a vintage sophistication that is effortlessly flattering and timeless. While the v-neckline and wide split cuffs allude to more contemporary elements. Pair this long sleeve white midi dress with the brand's signature leather slides for a style that transcends trends.
Best for: Timeless silhouettes take on contemporary accents.
Anine Bing: Best A-line white sundress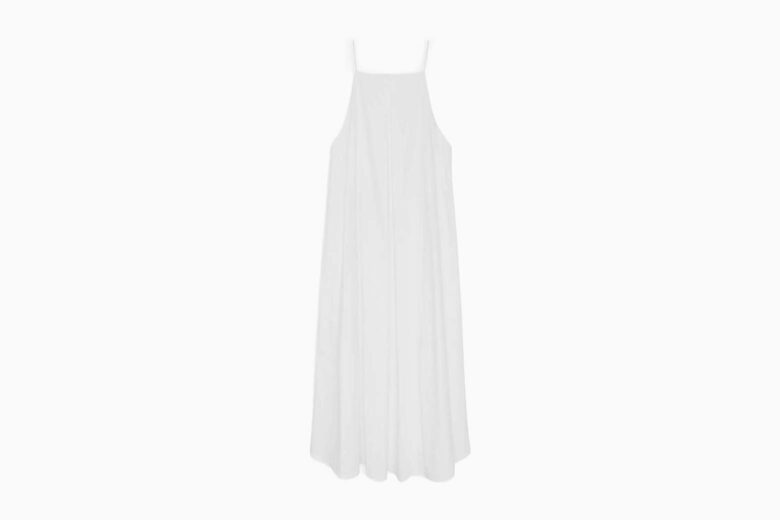 The A-line silhouette and dainty straps make this dress a quintessential vacation staple to add to your favorite travel tote. Anine Bing's Bree dress features an elegant high neck, complemented by a low-scoop back. The flowy fit makes you feel like you're floating through the day. And it's all you need to set into a relaxed holiday mood (cue the cocktails!)
Best for: Carefree casualness never looked so good.
Joslin: Best white beach dress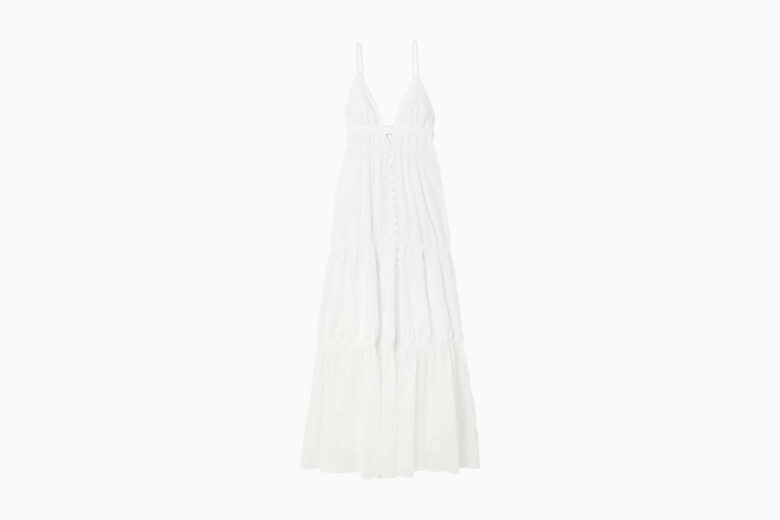 If you're a sucker for dainty details, this white beach dress is sure to make you swoon. Picturesque from front to back—the feminine design plunges into a romantic row of buttons, while delicate straps lead to an ethereal tie behind. This tiered linen maxi silhouette is bound to sweep up compliments.
Best for: Your elevated beach essential.
Suzie Kondi: Best midi white dress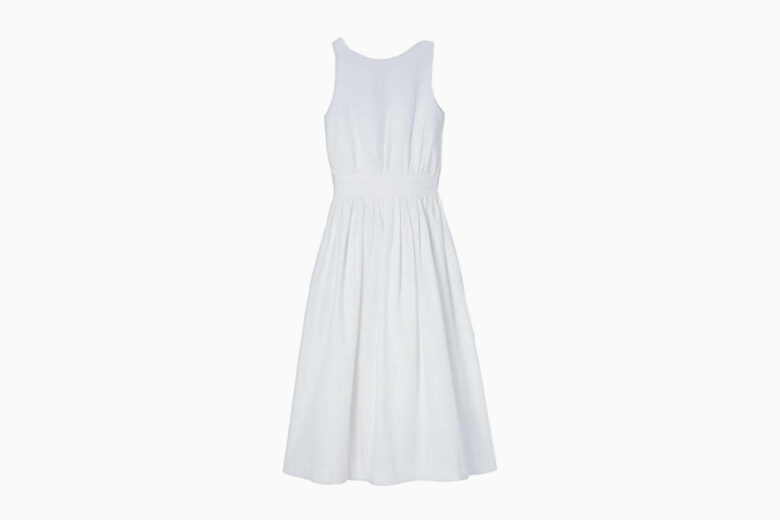 Suzie Kondi's Lina design is everything you're looking for in your LWD (little white dress). The leotard-style bodice exudes classical sophistication. While cinched-waist flares into an A-line skirt, taking the elegant style even further. Thick straps carry a low-back to add a contemporary edge. And dainty buttons finish off the entire look flawlessly.
Best for: Business in the front, party at the back.
Charo Ruiz Ibiza: Best white lace dress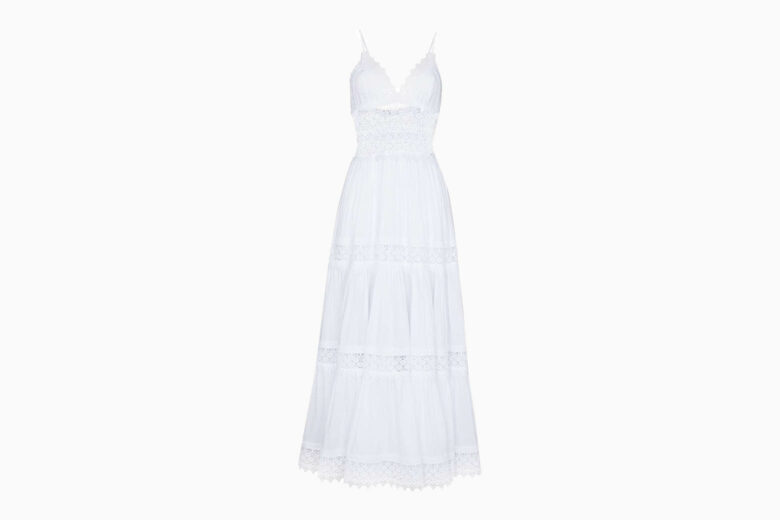 Guipure-lace accents add a whimsical element to this heavenly silhouette. Designed to embody Ibiza's laid-back charm, this long sundress couldn't look better whilst doing it. The intricate lace panels speak to the risque details, such as tiny straps and a v-neck. While the ankle-grazing tiered skirt maintains an angelic charm.
Best for: Heavenly silhouettes get a taste of Ibiza's magic.
Cosonsen: Best white flowy dress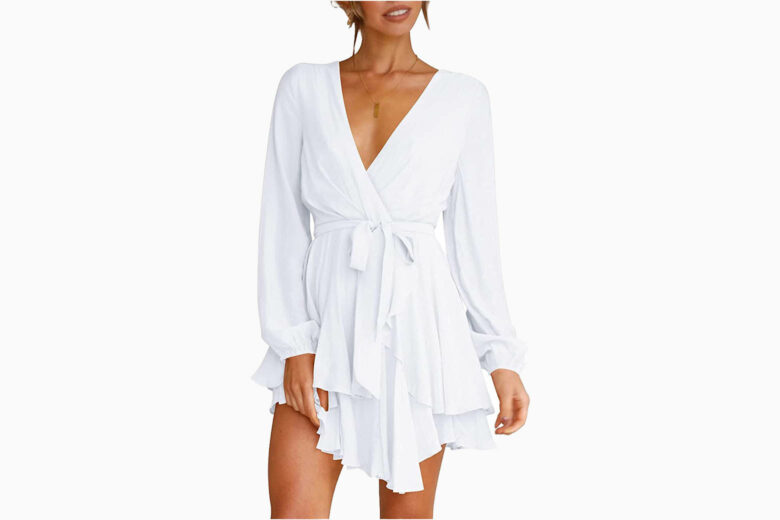 Short and sweet—this Cosonsen white dress allows you to show off more leg while maintaining an air of sophistication. The higher hemline is contrasted by a flowy, ruffled chiffon silhouette to create the perfect holiday dress. While the long elegant sleeves and waist tie further add to the femininity of the minimalist design.
Best for: Cruising through cocktail hour.
James Perse: Best v-neck white dress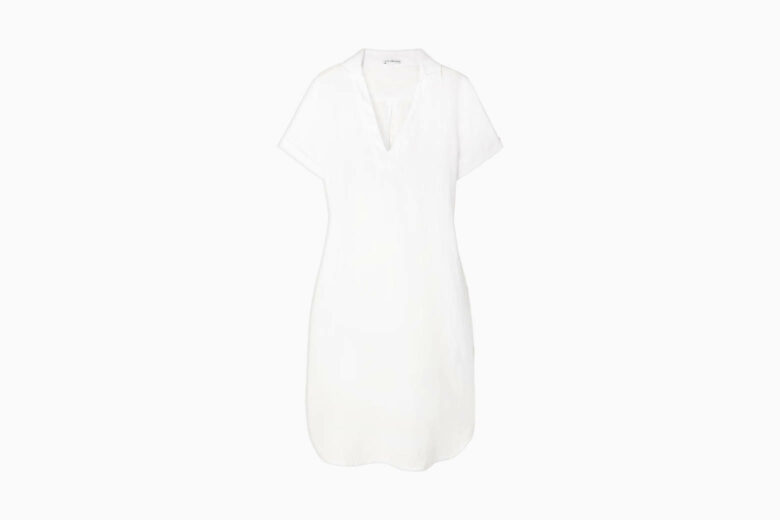 The shirt style silhouette features a contemporary v-neckline and chic collar. While the lightweight fabric falls effortlessly to the knee in a laid-back attitude. Pair this James Perse short sleeve white dress with chunky sliders to add a cheeky edge to the minimalist architecture.
Best for: A clean slate to a stylish Summer.
Jacquemus: Best long sleeve white dress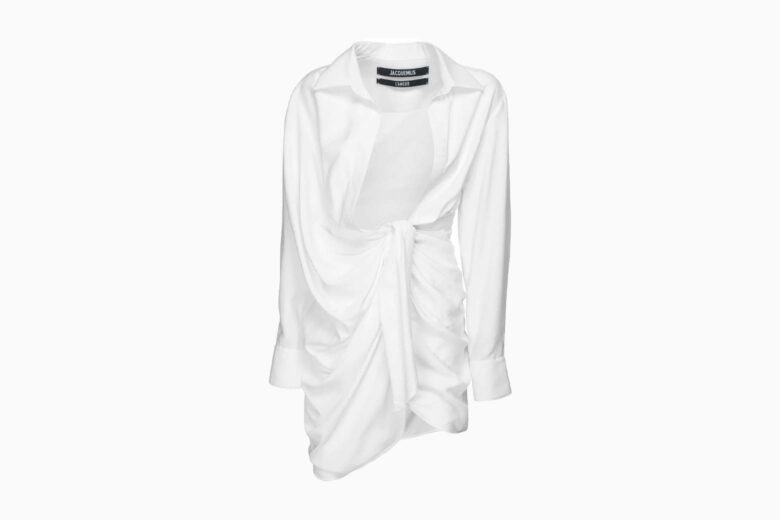 Playful silhouettes signify highly Instagrammable moments in this avant-garde design. The contemporary rendition of the classic shirt dress embodies Jacquemus' signature whimsical style. The plunging neckline adds a feminine element to a dress born out of men's shirts. And the asymmetrical cuts, knotted detailing and elongated sleeves speak to a cutting edge attitude.
Best for: Expressing an avant-garde mood.
Ganni: Best short sleeve white dress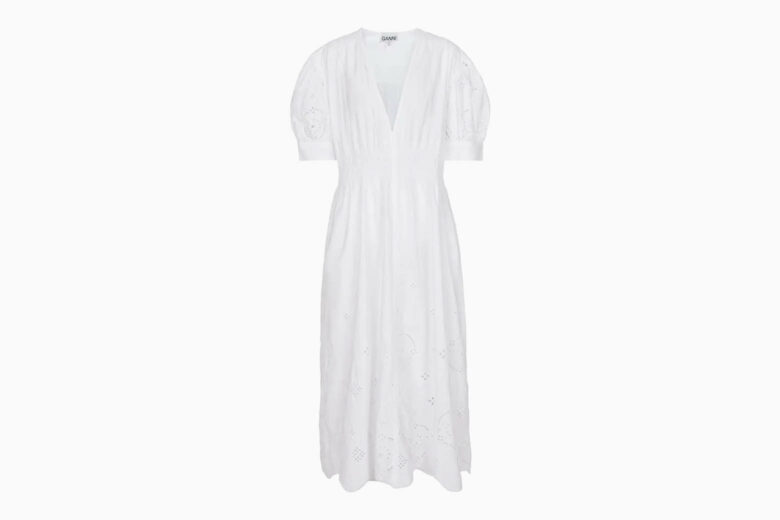 Live out your duchess dreams in one of Kate Middleton's signature styles. The puffed sleeves and cinched waist create an alluring contrast. The broderie anglaise pattern belongs at an English garden party. And the flared skirt keeps the sundress cute and carefree. Contrast this clean white cotton number with black accessories for a pairing of perfect opposites.
Best for: Royal high tea.
Gauge81: Best white mini dress with sleeves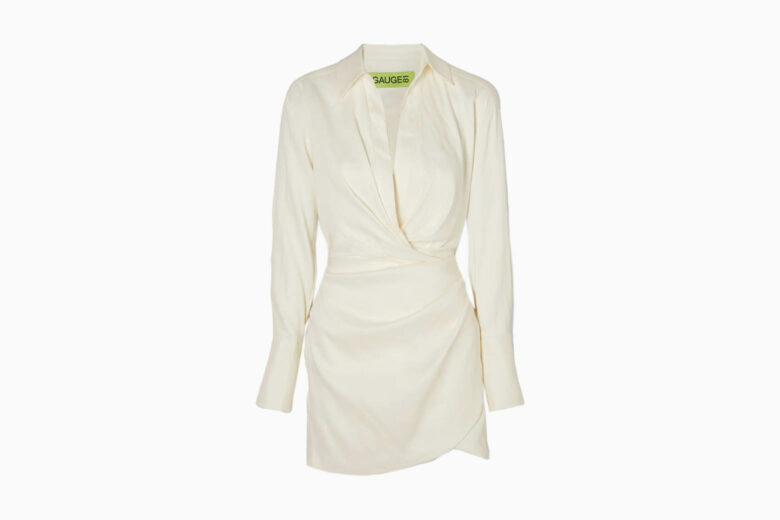 Like most things, the trick to dressing for Summer is balance. This designer number nails it with an effortlessly elegant silhouette that elongates the legs for a show-stopping entrance. The lightweight linen blend flaunts an open neckline and nipped-in waist. And finished off with Swarovski crystals on the cuff, you're bound to be noticed in this scintillating sleeved mini.
Best for: Letting your legs do the talking.
Naked Cashmere: Best white spaghetti strap dress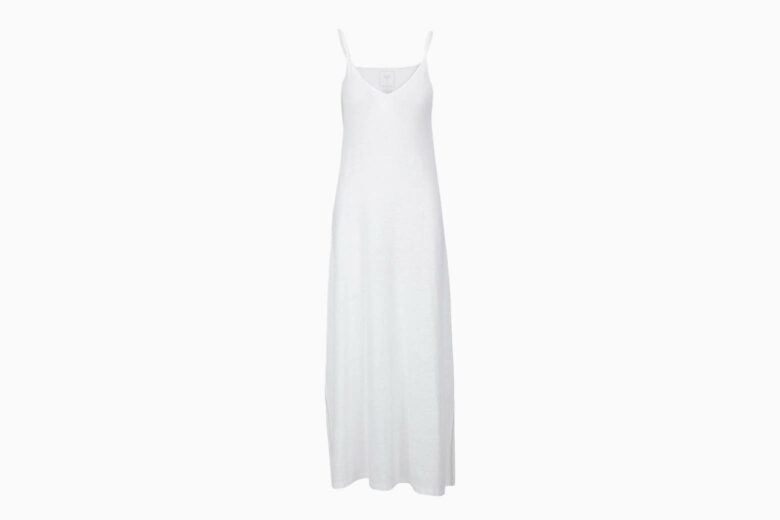 Merging comfort with elegance, you'll find it difficult to wear anything else on your next beach vacation. Naked Cashmere's lightweight Summer dresses epitomize functional fashion. And this white spaghetti strap piece has got to be one of the brand's finest examples. The maxi silhouette sweeps to the floor, while delicate detailing exudes effortlessly chic simplicity.
Best for: Living in lavish loungewear.
Retrofete: Best white party dress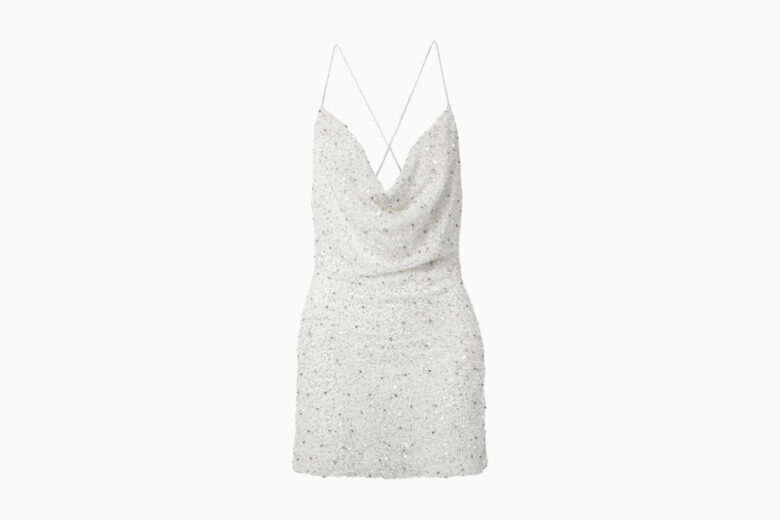 Nothing embodies Gatsbyesque parties like sequin embellishments. And Retrofete's sparkly number is all you need to dance the night away. The fitted waistline is endlessly flattering. While delicate cross-straps at the back speak of the brand's impeccable detailing. Pair this scintillating white Summer dress with black stilettos for a look that demands attention.
Best for: Letting your hair down with dazzling accents.
Joseph: Best white cotton dress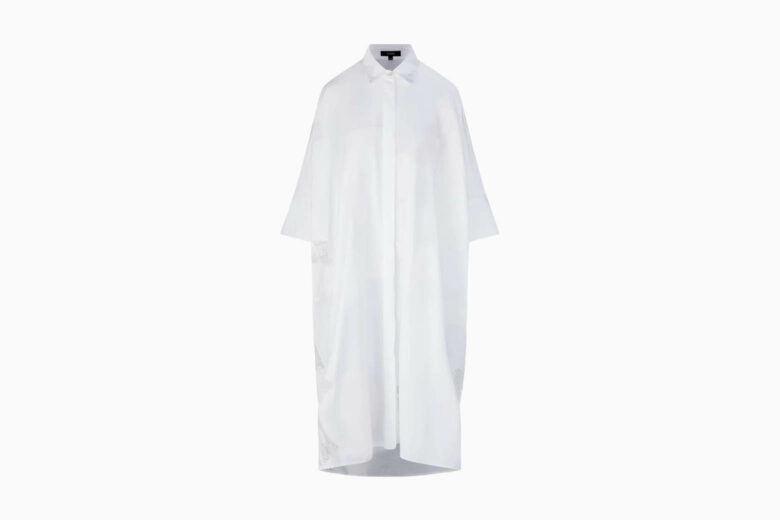 Joseph's Dania dress epitomizes luxury with its impeccable attention to detail. The midi-length shirt style speaks to modern masculinity. While lace finishes soften the design with an air of femininity. Pair this women's white beach dress with comfortable slides for a look that'll take you from the beach to brunch in a snap.
Best for: Masculine moods take on luxurious lace.
Faithful The Brand: Best white linen dress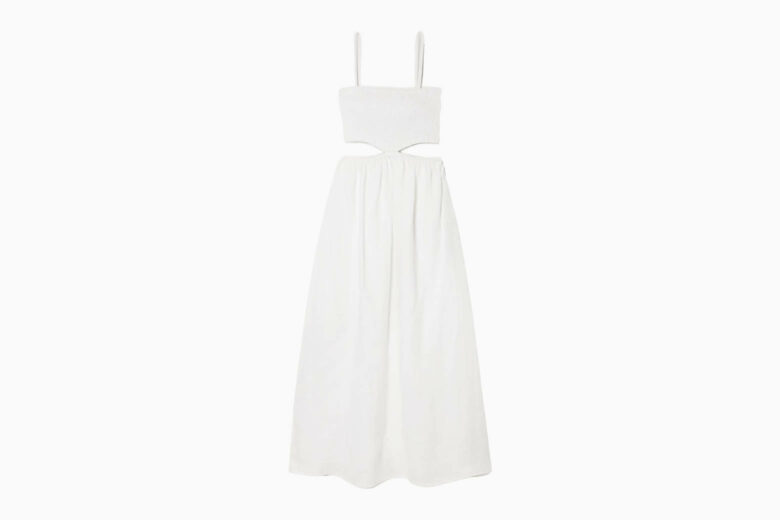 With everything Y2K trending, we're almost certain this cut-out linen dress will fly off the shelves. And we're all for it. The minimalist sundress flaunts clean lines. While the sultry cut-outs make this white dress that much more alluring. Needless to say, this white vacation dress deserves a spot in your getaway case amongst your effortless sliders and best sunhats.
Best for: Taking a break in Bali.
Lola May: Best plus size short white dress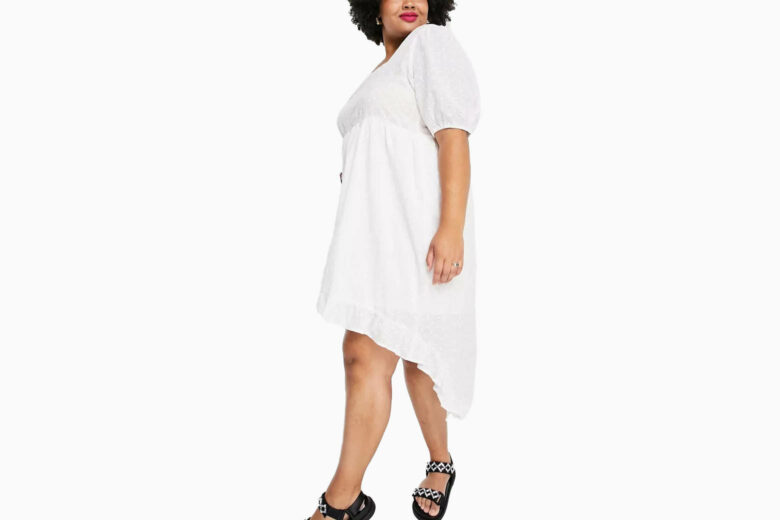 This brand knows how to flatter every form. And we love them for it. This Lola May plus size white dress shows us how it's done with all the right accents. The square neck and puff sleeves complement the feminine frills and subtle floral detailing. Pair this plus size white sundress with a vibrant bag or bold lips for a pop of color.
Best for: Effortlessly flattering silhouettes.
Brunello Cucinelli: Best pleated white dress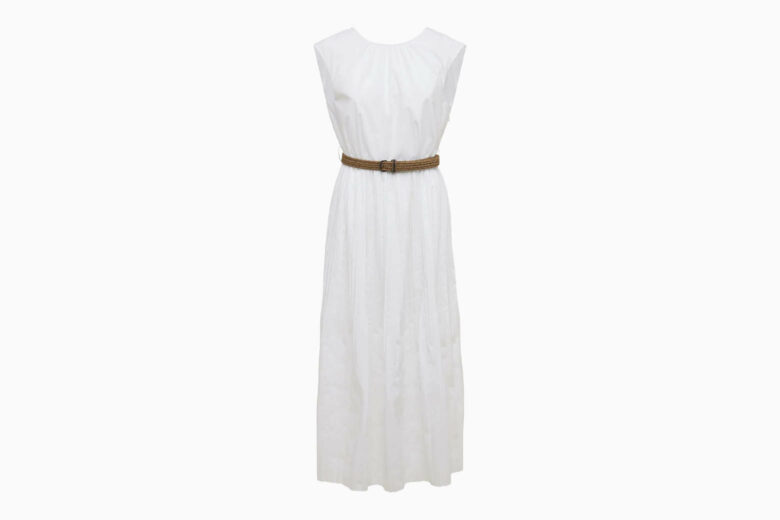 Deemed "the king of cashmere," Brunello Cucinelli understands how to redefine fabrics. And whilst it may be Winter essentials that made him famous, we think this sophisticated white Summer dress deserves its moment in the sun. The white cotton blend gives way to a pleated hem. And the simplicity of the style honors the brand's impeccable craftsmanship.
Best for: Luxury lies in the details.
Max Mara: Best white work dress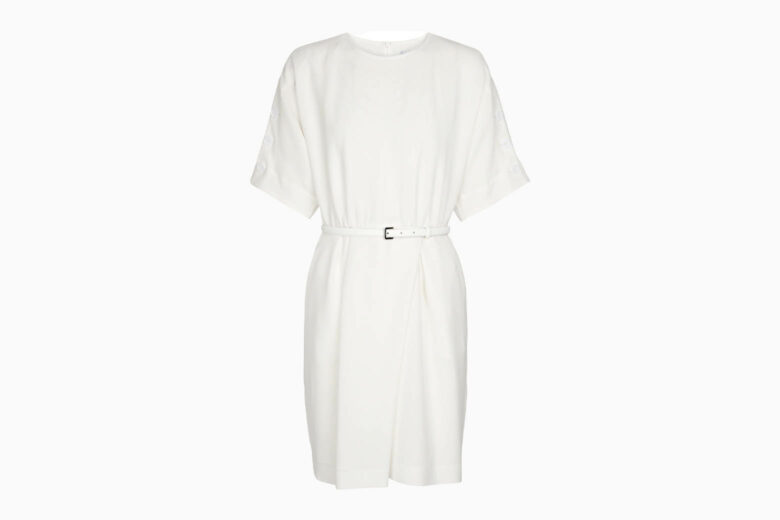 Dressing for the office in sweltering climates is no small feat—unless you add Max Mara's smart work dress to your arsenal. And then it couldn't be easier. The simple silhouette features a detachable leather belt, tonal button details, and a folded skirt. Accent this short sleeve white dress with your best designer work bag for a style that's guaranteed to seal the deal.
Best for: Sharp styling.
Frequently asked questions about white Summer dresses
Is a white dress good for Summer?
A white dress is the ultimate summer staple. It maintains the versatility of your little black dress, but with a fresher finish. Check our hand-picked selection of the best white dresses for summer to get some inspiration.
What is the best dress to wear in Summer?
We're calling white sundresses the unofficial Summer uniform. The white colorway perfectly contrasts your sunkissed skin. Long beach dresses exude Grecian femininity. Plus size short white dresses are designed to flatter a curvy form. And a long-sleeve white midi dress is made for cooler nights out. 
How should you dress for a white dress?
Your white dress is a blank canvas when it comes to styling. Long dresses pair effortlessly with leather sandals for the ultimate cool and carefree look. While a white dress with sleeves calls for soaring stilettos and a pop of color for dressier occasions. But don't feel limited by these suggestions, most white dresses carry any accessory well.
How can I look classy in Summer?
Dressing for Summer with sophistication couldn't be easier with the right white dress. We adore Chloe's scalloped number with feminine details, perfect for a ladies' brunch. Max Mara's smart ensemble will have you work-ready in a snap. And Anthropologie's white sundress will make you feel like a million bucks with minimal effort.