Whether it's a girl's trip, a second honeymoon, or a night in nature—you deserve a stress-free weekend away. And a stress-free weekend calls for a stress-free weekender bag.
Luxury luggage brands have got you covered with the best carry-on luggage for every occasion. A designer duffel is ready to hit up the big city and will happily make room for a spontaneous shopping spree. While your leather tote exudes Parisian romance in a timeless fashion. A bold print will take you to Mexico with a margarita in hand. And organized compartments will prevent last-minute panics.
A waterproof weekender will protect your wardrobe from stormy weather. And an integrated trolley sleeve will roll up in style. A shoe compartment will keep your trainers from your tees. While a mesh pocket will pack an extensive beauty regime.
The reality is, you only have the weekend to recover. And every hour counts. So if you're spending precious time cramming in clothes, scrabbling for boarding passes, and breaking your back—the chances are, you'll come back feeling worse off than when you left.
That's why we consider the right weekender bag an investment into a future of revitalizing retreats. It'll cost you less than frequent therapy and is usually a lot more fun. So crank up Cindi Lauper. Pop open your travel tote. And let's start parading around potential ensembles.
Bon voyage!
The 28 best weekender bags for women
Cuyana Triple Zipper: Overall best weekender bag for women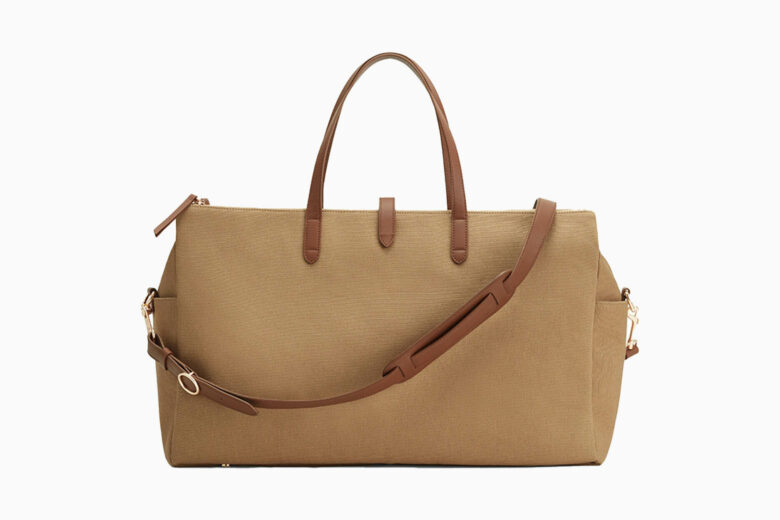 It's no secret that we adore this timelessly chic brand. But this triple zipper weekender has managed to exceed our sky-high expectations.
It's the St Louise of travel bags. And comes in a natural tan, sleek black, and soft gray. Made in Turkey, Cuyana uses sustainably strong cotton canvas with Italian leather trims. Check our dedicated Cuyana review to learn more about the brand's story.
With a sleeve for everything, this thoughtful weekender will reorganize your life and will make leaving and landing a breeze. The Cuyana Triple Zipper the perfect excuse to book that weekend-away at the drop of a hat (we all have those weeks).
Best for: A personal assistant to take care of everything.
| | |
| --- | --- |
| Materials: | Cotton canvas with leather trim |
| Colors: | Black, Chestnut/Sand and Beige/Gray |
Dagne Dover Landon Carryall: Best value weekender bag for women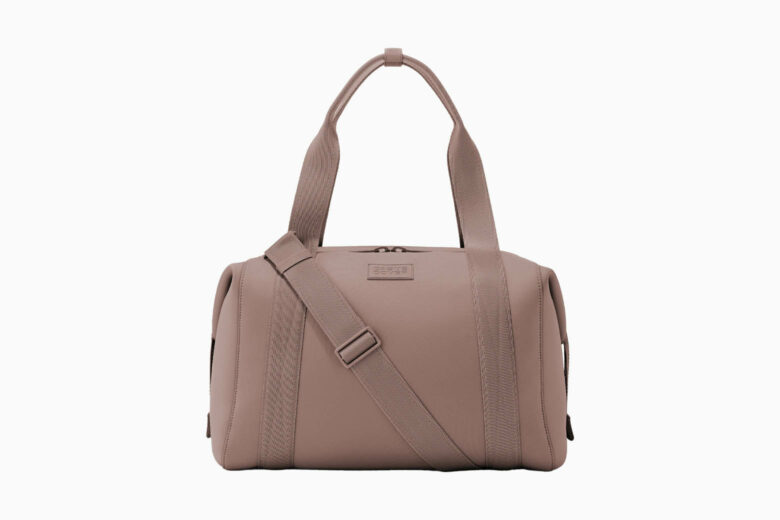 Whether you're getting grounded at a yoga retreat or coming to a standstill by the pool—this bag will whisk you off and take your troubles away.
The neoprene travel tote is light on the shoulders and made from recycled bottle tops. A laptop sleeve fits most 16" laptops. And a hand luggage-handle makes it the perfect carry-on. It comes in a variety of colors—from onyx black to a dark moss green to dusty dune pink and more.
This Landon Carryall will seamlessly take you from the mountains to the spa.
Check our in-depth review of Dagne Dover's bags and our profile on Dagne Dover's brand.
Best for: Affordable travel in a sustainable, sporty style.
| | |
| --- | --- |
| Materials: | Premium neoprene with a recycled repreve lining |
| Colors: | Black, Green, Pink and more |
Gucci Duffle: Best designer travel bags for women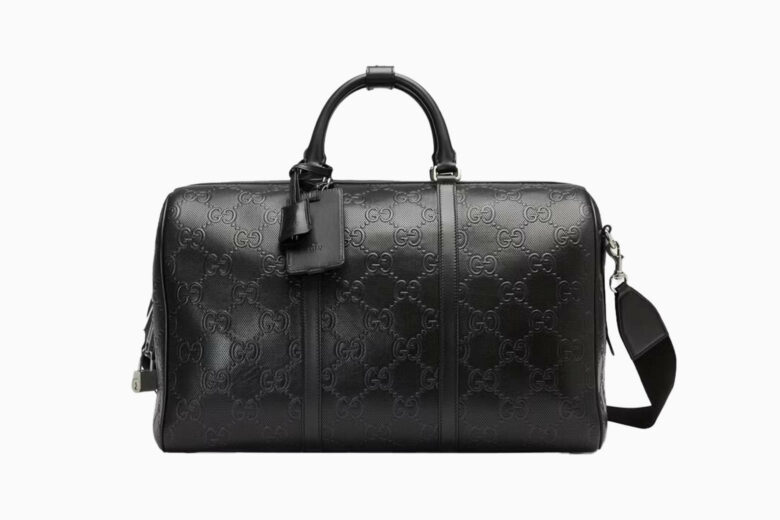 This Gucci duffle is designed for men. But that's never stopped our avant-garde women in the past.
Made from Italian leather, these designer travel bags for women are made for luxury. Pack a sleek black duffle embossed with the latest Gucci motif for a sophisticated shine. Or flaunt a vintage floral carnation print for timeless elegance.
Either way, you'll want to show off these designer duffle bags as soon as possible. (Cue the search for flight specials).
Best for: Treating yourself to a weekend of luxury.
| | |
| --- | --- |
| Materials: | Canvas with leather details |
| Colors: | Beige carnation print |
Horizn Studios: Best women's canvas overnight bag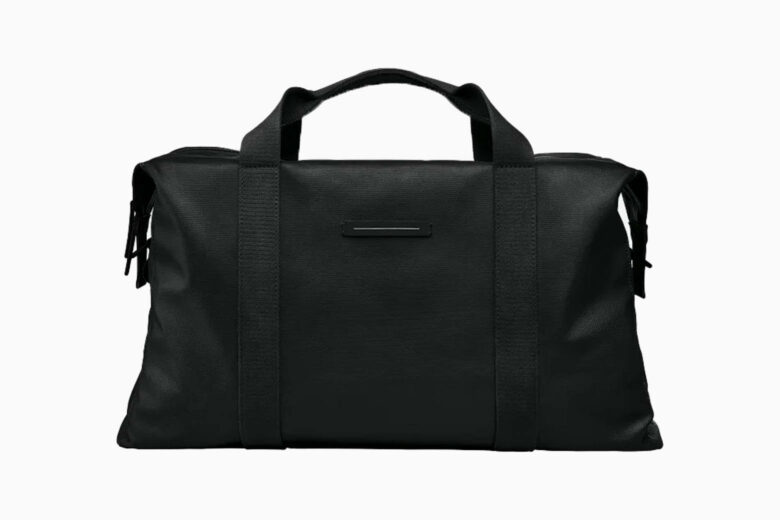 This multifaceted travel assistant is terrific for your weekend escape. And it may also get you to the gym without protest (no promises there.)
The canvas carryall is your new confidant. It'll keep your secrets safe in sustainable, splash-proof fashion. The sturdy fabric is designed for a lifetime of adventure. And the sleek design comes in a sophisticated black, dark olive and soft sand.
Even if you don't make those pilates classes, this lightweight weekender by Horizn Studios is easy on the arms. And it's made to comfortably endure lengthy trips.
Best for: Sumptuous Scandinavian-inspired style.
| | |
| --- | --- |
| Materials: | Recycled water-sealed cotton canvas |
| Colors: | Black, Dark olive, Sand |
Bellroy Weekender: Best women's nylon travel totes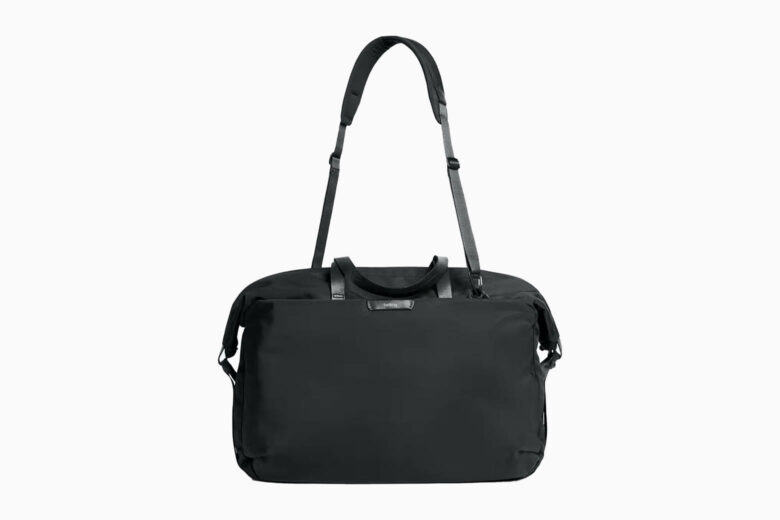 Enjoy the journey. And let this casually clever getaway bag take care of the rest.
With pockets in all the right places, Bellroy values practicality and style. The durable, nylon fabric is made to outlast multiple vacations. And the chic design comes in all-black, charcoal and light lunar colorways.
A smooth trip starts with the right travel tote. And if you're prone to anxiously scrabbling for your boarding pass at the last minute—the Bellroy Weekender is for you.
Best for: Preventinting periodic panics.
| | |
| --- | --- |
| Materials: | Recycled water-resistant woven fabric |
| Colors: | Black, Charcoal, Lunar |
Rimowa Never Still: Best women's weekender for a work trip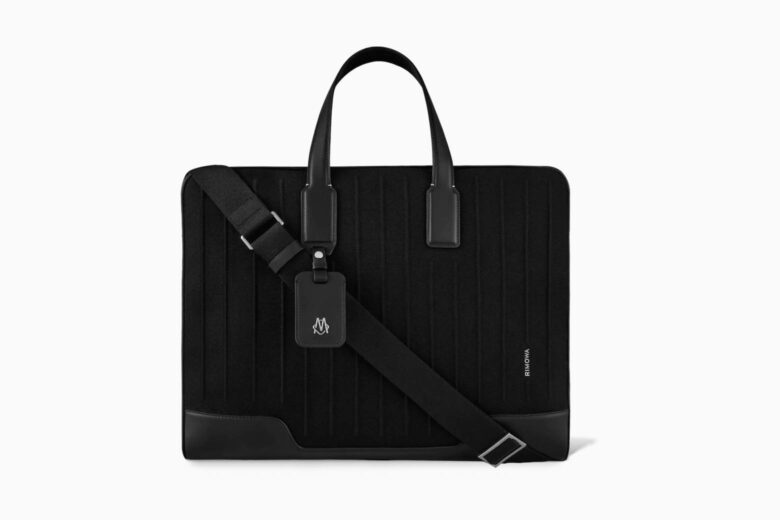 Business trips may not always be fun. But they should be successful. And the right weeknder can help with that.
Your bag should lure in potential clients with its prowess. It should roll with a powerhouse posture. And it should stack creased shirts in an organized fashion. With a laptop slip and adjustable straps—this slick, black overnight bag will take you straight from the office to your hotel room in style.
This Never Still Weekender is your new hardcover canvas accomplice to seal those deals.
Best for: Conquering the business world with confidence.
| | |
| --- | --- |
| Materials: | Canvas with hardware finishes |
| Colors: | Black |
Bluboon Travel Duffel: Best weekender bag with shoe compartment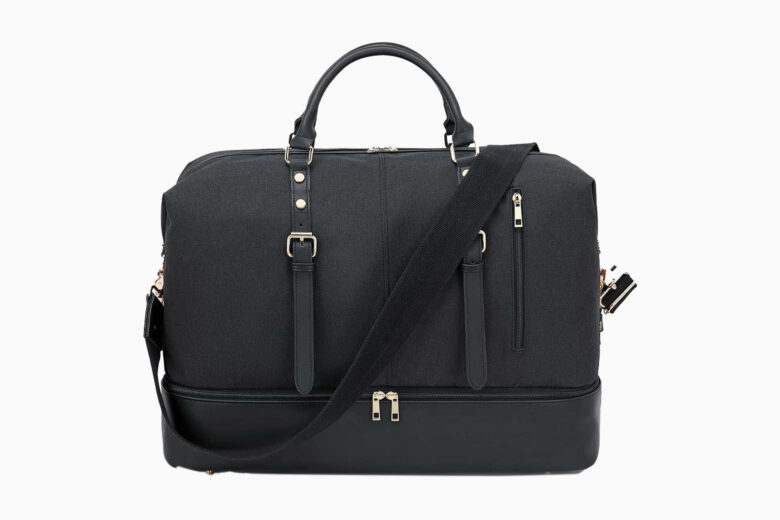 Nobody likes a shoe amongst their soft chiffon. We don't mean to insult your favorite white sneakers, we're just suggesting they take their rightful place.
And with the dust off your feet neatly tucked away, you can focus your attention on the fun prints that these funky duffels have to offer. From bright sunflowers to wild leopard designs—Bluboon Travel Duffels are the perfect accessory to spice up your girls' weekend away (as if you need it).
Best for: Compartmentalizing your sneakers in style.
| | |
| --- | --- |
| Materials: | Waterproof Oxford Cloth |
| Colors: | Black, Purple, White Marble + More |
Calpak Luka Duffel: Best quilted weekender bag for women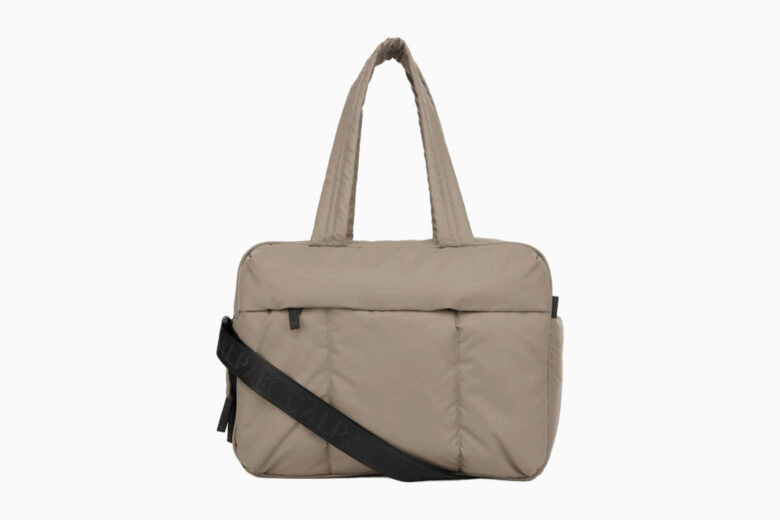 Quilted bags are a timeless design that remind us of the Chanel classic. This Luka duffel maintains that iconic air of sophistication whilst keeping everything in check.
The lightweight travel bag has nine pockets to separate your socks from your pajamas. The soft design comes in a range of unique colorways. The metallic bronze, chocolate brown and brick orange are our top picks but you'll have to see them all to decide.
Best for: A classic chic design makes a showstopping case.
| | |
| --- | --- |
| Materials: | Polyester |
| Colors: | Brick, Chocolate, Bronze + More |
Dagne Dover Dakota: Best weekender backpack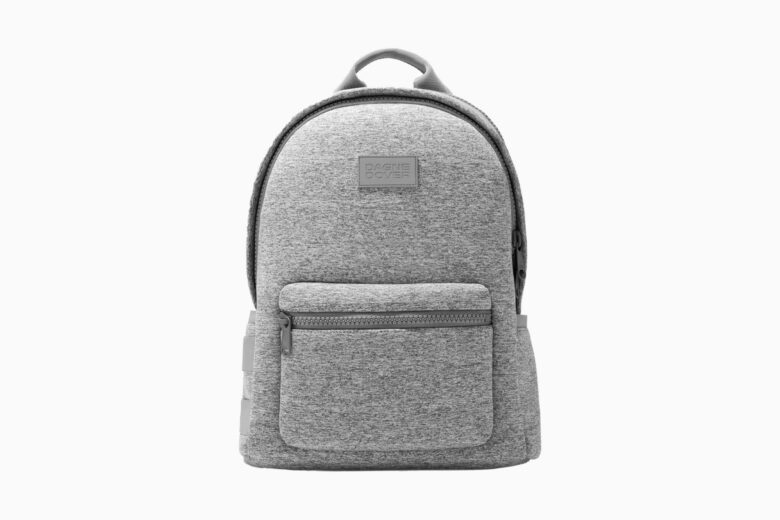 We can't pack all our weekend essentials into a backpack? Challenge accepted.
The large Dakota has ample space for your clothes, toiletries, and sneakers (depending on how many shoes you pack.) The water-resistant fabric will have your back come rain or shine. And the luxurious travel companion comes in a range of colors—from dark moss green to a stormy navy to a dusty dune pink. 
This contemporary backpack by Dagne Dover will bare your burdens and lighten your load—giving you the break you deserve.
Check our dedicated story on Dagne Dover to learn more about the brand. We also have a hands-on review of Dagne Dover's most popular bags.
Best for: Backpacking in style.
| | |
| --- | --- |
| Materials: | Neoprene with recycled repreve lining |
| Colors: | Green, Navy, Dusty Pink + More |
Away The Everywhere Bag: Best weekend case with compartments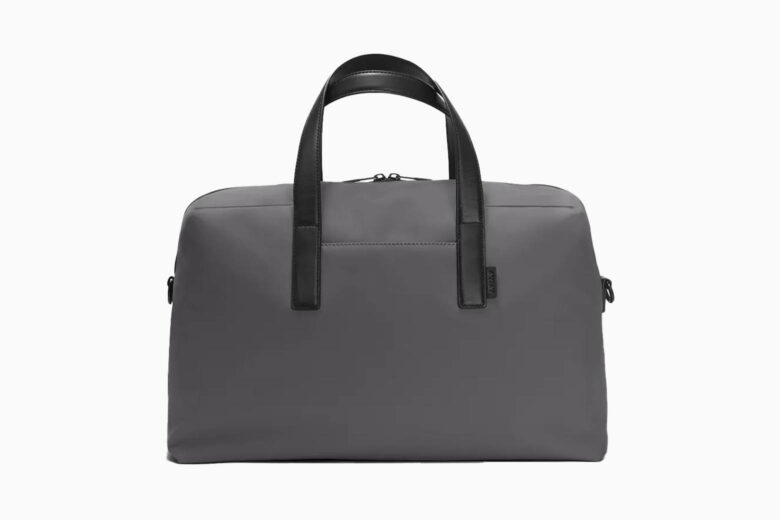 Away is at the top of our list of best luggage brands. So it's no surprise that we adore their large, all-purpose weekender.
The black or navy nylon bag exudes chic minimalism. The sleek design features a trolley sleeve for effortless travel as well as detachable shoulder pads for optimal comfort. And with a pocket for all your paraphernalia, the spacious main compartment will ensure that your favorite shoes don't get the boot.
There's a reason they call it the 'everywhere' bag. Don't believe us? Put it to the test.
Best for: Perfectly placing your paraphernalia.
| | |
| --- | --- |
| Materials: | Nylon |
| Colors: | Black and Navy |
Herschel Novel: Best women's weekender duffel bags under $100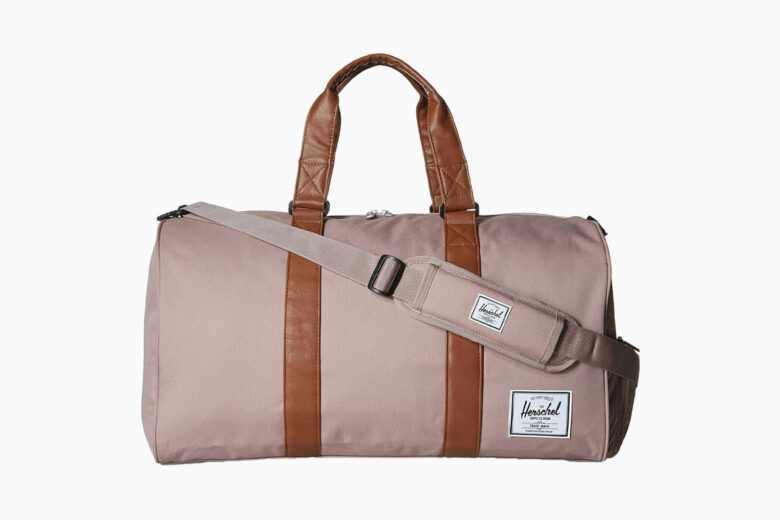 This Novel duffel bag is your new getup and go. And if you're waiting for a sign to book that glamping getaway—this is it.
We love high quality brands and while that often comes at a price, we won't run away from a deal. Herschel knows how to do luxury for less. Their signature striped lining adds a sophisticated finesse. And the side shoe compartment is a chic way to pack a spare pair.
This Novel duffel bag is made to be crammed into the boot at the last minute (you know who you are).
Best for: A spontaneous break in nature.
| | |
| --- | --- |
| Materials: | Synthetic or recycled |
| Colors: | Black, Rose, Blue + More |
Paravel Travel: Best foldable women's duffle bags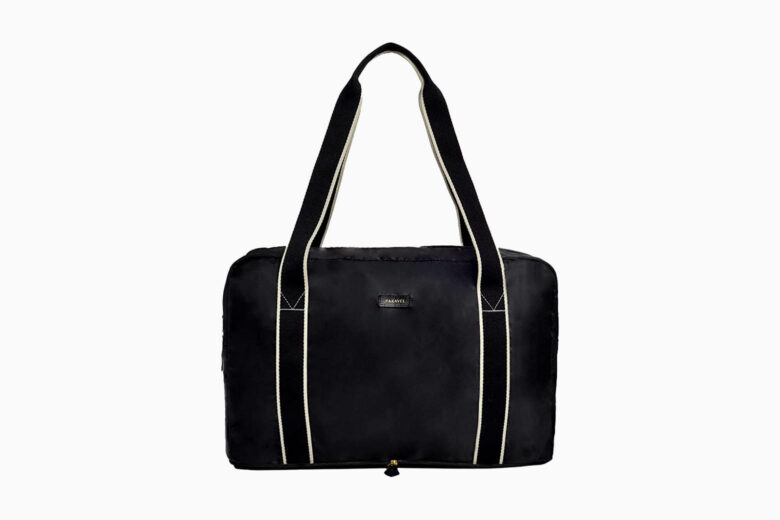 This foldable travel bag is our best kept secret. And now it's yours too.
Fill it up or fold it up. This knight in black sleek armor is just waiting to accommodate your "unexpected" Paris shopping spree. The lightweight, durable nylon collapses seamlessly to adjust to your day to day.
Small enough to sit on the sideline and big enough to fit your essentials. Paravel's versatile tote is all you need to accommodate your weekend spending habits.
Best for: Coming to the rescue after a weekend of retail therapy.
| | |
| --- | --- |
| Materials: | Nylon |
| Colors: | Black |
Longchamp Boxford: Best large travel tote for women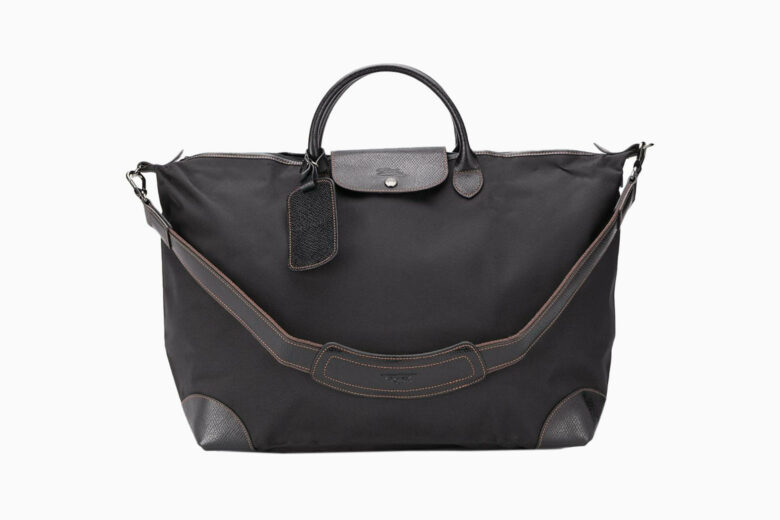 If you can't go anywhere without an extensive beauty routine—this carryall has got you covered.
The Boxford bag packs neatly into the overhead compartment without asking you to compromise your style. The nylon fabric is light on the arms and a padded shoulder strap keeps it comfortable. A black silhouette speaks to a versatile, sleek style. And the leather accents add a classy finesse.
This large travel companion takes it all and doesn't expect you to give up anything. We mean, what more could you ask for?
Best for: Knowing what it takes to look that good.
| | |
| --- | --- |
| Materials: | 100% nylon with leather outer |
| Colors: | Black |
Tumi Voyageur: Best lightweight weekender for women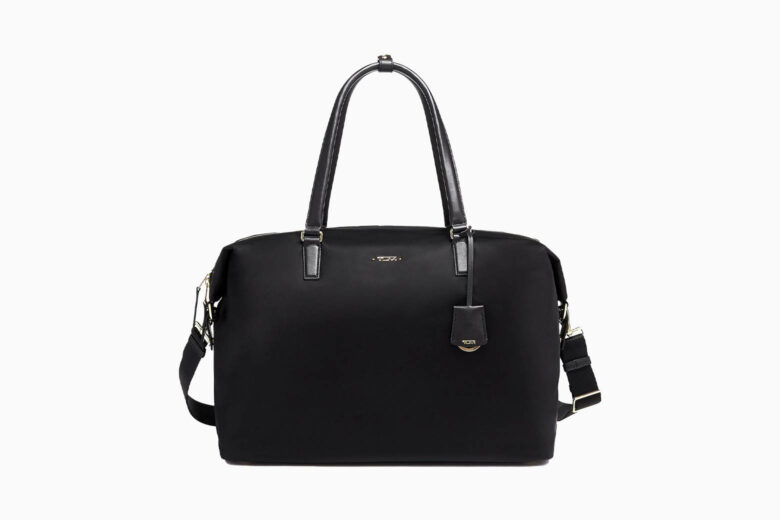 Chances are your weekend away is a reprieve from workouts of any kind. And by workouts we include hauling around heavy cases.
The Tumi Voyageur is light as a feather. It features padded adjustable straps and sleek leather handles. It's perfect for the powerhouse woman who intends to carry her own bags. And the minimalist style whispers tones of contemporary sophistication.
This lightweight weekender bag will accompany your weekend in an effortlessly relaxed fashion.
Best for: Taking the pressure off and letting your hair down.
| | |
| --- | --- |
| Materials: | Polyester |
| Colors: | Black |
Cuyana Overnight: Best women's overnight bag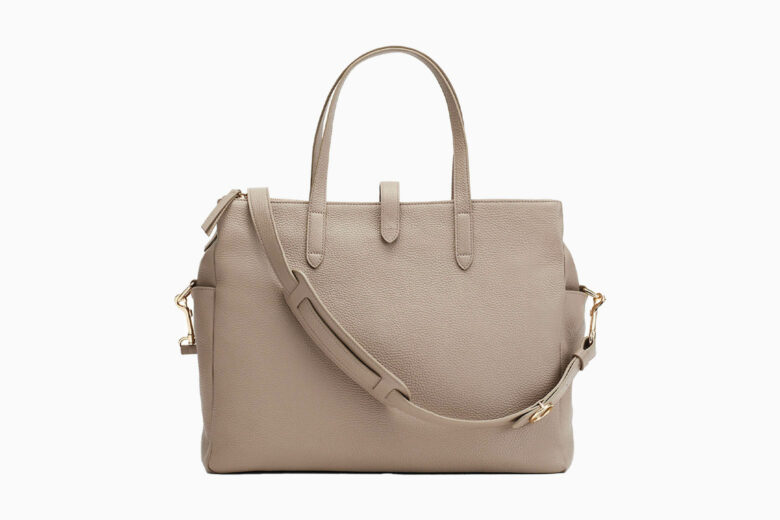 An overnight trip calls for optimal organization and nothing too large. After all, you don't want to spend your minimal time scratching around.
This Cuyana overnighter is the perfect size. And it's layered with sleeves to sort your life out. It's big enough to fit the essentials (plus a spare pair). Yet small enough to double up as your day to day (for the on-the-go snackers).
This timeless pebbled leather design is your new accomplice to quick getaways, gym excursions or wonder women mum moves.
Best for: Solving problems one snack at a time.
| | |
| --- | --- |
| Materials: | Pebbled leather |
| Colors: | Stone and Black |
Vera Bradley: Best washable weekender bag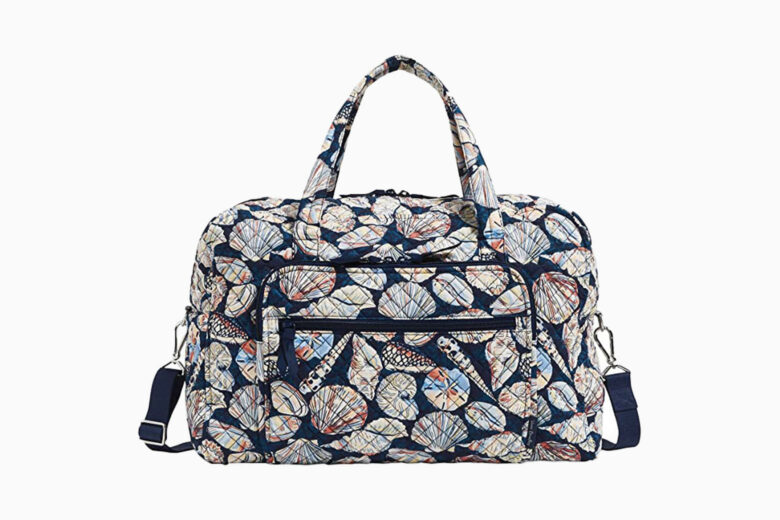 Your little-one just decorated your designer tote with the contents of her lunch for the second time this week? Take a deep breath. We've got you covered.
This cotton weekender is your chuck-in-the-machine solution to resolve all young mamma nightmares. The versatile travel bag comes in a range of exotic prints—from plum pansies to merry mischief to makani paisley. Although we recommend their neutral fabric for everyday excursions.
Best for: Low-maintenance carryall to prevent future meltdowns.
| | |
| --- | --- |
| Materials: | Cotton |
| Colors: | Cardinal Red, Navy, Ivy Green + More |
Isabel Marant Wydra: Best faux leather travel tote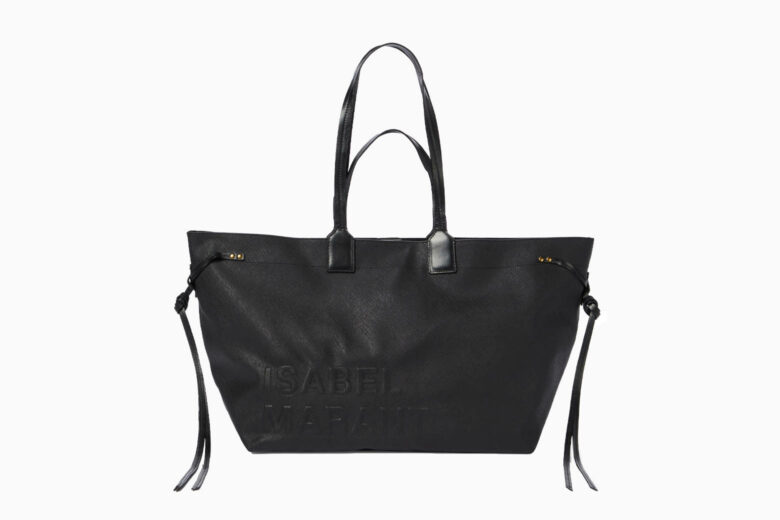 Escape in style. You've got one weekend to go all out.
If you're looking for an excuse to treat yourself—we'll give you a few. Faux leather is vegan friendly and made to stand the test of time. So consider this timeless tote a sustainable investment into your future of necessary time-outs.
The chic black design is bound to add a new spring to your step. And it will effortlessly double up as your ego-boosting everyday companion.
Best for: Drop dead gorgeous durability.
| | |
| --- | --- |
| Materials: | Faux leather |
| Colors: | Black |
Anya Hindmarch: Best in-flight overnight bag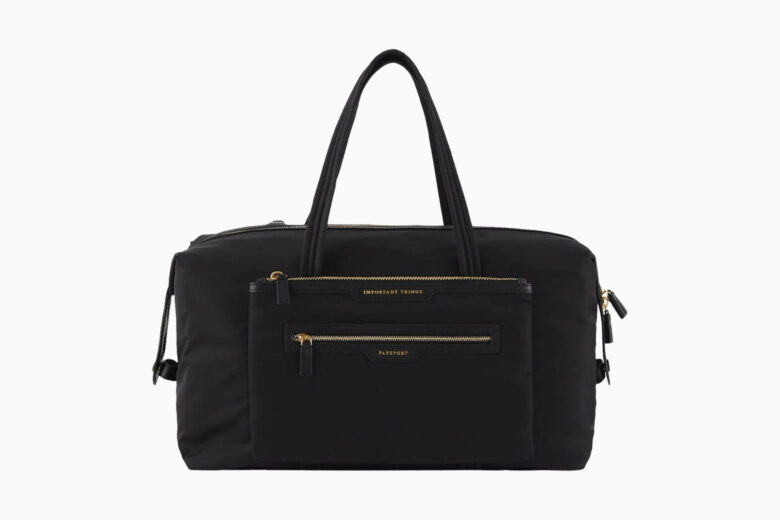 A comfortable overnight flight is not impossible. It just requires a little preparation. And we've got the bag to do it.
The luxury nylon design has everything under control. With a special place for your soothing night creams, a thrilling book and ample snacks—there's no reason to settle for a subpar inflight experience.
This slick black travel tote is all you need to conquer limited leg room and peering eyes in style.
Best for: Crushing overnight flights comfortably.
| | |
| --- | --- |
| Materials: | Nylon |
| Colors: | Black |
Beis Weekender Bag: Best for effortless organization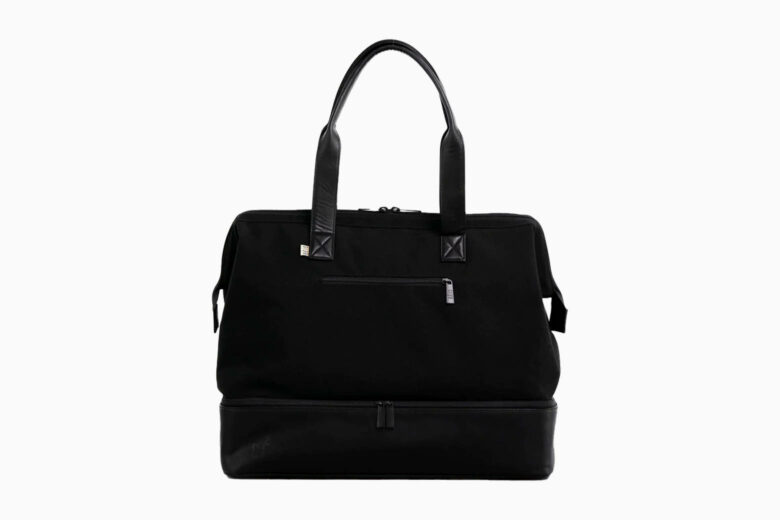 This is the best-selling bag that gave birth to the avant-garde travel brand—Beis.
The contemporary carryall was designed to take the hassle out of travel. And it's succeeded on all fronts. They've thought of everything—from a key fob, to a laptop sleeve and shoe compartment. The organized design is complemented by minimalist colorway and accented with the brand's signature motif.
This Beis weekender bag is your quintessential accessory for carefree travel.
Best for: Well-organized weekenders.
| | |
| --- | --- |
| Materials: | Cotton and polyester |
| Colors: | Black, Beige, Gray |
Mansur Gavriel Everyday Soft Tote: Best leather weekender for women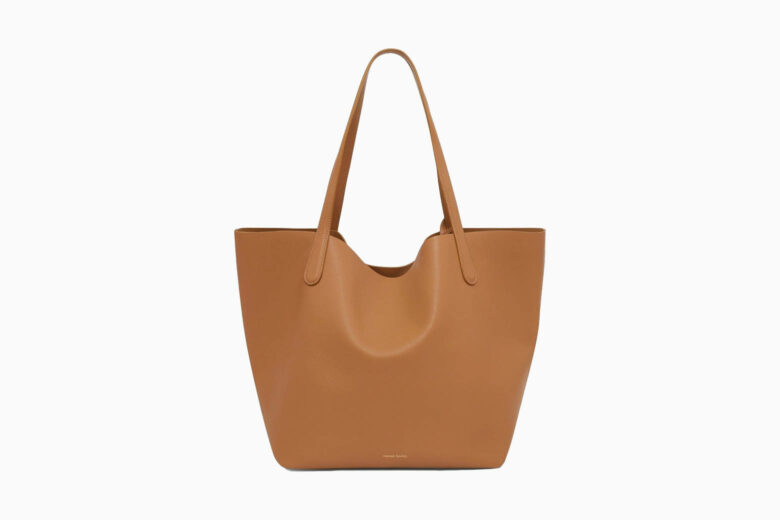 Buttery, calfskin leather is enough to make us melt. And we're pretty sure you will too.
Thiseveryday tote may be soft but it's also strong and sturdy. The timeless design whispers tones of classical sophistication. And the light, natural colorways are the versatile complement to any ensemble.
This lifetime companion will adjust to your daily needs—whether it be office essentials, workout wear or your weekend wardrobe. It's your one-size-fits-all jack of all trades.
Best for: A bag that never leaves your side.
| | |
| --- | --- |
| Materials: | Calfskin leather |
| Colors: | Crema, Dahlia, Caramel + More |
Khaite Osa: Best suede travel totes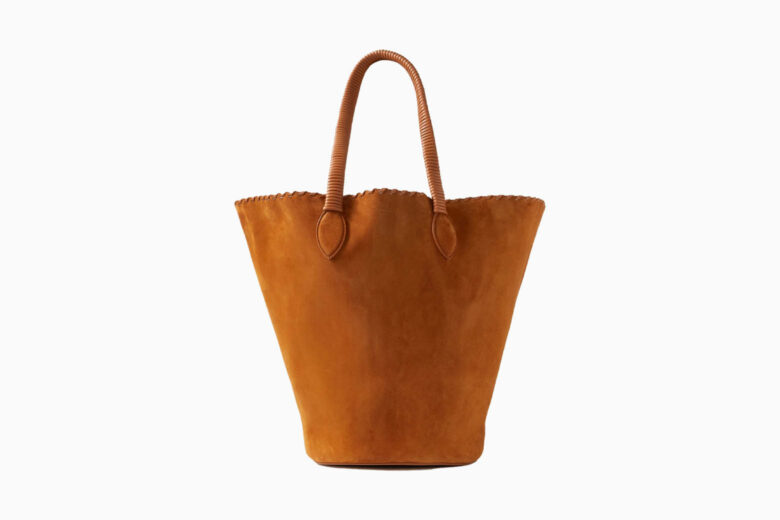 Luggage meets luxury in this rendition of the everyday travel tote.
Designed in New York and crafted in Italy, this suede tote by Khaite achieves new heights of stylistic perfection. The classical silhouette effortlessly upgrades any getup. And the tanned, caramel colorway fits into every context. The whipstitched leather trim contributes to a sophisticated finesse. And the minimalist design comes with a dust bag for easy maintenance.
When your luggage looks this good, it deserves to be whisked away on regular weekenders.
Best for: New York design meets Italian craftsmanship.
| | |
| --- | --- |
| Materials: | Leather-trimmed suede |
| Colors: | Tan |
Marc Jacobs: Most popular women's weekender bag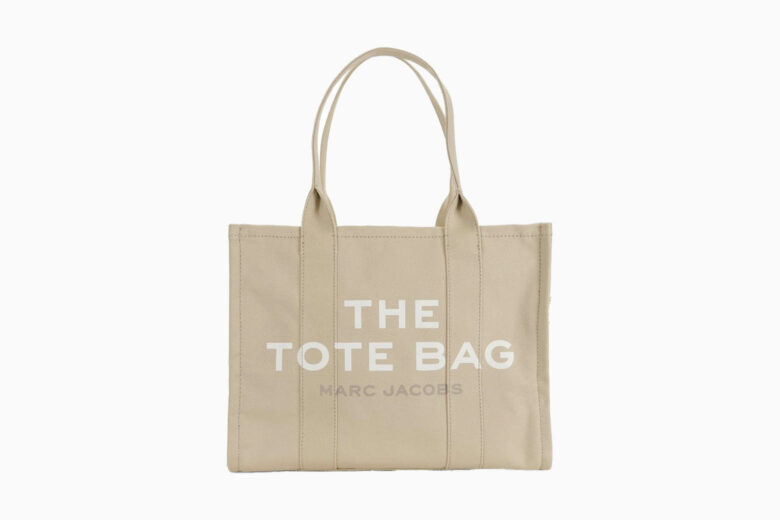 Renowned for his iconic interpretations of pop culture trends, Marc Jacobs has done it again with his contemporary tote.
This avant-garde design tells you exactly what it is with a large printed slogan and the designer's signature motif. This unique detailing maintains the designers famous style whilst paying homage to the humble tote. The minimalist colorways create the perfect medium for self-expression. And the large silhouette allows for maximalist packing.
This popular tote is a trend you'll want to be a part of.
Best for: stylish slogans that say it how it is.
| | |
| --- | --- |
| Materials: | 100% cotton |
| Colors: | Black, Beige, Slate Green |
Isabel Marant Nayogi: Best multi-tasker women's duffle bag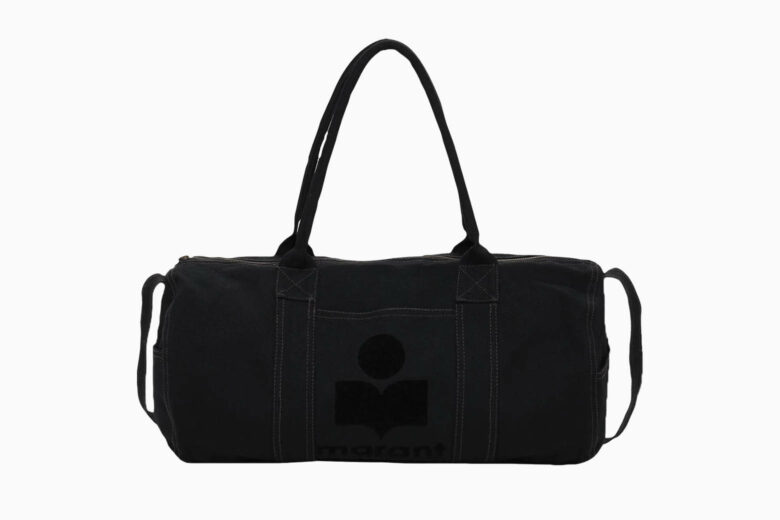 Robust practicality has never looked as good as this chic cotton holdall by Isabel Marant.
The signature duffle style showcases a spacious interior and multiple carry options. A sleek black colorway is detailed with a dark iconic logo for subtle recognition. While the ecru hue is contrasted with a bright red logo for a standout performance.
The sturdy cotton canvas will handle your gym weights (or wine bottles). While the sleek design will keep you on trend. Some would call it a multitasking machine.
Best for: A masterclass in multitasking minimalism.
| | |
| --- | --- |
| Materials: | Cotton canvas |
| Colors: | Black and ecru |
Samsonite Foldaway: Best packable weekender duffle bag for women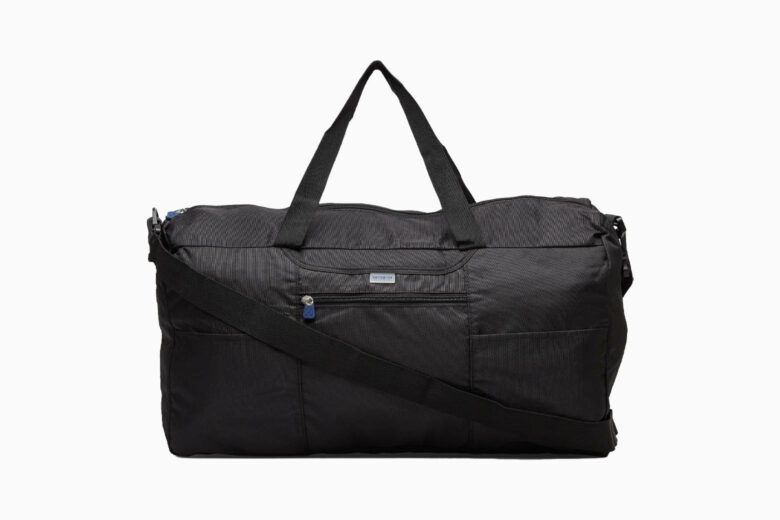 Samsonite knows a thing or two about organized travel. And this lightweight duffel is no exception.
This packable bag is for those of us who tend to leave a place with more than we came. We mean how do you turn down London fashion? You don't. But you can come prepared. This foldable duffle is the minimally invasive lifesaver we all need at the end of a successful weekender.
Whether it be dirty laundry or this season's latest trends—it's always a good idea to keep your options open.
Best for: Saying yes to the dress.
| | |
| --- | --- |
| Materials: | Denier |
| Colors: | Black, Purple, Orange |
Alo Traverse: Best sporty women's duffle bag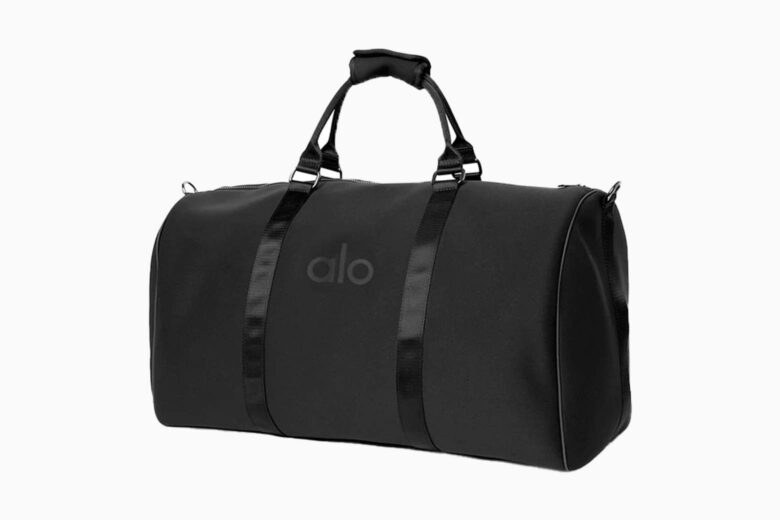 If you're looking for an extra push to hit the gym—perhaps this stylish bag will do the trick.
We mean, who wouldn't want to show off a chic designer duffle? Even if it does mean doing a few crunches on the side? The large studio bag features a detachable strap. And it's made from a water-resistant neoprene fabric.
The multipurpose duffle will double up as your new athletic weekender. And while it's not afraid to get a little dirty, the sleek design will subtly slip into a luxury yoga retreat.
Best for: Trailblazing active trends.
| | |
| --- | --- |
| Materials: | Neoprene |
| Colors: | Black |
The North Face: Best women's duffle for a weekend outdoors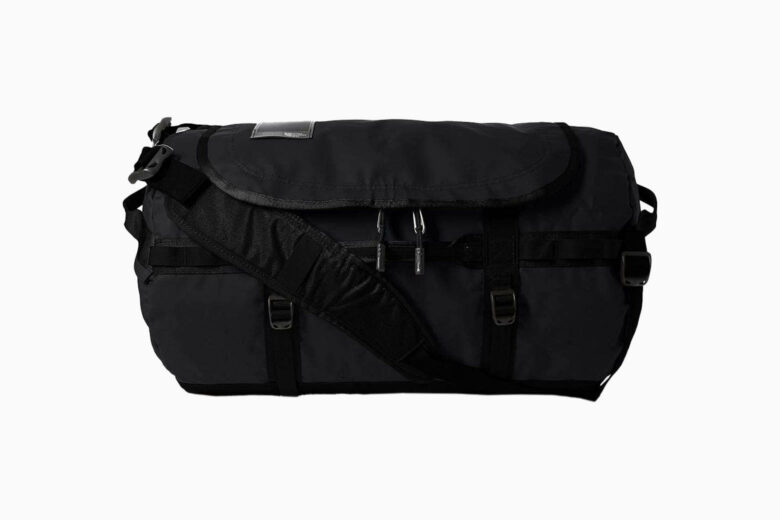 This women's base camp duffel is the perfect excuse to put (throw) away your phone and connect with nature. It's large enough to accommodate your chunky pair of hiking boots. And it comes with padded shoulder straps for comfortable wear. Made from waterproof fabric, the weekender bag comes prepared for any occasion.
The cutting edge design has a side pocket for everything. So you won't need a flashlight to locate your bug repellant.
Best for: A weekend in the wild.
| | |
| --- | --- |
| Materials: | Synthetic |
| Colors: | Black, Yellow, Red |
Giuliva Heritage: Best spacious travel tote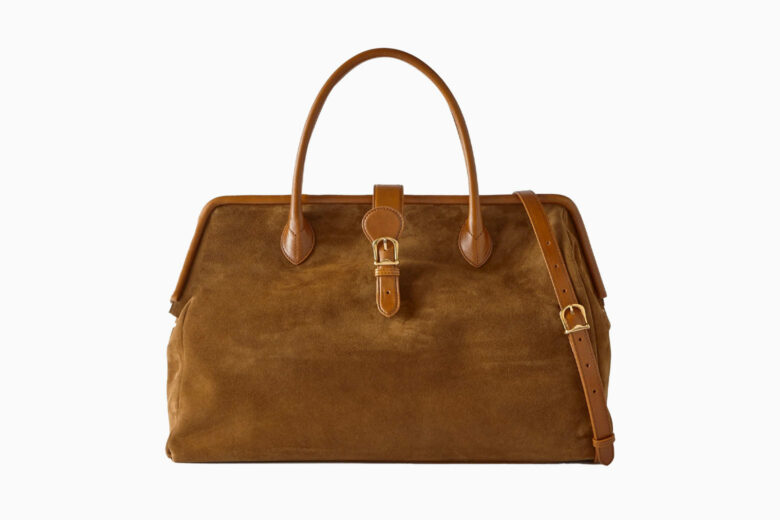 Mary Poppins is back in style with this capacious size tote.
While the contents may differ, this bag's ability to pack it all doesn't. Giuliva Heritage's suede tote is perfect for your romantic weekend away. The soft fabric speaks to a classical sophistication. And the minimalist design is completed with a gold-buckle strap and leather trim. Made in Italy, this timeless tote will never go out of style. And its sturdy build will see you through countless trips.
Best for: Exuding romance in a timeless fashion.
| | |
| --- | --- |
| Materials: | Suede with leather trim |
| Colors: | Brown |
Hycoo Travel Duffel: Best affordable weekender bag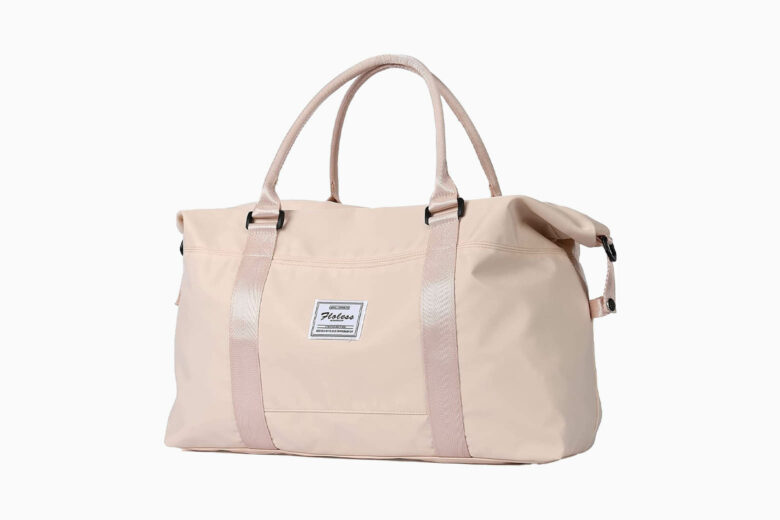 Who doesn't love a little luxury for less? This carefree duffel is an affordable accomplice to your quick getaway.
This Hycoo classic bag comes in a variety of beautiful colors, making it very difficult to choose just one. We love the beige, olive green, and gray. And at this price, you could probably get all three. The water-resistant fabric is fit to tackle any weather. And an integrated trolley sleeve makes it an effortless carry-on companion.
Best for: Affordable affluence.
| | |
| --- | --- |
| Materials: | Nylon |
| Colors: | Beige, Olive Green, Gray + More. |
Frequently asked questions about weekender bags for women
What is a good weekender bag?
This really comes down to the kind of weekend you have planned. If you're getting grounded in nature, we recommend Dagne Dover's backpack. And if you're thinking about a romantic getaway, you can't go wrong with a Gucci duffel. At the end of the day personal preferences and lifestyle play a big role. But we're almost certain that this extensive list of the best weekenders has the perfect bag for you. 
Is the Beis weekender bag a carry-on?
The original Beis weekender was dreamed-up to make travel hassle-free. The compact case is specifically designed to fit into any overhead compartment. And an integrated trolley sleeve will effortlessly slip over your luggage handle, making it the ideal carry-on companion.
How do you pack a perfect weekender bag?
The trick to packing a perfect weekender bag is not to get carried away with "what-ifs". The chances of snow in the middle of Summer are very slim so you can leave your ski jacket behind. You should also come to terms with limiting your options. Decide on a complete outfit for each day of your getaway and leave it at that. 
What bags are best for traveling?
In general, the best travel bags make your trip easy. They should separate your shoes from your chiffons and feature pockets for your bits and bobs. They should be light on the arms and made from durable fabrics. The size of your bag will depend on the length of your trip. But a weekender bag should always fit into the carry-on compartment. Read our guide to the best weekender bags for women to find the right one for your lifestyle.