The importance of a good pair of comfortable sandals can't be overstated. Your typical flip flops purchased last minute at the airport just won't cut it, so we're stepping up the game with sandals that are stylish and fun and will last you all day long.
A comfortable everyday alternative to high heels, walking sandals just like flats are versatile enough to tackle the streets of your next destination, to walk you to (and home from) the bar and every occasion in between.
There are the chunky masculine designs that'll add an edgy appeal to any outfit, the delicate and feminine sandals to pair with floaty maxi dresses and the trusty reliable Birkenstock to accompany you everywhere.
From the functional and fashionable to the sleek and chic or the crystal-embellished and colourful, get ready to discover your new favourite comfortable sandals.
The 15 most comfortable sandals
Birkenstock Mayari: Overall most comfortable sandals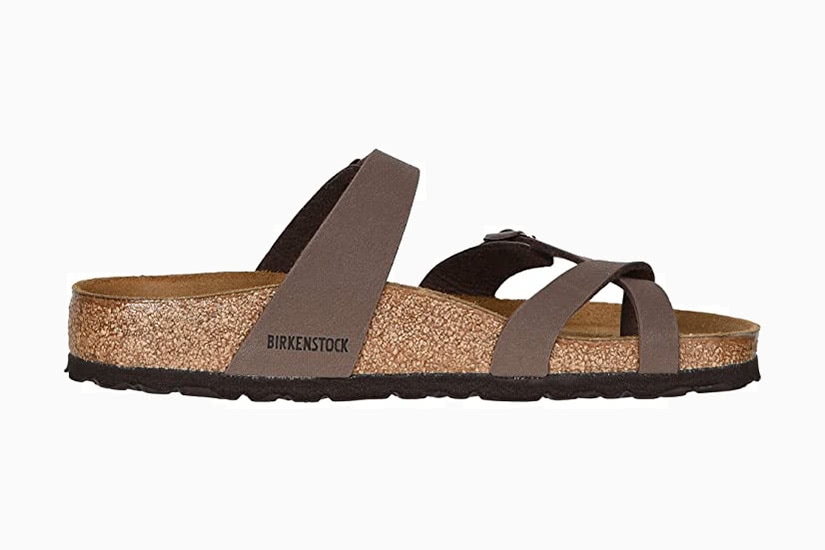 It's practical. It's fashionable. It's comfortable. What more could you want? Fashion trends may shift over time but if there's one sandal that's consistently cool, it's the Birkenstock. We could have put together this guide in 2010, 2000 or 2030 and we'd say with full certainty that the uber cool Birkenstock would feature proudly at least once. Merging the chunky shoe trend with a failsafe cork sole and support that molds exactly to the shape of your foot, a Birkenstock is the trusty sandal that you'll want to buy in every colourway.
In truth, any pair of Birkenstocks would probably take the title for our overall favourite pair of sandals but we've chosen the Birkenstock Mayari as our top choice. With a contoured footbed, oiled leather and a pretty golden sheen, these are the sandals that, if you ever forgot to pack them for holiday, you'd likely turn the car around to pick them up instead of risking another sandal.
Best for: Getting more use on holidays than your camera
Colours: Black, mocha, blue
Jimmy Choo Stacey 65 Suede Mules: Best high-end sandals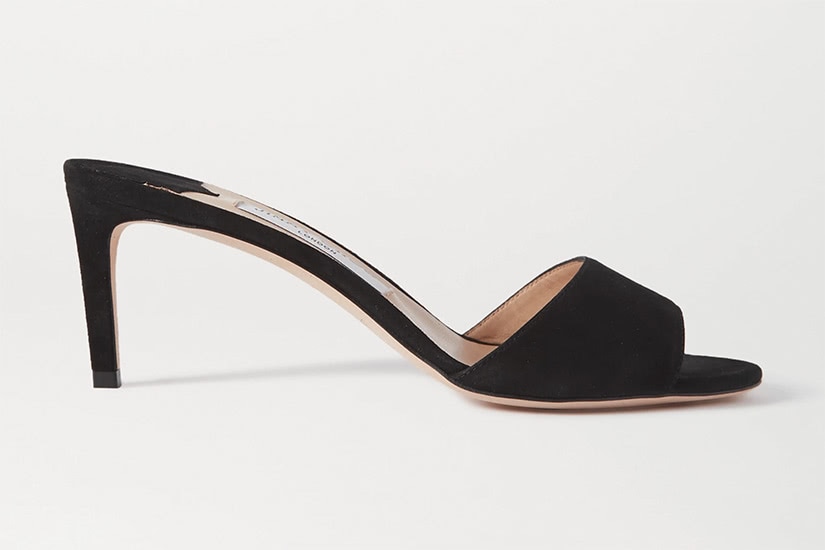 It doesn't matter how cute they are — even your dream shoes will quickly become a point of rage if they're uncomfortable. Mules offer one of the most popular sandal silhouettes of the season and this pair by Jimmy Choo seals the deal with a chic black heel and plenty of personality. Comfortable, lightweight and almost challenging you not to add them to your basket, the Jimmy Choo Stacey 65 suede mules are our favourite choice for adding to a capsule wardrobe.
The versatile design – neither a heel or a flat – draws us to these for day or night and velvety black suede dismisses all ideas of thin soles or aching feet. A cushioned sole and low heel offer style with practicality and the simplistic design means they'll effortlessly work alongside whatever you're planning on wearing today. If you're looking for one pair of fashionable sandals to add to your collection, make it these ones.
Best for: That "can't wait to debut my new outfit" feeling, every time they're worn
Colours: Black
Soda Womens VALETT Open Toe Casual Ankle Strap Sandals: Best value sandals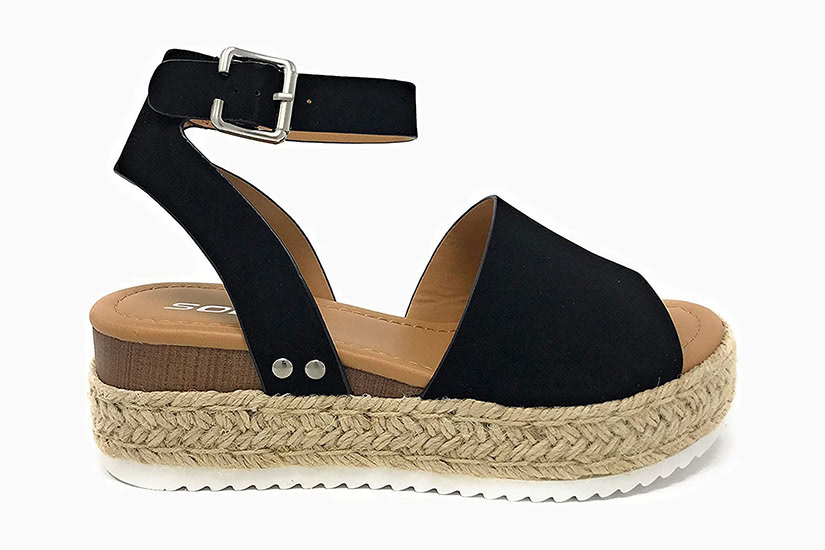 Stray away from heels for once because the flat-form nature of these sandals adds any extra height without waving goodbye to cosy toes. Cute, comfy and bang on style, the rope detail and flat nature of these shoes put them in prime position for your next transitional purchase. And, despite the low price, SODA sandals are up there with the best when it comes to comfort. The VALETT Open Toe Casual Ankle Strap Sandals do everything they say on the tin and more.
They're sturdy and durable, which makes them great for days when you'll be travelling far, and a stylish enough all-rounder to bring on holiday. You can't go wrong with a boho design and a low cost means you might as well treat yourself to the same pair in a few colours. Top tip: size down if you're between sizes as these run a little large.
Best for: Premium comfort without a premium price
Colours: Black, white, cheetah 
Birkenstock Granada Soft Footbed: Most comfortable walking sandals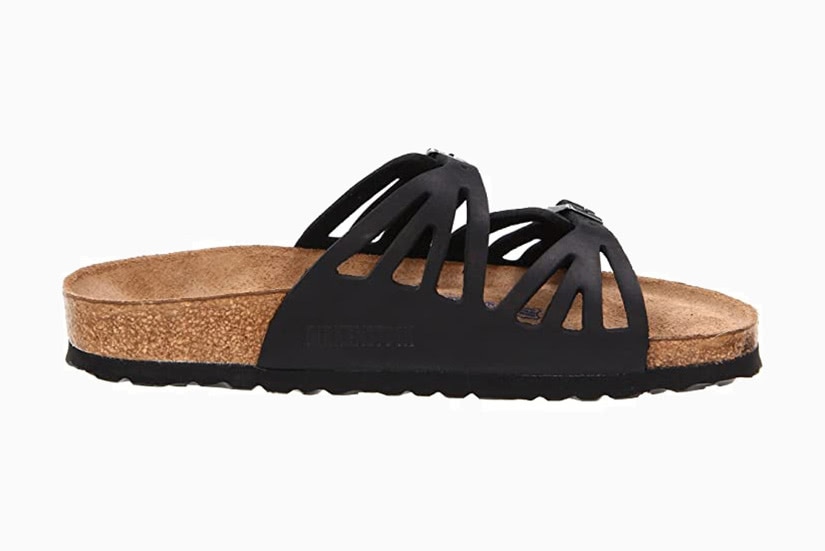 Ask any family member for a holiday shoe recommendation and they'll likely say Birkenstocks. And, while you might typically disregard any fashion-based suggestions coming from an elderly relative, now's the time to listen up. Nothing screams style quite like a good pair of Birkenstocks and they'll forever be our go-to for comfortable holiday wear. We're yet to find a brand that's quite as consistently reliable for sauntering the streets of Europe, exploring hidden destinations across the world and quickly slipping on for Sunday brunch.
Our top choice for those days when you know you'll be covering more ground than usual are the Birkenstock Granada Soft Footbed. The timeless cork base adds a casual nod to any summer dress while a dual-strap means there's no chance of them falling off during your adventures. Silver buckles elevate for a touch of holiday glam that'll add an extra shine to whichever destination you're hitting.
Best for: Finishing a day's exploring without wanting to rip your toes off
Colours: Black, habana, tobacco
St Agni Sportsu Leather Sandals: Most comfortable designer sandals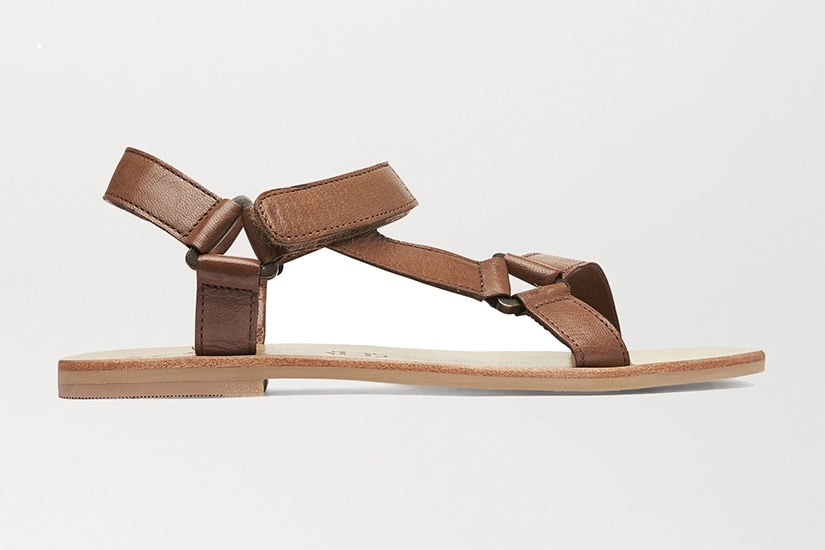 Even if the weather's gloomy and your holidays have been and gone, there's nothing to stop you plotting your outfits for future vacations. Or, at least, that's what we're telling ourselves when we look at St Agni's sandals and need an excuse to invest in another pair. Vegetable-dyed leather and durable rubber soles combine in these handmade sandals, resulting in a dreamy pair that'll continue to look box-clean year after year.
St Agni's collection is designed for the woman who cares about quality above all, so if you're looking for a pair of sandals to wear again and again without showing any kind of scuffs, these are the ones to go for. The understated nature of St Agni's Tan Sportsu leather sandals pairs with neutral shades for an effortlessly stylish "oh this? I just found it at the back of my wardrobe" look.
Best for: An effortlessly put together look that invites compliments from friends and strangers
Colours: Black, tan
Ancient Greek Sandals Flip-Flop: Most comfortable thong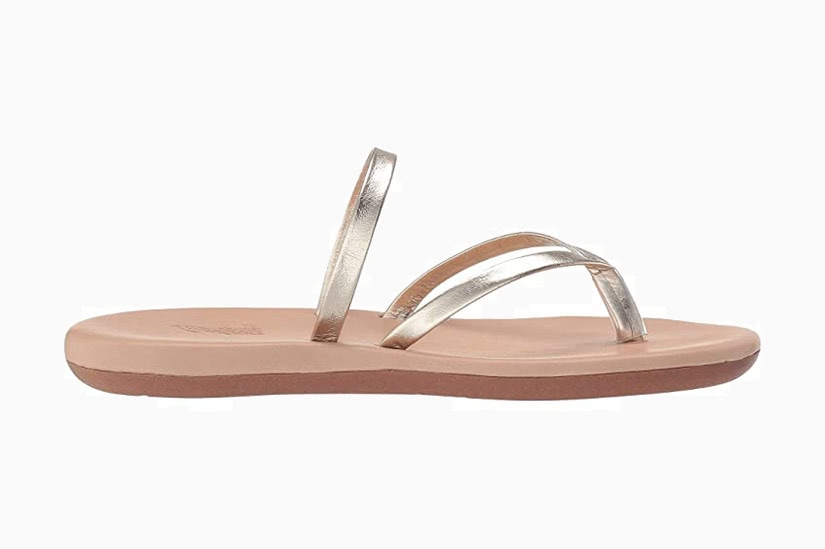 The best thing about thong sandals is their laid-back appeal. Few shoes have the ability to take you from suburban living to Greek goddess in a matter of mere seconds. And nothing suggests a cool, calm and collected demeanour quite like a woman dressed in thong sandals. You'll wear these neutral flip flops around the house, on the beach and for those spontaneous adventures where you simply don't have the time to carefully curate an outfit. You might be tempted to buy up multiple pairs for all of these occasions but investing in one ageless pair will save room, time and outfit stresses.
And what the Ancient Greek Sandals Flip-Flop lacks in material, it more than makes up for with comfort. A barely-there – yet never underdressed – design manages to include a thick and comfortable base and a range of platinum straps ooze class while adding an extra dimension to your outfit. Two strap design prevents any unwelcome noises while you're gracefully strolling to dinner.
Best for: Pretending you're a boho Greek goddess in Santorini
Colours: Natural, platinum
Skechers Women's Desert Kiss Sandal: Most comfortable travel sandals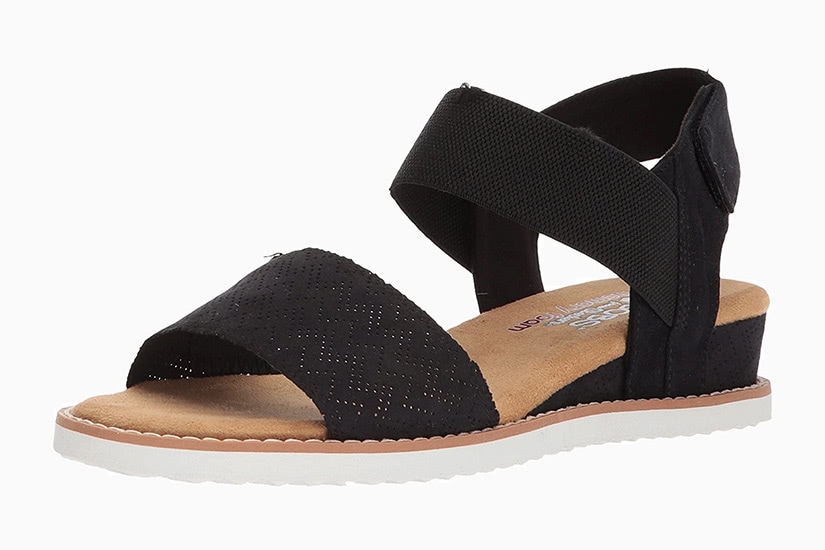 Don't disregard the super comfortable tourist shoe, because it'll never go out of fashion. Quite simply because it's one that we'll bring out year after year to accompany us on trips all over the world. The last thing you want to be doing on holiday is constantly checking your bag for plasters so focus your energy on scouring out the best restaurants by sticking to a failsafe pair of sandals instead. Skechers Women's Desert Kiss Sandal will be up there with the sandals that you repurchase again and again once they've finally taken their last steps.
And, before you question their quality, we'll say that those final steps come a long way further than the standard pair of sandals. The memory foam footbed keeps you light on your feet even when you're pretty certain you've covered every single one of the museums and art galleries in your chosen destination.
Best for: The holiday walking tour that lasted four hours instead of two
Colours: Black, off-white, lavender 
Roger Vivier Belle Vivier Patent-leather Mules: Most comfortable sandals for working professionals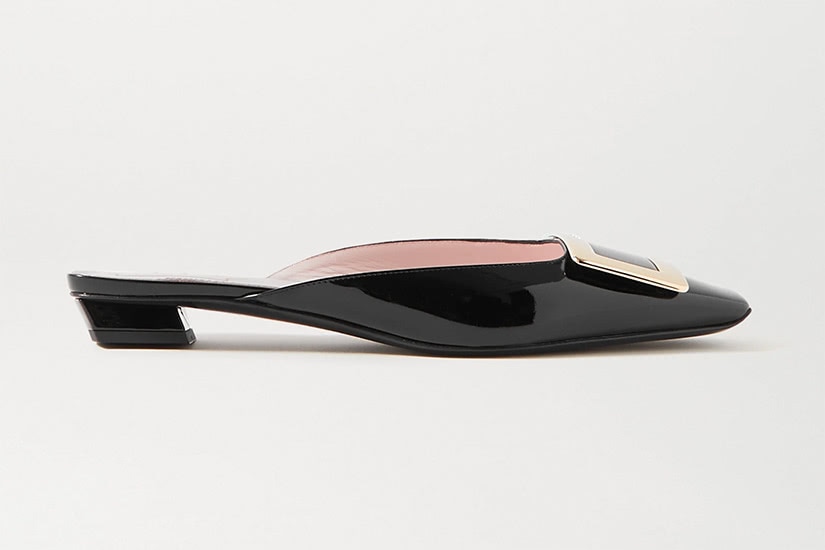 Wearing sandals to work can feel a little like a throwback to those non-uniform days at school but, if you play your cards right and find a pair that looks suitably professional, who's to stop you from wearing them all the time? Extra points if they're also comfortable. Roger Vivier's Belle Vivier patent-leather mules are the missing piece in your work wardrobe, promising comfort, style and those signature silver buckles.
Sleek enough to look super professional, the elongated square toe will ensure you confidently walk into meetings looking the part. A slight heel adds another work-appropriate flair with the added bonus of being fashionable and endlessly on trend. Better yet, they'll easily transition to evening wear with a patent finish that adds a subtle touch of glam. Once you've put them on, you'll never want to take them off. Even if that means staying at work a little later.
Best for: 9-5 comfort without sacrificing professionalism
Colours: Black
Havaianas Women's Top Tiras Flip Flop Sandal: Cutest comfortable sandals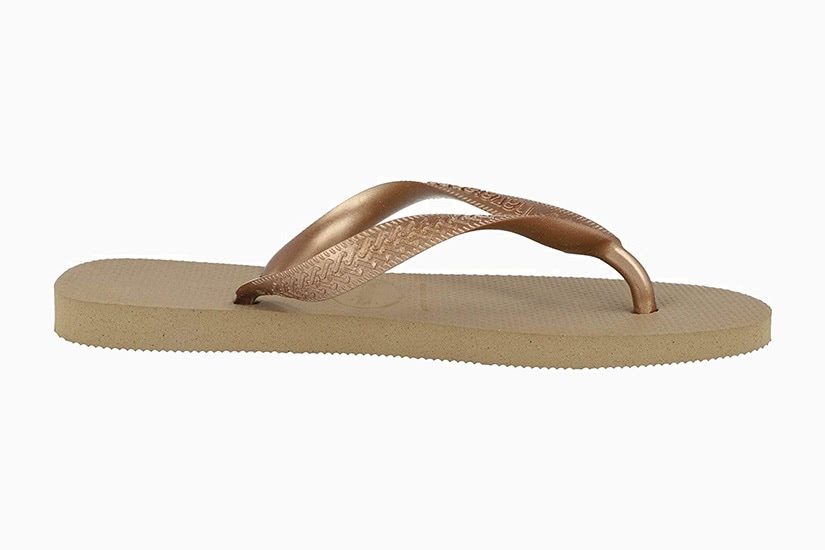 Havaianas are adorable, there's no doubting that. The ubiquitous holiday shoe, sold all over the world and often hastily picked up in airports, is one that's famous for a reason. Flip flops might often get a bad rep for their lack of support and rubbing between the toes but Havaianas are renowned for breezily strolling past any issues to do with comfort. Havaianas Women's Top Tiras Flip Flop Sandal is synonymous with summertime and the hardest problem you'll have when wearing them is deciding which colour to go for.
Highly durable with a shock absorbing midsole, they'll accompany you to the beach, down the promenade and for a day trip exploring. A classic summer style means you'll instantly associate these with sunshine and blue skies, so don't blame us if you buy a pair and immediately start booking your next trip. Or, for the meantime, sit outside in the sunshine with these on your feet for the next closest thing.
Best for: Getting you in the holiday mood
Colours: Rose gold, rose nude, steel grey
Sanuk Women's Yoga Sling 2 Sandal: Softest comfortable sandals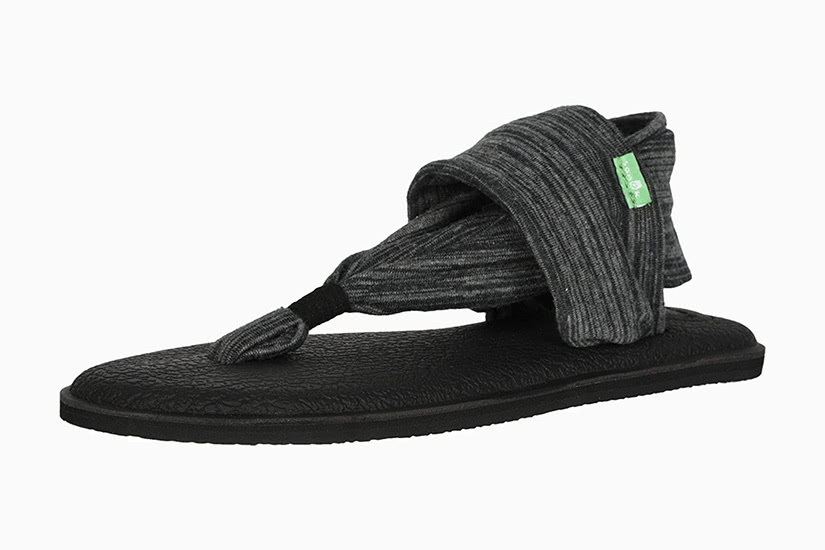 Dressy enough to wear out to dinner, comfortable enough for a post-dinner stroll and cosy enough to put on for those WFH days, Sanuk's sandals are the missing piece in the puzzle for those catch-all shoes that are ready to be thrown on at any moment. Not only are these sandals renowned for being some of the comfiest on the market but they're also from cult brand Sanuk with its watertight sustainability pledge. Sanuk Women's Yoga Sling 2 Sandals come with a stretch knit upper, which is basically the closest thing you'll find to a hug in a shoe.
They also feature a yoga mat footbed, which your toes will very gladly sink into whenever they get the opportunity. Sanuk is known for not just releasing stylish sandals in every colour under the sun but also for ensuring they use partially recycled EVA to do their bit for the planet. Start off with one pair and don't blame us if you find yourself ordering at least one other colour soon after.
Best for: Saving the planet and your feet at the same time
Colours: Black, auburn, rose palm
Jimmy Choo Rav 65 Crystal-embellished Satin Mules: Most comfortable dressy sandals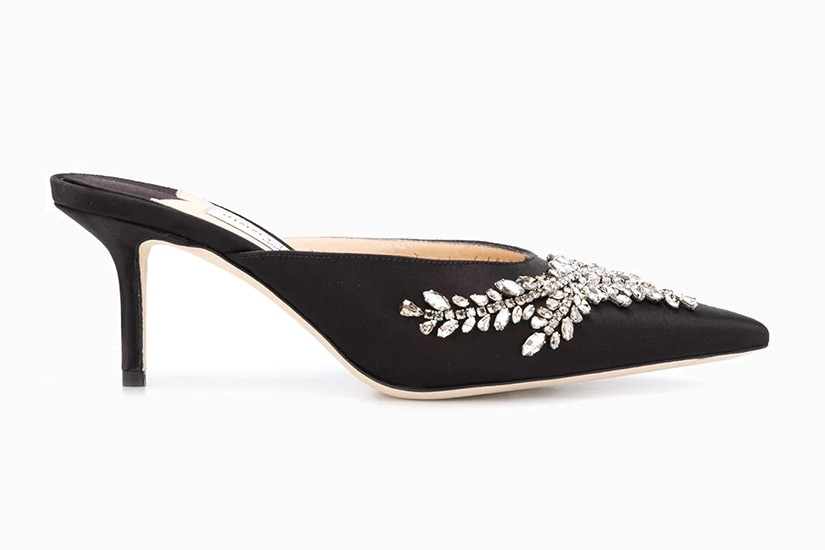 That evening you were trying to find an excuse to get out? Congratulations, you've just found a new reason to go – and it's waiting to be adorned on your feet. Jimmy Choo's Rav 65 crystal-embellished satin mules are made in Italy from chic black satin and they're the go-to sandal that you'll admire for years to come. Dressy sandals deserve a place in your wardrobe for those evening occasions when you can't face heels and they might come at a more premium cost but in our eyes, you can't put a price on comfort. These are top of the bill.
Expect compliments galore thanks to the crystal embellishments. A pointed toe acts as the final touch to these sandals' winning features. Mules are a comfortable everyday alternative to high heels and these are super flattering with more than a hint of sparkles.
Best for: Making you (and your feet) feel on top of the world
Colours: Black
IRSOE Plantar Fasciitis Women Sandals: Most comfortable sandals with arch support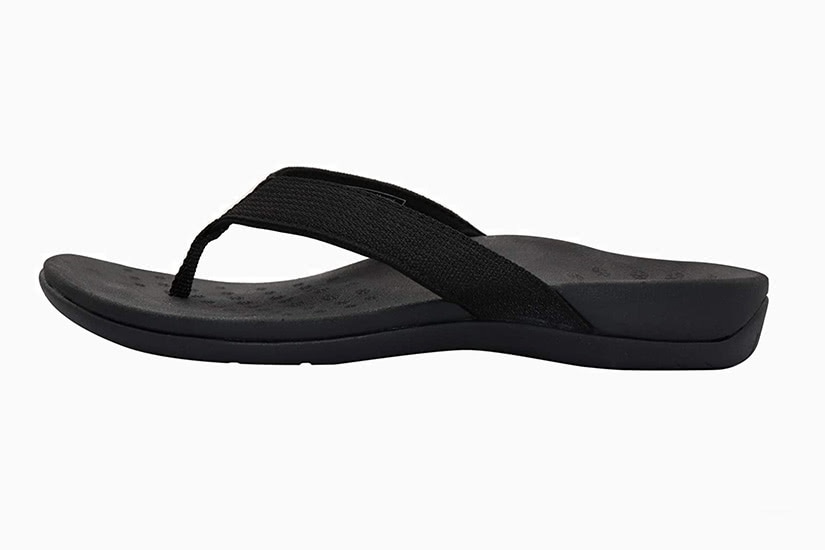 If you can find a cute pair of comfortable sandals with plenty of support, you'll be one step ahead of everyone else when it comes to those endless days of exploring — or the times when you get a bit lost. IRSOE Women Sandals Orthotic Flip Flops are understated and trendy while ensuring you don't experience any pain during day-to-day excursions.
They're designed to work with any kind of arch issues, no matter whether you've got a slight under pronation or suffer from flat feet. Comfortable and durable, these flip flops act as a mold for your feet, offering support where there's none without being overbearing or bulky. Designed specifically for women with arch problems, the trick is to wear them in gently for a few days to make sure they've molded to your exact foot position.
Best for: Saving the day when you thought you'd exhausted every retailer
Colours: Black, brown
CUSHIONAIRE Women's Luna Cork Footbed Sandal: Most comfortable sandals for wide feet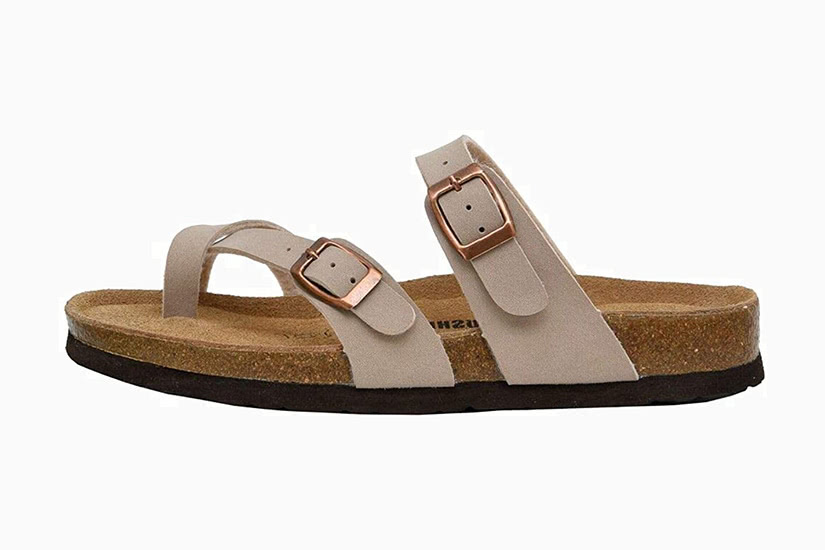 A flexible footbed, suede insoles, wide straps and a vegan upper make these sandals the real deal for those with wide feet. Flattering and comfortable while remaining stylish and versatile, the CUSHIONAIRE Women's Luna Cork Footbed Sandal comes in a huge range of colours to see you through from the first day of spring to the final glow of summer. Adjustable buckles make this sandal comfortable for any kind of foot shape and the soft materials make wearing these akin to lazily hopping across clouds.
Premium quality with seriously soft footbeds, these sandals are known for being superior to their price point and promise to look just as chic after plenty of wear. If you're a fan of Birkenstocks but want a shoe that's specifically designed for wider feet, these are a go-to option that'll see you through summer after summer.
Best for: Cute and comfortable without being obviously wide
Colours: Black, stone, white
Amazon Essentials Women's Thong Sandal: Best budget sandals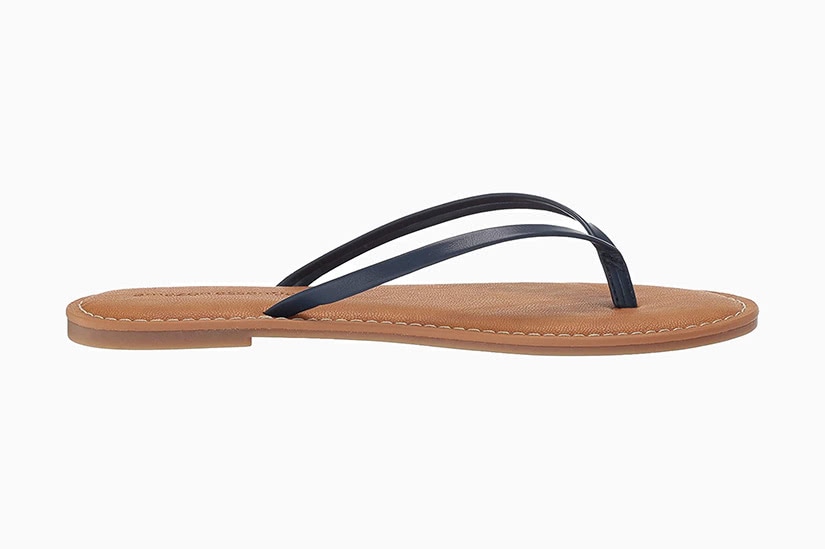 Barely there sandals are the effortless addition to your holiday wardrobe and the right pair will let you drift away into the sunshine in worry-free bliss. A favourite among minimalists for the versatile design and unwavering freedom, the thong sandal is made for slipping on for lazy evening walks or throwing on with a maxi dress for a glass of wine in a bar filled with ocean breeze.
More stylish than a basic flip flop in a gorgeous sea blue shade, Amazon Essentials Women's Thong Sandal comes with a foam padded sole for optimum comfort and a laid-back appeal designed for switching off. For the price, it's worth buying a few pairs to match with any outfit because these are sandals you'll want to throw on daily. Perfect your pedicure, grab your next holiday read and don these thong sandals for an easy work-to-holiday transformation. We'll meet you on the beach.
Best for: The indecisive woman who can't settle on just one colour
Colours: Black, turquoise, red 
Christian Louboutin Just Strass 85 Crystal-embellished PVC and Iridescent Leather Sandals: Most expensive sandals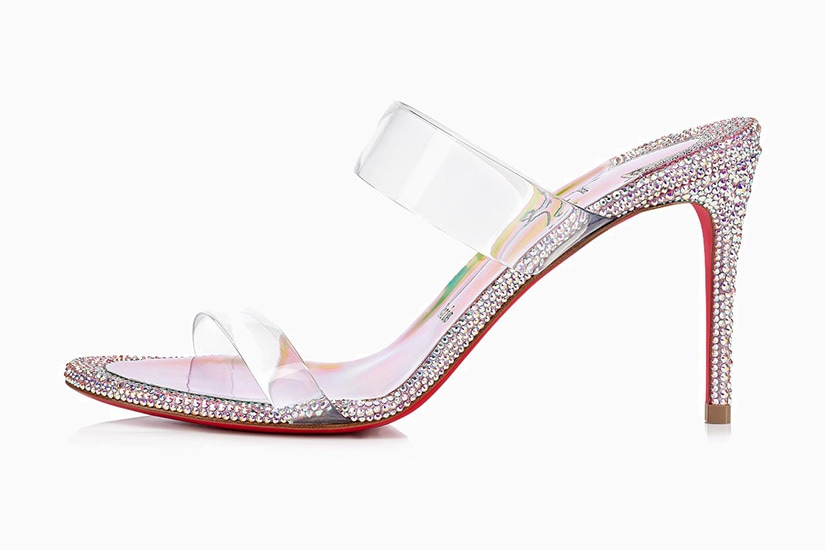 Sometimes we're just looking for an excuse to go all-out with footwear and a pair of flashy sandals promise to help us do just that. Silver, sparkling and seriously shiny, Christian Louboutin's Just Strass 85 crystal-embellished PVC and iridescent leather sandals are the missing ingredient to any evening occasion. A conversation starter of a shoe that you'll bring out at everything from your favourite happy hours to a summer wedding, these might be just the sandals you've been searching for.
You can't go wrong with a pair of Louboutin's and these ones combine that famous red sole with lashings of dazzling crystals and Italian iridescent leather. Not only will you look forward to wearing them, but you'll also search far and wide for any other occasion to wear them. Confident, bold and ready for attention, these sandals elevate any outfit with a 85mm / 3.5 inch heel and a personality that will instantly win anyone over.
Best for: Ensuring you're the centre of attention at the click of your heels
Colours: Silver
Buyers guide to comfortable sandals
There's nothing stopping you from strolling into the shopping centre and picking up the first pair of sandals that catch your eye, but it's always better to be in the know before you update your wardrobe. Next time you're shopping for sandals, keep the following factors in mind:
Arch support
One of the main issues you'll find with buying sandals is the lack of arch support which, in turn, can make a relatively comfy-seeming pair quickly go downhill. If you're someone who struggles with arch problems, opt for a pair with plenty of support or invest in some orthotics or insoles to compensate.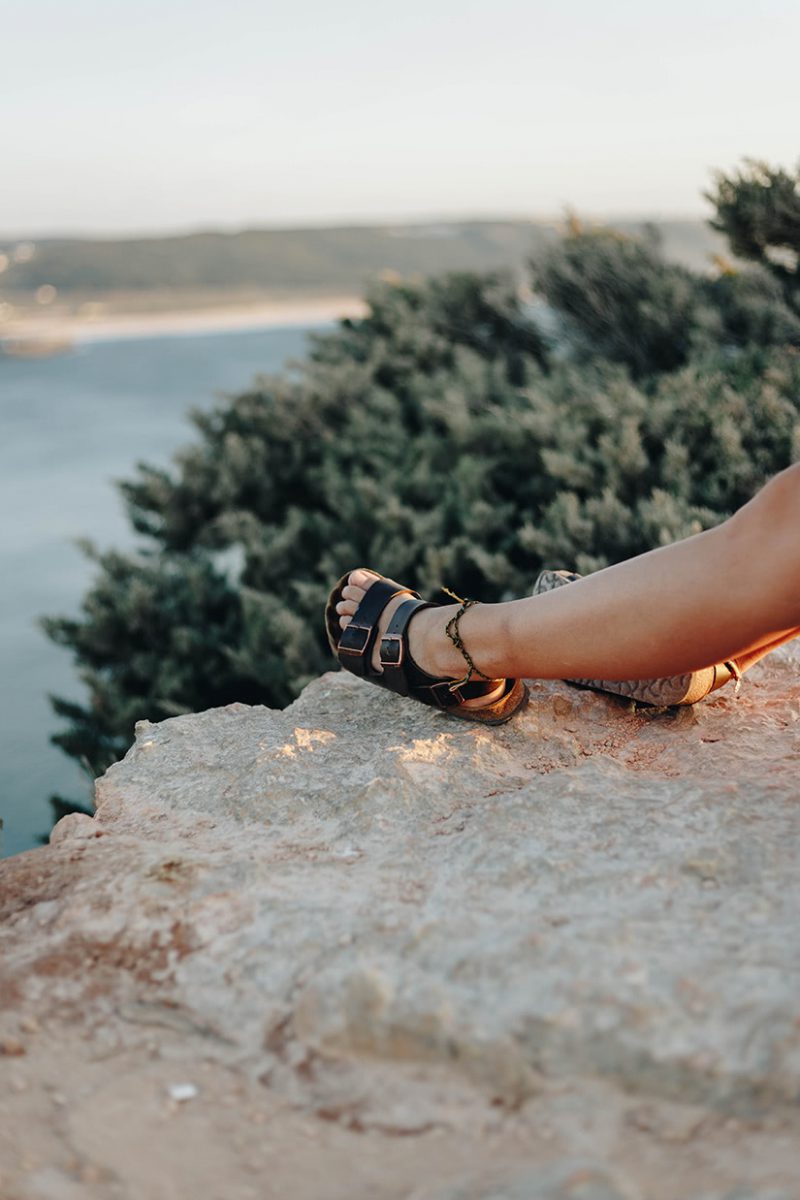 Material
A high quality material like leather or suede will last infinitely longer than artificial materials. It'll also ensure your sandals are comfier and less likely to rub against your toes. Choose natural materials for best results. 
Sole
Memory foam or other cushioning can make or break a sandal so, where possible, choose a pair that shows off about its thick sole. There's not really a wrong answer with this — just avoid pairs that look especially flat or unsupportive or face the wrath of your ankles the next day.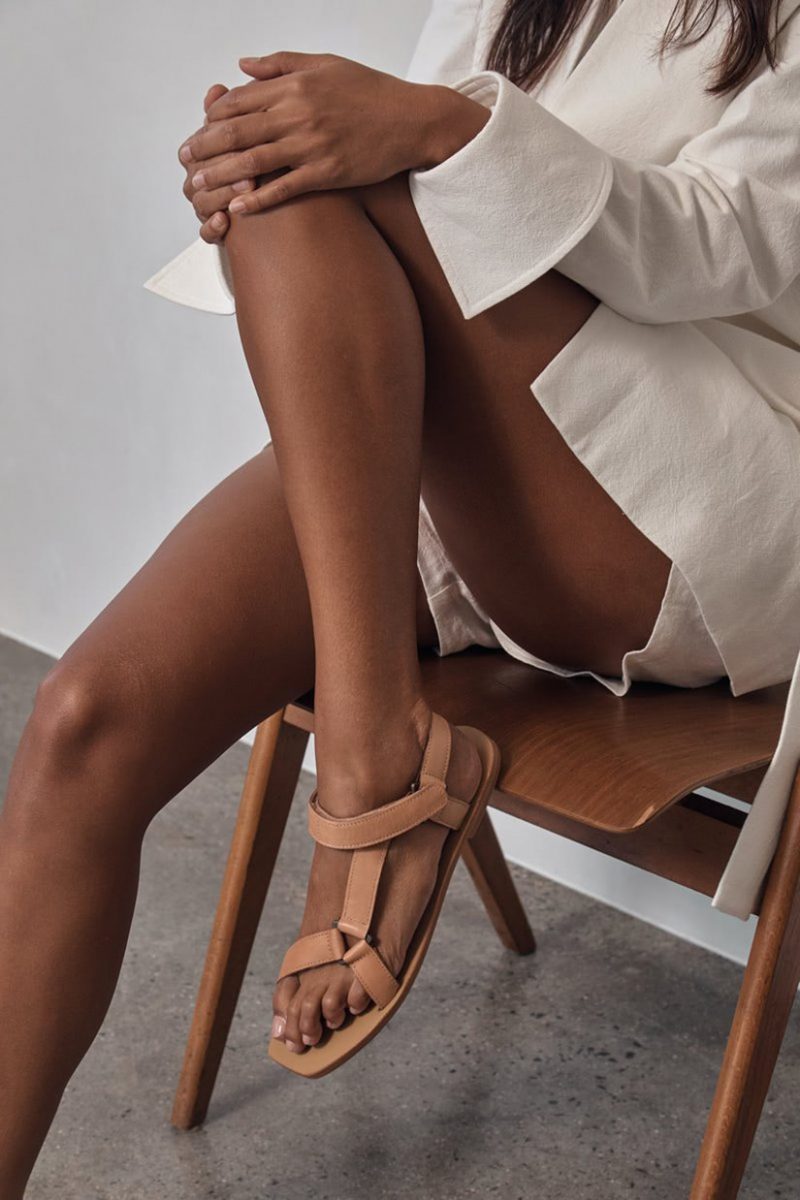 Style
From mules to flip flops, heels and ankle straps: there's a sandal out there for everyone. Sandals with straps offer more support and require less effort to stay in one place on your feet. When buying your next pair, keep in mind where you'll most likely be wearing them. If they're going to become a staple shoe in your wardrobe, look for supportive styles that won't cause foot pain. If you're just updating your holiday options, a flip flop might be more suitable.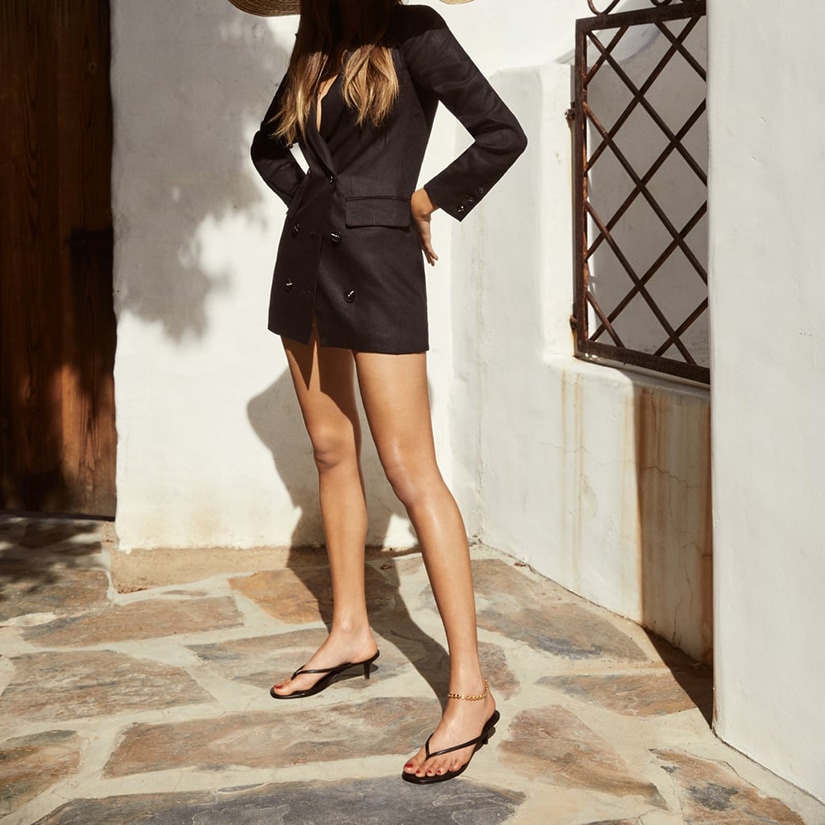 Size
It might go without saying, but ensure you're buying the right size sandals. Too small and your toes and heel could drag on the floor but too big and you could trip.
Frequently asked questions about buying comfortable sandals