Jeans may be the backbone of our casual chic wardrobe, but if we're really honest with ourselves, many denims are seldom as comfortable as they look. They give off an air of nonchalant coolness—the sartorial epitome of the "comfort-first" mantra—yet so many of us can't wait to rip them off the moment we walk through the door. Or worse, we purposefully wear oversized to allow for an unbuttoned waistline post-lunch.
When we find a pair that is flattering, fashionable and comfortable, we celebrate by adding two or three more in exactly the same style to our ever-increasingly-less-dynamic wardrobes. Only to complain when we find ourselves wearing the same ensemble over and over again.
Well, that was us at least (yes, even as fashion editors) until we went on our quest to find the best jean brands for women. Determined to vindicate the quintessential casual comfort of our denim icons, we tried on hundreds of jean brands over the years—some popular, some totally flying under the radar.
We made sure that we spent several hours in each pair (and ate a meal or two—I mean, how else can you really tell?) before bringing in the verdict. While some jean brands made us want to hand in our resignations (and live in sweats) for good, there were also the redemption pairs that reminded us why jeans were created in the first place.
And now we wear twenty-one brands on repeat.
The 21 best jeans brands for women in 2023
To help you find the pair of jeans that's best for you, check our style guide to choosing the best jeans brand after the list.
Levi's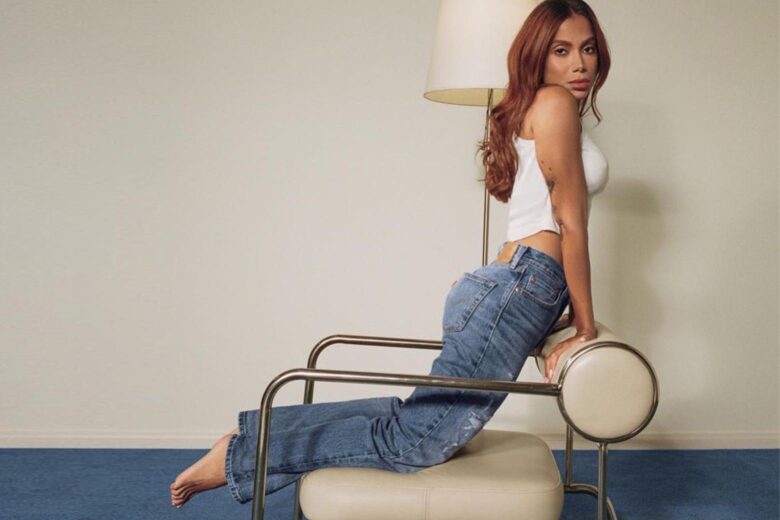 No list of the best denim brands can start without first mentioning Levi's. Levi's basically invented jeans. They've been making denim since the 1870s and the iconic Levi 501 Jeans emerged in the 1890s. While they were once the remit of cowboys and lumberjacks, they are now a staple in any modern woman's wardrobe—and probably the best jeans in existence.
The quality is peerless, for one thing. There's a reason why every thrift store is full of Levi's. These jeans never fall apart.
And there are so many styles to choose from. Whether you opt for classic 501s, the Ribcage jeans—the highest of high rises and a best-seller—the super skinny fit, or a pair of jeans from the brand's premium line, Levi's: Made & Crafted, there's a pair of Levi's out there for you.
Levi's immediately conjures up an aura of old-school Americana cool—even though these days you're just as likely to see them in the front row of London Fashion Week as out in the Wild West.
| | |
| --- | --- |
| Best for: | Iconic and classic jeans from a denim legend |
| Sizes: | XXS to XXL |
| Fits: | Super Skinny, Skinny, Straight, Bootcut, and Boyfriend |
| Price: | $ |
Rag & Bone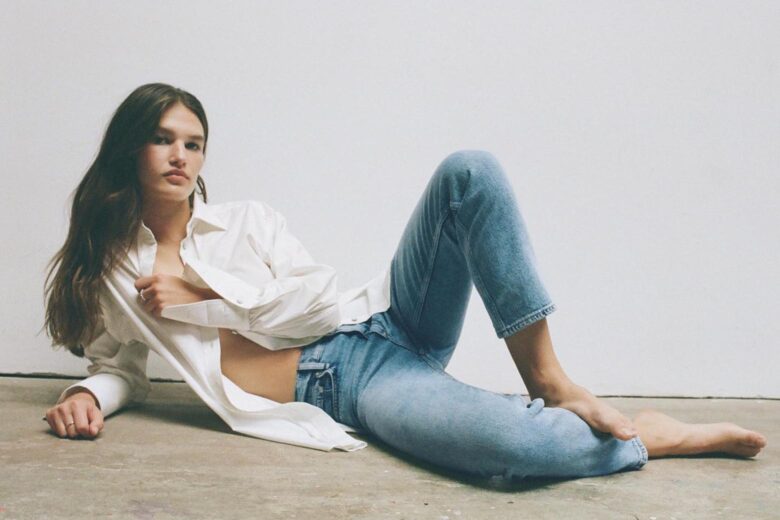 British label Rag & Bone is the bonafide cool kid of jean brands. Bringing traditional English tailoring to classic American casual wear, the Rag & Bone vibe is all about high quality with a gritty and down-to-earth aesthetic.
There is a big difference between good and great quality when it comes to denim. You'll understand when you try on your first pair of Rag & Bone jeans. It's obvious from both the outside and the inside: these are some of the best fitting jeans out there.
Mostly made from non-stretch denim, Rag & Bone designs range from the trend-busting (denim track pants, for example) to the timeless. The washes are low-key and neutral, making them fantastically versatile and wearable. Meanwhile, the cuts are universally flattering and the jeans all have that covetable lived-in feel.
Rag & Bone jeans are designer jeans—so not cheap. But, quite honestly, you'll forget all about the price tag once you're racing around town in some of their dreamy denim offerings.
| | |
| --- | --- |
| Best for: | High-end denim from the kings of cool |
| Sizes: | XS to L |
| Fits: | High Rise, Skinny, Low Rise, Straight, Mid Rise, and Cropped |
| Price: | $$$ |
Lee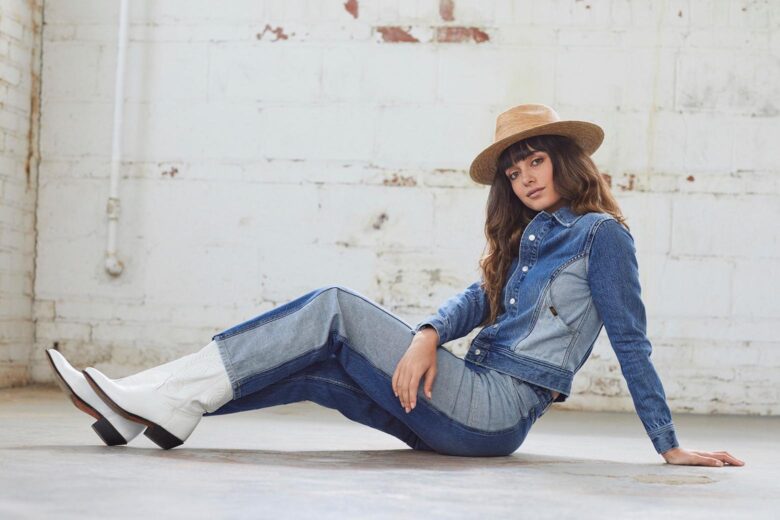 If you like your jeans with a bit of history, you'll appreciate that Lee was founded in 1889. That's over 100 years of expertise. They also invented the first one-piece coverall.
And while we're more interested in jeans than overalls, we can definitely get behind the salt-of-the-earth vibe. Look out for the signature Lee spade pocket. Perfectly designed to give shape and definition to your rear.
We like Lee bootcut jeans, in particular, with their classic cut and flattering mid-rise fit that makes them comfortable and timeless. Team with a shirt to wear to the office, or with a casual t-shirt and walking shoes for weekend antics.
Or there's the Lee High Rise Skinny. Slim and chic, with a subtle stretch so you glide through daily life with ease.
Lee jeans are also able to withstand daily wear and regular washes. Lee understands that the best women's jeans are meant to be worn—again, and again, and again. Oh, and did we mention it's one of the most affordable women's jeans brands?
| | |
| --- | --- |
| Best for: | Affordable jeans from a brand that understands women |
| Sizes: | S to XL |
| Fits: | Straight Leg, Bootcut, Skinny, Tapered-Leg, Boyfriend |
| Price range: | $ |
Acne Studios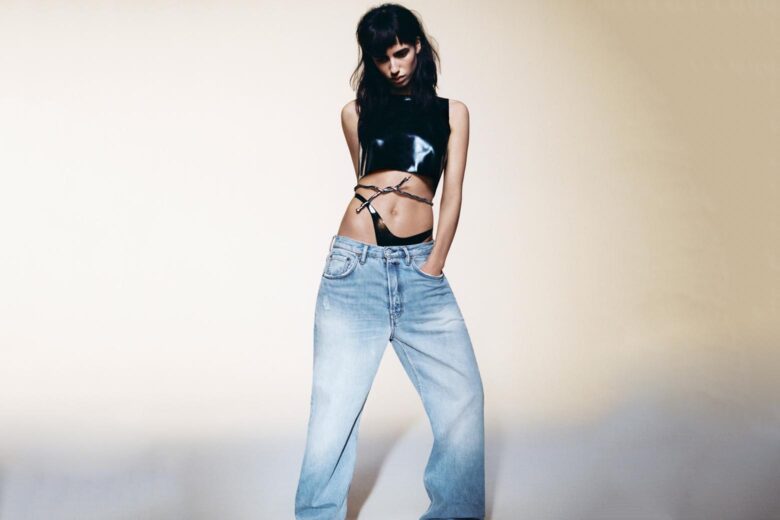 Acne Studios makes some seriously cool denim and some of the best women's jeans. What else would you expect from a Scandinavian design studio?
The brand started off manufacturing just jeans. Straight-legged designs with eye-catching and memorable red stitching. Today, Acne Studios has an entire clothing selection and flagship stores everywhere from Paris to Tokyo.
Plus a massive following of devoted fans who flock to the label for its high-quality construction and innovative and interesting designs, including some of the best skinny jeans for women. Just add a white t-shirt and you're good to go.
There's also a fair few statement-making designs, including some patch-work detailing in gorgeous shades of pink and baby blue.
The height of creative contemporary cool, Acne Studios jeans are worn by the likes of Rihanna and Alexa Chung and should rocket straight to the top of your wishlist.
| | |
| --- | --- |
| Best for: | Working-man-style meets downright sex appeal |
| Sizes: | XXS to XL |
| Fits: | High Rise and Straight Leg |
| Price: | $$$ |
Frame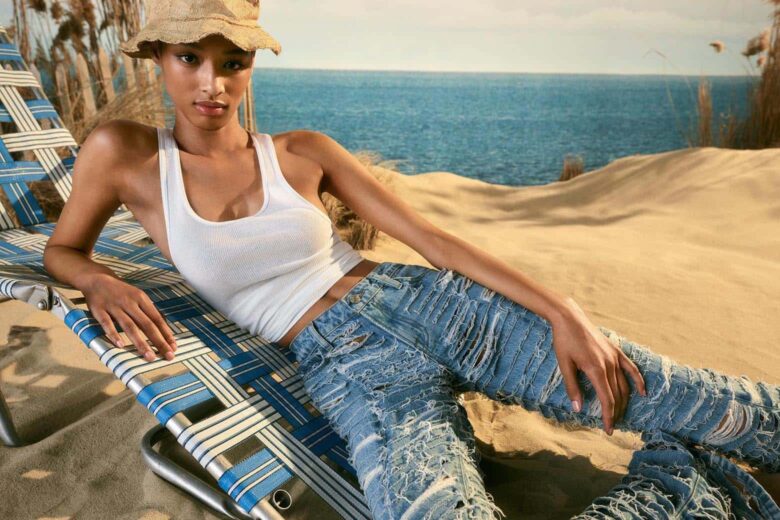 If there's one decade that did denim well, it was the 70s. This is why top jeans brand Frame has taken inspiration from this era of epic style to create a line of jeans that brings the free-spirited idealism of the hippie counter-culture to the 21st-century woman.
Frame makes flares. We know what you're thinking. But these are modern flares. Subtle, flattering, and a great office-friendly wear. Check out the 'Le Palazzo' style in particular. With its wide-leg and high-waist, it would look spectacular with espadrilles.
But even if you're not convinced you can pull off this iconic silhouette (although you definitely can), there are heaps of other styles to choose from, including the 'Skinny de Jeanne'—a best-seller and the perfect tight-but-not-suffocating skinny jean for women.
Fans of Frame include A-listers and Instagram influencers. All the evidence you need that this is one of the hippest denim brands in the industry.
| | |
| --- | --- |
| Best for: | 70s-inspired designs with an effortless modern edge |
| Sizes: | XXS to XL |
| Fits: | Skinny, Straight, Boyfriend, Flared, Wide Leg, Cropped |
| Price: | $$ |
AGOLDE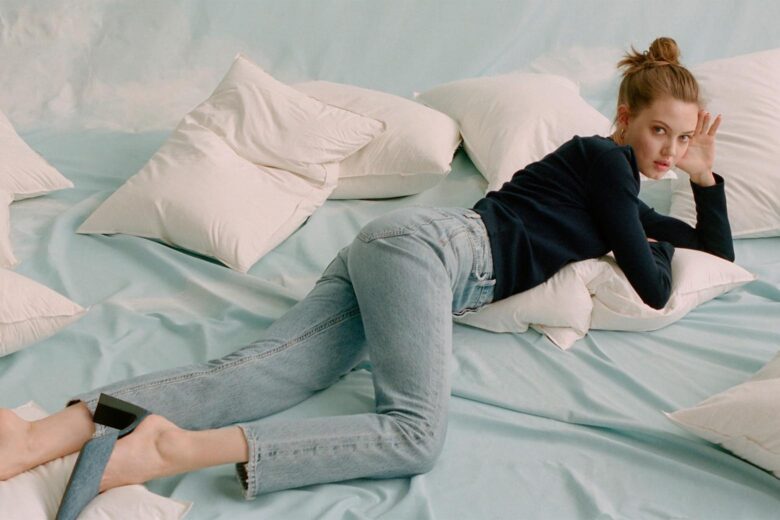 AGOLDE is a premium jean brand—but doesn't take itself too seriously. Like all the best jeans, AGOLDE denim has that desirable thrift-store vibe, mixing nonchalance and irreverence with high-end sophistication.
Offering wearers authentic denim made by master craftsmen, AGOLDE also makes sustainability a priority. This not only means environmental awareness but a next-level commitment to quality.
The brand takes as its mission the goal of reinventing classics. Think baggy jeans with pleats, belted or wrapped-around waists, and high-waisted jeans with ballooning tapered legs. Its white denim offerings, in particular, are a summer must-have. We're already imagining them teamed with a white blouse and chunky sandals.
Agolde is less interested in fleeting trends than what women actually want to wear. These are comfortable jeans whose subtle twists on conventional silhouettes are subtle enough to allow your own individual fashion flair to shine.
| | |
| --- | --- |
| Best for: | Cool yet comfortable designs with an eco-conscience |
| Sizes: | XXS to XL |
| Fits: | Straight Leg, High Rise, Mid Rise, Wide Leg |
| Price: | $$ |
SLVRLAKE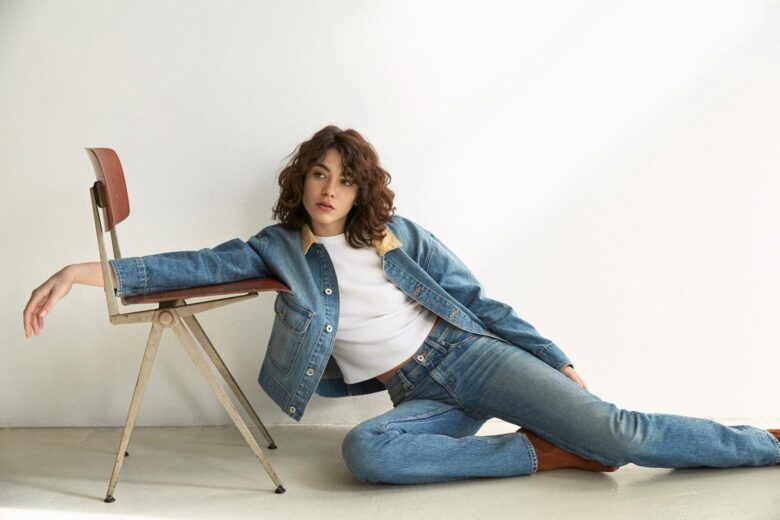 SLVRLAKE is named after the LA neighbourhood Silverlake—misspelt, of course, because this is a seriously street-wise brand. With their laid-back style that transcends trends, these are some of the best jeans for women.
SLVRLAKE's pioneering open-weave cotton allows its jeans to attain an exceptional depth and vibrancy of colour. They have a rigid fit—like all good quality jeans—but are still incredibly soft, and they all have that inimitable Californian brand of cool.
The collection ranges from tailored and streamlined classics to more utilitarian designs featuring intriguing details such as asymmetrical pockets. They're pretty much all high-rise, and we're not complaining. It's the most comfortable and flattering silhouette around.
Whatever you go for, SLVRLAKE's jeans are likely to become the mainstay of your urban uniform—whether you're a high-flying professional dashing from meeting to meeting, or an artist who works from home. Dress them up, dress them down. These jeans can do it all.
| | |
| --- | --- |
| Best for: | Vintage-inspired jeans without scouring second-hand stores |
| Sizes: | XS to XL |
| Fits: | High Rise, Mid Rise, Straight Leg, Slim Leg |
| Price: | $$$ |
Citizens of Humanity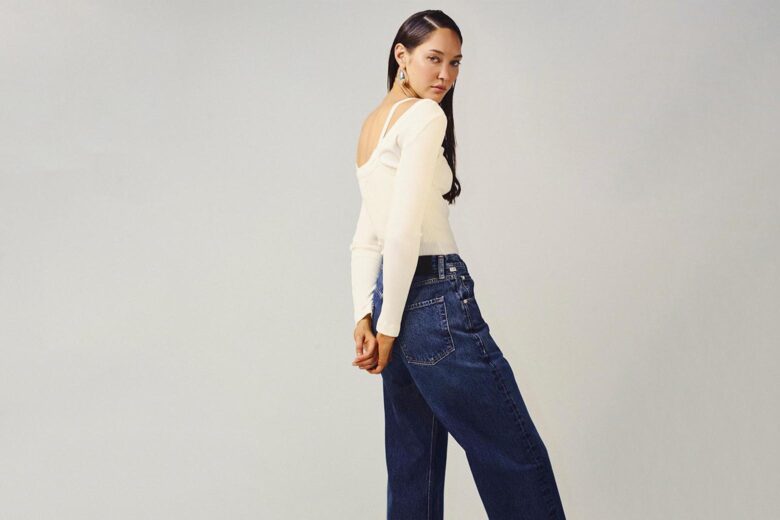 Three words that pop up again and again whenever anyone is talking about great jeans: Citizens of Humanity. A luxury jean brand that makes denim designed for good days, bad days, and everything in between.
Check out the brand's eco-collection for jeans made of organic cotton. Not only will you look good as you wear them, but you'll be doing good too. In fact, in general, the brand is a leader in reduced waste manufacturing processes.
With a pair of Citizens of Humanity jeans, the details are mostly minimal and the cuts are endlessly wearable. Seek out the brand's cropped straight-legs for jeans calling out for a pair of ankle boots. Or opt for a faded pair of boyfriend jeans for some perfect weekend wear. Any of the white denim styles are also a dreamy summer staple.
Scrolling through the Citizens of Humanity collection is like taking a peek into our dream wardrobe. Just think of all the ways you could wear these designer jeans for women.
| | |
| --- | --- |
| Best for: | Form-flattering denim from the best in the business |
| Sizes: | XXS to XL |
| Fits: | Skinny Leg, Straight Leg, Wide Leg, Cropped, High Rise |
| Price: | $$ |
GRLFRND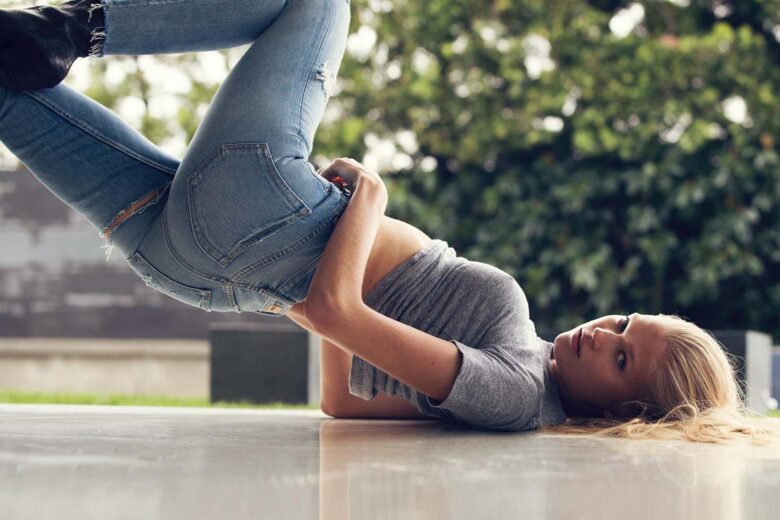 There are good jean brands, and then there are great jean brands. GRLFRND is another absolute winner when it comes to high-quality denim designed to compliment any and all-female figures.
GRLFRND jeans capture that pre-worn look that's an absolute must-have when it comes to denim. There are plenty of ripped knees as well as frayed hems, and styles include slim-leg and straight-leg. The brand's flattering high-rise straight-leg silhouettes offer some of the best jeans for curvy women, while those jeans with lighter washes are the ideal summer wardrobe essential.
The designs take all the best looks of our favourite 90s supermodels—and add 21st-century sophistication. The materials are premium and locally sourced, and, like all the best women's jeans, GRLFRND jeans age wonderfully. They'll become more comfortable and fit even more snugly as time goes by.
The question is not so much what these jeans would go with, but what they wouldn't go with.
| | |
| --- | --- |
| Best for: | Well-fitting jeans from a brand with an innate sense of style |
| Sizes: | XXS to XL |
| Fits: | Skinny Leg, Straight Leg, Wide Leg, High Rise |
| Price: | $$ |
7 For All Mankind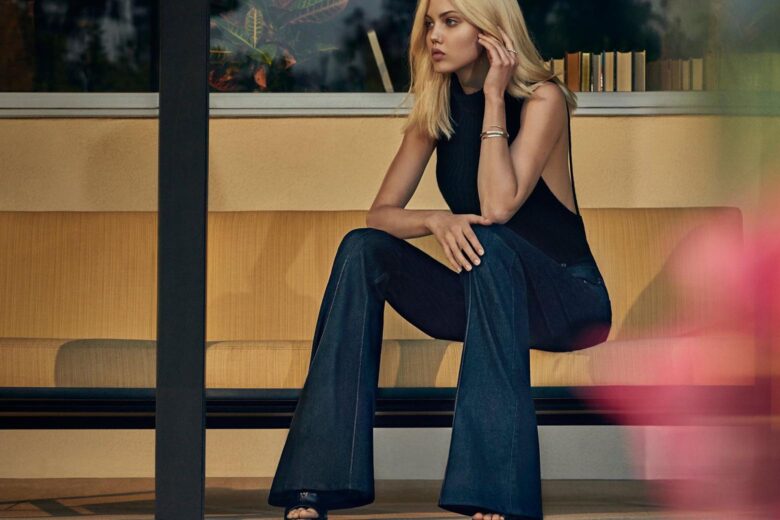 7 for All Mankind originally made a name for itself with its innovative line of premium denim—outstanding fits and finishes that had jean-lovers everywhere swooning.
Referred to as 'Sevens' by anyone in the know, the brand is a staple in the wardrobes of the world's A-listers and fashionistas, including Jennifer Lawrence and Jessica Alba, offering designer jeans for women who like their denim to be luxurious.
One of the world's best denim brands, 7 For All Mankind's pioneering approach to fashion means that it's always launching exciting new designs. Taking advantage of advances in technology, the label offers unusual twists on conventional styles, quickly scooped up by denim-hungry fans.
Washes range from sophisticated neutrals to dark and inky hues. And fans swear by the comfortable form-fitting cuts.
Nothing beats a pair of Sevens. Sturdy, reliable, and consistently flattering, your quest for the best pair of jeans ends here.
| | |
| --- | --- |
| Best for: | A pair of upmarket jeans with cult-status |
| Sizes: | XXS to L |
| Fits: | Flared, Straight, Skinny, Slim, Cropped, Wide Leg, Bootcut |
| Price: | $$$ |
PAIGE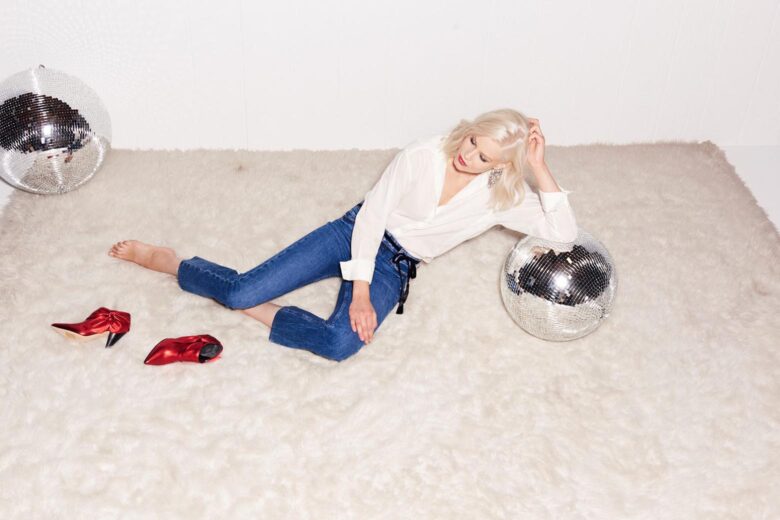 Seeking out jeans you can basically live in? Then top jean brand Paige has you covered. This California-based label aims to provide you lucky people with timeless denim classics.
Offering high-quality construction, meticulous attention to detail, perfect fit, and a wonderfully easygoing aesthetic, Paige is not so much a jean brand as a lifestyle choice.
Each item is washed and wear-tested so you can be confident that it will last. The nine stitched bars on the back pocket of every pair of jeans represent nine lives—the idea being that you always have the opportunity to keep growing, keep evolving, and keep trying.
Jeans that motivate us to keep doing our best? Sounds good. Whether you opt for a simple t-shirt and jeans combo or push the boat out with a denim-on-denim ensemble, then a pair of Paige jeans will set you in good stead for the day ahead.
| | |
| --- | --- |
| Best for: | Jeans that have your back (and your butt) |
| Sizes: | XXS to XL |
| Fits: | Slim Leg, Skinny, Cropped, Bootcut, and Flared |
| Price: | $$$ |
GOLDSIGN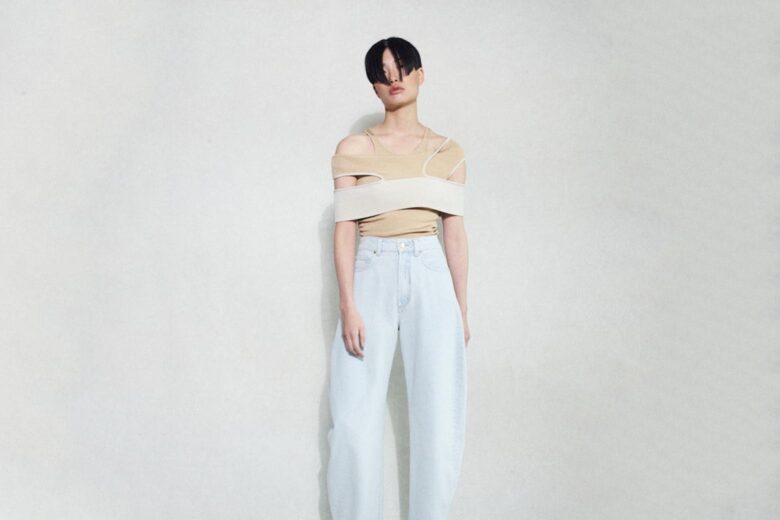 Denim was at its apogee in the 90s. So thank goodness we have brands like GOLDSIGN to bring us those unforgettable 90s silhouettes—minus all the other 90s weirdness (yes, we're talking about strapless bras).
One of the best jean brands for women, this LA-based label is all about pared-back denim designs with subtle but powerful details. Kate Moss is a fan—which is all we need to know to convince us to grab a pair right now.
GOLDSIGN offers wearers everything from skinny jeans to flattering high-rise cuts to a cropped style that is perfect for summer days. We recommend the Walcott jeans—organic denim with a faded wash, whiskered to add to the authentic vintage vibe.
All GOLDSIGN jeans are made in the brand's studio and in limited batches. Not only does this mean that they pay close attention to quality but you're not going to keep bumping into people with the same jeans as you.
| | |
| --- | --- |
| Best for: | Exclusive luxury jeans for unique individuals |
| Sizes: | XXS to XL |
| Fits: | Straight, Cropped, Skinny, Cropped, Wide Leg, Boyfriend |
| Price: | $$$ |
Re/Done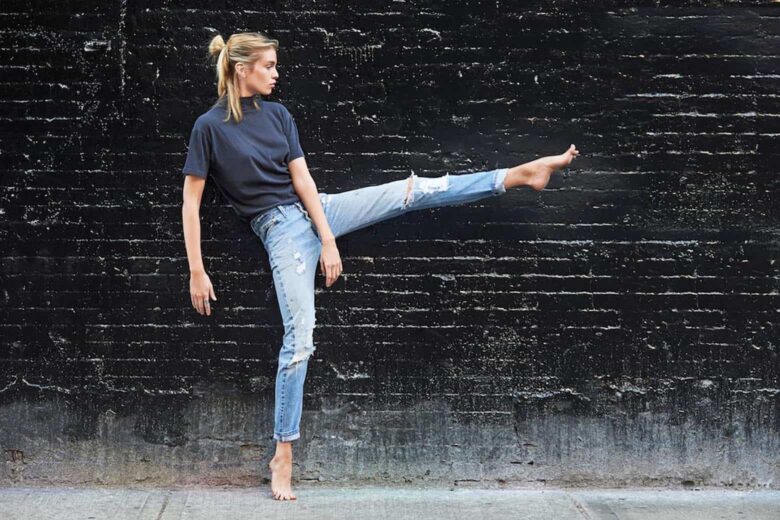 Top jean brand and luxury label RE/DONE is about two things: sustainability and individuality.
RE/DONE's upcycled jeans are made from pre-worn Levi's, re-purposed to create new and exciting designs. Engaging in a circular fashion in this way, RE/DONE is massively minimising its carbon footprint.
This also makes their jeans feel original. Made from denim that already had a unique backstory, these jeans are then transformed into classic designs with heaps of personality.
Think plenty of flaring, tapering, and pleating as well as frayed hems, braces, and embroidered waistbands in rainbow shades. Any thoughts of jeans being used for a bit of casual DIY are firmly dismissed thanks to the ultra-contemporary styling. Team with heels and a polo neck and the high-fashion vibe is elevated even further.
For jeans that are anything but boring, made for women who are anything but ordinary, RE/DONE is a one-stop-shop for distinct designs that you'll never see anyone else wearing.
| | |
| --- | --- |
| Best for: | Eco-friendly jeans that are truly one of a kind |
| Sizes: | XXS to L |
| Fits: | Skinny, Straight Leg, Boyfriend, Flared, Wide Leg, Cropped |
| Price range: | $$-$$$ |
Reformation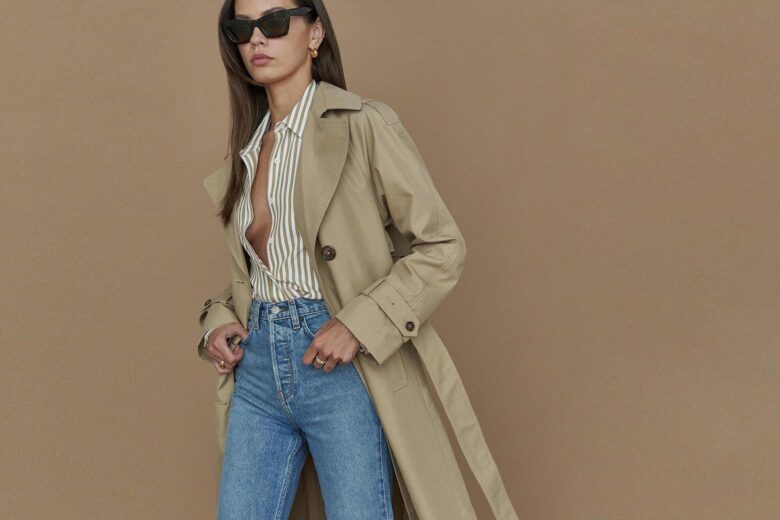 Another sustainably-minded brand, Reformation is the perfect choice for women who want a pair of look-at-me jeans that take it easy on the environment.
Reformation denim is made from repurposed and reworked deadstock and vintage finds. The supply chain is fuelled by renewable energy and all offcuts are re-used—pleasing to your body and pleasing to the planet.
The designs are carefully constructed to ensure that they fit perfectly and highlight all the right body parts. They're also super comfortable. Jeans that feel like leggings? Yes, please.
The brand's skinny jeans range from classic black denim to a range of blue hues so you can choose according to the seasons. Also check out the high-rise straight-leg jeans with retro-inspired front button fastenings. The vibe is both old-school and very much of this moment. Vintage-style denim without trawling the rails of a thrift store.
Say goodbye to mornings when you can't decide what to wear. Reformation jeans are so wearable that they pretty much make the decision for you.
| | |
| --- | --- |
| Best for: | Stylish, sustainable jeans with a vintage store feel |
| Sizes: | XXS to L |
| Fits: | Skinny, Straight Leg, Cigarette, and High Rise |
| Price: | $$ |
Khaite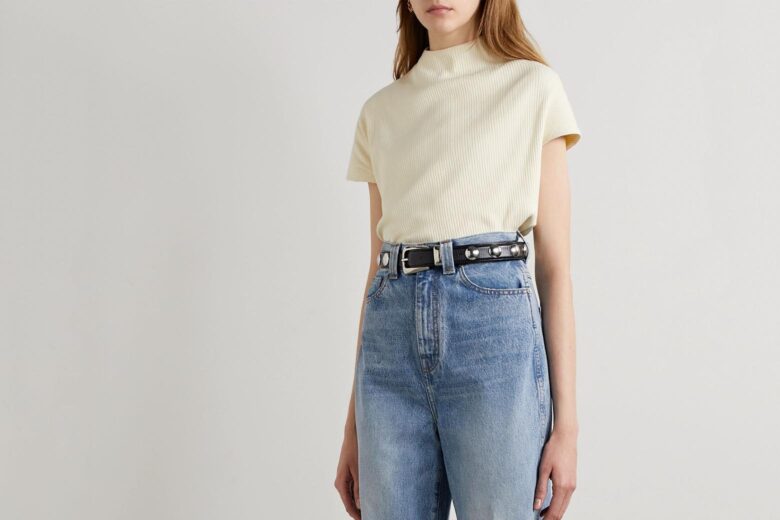 The right pair of jeans can actually look incredibly polished and refined—as New York label Khaite proves. One of the best celebrity-approved jean brands out there, Khaite offers wearers high-end classics that elevate conventional jeans to something worthy of the most upscale wardrobes.
Washes range from indigo in various shades to winter-appropriate black and summer-certified white. The brand's cropped wide-leg styles would look great with boots and sandals, while the high-rise straight-leg cuts are ideal for smaller women who want to elongate their legs.
Vintage-inspired top-stitching and two-tone and antique buttons are some of the subtle but significant details that mark this denim out as extra special. The manufacturing is masterful, the fabrics are luxurious, and the mood is one of impeccably effortless elegance.
Khaite's collection of jeans reads like a rundown of denim's best hits. There's everything from flares to ultra-tight skinnies and everything in between.
| | |
| --- | --- |
| Best for: | Precisely made timeless jeans that offer practicality and polish |
| Sizes: | XXS to XL |
| Fits: | Straight Leg, Flared, Wide Leg, Cropped, High Rise, Mid Rise |
| Price: | $$$ |
Mother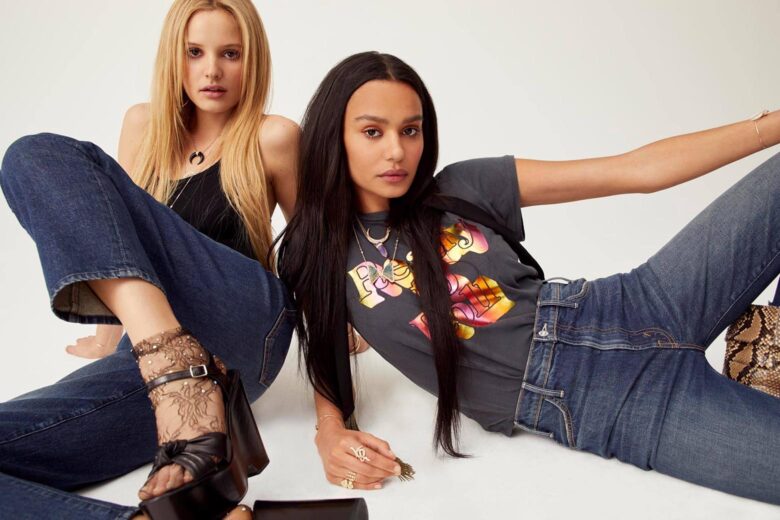 Mother seems to be the word on the lips of every denim-enthusiast these days. The brand has made a real impression on the fashion-set with fans fawning over its unique designs and youthful vibe.
Whether you plan to sport head-to-toe denim for a serious style statement, or are seeking a more understated pair of skinnies to team with a smart blazer, Mother is your go-to brand for premium casual wear.
Reinventing iconic designs by adding a unique twist—think frayed hems, stud embellishments, ripped knees, and asymmetrical fades—Mother jeans allow you to rock that rebel-without-a-cause look with a touch of lady-like elegance.
Check out their best-selling Weekender jeans, for example. Stretchy enough to be comfortable without sagging, they flare out for a bit of 70s-style sophistication. Perfect for wearing with a boho blouse.
Durable designs that are also a favourite of fashionistas, Mother jeans are pretty much the holy grail of denim.
| | |
| --- | --- |
| Best for: | Playful designs that will have everyone's eyes on you |
| Sizes: | XXS to L |
| Fits: | Straight, Slim Fit, Skinny, Cropped, Flared, Bootcut |
| Price: | $$$ |
L'Agence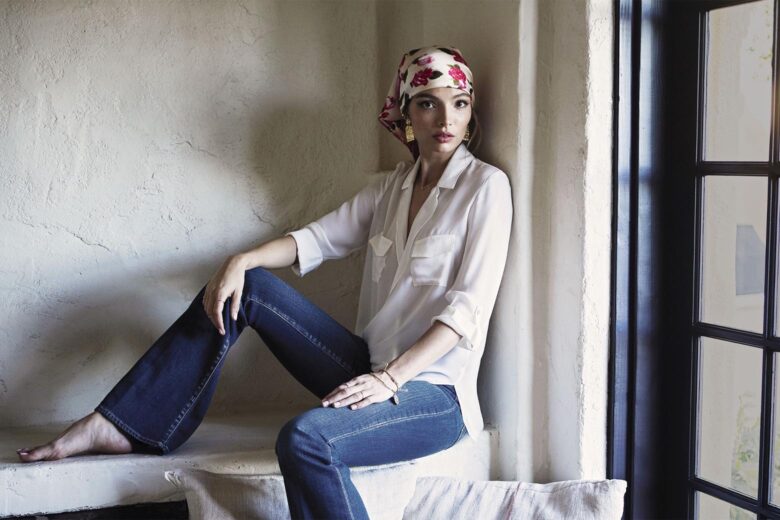 A label beloved by fashion influencers and A-listers (do the names Charlize Theron and Scarlet Johannson ring a bell?), L'Agence sums up contemporary cool in a nutshell.
While based in California, there's a definite French influence to the brand's designs. Whether you rock a Canadian tuxedo aka denim-on-denim (it's fashion, darling), or want a pair of classic cropped jeans to wear with flats, this is the label you need to be perusing.
If you're bored of blue jeans, then you'll be delighted by the brand's array of different coloured denim, from magenta or pastel pink to white and black washes—and even coated jeans in camel brown.
Meanwhile, in the L'Agence world, tighter is always better, and so the cuts are generally close-fitting. Fit-wise, they feel just like a second skin—as the best women's jeans always should.
Fancy dressing like a Parisian it-girl, strolling the boulevards of the French capital? From rock-star-ready distressed styles to glossy black coated skinnies, L'Agence can make it happen.
| | |
| --- | --- |
| Best for: | The most elegant denim around |
| Sizes: | XXS to XL |
| Fits: | Skinny Leg, Cropped, and High Rise |
| Price: | $$ |
R13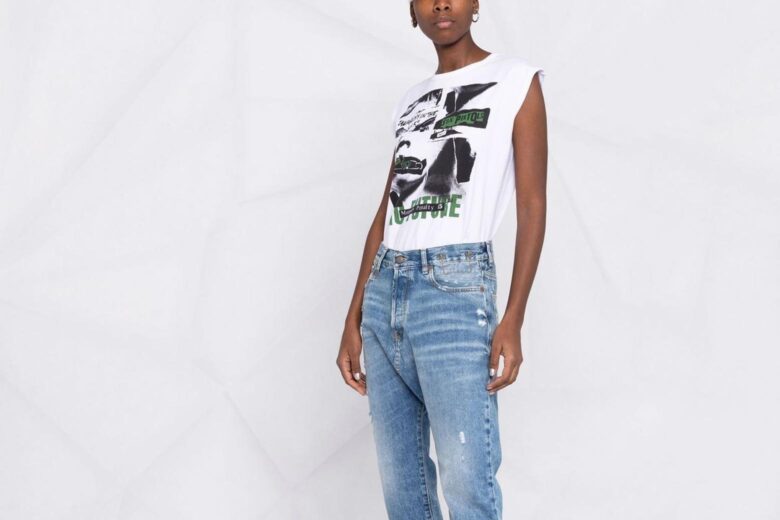 While many of the brands on this list hail from the West Coast, R13 is based in New York and the vibe is suitably gritty.
Think shredded skinny jeans, asymmetric waists, and rolled cuffs that would look epic teamed with combat boots. Check out the wide-leg Royer jeans in particular. Faded and distressed, they have that inimitable pre-loved look—as though they've already seen a fair few adventures.
It's all very rock 'n' roll—but still exceptionally high-quality. These are expertly manufactured jeans, made from hard-wearing materials that aren't going to lose their edge within a year.
For defiant and daring designs that are nevertheless not too ostentatious, head to R13. Fresh takes on classic silhouettes, these jeans are urban, distinctive, and very tempting.
| | |
| --- | --- |
| Best for: | Rebellious jean-wearers looking to break the rules |
| Sizes: | XXS to L |
| Fits: | Skinny Leg, Straight Leg, Boyfriend, Wide Leg, Cropped |
| Price: | $$$ |
Diesel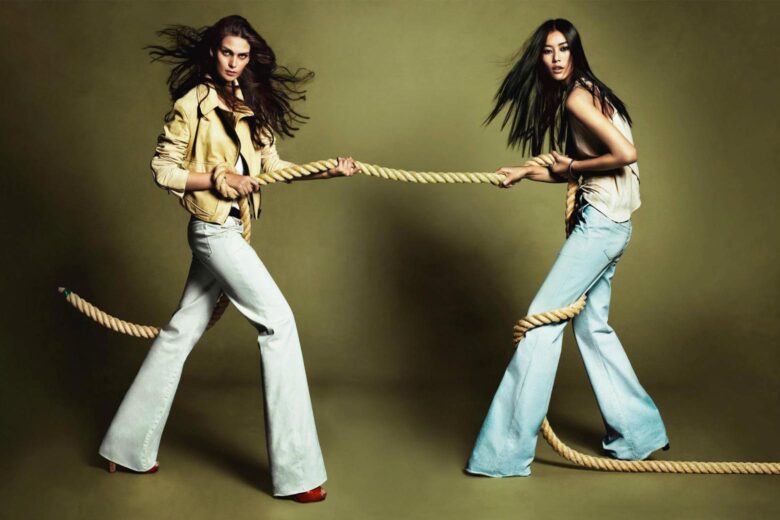 Diesel has developed quite the reputation in sartorial circles. The Italian clothing brand was founded in 1978, and while we all know it as one of the most popular denim brands, we were intrigued to see how it measured up against newer denim brands.
We are impressed by the brand's continued devotion to innovation. With a strong focus on creativity, Diesel continues to introduce unique washes, cuts, and fits, appealing to fashion-forward individuals seeking statement-making denims.
Diesel jeans give off that iconic denim aesthetic, but at the same time, they have just enough stretch to be incredibly comfortable. We especially love this retro-inspired label for its y2k take on flared jeans, boyfriend cuts, and low-rise fits.
| | |
| --- | --- |
| Best for: | Adding a touch of rebellion to an old-school classic. |
| Sizes: | XXS – XL |
| Fits: | Skinny, Straight, Tapered, Boyfriend, Low rise, Mid-rise |
| Price: | $$$ |
Good American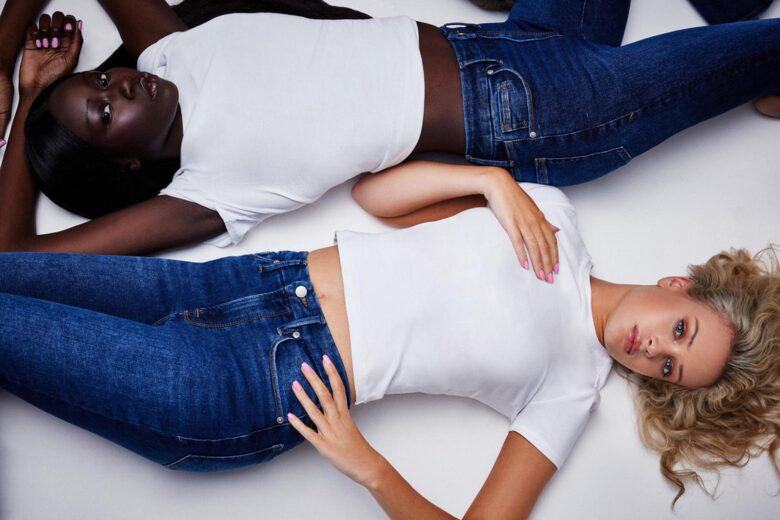 Founded by Khloé Kardashian and Emma Grede, Good American is making waves for its unique and inclusive approach to designer jeans. The body-positive brand celebrates diversity by offering a wider range of sizes, including sizing and styles designed specifically for curvier women.
Good American's commitment to fit and comfort is further evident in their stretch denim, which provides both style and ease of movement. And we love that you never feel like you're compromising (or longing for a pair of sweats).
With a Kardashian on the founding team, it's no surprise that the brand embraces and creates sartorial trends, yet it also maintains a classic denim feel and timeless sophistication. And considering the quality of the denim used and how long each pair lasts, Good American jeans are unexpectedly affordable.
| | |
| --- | --- |
| Best for: | Embracing body positivity with the perfect pair. |
| Sizes: | XXS – 5XL |
| Fits: | High Rise, Skinny, Straight, Mid Rise, Wide Leg and Cropped |
| Price: | $-$$ |
Madewell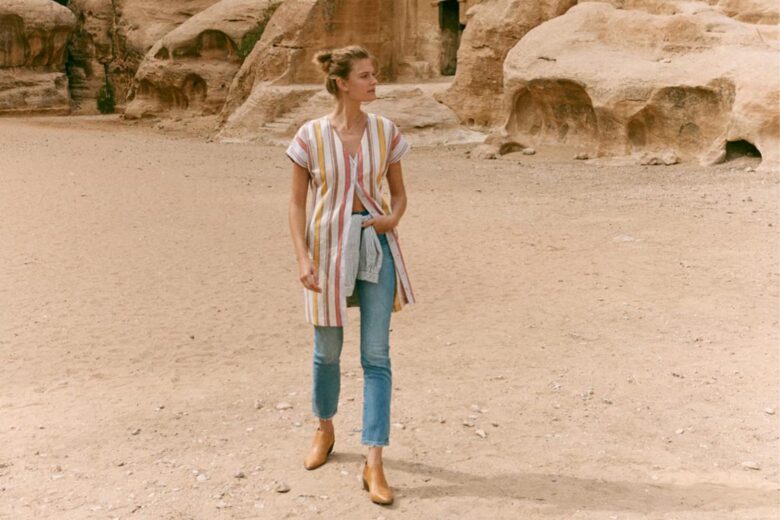 If you're just looking for a classical pair of quality jeans that won't shrink with wash or stretch with every wear, Madewell's collection is right up your alley. Acclaimed as one the most popular jeans brands, the minimalist label is less concerned with pushing fashion boundaries and more committed to perfecting iconic styles.
But that isn't to say that it isn't fashionable. From simple straights to classic mom jeans to fashion-forward flares and utility cargos, Madewell has every style and cut that you can think of, with the main distinguishing factor being that it's, well—for lack of a more innovative description—made well.
Additionally, Madewell's focus on sustainability and eco-friendly practices, such as recycled denim and reduced water consumption, aligns with Luxe Digital's environmentally-conscious ethos.
| | |
| --- | --- |
| Best for: | Making classics better. |
| Sizes: | XXS to 4XL |
| Fits: | Wide, Straight, Crop, Curvy, Petite, Flare, Low rise, Mid-rise, High rise |
| Price: | $ |
Buyer's guide to finding the right pair of jeans
It's not enough to know where to buy jeans, you need to know how to sift through the many different cuts and styles to find the perfect fit. Here's how we do it: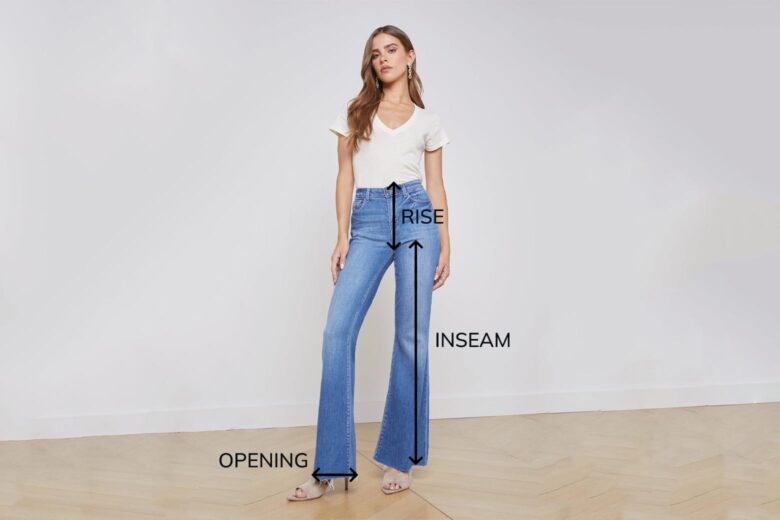 Cut
From y2k flares to classical straights; choose the cut that speaks to your style and flatters your form.
Straight-Leg jeans: Regardless of your height or body type, chances are you'll look fantastic in a quality pair of straight-leg denims. As the most versatile cut, you don't have to worry too much whether the style suits a low rise or high rise or whether to opt for a light or dark wash. If you feel good in them, they're likely nailing the brief.
Mom jeans: Popularized in the '80s, mom jeans have made a major comeback. The relaxed cut is looser around the hips and thighs but tapers in at the ankles, making them a flattering choice for almost all body types. They're typically high-waisted, and we usually prefer the casual style in a lighter wash. That being said, the most important factor to mom jeans is comfort. If they don't rival your sweats, we say keep looking.
Boyfriend jeans: Quintessentially nonchalant and carefree, this "stolen-from-the-boys" aesthetic is best kept for weekends and more relaxed occasions. Because the cut is baggy by nature, we find that it tends to suit petite or tall frames. Basically, boyfriend jeans aren't the ones to wear to show off your curves. But to make them more feminine, consider rolling the ankles or adding a floral blouse.
Flare jeans: If you have a finger on the pulse of the latest sartorial trends, you'll know that flare jeans are the wardrobe hero in the resurgence of y2k fashion. The high-waisted silhouette is also great for a curvier frame, as it effortlessly elongates legs without compromising comfort. And we particularly appreciate how easy flared jeans are to style. All you need is a simple tee or minimalist turtle neck to nail the vintage-inspired aesthetic.
Skinny jeans: According to the trendsetters and it-girls, skinny jeans are out. However, if you refuse to accept that verdict (and you shouldn't have to), we have a few simple rules for making skinny jeans cool again. Firstly, opt for a medium to dark wash for the most flattering effect. And then be sure to pair it with an oversized top and shoes (blazers and chunky Chelsea boots are a failsafe.)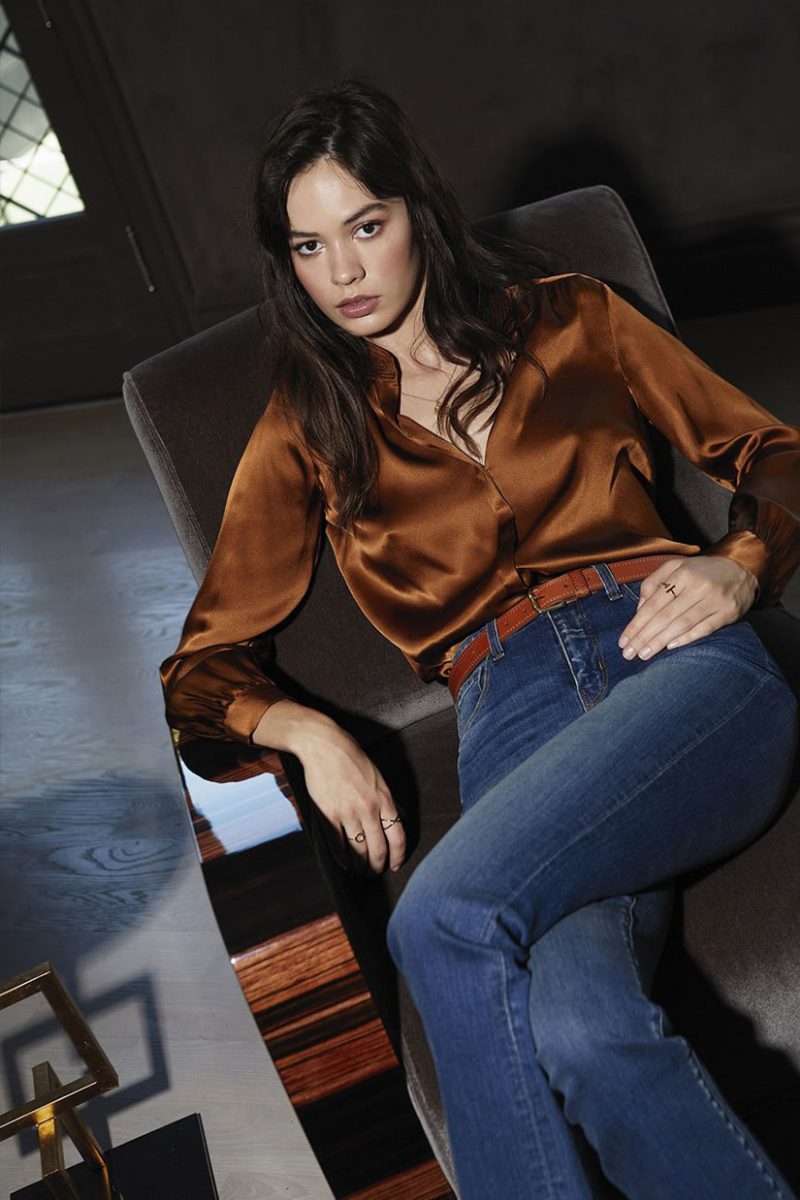 Size and length
If you're particularly petite or tall, finding a pair of jeans that doesn't fall above your ankles or drag on the floor can prove to be the most challenging pursuit of all. To avoid trying on multiple pairs (and multiple disappointments), be sure to measure the jeans from the inseam and not the waistline. The inseam runs from the crotch to the hem (the end of the leg opening) and ultimately determines the length of your jeans.
Rise
When it comes to choosing between a low rise, mid rise or high rise, think about comfort as well as fashion. Most denims these days tend to be mid-rise or high-rise, and while the elongating silhouette can be a lot more flattering, if you don't like anything tight around your stomach, a low-rise pair is worth considering.
Stretchability
In order to calculate how much stretch the pants give—a crucial indicator of comfort and fit—check the fabric makeup for the percentage of cotton in comparison to the percentage of Tencel, Spandex, and elastane.
The higher the cotton percentage, the less stretch the jeans will have.
Rigid jeans are made from 100% cotton and offer little to no stretch. While they may be less forgiving in terms of flexibility and comfort, rigid jeans are favored for their durability and ability to maintain their shape over time. They're also your best option if you want that timeless denim feel and vintage-inspired aesthetic. Just make sure that they're not too tight to start with.
Comfort stretch jeans hit the elusive sweet spot between structure and stretch. They feature a small percentage of elastane or spandex and offer enhanced comfort without compromising that classic denim aesthetic. With the rise of functional fashion, comfort stretch jeans are the most popular denim type, with many styles and cuts. 
With a high percentage of elastane or spandex, stretch jeans are best for individuals with active lifestyles. The elasticated denim is non-restrictive and offers maximum comfort and flexibility and works well for more fitted styles.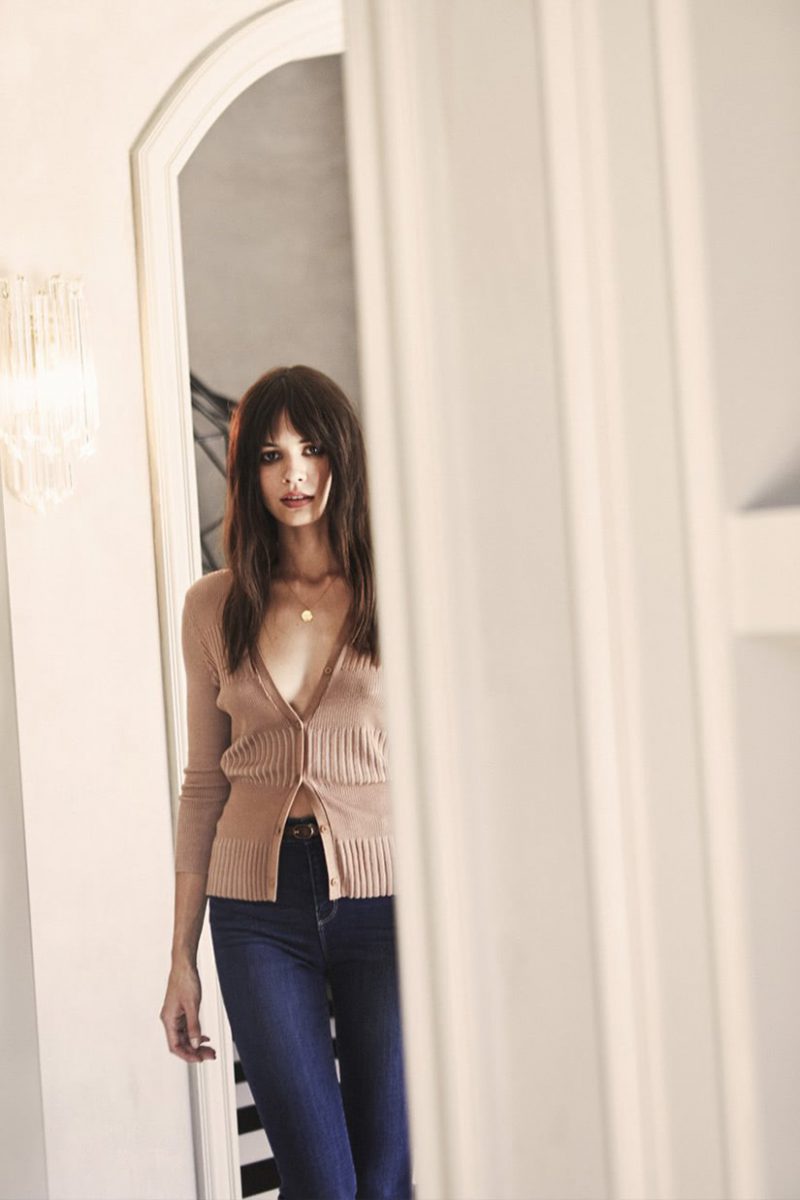 Denim washes
Raw denim is basically unwashed denim and is usually dark blue, rigid, and with a classic and iconic look. Mid-wash and light-wash jeans have been washed for longer to give a lighter hue.
Denim wash is often a matter of preference. Some prefer lighter jeans, and others always opt for dark. However, there is some science behind how we make these choices for those who prefer to add a variety of cuts and hues to their arsenal. 
In general, white and black denims are considered more sophisticated, so if you're choosing a pair for casual Fridays at the office, we would recommend starting with these. Of the two, black is more flattering and is better suited to a tighter fit, while white jeans best suit a straight-leg cut.
Light and medium wash denims are on the more casual side and are best for achieving a quintessential casual-cool aesthetic. Lighter wash denims work well as mom jeans and boyfriend jeans, paired with sneakers and a tee.
Medium and dark washes are in between casual and more formal. They're usually more flattering than lighter washes, but still give off iconic denim vibes. We particularly like a straight-leg or flared cut in medium or dark denim washes, but these hues are pretty versatile for any cut or style.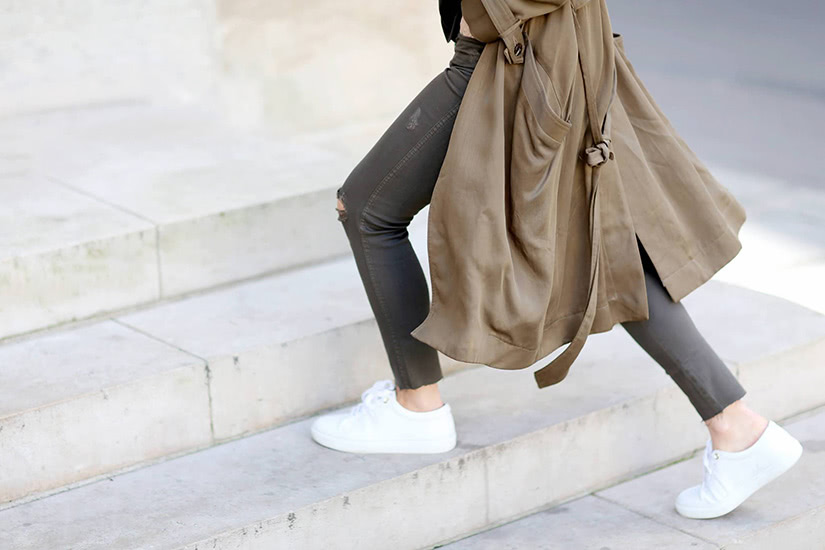 Denim fabric weight
It's not just about what looks good; it's also about what's most comfortable and what the climate requires.
Denim weight does not refer to the actual weight of the pair of jeans. Referring to the weight of the fabric, it is the measure in ounces per square yard of fabric.
Though there's no universal standard for denim weight, we feel we can use the measurements of the OG of denim, Levi's, as our benchmark.
| | | |
| --- | --- | --- |
| Lightweight | Medium-Weight | Heavyweight |
| < 10.5 oz | 10.5-12.5 oz | > 12.5 oz |
Lightweight jeans are ideal for warm weather or when you want a relaxed, comfortable fit. They are breathable and easy to move in, making them suitable for active lifestyles. Lightweight jeans tend to have a softer feel and are great for achieving a casual, laidback look.
Medium-weight jeans strike a balance between durability and comfort. They are versatile and suitable for year-round wear. These jeans provide a bit more structure than lightweight ones while remaining comfortable. They are great for everyday use and can be dressed up or down.
Heavyweight jeans are rugged and durable. They are excellent for colder seasons and offer additional insulation. These jeans have a sturdy feel and can withstand heavy use. They are often chosen for their classic, authentic denim appearance.
Other features to look out for
Deconstruction – whether it's ripped knees or fraying edges, deconstructed or deliberately distressed denim can add a rugged and retro vibe and a lived-in look and feel.
Whiskering – also known as hige, whiskering refers to those thin vertical lines found around the front pockets of jeans, used to create a pre-worn effect.
Panels and patches – patchwork denim is currently very in fashion, harking back to the 70s. Opt for subtle patches in varying hues for a low-key version of the trend.
Denim's guide summary table
| | | | | | | |
| --- | --- | --- | --- | --- | --- | --- |
| Cut | Style | Best for | Best rise options | Best stretchability | Best denim washes | Best denim weight |
| Straight-leg | Classic and timeless | Petite or tall | Low, Mid, High | Rigid or comfort stretch | White, light, medium | Lightweight or midweight |
| Mom | Relaxed and vintage-inspired | Everyone | High | Comfort stretch | Light or medium | Midweight |
| Boyfriend | Casual, laidback look | Petite or tall | Mid, High | Rigid or comfort stretch | Light or medium | Midweight or heavyweight |
| Flare | Bold fashion statement | Curvy and tall | High | Comfort stretch or stretch | Medium, dark, black | Midweight |
| Skinny | Showcasing curves | Petite, tall or curvy | Low, Mid, High | Comfort stretch or stretch | Medium, dark, black | Lightweight or midweight |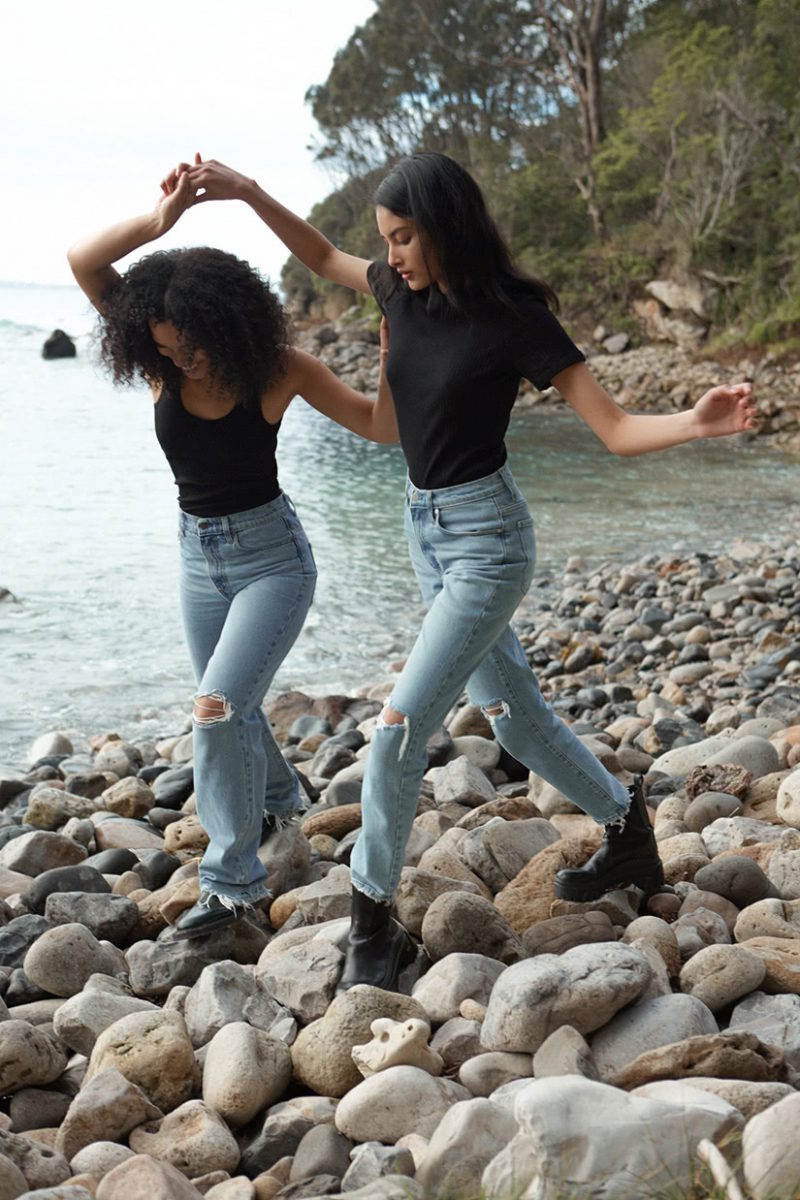 Frequently asked questions about women's jeans