We all have our favorite—the one you grab at a moment's notice without thinking twice. Maybe it holds a lifetime of memories, accented with subtle stains to remind you of young motherhood. Maybe it's the latest item added to your collection, brand spanking new and already stealing the show. Maybe it's a hot pink number, ready to pick up the pieces when you're a hot mess. Maybe it is a soft natural hue, carefully pulling together every ensemble in your versatile capsule wardrobe. Maybe it's a light cashmere, not limited to time or seasons. Or maybe it's a chunky knit, concealing a Winter of overindulgence.
Whatever it is, there is always room for (at least) one more sweater in your arsenal. We're not suggesting that you replace your time and tested loyal companion. But truth be told, it may start looking a little tired. It's time to mix it up with an equally loveable allegiant. But if you're anything like us, you don't need much convincing, and your Winter wardrobe isn't complete without a new snug sweater. So whilst you peruse our carefully curated list of the best sweaters for women, bear in mind the power that a good sweater holds—making you feel like the only girl in the world. And as it envelops you into its snug embrace, it immediately feels like home. But a good sweater is more than just comfort clothing. It is effortlessly alluring. Basically, this isn't your Bridget Jones' iteration. This is a garment that sweats the small stuff—both in style and comfort.
The 25 best sweaters for women
Cuyana Single-Origin: Best overall sweater for women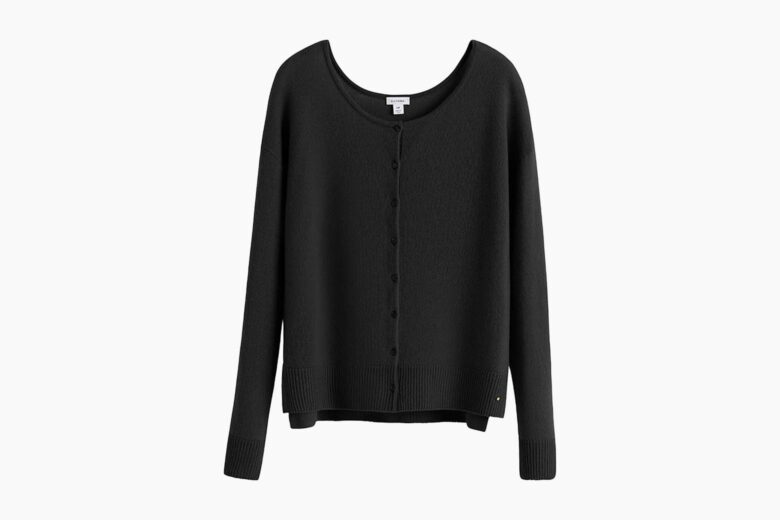 No surprises here. Cuyana once again tops our list of elevated essentials. This time it's the best sweaters for women. Made in Italy, all of their materials are sustainably sourced. And the relaxed cashmere fit features an elegant wide boatneck with cardigan buttons down the middle. Wear them conventionally at the front. Or mix it up with this versatile sweater and wear them at the back. Who doesn't love two styles in one piece?
| | |
| --- | --- |
| Best for: | Sweating the small stuff—so you don't have to. |
| Colors: | Black, Beige, Jade + More |
Anine Bing Rosie: Best designer sweater for women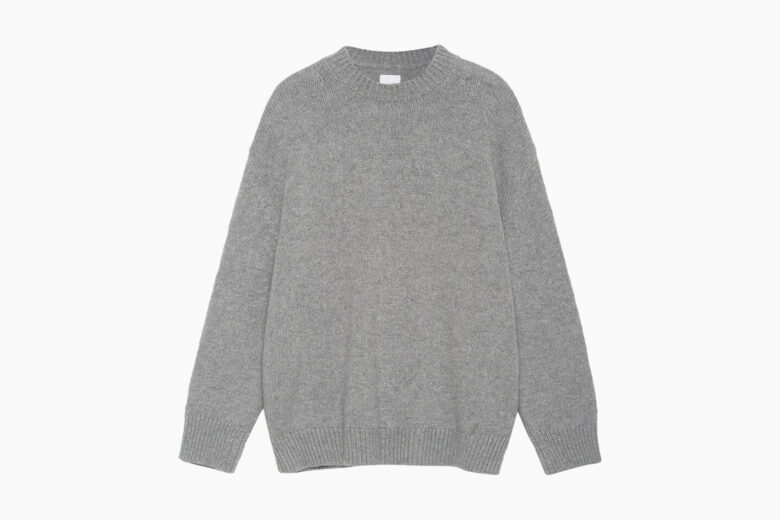 Women's sweaters have a reputation for being relaxed. But you can easily dress up this designer sweater by Anine Bing. Made from the brand's signature soft cashmere, the sweatshirt-inspired silhouette carries a homely comfort wherever you go. But we especially love this sumptuous sweater styled with comfortable heels and a designer work bag to combat relentless office air-conditioning with elegant sophistication.
| | |
| --- | --- |
| Best for: | Home-like comforts—but make them chic. |
| Colors: | Gray, Camel, Black + More |
Amazon Essentials: Best value sweater for women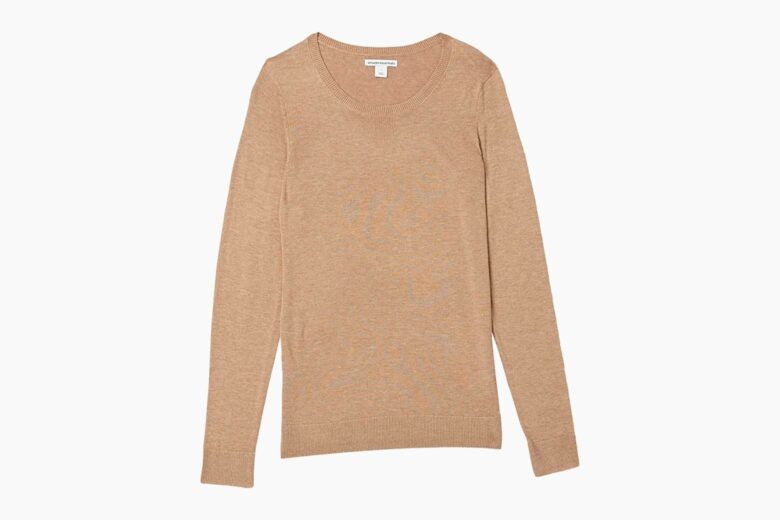 These sweaters by Amazon Essentials are the perfect transitional pieces. The lightweight crewneck style runs the gamut in chic colorways, giving you the perfect opportunity to stock up on a few iterations. We love the soft, natural beige hue as a capsule wardrobe staple. The lime green is all about embracing the dopamine dressing trend. And check prints speak to the old-school grandpa style—also a fashion crowd favorite.
| | |
| --- | --- |
| Best for: | Stocking up on transitional wear. |
| Colors: | Camel, Rust, Black + More |
Axel Arigato District: Best hoodie sweater for women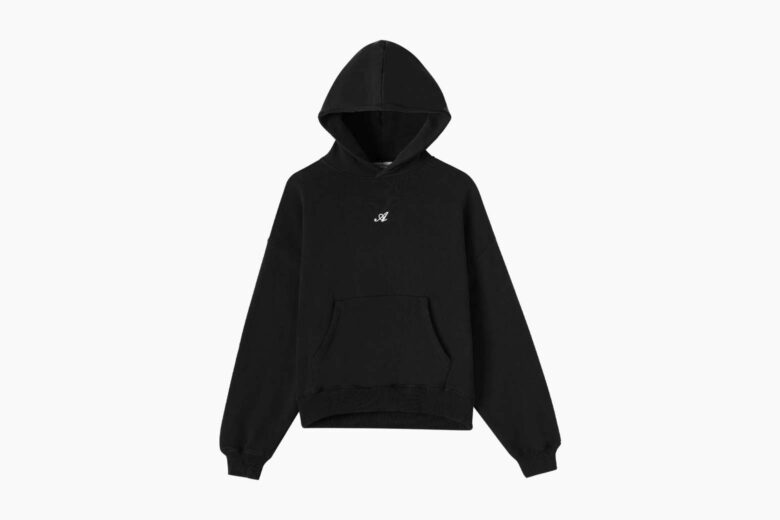 Taking you back to your teenage years, where black hoodies were a part of the official uniform for rebellion, Axel Arigato's hoodie sweater is slightly (a lot) more elevated. The classical hoodie silhouette is crafted using a double-knit technique. And while ribbed edges further allude to a less-rebellious sweater, the all black colorway counteracts that statement.
| | |
| --- | --- |
| Best for: | Sulking in style. |
| Colors: | Black |
Alo Yoga: Best crewneck pullover sweater for women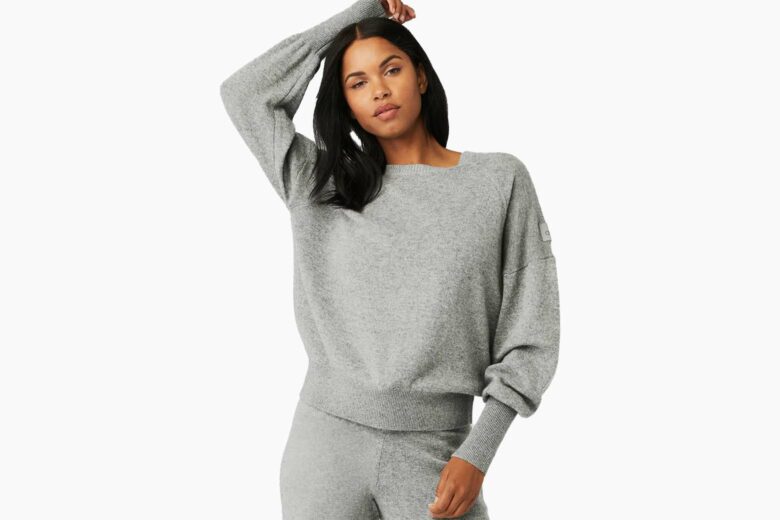 Gracefully slouchy and effortlessly chic, we're pretty sure we've found your new travel set. Alo Yoga's cashmere crewneck epitomizes laidback luxury with wide sleeves and ribbed detailing. We particularly love this pullover sweater in heather gray paired with the brand's matching track pants and white sneakers. But the black and navy sets are equally enticing—the more the merrier?
Learn more about Alo Yoga's brand.
| | |
| --- | --- |
| Best for: | First class comfort and style. |
| Colors: | Gray, Black and Navy |
Naked Cashmere Campbell: Best cashmere sweater for women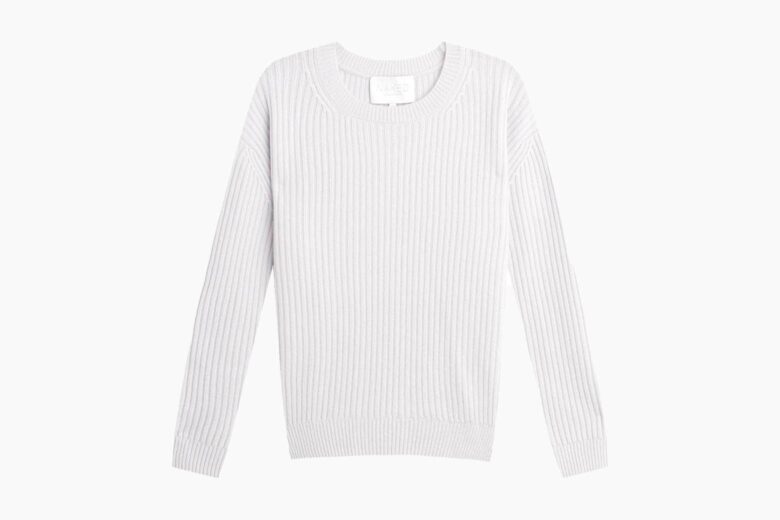 Naked Cashmere's crew pullover makes us want to cozy up at the fireplace with a good book. Especially when paired with the brand's matching track pants. This simple silhouette epitomizes luxury in superlatively soft cashmere. While the slouchy, oversized fit gives you every reason to take a self-care day—with plenty of snacks.
| | |
| --- | --- |
| Best for: | Snuggling up with a good book. |
| Colors: | Black and White |
Alpha Industries: Best fleece sweater for women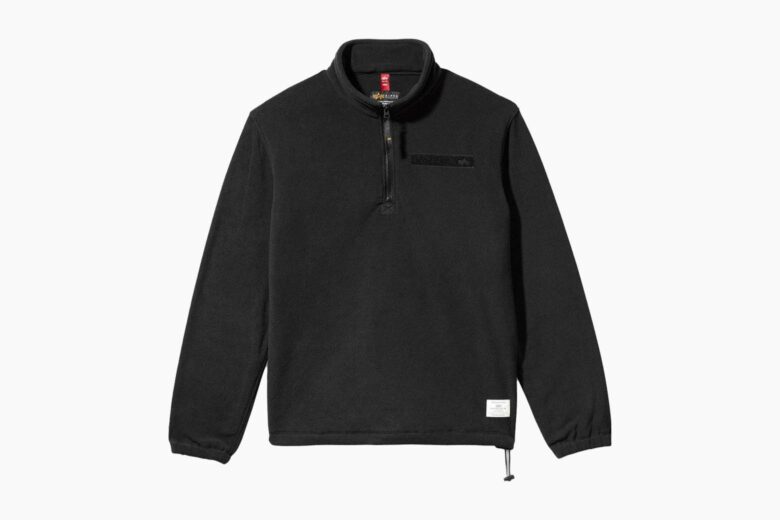 Designed to conquer the cold in style, Alpha Industries' fleece sweater is your solution to adventuring through icy climates. The ultra soft fleece sweater features superior warmth and comfort. While the three quarter zip adds a contemporary touch to the monotone black or green colorways. Style this fleece sweater with a beanie and boots. And your Winter just got a whole lot better.
| | |
| --- | --- |
| Best for: | Getting out this Winter. |
| Colors: | Black and Green |
Axel Arigato Beyond: Best women's sweater for Winter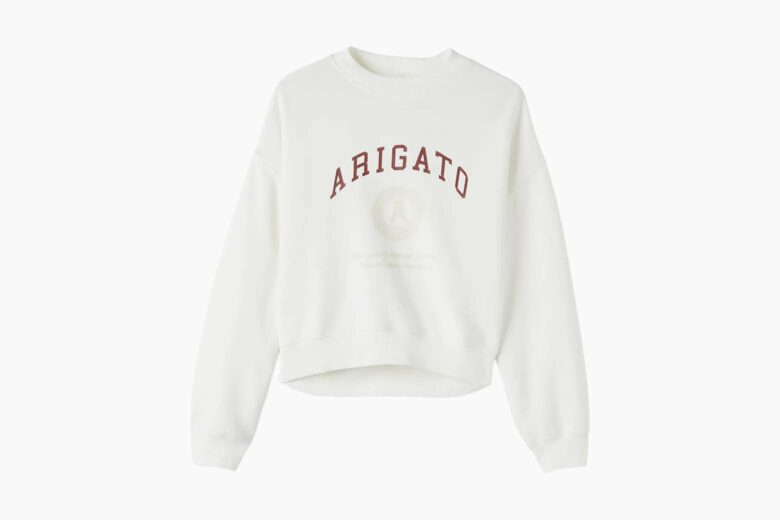 The one thing that we really love about Winter's approach is the excuse to buy a new sweater. And this season, we're fawning over Axel Arigato's white sweater. The soft, ecru hue has a relaxed-yet-polished aesthetic. While the mix of Merino wool and cashmere makes it as snug as a blanket. Cue the hot cocoa, we're ready to get cozy.
| | |
| --- | --- |
| Best for: | Embracing the season. |
| Colors: | White |
Loulou Studio: Best turtleneck sweater for women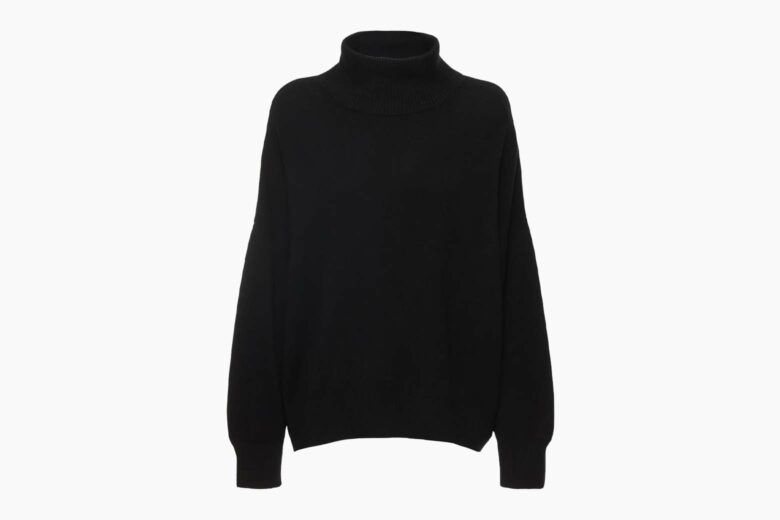 While we wouldn't usually take our style cues from Steve Jobs, he may have been onto something when adopting turtlenecks as an official uniform. The versatile silhouette is both sophisticated and stylish. While the added warmth around the neck makes them the perfect Fall sweaters—sans scarf. We're unapologetically biased towards Loulou Studio's chic turtleneck. And more specifically, the dopamine-inducing orange iteration. Go on, we dare you.
| | |
| --- | --- |
| Best for: | An everyday affair. |
| Colors: | Black, Brown, Orange + More |
Naked Cashmere Iman: Best V-neck pullover sweater for women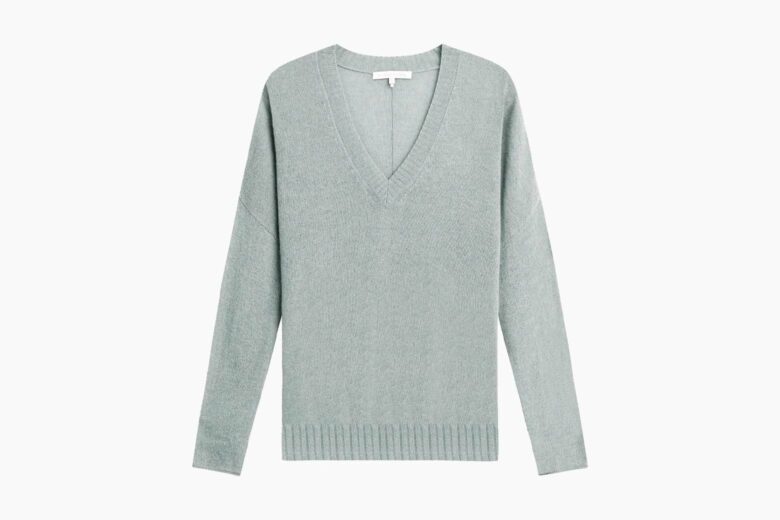 Unsurprisingly Naked Cashmere is one of our best sweater brands, especially when it comes to cashmere sweaters for women. The Iman V-neck pullover is case in point. Made from the brand's signature cashmere—unparalleled in softness—this sumptuous sweater falls effortlessly into a slouchy boyfriend fit. Just the way we like it.
| | |
| --- | --- |
| Best for: | Your boyfriend's hoodie's elegant older sister. |
| Colors: | Navy, Brown, Teal + More |
Nanushka Kira: Best cropped sweater for women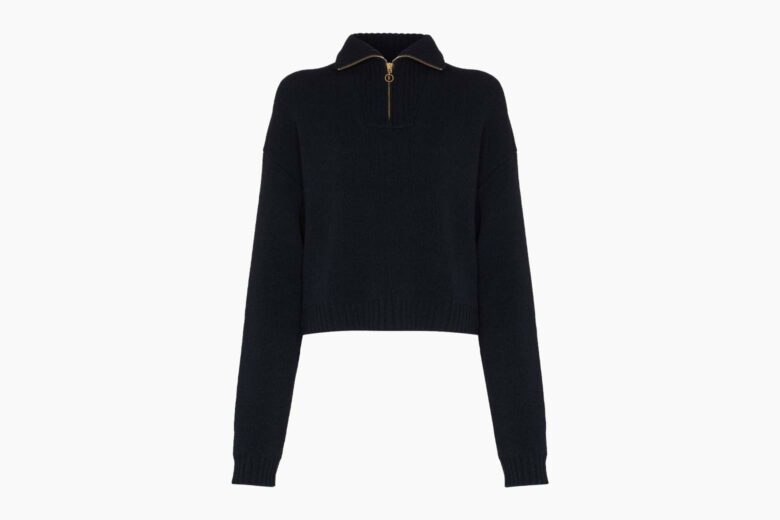 Flaunting a bit of '90s nostalgia, a half zip sweater always packs a punch. Even more so when it's cropped. The Kira by Nanushka is exactly that but with an extra touch of elegance and sophistication. Sustainably sourced, the Merino wool and cashmere blend comes in a soft midnight hue, making it the perfect addition to your collection of cute Winter sweaters.
| | |
| --- | --- |
| Best for: | Where y2k and elegance merge. |
| Colors: | Navy |
Gucci Double G: Best long sweater for women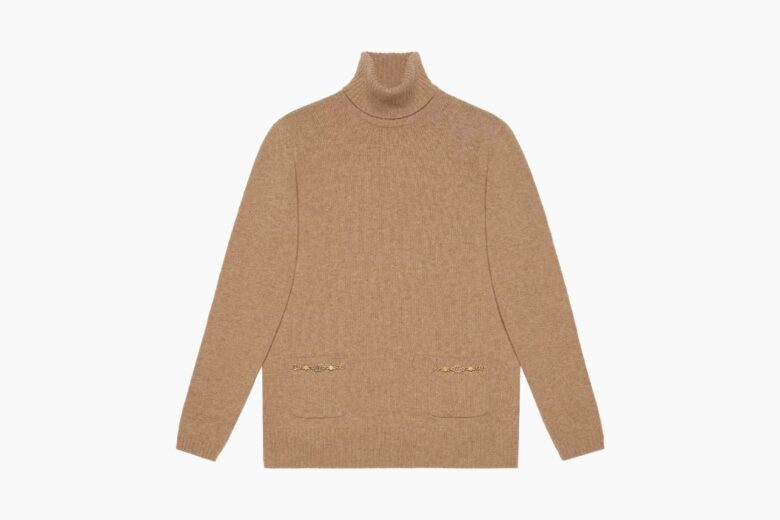 Grandpa style long sweaters for women are all the rage. But naturally, Gucci's rendition comes with an added air of sophistication—and the iconic Double G hardware, of course. This time the brand's signature emblem is found on a gold tonal chain at the pockets. And set against this soft camel cashmere silhouette, it's a match made in heaven.
| | |
| --- | --- |
| Best for: | Understated opulence. |
| Colors: | Camel |
Joseph Cashair: Best lightweight sweater for women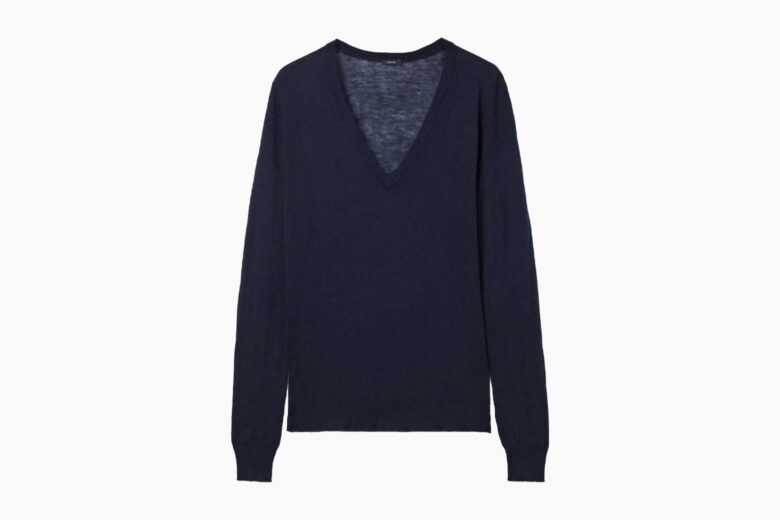 We love a light sweater for when temperatures begin to turn in the evening. And this one by Joseph is exactly why. Made from cashmere, it's warm enough to beat the breeze, but also easy to wear over your shoulders or pack in a bag. The neutral colors keep them endlessly versatile and easy to pair, imploring you to add one (or two) to your rotation of Summer sweaters for women.
| | |
| --- | --- |
| Best for: | Adjusting to volatile temperatures. |
| Colors: | Navy, Black, White + More |
Anine Bing Sydney: Best oversized thick sweater for women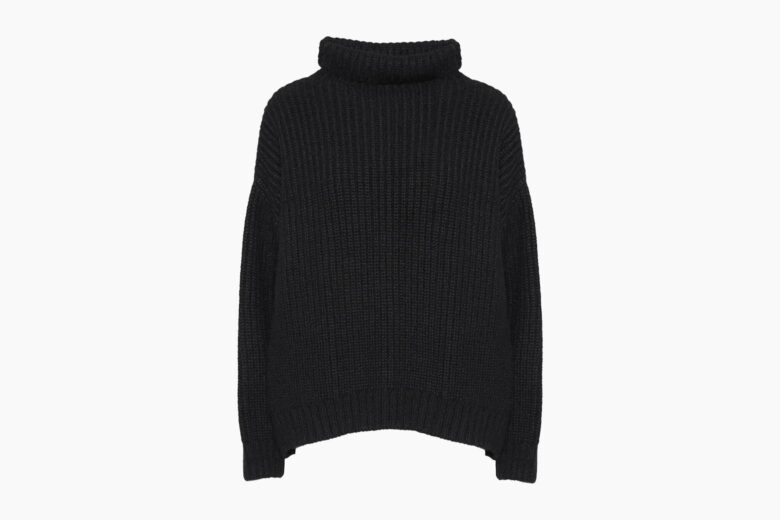 As one of our best warm sweaters for women, Anine Bing's rendition of the oversized sweater is effortlessly polished. The funnel neck, alpaca wool and vertical cardigan stitch add an air of elegance and sophistication to the nonchalant style. Pair this thick sweater with chic ankle boots or your most comfortable flats to seize the day with stylish comfort.
| | |
| --- | --- |
| Best for: | Oversized yet on point. |
| Colors: | Black, Olive, Camel + More |
Allude: Best ribbed sweater for women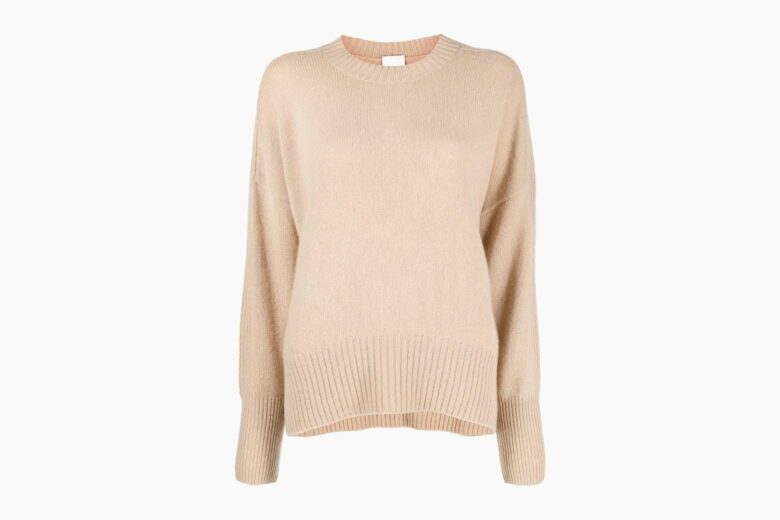 Renowned for their contemporary cashmere knits, Allude has many cute sweaters to choose from. But this ribbed rendition is by far our favorite. The soft, beige fine knit and feminine crewneck speak to an endless stream of styling options. While the refined ribbed detailing alludes to the brand's impeccable attention to detail.
| | |
| --- | --- |
| Best for: | Alluding to added luxuries. |
| Colors: | Beige |
Asos Design: Best chunky women's white sweater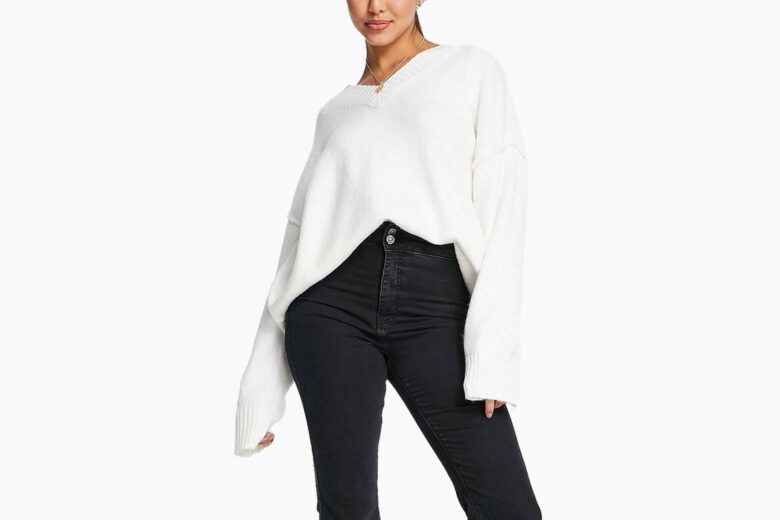 According to our Instagram feeds, chunky is in. And we're here for all of it—including chunky knits. We especially love this women's white sweater by Asos Design. Contrast it with black denims and comfortable boots in Winter. Or show off your sun-kissed skin with lighter hues at the start of Fall.
| | |
| --- | --- |
| Best for: | Contrasting sun-kissed skin. |
| Colors: | White |
Brunello Cucinelli: Best knit sweater for women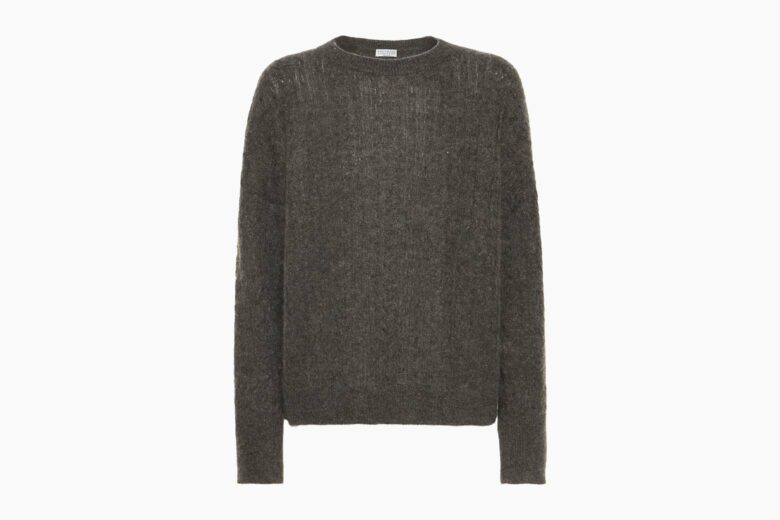 A timeless classic, Brunello Cucinelli's cable knit sweater is a failsafe addition to your collection of cute sweaters for women. Made in Italy, the Mohair Blend sweater epitomizes the luxurious finesse inherent to Italian fashion. While the dark gray hue is an investment into a myriad of new outfit options. Solidify your move against fast fashion with this ageless sweater.
| | |
| --- | --- |
| Best for: | Defying fickle trends. |
| Colors: | Dark Gray |
Jonathan Simkhai: Best fisherman's sweater for women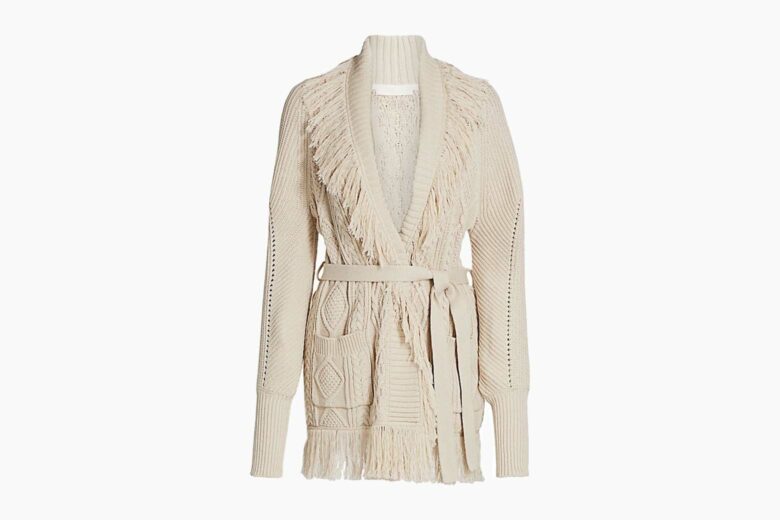 Renowned for hitting the elusive sweet spot between masculine strength and feminine eloquence, Jonathan Simkhai creates clothing for the modern woman. And all modern women need this classic cable knit sweater. Style it with the luxury label's matching brown knit skirt and high rise boots. Or dress it down with casual denims and chunky sneakers. You can't go wrong.
| | |
| --- | --- |
| Best for: | Reeling in timeless trends. |
| Colors: | Brown |
Toteme: Best striped pullover sweater for women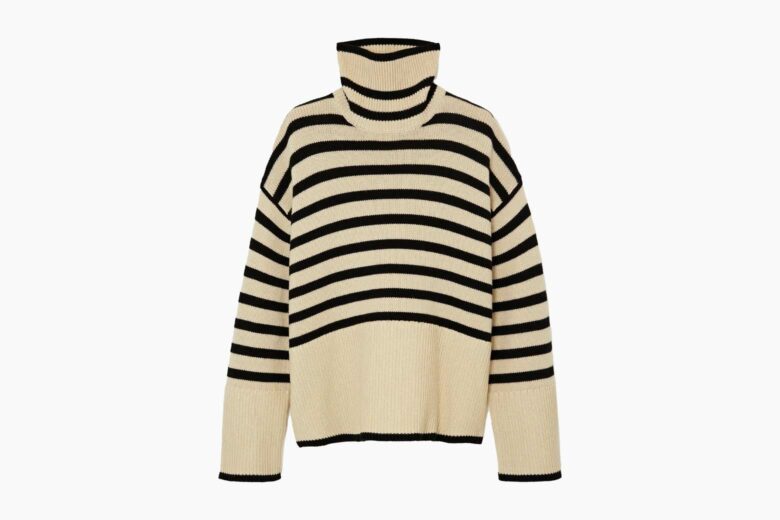 For the days we feel like dressing like a French girl, Toteme is our go-to. And in the Fall, there's no easier way to achieve a tres chic aesthetic than pulling this striped sweater over any ensemble. Whether you opt for black stripes on beige or beige stripes on black, the subtle color combination and turtleneck silhouette exude nonchalant elegance. Now all you need is a pair of pumps, and you're all set.
| | |
| --- | --- |
| Best for: | Change your stripes—and make them stylish. |
| Colors: | Black & Beige |
Nili Lotan: Best cardigan sweater for women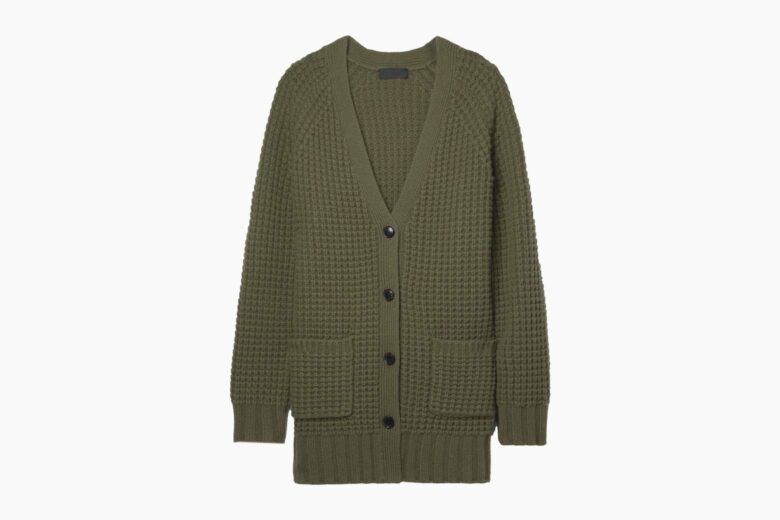 While cardigan sweaters for women typically have a reputation for being conservative, you wouldn't find the Arlo cardigan by Nili Lotan in your grandma's wardrobe. The army green hue gives it a touch of military strength. While the soft cashmere fabric and elongated silhouette exude slouchy elegance. Perfect for casual Fridays or lying low, this cardigan sweater is guaranteed to receive a lot of wear.
| | |
| --- | --- |
| Best for: | Not your grandma's cardi. |
| Colors: | Army Green |
Varley Delfern: Best zip cotton sweater for women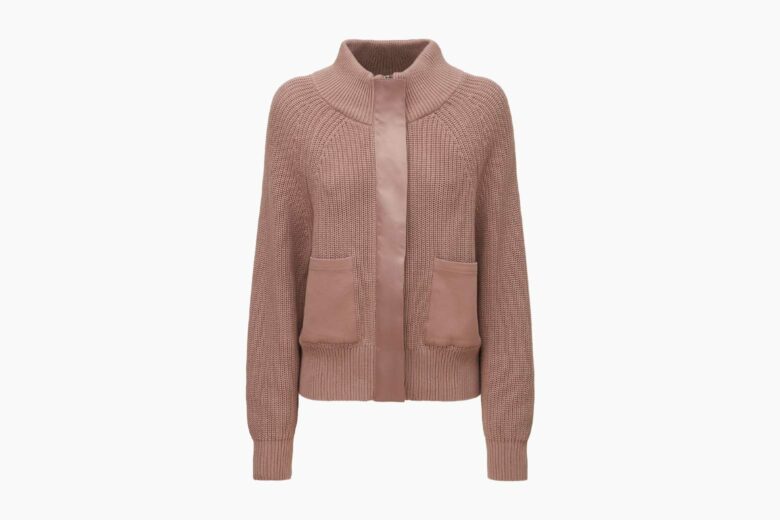 Reminiscent of delicate ballerina styles, Varley's pink sweater is adorned with satin accents. Contrasted against the chunky cotton knit, oversized silhouette, and sporty zip, the feminine details add an air of elegance to a sporty aesthetic. And layered over your yoga tights and sneakers, you could live in workout wear without anyone thinking twice.
| | |
| --- | --- |
| Best for: | Straight from the studio to school drops. |
| Colors: | Pink |
Anthropologie: Best vest sweater for women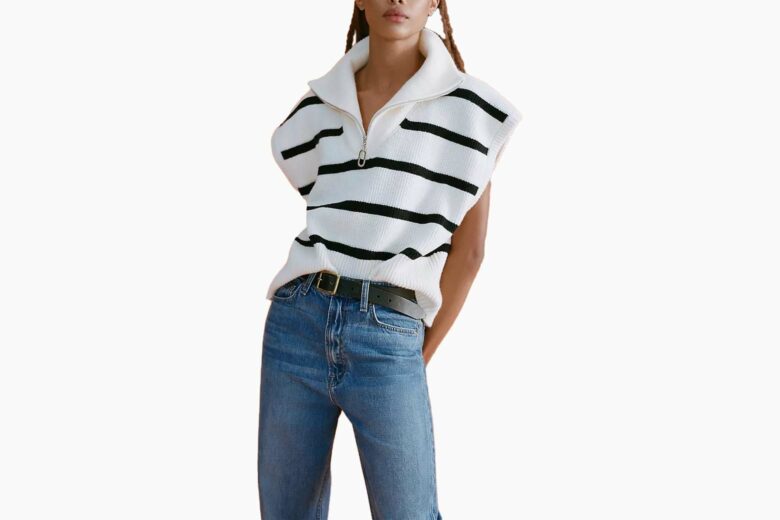 With the versatility of a vest and snug appeal of a sweater, this sweater vest by Anthropologie is the ultimate seasonless staple. The exaggerated sleeve openings, wide stripes, and three quarter zip give it a preppy feel. Opt for white Summer sweater with black stripes to keep your capsule wardrobe options open. Or opt for a stunning shade of Jade green with white stripes to enhance the streetwearification of a prepster classic.
| | |
| --- | --- |
| Best for: | Cricket inspired; It-Girl endorsed. |
| Colors: | White and Green |
Khaite Jo: Best polo sweater for women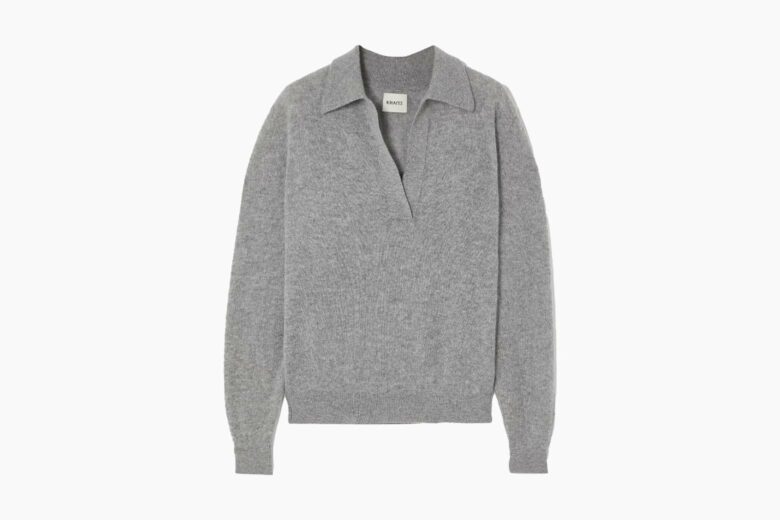 Judging by our social media feeds, the polo sweater is obviously in. And whilst the equestrian-inspired style is a throwback to the aughts, this modern interpretation by Khaite embodies perfectly balanced simplicity. The light gray cashmere blend is sumptuously soft and endlessly versatile. And the classical collar and slouchy fit speak to our love for polished athleisure looks.
| | |
| --- | --- |
| Best for: | Flying high in fashion circles. |
| Colors: | Light Gray |
IRO Dinabe: Best women's wool pullover sweater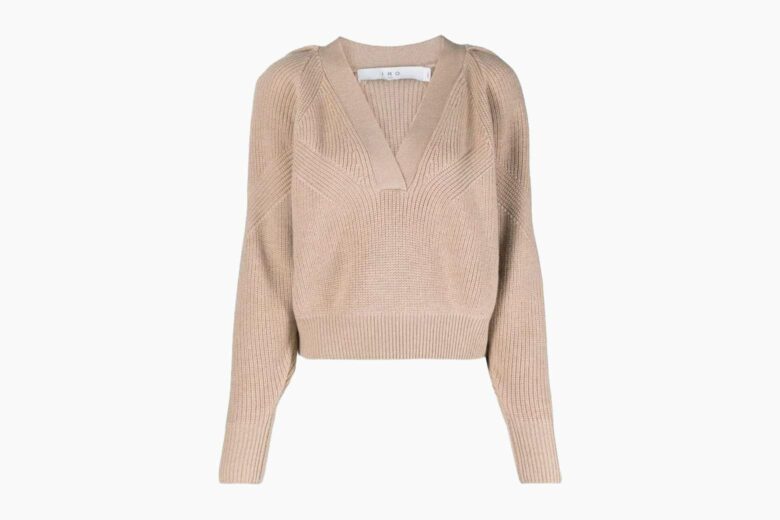 Fusing casual wear with luxury, IRO manifests what it is to be a Parisian woman. And whilst a woolen pullover sweater epitomizes homely comforts, this brand's high-quality iteration turns it into a piece that can be worn anywhere and everywhere. The champagne hue can be dressed up or down. Although we especially love this sweater paired with a mini skirt and high-rise boots for an elevated take on a relaxed garment.
| | |
| --- | --- |
| Best for: | Bonjour casual chic comforts. |
| Colors: | Black, Champagne |
Pilcro: Best cutout women's sweater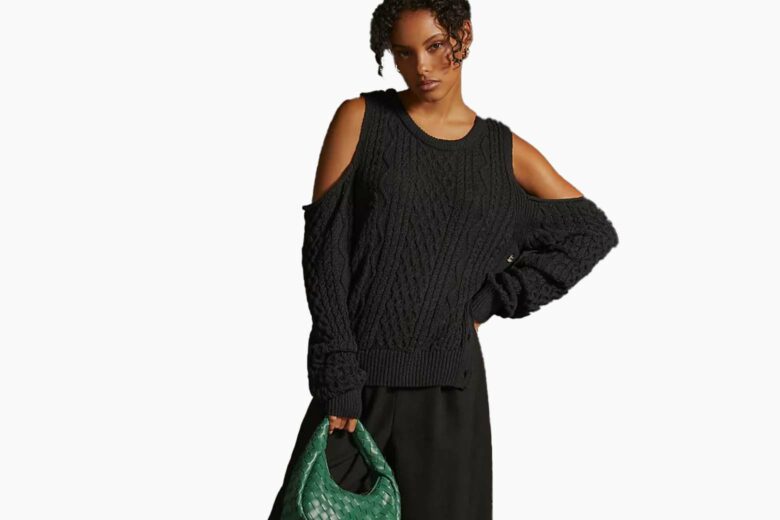 Trust Pilcro to elevate your classical cable knit with sultry cutouts. And once you see the result, you'll be pleased they did. The elegant take on a fisherman's sweater (aka Aran jumper) features a detailed knit with buttons on the side. We particularly love this white Summer sweater paired with ivory pants for a deliciously cozy brunch. While the black iteration is well suited to casual evening wear.
| | |
| --- | --- |
| Best for: | Cutting to the chase—in style and sophistication. |
| Colors: | Black and White |
Frequently asked questions about the best sweaters for women