What happens when expert Swiss horological know-how meets a passion for high culture and ancient artisan craftsmanship? You get Vacheron Constantin. 
One member of Switzerland's Holy Trinity of world-class watchmakers, Vacheron Constantin timepieces have been gifted to aristocrats, fought over by collectors, gasped over by reporters, and obsessed over by watch aficionados around the world. To say Vacheron Constantin has watchmaking down to a fine art is to underplay the brand's imaginative brilliance and creative genius. For Vacheron Constantin, watchmaking is a fine art.
At a glance
| | |
| --- | --- |
| | |
| Industry: Watches | Founded: 1755 |
| Headquarters: Switzerland | Founder: Jean-Marc Vacheron |
| Watch Collections: pocket watches, dress watches, jewelry watches, women's watches, and pilot watches | Parent organization: The Richemont Group |
| Estimated Annual Revenue: $500 million – $1 billion USD | Website: vacheron-constantin.com |
Vacheron Constantin price
How much does a Vacheron Constantin cost?
The starting price for an entry-level Vacheron Constantin Patrimony is $20,100. Prices for the women's watches in the Égérie collection start at $19,700 while a Fiftysix timepiece can retail for $12,300. For a Vacheron Constantin Overseas quartz movement, you're looking at $15,000. Meanwhile, the brand's highly decorative Métiers d'Art timepieces start at over $100,000.
What is the most expensive Vacheron Constantin watch?
The most expensive Vacheron Constantin watch is the Kalista jewelry watch created in 1979. Now worth around $11 million, it's encrusted with 118 emerald-cut diamonds and took 6,000 hours to make. It was the most expensive watch ever created at the time.
What is the cheapest Vacheron Constantin watch?
The cheapest Vacheron Constantin watch is a Fiftysix, whose starting price is around $12,300. An Égérie women's watch retails for $19,700 minimum. A Malte manual-wind is around $21,100 while you're looking at $20,100 for a Patrimony. The Vacheron Constantin Overseas price starts at $15,000.
Does Vacheron Constantin hold value?
Compared to many luxury watch brands, a Vacheron Constantin watch is good at holding its value. In fact, in recent years, Vacheron Constantin men's watches have noticeably appreciated in value at auction sales. This makes them a relatively safe investment.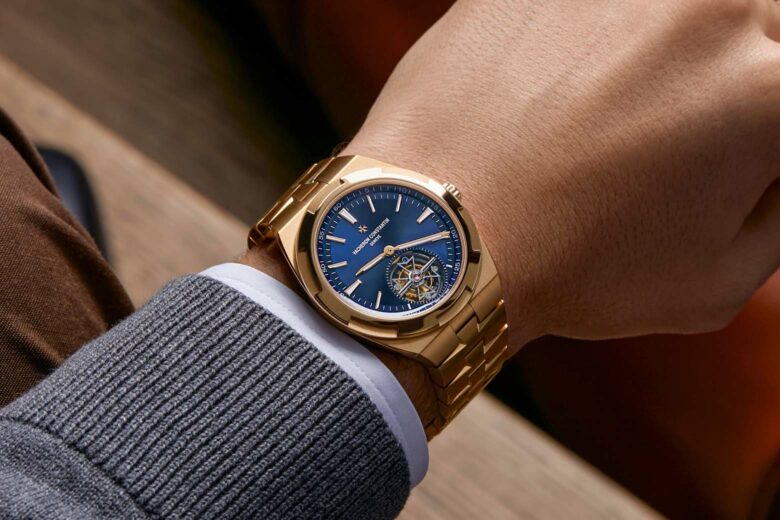 About the brand
History of Vacheron Constantin
Vacheron Constantin was founded in 1755 in Geneva by Jean-Marc Vacheron, making it the oldest watch company in continuous operation in the world. Vacheron Constantin watches have been in production, uninterrupted, for more than 260 years.
The company survived the turbulence of the French Revolution, and In 1819, Vacheron's great grand-son, Jacques Barthélémi Vacheron, formed a partnership with François Constantin, who is behind the company's famous motto, 'Do better if possible, and that is always possible.'
Perfectionism continued to drive the company and, with an elite clientele around the world including in Brazil, Cuba, and the US, it quickly built a reputation for creating some of the most beautiful and complex timepieces on the market.
In 1880, the company registered the Maltese Cross as its trademark, which has since inspired designs for timepieces such as the Malte collection.
The brand's first women's wristwatch was released in 1889 and, in 1903, the company released a pilot watch commissioned by the Wright brothers to help them on their flight missions.
In 1912, Vacheron Constantin launched the tonneau-case, which was an instant hit, while in 1935, Prince Faruq, the future king of Egypt, received the 'La Farouk' watch, one of the most complicated pocket watches of the 20th century.
In 1990, The Richemont Group—which also owns watch brands like Jaeger LeCoultre and IWC Schaffhausen—took over the company and continued to promote Vacheron Constantin's unique creativity. 
The company has been making exceptionally complex and intricate timepieces well into the 21st century. In 2005, the Grand Prix d'Horlogerie de Genève awarded the "Aiguille d'Or" Grand Prize to the brand's Tour de l'Île watch.
Interesting facts about Vacheron Constantin
Other patrons of Vacheron Constantin include the Shah of Iran, the Duke of Windsor, the Maharajah of Patiala, Louis XIV, and Czar Alexander II.
For its 260th birthday, Vacheron Constantin presented reference number 57260, considered the most complicated watch ever made with 57 different complications.
Vacheron Constantin's Celestia Astronomical Grand Complication 3600 features three different time zones which are driven by three dedicated gear trains.
In 1979, the company released the Kallista, a truly extraordinary jewelry watch featuring 118 diamonds.
Compared to other luxury watch companies like Rolex, Vacheron Constantin has a relatively small production, creating between 20,000 and 25,000 timepieces per year.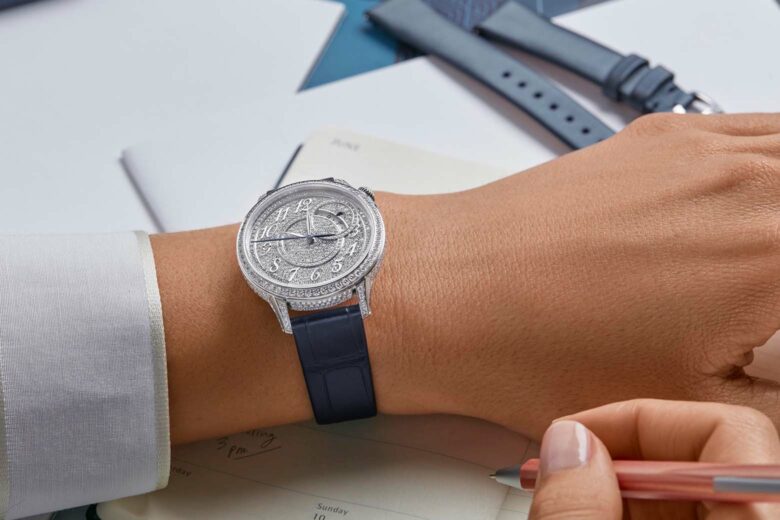 Vacheron Constantin product range
Vacheron Constantin's range of timepieces is mostly focused on dress watches. These elegant timekeepers vary from the highly decorative and eye-catching Métiers d'Art collection and the Historiques series (re-creations of the brand's most iconic watches), to Égérie, a collection of women's watches, and the more modern watch series, Fiftysix.
In addition, you have the sporty Vacheron Constantin Overseas watch, minimalist and casual, as well as the Patrimony with its slender case and understated luxury.
Then there are collections like the Vacheron Constantin Traditionelle or Malte, noteworthy for their extraordinarily complex mechanics, or the Heurs Créatives, which are more like jewelry watches than conventional dress watches.
Signature materials and craftsmanship
Vacheron Constantin's commitment to artistic detailing is one of the major factors differentiating the brand from its competitors. This includes everything from open-worked watches to gem-set or guilloché dials created with a 100-year-old rose-engine lathe.
These centuries-old artisan techniques also include enameling, such as Grand Feu, cloisonné or champlevé. There's also the plique-à-jour enamel backgrounds found, for example, on the Métiers d'Art Les Aérostiers dials, which involves soldering delicate individual metal strips together to create translucent enamel, like miniature stained glass windows.
Les Cabinotiers is the company's bespoke service where its master craftsmen create custom-made timepieces to the demanding briefs of its exclusive clients. They also release an annual collection of one-off creations.
Vacheron Constantin is a member of the Responsible Jewellery Council to ensure that any precious materials are sourced in a responsible and ethical way. All diamonds are purchased from suppliers who apply the World Diamond Council System of Warranties to ensure they have been purchased from sources not involved in funding conflict.
The company also publishes its Supply Chain policy to promote greater transparency about the sourcing of its parts and materials and offsets any carbon emissions with carbon credits towards ecological projects.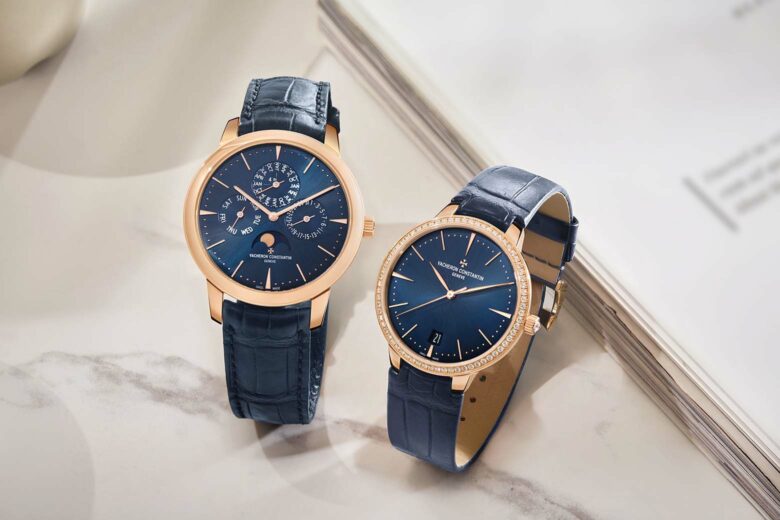 Where is Vacheron Constantin made?
Vacheron Constantin has three main sites. The Maison is located in downtown Geneva. This is home to a museum (the Vacheron Constantin Heritage Center) and brand boutique. The brand workshops are at the Vallée de Joux. And the international headquarters are located in Plain-les-Ouates. The company's Manufactures and headquarters are all powered by 100% renewable energy.
Brand values
| | |
| --- | --- |
| Vegan options: | No |
| Carbon-neutral: | No (but partial offset) |
| Gives back: | Yes |
Vacheron Constantin watches
Égérie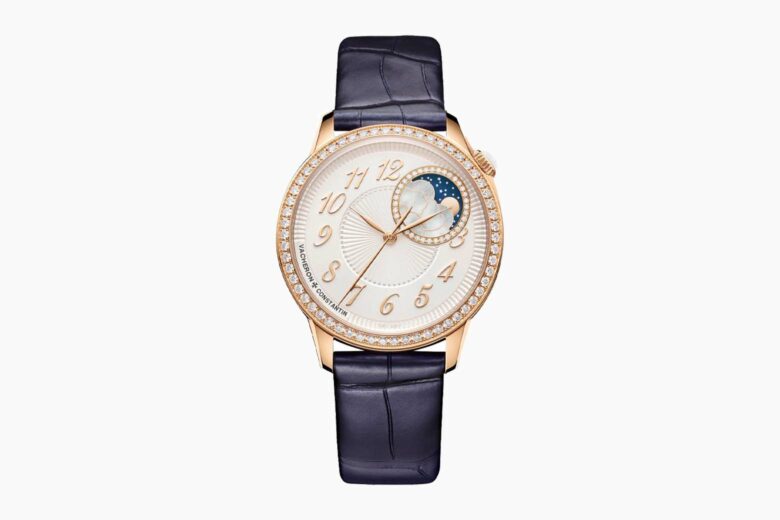 A collection dedicated to Vacheron Constantin's female wearers, Égérie represents a meeting point between haute couture and haute horlogerie. These stunning timepieces showcase the brand's jewel-setting abilities as well as its immense technical skill. Styles range from highly ornamental and opulent to more understated and elegant timekeepers. Case materials include pink gold, white gold, and steel, and there are metal, leather, and satin straps available.
| | |
| --- | --- |
| Price: | $19,700 – $79,000 |
| First release year: | 2020 |
| Current case size: | 30 mm – 37 mm |
| Movement: | Automatic and quartz |
| Water resistance: | 30 m |
| Crystal: | Sapphire |
Fiftysix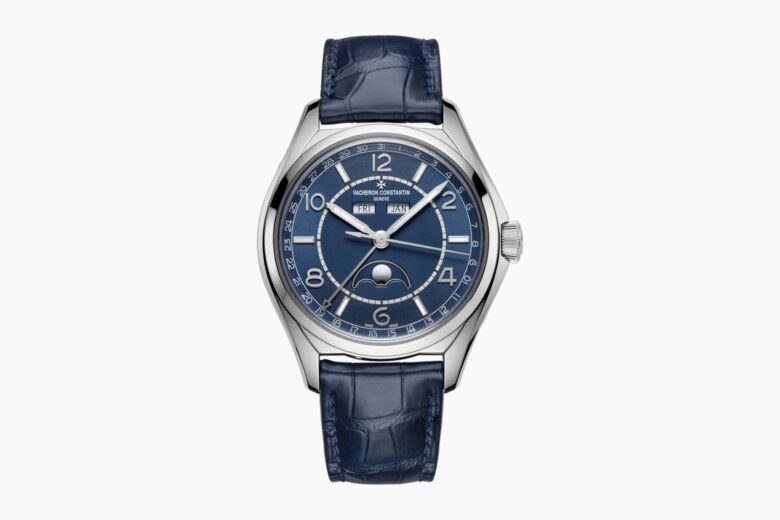 Possibly Vacheron Constantin's most modern and relaxed collection, the Vacheron Constantin 56 is a tribute to the legendary 1950s Reference 6073 while the case lugs evoke the arms of the Maltese Cross—the brand's symbol of excellence. In particular, note the oscillating mass in 22-carat pink gold on view at the back.
| | |
| --- | --- |
| Price: | $12,300 – $130,000 |
| First release year: | 1956 |
| Current case size: | 40 mm – 41 mm |
| Movement: | Automatic |
| Water resistance: | 30 m |
| Crystal: | Sapphire |
Heurs Créatives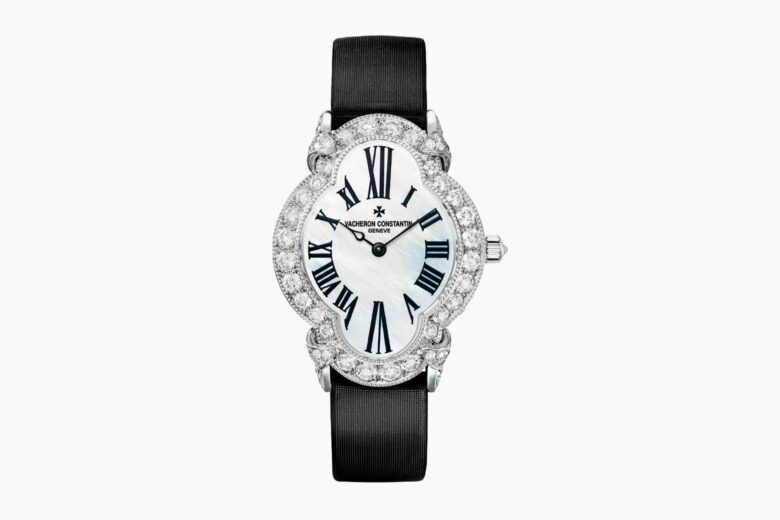 Inspired by the Vacheron Constantin women's watches developed during the Art Nouveau and Art Deco eras, as well as during the 1970s—periods marked by novel design trends—this collection is where some of the brand's outstanding creativity is best witnessed. A very limited collection, it's defined by its whimsical and playful feminine curves, avant-garde form, and exquisite gem setting. Look out for one particular model that is designed to resemble a belt.
| | |
| --- | --- |
| Price: | $58,500 – $69,000 and price on request |
| First release year: | 2015 |
| Current case size: | 41.25 mm x 25 mm or 36.2 mm x 26.5 mm; |
| Movement: | Manual |
| Water resistance: | 30 m |
| Crystal: | Sapphire |
Historiques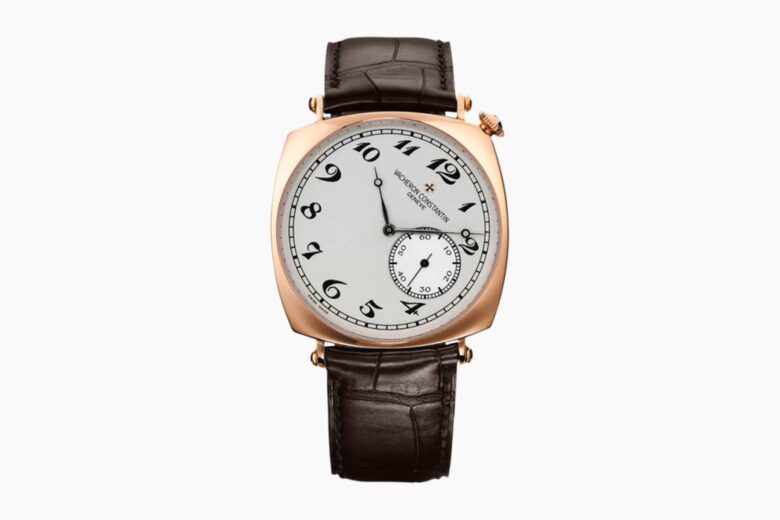 Modern-day reinterpretations of the brand's most iconic models, the retro-inspired Historiques collection resurrects timepieces of watchmaking legend. Reviving Vacheron Constantin's rich heritage is no mean feat, and these Vacheron Constantin watches are perfect for collectors and those who love antique timepieces. Note the American 1921, designed for the American market during the Roaring Twenties. Or there's the stunning reissue of the Jumbo 222 with its monobloc tonneau-shaped case.
| | |
| --- | --- |
| Price: | $21,900 – $69,000 |
| First release year: | 1989 |
| Current case size: | 36.5 mm – 40 mm |
| Movement: | Manual and automatic |
| Water resistance: | 30 m |
| Crystal: | Sapphire |
Malte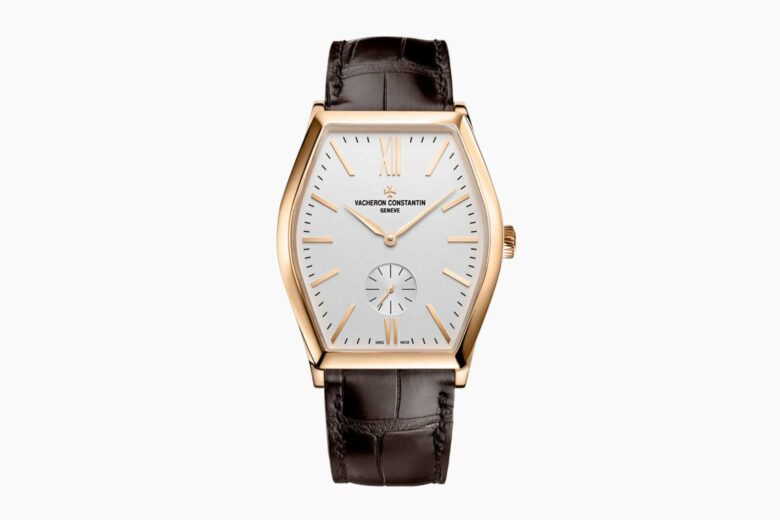 The Maltese Cross has become the Vacheron Constantin logo and is the inspiration behind this series, making the collection one of the brand's most prestigious offerings. The technically awe-inspiring mechanics contrast with the discreetly curved tonneau-shaped case, while dials range from show-stopping skeletonized wizardry to low-key yet luxurious simplicity.
| | |
| --- | --- |
| Price: | $21,100 – $39,000 and price on request |
| First release year: | 1912 |
| Current case size: | 34.4 x 28.4 mm, 42 mm x 36.7 mm or 41.5 mm x 38 mm |
| Movement: | Manual |
| Water resistance: | 30 m |
| Crystal: | Sapphire |
Métiers d'Art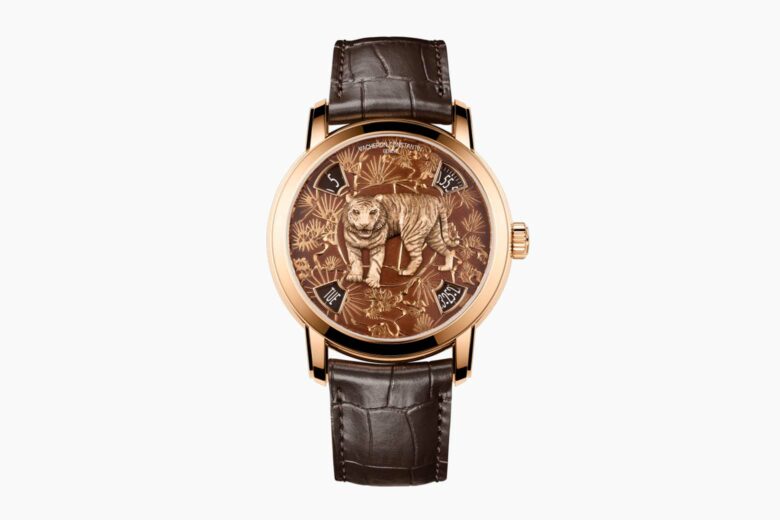 A celebration of Vacheron Constantin's mastery and championing of ancient decorative techniques, the Métiers d'Art collection constitutes some of the brand's most visually spectacular pieces. Inspired by art, history, and culture, some models have been made in collaboration with the Louvre and pay tribute to some of the world's most iconic artwork. Then there are the miniature engraved hot air balloons of the Les Aérostiers timepieces. Or the tiny animals that celebrate the Chinese calendar with a new release each year.
| | |
| --- | --- |
| Price: | $108,000 – $131,000 and price on request |
| First release year: | 2004 |
| Current case size: | 40 mm – 42 mm |
| Movement: | Automatic |
| Water resistance: | 30 m |
| Crystal: | Sapphire |
Overseas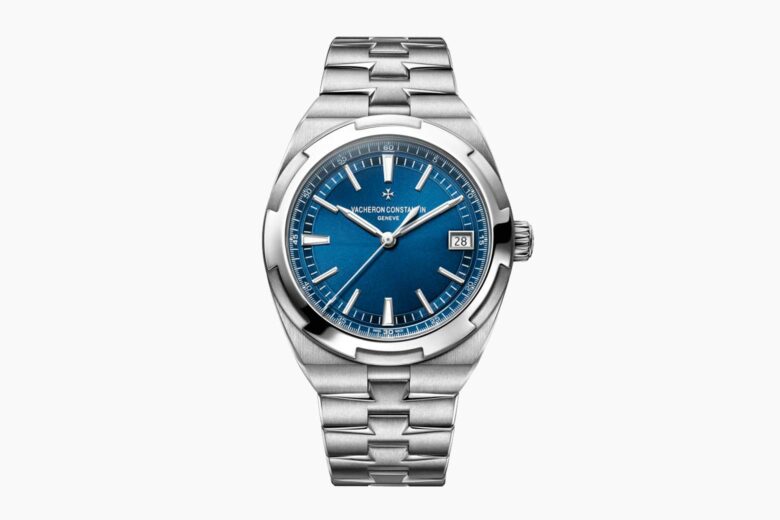 Inspired by travel, this superbly cosmopolitan timepiece is both elegant and casual, ideal for daily wear. Echoing the luxury sports watches that were all the rage during the 1970s, it's minimalist and no-nonsense, with an ergonomic design that feels practical while also being stylish and technically impressive.
| | |
| --- | --- |
| Price: | $15,000 – $115,000 |
| First release year: | 1996 |
| Current case size: | 33 mm – 42.5 mm |
| Movement: | Automatic and quartz |
| Water resistance: | 50 – 150 m |
| Crystal: | Sapphire |
Patrimony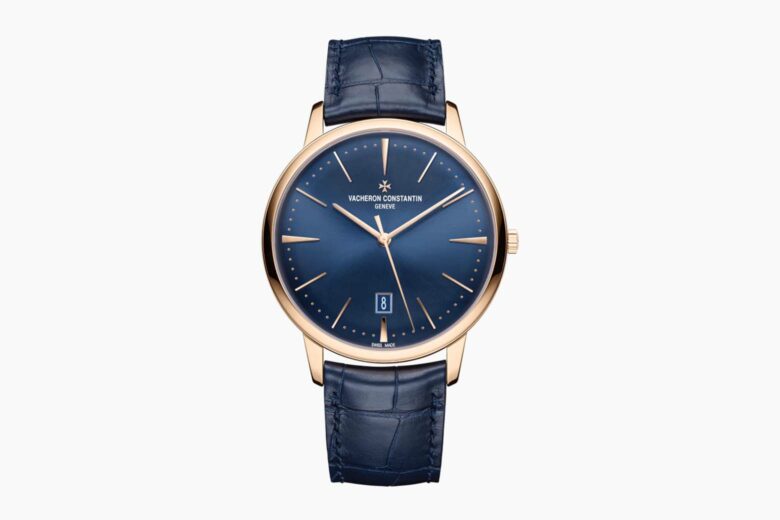 Arguably one of watchmaking's finest dress watches, the Patrimony is pure style. Minimalist and refined, with its sleek lines, graceful curves, and slender case (some of which are only 36 mm), it recalls the effortless elegance of the 1950s and offers pared-back perfection for those who want to make a quiet statement. Particularly noteworthy is the Patrimony Contemporaine Ultra-Thin whose caliber 1731 is just over 8 mm thick.
| | |
| --- | --- |
| Price: | $20,100 – $84,000 |
| First release year: | 2004 |
| Current case size: | 36 mm to 42.5 mm |
| Movement: | Automatic and manual |
| Water resistance: | 30 m |
| Crystal: | Sapphire |
Traditionnelle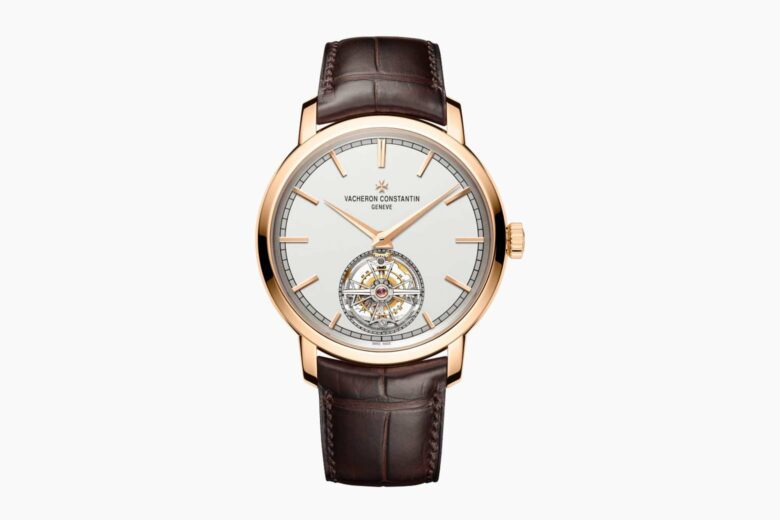 Where the Patrimony series is all 'less is more', the Vacheron Constantin Traditionelle watch collection is definitely 'more is more'. Not only does it showcase the brand's unrivaled mechanical discipline and rigor but these Vacheron Constantin watches are also aesthetically striking, exhibiting intricate and time-consuming decorative techniques. While there are some more understated 30 mm pieces, others are extravagant 43 mm creations in platinum or rose gold with column-wheel chronographs, perpetual calendars, and tourbillons.
| | |
| --- | --- |
| Price: | $18,400 – $131,000 |
| First release year: | 2007 |
| Current case size: | 30 mm – 43 mm |
| Movement: | Manual, automatic, and quartz |
| Water resistance: | 30 m |
| Crystal: | Sapphire |
Where to buy Vacheron Constantin
You can buy a Vacheron watch directly from the brand's e-commerce store. Or you can buy one in-person at one of their boutiques, listed here, where an assistant can help you with any questions. Other places to buy a Vacheron Constantin watch include trusted second-hand marketplace Jomashop or online retailers Mr Porter and FARFETCH where the authenticity of your timepiece can be guaranteed.
Vacheron Constantin shipping
For European Union countries, there are three delivery methods: Standard, Express, and Express Before Noon. For Switzerland, delivery is complimentary. Unfortunately, Vacheron Constantin doesn't offer shipping outside of the European Union and Switzerland. Jomashop, however, will ship internationally for a set fee of $150, and FARFETCH and Mr Porter charge different rates depending on the country.
Vacheron Constantin return policy
If there is any issue with your Vacheron watch, you can organize to have it returned or exchanged by contacting the concierge within 30 days of delivery. Return shipping is free of charge. All returns are subject to quality control. Exchanges are also possible at certain Vacheron Constantin boutiques, but you will only receive a refund in the form of credit. All watches are covered by a 2-year warranty.
For timepieces bought via Jomashop, there is a 3-day refund policy, FARFETCH accepts returns within 14 days, and Mr Porter allows returns within 28 days.
Vacheron Constantin customer service number
To contact Vacheron Constantin with a request for assistance, call the customer service department at +44 208 585 1755.
Vacheron Constantin social media profiles
Frequently asked questions about Vacheron Constantin watches
Is there a waiting list for Vacheron Constantin?
There is a waiting list for certain Vacheron Constantin watches. Contact a boutique and register your interest and they will tell you how long you need to wait, but it can sometimes be up to a couple of years. For more about the Swiss watch brand, see our guide to Vacheron Constantin.
Is Vacheron better than AP?
Vacheron is not necessarily better than AP, but they have a different design style. Both make seriously high-quality watches. Vacheron is better known in watchmaking circles while AP is a favorite among celebrities, especially rappers. 
What is the Holy Trinity of watches?
The Holy Trinity of watches is Vacheron Constantin, Audemars Piguet, and Patek Philippe. These Swiss watchmakers are also known as the Big Three. They have achieved this status thanks to their highly innovative timepieces and impeccable quality.
How much is the cheapest Vacheron Constantin?
The cheapest Vacheron Constantin watch is a Fiftysix. The starting price for a Vacheron Constantin 56 is $12,300. The cheapest Patrimony is $20,100, and the cheapest Overseas is $15,000. For more about Vacheron Constantin prices, see our guide.