As every modern-day minimalist knows, a classic white shirt thrown on over jeans, your favorite pencil skirt, or some flowy culottes, equals instant chic. There are few items in your wardrobe that possess anything near the power of the white button-down shirt. Except, perhaps a fresh white tee…
The perfect white shirt can take you from beachfront to business meeting, from school run to soirée, from date night to dancefloor. You get the idea. A chic white shirt is that friend whose conversation flows like milk and honey at any event, who simply makes you look good.
Whether you're seeking something silky, a tailored office shirt, a ruffled blouse, or a classic Oxford to infuse some serious style into your workwear, we've got the shirt for you.
Our carefully curated selection of women's white shirts will give you the perfect canvas on which to illustrate your gorgeous individuality. So, make sure you've got some clothes hangers free…
With these pieces, you're going to need them.
The 15 best white shirts for women
To help you find the shirt that's best for you, check our style guide to choosing the best white shirt for women after the list.
Cuyana Poplin: Overall best women's white shirt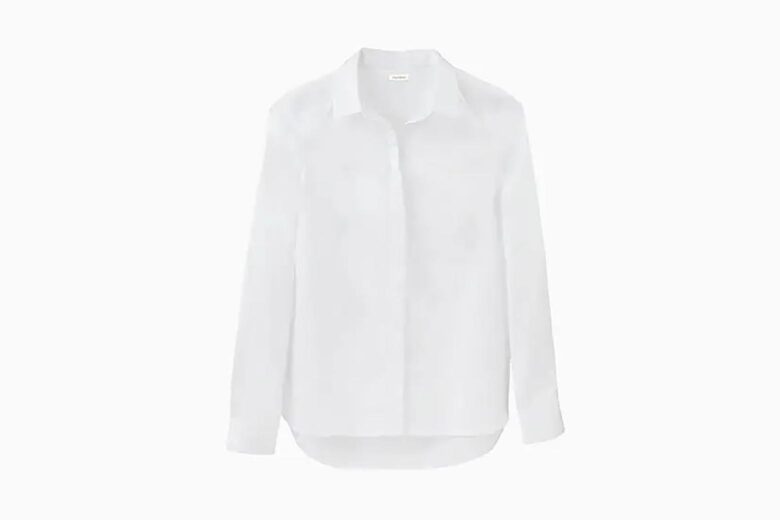 The Poplin Pleat-Back shirt by Cuyana is the ultimate white shirt. No exaggeration. Falling at the hip, this shirt embodies everything the perfect white shirt should be.
With subtle detail to elevate the classic style, the Turkish Poplin shirt remains timeless. The concealed button front is offset by the brand's signature gold-tone button, adding an architectural finish to the inverted pleat at the back. Heads will turn when you're walking past, and with this gold button glinting away, they'll certainly have something to look at.
Cuyana simply doesn't do fast fashion. Their pieces are designed to transcend fickle trends, with the promise of perpetuity. The Poplin Pleat-Back shirt is the epitome of this. From café to cocktail bar, this shirt will see you through your day in style.
Best for: Women who work hard and play hard, and desire a gorgeous white shirt to come for the ride.
Saint Laurent: Best designer white shirt for women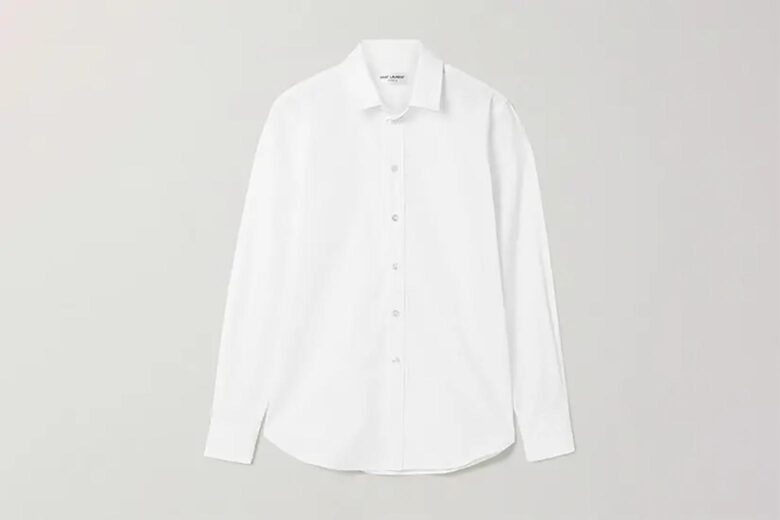 With something as simple as a white button-down shirt, the devil is in the details. Saint Laurent's White Cotton-poplin shirt is resplendent in its artful design. Crafted in Italy with 100% cotton, the quality of this white shirt does the talking, with no embellishments necessary.
The crisp cotton poplin is complete with a curved hem, so tucking it into your favorite tailored trousers or high-waisted jeans is effortless. Look perfect, fresh, and sophisticated with the sleeves casually rolled up, or leave them down for a more put-together vibe.
The non-stretch fabric only serves to heighten the savoir-faire poise of the Saint Laurent White Cotton-poplin shirt, striking the perfect balance between effortless and elegance.
Best for: Women who dress to impress, whether they're lunching or interviewing.
Alex Mill: Best value women's white shirt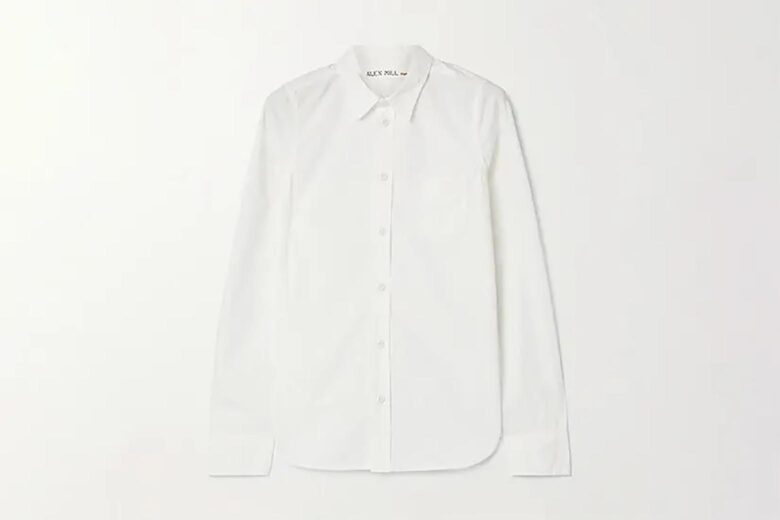 From Alex Mill's staple collection, the white Bobby cotton-poplin shirt is a 10/10 when it comes to value. Cut for a slim fit, the flattering shape accentuates your figure, hinting at femininity while exuding androgynous charm.
The small chest pocket adds to the slightly utilitarian vibes, while the simplicity of this button-down shirt allows plenty of room for jazzing up or playing down.
Perhaps the best part is this: Like a great whiskey, the Alex Mill Bobby shirt genuinely gets finer with age. The brand says the 100% cotton shirt will look better and better, the more rumpled and 'lived-in' it gets. If only all clothes were like that.
Best for: An affordable blank (but like, totally chic) canvas from which to build your next killer outfit.
Stella McCartney: Best sleeveless white shirt for women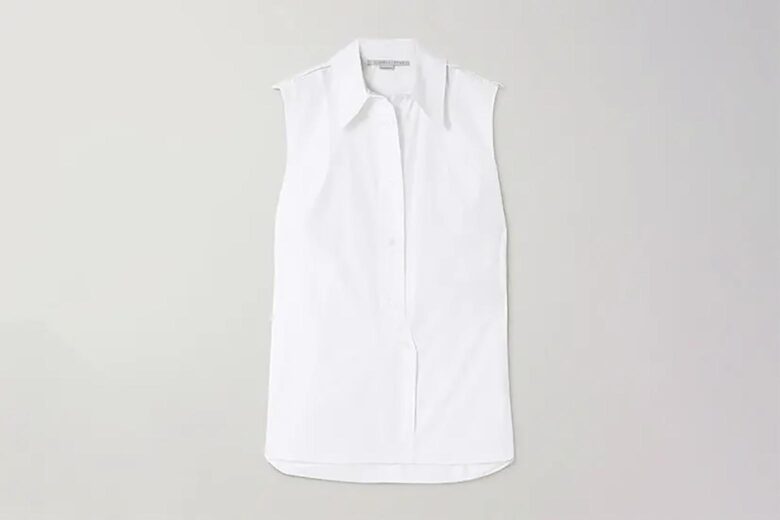 While a long-sleeved white shirt is a bonafide wardrobe staple all year round, it's definitely wise to have something a little more summery for warmer days or for layering.
The Talla cotton-poplin shirt by Stella McCartney is a perfect blend of smart and relaxed.
Sure, the classic shoulder epaulets and the sharp collar totally mean business. On the other hand, though, the looser fit and lightweight fabric make for unmatchable comfort.
So, whether you're doing overtime at the office then heading straight to a bar (without needing to change, may we add), or just chilling on the sundeck, the Stella McCartney Talla cotton-poplin shirt should be your go-to.
The versatile sleeveless shirt can be thrown on over a retro one-piece on a scorching summer's day, or paired with PU leggings and statement ankle boots for a night on the town.
Best for: A shirt which, what it lacks in sleeves, totally makes up for in sass.
Equipment: Best short-sleeve women's white shirt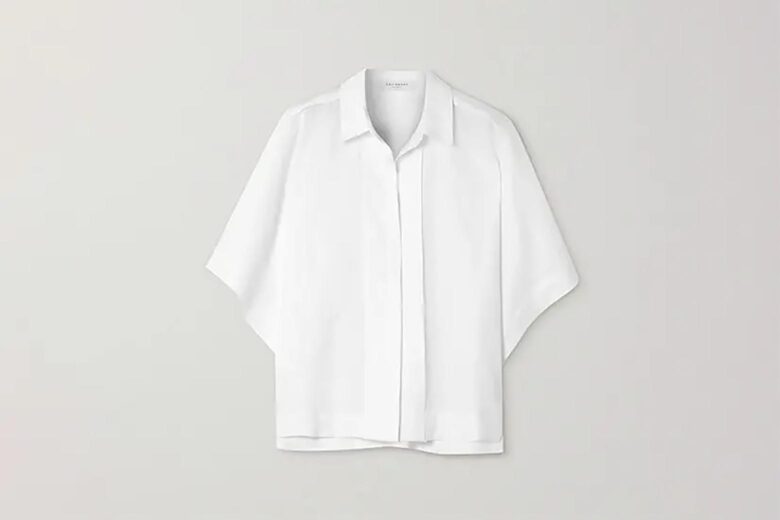 There's something so 'Grecian isle' about the Chaney linen shirt by Equipment. The generous elbow-length sleeves on this shirt, complete with a camp collar and loose silhouette, just begs to be paired with a deep tan and sun-kissed locks.
Feel light and breezy in the bright white, 100% linen. The concealed button-front adds to the laid-back feel of the shirt, which can be tucked into your favorite pair of tailored shorts and oversized slouch bag for city-chic style (if, unfortunately, you're not catching rays under the Aegean skies).
It's those billowing sleeves that do it for us. They're the statement which elevates the Equipment Chaney linen shirt from 'oh-that's-nice' to #stylegoals.
It's not just for summer, either. No, the Equipment Chaney linen shirt will work wonders layered under a classic trench or an oversized winter knit.
Best for: A short-sleeve shirt that's as relaxed as a Sunday morning in springtime.
Alexander Wang: Best cropped white shirt for women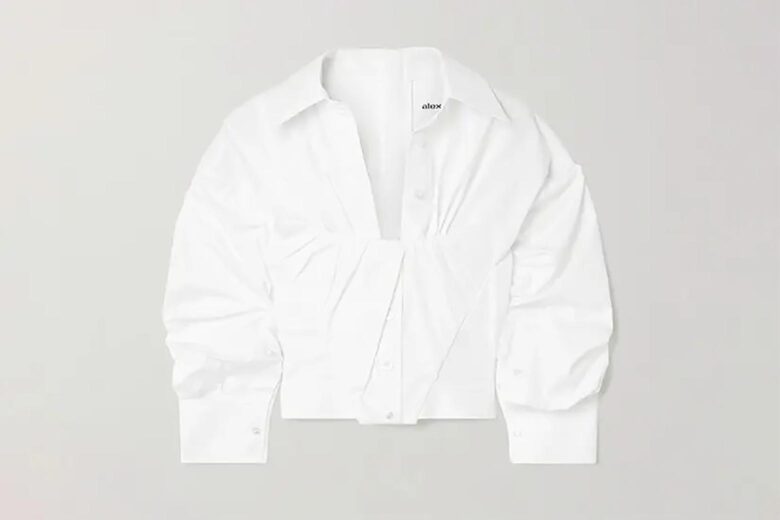 There are white shirts, then are Alexander Wang white shirts. Emblazoned with the designer's signature deconstructed style, the shirt is designed as a button-down tucked into a bustier.
No doubt, the masterful origami is an absolute show-stopper. The structured, powerful silhouette with capacious sleeves and internal boning is as striking as it is graceful.
Of course, it's already gorgeously cropped. So, matching the Alexander Wand gathered cropped cotton-poplin shirt with a high-waisted skirt or tailored trousers is easy-as-pie, while a sleek jacket, left open, will draw the eye to the stunning front detail.
The crisp cotton is nipped in, and neatly tucked in all the right places for a tailor-made fit. Plus, the non-stretch cotton is kept close to your body with discrete hook-and-eye fastenings at the back. Simply put, this fitted shirt will fit you like a glove.
Best for: A powerful white shirt that you (and everyone else) simply won't stop looking at.
Thom Browne: Best white Oxford shirt for women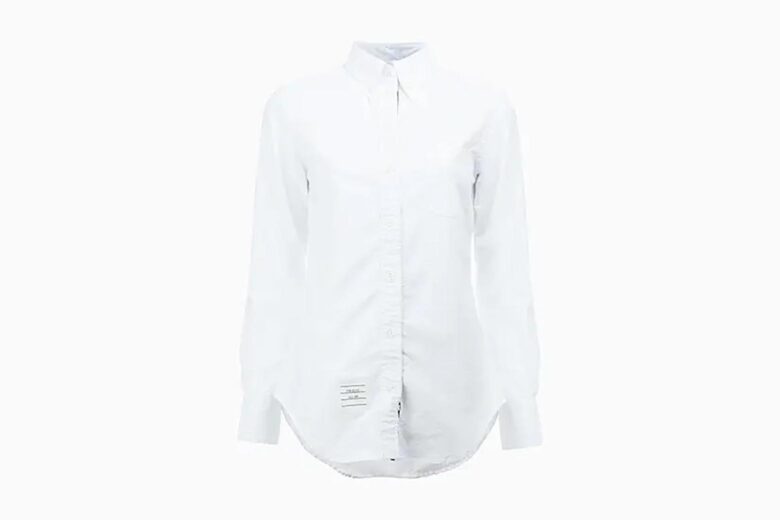 The Oxford shirt by Thom Browne is the ultimate of women's button-down dress shirts. Woven from 100% cotton, it's the minimalist features of this shirt which make it an absolute wardrobe staple.
The long sleeves, button-down collar, button cuffs, and patch pocket, cooperate with the curved hem to present this women's Oxford shirt as the best of its kind.
Yes, it's understated. The attention to detail speaks for itself. This is the shirt that'll remain at the forefront of your wardrobe for many, many years to come. Dress it down with jeans, or make it a key feature in your tailored suit– the Oxford shirt is nothing if not versatile.
Simply put, you are one Thom Browne Classic Oxford shirt away from looking polished, pressed, and perfect.
Best for: Dressing clean and classic, with no hassle.
Totȇme: Best oversized women's white shirt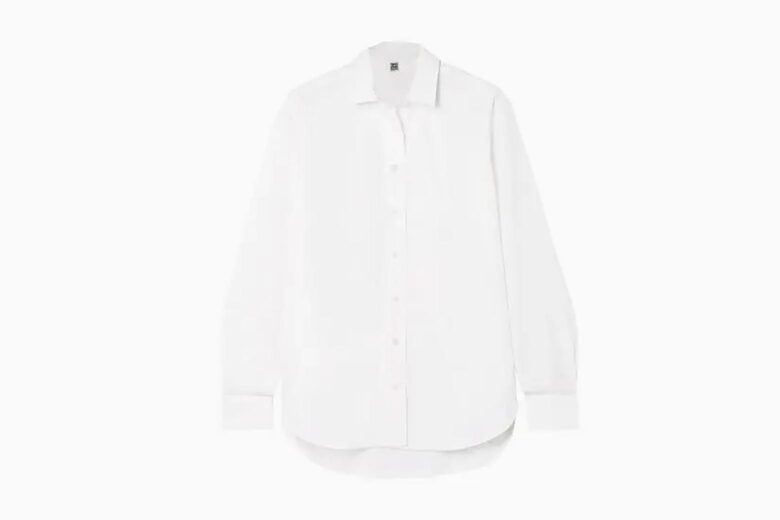 Seeking the perfect white shirt which is both nonchalant and refined? This cotton shirt by Totȇme is just what you're looking for. Sometimes, being constricted in a super-fitted shirt can only make you feel self-conscious, not to mention the constant need to straighten and rearrange your outfit.
Fortunately, there's nothing more quintessentially effortless than an oversized white shirt.
It's super tempting to pair this with some equally oversized sunnies, grab your yacht keys (if only), and head to the Riviera. Hey, a girl can dream.
Yacht or no yacht, the Totȇme oversized cotton shirt safely errs on the side of luxury with its lustrous buttons and discrete logo embroidery. Plus, there's little sensation more satisfying than 100% lightweight cotton brushing against your skin. As oversized women's boyfriend shirts go, this Totȇme shirt ticks all the style boxes.
Best for: A wardrobe staple that is as laid-back as you are.
Emma Willis: Best linen women's white shirt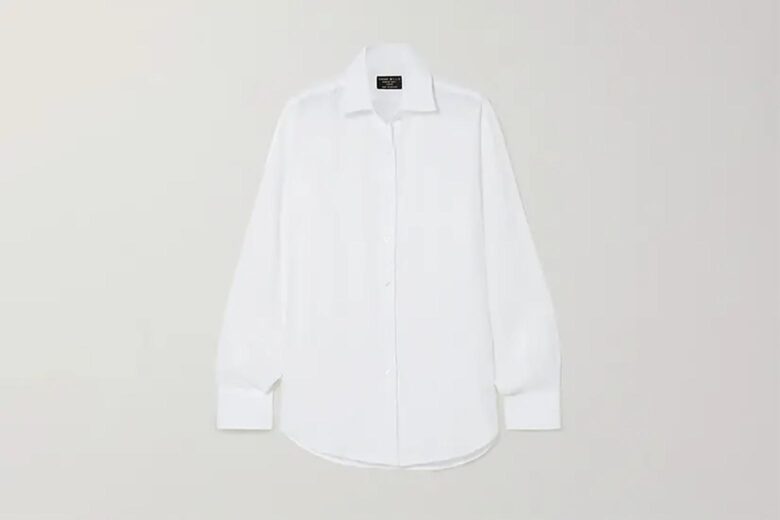 The Jermyn Street linen shirt by Emma Willis is expertly crafted in England, proudly adhering to traditional English shirtmaking techniques. So, your new shirt is not simply a shirt— with it comes generations of tailoring expertise.
With Emma Willis, you're in safe hands. Because when it comes to getting suited and booted, the English know their stuff.
The slightly loose fit of the Emma Willis Jermyn Street linen shirt is easy to layer up in the colder months, as well as looking on point with midi skirts in summer. It can be worn over tailored trousers for an aura of confident blasé for your next meeting, or tucked into denim for casual chic.
The dropped shoulders make for a universally flattering silhouette, with meticulously sewn-on Australian mother-of-pearl buttons to subtly signal splendor.
Best for: A casual linen shirt with just a cheeky wink of pearl opulence.
LilySilk: Best silk white shirt for women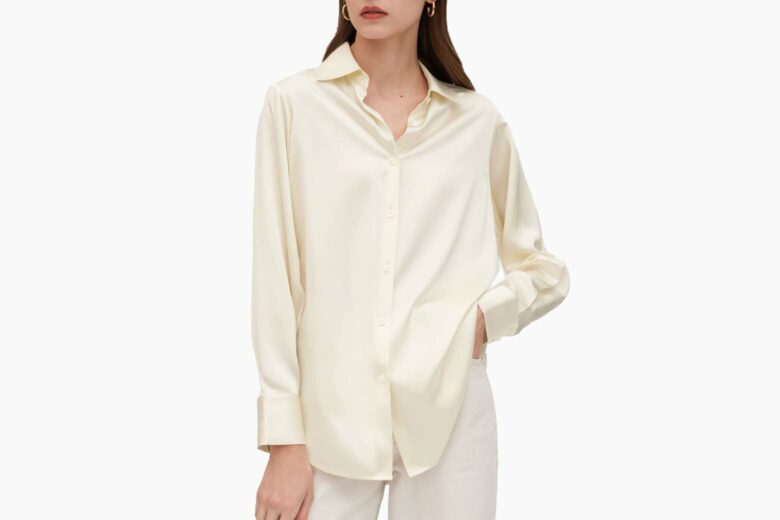 Okay, so this white shirt by LilySilk is more of a cream color, but once it's saved you from more than one wardrobe disaster, you'll be forever grateful that we included it in our list of the best white shirts for women. 
LilySilk's celebrity-adored shirt really is an SOS essential. Made from high-quality Mulberry silk, the decadent fabric is irresistibly smooth against the skin. And while it feels like spending the day in your fancy PJs, the button-down design, complete with cuffs and a collar, adds a touch of poised professionalism to any ensemble. Tucked-in, this SOS Shirt will dominate any boardroom. And let loose, it exudes an air of carefree, confident nonchalance.
Best for: A next-level silk shirt which is always in bloom.
Theory: Best classic women's white shirt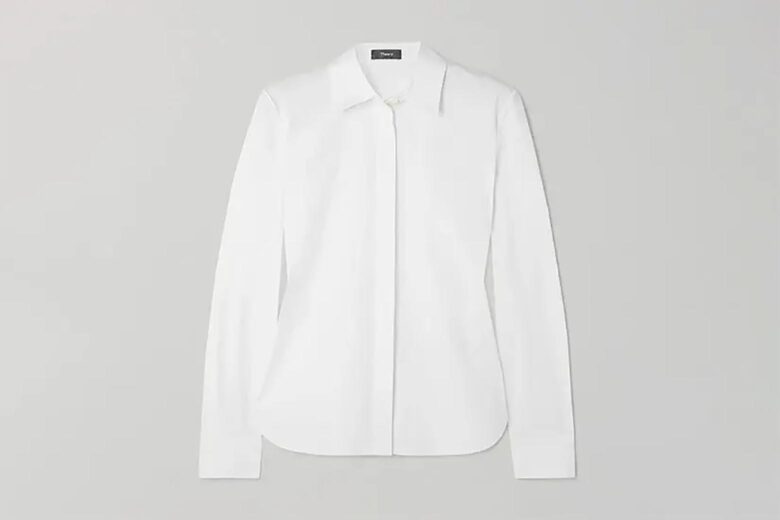 A classic white shirt, done right, is every woman's worthy accomplice. If you're missing such an ally, you're going to want to arm yourself with one (or two, or three) of the classic cotton-blend shirt by Theory.
The slightly stretchy cotton-blend is slim fitting and features back seams that bestow contours to die for. The classic shirt falls to the hip and hugs your figure, allowing for super easy tucking-in to (or wearing over) your favorite pencil skirt. Plus, the close fit ensures it'll layer snugly under a fitted blazer or suit jacket.
That said, it's not all work and no play. You can tone down the #girlboss look by matching the Theory cotton-blend shirt with some playful shorts or a slouchy knit.
Plus, the artful mother-of-pearl buttons uplift this classic design to voguish new heights, while remaining totally timeless.
Best for: Switching instantly from CEO-chic to stress-free soirée, no change needed.
Nili Lotan: Best ruffled white shirt for women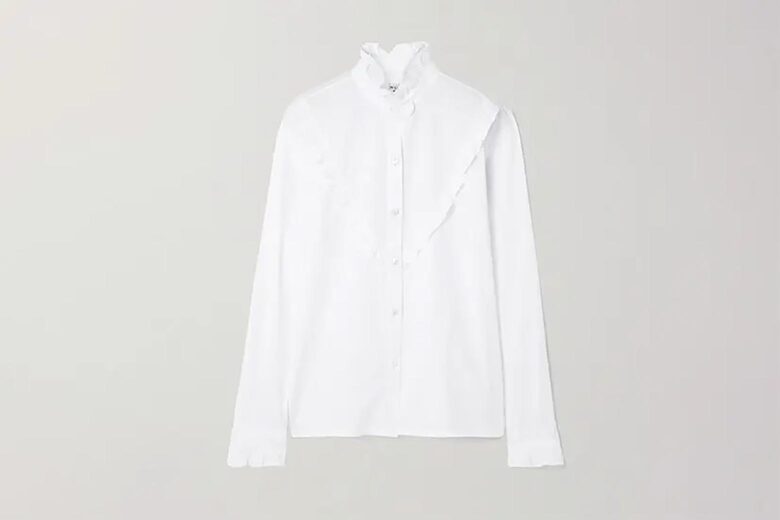 Maybe your wardrobe is chock-full of classic white shirts already, and you're looking to ruffle up your style a little. Or, you're simply looking to inject some feminine flair into your wardrobe staples. Either way:
Make like a Rolling Stone with the Nili Lotan Marcela ruffled cotton-poplin shirt. It's inspired by the iconic attire often sported by Mick Jagger in the '70s. Thankfully, the 'bishops sleeves' and exaggerated neck have been toned down somewhat, leaving a sleek style which nonetheless makes a statement.
The loose fit is offset by the ultra-feminine frills adorning the high neckline, yoke, and cuffs. You can elevate the Nili Lotan Marcela ruffled cotton-poplin shirt to star-of-the-show status, or wear it to complement another piece.
Best for: Ruffling some feathers in your wardrobe, rockstar style.
L'Agence: Best women's white blouse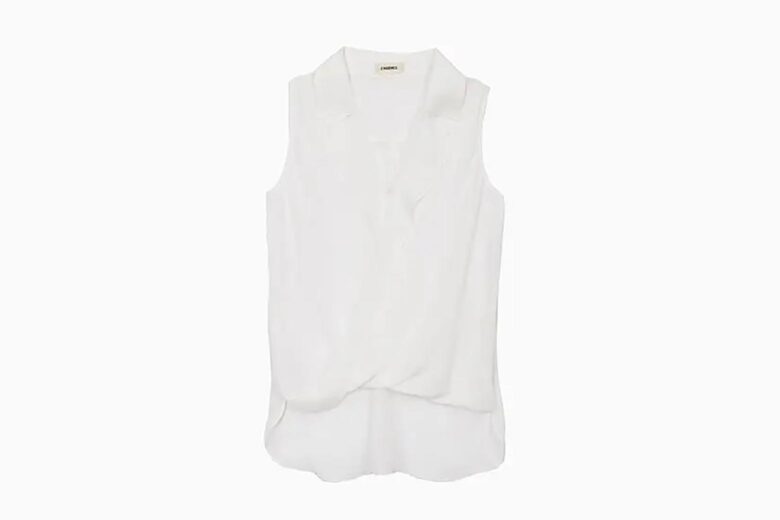 If you haven't yet had the pleasure of feeling silk-georgette draped over your skin, you are seriously missing out. Even better, when the silk-georgette is cut into this beautiful blouse by L'Agence, the California-based, but very much Parisian-inspired brand.
The distinguishing element of the Freja blouse is its alluring shape: The draped, wrap-effect, complete with a notched collar and elongated back, forms a modern yet timeless silhouette.
The collar is professional enough for office wear, yet flowy and soft enough for you to be the belle of the ball when you're hitting the bars. Being a touch on the translucent side, you can layer the L'Agence Freja blouse with a neutral camisole. Or, opt for a statement print triangle bra if you want to create a little edge.
Best for: A graceful, soft-as-a-feather blouse with a contemporary twist.
Amazon Essentials: Best budget white shirt for women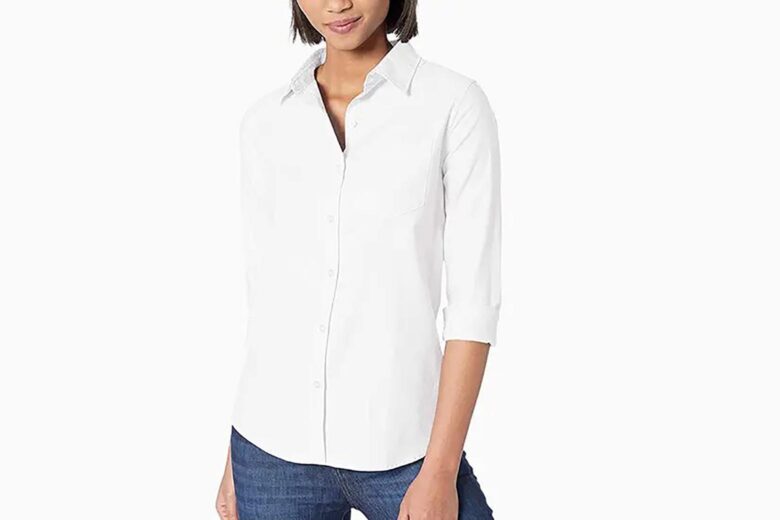 Amazon Essentials prove you don't have to spend a pretty penny to look, well, pretty. Yes, their brilliant Essentials range has delivered once again, with their button-down shirts for women. Specifically, in the form of a classic, crisp, white Oxford shirt.
Ladies, there is no longer any excuse not to have one or two classic white shirts in your style repertoire. Featuring a back yoke, cuffed sleeves, and a single chest pocket, Amazon Essentials' answer to the women's Oxford shirt can rival the best of them.
Crafted from 100% cotton and falling nicely to the hip, the Amazon Essentials Classic Oxford shirt is your extremely reasonably-priced ticket to instant chic. Wear with dark jeans and leather brogues for a modern aesthetic, or make it part of your office wear ensemble for easy-going professional style.
Best for: Faking it 'til you make it with an affordable shirt. No one will be any the wiser…
Tom Ford: Most expensive women's white shirt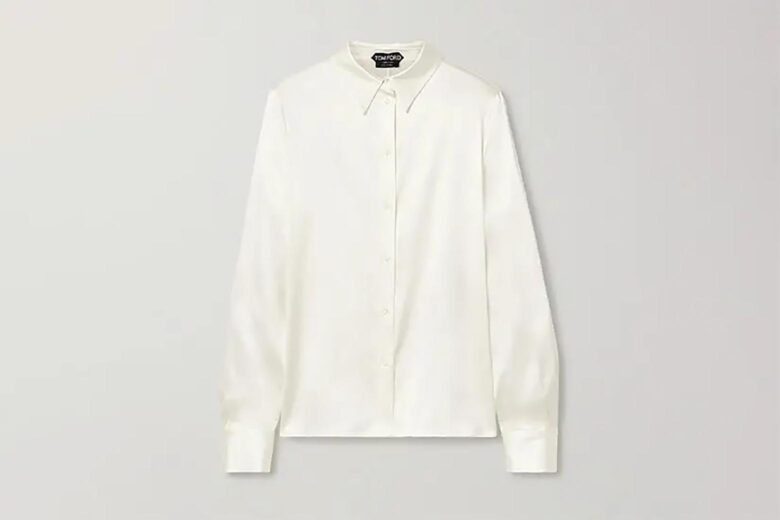 Tom Ford's take on the classic white shirt is second-to-none. The silk-blend creation is the epitome of the designer's penchant for taking classic styles and uplifting them to a higher plane. Poise and wearability is key here, with a little luxe detail for good measure.
The 93% silk with a dash of elastane allows for a slightly stretchy feel, and the loose fit is brought together with a smart collar and long sleeves. Okay, it's not technically white, but ivory is, like, white's classier, privately educated older sister. You just can't go wrong.
Making the shimmery ivory shine is the dotting of mother-of-pearl buttons to complete the polished feel. Finesse is the name of the game with the Tom Ford silk-blend satin shirt, with exemplary craftsmanship and just a whisper of pure opulence.
Best for: Infusing a touch of shimmer and sparkle in your wardrobe, and your life.
Style guide: How to style your white shirt
So, you're armed with your brand new button-down shirt (or button up… Don't worry, we'll get to that). So, how do you wear this notoriously dexterous garment?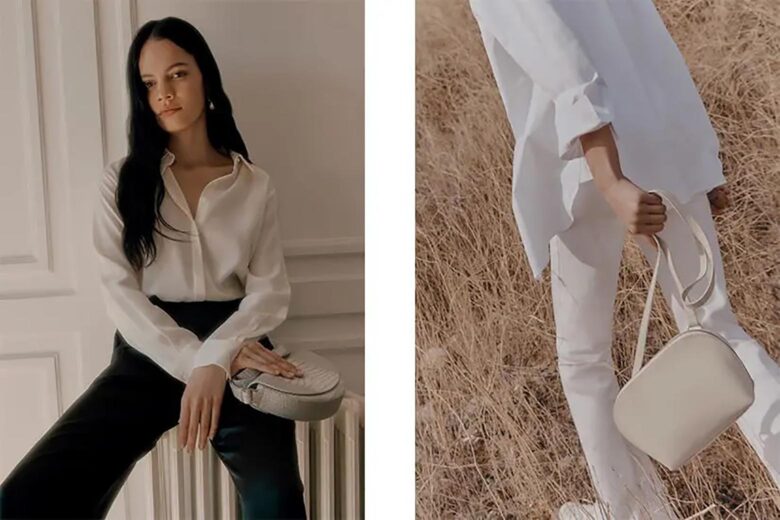 It just so happens that white shirts are so easy to style. Yes, we sound like a broken record. But it's true. They're simply so versatile, you'd have to try rather hard to get it wrong. Nonetheless, even the most style-savvy among us sometimes get a little stuck for ideas…
So, if you're struggling on how to style your new white shirt, check out these timeless tips:
For going out (out):
Wear it tied at the front in a cropped style (or splash out on Alexander Wang's unique take on the classic white shirt) and pair with a high-waisted bodycon skirt with an oversized blazer thrown over your shoulders.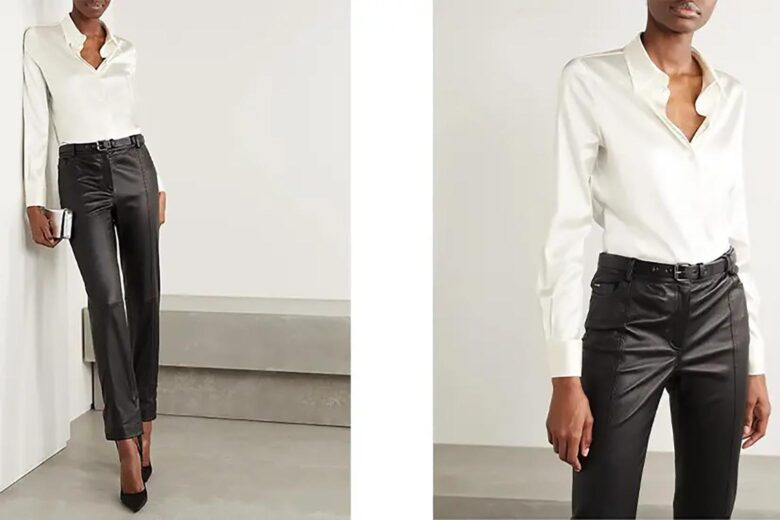 Pair a silk shirt (like Tom Ford's or Cuyana's) with some midnight blue jeans for ultimate class. Bedeck yourself in your favorite jewelry, and obviously bring a large notepad for the phone numbers you'll collect.
When you're out and about:
Take a ruffled shirt like the Lila Notan Marcela ruffled shirt and rock it buttoned all the way to the top. Tuck into a structured A-line skirt and some flats for a sweeter-than-sugar vibe.
Go with the flow with the flowiest of white shirts: The L'Agence Freja blouse. This super feminine garm is perfect for getting your brunch on when matched with some tailored shorts or a midi skirt.
Or, to ramp up the formality if the occasion requires it (what you wear to parent's evening does matter), tuck it into some neutral-toned mid-waist trousers for muted chic.
At the office:
Offices happen to be the natural habitat of button-down shirts. For women, they're a perfect go-to for a day of meetings. Try pairing the Thom Browne Classic White Oxford shirt with your usual tailored suit for a welcome style refresher.
The Theory cotton-blend shirt is an excellent choice for office wear, too. Tuck your white shirt into structured trousers for a strong, but feminine silhouette.
If it's a warm day (or, you've got your eye on the new intern in finance) the Stella McCartney Talla shirt is gorgeous. The designer recommends tucking it into trousers of a midi-skirt for, um, sultry days at the office.
Button up vs button down shirts
We know you're all dying to know: A quick note to clear up any (understandable) confusion:
Button-up shirts for women are the kind of shirt most of us have hanging in our wardrobes. They simply button up to the natural closure at your neck.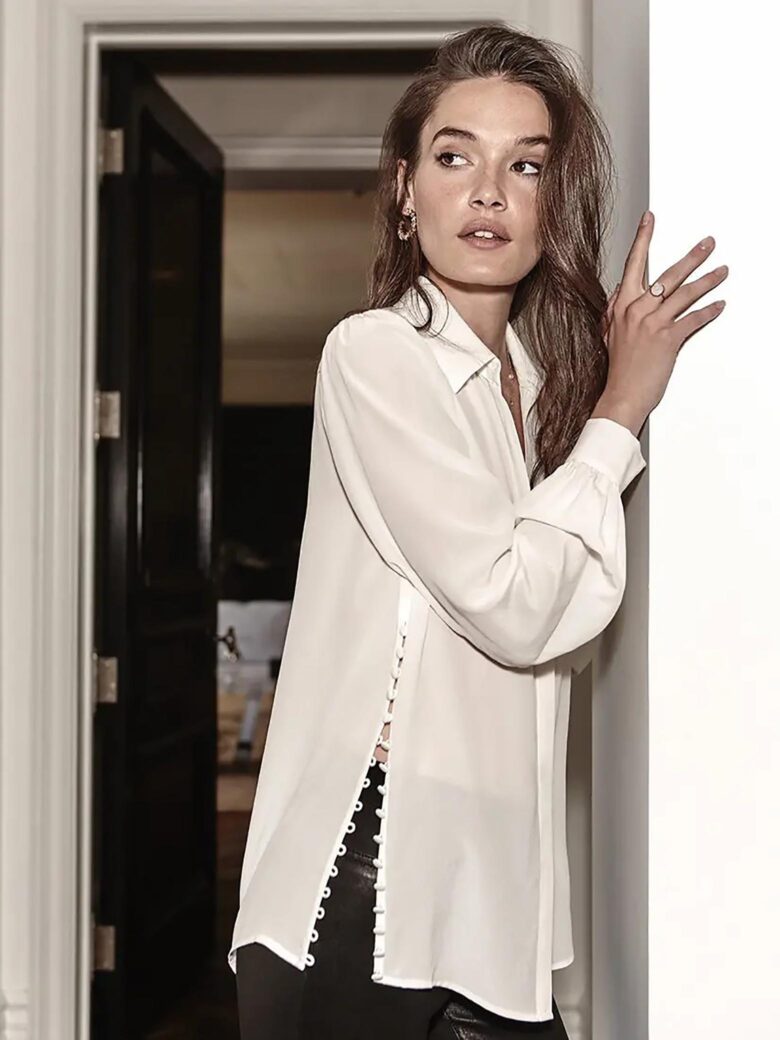 A button-down shirt is– and bear with us– simply a button-up shirt with… Well, extra buttons. The extra buttons are found on the collar of the shirt, so you can fasten them and keep it nicely in place.
In essence, all button-down shirts are button-up, but not all button-up shirts are button-down. Kapeesh?
Frequently asked questions about women's white shirts
What do women wear under white buttons?
If you're worried your shirt is a little on the transparent side, you can layer it with a nude or light pink cami, t-shirt, or bra to eliminate any inadvertent exposure.
How do you wear a crisp white shirt?
Crisp white shirts are so versatile. You can pair them with jeans, leggings, skirts of shorts. They work great when they're layered, too. Check out our style guide for more tips on wearing a crisp white shirt.
How should a button-down shirt fit a woman?
It depends on your personal taste, and how you feel comfortable. Some women love the freedom you get with a looser-fitting white shirt. Others love the flattering cling of a slightly stretchy, fitted shirt.