A small but mighty must-have accessory, a wallet carries our clutter around for us every day, from our credit cards and coins to scrappy notes and loyalty cards to coffee shops we've since forgotten.
But the best women's wallets are more than a tatty bit of leather at the bottom of your work bag or travel tote. They're an organizational tool and a stylish accessory.
The best wallets for women are designed for two purposes. One, to keep your most important valuables safe, secure, tidy, and within easy reach. Two, as beautiful objects that are a pleasure to behold. After all, we use our wallets every day. We want them to look sophisticated too.
Fancy a large and multifunctional women's continental wallet to encompass your rather loose definition of 'the essentials'? An ultra-compact and slimline card holder that can slip into the pocket of your favorite skinny jeans? A designer wallet to get people's attention? Or a clutch wallet that can pair with evening attire? You name it, we found it.
Superb yet sturdy, polished but practical, here are the best women's wallets you need to get your hands on.
The 21 best wallets for women
Check our special women's wallet buying guide after the list to see exactly what you should pay attention to when shopping for a new women's wallet online.
Cuyana Classic Zip Around Wallet: Best overall women's wallet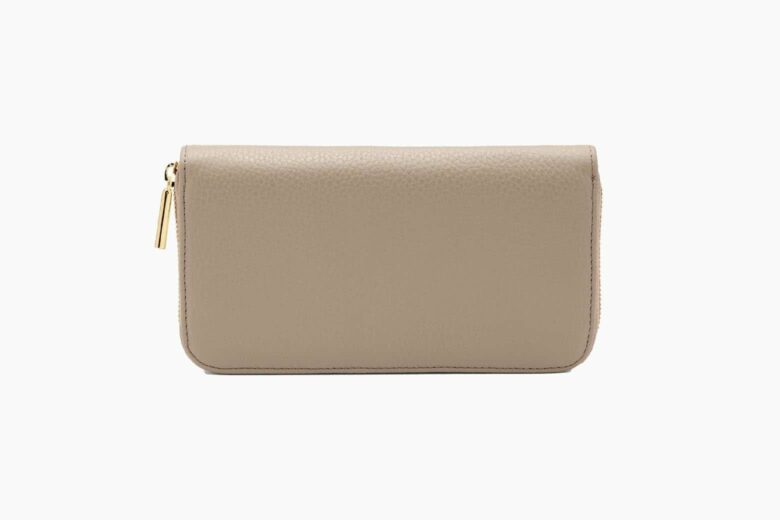 There's just something about anything from Cuyana that makes us fall head over heels—and this sustainably made Classic Zip Around Wallet is no exception.
The design—with its wrap-around zipper—is both enduringly fashionable and incredibly functional, perfect for keeping all your valuable possessions organized, safe, and secure.
The Marie Kondo-level of organization makes this Cuyana wallet the ultimate all-day, everyday companion. The interior zip pocket keeps cash and coins under control while the neat slots allow easy access to ID and cards at check-out. Customize your wallet with monogramming for a more personal touch.
Best for: Clutter-free convenience with a classy touch.
| | |
| --- | --- |
| Material: | Sustainable leather |
| Colors: | Black, Caramel, Soft Rose + More |
Gucci GG Marmont Leather Continental Wallet: Best luxury wallet for women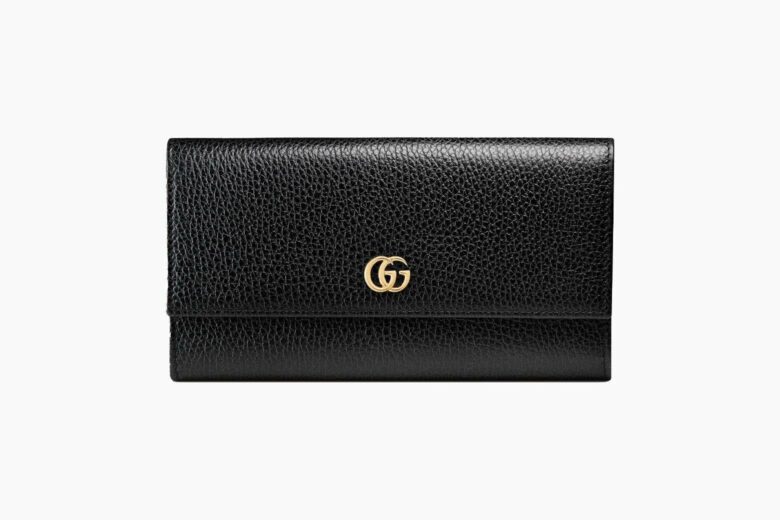 Do you really need a reason to splurge on a luxury wallet? We don't think so. If it's true that money talks, then this gorgeous Gucci wallet communicates all you need to say.
Spice up your everyday with Gucci's continental wallet, made in Italy from black chrome-free tanned calf leather with a subtle texture that's exceptionally tactile. It's got a snap-fastening front flap (simple and quick to use), plus the label's signature 'GG' plaque. While we don't normally like loud logos, when it comes to Gucci, we'll make an exception.
Inside you've got a secure zippered compartment, plus slots for cards, receipts, and bills. At 4 x 10 x 19 cm, this Gucci wallet is spacious enough to hold all the essentials but small enough to slip into your favorite designer work bag, too.
Best for: Giving the VIP treatment to your most important possessions.
| | |
| --- | --- |
| Material: | Sustainable leather |
| Colors: | Black, Dusty Pink & Canvas, Beige & Canvas |
Vaultskin Belgravia Zipper Wallet: Best value wallet for women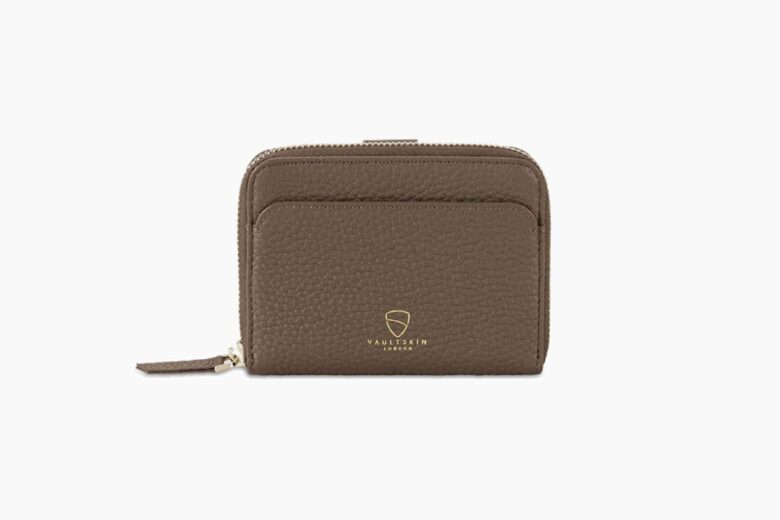 If you want a wallet that will leave you with money left to put inside, this Belgravia Zipper Wallet by Vaultskin is the budget-friendly wallet for you.
Made from textured Italian leather and featuring a smooth-sliding chunky YKK zip, the Belgravia demonstrates the best of British craftsmanship, uniting elegance, convenience, and durability, all at a price that's cheap without being suspiciously cheap.
There's a magnetic clasp that you can pull up to draw cards out of a hidden slot, after which the strap cleverly retracts. In addition, you've got two exterior pockets where cards can be kept safe but within easy access. While being super compact, Vaultskin's Belgravia can still hold folded banknotes, receipts, coins, memory sticks, USB sticks, and maybe even your keys or lipstick. RFID blocking technology is a final perk.
Best for: Helping you to save, not spend, all your hard-earned cash.
| | |
| --- | --- |
| Material: | Top grain textured leather |
| Colors: | Black, Brown, Red + More |
KAAI Helix Wallet: Best compact wallet for women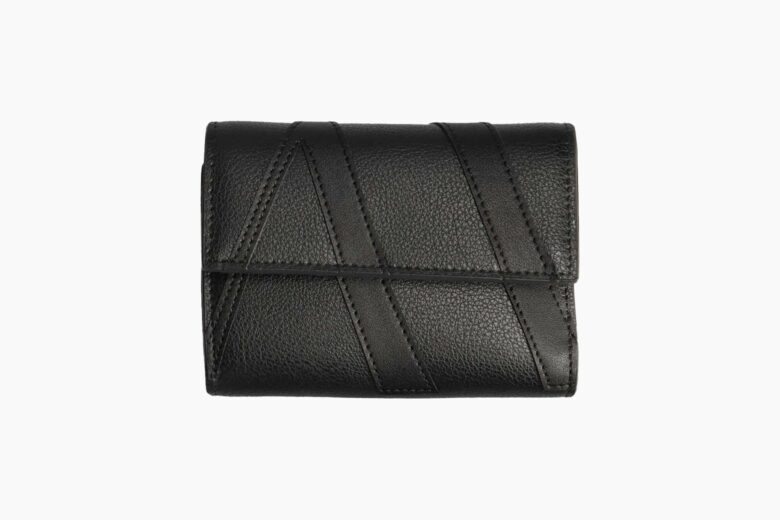 Belgium might be most widely known for its mouthwatering chocolate and waffles, but KAAI's deliciously stylish bags and accessories are what you will be craving after experiencing this Belgian brand (personally tested and loved by our Belgian Editor-in-Chief, so, yeah, it says a lot).
If, like us here at Luxe Digital, you demand more from the products you use every day, then this wallet is not to be missed. Feminine and fearless, the Helix Wallet stands in a class of its own.
Crafted from 100% Italian leather, the minimalist trifold wallet effortlessly holds all the essentials: 6 card slots, 2 open sleeves, 1 large bill compartment, and 1 zipped coin pocket—all of this in a super-compact silhouette.
Best for: A subtle statement.
| | |
| --- | --- |
| Material: | 100% Italian grain leather |
| Colors: | Black, Cognac, Aubergine |
Senreve Continental Clutch: Best clutch-wallet for women (vegan)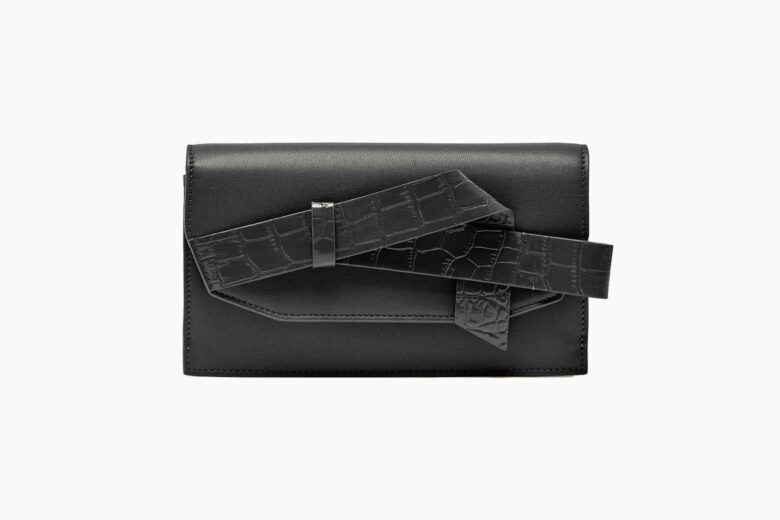 A clutch or a wallet? It turns out you don't have to choose—you can have it both ways with this Continental Clutch by Senreve. The all-in-one wallet-and-clutch has been made from Vegan Misto leather, a combination of croc-embossed and smooth leather, creating a seriously strokable texture.
Inside, you've 10 card slots, 2 bill slots, plus a zipper pocket. There's even a pocket on the outside where you can fit your phone. Team it with your prettiest little black dress as a clutch, or across your body as a bag using the sultry gold clutch chain. This 100% vegan Senreve clutch wallet is a hold-all that will enhance, not cramp, any night-out or formal attire, whatever color option you go for.
Best for: The perfect after-dark accessory, able to match any outfit.
| | |
| --- | --- |
| Material: | Vegan leather |
| Colors: | Black, Walnut, Burgundy + More |
Bellroy: Best RFID wallet for women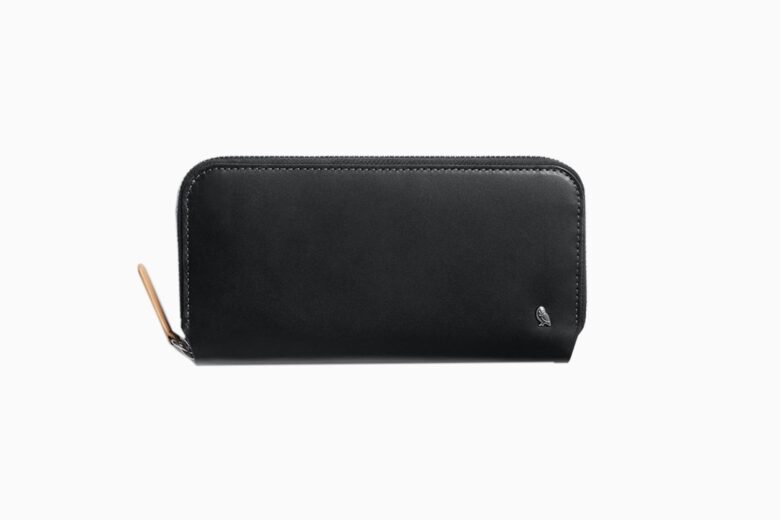 A super stylish wallet isn't much use if it can't protect your financial essentials from thieves. This is why we recommend the Folio from Bellroy, a cleverly designed wallet that features RFID-blocking technology, shielding your cards from skimmers trying to capture your personal information. 
But it's not just incredibly practical. This wallet is stylish enough that you'll want to pick up the tab just so you can show off your cool new accessory. Available in a massive range of colors, it's made of environmentally certified leather and is slim and roomy simultaneously.
The Bellroy Folio wallet has space for bills, over 14 cards, coins (in a cute fiddle-free magnetic pouch that tugs open), and your smartphone. Then you can zip it all up to make sure nothing falls out.
Best for: A smart and sophisticated money holder that's also secure and safe.
| | |
| --- | --- |
| Material: | Sustainable leather |
| Colors: | Black, Grey, Navy + More |
Bottega Veneta Cassette Intrecciato Leather Wallet: Best leather wallet for women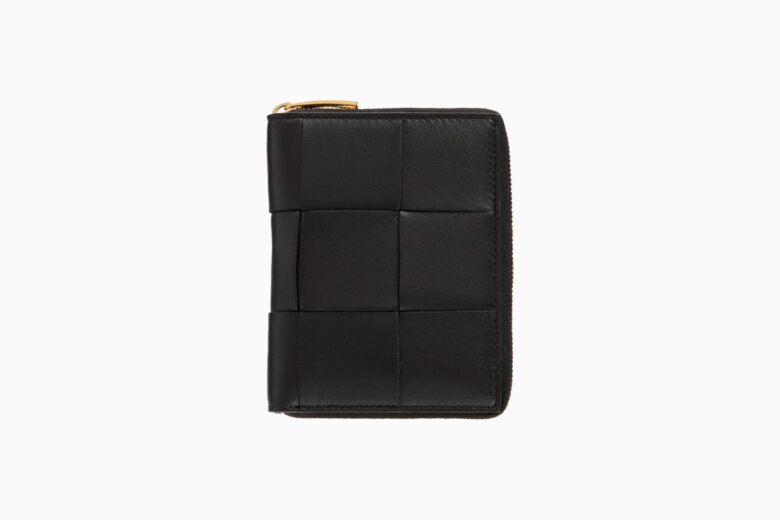 Leather wallets for women are a dime a dozen. But this leather wallet by Bottega Veneta stands out from the crowd.
The defining feature of this leather wallet is the brand's signature intrecciato technique—strips of premium Italian leather woven together to create an intriguing texture that you won't find anywhere else. Inside, you've got six card slots and a bill compartment, while a zipped pocket is perfect for keeping loose change orderly.
At 9 x 11 cm and only 2 cm deep, this Bottega Veneta wallet is pretty slim and will fit neatly into your work bag—although it seems a shame to hide it away when it looks this good. Meanwhile, a snap-fastening front flap along with a zip fastening along the top means there's no danger of anything slipping out.
Best for: Masterful craftsmanship and a wallet destined to last years.
| | |
| --- | --- |
| Material: | Leather |
| Colors: | Black, Brown, Red + More |
M.Gemi The Alice Wallet: Best bifold wallet for women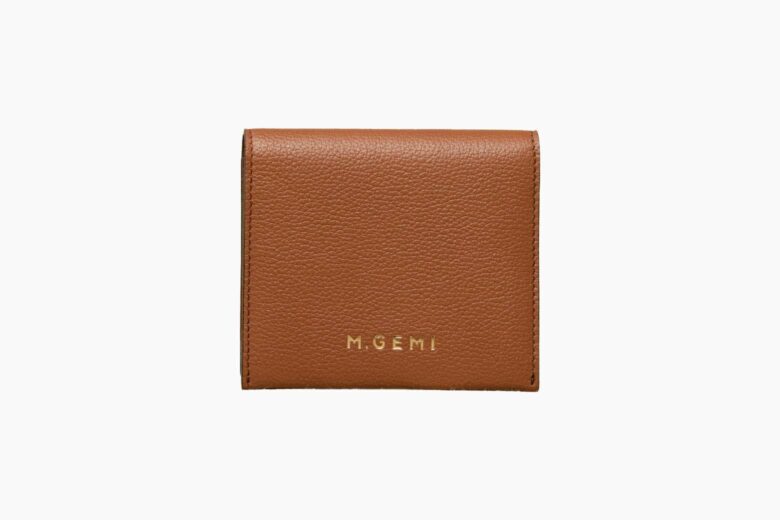 Calling all Italophiles—We've said it before, and we'll say it again: M.Gemi knows about Italian craftsmanship and this bifold wallet is another case in point.
Handcrafted in the Abruzzo region of Italy from excess leather that would otherwise be tossed into landfills, The Alice wallet is not only sustainably stylish but also incredibly functional with its 8 cardholders with a money slot.
Learn more about the story behind M.GEMI.
Best for: Everyday elegance and effortless Italian flair.
| | |
| --- | --- |
| Material: | Leather |
| Colors: | Black, Tan, Navy + More |
Burberry Lancaster Wallet: Best trifold wallet for women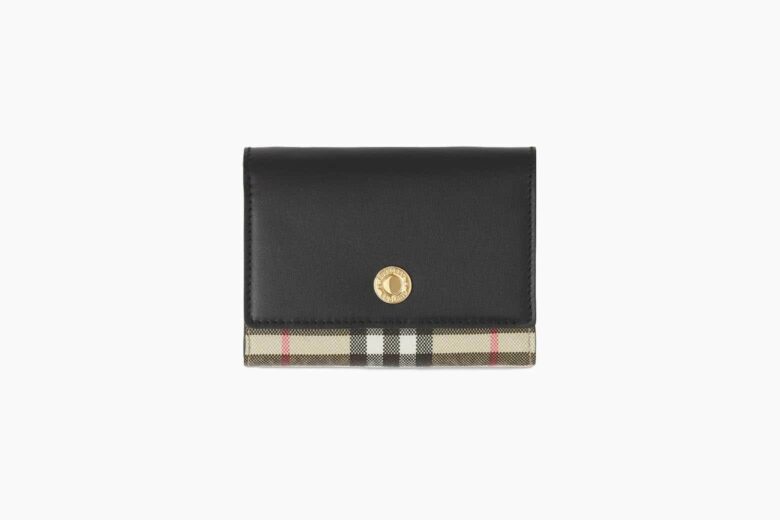 Trifolds are a genius invention. Slim enough to slip into a small bag or pocket yet capacious enough to carry all the essentials. Our favorite? The Burberry LS Lancaster.
Intrinsically Burberry, the LS Lancaster wallet is made of a combination of durable canvas and calf leather. At 8.5 x 11.5 cm, it offers ample space for cards in the internal slots, receipts and cash in the internal pockets, and anything else in the zip pocket. Burberry's LS Lancaster wallet also features a front flap with a snap closure for quick access and speedy payments.
Featuring the luxury brand's now-iconic heritage tartan print, your discerning taste will be clear to anyone in the vicinity. In fact, you may be tempted to foot the bill just so people can get an eye-full.
Best for: A convenient carry-all with major fashion allure.
| | |
| --- | --- |
| Material: | Canvas & Leather |
| Colors: | Black |
KAAI: Best cardholder for women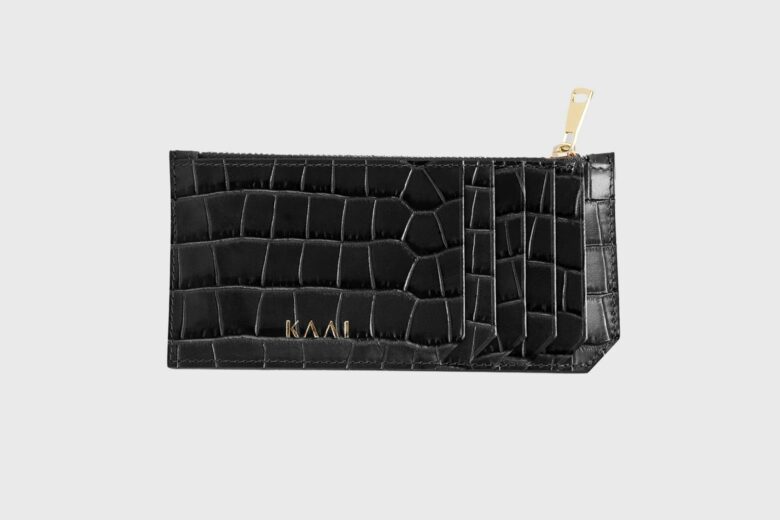 Ours is basically a cashless society. So if you're struggling to remember exactly what a coin is, then why bother with a standard wallet? Instead, opt for this wonderfully slim and sophisticated cardholder by Belgian brand KAAI.
Crafted from luxe leather, it features five vertical card slots and one large slit pocket, which, in our opinion, is more than enough. After all, the more cards you take, the more money you're likely to spend. But just in case all those cards get rejected at checkout (it happens), there's an extra zip pocket where you can keep emergency cash.
Streamline your everyday essentials, get it down to the basics, and save yourself valuable time and energy with this KAAI's convenient cardholder.
Best for: Clean-lined contemporary cool for the cashless age.
| | |
| --- | --- |
| Material: | 100% Italian calf leather |
| Colors: | Croco Black, Black, Croco Chocolate + More |
Dagne Dover Accordion Travel Wallet: Best travel wallet for women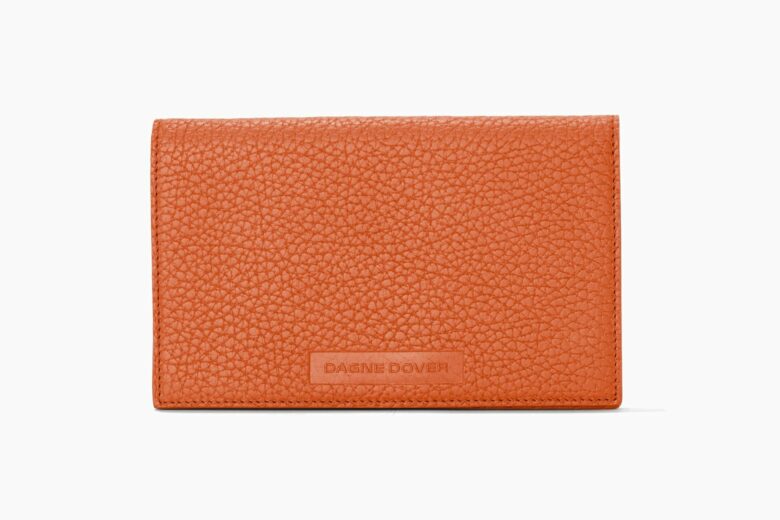 If excess baggage is not your modus operandi, this leather travel wallet by Dagne Dover is bound to become your preferred travel companion.
With two internal pockets for your passport and cash, six card slots, and one external card slot, you can jet sets anywhere, everywhere, and back again in style.
But its sleek and sophisticated design means you'll want to use Dagne Dover's Accordion Travel Wallet for more than just traveling.
Check our in-depth review of Dagne Dover's bags and our profile on Dagne Dover's brand.
Best for: A travel wallet that goes the extra mile.
| | |
| --- | --- |
| Material: | Pebbled leather |
| Colors: | Black, Graphite, Ash Blue + More |
Coach Wyn Small Wallet: Best designer wallet for women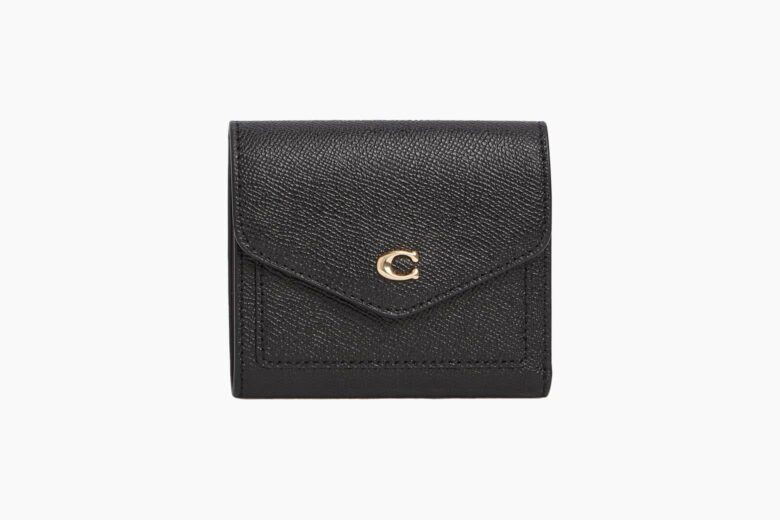 Need an easy-going designer wallet that is still relatively easy on the wallet? Here it is.
Crafted from scratch-resistant crossgrain leather, Coach Wyn small wallet invites organization with an elegant envelope design that is practical, timeless, and envy-inducing simultaneously.
The tri-fold style opens to reveal seven card slots and a full-length bill compartment for keeping every last item right where you need it.
Best for: A designer wallet that is wallet-conscious.
| | |
| --- | --- |
| Material: | Cross-grain leather |
| Colors: | Black, Army Green, Coral + More |
Shinola The Pocket Zip Wallet: Best large wallet for women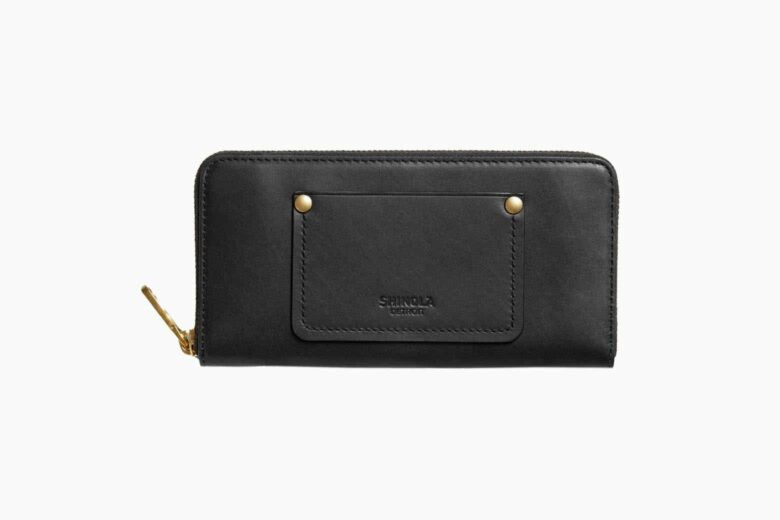 If you're the kind of person who likes to be prepared for any eventuality, the Pocket Zip Wallet easily carries all of life's essentials and looks good doing it. Shinola's peerless craftsmanship is on full display in this continental wallet.
Hand-assembled in the heart of Detroit, this Shinola Pocket Zip Wallet combines a striking silhouette with understated details and plenty of storage: Seven-card pockets, a currency holder, an interior zip compartment, and two large open compartments.
But our favorite feature has to be the functional—and beautiful—exterior card pocket which provides easy access to your ID, commuter pass, or coffee punch card.
Best for: Women who can't relax unless they've got half their worldly possessions in tow.
| | |
| --- | --- |
| Material: | Cross-grain leather |
| Colors: | Black, Tan, Red |
Prada Continental Wallet: Best large luxury wallet for women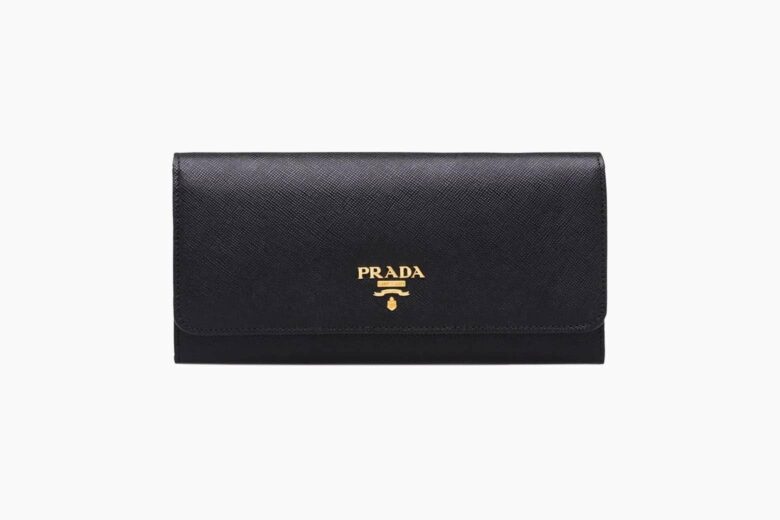 Looking for a large wallet that can hold basically everything with a dash of luxury? This luxury wallet by Prada is giving new meaning to the expression 'a light purse is a heavy curse.'
Giving your favorite handbag a run for its money, this Prada wallet is massive, with multiple card slots and pockets where you can store all your essentials. ID, credit cards, debit cards, receipts, tokens, coupons, gift cards, loyalty cards, tickets, coins, maybe some eyeshadow or even a make-up brush—you name it, this Prada purse can hold it.
There's also the Prada logo on the front—a little hint as to where your fashion loyalties lie.
Best for: A celebrity-approved wallet built to hold from A to Z of credit cards and then some.
| | |
| --- | --- |
| Material: | Leather |
| Colors: | Black, Blush, Red |
Valentino Rockstud Leather Zip Continental Wallet: Best continental wallet for women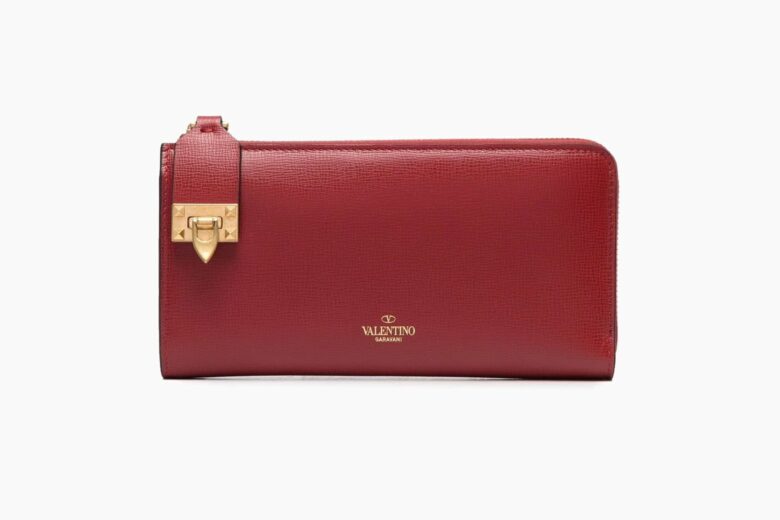 If there is a brand that manages to walk the fine line between graceful couture and edgy-cool, it's Valentino Garavani.
Crafted in Italy from calf leather, this luxury continental wallet is made to be taken out on the town—In fact, you'll have a hard time leaving it in the depths of your bag. It's that chic.
The Rockstud continental wallet unsnaps to reveal multiple card slots, a zipped coin pouch, and a pocket for bills and receipts.
Best for: A sophisticated yet cool wallet to edge up your coffee dates.
| | |
| --- | --- |
| Material: | Calf leather |
| Colors: | Black, Wine Red |
Mansur Gavriel Raffia Chain Travel Wallet: Best luxury wallet on chain for women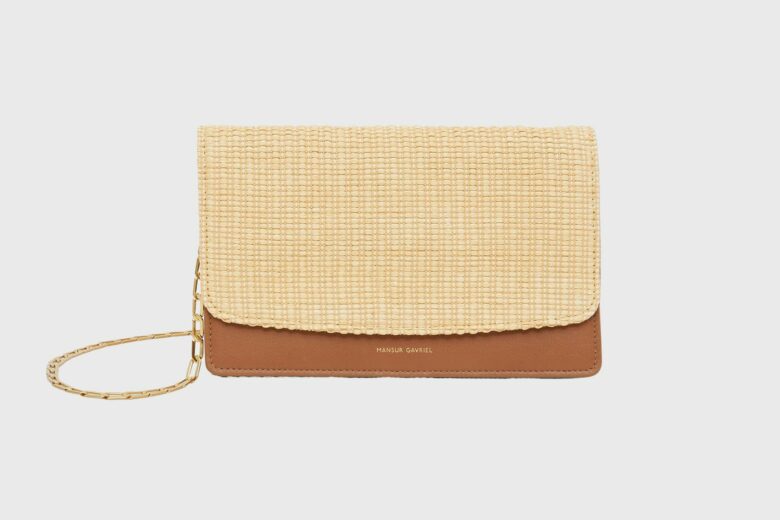 Some things can be hard to choose. But not this Chain Travel Wallet by Mansur Gavriel.
Sling your Mansur Gavriel's slim wallet across the body or clutch it in your palm and seamlessly transition from day to evening.
Crafted from light and airy Raffia, the versatile sun-ready crossbody-meets-wallet bag keeps things both effortlessly elegant and efficient—and it just so happens to be perfectly sized to hold a passport.
Best for: Summer in wallet form.
| | |
| --- | --- |
| Material: | Calfskin |
| Colors: | Black, Grey, White + More |
TORY BURCH
Looking for a designer wallet on a chain in leather? This chevron leather chain wallet from Tory Burch is an obvious pick.
Yves Saint Laurent Matelassé Wallet: Best wristlet for women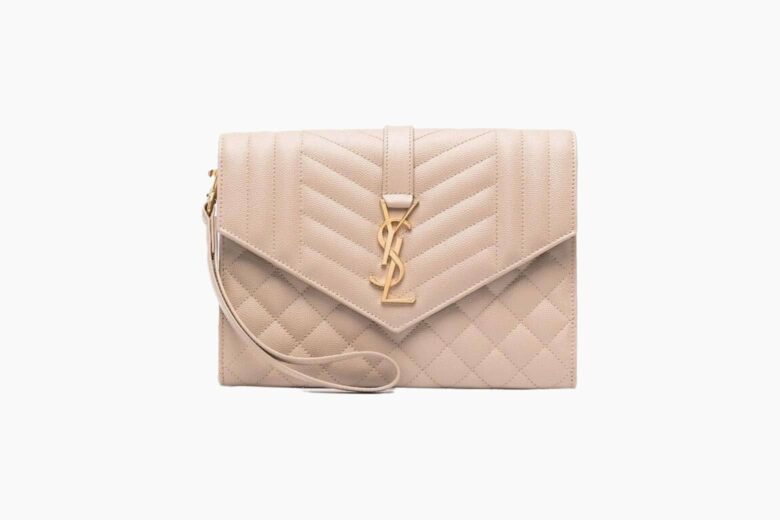 Imagine you're out on the town. You're buying a drink. You place your wallet on the bar. Next thing you know, you're on the dance floor and your wallet's nowhere to be seen. It happens to the best of us. This is why this wristlet by Saint Laurent is the dream party-night accessory. There's no way you could leave this anywhere if you wear the strap around your wrist.
This envelope-style wallet is made from calf leather with matelassé stitching to create a luxurious quilted effect. The YSL logo is emblazoned across the front in gold metal for high-impact name recognition, although the black and gold combination is discreet enough that you won't draw unwanted attention.
Equally functional as it is timeless, there's plenty of space in the internal slot pocket for your essentials. All in all, whether you carry it by the wristlet strap or slip it inside a larger tote, this Saint Laurent wristlet is sure to become your most reliable and most covetable day-to-night accessories.
Best for: An accident-proof and perfectly portable wallet with serious fashion prestige.
| | |
| --- | --- |
| Material: | Leather |
| Colors: | Black, Beige, White |
APC Half Moon Zipped Wallet: Best zip-around wallet for women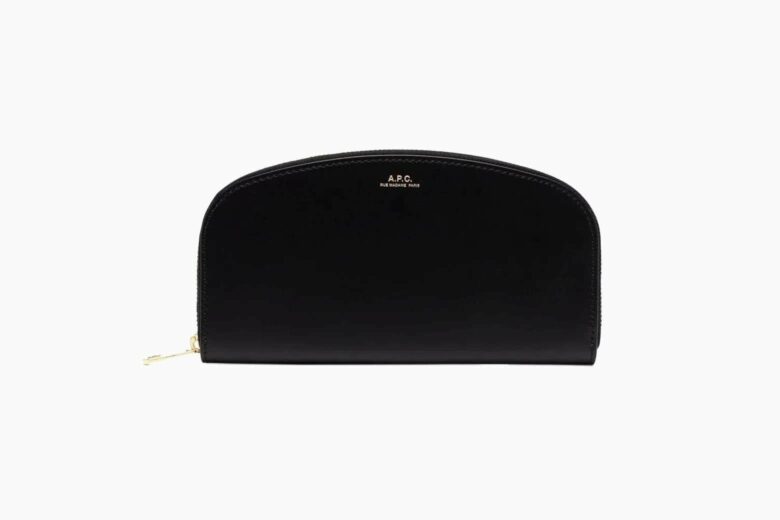 If understated elegance is your thing, this APC Half Moon Continental Wallet is the North Star you have been looking for.
Made from smooth leather with a curved top, the zipped wallet opens to reveal card slots and a zipped coin purse.
Who knows—carrying around a piece of the moon could bring some little cosmic luck, like serendipitous change to your checking account (one can dream, right?).
Best for: Feeling over the moon, every day.
| | |
| --- | --- |
| Material: | Calf leather |
| Colors: | Black, Burgundy, Tan |
Longchamp Le Pliage Coin Purse: Best coin purse for women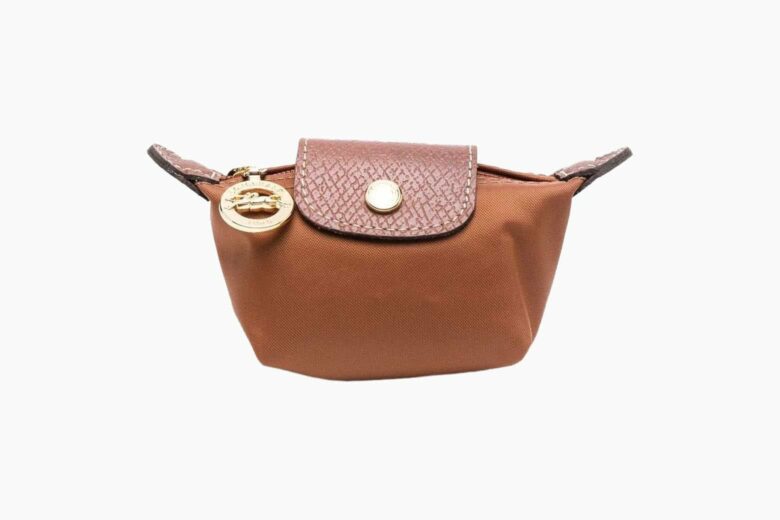 We would all be a lot wealthier if we managed to keep track of our coins, which mostly end up at the bottom of our bag or down the back of the sofa. The solution? This cute coin purse by Longchamp.
And you don't just have to keep coins in it. You can use Le Pliage coin purse to store any little mementoes, treasures, knickknacks, or even make-up.
If you need an excuse to continue to carry coins with you, then this is definitely it.
Best for: Keeping your coins together in the most impeccably elegant way.
| | |
| --- | --- |
| Material: | Polyamide & leather |
| Colors: | Cognac Brown, Black, Blush Orange + More |
Behno Devon Wallet: Best small wallet for women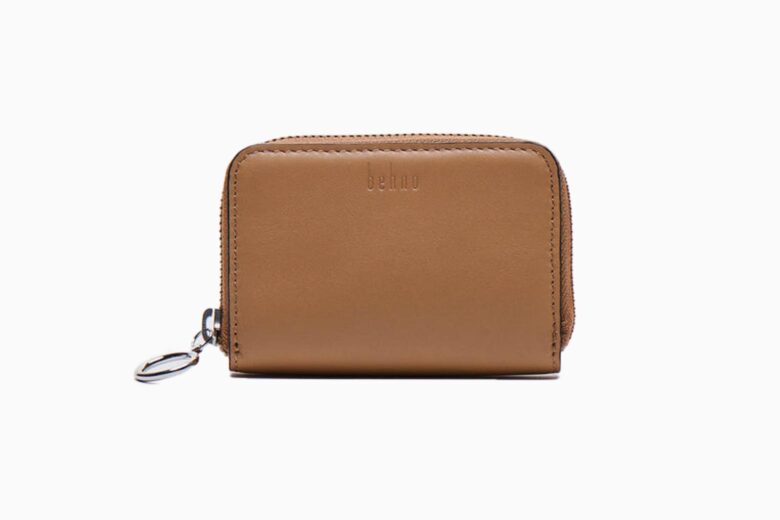 If your bag of choice tends to be on the micro side, you're probably on the hunt for small wallets for women that can fit into your everyday carry no problem. Or maybe you prefer to go bag-less, slipping your purse into your jean pocket. Either way, you need a slim and compact wallet like this one from Behno.
Handcrafted from smooth and supple Italian Nappa leather, this zip-around wallet features just two interior compartments, ensuring you bring the necessities and nothing more. It's available in neutral and understated shades for perfectly pared-back luxury.
Behno is redefining fashion from a more ethical and sustainable standpoint, pioneering a new standard for manufacturing—one that looks after its workers, advances women's rights, and promotes eco-consciousness. Just one more reason why we're itching to slip the Devon Wallet into our handbag right now.
Best for: Minimal bulge, maximum style.
| | |
| --- | --- |
| Material: | Sustainable leather |
| Colors: | Black, Almond, Cocoa + More |
Kate Spade Continental Wallet: Best large zip-around wallet for women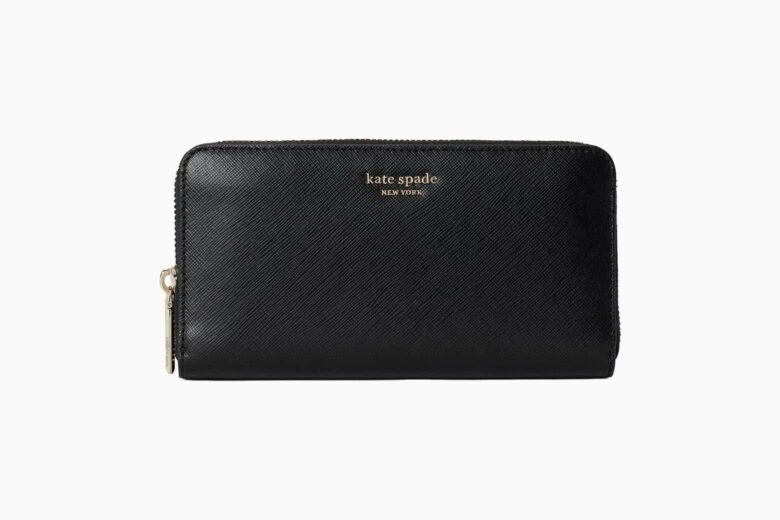 We're having a hard time not adding this zip-around women's wallet by Kate Spade to our shopping cart immediately.
It's got everything we could possibly want from our money holder. The wrap-around zipper is ideal for easy access. No more fumbling awkwardly at checkout or the bar. Inside you've got 12 card slots and 2 billfold slip pockets (where you could also stash receipts), as well as—unbelievably—a phone compartment.
This Kate Spade wallet also has a central zip compartment where we'd store some of our favorite jewelry for a spontaneous after-work drink. Finally, the gold-toned logo along with the sleek black leather is a timeless combination.
Best for: Sleek exterior and effortlessly easy access.
| | |
| --- | --- |
| Material: | Leather |
| Colors: | Black |
Buyers guide: How to choose a ladies wallet?
When choosing a woman's wallet, there are a couple of things to consider. Different wallets are designed for different needs. Here are the various options:
Bifold – these popular wallets fold in half and feature card slots, a section for bills, and often a section for coins too.
Trifold – trifold wallets have three sections and two folds. When folded, they are the same size as a bifold but often a bit bulkier.
Accordion – some wallets fold out like an accordion after you release the fastener with multiple compartments for cards, cash, and coins.
Cardholder or card case – if you don't typically use coins or cash, then you might find that a cardholder is all that's necessary to store your credit cards and ID. These are incredibly slim, perfect for slipping into a trouser or jacket pocket. Some have pouches for emergency bills too.
Coin purse – store all your loose coins in one place with a coin purse, keeping them separate from the rest of your essentials so they don't weigh your wallet down.
Wristlet – these wallets feature a strap that goes around your wrist and are perfect for nights out when you don't want to take a bag but don't want to risk dropping or losing your wallet either.
Clutch-wallet – these are bigger than your average wallet and function as a small bag as well as a purse. Sometimes they have cross-body straps as well as a space to keep your phone.
Features: What to look for in a women's wallet
There are other features of women's wallets that you might want to look out depending on when, where, and how you plan to use your wallet:
Wrap-around zip – a zip-around wallet is a convenient choice as it allows for quick and straightforward access to everything inside. You can often stuff extra cards or papers inside too, when necessary, before neatly zipping it up.
Card slots – check how many card slots there are and how easy it is to access them.
Concealed pockets – some wallets feature hidden pockets where you can put your most valuable items or even cash for emergencies. This is a good option for travelers who don't want people to see how much money they're carrying.
Bill pocket – check the size of the bill pocket before buying, as different currencies are different sizes. Some wallets will require you to fold bills first. If you like to keep hold of receipts, you also might want a bigger bill pocket.
Coin pocket – many wallets still feature coin pockets. Look for a pocket with zip or magnetic closure, so the coins don't fall out.
Smartphone pocket – bigger wallets might have a pocket where you can store your smartphone. This will protect your phone and also allow you to keep all your valuables in one place.
RFID blocking technology – this is an important feature if you're concerned about identity theft. This technology blocks radio waves and prevents your cards from being accessed by scammers.
Strap – some larger women's wallets feature a strap so you can wear them as a cross-body bag.
Wallet material
Most women's wallets are made of leather. Look for environmentally certified or sustainable leather—or even vegan leather options. You may also find cheaper women's wallets made of polyester or canvas.
Wallet color
Finally, consider color. Women's wallets come in a whole range of colors, from earthy and neutral shades to statement colors and patterns. It's ultimately a matter of personal preference. However, you probably want to choose something versatile that won't go out of fashion and won't show up stains.
Frequently asked questions about women's wallets