If there's one thing we could all do with more of, it's time. And while we can't add more hours to the day, we can point you in the direction of the best women's watches.
While in the past, women's watches took a back seat to men's watches, today luxury watches are no longer just for boys.
Below you'll find our guide to the best timepieces for women. Luxury watches of the highest quality and with the coolest designs, created with the needs of the modern woman in mind.
Watches made for high times and low times—and everything in between.
From our all-time favorite ladies' timepieces to the best affordable watches for women—as well as the most beautiful women's watches and the most elegant women's watches—here's our rundown of the top offerings for women from the world of timekeeping.
The 23 best watches for women
Check our special women's watch buying guide after the list to see exactly what you should pay attention to when shopping for a new designer watch online.
Nordgreen Unika: Best overall women's watch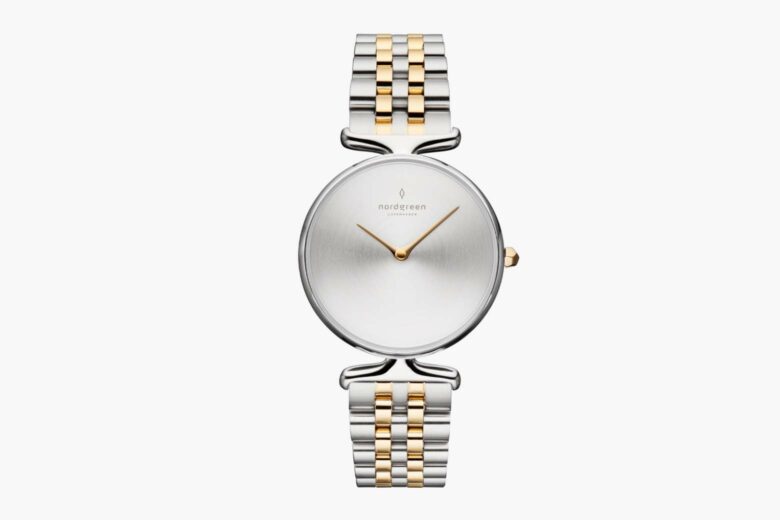 Virtually every women's watches from Nordgreen looks good, but there's something quite special about the Unika that just makes our hearts tick. The brand successfully designed the ultimate minimalist watch that delivers elevated style around the clock.
Designed in Denmark, Nordgreen's watches bring a modern approach to classic Nordic design. The brand is socially-conscious and fully carbon-neutral. Any carbon generated throughout the manufacturing or shipping process is offset by planting trees.
Nordgreen's watches come in beautiful set boxes. And you can upgrade them to a bundle with two additional straps if you want more options to mix and match the dial with a strap that complements your outfit of the day.
And with our exclusive discount code, you can get 15% off any purchase from Nordgreen. Just use code LUXED at checkout to redeem your discount.
Best for: the perfect combination of minimalist design and elegance.
| | |
| --- | --- |
| Case size: | 28mm or 32mm |
| Material: | 316L Stainless Steel |
| Movement type: | quartz |
| Colors: | silver, gun metal, rose gold, and gold |
Cartier Tank Française: Best high-end women's watch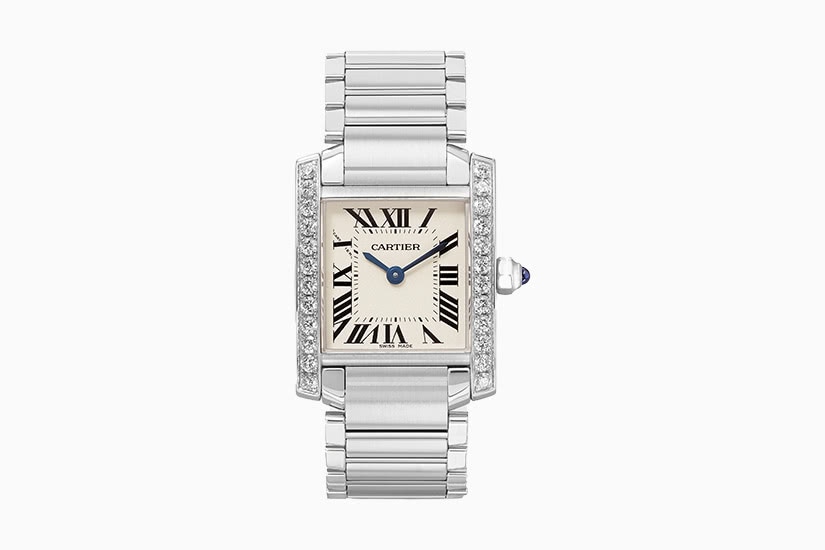 Cartier's Tank Française was, and still is, a game-changer. Launched in 1996, it found immediate popularity thanks to its small square face and chain-link bracelet. It's a timepiece destined never to go out of style, and a great investment too.
Any watch is immediately enhanced by the addition of diamonds, and this one has 24 framing the dial—just enough sparkle to keep people interested without being at all ostentatious.
The feel of the chain against your skin is smooth and comfortable—you'll basically forget it's there. The square dial—inspired by classic French architecture—has slanting Roman numerals and blue sword-shaped hands. Utterly iconic, it's undoubtedly one of the best luxury watches for women to date.
And because few of us have time to remember to wind a watch, the quartz movement is another bonus. Accuracy and reliability encased in pure class, Cartier's Tank Française has totally seduced us.
Best for: turning heads with a watch made to dazzle
| | |
| --- | --- |
| Case size: | 20mm |
| Material: | stainless steel |
| Movement type: | quartz |
| Colors: | silver |
Vincero Ava Watch: Best value watch for women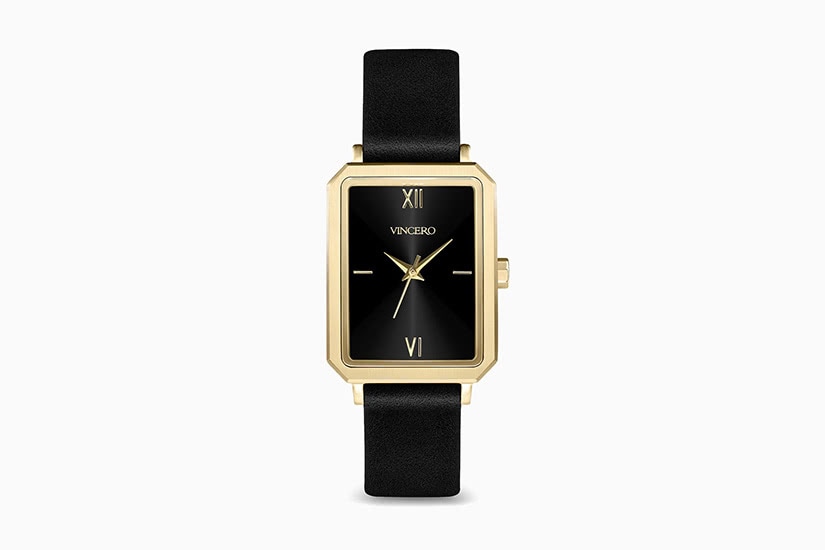 Some watches were born to be worn all the time, traveling with you on all your daily adventures, whether that's to the office, on a dinner date, or on a plane to somewhere exotic.
Vincero's Ava Watch is exactly that kind of watch. Glamorous without being over-the-top, it's the perfect everyday timepiece and looks as good in a meeting room as it does on the rooftop terrace of a cocktail bar.
With its ultra-modern rectangular face, this watch is the very definition of edgy and one of the best watches for women. The black version is our favorite: classic, sleek, and understated. But the rose gold and pale pink model evokes sweet feminine charm, while the brushed silver will woo any woman seeking timeless elegance.
A quartz movement ensures accurate time-keeping with minimum maintenance, and the stainless steel is hard-wearing and anti-allergic. All that at a price that's more than reasonable.
We'd bet Vincero's Ava is just the watch you've been waiting for.
Best for: an any time, any place, anywhere kinda watch
| | |
| --- | --- |
| Case size: | 24.5mm |
| Material: | stainless steel |
| Movement type: | quartz |
| Colors: | a range including black, pink, and silver |
Citizen Silhouette Crystal: Best jewelry women's watch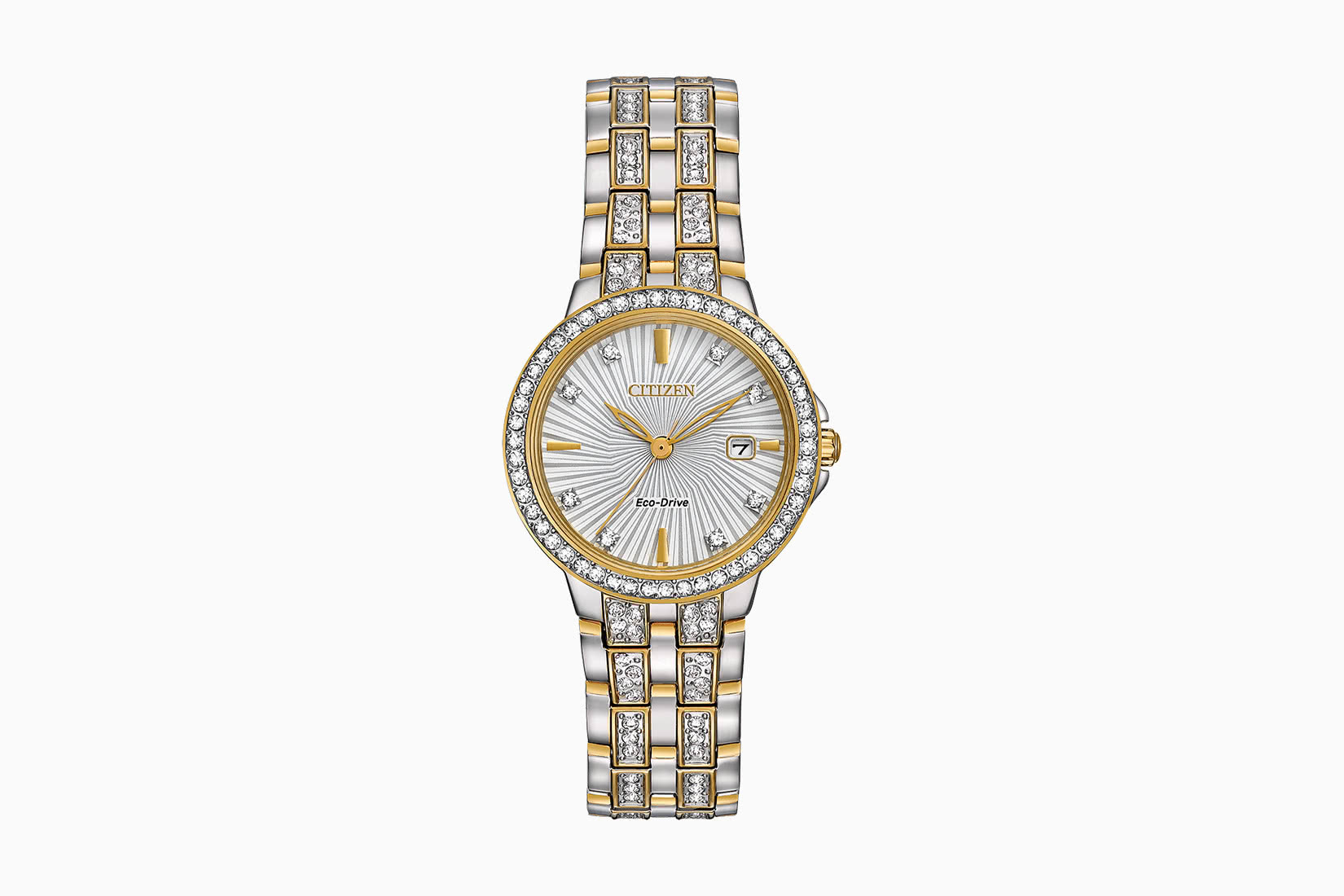 American watch designer Citizen is making a comeback this year with its new glamorous watch collection. Take this gorgeous Citizen Silhouette Crystal watch as an example. The classic lines of the two-tone watch are spiced up with dozens of mineral crystals jewelry. We think the Citizen Silhouette Crystal strikes the perfect balance between elegance and glam.
And it's a sustainable watch too! On the inside, you'll find the trusty Eco-Drive technology first invented by Citizen in the 70s. It uses light to power the watch, not a battery. So it's eco-friendly and will never run out of juice.
Best for: women who want their watch to shine bright.
| | |
| --- | --- |
| Case size: | 28mm |
| Material: | stainless steel and crystal |
| Movement type: | quartz |
| Colors: | a range including gold, silver, and rose gold |
Vincero Eros Mesh Watch: Best dressy watch for women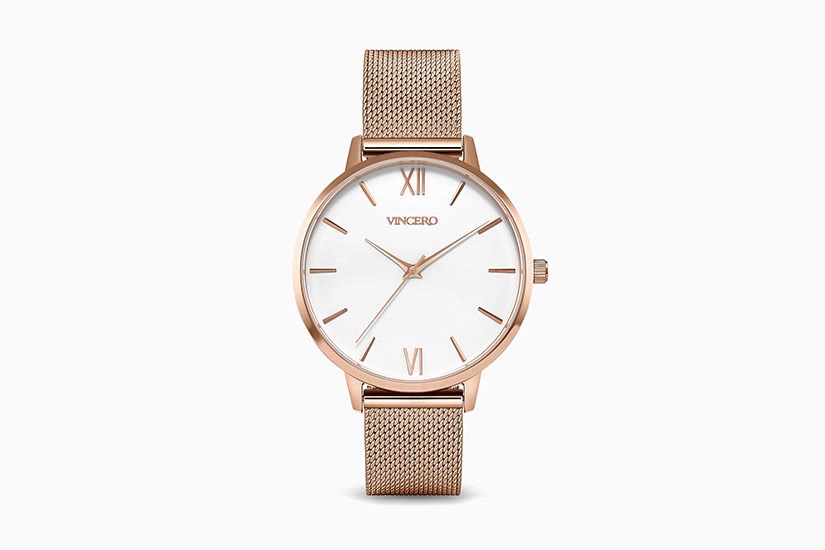 Vincero's Eros watch is aptly named. After all, Eros was the Greek god of Love. And take a look. Is it not love at first sight?
Vincero's Eros timepiece is the perfect day-to-day companion. It's a decent size, has a refined and low-profile dial, its mineral crystal glass is scratch-resistant, while the watch itself is rain-resistant. Plus the stainless steel mesh strap is hard-wearing and lightweight.
Imagine the Eros with a crisp shirt, midi skirt, and a pair of heels. Or with some comfy jeans and a t-shirt. It's endlessly versatile and effortlessly elegant.
Vincero is one of the top women's watch brands and this watch definitely gets our vote, whether you go for an edgy modern vibe with the matte black version or channel summery romance with the rose-gold model.
Best for: a gorgeous women's watch that's out to steal your heart
| | |
| --- | --- |
| Case size: | 38mm |
| Material: | stainless steel |
| Movement type: | quartz |
| Colors: | a range including pink and white, silver and blue, and all-black |
Anne Klein: Best bracelet watch for women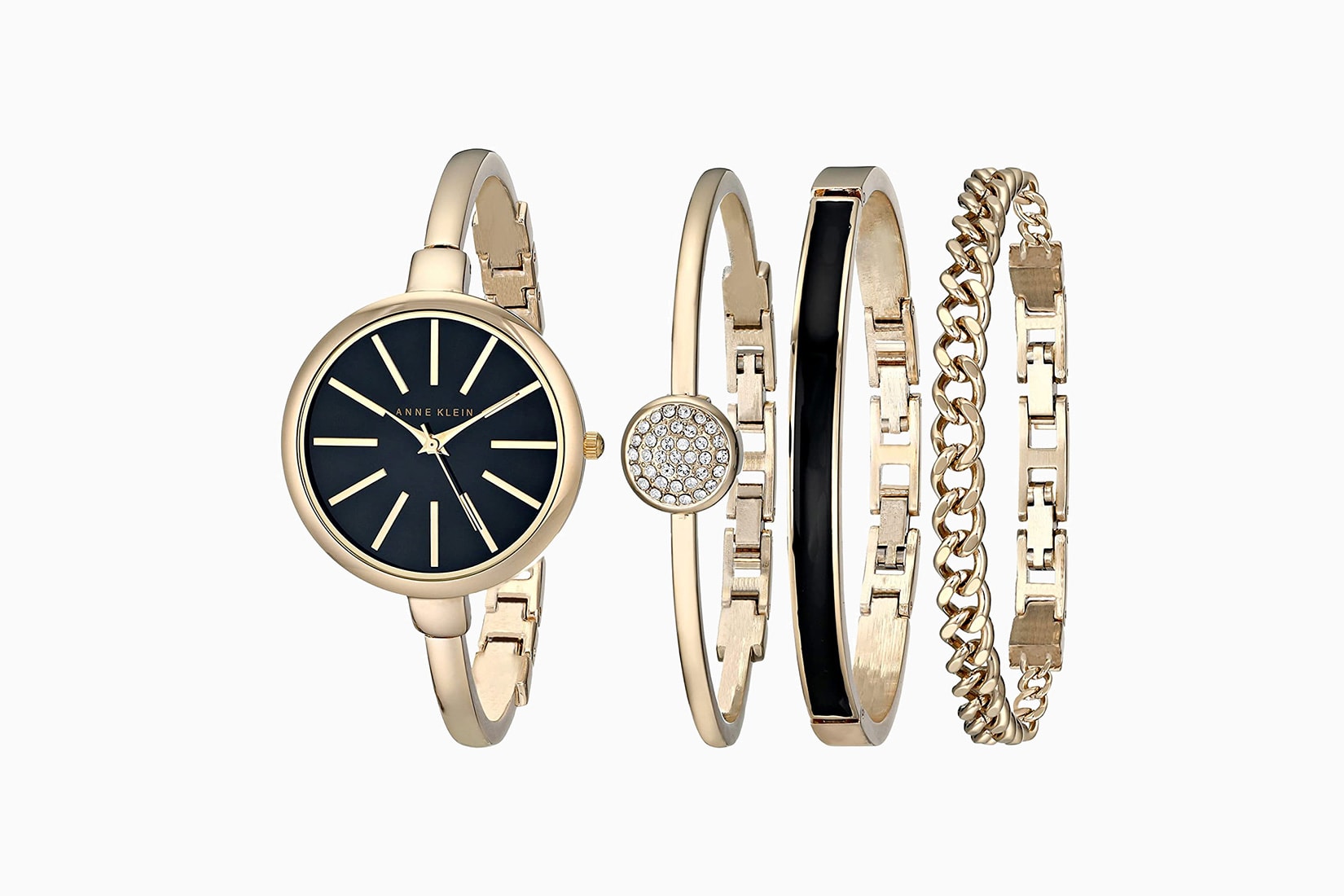 American fashion designer Anne Klein created the perfect bracelet watch for women who want their wristwatch to be a trendy fashion accessory in addition to telling the time. The round watch features a black glossy dial with gold-tone hands and stick markers. Inside, you'll find a reliable and budget-friendly Japanese quartz movement.
Anne Klein women's bangle watch comes with a beautiful matching bracelet set to complete the look. The set includes a chain bracelet, a bangle with enamel inlay, and a bangle accented with 36 premium crystals The designer watch is currently on sale for less than $50. No wonder the watch is a bestseller on Amazon.
Best for: women who like to accessorize their watch with matching bracelets.
| | |
| --- | --- |
| Case size: | 32mm |
| Material: | stainless steel |
| Movement type: | quartz |
| Colors: | gold bracelet with black dial |
Nordgreen Native: Best leather bracelet watch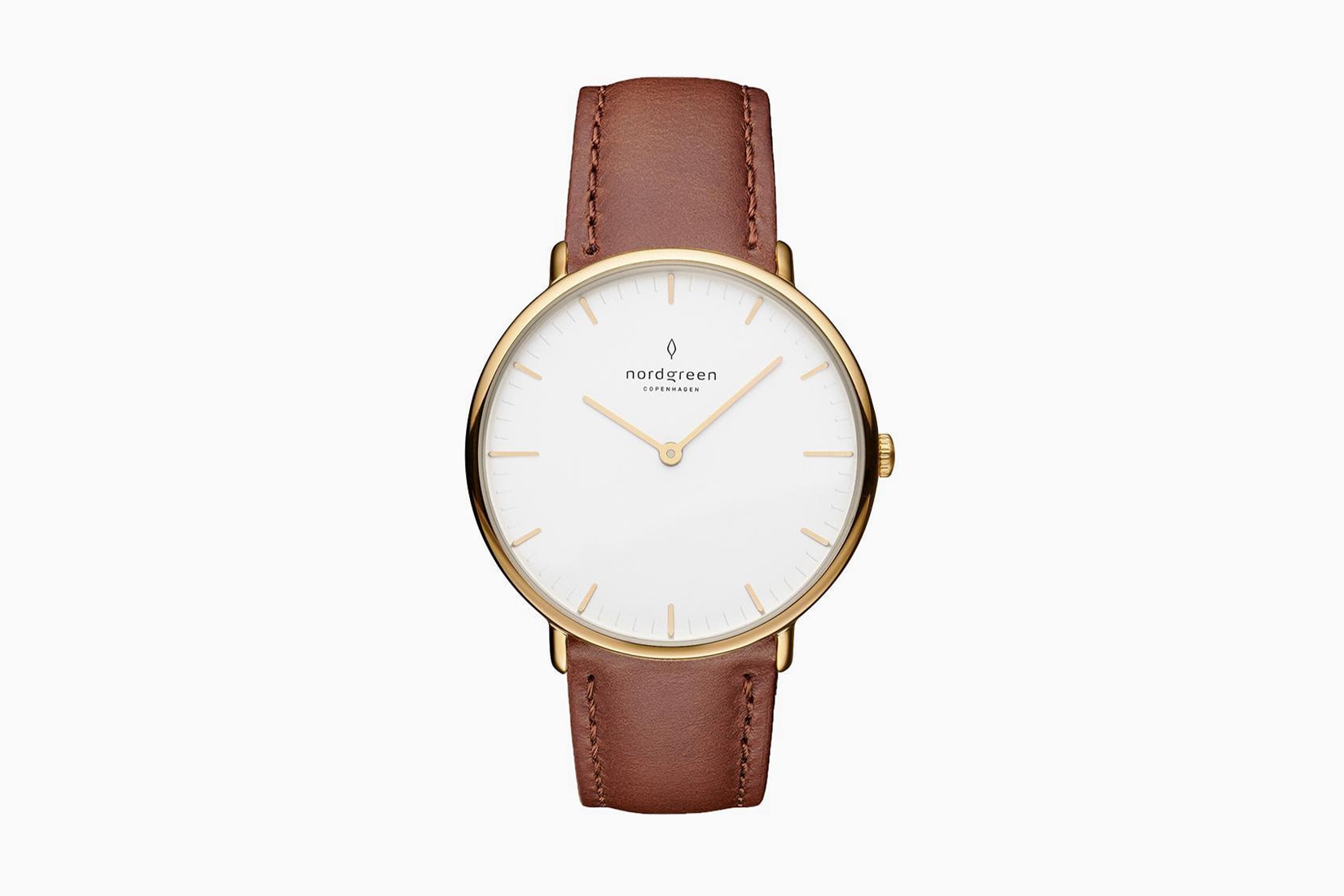 A leather bracelet on a lady's watch adds a certain sense of style and class that instantly elevates your look. Our preferred option for a leather bracelet is from Nordgreen. The Danish watch designer sources the finest Italian leather for its bracelet. They also offer vegan leather watch straps if you prefer. Both options are equally durable.
The Nordgreen Native is available in various colors but we love this gold case with white dial on a brown leather strap combination. You can also get a bundle with multiple straps if you like to change things up from time to time. The straps are built with a simple mechanism to swap them whenever you want.
Best for: that classic and timeless watch look.
| | |
| --- | --- |
| Case size: | 28mm, 32mm, 36mm, or 40mm |
| Material: | stainless steel |
| Movement type: | Japanese quartz |
| Colors: | gold, rose gold, gun metal, and silver |
Citizen Corso: Best gold watch for women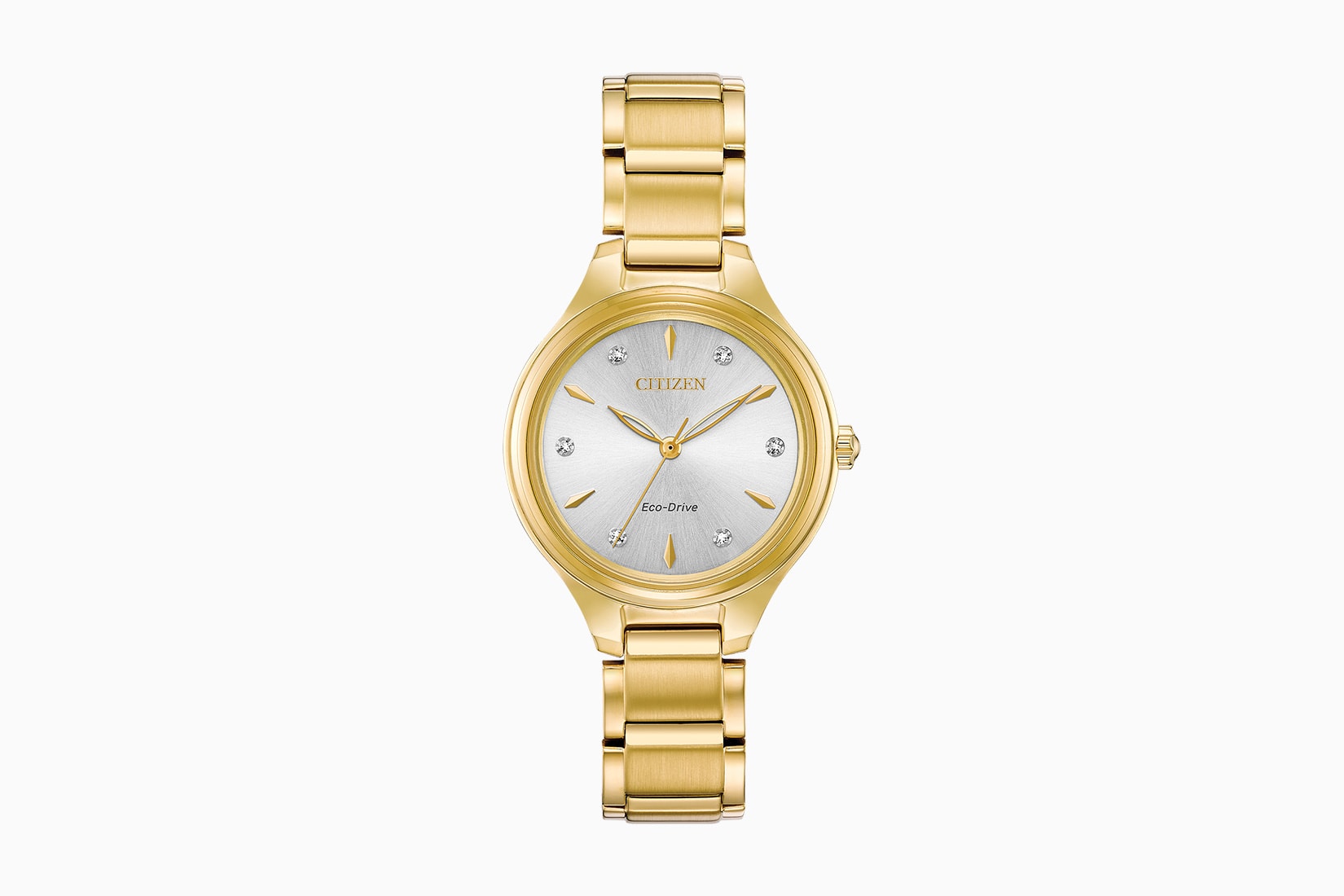 Want more gold on your wrist? Check this beautiful gold Citizen Corso model. The classic simple style of the watch contrasts with the gold-tone stainless steel case and bracelet. The perfect combination with the complimentary silver-white dial with diamond accents.
Inside, you'll find the trademarked Citizen eco-drive movement. It powers your watch with light, so you don't need a battery to tell the time. It's sustainable and reliable.
Best for: a special night out with your friends.
| | |
| --- | --- |
| Case size: | 29mm |
| Material: | stainless steel |
| Movement type: | quartz |
| Colors: | gold |
Apple Watch Series 6: Best smartwatch for women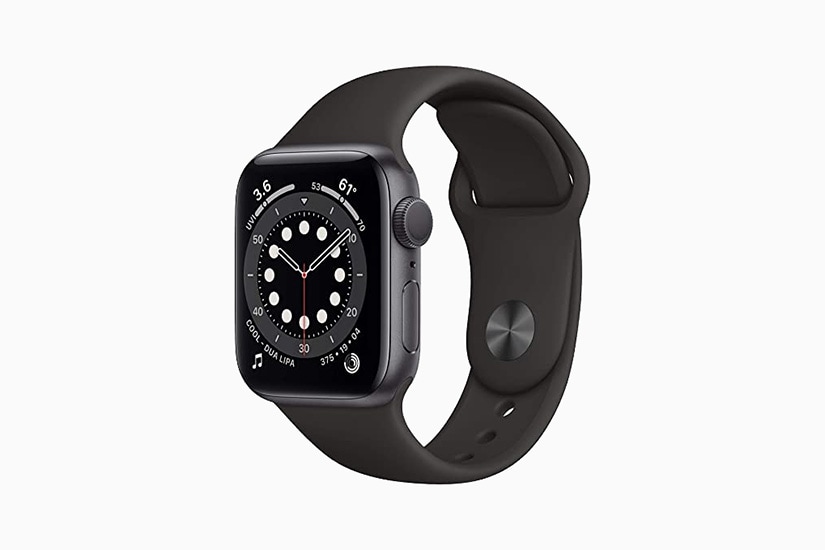 The Apple Watch Series 6 is here to change your life. A quick scan of the features reads like a list of all the things we've prayed for on those days when nothing is going right.
You can use Apple Watch Series 6 to pay for things. You can take calls. You can check emails and listen to music.
It has apps to help you beat your fitness goals, and includes GPS and water resistance to 50 meters. There's an app to keep an eye on your blood oxygen level, heart rate, and rhythm, so when you're getting stressed out in a meeting, you can remember to take a deep breath.
And our favorite feature? The Cycle Tracking app where you can log information about your menstrual cycle. You'll never be caught unprepared again.
Best for: a watch that doubles as a super-smart best friend
| | |
| --- | --- |
| Case size: | 40mm or 44mm |
| Material: | aluminium |
| Movement type: | quartz |
| Colors: | grey, silver, gold, blue, or red |
Vincero Kleio Steel: Best women's watch under $200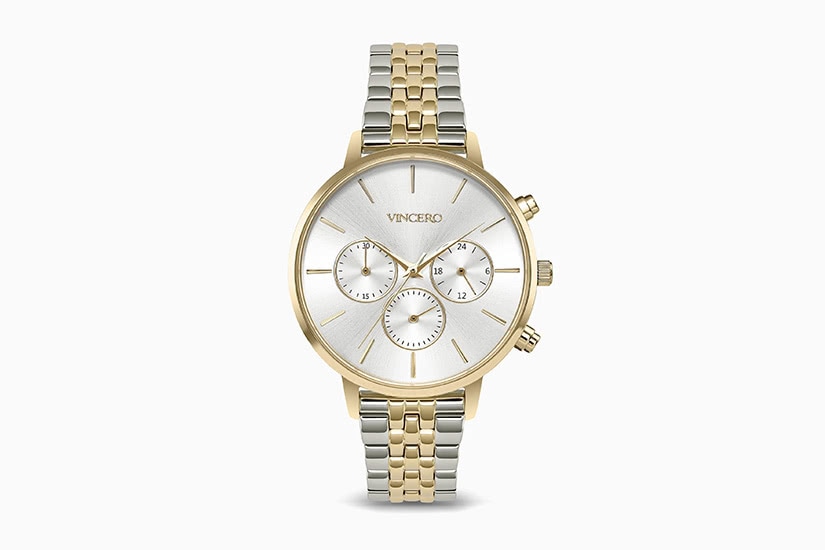 If you're not up for splurging six figures, but you'll stretch to three, then Vincero's Kleio Steel is worthy of your attention.
The Kleio is certainly not short on fashion factor, with a large range of color combinations to choose from. We're drawn to the gold and silver for a luxurious look. But the charcoal grey and matte black with rose gold are also lovely.
Its large and eye-catching round face comes with three subdials for timing seconds, minutes, and hours—more time-keeping capabilities than a girl could ever ask for.
The stainless steel case is rust-resistant and hypoallergenic. The mineral glass dial is scratch-resistant and long-lasting. And if you opt for a model with a strap rather than a bracelet, it's genuine Italian leather.
Vincero's Kleio Steel is far too nice to sit forgotten at the bottom of your beauty bag. Wear it every day and enjoy how the compliments roll in.
Best for: a stylish watch for finance-conscious fashion-lovers
| | |
| --- | --- |
| Case size: | 38mm |
| Material: | stainless steel |
| Movement type: | quartz |
| Colors: | a range including gold and silver, black and rose gold, and charcoal grey |
Gucci G-Timeless: Best women's watch under $500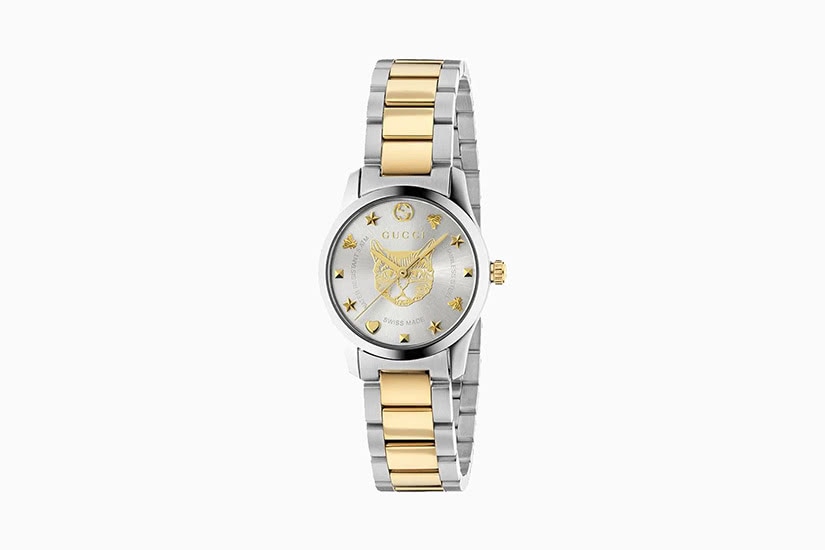 Bag yourself a total bargain with this second-hand Gucci G-Timeless. Who wouldn't want to sport such an icon of glamour on their wrist as they go about their daily business?
Gucci is practically synonymous with luxury. And so managing to get a watch designed by this giant of high-end couture for under a thousand dollars is nothing short of a miracle. The fact that the watch is also incredibly nice to wear is just a cherry on the horological cake.
Gucci combines its intuitive understanding of style with the very best Swiss watchmaking expertise to deliver wearers a timepiece that is, as the name suggests, timeless.
The stainless steel bracelet is bold and confident while the face is low-key and pared-back. The small brand name and logo indicate that this is an exclusive watch of superior quality, and one of the best luxury women's watches.
The Gucci G-Timeless knows what's important to the modern woman. Never forget happy hour again.
Best for: ultra-fashionable timekeeping from a brand that does style like no other
| | |
| --- | --- |
| Case size: | 38 mm |
| Material: | stainless steel |
| Movement type: | quartz |
| Colors: | silver |
Frédérique Constant Classic Ladies Quartz: Best women's watch under $1,000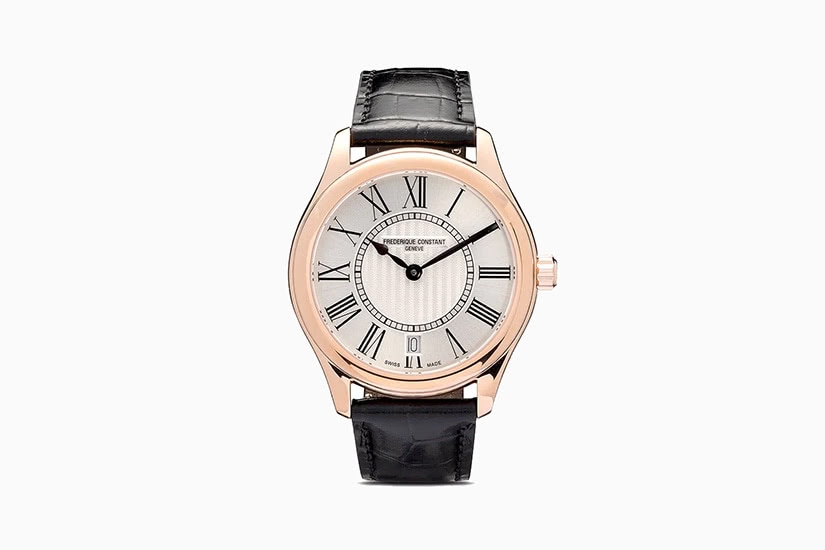 Frédérique Constant watches are some of the most desirable in the watch-making world. Fans of the brand include the likes of actresses Eva Longoria and Gwyneth Paltrow, so you'll be in good company if you go with this particular timepiece.
This classic watch with a traditional profile will look as good in ten years as it does today. Plus, it will still be keeping time just as accurately thanks to its reliable quartz movement that requires minimum maintenance from you.
A date indication at 6 o'clock means you'll never forget birthdays and anniversaries. And the sapphire crystal glass is totally scratch-resistant—the best material for dial faces out there.
Functional and fashionable with its eminently wearable 36 mm case, we especially like the rose gold-plated finish. Rose gold immediately creates an aura of contemporary cool. Combined with the edgy glamour of the black crocodile strap, the overall mood of this Frédérique Constant Classic Ladies watch is one of refined sophistication.
Best for: the very apex of luxury
| | |
| --- | --- |
| Case size: | 36 mm |
| Material: | rose gold-plated steel |
| Movement type: | quartz |
| Colors: | rose gold |
Vincero Eros Mesh Petite: Best professional women's watch for the office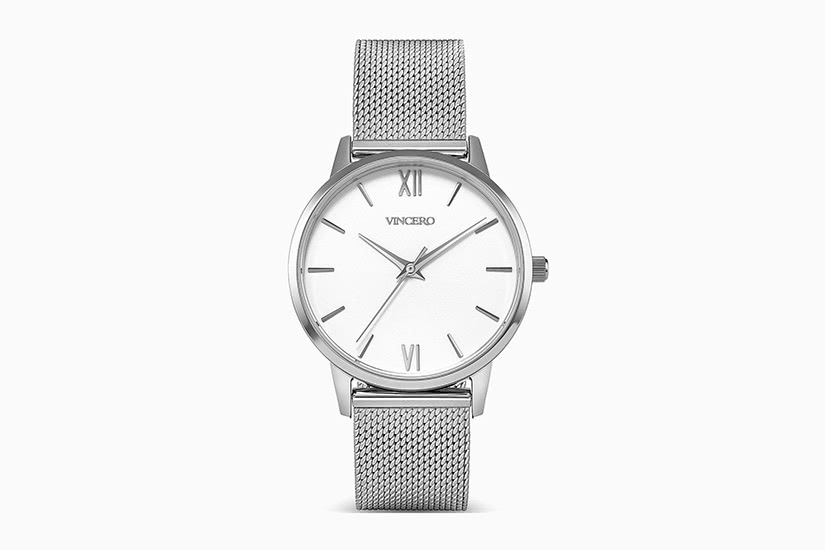 When it comes to choosing a watch for work, you want something that feels businesslike but still has a bit of personality. Something suitable for corporate settings, so not decked in diamonds, but that's still unique and compelling.
Which is what makes Vincero's Eros Mesh Petite the perfect watch for the office. With its 33 mm case size, it's inconspicuous and unobtrusive, a perfect work-friendly wear.
Wear it on business trips or for exuding the necessary confidence and poise in everyday meetings. The wide range of color combinations allows you to pick according to your particular style preferences and skin tones.
Slender and sweet, versatile and functional, this Vincero Eros Petite watch is a lesson in modest and understated beauty, offering the wearer the ideal day-in-day-out style.
Best for: conveying a cool and calm competence
| | |
| --- | --- |
| Case size: | 33 mm |
| Material: | stainless steel |
| Movement type: | quartz |
| Colors: | a range, including silver and white, rose gold, and black and caramel |
Chanel Stainless Steel Lambskin Watch: Best designer watch for women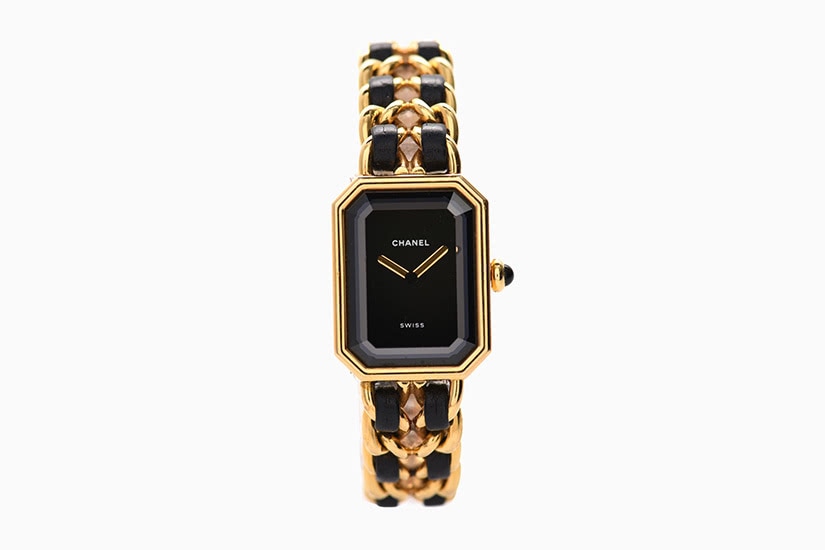 Does anyone do eternal elegance quite like Chanel? And is there a more classy color combination than black and gold? We think not. Hence why this Chanel lady's timepiece has serious superstar appeal.
Intricately crafted with a gold-plated stainless steel case, black dial, sapphire crystal glass, and a black and gold link-style bracelet—plus gold sword hands to complete the look—this is truly a watch like no other.
A timepiece-jewelry hybrid, it's the most ladylike watch on our list. Delicate yet daring, it's a watch for those women who like to get people's attention—but also pretend they have no idea that everyone's looking at them.
This is a watch for galas, exclusive parties, and red-carpet events. But why not wear it to dinner parties too? This one's too special to spend long in a jewelry box.
Tell the world you know what you're talking about with this Chanel watch that is at the very pinnacle of high-end time-keeping.
Best for: a watch-meets-bracelet that turns timekeeping into an art
| | |
| --- | --- |
| Case size: | 20 mm |
| Material: | stainless steel |
| Movement type: | quartz |
| Colors: | black and gold |
Armitron Women's Digital Chronograph: Best digital watch for women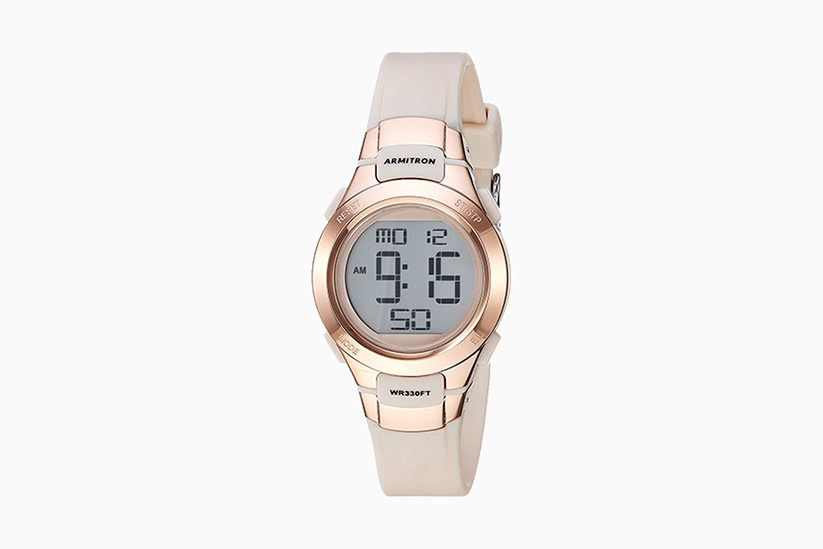 While analog watches have definite old-school charm and nostalgia value, there's a lot to be said for a digital watch. They're durable, convenient, reliable, easy-to-read—and we kind of like that tech-y aesthetic.
Like this Digital Watch from Armitron. Visually, it's very appealing, with its slim 27 mm case and a whole range of ice-cream shades to pick from.
Feature-wise, you've got a chronograph—or stopwatch—which is great for fitness fanatics trying to beat their personal bests. An alarm means no more rushing in the morning while a calendar means that end-of-month deadline won't creep up on you again.
The watch also has a dual-time function so you can maintain good time-keeping even on travels and business trips. And the fact that it's water-resistant to 100 meters means not only can you wear it in the shower but you can also take it swimming and snorkeling.
Armitron Digital Chronograph is a top-rated women's watch to accompany you to boardroom meetings, to cocktail bars, and to beach holidays in the Bahamas.
Best for: an affordable digital watch that will have your back in any hour of need
| | |
| --- | --- |
| Case size: | 27 mm |
| Material: | resin |
| Movement type: | quartz |
| Colors: | a range including rose gold, teal, and grey |
Fitbit Versa 2: Best fitness watch for women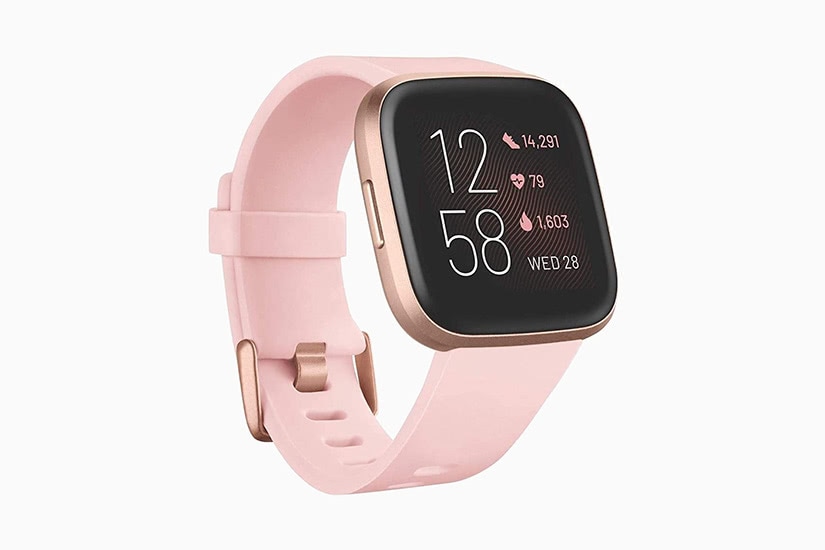 For gym junkies, triathlon competitors, and anyone who's happiest when they're achieving their fitness goals, then there's no question about it. You need a Fitbit.
With a Fitbit, it's all about the features. Of course, it helps that it's also cute to look at. But really, you're here for the ridiculous number of functions.
24/7 heart rate tracking, step counters, and distance monitoring—plus you can listen to music from Spotify, Pandora, or Deezer as you sweat. And after your workout, check-in to see how many calories you've burned—and whether you can justify that croissant (you can).
At night, the Fitbit monitors your sleep and gives you a score so you can understand why you feel so groggy in the mornings. And integration with Alexa means you can get news updates and other information, like the weather.
Grab yourself the Fitbit Versa 2 now. It's an investment in your health, after all.
Best for: a high-functioning watch to get you healthy, happy, and always on time
| | |
| --- | --- |
| Case size: | 40 mm |
| Material: | stainless steel |
| Movement type: | quartz |
| Colors: | a range including pink, black, and grey |
Garmin Forerunner 35: Best running watch for women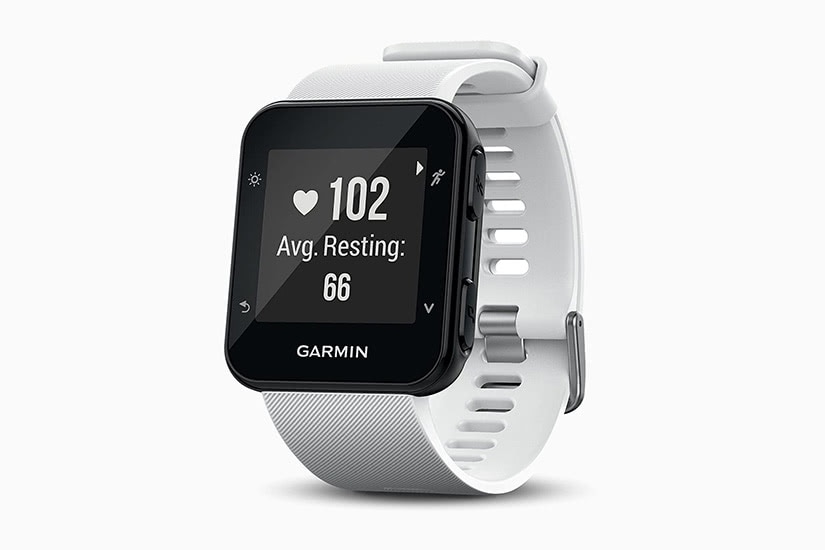 If running is your thing—marathons, cross-country, or training for your first 10K—then you need a watch to help you get over the finish line. Speed along the track leaving nothing but a cloud of dust behind you with the Garmin Forerunner 35 on your wrist.
The Forerunner 35 allows you to monitor all the most important aspects of your running. You can track distance, calories burned, pace, and lot's more, while the built-in GPS even works out in the woods. The 24/7 heart-rate monitor and the run/walk mode are further bonuses.
And if you tend to race against the clock elsewhere in your life too, then this watch can help, with smartphone compatibility that allows you to get social media and text alerts right to your wrist.
The streamlined, sporty, and unisex aesthetic is just what you'd want from a fitness watch, whether you go for the vibrant green or the stealth and incognito black.
Best for: anyone who's happiest when they're pounding the pavement
| | |
| --- | --- |
| Case size: | 35.5 mm |
| Movement type: | quartz |
| Colors: | black, white, blue, and green |
Jaeger-LeCoultre Reverso Duetto: Best classic women's watch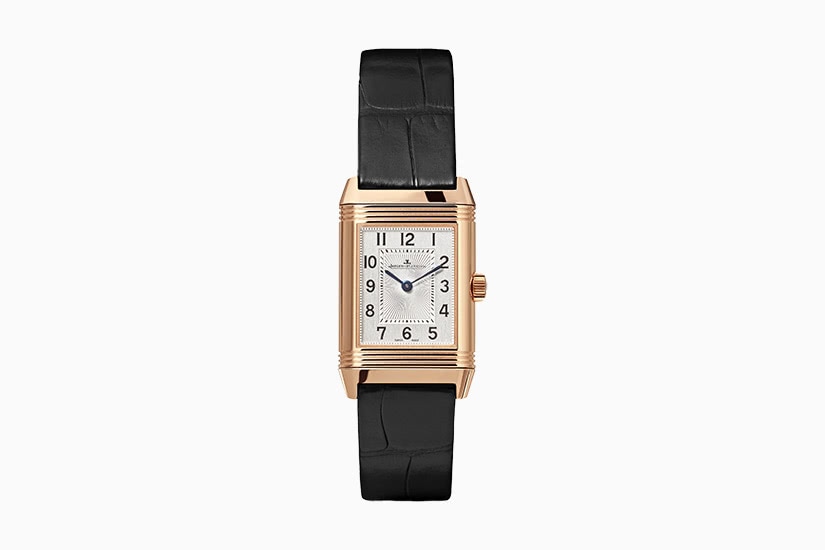 If you're seeking an immediately recognizable and iconic watch, your search stops here. Meet Jaeger-LeCoultre's Reverso Duetto.
The brand's Reverso watch was launched in the 1930s when it not only brilliantly captured the Art Deco aesthetic of that period but made horological headlines with its reversing case. Originally designed for both men and women, the Reverso evoked an elegant androgynous style.
This particular model—the Classic Duetto—is the perfect day-to-night watch. On the one side, you have the intricate silver guilloché dial. Then, on the other, a black sunray-brushed dial, set with rows of diamonds that sparkle in the light. All that packaged in a svelte 21mm case with an ultra-fine alligator strap.
Just imagine a candlelit dinner party. You tuck your hair behind your ear and suddenly all eyes are on the glittering play of light on your wrist. Hard to resist.
Because, in the case of watches, being two-faced is definitely a good thing.
Best for: a watch to wear both before and after midnight
| | |
| --- | --- |
| Case size: | 21 mm |
| Material: | rose gold |
| Movement type: | manual wind |
| Colors: | rose gold |
Hermès Heure H Watch: Best timeless watch for women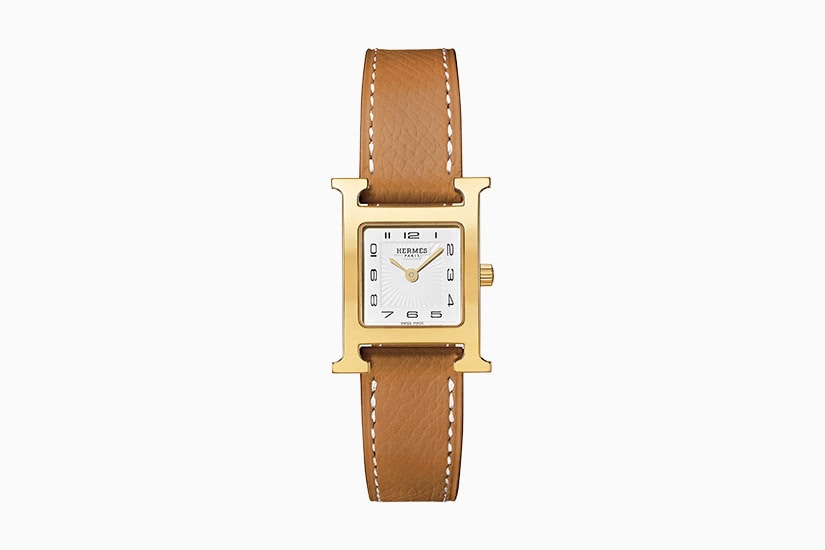 If you're looking for a timeless watch that will transcend changing fashion trends, then take a moment to examine the enduring elegance of the Hermès Heure H.
The first Heure H watch was launched in the 1990s and its H-shaped bezel became instantly iconic. No one had seen anything like it before. And, although it's now immediately recognized by horology-lovers around the world, it remains a timepiece with serious style impact.
This particular Hermès Heure H version is slight and delicate at only 21mm, while the high-contrast white sunburst dial with black Arabic numerals makes for easy reading. The textured-leather strap completes the look, making it the perfect accessory to smart casual attire.
This is a watch for everyone: superior quality, superlative style, and totally timeless.
Best for: a timepiece that will always be at the very summit of style
| | |
| --- | --- |
| Case size: | 21 mm |
| Material: | stainless steel |
| Movement type: | quartz |
| Colors: | gold with a range of strap colors including brown, orange, and taupe |
Vincero Ava Petite: Most trendy watch for women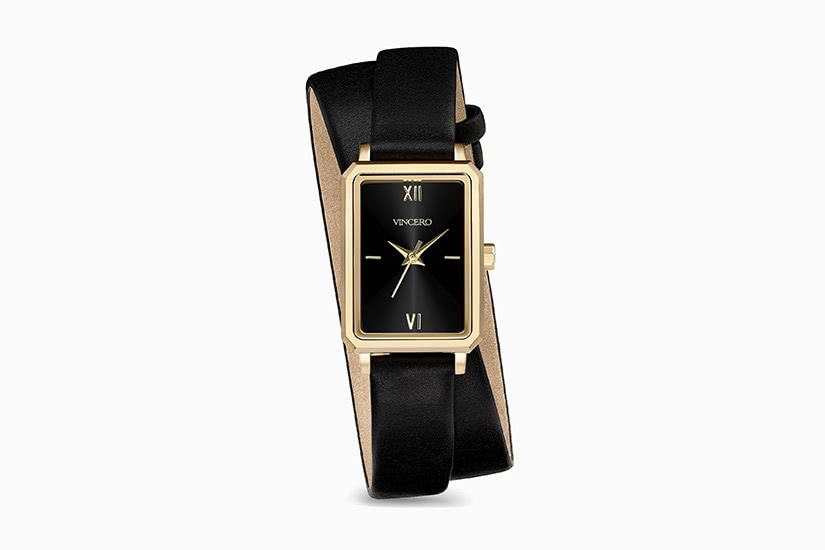 For the trend-setters and taste-makers among you, a watch that tells the time is only half the equation. You also want a watch to accompany you to catwalk shows and after-show parties. You want a watch with some serious high-fashion flair.
Vincero's Ava Petite is the one. This watch-meets-bracelet design is certainly one for the jewelry box, with its dainty case—only 20 mm wide—and an assortment of color combinations. Opt for black and gold for enduring allure, or the rose gold and pale pink to conjure some modern femininity.
A top-rated women's watch, the Ava Petite has the potential to elevate any outfit, whether that's a sleek work ensemble or a jaw-dropping evening dress. Forget about arriving fashionably late. What about arriving fashionably on time?
Best for: a fashion-forward watch that would look at home on the cover of Vogue
| | |
| --- | --- |
| Case size: | 20 mm |
| Material: | stainless steel |
| Movement type: | quartz |
| Colors: | a range including black and gold, silver and blue, and pale pink |
Anne Klein Diamond-Accented Bangle Watch: Best affordable women's watch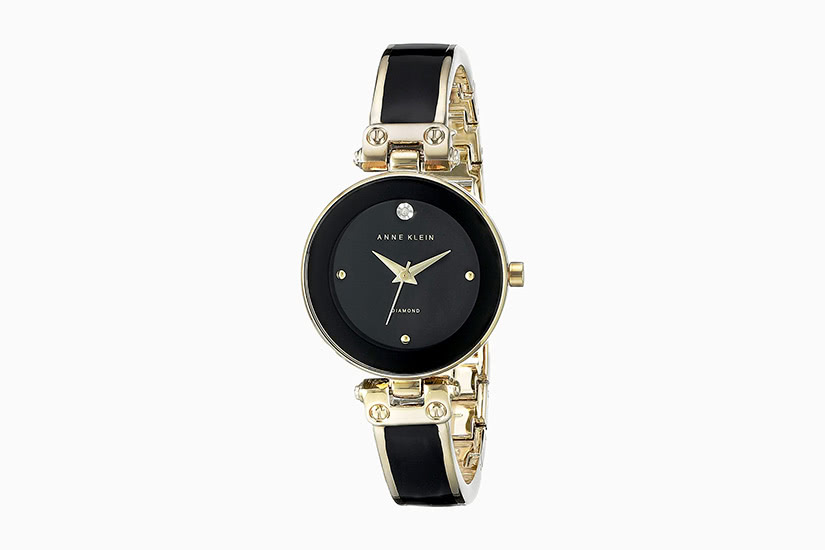 Nothing makes us feel smug quite like rocking a celeb-worthy accessory snagged at a bargain price. Which is why we've got our eye on this Anne Klein Bangle Watch.
This is the only bangle watch on our list and we're obsessed. A bracelet that can tell the time? That's what we're talking about. It has all the style appeal of our favorite piece of jewelry but it's functional too.
Aesthetically, this watch nails it. We especially love the diamond at 12 o'clock. Because isn't midnight just the most magical time?
Plus, it's practical, with a scratch and wear-resistant mineral crystal lens and water resistance to 30 meters, so it won't suddenly stop working if you get caught in a downpour. And, with a price like that, you can throw this Anne Klein bangle watch into your travel bag when you're about to hit the road without fretting about losing it.
The perfect gift for friends and loved ones. Because while flowers are lovely, a watch is the accessory people don't realize they're missing in their life.
Best for: a style-savvy timepiece that looks more expensive than it is
| | |
| --- | --- |
| Case size: | 28 mm |
| Material: | stainless steel |
| Movement type: | quartz |
| Colors: | a range including black and gold, orange and gold, and green and gold |
Nine West Women's NW/1981 Watch: Best budget watch for women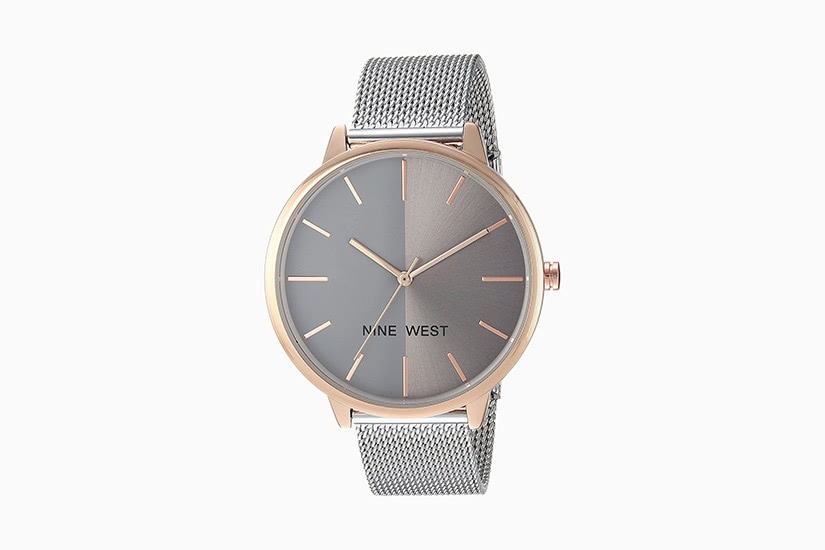 While your partner is lusting after one of the world's most expensive Rolexes, why not show him that mega-style doesn't have to cost megabucks with this stylish but budget-friendly watch by Nine West?
The 40 mm case makes this one of the bigger watches on our list but the dial itself is simple and pared-back. Check out the subtle details like the split dial: half matt taupe and half taupe sunray. The mesh bracelet feels sleek against your wrist and looks feminine and delicate too.
Traditional without being dated, this Nine West NW/1981 watch does it all. The perfect timepiece for around-the-clock wear, making sure that you never miss a thing.
Best for: proving that next-level style need not come with a price
| | |
| --- | --- |
| Case size: | 30 mm |
| Material: | metal alloy |
| Movement type: | quartz |
| Colors: | silver, gold, and silver and rose gold |
Jaeger-LeCoultre 101 Reine: Most expensive watch for women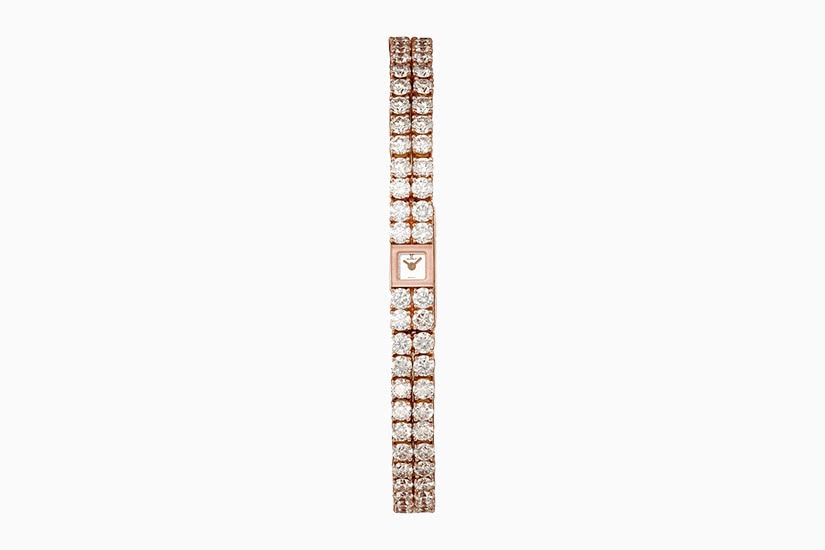 The most expensive and the most luxurious watch on our list, a silver-screen bombshell in the form of a timepiece, it's the Jaeger-LeCoultre 101 Reine.
Reine means queen in French, and this watch is so named because it was worn by Queen Elizabeth II on her Coronation Day. Who else can say they're wearing a timepiece that once graced the wrist of a sovereign ruler?
You'll certainly feel like royalty with a watch like this on your wrist—more of an exquisite piece of antique jewelry than a timekeeper. With its minuscule proportions—weighing just one gram—and tiny manual movement, it's a total sensation.
For watch wearers with expensive taste, then this is the dream timepiece—the perfect accessory to wear to all the most exclusive and glamorous after-hours events.
Whether you're driving around town in your Bugatti, or lounging in your lavish home, drinking champagne, then this is the luxury watch you need to be wearing. Channel A-list style, no matter the occasion, with one of the best luxury watches for women. 
Because these days, it's not diamonds that are forever. It's diamond watches that are forever.
We have a dedicated article on the story behind Jaeger-LeCoultre's brand if you're curious to learn more.
Best for: those who understand that you can't put a price on pure style
| | |
| --- | --- |
| Case size: | 6.8mm |
| Material: | 18-karat rose gold |
| Movement type: | manual |
| Colors: | rose gold |
Luxury women's watch buyers guide
When choosing a ladies' watch, there are a couple of important things to consider.
Material
Stainless steel is the most popular material for women's watches as it's rust and corrosion-resistant, anti-allergic, and affordable. Ceramic is another good choice as it doesn't scratch, is very lightweight, and feels cool against the skin.
Gold wristwatches are the most expensive choice of material, but highly desirable, and look great on women with warm skin tones. White gold is good for women with cooler skin tones, while other variations of gold are also popular, such as rose gold.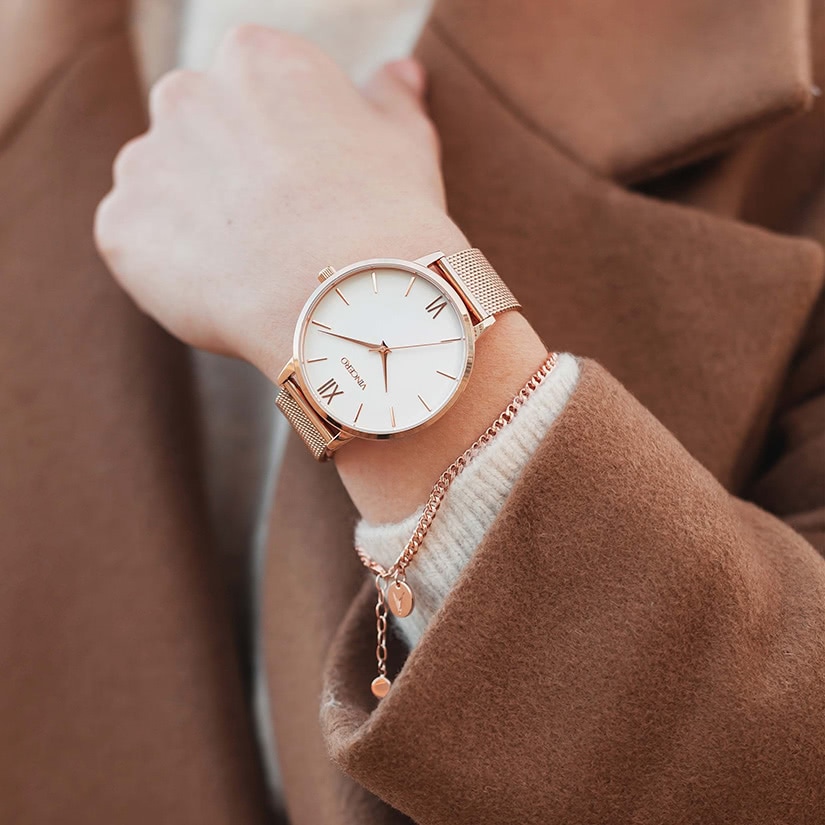 With the best women's watches, the dial is usually made of scratch-resistant sapphire crystal. However, sapphire can be expensive. Acrylic glass is the cheapest option, while mineral glass, probably the most popular choice, offers a good middle ground between the two.
Movement
With ladies' wristwatches, there are two movement types to choose between.
Mechanical movements are the traditional and most high-end choice, due to the incredible technical skill that goes into making them. Swiss mechanical movements are considered the best.
Mechanical movements can be either automatic or manual winding. With manual watches, the wearer has to wind the watch from time to time to ensure accuracy. Automatic mechanical watches, or self-winding watches, need to be worn regularly or otherwise put in a watch winder.
The other option is a quartz movement which is powered by a battery. Quartz watches are usually less expensive and lower maintenance.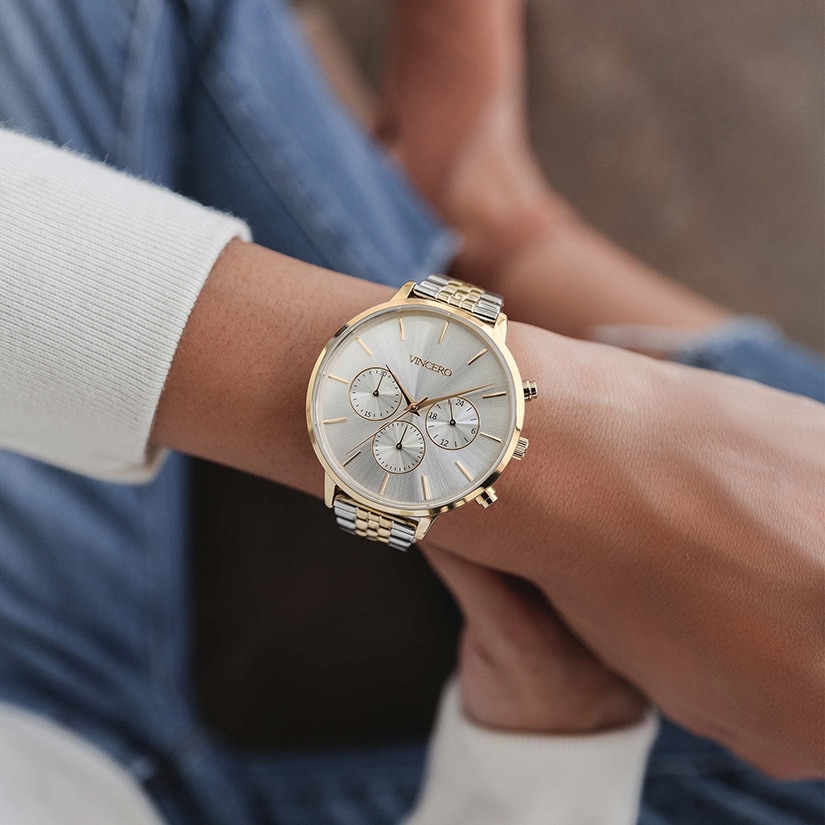 Style
Different styles of ladies' watches include dress watches, jewelry watches, casual watches, or sports watches.
Dress watches, or fashion watches, tend to be eye-catching and statement-making, pushing the boat out in terms of aesthetics and craftsmanship.
Jewelry watches usually feature expensive materials and are similar to a luxury bracelet.
Casual watches often have large dials for easy-reading and lack the jewels and gemstones that would be inappropriate for everyday use.
Sports watches are often digital with large dials and functionalities such as heart-rate or speed monitoring. They may also be waterproof.
Ladies watch shape and size
Conventionally, women's watches are round and this is the most classic look. But you can also find rectangular, square, and triangular watch cases, offering a more modern vibe.
The most popular women's wristwatches are usually between 22 and 38 mm in diameter.
Strap
Many women's wristwatches have leather straps, which offer a timeless and elegant look. The other option is a bracelet—either a single mesh band or linked. Sports watches might have rubber straps for durability and water resistance.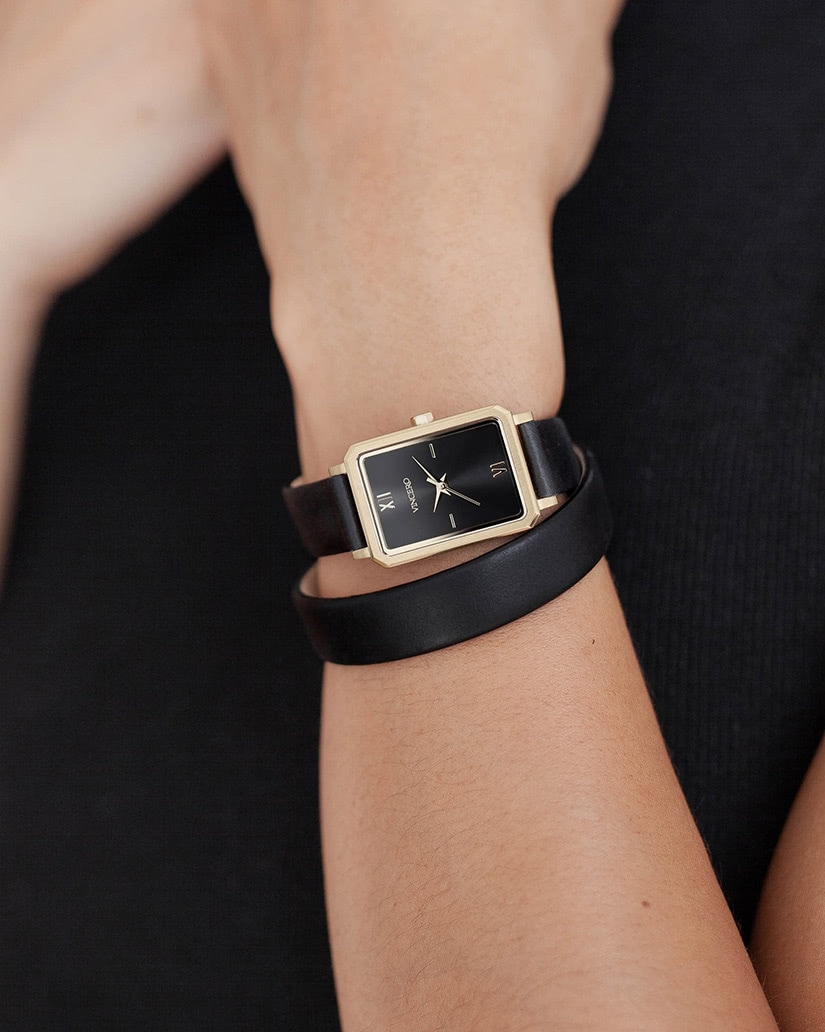 Some watches for women have an interchangeable strap, allowing the wearer to coordinate with the rest of their outfit.
Additional features
As for complications, there are several additional features that are worth paying attention to:
World-time allows you to tell the time around the world using a rotating chapter ring that displays a number of other cities with different time zones.
Moon-phase shows the current phase of the moon.
Chronographs can be used as a stopwatch.
Perpetual calendars display the current date.
Frequently asked questions about women's watches
Which brand is best for ladies' watches?
The best brand for ladies' watches is Nordgreen. Nordgreen makes high-quality watches for women, which are known for their impressive design, sleek aesthetics, and attention to detail. Vincero makes affordable watches for women, while Jaeger-LeCoultre is the best luxury ladies watch brand.
What are the most popular women's watches?
The most popular women's watches include the Reverso by Jaeger-LeCoultre and the Tank Française by Cartier. These watches have a large cohort of devoted fans thanks to their combination of masterful mechanics along with serious fashion appeal. They are icons of horological design.
What kind of watches are in style this year?
The watches that are trending this year include ones that have a rather masculine style—oversized and sporty. Another women's watch trend is jewelry-watch combos, featuring plenty of diamonds.
What are the best women's luxury watches?
The best women's luxury watches are the Reine 101 by Jaeger-LeCoultre—once worn by Queen Elizabeth II—and the Tank Française by Cartier. These exceptional timepieces by some of the best watch manufacturers in the business offer wearers high-quality timekeeping and craftsmanship, as well as an elegant and timeless aesthetic.