We all know that working relationships are a delicate dance. You need to suck up to the boss—but not too much. You want to have fun with colleagues on the weekend—but keep it clean. You want the tech guy in your corner—without sending the wrong message. And while all of those office relationships can make or break your career, don't underestimate the importance of a good working relationship with your work pants. After all, we all know what constantly sucking in does to our moods. Or what stifling fabric makes us feel. It could even lead you to inexcusably snap at your manager. And that never ends well.
Just like your other office relationships, a good pair of work pants is all about striking the perfect balance. They should put up with your Monday morning meltdowns—but empower you to stride into the workplace with confidence. They should be comfortable enough to wear from nine to five—without simulating loungewear. They should look chic and stylish—yet maintain a timeless sophisticated demeanor. Most importantly, they should be versatile enough to wear more than once a week—without anyone ever noticing.
Don't get us wrong, it's not easy finding a pair that constantly hits the sweet spot—unless you use our carefully curated list of the best work pants for women, that is. But once you've found the perfect pair (the kind that you don't want to rip off at 5pm on the dot), there's no workhorse quite like them.
The 15 best work pants for women
Cuyana Silk Wide Leg Pant: Best overall work pants for women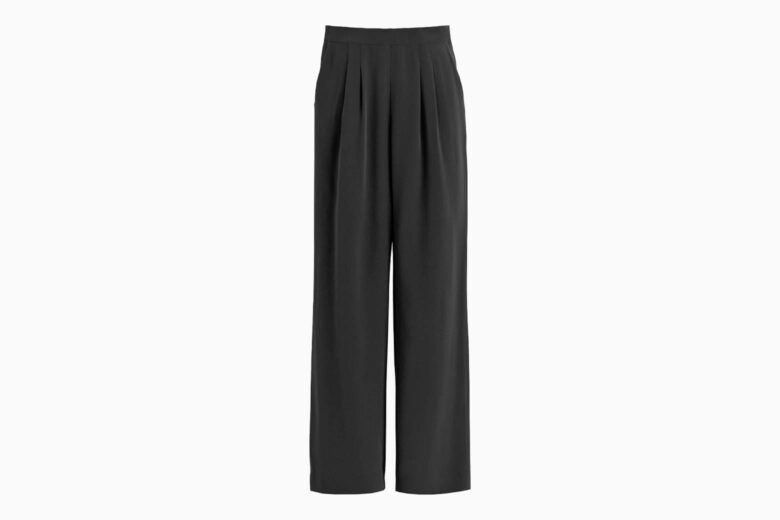 What's that saying? Behind every successful woman, there is—a perfect pair of work pants? Whether that's how it goes or not, you'll find it to be true with Cuyana's silk iterations. The silk fabric and delicate pleating give them an elegant-yet-empowering attitude. The wide leg silhouette is right on trend. While the elasticated back makes them feel like loungewear.
Pair these Cuyana women's work pants with a longer top at the back, and no one will ever know that they're practically glorified sweatpants.
Best for: Elasticated, elegant and empowering.
| | |
| --- | --- |
| Colors: | Black, Rust, Mushroom + More |
| Material: | 100% Silk |
Anine Bing Classic Pant: Best designer dress pants for women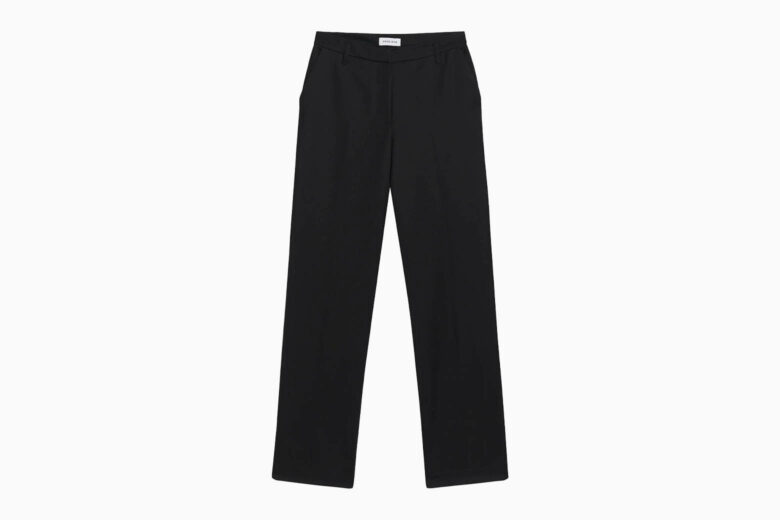 When it comes to dress pants for women, tailored is the name of the game. And this timeless pair by Anine Bing proves it. The classical mid-rise silhouette features a straight-leg fit, functional slant pockets, and two back welt pockets. While the slightly longer hem is having a moment amongst influencers and A-list celebs.
Pair these tailored pants with a matching blazer for a polished look that's totally promotion worthy.
Best for: Tailored trailblazers.
| | |
| --- | --- |
| Colors: | Black and Green |
| Material: | 100% Wool |
Tronjori Palazzo: Best value women's dress pants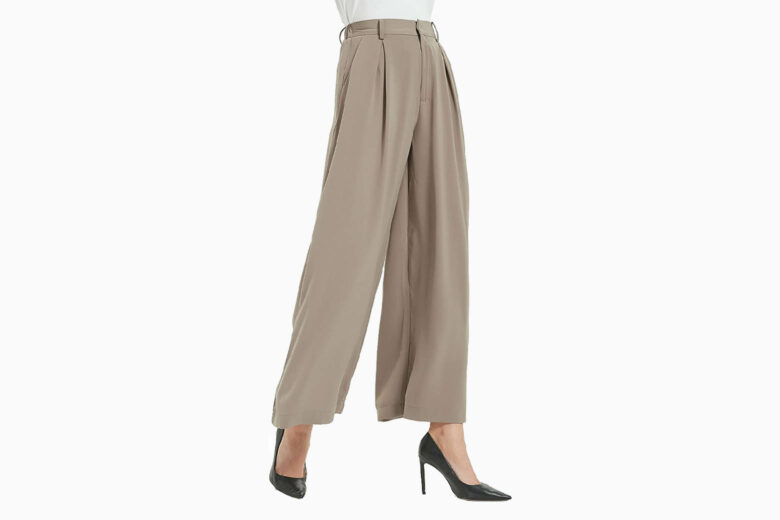 Every now and then, we find high-quality apparel without the bespoke price tag. And when we do, we'd be selfish not to share. Carefully crafted and beautifully finished, Tronjori's palazzos are case in point. The high-waisted silhouette is effortlessly elongating. While timeless pleats speak to polished styling.
Plus these high-waisted work pants come in every color under the Amazon.com sun. So all you need is a few iterations and multiple white tees. And your office arsenal is complete.
Best for: Bespoke fits without bespoke price tags.
| | |
| --- | --- |
| Colors: | Black, Beige, Camel + More |
| Material: | 100% Polyester |
WHBM Elle Slim Ankle Comfort Stretch Pant: Best black work pants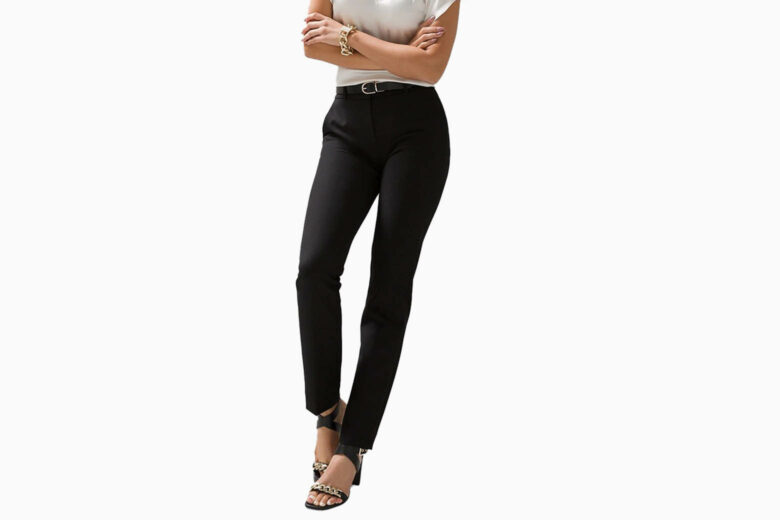 Anyone who claims that stretch pants aren't office appropriate obviously hasn't tried this pair by White House Black Market. Renowned for its focus on classic colors, the luxury American brand was into sustainable capsule wardrobes before it was even a thing. And as any good businesswoman will know, the key to a good capsule wardrobe lies in its versatility and wearability. Cue these black work pants—and if they're stretch, we'll take two.
Best for: Black trousers for colorful lives.
| | |
| --- | --- |
| Colors: | Black, Gingham Neutral, Biscotti + More |
| Material: | Cotton Blend |
Frankie Shop Maesa: Best cargo women's dress pants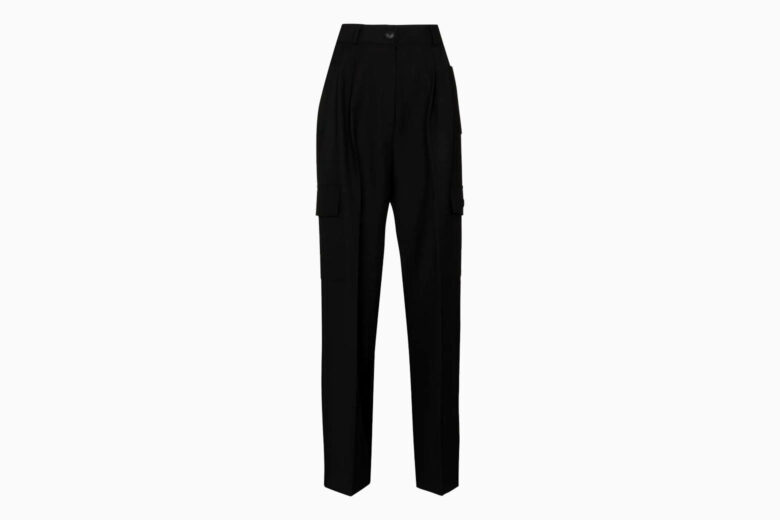 Take your rightful place as the office fashionista with Frankie Shop's cargo pants. Drawing inspiration from the y2k-trend, the high-end brand gives corporate wear an edge with classical cargo oversized pockets and a nonchalant loose-fitting silhouette. However, these high-waisted black pants maintain a boardroom-ready aesthetic with their cinched waistline and corporate pleats.
Best for: Ready-to-work cargo pants.
| | |
| --- | --- |
| Colors: | Black |
| Material: | Polyester Blend |
Maeve: Best wide leg black pants for women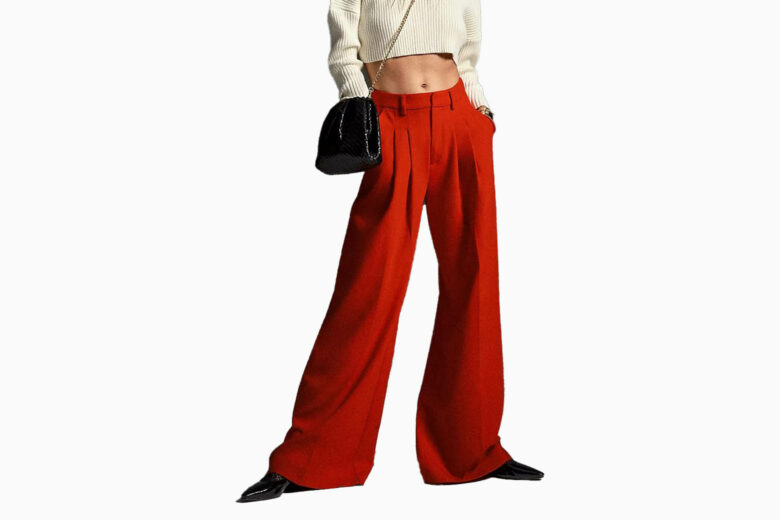 We'll take our work pants wide and our wage gap narrow. Adeptly named after a Greek goddess and Irish warrior queen, Maeve strives to empower women through clothing. And these business casual pants do just that. The neutral black or navy hues sanction you to pair them with whatever you please. The exaggerated, full-length wide leg exudes a graceful charm. While the unsubtle pleats give these work pants a borrowed from the boys' feel.
Best for: Wide pants; narrow wage gap.
| | |
| --- | --- |
| Colors: | Black and Navy |
| Material: | Polyester Blend |
Toteme: Best breathable work pants for women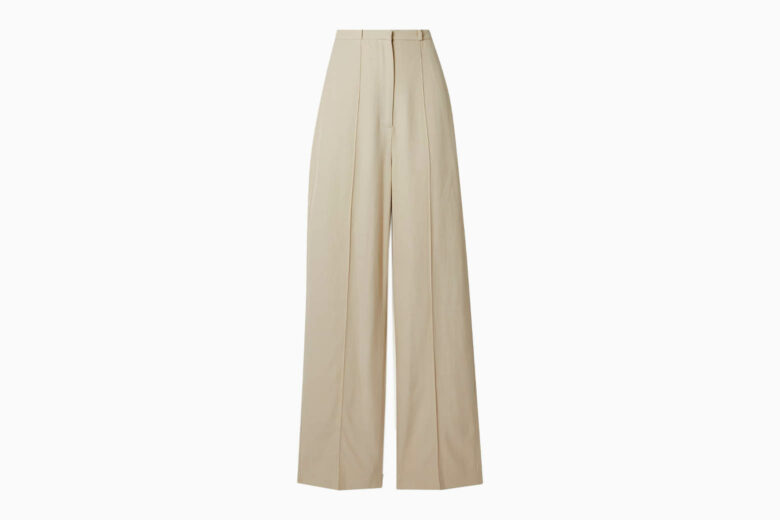 If you're looking for a pair of work pants that outlast your nine to five, they've got to be breathable. Cue this fabulous pair by minimalist Sweden label, Toteme. The sumptuous silhouette is soft and versatile in a neutral beige. The elongating pressed pleats give them a corporate feel. While patch pockets add an extra utilitarian touch.
Dress these breathable work pants up with your most comfortable heels. Or add an air of nonchalance with your trendy white sneakers—perfect for casual Fridays.
Best for: A little breathing room between jobs.
| | |
| --- | --- |
| Colors: | Beige |
| Material: | Viscose Blend |
Vetements: Best high-waisted work pants for women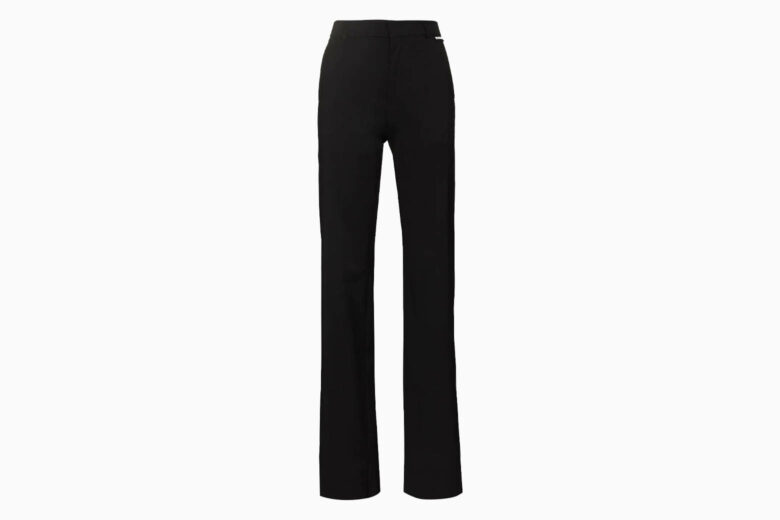 We all know the flattering effect that a good pair of high-waisted pants can have. Especially when they're a black straight leg cut—as in the case of this pair by Vetements. The soft wool blend and belt hoops speak to their classical sophistication. While the looser fit and longer hem give them a slightly sporty-chic aesthetic. Dress them up with your best ankle boots and a chiffon blouse to make your boardroom-style trendy.
Best for: High-waisted for an even higher salary increase.
| | |
| --- | --- |
| Colors: | Black |
| Material: | 100% Viscose |
Axel Arigato Jackie: Best women's tailored pants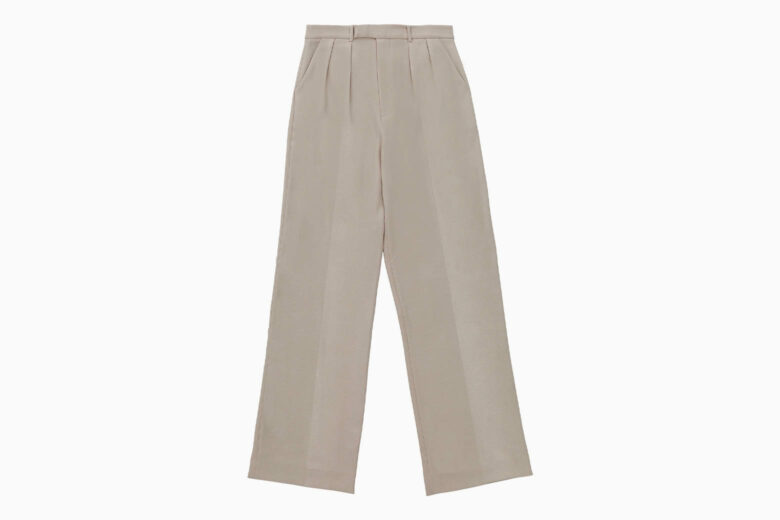 Pleated work pants pull double duty. They create a small waist and fall elegantly around your curves. And they give even the comfiest iterations a classy-corporate edge.
These tailored pants by Axel Arigato are case in point. Renowned for challenging conventions, the avant-garde Swedish brand always adds a twist—be it chunky soles or monogram mania. But this time they've kept it relatively simple and office-appropriate in a soft beige, relaxed straight-leg fit. While the extra length tells your colleagues that you always go the extra mile—when it comes to your style, at least.
Best for: Pulling double duty—in the office and out.
| | |
| --- | --- |
| Colors: | Camel |
| Material: | Viscose Blend |
Anine Bing Ian: Best ankle black dress pants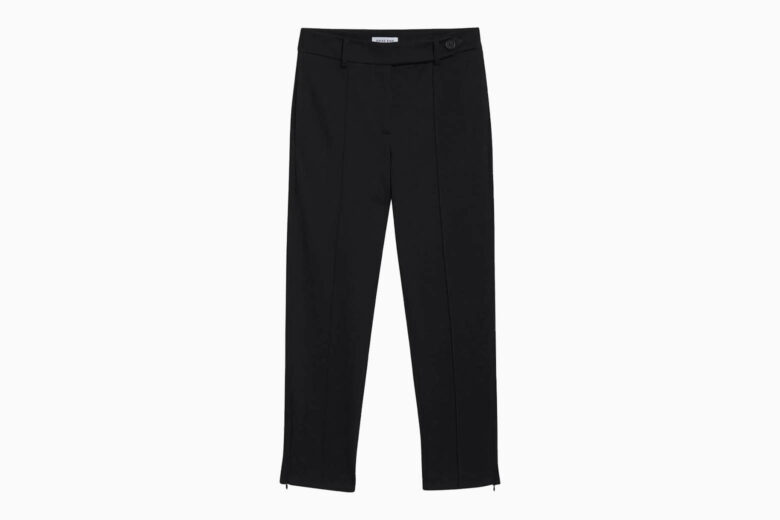 Go on then, show a little ankle. And look fabulous doing it with Anine Bing's Ian Pant. The tailored pants are infused with stretch, making them as comfortable to wear as they are flattering. Plus, the zipper at the outseam means that you can cool off your calves when your over-dressed colleagues turn down the air conditioning.
Pair these versatile black trousers with almost anything—from oversized blazers to floral chiffons. Just don't forget your designer work bag to complete the look.
Best for: Cool and comfortable.
| | |
| --- | --- |
| Colors: | Black |
| Material: | 68% Rayon, 25% Polyamide, 7% Spandex |
'S Max Mara: Best cropped stretchy dress pants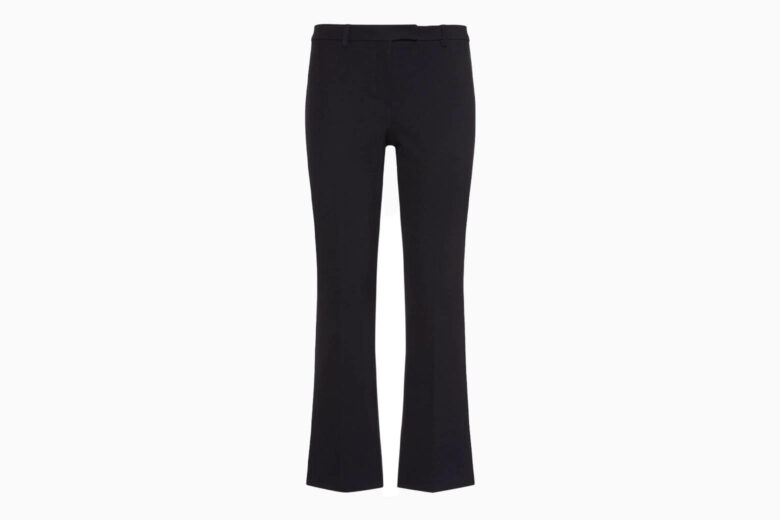 Trust Max Mara to offer our waistlines a much-needed reprieve with these stretchy dress pants. With sophistication being inherent to the Italian brand, you don't need to debate whether stretch pants are office appropriate or not. When they're this classy, the question needn't be asked. Plus, the cropped, slightly flared cut provides the perfect opportunity to show off your new ankle boots. Bellissimo!
Best for: Cropped, cute, and ready to conquer.
| | |
| --- | --- |
| Colors: | Dark Blue |
| Material: | Cotton Blend |
Alessandra Rich: Best tailored pants for women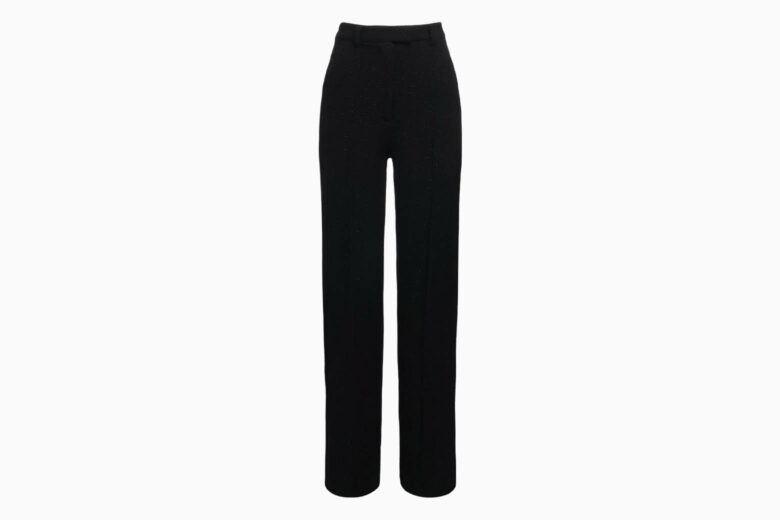 Tailored pants give off the illusion that you're running the show—even if you're still the one doing group coffee runs. And these black dress pants by Alessandra Rich are all about that boss-girl mentality. The soft wool blend brings the magic with a subtle sparkle. While the high waist silhouette and straight-leg cut are effortlessly flattering. Go black on black on black with a pair of heels and red lips and no one will be able to say no to you—not even the IT guy.
Best for: Tailored to flourish.
| | |
| --- | --- |
| Colors: | Black |
| Material: | Wool Blend |
WHBM Skinny: Best pull-on pants for women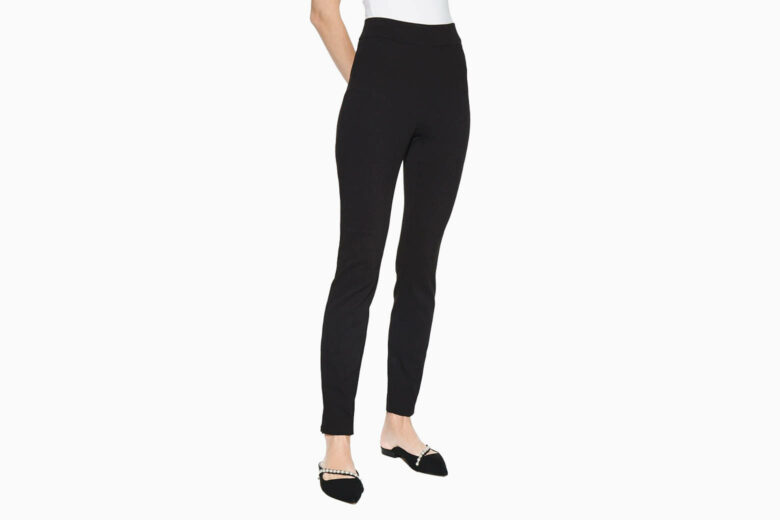 For the days when your alarm doesn't go off—or you hit snooze one too many times, these pull-on pants have got you covered. Empowering women through comfort and versatility, White House Black Market is our go-to for quintessential closet staples. 
These skinny ankle pants feature a side zip for fashion and functionality. While the neutral colors pair well with absolutely anything—you won't have to think twice when you have five minutes to go from your bed to the boardroom.
Best for: From bed to boardroom-ready in a snap.
| | |
| --- | --- |
| Colors: | Black, Gingham, Maroon + More |
| Material: | Rayon Blend |
Slvrlake London: Best work jeans for women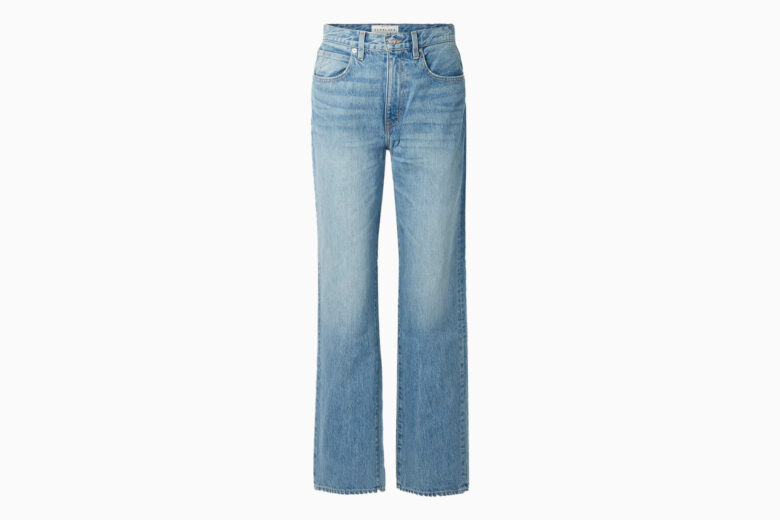 We had to throw in a pair in honor of our favorite day of the week—casual Friday. And these work jeans by Slvrlake London tick all the boxes. Void of rips and holes, the slightly faded baby-blue denim maintains a relaxed, carefree attitude. While the high-rise, straight-leg silhouette is right on trend with the mom-jean craze. Plus, all you need is a change of shirts, and you're ready to head straight from the office to cocktail hour.
Best for: It's Friday—yeah!
| | |
| --- | --- |
| Colors: | Blue Denim |
| Material: | Denim |
Cuyana Stirrup: Best ponte work pants for women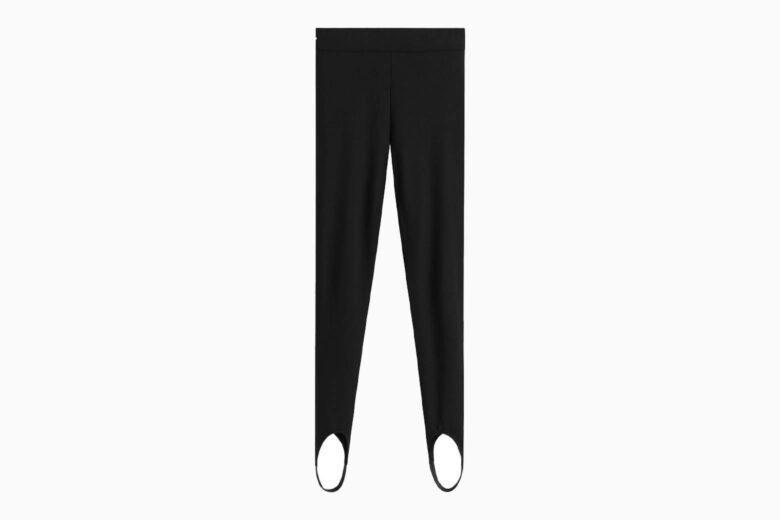 Cuyana's ponte work pants are the perfect way to transition from working at home loungewear to office corporate wear. The stretch, stirrup silhouette is just as comfortable as your WFH track pants. But the sleek, black style lends itself to a myriad of board-ready ensembles. Dress these Cuyana work pants up with a black oversized blazer, and heels for a look that shows the world (your core team) that you mean business.
Best for: Transitioning from zoom-styling to in-person meets.
| | |
| --- | --- |
| Colors: | Black |
| Material: | Viscose Blend |
Frequently asked questions about the best work pants for women
What pants are good for work?
When it comes to work pants, durability is key. They need to outlast your nine to five, in comfort and style. When it comes to style, tailored is the name of the game. You want your pants to look smart and polished. You should also look for materials that are wrinkle-resistant. When it comes to comfort, look for women's work pants with a bit of stretch in them. Check our curated list of the best work pants for women to find the perfect one for you.
What are the different types of work pants?
Work pants come in many shapes and forms. When it comes to fabrics: wool blends are good for Winter, while lightweight fabrics such as linen lend themselves to Summer work pants. When it comes to style: wide-leg pants are trendy and comfortable, cropped cute pants are good for showing off your footwear. And everyone needs at least one pair of black high-waisted, straight-legs in their arsenal.
What are work pants called?
Work pants don't have an official name. You can call them formal pants, dress pants, tailored pants—or anything that infers a sophisticated style.
What are the most comfortable pair of pants?
Comfort in work pants usually comes down to two things: fit and fabric. Regarding the fit, an elasticated waistline adds some stretch to your pants. And when it comes to fabric, lightweight work pants such as linen or cotton are good for breathability—especially in Summer.