The most comfortable shoes in the world? It has to be our slippers. But walking shoes are running a close second. The best walking shoes for women are designed to be comfortable all day and look stylish. 
The best women's walking shoes are created with an understanding that when we say functional footwear, chunky orthopedic horrors are the last thing we want. We're seeking trendy kicks that also happen to be recommended by podiatrists. 
Perhaps you're a fitness obsessive looking for a shoe to help you rack up the miles. Or maybe your idea of walking is the kind that happens in between stores in the shopping mall. 
Whether you're a Fitbit fanatic trying to boost your step count or just want shoes for running errands, these are the best functional, fashionable, and most comfortable walking shoes for women you'll never want to take off.
In short, walking shoes that walk the walk.
The best walking shoes for women
All the shoes featured on our list of the best women's walking shoes of 2020 are independently selected by our team. If you buy something through our links, we may earn an affiliate commission at no extra cost to you.
Check below our listing to see exactly what to look for when shopping for your next pair of women's walking shoes and tips on how to wear them in different situations.
Oliver Cabell Low 1: Overall best walking shoes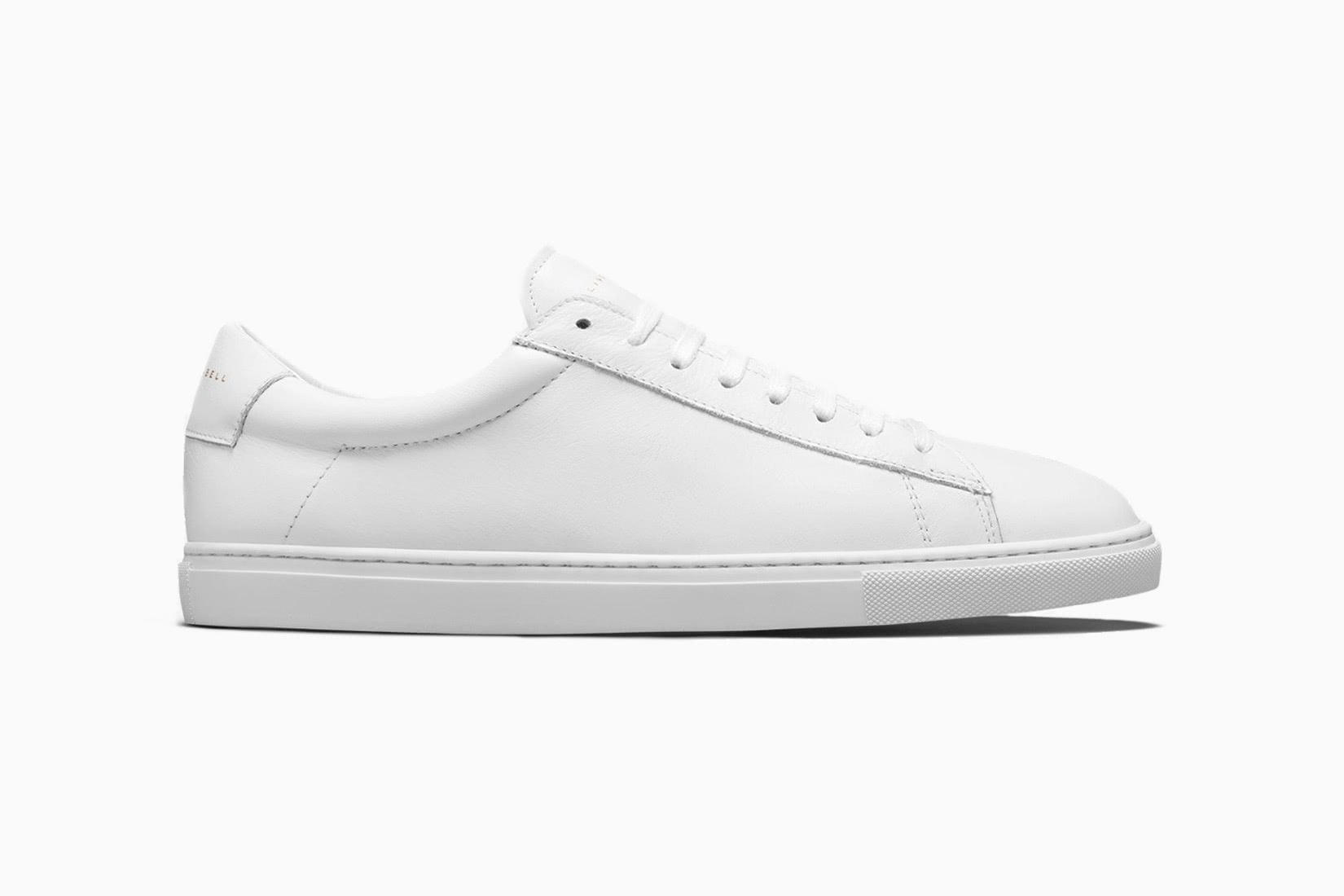 If you're looking for sophisticated yet casual footwear that will keep your feet comfy and cushioned all day—from morning brunches to afternoon strolls in the park—look no further.
The new reigning king of effortlessly stylish footwear, Oliver Cabell, has made a name for itself by offering luxury-grade sneakers for men and women at a fraction of the price of competitors and has won a dedicated following ever since. 
The appeal of these pared-back and ultra-sleek white sneakers by Oliver Cabell is evident – they're comfortable, affordable, and elegant with just the right amount of subdued cool.
Oliver Cabell Low 1 is a clean, classic low-top made with the highest-quality luxury materials. We're talking full-grain calfskin leather from Veneto in Italy—as soft as it gets. The laces are Italian waxed cotton, while the lining is Spanish cowhide leather.
Enjoy the peerless skills of the best Mediterannean craftsmen with these minimalist women's walking shoes, which will definitely become your footgear of choice for summer and beyond.
Check our in-depth review of Oliver Cabell's sneakers and our profile on Oliver Cabell's brand.
Koio Capri Bianco: Best designer walking shoes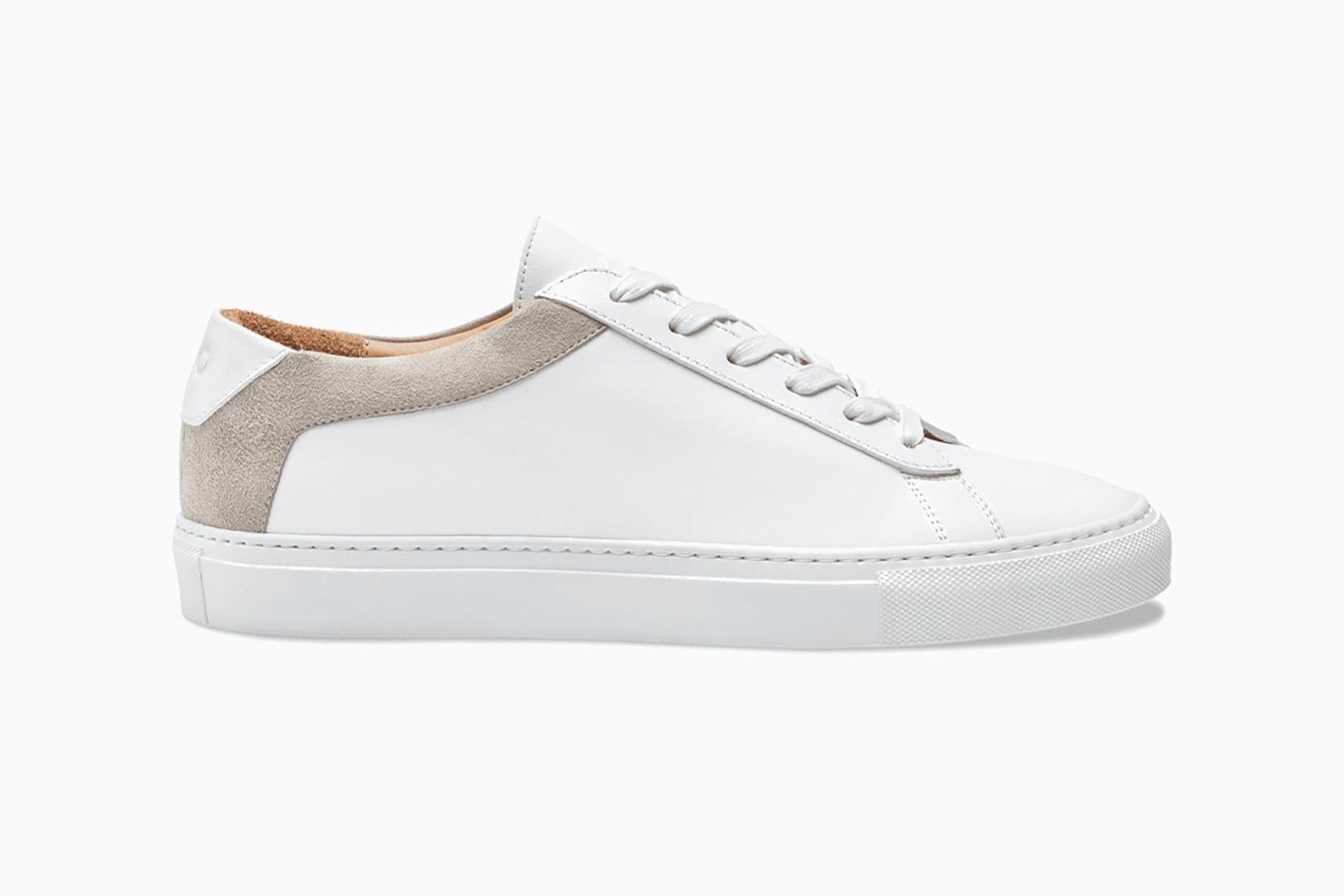 We're all about laid-back luxury. This is why we're obsessed with these designer walking shoes from Koio, the brand championing Italian craftsmanship with an unparalleled commitment to detail and quality. 
This is Koio's original white sneaker, and the brand certainly started as it meant to go on with these superbly high-quality everyday shoes for women. Why stress your feet with stilettos when you can play it cool with the Capri Biancos? 
The Capri Biancos are white—a staple in any fashionista's wardrobe. The stripe of light-grey calf suede is a subtle but stylish touch that has us nodding in sartorial appreciation. Finally, all materials are sourced in Italy—because when it comes to footwear, Italian expertise is unrivaled. 
Overall, the vibe is chilled-out and clean-lined, ideal for everything from lazy Sundays to meetings at the office. With these on your feet, you can take life in your stride and not even break a sweat.
Nike Tanjun: Best value walking shoes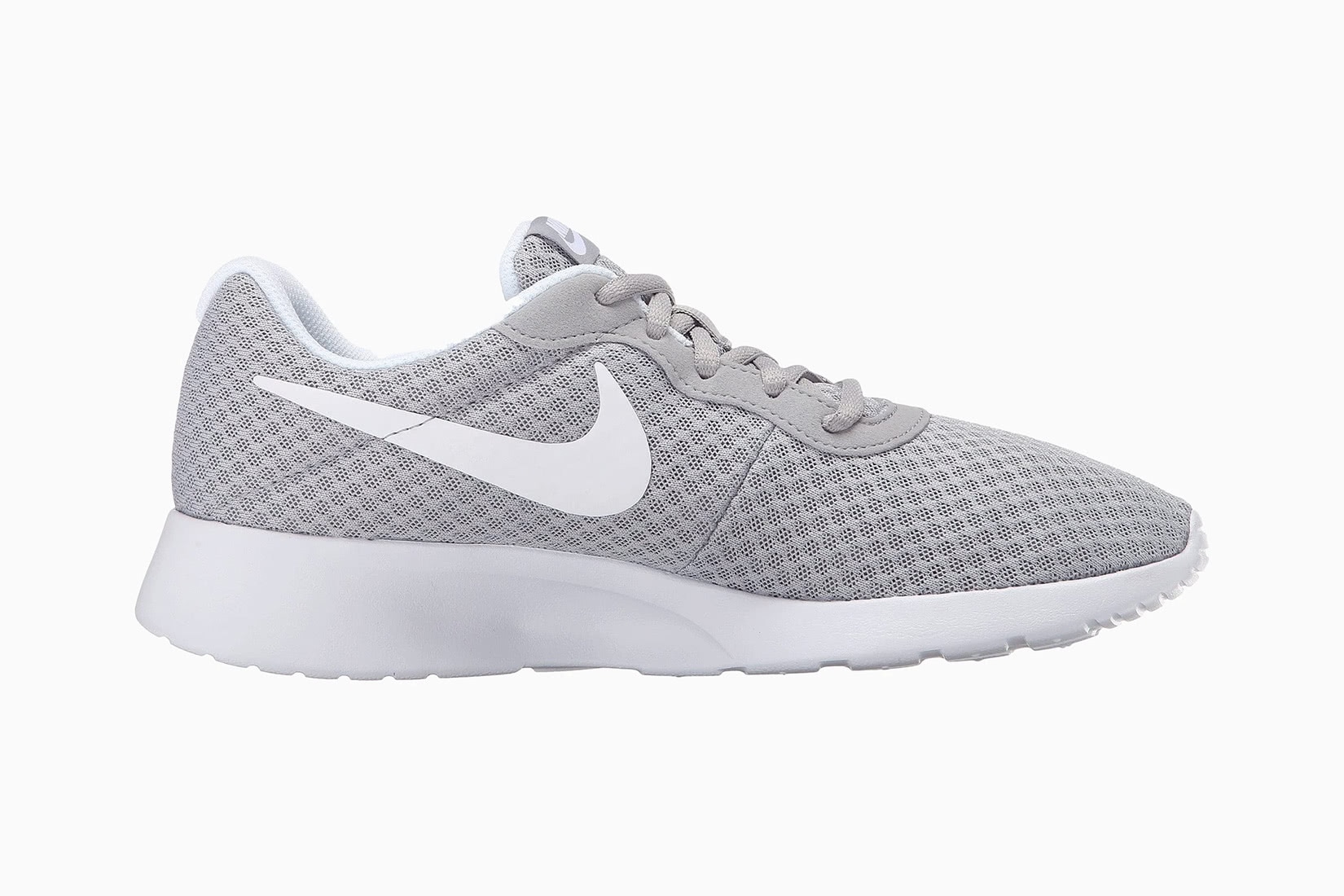 For footwear that you plan to wear every day, from dusk until dawn, and in all situations—running for the bus, taking the kids to school, meeting friends for lunch—then you want something budget-friendly. 
These Nike Tanjuns are low-key and trendy walking shoes. Tanjun means simplicity in Japanese, and these shoes are perfect examples of relaxed contemporary cool. 
The Nike Tanjun is definitely a more athletic walking shoe, but with that eye for practicality comes exceptional comfort. You've got a mesh upper to allow your feet to breathe, so your feet will stay cool and fresh. The chunky midsole provides plenty of cushioning underfoot. 
These are some of the most comfortable walking shoes for women and have received a ton of positive reviews, including one from a medical assistant. In our eyes, if they survive dashing around hospitals and dealing with emergencies, then they'll do perfectly for grocery shopping and weekend hangouts. 
Golden Goose Superstar: Most stylish walking shoes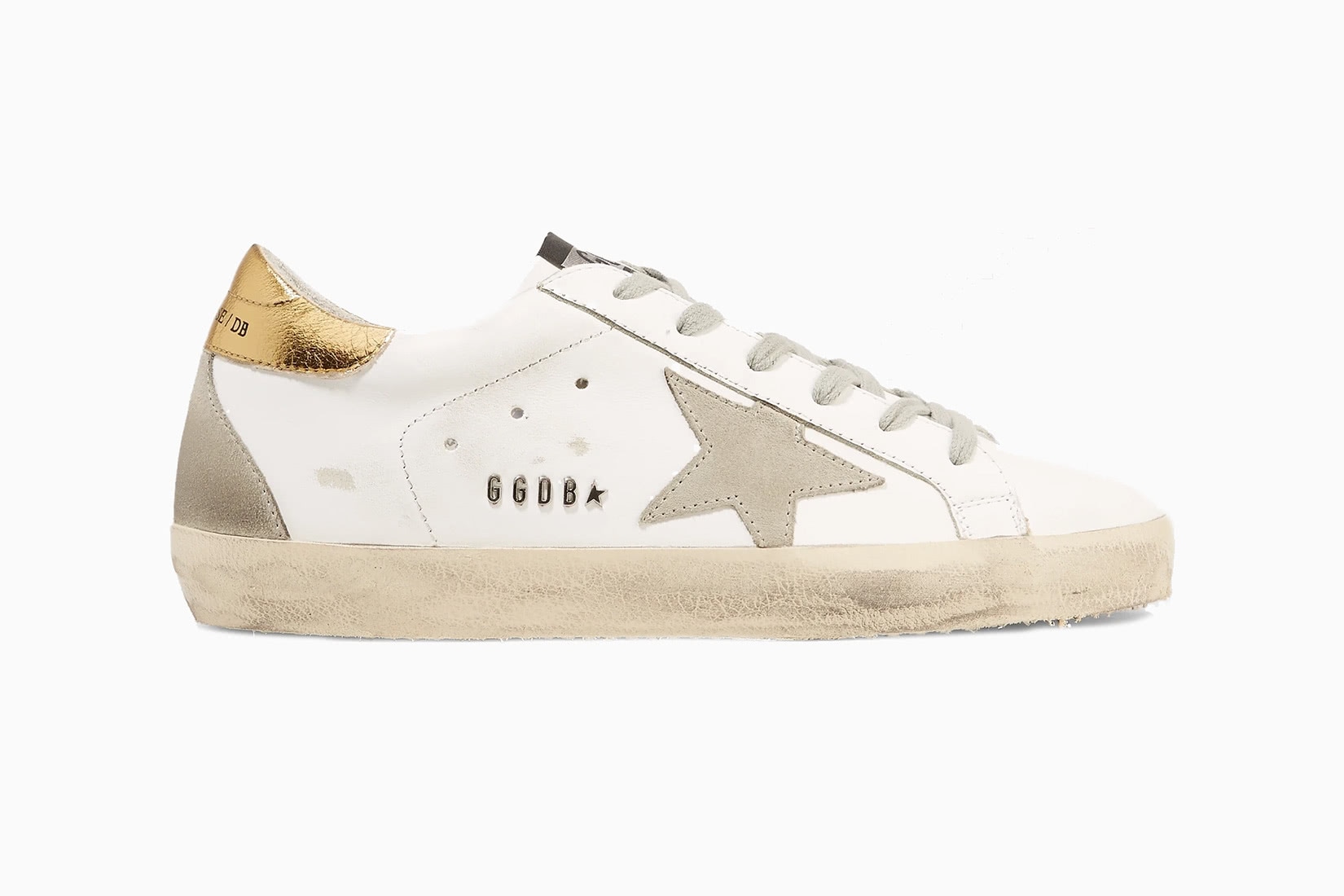 If fashion appeal is your priority and prime concern, then you'll want to take a close look at these Superstar Sneakers. 
These Golden Goose sneakers, some of the best women's walking sneakers out there, were inspired by professional skate shoes. Because let's be honest, no one does urban cool quite like skateboarders. 
Right from the get-go, the Superstar sneaker offers wearers a high-impact style statement. Chunky sole? Check. Low-rise and laid-back? check. Gold heel and suede appliqué star? Check and check again. 
Form, color, texture—Golden Goose nails all three. And no, your eyes are not deceiving you. Those really are scuffs and scratches, and they're deliberate. The Superstars are intentionally distressed so you can look like you just got home from popping tricks in the skatepark. 
Oliver Cabell Dream Mule: Best walking shoes for summer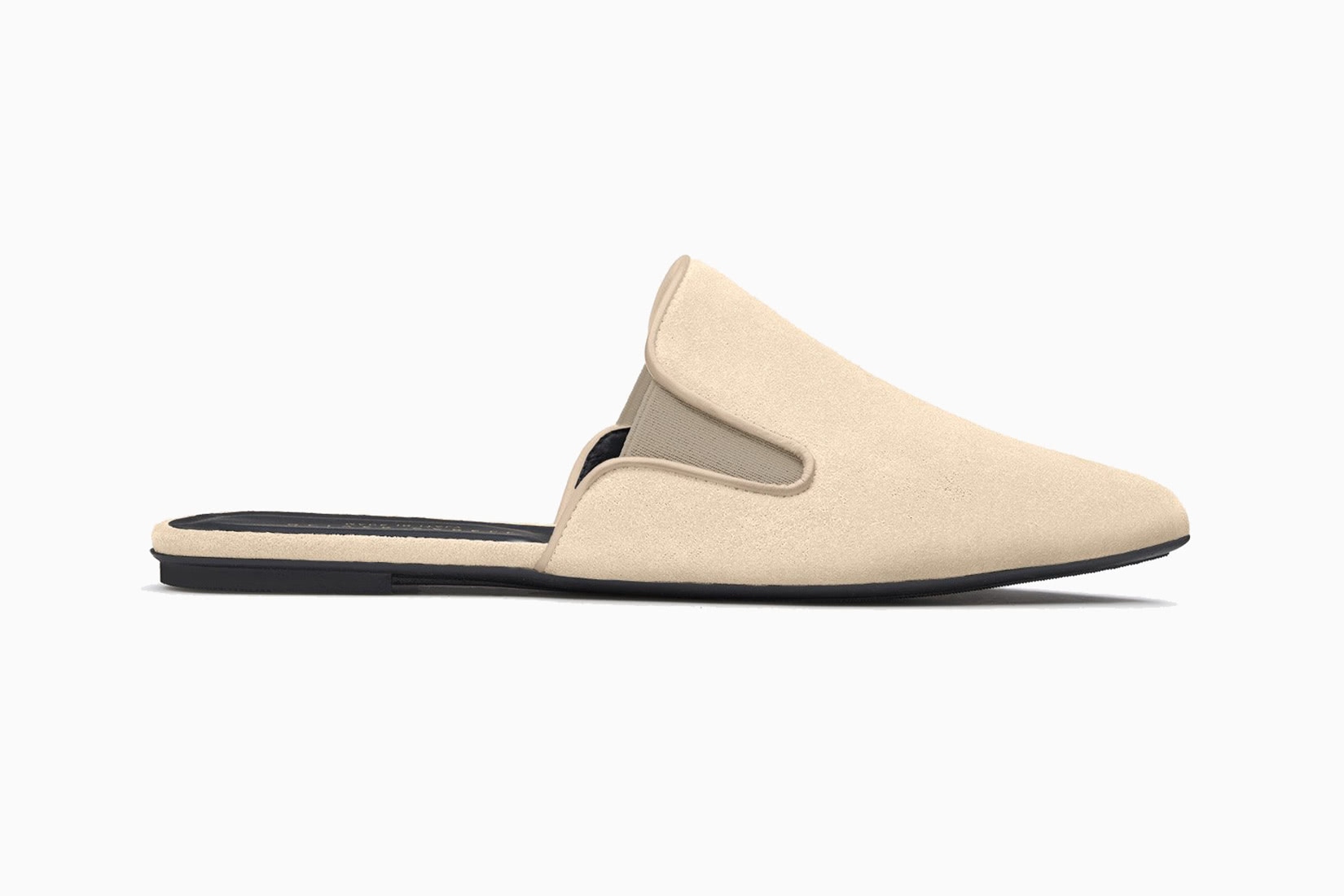 If you're looking for go-with-everything luxury flats, these are it. Quite possibly the hottest walking shoes of the summer, mules like these ones from Oliver Cabell are the shoe du jour. Their appeal is evident from the outset. With no heels and no laces, you can slip them on and off like a pair of slippers. 
The minimalist at heart will love how incredibly versatile Oliver Cabell Dream Mule is, perfect for wearing both casually, with jeans and a shirt, or with a fitted blouse and tailored trousers to the office. 
Virtually painless, these mules require no break-in period. Straight from the box to your feet, and you're ready to hit your stride. All in all, Oliver Cabell Dream Mule is the kind of beyond-comfortable shoe your feet have been dreaming about. 
Fun fact: While they were all the rage in the 90s, mules were actually first worn by the French aristocracy in the 18th century. So slip into summer's most-wanted shoe and channel some Marie Antoinette as you waltz around town.
Anine Bing Rocco Flats: Best walking sandals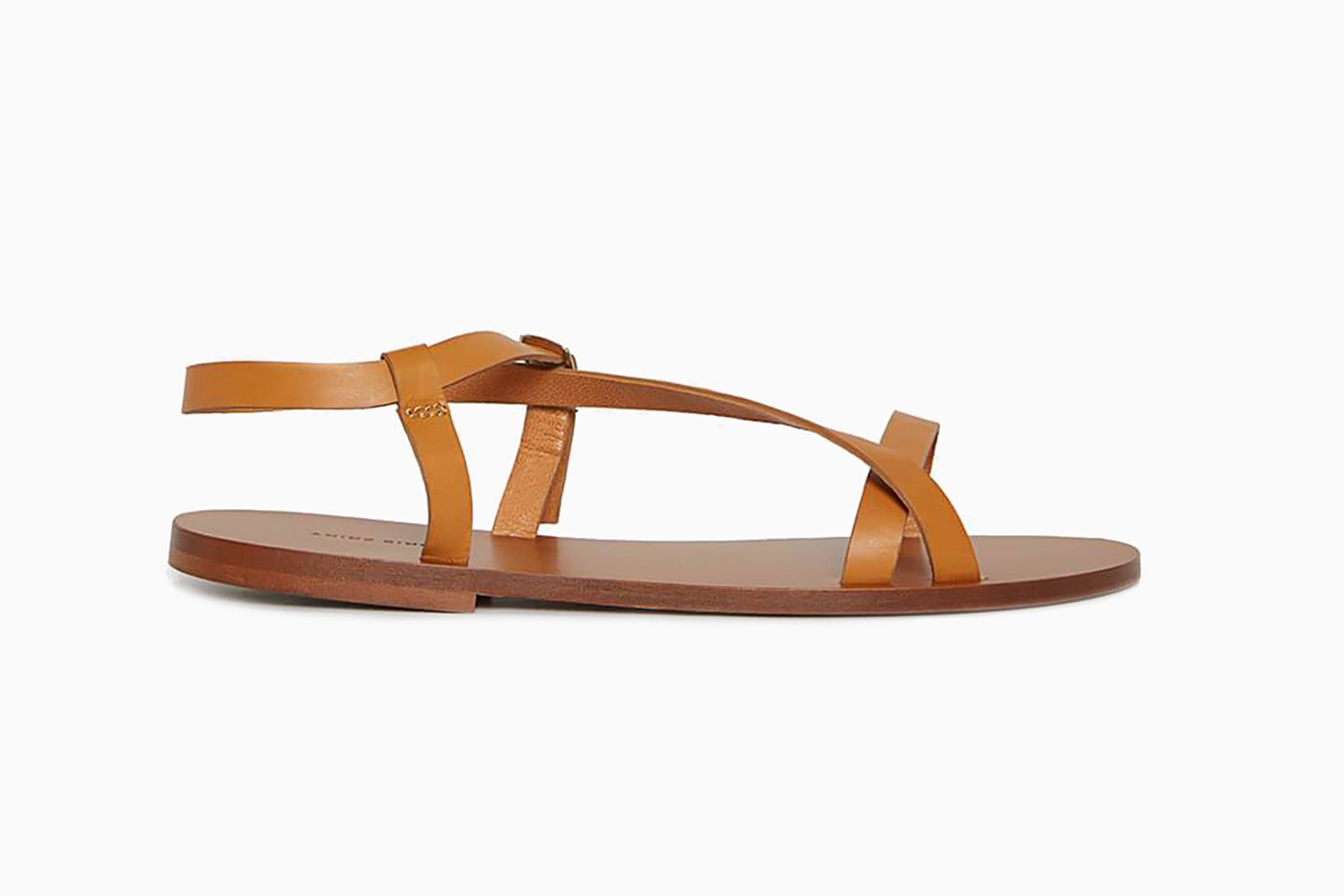 It's summer, the sun is shining, you've got your legs out, and life is good. All you need now is a great pair of walking sandals to complete the mood and take you straight from morning strolls in the sunshine to gin 'n' tonics on the terrace. 
A brand known for offering fashion-savvy buyers a classic European meets old-school Americana aesthetic, Anine Bing has pulled it off yet again with these Rocco Flats in a super stylish mustard hue. 
These women's walking sandals are elegant and sophisticated, the ideal final touch to your summer outfit, whether that's a patterned midi skirt or cut-offs and a boyfriend shirt. They're also so comfortable that you'll forget they're on your feet—until you start receiving compliments, of course.
Nike Revolution 5: Best walking shoes for fall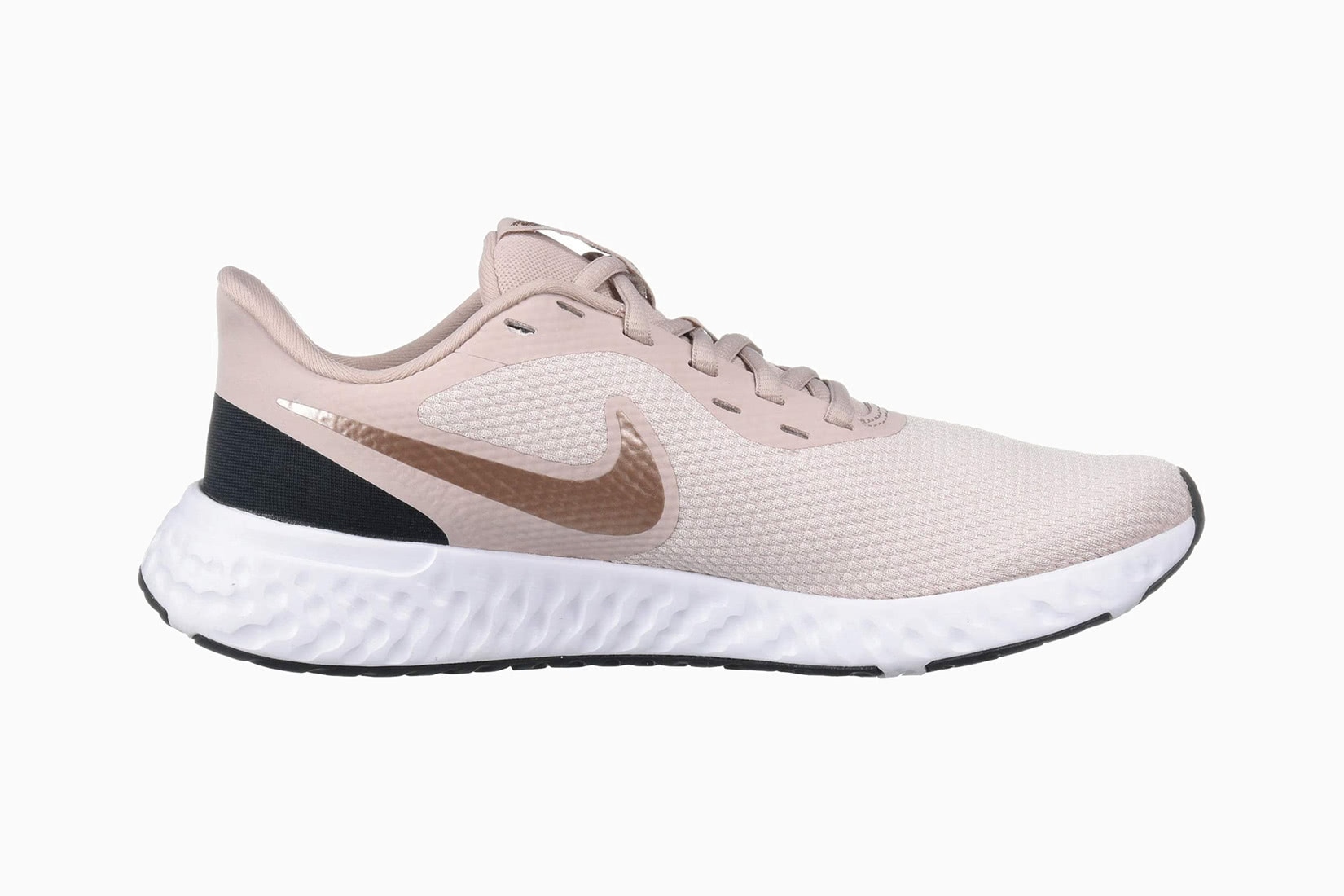 Whether you need shoes for power walking on the treadmill, summiting a mountain, or simply sipping the finest tea in your favorite cafe, you need a pair of kicks that provide optimum structure and support. Nike has stepped up to the challenge. 
With a pair of Nike Revolution 5 on your feet, you'll be skipping into fall without a care in the world. They're actually running shoes, yes, but even if you plan never to move faster than 3 miles per hour—unless it's in a Bugatti, of course—investing in a pair of good-quality running shoes like these is a smart move. 
You know you're going to get high levels of cushioning with a pair of the best women's sneakers. Breathable fabric lining is ideal for brisk morning walks, while outsole grooves allow these trainers to feel flexible on the foot and provide lots of traction. 
Columbia Newton Ridge Hiking Boot: Best walking shoes for winter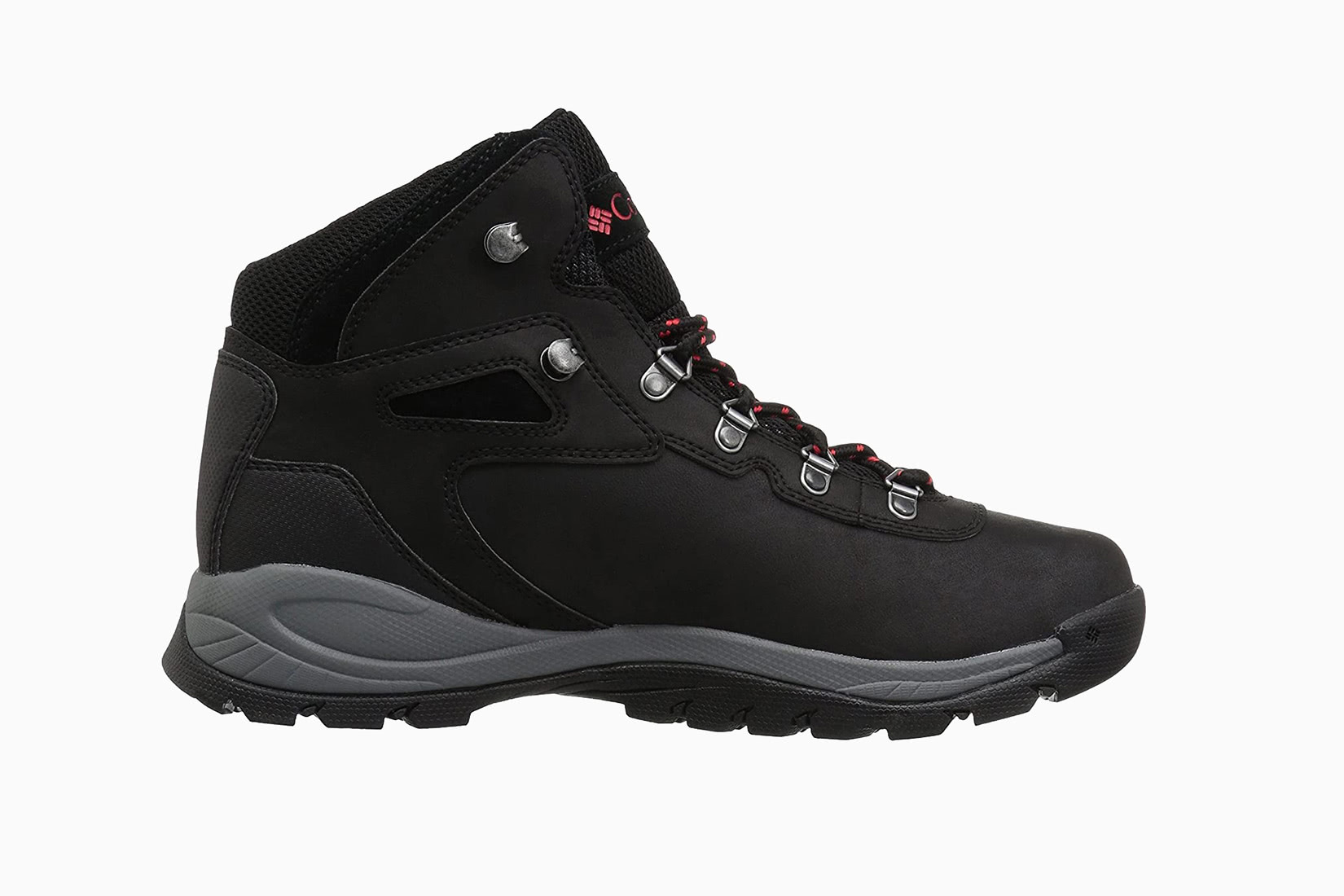 Nothing dampens the mood quite like soggy feet. Especially if you're an outdoor adventurer and you don't want a grey winter's day to stop you from exploring nature.
In which case, you need a pair of hard-wearing winter walking shoes. These Columbia hiking boots could be ideal. Created from a combination of leather and mesh, these hiking boots look like they've been made with mountaineers in mind. 
They are also incredibly lightweight and have a cushioned and supportive midsole, making them ideal walking shoes. A multi-terrain traction system ensures high levels of stability and means you won't slip up, no matter what life throws at you. 
Even if you're less about high-octane challenges and more about easy strolls through a woodland or gentle riverside meanders, The Newton Ridge walking shoe is the perfect trail companion. High-quality, durable, and exceptionally comfortable.
Oliver Cabell Monti Flats: Best walking shoes for spring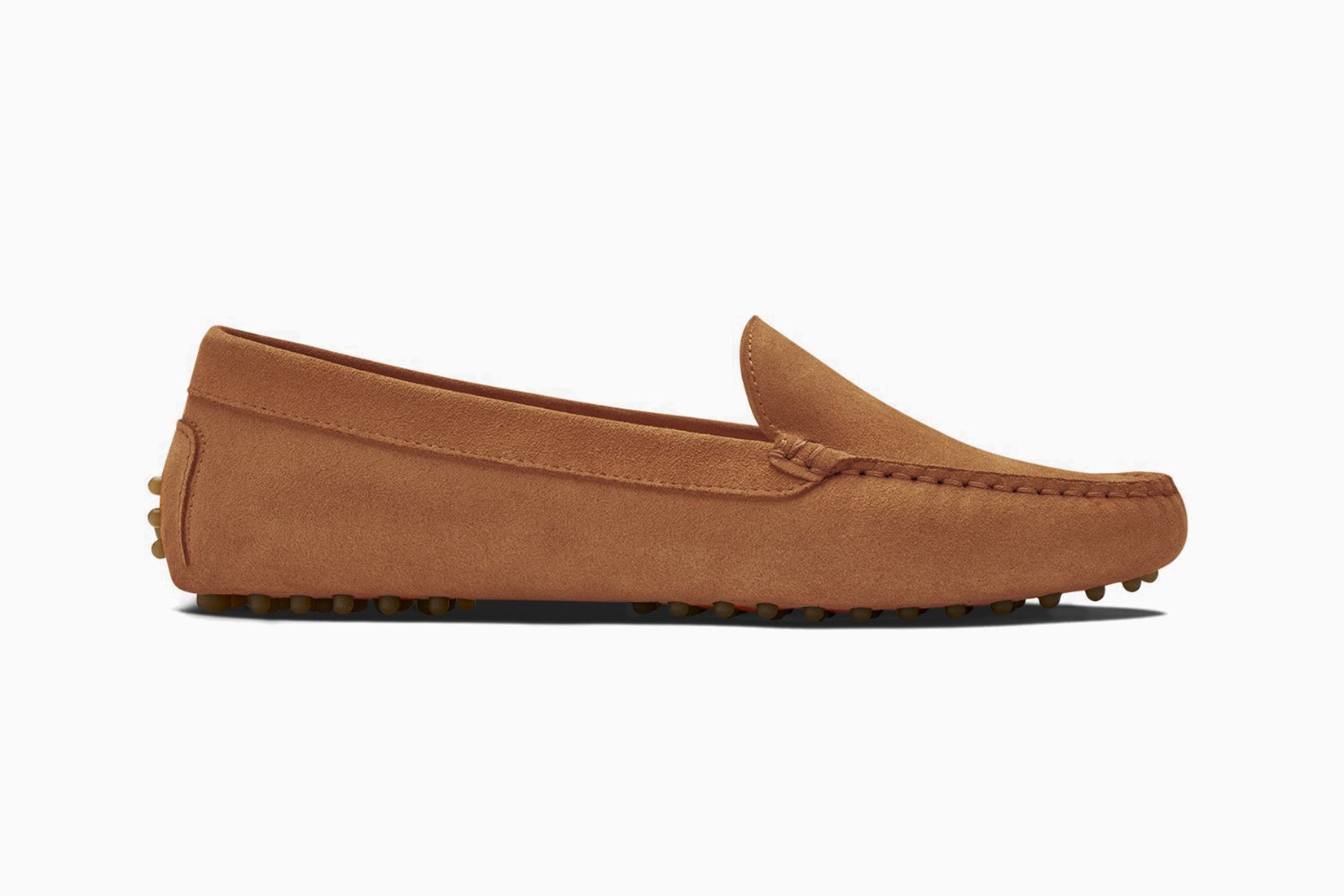 Leave it to Oliver Cabell to turn basic classics into exquisite and timeless works of art. 
Preppy and iconic, your classic menswear-inspired loafers just got upgraded, and yes, there are ultra-feminine.
These suede loafers are one of Oliver Cabell's signature styles. Like all Oliver Cabell footwear, these Monti Flats are made by hand using the finest Italian materials. So if you fancy sliding your feet into some exclusive Italian luxury, these are the ones for you.
These walking shoes are dainty and elegant, understated but sophisticated, and come in a delectable caramel shade. They'll look as good when you drop the kids off at school as they do in the cocktail bar later that day.
Like all good loafers, these Monty Flats are soft, snug, and perfect for going sock-free. Forget your pumps. These are the shoes that will carry you from morning to evening and be as comfortable at 10 pm as they were at 10 am when you first put them on. 
And given their compact size, they are a great travel option, easy to fit into hand baggage if you're flying.
Gucci White Ace Sneakers: Best walking shoes for the office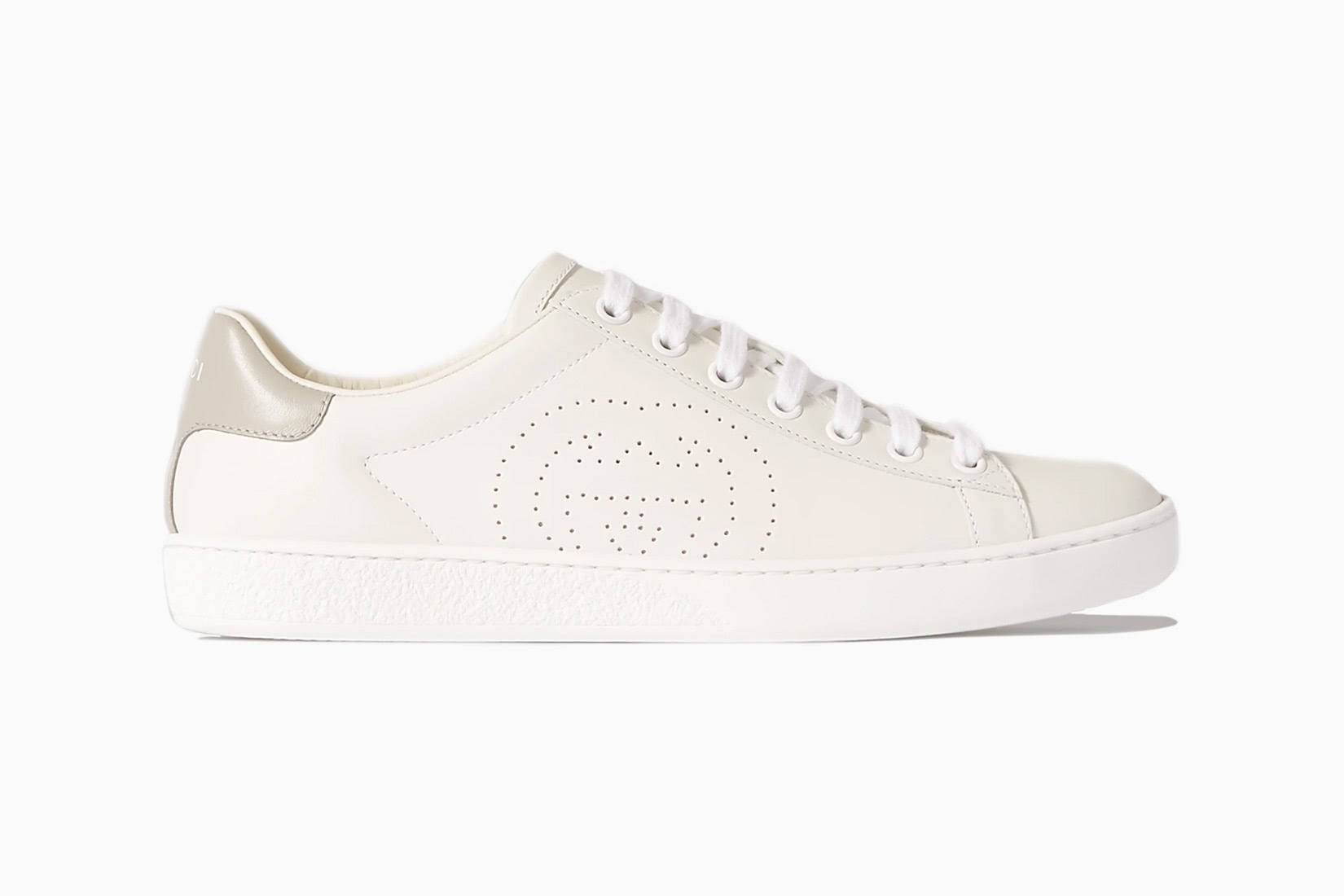 With the Ace, Gucci has taken your classic white tennis shoe and cranked up the luxury. We're talking soft and smooth Italian calf leather, lightweight rubber soles, and the iconic GG logo, all in a blinding and impeccable white.  
Worried that women's walking shoes can look a little too casual and scruffy? Gucci will allay your fears. Striking the perfect balance between athleisure and a sleek contemporary cool, these white sneakers are best teamed with a KAAI handbag for ultimate effortless elegance. 
Created for the brand's ultra-modern Resort collection, these highly-coveted Gucci Ace sneakers are the ideal walking shoes to wear to the office. With their low-top silhouette, they capture a rather retro vibe. Team with frayed jeans and a jacket or a classic pantsuit, and you'll have a fashion-set-worthy outfit ready to go. 
One thing's for sure. Suddenly those 7-inch heels are looking a lot less appealing.
The Bruna by M. Gemi: Best walking shoes for the weekend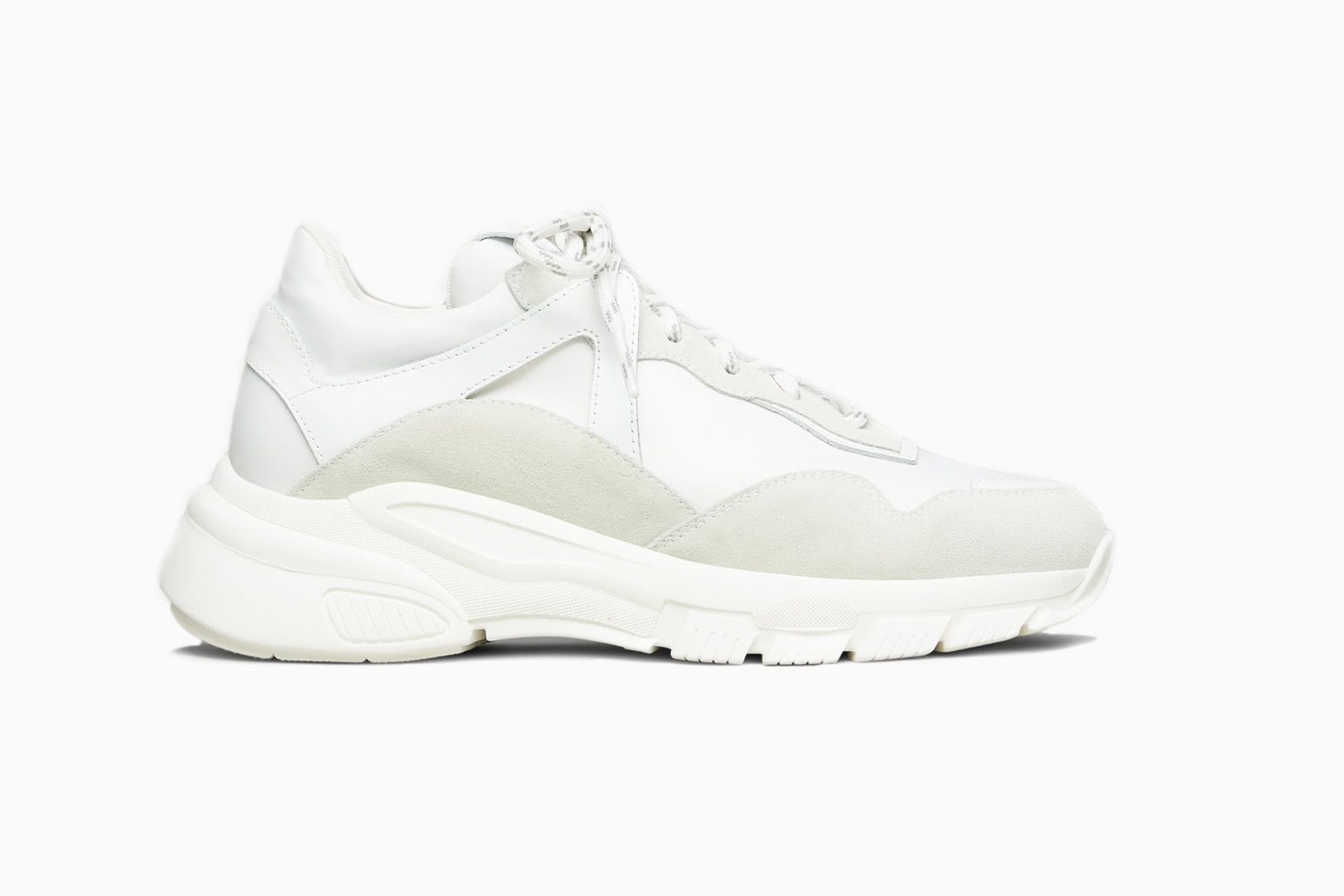 It's Saturday morning and you've got a day of fun things lined up. First, brunch with the girls in a cafe downtown. The vibe is casual but stylish. You want to make a statement without going overboard.
The best women's walking shoes for the job? These sleek white trainers by M. Gemi.
M. Gemi is an exciting shoe startup that creates high-quality footwear in artisanal and family-owned workshops across Italy. You can depend on them for fashion-forward kicks with that inimitable Italian sense of luxury. 
M. Gemi's Bruna sneakers are created with meticulous attention to detail and a choice of technical fabrics that include a lugged rubber and EVA sole. EVA is lightweight, durable, and super soft, chosen for its superior flexibility and shock absorption capabilities. 
The chunky heel gives you a slight raise as you walk, helping you to maintain your stride and power into your day with your best foot forward. 
Hoka One One Bondi 6: Best cushioned walking shoes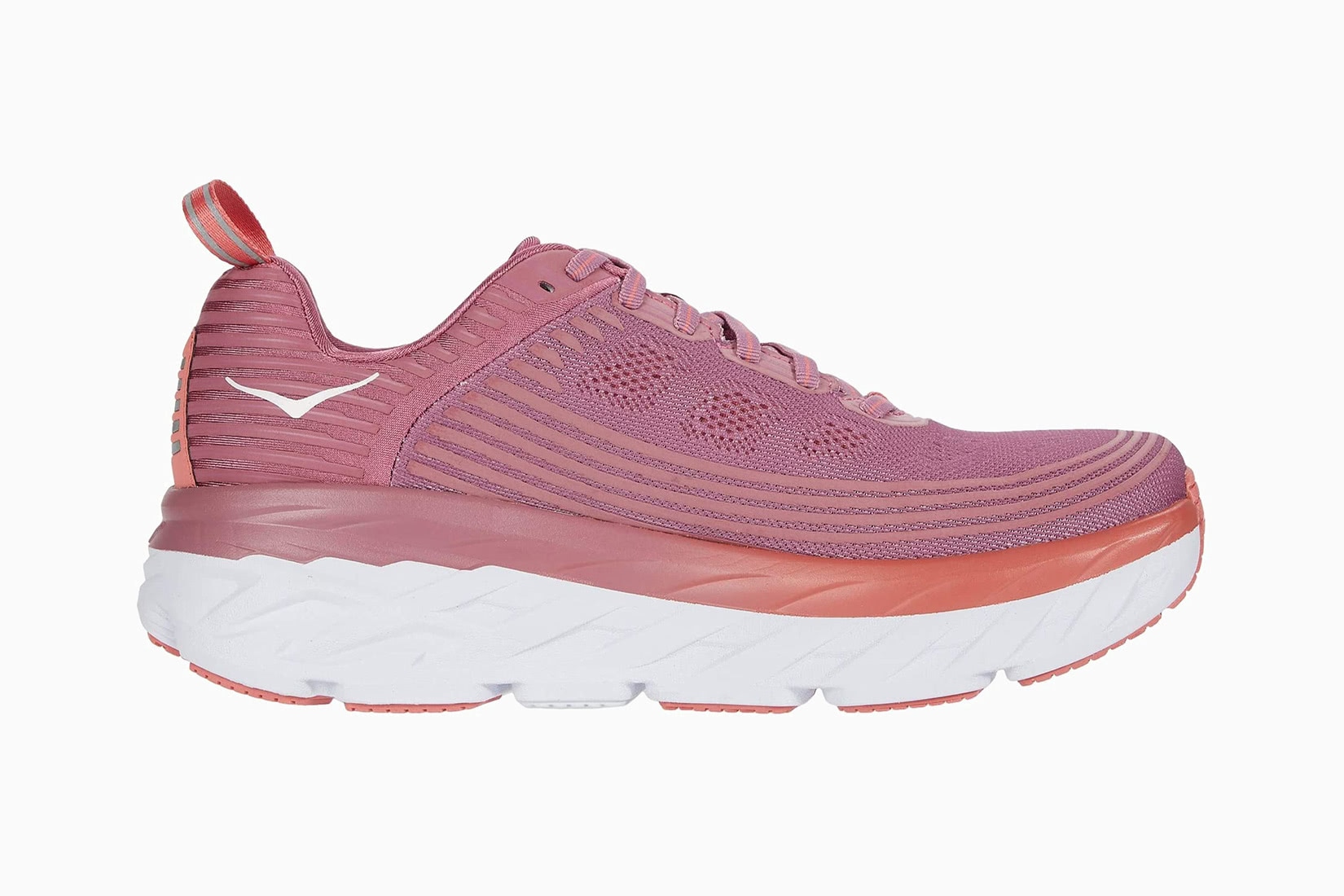 The Hoka One One Bondi 6 is technically a running shoe, not a walking shoe, but as far as we're concerned, a shoe designed for completing marathons is a shoe we can get behind. 
Sure, we might not be sprinting across the finish line anytime soon, but who's to say we can't also enjoy some of the best cushioned shoes, even if we move at a slightly slower pace?
Mesh uppers with synthetic overlays ensure these shoes are breathable, while fabric lining provides a luxuriously smooth in-shoe feel. The footbed is molded OrthoLite—an eco-friendly material used to create high-performance insoles with long-term cushioning. Finally, an internal heel counter gives your foot that sense of being locked-in, snug, and cozy. 
On that aesthetic front, the Bondi 6 also excels. We love the peach-pink and navy combination. Eye-catching, modern, and cool. The chunky heel not only looks super comfy but lends the shoes a streetwise edge. 
Moncler Giroflee Sneakers: Most dressy walking shoes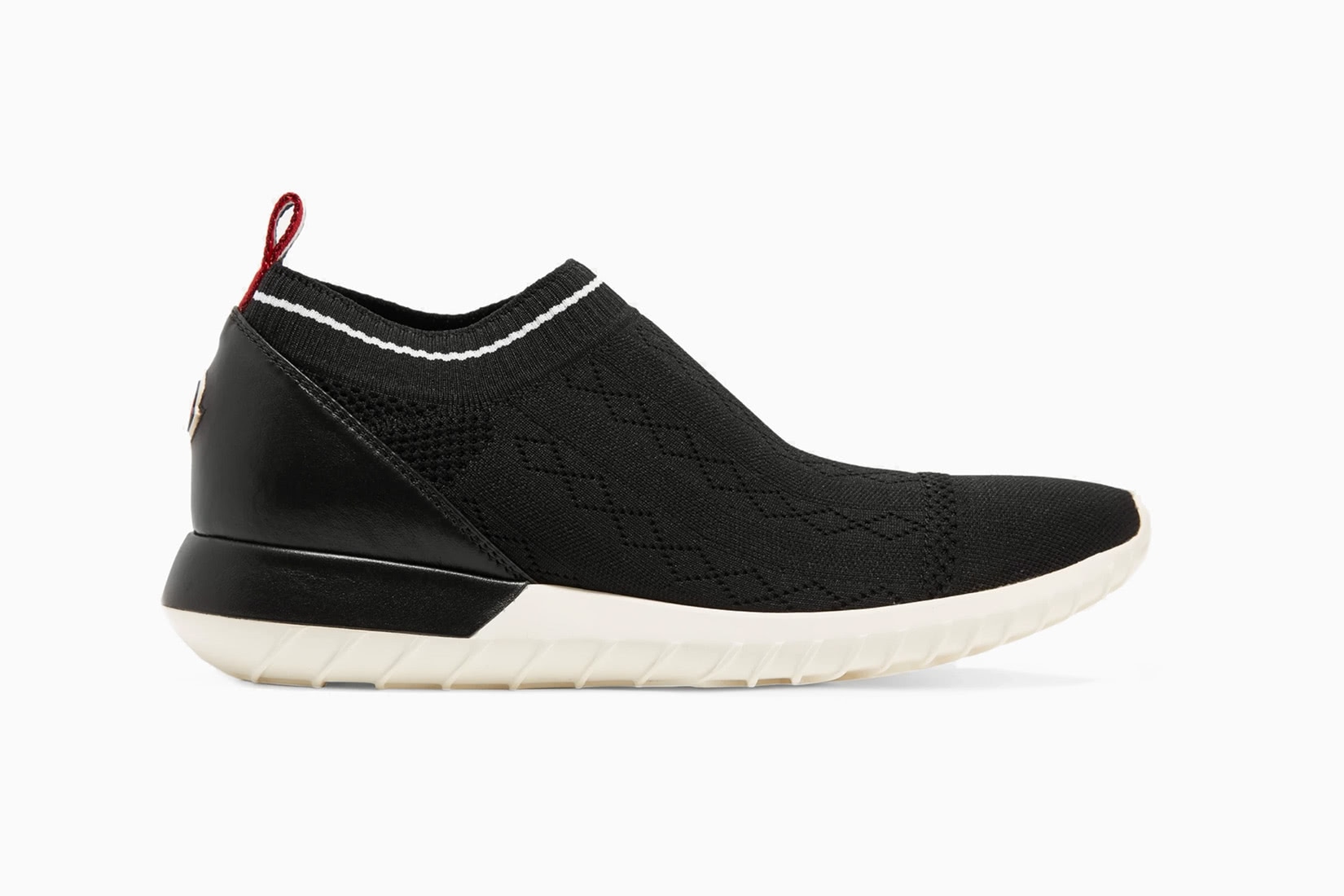 Moncler's Giroflee sneaker walks that fine line between style and comfort and does so with great success. It perfectly balances fashion appeal and high-level functionality with a sock-like construction that's both the cutting-edge of cool and allows for a superbly snug fit. 
Made from stretch-knit, these modern and dynamic walking shoes are lightweight and have a 36-millimeter rubber sole for added bounce and cushioning. The pointelle perforations add some aesthetic intrigue and complete the sporty aesthetic. Team with a mini skirt and oversized sweater, and you'll feel sleek, sophisticated, and ready for action. 
You can be sure you won't bump into anyone else with these on their feet. These Moncler Giroflee sneakers will allow you to both talk the talk and walk the walk, nailing that off-duty model look no problem.
Under Armour Charged Breathe TR 2+: Best walking shoes for travel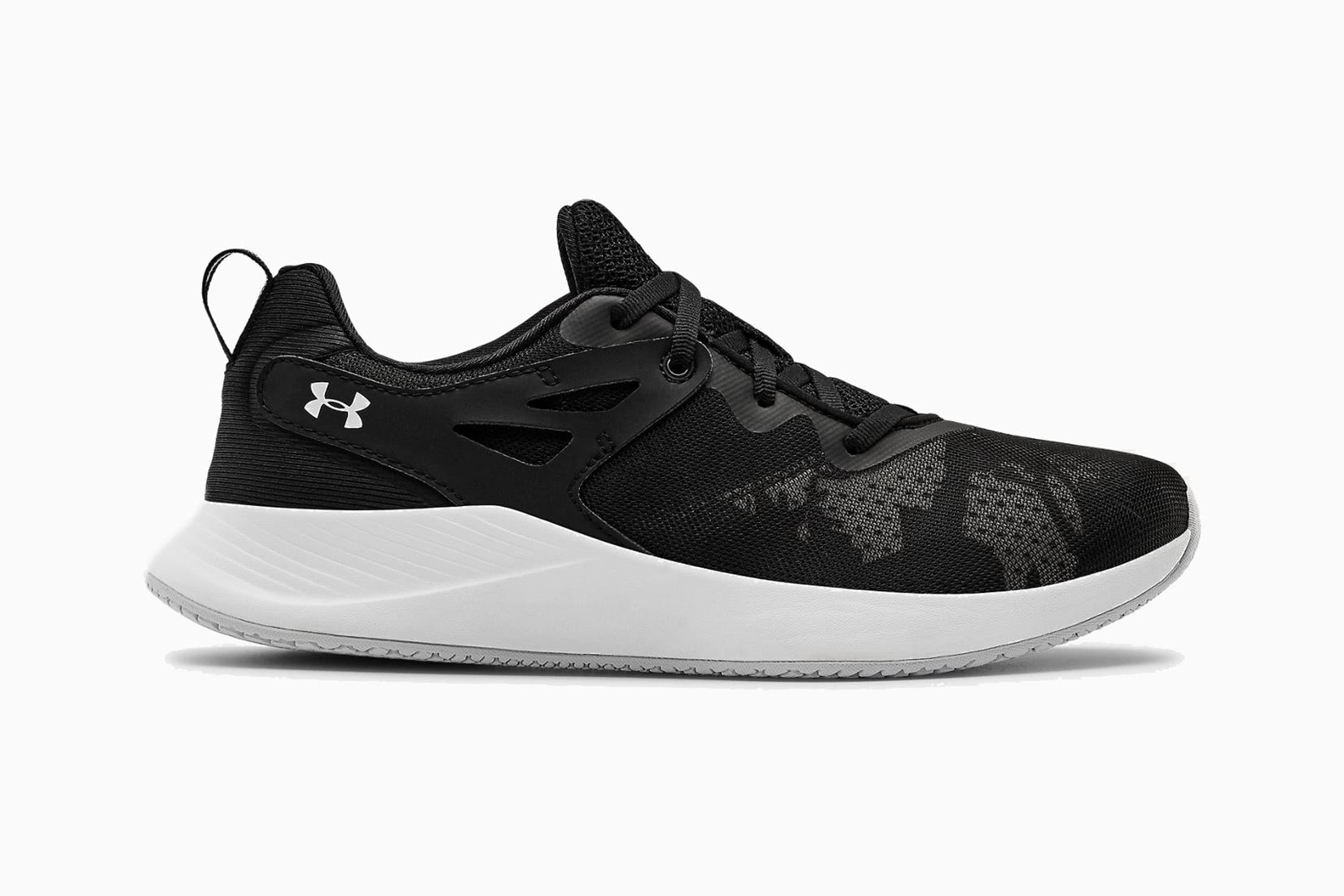 As Under Armour points out on its website, whenever you run or jump and your foot hits the ground the impact can be up to five times your body weight. That's some serious stress on your feet and one good reason to invest in a pair of high-quality sneakers—even if you don't plan to be running around any time soon. 
These Charged Breathe TR 2+ walking shoes are a great choice for jet-setters. We all know how tiring travel can be on our feet, whether we're walking around airports or exploring new cities. Those cobblestone streets of some European destinations can be a real killer. 
But these walking shoes are up to the task. They're designed for optimum shock absorption, so your feet feel cushioned and cozy all day long. The midsole is made from compression-molded foam for next-level responsiveness to the movement of your feet. 
They are lightweight and breathable, making them ideal footwear for hotter climes. And did we mention they also look pretty cool with their monochrome palette and chunky white sole?
Under Armour HOVR Sonic 3: Best shoes for walking all day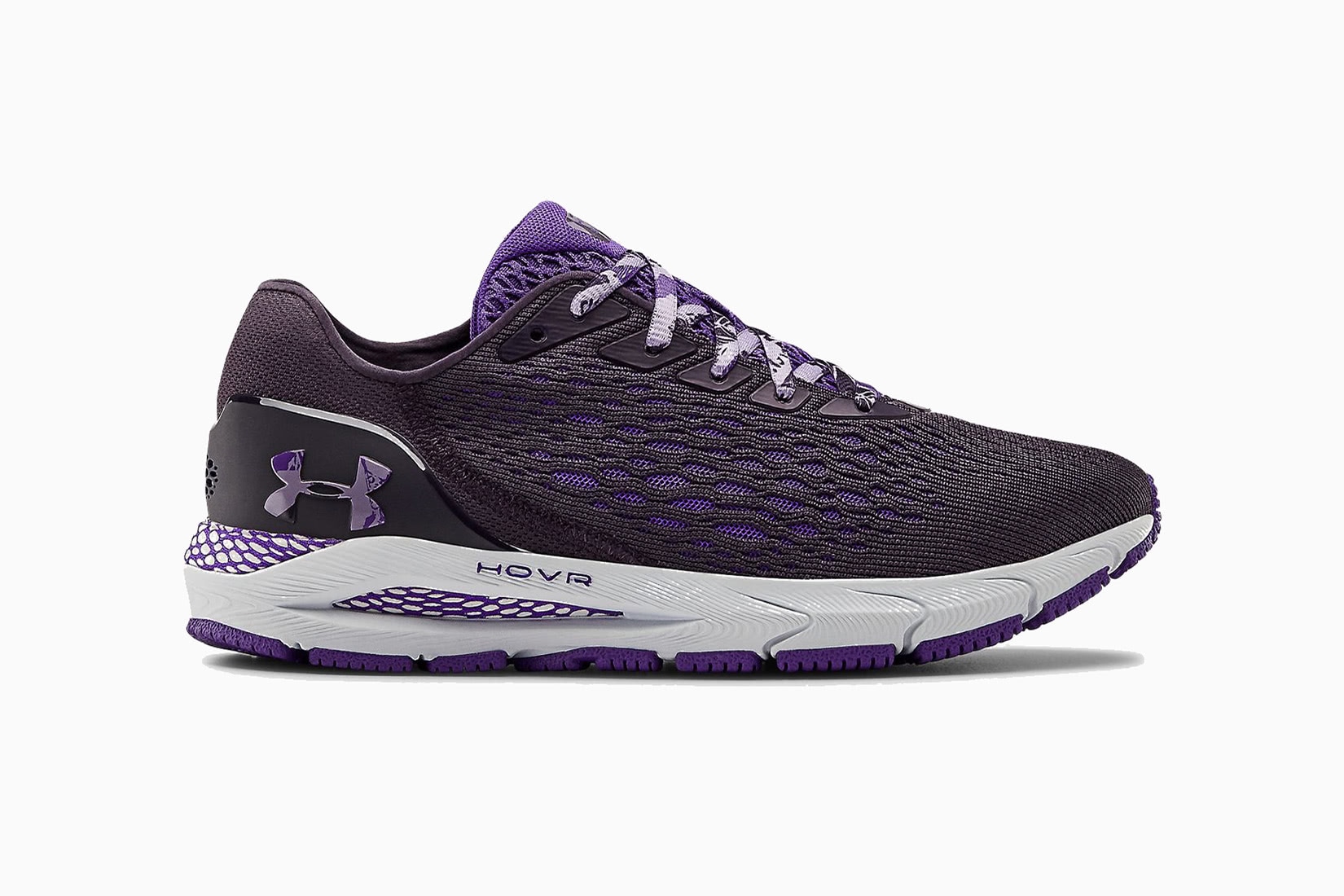 This running shoe by Under Armour was designed especially to commemorate International Women's Day, which already boosts its appeal in our eyes. We may not be female athletes, but a sneaker that pays its respects to empowered women gets a thumbs up from us. 
The Sonic 3 is a strong, comfortable, and flexible running shoe that's ideal for those on their feet all day long. If you plan to be on the go from morning until evening, whether that's running errands, dashing between meetings, or hanging out in the city, then you need footwear that's comfortable and can keep you on the move. 
These walking shoes have been created with Under Armour's HOVR technology, designed to provide wearers with a wonderful 'zero gravity feel.' By eliminating impact as your foot hits the ground, they maintain the energy of your stride so you can keep pace with life. 
We especially love the Sonic 3 in purple. Rumour has it that purple is this year's hottest shade, and we are certainly won over by its feminine energy and versatility.
Nike Flex Experience Run 9: Most comfortable shoes for standing all day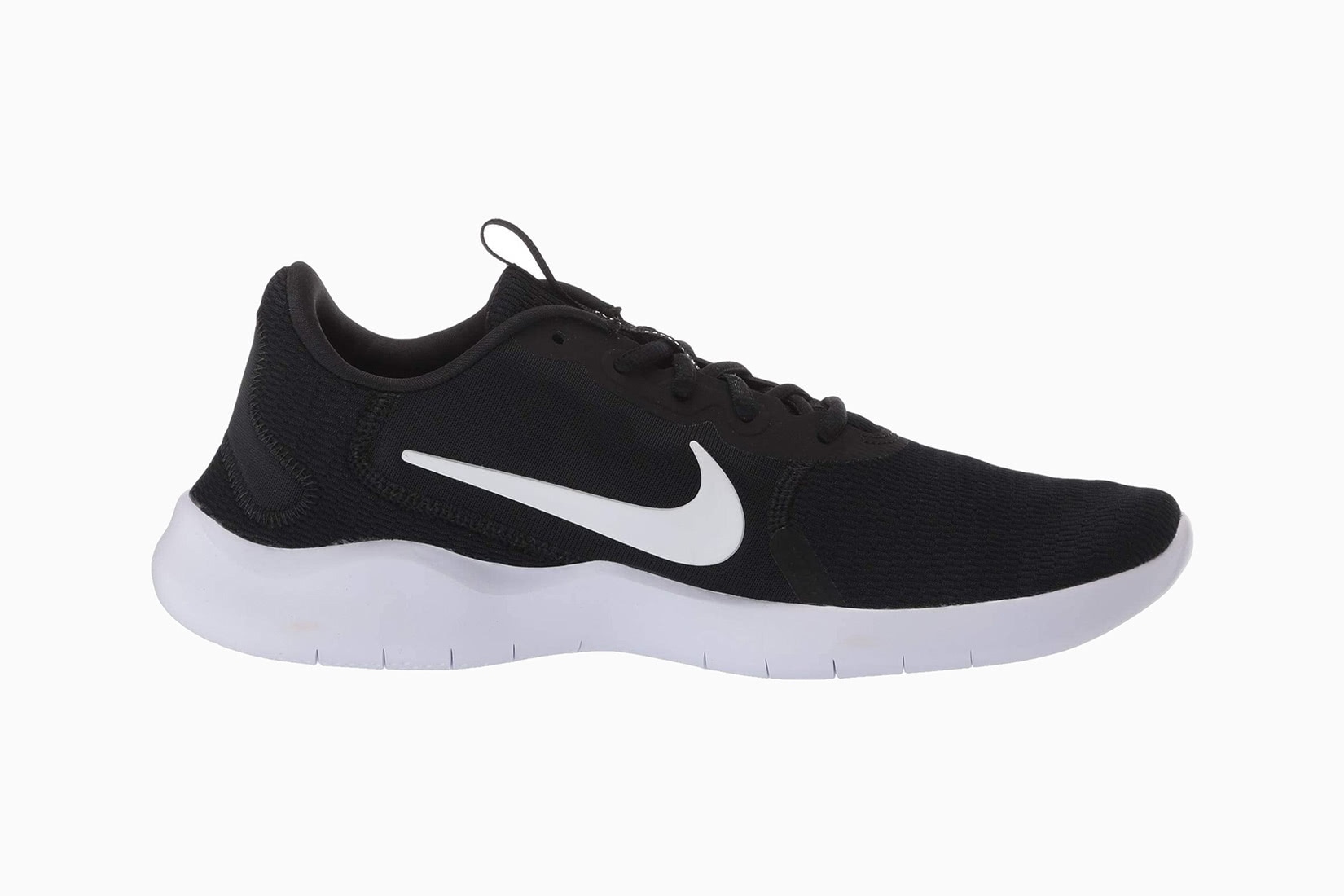 Another running shoe, the Nike Flex Experience Run 9 is an all-day activity kind of shoe. If you've got a long day ahead of you and you're going to be standing up for most of it, then you need a pair of shoes that are going to be kind to your feet and keep them feeling supported and stable. 
These walking shoes from Nike have been designed with comfort front and center. They're made from breathable textiles with a lightweight upper to promote airflow and keep your feet fresh. The rubber outsole is durable and has grooves that move with your foot to increase flexibility and comfort. 
The foam insole and deconstructed heel cradle the foot and ensure it stays secure from first thing in the morning until you slip them off at night, home at last. The overall effect? Like walking on sunshine.  
These Nike Flex Experience Run 9 are the kind of shoes footwear experts would be pleased to see on your feet. Cushioned and comfortable, they'll make even the most demanding day a walk in the park and are some of the best-rated women's walking shoes out there. 
Timberland PRO Drivetrain: Best hiking shoes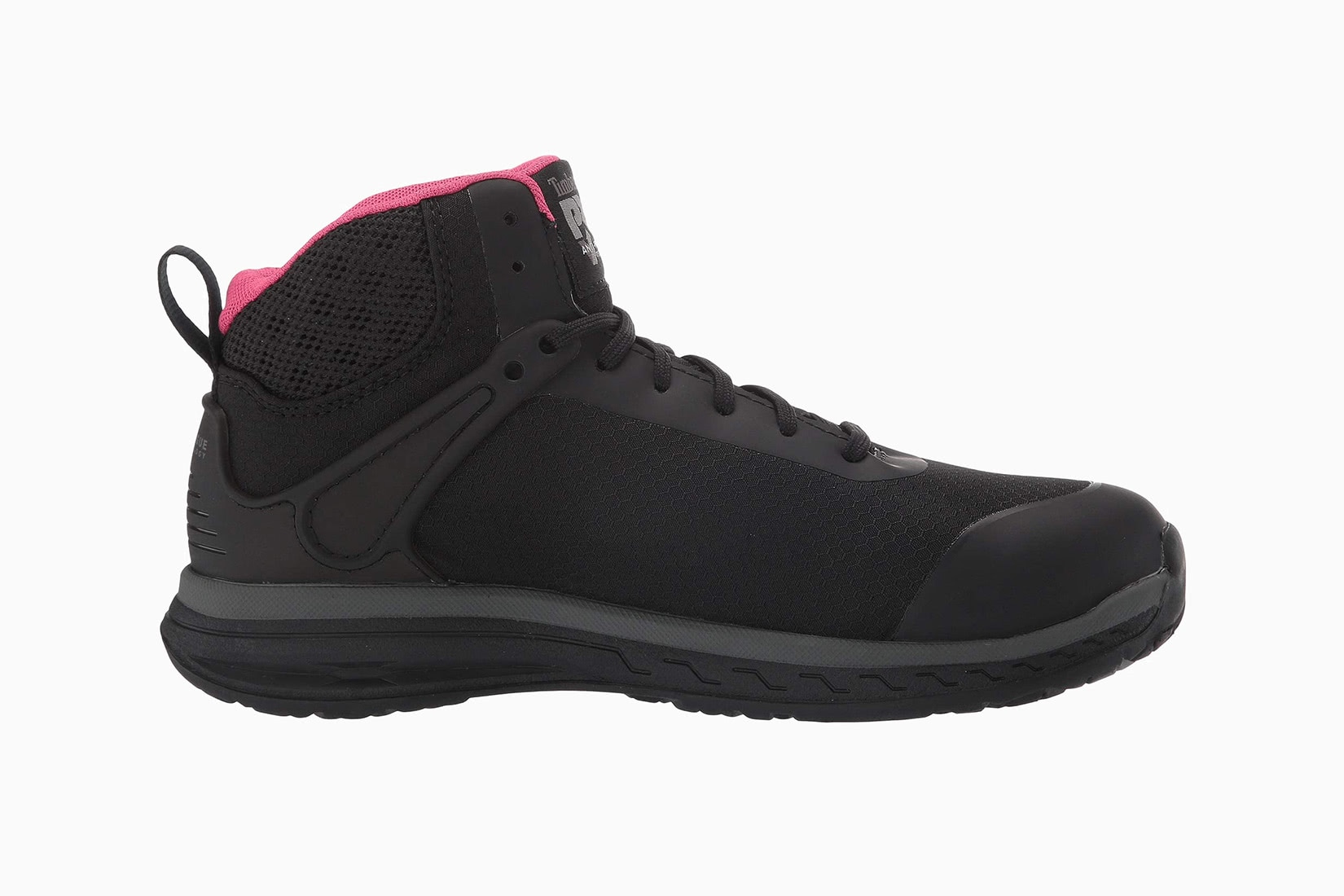 A serious pair of walking shoes for serious walking, these hiking shoes by Timberland are the ones every outdoor enthusiast has been waiting for. 
Avid hikers will love the abrasion-resistant mesh upper, which is ultra-durable and breathable, keeping your feet cool and fresh as you pick up the pace. 
The shoes also feature a safety toe made from CarbonShield Technology, making these great working boots keep your feet protected from whatever life has in store. Enhanced traction means they're always ready for action. 
And, if you're someone who enjoys a walk on the wild side, then you'll enjoy the sound of any boot that features an 'anti-fatigue footbed.'
Aesthetically, there's something of the Lara Croft Tomb Raider about these boots—and we're not complaining. Channel your inner adventurer. These Timberland PRO Drivetrain hiking shoes will keep you supported and secured every step of the way. 
ASICS Cumulus 21: Best women's walking shoes with arch support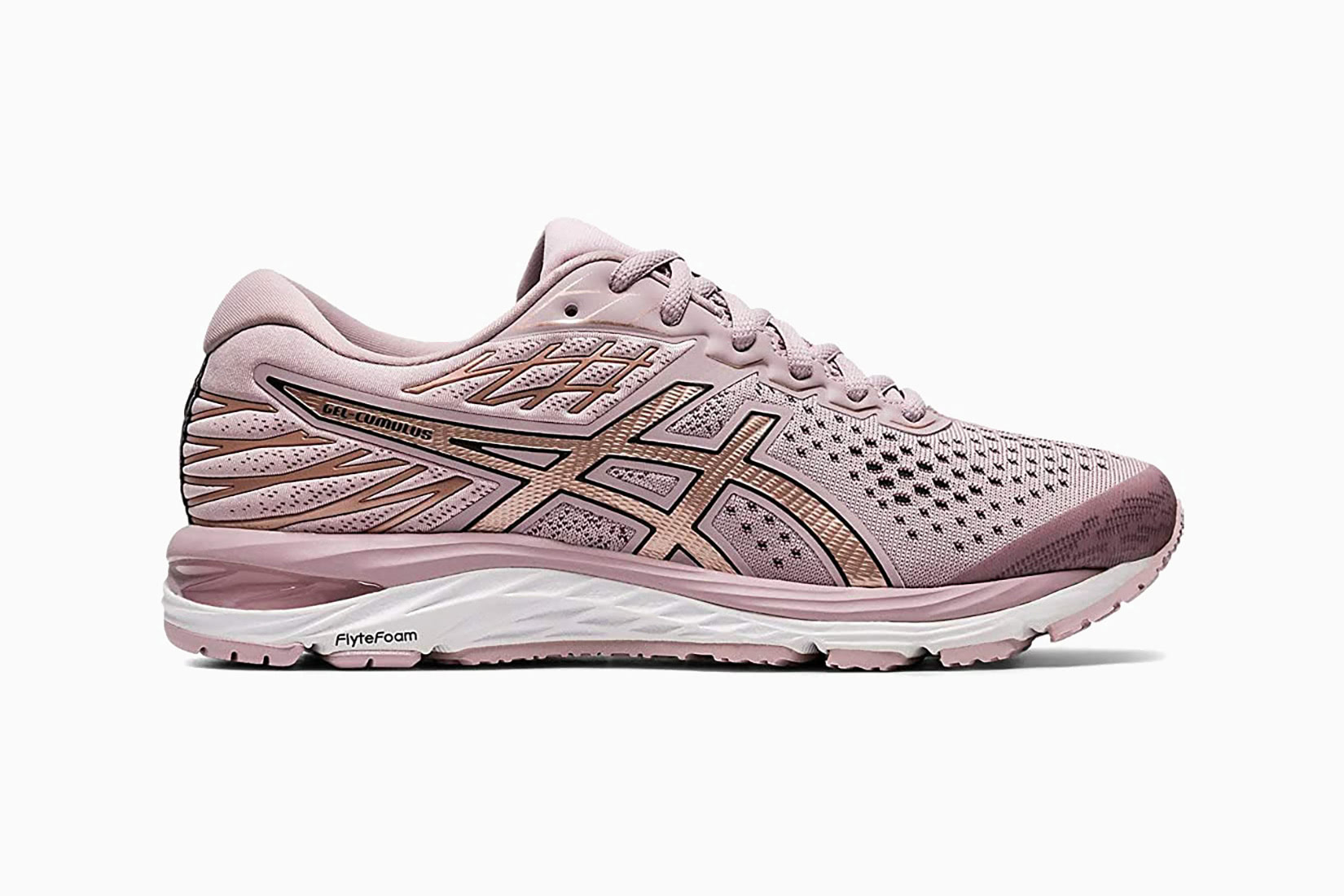 If you suffer from pain when walking, ASICS has set out to save the day with the Cumulus 21, one of the best walking shoes for women with high arches. 
The shoe absorbs shock during impact with GEL technology that creates a well-cushioned footbed that provides additional support. This is especially important for those with raised arches. The shoe also flexes to suit your gait. 
It's no coincidence that these shoes are named after cumulus clouds. With a cushiony pair of these on your feet, you really will feel like you're walking on a bed of clouds. 
You might even feel like you're walking on two miniature trampolines. The brand's Flytefoam Propel technology creates additional bounce.
Whether it's for a walking workout—complete with a stylish water bottle—or for park time with the kids, the Cumulus 21 sneaker is like a memory foam mattress for your feet. You'll be sure to last the long haul, even on the most challenging of days. 
Gucci Screener Sneakers: Most expensive walking shoes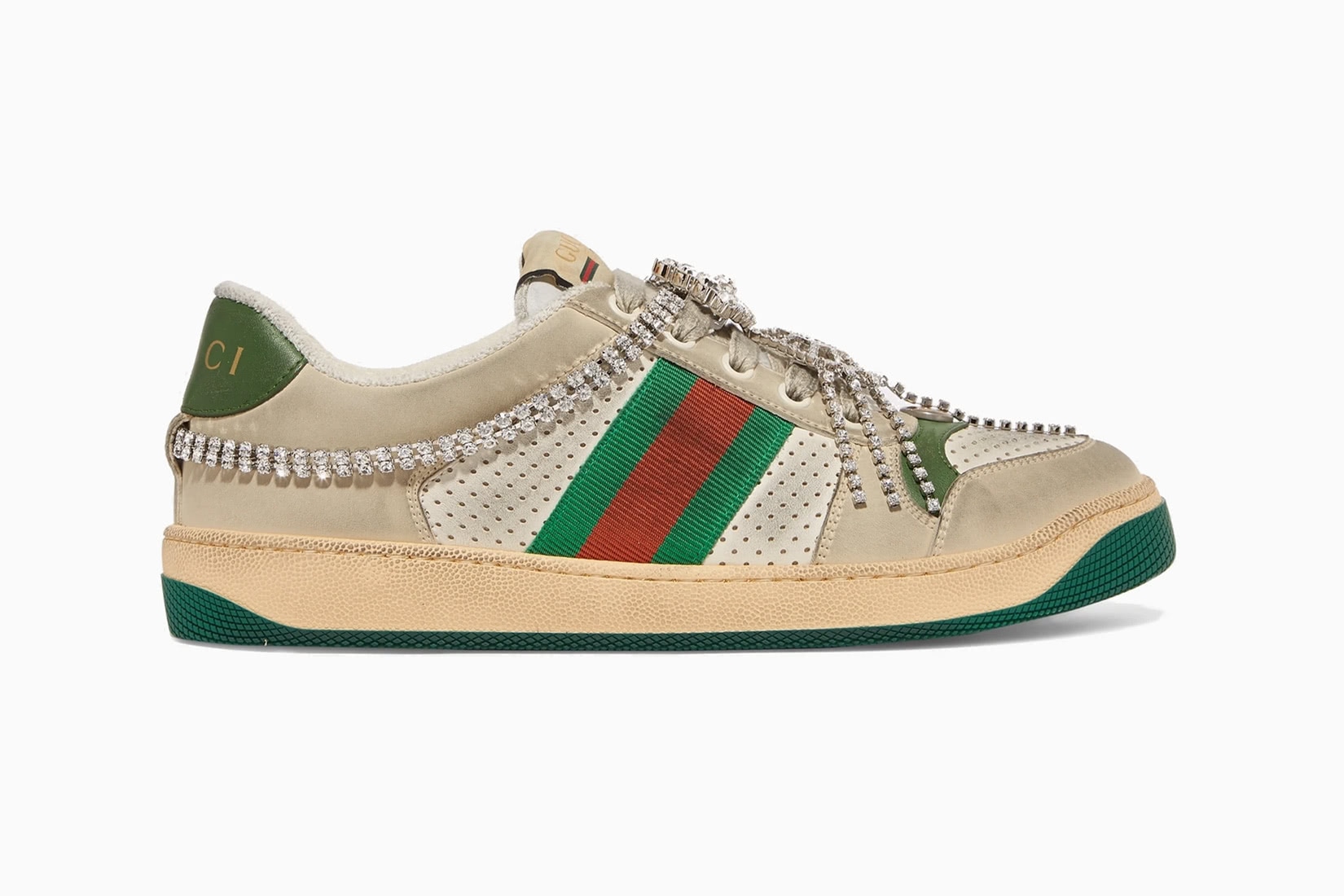 Where's the fun in a pair of shoes that are purely practical?
The Gucci Screener Sneakers, aside from being the most expensive women's walking shoes on our list, are up there with some of the trendiest walking shoes online this year. With their green, white, and red color scheme, they're inspired by '70s fashion. 'Screening' is the name of a blocking move used in basketball. 
With its distressed leather and suede, the Screener looks and feels like an authentic old-school sports shoe. The brand's signature striped webbing, the vintage logo, and the crystal-encrusted chain—which can also be worn as a necklace—provide that additional wow factor that's the reason we all love Gucci. 
The Gucci Screener Sneakers will help you hit that daily step count as you set out on your urban adventures—and make you feel a million dollars as you do so. 
Buyers guide: What to look for when buying women's walking shoes
When buying women's walking shoes, there are a few things to consider. There are different options on the market, and the pair you go for will depend on your unique needs. 
Walking shoes vs. walking boots
Walking boots have a collar around the ankle for added support and for walking through rain and mud. They are made for serious trekking, not just pottering about. Walking shoes take the functionality and comfort of walking boots but are less clunky and chunky and usually more aesthetically pleasing. 
Walking shoes vs. running shoes
What makes walking shoes different from running shoes is that they have more arch support. This is because your arch is where the greatest impact is when you're walking, whereas with running, the impact is in the heel, so that's where you want the cushioning. Walking shoes also have more flexibility, so they can bend to fit the natural motion of your foot.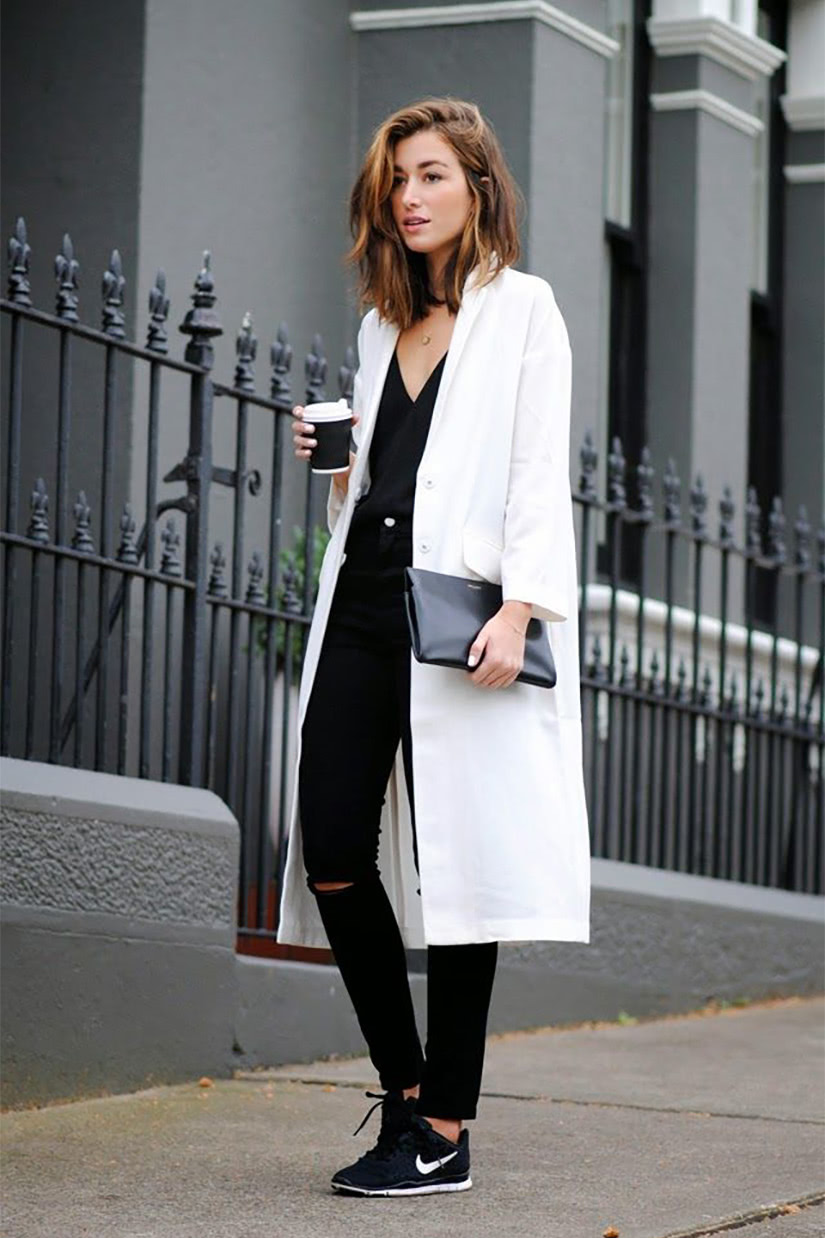 Finding the walking shoe that's right for you
There are different types of walking shoes. Firstly, consider where you're most likely to be wearing your walking shoes. Are these shoes for running errands at the weekend, popping into the supermarket, or playing with the kids in the park? Or are they for hitting the trail with your partner and getting the adrenaline pumping? 
A good walking shoe is flexible. Otherwise, your foot will fight against the movement of your step, and this could lead to shin splints. To test flexibility, you can grip the shoe and try and twist it.
You also want supportive cushioning in both the arches and heels to absorb impact. Soles should be durable and hard-wearing, and you need plenty of space in the toe area to stop any blisters or bunions from forming. 
If you suffer from plantar fasciitis, a common orthopedic complaint that involves pain in the heel of the foot, you need shoes that are supportive in the arch and heel. You should also seek elevated rigidity in the sole and cushioning in the midsole. 
Try on different styles to see which feels best. Each time, wiggle your toes to make sure they're not too cramped or tight. Walk a few laps around the shop. You don't want any pinching or squeezing. 
Pro tip: shop for shoes at the end of the day when you've been on your feet for a while. This is when they're at their largest. 
Other features to pay attention to include:
Material – suede and mesh is a great combo for walking shoes. These materials are breathable and lightweight.
Insole – you want something that provides lots of cushioning to absorb impact when your foot hits the ground.
Midsole – this sits between the outsole and the inner sole, and also provides shock absorption and durability. Midsoles are usually either gel, foam, or air.
Outsole – many walking shoes are made with rubber outsoles for traction and durability.
Toe box – this is where your toes go. It should be round and spacious to prevent blisters.
Heel and toe bumpers – these protect your feet when walking on rocky terrain and protect the shoe from too much wear and tear.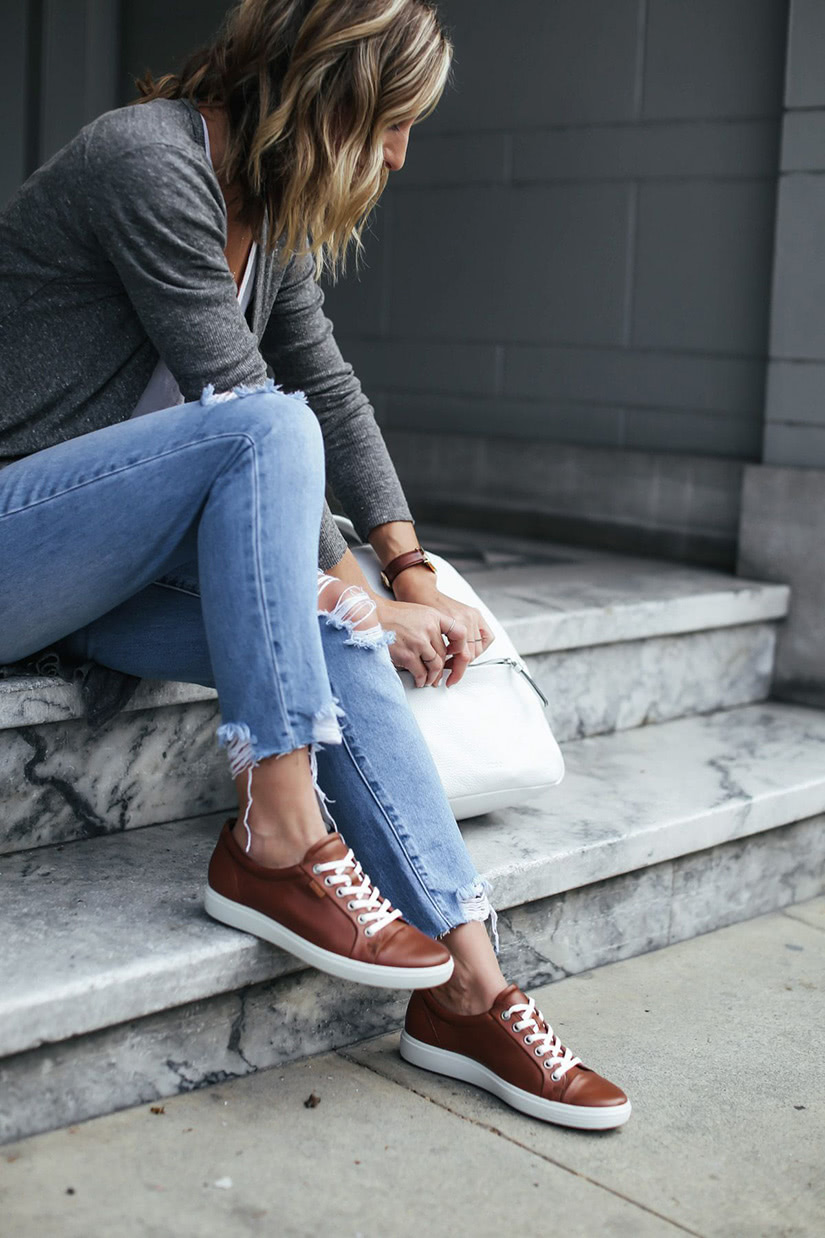 Women's walking shoes: Frequently asked questions