Never underestimate the power of a good white tee shirt—It's not called an everyday essential for nothing.
Dressed up with a smart skirt, or dressed down with skinny jeans and flats, a woman's white t-shirt is both timeless and versatile. In short, it's the OG of effortless chic. Just ask Kate Moss.
With such a simple garment, selecting the best quality is paramount. So, it's worth investing in the best white tee you can find.
Sure, a cheap one could do the trick. For a while. Until the opacity fades, it's no longer bright white (admittedly, sometimes unavoidable), and it's more ill-fitting than form-fitting. No, the best women's plain white t-shirt will hold its own against wear and tear, prevent any unwitting indecency, and be ready to go whenever you need it.
From deep V's to slouchy boyfriend vibes and everything in between, our guide explores the best white tees on the market. Read on to discover the perfect white tee brand for you.
23 best women's white t-shirts
Cuyana Slim Crewneck Tee: Best overall women's white T-shirt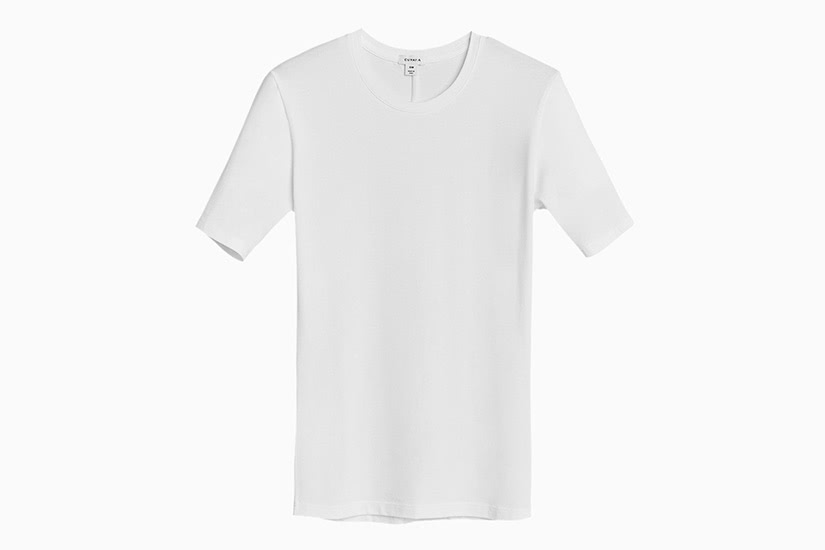 If you're seeking a long-lasting, opaque white t-shirt that'll match with virtually any outfit, the Slim Crewneck Tee by Cuyana is the sustainable basic you need.
Crafted with supersoft and durable Peruvian Pima cotton, this plain white tee features a super-flattering high crew neck. The fitted silhouette looks chic tucked into jeans or a midi skirt, peeking out under a structured jacket, or paired with culottes.
With fast-fashion becoming a fast faux pas, the Cuyana Slim Crewneck Tee promises longevity. Boasting an impressive list of certifications, it's as friendly to your skin as it is to the earth (and the people who made it).
Clearly, Cuyana makes a mighty effort to ensure this white tee is truly as pure, clean, and innocent as it looks.
Best for: Those who have grown weary of constantly replacing their inferior white t-shirts, and are on a mission to discover the ultimate simple white tee once and for all.
Brunello Cucinelli Jersey T-shirt: Best designer women's white tee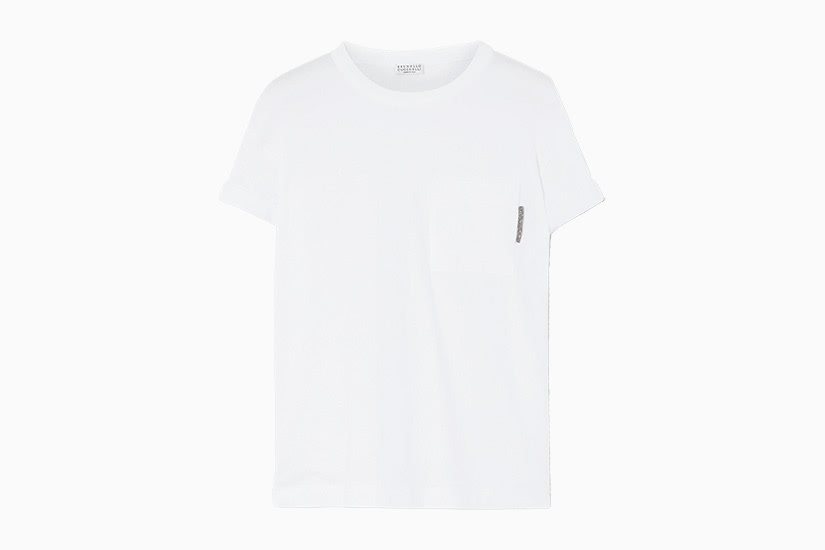 The Brunello Cucinelli Jersey T-shirt succeeds in being both simple and luxe. The slightly loose-fitting soft stretch-cotton jersey feels dreamy against your skin, while the rolled up sleeves offer just a hint of je ne sais quoi.
A tasteful fusion of laid-back glamour, the tee possesses the brand's signature Monili beads embellishing the chest pocket. This thoughtful detail will afford you envious glances when the tiny beads catch the sunlight, radiating elegance while remaining totally understated.
Crafted in Italy from 93% cotton and 7% elastane (for that luscious stretch feel), the fabric is bright white and thankfully not see-through. Rest assured, you'll be eye-catching for all the right reasons.
Essentially, the Brunello Cucinelli Jersey T-shirt achieves what all good white tees set out to do: look and feel effortless.
Best for: Those wishing to inject a touch of class to their wardrobe essentials; this premium quality white t-shirt embodies simplicity, while providing a wink of luxury.
Hanes Women's Nano T-shirt: Best value white tee for women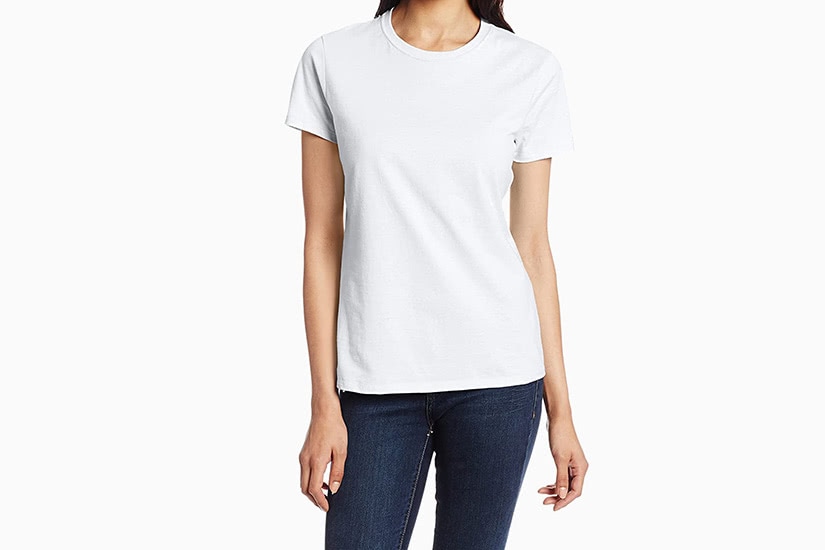 If you're seeking a classic white t-shirt that won't burn a hole in your pocket, opt for the Hanes Women's Nano T-shirt.
The ribbed crew neckline and cute short sleeves result in a clean, versatile aesthetic. Jazz it up with a funky bottom-half, or channel off-duty model vibes with a classic pair of skinny jeans and some RayBans.
Made from 100% cotton and with a subtly clingy fit, the Hanes Women's Nano T-shirt needs only a simple chain necklace or some chic earrings to elevate this tee from plain Jane to London Fashion Week attendee. Having said that, even worn on its own this tee makes plain Jane look kinda cool.
Plus, the minimalist price tag means you're free to hoard as many as your wardrobe has room for. After all, can you really have too many white tees? We think not.
Best for: Those seeking a stylish, flattering white t-shirt which is super economical, and gives more expensive options a run for their money.
James Perse Slub Cotton Top: Best women's white T-shirt with long sleeves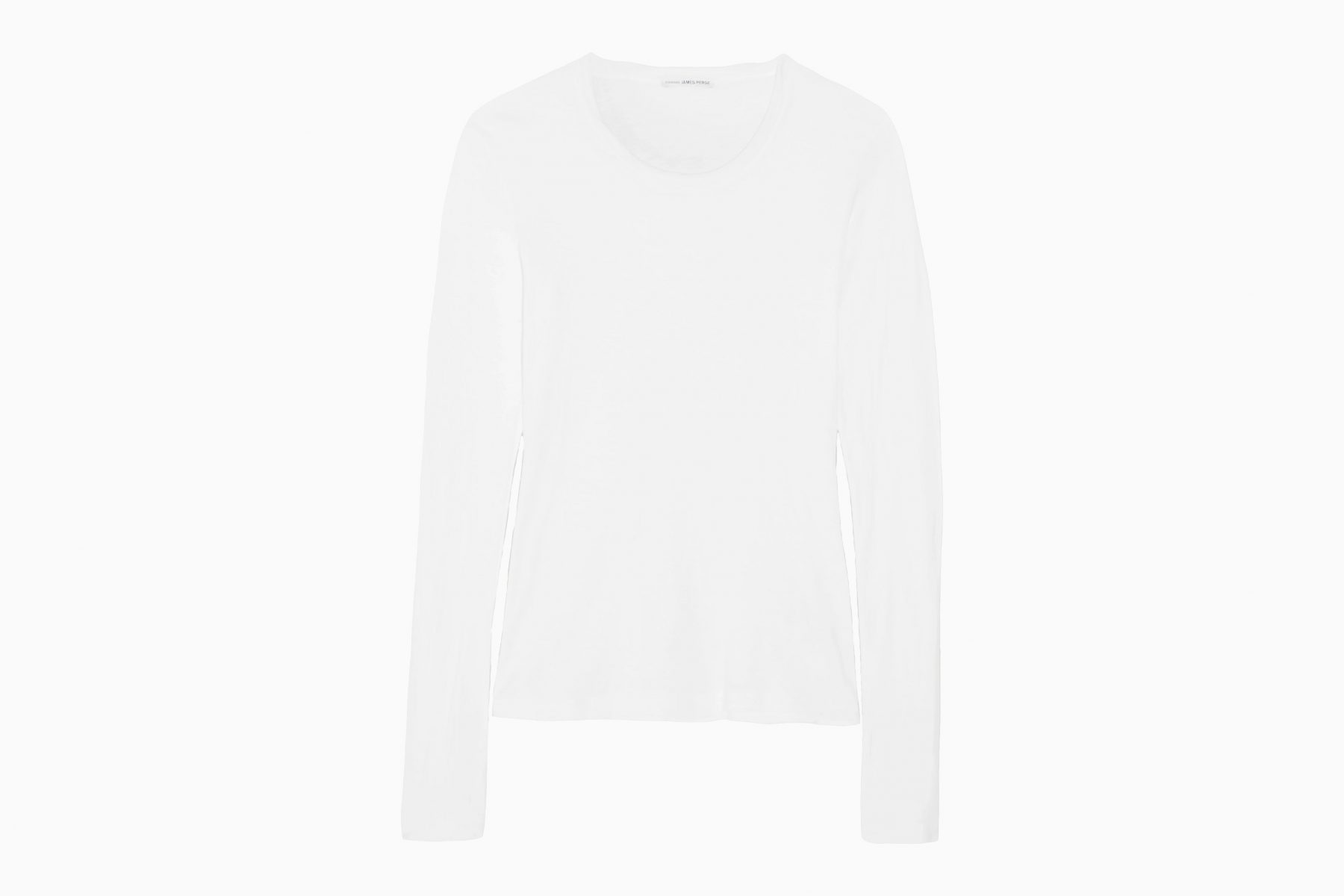 Inspired by West Coast living, the Slub Cotton Top by James Perse oozes laid-back SoCal style.
With its long sleeves and crew neckline, this white tee is a particularly good choice for the in-between seasons. So, whether you're anticipating summer, or clutching on the last of the rays, this white tees got your back.
The 100% slub cotton is semi-sheer in a totally intentional way, and it's been specially washed and softened, so you can slip into those relaxed LA vibes as soon as you put it on.
James Perse has got the mellow feels down to a 'tee' with the Slub Cotton Top, and it's easy-going all the way: The slimline design is great for tucking in to a high waisted skirt, or wearing loose over leggings or jeans for just chilling out.
Best for: Those who adore the ease of a clean white tee, but wish to elongate the summer spirit into the colder months… So, you can keep the style, but lose the goosebumps.
Ninety Percent Ruby T-shirt: Best V-neck women's white tee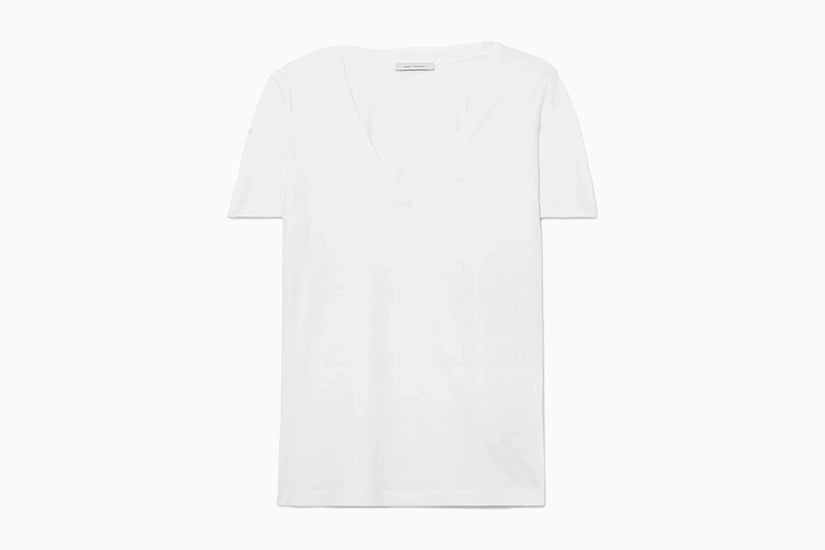 A good V-neck tee will pretty much go with anything. V-necks are super flattering on every body type– just throw it on and go (well, maybe pull on some jeans first).
The Ruby tee by Ninety Percent is about as philanthropic as t-shirts get: 90% of the proceeds go to charity, and you can check which ones by having a peek at the unique code on the label. So, you get to look awesome, and feel pretty pleased with yourself too.
It may be 90% charitable, but you can be sure the fabric is 100% organic cotton: Yes, it's kind to the planet, too. Just try and wear this tee without walking around feeling oh-so-glowy and virtuous.
Thanks to the slouchy loose fit, in conjunction with the clean V neckline on the Ninety Percent Ruby T-shirt, this tee styles incredibly well with both casual and tailored looks.
Best for: Those seeking the best white t-shirt, women's v-neck style, that'll make you look and feel gorgeous.
Cuyana Pima Scoop Neck Tee: Best scoop neck white T-shirt for women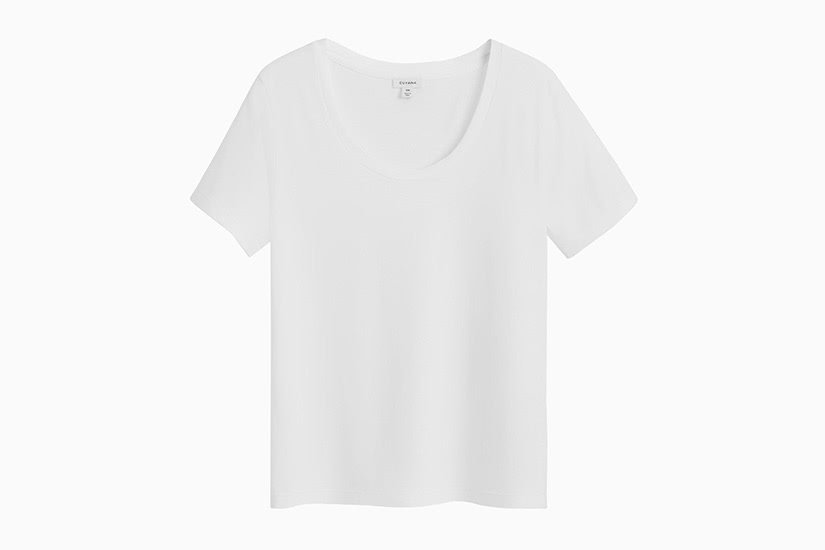 Hitting the sweet spot between casual and polished, the Cuyana Pima Scoop Neck Tee is a great choice for those with a fondness for the classic scoop style.
Made entirely by a family-owned collective in Peru, the Pima cotton tee manages to be gorgeously lightweight and soft, yet hard-wearing at the same time.
Plus, the graceful fall of the fabric and the flattering scoop neck means this tee is a friend to all body shapes and sizes.
The slightly capped sleeves and subtly slim silhouette is an absolute winner for those who haven't yet discovered the 'perfect' white t-shirt: The Pima Scoop Neck Tee is simply the epitome of classic style.
Best for: Those seeking to upgrade their wardrobe essentials, who desire a classic white scoop neck which feels irresistible and looks elegant. All with zero effort.
Rag and Bone The Tee: Best crew neck white T-shirt for women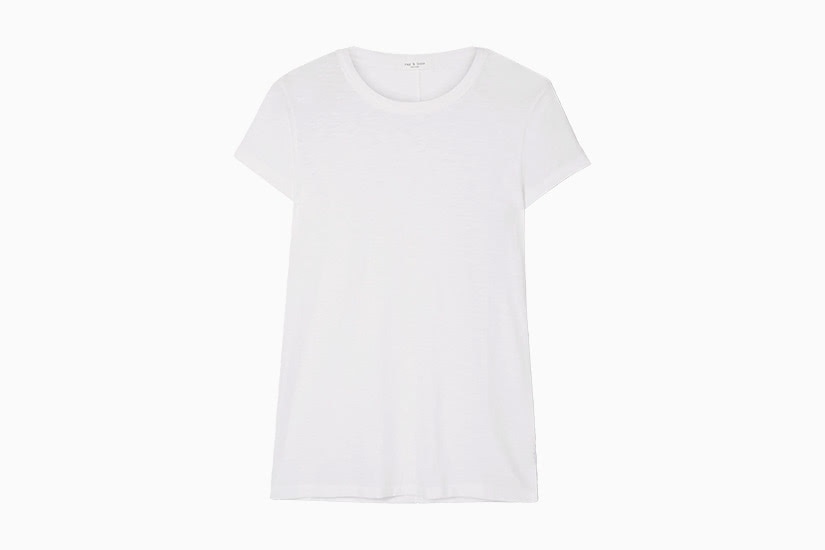 There's something so calming about slipping into a light-as-a-feather slub tee.
The Tee by Rag and Bone is crafted with 100% slub Pima cotton-jersey, topped off with the universally flattering crew neck.
Designed with a slightly loose fit, this tee will skim over your body in all the right places. Simply tuck it into some mid-waist jeans with some sneakers for varsity vibes, or smarten things up with a fitted blazer for that Monday morning meeting.
The Tee by Rag and Bone strikes the balance between crisp and relaxed. Essentially, it has the power to be whatever you need it to be; cool and casual or suave and sophisticated, it's truly versatile.
Best for: Those who love a good white crewneck tee, and wish to infuse some comfort and carefree flair to their staple wardrobe.
Amazon Essentials Classic Fit T-Shirt: Best classic white tee for women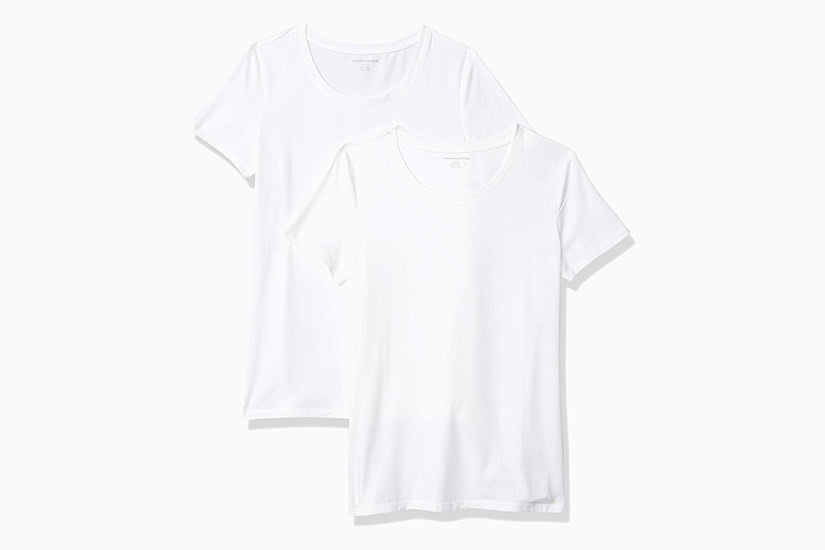 While trends are always shifting, you can be safe in the knowledge your white tee will always be a winner. They simply don't go out of style.
Featuring a crew neck and flattering straight hem which just grazes the hips, the shape of the Classic Fit T-Shirt by Amazon Essentials is as timeless as the white tee itself.
Quite possibly the best white t-shirt Amazon has to offer, this classic tee comes in a 2-pack (much to the relief of the accident-prone amongst us).
The cotton-blend results in a soft, yet slightly structured finish which is perfect for layering or wearing on its own.
For those concerned about their white tees becoming a little see-through, no fear: the Classic Fit T-Shirt is as opaque as the East Antarctic Ice Sheet (i.e. very).
Best for: Those seeking a classic fit opaque white t-shirt (or two) that'll look effortless no matter how long you really spent choosing what to wear…
Ninety Percent Linen-jersey T-shirt: Best fitted women's white tee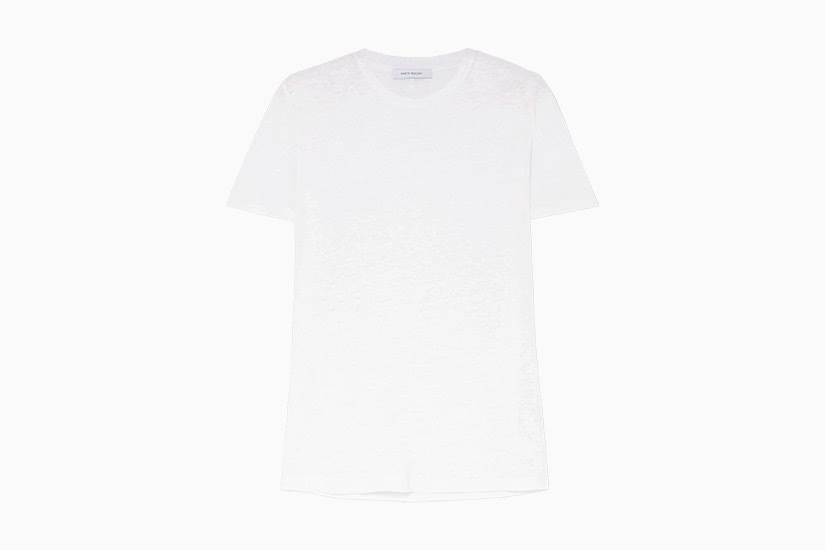 Maybe your wardrobe is chock-full of cotton tees already, or you just fancy the cool, breezy feel of 100% linen instead. Either way, Ninety Percent's Linen-jersey T-shirt is a splendid choice.
Being linen, it's a little more fitted than its cotton counterparts, allowing for a nice, shapely silhouette. The high(ish) neckline needs no accessory, and it's great to tuck into a pair of your favourite jeans for a preppy look.
To top off what is already a gorgeous linen tee, Ninety Percent are super focused on social and environmental responsibility. With every purchase, 90% (get it?) goes to a charitable cause chosen by you. Read the label to find out who you can help (preferably while kicking back and feeling chic in your brand new tee).
So, aside from being totally in vogue in your Ninety Percent Linen-jersey T-shirt, you also get bragging rights to your newfound philanthropy.
Best for: Those seeking a new white tee that's a little on the fitted side, to add a little structure to your chill.
SAMPEEL Short Sleeve V-neck: Best oversized white T-shirt for women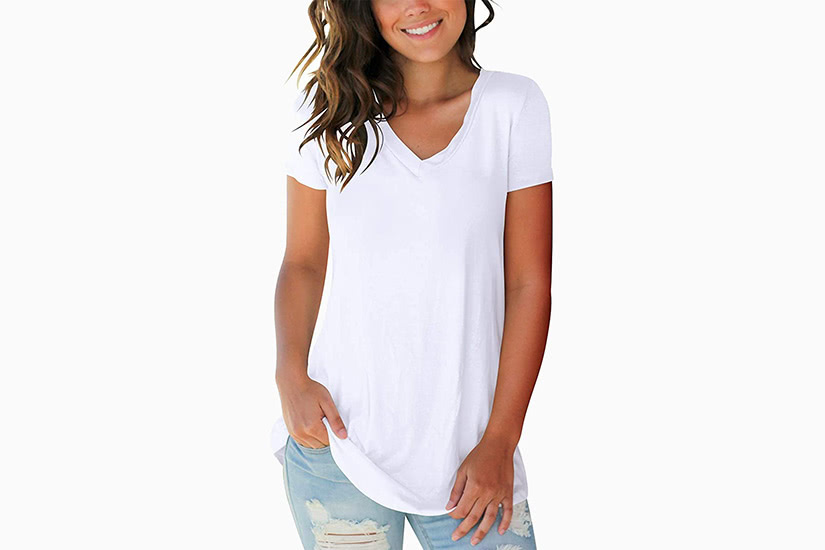 Every woman knows the trick to feeling cool with a generous helping of sass, is to rock an oversized tee. Especially if it's white. Yep, there's just something intrinsic about an oversized white tee that screams confidence.
So, if relaxed cool is what's missing from your wardrobe, SAMPEEL will come to the rescue with their Short Sleeve V-neck.
The loose fit of SAMPEEL's Short Sleeve V-neck is perfectly oversized, and certainly more boyfriend-fit than baggy. It's soft and lightweight enough to pair with shorts in summer, with breathable rayon fabric that's awesome for sultry afternoons at the beach. Or, throw on under an autumn coat for an understated look that'll keep you warm.
Best for: Those who hate to fuss with their clothing, who desire an oversized white tee that simply oozes laid-back, chilled-out, and carefree vibes.
Twenty Mackay T-shirt: Best cropped white tee for women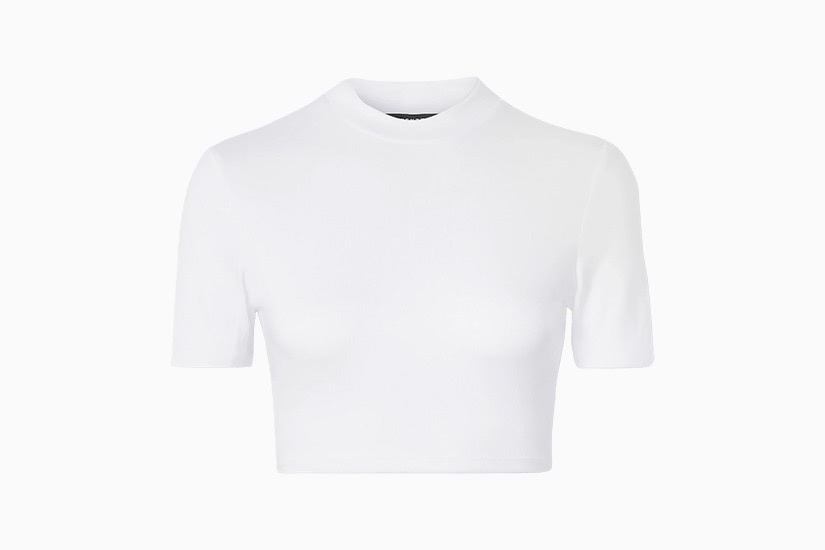 Cropped tees have been all the rage for years, and show no sign of going anywhere. If you haven't got a solid selection of cropped t-shirts in your wardrobe yet, it's high time you jumped on the bandwagon. They're incredibly versatile, and none more so than the Mackay T-shirt by Twenty.
The ribbed, bright white tee is super stretchy thanks to the small but crucial injection of spandex, with the main material being viscose. It's made to fit your skin like the painted-on leggings Olivia Newton-John wore in Grease (and wouldn't look too shabby paired with those leggings, either).
The beauty of a simple, white cropped tee is that it will literally go with anything: High-rise jeans? Check. Under dungarees? Check. Relaxed joggers? Hell yeah.
The polo-style neck offsets the generous midriff exposure, affording the Mackay T-shirt (and you) an air of class that's often lacking in cropped tops.
Best for: Those seeking a pair-with-anything cropped white tee that'll make for a sleek, defined silhouette.
Cuyana Slim Scoop Tank: Best women's white tank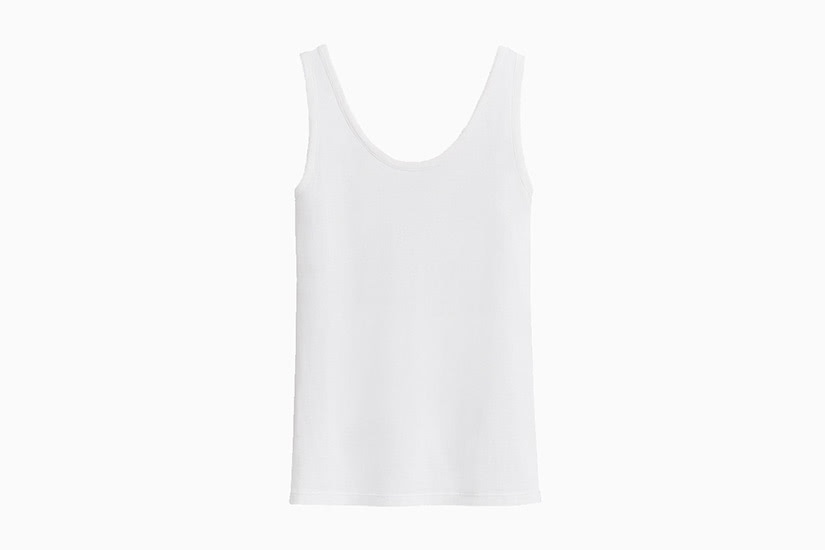 A good white tank top will live on the fine line between stylish, and useful. The Cuyana Slim Scoop Tank is irrefutably both.
Stylish, because the U-scoop on the front and back make this white tank just a little more special than the rest, and the slim-fit goes ways to create a beautiful silhouette.
Useful, because every woman needs a white tank top. Plain and simple. Whether you're the queen of layering in the colder months, or you want a no fuss option for glorious summer days, a white tank is simply the foundation of a well thought-out wardrobe.
Not to mention, the Cuyana Slim Scoop Tank is crafted in Peru from the softest Pima cotton which promises both durability and breathability.
Best for: Those who desire a premium quality white tank top with an eye-catching neckline, that feels incredibly sumptuous to wear.
Cuyana Silk Tee: Best dressy white T-shirt for women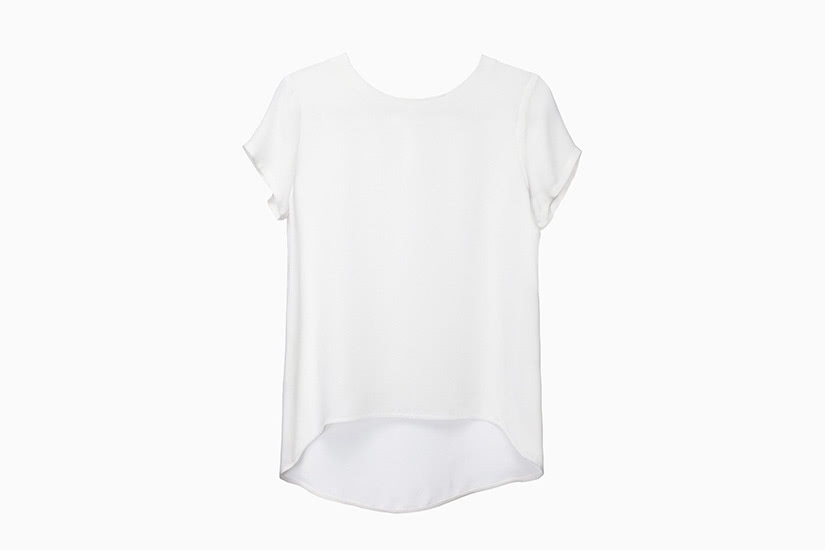 White t-shirts can be dressy too, you know. You just have to select the right one. Enter: The Cuyana Silk Tee.
Sure, soft cotton and linen are amazing for casual wear. But sometimes you need something with a hint of glam, whether it's for an upmarket lunch date or soirée.
With delicate keyhole detailing on the back and a flowy high-low hem for easy tucking in or wearing loose, this piece from the Cuyana 'elevated everyday' collection is the best silk tee out there.
Crafted from Chinese silk, the Silk Tee is luxurious to the touch. Not to mention, with the light dancing off the fabric, it looks vaguely shimmery, and possesses a subtle shine that sits safely on the side of sophisticated.
Best for: Those seeking something extra special from their white tee, who wish to feel indulgent, draped in the graceful Chinese silk.
Isabel Marant White Belita T-shirt: Best tie-front women's white tee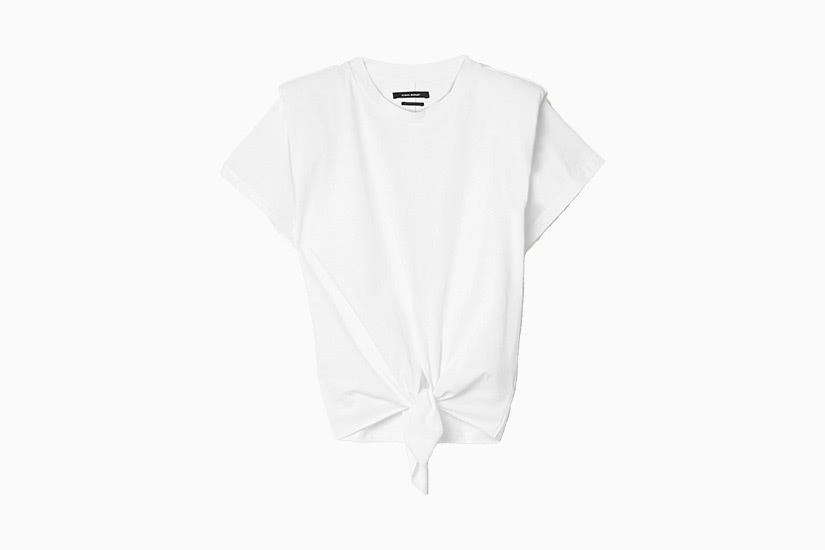 If anything breaks the mould of your standard white t-shirt, it's the Isabel Marant Belita T-shirt.
Featuring an eye-catching knotted waist, the tee is crafted from crisp cotton. So, even if you're having the toughest of days, you can be sure it'll hold its shape, and you'll remain looking fabulous (unless your bad day involves coffee spillage…)!
Plus, the tie-front is completely adjustable, so you can tailor it to your personal preference.
With the Belita, solid structure is key. This tee goes one step further, with its thick shoulder pads, creating a powerful silhouette and a total #girlboss vibe.
No fear, the mid-weight fabric of the Isabel Marant White Belita T-shirt is not see-through at all. In fact, we'd go as far to say this tee is impenetrable, with the opaqueness scoring a 10/10.
Best for: Those seeking a versatile white tee that makes a real statement; a tee that will make you feel strong, powerful and, most importantly, chic.
Amazon Essentials Slim-fit Camisole: Best white singlet for women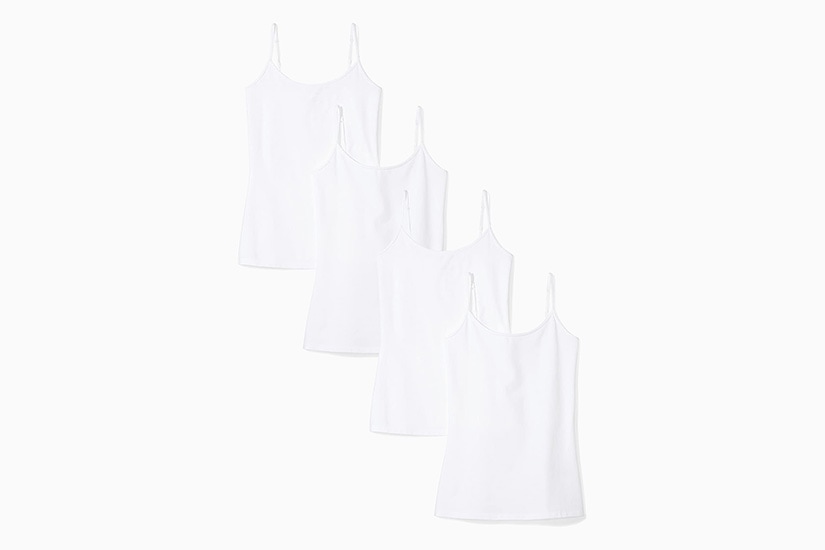 Behind every great woman, there's a great singlet. A white singlet is the cornerstone of every woman's wardrobe, no matter who she is or what she does. The Slim-fit camisole by Amazon Essentials is the perfect choice if you're looking for the best white camisole to make your wardrobe complete.
It's 95% cotton with a dash of spandex for that stretchy feel, with adjustable spaghetti straps which make it a slimline layering hero.
The scoop neck on the bright white Slim-fit camisole is super flattering, and it'll easily tuck into your new jeans or a high-waisted skirt. Oh, and the best part? You get four of them in a pack, so you'll always have one at the ready.
Best for: Women who love to layer up, and those seeking a fundamental garment which makes every day a great garms day.
MANGOPOP Bodysuit: Best white bodysuit for women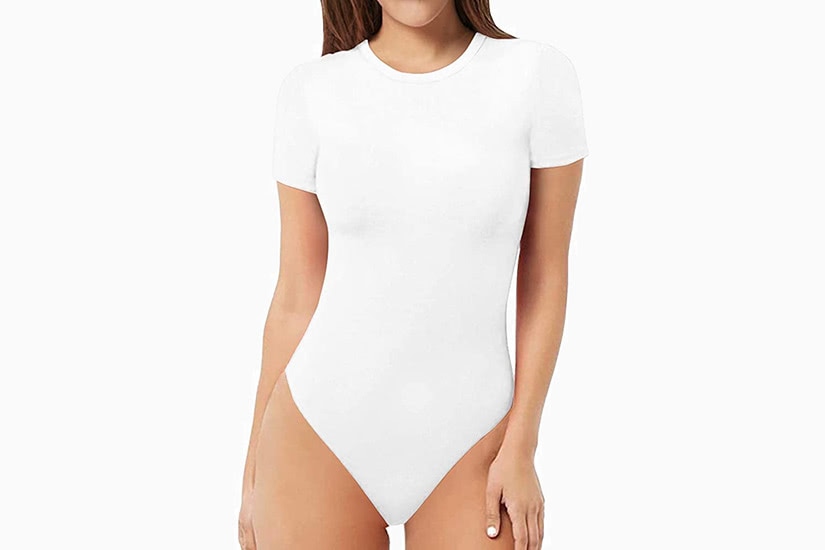 No longer are bodysuits confined to the bright lights and glitter balls of retro disco clubs. These little beacons of style and convenience have happily crashed back into our wardrobes with their recent revival.
The MANGOPOP Bodysuit deserves a place in your wardrobe staples. The round neck, cute short sleeves, and close fit make it ideal for layering, or wearing on its own with your favourite skirt, shorts or jeans. Of course, a handy snap closure makes it super easy to put on and off, too.
The MANGOPOP Bodysuit is made for seamless tucking in, totally eliminating the hassle that scrunched up fabric causes (if you know, you know). So, you can enjoy seamless contours all day long.
Best for: Women on the search for a great quality, affordable bodysuit that you can pair with virtually anything in your wardrobe, with absolutely zero risk of coming untucked.
MIHOLL V-neck: Best women's white T-shirt with roll up sleeves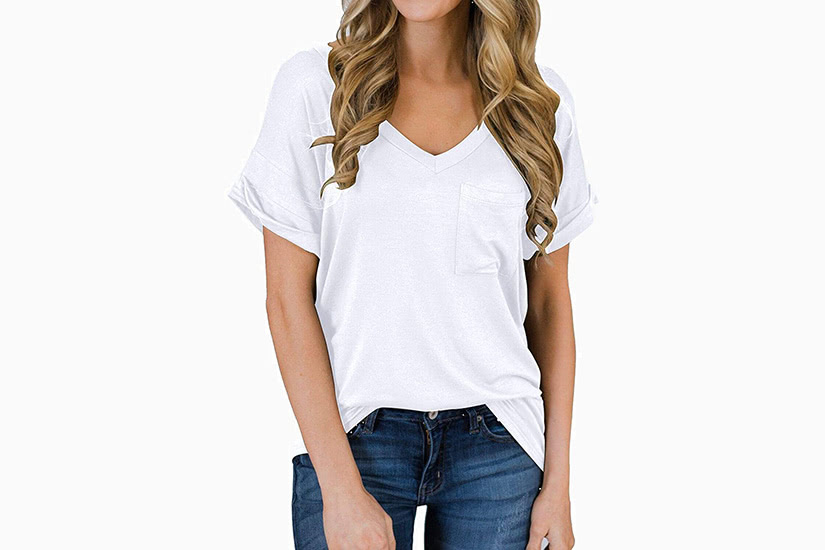 Featuring rolled-up sleeves and a breast pocket, the MIHOLL V-neck radiates utilitarian chic. Slightly oversized in fit, the lightweight fabric falls gracefully down to the hem, emanating breezy feels.
For women whose style errs a little on the bohemian side, this opaque white t-shirt is an excellent choice.
The casual rolled sleeves, deep V-neck and pocket detail work together well to create a look that's easy-going, easy to wear, and easy to spice up with your favourite jewels if you so choose.
The wide arms on the MIHOLL V-neck allow for heaps of freedom of movement. So, while clingy and fitted looks gorgeous, sometimes, free flowing and easy is the order du jour. No muss, no fuss, just pure relaxed style.
Best for: Those seeking a well-made white tee with rolled up sleeves and a casual air, for days when comfort is king.
RE/DONE + Hanes cotton-jersey T-shirt: Best white cotton tee for women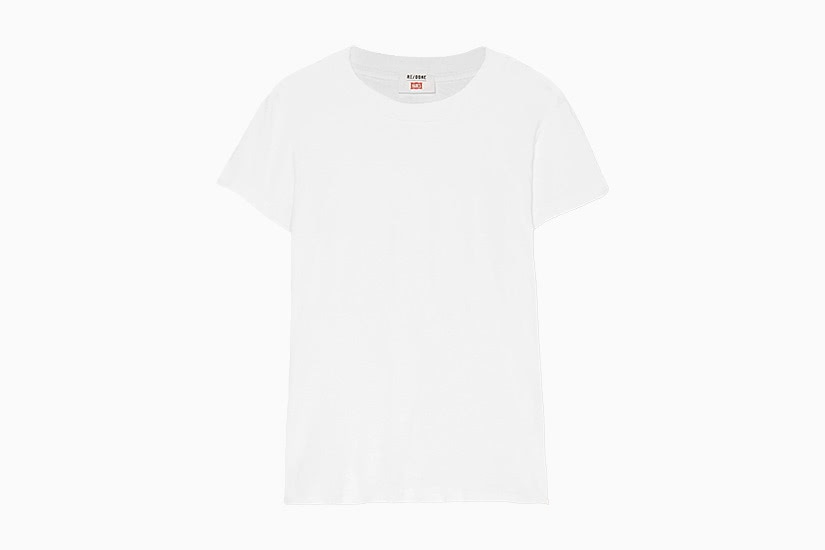 In this collaboration, RE/DONE has teamed with t-shirt connoisseur, Hanes, to create a gorgeous tee that will slip straight into the 'most-loved' section of your wardrobe like it was born there.
The true beauty of this tee is in its simplicity. The 100% cotton-jersey makes for the most irresistible touch, finished with a flattering crew neck and ribbed trims.
The slim-fit is guaranteed to complement all body shapes and sizes, with the short hem just brushing your hips. Essentially, the RE/DONE + Hanes cotton-jersey T-shirt embodies pure quality, and you can wear it exactly how you'd like.
Dress it up or down, making the most of the clean white to offset your summer tan. Or, simply laze around the house in it. Just because you're at home, it does not mean you can't look and feel beautiful.
Best for: Those who'd love to own a pure, 100% cotton tee with a luxurious, supersoft feel, whether you're staying in or heading out.
Nili Lotan Irving linen T-shirt: Best white linen T-shirt for women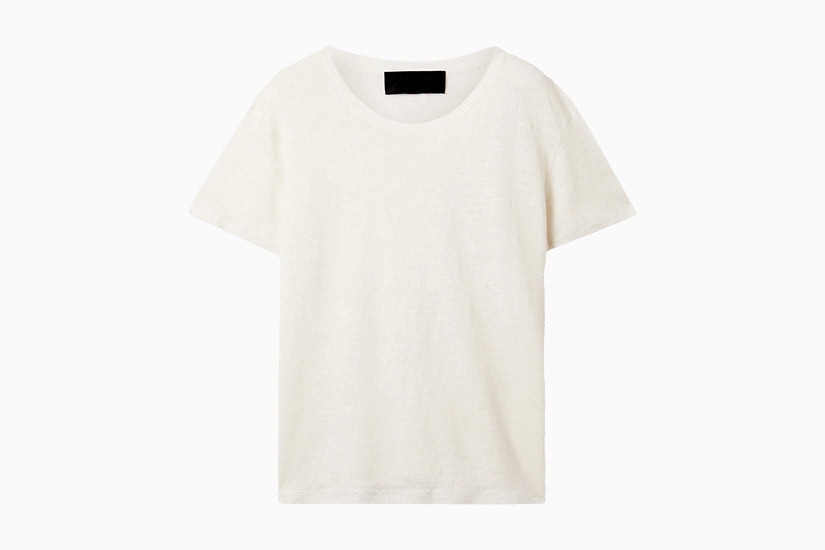 Okay, okay. Nili Lotan's gorgeous linen T-shirt is perhaps a little on the creamy side of white. But, for those who adore a natural colour palette, this tee is truly delectable.
The 100% linen, loose fitting tee achieves saying a lot, by saying very little. The dropped shoulders, classic crew neckline and #idc silhouette is understated in the coolest way.
The tee is scrumptiously lightweight, falling beautifully in a cascade of pure, natural linen.
Not only is linen revered as one of the strongest natural fibres, but it's totally breathable too. That makes the Nili Lotan Irving T-shirt a number one choice for a warm summer's day, or as a key piece in some autumnal layering. Plus, the light creamy hue makes for a perfect duo when paired with a deep summer tan.
Best for: Ladies who love linen, love luxury, and wish to infuse a little au natural flair into their day-to-day dressing.
James Perse Vintage Boy cotton-jersey T-shirt: Best boyfriend white tee for women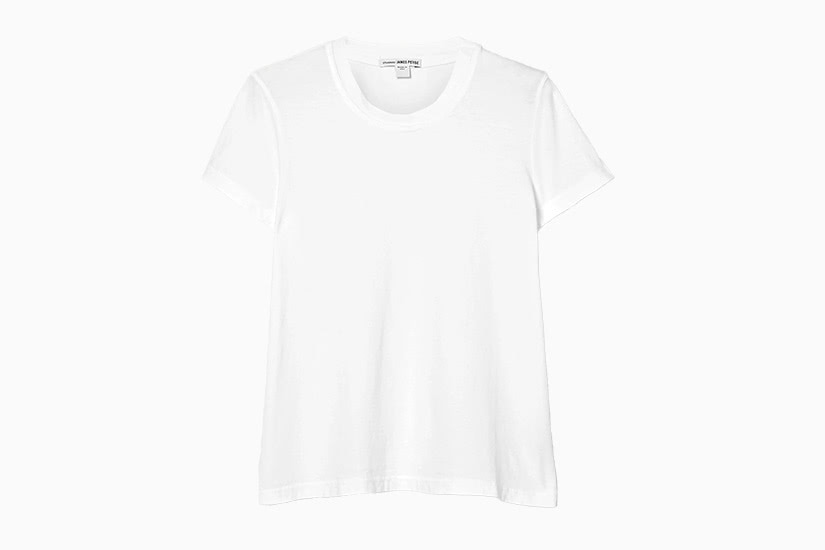 Yes, you can enjoy the inherent comfort and slightly serendipitous style of a boyfriend tee, without raiding your boyfriend's washing basket. Which, obviously, is great news for both you, and your boyfriend.
So, rather than 'borrowing' your boyfriend/brother/friends-with-benefits favourite white tee, you can keep the peace and just pick up one of James Perse's Vintage Boy cotton-jersey t-shirts instead.
A best-selling style of the brand, this boyfriend tee possesses that archetypal relaxed fit and a clean crew neckline. Plus, the combed cotton-jersey ensures it truly feels like that tee your boyfriend loves (and you've had your eye on…)—comfortable and nonchalant.
Best for: Those who'd like to enjoy all the comfort and style of an oversized boyfriend tee without a) raiding your boyfriend's wardrobe or b) having a boyfriend at all. Yay.
Dickies Heavyweight T-shirt: Best thick white t-shirt for women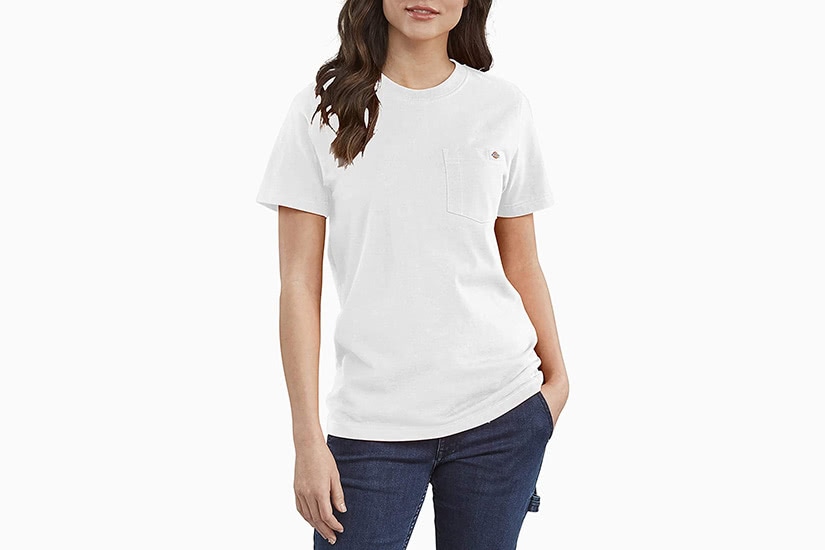 For the best heavyweight white tee that'll see you through the chills and shivers of autumn and winter, check out Dickies Heavyweight T-shirt.
The 100% cotton is super thick, so it's perfect for adding an extra layer under a wooly jumper or cosy puffer jacket. And it's white, so, you really can't go wrong with whatever you pair it with.
Really, this tee packs a huge punch. The cotton, while being super thick and warm, is also lightweight and breathable. So, you truly get the best of both worlds.
The chest pocket is a nod to utilitarian style, as well as being totally versatile and comfy. Dickies Heavyweight T-shirt is literally perfect for those days when you just want to Get Things Done.
Best for: Those who value strength and durability in their tees, and desire one simple thing from their women's white t-shirt: not see-through.
Hanes V-neck Tee: Best budget white T-shirt for women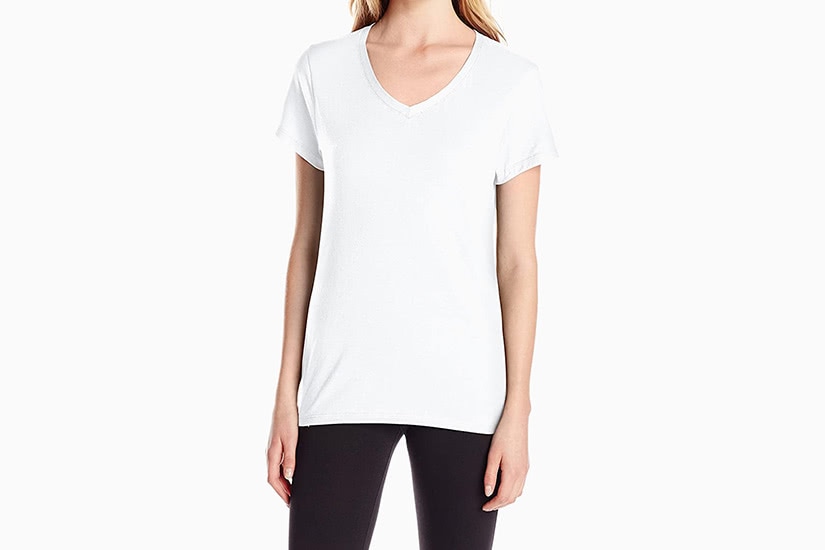 White tees are something we often have to buy over and over again. Sure, sometimes it's not our fault, and some erratic driver jerked your coffee, and well, it wasn't good.
Sometimes, we know ourselves well enough to know that when it comes to white tees, we might just need more than one. Just in case. Hey, white is just tough to look after.
Say hello to the Hanes V-neck Tee. It's shockingly affordable, but actually offers a whole bunch of cool features.
UV protection, moisture control technology and Hanes X-Temp technology are just a few of the hidden talents of this simple-seeming white tee. It works hard to keep you cool when it's hot, and vice versa. Impressive, right?
It's not all work and no play though, the v-neck is gorgeously playful and flattering. Plus it's tag-free, so you can go about your day minus that all-too-familiar itching.
Best for: Those seeking a budget white tee that you can buy tens (um, hundreds?) of, to make sure you've always got a trusty white t-shirt on hand.
Alexander McQueen Poplin T-shirt: Most expensive women's white tee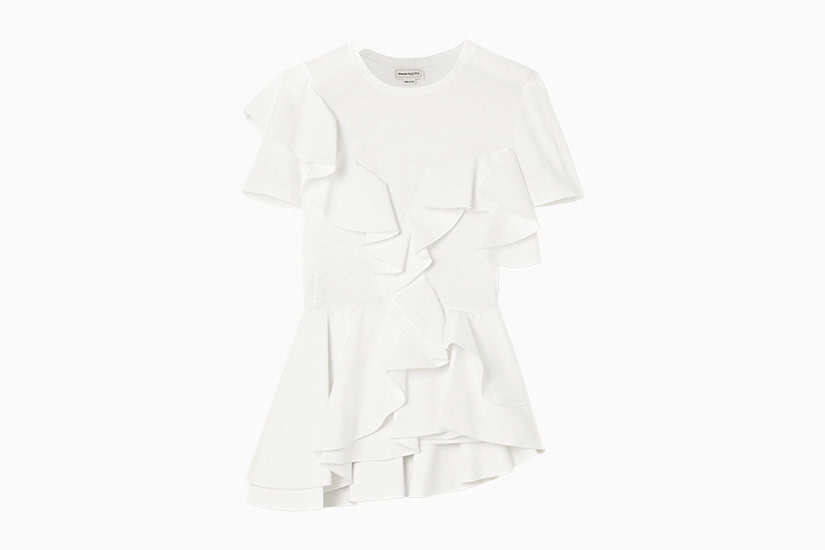 There's white t-shirts, then there's Alexander McQueen white t-shirts. Predictably, this one might turn a few more heads.
Taking the white tee to a whole new level, the ruffled poplin t-shirt by the famed designer elevates a simple garment to dizzying new heights. It's feminine, it's eye-catching, and it is guaranteed to get you a truckload of comments on your next brunch date.
The graduating ruffles give way to a flattering asymmetric hem, and the soft-cotton jersey is luscious to touch while having the appearance of a far more structured fabric.
Pair the Alexander McQueen Poplin T-shirt with smart trousers and chunky shoes for the ultimate 'wow' factor.
Best for: Those seeking a white t-shirt that'll make you stand out from the crowd, and cause a total stir (in a very good way).
Buying guide to your new favourite white tee
Considering the humble white is often the most-worn item in any woman's wardrobe, it's certainly worth taking a little time to find out what kind of tee is best for you.
Material
When it comes to white tees, their simplicity leaves little room for error. It goes without saying, unsightly sweat marks are your worst enemy when you're trying to rock your tee.
So, choose a fabric that's both durable and breathable. The best choices are unequivocally cotton or linen, and try to find a tee that's crafted from 100% of either.
Of course, if you prefer a little stretch to your tee, find a garment that offers a little spandex or elastane in order to achieve that cling effect.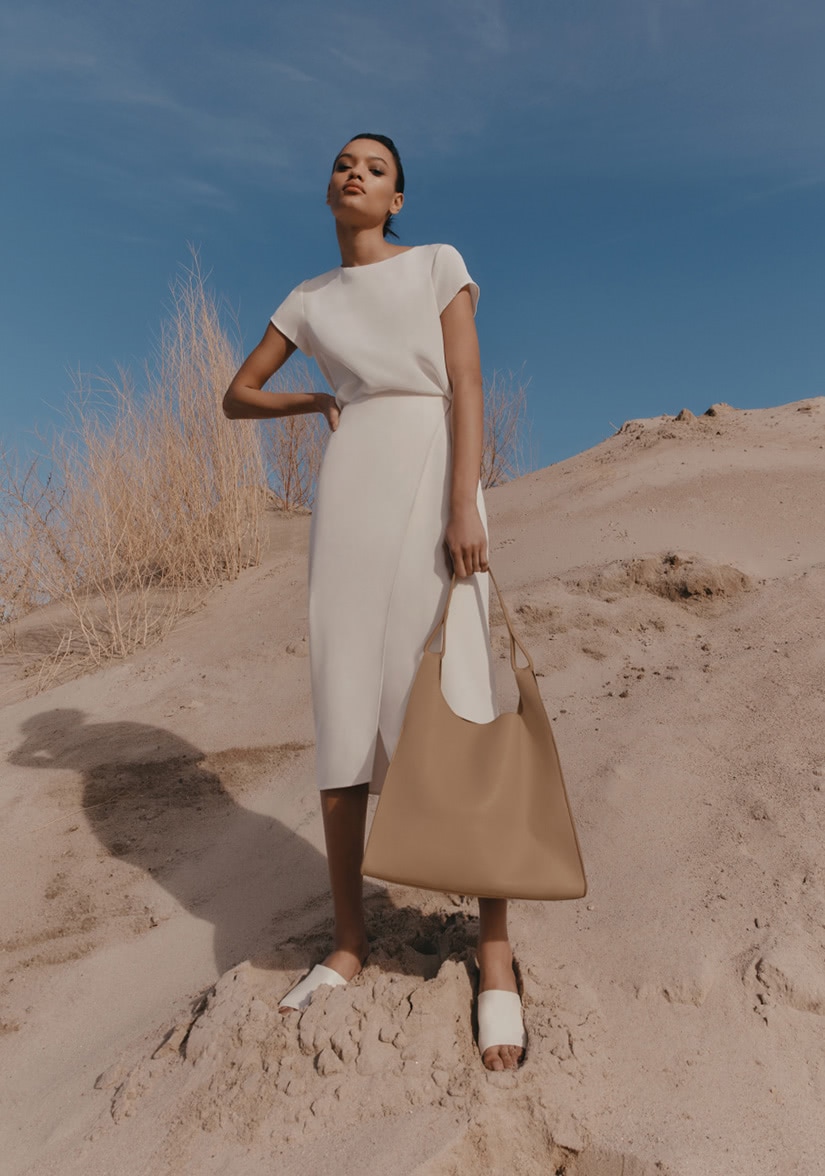 Finding the perfect neckline
While there's as many necklines out there as there are t-shirt styles, the main contenders are typically the crew, the scoop, or the v-neck.
Crew necks are super popular because they're flattering for every body type. Pear shapes in particular will benefit from a crew neck, as tees of this style tend to draw the eye upwards to the neck and shoulders, therefore balancing out a juicy pear shape.
Scoop necks are fabulous for rectangular body shapes, as the plunge, rounded neck works to add the illusion of curves to an angular or athletic frame.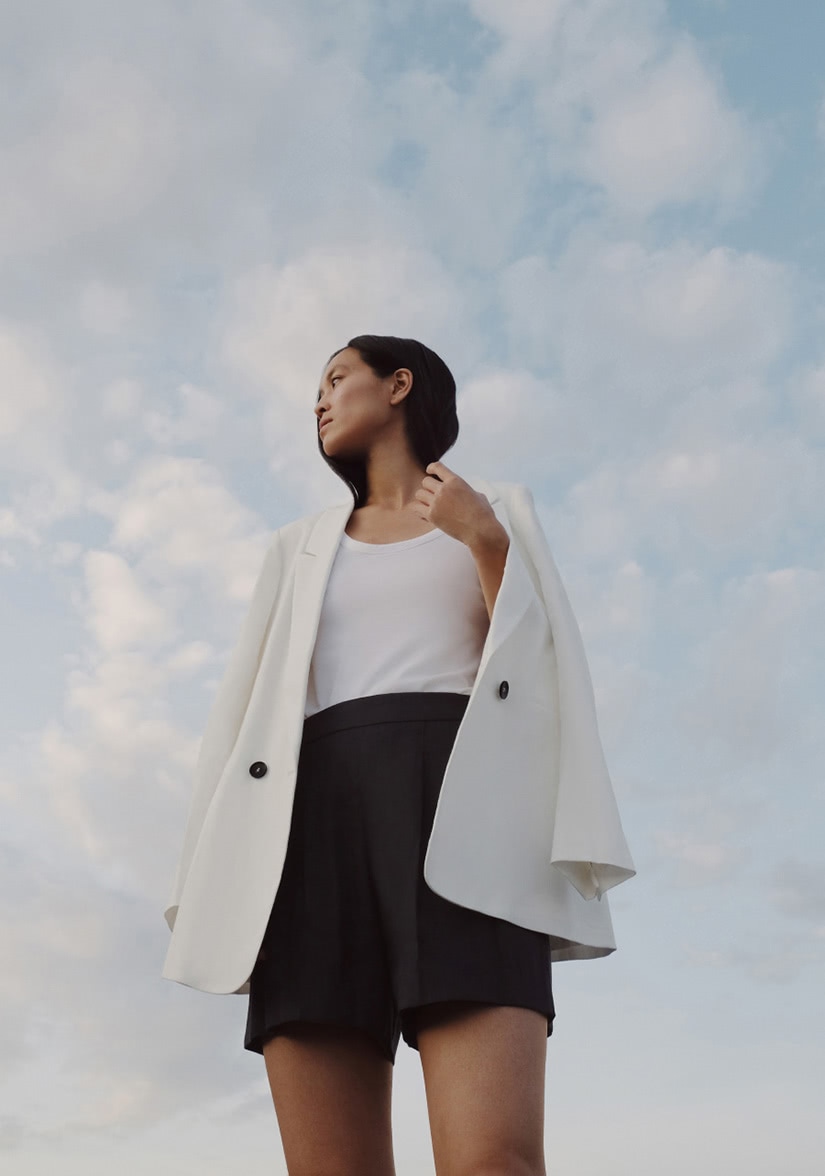 V-necks are a great, laid-back style which work well with all body types. However, they're particularly becoming on those with an inverted triangle shape. The vertical lines will help to elongate the upper torso and create more of an hourglass figure.
Frequently asked questions about women's white t-shirts
What brand has the best white T-shirts?
There's a whole sea of amazing t-shirt brands on the market. However, Cuyana is a clear winner. Offering a myriad of fits, fabrics and necklines, Cuyana believe you should have 'fewer, but better' pieces of clothing. There's heaps to choose from, so you're guaranteed to find your perfect white tee.
What are the best white tees for women?
No matter how or where you plan to wear your white tee, our list provides the ultimate guide to women's white t-shirts. Check it out for boyfriend tees, V-necks, classic crewnecks and scoops.
Are white T-shirts attractive?
There's a reason white t-shirts are a favourite among the high fashion world. Supermodels, actresses, and artists alike have all been papped in a classic white tee. They're super easy to style, suit everyone, and are fun to play around with. Plus, bright white tends to brighten your complexion, and plain white tees are known to create a relaxed style.