A classic closet staple, the essential white tee is a blank slate for any outfit or attitude. Pair it with distressed denims for an effortlessly chic aesthetic. Pair it with yoga pants, even when you have no intention of hitting the studio. Or pair it with that wonderfully resplendent skirt that you just haven't known how to style yet.
Gone are the days of living in jeans and switching up our tops. According to industry insiders, now is the time to stock up on simple tees that leave room for more eccentric trousers. Naturally, Kendall Jenner has signed off on the trend, pairing her retro boxy t-shirt with black leather pants and Yeezy heels. Zendaya keeps it uber casual in a cropped t-shirt, sweats and Uggs. While Gigi Hadid loves a white long sleeve shirt paired with royal blue biker pants and accented Versace sneakers.
But finding the perfect white tee isn't as seamless as it may seem. And while the quintessential capsule closet staple is simple by nature, finding one that ticks all the boxes is no small feat. It should be flattering. It should be soft. And should be able to bear multiple washes. Because, let's be honest, the right white tee barely makes it out of your wash basket before it's right back in again.
Enter: our best white tees for women. We can't wait to see what you do with them.
23 best women's white t-shirts
Cuyana: Best overall white tee for women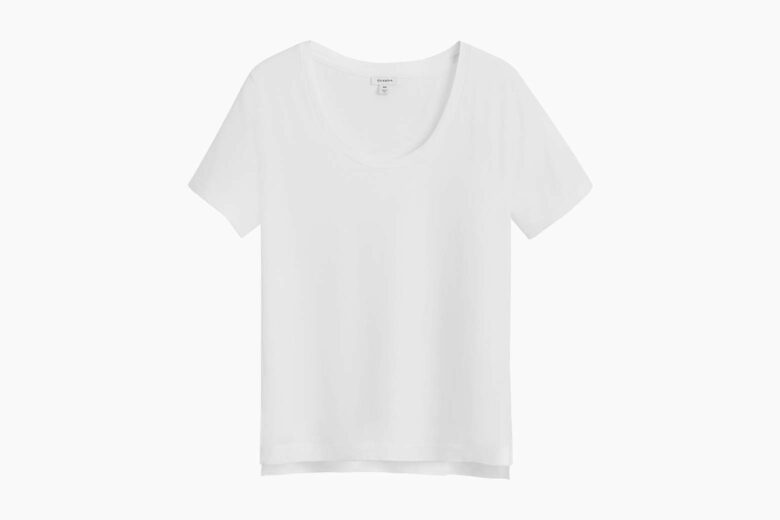 Advocating for better, fewer things, Cuyana is our queen of capsule closet staples. And its pima scoop neck tee is case in point. Made from 100% organic pima cotton, the wardrobe hero is manufactured in Peru and is certified sustainable—but without compromising comfort or style.
Cuyana's essential t-shirt is irresistibly soft, effortlessly breathable and luxuriously long-lasting. The shaped waist, low hemline and subtle side slits are super flattering. And the relaxed aesthetic has a I woke up like this attitude, while maintaining a refined composure.
Read the Cuyana story for more about this favorite sustainable brand of ours, and check our hands-on review of Cuyana's best-selling system tote.
| | |
| --- | --- |
| Materials: | 100% organic pima cotton |
| Neckline: | Scoop neck |
| Fit: | Classic |
| Size Range: | XS-XL |
Gucci: Best designer white t-shirt for women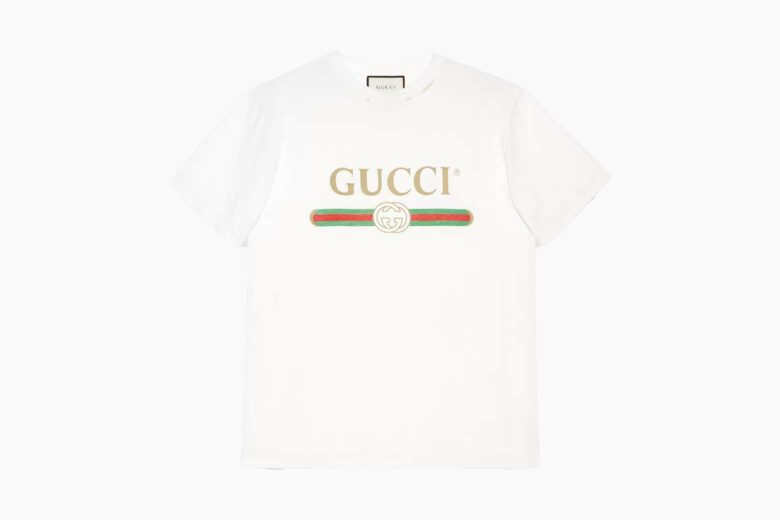 A capsule closet staple—but make it luxury. Yep, Gucci comes with a price tag, but it's one that is justified by years and years of glamor. This season, instead of stocking up on a plethora of sub-par white tees, you may want to consider one that is more than just a staple—It's a statement.
Gucci's white tee hits the elusive sweet spot between timeless and trendy. The vintage logo speaks to decades of fame as one of the most popular luxury brands. While the oversized fit has a contemporary, street-style Hailey Bieber look about it. Plus, it comes in a matching kids version. So you can probably guess what we're suggesting for that all-important one-year photo shoot.
| | |
| --- | --- |
| Materials: | 100% cotton |
| Neckline: | Crew neck |
| Fit: | Oversized |
| Size Range: | XXXS-XXL |
Allbirds Allgood: Best value white top for women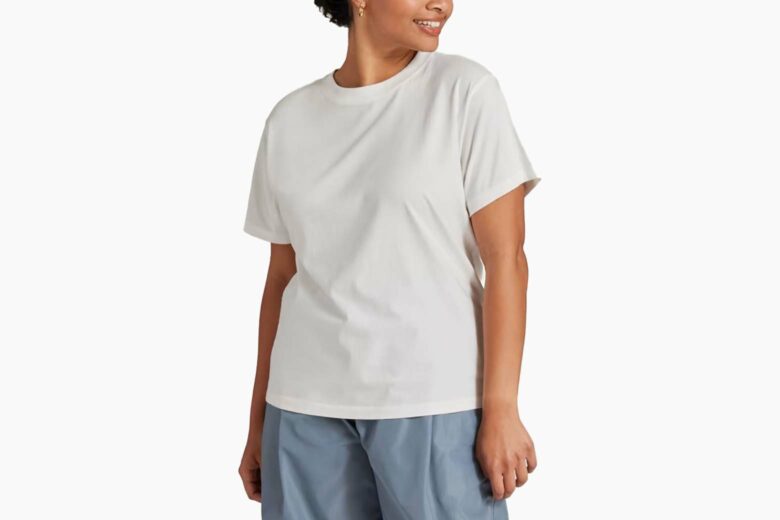 Flying high above the rest in sustainability and comfortable fashion—Allbirds is our go-to for restocking basic tees. The conscious brand is renowned for perfecting comfortable essentials (Google the world's most comfortable shoes and you'll see for yourself). And void of flashy branding and complicated embellishments, it leaves no stone unturned (or rather no stitch unchecked) when it comes to producing the highest quality basics.
Allbirds Allgood organic cotton tee is as light to wear as it is on the environment. The breathable fabric is designed to conquer sweltering climates (sans sweat patches.) And the classic silhouette pairs well with absolutely anything. In short: this white tee is All Good!
Check the story behind the Allbirds brand and our hands-on Allbirds sneakers review.
| | |
| --- | --- |
| Materials: | 100% organic cotton |
| Neckline: | Crew neck |
| Fit: | Classic |
| Size Range: | XS-XXXL |
Behno: Best white long sleeve T-shirt for women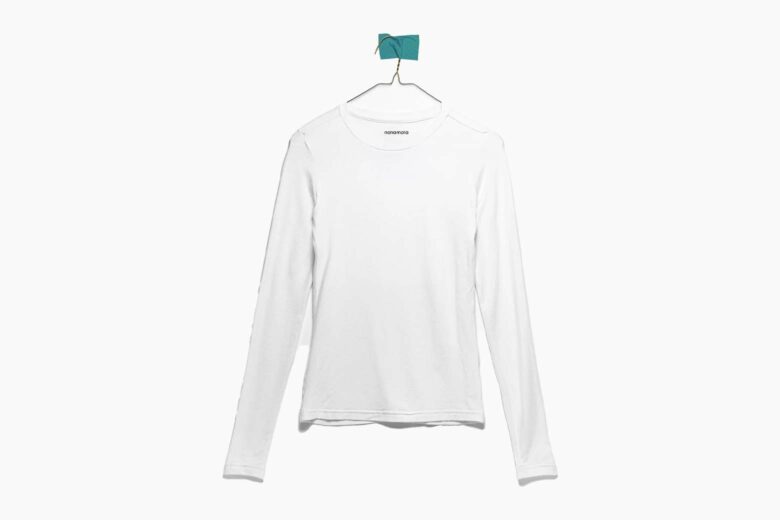 Ok, so we may be cheating a bit with this one. But after living in our Behno white long sleeve shirt throughout the Fall, we'd be remiss to leave it off our list.
You know Gigi Hadid's iconic biker short and long sleeve shirt look? Well, this is it. Coveted for its unparalleled finishing, the versatile silhouette both looks and feels fantastic. Made from the highest quality sustainable materials, the soft fabric is the epitome of an eco-chic loungewear cocoon. And the casual fit is effortlessly luxurious. Plus, the philanthropic label donates a portion of all sales to children in need. Yep, that's your cue to stock up on Behno's long sleeve tees.
Learn more about the story behind the Behno brand.
| | |
| --- | --- |
| Materials: | Modal |
| Neckline: | Crew neck |
| Fit: | Classic |
| Size Range: | XXS-XXXL |
Ninety Percent Ruby T-shirt: Best V-neck women's white tee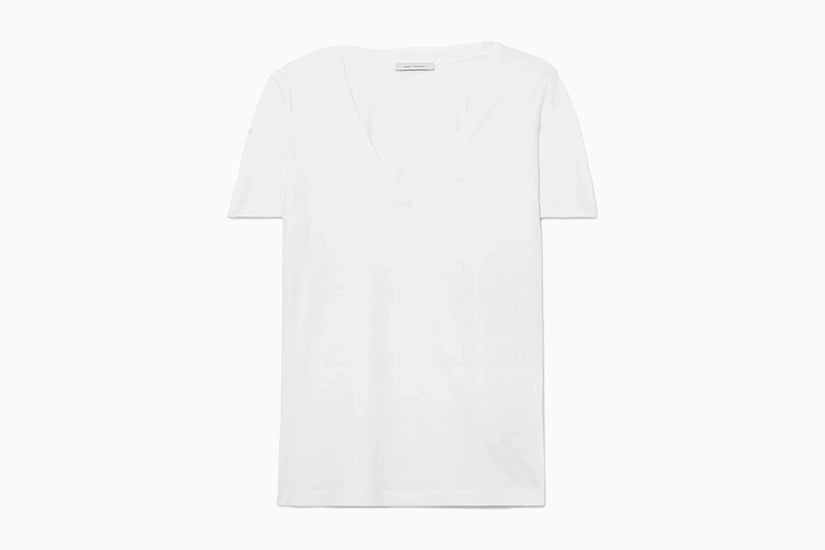 A good V-neck tee will pretty much go with anything. V-necks are super flattering on every body type– just throw it on and go (well, maybe pull on some jeans first).
The Ruby tee by Ninety Percent is about as philanthropic as t-shirts get: 90% of the proceeds go to charity, and you can check which ones by having a peek at the unique code on the label. So, you get to look awesome, and feel pretty pleased with yourself too.
It may be 90% charitable, but you can be sure the fabric is 100% organic cotton: Yes, it's kind to the planet, too. Just try and wear this tee without walking around feeling oh-so-glowy and virtuous.
Thanks to the slouchy loose fit, in conjunction with the clean V neckline on the Ninety Percent Ruby T-shirt, this tee styles incredibly well with both casual and tailored looks.
Best for: Those seeking the best white t-shirt, women's v-neck style, that'll make you look and feel gorgeous.
| | |
| --- | --- |
| Materials: | 100% cotton |
| Neckline: | V-neck |
| Fit: | Classic |
| Size Range: | XXS-XL |
Filippa K: Best women's scoop neck white t-shirt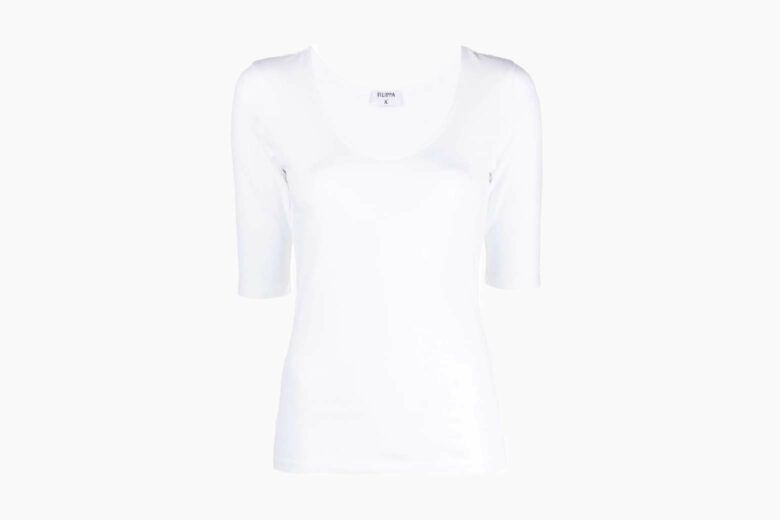 Established in 1993, Flippa K is a masterclass in sensual minimalism. The Scandinavian brand offers timeless basics. But its careful attention to detail ensures a more elevated edge. This jersey-knit scoop neck tee is case in point.
Longer sleeves and a tighter fit can be difficult to pull off. But Flippa K does so flawlessly. Cut in all the right places, the fitted silhouette is super flattering. While the scoop neck adds a polished elegance and acts as a blank canvas for layered jewelry.
| | |
| --- | --- |
| Materials: | Organic cotton |
| Neckline: | Scoop |
| Fit: | Fitted |
| Size Range: | XS-XL |
Rag and Bone The Tee: Best crew neck white T-shirt for women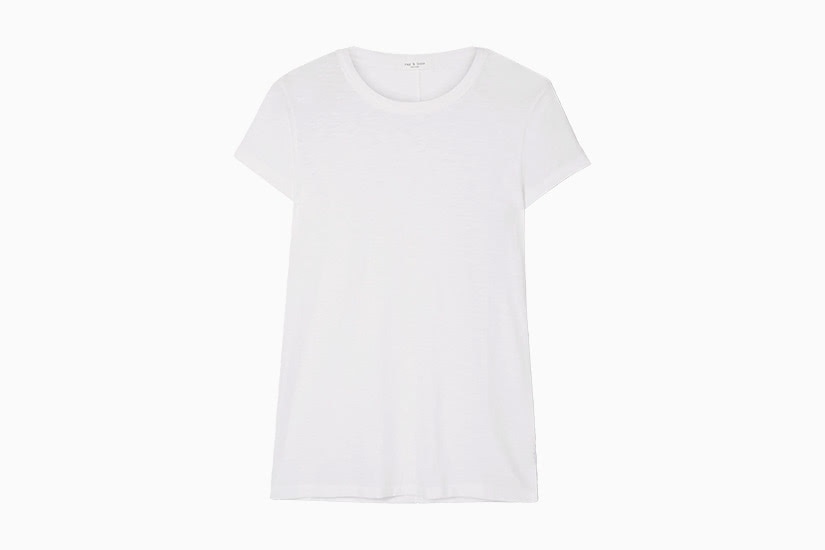 There's something so calming about slipping into a light-as-a-feather slub tee.
The Tee by Rag and Bone is crafted with 100% slub Pima cotton-jersey, topped off with the universally flattering crew neck.
Designed with a slightly loose fit, this tee will skim over your body in all the right places. Simply tuck it into some mid-waist jeans with some sneakers for varsity vibes, or smarten things up with a fitted blazer for that Monday morning meeting.
The Tee by Rag and Bone strikes the balance between crisp and relaxed. Essentially, it has the power to be whatever you need it to be; cool and casual or suave and sophisticated, it's truly versatile.
Best for: Those who love a good white crewneck tee, and wish to infuse some comfort and carefree flair to their staple wardrobe.
| | |
| --- | --- |
| Materials: | 100% cotton |
| Neckline: | Crew neck |
| Fit: | Fitted |
| Size Range: | XS-XL |
Andie Swim: Best classic t-shirt for women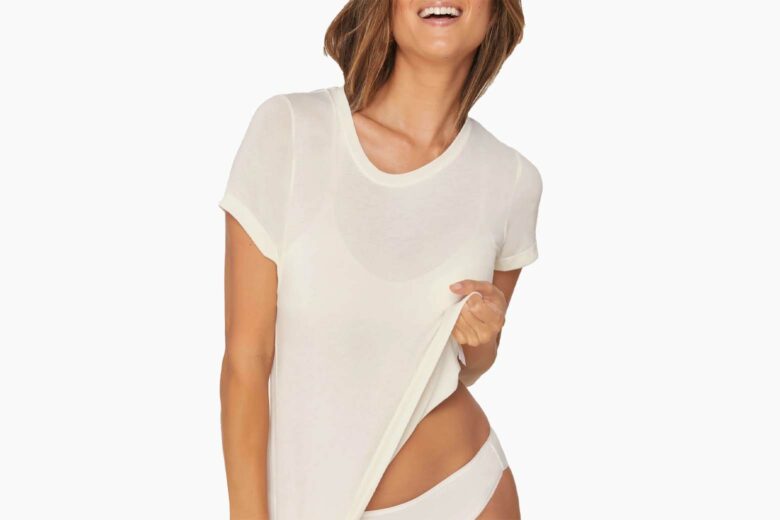 More than just one of the best swimsuit brands, Andie Swim also has one of our best white tees for women. Born to empower women through flattering fits, the luxury brand is conscious about redesigning silhouettes for every shape and size (see our full Andie Swim review).
Encapsulating the never-ending potential of closet classics, it's almost impossible to reach for anything else with a white tee this comfortable. Made from bamboo (one of the most sustainable fabrics in fashion), the sustainably-sourced material is impossibly soft, lightweight and breathable. While the classic fit balances relaxed with refined. Warning: we live and sleep in our Andie Swim Classic Tee, so you may need more than one.
| | |
| --- | --- |
| Materials: | Bamboo |
| Neckline: | Crew neck |
| Fit: | Fitted |
| Size Range: | XS-XXXL |
Ninety Percent Linen-jersey T-shirt: Best fitted women's white tee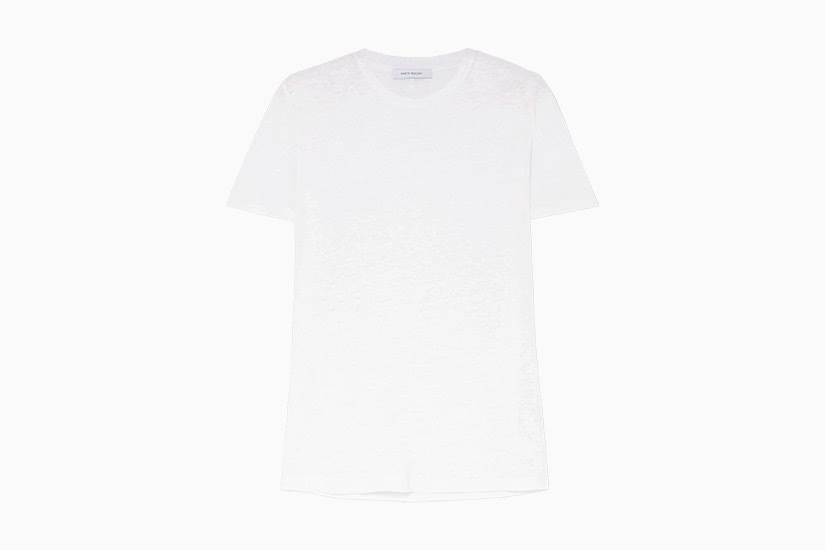 Maybe your wardrobe is chock-full of cotton tees already, or you just fancy the cool, breezy feel of 100% linen instead. Either way, Ninety Percent's Linen-jersey T-shirt is a splendid choice.
Being linen, it's a little more fitted than its cotton counterparts, allowing for a nice, shapely silhouette. The high(ish) neckline needs no accessory, and it's great to tuck into a pair of your favourite jeans for a preppy look.
To top off what is already a gorgeous linen tee, Ninety Percent are super focused on social and environmental responsibility. With every purchase, 90% (get it?) goes to a charitable cause chosen by you. Read the label to find out who you can help (preferably while kicking back and feeling chic in your brand new tee).
So, aside from being totally in vogue in your Ninety Percent Linen-jersey T-shirt, you also get bragging rights to your newfound philanthropy.
Best for: Those seeking a new white tee that's a little on the fitted side, to add a little structure to your chill.
| | |
| --- | --- |
| Materials: | 100% linen |
| Neckline: | Crew neck |
| Fit: | Fitted |
| Size Range: | XXS-XL |
Asos: Best oversized women's t-shirt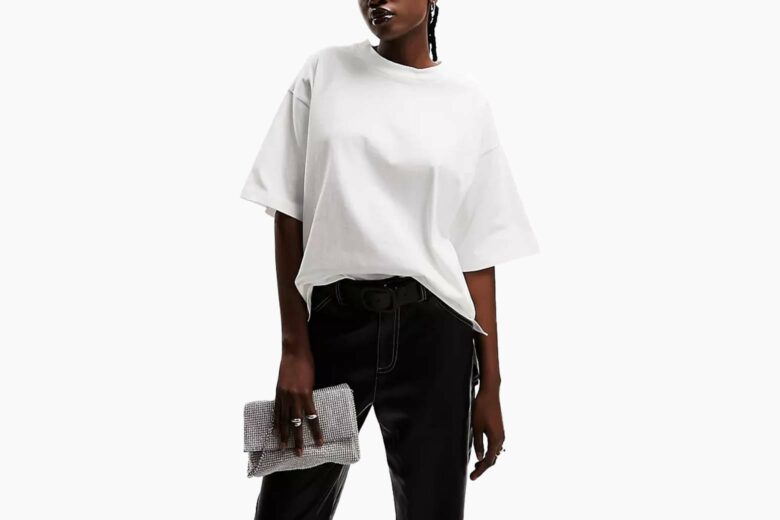 With the resurgence of androgynous dressing, a borrowed-from-the-boys aesthetic is totally on-trend. Meaning that we're editing our wardrobes with boardroom-ready blazers, pleated trousers and of course, plenty of oversized white tees.
This white iteration by Asos hits the spot. The dramatic sleeves are particularly avant-garde. The classic crew neck is relaxed and understated. While the versatile hue lends itself to a myriad of styling opportunities. Don't know how to perfect the biker short and sneaker style that all the celebrities seem to love? This oversized white tee is how.
| | |
| --- | --- |
| Materials: | 100% cotton |
| Neckline: | Crew neck |
| Fit: | Super-oversized |
| Size Range: | XS-XXL |
Alo Yoga: Best white cropped t-shirt for women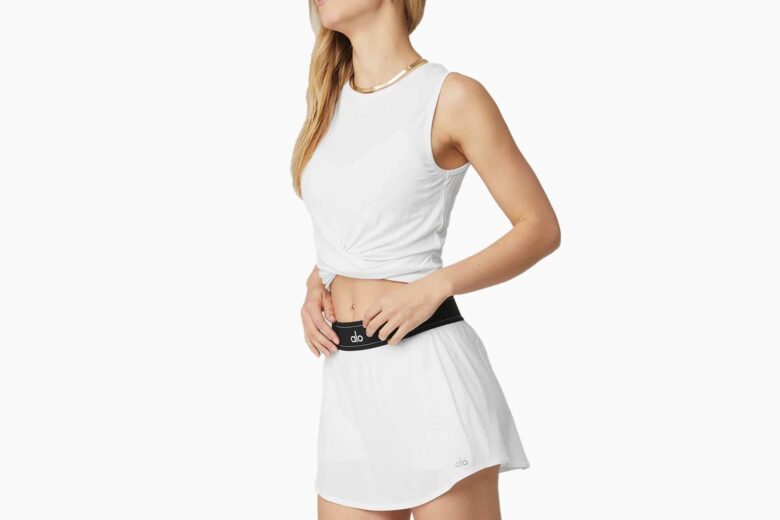 From studio to street, Alo Yoga keeps its style as flexible as it does its fans. Whatever your form of fitness—be it downward dogs or shopping sprees—the brand's versatile collection of yoga attire enhances our performance and elevates our style.
We particularly love this Cover Tank by Alo Yoga. The cropped sleeveless silhouette pairs fantastically with high waisted tights and sweats alike. The front wrap detail adds texture and flare to the otherwise simple aesthetic. And the super soft draped jersey fabric is all the excuse you need to live in activewear—gym junkie or not.
Read the story behind the Alo Yoga brand for more about this favorite brand of ours.
| | |
| --- | --- |
| Materials: | Jersey |
| Neckline: | Crew neck |
| Fit: | Cropped |
| Size Range: | XS-XL |
James Perse: Best women's white tank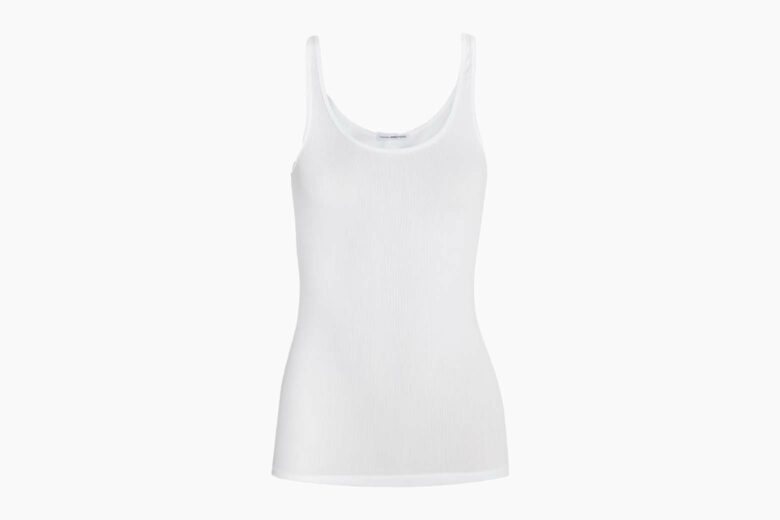 Called The Daily for good reason, we're predicting this white tank to become a part of your unofficial vacation uniform. Designed by well-known designer, James Perse, the staple perfects simplicity. And the uncomplicated aesthetic speaks to the eponymous label's signature minimalist aesthetic.
When it comes to flawless minimalism, there is no room for error—a design rule that James Perse only knows too well. Cut away in all the right places, this James Perse's white tank is effortlessly flattering. And made from quality supima cotton, the essential t-shirt is equally comfortable and endlessly durable.
| | |
| --- | --- |
| Materials: | Supima cotton |
| Neckline: | Scoop neck |
| Fit: | Fitted |
| Size Range: | XS-XL |
Cuyana Silk Tee: Best dressy white T-shirt for women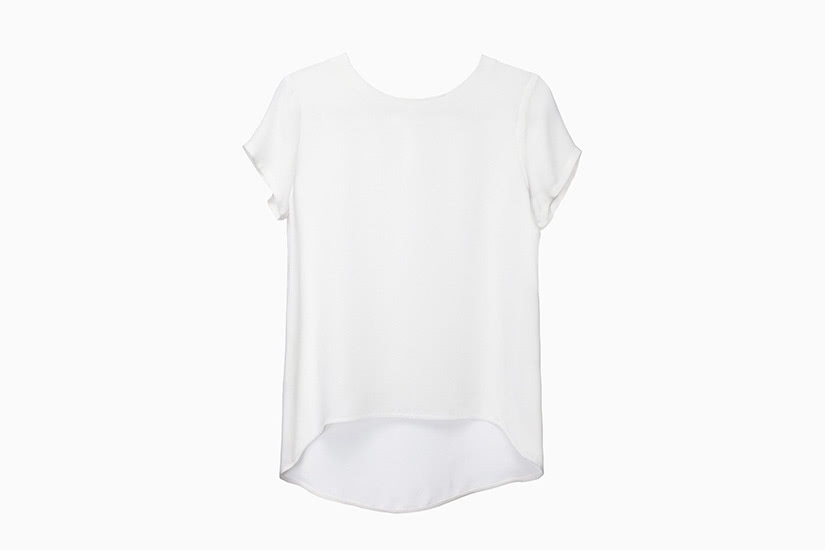 White t-shirts can be dressy too, you know. You just have to select the right one. Enter: The Cuyana Silk Tee.
Sure, soft cotton and linen are amazing for casual wear. But sometimes you need something with a hint of glam, whether it's for an upmarket lunch date or soirée.
With delicate keyhole detailing on the back and a flowy high-low hem for easy tucking in or wearing loose, this piece from the Cuyana 'elevated everyday' collection is the best silk tee out there.
Crafted from Chinese silk, the Silk Tee is luxurious to the touch. Not to mention, with the light dancing off the fabric, it looks vaguely shimmery, and possesses a subtle shine that sits safely on the side of sophisticated.
Best for: Those seeking something extra special from their white tee, who wish to feel indulgent, draped in the graceful Chinese silk.
| | |
| --- | --- |
| Materials: | 100% Silk |
| Neckline: | Scoop neck |
| Fit: | Fitted |
| Size Range: | XS-XL |
The Attico: Best tie-front white tee for women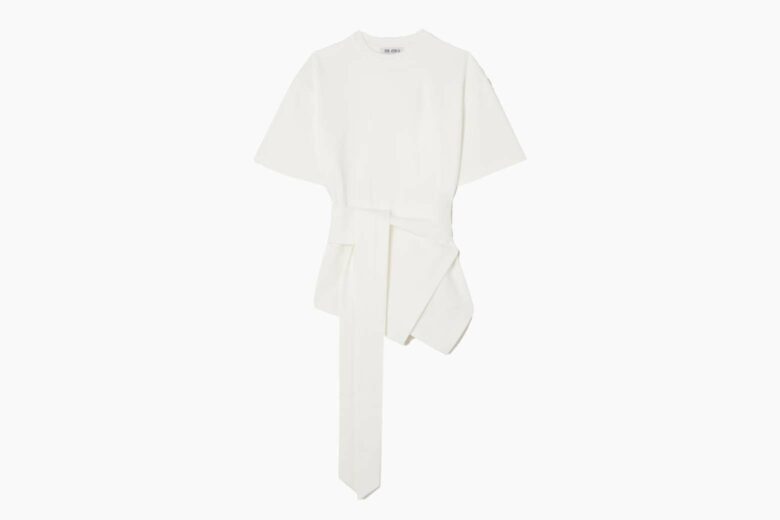 What's not to love about a belted white tee? It's simple. It's sophisticated. And it's unapologetically stylish. The subtle twist on a classic white tee is tres chic—especially when it's a product of The Attico.
The Mabel white tee goes one step further, adding an avant-garde asymmetric layered hem to the belted silhouette. Pair it with a metallic mini (we see you Y2K sartorialists.) Pair it with holey denims. Or wear it to the office with sleek black trousers. This perfect white tee can do it all.
| | |
| --- | --- |
| Materials: | Cotton-blend |
| Neckline: | Scoop neck |
| Fit: | Belted waist |
| Size Range: | XS-XXL |
Naked Cashmere: Best women's white singlet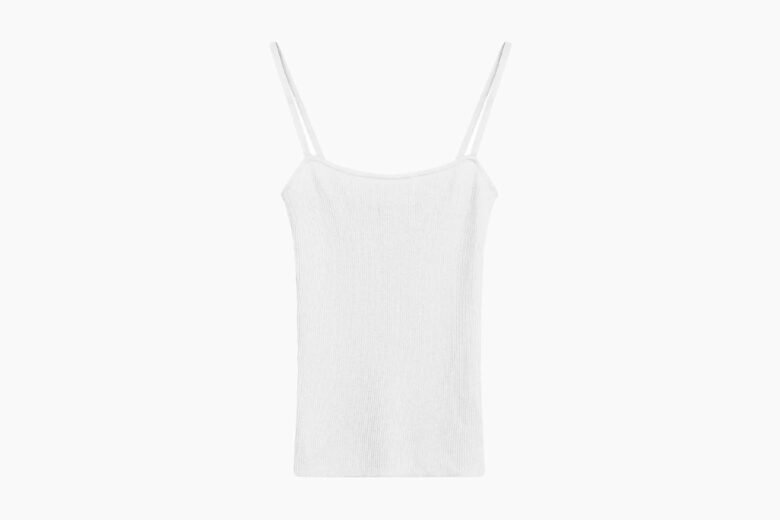 White tee or white cami—whatever. We won't argue semantics with a silhouette this sumptuous. Cashmere is one of the best materials when it comes to looks and feel. The natural fibers are irresistibly soft and temperature regulating. But not all cashmere is sourced sustainably and usually it comes with a high price tag.
Naked Cashmere changed that. Sourced sustainably, the brand's cashmere apparel is made more accessible by its direct-to-consumer model. And featuring all the benefits of the luxurious fabric, Naked Cashmere is a genius in curating capsule wardrobes. Don't know where to start? This Erika cami is a failsafe choice.
Curious to know more about this game changing brand? We tell you everything there is to know about Naked Cashmere in our brand story.
| | |
| --- | --- |
| Materials: | Cashmere |
| Neckline: | Straight-across |
| Fit: | Fitted |
| Size Range: | XS-XL |
Adidas: Best plus size white tee for women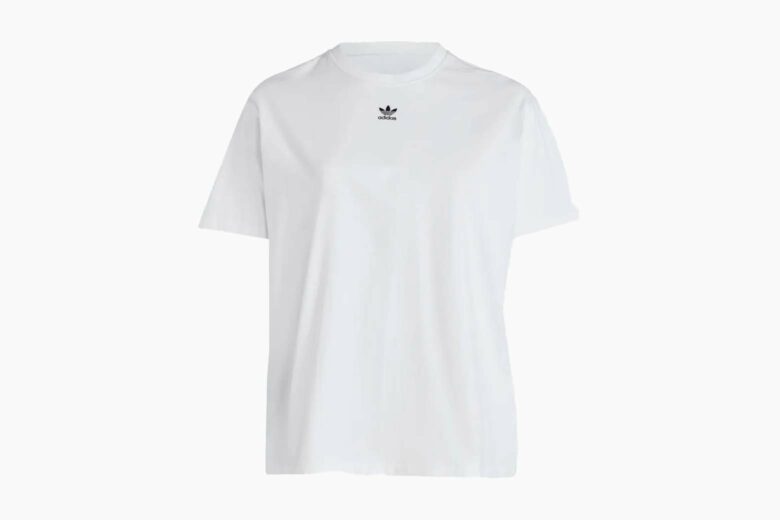 Calling all our curvy beauties: we've found the best white tee for plus size women. And whilst you may have disregarded the closet staple as a petite-basic, we're here to prove you wrong.
Adidas' white tee can be styled in a myriad of different ways. Tie it in the front for a cropped take on the timeless classic. Or leave it long and drapey over tight leggings. The subtle logo gives off a slightly sporty aesthetic. And the sustainably sourced cotton is unparalleled in comfort. It's an essential that you can throw over anything and still feel polished.
| | |
| --- | --- |
| Materials: | 100% cotton |
| Neckline: | Crew neck |
| Fit: | Classic |
| Size Range: | XL-XXXXL |
MIHOLL V-neck: Best women's white T-shirt with roll up sleeves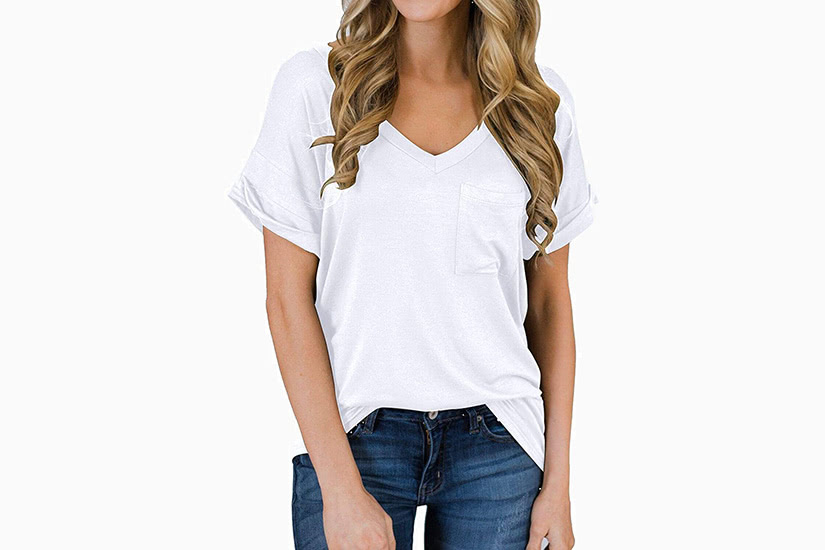 Featuring rolled-up sleeves and a breast pocket, the MIHOLL V-neck radiates utilitarian chic. Slightly oversized in fit, the lightweight fabric falls gracefully down to the hem, emanating breezy feels.
For women whose style errs a little on the bohemian side, this opaque white t-shirt is an excellent choice.
The casual rolled sleeves, deep V-neck and pocket detail work together well to create a look that's easy-going, easy to wear, and easy to spice up with your favorite jewels if you so choose.
The wide arms on the MIHOLL V-neck allow for heaps of freedom of movement. So, while clingy and fitted looks gorgeous, sometimes, free-flowing and easy is the order du jour. No muss, no fuss, just pure relaxed style.
Best for: Rolling in effortless style.
| | |
| --- | --- |
| Materials: | Cotton+Polyester |
| Neckline: | V-neck |
| Fit: | Loose fit |
| Size Range: | S-XXL |
WHBM: Best white V-neck t-shirt for women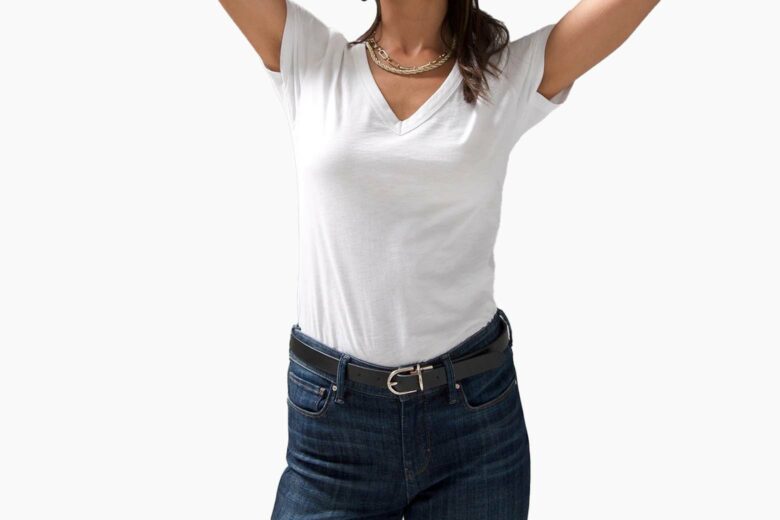 As one of the best online stores for women, Black House White Market is unrivaled when it comes to quality and class. And as simple as it may be, the brand's white v-neck t-shirt encapsulates the materiality of well-executed essentials.
The lower v-neck leaves space for layered necklaces. The relaxed fit is effortless yet polished. The cotton silhouette is soft and breathable. While the versatile aesthetic has the uncanny ability to take on multiple personalities. From tailored trousers and comfortable heels to casual denims and kicks, this Easy v-neck tee always looks fantastic.
Discover the story behind the White House Black Market brand and our favorite pieces for women who do it all.
| | |
| --- | --- |
| Materials: | 100% cotton |
| Neckline: | V-neck |
| Fit: | Classic |
| Size Range: | XXS-XL |
Soma: Best women's white cotton tee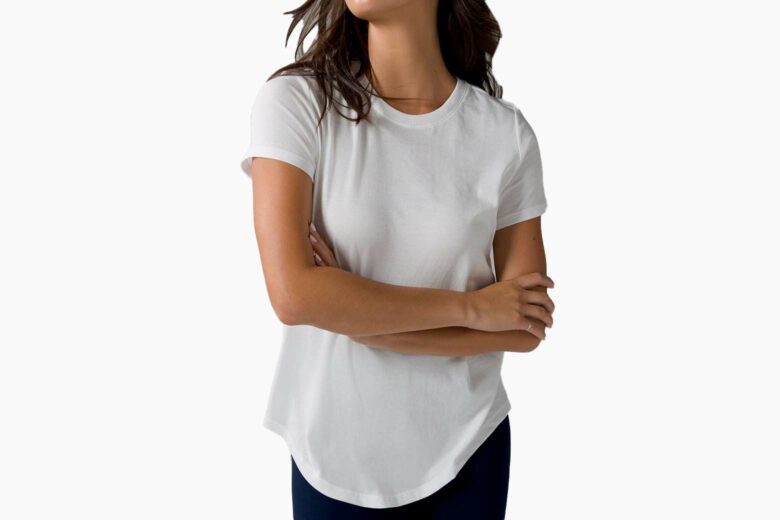 Proving that its clothes are just as fabulous as the brand's underwear, Soma's cotton tee exudes understated confidence. We love 100% cotton t-shirts for their effortless breathability and soft natural feel. But finding one that is also fashionable and flattering proves more difficult than one would expect.
This white cotton tee by Soma nails it. The relaxed fit looks great on everybody. While the versatile aesthetic pairs well with anything—be it WFH yoga pants, dressy skirts or casual denims. It's an absolute classic.
| | |
| --- | --- |
| Materials: | 100% pima cotton |
| Neckline: | Crew neck |
| Fit: | Classic |
| Size Range: | XS-XXL |
Isabel Marant: Best white linen t-shirt for women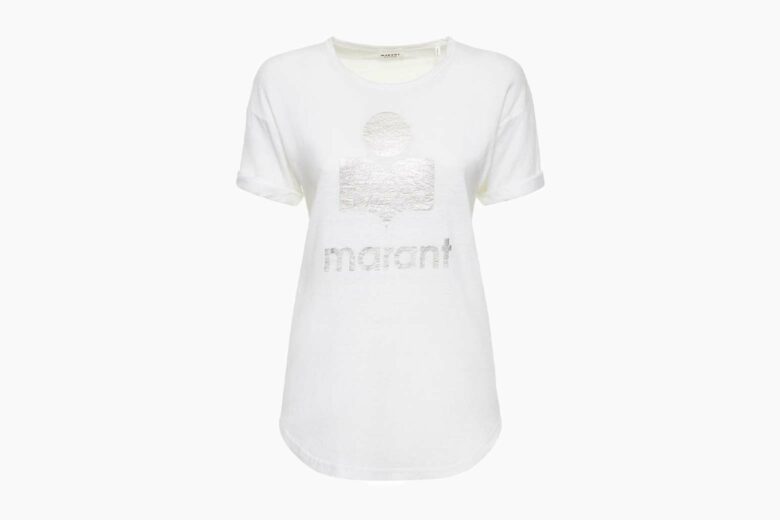 Isabel Marant's white linen t-shirt makes a strong case as to why the logo aesthetic is saturating our Insta feeds. Executed tastefully with the perfect balance of affluence and subtlety, the enlarged metallic motif harnesses the cult-favorite brand's highly-coveted name.
But it's not just the brand's name that made this white linen tee by Isabel Marant an instant sartorial success. The drapey fit is flattering and fashionable. And the versatile silhouette has the ability to add a designer's edge to a range of ensembles.
| | |
| --- | --- |
| Materials: | Linen |
| Neckline: | Crew neck |
| Fit: | Classic |
| Size Range: | XS-XL |
Anine Bing: Best boyfriend white tee for women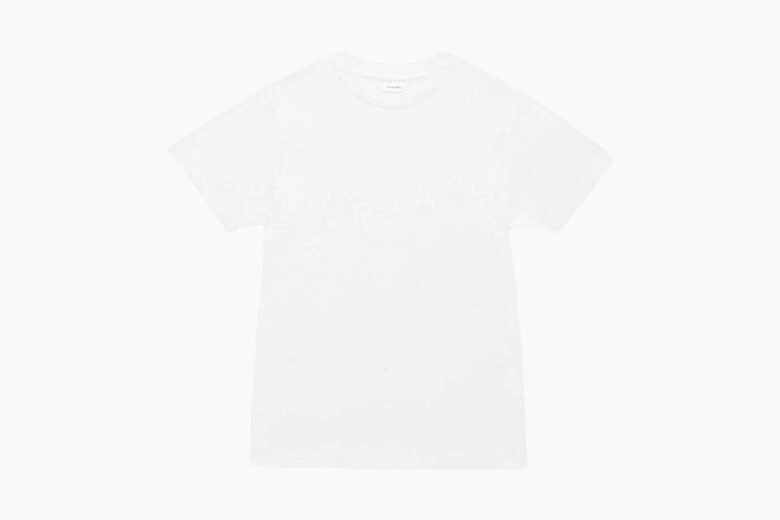 As fun as it is to stake a claim on men by stealing their clothes, we prefer our borrowed-from-the-boys aesthetic a little more refined. Enter: Anine Bing's boyfriend white tee. It's got that androgynous look but without the unflattering cut. And while it's super relaxed, it doesn't look like you just climbed out of bed—a look pulled off by few (if any.)
The Lili Tee is soft and drapey, with a slightly sheer allure. The boxy cut draws inspiration from the perfect vintage tee. While the longer style is designed to show just a peak of your favorite biker shorts. We're totally getting Kylie Jenner vibes.
Learn more about Anine Bing and why we love this Scandinavian-meets-Cali-cool brand.
| | |
| --- | --- |
| Materials: | 100% cotton |
| Neckline: | Crew neck |
| Fit: | Boxy |
| Size Range: | XXS-XL |
Axel Arigato: Best women's thick white t-shirt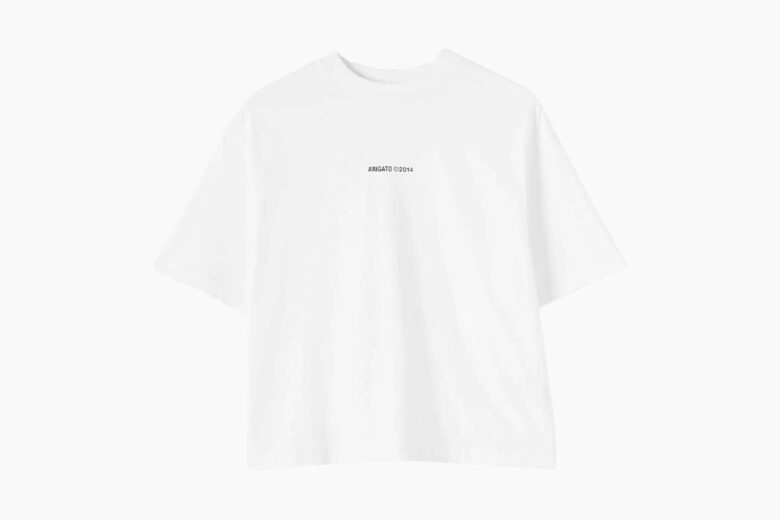 If ever there were a brand that knows how to reinvent basic tees (and any other essentials for that matter) with a touch of cool—it's Axel Arigato. Renowned for its Japandi aesthetic, the Swedish brand is always on trend, as it paves the way for what is considered drip and what isn't. Consider this Axel Arigato's thick white tee the blueprint.
Accented with the Axel Arigato's signature label, the miniature monogram adds a street style edge without diminishing the tee's inherent versatility. Made from thicker fabric, the tee also retains its shape, giving it a slightly androgynous edge. Pair with the brand's minimalist white sneakers for extra style points.
Discover more about Axel Arigato.
| | |
| --- | --- |
| Materials: | 100% organic cotton |
| Neckline: | Crew neck |
| Fit: | Oversized |
| Size Range: | XS-XL |
Hanes V-neck Tee: Best budget white T-shirt for women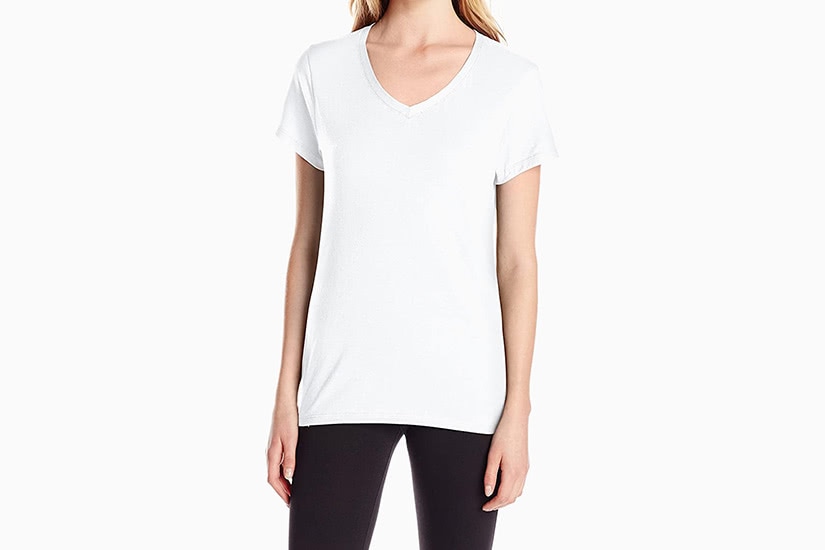 White tees are something we often have to buy over and over again. Sure, sometimes it's not our fault, and some erratic driver jerked your coffee, and well, it wasn't good.
Sometimes, we know ourselves well enough to know that when it comes to white tees, we might just need more than one. Just in case. Hey, white is just tough to look after.
Say hello to the Hanes V-neck Tee. It's shockingly affordable, but actually offers a whole bunch of cool features.
UV protection, moisture control technology and Hanes X-Temp technology are just a few of the hidden talents of this simple-seeming white tee. It works hard to keep you cool when it's hot, and vice versa. Impressive, right?
It's not all work and no play though, the v-neck is gorgeously playful and flattering. Plus it's tag-free, so you can go about your day minus that all-too-familiar itching.
Best for: Those seeking a budget white tee that you can buy tens (um, hundreds?) of, to make sure you've always got a trusty white t-shirt on hand.
| | |
| --- | --- |
| Materials: | 60% Cotton, 40% Polyester |
| Neckline: | V-neck |
| Fit: | Classic |
| Size Range: | S-XXXL |
Brunello Cucinelli: Most expensive plain white t-shirt for women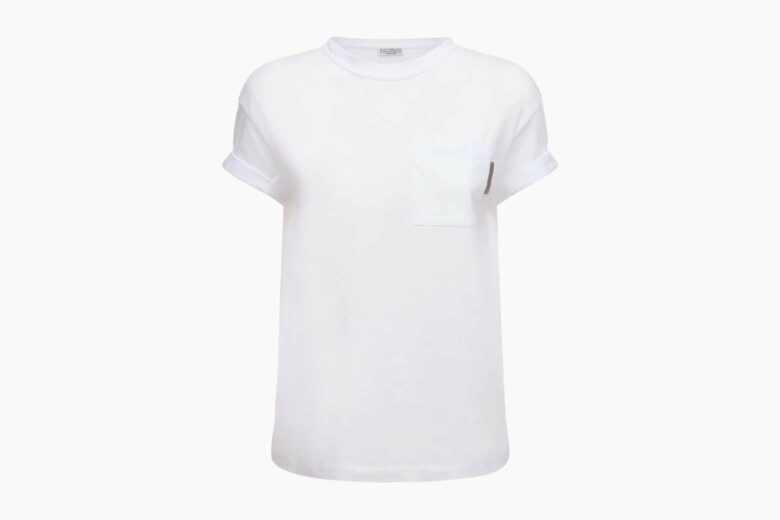 Buy nice, not twice: a mantra lived up to by luxury label, Brunello Cucinelli. And while the brand's decadent white tee comes with quite a price tag—it's one we're willing to spend on a lifetime of comfort, sustainability and style.
Whilst simple and versatile, this white tee by Brunello Cucinelli is infused with elegance and sophistication. The stretch cotton is unparalleled when it comes to soft comfort. And the subtly embellished front pocket could only be a famous designer's touch. This is the kind of white tee you could wear with sweats and still feel like a million bucks.
| | |
| --- | --- |
| Materials: | Cotton |
| Neckline: | Crew neck |
| Fit: | Classic |
| Size Range: | XXS-XXL |
Alix NYC: Best white bodysuit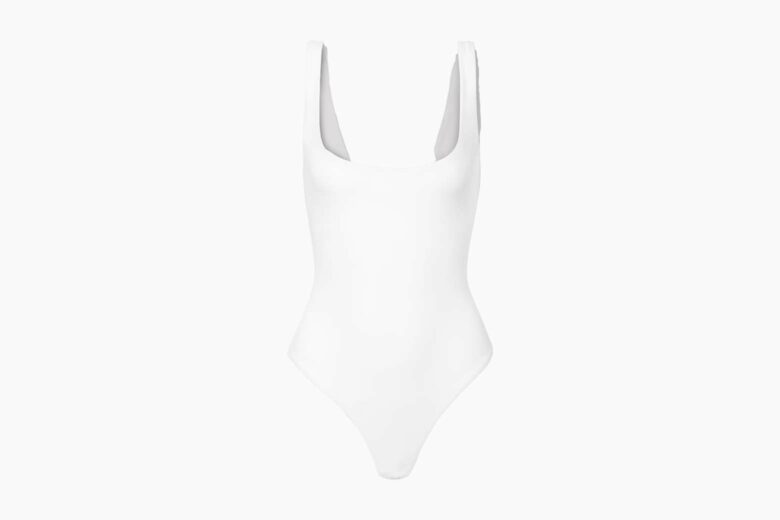 Envious of those girls who seem to make a simple tee and denims look like a runway ensemble? Try this white bodysuit by Alix NYC. You'll become the girl you once coveted.
Fitted t-shirts veer unflattering. Especially when they start to untuck throughout the day. This smooth Alix bodysuit solves all those problems. Made from stretch-jersey, the flattering silhouette stays in place for a seamless, sleek aesthetic. Plus, the built in bra offers enough support to go braless, so you can finally channel your inner-Rachel from Friends.
| | |
| --- | --- |
| Materials: | Stretch-jersey |
| Neckline: | Straight |
| Fit: | Fitted |
| Size Range: | XS-L |
Buying guide to your new favorite white tee
Considering the humble white is often the most-worn item in any woman's wardrobe, it's certainly worth taking a little time to find out what kind of tee is best for you.
Material
When it comes to white tees, their simplicity leaves little room for error. It goes without saying, unsightly sweat marks are your worst enemy when you're trying to rock your tee.
So, choose a fabric that's both durable and breathable. The best choices are unequivocally cotton or linen, and try to find a tee that's crafted from 100% of either.
Of course, if you prefer a little stretch to your tee, find a garment that offers a little spandex or elastane in order to achieve that cling effect.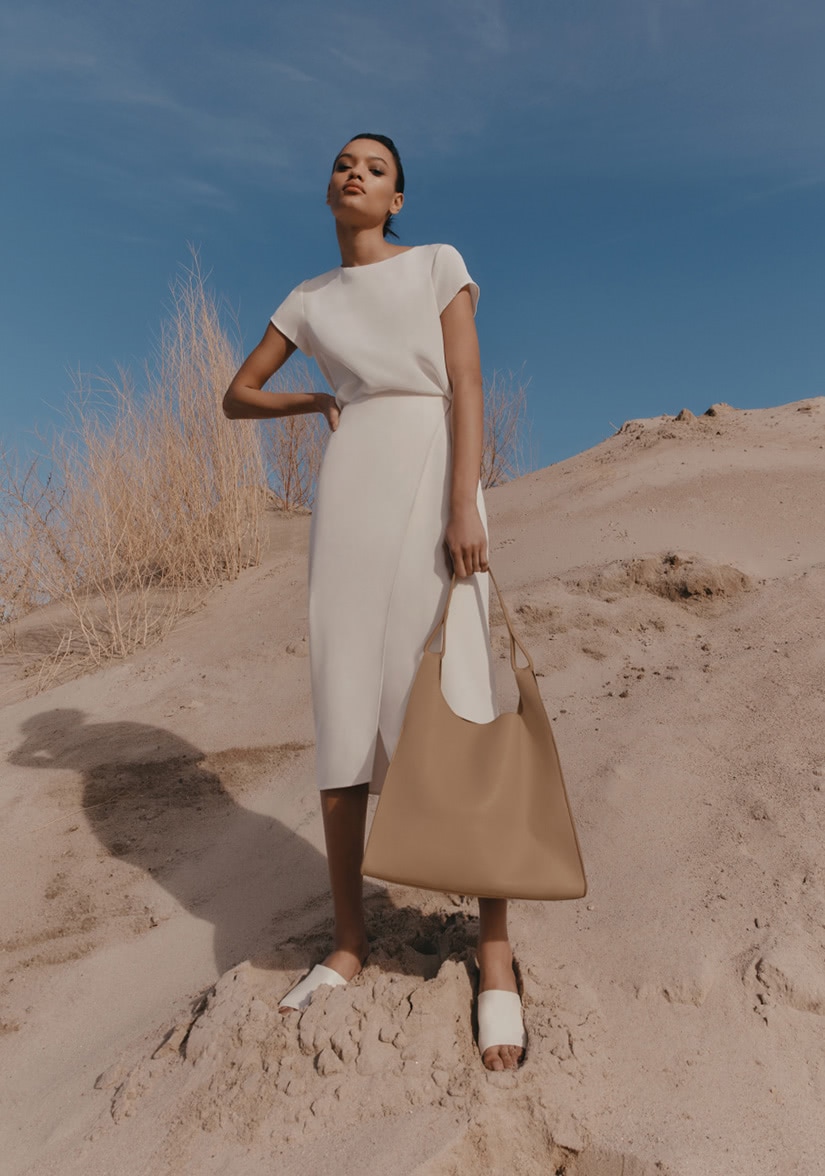 Finding the perfect neckline
While there's as many necklines out there as there are t-shirt styles, the main contenders are typically the crew, the scoop, or the v-neck.
Crew necks are super popular because they're flattering for every body type. Pear shapes in particular will benefit from a crew neck, as tees of this style tend to draw the eye upwards to the neck and shoulders, therefore balancing out a juicy pear shape.
Scoop necks are fabulous for rectangular body shapes, as the plunge, rounded neck works to add the illusion of curves to an angular or athletic frame.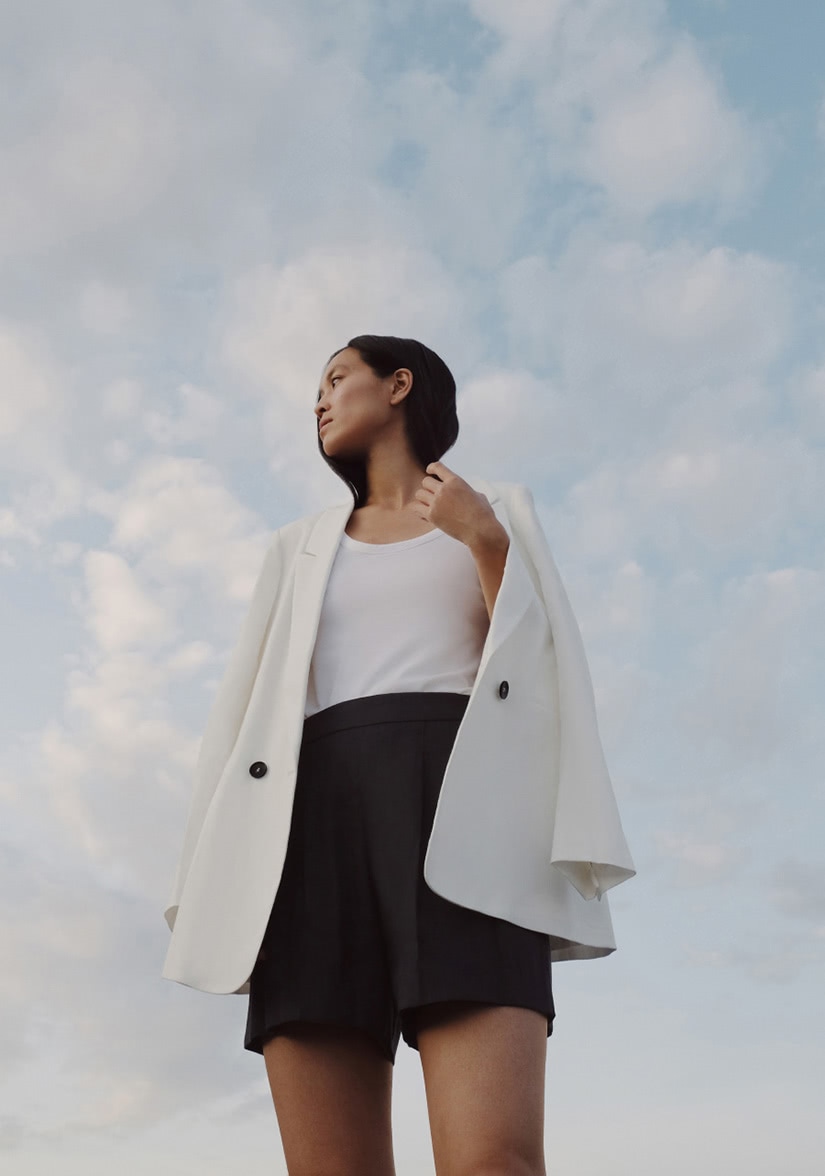 V-necks are a great, laid-back style which work well with all body types. However, they're particularly becoming on those with an inverted triangle shape. The vertical lines will help to elongate the upper torso and create more of an hourglass figure.
Frequently asked questions about women's white t-shirts
What brand has the best white T-shirts?
There's a whole sea of amazing t-shirt brands on the market. However, Cuyana is a clear winner. Offering a myriad of fits, fabrics and necklines, Cuyana believe you should have 'fewer, but better' pieces of clothing. There's heaps to choose from, so you're guaranteed to find your perfect white tee.
What are the best white tees for women?
No matter how or where you plan to wear your white tee, our list provides the ultimate guide to women's white t-shirts. Check it out for boyfriend tees, V-necks, classic crewnecks and scoops.
Are white T-shirts attractive?
There's a reason white t-shirts are a favorite among the high fashion world. Supermodels, actresses, and artists alike have all been papped in a classic white tee. They're super easy to style, suit everyone and are fun to play around with. Plus, bright white tends to brighten your complexion, and plain white tees are known to create a relaxed style.