Red lips, soaring stilettos, and boss blazers—they're your quintessential guide to power-dressing. And although we'll always be a fan of royally adorned lips and extra elevation, nothing quite exudes the same confidence as a well-styled blazer.
Once confined to boardroom brawls and office walls, the closet staple is making power moves both in and out of the workspace. Allow elegant accents like sequins and gold threads to flawlessly marry masculinity and femininity. Or live out your Julia Roberts fantasies in an oversized ensemble, paired with sneakers (don't forget the smile). Try a fitted form for a look that never sees rejection. Or go all out in vibrant hues with styling that demands attention.
When it comes to your accomplice in confidence, we believe that they should work as hard as you do. And our best blazers for women can be worn from day to day in a completely new way. We'll always adore a matching set for an effortlessly chic attitude. But these contemporary styles can also be dressed down for everyday wear with your most comfortable mom jeans. And in accommodating so many different looks, they become a key investment into a functionally fashionable wardrobe.
So with that, it's time to set the streets ablaze.
Cuyana: Overall best blazer for women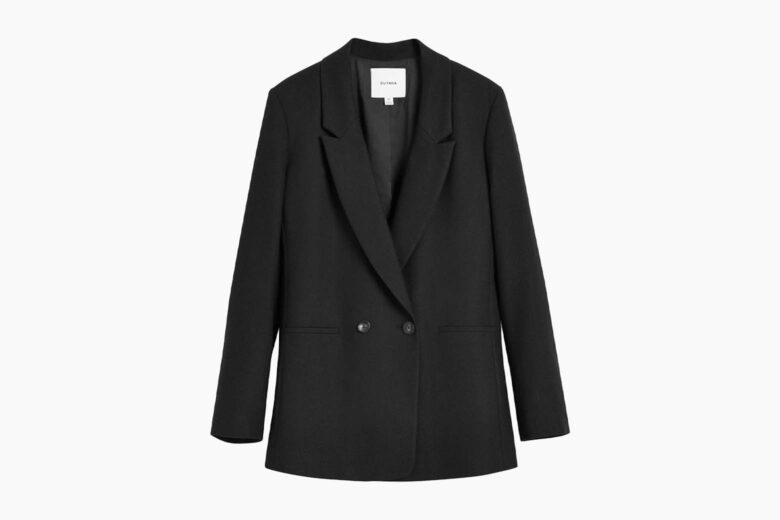 Not too long or short. Not too tight or loose. Not too big or small. We're dubbing this effortlessly chic piece, the Goldilocks of blazers—just right (for any occasion). This relaxed-yet-refined rendition can be sized up and worn open with your best jeans. Or paired with matching pants for that powerhouse casual office look.
Best for: The ultimate sartorial ally.
Gucci: Best luxury women's blazer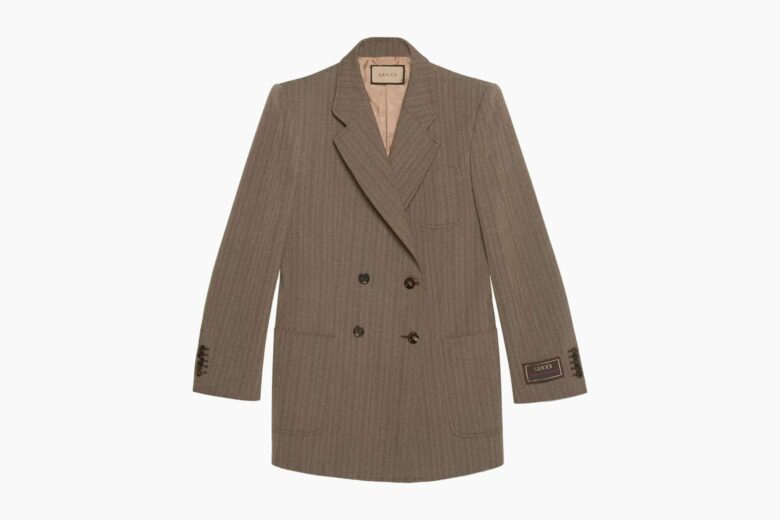 Retro in all the right ways. Gucci's brown herringbone wool ensemble pays homage to the historical brand's equestrian style. The classical piece showcases the luxury house's signature motif on the sleeves. And three front pockets, including a ticket pocket, are perfectly placed for funfair fantasies. But it's not all vintage. Clean lines and contemporary tailoring bring unexpected modernism to this iconic piece.
Best for: Classical meets contemporary.
Charis Allure: Best value blazer for women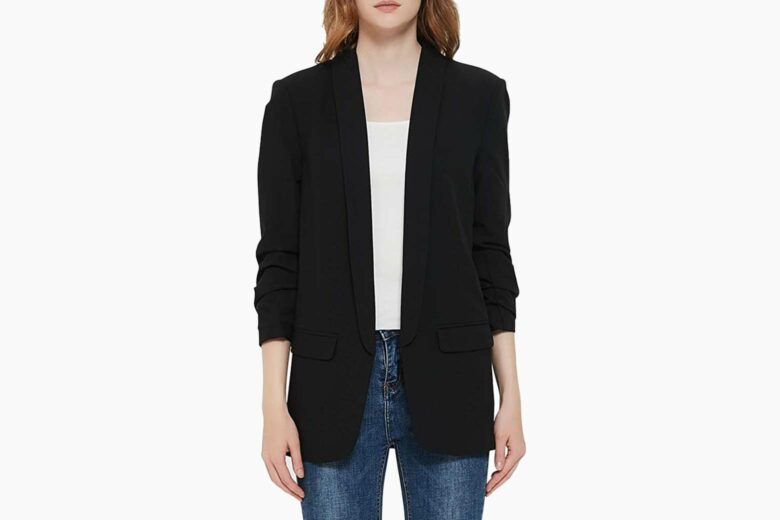 Looking for a women's casual blazer that far exceeds its price tag? This Charis Allure blazer is good for your power wardrobe and for your wallet. The ruched sleeves and elegantly elongated silhouette come in a range of hues. Pair the white or black pieces with your favorite work bag to own the office. Or ramp up your capsule wardrobe with a colorful blazer statement piece.
Best for: Your next power play without the price tag.
Anine Bing: Best khaki blazer for women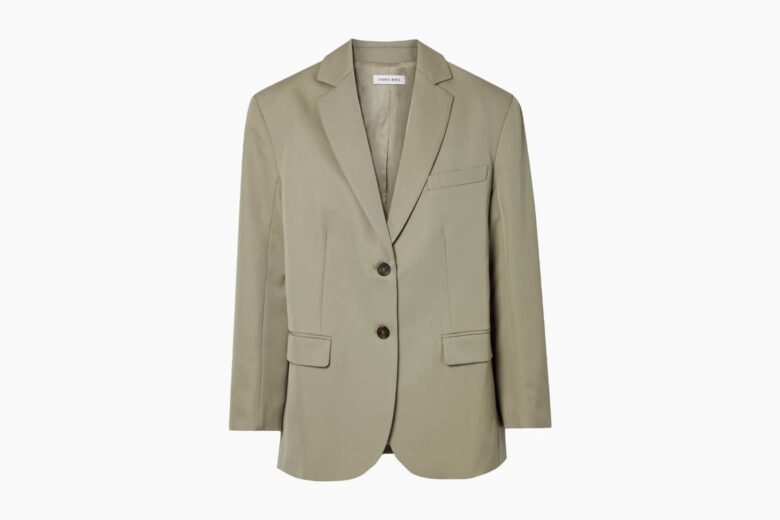 Once you see Anine Bing's soft, two-buttoned designer blazer, we're pretty sure you'll be running to the brand for more. Pair this khaki blazer with black leather pants for a rebelliously formal marriage. Or dress down a khaki plaid blazer with comfortable mom jeans for a look that is totally on point this season.
Best for: Fashion-forward fabrics with distinctive details.
Naked Cashmere: Best wool blazer for women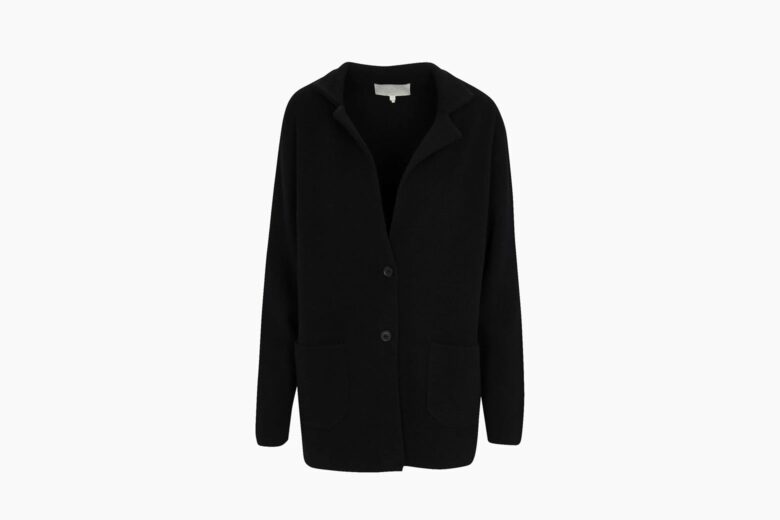 Renowned for its opulent fabrics, it's no surprise that Naked Cashmere has made a refined yet casual blazer that embodies functional fashion. The sharp single-breasted silhouette speaks to the brand's luxurious style. And the longer length and black or brown tones make it easy to pair with just about anything. This wool blazer by Naked Cashmere is as comfortable as your cardigan but won't get thrown out of sophisticated soirees. 
Best for: Versatile styling.
Joseph: Best black blazer for women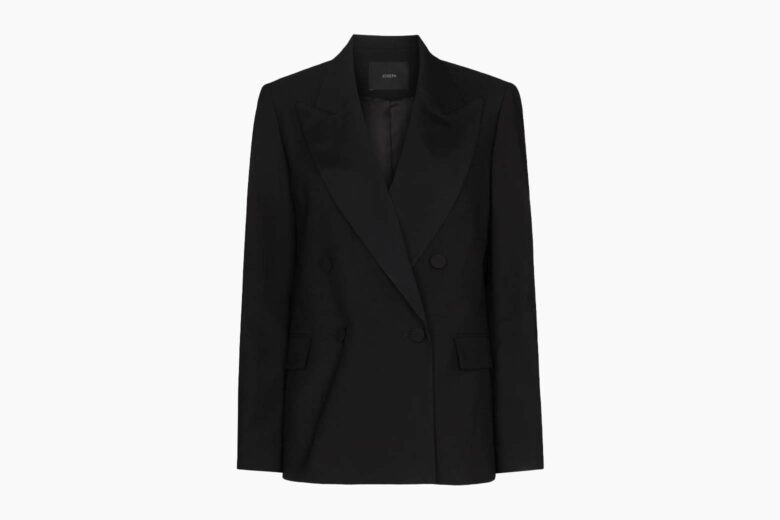 Every stylish woman needs a black blazer in her arsenal. And this one embodies the multifunctional attitude of the coveted closet staple best. The Jaden double-breasted design features all the traditional characteristics of the boardroom blazer. While the relaxed silhouette and clean lines give it an avant-garde edge. This Joseph's black blazer pairs perfectly with a square toe and black wide leg trousers.
Best for: The LBD of blazers.
St. Agni: Best brown blazer for women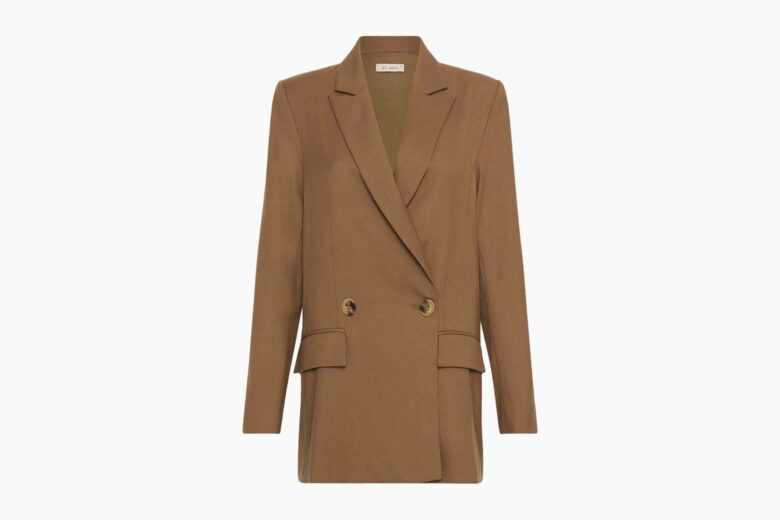 Brown blazers maintain the versatility of black, but they allow for much softer styling—perfect for boujee brunches. This tan blazer by St Agni captured our hearts with its minimalist mood and impeccable attention to detail. The sleek silhouette and classic peak lapels speak to the brand's sumptuous sophistication. Pair it with your most comfortable flats for the ultimate less-is-more approach.
Best for: Refined minimalism.
Cuyana: Best linen blazer for women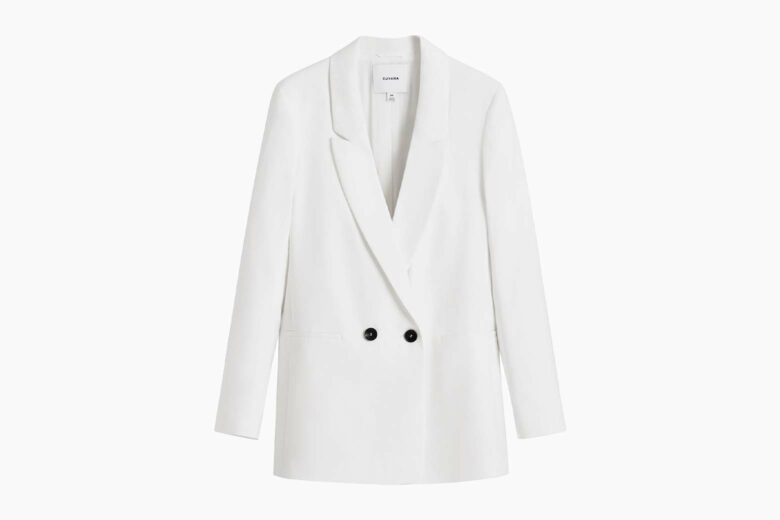 Step into the warmer seasons whilst maintaining an air of sophistication in Cuyana's linen blazer. This lightweight blazer is perfect for making your power moves without sweating the small stuff. The sleek silhouette captures a modern minimalist mood. While white and navy hues are bound to pair perfectly with your best Summer shoes.
Best for: Summer sophistication.
L'Agence: Best tweed blazer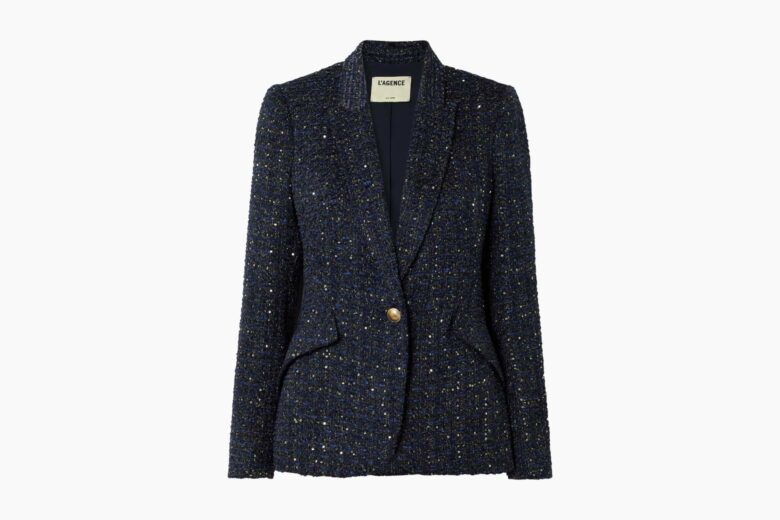 First made famous by Coco Chanel, tweed fabrics have been on our fashion radar ever since. And whilst we love the masculine material in general, we are obsessed with L'Agence French-influenced feminine detailing. This Midnight blue ensemble flaunts star-like metallic thread and sequins. And the single gold button finishes off the entire look with flawless sophistication. Pair it with your best heels for the ultimate evening look.
Best for: Channeling your inner Chanel.
Acne Studios: Best oversized women's casual blazer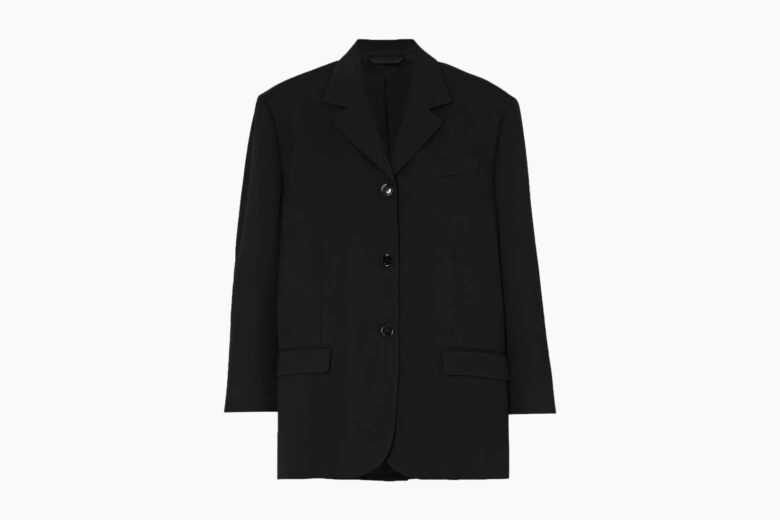 The oversized '80s trend is back. And while iconic figures like Julia Roberts have embraced the casual-chic style for decades—today's fashion icons like Hailey Bieber and Kendall Jenner are making their own sized-up statements. Go black on black with fitted pants and chunky shoes. Or pay homage to the '80s influence by color blocking this blush pink blazer by Acne Studios.
Best for: Celebrity styling now and then.
Alexander McQueen: Best white blazer for women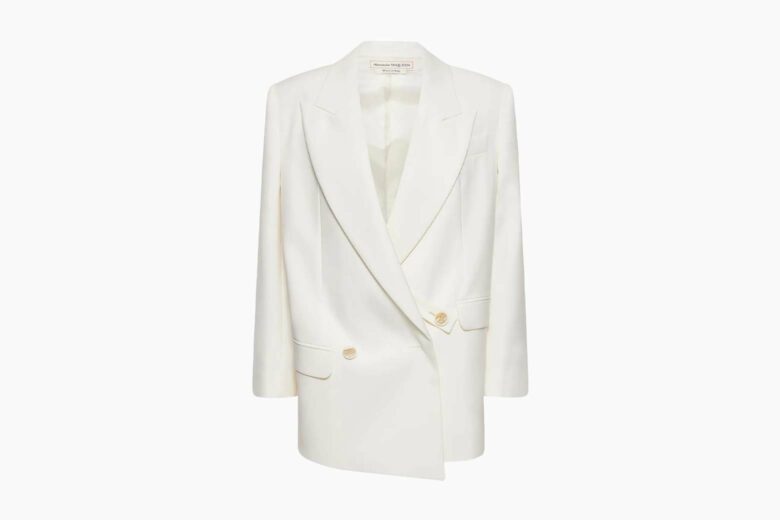 This minimalist piece may look simple for Alexander McQueen. But this designer's details always work in your favor. The relaxed ivory silhouette of this luxury blazer by Alexander McQueen is perfectly complemented by asymmetrical buttons and pockets. And while they add a relaxed element to this white blazer for women, they're flawlessly contrasted by more formal elements—like the classical wool fabrics and double-breasted design.
Best for: Alluring asymmetry.
Myvi: Best double-breasted casual blazer for women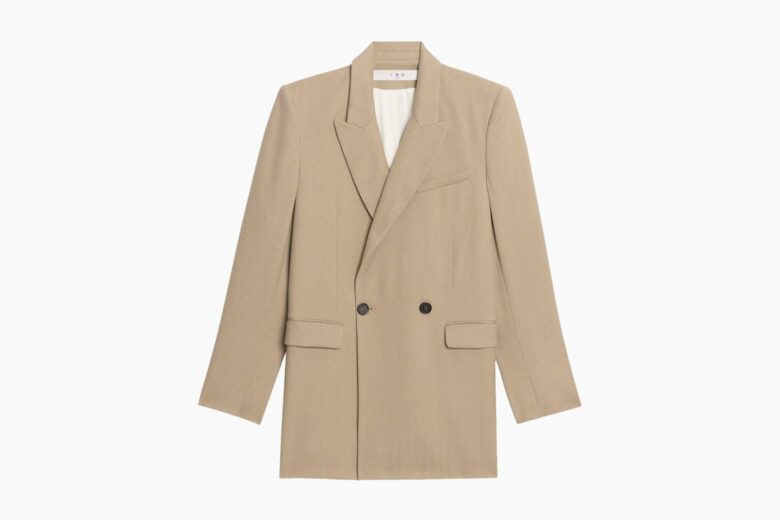 We love that avant-garde designers are taking the formality inherent to double-breasted styles and making it casual. And Myvi is leading the way when it comes to marrying contemporary and classical elements. The tailored pique collar, cuffed sleeves, and breast pocket honor old-school sophistication. While this oversized silhouette and light khaki color speak to a more modern, masculine mood.
Best for: Double-breasted designs let down their hair.
Khaite: Best leather black blazer for women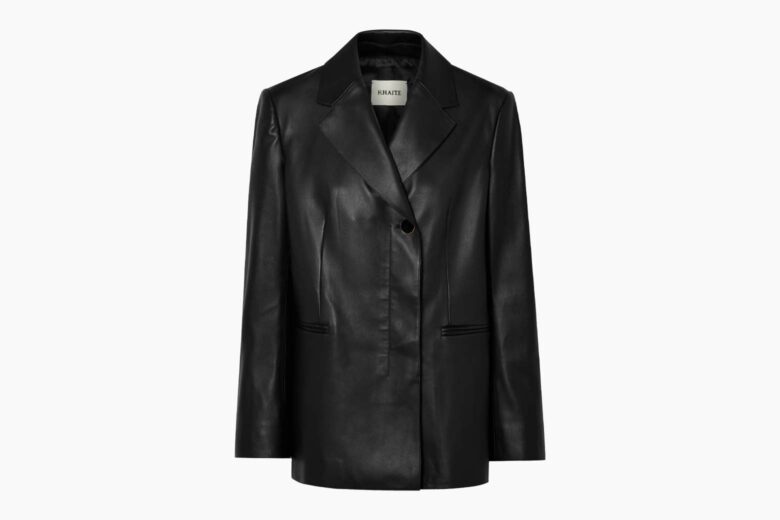 Set aside your biker jacket, there's a new power move in town. This style merges the rebellion of your black leather jacket with the boss mentality of your office blazer for a look that nobody can say no to. This elongated blazer exudes confidence with a relaxed silhouette, enameled buttons, and a satin-twill lining to finish it off.
Best for: Revolutionary powerhouse moves.
Frankie Shop: Best beige blazer for women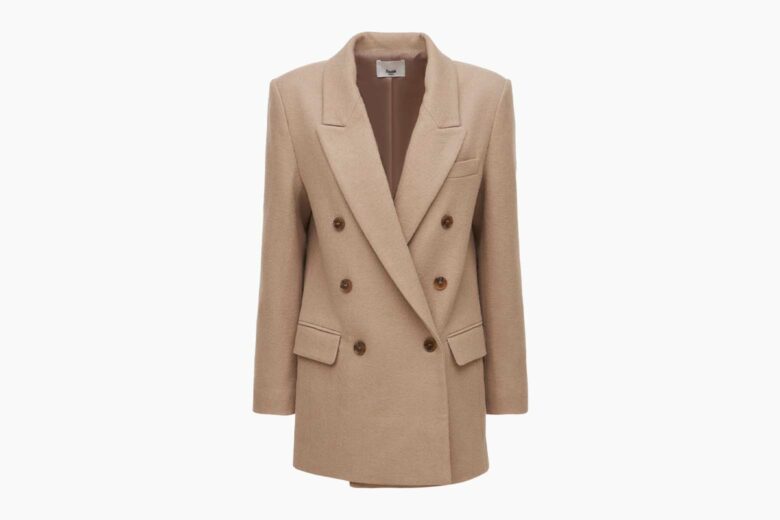 We love a blazer that doubles up as a Winter coat—even more so when it looks as good as Frankie Shop's Samara. The wool blend and neutral beige hues make it a quintessential staple for any seasonless wardrobe. While the double-breasted design, smart lapels, and padded shoulders fit right into your more formal affairs. Pair it with your most comfortable boots to dominate the cooler months.
Best for: Coat-like comfort gets a formal makeover.
Balmain: Best blazer dress for women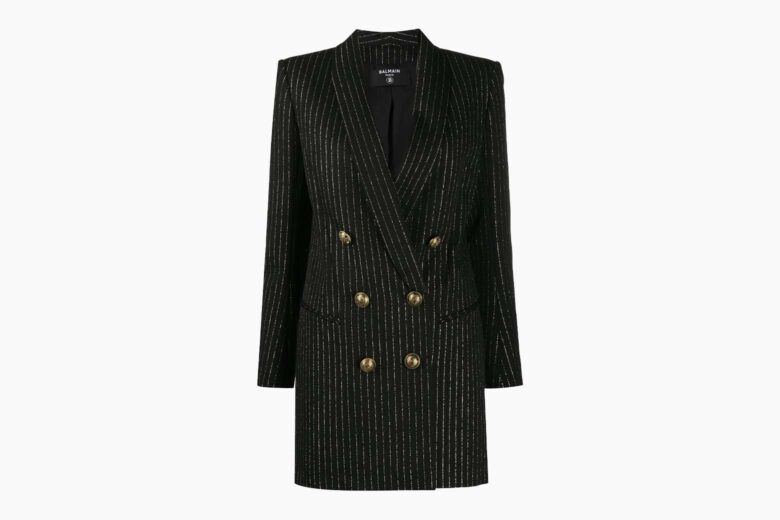 Renowned for its extravagantly luxurious aesthetic, we'd be remiss to exclude the French fashion house from our list of the best blazers for women. And when you see this decadent blazer dress for women, you'll be grateful we didn't. The sleek black silhouette is contrasted by gold metallic threading. Paired with knee-high boots and a red-lip—it's a look that demands attention.
Best for: Letting your superpowers shine.
Isabel Marant: Best women's pinstriped blazer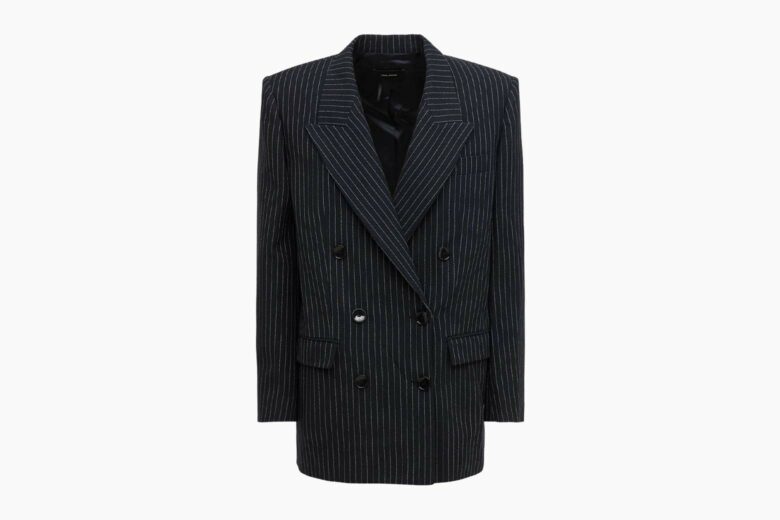 Pinstripes remind us of private jets. And you'll feel nothing less than inherently important in this patterned piece. The timeless, double-breasted style transcends and complements many different looks. This tailored design adds an air of formality to casual denims. But if you're anything like us, you won't be able to resist the stripe-on-stripe set.
Best for: An air of importance.
The Row: Best long blazer for women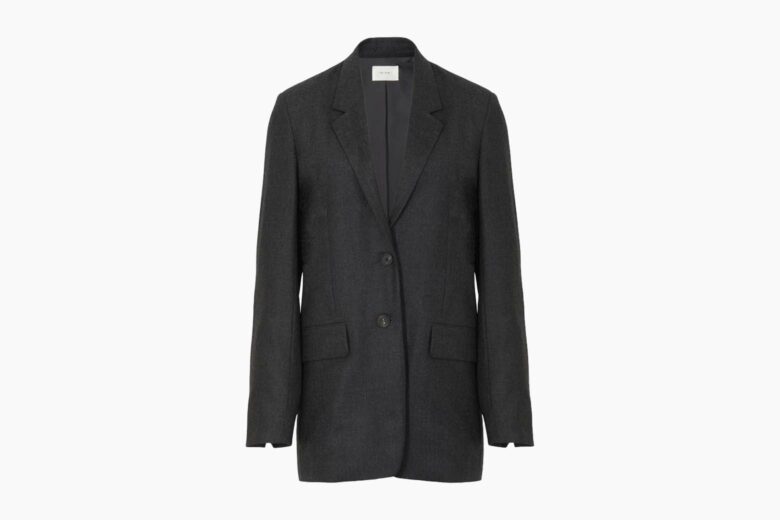 Long, lean lines add a casual element to the tailored style in The Row's rendition of the classical blazer. This traditional design takes us back to the masculine boardroom blazer. And in doing so, it speaks to the modern powerhouse woman. Pair this women's black blazer with your best ankle boots and turtle-neck for an Autumn look that never fails to impress.
Best for: Demanding respect both in and out of the office.
Asos Design: Best plus size blazer for women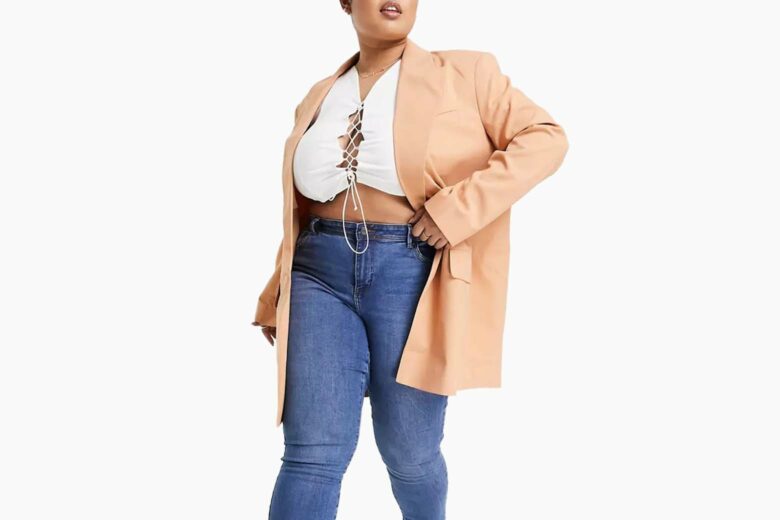 Hitting all the right spots—this everyday plus size blazer is effortlessly flattering. With just a single button, the versatile silhouette nails the balance between casual comfort and subtle sophistication. And paired with your favorite white sneakers or boots, the blush pink hue will take you from work to the weekend in style.
Best for: (Wine)ding down from work.
Brunello Cucinelli: Best cropped blazer for women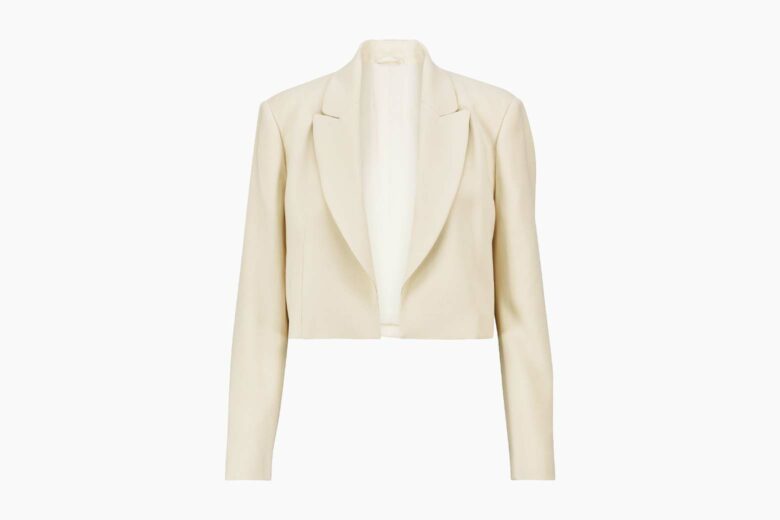 It's your teenager's crop-out all-grown-up. And with maturity comes elegance, class, and simplicity. Brunello Cucinelli has perfected the crop blazer with this soft cream rendition of the office classic. Paired with matching pants or high-rise skirts, it's an outfit that deserves to break free from confined workspaces.
Best for: Timeless elegance that speaks for itself.
Saint Laurent: Best tuxedo style women's blazer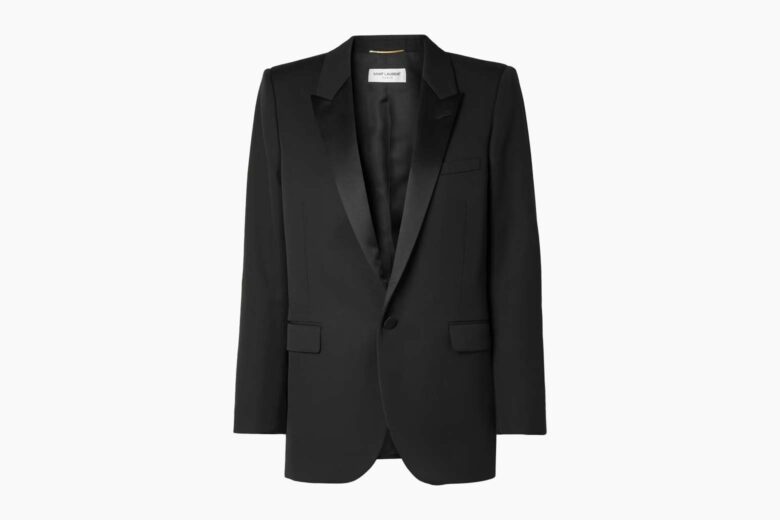 There's nothing as empowering as wearing an impeccably-tailored tuxedo. And Saint Laurent has hit the nail on the head with this sleek black blazer that effortlessly embodies the modern woman. The single-breasted silhouette speaks to the iconic office style. While satin accents provide a feminine reprieve from the more masculine look.
Best for: Making moves in all the right places.
Tagliatore: Best fitted blazer for women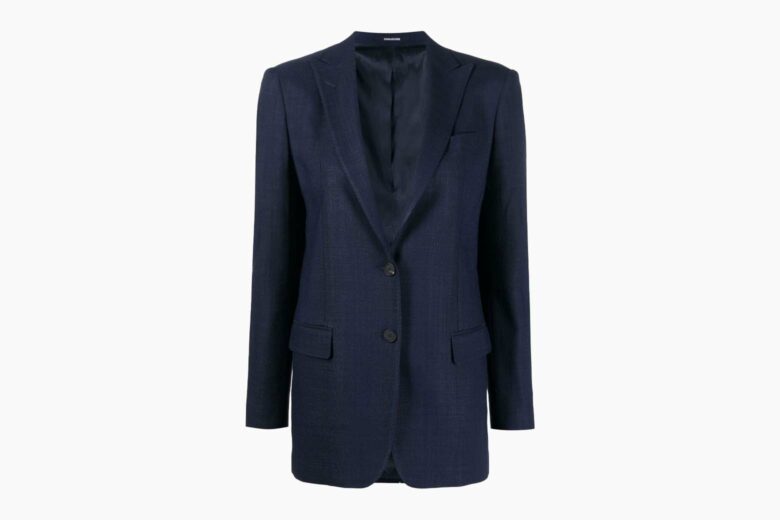 In an era renowned for oversizing, let's not forget about the flattering quality of a tailored suit. Tagliatore shows us how it's done with this fitted single-breasted blazer. The sleek silhouette has a slimming effect. And the navy hue slips effortlessly over any ensemble. While button cuffs, a rear vent, and a chest pocket speak to the traditional design of the formal blazer.
Best for: Slimmed-down styling.
Toteme: Best collarless blazer for women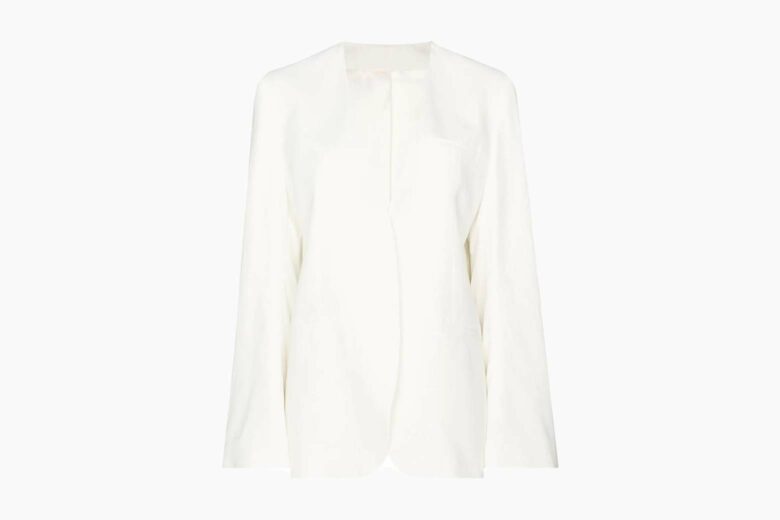 Rid of one of the more formal features, Toteme's collarless blazer has reinvented the office staple for more casual occasions. The minimalist silhouette comes in an uninterrupted bone-white colorway. Try this woman's blazer on with the matching pants and you'll see just how well it works for night-time or day-time events.
Best for: Mingling with minimalism.
Buyer's guide to woman's blazers
When looking for your styling ally (in the form of a blazer), there are a few things you ought to look out for.
Fit
Whether it's long or short, oversized or fitted—all blazers should fit properly. To check that yours is doing the job, see that the shoulder seams land at your shoulder. And make sure that you can move your arms comfortably (without straining the fabric). The bend at the waist should accentuate your natural curves. And the arm should land at your wrist. Although you can always cuff your sleeves for a more casual look.
Silhouette
Gone are the days of a single boardroom blazer silhouette. And although the style isn't going anywhere, it's been joined by more contemporary and casual silhouettes. An oversized blazer is all you need to get that carefree, boyfriend-celebrity look (think Hailey Bieber). While plus size blazers for women work extra hard at sculpting your physique. And a fitted blazer is ready to make your next power move, whether it's a new client or a new date.
Materials
The '80s suit style may be back. But stiff wool blends stayed behind. Our best blazers for women run the gamut of more modern materials. Get yours in lightweight linen to see you through the warmer months with an air of sophistication. Or opt for softened wool to double up as a Winter coat. Tweed and plaid are having a moment. And satin, velvet or sparkly accents add feminine elements to the more masculine silhouette.
Casual styling: How to wear a blazer casually
Broken free from the confines of office desks and client meetings, the brazen blazer has let down its hair with relaxed renditions. But the key to owning the look for casual occasions comes down to how you style the sumptuous silhouettes. If you're into the dopamine dressing trend, color block, or monochrome your colorful blazer for a smile-inducing ensemble. Or keep it neutral in soft-paletted linens and square-toe flats. Dress your plaid or khaki numbers down with mom jeans and sneakers. Or go big with an oversized black number and tights for the ultimate chic-street style (cue the shades!).
What to wear under a blazer
You may be tired of hearing this. But with today's contemporary styles, the options are endless. And it all comes down to the look you're going for. If workwear is your goal, a chiffon blouse will soften the look (think Rachel from Suits). For cooler climates, a cashmere turtleneck undergarment always looks good. You can pop some color or keep it neutral. And if you're feeling brave, you can even wear nothing but a bralette underneath (call it a date).
Frequently asked questions about blazers for women
Which blazer brand is the best for women?
When it comes to timeless blazers, it's easy to tell the real deal from a knock-off. We love L'Agence for its dazzling tweed ensemble. Asos sells stellar plus size blazers. And you can never go wrong with Alexander McQueen's white asymmetrical silhouette. But to find the best brand to fit your purpose, we suggest reading our full review on all the best blazers for women.
What brand has the best blazers?
Your best blazer brand ultimately comes down to what you're looking for. If you're looking to own the office space, Tagliatore's fitted piece is hard to turn down. And if you're into oversized, casual styling, Acne Studios nails that chic celebrity look. But the options don't end there. We've reviewed all the best blazers for women to make your search for a powerhouse accomplice effortless.
How should women look good in blazers?
It's simple. If the style fits, you'll look good. The shoulder seams should hit your shoulders. The bend in waste should complement your natural curves. And the arm length should reach your wrist, while enabling you to move comfortably. Once you've done those checks, it's all about allowing the confidence implicit to garment to soak into your persona. 
What color blazer should every woman have?
We stand by the mantra that every woman should have a black blazer. If you're building your collection from scratch, we recommend you start here. But if your wardrobe is looking pretty dark and you're itching for a pop of color—a vibrant colorful blazer is just the way to do it. To get a better idea of our favorite colors, read our full review of the best blazers for women.