Let's face it: Although seemingly simple, sunglasses hold shades of sartorial meaning. Few accessories rival the superpowers of a hero pair of sunnies.
The best women's sunglasses have the power to elevate your outfit, add an air of intrigue and mystery (there's something immediately flirtatious about dark shades), allow you to covertly spy on people from an outdoor cafe, conceal any accidental eye-rolls—oh, and shield your eyes from the sun and harmful UV rays.
Sunglasses come in endless styles and pretty much every colour under the sun, from updates on timeless classics to colourful and playful takes on standard silhouettes. You've got oversized frames for statement-making style, aviators for Top Gun-inspired glamour, and whimsical retro creations that make us feel instantly more alluring.
Overwhelmed by the sheer number of sunnies options available? Cast an eye over our list of the best sunglasses for women. We've got iconic aviators, trendy cat-eyes, some utilitarian and no-fuss D-frames, prescription glasses, and even sunglasses for tennis. As well as those sunglasses seen sported by the world's celebrities and superstars. How many pairs is too many pairs?
Psssst: Check our round-up of the best sunglasses for men for hot pairs to make his style much cooler, too.
The 19 best sunglasses for women
Check our special women's sunglasses buying guide after the list to see exactly what you should pay attention to when shopping for a new pair of sunglasses online.
We also have dedicated guides to the best blue light blocking glasses, the best places to buy glasses online, and the best sunglasses for men.
Randolph Amelia: Best overall sunglasses for women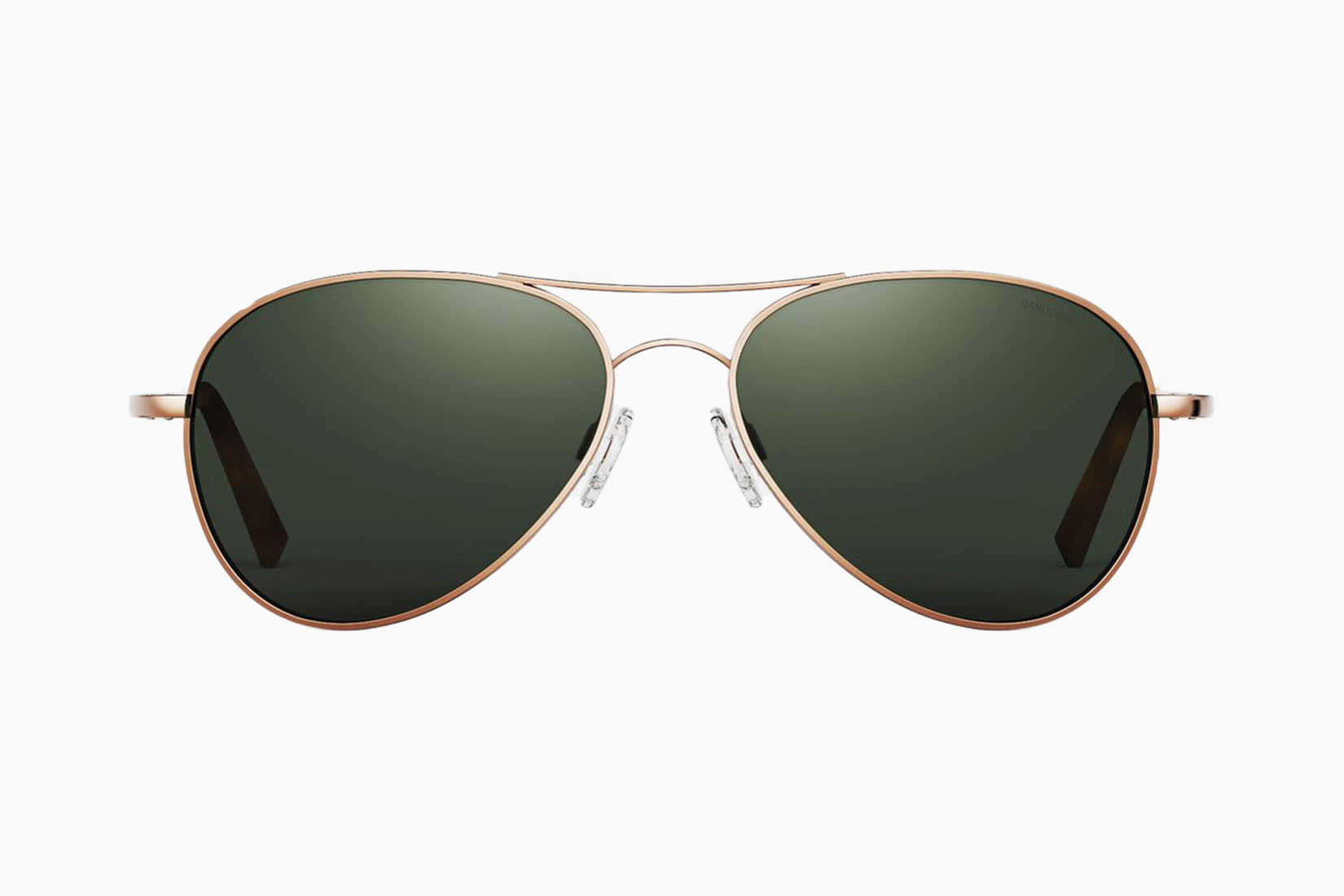 We've already taken an in-depth look at what makes these shades the ultimate sunglasses for this season in our Randolph USA review and we'll say it again. These are the best women's sunglasses around.
This particular pair is named after Amelia Earhart, the first woman to fly solo across the Atlantic and a total hero in our eyes. While she probably wasn't wearing a pair of Randolph's at the time, we're sure she'd approve of these super sleek aviators with their ultra-flattering teardrop silhouette that suits all face shapes.
The AGX lens selectively highlights soothing green and yellow wavelengths, helping to reduce eye fatigue. The lenses are also polarized for glare prevention and feature anti-reflective and blue-light-filtering technology. In other words, they're like bodyguards for your eyes.
The lenses of the Amelia sit inside gorgeous 22k chocolate gold frames while the curved 'skull temples' wrap around the ear for security and comfort. Just as the pilot herself would have wanted.
Best for: Eye-popping, protective, and exquisitely comfortable style.
Frame material: 22k Chocolate Gold, 23k Gold, 22k Rose Gold
Protection: 100% UVA/UVB protection
Polarised: Yes
Bottega Veneta: Best luxury women's sunglasses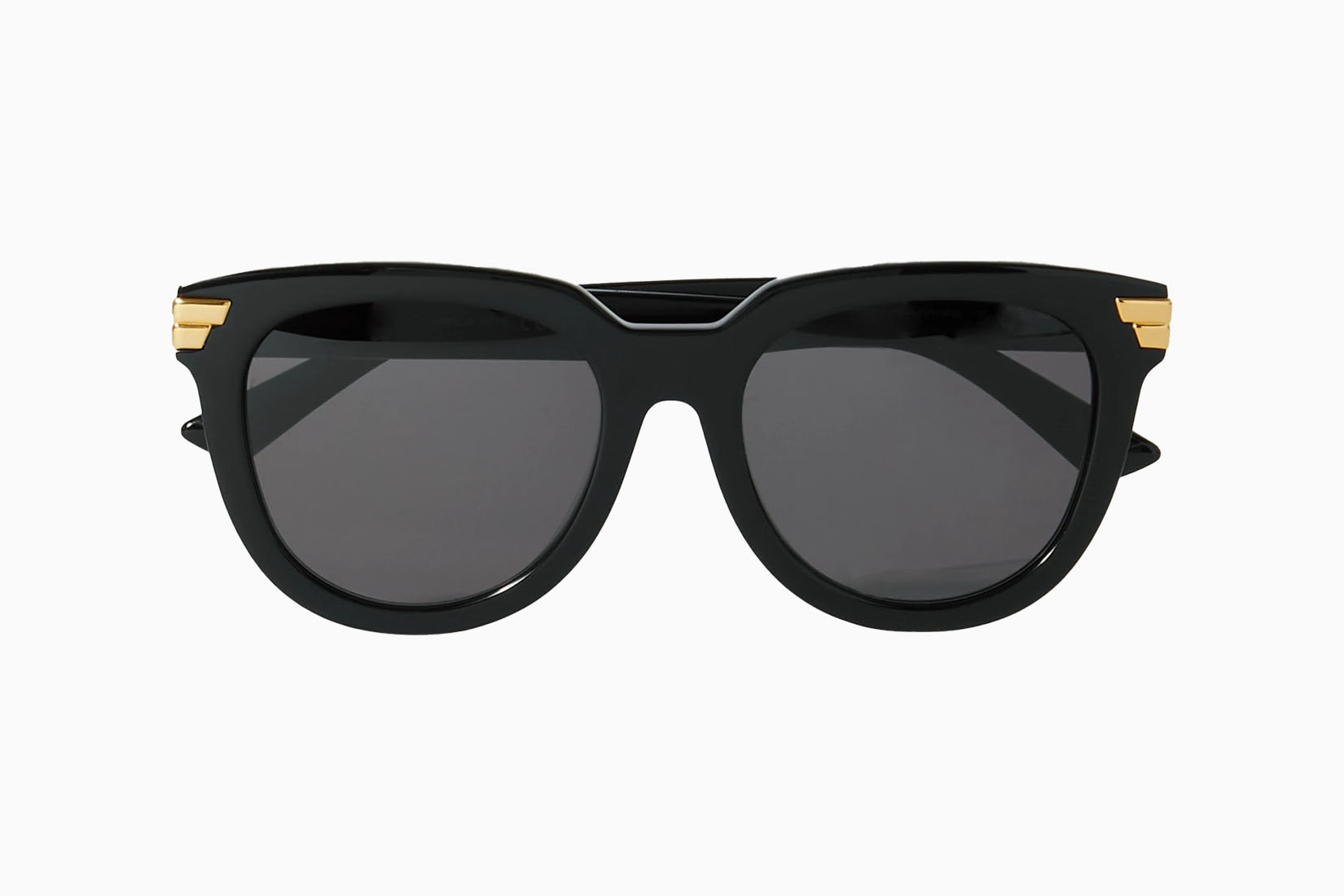 A premium price tag doesn't always translate to impeccable style and quality, but in the case of these Bottega Veneta shades, it definitely does.
These designer sunglasses are made from glossy black acetate with a delectable gleam. Check out the polished gold hardware at the temples. The black-and-gold combo is timeless. You could be wearing these in fifty years time and they'd still be considered the apex of style.
We also love the classic shape of these Bottega Veneta shades. Somehow round and square simultaneously, they would suit basically all face shapes. And while they're definitely not cheap, at least the higher price tag will mean you're less likely to break them—right?
Best for: The ultimate treat for the eyes. 
Frame material: Acetate
Protection: 100% UV protection
Polarised: No
Yesglasses: Best value women's sunglasses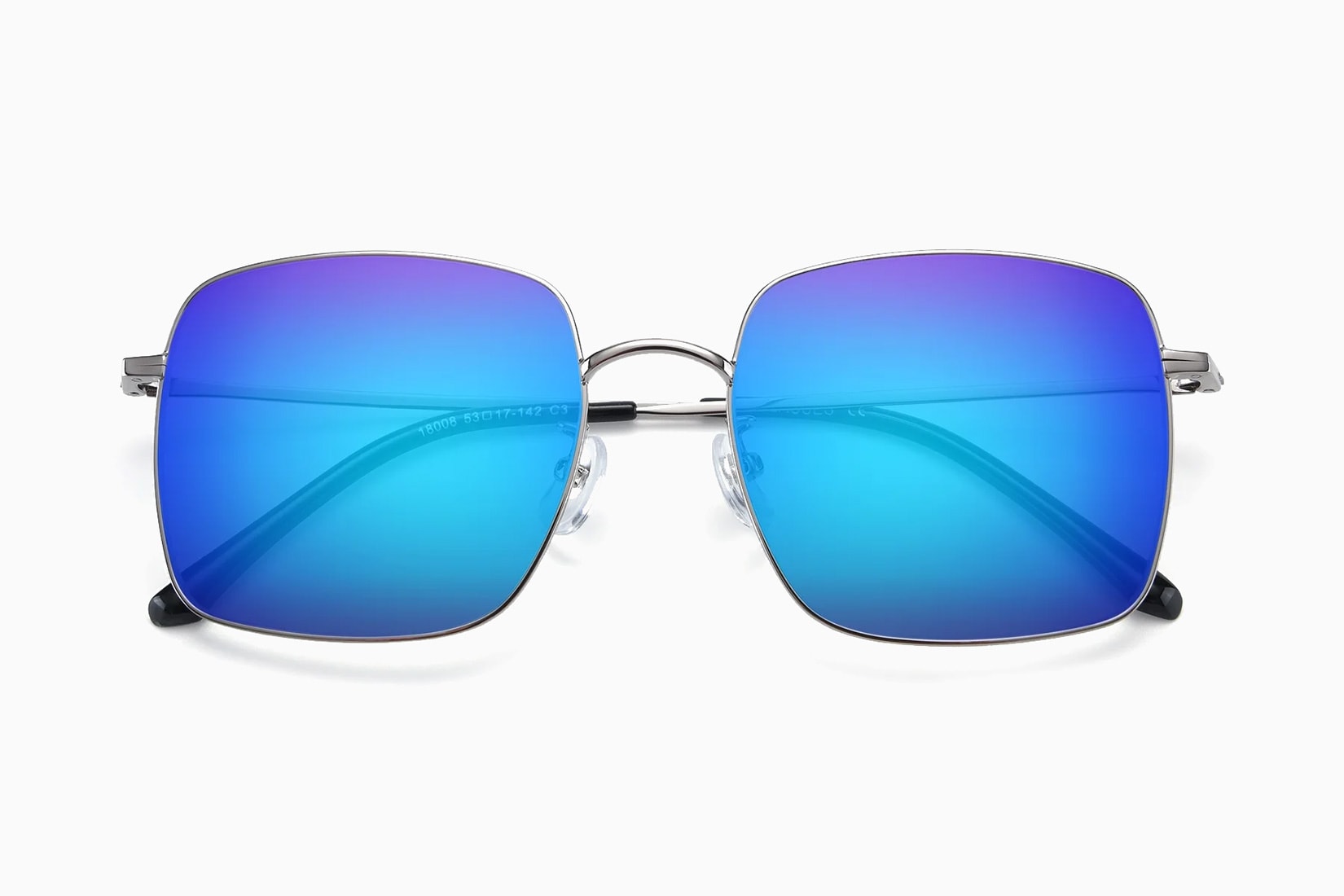 Cheap sunglasses aren't hard to come by. But inexpensive sunglasses that also protect your eyes and look good while doing so? Much rarer. Which is why we're raving about these Yesglasses Billie mirrored sunglasses—definitely the best sunglasses for the money.
This bold frame is inspired by numerous fashion styles: oversized, granny, geek-chick and hipster among others. A modern square wire-rim frame to instantly change your look. The frame is available in a range of satin-finished colours, including black, silver, gold, and grey.
You could pretty much pick any pair of sunglasses from Yesglasses and still find great value though. Check our in-depth Yesglasses review to see why we like this store so much.
Best for: Affordable sunglasses for accident-prone individuals.
Frame material: Metal
Protection: 100% UV protection
Polarised: Not this particular model, but the brand does offer polarised sunglasses to
Tomahawk Neuralyzers: Best women's sunglasses to travel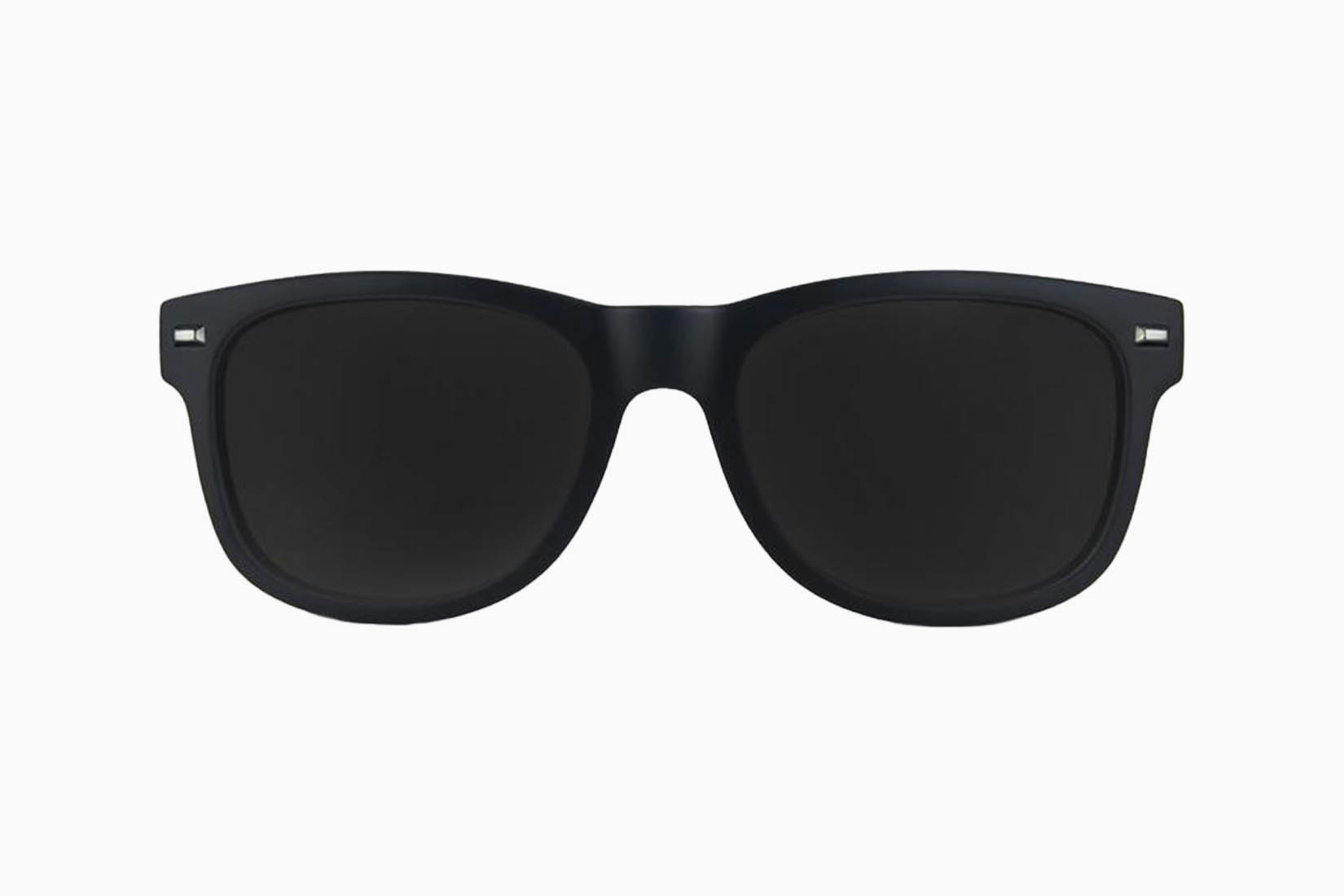 When travelling, you want a pair of stylish yet inexpensive and durable sunglasses that can survive a trip to the beach in your bag. You also want glasses that will keep you safe from UV rays. Meet the Tomahawk Neuralyzers—definitely the best sunglasses to travel with.
The Neuralyzers are a contemporary take on the classic wayfarer style with that distinct trapezoidal shape that we all know and love. We can imagine wearing these pretty much everywhere, whether it's at the beach with a gorgeous sun hat, for a city trip next to your designer work bag, or on a terrace on a summer evening, sipping cocktails. 
The frames of these Tomahawk Neuralyzers are injection moulded—lightweight and strong. The smoke lenses minimise blinding brightness and are also FDA-approved. Plus, they're impact-resistant so will survive the occasional bash. Finally, UV400 protection means your eyes have nothing to worry about.
Best for: Travel sunglasses that can take a beating.
Frame material: Injected moulded
Protection: 100% UV protection
Polarised: No
Ray-Ban RB3025: Best aviators for women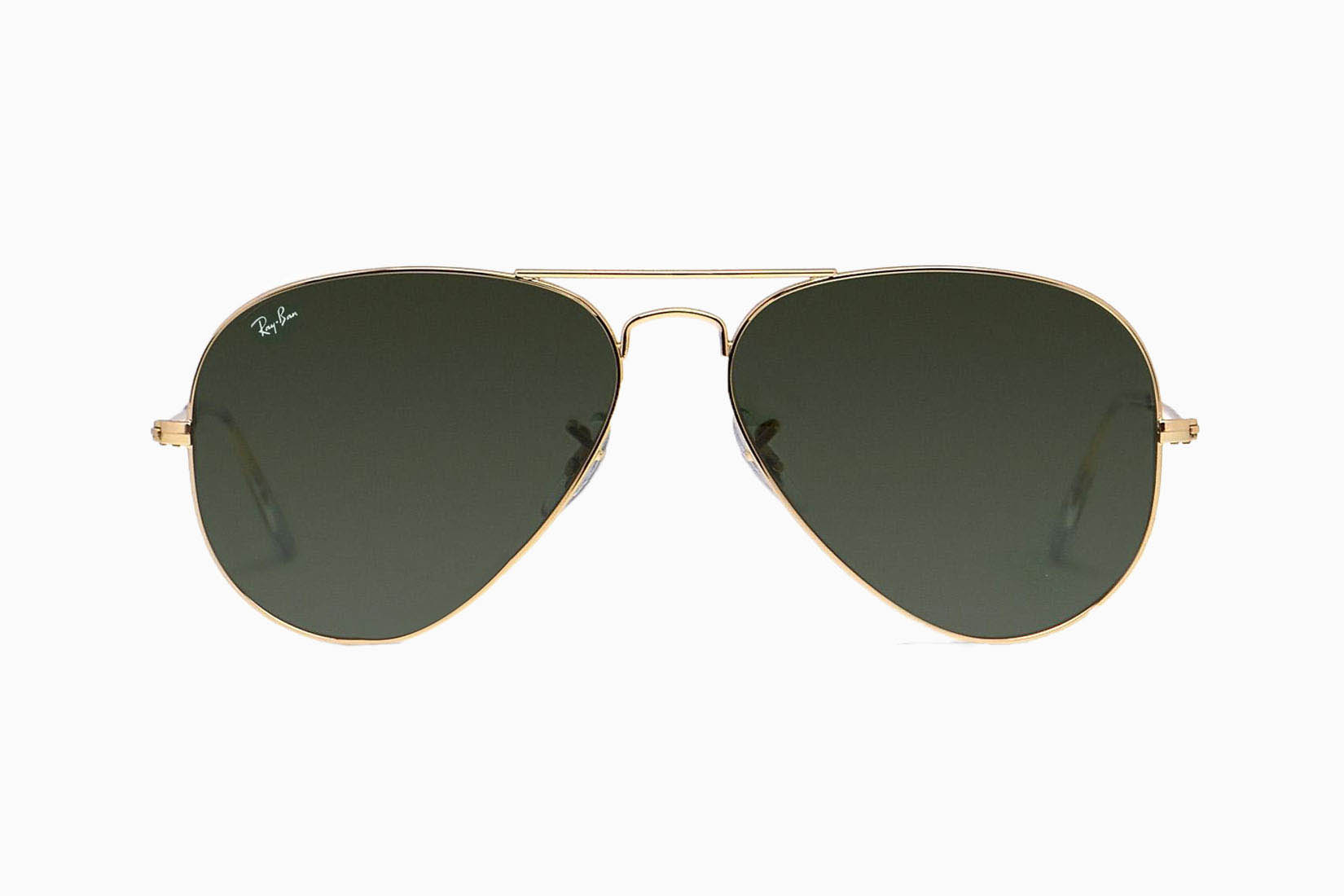 As far as we're concerned, wearing a pay of Ray-Bans should feature on every woman's bucket list. It's pretty much a rite of passage. And these ones are our faves—which says a lot, considering every pair in the brand's catalogue has us reaching for our credit card.
The best aviator sunglasses for women that we've come across, these Ray-Bans 3025s feature trendy tear-shaped lenses, offering a cool twist on the classic pilot silhouette. They also have a double bridge and slender frame that won't overpower smaller faces. Despite being thin, the frame is incredibly durable, made of hard-wearing metal that won't let you down.
These Ray-Ban sunglasses were originally designed for U.S. aviators back in 1937 and offer an understated utilitarian vibe that would work wonders sharpening up a flowery dress or adding edge to an ultra-feminine get-up.
Best for: Channelling timeless cockpit cool. 
Frame material: Metal
Protection: 100% UV protection
Polarised: Yes
Randolph Elinor Fusion: Best polarised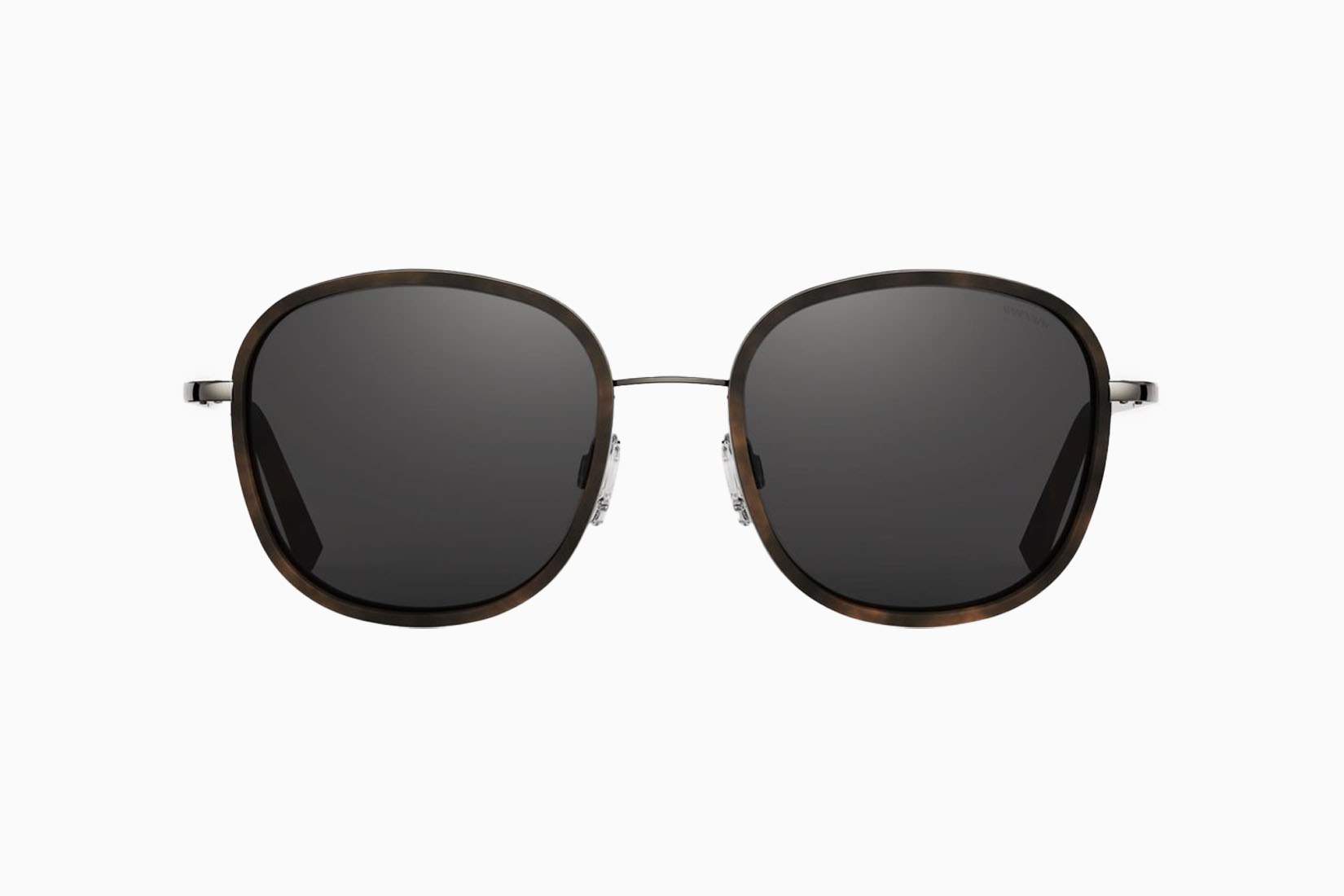 Polarised lenses reduce glare from horizontal surfaces and are an essential accessory if you're out on the road—or if your holiday plans involve the beach or a snowy mountain. Optimum vision requires glare-busting lenses and the best polarized sunglasses for women we've found are the Elinor Fusion by Randolph.
Inspired by Jackie O's iconic oversized shades, the brand's Elinor sunglasses offer immediate elegance. Hand in-laid with high-end Mazzucchelli acetate, they definitely err on the side of luxurious rather than utilitarian—and that's fine with us.
The brand's signature grey tint lenses are not only polarized but also offer maximum colour and contrast whatever the light and terrain conditions and are both anti-reflective and blue-light filtering.
Definitely opt for these Randolph Elinor Fusion sunglasses if you value premium eye protection as much as legendary style.
Best for: Quintessential American cool meets perfect clarity of vision. 
Frame material: Gunmetal
Protection: 100% UVA/UVB Protection
Polarised: Yes
Versace: Best oversized women's sunglasses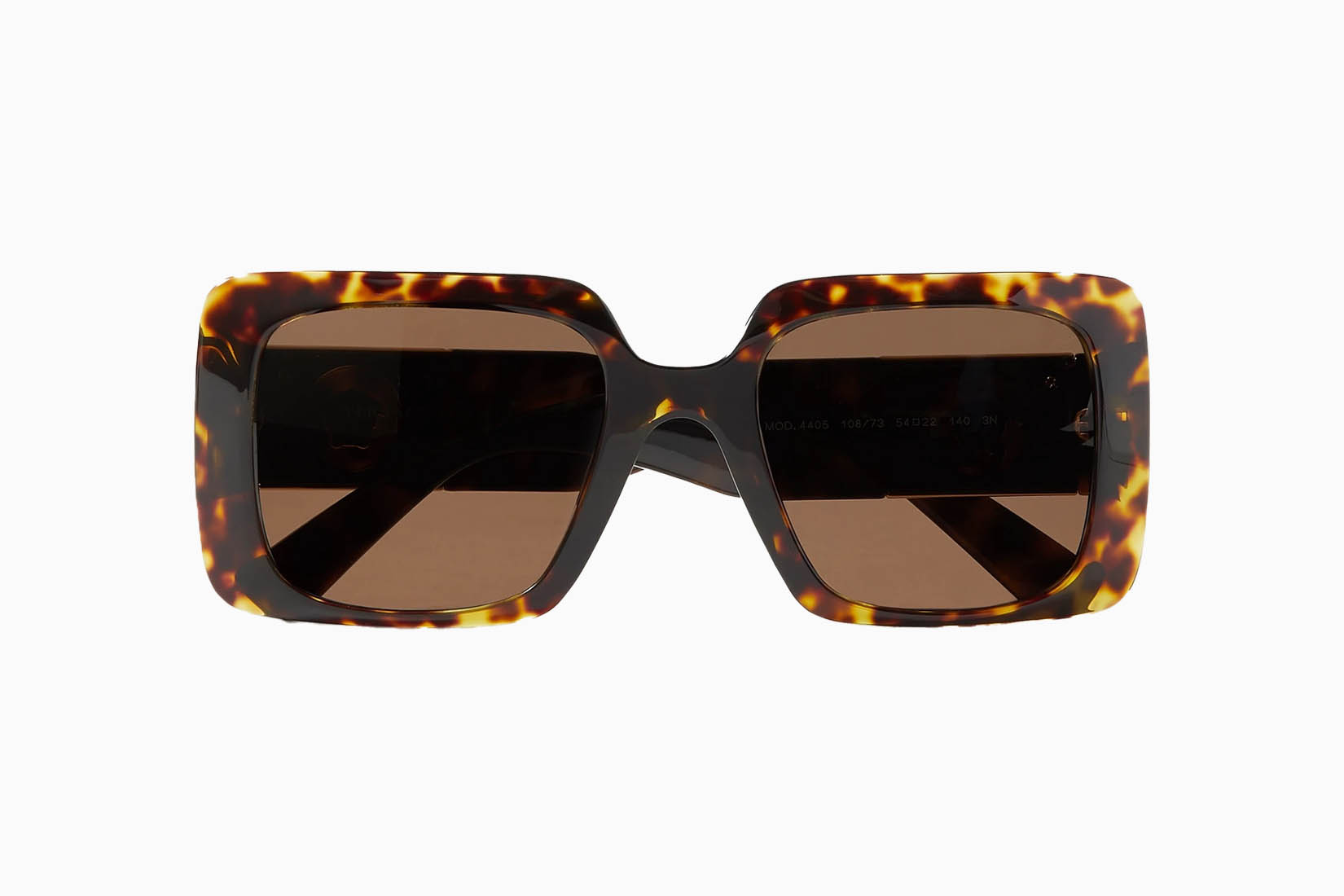 Nothing says glamourpuss like a pair of oversized sunglasses. And our top pick has to be this Versace tortoiseshell pair. With these on our face, we're convinced we'd win a table at the most overbooked and exclusive restaurant in town without even having to ask.
With their square frames, these trendy sunglasses would complement round faces in particular, helping to add definition and sharpen up curves. The frames are made in Italy from tortoiseshell acetate, offering warmth and glow that's perfect for balmy summer nights.
These Versace sunglasses feature the brand's instantly recognisable Medusa logo and 'Greca' motif along the arms—so anyone nearby will know that you have excellent (and expensive) taste.
Best for: The mystery and magnetism that only oversized sunglasses can confer.
Frame material: Acetate
Protection: 100% UV protection
Polarised: No
Auór: Best cat eye sunglasses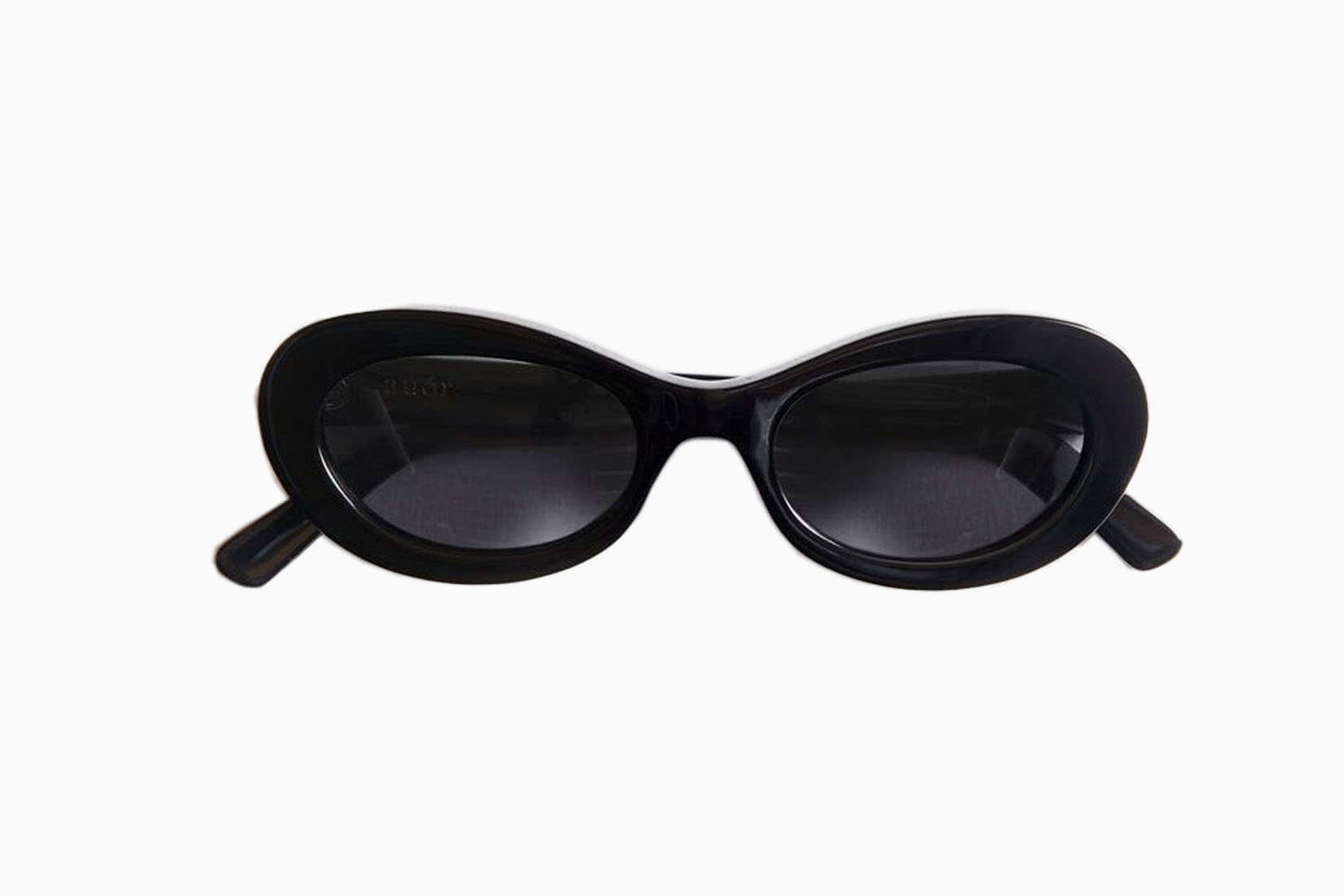 The cat-eye trend is going nowhere and we're not complaining. The shape is universally flattering and we love the vintage vibe too.
Nail that 90s brand of cool with these elongated cat-eye frames by Auór, named Paloma, which means 'dove' and 'peace'. Does this mean that donning these shades will allow us to enjoy a more positive perspective of the world? We like to think so.
Auór sunglasses are designed in Australia and handcrafted in Italy using solely European materials—including eco-friendly cellulose acetate. The independent eyewear brand combines classic style with slow fashion principles—such as a transparent supply chain—to deliver creative and ethical designs. With limited runs of each frame, you can enjoy knowing you're one of a select few with these Auór Paloma sunglasses.
Best for: Iconic and ethical sunnies with kittenish cool. 
Frame material: Acetate
Protection: 100% UV protection, Lens category 3
Polarised: Yes (on request)
Saint Laurent: Best D-frames for women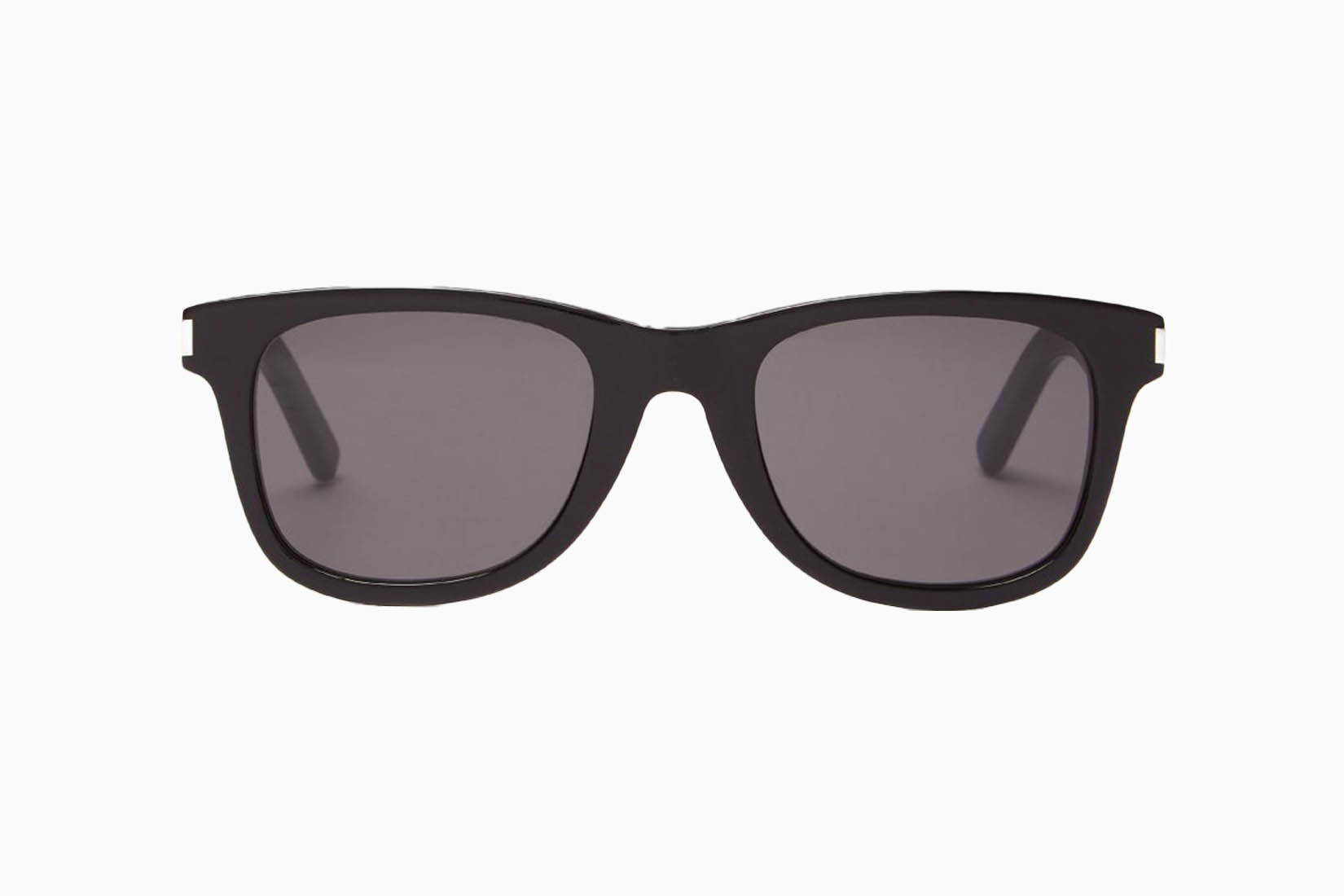 D-frames are enduringly stylish and super versatile. Our favourites are these Saint Laurent D-frames in classic and timeless black. You just can't beat those cute tapering wingtips.
We love the 80s mood of these retro-inspired shades. Made in Italy, the frames are polished acetate, offering gleam and glamour. The tinted lenses add high sun protection as well as minimising eye strain and fatigue. You'll find the brand's logos engraved subtly along the temples. Proof, if anyone asks, of your discerning fashion tastes, but not so obvious that you'll be accused of name-dropping. Très chic.
These Saint Laurent sunnies are the perfect halfway house between square and round which means they'll suit basically everyone, whether you're blessed with a round, square, oval, or heart-shaped face. They'd look best teamed with a gelato.
Best for: Classy meets casual in these ultra-cool designer sunglasses.  
Frame material: Acetate
Protection: 100% UV protection
Polarised: No
Westward Leaning: Best celebrity-approved women's sunglasses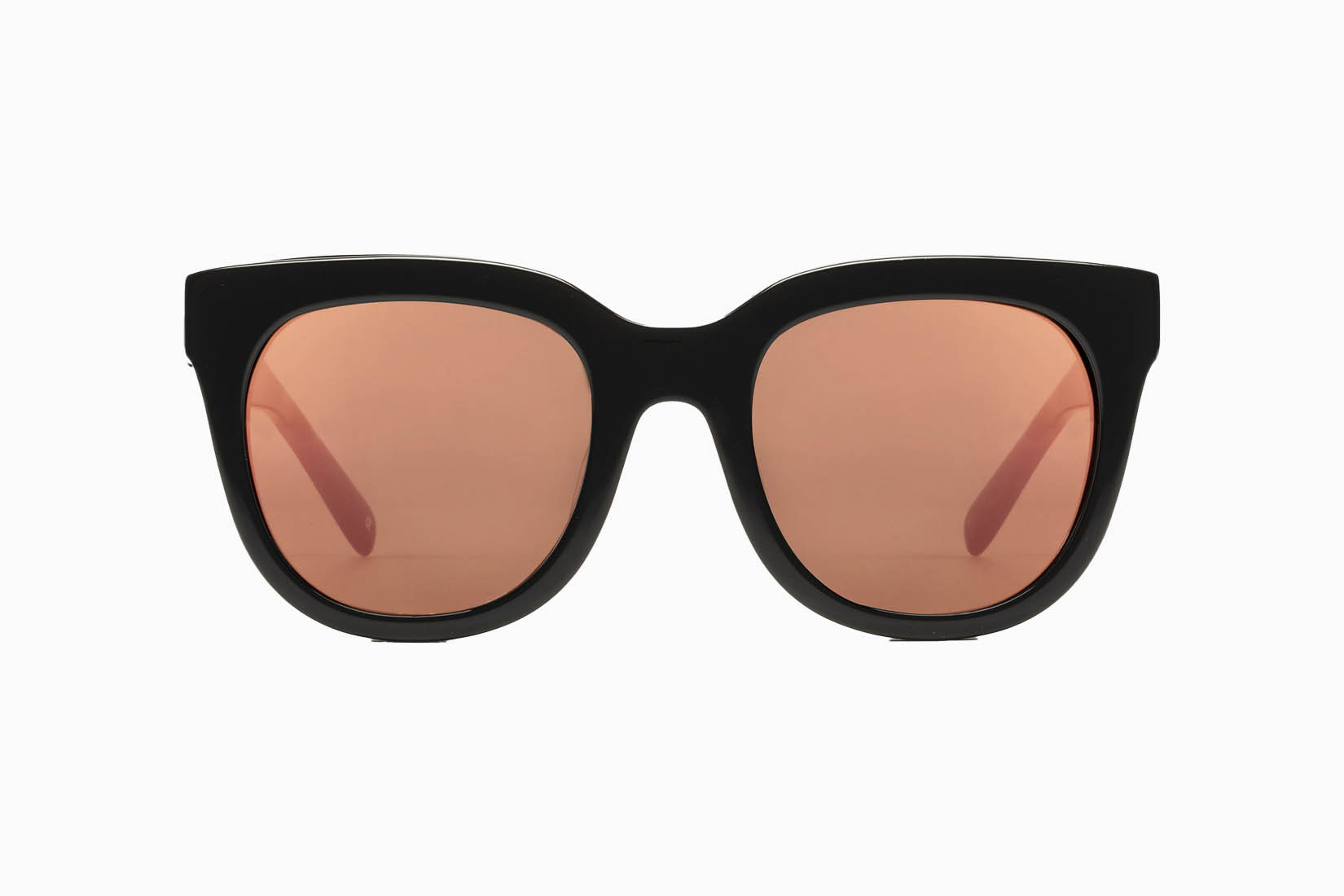 When picking a new accessory, it helps if the IT crowd has already given their seal of approval. And Westward Leaning is a hit among the world's rich and famous. The brand's fashion sunglasses have been spotted on the likes of Gigi Hadid, Kourtney Kardashian, and Reese Witherspoon. In other words, anyone who's anyone.
Our favourite pair are the Moore 06, designed in collaboration with socialite and influencer Olivia Palermo, with unique temple tip plaques and a case and cleaning cloth designed by Olivia too. As one of the world's best-dressed women, we can definitely trust her opinion when it comes to supremely stylish sunnies.
Like all Westward Leaning Sunglasses, the Moore 06's are made with meticulous attention to detail in Japan and feature shatterproof lenses that offer 100% UV protection. High-quality hinges mean no unexpected breakages at inopportune moments.
Best for: Taking your lead from the very best in A-lister style. 
Frame material: Acetate
Protection: 100% UV protection
Polarised: No
Prada: Best tortoiseshell women's sunglasses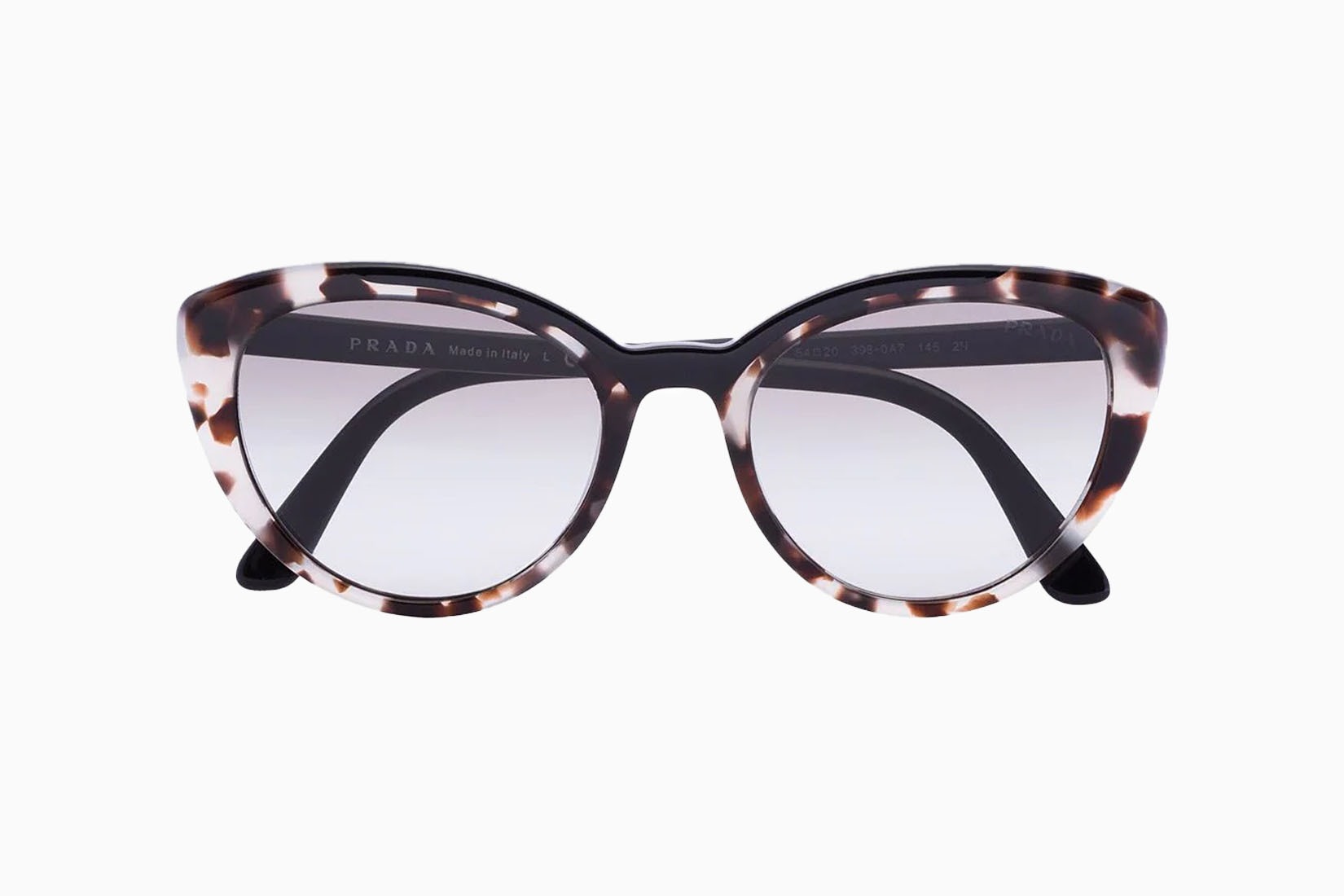 There's something oh-so-tempting about a pair of tortoiseshell sunnies. That warm and earthy colouring offers classic style. We're having a hard time resisting these Prada tortoiseshell sunglasses.
Not only are these designer sunglasses made of tortoiseshell acetate but they're also cat-eyes—combining two of the top sunglasses trends. Cat-eye shades are effortlessly beguiling as well as being perfect for concealing dark bags from last night's antics.
These Prada sunglasses feature straight arms with curved tips—for safe, secure, and comfortable everyday wear—and you'll find the brand logo on one side too. Pair with a trench coat in spring or dress up ripped jeans and a casual t-shirt come summer. These Prada shades are the latest must-have accessory.
Best for: Flirty retro flair from a fashion giant. 
Frame material: Acetate
Protection: UVA/UVB protection
Polarised: No
Celine: Best mirrored sunglasses for women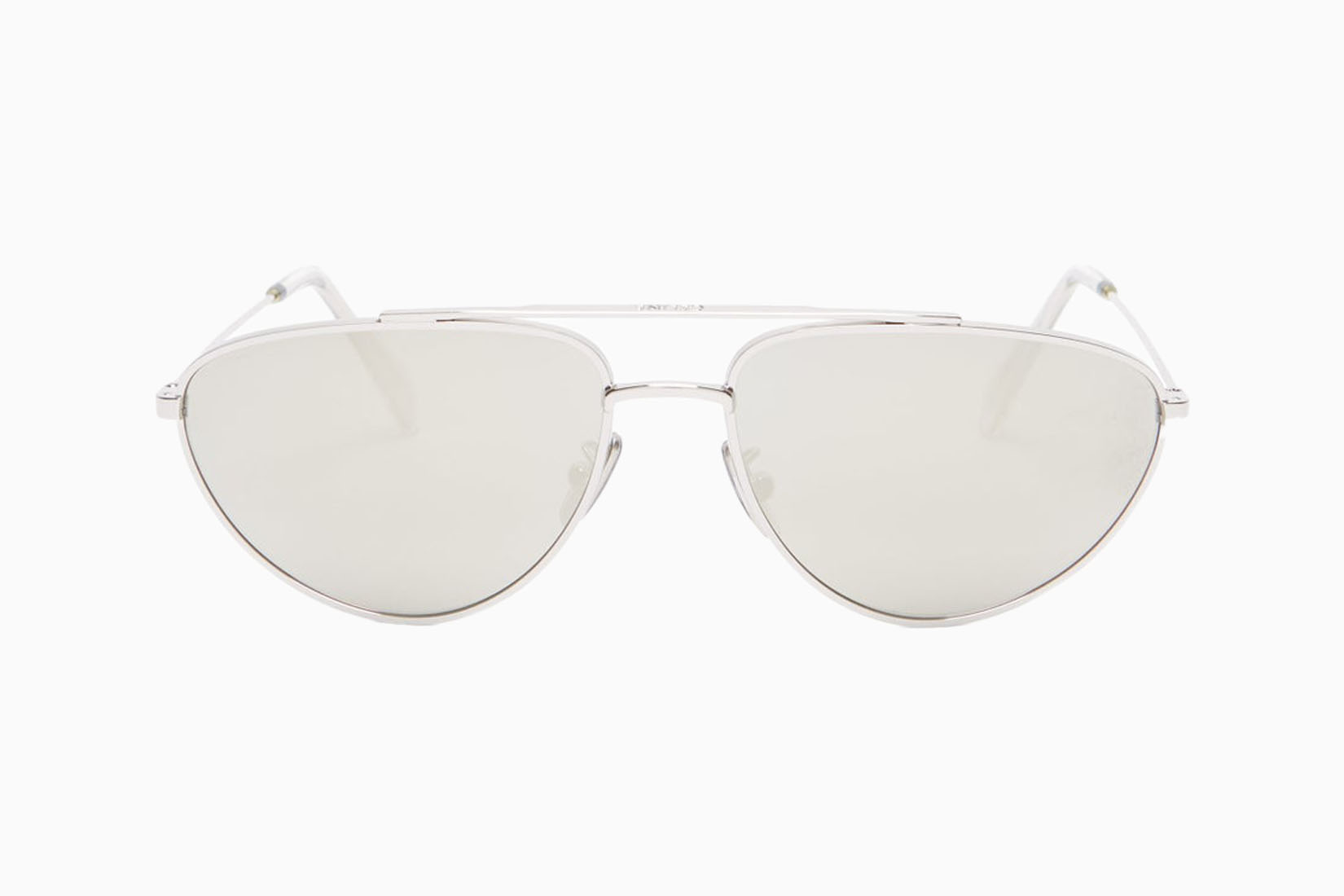 Not only do mirrored sunglasses remove the glare from water, making them ideal for your next beach holiday, but they also mean no one can see you people watching. Just two of the reasons why we love Celine's mirrored aviator sunglasses.
Celine is known for its luxurious and inventive reinterpretations of everyday basics and the brand has used the same magic to elevate the traditional aviator silhouette to something extra special. Take the sloping curve of the frame, for example, offering a 'come-hither' kind of charisma. Then there's the coordinating top bar for a bit of contemporary edge. Adjustable nose pads ensure lasting comfort throughout the day.
We can imagine wearing these Celine sunnies with a turtle-neck wool sweater in a complementary shade of pale pink or blue. Or what about with just a bikini and a spritz of perfume?
Best for: Beachtime chic and covert people-watching. 
Frame material: Metal
Protection: UVA/UVB protection
Polarised: No
Warby Parker: Best prescription sunglasses for women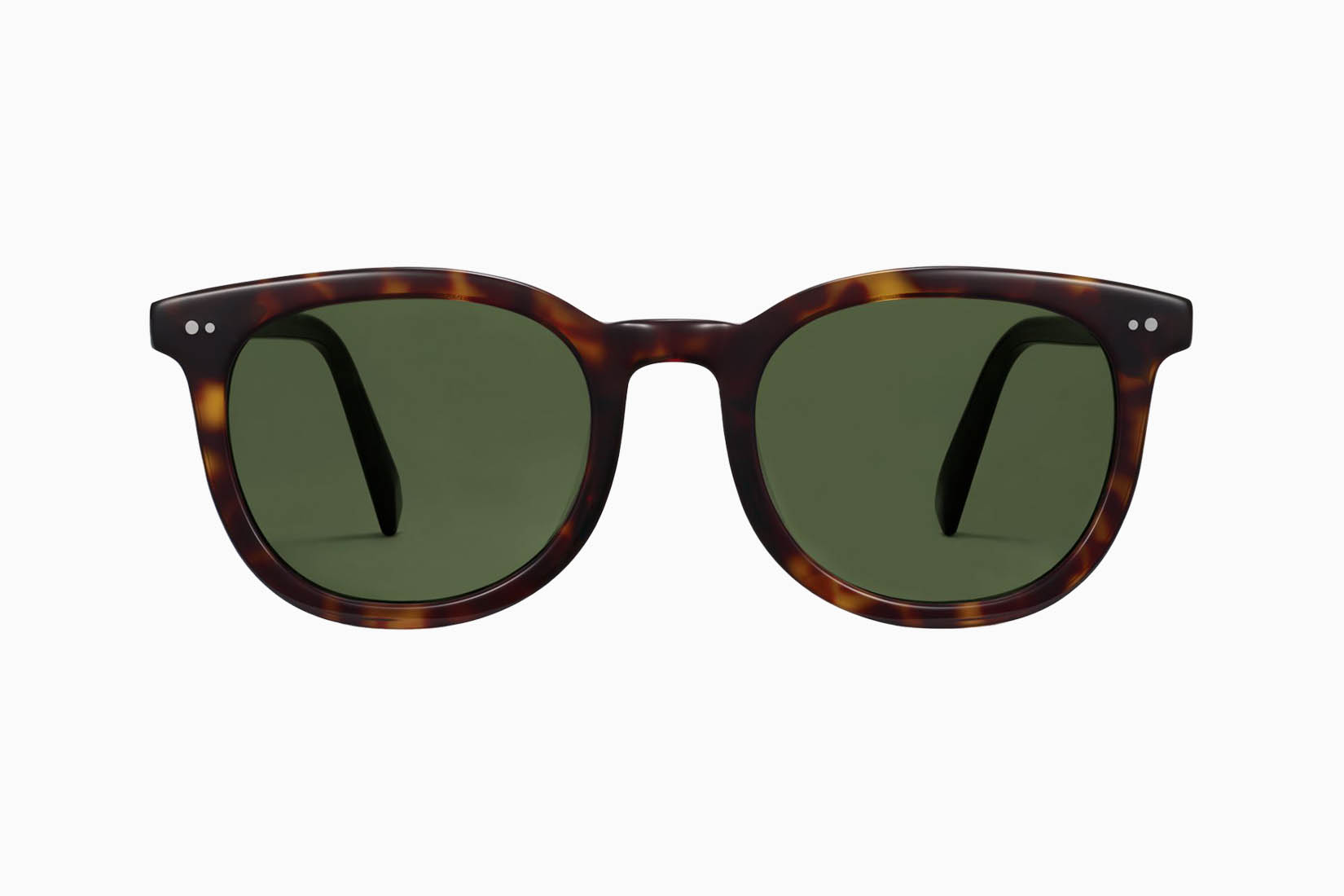 Prescription sunglasses needn't be purely practical. With these Ryland sunglasses by Warby Parker, you can get the lenses that suit your needs and some flattering and high-impact frames to boot.
Warby Parker makes quality and stylish prescription eyewear at an accessible price. These Ryland shades are a case in point. They're exceptionally wearable and constructed from hand-polished cellulose acetate—a material made from wood pulp and considered a 'natural' plastic. The screws have been Akulon-coated for enhanced durability.
The prescription lenses are made from polycarbonate—the premium choice for shades thanks to its impact-resistant qualities. The lenses also block 100% of UV rays (which is actually what sunglasses are for, lest we forget). Plus, they're scratch-resistant—so you can stare out from behind these gorgeous Warby Parker shades for many years to come.
Best for: Durable engineering and dependable style.
Frame material: Acetane
Protection: 100% UV protection
Polarised: No
Le Specs: Best round women's sunglasses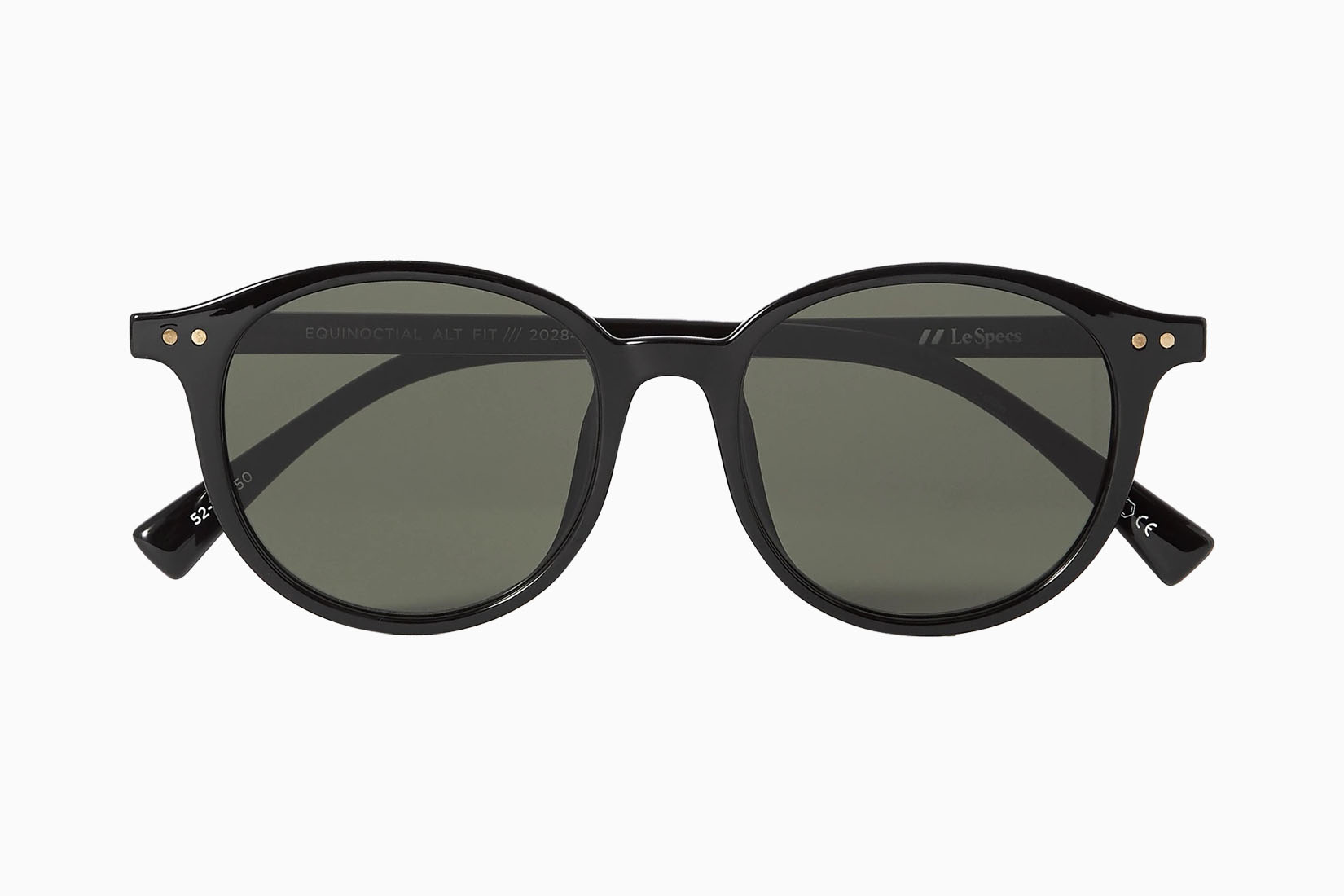 Some items are considered mandatory additions to a woman's wardrobe. Blue jeans, for example, or a little black dress. Another closet essential? A pair of timeless black sunglasses.
Le Specs is an Australian label that combines the best of Swedish and New York street style. The vibe is very cosmopolitan, as evidenced in these so-called 'Equinoctial' shades. Made from lightweight acetate for easy breezy wear, the round frames are particularly flattering for those with square or heart-shaped faces, downplaying sharp lines and angles.
Wear these Le Specs sunnies with your favourite slouchy weekend get-up, whether that's boyfriend jeans and a sweater or a midi skirt and a baggy t-shirt.
Best for: Captivating curves for angular faces. 
Frame material: Acetate
Protection: 100% UV protection
Polarised: No
Gentle Monster: Best oval sunglasses for women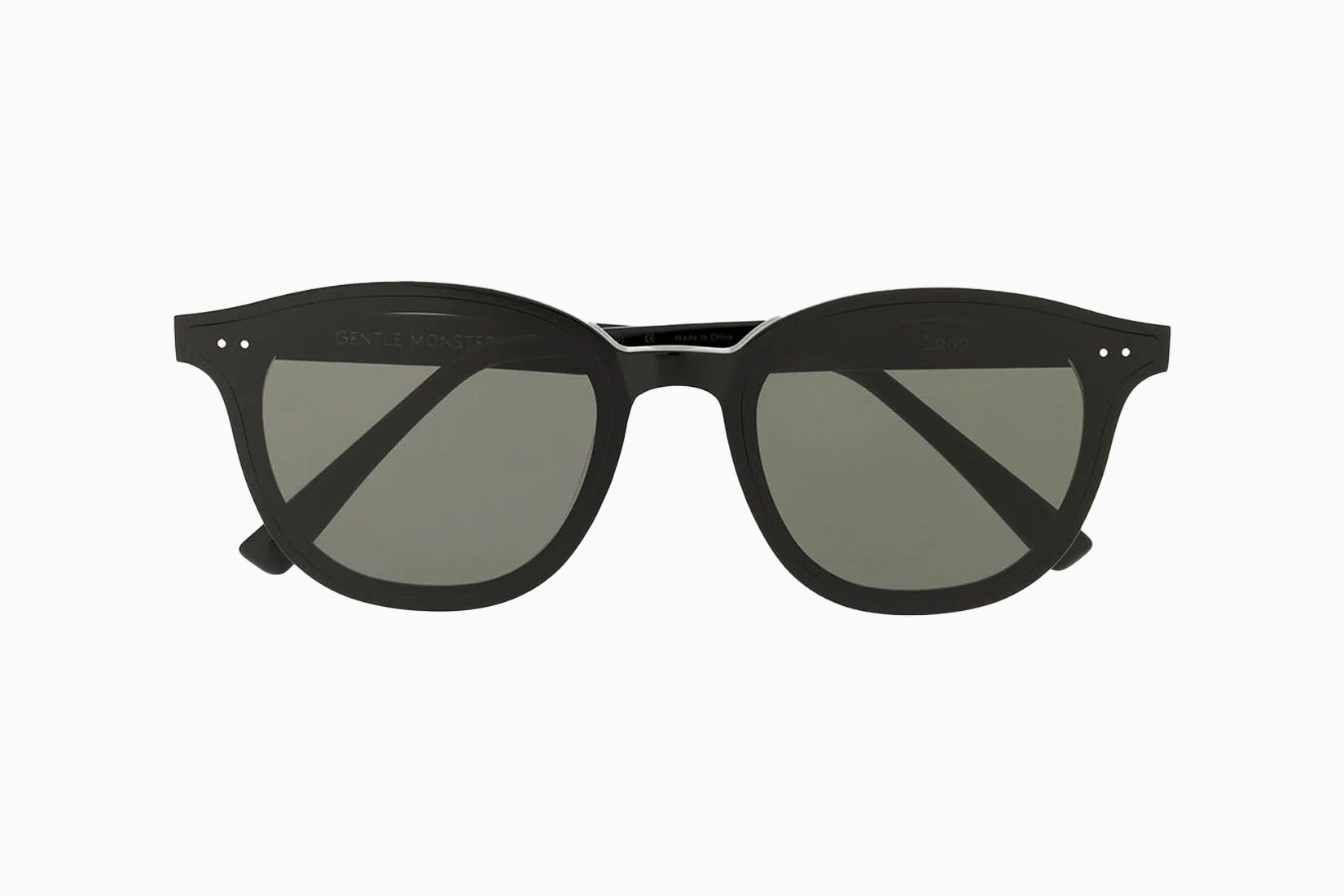 These cool sunglasses by Gentle Monster feature tinted lenses and 100% UV protection so you needn't fear even the brightest summer day. The frames are oval-shaped, offering an incredibly flattering profile for faces with pronounced angles and contours.
Gentle Monster is a South Korean brand that has created quite a splash in the eyewear scene with its boundary-pushing designs, immersive store experience, and prices that are substantial but not extortionate. And while many of the label's designs are highly experimental, they also deliver understated creations with universal appeal—as these sunnies show.
Word of warning? These unisex Gentle Monster sunglasses are a prime target for theft by your significant other.
Best for: Sunnies that will be always and forever on-trend.
Frame material: Acetate
Protection: 100% UV protection
Polarised: No
Gucci: Best square women's sunglasses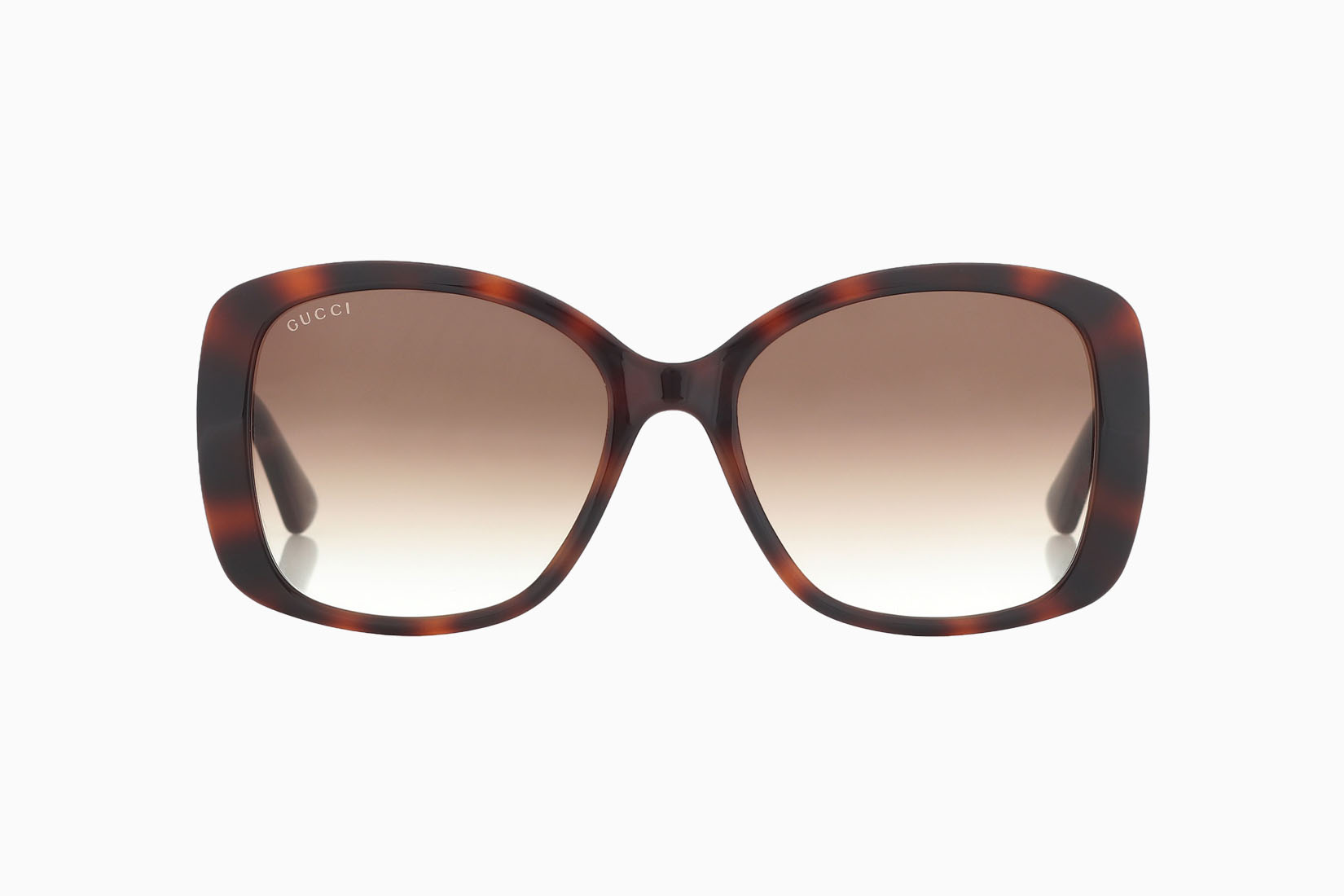 Blessed with a round or oval face? Why not accentuate your angles and contours with a pair of square sunglasses like these ones by Gucci?
Gucci is known for its playful and eclectic approach to eyewear but these designer sunglasses are imaginative without being outrageous. The Havana-brown tortoiseshell frames are perfect for sultry August evenings—especially with a white sundress. And the square shape, as we said, is ideal for those with round faces looking for definition.
These Gucci shades are made from acetate—strong and flexible—and feature a GG monogram on the arms in gleaming gold. Dreaming of warmer days? We bet that your summertime fantasies now feature these Gucci sunglasses.
Best for: Face-defining frames from these masters of fashion. 
Frame material: Acetate
Protection: 100% UVA/UVB protection, Lens category 2
Polarised: No
Randolph Thaden: Best sunglasses for small faces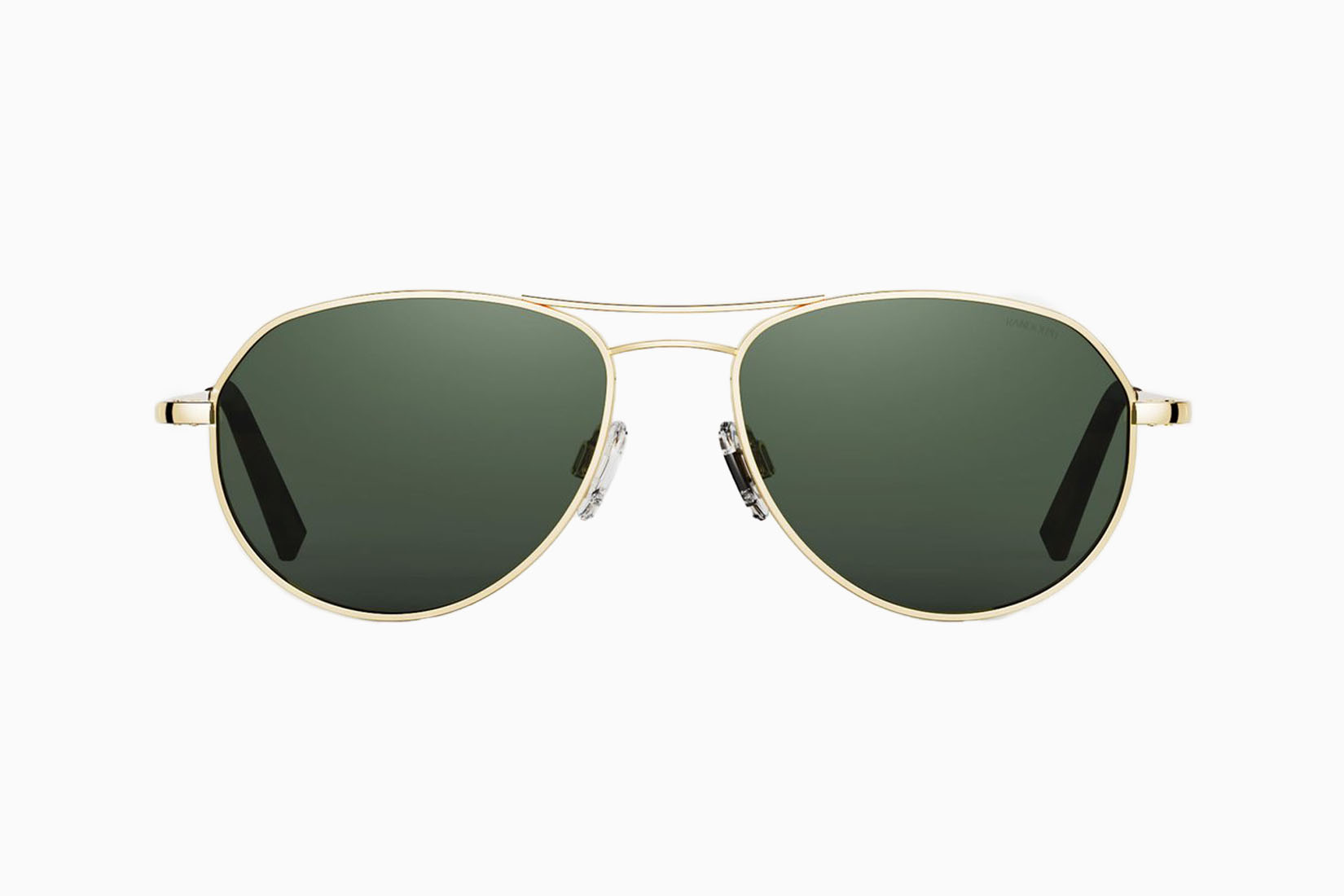 Another highly covetable pair of sunnies from industry experts, Randolph, the Thaden sunglasses are ideal for those of you with small faces thanks to their compact design.
It's easy to overwhelm small features with a pair of chunky and oversized shades. But the bug-eyed look is never good, trust us. Instead, opt for these Thaden shades, named after Louise Thaden, winner of the first Women's Air Derby. Take inspiration from Louise's determination and daring-do every time you don these sleek and sophisticated aviators.
While their shape is a classic teardrop, these trendy sunglasses feature a unique angular twist at the corners of the frames, a subtle detail that adds to their effortless allure. Nose pads offer optimum comfort while AGX lenses reduce eye fatigue.
These Randolph ThadenSunglasses have the perfect proportion for anyone who finds standard sunglasses too clunky and overpowering.
Best for: Polished prettiness for women with petite faces. 
Frame material: 23k gold, 22k satin chocolate gold
Protection: 100% UVA/UVB protection
Polarised: Yes
Chimi: Best dark sunglasses for women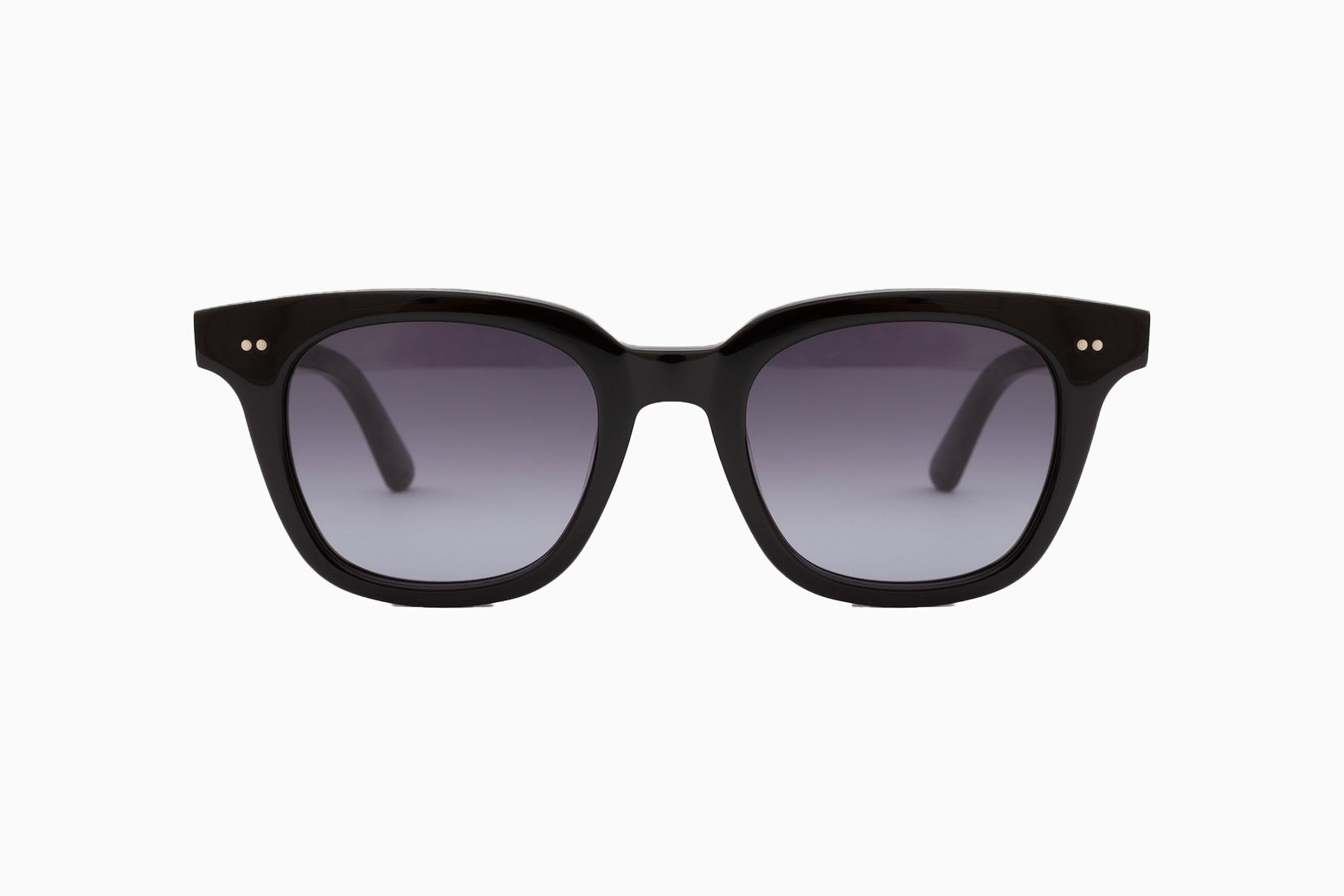 Colourful sunglasses may catch people's eye but if you prefer your vibe to be a bit more enigmatic and inscrutable, you need a pair of dark shades like these ones by Chimi.
The aptly named 101s are the perfect every day, all-day wear. That's not to say these Chimi sunglasses are basic. The Swedish brand is known for its laidback and selfie-optimised sunglasses styles and these ones are no different. We'd bet money that your friends are going to want a pair too.
With their modest frames that manage to be both square and round at the same time, the 101s are incredibly complementary on nearly all face shapes and offer a pared-back geek-chic aesthetic that we really dig.
These Chimi sunglasses have been handcrafted from black acetate and feature gradient black lenses with UV400 Protection as well as ultra-durable hinges that can withstand wear and tear.
Best for: Understated elegance with enhanced durability. 
Frame material: Acetate
Protection:  100% UV (400) Protection, Lens category 3
Polarised: No
TheraSpecs: Best sunglasses for sensitive eyes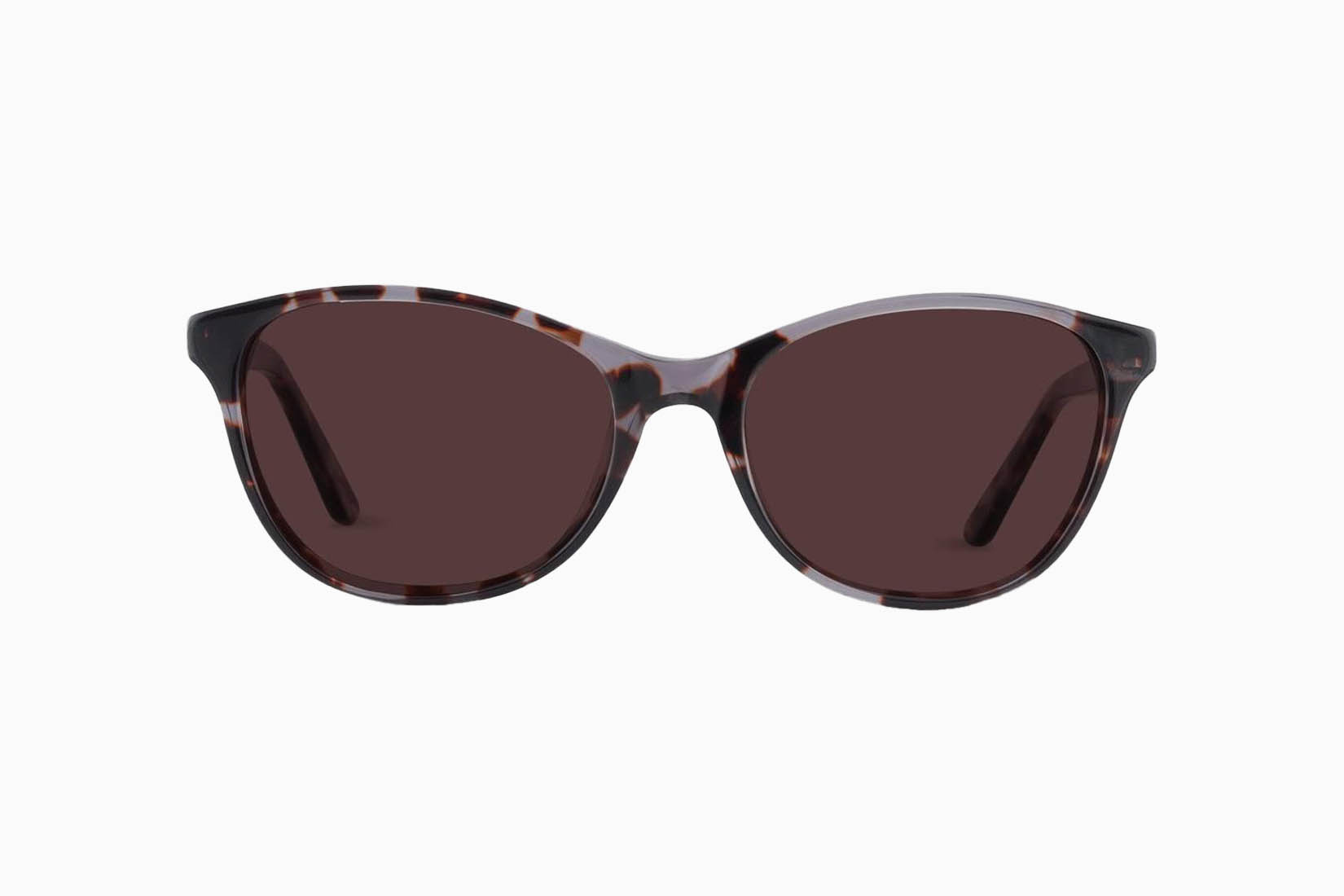 Designed for those with light sensitivity, photophobia, or who struggle with fluorescent lights, TheraSpecs lenses are precision-tinted. This means they block out blue light, which is thought to be the trigger for migraines in some people, as well as worsening the symptoms of post-concussion syndrome, brain injury, and other conditions.
These sunglasses are also polarized, minimising glare, making your vision sharper and clearer, reducing eye fatigue, and increasing comfort. Unsurprisingly, they're also 100% UVA/UVB blocking so you can wear them in even the brightest midday sun.
And TheraSpecs hasn't compromised on the cool-factor either. The elegant tortoiseshell frame features a very subtle cat-eye flick in the corners. All that at a price that's more than reasonable.
Best for: High-performing protective shades that also look pretty cool. 
Frame material: Acetate
Protection: 100% UV protection
Polarised: Yes
Buyers guide: how to choose a pair of women's sunglasses
When choosing a pair of women's sunglasses, there are a number of things to consider. First up, you want to know what style is best for your particular face shape.
Different shades for different face shapes
To determine the shape of your face, have a look in the mirror. Round faces are soft and curved with a narrow forehead, jaw, and chin. Square faces are symmetrical, wider than they are long, with broad foreheads and a pronounced jawline. Oval faces are longer than they are wide with a narrow forehead and jaw. If you have a broad forehead, high cheekbones, and your face tapers to a pointy chin or small jaw, you have a heart-shaped face.
Here are the best styles for your face shape:
Square faces – look for round sunglasses to soften your strong jaw and angles. Cat-eye sunglasses could also be a good option.
Round faces – look for square or rectangular frames to create more definition. Butterfly-shaped sunglasses are a great choice too.
Heart-shaped faces – cat-eye frames are ideal for you, as are aviators, both of which will soften your chin without accentuating your forehead.
Oval faces – most sunglasses will suit you. Opt for square frames if you want to highlight your angles and contours or round frames to soften. Avoid frames that are wider than the widest part of your face.
Sunglasses features
After you've decided on the best style for you, consider the other sunglasses features:
Polarisation – polarised lenses will reduce the glare of horizontal surfaces such as the road, water, or snow, reducing eye strain and helping you to see better.
UV protection – look for sunglasses with 100% or UV400 protection, which is the highest level of UV protection.
Nose pads – some sunglasses come with nose pads, offering additional comfort.
Anti-scratch lenses – lenses with an anti-scratch coating are harder and more durable
Material – look for long-lasting materials such as acetate, which is lightweight, hypoallergenic, and strong, or TR90, which is flexible, lightweight, and bends under pressure.
How to know if your sunglasses fit
Here are our top tips to ensure your sunglasses are the right size for your face:
Your sunglasses shouldn't squeeze or pinch anywhere.
Frames should reflect the natural arch of your eyebrows but shouldn't fall above them.
Your eyes should sit directly at the centre of the lens.
Sunglasses that pinch your nose are a no-no. But you don't want them to be too big either, as this can chafe and cause irritation.
Do the arms lie parallel? You don't want any bowing but neither do you want the sunglasses to slope forward.
Do the sunglasses hold your ears properly? Any jiggling as you move your head is an indicator that they're too big.
Your eyelashes shouldn't touch the frame or lens when you blink.
Frequently asked questions about women's sunglasses
What are the most popular women's sunglasses?
The most popular women's sunglasses include aviators, cat-eye shades, oversized sunglasses, as well as any sunglasses with tortoiseshell frames. Popular brands include Randolph, Ray-Ban, and Westward Leaning. 
What type of sunglasses offer the best protection?
Sunglasses that are labelled UV400 offer the best protection, blocking between 99% and 100% of UV light. You should also look for sunglasses with polarized lenses that block glare from horizontal surfaces like water and snow. 
What are the hottest sunglasses for 2021?
The hottest sunglasses for 2021 include mirrored sunglasses, oversized sunglasses, and cat-eye sunglasses. Black D-frames and aviators are a timeless choice. For more inspiration, check out our guide to the best women's sunglasses. 
Which brand of sunglasses is best?
The best brand of sunglasses is Randolph. They make high-quality aviator-style sunglasses that have appeared in movies such as American Made and Oblivion. Another great sunglasses brand is Westward Leaning, a popular choice for celebrities.