There's something exhilarating about towering above your manager. And there's something empowering about looking your male colleague square in the eye. Like red lips and boss blazers, popping on a pair of heels epitomizes power-dressing. Wear pumped-up pumps to an interview—and the job is yours. Style kitten heels to cocktail hour—and you'll have them lining up. Don sultry stilettos on a first date—and the second is a given. So what's their secret?
Like many other sartorial miracle workers, it's not so much about how you look. But rather, how you feel. A good pair of comfortable heels has the uncanny ability to make us feel on top of the world. Perhaps it has something to do with literal elevation. But more likely, it's their fierce feminity.
Heels embrace the feminine stance as something to be revered rather than ignored.
When wearing the perfect heel, we feel that we can do absolutely anything—a position that even years of therapy struggle to achieve. 
It also doesn't hurt that they elongate our legs and tone our calves. Sophisticated. Elegant. And just a little bit badass. So farewell moth-eaten sweats and holey knits. We're stepping out with newfound confidence, as we reach new style heights with our ultimate guide to different types of heels.
Let's walk through the many heel shapes, heel heights, and heel styles.
Heel shapes
Small but significant, heel shapes can make or break your outfit—and your confidence (hint: the ability to walk is key.)
Block heel (aka chunky heels)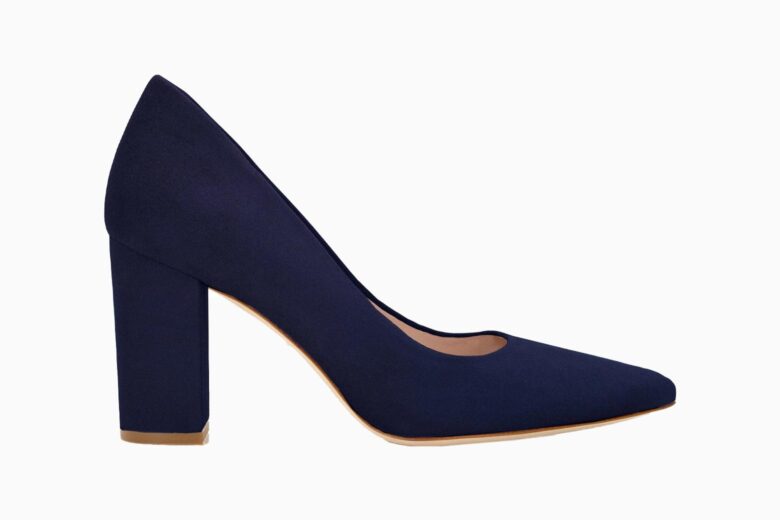 Chunky is in. And when it comes to picking out block heels for women, that means more than appeasing the fashion gods, it means that we can stay on-trend without compromising comfort. Ok, so chunky heels aren't quite as snug as your second-skin slippers, but the thick, square heel does make it easy to walk—even as a heel novice. 
Marrying rebellion with romanticism, block heels are a nod towards the iconic street style and "power dressing" attitude of the 80s. And we're all for it.
Wear it with: A ladies-who-lunch tweed skirt, pearls, and a crossbody. 
Cuban heel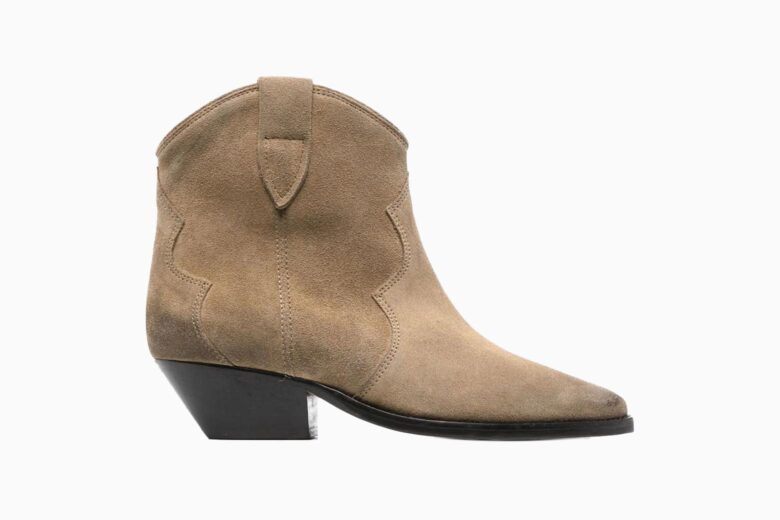 Cuban heels are reminiscent of block heels but a lot lower in height. Short and sweet (to walk in), they rank highly on the scale of comfort and wearability. They're the kind of heels you can wear from one day to the next without bearing the battle scars to prove. And whilst subtle, the marginal height difference can make a huge difference to your posture and overall aesthetic.
Borrowed from the boys, the androgynous sole is typically found on combat, cowboy and Chelsea boots—making them the perfect contrast to your more feminine wardrobe staples.
Wear it with: Maxi skirts and chiffons.
Cone heel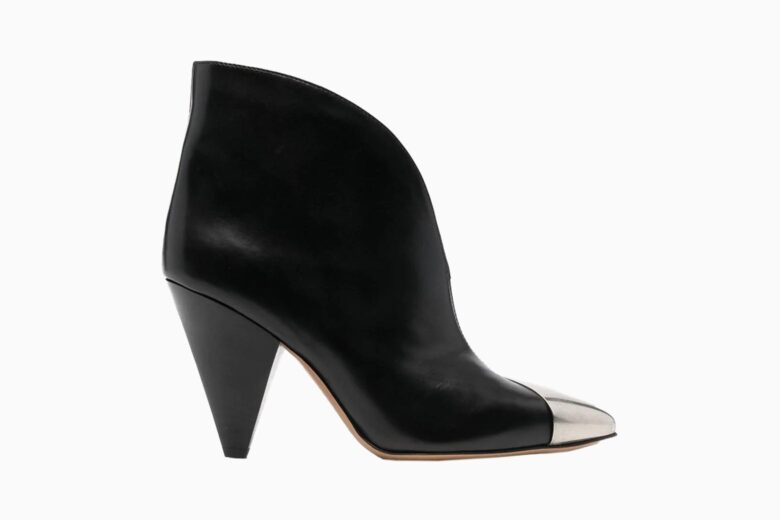 Yep, you guessed it. A cone heel kind of looks like an upside-down ice cream cone. And whilst nobody wants to see their soft serve kissing the pavement, when it comes to shoes, we love the sui generis silhouettes. 
The unique heels are designed with a thick base and taper into a delicate point. Just as sophisticated as a classic stiletto, the cone heel shows off your legs. While the extra support makes them easier to walk in. Although if you're a creature of comfort, we still recommend opting for a slightly shorter pair.
Wear it with: A flowy A-line cocktail dress.
Flared heel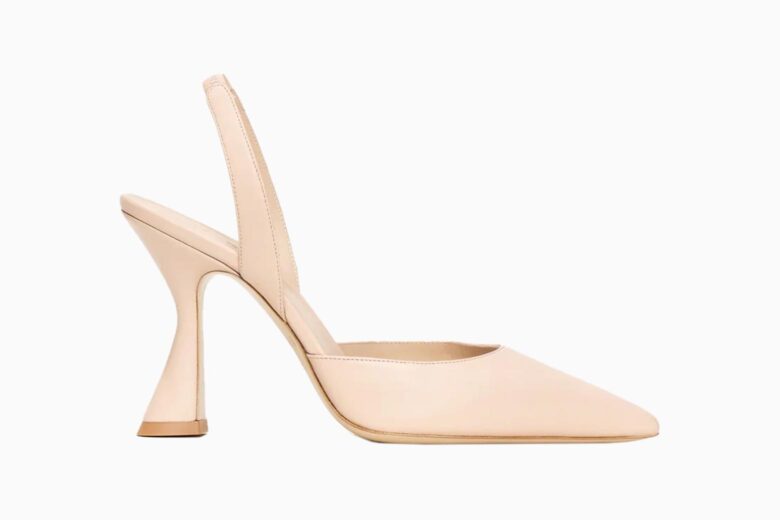 With the resurgence of bell bottom denims and flower-power tees, flared heels are also considered a quintessential wardrobe staple amongst style-icons and it-girls.
Like flared jeans, flared heels are slimmer at the top and gradually widen towards a square bottom. The thick heels are easier to walk in, giving height seekers full reason to reach for the tallest pair on the shelf. And paired with all the Y2K fashion classics, we can't help but give in to vintage nostalgia. Cue the dopamine accessories.
Wear it with: High-waisted pants and tanks.
Decorative heel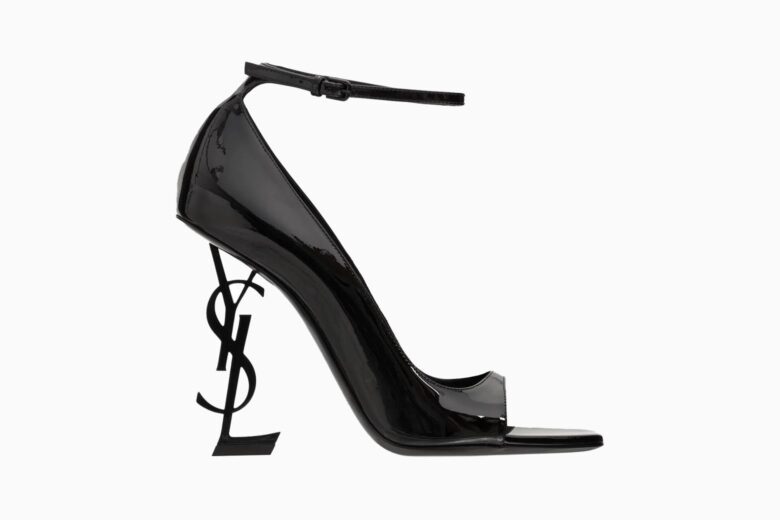 Make a statement with your shoes. Decorative heels aren't designed to be overlooked. They're designed to stand out and add personality to your ensemble. And if you're a modern minimalist that's looking to branch out your style, these unique heels could be a great way to spice up your look, whilst keeping it clean.
From bold shapes to ornate designs, there are no hard and fast rules when it comes to decorative heels. Think: sphere shapes, flower accents, or daring animal prints. Basically, just let your imagination run wild.
Wear it with: Monotone outfits.
Spool heel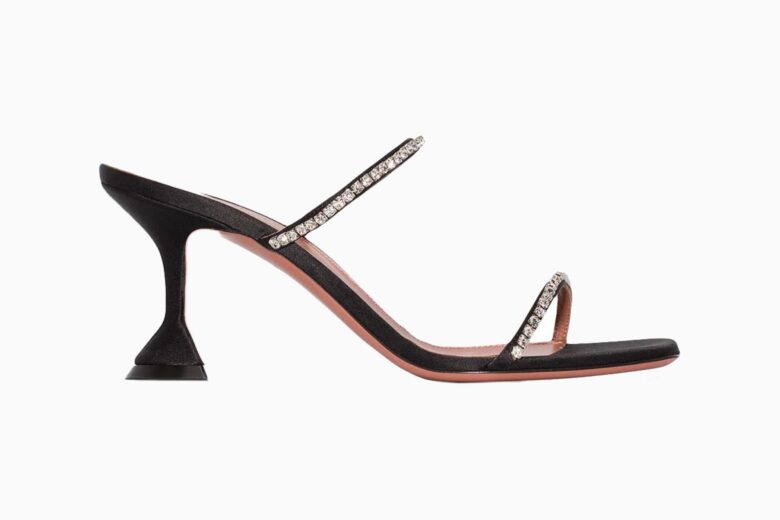 Also called a pompadour heel or Antoinette heel, spool heels are the French heel's slightly more sophisticated older sister. Featuring a wide bottom, thin middle, and curved bottom, both styles are equally chic with a pronounced hourglass figure. But the spool is usually taller and more elegant.
Originating from the European Baroque epoch, its name derives from the spool of an old spinning machine. And whilst spool heels are the perfect finish to any 17th-century-inspired outfit, modern iterations are totally cool and on-trend.
Wear it with: A plaid tweed mini dress.
Stiletto heel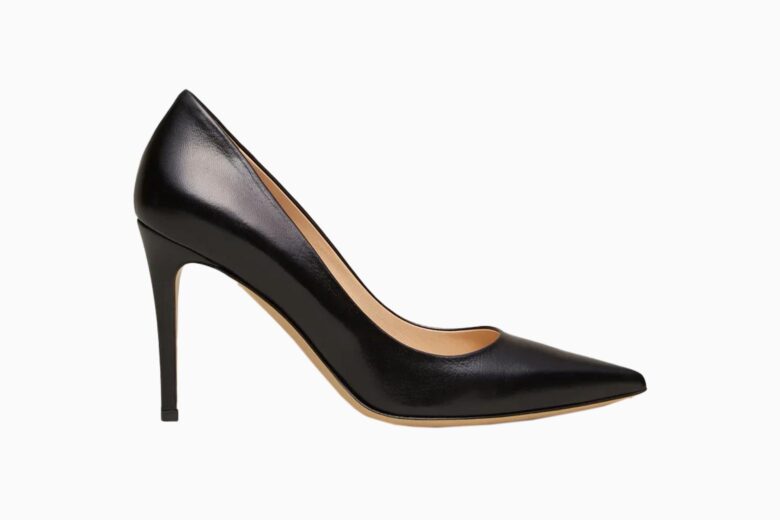 Renowned for their leg-lengthening qualities and highly-coveted silhouettes, stilettos are the most popular high-heel shoes. Named after the stiletto dagger (an Italian knife with a needle-like point), a stiletto is typically a thin, high, pointed heel.
And whilst, walking in the skinny heels requires a bit of practice, once you nail it, very few things are as empowering as the soaring silhouette.
Sky-high and statement-making, we love a sultry lace-up rendition. Cobalt satin hues speak to that iconic Sex in the City moment. And every woman needs at least one pair of leather sandal stilettos in their rotation.
Wear it with: A little black dress, or your boss blazer and matching pantsuits. 
Wedge heel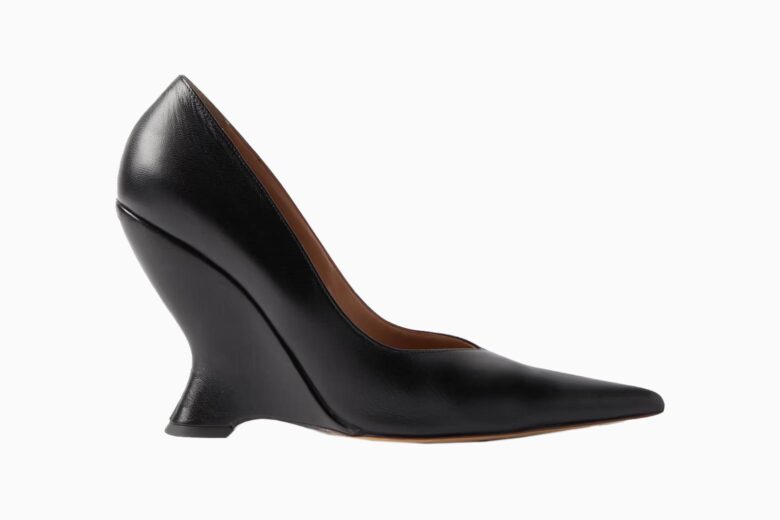 Wedges are shoes that sit on a wedge-like piece that runs solidly from the front or middle to the back of the sole. Marrying convenience with effortless elegance, these casual heels are a masterclass in sophisticated comfort. As some of the most comfortable heels, wedges distribute weight evenly across the foot, making them painless to walk in—even if you're just starting out your heel collection.
Appropriate for most occasions, wedges are the ultimate versatile Summer shoe for women. A sleek black suede iteration looks fantastic in the evening. And Spanish-inspired espadrilles are our go-to for beach weddings—and just about any Summer event that requires a lot of walking on unlevel grounds.
Wear it with: Flowy maxis and exaggerated sun hats.
Comma heel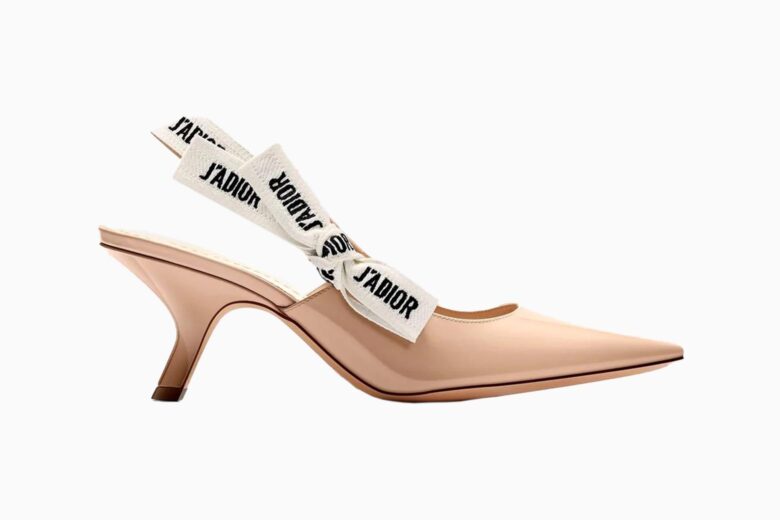 We don't typically compare shoes to grammar—after all, one is usually deemed more fun than the other. But in this case, we think it's appropriate. Called the comma heel for its distinct shape, the curved heel is a nod towards a fashion mark in history.
The comma heel was created by Vivier in 1963. And the inward-bent heel was the French designer's trademark after he ended with Dior and opened his own boutique in Paris. Today we love the unique curve for its uncomfortable asymmetry and the unexpected twist it brings to every outfit.
Wear it with: Chino shorts and a Breton striped shirt.
Heel heights
From cute kittens to skyscraping courts, we're taking our outfits to new heights—literally and metaphorically.
| | | |
| --- | --- | --- |
| Heel Name | Height (inches) | Height (mm) |
| Kitten heel | 1" to 2" | 25.4mm to 50.8mm |
| Low heel | 2" to 3" | 50.8mm to 76.2mm |
| Mid heel | 3" to 4" | 76.2mm to 101.6mm |
| High heel | 4" to 6" | 101.6mm to 152.4mm |
| Very high heel | 6" to 8" | 152.4mm to 203.2mm |
Kitten heel—1 to 2 inches
Contrary to popular belief, kitten heels aren't called that because they're just as cute as our fluffy friends—although that is true. The term kitten heel refers to the shoe's wearability, deeming them the training heel for young women (aka kittens) not yet ready for the complexity that walking in stilettos brings.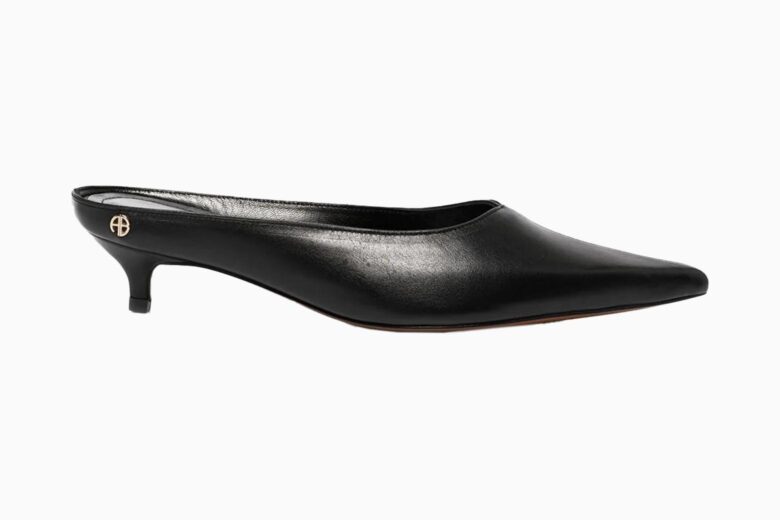 The short heels are distinguished by their low heights and usually range between 1.5 inches to 2 inches tall. They're the perfect choice for on-the-go professionals and metropolitan city-slickers. And as one of the most sought-after and comfortable heel heights, we're spoilt for choice when it comes to styles and silhouettes.
Wear it with: Distressed denims and a white tee. 
Low heel—2 to 3 inches
Slightly taller than a kitten heel but still considered short, 2-inch heels are perfect for those who don't need extra height but still want the elegant, elongated aesthetic. Or, of course, for those who are after a bit of extra height but haven't quite mastered running errands in stilettos. 
Ranging from 2 inches to 3 inches tall, low heels are comfortable enough to wear to the office. And if you opt for a block heel or wedge, we doubt you'll even notice that you're wearing them.
Wear it with: A mid-length pencil skirt and a ruffled blouse.
Mid heel—3 to 4 inches
Mid heels offer a bit more height without veering into teetering territory—a significant point if you're new to wearing heels. Ranging from 3-inch to 4-inch heels, the height doesn't put too much pressure on the balls of your feet, making mid-heels appropriate for longer soirees.
This heel height hits the elusive sweet spot between sophistication and comfort. And whilst you may not want to run around in 4-inch heels, most women can spend a couple of hours on foot comfortably. Hint: they're our go-to for garden weddings.
Wear it with: Your wedding guest sultry slip. 
High heel—4 to 6 inches
Often, we use the term "high heel" to refer to heels in general. But to be more specific, high heels range between 4-inch heels and 8-inch heels. Naturally, they're renowned for their ability to transform our legs into supermodel look-alikes, but they're less known for comfortability and wearability.
We typically reserve our stiletto high-heel pumps for formal affairs that don't require a lot of walking. But with many types of high heels to choose from, it's not hard to find a soaring pair that are more comfortable—like block heels and wedges.
Wear it with: Scintillating sequins and floor-sweeping silks.
Very high heel—6 to 8 inches
When it comes to very high heels, the sky's your limit. And while we recommend utilizing your passage as a personal runway before strutting out in public in 8-inch heels, there's nothing more empowering than a very high heel.
As the pinnacle of high-end fashion, very high heels prioritize confidence over comfort. So if you're going for the dramatic boost, we suggest getting a pair that you're likely to show off with a leg-baring ensemble. Think: dopamine-dressing flared heels, and Y2K bedazzled platforms. 
Wear it with: A mini or midi—something that shows them off.
Heel styles
Cute court pumps and sultry slingbacks: find a pair to match your mood.
Pumps (aka court shoes)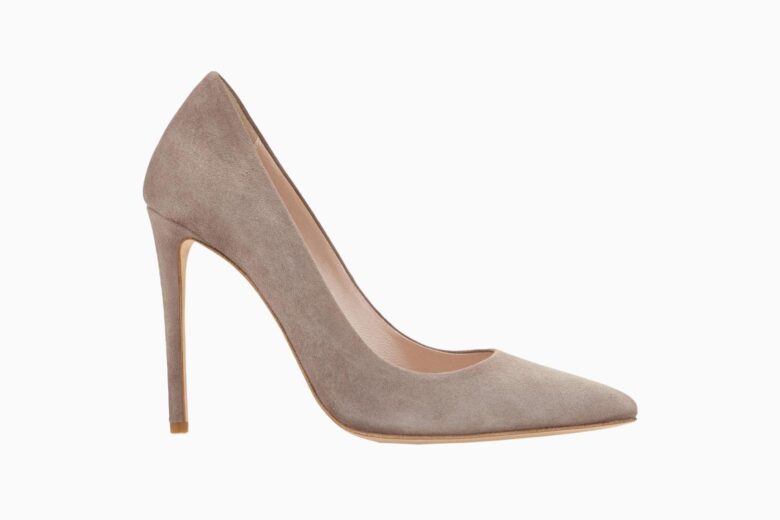 First worn in the royal courts centuries ago, what we know as pumps are appropriately deemed "court shoes" by the British. They still play a quintessential role in the unofficial uniform for royal women—such as Kate Middleton—earning themselves a reputation for being one of the most elegant and classical closed-toe heels.
High heel pumps are a staple for many. And if you're looking to add heels to your rotation for the first time, we recommend starting out with a timeless, versatile pair in nude or black. Whilst more nuanced versions such as square toes and satin exteriors are a fun way to keep your style fresh.
Wear it with: Navy and white polka dots.
Mary Jane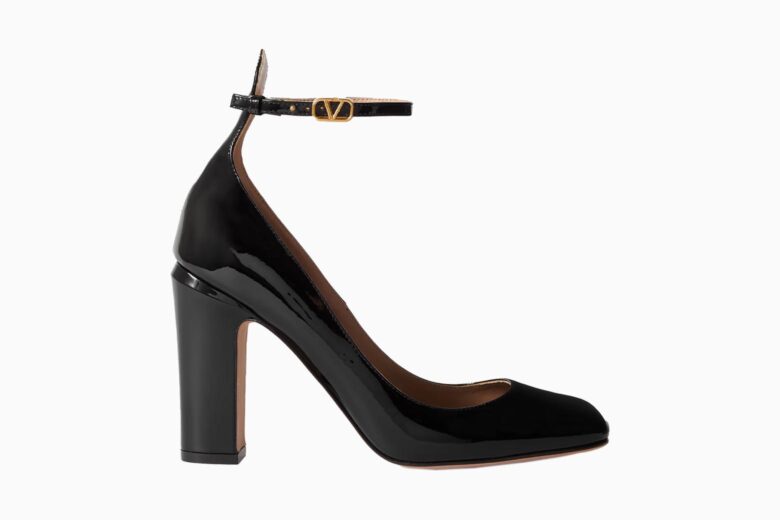 Characterized by their signature buckle strap fastening in the middle of the foot, Mary Janes are cute but elegant. The signature buckle strap fastening draws its inspiration from the iconic all-American shoes for young girls. And in doing so, they allow us to explore childhood nostalgia, but with a newfound sophistication and grace.
Yet another heel popularized by Sex and the City, Carrie Bradshaw hit the mark when she declared Manolo Blahnik's Mary Janes an urban shoe myth. And whilst you may not share quite the same enthusiasm for the charming silhouette, you have to agree that there's something undeniably enticing about them.
Wear it with: A Bradshaw-inspired ballet skirt.
D'Orsay
Revealing a little more foot than most, D'Orsay heels are cut away at the arch, making them one of the most flattering styles for women with wider feet. And whilst the style was actually designed upon the request of a French Count with wide feet in 1938, today they're more of a style statement than anything else.
It isn't considered a prerequisite, but most D'Orsay heels feature a pointed toe. Some have ankle straps, and some don't. But when it comes to D'Orsay—the key is in the prominent deep side cutout.
Wear it with: Skinny jeans and an oversized blazer.
Slingback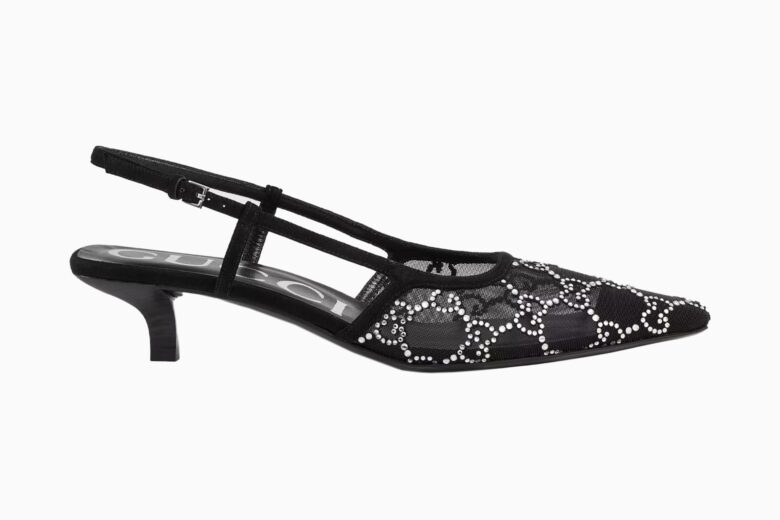 A scandalous shoe in the 1930s, slingbacks were considered controversial for revealing such a large portion of a woman's ankle. Of course, this is no longer the case, but we still love that the unassuming silhouette played a significant role in liberating women from society's stifling expectations.
Slingbacks are characterized by delicate straps around the heel, making them more supportive than most. They're also renowned for their uncanny ability to make any outfit seem instantly polished—be it short skirts or casual denims. 
Wear it with: Rebelliously short skirts.
Ankle strap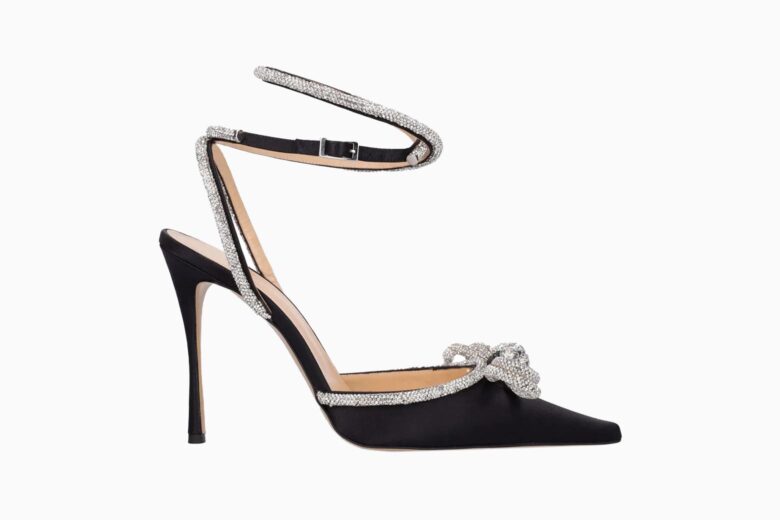 Some are subtle. And some are more pronounced. Either way, the ankle strap plays double duty as both a stylish and practical detail.
Ranging from cute bow ties to sultry corset closures to classical buckle straps, these women's heels run the gamut in style and personality. They're decidedly chic with cropped pants and calf-grazing silhouettes. And with versatile wearability, they lend themselves to both daytime and nighttime looks.
Wear it with: Calf-grazing bodycon dresses.
Peep toe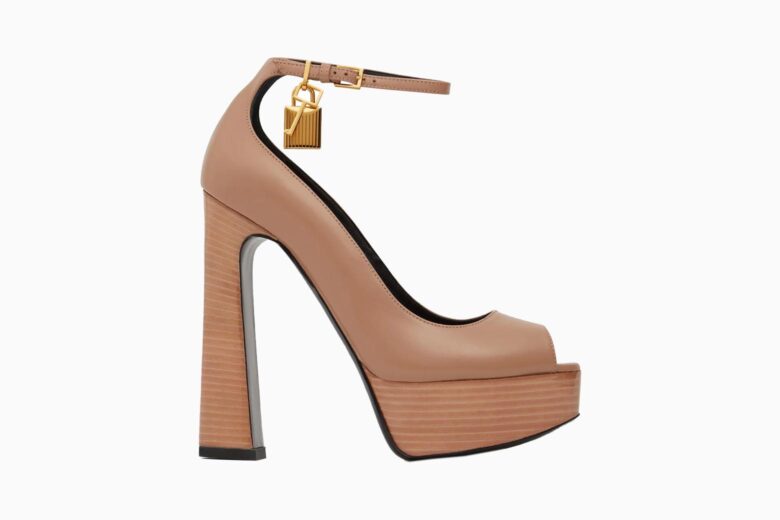 And, breathe! Spending a day in high heels is tough enough for many. But add a humid Summer climate and stifling leather closed-toe into the mix, and it's unbearable for most. Enter: peep toe heels.
Peep-toe heels provide our feet with extra breathing room and just enough fresh air, whilst maintaining an elevated elegance. Looking for the perfect addition to your evening gown? Add a bit of pizzazz with a beautifully bedazzled pair.
Wear it with: Satin gowns and pinned-up hair.
Platform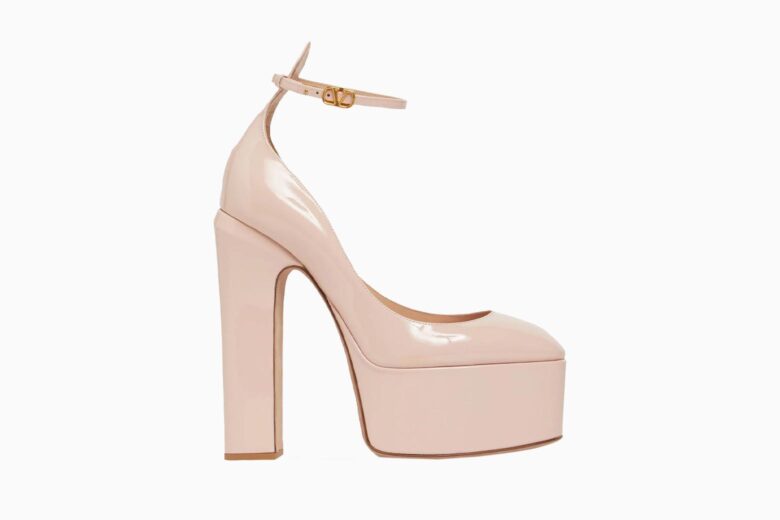 Platform heels may seem intimidating at first. But when it comes to maximizing height and minimizing the teeter, no shoe has your back quite like these heels.
When it comes to picking your platform, the bigger, the better. The bigger the platform, the shorter the heel will feel. This makes platform heels more supportive and easier to walk in. But the coveted silhouette is also a cult-favorite for its dramatic aesthetic and striking style.
Wear it with: Exotic prints, matching sets, and quirky headscarves. 
Corset heel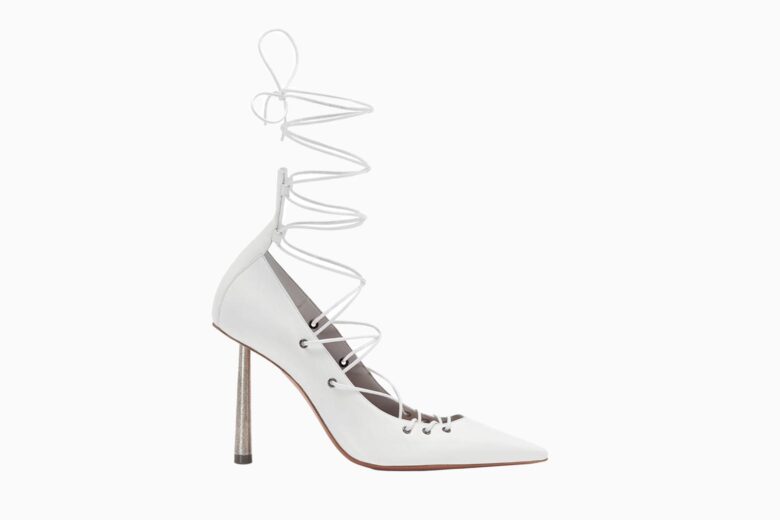 Corsets may be out, but corset heels certainly aren't. An ode to the constrictive garments—and just how far we've come with women's fashion—these sexy heels are the perfect way to spice up your outfit.
Featuring the signature corset lace up at the front, corset heels range from decidedly defiant to dainty and delicate. Looking for trouble? You can't go wrong with a traditional black patent leather pair. Whilst lacy fabrics and sequined straps marry the two worlds with elegance and sophistication.
Wear it with: Black on black on black.
Espadrille heel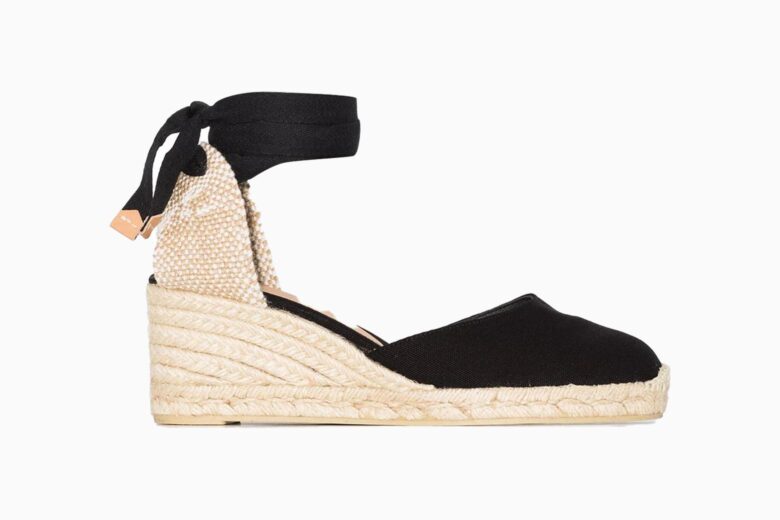 Weaving an effortless elegance into more relaxed ensembles, espadrille heels tie the knot between casual and polished. Originating from the traditional Spanish sandal, they're designed to tackle the heat with canvas and cotton materials. While the signature wedge sole made from woven esparto rope makes walking a breeze.
We love that you can maintain a carefree aesthetic whilst still elevating your look. And if we only had to pack one pair of shoes for our next Mediterranean vacation, these would be it for sure.
Wear it with: A white summer dress.
Mule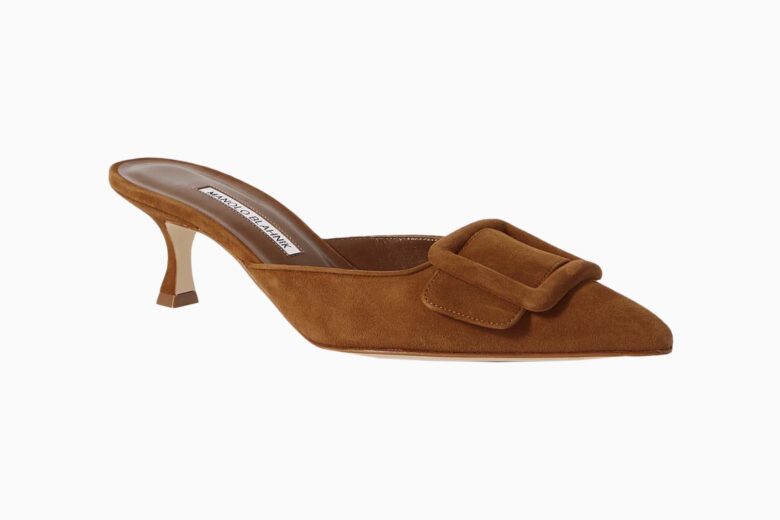 Cool but classy, mules are distinguished by their slip-on style open back. And whilst they traditionally feature a closed toe, peep toes are also not uncommon. They're kind of like a slide, but with a bit more coverage.
According to our Instagram feeds, mules are clearly having a moment. But the seamless style actually dates back to Ancient Rome, followed by the clog and Gucci's iconic loafer iteration. Today, the timeless silhouette comes in all shapes and sizes—from bright quilted leather kitten heels to neutral suede block heels.
Wear it with: Rolled up mom jeans.
Heeled slide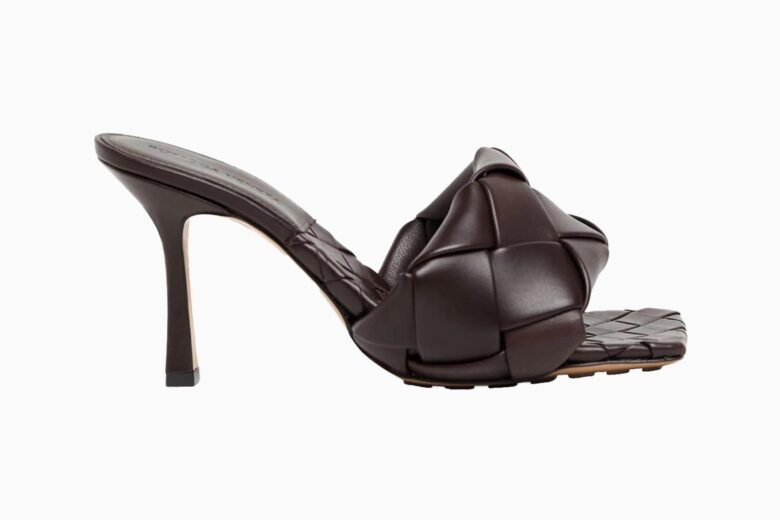 Ok, this is getting technical. Slides and mules: they both have open backs, so what's the difference? We'll admit, it's subtle. You could call mules a type of slide. But typically, mules have a closed toe or peep toe, while slides are usually completely open-toed with just a single strap for support.
Unlike mules, most heeled slides are considered sandals, making them the perfect choice for more casual occasions in sweltering climates.
Wear it with: Dad shorts from the '90s.
Ankle booties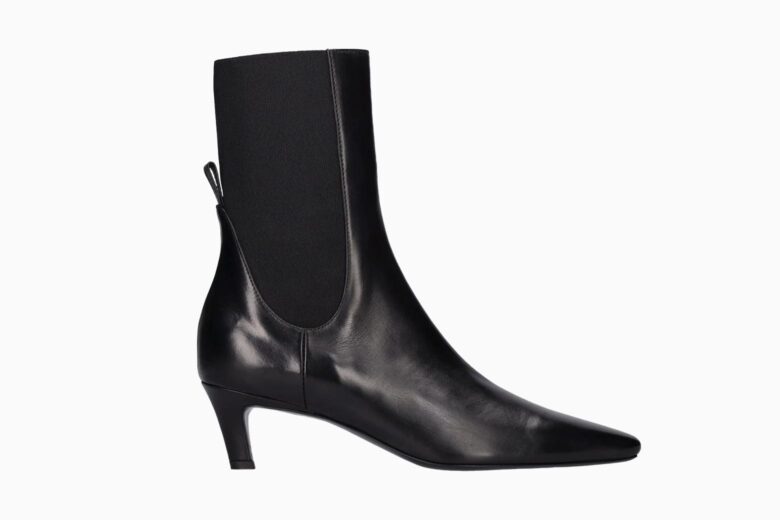 Designer ankle boots are a well-known Fall staple. But add a heel, and you'll have everyone in your wake falling over you.
Leaves turn brown. Fireplaces burn. And whilst there's much to love about the transitional season, it's usually around this time when our wardrobe inspo starts to take a dip. After all, there are only so many ways to wear a single scarf. Our advice: elevate your outfits with a versatile pair of heeled ankle booties. Paired with any coat, they'll immediately lift your fashion out of the trenches.
Wear it with: Your time-honored Burberry trench.
Heeled boots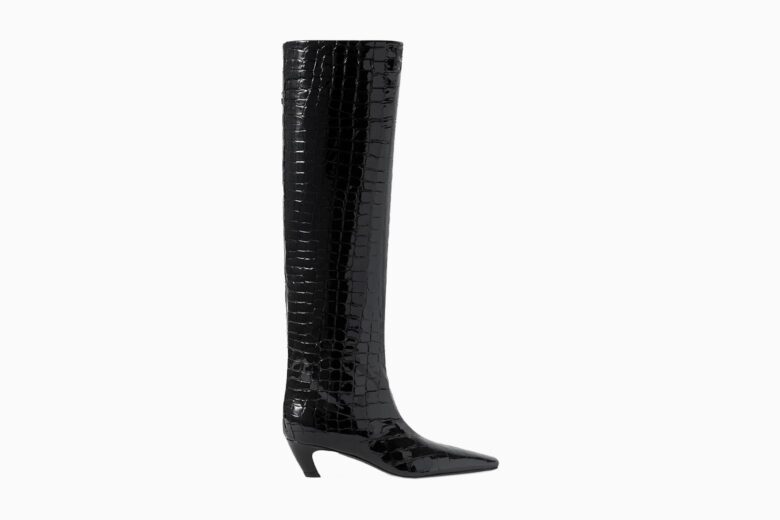 From heeled knee-high silhouettes to heeled chunky Chelseas, these elevated iterations are stylish to boot. Keeping us fashionably warm, heeled boots have the ability to refine oversized knits, polish up shapeless coats and complement elegant cashmere sweaters.
Heeled boots are a no-brainer for on-the-go professionals who prefer the extra height without teetering around the office. See our list of the most comfortable boots for women for some inspiration.
Wear it with: Tights and turtlenecks.
Frequently asked questions about heels for women
Which type of heel is most comfortable?
When it comes to different heel types, some are a lot more comfortable than others. Block heels are thick and square, making them easier to walk in. Wedges distribute your weight throughout the entire sole, making them some of the most comfortable heels. And most kitten heels are short enough to be considered comfortable.
What heel height is elegant?
The key to picking an elegant heel height is whether you can walk comfortably in them. If you're unsure, we recommend opting for a heel between 3 inches to 6 inches. They'll elongate your legs beautifully without you having to watch your every step. See our guide to the different types of heels for more information.
What is the healthiest heel height?
From cute kitten heels to soaring stilettos, there are no hard and fast rules when it comes to picking your heel height. However, heels over 3 inches can put too much pressure on the ball of the foot if you're unused to wearing them, in which case we recommend sticking to heels that are 3 inches or lower. 
How many different types of heels are there?
From varying shapes, heights and styles, there are many different types of heels to choose from. And whilst this is exhilarating for many, it can be daunting for others. In Luxe Digital's ultimate guide to heels for women, we explain the 27 different types of heels and how to best wear them.