In case you didn't get the memo, belt bags have been resolutely wrestled from the hands (or waists) of bumbling tourists and are the style staple every woman needs in her wardrobe. Fanny pack, bum bag, whatever you want to call this practical and streetwise accessory, going hands-free with a cool and convenient waist pack should feature high on all fashion bucket lists.
We can't decide what we love most about fanny packs. Is it the fact that locating our purse/wallet/keys suddenly takes half the time? Or that they don't make us sweat or strain our backs like a backpack or tote bag? Or is it because they just look so effortlessly cool?
The fanny pack is the one fashion come-back we can wholeheartedly get behind. Convertible belt bags, utility belt bags, waterproof belt bags, high-end catwalk-ready belt bags, worn around your waist, across your chest, or over your shoulder—the waist pack has the potential to transform accessorizing. 
So whether you're looking for a cocktail-bar-friendly fanny pack that makes all the necessary fashion statements or you'd rather something sporty that can do double-duty as an outdoor companion on hiking trails, check out our rundown of the top women's fanny packs.
We've included everything from designer fanny packs that have won the approval of the world's most influential trendsetters to budget-friendly waist bags that won't eat up your savings. We've even thrown a clutch belt bag into the mix too.
The 13 best belt bags for women
Check our special women's belt bags buying guide after the list to see exactly what you should pay attention to when shopping for new bags online.
Cuyana: Best overall belt bag for women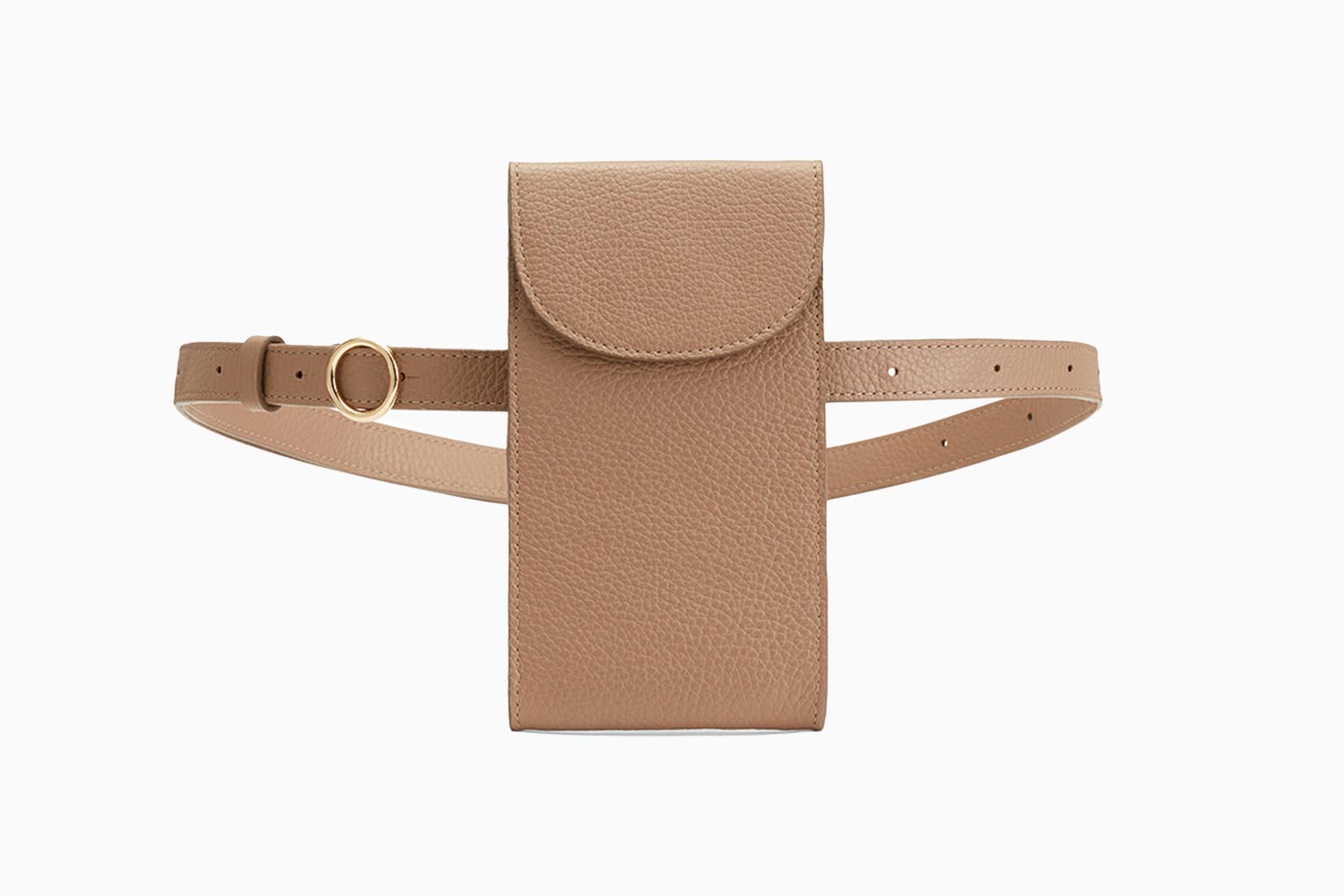 Convertible cars are cool—but what about a convertible belt bag? This belt bag from Cuyana has the option of a circular pouch add-on that you can combine with the main phone compartment for extra storage capacity.
Cuyana's ethos is all about owning fewer, better quality items and with this delightful fanny pack as part of our handbag arsenal, we won't need to splash out on another accessory for a long time.
Perfect for hands-free functionality and made of gorgeous and sustainable Italian leather, this waist bag consists of an adjustable belt with a removable phone pouch complete with a slip pocket for your bank card.
This Cuyana waist pack is large enough to be convenient but not so big that it feels bulky or cumbersome. Wear around your waist or across your body. Either way, you'll be getting tons of compliments.
Best for: Classic meets cool in this super handy convertible carry. 
Colours: A range including cappuccino, rust, and black croc-embossed. 
Gucci: Best luxury women's waist bag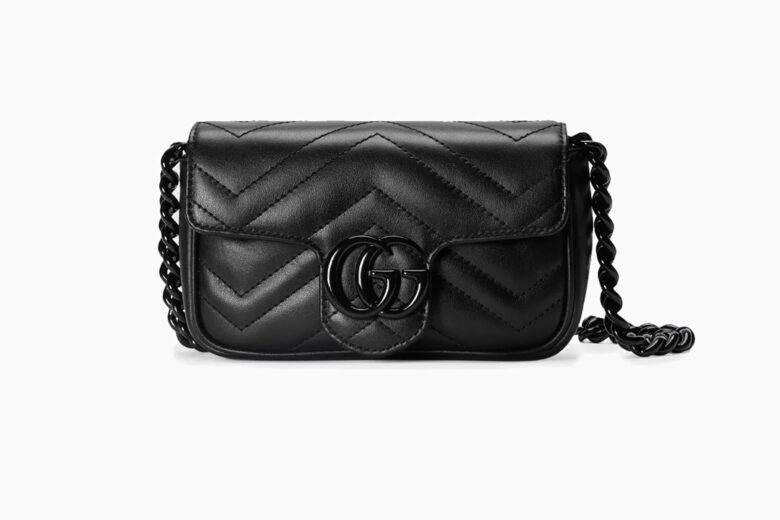 All the big fashion houses have put their unique spin on the standard fanny pack and our favorite has to be this Gucci waist bag. Made from butter-soft leather, this designer fanny pack comes in either black, red, or beige. We love all three but the black is particularly striking and elegant. 
With that oh-so-tactile quilted effect (matelassé, if we're being technical) and eye-catching chevron pattern, the only downside to this hip bag is that people can't help but touch it. Adjust the belt to fit, slip in your essentials (phone, purse, lipstick, etc.), close with the secure zip, and head out for whatever antics you've got planned.
Go hands-free with this Gucci fanny pack. So you can hold two cocktails at once…or whatever.
Best for: The belt bag equivalent of a Bentley. 
Colors: Black, Light Pink, or White.
Herschel: Best value women's bum bag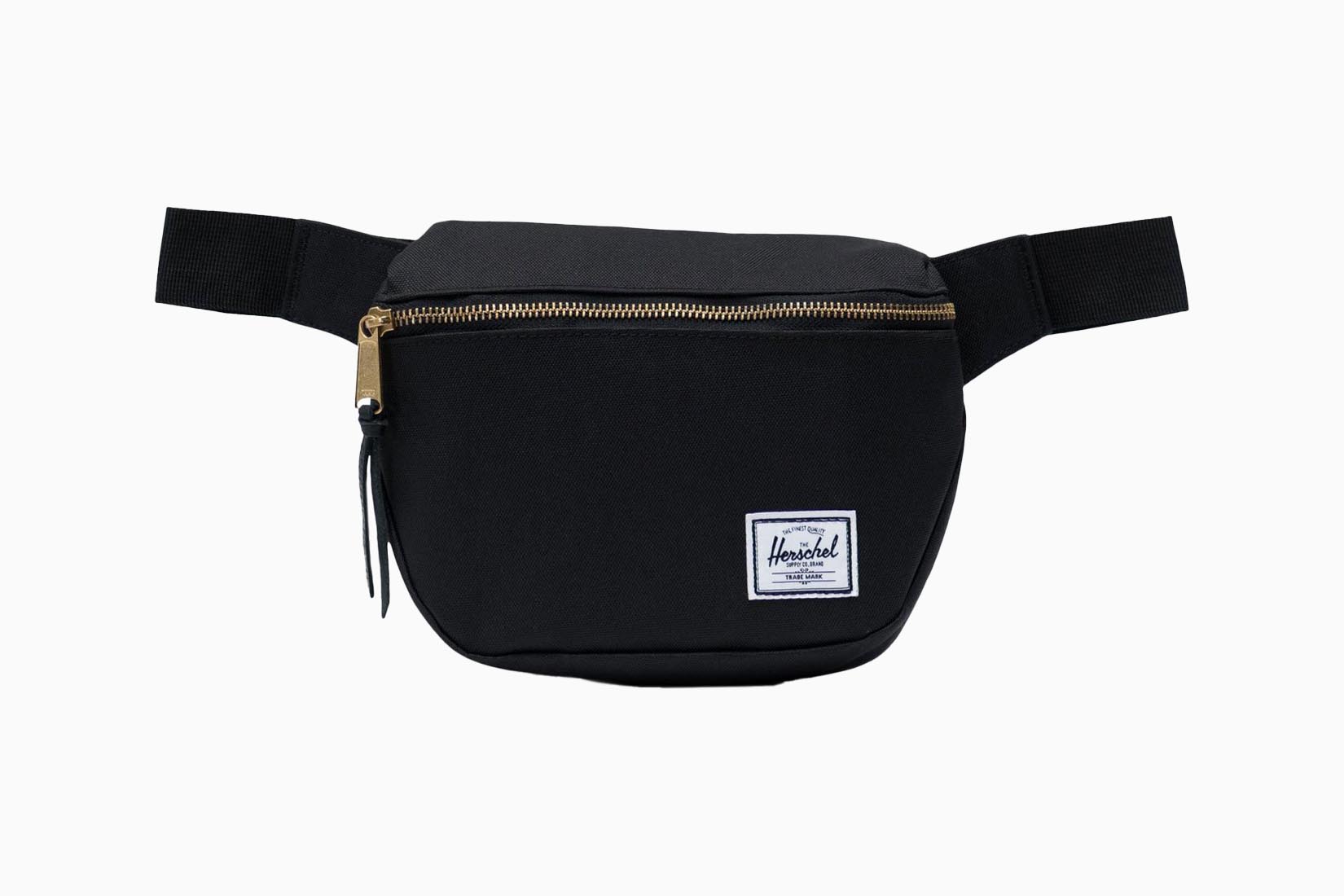 This Herschel fanny pack has so much going for it—from its super affordable price to its versatile shape—that we're tempted to add more than one to our shopping cart right now.
With its compact and practical size, offering enough space for all the basics but preventing you from overpacking, this Herschel hip bag features a single zippered pocket for quick and easy access to essentials.
The webbing strap has a straightforward clip-fastener. Inside, you've got the brand's signature and instantly recognizable striped fabric liner and, on the outside, the classic Herschel logo. 
Wear this Herschel belt bag around your waist or over your shoulder. Both look exceptionally cool and provide plenty of the brand's quintessential retro allure.
Best for: A preppy and practical carry without a hefty price tag. 
Colours: A range including yellow, black, and blue. 
KAAI: Best leather women's belt bag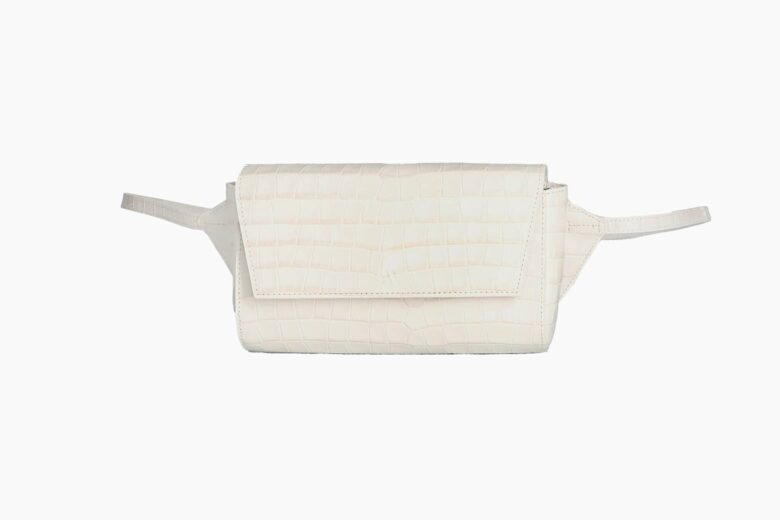 If you want a belt bag that will last you years and actually look better with age, then leather is the way to go, like this one by KAAI.
We love the Croco printed leather with a subtle glossy finish, offering streetwise sophistication. We can imagine this belt bag adding grit and drama to a ladylike outfit such as a floral dress. But it would look equally striking with jeans and a white shirt. 
The minimalistic Ikon belt bag has two inner pockets to safely store away all your necessities. The best part? It's ultra-versatile. We like it best worn across the body where it looks suitably casual and offers easy access to any essentials. But the adjustable straps mean you can also wear it as a belt bag or as a sling bag.
Best for: The glossier, more feminine grown-up sister of the fanny pack. 
Colors: Croco Stone White, Croco Toffee, Stone White + More
Behno: Best women's crossbody belt bag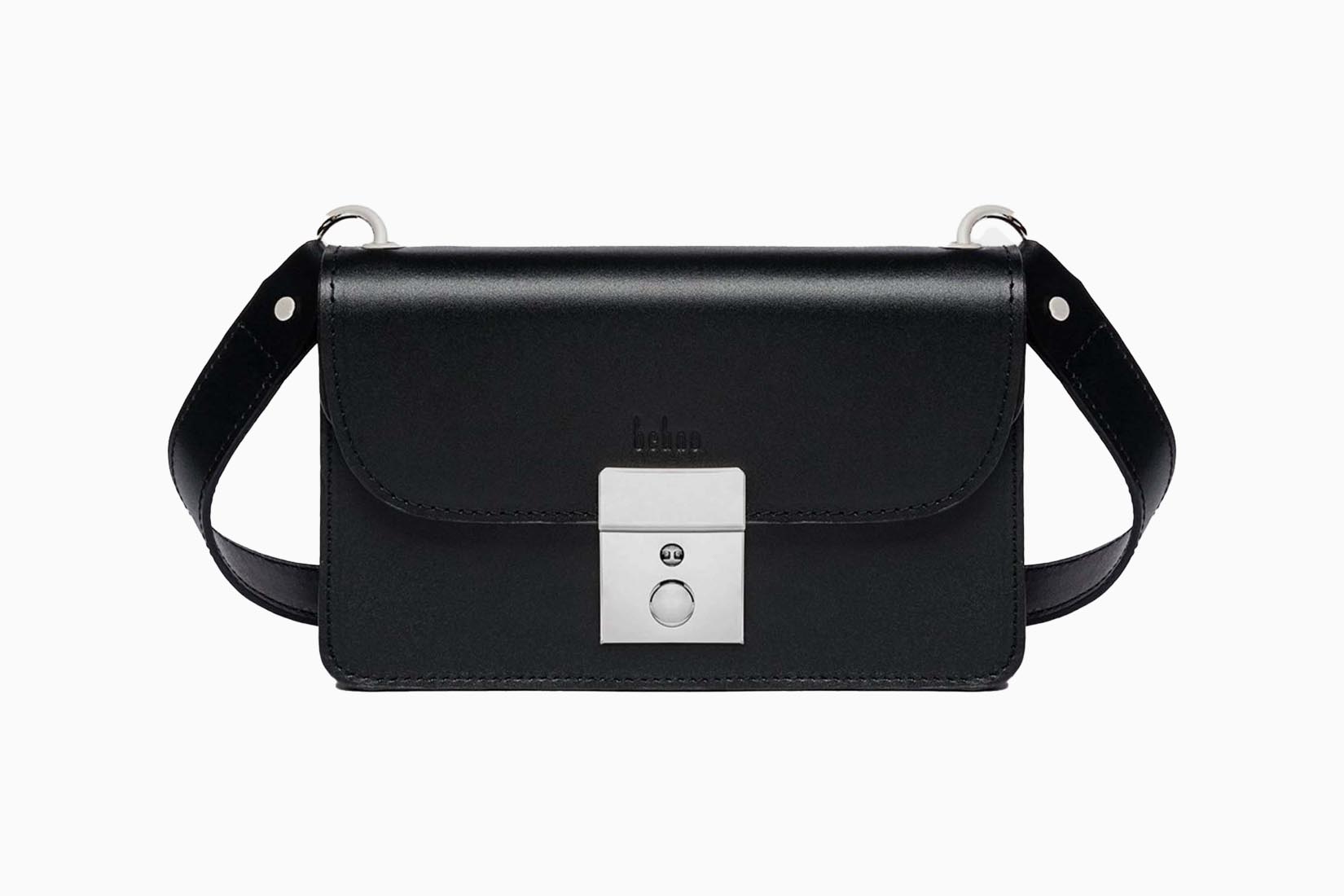 Behno makes enduringly stylish essentials with an eco-conscience. With this fanny pack across your body (or around your waist), you can rest assured that you've made one incredibly ethical purchase.
From the outside, this fanny pack looks unfussy and sophisticated. Inside, it features a nifty accordion design, expanding out to reveal three interior cardholders and a deep interior snap pocket, giving the best women's wallets a serious run for their money.
Made from sleek and supple Italian Nappa leather with a long-lasting cotton twill lining, Behno's crossbody fanny pack comes in a range of earthy and organic colors as well as stealth black and rich navy. 
Best for: An ultra-versatile everyday essential with eco credentials too. 
Colors: A range including blue, black, and red. 
Saint Laurent: Best women's clutch belt bag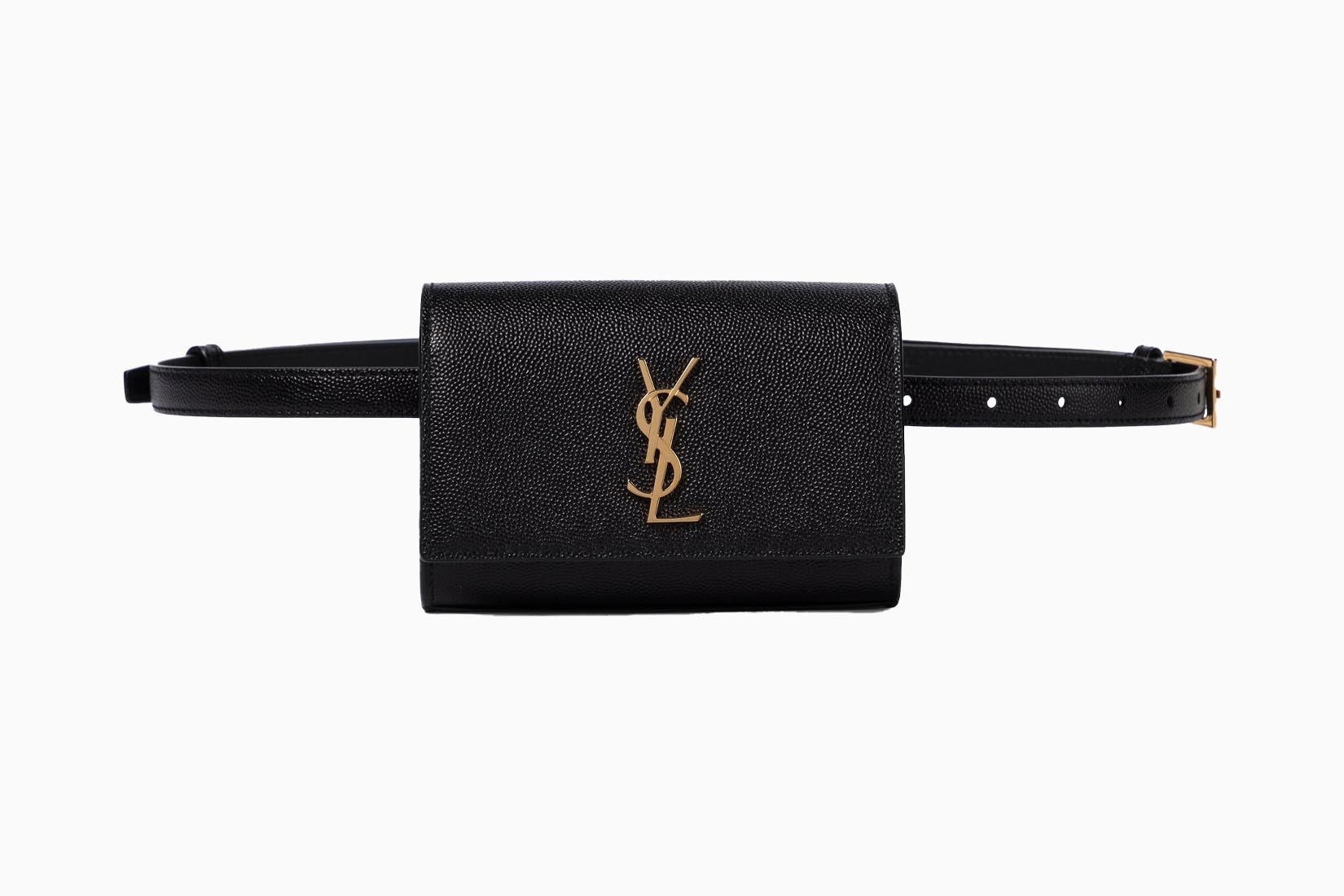 Are you a self-identifying girl about town? A bit of a night owl? Then you need a belt bag that can double as an after-dark-appropriate clutch—like this one by Saint Laurent.
Amp up your evening with this black fanny pack, a great example of Saint Laurent's expert craftsmanship and eye for statement design. Black, as we all know, is timeless. Along with that gleaming gold logo—letting everyone know your elevated taste—this bag is the ultimate evening accessory.
There's an adjustable belt strap so it can fit snugly around your waist. Or remove the strap completely and use this Saint Laurent hip bag as a stylish clutch—alongside your favorite little black dress.
Best for: Bringing mega glam factor to a fashion mainstay. 
Color: Black
Jacquemus: Best small waist bag for women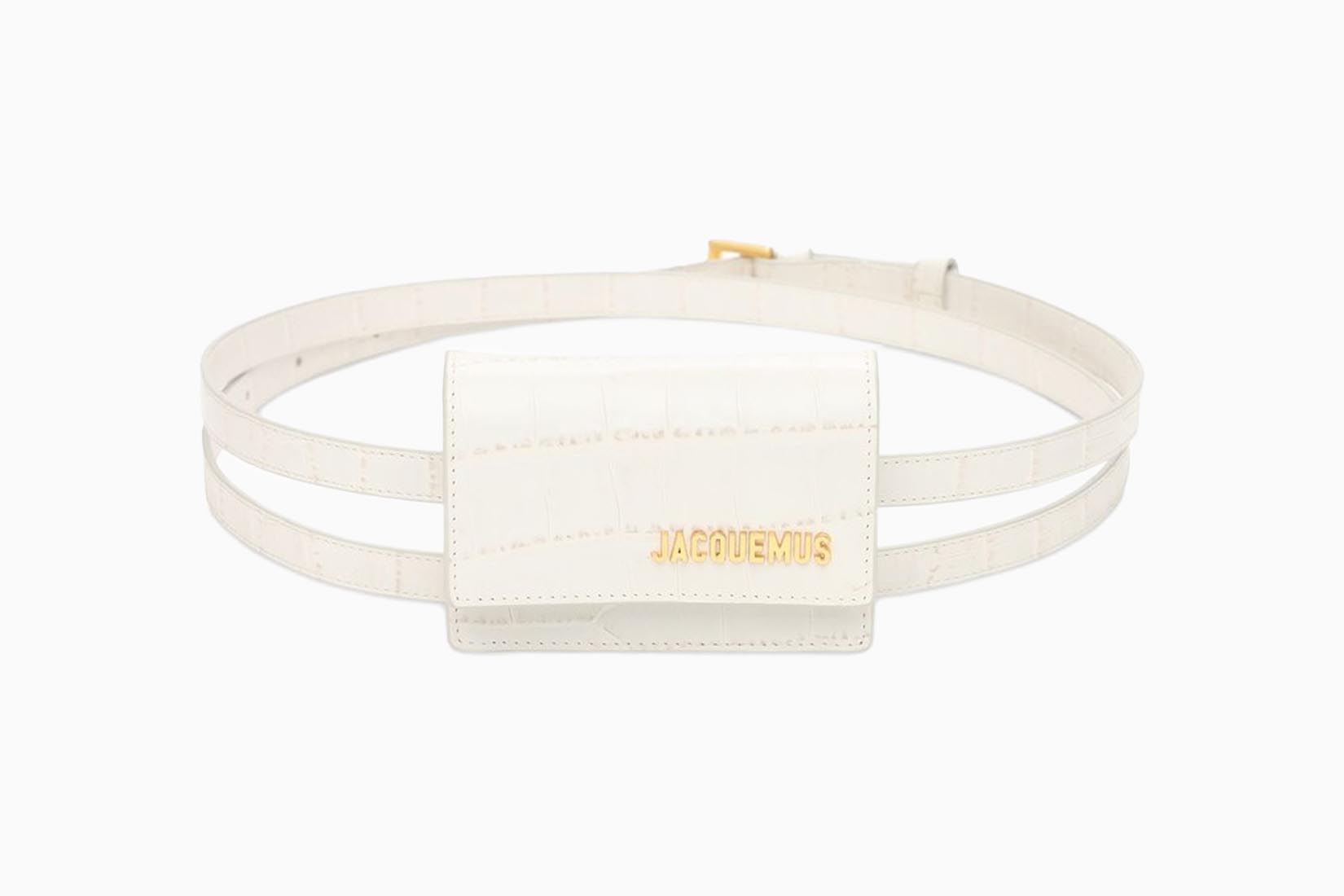 If staying streamlined and clutter-free is your ultimate priority, then you need a mini belt bag like this one by Jaquemus. In a unique shade of off-white, it's sure to become your go-to accessory for balmy summer evenings—perfect for cinching in the waist of a floaty dress, highlighting curves, and adding shape and structure.
The diminutive size of this bum bag works in its favor. It's incredibly cute. And it's still convenient, with an internal slot pocket for your credit card. Made of 100% calf leather, the gold logo detailing looks impeccably refined against the off-white. 
A double belt strap is a cool extra detail that you don't often come across—and yet another reason why this Jacquemus waist bag is the kind of traffic-stopper our wardrobes have been waiting for.
Best for: A pint-sized pouch for all your most precious possessions. 
Color: Off-white 
Fendi: Best utility belt bag for women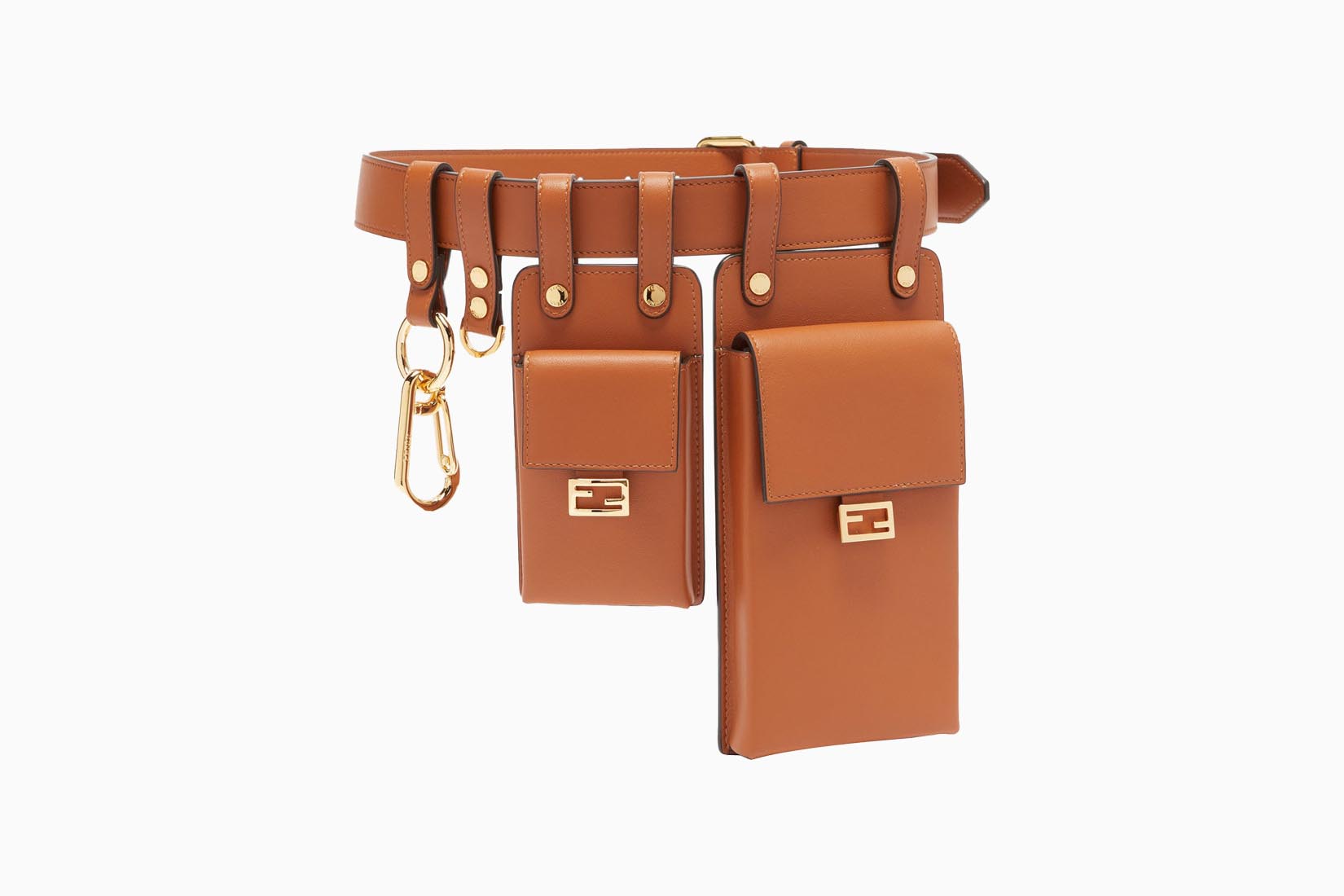 Say goodbye to all preconceptions about utility belts. Fendi has re-imagined the workman staple, turning it into something deserving of a place on the catwalk. This utility belt bag is not only incredibly convenient but a major style statement too.
Crafted in Italy—like all the best leather goods—this hip bag features two pouches for things like cards, coins, or your phone, as well as a D-ring and a carabiner clip where you could hang keys or an ID card. The combination of tan leather and gold FF plaques gives this bag a mega boost in the style stakes.
We love the idea of teaming this Fendi belt bag with a long structured jacket or blazer and a midi-skirt for a totally original take on everyday office attire. Who knew a tool belt could be this on-trend?
Best for: Utilitarian chic for the girl who works hard and plays hard. 
Color: Tan
Veckle: Best waterproof bum bag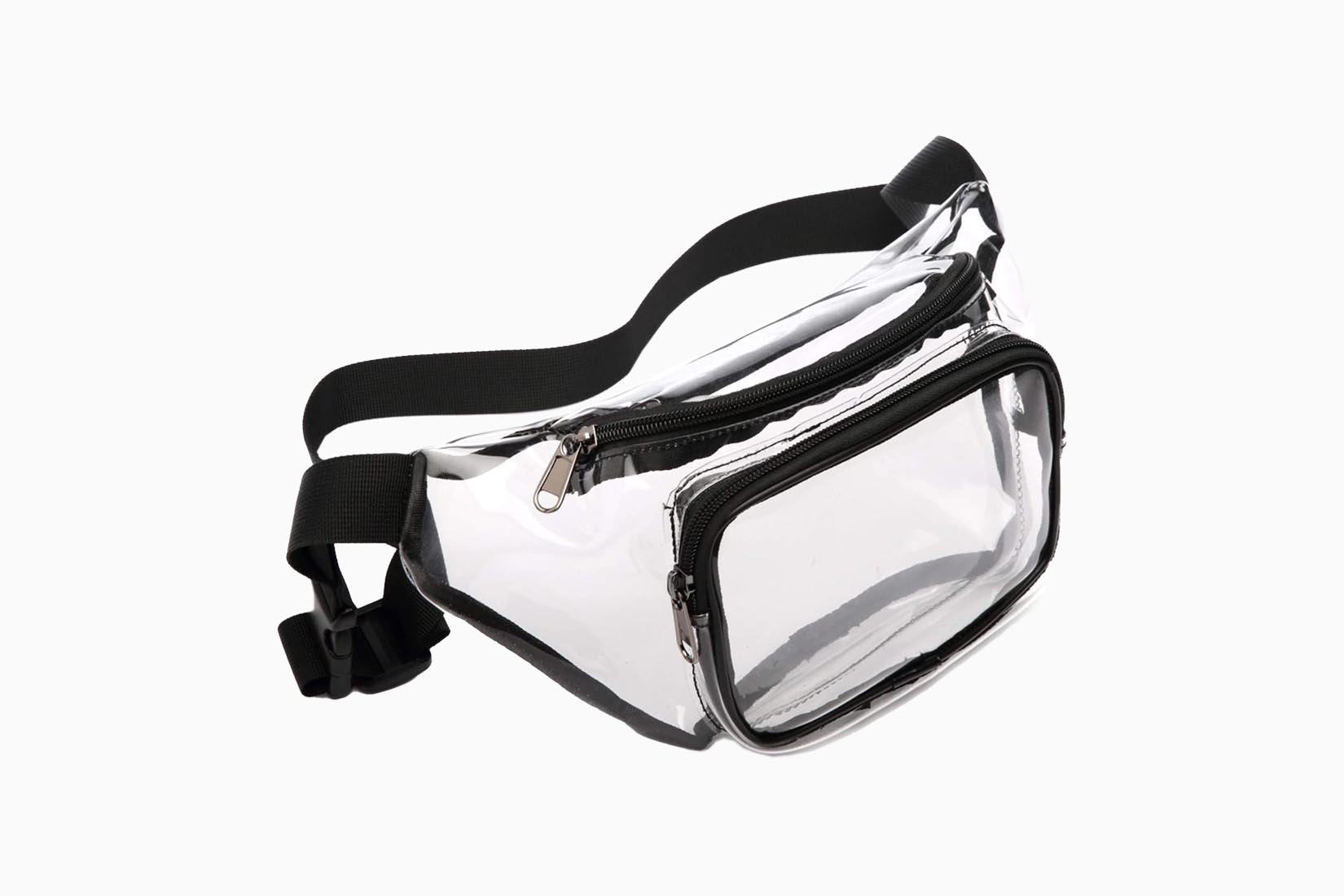 Looking for the ultimate festival carry? Something all-weather appropriate? This waterproof and transparent bum bag from Veckle could be just the ticket.
Don't knock the idea of a waterproof fanny pack until you're standing watching your favourite band and the heavens decide to open. Around you, everyone will be desperately trying to protect their valuables but yours will be safely tucked away inside this waterproof waist pack.
The size of this Veckle fanny pack is specifically designed to meet stadium security requirements. And the fact that it's transparent is just an additional perk. Wondering whether you remembered to pack something? No need to dig around. A quick glance at your bag will suffice to know if it's there or not.
Best for: A storm-resistant fanny pack with radical cutting-edge style. 
Colour: Transparent
Waterfly: Best bum bag for running and hiking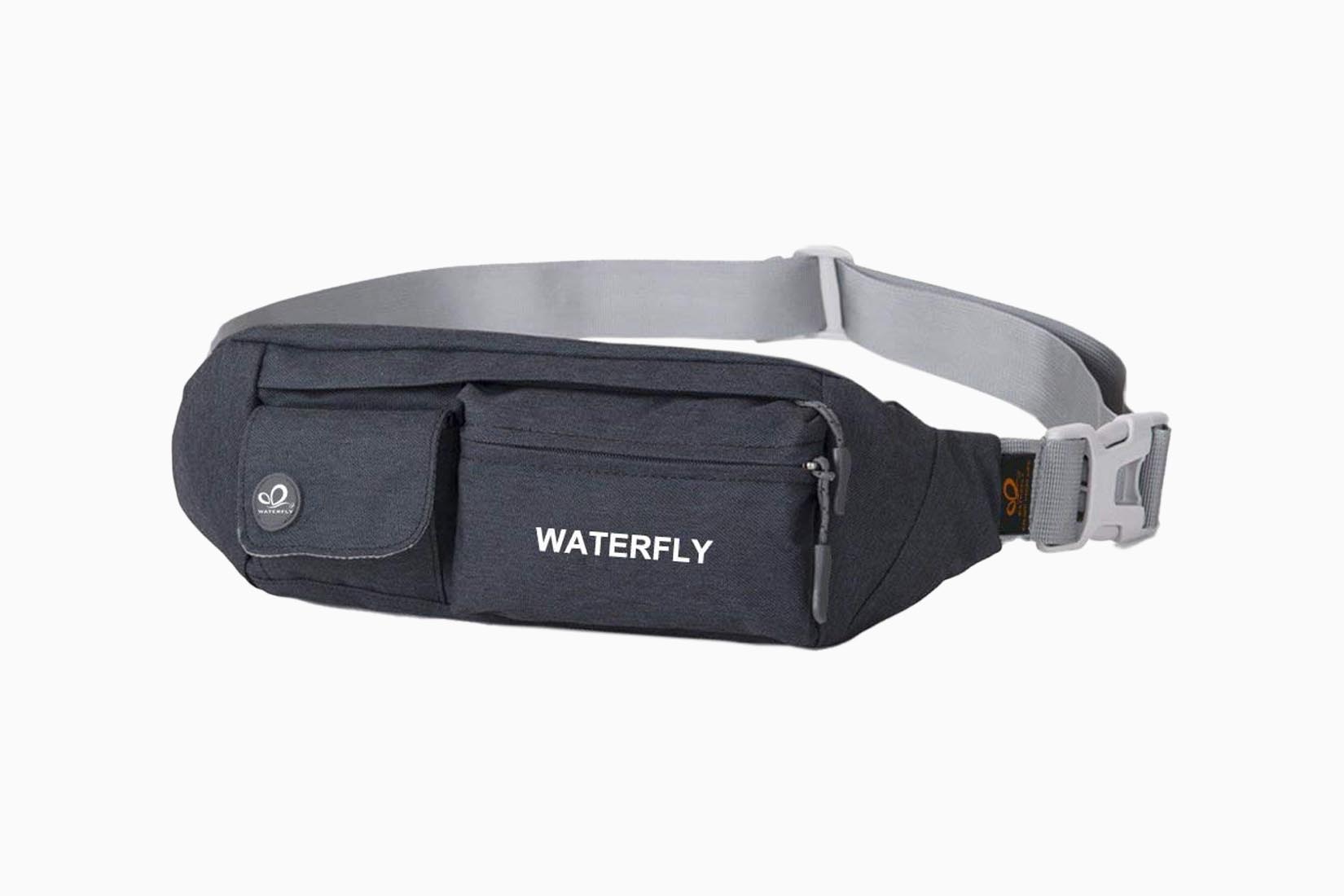 If you're less fussed about fashion appeal and more interested in whether your fanny pack can survive an endurance test, then you need a hip bag that's been specifically designed for running or hiking.
This Waterfly waist pouch is lightweight and incredibly compact so even when it's got a phone, cards, keys, and hand sanitizer inside, you can go for a jog or jump on board your bike and it won't get in the way—whether you wear it on your waist, across your chest, or over your shoulder. There are four different pockets, including a hidden anti-theft pocket at the back.
Being both water and sweat-resistant, this Waterfly belt bag will keep your valuables snug and dry while you're out enjoying nature. And with almost endless color and pattern combinations, you can choose one that matches your athleisure attire too.  
Best for: An exercise-optimised belt bag for adventurers and adrenaline-chasers. 
Colours: A range including black, orange, and patterned. 
Ganni: Best women's waist bag for traveling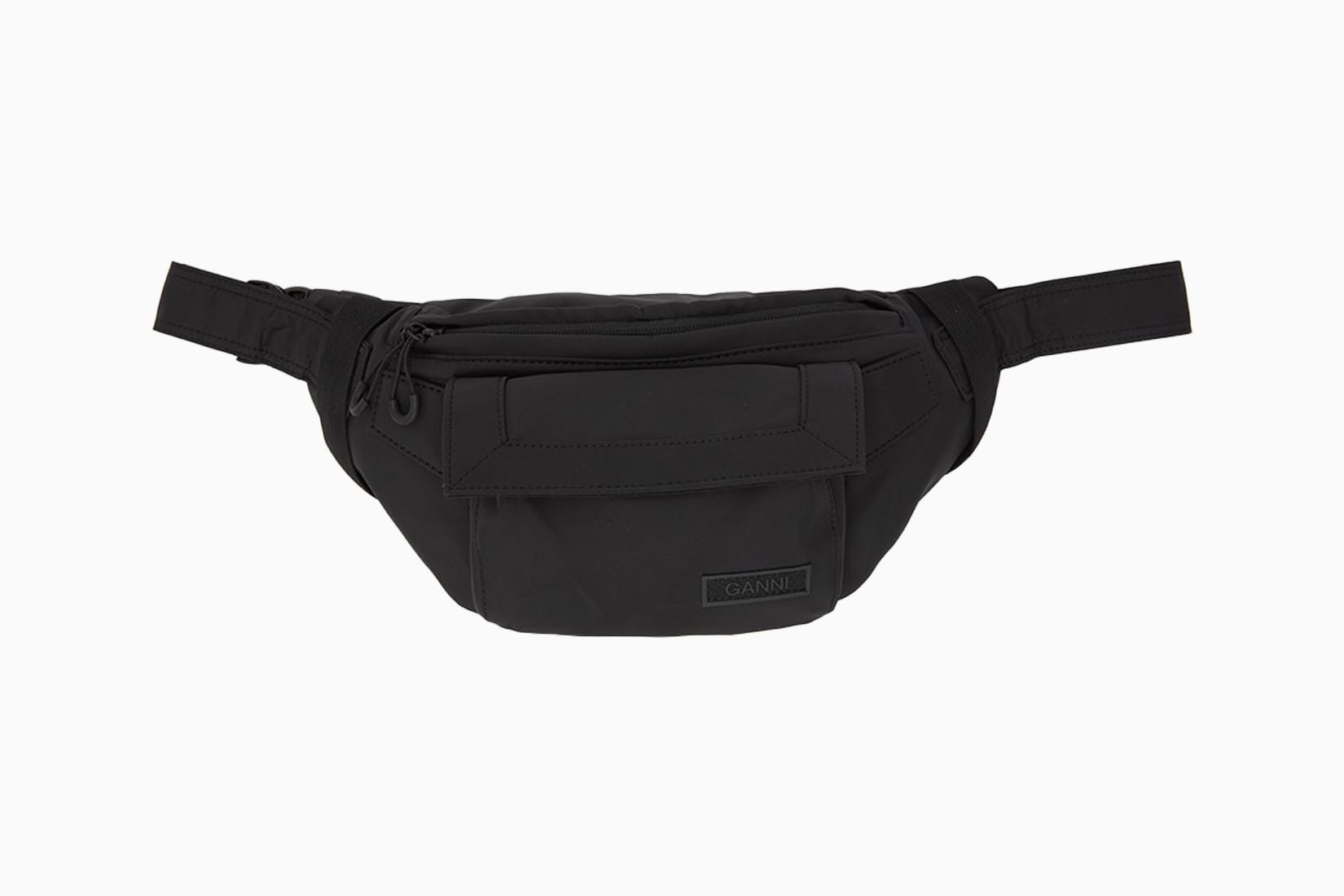 This Ganni fanny pack is not only made from recycled materials but, with its multiple pockets and inconspicuous design, it's also ideal for travelers. 
Whether you're on a city break or exploring tropical jungles far from the beaten path, going hands-free is always a perk. This Ganni bum bag is ideal, with its adjustable waist belt for a comfortable fit. Far less obvious than a handbag or rucksack, and available in stealthy black, it flies under the radar and won't attract unwanted attention.
You've got a zippered pocket at the front for easy access to essentials and one at the back for valuables. The fact that it's made of recycled polyester is another reason why we love affordable luxury brand Ganni with its eco-friendly initiatives.
If you're afflicted with a major case of wanderlust and already planning your next trip, this Ganni bum bag should be your number one companion—along with your favorite sunnies, of course.
Best for: An eco-friendly and practical pouch for globetrotters and jet setters.  
Colour: Black
UTO: Best budget belt bag for women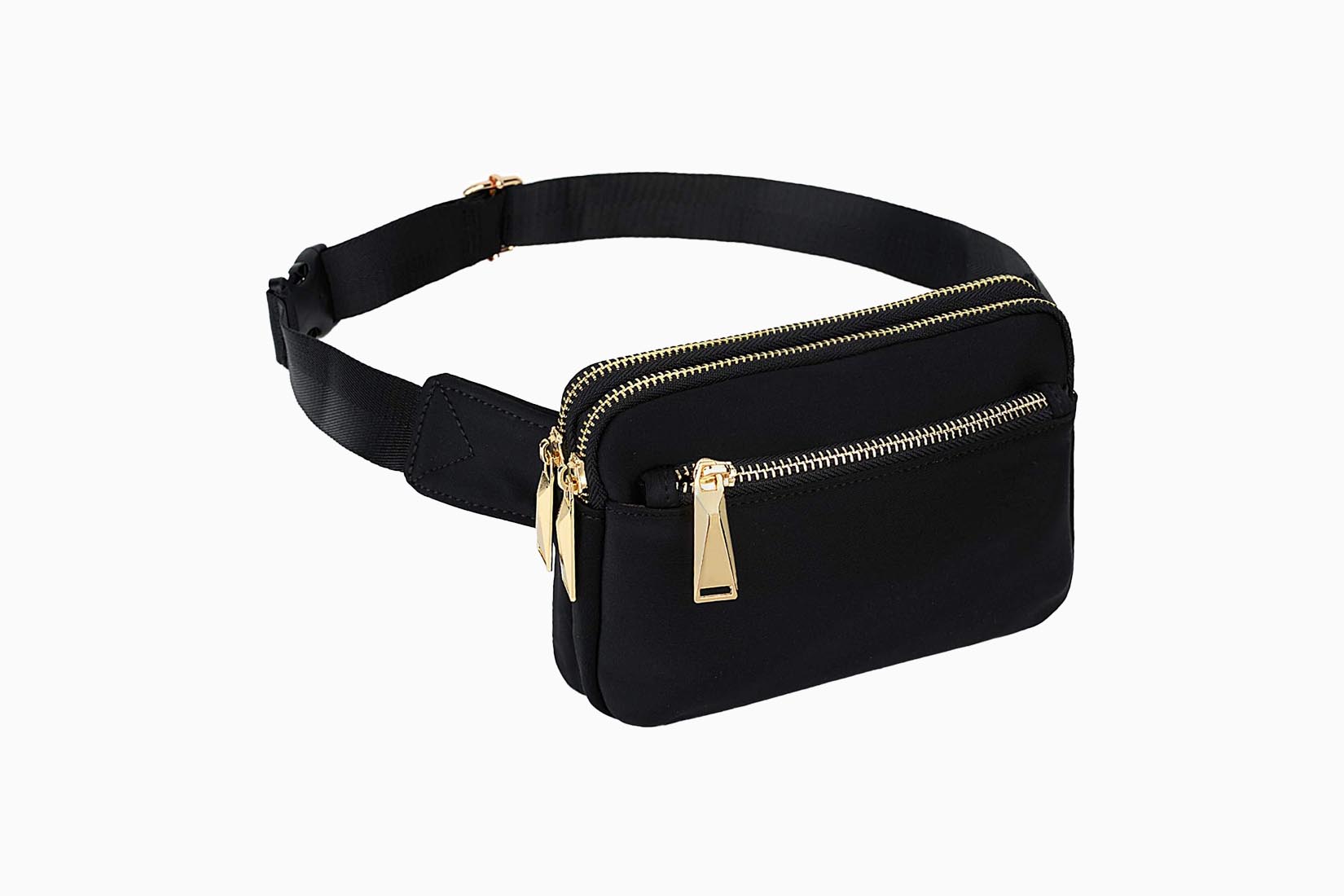 On the hunt for a stylish waist pack whose price tag will leave you feeling smug rather than ashamed? Check out this bargain hip bag from UTO.
This fanny pack is made of high-quality and durable nylon with a smooth gold zipper as well as built-in shock-proof foam padding to protect valuables—something we haven't seen in any other of the women's fanny packs on this list. 
This UTO belt bag also features three separate zipper pockets so you can keep your phone, cards, coins, keys, earbuds, suncream, and any other essentials neat, tidy, and under control. All for under $20.
Best for: Function meets fashion in this financially-friendly fanny pack. 
Colours: A range including black, blue, and pink.
Bottega Veneta: Most expensive waist bag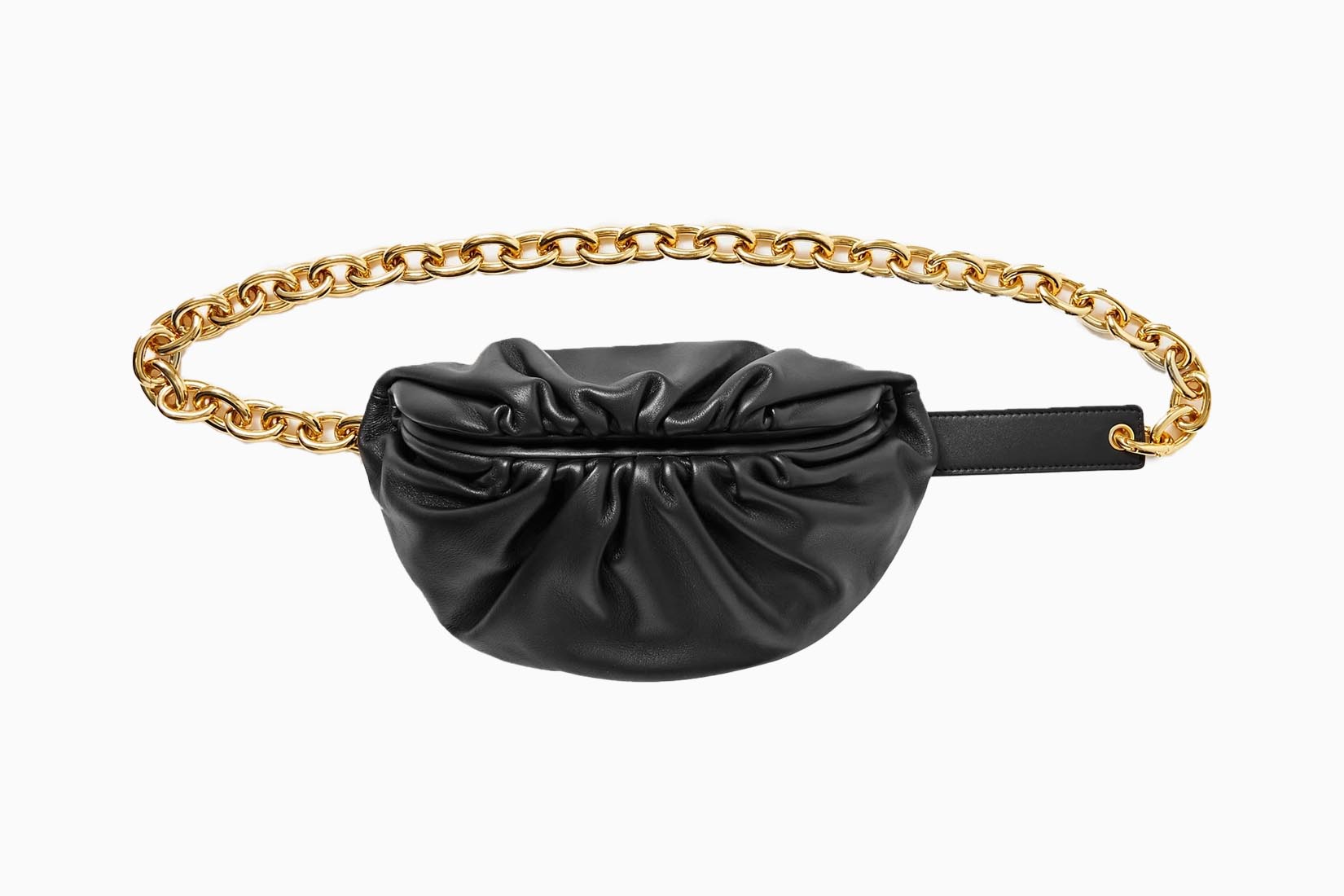 Guilty pleasures can take a plethora of forms—including that of a particularly elegant fanny pack by none other than Bottega Venta. Sure, it's expensive—but given the quality of the craftsmanship and the infinitely stylish design, we consider this waist bag an investment.
Made from soft Italian leather with a casual slouchy silhouette that nails the weekend warrior vibe, it features a magnetic fastening at the top for security. The chunky gold-tone chain goes around your waist or across your body for easy, breezy, hands-free carrying.
This Bottega Veneta waist pack is also a perfect size for transporting essentials without compromising on style appeal. Keep it lowkey yet luxurious with a pair of tailored trousers and a roll-neck sweater or wear it with your favorite dress for a date night or party. 
Best for: Undeniable wow factor that's definitely worth the price. 
Colour: Black. 
Buyers guide: how to choose a women's belt bag
When buying a women's belt bag, there are endless options. Choosing the right one will depend on a couple of different factors.
Size
Like all bags, the size of your waist pack will depend on what exactly you plan to carry around on a daily basis.
If your belt bag is going to function as an evening carry, you may only need space for your phone and credit card. If, however, you plan to use it all day, every day, you might want space for keys, cosmetics, and additional essentials. Belt bags vary in size from tiny pouches to larger waist packs so pick a size that's practical for your needs.
Material
Fanny packs come in a range of materials. Many of the best belt bags are made of leather, which is hard-wearing and timeless. It also has the advantage of looking better with age as the leather develops a patina. You may also want to look for brands that use sustainable and ethically sourced leather.
Another good option is nylon which is wear-resistant, sturdy, and incredibly lightweight. Some brands even make their bags from recycled materials. You may also want to consider a waterproof material if you plan to take your waist pack to festivals.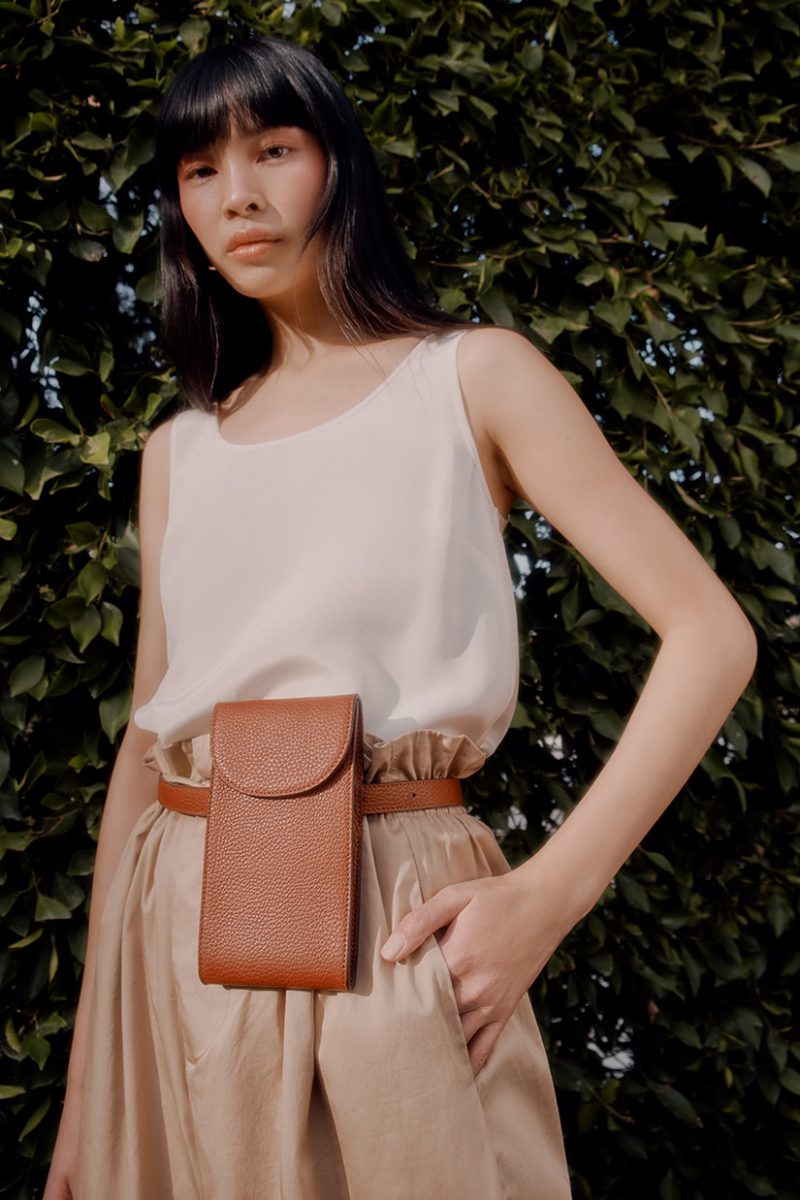 Aesthetics and design
There are different kinds of belt bags to suit different occasions and fashion preferences. You may want a sporty or casual fanny pack, designed to be worn during the day, out running or on hikes, or even to concerts and festivals. These are often made of nylon and are affordable and hard-wearing.
Many high-end brands have created designer fanny packs for those looking for something more elegant and formal. Look for belt bags made of leather and featuring unusual techniques such as a matelassé for aesthetic interest. Black leather is always stylish but white leather can also be high-impact, especially in the summer months. You may also want a belt bag that can convert into a clutch.
Additional features
Pockets – the number of pockets you need in your waist pack will depend on what you plan to carry. Travelers, for example, might want extra pockets to conceal important valuables. Multiple pockets can also help with organization. Prioritize secure closures such as zippers for added safety. 
Adjustable belt – most fanny packs will feature an adjustable belt that you can modify depending on how you wear it. Belts can be made of webbing, leather, or even chain-link. Consider what will be most comfortable and practical for you. 
Padding – some belt bags feature padding to absorb shock if dropped. This will help to protect your valuables in case of an accident. 
Logos – many designer belt bags feature the designer's logos in varying sizes. This is great if you want to make a style statement but it can also make your bag very conspicuous. 
Convertible options – some hip bags can be converted to increase their size by adding an extra pouch to the belt, for example. 
Additional utility options – utility belt bags feature hooks or carabiners where you can hang things for speedy access. 
Frequently asked questions about women's belt bags
Are belt bags still in style?
Belt bags are definitely still in style. This throwback to the 80s-90s fashion scene has returned as a beloved style staple thanks to its versatile hands-free design and the way it adds streetwise edge to any look. Check our guide to the best women's belt bags to find yours.
How do you style a belt bag?
To style a belt bag, use it to cinch in the waist of an oversized blazer or to add grit to an ultra-feminine get-up. Wear it across your body with a sweatshirt for a laidback sporty vibe or to add color to a neutral outfit. 
What are the best belt bag brands?
The best belt bag brands include Cuyana, with its timeless and sustainable waist packs, as well as brands like Ganni and KAAI. Designer brands such as Gucci and Saint Laurent have also put a high fashion spin on the standard fanny pack. 
What should you carry in a belt bag?
Belt bags hold all your essentials without weighing you down with extra clutter. Use them to transport your phone, cards, coins, keys, and perhaps cosmetics such as lipstick or sunscreen. You may also be able to store a phone charger inside too.