Sandals, sunglasses, a floral sundress—these are all obligatory additions to our summertime wardrobe. But what about a sun hat? Too many women forget the skin-saving and style-enhancing potential of the best sun hats.
Not only do sun hats offer the ultimate finishing touch to any peak season get-up, but they're also an essential summer accessory when it comes to avoiding age spots and wrinkles. Protecting your face and neck from the sun doesn't end with sunscreen. Any skin expert will tell you that the advantages of a sun hat go far beyond elevating your high summer outfit.
When it comes to women's sun hats, you've got plenty of choices. There are wide-brim floppy sun hats, perfect for subtle people-watching. Crease-resistant and foldable summer hats for easy packing. Baseball caps for a low-key and athletic vibe. And, of course, timeless straw hats that will immediately make you feel more relaxed when you put them on.
Whether you're looking for something romantic and retro to wear for al fresco dining or something casual and easygoing for a beach trip with your pals, we've picked out the best sun hats for women, ranging from classic Panama straw hats to sleek and sporty visors. We've got hats suitable for sunbathing, boating, biking, hiking, picnicking, or whiling away a hazy summer afternoon by the edge of an infinity pool.
With one of these summer-appropriate hats on your perfectly styled hair paired with the best sunglasses for women, you'll always feel like you're walking on the sunny side of the street.
The 17 best sun hats for women
Check our special sun hat's buying guide after the list to see exactly what you should pay attention to when shopping for women's hats online.
Cuyana: Best overall sun hat for women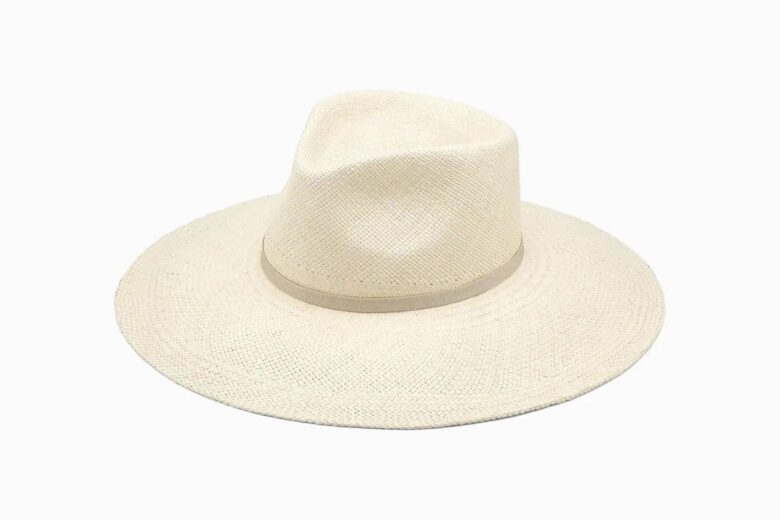 When someone says sun hat, chances are you think of a classic wide-brim straw hat like this beauty by Cuyana. With its quintessential summer vibes, it's the best sun hat for women on our list.
We like our women's summer hats with a wide brim—but not so wide that they're impractical. This Panama-style sun hat offers enough shade to save us from getting hot and bothered but still allows for eye contact with an attractive waiter if necessary.
Meanwhile, the structured crown adds refined sophistication, while the ribbon is a classic touch. The interior adjustable band ensures you get a perfect fit.
Like all Cuyana products, this sun hat has been made according to ethical production practices and from Toquilla straw—a renewable resource that can be harvested sustainably.
| | |
| --- | --- |
| Best for: | A big brim and even bigger style factor. |
| Color: | Straw |
Fendi: Best luxury women's sun hat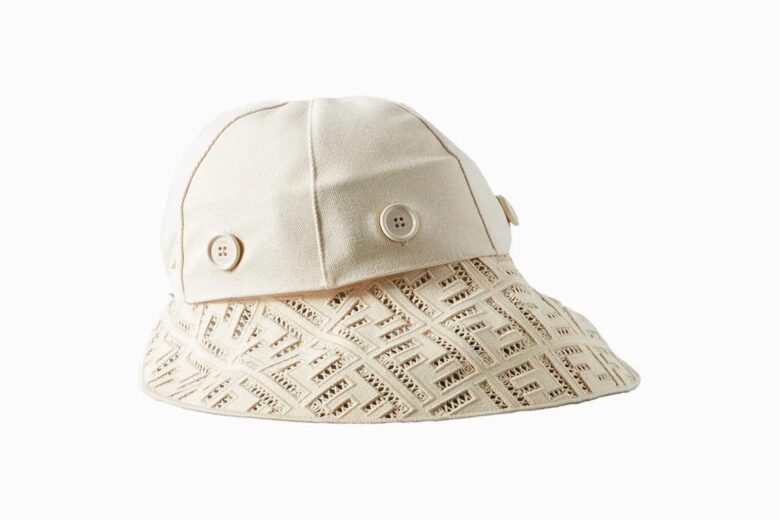 Not only is this designer sun hat from Fendi calling out to accompany you on your next high-end holiday, but it has the additional perk of being convertible.
Adjustable buttons allow you to turn it from a hat into a visor in seconds. So whether you're seeking an ultra-feminine mood or something more sporty and casual, you can do both with this Fendi creation. Talk about a hat trick.
Crafted in Italy from high-quality cotton canvas, it's durable and washable—our two favorite words (after 'fashionable', of course). Cream feels appropriately summery and won't absorb the heat like darker shades.
The structured brim offers generous protection from the fierce mid-day sun. And we love the crocheted 'FF' logos. Pick this Fendi sun hat if you fancy signaling to fashion-conscious passersby that you take your vacation wardrobe seriously.
| | |
| --- | --- |
| Best for: | High-class convertible cool. |
| Color: | Cream |
Furtalk: Best value sun hat for women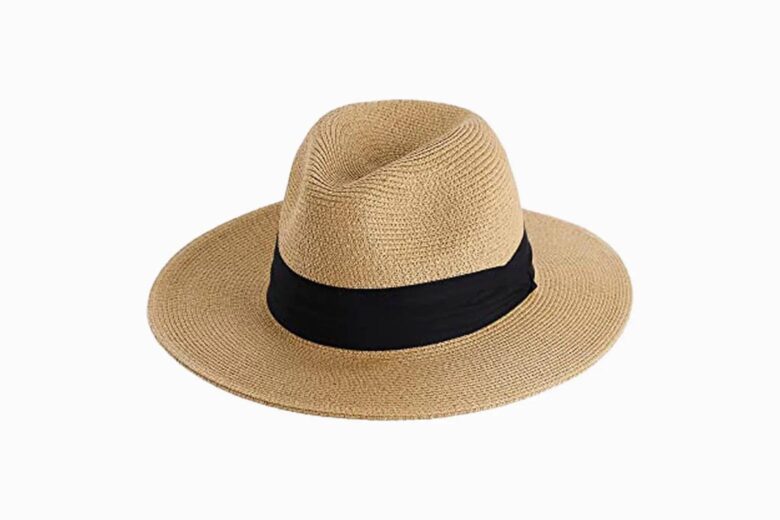 A sun hat is exactly the kind of thing we have a tendency to lose—whether it's leaving it on the beach, in a restaurant, or letting it fly off our heads on the back of a Vespa (a girl can dream). Which is why we need this budget sun hat that we can afford to misplace.
This straw sun hat is made of 90% breathable paper straw and 10% polyester—a lightweight choice for sweltering summers. Tight braiding means it's heavy-duty. And it's also been designed to avoid that warping of the brim that you get with less high-quality summer hats for women.
This Furtalk sun hat also provides up to UPF 50 protection and has an 8 cm wide brim to shade your face and neck. So you can avoid turning up to dinner looking like you fell asleep in the sun.
| | |
| --- | --- |
| Best for: | Minimal expense, minimal fuss, maximum fashion appeal. |
| Color: | A range including beige, white, and khaki |
Alo Yoga: Best baseball cap for women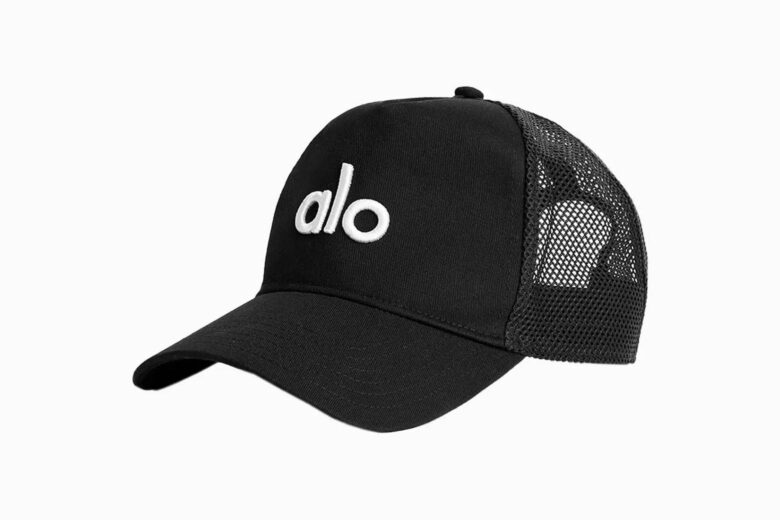 Sometimes, nothing but a baseball cap will cut it. Whether it's for a workout in the park or a quick morning errand, a baseball cap is discreet, casual, and makes us feel like a celebrity trying to keep a low profile.
This classic baseball cap has the bonus of the Alo logo so everyone knows you're more of a yogi than a trucker. It also has a mesh back for breathability and an adjustable snap closure for a comfortable fit.
This Alo Yoga cap is ideal for jogs when you want to keep temperatures down. It comes in blue, white, and black—all versatile and appropriately laidback.
Learn more about the Alo Yoga brand.
| | |
| --- | --- |
| Best for: | Everyday utilitarian elegance. |
| Color: | Black, navy, and white |
Eugenia Kim: Best women's beach hat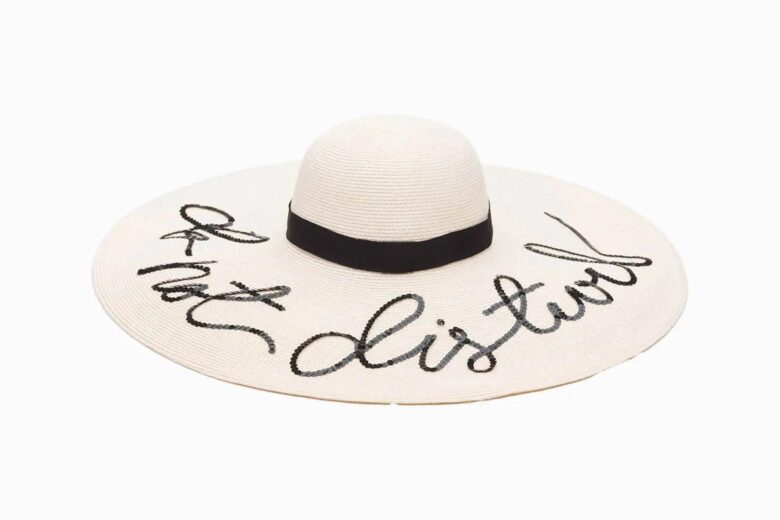 NY-based headwear label Eugenia Kim creates thoughtfully considered vintage-inspired hats that are, in our eyes, obligatory vacation attire. Like this beach hat, for example.
Our favorite thing about this seriously stylish beach hat? The 'Do Not Disturb' message, stitched in sequins around the brim. No better way to ensure people leave you to enjoy your pina colada in peace.
We also love the extra-wide brim of this hat, which is just crying out to be worn along cobbled streets in some gorgeous Mediterranean destination. It also makes it a great sun protection hat. Meanwhile, the monochrome color combination is classic and versatile. The contrasting grosgrain hatband completes the picture.
If you're on the hunt for beach hats for women, it's hard to beat this unique Eugenia Kim wide-brim hat with its romantic silhouette and playful messaging.
| | |
| --- | --- |
| Best for: | Serious beach babe sophistication. |
| Color: | Ivory |
Artesano: Best straw beach hat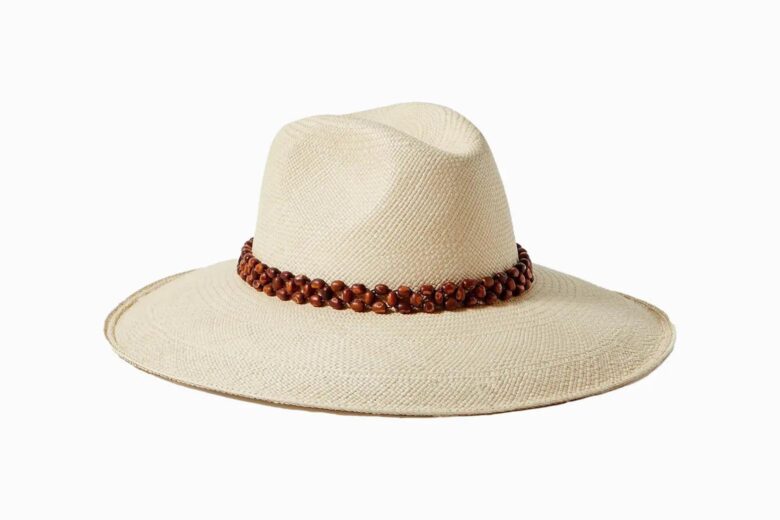 Whether you're gearing up for a much-needed getaway to somewhere remote and exotic or are treating yourself to a staycation, a Panama hat deserves a place in your suitcase. This one by Ecuadorian label Artesano is simple, classic, and has a hint of retro elegance that we definitely dig.
All Artesano accessories are handcrafted by local artisans in Ecuador so, with this straw beach hat, you know you're getting the real deal. It's made from natural Toquilla straw with a band made from tagua beads, sourced from the nuts from palm trees. It's hard to imagine a better hat to wear while lounging on a palm-fringed beach.
We also enjoy the fact that the rather masculine aesthetic of this Artesano hat makes it look like you stole it from a lover.
| | |
| --- | --- |
| Best for: | A subtly sophisticated upgrade to any summertime get-up. |
| Color: | Ecru |
LOEWE: Best floppy sun hat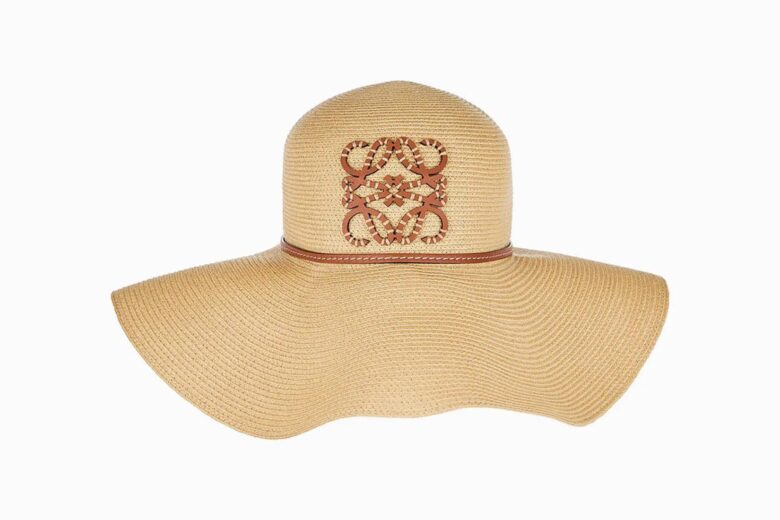 If you're in love with floppy sun hats, join the club. In fact, this floppy sun hat by LOEWE is stylish enough that we're willing to risk hat hair to wear it. Deserving of a place in your Instagram feed, it's the epitome of chic, whether you wear it by the pool or for a picnic in the park.
We love its slouchy silhouette—perfect for dozing in a hammock or sipping an Aperol Spritz at a leisurely pace. Made in Italy, and in collaboration with Paula's Ibiza, the legendary Balearic boutique, it's crafted from straw and trimmed with leather. You'll also find the brand's recognizable Anagram emblem on one side.
This LOEWE gem is ideal for city escapades, beach sessions, or even as a gardening hat.
| | |
| --- | --- |
| Best for: | Carefree summer vibes and happy-go-lucky charm. |
| Color: | Straw |
Cuyana: Best Panama hat for women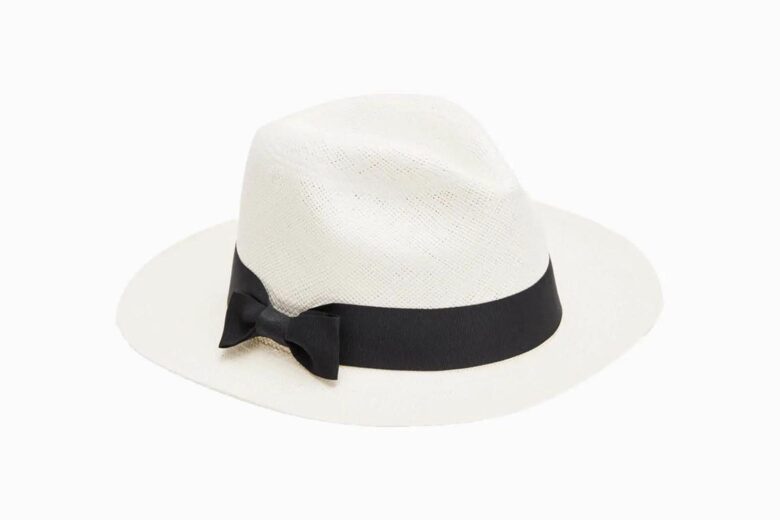 We've already discussed how much we love a classic Panama and no brand masters the hat's traditional and timeless vibe like Cuyana.
An archetypal Panama hat with a sculpted crown, grosgrain ribbon trim, and bow detail, it's made from genuine Toquilla straw. Weaving Toquilla straw into hats is an important and valuable skill, practiced by mostly all-female artisans in Ecuador using ancient techniques that have been passed down through the generations since the 1600s.
Toquilla is also a renewable material made from palm fronds that can be harvested without harming the tree. So for those concerned about their eco-footprint (i.e., all of us), this Cuyana hat—the brand's very first product—is a top pick. One of the best beach hats for women around.
| | |
| --- | --- |
| Best for: | An iconic silhouette with inimitable vintage allure. |
| Color: | White or beige |
Isabel Marant: Best bucket hat for women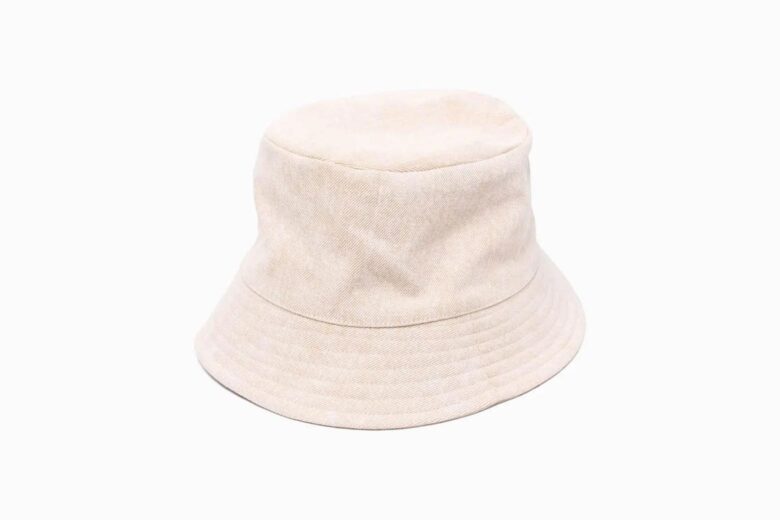 You no longer have to be standing in a pair of wellington boots in a festival field to pull off a bucket hat. If you're on the hunt for cool hats for summer, this accessory is the ultimate choice with its easygoing and unpretentious mood.
With its unstructured brim and distressed effect, this hat feels suitably nonchalant and low-key—perfect for relaxed summer evenings. Sure, the narrow brim might not give you the most protection from the sun but if you just want to add edge to a floaty and feminine outfit, then this bucket hat is ideal.
Isabel Marant is a label known for its inimitable brand of envy-inducing Parisian chic, and this bucket hat is no different. Stylish without taking itself too seriously.
| | |
| --- | --- |
| Best for: | A high-fashion spin on a street-style staple. |
| Color: | Cream |
Simplicity: Best sun visor for women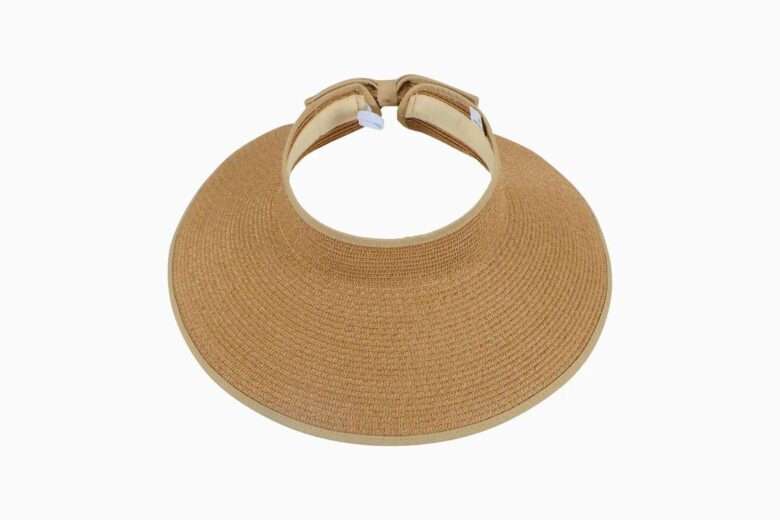 If you haven't tried a sun visor hat yet, then this is the year to start experimenting. Visors shield your face from harmful UV rays, offer a cool athletic look, and help to hold your hair in place.
Less professional tennis player than a day-tripper aboard an expensive yacht, this sun visor comes in a range of colors. The hook and loop closure is easy to use, and it's also got a roll-up function for easy storage and carrying while traveling. Throw it in your travel tote, and it will still look crisp once you arrive at your destination.
We recommend wearing this Simplicity visor with your hair in a ponytail for a casual daytime look or with a low bun for something more evening appropriate.
| | |
| --- | --- |
| Best for: | A practical yet playful holiday ally. |
| Color: | A range including beige, brown, and blue |
Ganni: Best fisherman hat for women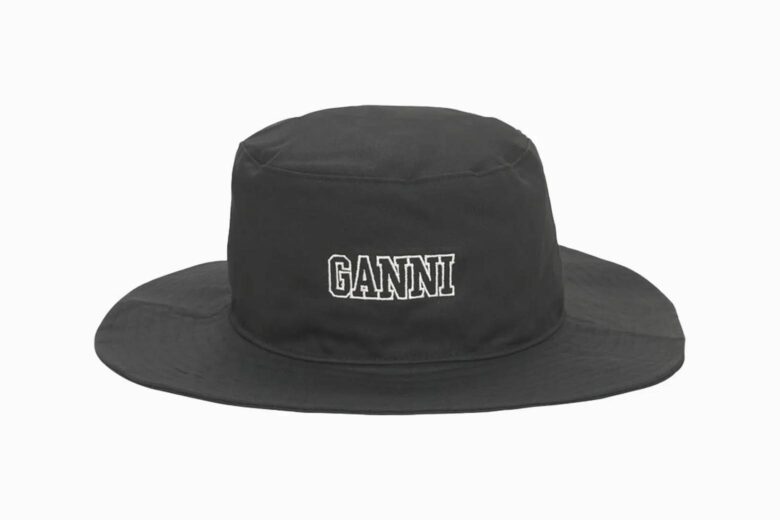 One of those unexpected 90s comebacks (like fanny packs), the fisherman hat is beloved by the fashion crowd for being comfy, practical, and the perfect way to tone down a fancy ensemble.
And our favorite fisherman hat is this one by Copenhagen-based brand Ganni. The label is known for its experimental and slightly off-beat designs that are full of personality, and this fisherman hat is far from being your traditional women's sun hat.
With its slouchy profile and large logo, try teaming this hat more a formal outfit to immediately add character and mark yourself out as someone who pushes fashion boundaries. The fact you can clip up the brim at the back to get sun on your neck is an added perk.
| | |
| --- | --- |
| Best for: | Street smart elegance with seafaring spirit thrown in. |
| Color: | Black |
Gucci: Best wide-brim sun hat for women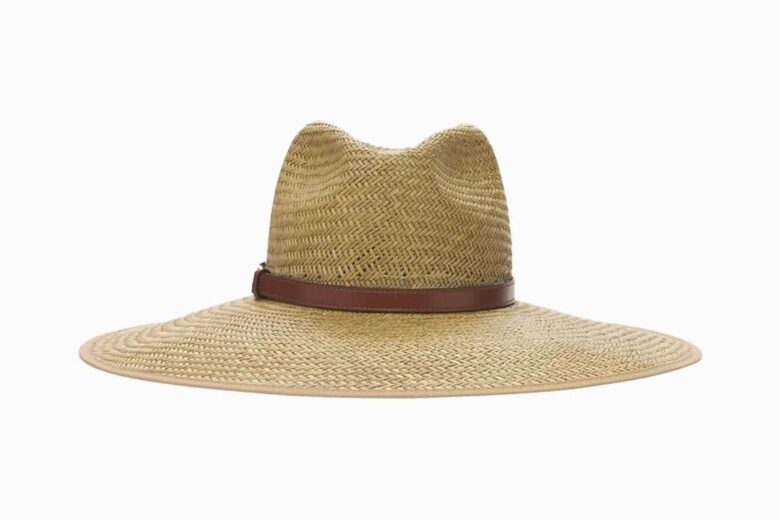 Nothing says summer quite like a wide-brim straw hat. Add to that a design by an iconic high fashion house like Gucci, and you have the most supremely elegant of summer accessories.
This wide brim sun hat is made of jute, a material sturdy enough to last a long time and also biodegradable. The weave is tight to keep the UV rays out and your head ventilated. And the size of the brim means no unsightly sunburn ruining your look. Definitely, the best hat to protect your face from the sun.
This Gucci wide-brim hat features a leather band and an equestrian-inspired horse bit detail that you'll recognize from the label's iconic Princetown slipper. Plus, it's quite structured in style, ideal for wearing to upscale events such as the polo or races—or aboard a sailing boat. We especially like it teamed with a silk necktie.
| | |
| --- | --- |
| Best for: | Ultimate face protection meets undeniable style perfection. |
| Color: | Ivory |
Cuyana: Best women's sun hat for travel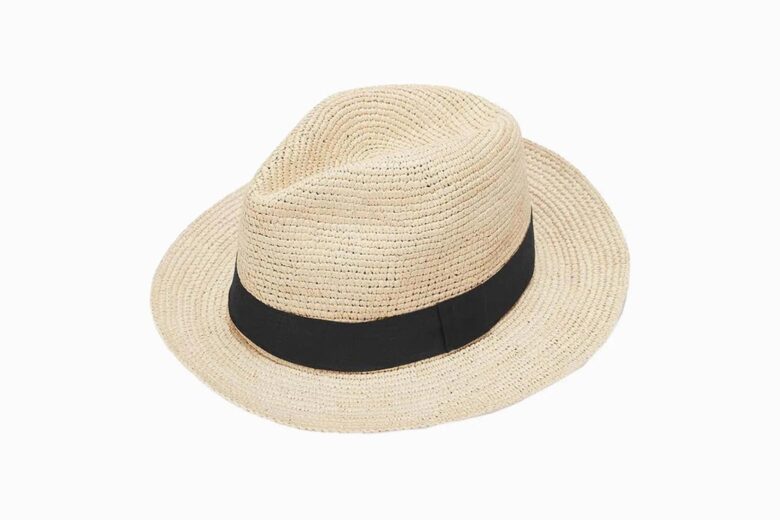 Is there anything worse than finally arriving at your destination, throwing on your swimsuit, and reaching for your hat only to find that it's creased and crumpled from a day in transit?
Say goodbye to crinkles forever with this packable sun hat by Cuyana. Just like the brand's classic Panama hat but with the added bonus that it can be folded and packed into your suitcase, it's definitely a top choice for jet setters and one of the best sun hats for travel. It will stay wrinkle-free, and so, incidentally, will your face!
This Cuyana packable sun hat has an adjustable band so you can customize it accordingly. There's also the option of a black or navy grosgrain ribbon. We'd opt for black for timeless appeal or blue for something more modern and striking.
| | |
| --- | --- |
| Best for: | Foldable functionality and the ultimate travel solution. |
| Color: | Straw with a navy or black bow |
Pineapple&Star: Best folding hat for women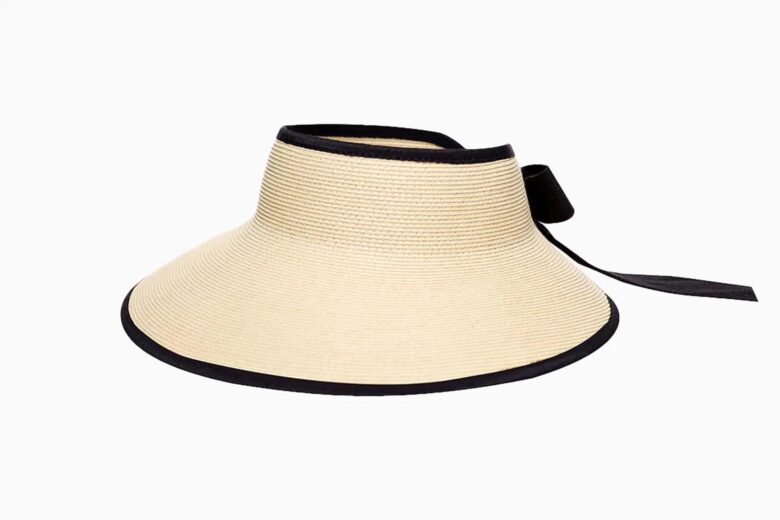 No one's got time for a wrinkled and creased sun hat—not when we've got so many garden parties, picnics, and beach trips to go to. Make sure your hat survives the trip with this packable straw visor from Pineapple&Star.
The 10.5 cm brim offers lots of protection from nasty UV rays, and the material is UPF 50+ so it will get a thumbs up from dermatologists too. Plus, the fine paper braid is breathable so you'll avoid a sweaty scalp.
But the best bit about this Pineapple&Star sun visor hat is being able to fold it up and pack it in our bag, whether that's a suitcase, tote, or backpack, making it one of the best sun hats for travel.
| | |
| --- | --- |
| Best for: | Packable practicality with a charming romantic twist. |
| Color: | A range including white, beige, and black |
Gigi Burris: Best straw hat for women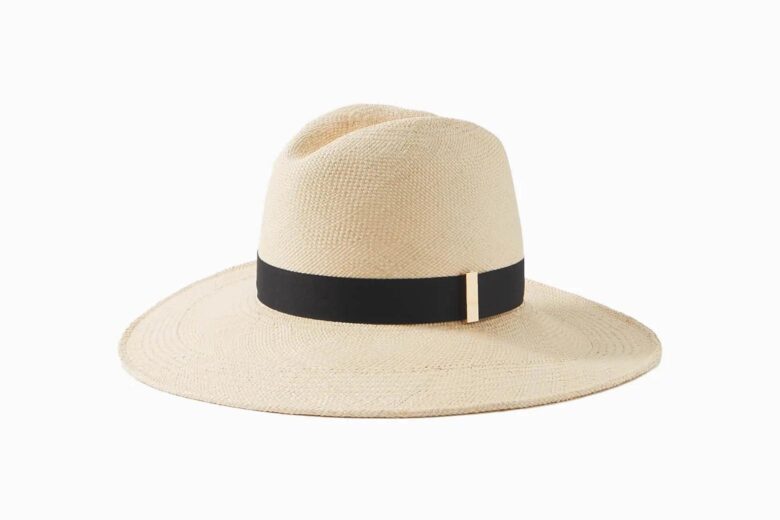 There are only a couple of months a year that we can realistically wear a straw hat so we intend to choose wisely. This one by Gigi Burris has to be one of the best straw hats for women.
Gigi Burris makes hats that set new benchmarks for couture headwear, using traditional wood-blocking techniques and luxurious and exotic materials. The label combines sleek contemporary style with authentic craftsmanship and has found favor among the likes of Rihanna and Hailey Bieber.
This straw hat is hand-woven from straw and trimmed with a cotton grosgrain band in black. The brim is the perfect halfway house between being too narrow to offer protection and so big that it's cumbersome.
With its Fedora-style silhouette, this straw sun hat also has something of the private detective about it, adding a bit of mystery and intrigue to our day-to-day. One of the best beach hats on our list.
| | |
| --- | --- |
| Best for: | A sun-optimized straw hat with authentic old-school cool. |
| Color: | Ecru |
Gucci: Best straw bucket hat for women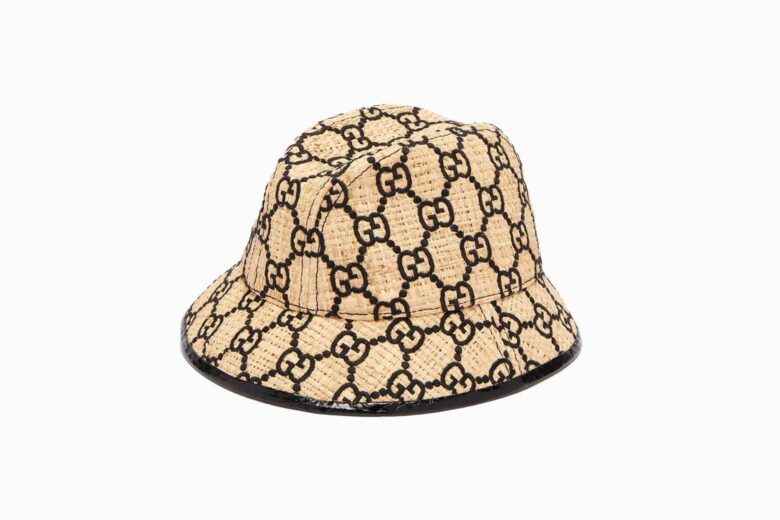 Make sure you're 100% in the spotlight this summer with this Gucci straw bucket hat. Definitely one for the bold—but you'll be well rewarded for your courage. We're confident the compliments will come flooding in when you leave the house with this little number on your head.
Not scared to stand out from the crowd? Then this beige raffia bucket hat, embroidered with a far-from-subtle GG motif, is the ultimate pick. The brim is finished with a snakeskin trim for a final deluxe touch.
Combining the gritty 90s style of the bucket hat with the kind of luxury and opulence only Gucci can pull off, this straw bucket hat is ideal for adding a bit of high-end panache to a casual everyday outfit, such as a simple sundress and chunky gold earrings.
| | |
| --- | --- |
| Best for: | Setting trends and making statements throughout the summer season. |
| Color: | Beige |
Wallaroo: Best outdoor women's hat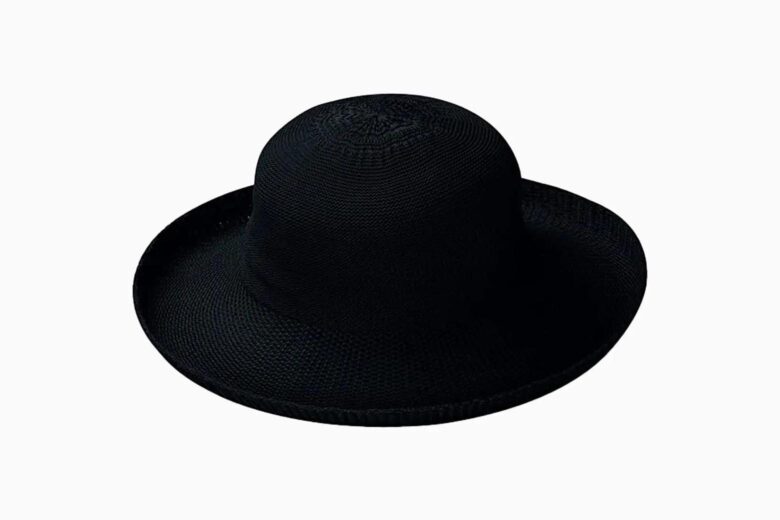 If you plan to spend as much of the summer outside as possible, soaking up rays and bathing in balmy temperatures, then you need a hat that's ready to come with you, wherever you plan to go. Wallaroo makes the best outdoor hats—and the Victoria is a case in point.
With an elegant domed crown and an upturned brim that makes us feel like we're in some 1960s Hollywood movie (cat-eye shades an essential addition), it's made from 100% poly-straw. Lightweight and breathable, this makes it a great hiking hat. The internal drawstring ensures comfort and a good fit.
The brim is the perfect size to protect you from the sun, whatever outdoor activities you have planned. And while it's one of the best black sun hats we've come across, it's actually available in a whole range of colors. In fact, it's tempting to pick up this Victoria sun hat in multiple shades so we can coordinate as necessary.
| | |
| --- | --- |
| Best for: | Staying cool, calm, and collected in a way that doesn't cramp your style. |
| Color: | A range including black, blue, and grey |
Buyers guide: how to choose a women's sun hat
When choosing a women's sun hat, there are few things to consider, depending on where and when you plan to wear it, as well as your own style preferences.
Different styles of sun hats
Wide-brimmed hats – these are the best women's sun hats for protecting not just your face but also your shoulders, ears, and neck. They also look timeless and stylish. If you're wearing it on a boat or somewhere windy, you might want one with a chin strap.
Panama hats – these straw hats are typically made from the Toquilla palm and originate in Ecuador. They are elegant, lightweight, and ideal for hot weather.
Fedoras – these can be found in straw as well as felt, canvas, and other materials. They are distinguished by their indented crown and were particularly popular during the 1920s and 1930s.
Bucket hats – these hats were once the remit of either fishermen or 90s ravers but have now entered the fashion mainstream. They feature a narrow brim, so are better for wearing in the evenings or on cloudier days.
Baseball caps – these are a popular option at all times of the year and are particularly good when you're playing sports as they don't obstruct your vision while still keeping the sun off your face. However, they won't protect your neck or shoulders.
Visors – as often worn by tennis players, visors are essentially just a peak without the rest of the cap and are a great option for a sport where you want to stay cool and be able to see clearly.
Brim
Different styles of sun hats tend to have brims of different sizes. A bucket hat, for example, has a very narrow brim compared to a traditional straw hat.
It's recommended to have a brim that's at least 10 cm wide if you want to protect your face, neck, and eyes from the sun. However, any bigger than this, and you may find the hat too cumbersome and awkward for everyday use.
Crown
The style of the crown is less important for sun protection, but it can affect how flattering a hat is. A taller crown can make you look taller, while a smaller crown can make you look shorter.
Color
Darker colors are typically better for protecting your skin against UV. That said, dark shades also absorb more heat, so might make your head quite warm.
Material
If you're concerned about sun protection, look for a material that light can't pass through. This means tightly woven fabrics such as canvas, denim, or synthetic fibers. You can check how sun-safe a fabric is by holding it up to the light. If you can see through it, this means UV radiation can easily penetrate.
That said, you also want a material that's breathable. A baseball cap with mesh detailing can be a good option for some people, especially if you plan to wear it for working out.
UPF rating
Some hats will have a UPF (Ultraviolet Protection Factor) label that indicates how much of the sun's rays it protects against. These ratings range from 15 to 50+. Look for one with a higher rating. A hat with a UPF rating of 50, for example, can block out 98% of UV rays.
Frequently asked questions about women's sun hats
What is the best hat to wear in the sun?
The best hat to wear in the sun is Cuyana's wide brim sun hat, which offers protection from the sun and also looks great with both a sundress or denim shorts and a vest top. Cuyana also makes great Panama hats if you want something classic. 
Do hats really protect you from the sun?
Hats really can protect you from the sun. While sunscreen is still essential, sun hats have the advantage of shading your scalp, neck, back of your ears, and shoulders—places we often don't apply cream. They can also help to keep you cool. 
How do I pick a summer hat?
To pick a summer hat, consider where and when you plan to wear it. Do you want something casual for the beach, to wear when playing sports, or for parties and events? What's more important for you, sun protection or style appeal? Check out our list of the best summer hats for inspiration.
Are straw hats in style?
Straw hats for women are in style—and probably always will be. These timeless accessories transcend trends and are a great investment for your summer wardrobe. Not only do they look effortlessly elegant, but they also protect your face from the sun. 
What is the coolest hat to wear?
The coolest hat to wear in the summer is a bucket hat. This 90s mainstay has made a comeback in recent years and offers a relaxed and streetwise alternative to a traditional straw sun hat. It looks particularly good with a more feminine outfit.