These boots were made for walking…and dancing, and shopping, and hiking.
The most comfortable women's boots are also seriously chic, dripping with style and begging to be worn again and again. These beauties tick all the boxes from the glamorous to the utilitarian and everything in between.
No matter whether you'd describe your personal style as feminine, edgy, fashion-forward or classic, there's a boot out there for you. From the luxe Italian leather to the smoothest and softest suede, the festival-ready rain boots or the throwback '70s cowboy boots, get ready to fall in love with this season's styles.
And, of course, our carefully vetted guide ensures there'll be no Monica-from-Friends-esque new boot agony.
The 19 most comfortable women's boots
To help you find the boots that are best for you, check our style guide to choosing the most comfortable boots for women after the list.
Stuart Weitzman 5050: Overall most comfortable women's boots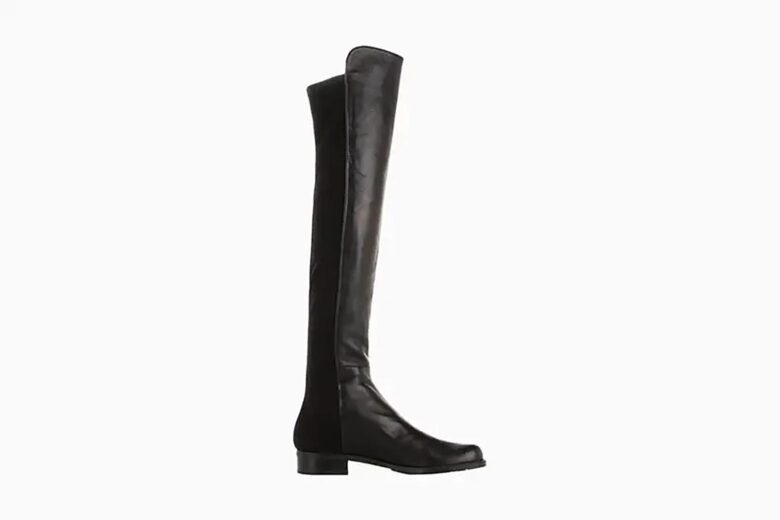 Don't shy away from over-the-knee boots, because the right pair will elongate your legs, up-style the rest of your wardrobe and, at this rate, generally improve your day. The perfect midpoint between statement piece and failsafe versatility, the Stuart Weitzman Women's 5050 Over-the-Knee Boots will find themselves almost glued to your legs for the whole of the cooler season — and you won't be complaining.
Giving a feminine silhouette a hint of modernization, these instantly recognizable boots are made from ultra-luxe suede with a classic and contemporary cut. A low heel makes them a comfortable option for daytime wear, and a stretchy back means you'll never have to pause mid-stride to pull them back up. What more could you want from a boot?
| | |
| --- | --- |
| Best for: | An A-list-worthy purchase with a flawless fit and sleek silhouette  |
| Colors: | Black, burgundy, beige |
Chloé Emma: Best designer boots for women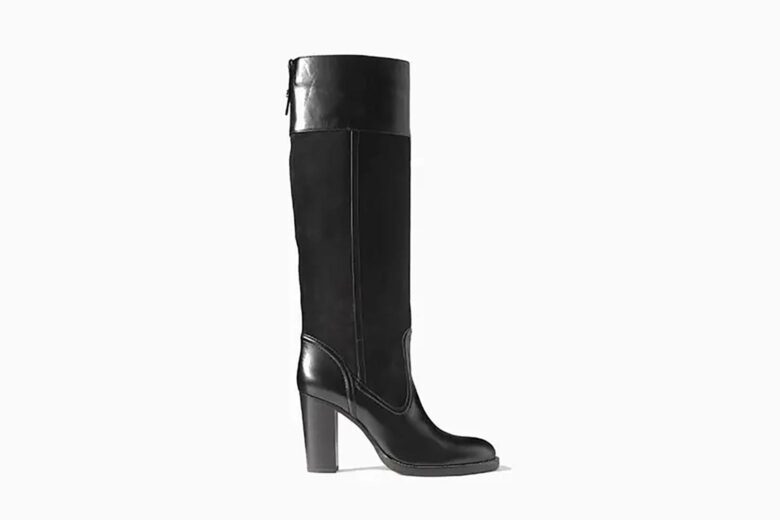 If ever you had to pick a pair of investment-worthy designer boots to add to your basket right now, there'd be no competition for the ones we'd choose. Versatile, ultra-desirable and with just the right amount of polish, Chloé knee-high boots are the epitome of French-girl chic. The Chloé Emma leather and suede knee boots are undoubtedly our favorite luxury boots of the season with the added benefit of being deliciously comfortable, too. 
Suitable for every occasion and style inclination, these boots embrace the '70s with a modern twist thanks to the almond toe and block heel. The definition of luxe, yet truly practical, Chloé boots will go down in your own personal fashion history as one of your favorite buys, year after year. You'll wear them on every occasion possible and, when the heel eventually gets worn down, you'll likely just go and get it reheeled rather than diversifying from your foot's new Italian suede and leather best friend.
| | |
| --- | --- |
| Best for: | Displaying proudly like a family heirloom  |
| Colors: | Black |
Dream Pairs: Best value comfortable boots for women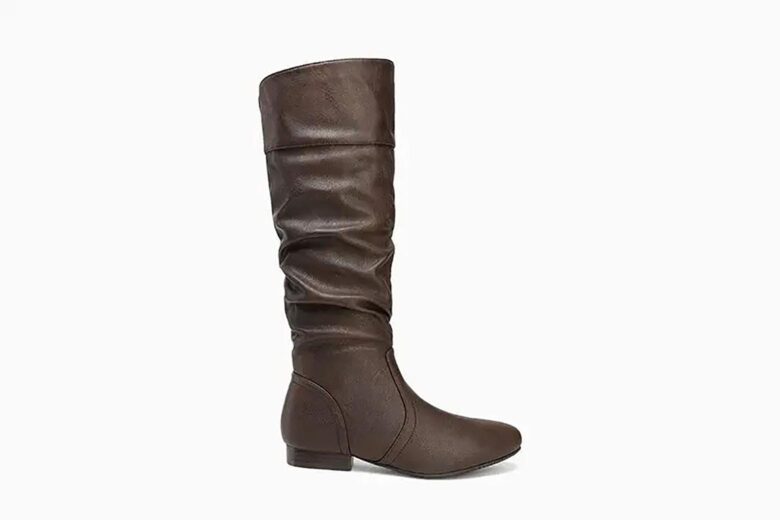 You might shy away from value boots for fear of them looking cute on the outside but vicious on the inside. But, taking the phrase "it's what's on the inside that counts" to a whole new level are these Dream Pairs Women's Flat Knee High Boots. Not only will you be in very stylish company, but you'll be dressed in a pair of hard-working boots that do their job without you needing to justify their worth.
At less than $45, these boots come with a faux fur lining for optimum comfort and a tiny 0.5″ heel that'll let you walk for miles. Ready for any sleek daytime dressing occasions, you'll get endless wear out of these boots while looking fashionable and comfortable at the same time. And with such a value price, you'll be kicking yourself for not discovering them sooner. 
| | |
| --- | --- |
| Best for: | Comforting style with a comforting price tag |
| Colors: | Brown, tan, grey |
Isabel Marant Loens: Most comfortable leather boots for women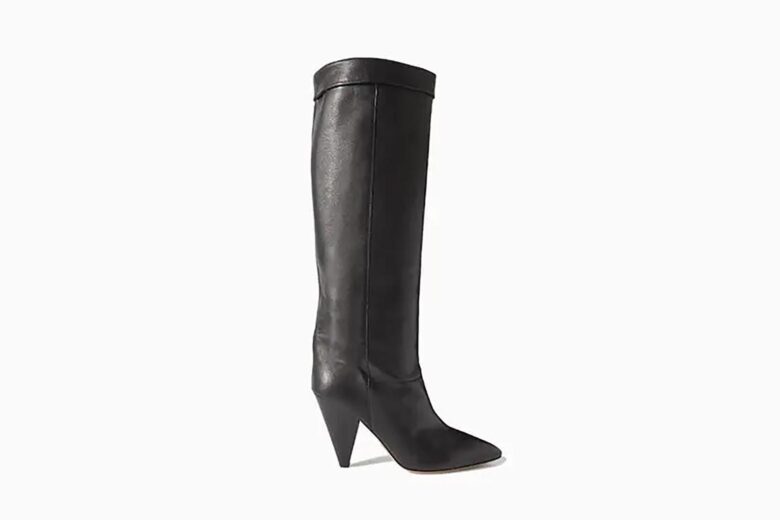 There are endless pairs of leather boots for women out there and, instead of hunting down the perfect pair in a Cinderella-esque shopping trip, cut to the chase with these Isabel Marant Loens leather knee boots. These black leather boots are a surefire-winning addition to your wardrobe and are ready to take to the stage with a signature conical heel. 
Made from buttery black Italian leather, these boots scope out the magic midpoint between comfort and style in a finish that's so perfect you'll want to buy them twice. If you feel like you've spotted Isabel Marant's staple heel style before, it's likely because these boots are a top hit with influencers and fashion editors. And, really, if they're good enough for the people who write about fashion all day, they're good enough for the rest of us too. 
| | |
| --- | --- |
| Best for: | Being Fashion Week ready |
| Colors: | Black |
Stuart Weitzman Lowland: Most comfortable over-the-knee boots for women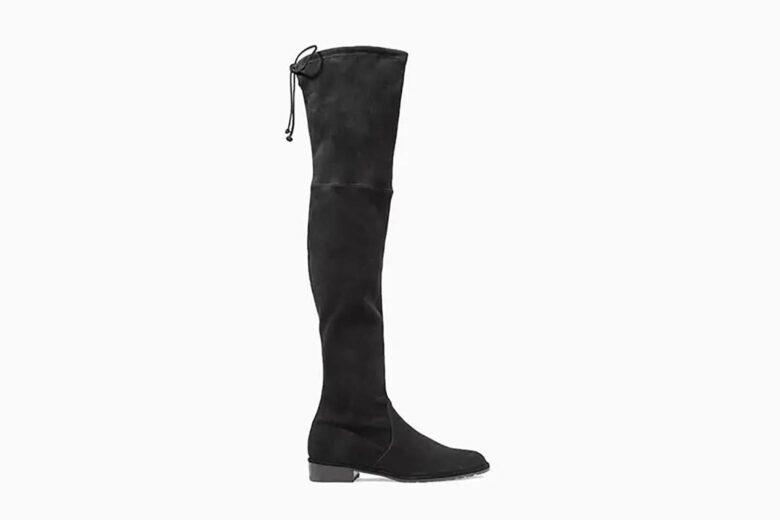 An over-the-knee silhouette is the secret weapon to take you from daytime dressing to evening occasion. Saving you time with a serious boost of style points, the over-the-knee boot looks great no matter your height and easily dresses up even your most laid-back outfit. They might seem intimidating, but these boots are well worth investing in for the countless outfit opportunities and their day-to-night chameleon-like versatility. 
The Stuart Weitzman Lowland suede over-the-knee boots are one of the brand's most admired pairs and are a popular choice for several good reasons. As well as the dreamy soft black suede that they're made from, they also come with leather ties at the back to prevent them from falling down or being too tight. Although we warn you: once you've put these boots on, you won't want to untie them and take them off. 
| | |
| --- | --- |
| Best for: | Giving you an extra boost of confidence |
| Colors: | Black |
Khaite: Most comfortable knee-high boots for women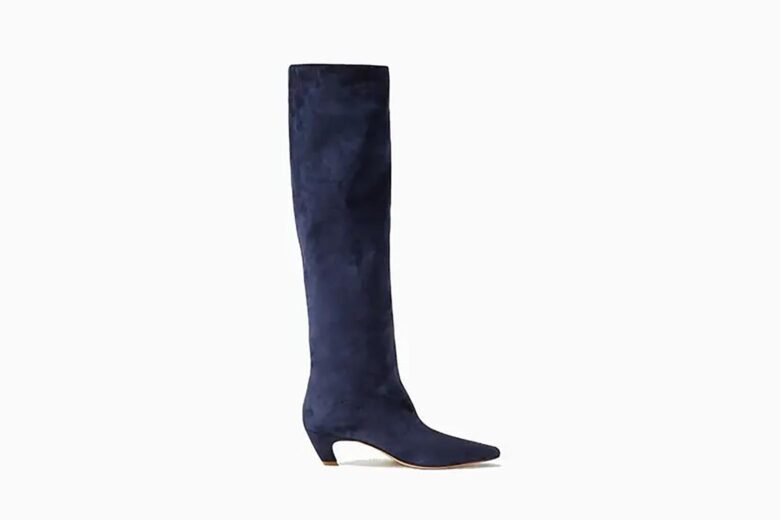 Knee-high boots have proven to be one of the staple boot trends of this year. And last year. And the year before that and, well, pretty much every year since they were first styled. What we're saying is that you can't go wrong with a knee-high boot because they never go out of fashion.
The best pair of knee-high boots for elongating your legs, elevating your look and all-around making you feel like a queen from the second they're on your feet are Khaite's Suede knee boots. A curved 40mm-high heel and elongated square toe add a modern touch to these classic boots, and the shade range is perfect if you're already sorted with black boots for the season. 
| | |
| --- | --- |
| Best for: | A staple classic style that brings every outfit together |
| Colors: | Navy, light brown |
Isabel Marant Dicker: Most comfortable women's ankle boots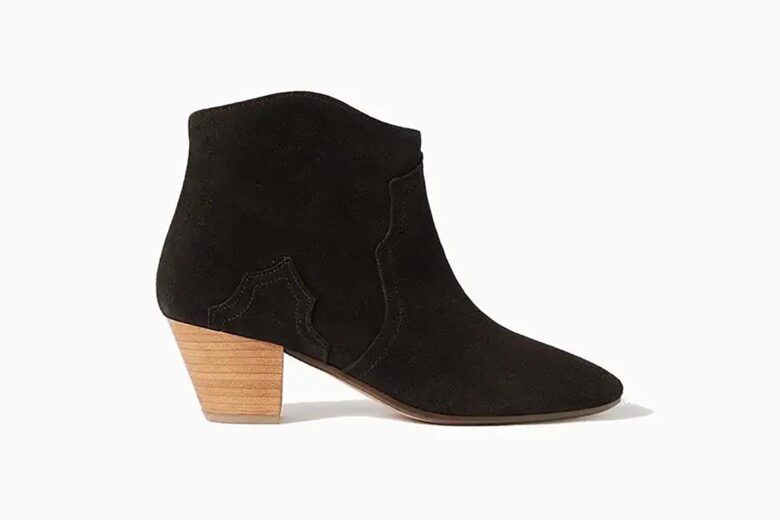 Much like flared jeans and platforms, cowboy boots are one of those trends that no one foresaw coming back. But they're dancing their way right back into the limelight, and they're here to stay. Luckily, this time around, cowboy boots are far more fashionable than old Hollywood Western movies would have you believe, and they're an easy way to perk up an underwhelming outfit. A huge bonus is that they're usually pretty comfortable. 
And they don't come much more comfortable and stylish than these Isabel Marant Dicker suede ankle boots set on Cuban heels. Say goodbye to any ideas of matching cowboy hats or fringed jackets because these ankle boots are the height of sophistication and deserve to be styled with respect. Soft black suede with subtle frontier-inspired stitching is the key to rocking the cowboy trend without taking it a step too far. Expect compliments galore, and fight the urge to dance your way around the house. 
| | |
| --- | --- |
| Best for: | A versatile pair that'll spend more time on your feet than in your closet  |
| Colors: | Black |
Gucci Rosie: Most comfortable riding boots for women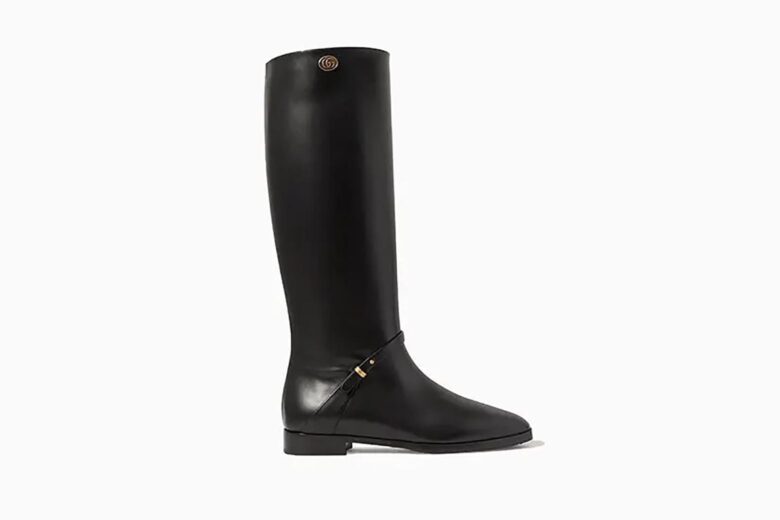 You'll immediately want to take up horse riding when you've spotted these Gucci Rosie logo-embellished leather knee boots. Far too suave to be limited to purely equestrian-based activities, these boots combine everything you need for an afternoon of cantering around.
Taking notes from the traditional horse rider's style with an added pinch of high fashion luxury, these Gucci boots will have you buying a subscription to Horse and Hound, getting tickets to the races, and measuring everything in "hands". A subtle logo embellishment adds a touch of Gucci glam, and supple black Italian leather gives these riding boots authority over many others. Basically, there's neigh way you'll be passing these by once you've tried them on. Shall we meet you at the stable? 
| | |
| --- | --- |
| Best for: | Making you want to sign up for horseback riding lessons |
| Colors: | Black |
Timberland: Most comfortable hiking boots for women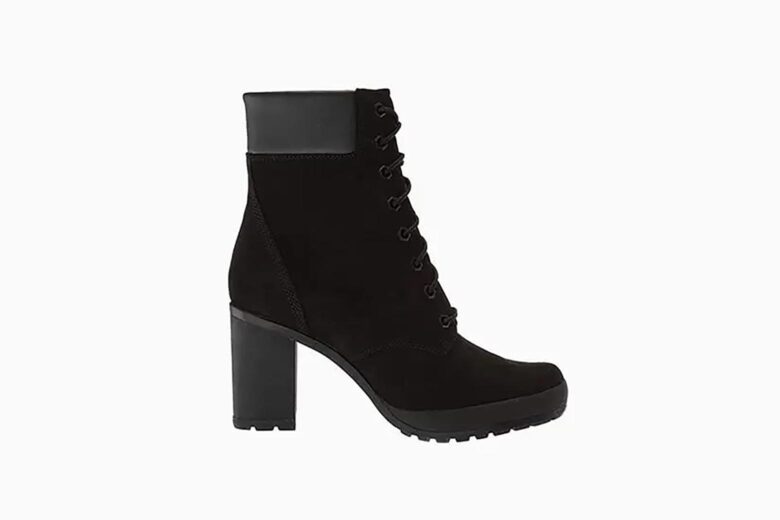 The difference between blisters and bliss is a good quality, comfortable pair of waterproof hiking boots that won't let you down as you're approaching mile seven. And the best pair to guarantee just that are the Timberland Women's Camdale 6in Boot. Some of the most comfortable walking boots for Europe or UK-based holidays, these will see you through endless days of exploring.
Timberland is widely regarded as one of the best brands for merging function and fashion, and their trail-ready heeled hiking boots promise to do just that. Specially designed for women's feet, they're a sturdy pair that look just as stylish after a long day of sightseeing as they did at the beginning. But we wouldn't be surprised if you miss out on the views because you're too busy admiring your boots. If you're searching for the most comfortable boots for travel, look no further. 
| | |
| --- | --- |
| Best for: | aving you Google "walking holidays"  |
| Colors: | Black, wheat |
By Far Stevie: Most comfortable women's boots for work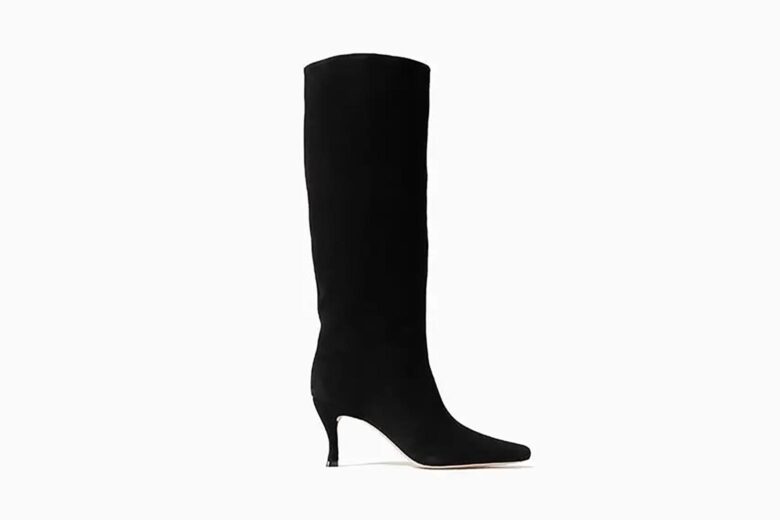 Few things offer a shield of confidence quite like a new pair of boots. Important meeting coming up or starting a new role? Even if you're quaking on the inside, a new pair of boots is the secret ingredient to fooling the room that you're 100 percent on top form. That is, of course, assuming that they're comfortable boots because nothing spoils that confident persona quite like a blister or two.
Our favorite work-appropriate boots for taking the office by a storm are By Far's Stevie suede knee boots. With a slim 40mm heel and an elegant pointed toe, they're achingly cool and promise to become a work staple. High enough to make a memorable impression when you're sassily leaving the room, these black suede boots are a top choice for Monday to Friday or any other day of the week that ends in "y".
| | |
| --- | --- |
| Best for: | Waking up excited on a Monday morning |
| Colors: | Black |
UGG Koolaburra: Most comfortable women's boots for winter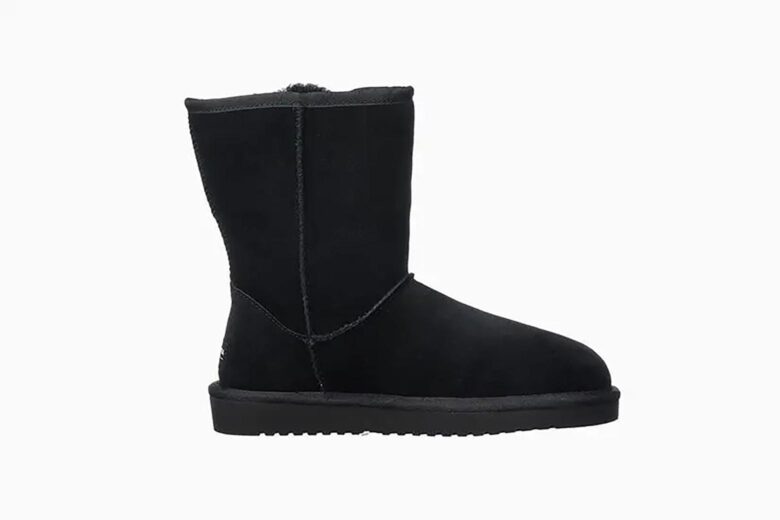 Even if you're the most summer-loving woman who dreams of sunshine and sand between your toes, you'll be hard-pressed not to get into the winter spirit with a new pair of cozy warm winter boots. And although UGG boots might have originated in Australia, they've found themselves firmly becoming a seasonal staple across the rest of the world as soon as the colder months of the year approach. 
Some of us jumped on the UGG trend years ago, with the furry enveloping insides never escaping from our toes ever since. Whether you're one of those people or you're yet to be converted, it would be rude to go into winter without purchasing a pair of Koolaburra by UGG Women's Victoria Short Fashion Boot. Words don't do the sheepskin softness any justice, so you'll just have to take our word for it that these super cute ankle boots are set to be pulled on in October and not removed until early March.
| | |
| --- | --- |
| Best for: | Pairing with a thick knitted scarf and hot cocoa  |
| Colors: | Black |
Aquazzura Curzon: Most comfortable dress boots for women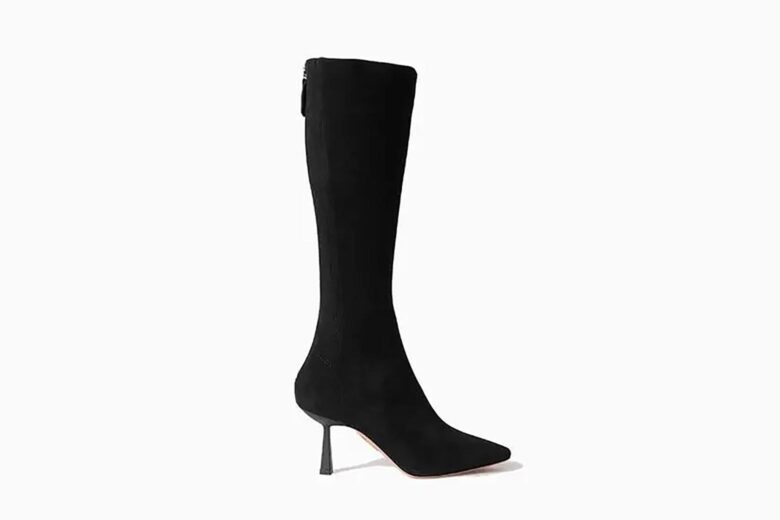 Matte red lipstick and skyscraper boots are two of the wardrobe essentials that'll instantly transition you from "ready to sleep" mode to "ready to party" mode. Stylish and seriously chic, black dress boots promise a guarantee of wow-ing your way into any room. Don't be fooled by budget options, because it's even more important to keep comfort in mind when you're swishing your way around with distinctive 75mm stiletto heels attached.
Aquazzura's Curzon 75 suede boots are a pair that'll catch your eye at first glance and stay at the forefront of your mind until you've given in and bought a pair. If ever there were a pair of boots that should come with a sign saying "please stop with the compliments, I've already had enough today" it would be these. With black suede and subtle elasticated paneling, they'll go down in your own personal history as some of the coolest and comfiest boots you'll ever own. 
| | |
| --- | --- |
| Best for: | Proving to your teenage self that you really did glow up  |
| Colors: | Black |
Hunter's Original Rain Boots: Best waterproof women's boots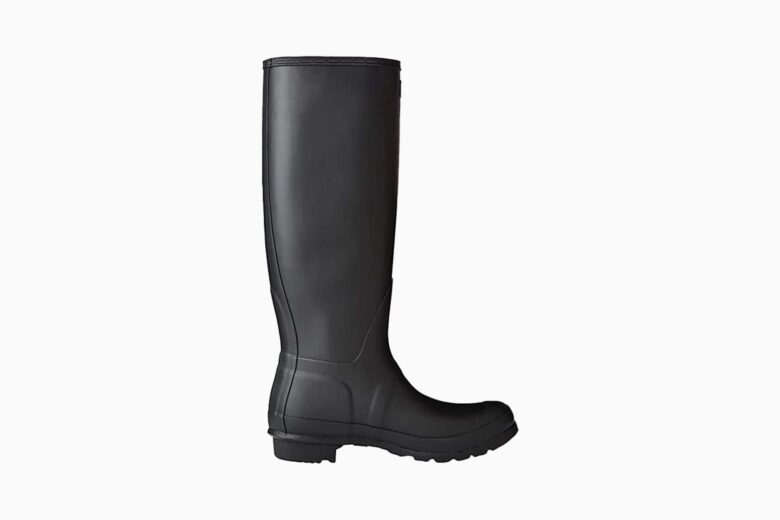 You might find yourself humming the "rain, rain, go away" nursery rhyme on occasion but a new pair of cool black rain boots will have you wishing for the heavens to open so you've got an excuse to put them back on again. There's only one brand that we run to when it comes to boots that can withstand the elements and that's Hunter.
Known for being a favorite amongst celebrities at Coachella, the cool girls from your youth at festivals, and the envy of anyone wearing a lesser brand, Hunter is the unmistakable top choice for rain boots. Along with the brand's signature buckle and red and white logo, Hunter Women's Original Tall Rain Boots also come in plenty of different colors. Keep it neutral with a statement black pair that'll withstand any amount of rain or mud, or add a splash of festival-ready color with a whole rainbow of other options.
| | |
| --- | --- |
| Best for: | Sorting your festival schedule for 2023 |
| Colors: | Black, olive, yellow |
Giuseppe Zanotti: Most comfortable women's boots for standing all day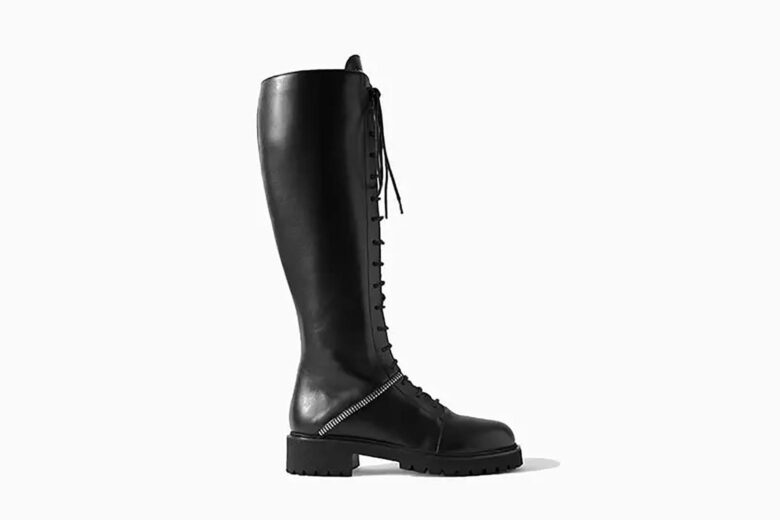 A pair of Giuseppe Zanotti boots will jazz up any wardrobe with an instantly recognizable burst of grunge. Even if you wouldn't typically consider combat boots and would generally disregard lace-up boots, it's time to rethink your style choices. These boots are ready to convert even the most stubborn of boot-wearers with their premium black leather and exposed zip embellishments. Adding an edgy finish to any outfit, pair these with floaty dresses or long skirts to upgrade gentle feminine chic to something cooler with a healthy dose of '90s influence. 
With a nod to punk rock and utilitarian style, the Giuseppe Zanotti Nevada leather knee boots are set to become your new best friends by elevating your outfit to a whole new level of edgy. The badass, combat-inspired look is one that every woman should experience, and the fashion-forward interpretation of military luxe is the underdog of the fashion world this season.
| | |
| --- | --- |
| Best for: | Securing your spot as a street-style star |
| Colors: | Black |
Gianvito Rossi Chelsea Boots: Most comfortable women's boots for walking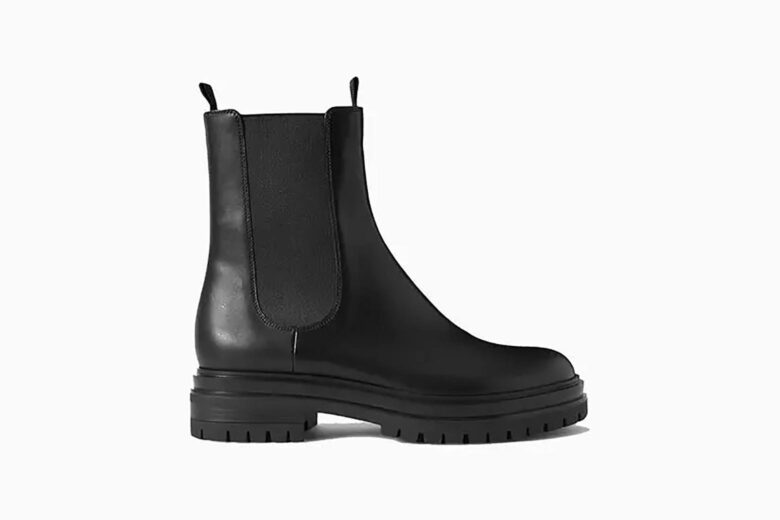 Chelsea boots are the faithful friend of the boot world. You've likely had a trusty pair at the back of your wardrobe for years, patiently waiting to be pulled out for shopping trips and casual brunches. But don't underestimate the power of the Chelsea boot — these flat shoes are as classic as they come and will be there waiting for you come rain or shine.
Practical and suitable for every occasion, they're the very definition of smart casual and can be paired with just about anything. So with that in mind, it's time to update your transeasonal wardrobe with a bright and shiny pair of Chelsea boots that'll see you through even the longest days without a fuss. Opt for Gianvito Rossi's Leather Chelsea boots, which come in Italian black leather with elasticated side tabs for an effortless finish to any outfit. 
| | |
| --- | --- |
| Best for: | A super low price-per-wear figure  |
| Colors: | Black |
Gianvito Rossi Sock Boots: Most comfortable sock boots for women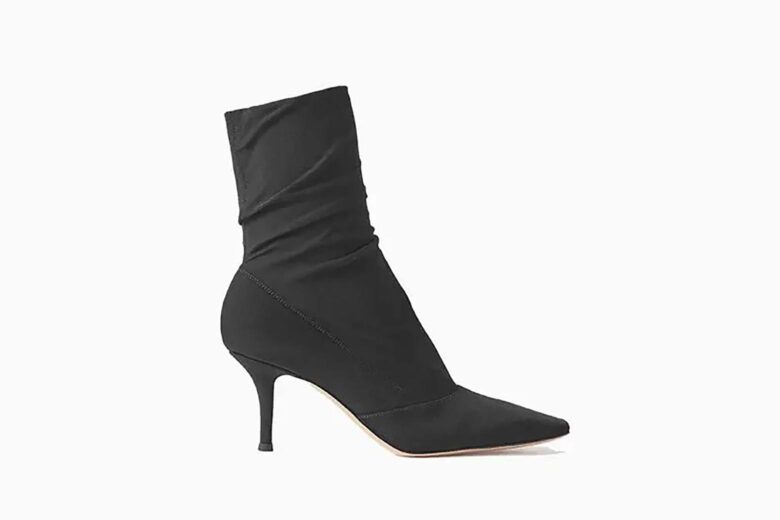 Sock boots are another of those confusing trends that we thought might only be around fleetingly, before we all realized they're here to stay. And after a bit of styling energy, we're very glad they've decided to stick around. Surprisingly versatile, sock boots promise to fit you like a glove and offer a sleek and tailored silhouette to the rest of your wardrobe. Their big celebrity following is so large for a reason: sock boots are seriously comfortable. 
Our favorites for bridging the gap between classy and cool are the Gianvito Rossi 70 stretch-knit sock boots. Take the sock boot trend up a notch by pairing it with Gianvito Rossi's stiletto heel and pointed toe. Adding a polished finish to your outfit, these boots are best appreciated when they've got their time to shine. Pair them with skirts or cropped jeans for best results.
| | |
| --- | --- |
| Best for: | Convincing everyone you read Vogue cover-to-cover every month |
| Colors: | Black |
Naturalizer Jessie: Most comfortable women's boots for wide feet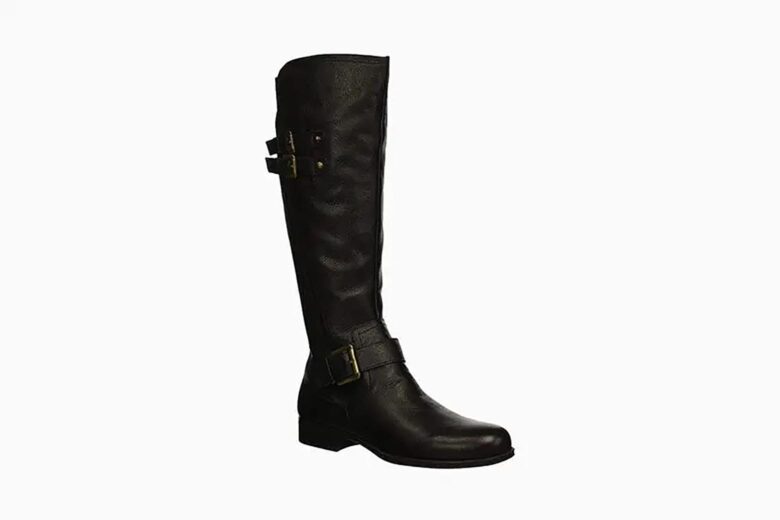 At the top of our wishlist when it comes to finding fashionable boots for wide feet are the Naturalizer Women's Jessie Knee High Boots. Offering plenty of space without being obviously wide, they're sleek and flattering and come in a range of classic shades. These beauties stop right at the knee, making them a perfect choice whatever the weather or occasion. Spice up your wardrobe with these smooth leather boots and wave goodbye to any problems of the past like squeezed toes or uncomfortable calves.
Naturalizer is one of the brands to change the game when it comes to wide feet boots so you can fully expect to be passing on the recommendation each and every time someone compliments your new boots. The perfect companion for cooler days, you'll be checking off the days in your calendar before you can pull these on.
| | |
| --- | --- |
| Best for: | Finally ridding you of the frumpy boots of yesteryear  |
| Colors: | Black, chocolate, brown |
Charles Albert: Most comfortable budget boots for women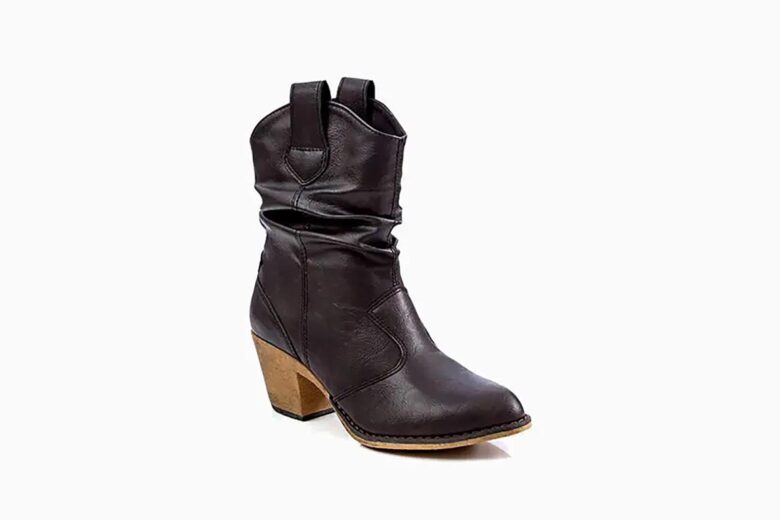 Enter the cowboy boot trend without a "yeehaw" in sight with the Charles Albert Women's Modern Western Cowboy Distressed Boots that'll love your feet even more than they love your purse strings. For a masterful take on the cowboy boot trend, look no further than the trusty Charles Albert. A premium boot with a budget-friendly price, these cowboy boots promise a silhouette that you'll run to again and again while remaining comfortable enough to wear for days on end.
A mid-size heel offers extra length without being overbearing, and a huge range of colors lets you jump aboard the Western trend without any restrictions. At less than $35, they're a pair of boots that'll definitely outlive your expectations and come with a cushioned sole that your toes will gladly sink into. They're an instant upgrade to your look with a high street-friendly price that's suitable for any time of year.
| | |
| --- | --- |
| Best for: | Dipping your toes into the cowboy boot trend |
| Colors: | Black, brown, tan |
Christian Louboutin Study 55: Most expensive boots for women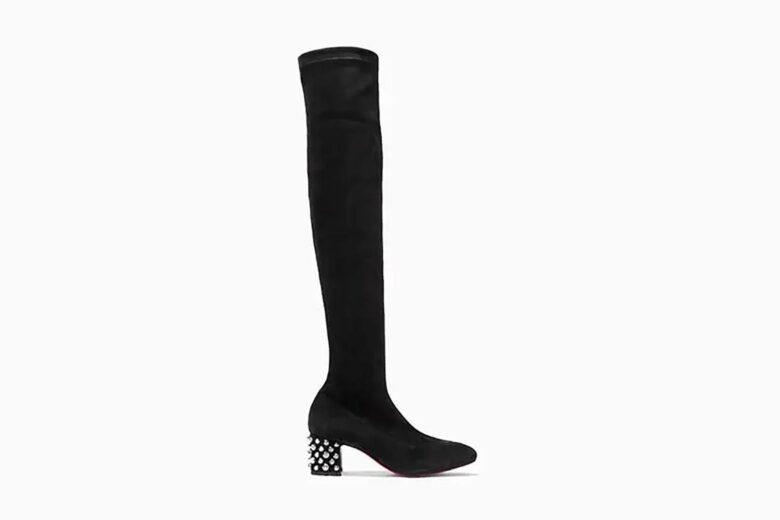 Over-the-knee boots have dominated the catwalks since, well, forever, and a black pair are an absolute essential to your wardrobe. Suitable for toughening up feminine outfits while adding a glamorous finish to your evening occasion, Christian Louboutins are the way forward and once you're wearing them, you'll never take a step back. These headline-worthy heels merge Parisian chic with street-style London looks for a mash-up of European culture that'll add a dazzling finishing touch to any look. 
In fact, you'll want to let the Christian Louboutin Study Stretch 55 spiked suede over-the-knee boots do the talking because these boots are worthy of your full attention. It would be a disservice to pair them with anything other than an understated outfit, because the confidence of these boots will interrupt you mid-sentence with instantly recognizable red lacquered soles and gleaming spikes for good measure. 
| | |
| --- | --- |
| Best for: | Displaying in their own glass cabinet |
| Colors: | Black |
Style guide to comfortable women's boots
The huge array of styles, colors, fits, and heights means buying a new pair of comfortable boots is akin to walking into a sweet shop. Before you buy your next pair, keep the following in mind:
Heel height
The comfiest boots are generally flat boots or those with a heel that's less than 2.5″. If you'll be walking a lot, look for boots with a small heel for optimum comfort. If you're determined to rock a high heel, look for boots with a block or wedge heel rather than a stiletto point. These offer more support and are far comfier.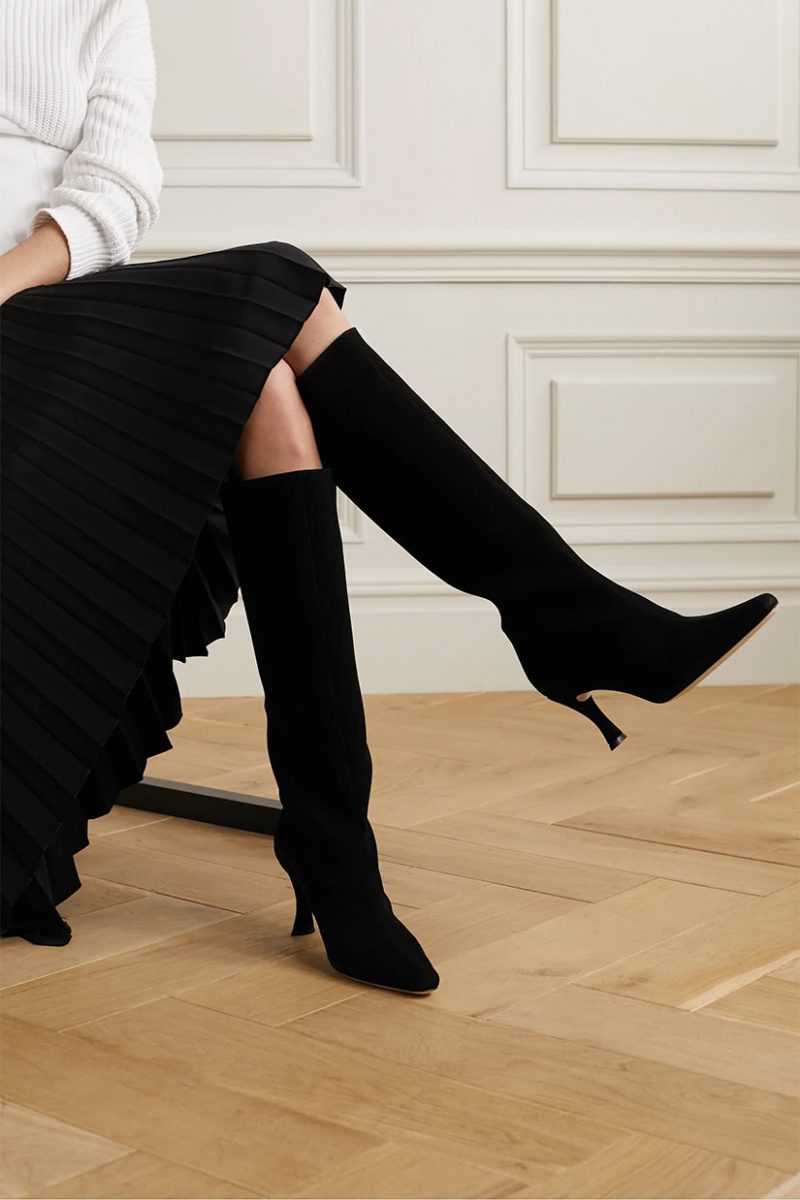 Length
Ankle boots are the most versatile and will go with most of your wardrobe. Looking for a failsafe pair that'll take you from the office to the shopping center and then on for drinks? Opt for a Chelsea boot or one of a similar length. Knee-high boots and over-the-knee boots look more premium and are dressier, making them perfect for evening occasions. Choose knee-high or shorter boots if you want a pair that are failsafe office appropriate. 
Material
Premium boots come in fabrics like leather and suede. These are higher-quality pairs that'll last for years to come. They're often usually comfier thanks to the natural materials. Avoid artificial materials if comfort is key.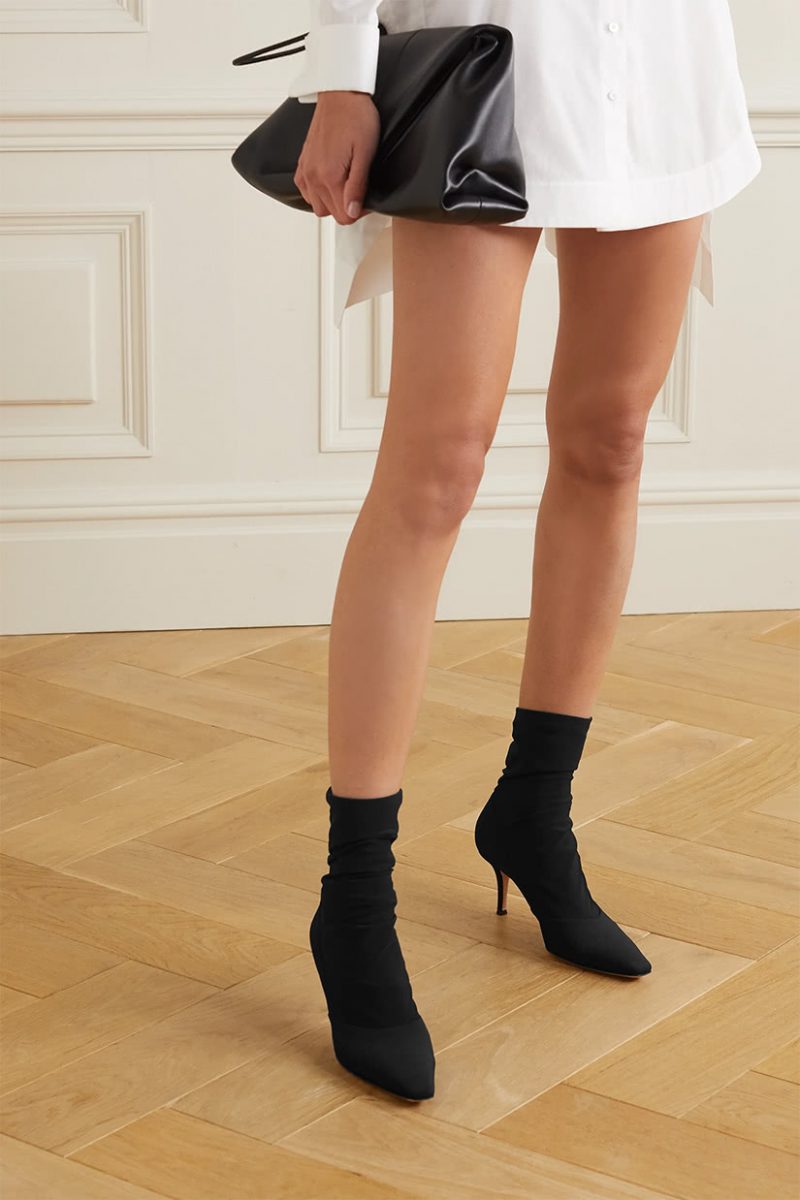 Frequently asked questions about women's boots
What are the most comfortable women's boots?
Some of the most comfortable women's boots are made by Gianvito Rossi, Stuart Weitzman, Gucci and Giuseppe Zanotti. These boots all combine fashion with function and are produced using premium quality fabrics. Check out our full guide to discover the best women's boots for any occasion.
What are the most comfortable dress boots?
The most comfortable dress boots are the Aquazzura's Curzon 75 suede boots. Stylish and seriously chic, these boots have distinctive 75mm stiletto heels and luxe black suede paneling to ensure they're the center of attention when you walk into the room.
What are the best boots for walking all day?
The best boots for walking all day are the Gianvito Rossi's Leather Chelsea boots. The very definition of smart casual, these Chelsea boots are practical and stylish and can be paired with almost anything in your wardrobe.
What are the best walking boots for ladies?
The best walking boots for ladies are the Timberland Women's Camdale 6in Boots. Fashion-forward while remaining durable enough for long days of walking, these boots are specially designed for women's feet and are trail-ready.
What are the best lightweight walking boots?
The best lightweight walking boots are the Dream Pairs Women's Flat Knee High Boots. Their classic slouchy style and flat heel makes them perfect for versatile dressing, no matter whether you're heading out for a post-walk dinner or a long day of shopping.
What are the most comfortable waterproof boots?
The most comfortable waterproof boots are Hunter Women's Original Rain Boots. A favorite amongst celebrities and fashion editors, these boots are festival ready while remaining durable enough to withstand even the heaviest of rain.