This magic boot comes packed with (sole)ful historical significance. But that doesn't mean that it falls into the antique category. In fact, it's far from it. Our best boot brands are reinventing the seasonless trend with contemporary attitudes contrasted with classical silhouettes.
Born from a direct request from Queen Victoria, Chelsea boots have made their way into celebrity circles ever since. And while the Queen saw them as a functional necessity for long days out on horseback, the Beatles and Rolling Stones made them a famous fashion statement. We can't help but agree with both parties. Named after the London town, Chelsea boots are still loved worldwide for their comfortable-but-chic character.
These ankle-length boots are distinguished by their elasticated side panels for easy dressing (say goodbye to tedious lace-ups). While pull-up tags take out any effort altogether. And indented rubber lug soles are not only stylish to boot—they're made for a lifetime of wear. But besides these iconic features, these slip-on boots for women come in all shapes and sizes. And our best boot brands never fail to excite us with cutting-edge designs.
Anine Bing screams fashion forward style and you'll hardly go unnoticed flaunting these Cuban heels. While Koio keeps it sophisticated and pays homage to the traditional design. Dr Martens has also added a Chelsea to their repertoire. And White House Black Market knows how to elevate your outfit in every sense of the word. All in all, it's difficult not to fall in love with each of these brands for their unique take on the Chelsea boot. And we're almost certain that your perfect pair is just to be stepped into.
But that's enough talking. Let's get walking.
The 21 best Chelsea boots for women
Koio: Best overall women's Chelsea boots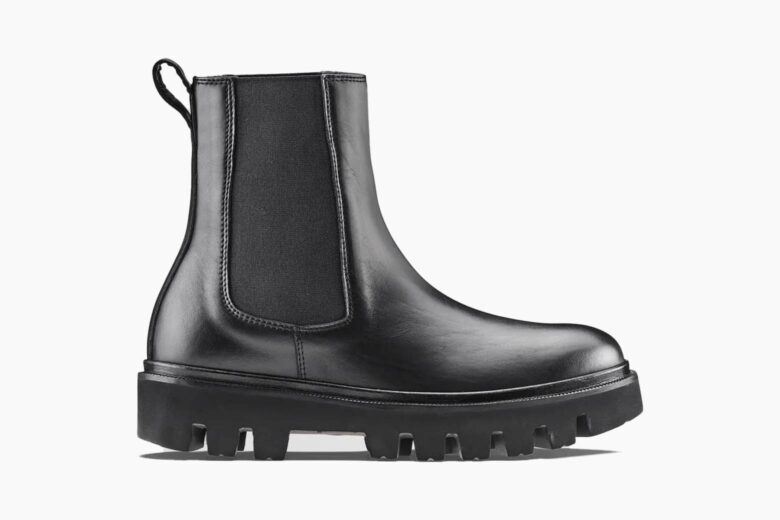 They're versatile. They're comfortable. And they're stylish to boot. Koio ticks every box when it comes to Chelsea boots. Handcrafted in Italy, the water-resistant lug sole is light on your feet. And it adds a contemporary edge to the timeless shoe. While the elasticated side panels allow for ample stretch. The sleek Nero tone complements every ensemble.
These Koio Chelseas are more than just a closet staple. They're the perfect pair for every occasion.
Best for: Season-to-season style.
| | |
| --- | --- |
| Material: | Leather |
| Color: | Black |
Isabel Marant Castay: Best designer Chelsea boots for women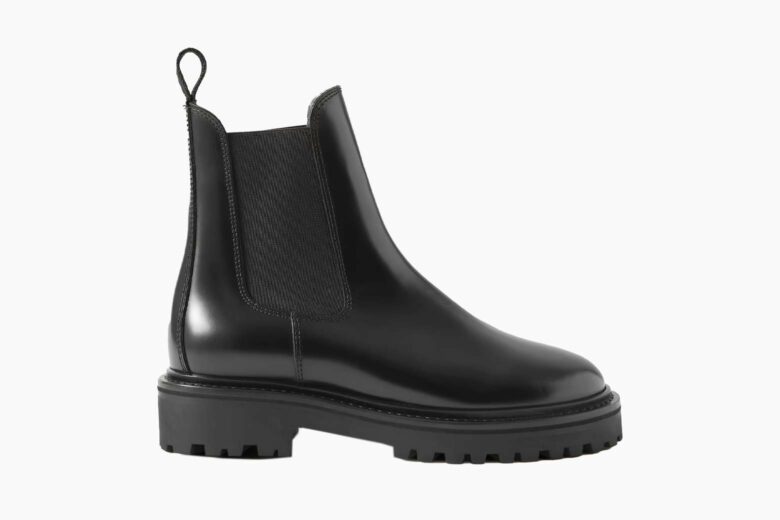 These timeless Castay's effortlessly defeat seasonal trends with their classical style. And we don't think that you could outwear the lugged rubber sole even if you tried. The black leather has a subtle shine to contrast the chunkier shoe. And there's nothing that the simple-yet-chic silhouette can't achieve when it comes to complementary shoes.
These Chelsea boots will ground your designer denims with the same subtle sophistication as they do your dresses. And they'll amp up your Autumn wardrobe in typical Isabel Marant fashion.
Best for: Doing the groundwork for fashionable getups.
| | |
| --- | --- |
| Material: | Leather |
| Color: | Black |
Dr Martens: Best value women's Chelsea boots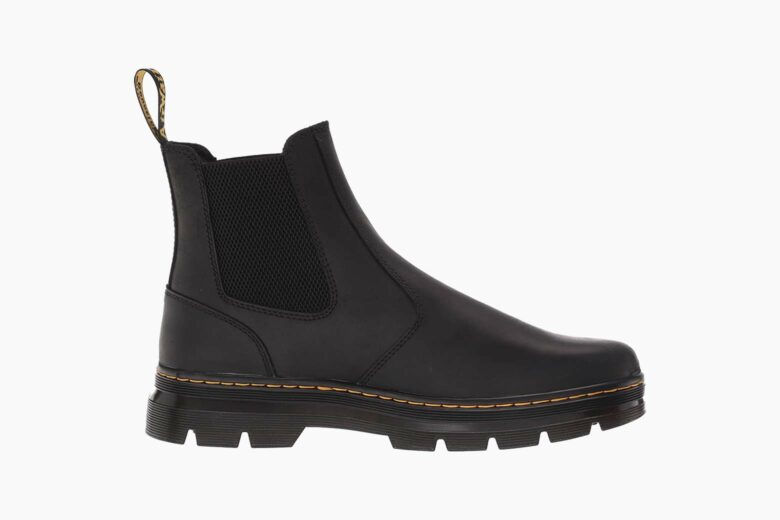 Famous for their chunky black boots—Dr Martens does it again with this stretchy laceless rendition of the old-school classic. Born in 1461, the timeless brand definitely isn't new to the shoe game. And their durable designs beg to be passed down to future generations. While the iconic label flaunts the well-known logo, we're pretty sure you can spot the brand's classical silhouette from a mile away.
These Chelsea boots carry the same big attitude as their lace-up counterparts. But they provide a new functionality with an effortless slip-on style.
Best for: Chunky classics with a twist.
| | |
| --- | --- |
| Material: | Leather |
| Color: | Black |
M.Gemi The Noemi: Best leather ankle boots for women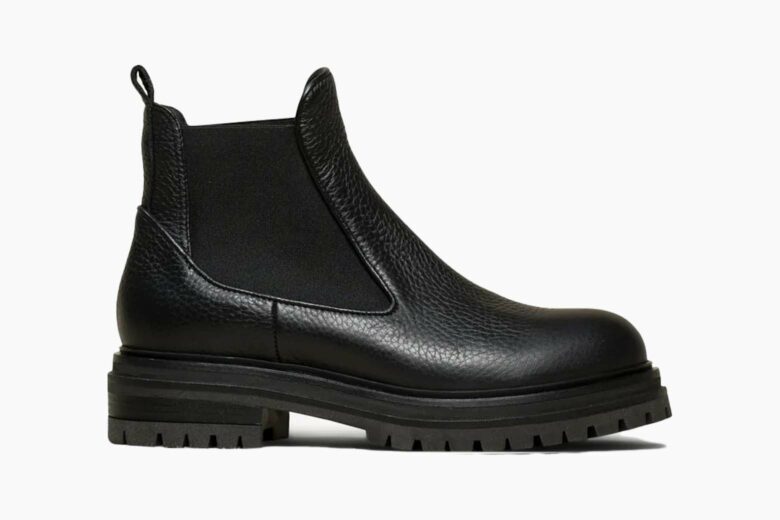 Proof that you can have the best of both worlds, The Noemi marries outdoor functionality with everyday elegance. The pull tab vouches for seamless slip-ons. While the Italian quality craftsmanship synonymous with M.Gemi will tackle any day on foot.
This slightly lower ankle boot is flawlessly flattering on every leg shape. And these Chelseas by M.Gemi will add that extra spring to your step (yes, even in the colder months).
Learn more about the story behind M.GEMI.
Best for: (Sole)ful sophistication.
| | |
| --- | --- |
| Material: | Leather |
| Color: | Black |
Legres Garden: Best women's Chelsea boots for walking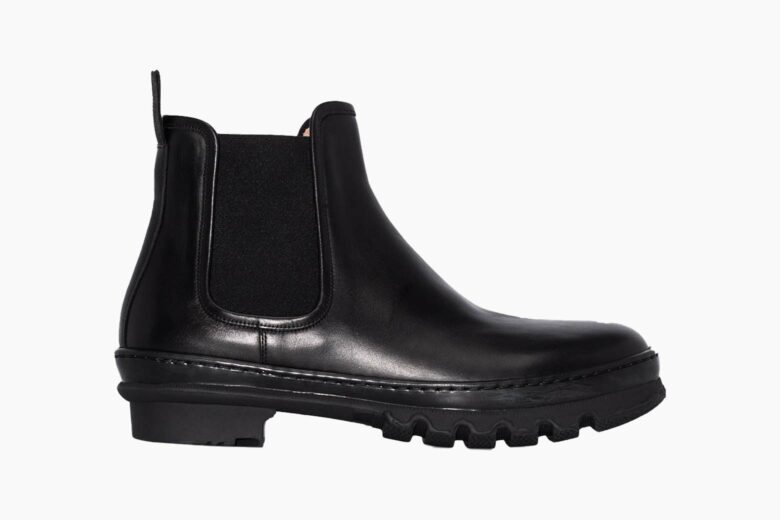 These boots were made for walking. Rumor has it the '96 hit single is referring to this pair of booties.
OK, we made that up. But you would think so too, after a day on the town in these Chelseas. Honoring the rich history of Italian craftsmanship, practicality has never looked so perfect. The soft, leather fabric is accompanied by elasticated sides for extra stretch. And the sturdy soles will never grow old.
These Legres' comfortable Chelsea boots make tackling Paris' cobbled streets in style feel like a walk in the park.
Best for: Making walking the walk a breeze.
| | |
| --- | --- |
| Material: | Suede |
| Color: | Black |
Anine Bing Roy: Best cowboy-style Chelsea boot for women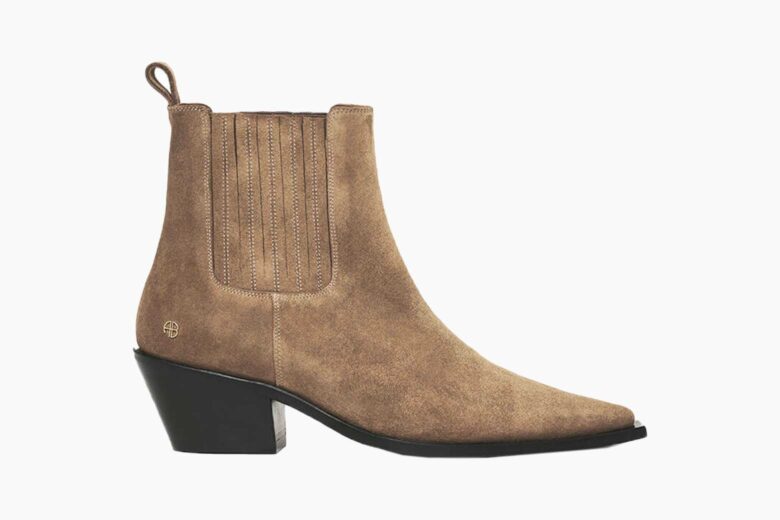 Try something different this season with Anine Bing's cowboy rendition of the classic Chelsea. The chic Roy boot honors both styles harmoniously and comfortably. The pull-up tag and elasticated sides speak to the Chelsea style. While the slimmed-down shoe is ready to elevate your wardrobe with a chunky Cuban heel. The western silhouette reaches just above the ankles for an elongated flair.
Apparently, celebrities are obsessed with the cowboy boot trend. And so are we.
Best for: The wild west meets classical finesse.
| | |
| --- | --- |
| Material: | Suede |
| Color: | Neutral shade of brown |
Blundstone BL510 Original 500: Best Chelsea work boots for women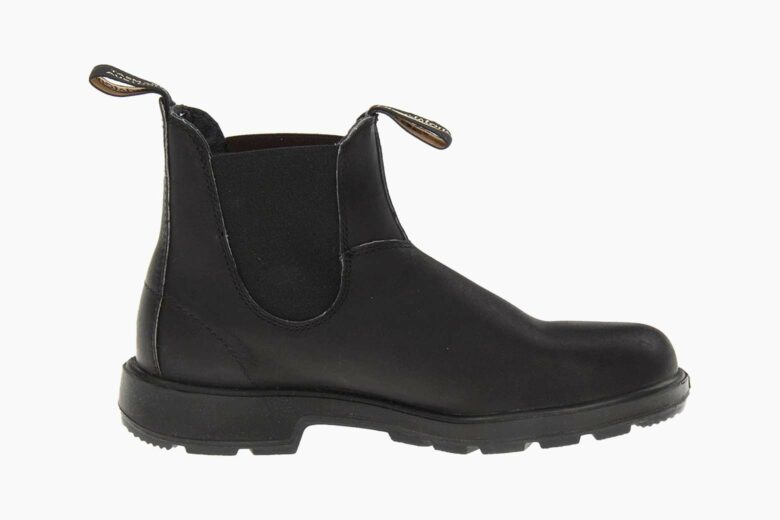 Double pull-up tags mean double the fun. They're the perfect protective boots for outdoor wear. But they'll also take you to post-work drinks with an edgy attitude. The durable soles are made to tackle every track or trail. And waterproof leather deems volatile weather unproblematic. Shock absorbant midsoles provide a softer landing. And the dark neutral colorway speaks to a modern, versatile functionality.
So whether you're taking them camping for the weekend or celebrating the weekend with a glass of wine—these beautiful boots are your new best friends.
Best for: BBF (Best Boots Forever).
| | |
| --- | --- |
| Material: | Leather |
| Color: | Black |
Frye Sabrina: Best brown Chelsea booties for women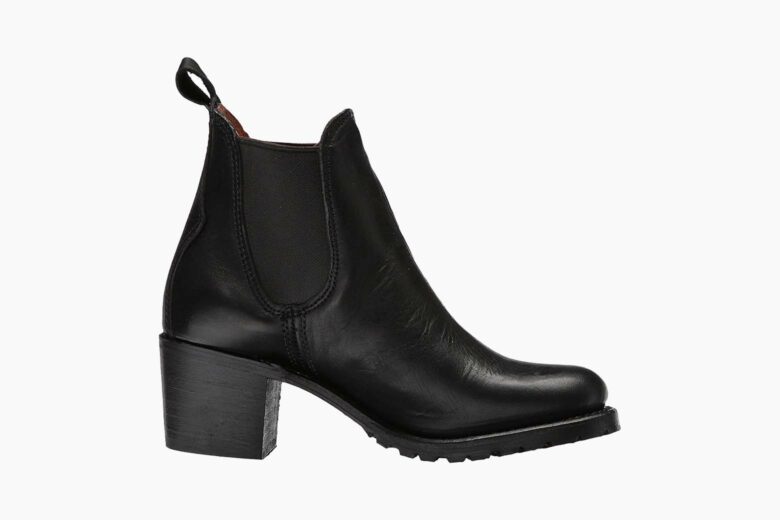 A soft, handworked tan leather adds a country flair to a classical silhouette. And if you're looking for a stylish lift to get you through Winter, these block heeled beauties (booties) know just how to do it. Pair them with light flowy florals or tighter denims. The neutral colorway only ever adds an air of subtle sophistication.
And these elevated brown boots will fit right into your Autumn wardrobe (cue the pumpkin spice latte!)
Best for: Beating Winter blues with boots.
| | |
| --- | --- |
| Material: | Leather |
| Color: | Brown |
Proenza Schouler: Best women's chunky boots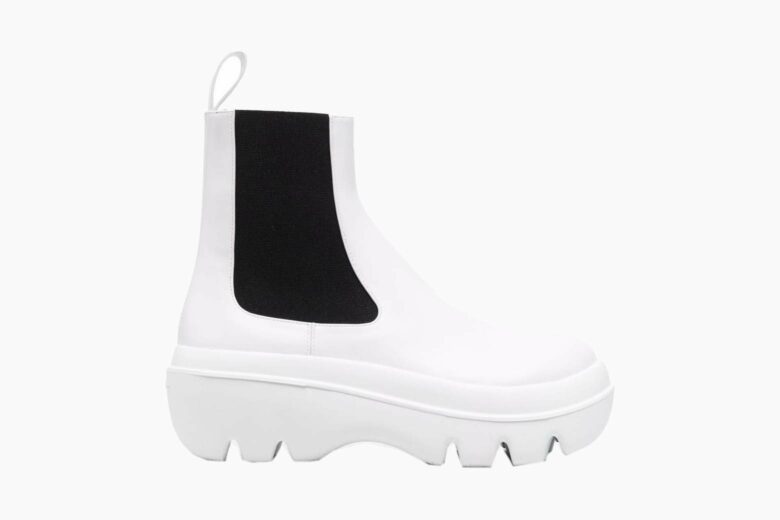 Proenza Schouler knows how to take the latest trends to new heights. And this chunky pair is no exception. The ankle-length silhouette is accented with an asymmetrical toe. And a (very) thick tread sole is bound to make a statement (prepare for the compliments).
Get a pair of these black bold booties to flaunt your forward-thinking eye for fashion. Or opt for the white design to really make your mark in stylish circles.
Best for: Standout fashion statements.
| | |
| --- | --- |
| Material: | Leather |
| Color: | Black and white |
Gucci: Best luxury Chelsea boots for women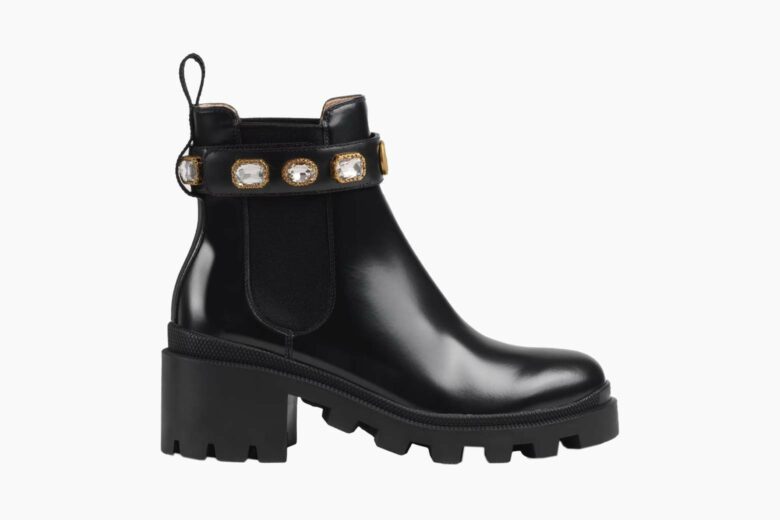 There's no need to accessorize when wearing a pair of these glamorous Guccis. The detachable ankle belt embellished with sparkling crystals will do it all for you. The unique gems resemble vintage jewels. And they speak to the timeless modernism inherent to the luxurious brand.
These opulent details are flawlessly contrasted with a Chelsea lug sole for refined-but-fierce finesse. While the signature Double G is all you need to finish off the shiny black look.
Best for: Gucci glamor takes on vintage gems.
| | |
| --- | --- |
| Material: | Leather |
| Color: | Black |
Toteme: Best black Chelsea booties for women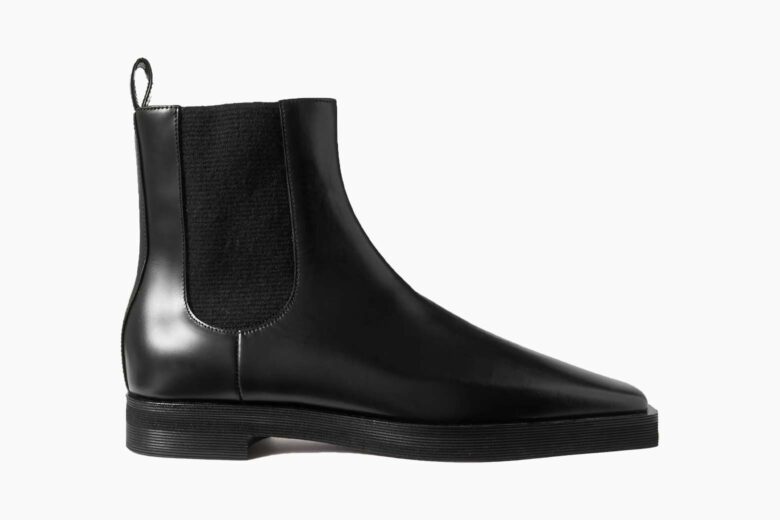 Clean lines embody the modern minimalist mantra of our time. The simple silhouette is characterized by the directional pointed toe. And the sleek black leather flaunts a subtle shine for sophisticated styling. They'll add a versatile edge to any ensemble and you'll struggle not to put them on daily.
These timeless Toteme Chelseas are here to stick around. And there's no better time to get a pair than the present.
Best for: Clean cuts call the contemporary creative.
| | |
| --- | --- |
| Material: | Leather |
| Color: | Black |
WHBM Military Bootie: Best heeled women's Chelsea boots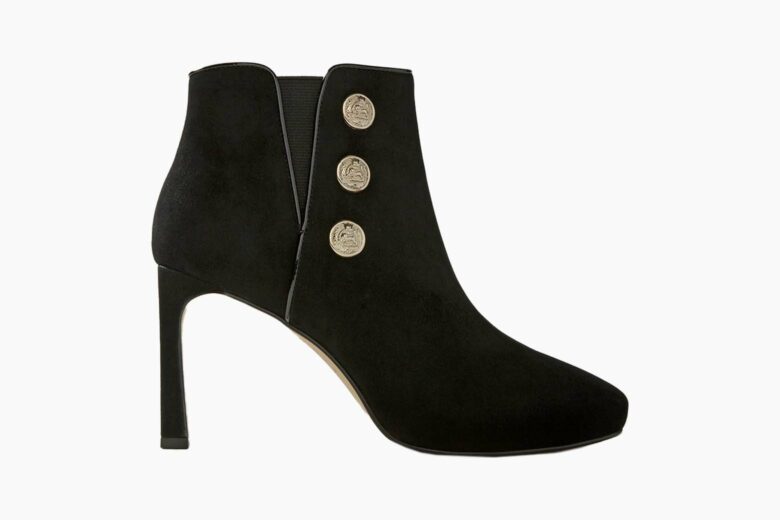 Comfortable heels—not an oxymoron when trying on a pair of WHBM's Military Booties. And we're pretty sure you'll agree when you will be strutting around cobbled pavements without a care in the world.
This simple silhouette finds its voice in sharp details like the commanding presence of Military-inspired metal buttons and a stiletto heel. Pair these comfortable Chelsea boots by WHBM with red-painted lips, and you're bound to feel like a million bucks.
Best for: A refined rendezvous.
| | |
| --- | --- |
| Material: | Suede |
| Color: | Black |
Tod's: Best suede leather ankle boots for women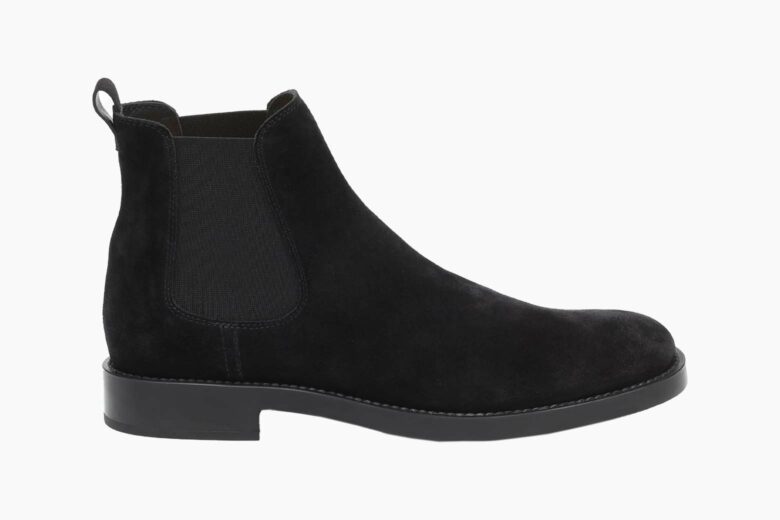 Our best ankle boots come in all shapes and sizes. This one comes in the form of a velvety suede Chelsea boot. The opulent fabrication of the typical design speaks to the brand's luxurious reputation. And the versatile style means that you can wear the same pair every day of the week (hello capsule wardrobe!).
Pair these Tod's Chelseas with black neutrals or vibrant hues in any form. These accommodating boots make layered dressing easy by complementing every piece in the ensemble.
Best for: Effortless pairing.
| | |
| --- | --- |
| Material: | Suede |
| Color: | Black |
Saint Laurent Theo: Best suede heeled Chelsea boot for women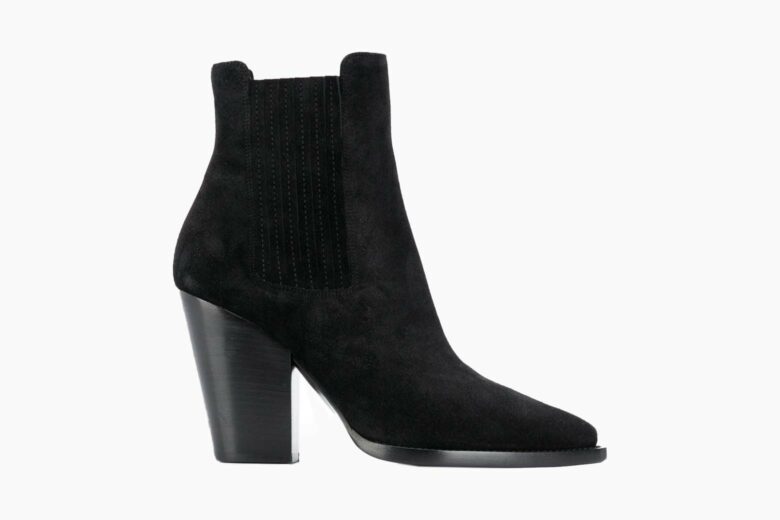 Wake up feeling low? Put on your (black) suede shoes and make the day your catwalk. These thick heels are bound to take your outfits to new heights and boost your confidence. The suede fabric speaks to a refined sophistication. And pointed toes will keep everyone around you in check.
These sumptuous Chelseas are the perfect companions for public speeches, first dates or just about anything where you could do with an extra lift.
Best for: Carefree confidence.
| | |
| --- | --- |
| Material: | Suede |
| Color: | Black |
Elleme Chouchou: Best white Chelsea boots for women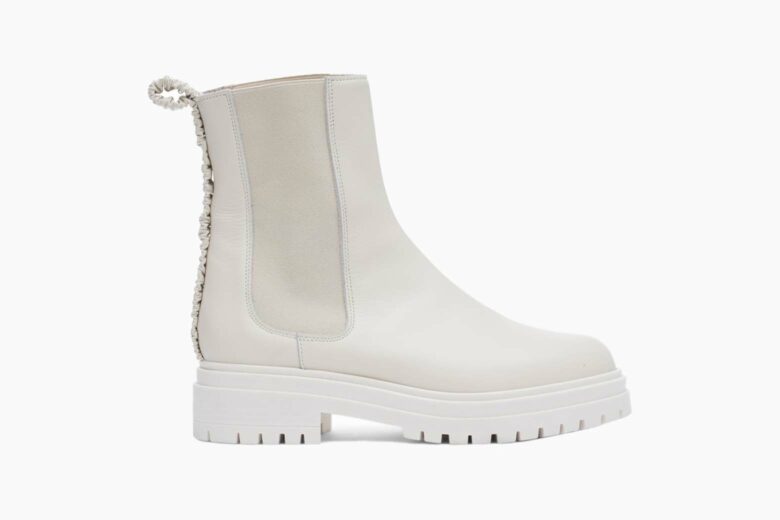 We all know that the devil is in the details. But Chouchou detailing is the holy grail of luxurious design. And this white leather pair couldn't do it better. The clean colorway is complemented by a subtle ruched accented heel. Elongated elasticated sides take the classic Chelsea stretch even further. And a thick rubber lining exudes a playful but (sole)ful attitude.
These decadent details are enough to make every fashionista fawn over this designer pair of Chelseas We know that we are.
Best for: Pure white hues marry devilishly tempting details.
| | |
| --- | --- |
| Material: | Leather |
| Color: | White |
Gianvito Rossi: Best cream women's Chelsea boots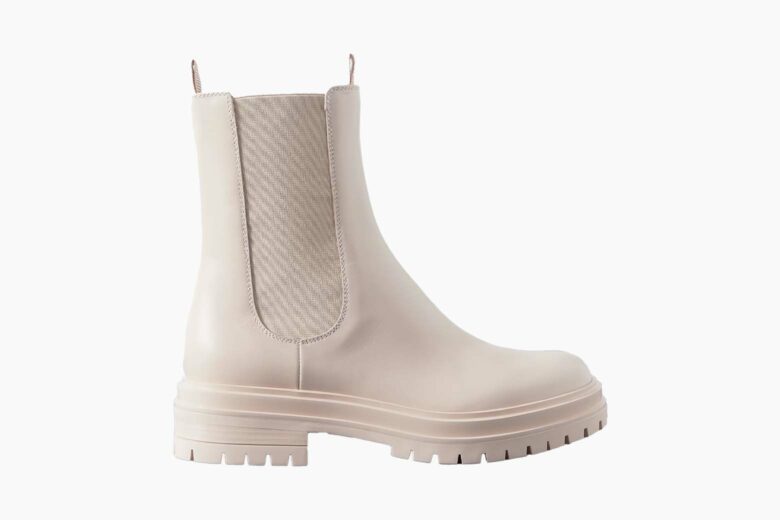 They're your new mom-jean accomplice for a casual chic day-out style. The soft cream hue perfectly contrasts the rugged edges and chunky soles. The culmination is a masterpiece of cheeky-feminine minimalism. Made in Italy, the beige calf leather silhouette extends beyond the ankle. It'll slimly tuck beneath your looser denim. And the elongated elasticated panels make for easy dressing.
Following in his father's Versace footsteps, this pair of Chelseas is proof that Gianvito Rossi has stepped out (pun intended) on his own successfully.
Best for: Soft hues get a cheeky chunky makeover.
| | |
| --- | --- |
| Material: | Leather |
| Color: | Cream |
Nisolo Everyday: Best women's tan Chelsea boots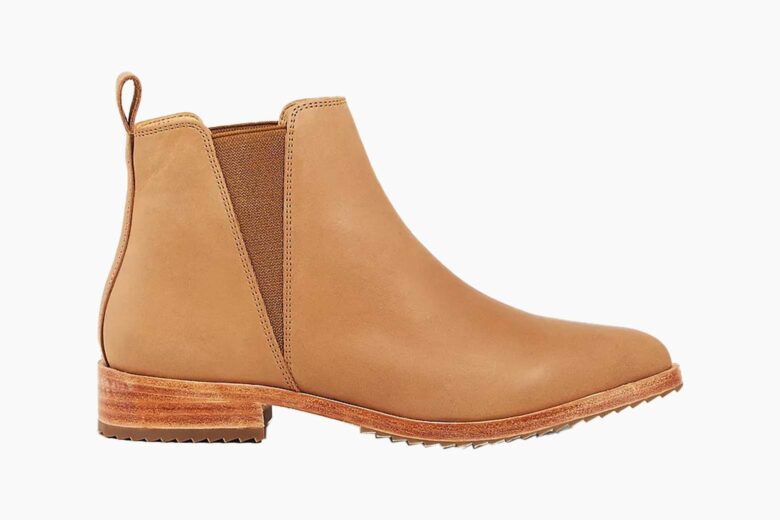 Short but sweet—this tan pair would melt your leather-loving heart. The lighter honey tone flawlessly accompanies every ensemble. They add a sophisticated flair without stealing the show. And the lower ankle is a flattering fit for every leg type. But the soft, buttery boots are more than just a fashion statement. All of their leather is sustainably sourced. And ethical shoemaking is at the forefront of the sustainable brand.
This versatile pair of Chelseas is endlessly functional with waterproof leather and neutral hues.
Best for: Form and function merge to create an everyday masterpiece.
| | |
| --- | --- |
| Material: | Leather |
| Color: | Tan |
Valentino Garavani: Best platform Chelsea boots for women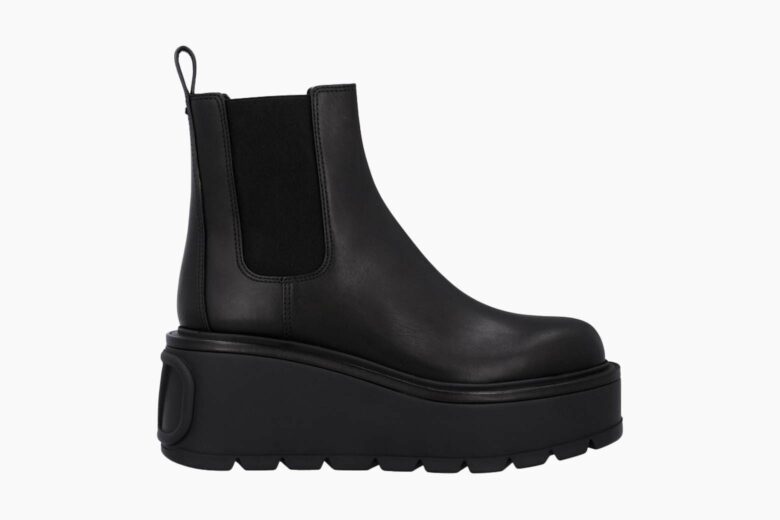 Extra height? Check. All-day comfort? Yes! What more could you want in a pair of Chelseas? Described as jet-set chic, this Italian brand knows how to make a statement with bold features. And these huge soles are prime examples. While the rest of the shoe remains relatively simple.
This black leather silhouette is on the top of our list of most comfortable boots for women. And at the same time, they are guaranteed to attract a strew of compliments.
Best for: A simple silhouette showcases unsubtle soles.
| | |
| --- | --- |
| Material: | Leather |
| Color: | Black |
Bottega Veneta: Best lug sole Chelsea boot for women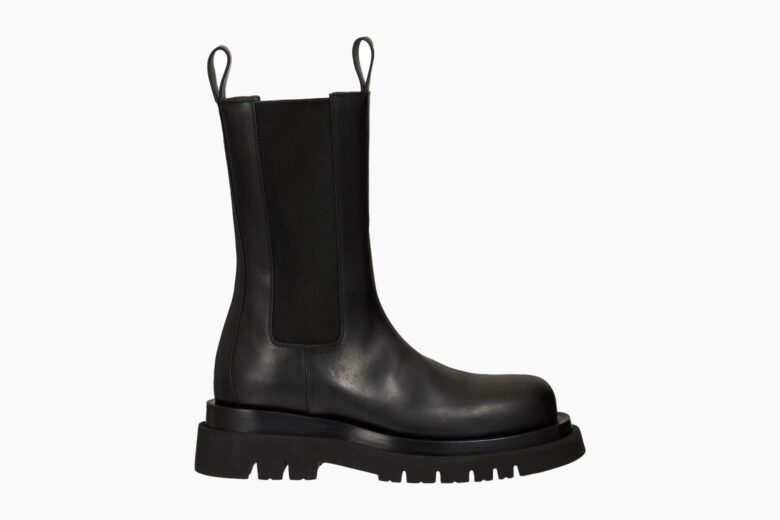 Characterized by thick rubber and deep indentations—lug soles are inherent to the iconic boot. But some do it better than others. And these Bottega Venetas just happen to take the cake. The buttery Italian leather comes in deep green, brown, and black. And while all the classical colorways are drop dead gorgeous, you can never go wrong with black.
These comfortable Chelsea boots by Bottega Veneta flaunt double pull-up tags and elongated elasticated panels for easy dressing.
Best for: Effortlessly chic indents.
| | |
| --- | --- |
| Material: | Leather |
| Color: | Black, green and brown |
Blundstone #1477: Best waterproof women's Chelsea boots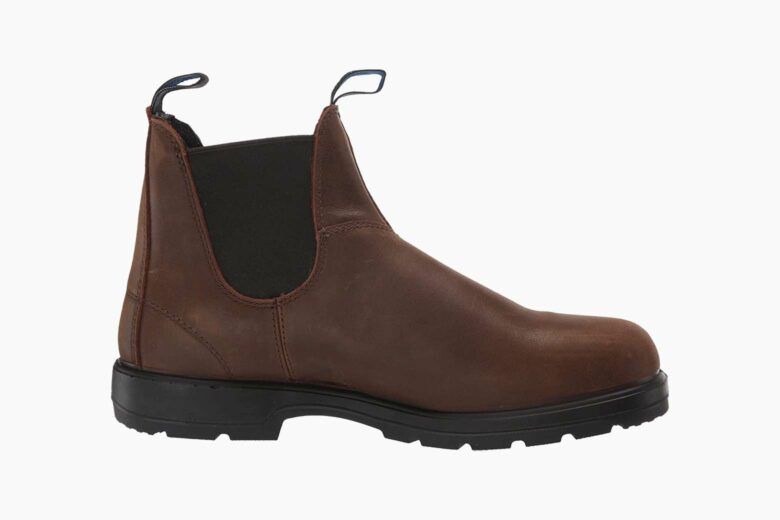 They're the once-off purchase that will make the rest of your life a lot easier. These Blundstone Antiques make outdoor living effortlessly simple. They're made for long day-outs. And are ready to tackle anything thrown at them—including heavy downpours. The dark brown leather adds a masculine touch to an otherwise feminine silhouette.
These weathered Chelseas may flaunt a vintage flair. But they're designed with all the latest technology to make every step luxurious. We think of them as a pair of perfect opposites.
Best for: Weathering the elements.
| | |
| --- | --- |
| Material: | Leather |
| Color: | Brown |
Ganni: Best women's chelsea rain boots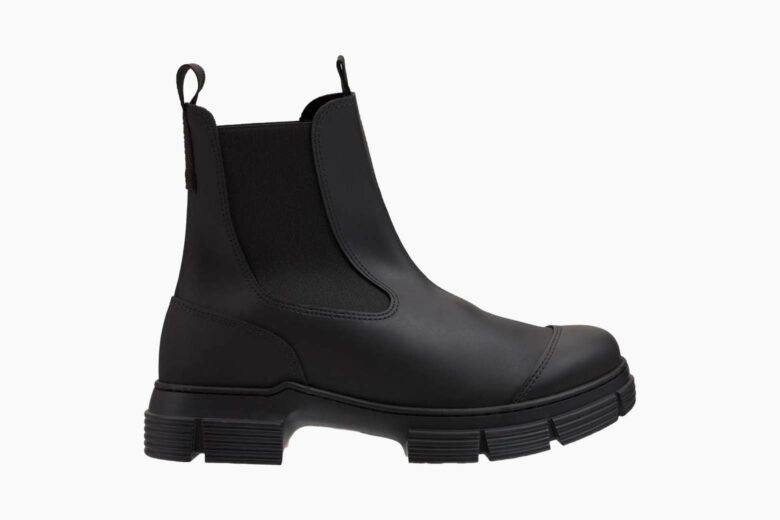 These gorgeous chunky soles are the ultimate rain boots. Made from durable, waterproof rubber, they're designed to endure any weather. The multifunctional boot flaunts all the facets of your typical Chelsea. But the contemporary brand has added its own modern flair. The silhouette is slightly higher and comes in sleek black or soft green hues.
These versatile Gannis are designed for rain. But we give you full permission to wear them in the bright sunshine too.
Best for: Enduring in an effortless style.
| | |
| --- | --- |
| Material: | Rubber |
| Colors: | Black and green |
Buyers guide to women's Chelsea boots
What are Chelsea boots?
Chelsea boots originated from the need for comfortable riding boots (from Queen Victoria herself). And they have quickly become the timeless trend to steal the (boot) show season after season. They embody our functional fashion mantra in every facet of the effortlessly chic style. And while they may no longer see themselves on the sides of horses—this British design is making moves just about everywhere else.
Distinguished by their lug rubber soles and elasticated side panels, these ankle boots make booting up a breeze. They've foregone the hassle of lacing up. And pull-up tags are used to gracefully mold the stretchy shoe onto your foot. The slimmed down silhouette is usually contrasted with chunky soles. And the feminine-masculine collaboration can be seen as a classical-contemporary masterpiece.
But as is with all models, no two Chelseas are the same. Some soar high above the ankle. And others keep it short and sweet. Some air on the side of elegant simplicity. While others ooze a cheeky chic attitude with exaggerated soles. To see which pair speaks to your style, read our full list of the best Chelsea boots in the business.
How to style Chelsea boots?
Chelsea boot outfits come in all styles and variations. The versatile boot can be worn over skinny jeans. Or tucked beneath mom jeans. They can be paired with flowy babydoll dresses for the day. And they easily slip into a sumptuous figure-hugging garment at night. They're perfect for the office with their sophisticated indented soles. And they can be worn all year round with different styles and socks.
You could see the black Chelsea as the boot equivalent of a white sneaker. The similarity being that you can wear them with absolutely anything. And in this case, they're your black canvas to go wild with creativity. Or simply slip them on when you're short of ideas. Ultimately, you can choose exactly how to wear Chelsea boots. And it's usually difficult to go wrong. If you don't know where to start, pair them with a dress for that contemporary classical look we love.
Frequently asked questions about Chelsea boots for women
Which brand is best for Chelsea boots?
Most of our best boot brands showcase a unique take on the classic Chelsea. Anine Bing has added a western flair with the cowboy Chelseas. Ganni has taken functional fashion to new heights with the ultimate rain boots. And as expected, Gucci has added its own glamorous touch of vintage gems to create a scintillating performance. Read our full list of the best Chelsea boots for more inspiration.
Are Chelsea boots still in style in 2023?
Chelsea boots are definitely still in style in 2023. In fact, we don't think that the timeless boot will ever go out of style. Chelsea boot outfits continue to change with the seasons. While the shoes themselves always know how to fit into changing trends. Opt for a more classical pair to honor their history. Or go bold with a contemporary masterpiece that proves that the iconic boot will be adjusted but never chucked.
Is Blundstone a Chelsea boot?
Blundstone may be more rugged than most. But with the signature pull-tags, elasticated panels , and lug soles—they're definitely still a Chelsea. In fact, they're the perfect example of a pair that fits in anywhere. They're stylish enough to hit high-end streets. But sturdy enough to tackle any weather.
Which color of Chelsea boots is best?
We're biased towards more neutral hues when it comes to the Chelsea boot. Not only can you wear them with anything at any time. But the subtle tones complement the iconic classical style. If we really had to pick one color, we'd usually go for black. You just can't go wrong.