Channeling your inner Chanel is about defying norms in dressing. It's about exuding style and sophistication, whilst simultaneously sending a transformative message. It's about feeling empowered through fierce femininity. It's about commanding respect. It's about proving that androgyny can be elegant. It's about investing in timeless pieces that transcend fickle trends. And of course, while not essential, all of this is best achieved with a Chanel handbag slung over your shoulder.
But understanding the power that a Chanel bag holds isn't usually the problem. It's choosing which iconic piece to put your money into that poses a tough decision. Unsurprisingly, most Chanel bags have proven to be a worthwhile investment over the years. However, we remain unapologetically biased towards a few models in particular—hopefully making your choice that much easier.
The Chanel 2.55 is the bag that made Chanel famous. As one of the first bags to be designed with straps, it sends the message that women have more important things to do than hold an inconvenient clutch. In doing so, it brought about a rebellious revolution in fashion. And many of our favorite Chanel crossbody bags are modeled after this liberal approach to accessorizing. These days the luxury of multitasking, bag in tow, is no longer considered a novelty (thankfully). But what Chanel represents—a movement towards functional fashion for women—will always remain significant.
Our best Chanel bags carry so much more than lipsticks and devices. They carry chic confidence—now let's make it yours.
Want to buy a Chanel bag online right now? Chanel doesn't sell online, so your best option is to purchase a high-quality genuine second-hand bag from Farfetch or Fashionphile.
Chanel 2.55 Handbag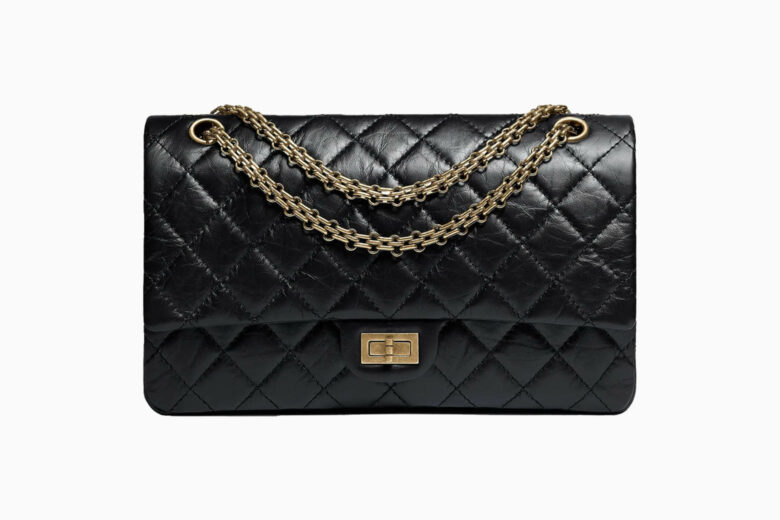 Freeing women from the constraints of a hands-on clutch, the birth of the Chanel 2.55 was seen as a revelation of its time. Created in 1955 (hence the name), the iconic bag was so much more than a practical accessory. It defied conventions and argued that women had more to do with their hands than simply holding a bag. Deviant details took the message one step further. And the zipped internal pockets were said to be for secret love letters. While the decadent diamond-stitched quilting was inspired by men's jackets.
Today, the novelty of straps may have worn off. And realistically, the less-scandalous zipped pockets carry nothing more than lipsticks and hair ties. But the significance of what the Chanel 2.55 achieved maintains an empowering allure. And without trying too hard, the timeless classic instantly demands respect across all generations.
Best for: Liberating luxuries.
| | |
| --- | --- |
| Release: | 1955 |
| Retail Price: | $4,900-$10,200 |
Chanel Classic Handbag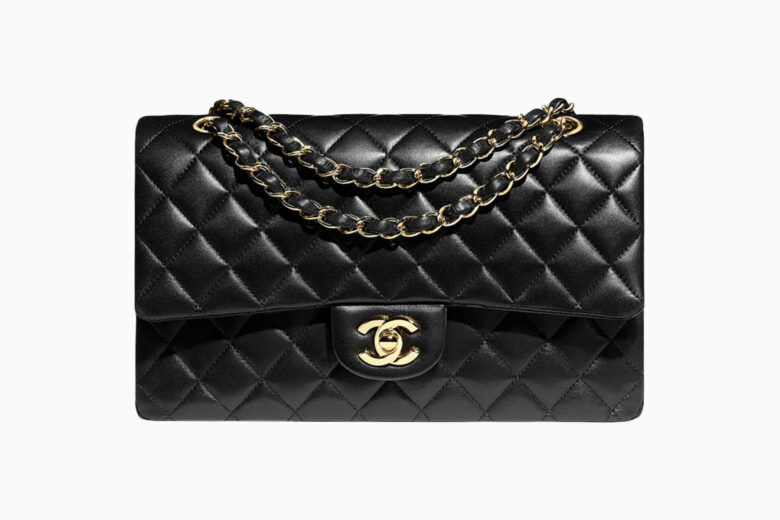 Gabrielle Chanel may have given birth to the trendy-defying luxury brand. But it's Karl Lagerfeld's reinterpretations that have made the French fashion house what it is today. The Chanel Classic bag was created in the early 1980's. And while it pays homage to the original "classic" Chanel bag, the Chanel 2.55, careful additions speak to Chanel's innovative, forward-thinking approach to fashion.
The inclusion of a leather woven chain enhances the decadent defiance of the accessory as it draws attention to the rebellious strap that brought the original to fame. The Double C lock intensifies the air of mystery. And the extra pockets in the Double Flap iteration further allude to the rumor that Chanel used the hiding spot to secure secret love letters. Culminating into one accessory, the added features only heighten the sense of rebellion inherent to the design. And when it comes to defying oppressive norms, we like to think that more is always more.
Best for: Chanel—ing your inner Gabrielle.
| | |
| --- | --- |
| Release: | 1983 |
| Retail Price: | $9,600-$11,000 |
Chanel 19 Bag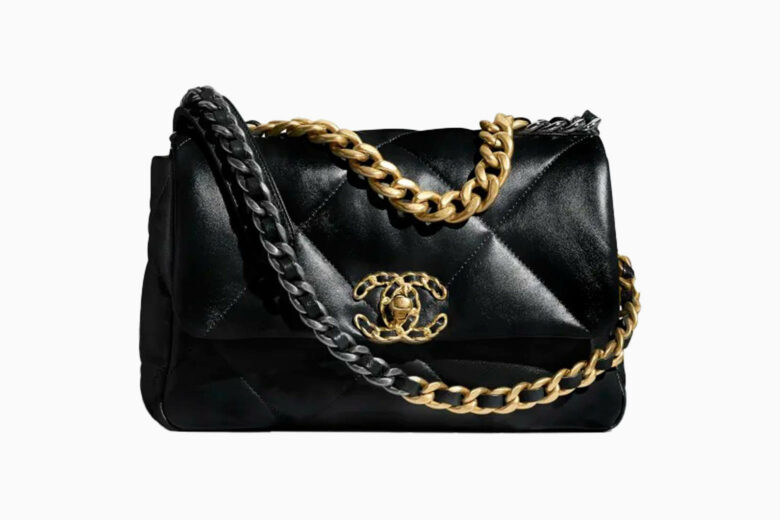 Many Chanel handbags are named after the year in which they were created. In doing this, the French luxury brand solidifies a time in history in which its story is redefined, and a new wave of excellence is introduced. In the case of the Chanel 19 Bag, this is achieved through recreating and reimagining past successes.
Once again, the Chanel 2.55 remains central to the contemporary reinterpretation. The square shape and quilted fabrics remain true to the original design. While the slouchier silhouette and chunkier gold chains nod towards a less-refined, more relaxed movement in fashion. We especially love the light green corduroy iteration as it hits the elusive sweet spot between effortlessly timeless and totally on-trend. What more could you want in an everyday accessory, right?
Best for: Solidifying its moment in history—as will you.
| | |
| --- | --- |
| Release: | 2019 |
| Retail Price: | $6,400-$6,500 |
Chanel 22 Bag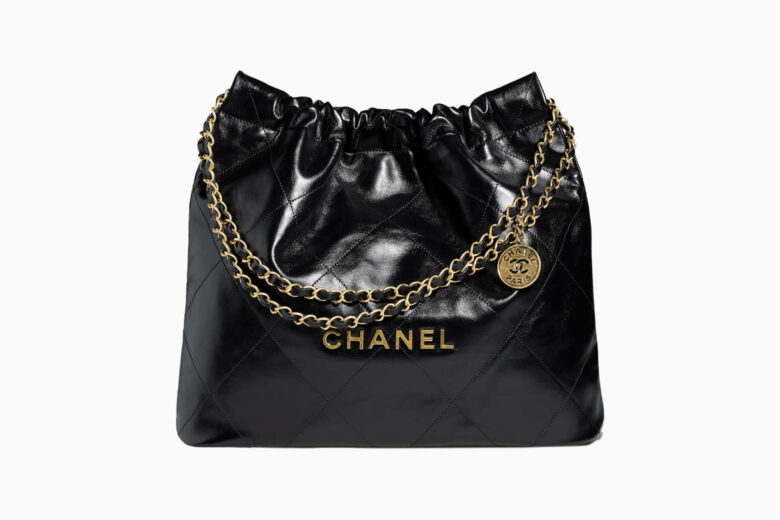 Can you call it the hottest handbag trend unless the iconic fashion houses have signed off on it? We don't know. And luckily, we don't have to think too much about it when it comes to the logo tote, as Chanel was amongst many of the most popular luxury brands to add their stamp of approval in 2022.
This iconic Chanel bag is all about portraying the brand's empowerment of women through style and comfort. The sizable silhouette is designed to fit your daily essentials. The elongated straps maintain their hands-free appeal. The drawstring closure introduces a nonchalant, sporty feel to the overall aesthetic. While the signature gold hardware logo speaks to the power of words and affluence—proving that Chanel designs will always command attention, even when they are relaxed and understated.
Best for: Proving your power.
| | |
| --- | --- |
| Release: | 2022 |
| Retail Price: | $5,000-$6,300 |
Chanel Boy Bag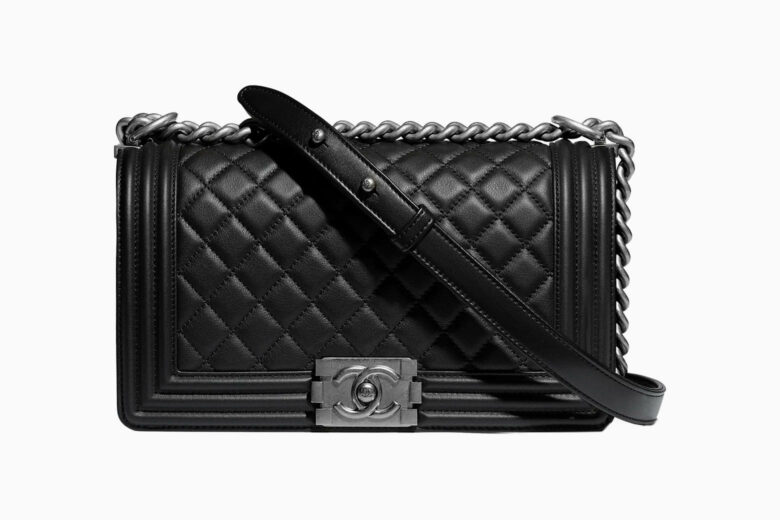 It may be called The Boy Bag, but it's undoubtedly an it-girl favorite. Named after Coco Chanel's greatest love affair, Boy Capel, the boxy design merges the idea of hopeless romanticism with Gabrielle's fiercely feminist spirit. The boyish attitude speaks to the designer's rebellion against oppressive societal norms. While the name vulnerably opens up about the influence that one man had over her.
The gold chains, monogram hardware closure, and quilted leather embody Chanel's signature style. While the masculine silhouette adds a playful edge and simultaneously carries the weight of radical reformation. Underlying every detail is the marriage of love and passion, making it tres chic—and oh so French.
Best for: Chanel Boy meets It-Girl.
| | |
| --- | --- |
| Release: | 2011 |
| Retail Price: | $6,100-$7,000 |
Chanel Grand Shopping Tote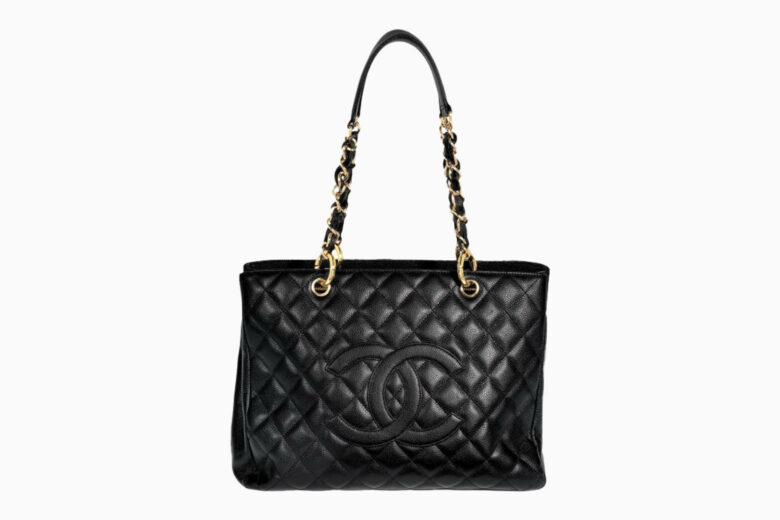 Whether you're hitting Paris' high end boutiques, or less-glamorously toting your laptop to the office, the Chanel GST can't help but blur the lines between work and play. The spacious carryall is as fashionable as it is practical. And whilst the brand's signature black quilted silhouette adds a sophisticatedly chic edge to any ensemble, the roomy red interior ensures that nothing gets left behind. Although this Chanel tote bag was discontinued in 2015, it can be purchased preloved on sites such as Farfetch and Fashionphile.
We believe that the best totes have more than one life. The Chanel tote has many. What was once your designer work bag becomes a superhero mom accomplice, before transforming into a boujee brunch companion and retail therapy consult. However, the one thing that doesn't change is its concern about you looking your best. Now that's true friendship.
Best for: A bag with (more than) nine lives.
| | |
| --- | --- |
| Release: | 1997 |
| Retail Price: | $1,515-$4,115 (preowned) |
Chanel Gabrielle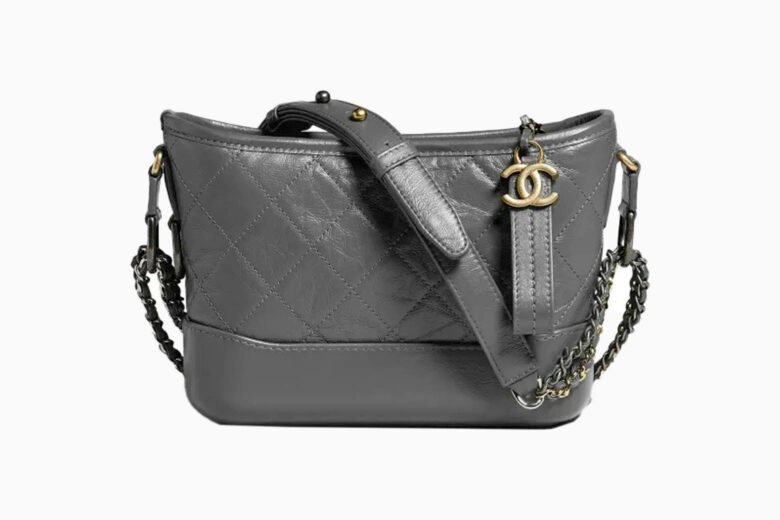 Intrinsic to Gabrielle Chanel was a spirit of elegance, functionality and androgyny. In combining these three opposing aspects, she revolutionized womens' fashion and what it symbolized. And so the bag is named after Chanel before she was "Coco", before she was famous. It explores where the brand's signature details come from and what they mean to the fashion house.
Paying tribute to the fashion icon, The Chanel Gabrielle Hobo Bag showcases an ability to play with contrasting characteristics to create a piece that is meaningfully unique. The long straps and slouchy silhouette add an air of masculinity. Whilst Gold hardware, chains and soft palettes speak to the more feminim aspects. It's not surprising that this was the first bag to be featured in unisex fashion. And whilst that's nothing new today, it still remains one of our best—especially the black and white tweed iteration.
Best for: Exuding elegant androgyny—in honor of Gabrielle.
| | |
| --- | --- |
| Release: | 2017 |
| Retail Price: | $1,640-$7,495 (preowned) |
Chanel Wallet on a Chain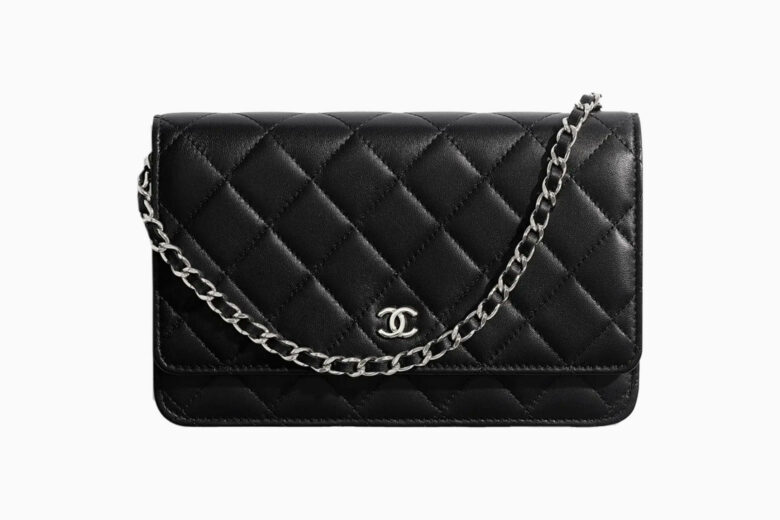 Staying true to Chanel's functional fashion mantra, the Wallet on a Chain (WOC) proves that stylish accessories don't have to cost you the ability to hold both a champagne flute and full plate during canape hour.
This Chanel quilted bag features the luxury brand's distinctive touches. The gold chains and Double C hardware make the compact fashion statement instantly recognizable as a Chanel classic from a mile away. We love the unobtrusive accessory in contemporary blue to make a splash. The black Chanel bag is effortlessly versatile. While the printed denim reminds us of the brand's rebellious roots. Either way, we always give credit where credit is due. And the Chanel WOC easily deserves a spot on our list of the best wallets for women.
Best for: Dynamite comes in small packages—as long as it's Chanel.
| | |
| --- | --- |
| Release: | 1997 |
| Retail Price: | $3,350-$4,300 |
Chanel Perfume Bottle Bag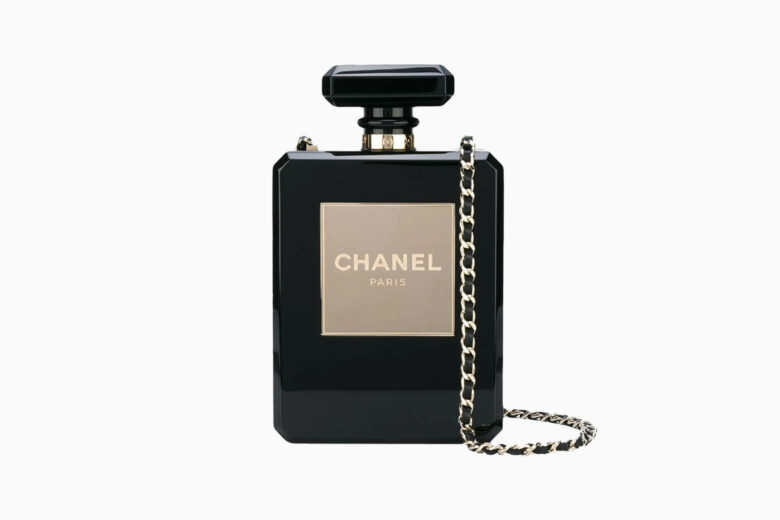 More statement than classic, this mini Chanel bag deserves its moment in the sun. The Perfume Bottle Bag showcases the fashion house's daring whimsy and its ability to redefine style norms. And whilst, the minimalists at heart may prefer to stick to the original Chanel 2.55, high end It-Girls such as Kim Kardashian and Kris Jenner immediately took to the unconventional design.
Inspired by the iconic Chanel No. 5 perfume bottle, the white Chanel bag maintains an easy-to-dress allure in its clean versatile colorway. Plus, the limited release of the Perfume Bottle Bag only heightens its value. And while fashion icons and influencers snatched them up in 2013, this conversation starter remains a resale market favorite. Just call it an investment.
Best for: The sweet smell of luxury.
| | |
| --- | --- |
| Release: | 2014 |
| Retail Price: | $13,999-$29,920 (preowned) |
Chanel Vanity Bag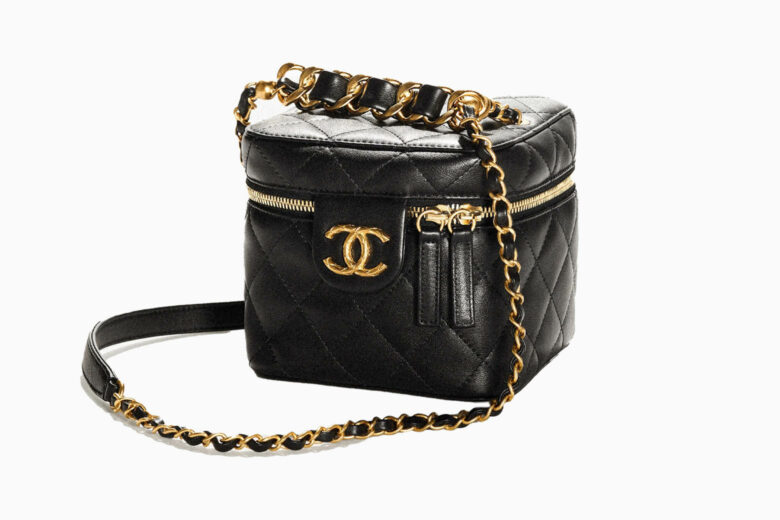 Released in the 2016 Airline Spring Collection, the Chanel Vanity bag is reminiscent of an era where hopping on a plane was the ultimate act of luxury. And just as airlines were breaking borders between countries, the audacious brand strives to break borders in fashion.
A distinctive feature of this Chanel shoulder bag is the zip around the entire perimeter. Not only is this reminiscent of real luggage, but it also practically makes room for plenty of compartments and pockets. We can just imagine Audrey Hepburn boarding a plane with a Chanel Vanity Bag loaded with her evening cosmetics. And any bag that inspires such an image is worthy of a place on our list—perhaps in your wardrobe too.
Best for: Ensuring that your style efforts aren't in vain.
| | |
| --- | --- |
| Release: | 2016 |
| Retail Price: | $2,375-$5,600 |
Chanel Camera Case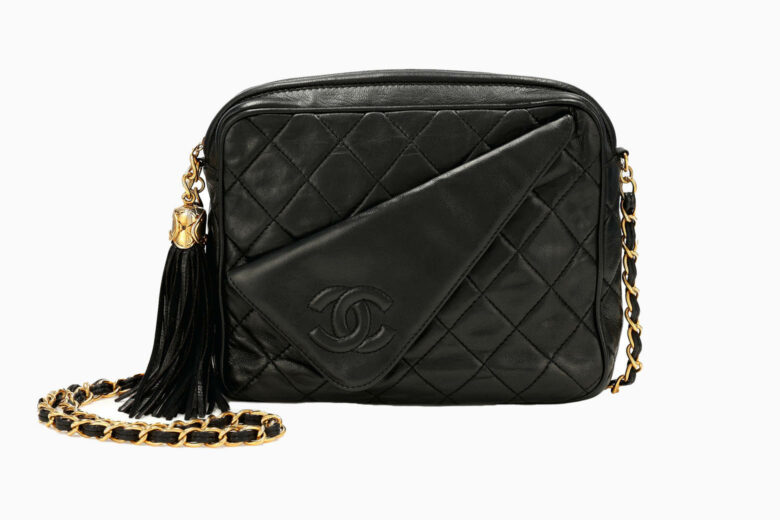 Reminiscent of the novelty of capturing moments for the first time, the Chanel Camera Case was designed in the 1980s by Gabrielle Chanel herself. The quintessential accessory exudes playful nostalgia whilst maintaining a sophisticated elegance.
The compact, quilted square silhouette is accented with Chanel's signature glamorous gold chains and Double C hardware. And the smaller interior is deceivingly spacious—big enough for all your daily essentials. The convenient size and effortless crossbody strap encourage liberal, hands-free adventure, While the limited release makes it one of the most sought after Chanel bags to date.
Best for: Changing the lens through which you view luxury.
| | |
| --- | --- |
| Release: | 1989 |
| Retail Price: | $4,790 (preowned) |
A brief history of Chanel
Intrinsic to the luxury house is Gabrielle "Coco" Chanel's rebellious spirit and trendy-defying nature. After she launched her iconic perfume, Chanel No. 5 in 1921, the French designer was forced to close her doors during World War II. True to form, she came back fighting in 1954. And only a year later, she released the revolutionary Chanel 2.55 bag. The defiant accessory put women's needs at the forefront of the design. And as one of the first fashion house's to release a bag with straps, they sent the message that women had more to do with their hands than hold a clutch all day.
By the 1960s, Coco Chanel was a household name. She passed away in 1971 and left Karl Lagerfeld to continue her legacy. And that is exactly what he did. While Lagerfeld kept innovating and designing contemporary iterations, he ensured that Coco Chanel's fierce femininity remained central to each piece. To this day, signature details such as gold chains, Double C hardware and quilted fabrics remain instantly recognizable features of Chanel's mark in history.
How much does a Chanel bag cost?
Chanel bags vary in price, depending on how limited they are, size and popularity. The best Chanel bags on the Official Chanel site range from around $2,500 for smaller bags such as the Chanel Wallet on Chain to around $9,500 for a large Chanel Classic, with the average price coming in at around $5,000.
Fortunately, the vintage market is booming with Chanel originals. And sites such as Farfetch and Fashionphile sell a huge variety of pre-owned Chanel bags. On average, a large Chanel bag ranges from $2,000 to $6000. While you can expect to pay around $18,000 for rare limited editions such as the Perfume Bottle Bag and around $1,000 for some Chanel purses.
Frequently asked questions about Chanel Bags
Which is the most sought after Chanel bag?
The Chanel 2.55 remains one of the most sought after women's Chanel bags to date. As the accessory that began the functional fashion revolution, it's no surprise that the timeless significance of the classical piece hasn't lost its allure. While the more contemporary reimagined Classic Chanel also remains a trend-defying favorite.
Is it worth investing in Chanel?
Chanel will always be a fantastic investment—not only stylishly but also financially. And whilst the sumptuous accessories should be purchased for their ability to bestow confidence and empower women, it's always a bonus when your handbag increases in value over time. Read our list of the best Chanel bags to see which one you should invest in.
Why are Chanel bags famous?
Chanel bags are famous for revolutionizing a movement towards functional fashion. And whilst the luxury accessories are effortlessly elegant, they simultaneously put the needs of a woman first with comfort and convenience. This may not seem fame-worthy today, but at the time, Chanel was one of the first to design with both style and practicality in mind.
Which is a better brand Chanel or Louis Vuitton?
It seems almost impossible to choose between Chanel and Louis Vuitton. But based on our annual ranking of the most popular luxury brands online, Chanel appears to be the most popular of the two this year.