Ah, the humble backpack. An undisputed wardrobe essential, the backpack effortlessly combines functionality and style. At least, the ones on our guide do.
No longer are we limited to bulky, utilitarian backpacks akin to those our mothers burdened us with as children (a painful memory, we know). No: thanks to the great work of talented designers, sports brands, and travel experts, there are as many gorgeous (and practical) backpacks out there as women who wear them.
From sleek, stylish backpacks to travel backpacks and even our favorite hybrid: the purse backpack, you're sure to find the perfect home for your daily essentials.
Cool backpacks rival the best totes or shoulder bags, offering up (typically) plenty of allocated pockets for your things, adjustable straps, and a slip-on-and-go vibe.
Upgrade your bag collection with our guide to the best backpacks for women. We promise: you'll never look back.
The 19 best backpacks for women
Check our special women's backpacks buyers' guide after the list to see exactly what you should pay attention to before purchasing your next backpack online.
KAAI Mini Hero: Best overall backpack for women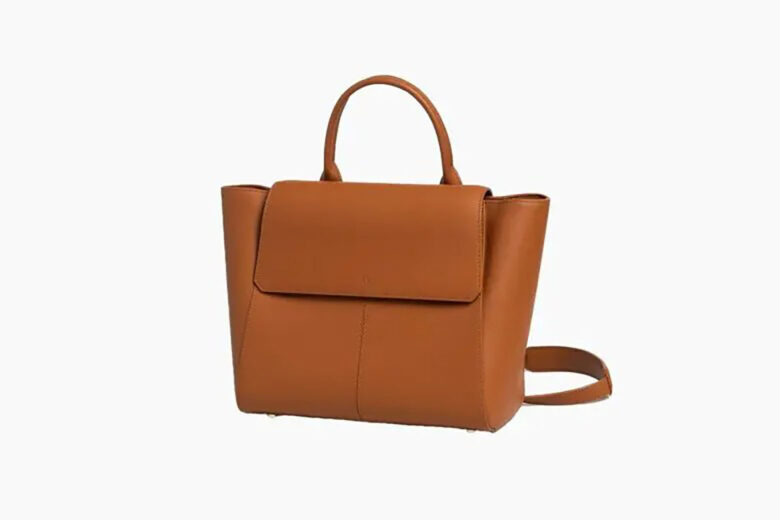 Is it a tote? Is it a shoulder bag? Wait, it looks like a satchel, too. Or perhaps a backpack? Answer: all of the above. Yes, this quadruplet of classy cool can be worn just how you like it, easily matched with the theme of your day.
Kaai Mini Hero is one of our favorite work bags, without a doubt. Made from 100% Italian leather, this thoughtful backpack features a scratch-proof, water-proof, and UV-resistant exterior, metal feet to save scuffs, and a slick flap closure. Wary of the new guy? Don't worry: there's a hidden zip to keep your precious things safe, too.
What's more: the Mini Hero bestows plenty of scope for organization.
| | |
| --- | --- |
| Best for: | The hero bag here to save the day. |
| Colors: | Black, Cognac, Nude Pink + More |
RIMOWA Never Still Backpack: Best luxury backpack for women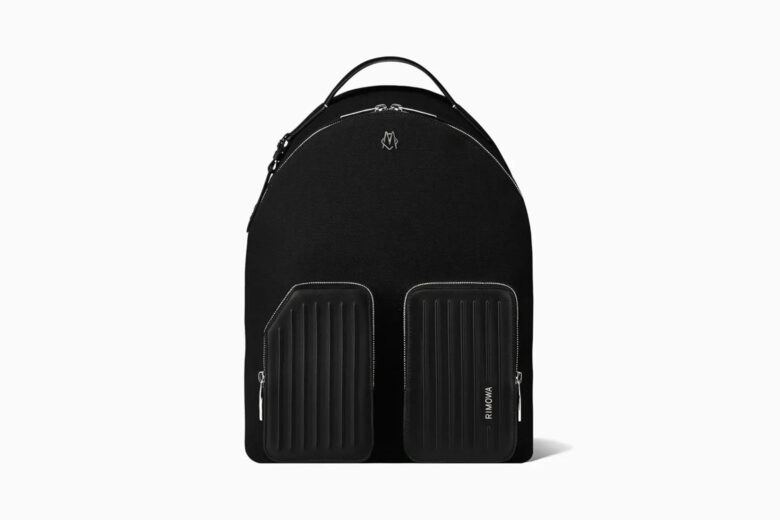 Fondness for the finer things? Shrug on the RIMOWA Never Still Backpack, and feel your confidence shoot through the roof.
Yep, it simply doesn't get more luxe than this: crafted in the epicenter of haute fashion, Italy, this classy backpack makes a runway look of even your most thrown-together outfit.
Made with durable canvas and full-grain leather, this luxury backpack manages to make functionality sexy. And we are so on board. Slip your (up to 13-inch) laptop in the designated pocket, and stash your keys, phone, and other essentials in the grooved front pockets, adorned with the brand's bespoke monogram.
Got a bigger laptop? No dramas: RIMOWA serves up the Never Still Backpack in a larger size, too, so you won't have to pass it by due to pesky logistics.
| | |
| --- | --- |
| Best for: | Women seeking stand-out luxury in every aspect of life. |
| Colors: | Black, Cactus, Grey and Saffron |
Vincero: Best value backpack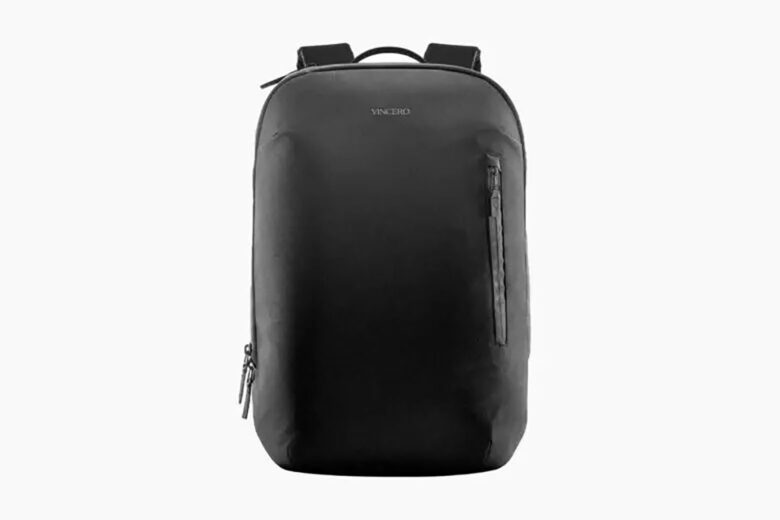 Vincero Collective is our go-to for high-quality essentials that don't cost the earth (literally and figuratively.) Crafted from recycled nylon and designed with longevity, versatility, and style in mind, The Commuter is our best-value backpack for a life-in-motion.
With a sleek black attitude, the minimalist aesthetic is effortlessly chic. Whilst a myriad of hyper-functional slips and sleeves compartmentalize your day-to-day in an organized fashion. The protective microfiber laptop sleeve is made to fit a 16" laptop. And stash pockets keep smaller accessories accessible and larger valuables out of the crash zone.
This thoughtful backpack doesn't just look after your belongings, it's got your back too (again, literally and figuratively.) The cushioned contoured shoulder pads with adjustable buckles are endlessly comfortable and chiropractor-approved. Whilst the luggage strap makes rolling onto a plane a breeze. Bon voyage—your next smooth-sailing adventure awaits.
Check our hands-on review of Vincero's Commuter backpack to learn more.
| | |
| --- | --- |
| Best for: | Luxury that doesn't cost the earth. |
| Colors: | Black |
Senreve Maestra Bag: Best for work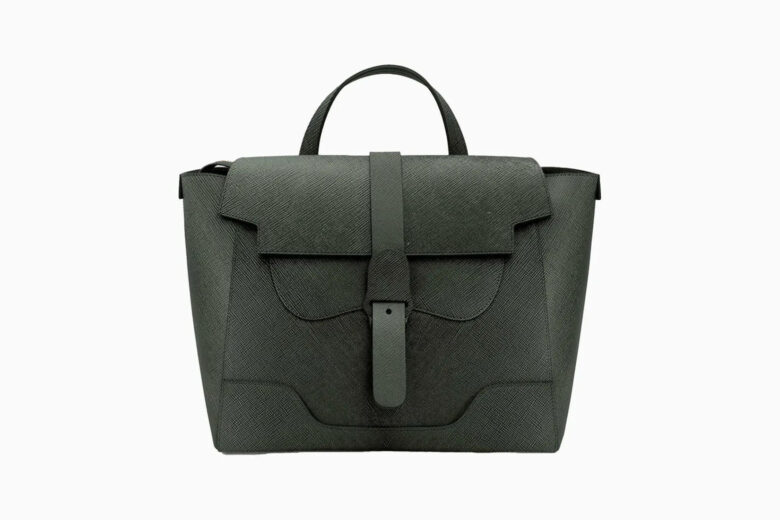 Grateful we live in an era where fur is a faux pas, and PU is as good as leather? Us, too. Satiate your inner vegan (no matter how deep down she lies) with the Vegan Maestra Backpack, crafted entirely from cruelty-free methods and materials.
The vegan cousin of Senreve's eternally popular Maestra Bag, this gem gives vegan lifestylers the opportunity to get on board with the bag without compromising their values. Sounds like a dream, right? And there's no catch: 100% vegan, this bag offers a one-way ticket to ethical fashion.
Completely convertible, you can switch your style with your mood. Heading to school? Transform the Vegan Maestra into a satchel for a preppy vibe. The crossbody look is unbeatable for a city-slicker look, while the backpack is stylish and practical, ensuring you're admired from all angles.
However you wear it, you'll have space for a 15-inch laptop, making this a perfect choice for the office, college, or co-working space.
Learn more about the story behind Senreve.
| | |
| --- | --- |
| Best for: | The va-va-voom vegan. |
| Colors: | A range including Pecan, Noir, and Forest. |
Calpak Kaya Backpack: Best laptop backpack for women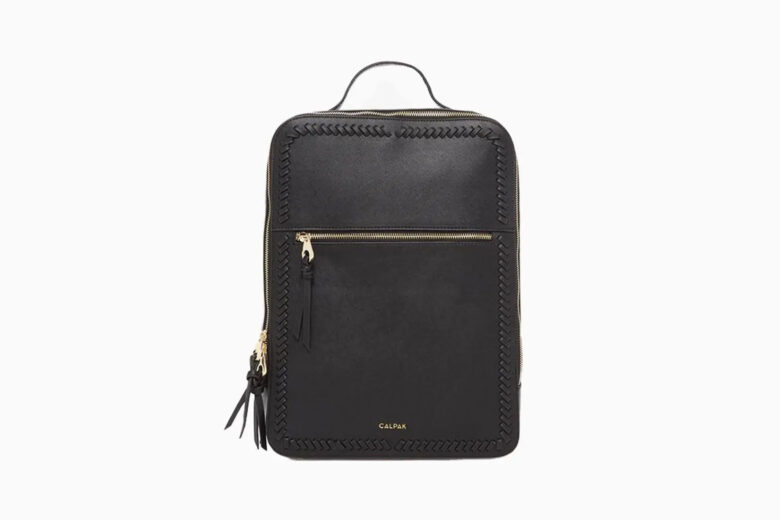 Office angels, CEOs, and co-working queens will adore this laptop backpack by Calpak. No matter what your job title, if you work on a laptop, the Kaya Backpack is about to become your favorite colleague.
First up: we're head-over-heels for the cute contrasting colors, serving up unexpected style for a backpack so functional. Plus, faux leather is a dream for those avoiding animal products, offering all the charm without the cruelty.
Digital nomad? Kaya has you covered: this backpack comes with a luggage trolley sleeve, ideal for unencumbered treks through the airport. Not only will it safely hold your laptop, but there's plenty of space for your smaller tech, purse, phone, and pick-me-up biscuit stash, too.
| | |
| --- | --- |
| Best for: | Laptop-lifestylers with an eye for style. |
| Colors: | A range including Black, Blush, and Stone |
Dagne Dover Dakota: Best vegan backpack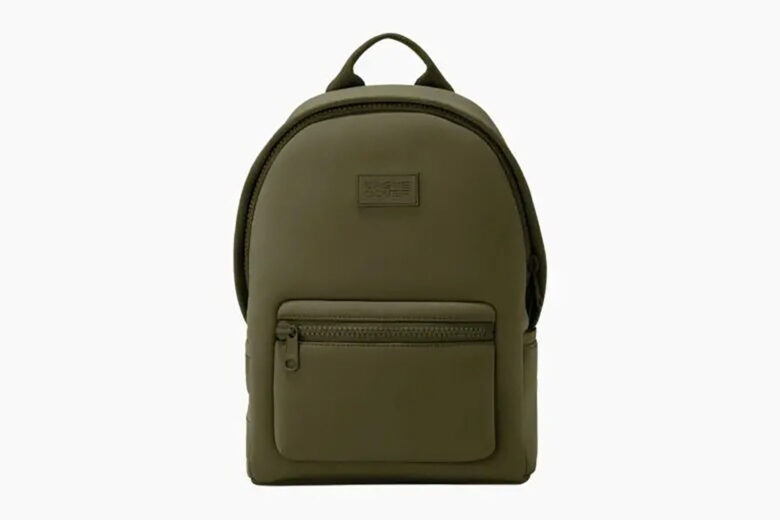 Inspiring your next yoga retreat or escape to the mountains, Dagne Dover's vegan backpack is a favorite amongst downward dog aficionados and nature enthusiasts alike. The fully vegan silhouette is made from premium neoprene and performance air mesh. Whilst the recycled repreve lining is a nod towards the luxury brand's admirable environmental efforts.
Proving that neoprene is good for more than just a surfer's wetsuit, the premium material is lightweight, water-resistant, insulating, and shock-absorbent, making it a win for spontaneous adventures. The small Dakota is all you need for your own essentials. And featuring a mesh tablet sleeve, interior and exterior pockets, and the brand's signature key leash, the organized design makes it easy to maintain an aspirational zen attitude.
If you're packing for a partner or family, the medium and large variations are also available in the Dagne Dover's signature colors. We particularly love the black-on-black iteration for a sleek, chic aesthetic. But the other neutral hues are equally versatile and just as popular.
| | |
| --- | --- |
| Best for: | Vegan versatility and fashionable flexibility. |
| Colors: | Black, Brown, Camel + More |
Bellroy Tokyo Totepack: Best convertible women's backpack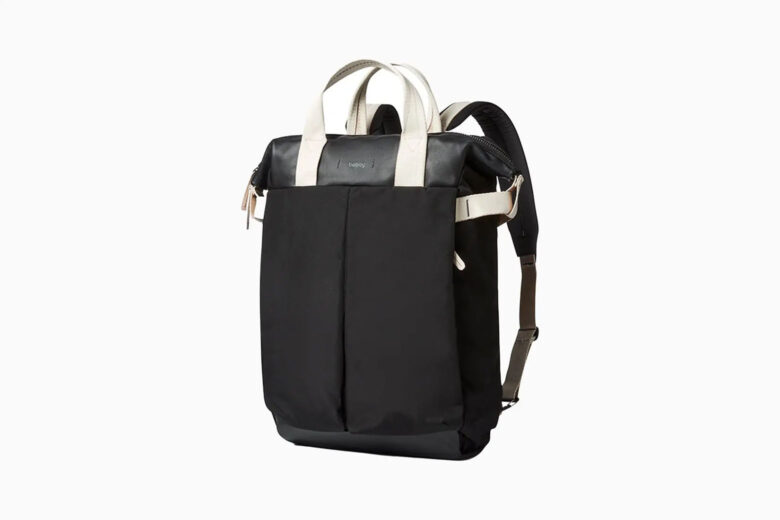 As dynamic (and orderly) as the eponymous city, the Bellroy Tokyo Totepack is the ultimate hybrid: sling it over your shoulder for a carefree vibe or rock it as a backpack.
Crafted from environmentally-certified leather (the only kind we're interested in), and water-resistant, recycled fabric, this backpack takes the gold for sustainable chic. And, no matter how you wear it, one thing remains consistent—your things will stay well and truly organized, thanks to the considered compartments.
Featuring a duo of pop-pockets, the Tokyo Totepack offers a home for your water bottle, umbrella, and even a spare pair of heels—making after-work cocktails more tempting than ever. Naturally, there's a padded pocket for your laptop, alongside plenty of compartments for your other can't-go-withouts.
| | |
| --- | --- |
| Best for: | Those whose days are as dynamic as they are. |
| Colors: | Black, Desert, or Lichen |
Alo Yoga Stow Backpack: Best everyday carry for women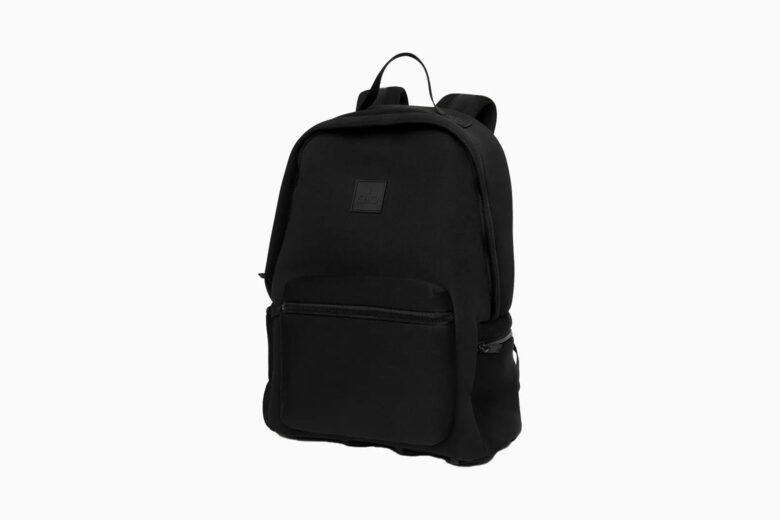 Those acquainted with Alo (and if you're not yet, get to know Alo Yoga) will be familiar with the brand's ethos: making practical, chic. The Stow Backpack is true to form—making the perfect companion for days where you just don't stop.
Heading straight from Teams to tai chi? The Stow is at-the-ready, with a laptop sleeve, space for your activewear, and a bungee strap for your yoga mat. Yep, if your day's schedule makes Wonder Woman's look like a walk in the park, you need this bag to see you through.
Your daily essentials will remain protected under the water-resistant neoprene, so whether it's a drizzle, downpour, or an overzealous approach to your morning coffee, your things will stay dry. Simply put, the Stow Backpack is the ultimate day-pack for women, effortlessly keeping up with your pace.
| | |
| --- | --- |
| Best for: | A backpack that'll exceed your expectations, even when the day doesn't. |
| Colors: | Black |
Burberry Quilted Backpack: Best women's leather backpack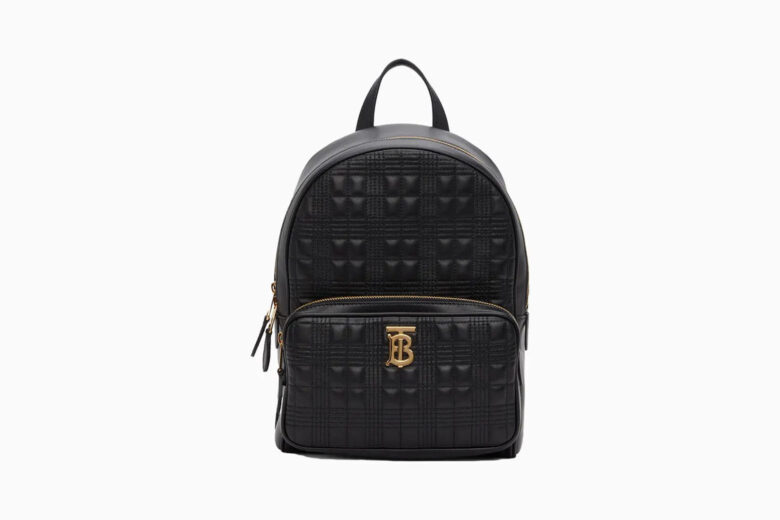 No business casual wardrobe is truly complete without a leather backpack. And Burberry out-do themselves with the Quilted Backpack, without a doubt one of the best leather backpacks for women.
Why? Um, take a peek. Naturally, your eyes will be drawn to the glittering, gold 'B' emblazoned on the front. Yes, there'll be no doubts as to who you're wearing with this designer backpack.
The buffed leather detailing simply demands attention, while the contrasting gold-tone zips and sleek zip tags catapult this backpack into true luxe. But it's far from just a pretty face: the signature Quilted Backpack is categorically capacious, with plenty of room for your day-to-day must-haves.
So, whether you're brand new to Burberry or your wardrobe is chock-full with the beloved check, this luxury backpack deserves a place on your shoulders.
| | |
| --- | --- |
| Best for: | Women with an eye for detail and an appetite for finery. |
| Colors: | Black |
The North Face Borealis: Best women's backpack for day hikes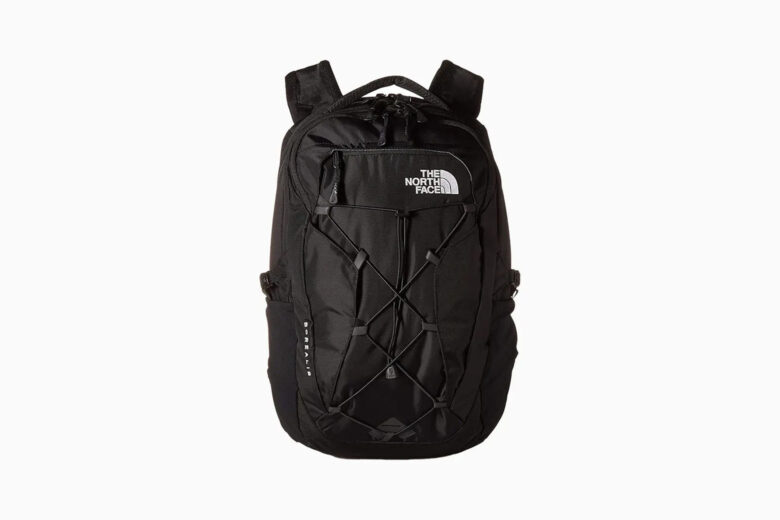 Sure, a luxe leather backpack is all fine and dandy—but scaling a mountain or trekking through a national park? Not so much. For the best women's hiking backpack, lay your eyes on The North Face Borealis Backpack.
If your happy place is a blustery peak, miles from civilization (we get it), you'll need a backpack that can match your energy. Built for rain or shine, the Borealis boasts plenty of comfort features, ensuring you bypass shoulder ache, digging straps, and, consequently, a frustrating hike.
Yep, you'll find the brand's FlexVent technology, a suspension system working to take the weight off your back and shoulders. Plus, the breathable lumbar panel on the Borealis works wonders in keeping you cool and dry, while injection-molded shoulder straps feel (almost) like a second skin.
Finally, clip on the waist belt for extra snugness, saving incessant readjustment, so you can focus purely on those spectacular views.
| | |
| --- | --- |
| Best for: | The wanderlust woman, leaving footprints in beauty spots near and far. |
| Colors: | Black, Asphalt Grey, Rose Tan + More |
Away The Backpack: Best women's backpack for travel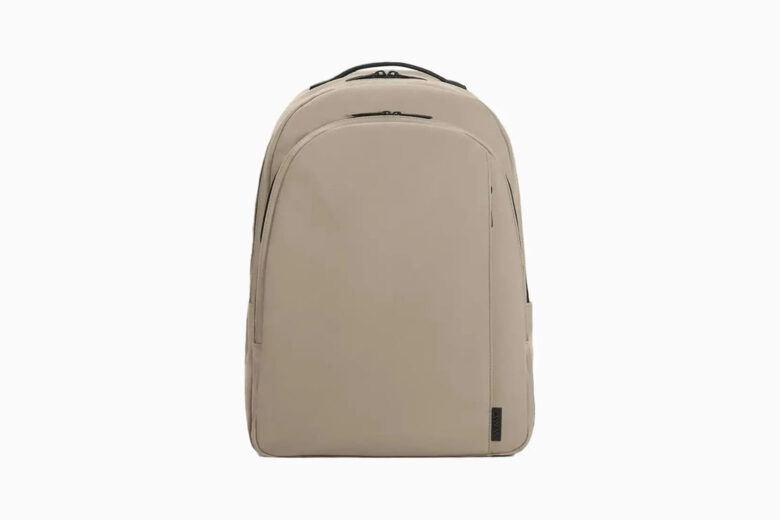 Going away on holiday, business, or digital nomad-ing? Bring Away with you. A travel companion that won't hinder your progress with one-too-many bathroom breaks, steal your water, or insist on the window seat, the Away Backpack is a must-have for the intrepid traveler.
The travel backpack for women was born to see you through rushed check-ins, late trains, and bustling busses in total comfort. In their own words, the Away is 'designed to keep you moving'. With three spacious compartments, you can stash your spare clothes, flip flops for arrival, and books, tablet, or Kindle to keep your occupied in-flight.
Naturally, it features a trolley sleeve, so you can perch your Away Backpack on your luggage for seamless airport slogs. With a minimalist design, you can throw it on safe in the knowledge it'll meld with your travel style. Complete with water-resistant fabric, you can persevere even in the toughest of weather (read: that eight-hour London stop-over).
| | |
| --- | --- |
| Best for: | Getting from A to B in chic, wanderlust style. |
| Colors: | Navy, Coast, Sand + More |
Nike Futura Luxe Backpack: Best women's backpack for the gym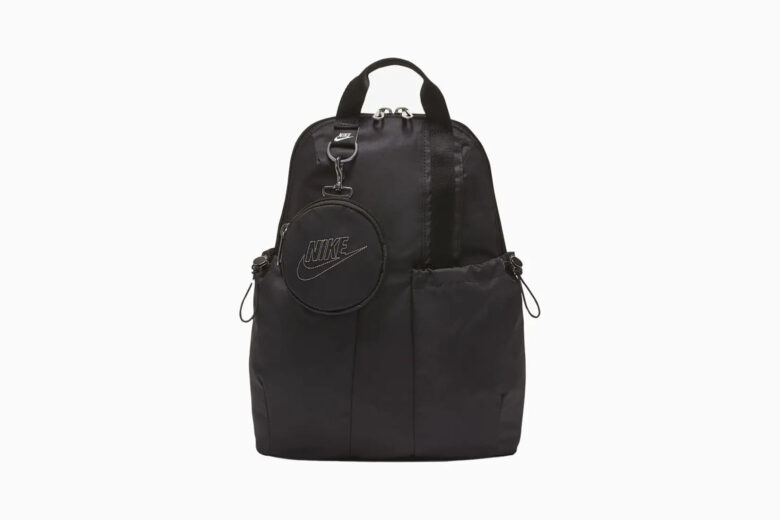 Three guesses for who makes the best gym backpacks? As if you need telling: Nike shines with their Futura Luxe Backpack, perfect for hitting the gym in style.
Crafted with both Nike's expected quality and sustainable materials to boot, this sports bag shows you mean business. Combining feminine touches with a backdrop of sports slick, the Futura Luxe hits the ultimate sweet spot.
Discover a satin lining, subtle chain detailing, and chain-effect key clips—yep, you're sure to be the best dressed at your gym. Plus, nothing evokes motivation more than treating yourself to cool new kit, and the Futura Luxe delivers in swathes.
Easily slip your towel, water bottle, and purse in your new bag, and book in for an extra class this week—if only to show off.
| | |
| --- | --- |
| Best for: | Sporty meets elegant—the ultimate gym backpack. |
| Colors: | Black |
Herschel Little America Backpack: Best women's backpack for college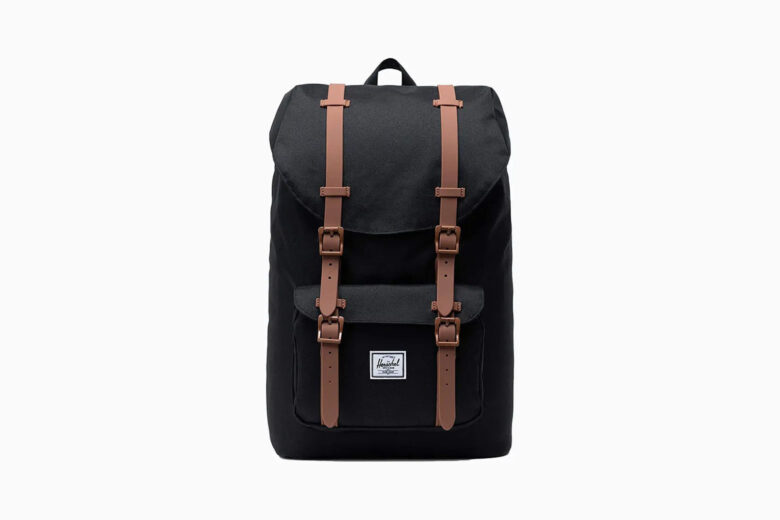 Motivation + commitment + organization: that's the recipe for a successful student. But wait—there's a missing ingredient. Yep, without a brilliant backpack for girls, your studious efforts will be greatly impeded. That's where the Herschel America comes in.
Providing all the space you need (and more) to store your books, lecture notes, stationery, and laptop, this college backpack is a must-have study buddy. The preppy design will have you living the student dream Freaks and Geeks-style (or, like, something cooler), with a timeless silhouette, buckled straps, and the brand's woven label.
The 25-liter capacity in the Little America will have you set for your day's lessons, leaving heaps of space for your lunchtime wrap, snacks, and water bottle, too. Make use of the front pocket, fantastic for storing essentials for easy access (or simply those free pens you've been hoarding). Headed off for Spring Break? Cool: take this backpack with you—just switch the books for bikinis, and you're golden.
| | |
| --- | --- |
| Best for: | An A-star backpack for the A-star student. |
| Colors: | Black |
Paravel Shell Backpack: Best lightweight women's backpack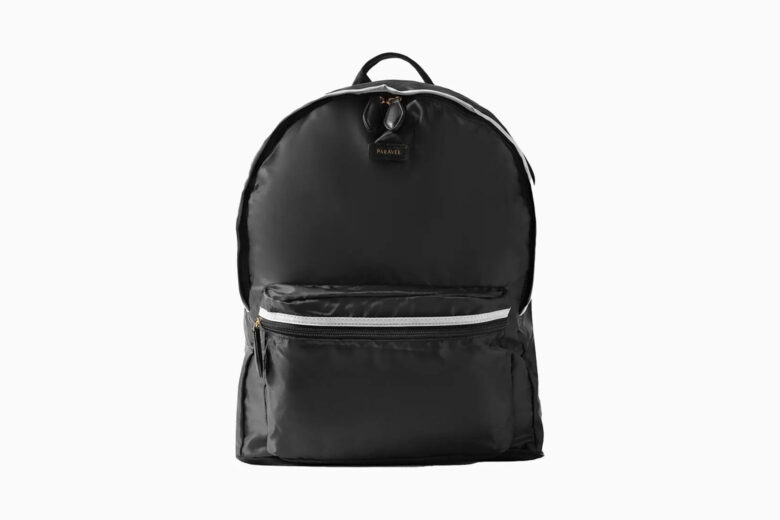 When we're carrying everything but the kitchen sink, the last thing we need is to be weighed down by a cumbersome backpack. Enter: the Paravel Shell Backpack, designed to be light-as-a-feather (though we can't speak for the contents).
Despite being super lightweight, this backpack is happily durable, and you can even fold it up to a fraction of its former glory when not in use. And, eco-warriors rejoice: this backpack for women is crafted from recycled bottles, ensuring your new favorite bag doesn't cost the Earth. On the subject of cost, it's easy on the purse strings, too, making this a fantastic choice for the cost-conscious.
Luxe touches like leather trims and grosgrain straps elevate this backpack to modish heights. And, ever-industrious, the handy front pocket keeps practicality at the forefront of design with the Paravel Shell Backpack.
| | |
| --- | --- |
| Best for: | Smashing out your daily errands without the weight of the world on your shoulders. |
| Colors: | Black |
TUMI Voyageur Carson Backpack: Best black backpack for women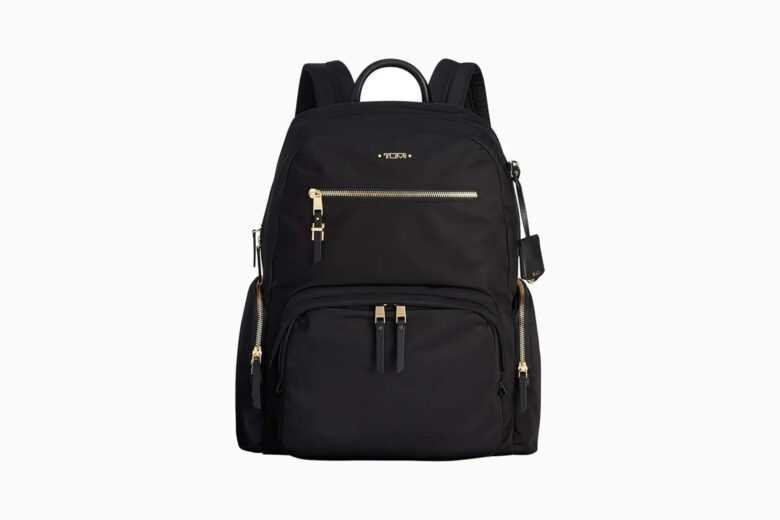 As Henry Ford said of his cars, 'You can have any color you like, as long as it's black'. Okay, technically, there are a few shades to pick, but we enjoy the sentiment. This black backpack is a one-and-done for your daily adventures, coming in a design that's as functional as it is versatile:
Flex your organizational muscles with the many useful compartments, from that all-important front pocket, magnetic-snap phone pocket, zipped bottle holder, to the sleek detachable keyring. Yep, allocate places for all your essentials, and fumbling your wallet, phone, and emergency eyeliner are problems of the past.
And inside? Expect top-tier organization, too. Hold your cards in the for-purpose cardholder, your stationery in the pen pocket, and your raincoat and spare comfortable flats in the roomy compartment. Indeed, whatever the day throws at you, the TUMI Voyageur Carson will have you handling it with finesse.
| | |
| --- | --- |
| Best for: | Bringing a touch of order to a hectic day. |
| Colors: | Black or Iron |
Tory Burch Piper Backpack: Best backpack purse for women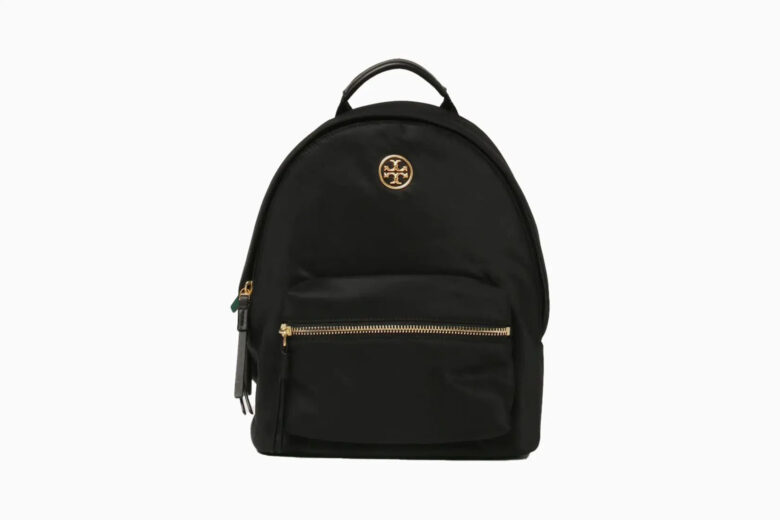 Good things come in small packages, right? Just ask Tory Burch. This cute-as-a-button black backpack purse is perfectly homunculus and crafted with the utmost attention to detail. The subtle leather notes and luxe gold emblems make this designer backpack purse truly refined, with the sleek black shade pairing with any outfit.
Sure, small backpacks for women can be hard to come by, but no fear: we've got you covered. The Piper Backpack is one for the minimalist, with just enough space for your key essentials, gently inspiring you to pare down.
Complete with double-adjustable shoulder straps, you can tailor the fit just as you like it. We adore the charming look of this teeny backpack purse perched on your back, allowing you that barely-there feel. Stash your daily must-haves in the main compartment, and designate the front pocket to your keys, purse, and phone. Teaching us that less really is more, the Piper Backpack deserves a place on your shoulders.
| | |
| --- | --- |
| Best for: | A mini backpack for the minimalist. |
| Colors: | Black |
Anya Hindmarch Cycling Backpack: Best women's backpack for commute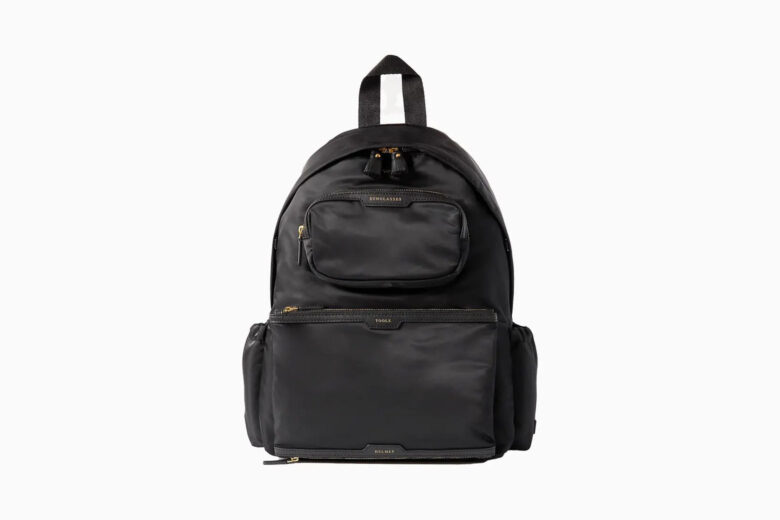 Eek: the dreaded commute. Whether yours is a two-hour train journey, a traffic-jammed e-scooter ride, or an uphill e-bike cycle (go you), it's nobody's favorite part of the day. Alas, we have a secret: the best way to look forward to your commute is to arm yourself with the Cycling Backpack, designed to make that journey more bearable.
This backpack is (shocker) designed for cyclists. Thus, it'll stay put, keeping your essentials safely stored, whether you're hill-climbing or cruising along the freeway. There's even a fold-away mesh section to stash your helmet—yeah, that's your excuse not to wear it out the window.
Equal parts luxurious and functional, the Cycling Backpack is finished with glimmering gold detail, leather-tasseled zips, and more pockets than you'll know what to do with. Crafted from recycled nylon, this backpack is showerproof, helping you choose bike-over-bus on those rainy days.
| | |
| --- | --- |
| Best for: | Cycle-to-work style for the chic commuter. |
| Colors: | Black |
Longchamp Le Pliage Backpack: Best compact women's backpack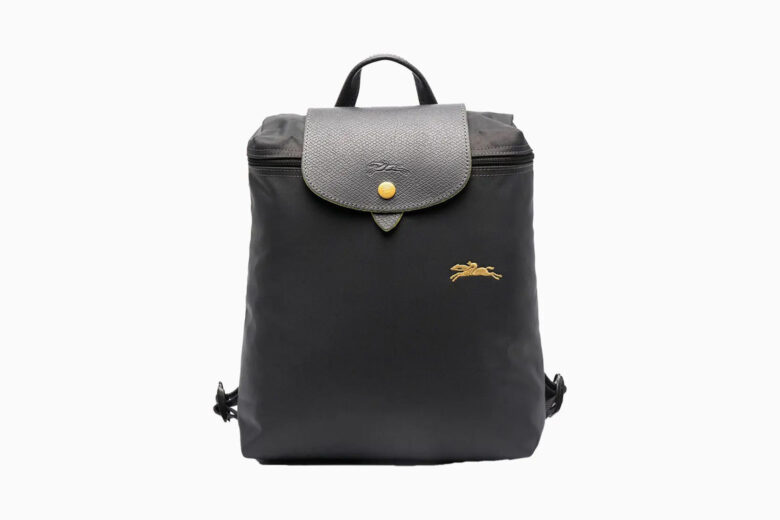 Unless you're headed off on an arduous thru-hike, you needn't be lumbered with a Bear Grylls-level backpack. So, swinging to the opposite end of the size spectrum is the Le Pliage Backpack by luxe brand Longchamp.
Certainly, more at home on the Champs Elysees than the Caucausons, this charming little backpack, crafted from 100% leather, will easily pair with your city-girl outfit. Simply pop in your purse and hit those boutiques, feeling light as a cloud.
We're obsessed with the charcoal shade on the Le Pliage, subtly adorned with the brand's emblem, with an eye-catching gold fastener to finish. The handle gives you the choice of backpack or cutesy handheld, while the adjustable straps make for a personalized fit.
| | |
| --- | --- |
| Best for: | Refined women who love the little details. |
| Colors: | Charcoal |
The Row Massimo Backpack: Most expensive women's backpack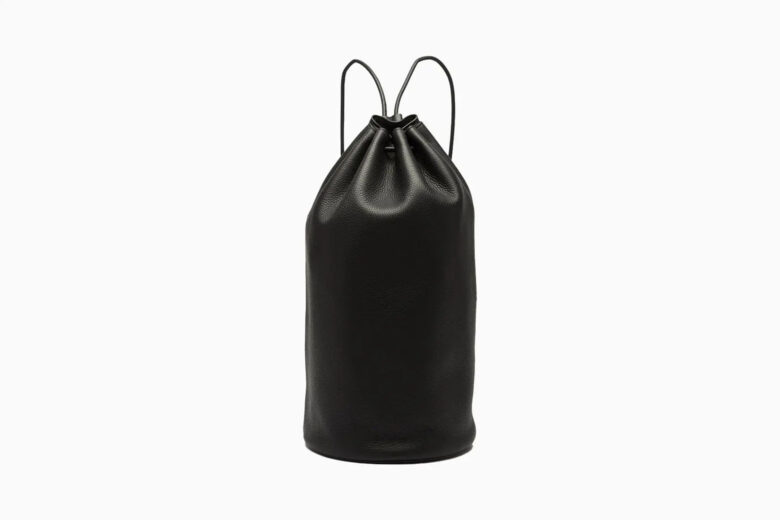 Treat yourself to some first-class fashion with the Massimo Backpack by The Row. Exuding ultimate luxe, this high-end backpack is truly something special.
A backpack in the loosest sense of the term, the Massimo serves up utilitarian-chic, married with runway-ready vibes. Obviously, it's crafted in Italy, from supple-grained leather that's addictive to the touch. The unique cylindrical silhouette takes this "backpack" to the next level, while the drawstring closure keeps things simple.
Sling it over your shoulder je ne sais quoi style, or wear it as a conventional backpack—the versatile straps allow you to wear it your way. Inside, you'll discover a supersoft suede lining and an inner pocket, perfect for accommodating your essentials. For a dose of street-slicker sass, you can't go wrong.
| | |
| --- | --- |
| Best for: | Upmarket luxe with an urban twist. |
| Colors: | Black |
The best women's backpacks: what to look out for
Different lifestyles demand different backpacks. Some are predominantly eye candy, while others deliver space, organized pockets, and comfort in droves. So, which is the best backpack for you? Let's take a look at the cornerstone styles:
For the traveler
Travel backpacks offer comfort as their first point of call. Naturally, if you're heading off on a long flight, several train journeys, or a stifling bus trip, you want to be as comfy as possible. So, a good travel backpack will feature adjustable, padded straps, waterproof fabric, plenty of pockets, and a large main compartment for your travel essentials.
Our advice? Don't be tempted to go for style over functionality—anyway, as our guide proves, there are heaps of options offering both!
For the 9-to-5er
If your backpack is destined to serve as part of your work get-up, it needs to offer these features at the very least:
A good office backpack will have a padded pocket for your laptop (always check the dimensions!), a smart style (think leather, PU, or a preppy canvas), and little extras like a front pocket plus a water bottle holder. Avoid anything too sporty, since (we assume) you'll need to maintain a professional aesthetic.
For the gym bunny
Newsflash: sports brands make excellent gym backpacks for women. Yep, as you might expect, activewear brands like Nike, Alo Yoga, and Adidas are your go-tos. Ideally, your backpack will feature a separate inner compartment to house those sweaty workout shoes, a water bottle holder, and waterproofing for those rainy jogs to your class.
For the city-dweller
Is your idea of paradise a day spent perusing cafes, boutiques, and galleries in the city? Brilliant: there are heaps of runway-ready backpacks to store your day trip essentials while still offering haute couture in bucketloads.
This is the time to opt for that mini backpack you've been eyeing up, or perhaps the drawstring leather number (check out the Massimo for the ultimate gift to yourself). In short, if you're simply cruising around town, go style-wild, and worry not about functionality. Yep, town is the place to be and be seen—and after all, you're never far from a coffee, water, or awning.
Frequently asked questions about the best backpacks for women
Who makes the best backpacks for women?
For female-led, sustainable fashion (and a great range of backpacks), we tip our hats to Cuyana and Senreve. However, Nike and Adidas are fantastic for sporty women, while we recommend The North Face for the intrepid traveler.
What are the trendy backpacks?
Honestly? Let your imagination run wild. Drawstring backpacks, sleek leather affairs, and cuter-than-cute mini backpacks are all very in. And, with the copious options out there, one needn't sacrifice trends for practicality, either. Check out our guide for a treasure chest of trendy backpack brands for women.
How do I choose the right backpack?
No matter which aesthetic you opt for, there are a few important features to look out for. Consider space (where are you taking it? The gym, the office, or town?), adjustable straps for a tailored fit, and easy access to your essentials.
What do you call a backpack purse?
A backpack purse is arguably more handbag than backpack. 'Backpack' in the very vaguest sense, a backpack purse is typically crafted from leather or PU and features elegant straps and a minimal design.