An outerwear hero, a transitional dressing staple and a masculine-meets-feminine midpoint, the timeless trench rightfully deserves its spot in your wardrobe as one of the most versatile and season-less items you'll ever own. A trench coat adds a winning final touch to any women's outfit, no matter whether it's a Thomas Burberry-reminiscent piece, an edgy leather option or a sustainable star that'll keep you looking good and feeling good.
Our tried and tested guide pulls together everything you need to know about the trusty trench coat — just in time before the season starts to change and you're hunting down your next stylish raincoat. From the best black trench coat to the finest luxury trench of your designer dreams and, of course, the eponymous Burberry trench coat that will stand the test of time, you'll want to give your credit card a heads-up before you start scrolling.
The 17 best women's trench coats of 2020
To help you find the trench coat that's best for you, check our style guide to choosing the best trench coat after the list.
Cuyana Classic Trench: Best overall women's trench coat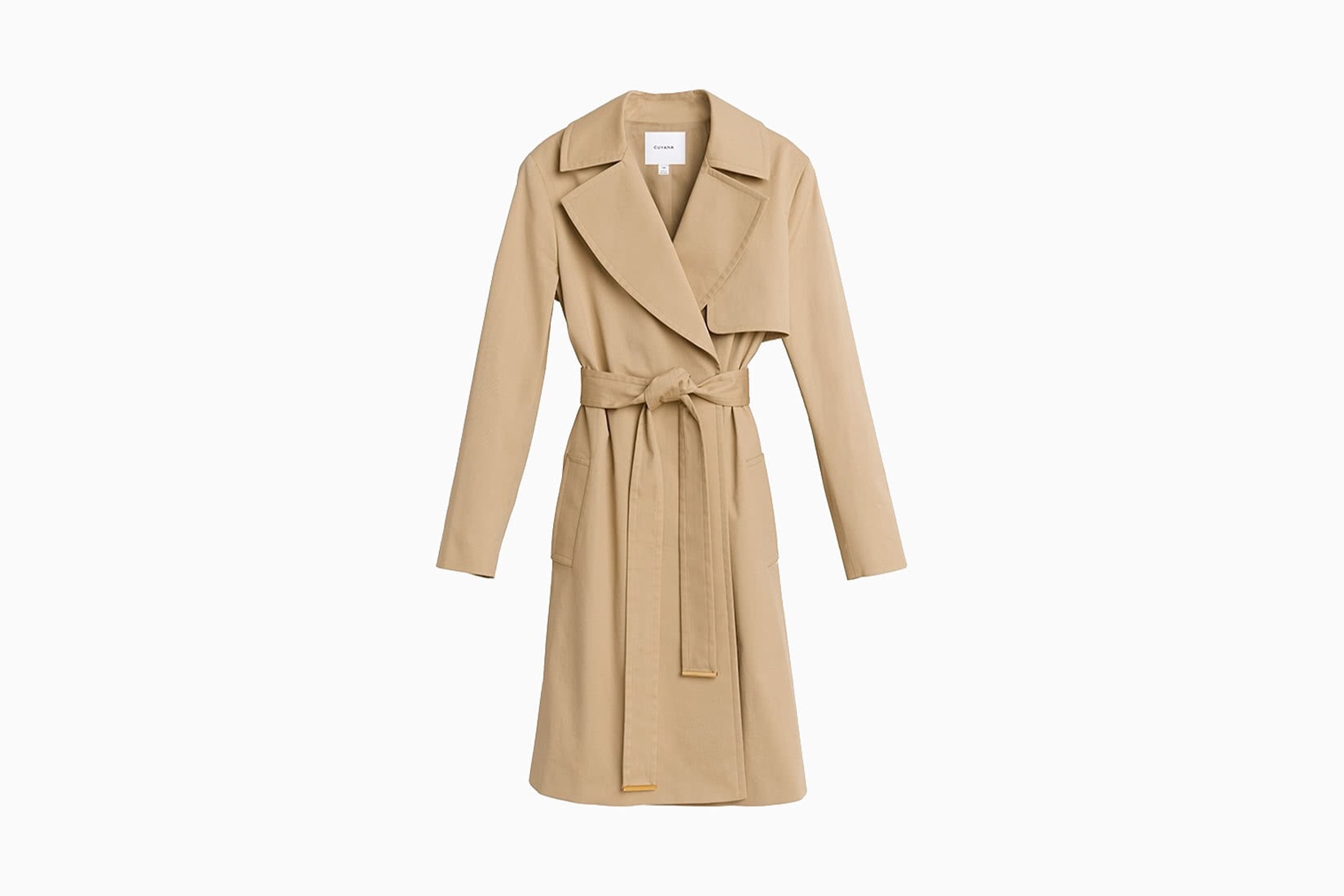 We might all be lusting after one of Burberry's original military-chic trench coats but if you're looking for an equally classic style without the price tag, turn your attention to Cuyana's Classic Trench. The forecast might be suggesting rain, but it's also suggesting Cuyana. Classic by name and classic by nature, this eponymous jacket comes with all the traditional features while maintaining a modern appeal.
A slightly oversized fit merges perfectly with a tie up waist, creating an effortlessly layered look with a trench that'll help you to fully embrace autumn. A trusty trench made with Italian-woven gabardine promises a water repellant finish that's stylish and timeless. It's one of the most sophisticated buys out there and adds a final touch of luxe to your outfit, come rain or shine.
Best for: A capsule classic that's universally flattering.
Colours: Wheat, olive, navy
Burberry Kensington: Best designer trench coat for women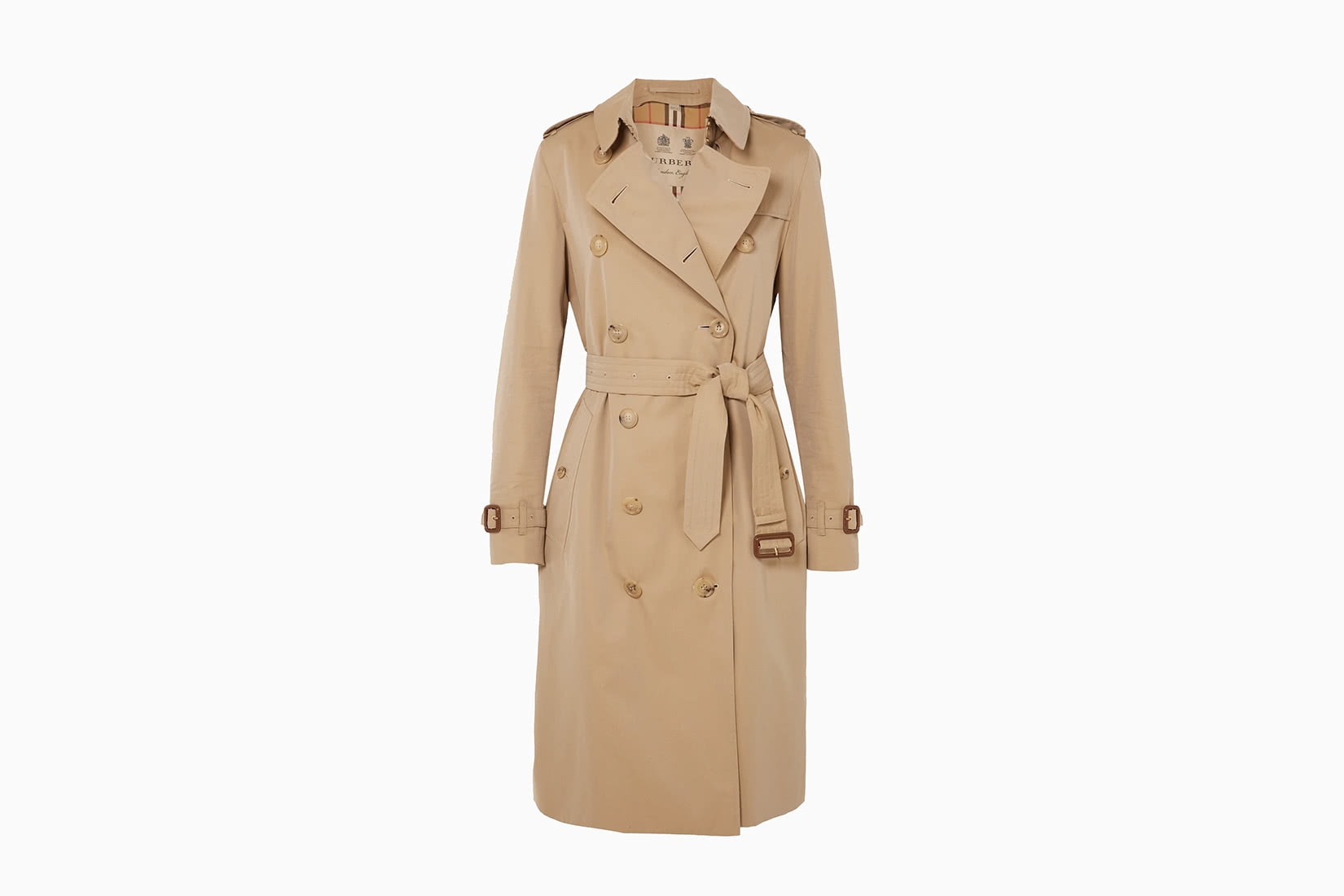 The iconic leader of the trench coat evolution and the perpetual winner of "best long-standing and transitional dressing" award – if you haven't dreamt about owning a Burberry trench then you've been doing autumn fashion wrong. A fresh take on the classic trench style, this trench coat keeps all the quintessentially British elements but combines them with the fundamentals of French-girl style. Burberry's The Kensington Long Cotton Trench Coat is the best designer option that'll see you through seasons to come with modernised features taken from the military classic. 
Take a look back through history while walking the runways, hitting the streets for a shopping trip or jetting off on a city break away. This trench coat will win you over like no other. So popular we almost added it to this list twice, its beige colouring, military-inspired epaulettes and perfect length makes it a star-studded choice. Almost identical to the pieces released 100 years ago, a Burberry trench truly never goes out of fashion.
Best for: Investing in a piece of fashion history—timeless and on-trend.
Colour: Beige
Wantdo Double-Breasted Trench: Best value women's trench coat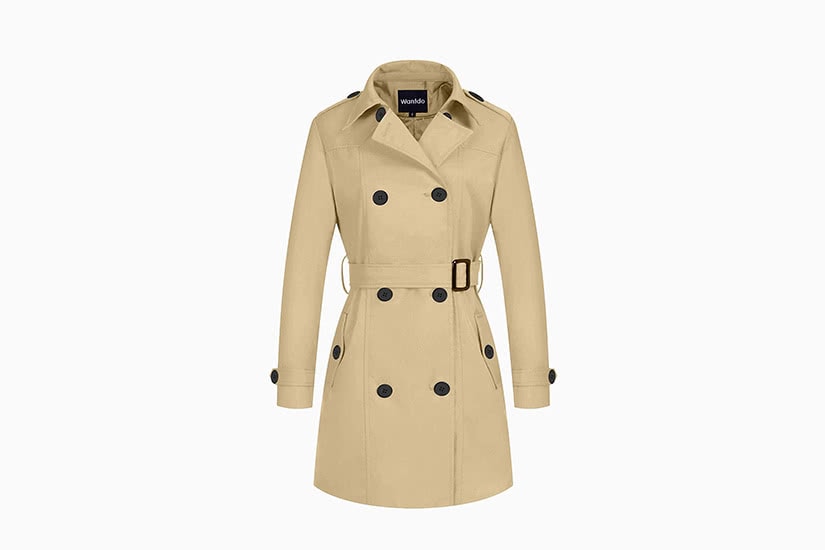 A soon to be a staple piece in your wardrobe, Wantdo's double-breasted trench coat effortlessly fuses contemporary design with classic style. Lightweight enough to throw on for warm summer evenings but warm enough as a great transitional piece, this trench coat is one that you'll reach for day after day as the seasons change. Despite being less than $50, this trench looks far more expensive than it actually is and is good enough quality to hold its own alongside many designer options. 
Anti-wrinkle material means you can easily grab and go without having to stress about last minute ironing. And a classic belted waist works as the defining magic weapon to bring together whatever you're wearing underneath. Taking the traditional look up a notch, this modern trench coat is one you'll live in as Autumn approaches and find excuses to wear it even when the weather gets colder.
Best for: A high street price point with a high fashion appeal.
Colours: Black, khaki, red
London Fog: Best classic women's trench coat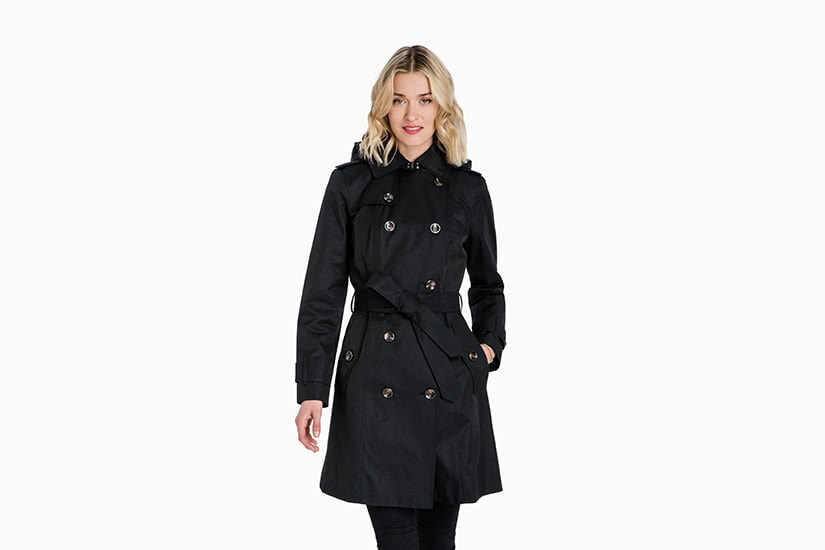 You could argue that all trench coats are a classic but London Fog's double-breasted trench coat is the classic of all classic trench coats. From its mid-thigh length to the notch collar and removable hood, it combines everything you could possibly need in one ultra-cool piece of outerwear. London Fog is known for producing a wide range of excellent transitional pieces that'll carry you through the seasons and this trench coat is no exception.
An investment piece without the investment price tag, this trench coat's modern design features beautiful button detailing, a water-resistant coating for even the heaviest of London downpours and a fabric that's simultaneously made for spring or summer. This is a trench that'll last you for years — and it's one you'll want to replace with an identikit option when it does eventually make it past its best.
Best for: Proving that the classics are classic for a reason.
Colours: Black, green
Prada: Best leather trench coat for women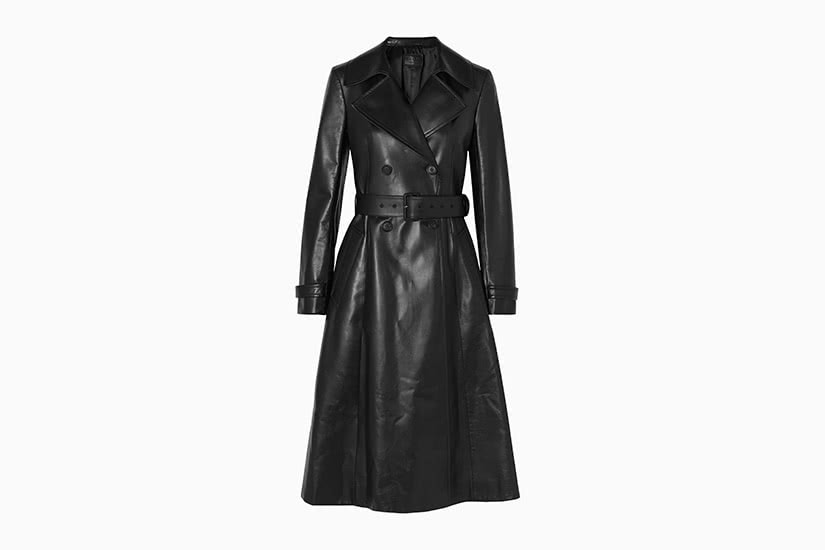 Leather trench coats solidified their place in the cool-girl wardrobe for AW20 and they've stayed in the spotlight ever since. The best way to dress up a casual outfit, a leather trench offers the sartorially inclined an extra layer of class and style that's almost incomparable to anything in your wardrobe. In true Prada form, the black double-breasted trench coat is a timeless piece that no amount of self control will prevent from immediately adding to your basket.
A jacket that'll see you through decades to come (we might even see it as a family heirloom), it's made with carefully sanded black leather, fully lined in satin-twill and finished with a buckled belt. If you're trying to think of a more versatile yet stylish jacket, you might be thinking for a while. A statement piece in a classic style, it's one piece of outerwear you'll never regret buying.
Best for: Making military style edgy, sexy and a little bit extra.
Colour: Black
QZUnique Waterproof Packable Coat: Best trench coat for the rain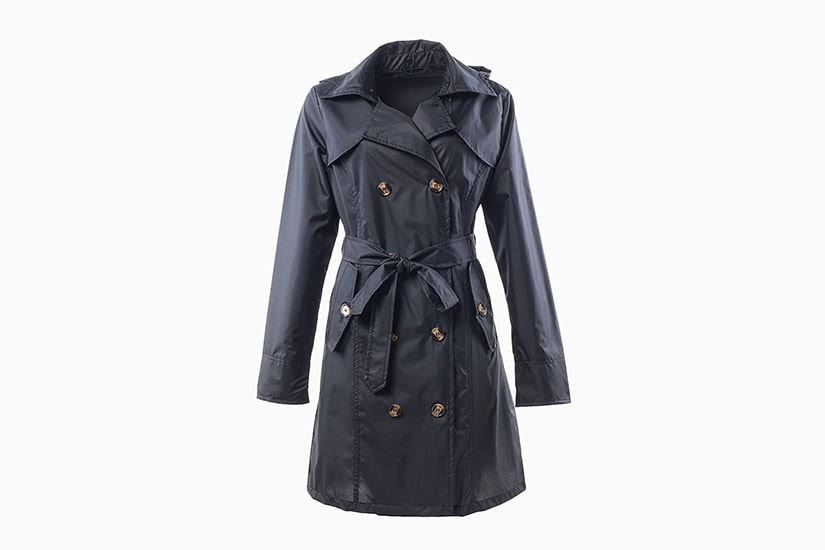 Let's be honest: soaked-through clothes are not very SS21. Few things put a flaw in our plans quite like the ever-changing weather and we've all been caught in the rain one too many times to risk anything other than the hardiest outerwear as the weather gets colder. Whether you're looking for a suitable trench coat that promises to keep you warm and dry or a fashionable option that'll look great without giving into that soaked-to-the-skin look, the QZUnique Women's Waterproof Packable Rain Jacket will answer your question.
It turns out waterproof jackets can be stylish and QZUnique's knee length hooded raincoat is a perfect example. Long enough to keep your whole outfit dry and with a large enough hood for even the most elaborate hairstyles, this secret weapon jacket can be stashed in your bag ready for any kind of downpour. Wait for the heavens to open before thanking Past You and throwing it on.
Best for: Being the last one standing with a dry outfit underneath.
Colours: Black, gingham, green lattice
Bottega Veneta: Best long trench coat for women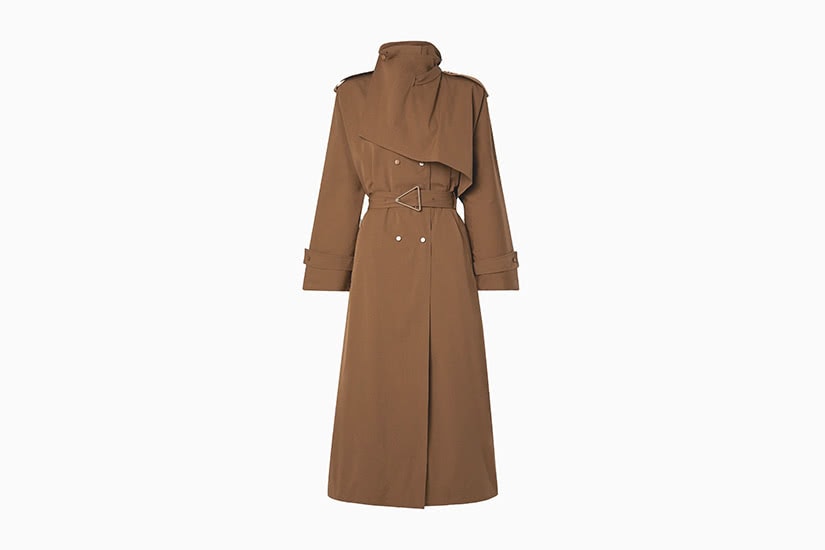 You'll be counting down the days until winter really hits as soon as you're in possession of a Bottega Veneta trench coat. Merging a archetypal design with modern features like a slouchy funnel neck, asymmetric storm flap and triangular buckle-fastening belt, this is the trench coat to choose if you want to stand out in an understated manner. Bottega Veneta's a label that you'll gladly name drop and this double-breasted cotton-blend gabardine trench coat ensures you'll be doing just that.
A full length style means it doesn't matter what you throw on underneath, making it the ideal jacket for outdoor occasions. Although, you'd also be forgiven for refusing to take it off as soon as you step inside, too, thanks to its tailored design. Add to your closet for elevated style and a reason to look forward to the cooler months.
Best for: Looking uber-cool even if you're wearing pyjamas underneath.
Colour: Light brown
Wantdo: Best short trench coat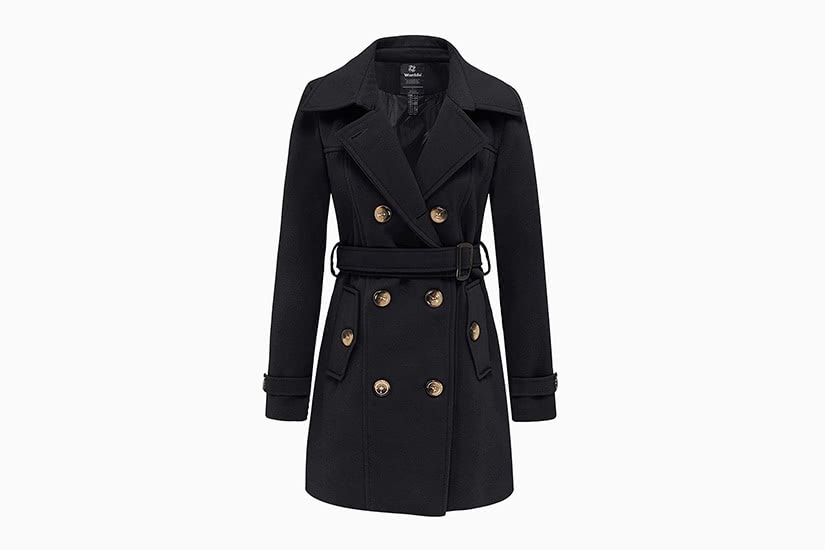 Multiple plaid options means the only problem you'll have with this trench coat is deciding which one to go for. A statement piece that'll brighten up any outfit, this short trench coat is a winning choice that looks way more expensive than it actually is. A great option for cinching in at the waist, the Wantdo Women's Double Breasted Pea Coat is feminine while sticking to a traditional trench coat style.
Tortoiseshell buttons are perpetually on brand and, combined with the double-breasted style, it promises to keep you cosy. A wardrobe must-have with plenty of winter-ready features, this is the trench coat that'll have you dreaming of cool, wintery evenings while still looking smart and fashionable. A windproof shell and a thick-strap belt also work to add an extra layer of protection to colder days out. Grab an oversized scarf and you're ready to go.
Best for: those tricky transeasonal days.
Colours: Grey plaid, yellow plaid, black
Bottega Veneta belted wool coat: Best black trench coat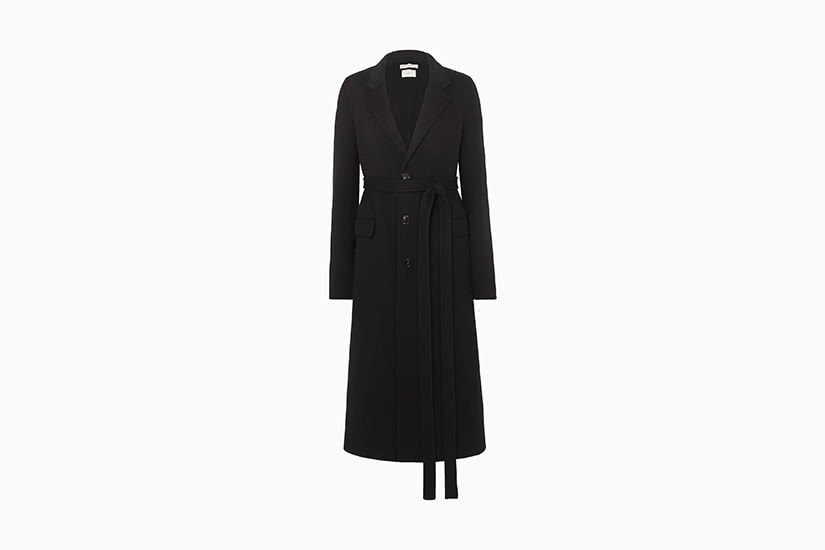 We're yet to find outerwear that screams chic quite as much as a black wool trench coat does. Ready to be paired with literally anything and still look impeccable, this belted wool coat by Bottega Veneta is one you'll put on at the start of winter and refuse to take off until early spring. Versatile and smooth, it's made in Italy from soft black wool with contrasting sharp shoulders. A melting pot of cosy-girl chic and fashion week-ready, it's a timeless jacket that you can't go wrong with.
The embodiment of understated winter fashion, this trench coat is ready to be pulled on for wintery shopping trips, evening drinks with friends, a weekend away with your other half or thrown on top of your working wardrobe in the week. This convertible investment piece offers a classic trench silhouette with an immeasurably sharp twist.
Best for: Instantly replacing that "end of summer sadness" feeling.
Colour: Black
Loro Piana Cashmere Trench: Best camel trench coat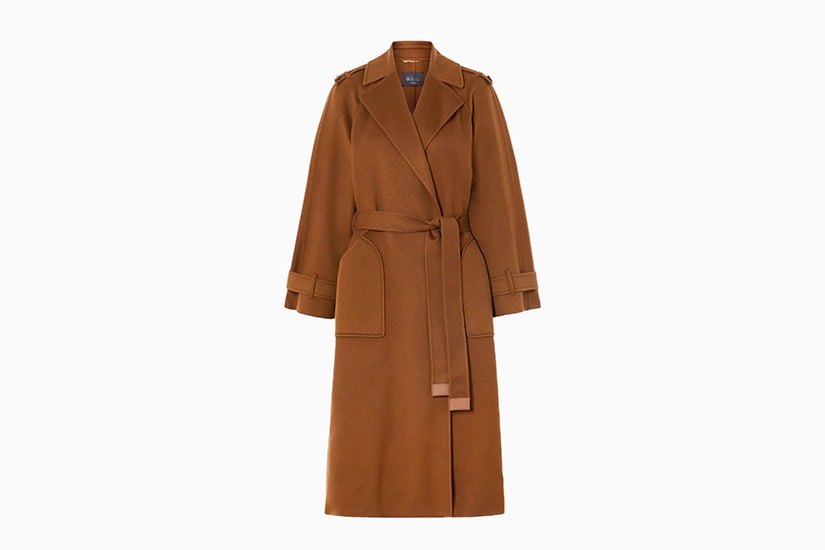 Go back to basics with a cashmere camel trench coat that fulfils all of your transitional dressing dreams. Traditional epaulettes? Check. Not too long and not too short? Check. Baby cashmere that's been sourced from the mountainous regions of Mongolia and Northern China? Niche, but check. You'd struggle to fault this Loro Piana Belted cashmere trench coat and that's because it's basically the perfect piece of clothing wrapped up in one delicious trench coat.
The autumnal hue of this dark-camel jacket will make you dream of swishing your way through the fallen leaves with a pumpkin spiced latte in hand. A matching cashmere belt around the waist ensures you're wrapped up warm from the minute you leave the house until you're safely at your next destination. Although, spoiler, you'll likely be so cosy when you get there that you won't want to take it off. And we don't blame you.
Best for: Timeless appeal that promises to wrap you in pure softness and cosiness.
Colour: Camel
Cuyana Classic Trench: Best navy trench coat for women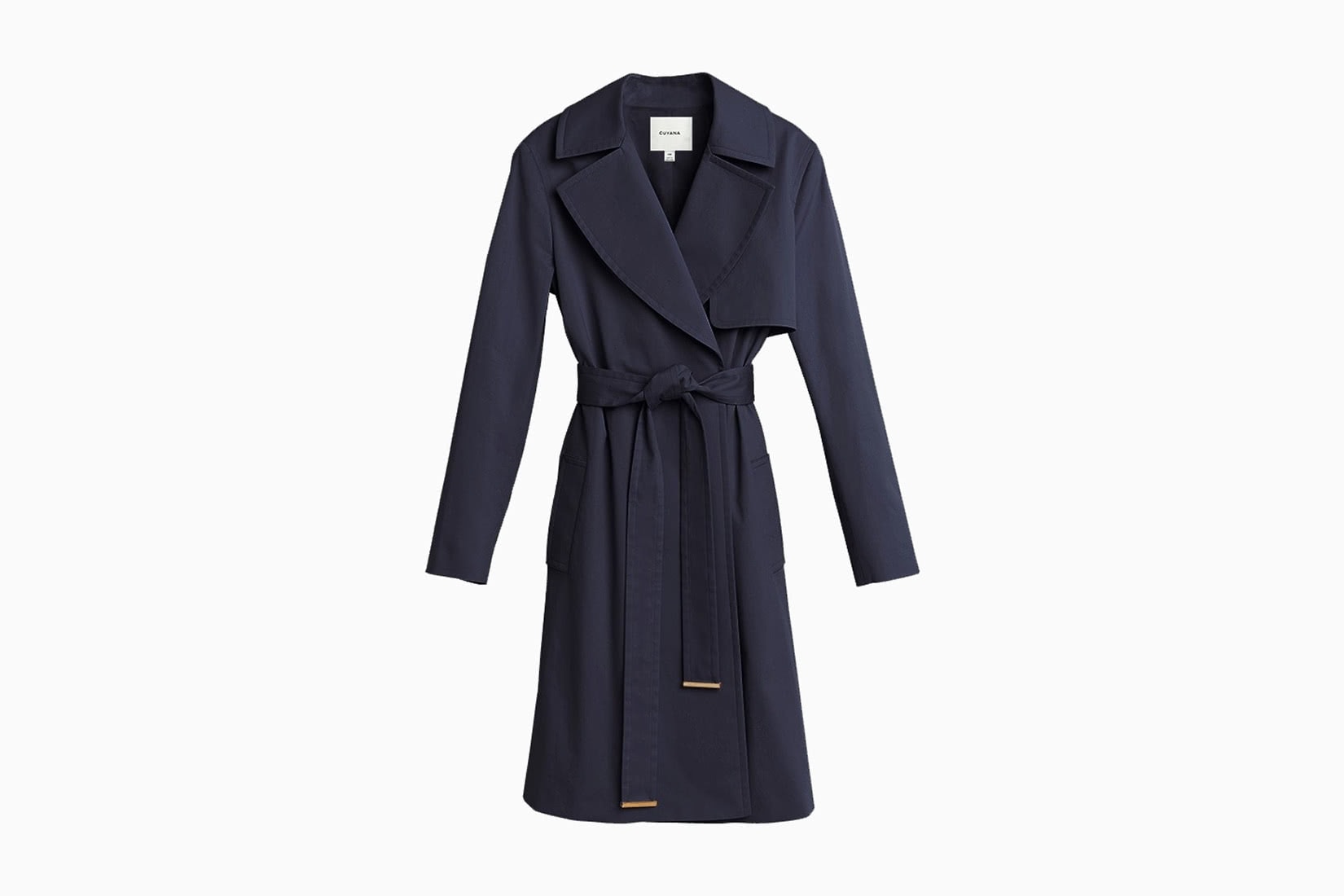 Throw it back to military times with a navy option that's sure to wow anyone who crosses its path. A classic design paired with an equally classic colour makes this the trench coat for the uber-cool woman who wants a jacket that'll work any day of the week. This timeless staple goes great with your working wardrobe and right through to a night of spontaneous dinner and drinks.
Just as iconic as the trench coat's camel-coloured sister, the navy option is a versatile and lightweight option that instantly pulls together any look. A relaxed style with a fit and flare silhouette is the definition of smart casual and a water repellant finish means you'll never get obviously caught in the rain. Better yet, Cuyana's Classic Trench is a sustainable choice, which means even when you're complaining about global warming you'll be safe in the knowledge that your trench coat isn't contributing towards it.
Best for: The feminine woman who votes for preppy over edgy.
Colour: Navy
Gucci: Best oversized trench coat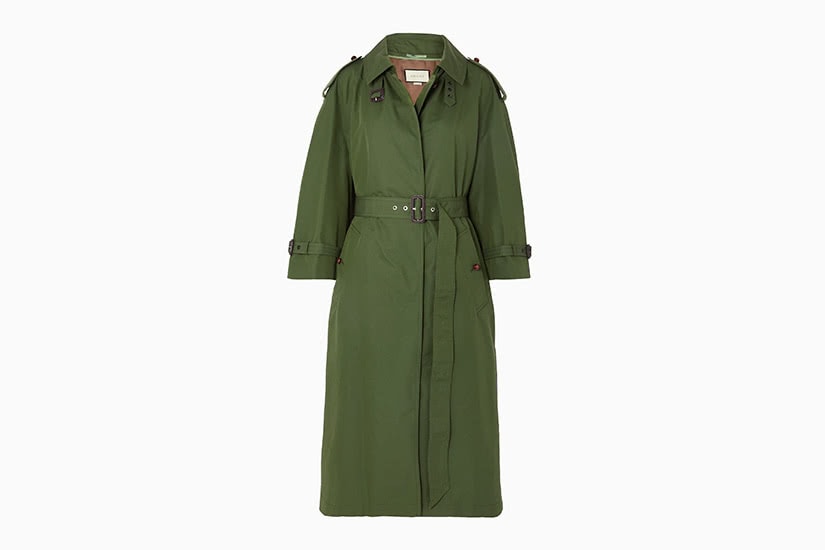 Gucci is cool, oversized style is cool, trench coats are cool and the bottle green shade of this particular jacket is especially cool, which means it's basically impossible to go wrong with this trench coat. All wrapped up into one — physically and metaphorically — this impossibly stylish trench coat is a winner for transitional dressing from start to finish. An androgynous jacket on the outside, it comes with detachable wool vest lining that's decorated with pretty watercolour blooms.
Combining masculine and feminine style at the same time, it's a winning jacket that'll keep you warm with the added benefit of its removable lining. A Gucci oversized cotton-blend trench coat is a staple in any wardrobe and the traditional colouring of this option is one you'll run to time and time again. Wear it unbelted for a "just thrown on" look or, for those cooler evenings, pair with tailored trousers, fresh white trainers and a tightly cinched belt for best results.
Best for: Boyfriend-style fit, cool-girl energy and emulating London street style.
Colour: Bottle green
Lark & Ro: Best fitted trench coat for women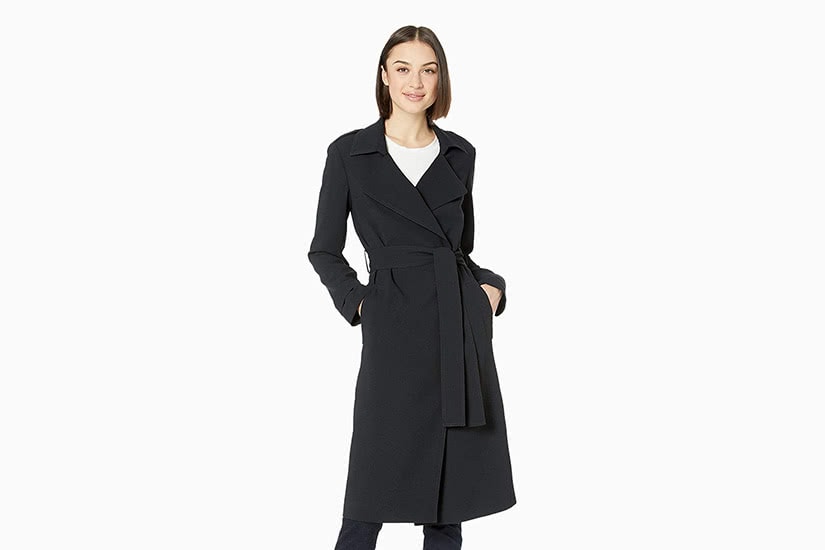 You should always have a lightweight trench coat in your closet. Perfect for throwing on as you leave the house, for layering up when you're wearing your favourite long sleeve top underneath or adding a sleek finishing touch to any outfit, a fitted trench will carry you through any occasion. Amazon's own Lark & Ro is a new staple brand producing a range of jackets that you don't want to sleep on.
And the Women's Lightweight Trench Coat is a great example of just that. A lightweight material that still promises to keep you warm, this fitted style is a polished essential that's flattering and fashionable. A closureless finish means this is a trench more suited to warmer evening when you want to be on the safe side, but its lightweight fabric means it's easily layered for the colder months.
Best for: Making water resistance glamourous.
Colours: Black
King & Tuckfield: Best two-tone trench coat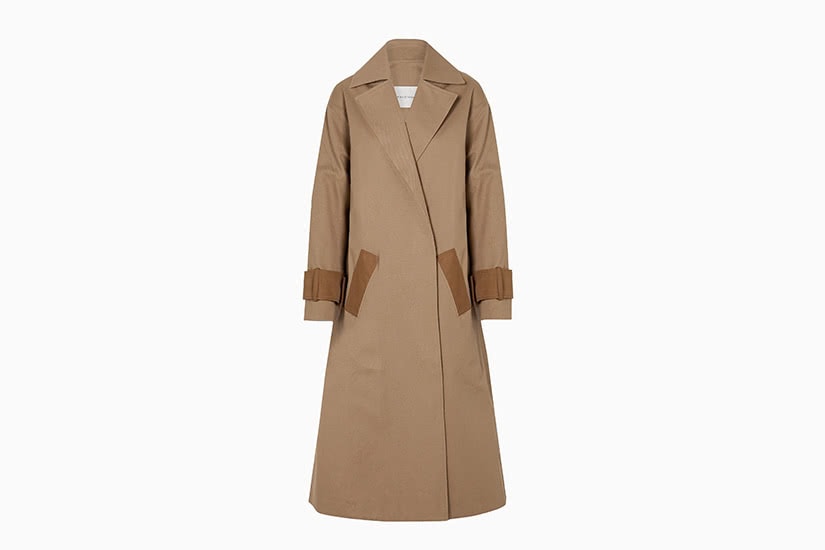 Can't decide which colour to go for? No problem: choose a two-tone trench instead. The beauty of this playful piece is that it'll add a touch of luxe to your outfit without being overbearing — perfect for anyone who won't settle for a block colour coat but isn't ready to branch out to bright colours. King and Tuckfield's two-tone cotton-drill trench coat has an oversized fit with tan cuffs that add a spoonful of casual dressing to a smart jacket.
A dramatic notched collar adds another dimension to this trench coat and its slightly loose silhouette adds a masculine touch to any feminine outfit. You can't go wrong with a beige trench and this fashion staple will make transitional dressing a breeze. Choose this trench if you're a fan of all-black outfits and want to break up the monotony with a cool and collected shade that'll win you plenty of compliments.
Best for: Adding an understated pop of colour to your autumn wardrobe.
Colours: Beige
Cuyana Silk Trench: Best silk trench for women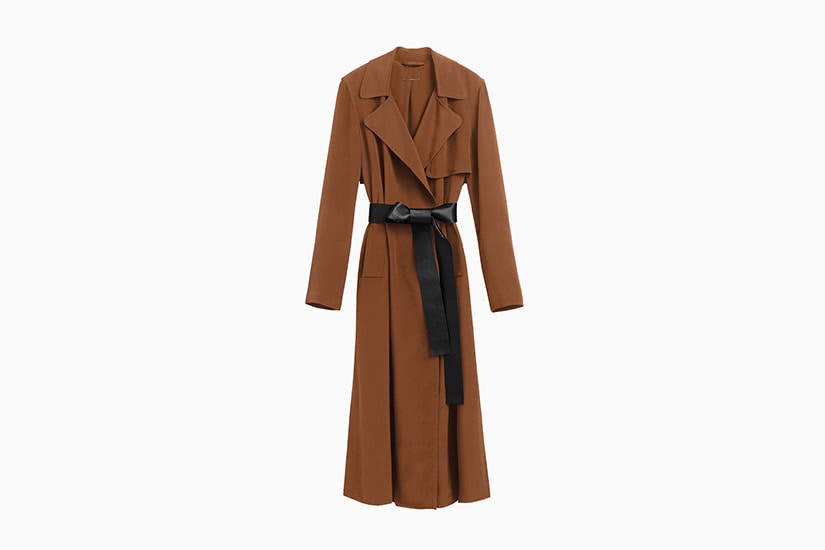 Step things up a notch with a silk trench coat that offers an extra dimension of classy dressing. The silk trench coat is an enviable piece and is the perfect wardrobe addition for evening occasions when you can't stray too far from your usual jacket. And who better to deliver the optimum of silk trenches than Cuyana? This Classic Silk Trench is a floaty, lightweight option that's made for complementing freshly manicured nails. Slip it on, feel the soft material brush against your skin and thank yourself for making such a beautiful purchase.
The utilitarian style gets an ultra-feminine makeover here with a modern trench coat shape that won't look dated by seasons to come. A midi length with a wrap closure and side slits, it comes in chestnut and white shades (as well as the classic black) and is a dazzling addition to your wardrobe. It's a jacket so perfect, you'll be hesitant to hand it over when you arrive at your destination.
Best for: The perfect companion to stylish evening occasions.
Colour: Black, chestnut, white
Amazon Essentials: Best budget trench coat for women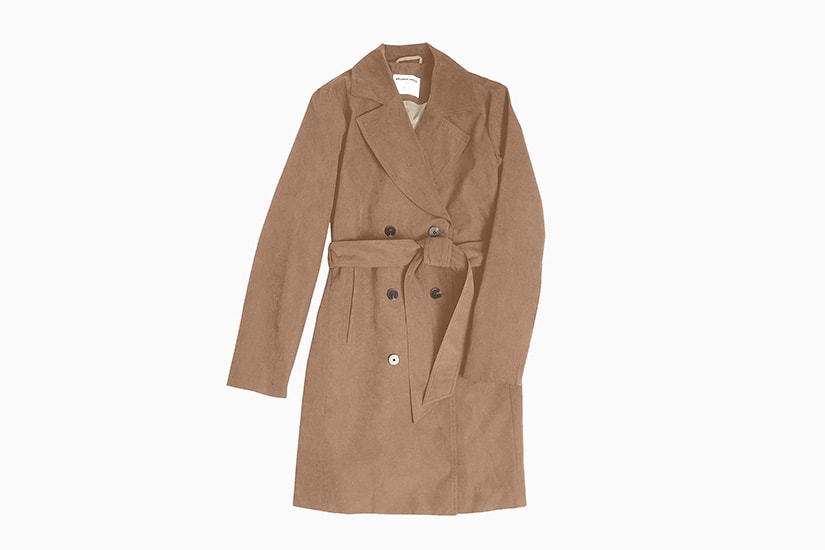 Style doesn't have to come at a high cost, as Amazon proves with the arrival of its Amazon Essentials Women's Water-Resistant Trench Coat. Crafted from water-repellant cotton-blend fabric, it'll keep you looking dry and fashionable long after the rain stops. A perfectly executed basic trench, it has a slightly relaxed fit and cuts just above the knee. The flattering cut of this trench makes it an ideal option for any woman.
A great everyday option, that's durable with thick and good quality material, it's rain resistant and has a soft brushed feel for added comfort. There's no doubt you'll feel cosy when wearing this trench. Its huge pockets and velvety feel seal the deal if you're second guessing yourself over whether to add to your basket.
Best for: A hard-working piece that won't take too much of your hard-earned money.
Colours: Black, navy, red
Gabriela Hearst: Most expensive women's trench coat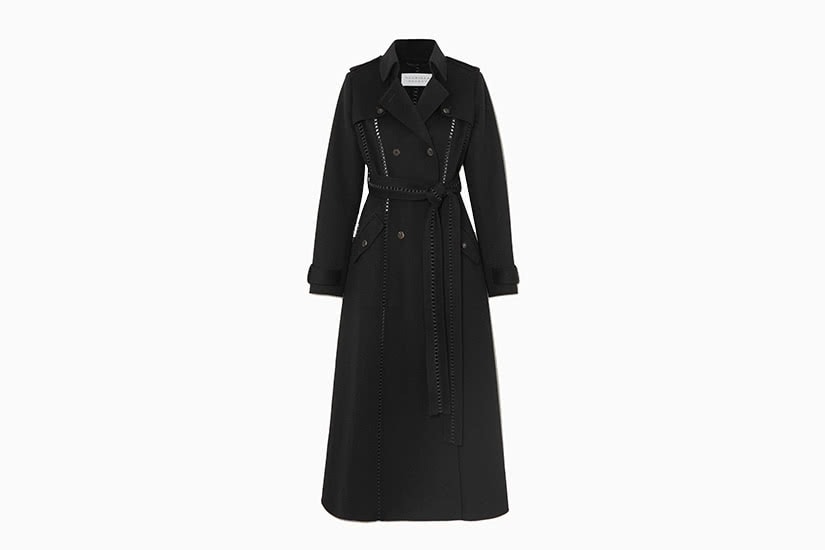 A hit with celebrities, influencers and anyone with excellent taste in fashion, this cashmere trench is the ultimate answer when it comes to treating yourself. A sleek, black piece of outerwear that promises to be the star of the show in your wardrobe, its chicness defined with smooth black leather-trimmed cashmere and a perfect length. If Gabriela Hearst's leather-trimmed cashmere trench coat looks familiar, that might be because you've seen it on the likes of Bella Hadid, Kendall Jenner and Zendaya. Or, quite possibly, on your fashion wishlist, folded over in one of your favourite magazines or simply in your dreams.
We'll warn you in advance: the more time you spend admiring it, the harder it gets not to purchase. Luxurious and irresistible, it's an edgy addition to any outfit that simultaneously toughens up and smooths out whatever else you're wearing. A black trench will never be off trend, if you had any doubts about buying one.
Best for: Winning the award for being added to your basket faster than anything…ever
Colour: Black
Style guide to women's trench coats
It's hard to go wrong with a trench coat and their versatility means they suit nearly everyone. Still, there are a few things to keep in mind before purchasing your next one.
Material
Cotton, leather, wool, silk or something else? A cotton trench coat will offer a more lightweight solution than a wool option. A leather trench might look endlessly cool but might not be suitable to warmer occasions. Silk trenches are more premium and will feel softer on the skin and so might be best for those with especially sensitive skin. If your focus is on water resistance, look for a trench made of or featuring gabardine, which is the secret weapon to keeping you dry.
Closure
Single-breast, double-breast or just tied back? The oversized nature of many trench coats means you'll likely utilise a tie back waist more than any buttons but for an extra layer of warmth, look for a trench with a single or double breast button. A double-breasted trench has a wider overlap and two rows of buttons, keeping you extra cosy. Double-breast options are also usually considered a little more formal.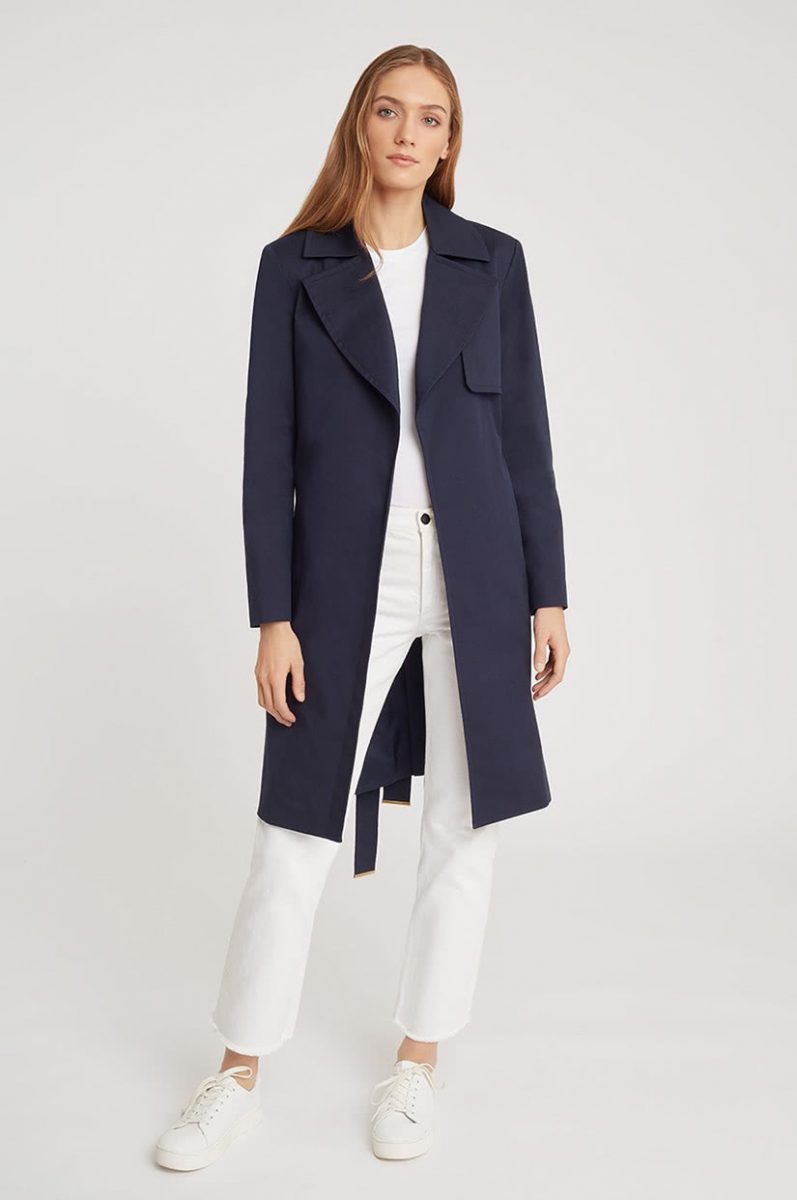 Length
From the mid thigh to the full length, you'll find trench coats in almost every length. A longer trench will obviously keep you warmer and can be easier to pair with the rest of your wardrobe. Opt for a shorter style on warmer occasions when you're not as worried about your legs being exposed to the wind or rain.
Colour
The most popular colours for a trench coat are still the traditional blacks, khakis, beiges and dark blues. These might not be statement colours but they promise to match with the rest of your wardrobe without too much stressing or coordination. However, a bright trench adds an easy statement touch to your outfit.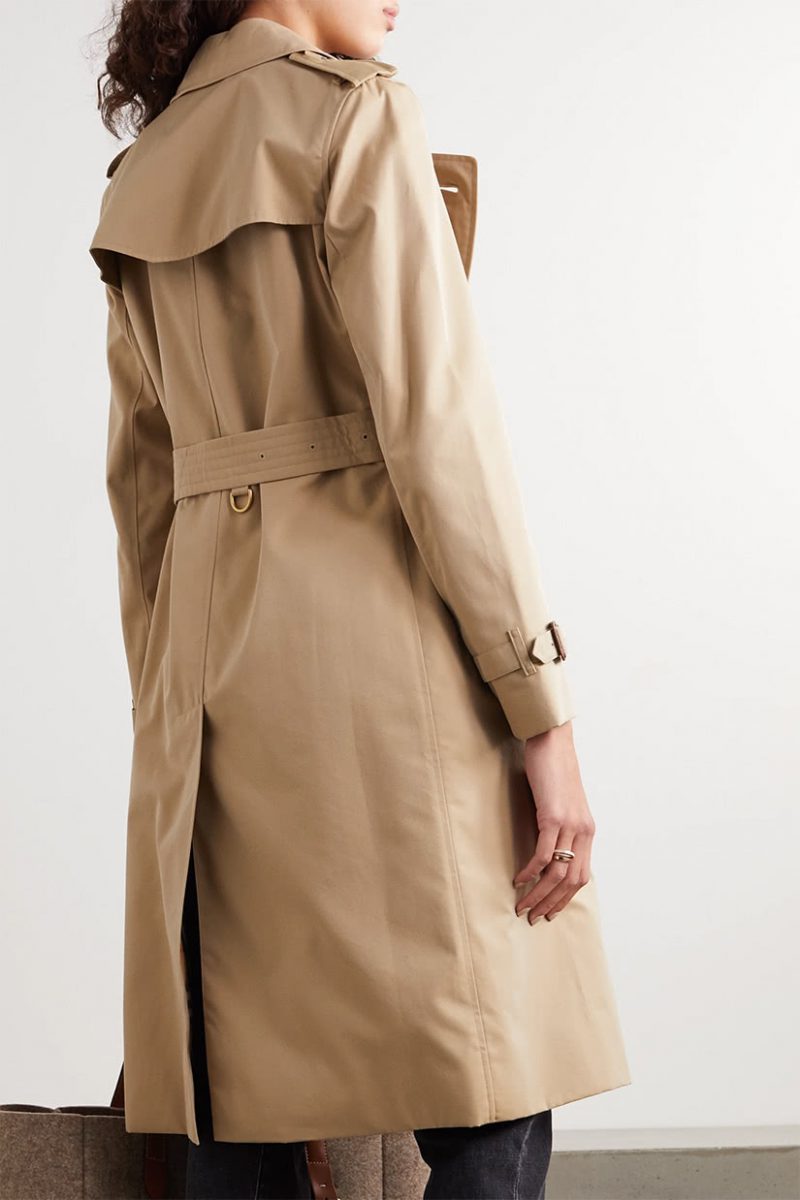 Frequently asked questions about women's trench coats
What is the best trench coat brand?
Some of the best brands for trench coats include Burberry, Cuyana, Bottega Veneta and London Fog. These brands are all known for producing stylish trench coats that are flattering, versatile and promise to keep you warm during the colder months. Check out our full guide to discover your new favourite trench coat.
What is the best color for a trench coat?
For a failsafe trench coat that you can throw on for years to come, pick one that's black, navy, camel or bottle green. These are staple options that'll go with a huge range of outfits.
How should a trench coat fit a woman?
The best trench coats are worn slightly oversized – large enough for potential layers underneath without swamping you. The belted nature of a trench coat means that, even if you size up, you can still cinch in the waist for a flattering silhouette.
Are trench coats still in style?
Trench coats are always in style thanks to their versatile nature. Choose one in black, camel, navy or bottle green for best results, if you're looking for a classic trench that you can wear year after year.
When should you wear a trench coat?
A trench coat is a transitional jacket that works well any time of the year. Throw it on for autumnal events, bring it with you on those cool summer evenings or layer it with a tightly cinched belt when the weather gets cooler. The very nature of a trench coat means it's versatile enough to wear year round, making it a great staple to your wardrobe.