An outerwear hero, a transitional dressing staple, and a masculine-meets-feminine midpoint, the timeless trench rightfully deserves its spot in your wardrobe as one of the most versatile and seasonless items you'll ever own. A trench coat adds a winning final touch to any women's outfit, no matter whether it's a Thomas Burberry-reminiscent piece, an edgy leather option, or a sustainable star that'll keep you looking good and feeling good.
Our tried and tested guide pulls together everything you need to know about the trusty trench coat—just in time before the season starts to change and you're hunting down your next stylish raincoat. From the best black trench coat to the finest luxury trench of your designer dreams and, of course, the eponymous Burberry trench coat that will stand the test of time, you'll want to give your credit card a heads-up before you start scrolling.
The 17 best women's trench coats
To help you find the trench coat that's best for you, check our style guide to choosing the best trench coat after the list.
Cuyana Relaxed Trench: Best overall women's trench coat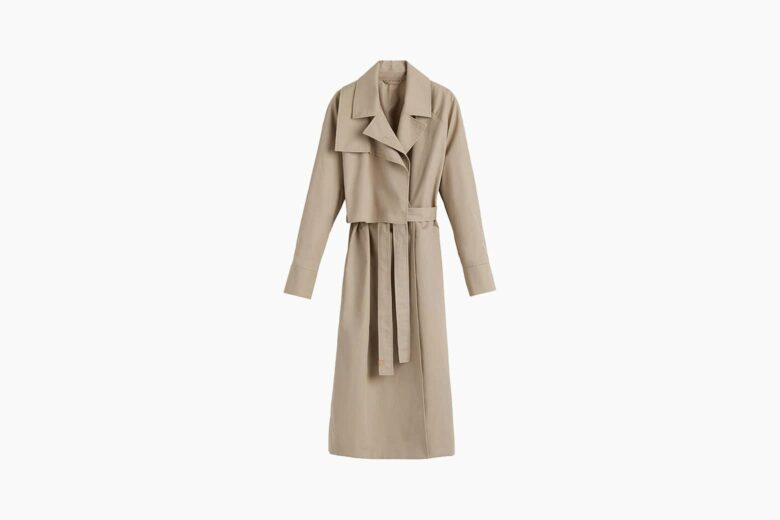 As a quintessential capsule wardrobe staple, we don't know how one survives Fall without a transitional trench. But nothing epitomizes elegant versatility more than this Cuyana classic. Pairing components of the masculine military-inspired original silhouette with delicate feminine details, we find ourselves reaching for this wardrobe hero whenever volatile clouds are near.
Drawing inspiration from Mother Nature's artworks, the softly structured layered silhouette is reminiscent of overlapping petals in full Spring bloom. While the exaggerated storm flap adds an element of empowerment and control.
The water-repellent finish and interior pockets protect both your outfit and accessories from unforeseen downfalls—making this tantalizing trench by Cuyana our go-to throwover come rain or shine.
Best for: Falling for nature-inspired staples.
| | |
| --- | --- |
| Colors: | Dune and Gray |
| Material: | Cotton |
| Machine washable: | Yes |
Burberry Kensington: Best designer trench coat for women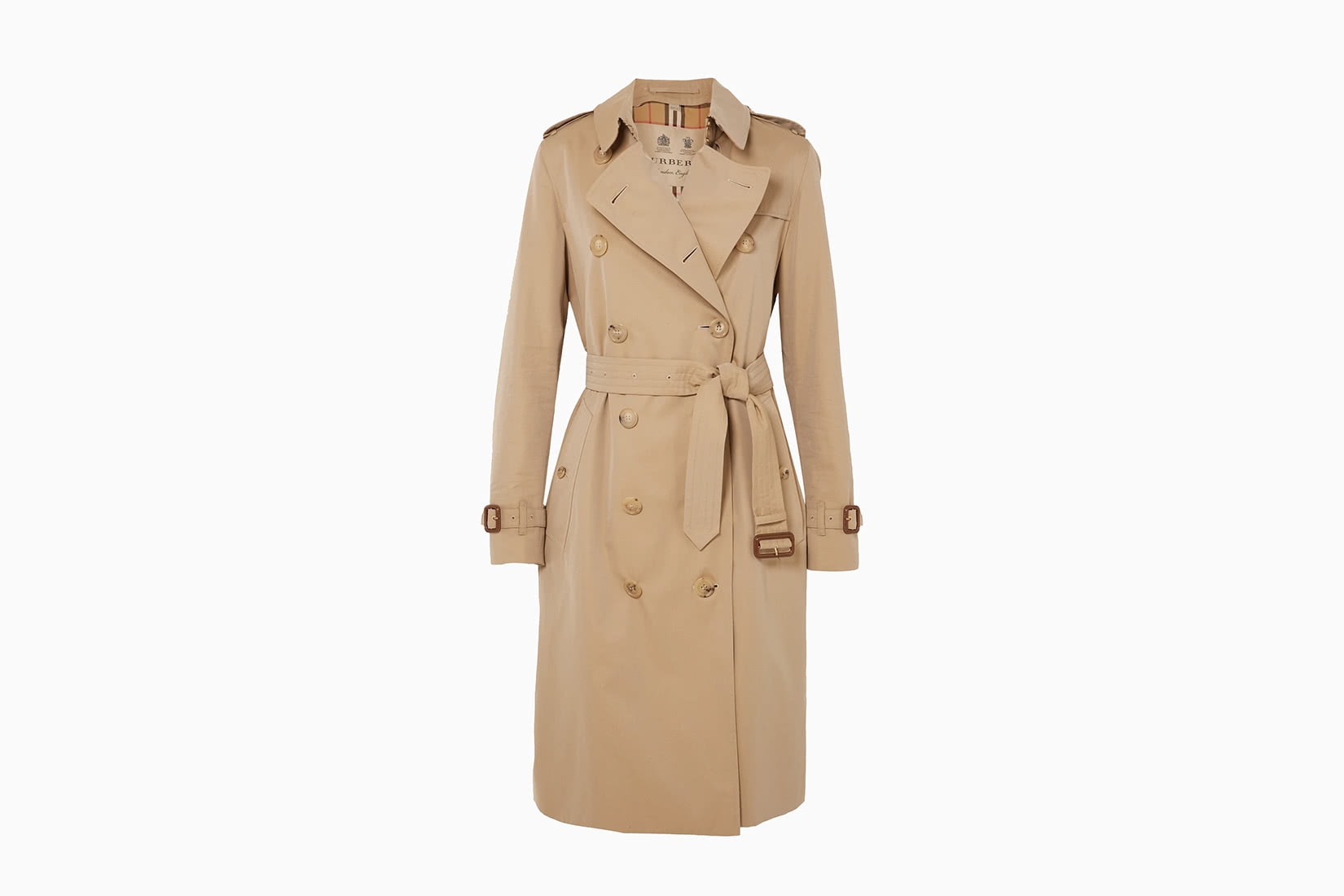 The iconic leader of the trench coat evolution and the perpetual winner of "best long-standing and transitional dressing" award – if you haven't dreamt about owning a Burberry trench, then you've been doing autumn fashion wrong. A fresh take on the classic trench style, this trench coat keeps all the quintessentially British elements but combines them with the fundamentals of French-girl style. Burberry's The Kensington Long Cotton Trench Coat is the best designer option that'll see you through seasons to come with modernized features taken from the military classic.
Take a look back through history while walking the runways, hitting the streets for a shopping trip, or jetting off on a city break away. This trench coat will win you over like no other. So popular we almost added it to this list twice, its beige coloring, military-inspired epaulets, and perfect length make it a star-studded choice. Almost identical to the pieces released 100 years ago, a Burberry trench truly never goes out of fashion.
Best for: Investing in a piece of fashion history—timeless and on-trend.
| | |
| --- | --- |
| Color: | Beige |
| Material: | Cotton |
| Machine washable: | No |
Wantdo Double-Breasted Trench: Best value women's trench coat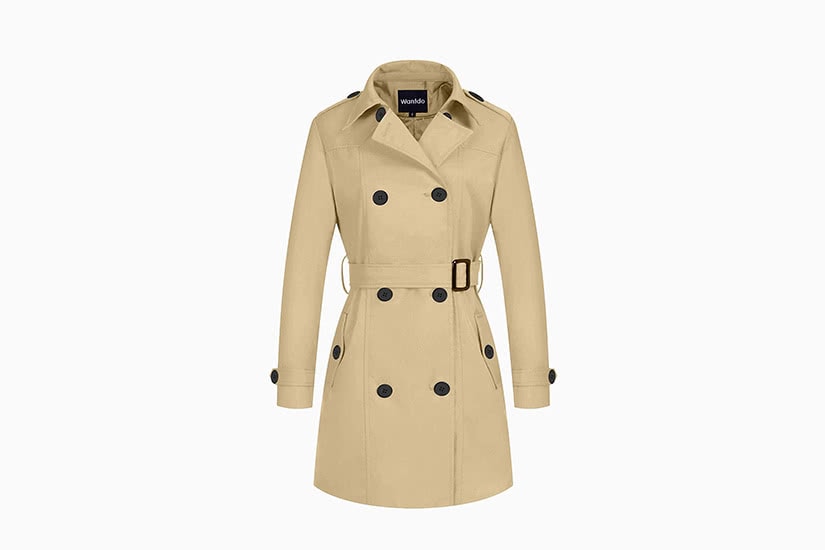 A soon-to-be staple piece in your wardrobe, Wantdo's double-breasted trench coat effortlessly fuses contemporary design with classic style. Lightweight enough to throw on for warm summer evenings but warm enough as a great transitional piece, this trench coat is one that you'll reach for day after day as the seasons change. Despite being less than $50, this trench looks far more expensive than it actually is and is good enough quality to hold its own alongside many designer options.
Anti-wrinkle material means you can easily grab and go without having to stress about last-minute ironing. And a classic belted waist works as the defining magic weapon to bring together whatever you're wearing underneath. Taking the traditional look up a notch, this modern trench coat is one you'll live in as Autumn approaches, and find excuses to wear it even when the weather gets colder.
Best for: A high street price point with a high fashion appeal.
| | |
| --- | --- |
| Colors: | Black, Khaki, Navy + More |
| Material: | Terylene |
| Machine washable: | Yes |
The Jacket Maker Alice: Best leather trench coat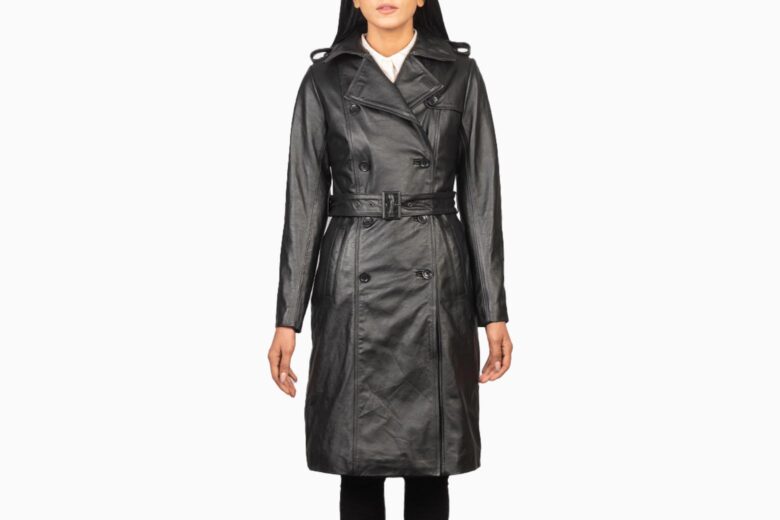 The Jacket Maker has been on our radar ever since their launch in 2016. And judging by Instagram feeds, the rest of the world seems to agree. Although, we're hardly surprised. Cutting out the middleman, the burgeoning brand's big dream was to create high-quality pieces with much lower price tags. And who doesn't appreciate affluent label-worthy pieces at accessible prices right?
We understand if you have trouble trusting the quality of new brands, and we do too. But after reading the brand's raving reviews and trying this Alice leather trench ourselves, it's safe to say that we're totally sold. The double-breasted buttons and belt closure speak to the classical trench silhouette. The genuine cowhide leather is impossibly soft, exuding effortlessly timeless elegance. While the hand-stitched craftsmanship reveals impeccable attention to detail and unparalleled durability.
Coming in neutral blacks and browns, this leather trench coat is well worth adding to your Fall rotation. It'll add a polished finesse to your distressed denim and chunky Chelsea. But it can be dressed up with heels and your LBD in the evening.
Best for: Taking your Fall style out of the trenches.
| | |
| --- | --- |
| Colors: | Black or Brown |
| Material: | Leather |
| Machine washable: | No |
Axel Arigato Globe Summer Coat: Best classic women's trench coat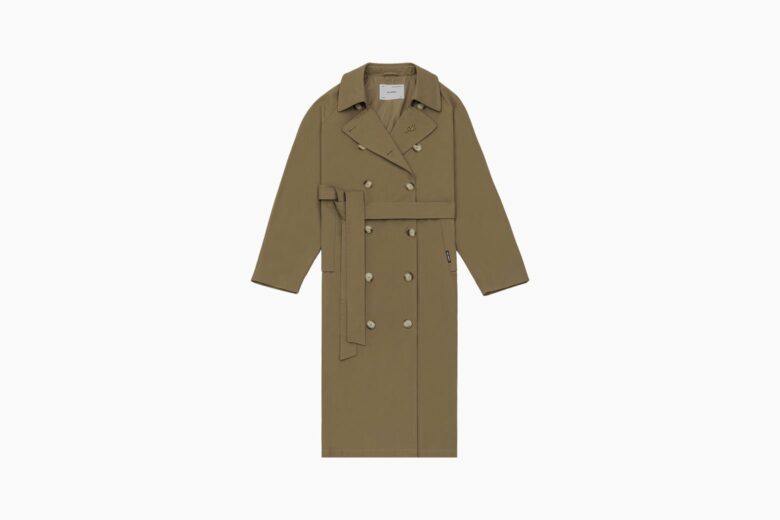 The forecast might be suggesting rain, but it's also suggesting Axel Arigato—the Japandi-inspired minimalist label that we're totally obsessed with.
This outwear piece comes with all the traditional features of the trusty trench while maintaining a modern appeal. The multifunctional belt construction offers several styling options, creating an effortlessly layered look with a trench that'll help you to fully embrace autumn.
We might all be lusting after one of Burberry's original military-chic trench coats but if you're looking for a classic style without the price tag, Axel Arigato's Globe Summer Coat is a sophisticated buy that will pepper your outfit with a generous sprinkling of chic, come rain or shine.
Best for: A capsule classic that's universally flattering.
| | |
| --- | --- |
| Colors: | Olive Green or Natural Yellow |
| Material: | Cotton |
| Machine washable: | No |
Rains: Best trench coat for the rain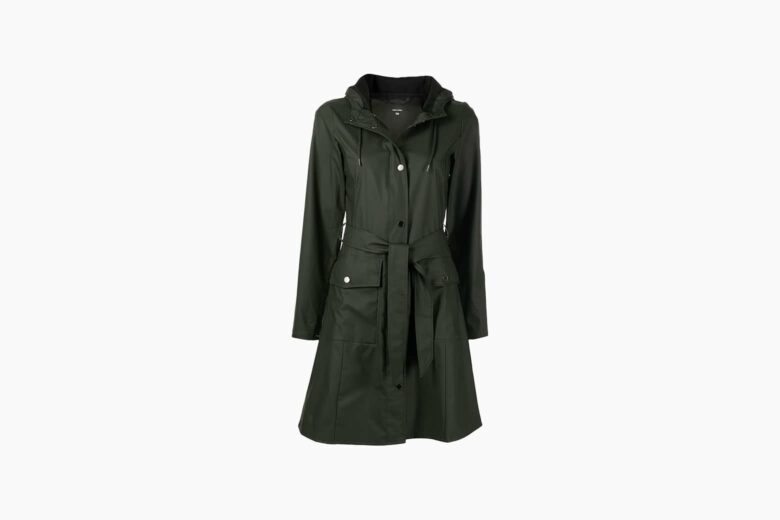 Renowned for its functional approach to fashion and signature urban inspiration, Rain's trench is a reinterpretation of the classical rubber raincoat. And whilst a child you may have fought against an oversized uncomfortable hand-me-down, we foresee you reaching for this waterproof trench coat even when there isn't a cloud in the sky.
The olive green hue pays homage to the silhouette's military origins. The signature belted waist redeems your resentment towards past unflattering waterproof iterations. And whilst the drawstring hood may not feature on your traditional trench, it is a much appreciated addition when storm clouds threaten our perfectly straightened hair.
Pair this versatile waterproof trench with chunky Chelseas and straight leg trousers for a look that is effortlessly chic, but also ready to battle the harshest elemental forces.
Best for: Going into battle with the elements.
| | |
| --- | --- |
| Colors: | Olive Green, Taupe, Black |
| Material: | PU lightweight fabric |
| Machine washable: | Yes |
Ganni: Best long trench coat for women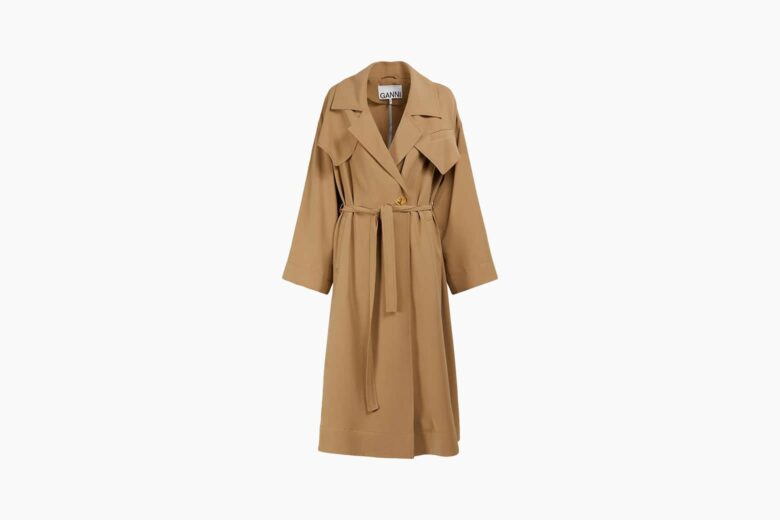 Gaining cult-status amongst celebrities and style icons known as the #GanniGirlsGang, the Danish brand is a favorite amongst Priyanka Chopra, Dakota Johnson and just about anyone with an eye for fashion—us included. And whilst they're known for their contemporary use of color and expressive designs, this paired back Ganni trench is equally alluring.
The relaxed silhouette exudes a nonchalant attitude as it epitomizes effortless elegance. The signature collar and storm flaps maintain a timeless finesse. Whilst the belted waist cinches in the drapey silhouette. Plus, it's made from recycled fabrics, making it almost impossible to turn down as sustainable style enthusiasts. We're guilty of grabbing it day after day, but when it looks that good why shouldn't we.
Best for: (Ganni)ng up on the rest of your wardrobe.
| | |
| --- | --- |
| Color: | Beige |
| Material: | Recycled polyester blend |
| Machine washable: | No |
London Fog: Best short trench coat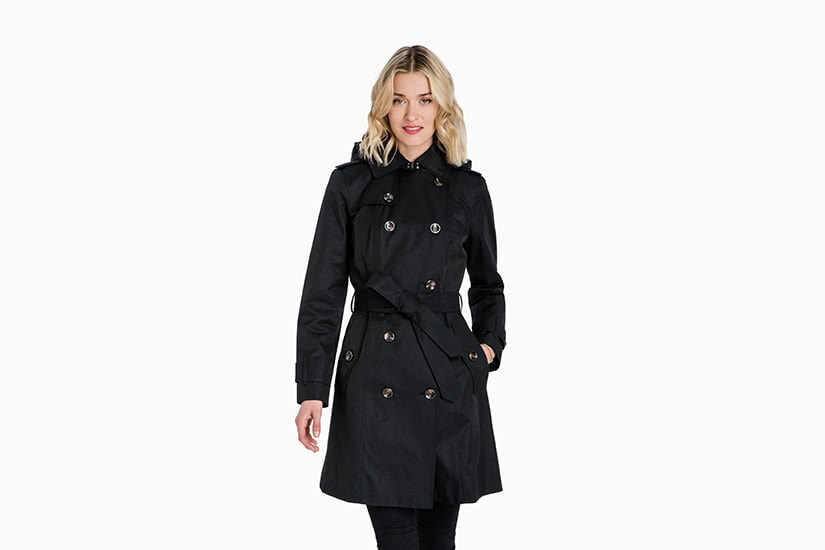 You could argue that all trench coats are a classic, but London Fog's double-breasted trench coat is the classic of all classic trench coats. From its mid-thigh length to the notch collar and removable hood, it combines everything you could possibly need in one ultra-cool piece of outerwear. London Fog is known for producing a wide range of excellent transitional pieces that'll carry you through the seasons, and this trench coat is no exception.
An investment piece without the investment price tag, this short trench coat's modern design features beautiful button detailing, a water-resistant coating for even the heaviest of London downpours, and a fabric that's simultaneously made for spring or summer. This is a trench that'll last you for years—and it's one you'll want to replace with an identikit option when it does eventually make it past its best.
Best for: Proving that the classics are classic for a reason.
| | |
| --- | --- |
| Color: | Black |
| Material: | Cotton and Polyester |
| Machine washable: | Yes |
Gucci Wool Coat: Best black trench coat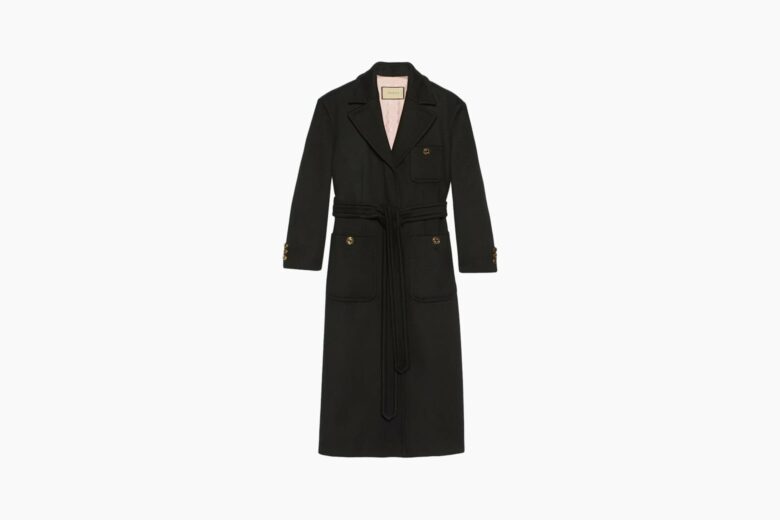 Gucci is cool, trench coats are cool, and the vintage enamel buttons of this black wool coat are especially cool, which means it's basically impossible to go wrong with this designer trench coat. All wrapped up into one—physically and metaphorically— this impossibly stylish black trench coat is a winner for transitional dressing from start to finish.
Ready to be paired with literally anything and still look impeccable, this belted wool coat by Gucci is one you'll put on at the start of winter and refuse to take off until early spring. Versatile and smooth, it's made in Italy from soft black wool with contrasting sharp shoulders. A melting pot of cozy-girl chic and fashion week-ready, it's a timeless jacket that you can't go wrong with.
Best for: Instantly replacing that "end of summer sadness" feeling.
| | |
| --- | --- |
| Color: | Black |
| Material: | Wool |
| Machine washable: | No |
Alo Yoga: Best camel trench coat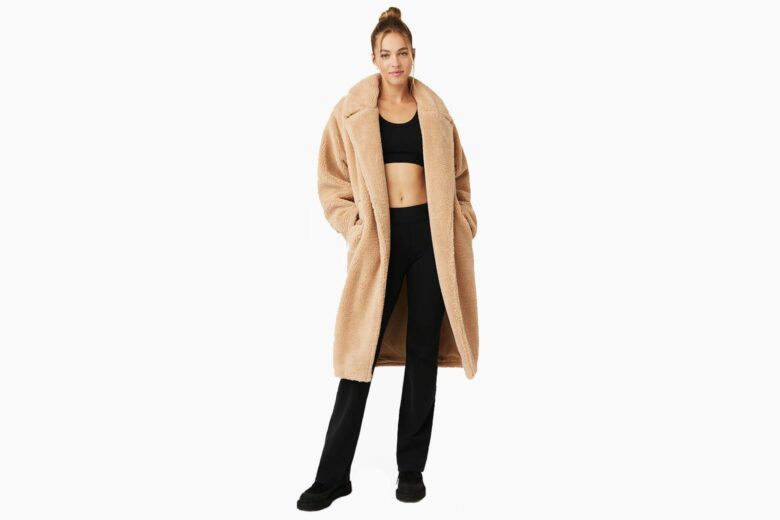 We're calling this the sartorial version of a hug. But it's probably even better because it looks good too. The sherpa silhouette wraps around your entire body. And whilst you feel like you're living cocooned in the world's coziest blanket, the camel faux fur is totally on-trend. 
We're slightly biased toward the camel rendition for giving off Kendall Jenner vibes. But the black, white and dusty pink hues are equally versatile and stylishly snug. 
Style it with black flared pants and a matching crop top on your way to the studio. Or throw it over denims to run last-minute errands. Dress it up with fancy brunching boots. Or settle on the couch with your snack of choice. Either way, we won't blame you if we see you in this Alo Yoga sherpa trench all Winter.
Learn more about the story behind Alo Yoga.
Best for: Cocooned in comfort from couch to class.
| | |
| --- | --- |
| Colors: | Camel, Black, Ivory |
| Material: | Faux fur |
| Machine washable: | Yes |
A.P.C: Best navy trench coat for women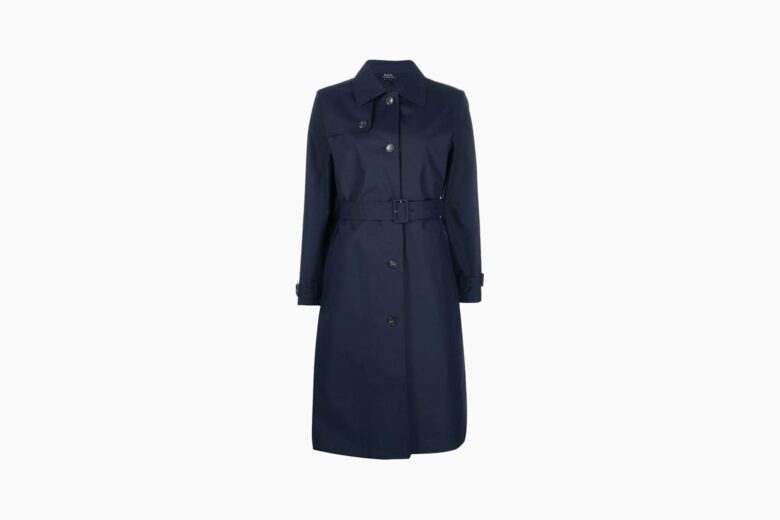 Gaining its renown for raw denim jeans, A.P.C understands the effectiveness of elegant simplicity. Void of fuss and frills, we love this lightweight trench coat for its impeccable attention to detail and time-honored characteristics.
Throwing it back to the 1910 military uniform before camo became the norm, this navy trench by A.P.C is an absolute classic. The traditional structured, collared silhouette exudes confidence and strength. Whilst the style's signature belted waist celebrates the feminine form.
The below the knee length is casual enough to run errands in daily. But it's also sophisticated enough to take out to brunch. In fact, we could definitely see Katie Holmes owning this look with denims and converse. But perhaps that's because we already know she loves the brand.
Best for: In the trenches experience.
| | |
| --- | --- |
| Color: | Navy |
| Material: | Cotton |
| Machine washable: | No |
Bottega Veneta: Best oversized trench coat for women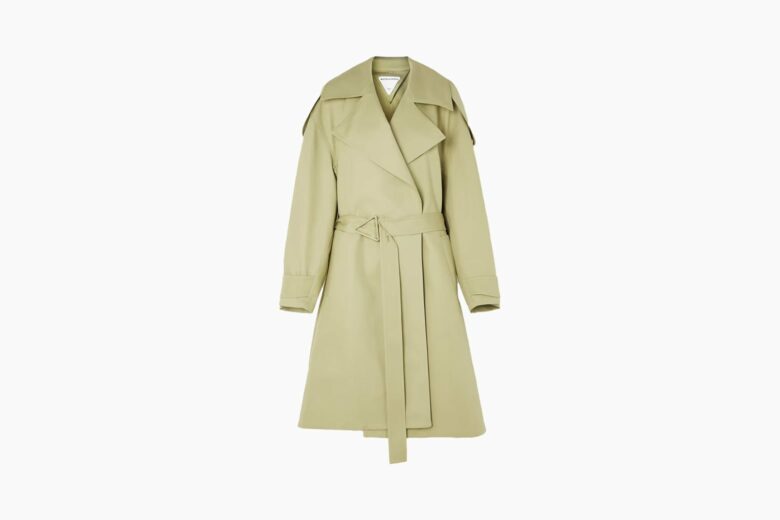 Marrying everyday dichotomies, Bottega Veneta's trench is both timeless and strikingly on trend. It's refined yet relaxed. And it's masculine yet feminine. The neutral beige hue and traditional silhouette maintain an elegant, time-honored allure. But at the same time, the oversized fit and nonchalant attitude add a boyish avant-garde edge.
Every detail in this distinctive silhouette is absolute perfection. And regardless of how many trenches you own, we can already see you making space for one more. The waist is belted with the brand's signature contemporary triangle buckle. And the exaggerated cinch at the back is both runway-ready and endlessly wearable.
Encapsulating la dolce vita with chic sophistication, this Bottega Veneta oversized designer trench is a tonic for our modern minimalist souls.
Best for: Dressing down everyday dichotomies.
| | |
| --- | --- |
| Colors: | Beige |
| Material: | Cotton canvas |
| Machine washable: | No |
Lark & Ro: Best fitted trench coat for women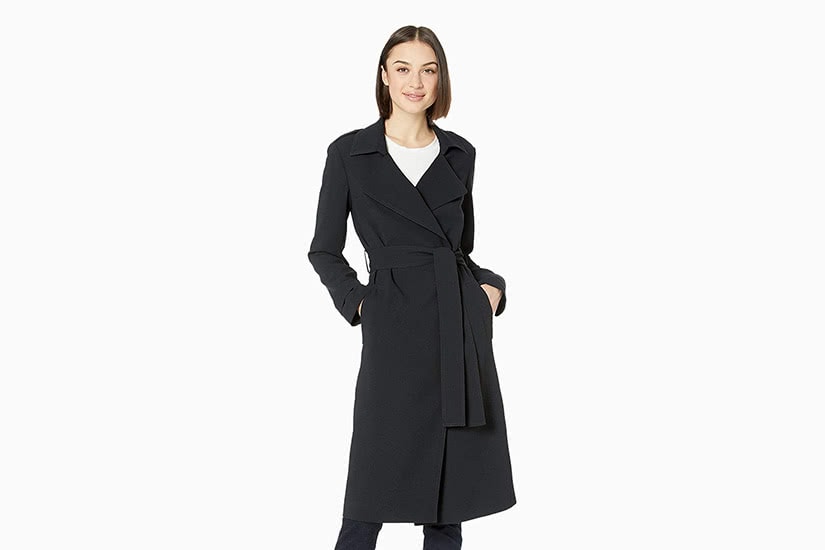 You should always have a lightweight trench coat in your closet. Perfect for throwing on as you leave the house, for layering up when you're wearing your favorite long-sleeve top underneath, or for adding a sleek finishing touch to any outfit, a fitted trench will carry you through any occasion. Amazon's own Lark & Ro is a new staple brand producing a range of jackets that you don't want to sleep on.
And the Women's Lightweight Trench Coat is a great example of just that. A lightweight material that still promises to keep you warm, this fitted style is a polished essential that's flattering and fashionable. A closureless finish means this is a trench more suited to warmer evenings when you want to be on the safe side, but its lightweight fabric means it's easily layered for the colder months.
Best for: Making water resistance glamorous.
| | |
| --- | --- |
| Color: | Black |
| Material: | Polyester |
| Machine washable: | No |
dRA: Best cropped trench coat for women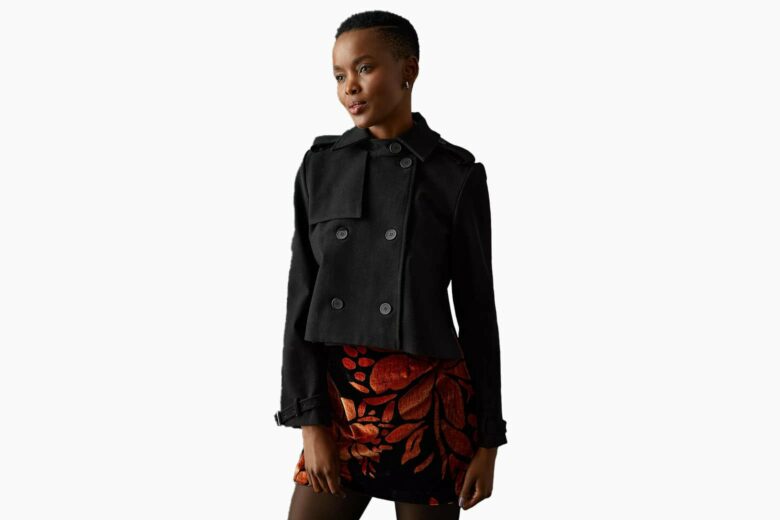 Who said a trench coat couldn't be cropped? Ok, so it might be more of a jacket. But with the traditional double-breasted button up front, epaulets, buckled cuffs and storm flap there's no mistaking this for anything other than military-inspired trench—be it a trench coat or trench jacket.
Don't get us wrong. We love a classical elongated coat. But there comes a time where what's hidden underneath demands a little more attention. Enter: the cropped trench coat. Perfect for revealing form-fitting denims, decadent fabrics or feminine florals, this black trench jacket by dRA can be worn time and time again with an array of ensembles.
Best for: Editing front-line inspired style pieces.
| | |
| --- | --- |
| Color: | Black |
| Material: | Rayon blend |
| Machine washable: | No |
Saint Laurent: Best silk trench for women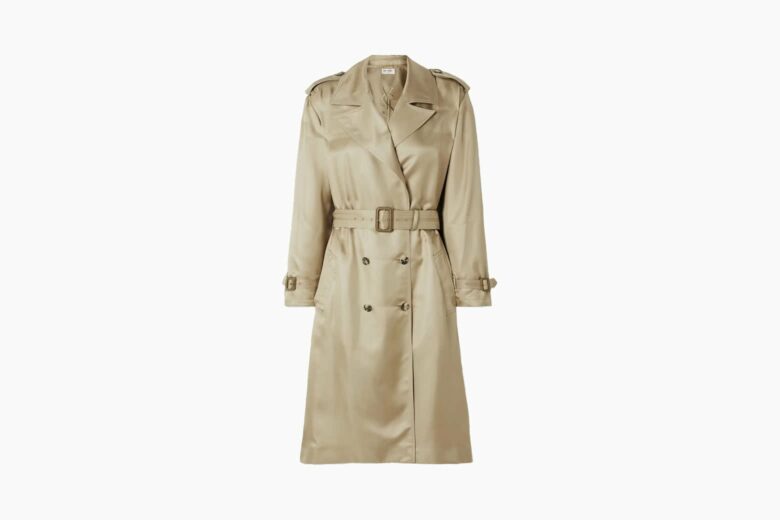 Out the trenches and into the silky arms of Saint Laurent, this tantalizing trench epitomizes much-earned indulgences. The sumptuously soft silhouette speaks to a lifetime of being taken care of—in style and comfort. Whilst the flattering belted waist brings out your best side.
We adore the natural beige hue paired with the slight shine of the silk silhouette. The exquisite lustrous drape is perfect for layering with sophistication. And the classical epaulets, storm flap and buckled cuffs pay homage to the trench coat's traditional details.
We know that the price point may be a slightly steeper splurge. But when you think of this timeless Saint Laurent trench as an investment into a lifetime of designer elegance, well it kind of seems worth it to us.
Best for: Remaining by your side through thick and thin.
| | |
| --- | --- |
| Color: | Beige |
| Material: | Silk |
| Machine washable: | No |
Amazon Essentials: Best budget trench coat for women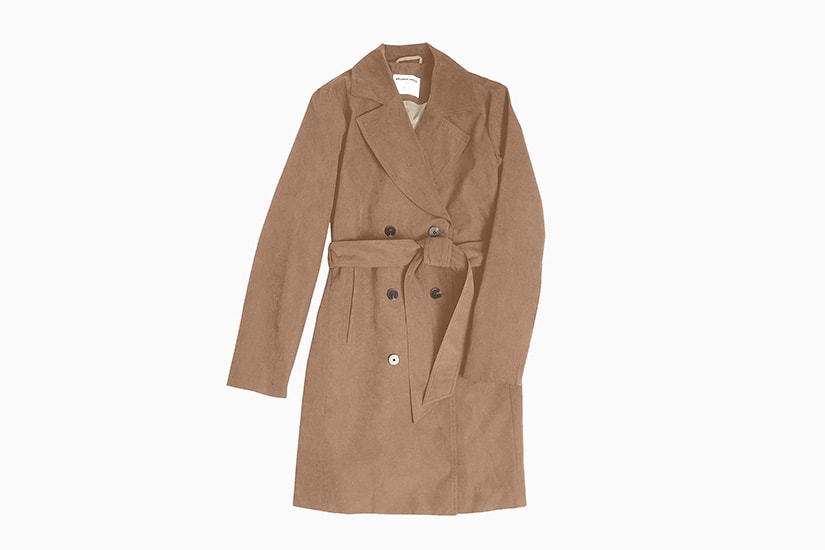 Style doesn't have to come at a high cost, as Amazon proves with the arrival of its Amazon Essentials Women's Water-Resistant Trench Coat. Crafted from a water-repellant cotton-blend fabric, it'll keep you looking dry and fashionable long after the rain stops. A perfectly executed basic trench, it has a slightly relaxed fit and cuts just above the knee. The flattering cut of this trench makes it an ideal option for any woman.
A great everyday option, that's durable with thick and good quality material, it's rain resistant, and has a soft brushed feel for added comfort. There's no doubt you'll feel cozy when wearing this trench. Its huge pockets and velvety feel seal the deal if you're second-guessing yourself over whether to add to your basket.
Best for: A hard-working piece that won't take too much of your hard-earned money.
| | |
| --- | --- |
| Colors: | Black, Navy, Khaki Brown + More |
| Material: | Cotton, Polyester, Nylon |
| Machine washable: | Yes |
Chloe: Most expensive women's trench coat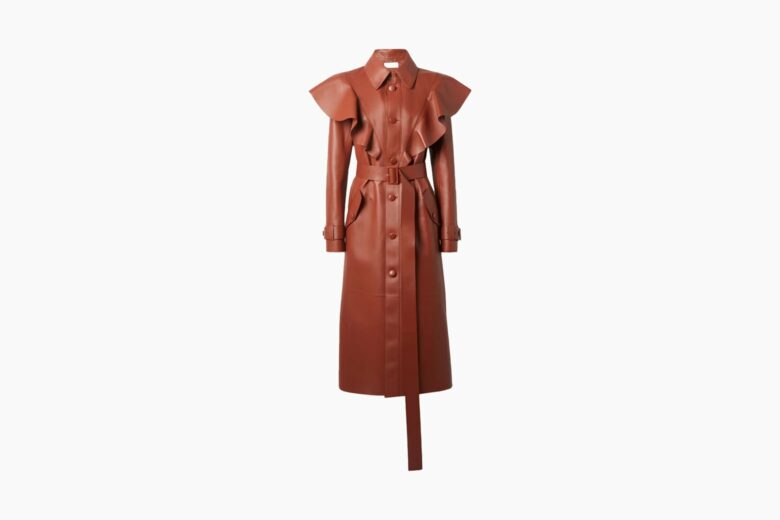 We often speak about style investments—the pieces you pay more for upfront but that never lose their value and continue to receive consistent wear over an entire lifetime. And nothing epitomizes that notion more than this sumptuously soft leather trench.
The feminine ruffles add delicate texture. Whilst the elongated waist belt speaks to an avant-garde designer's touch. And as a result, it's both a statement-making piece and a versatile staple. It's guaranteed to attract attention, but in an understated elegant way that allows it to be worn in new ways for years to come.
Best for: Stocks or style? We prefer the latter.
| | |
| --- | --- |
| Color: | Brown |
| Material: | Leather |
| Machine washable: | No |
Style guide to women's trench coats
It's hard to go wrong with a trench coat, and their versatility means they suit nearly everyone. Still, there are a few things to keep in mind before purchasing your next one.
Material
Cotton, leather, wool, silk, or something else? A cotton trench coat will offer a more lightweight solution than a wool option. A leather trench might look endlessly cool but might not be suitable for warmer occasions. Silk trenches are more premium and will feel softer on the skin and so might be best for those with especially sensitive skin. If your focus is on water resistance, look for a trench made of or featuring gabardine, which is the secret weapon to keeping you dry.
Closure
Single-breast, double-breast, or just tied back? The oversized nature of many trench coats means you'll likely utilize a tie-back waist more than any buttons but for an extra layer of warmth, look for a trench with a single or double breast button. A double-breasted trench has a wider overlap and two rows of buttons, keeping you extra cozy. Double-breast options are also usually considered a little more formal.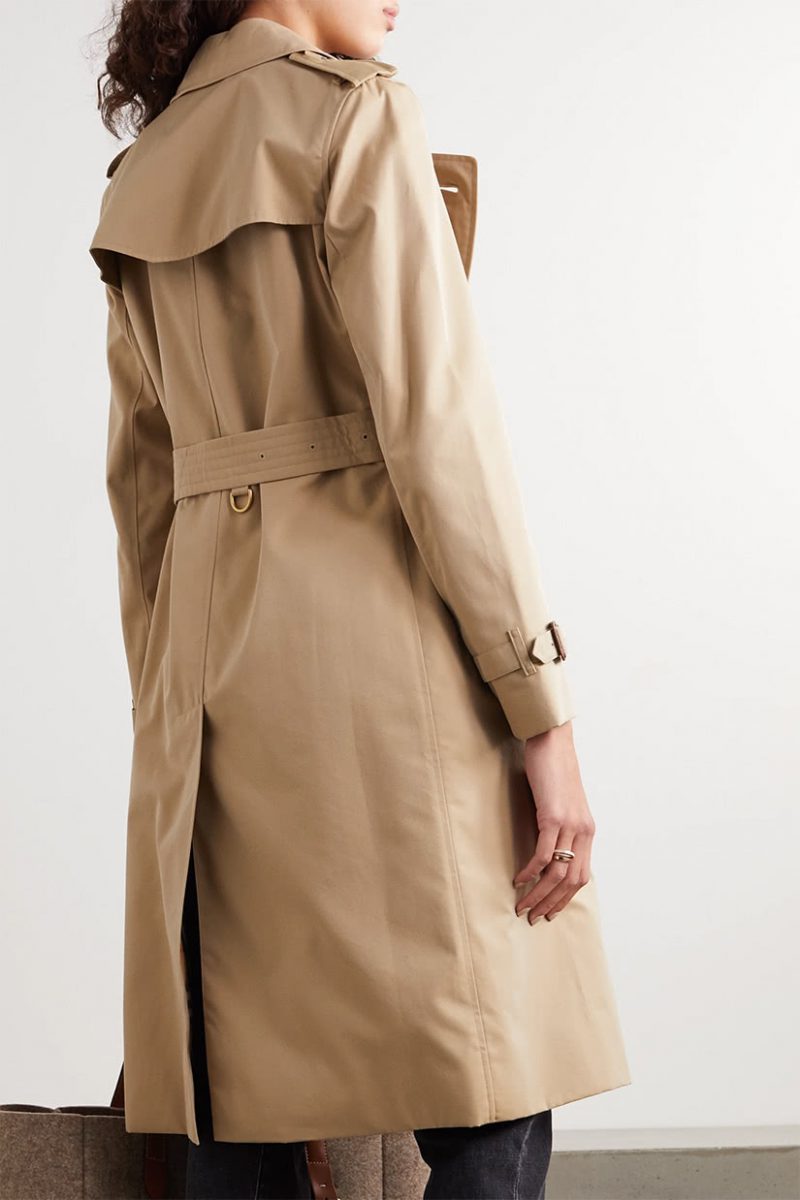 Length
From the mid-thigh to the full length, you'll find trench coats in almost every length. A longer trench will obviously keep you warmer and can be easier to pair with the rest of your wardrobe. Opt for a shorter style on warmer occasions when you're not as worried about your legs being exposed to the wind or rain.
Color
The most popular colors for a trench coat are still the traditional blacks, khakis, beiges, and dark blues. These might not be statement colors, but they promise to match the rest of your wardrobe without too much stressing or coordination. However, a bright trench adds an easy statement touch to your outfit.
Frequently asked questions about women's trench coats
What is the best trench coat brand?
Some of the best brands for trench coats include Burberry, Cuyana, Axel Arigato, and London Fog. These brands are all known for producing stylish trench coats that are flattering, versatile, and promise to keep you warm during the colder months. Check out our full guide to discover your new favorite trench coat.
What is the best color for a trench coat?
For a failsafe trench coat that you can throw on for years to come, pick one that's black, navy, camel, or bottle green. These staple options will go with a huge range of outfits.
How should a trench coat fit a woman?
The best trench coats are worn slightly oversized – large enough for potential layers underneath without swamping you. The belted nature of a trench coat means that, even if you size up, you can still cinch in the waist for a flattering silhouette.
Are trench coats still in style?
Trench coats are always in style thanks to their versatile nature. Choose one in black, camel, navy, or bottle green for the best results, if you're looking for a classic trench that you can wear year after year. Check our round-up of the best trench coats for women to find the perfect one for you.
When should you wear a trench coat?
A trench coat is a transitional jacket that works well any time of the year. Throw it on for autumnal events, bring it with you on those cool summer evenings or layer it with a tightly cinched belt when the weather gets cooler. The very nature of a trench coat means it's versatile enough to wear year-round, making it a great staple to your wardrobe.