The bracelet seems to be making a long-awaited comeback, seen stacked to the hilt on the tanned arms of Instagram influencers, as well as being worn more discreetly to work meetings or on the school run.
Overlooked during the zoom era of statement necklaces and earrings, the humble bracelet is reclaiming its well-deserved place in the joyous world of fashion—and we are all for it.
Perhaps the most appealing part of the bracelet is its sheer versatility—its ability to give a casual, rock chick vibe to any look, or to be the discreetly sophisticated touch that elegantly completes an outfit. Whatever your style, there is a designer bracelet to match. So whether you're looking for classic chic or a more vibrant aesthetic, we have handpicked the best designer bracelets to suit your fashion tastes.
Cuff Bracelets
A bold statement piece unlike no other, the cuff bracelet is making something of a comeback. A solid piece of gold or silver, the cuff bracelet wraps around your wrist without the need for clasp or closure. It is kept in place by the rigidity of the metal.
Vincero The Cuff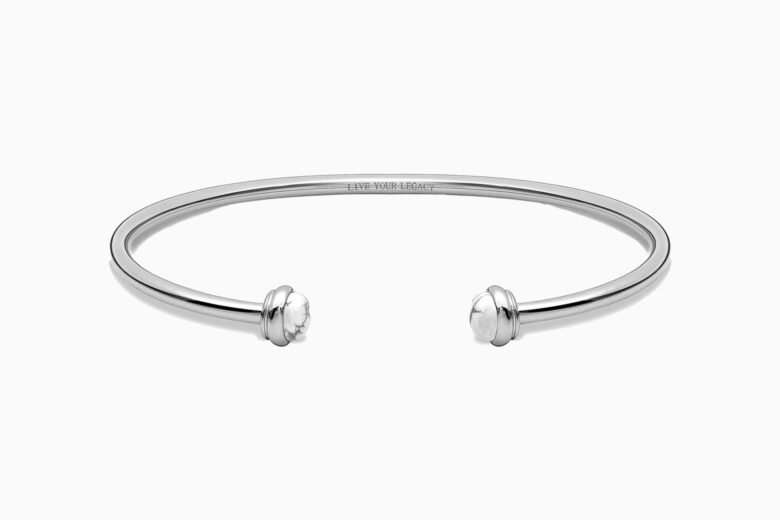 Gorgeous glossy marble has been loved throughout history, for the stylish, resplendent aura it brings to each piece. Everything looks more elegant in marble, and you will too, in this classic cuff from Vincero, which features an elegant band with real Italian marble pieces on each end. Simple and timeless, The Cuff is discreet enough to be worn to work, yet can easily be stacked up to make a more striking nighttime piece.
Saint Laurent Curved Cuff Bracelet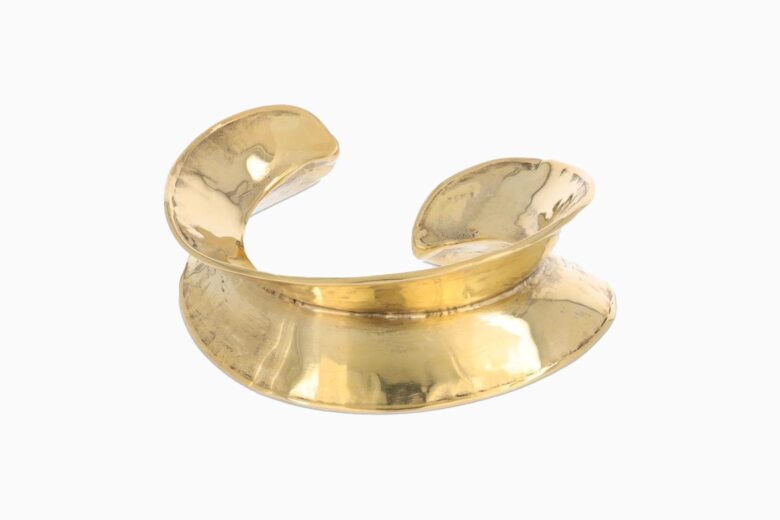 A bold and striking cuff in gorgeous golden hues which will be sure to make you stand out from the crowd. This distinctive Saint Laurent Cuff features a bold and original curvaceous curve, proving the old adage that in life, as in art, the beautiful moves in curves.
Bryan Anthonys Beautifully Broken Cuff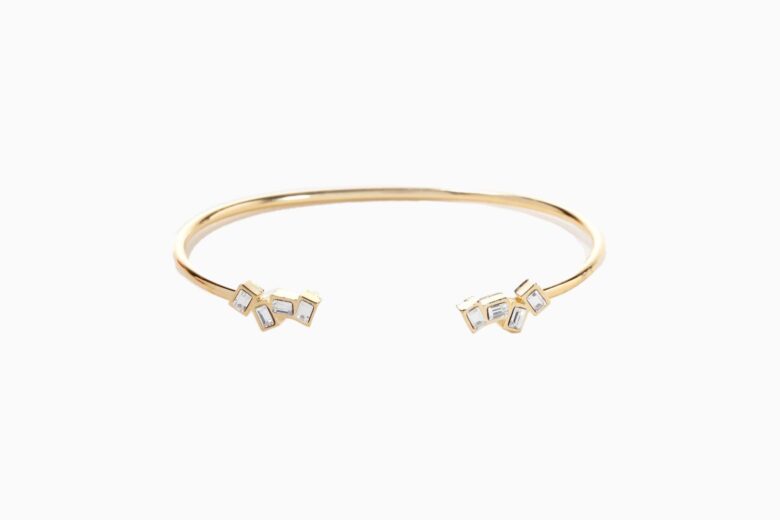 Accept your flaws, cherish your cracks, we've all been broken but we stood up and learned to live again. This is the beautifully empowering message behind Bryan Anthonys dainty yet elegant Beautifully Broken Cuff. It is a classic piece for your jewelry box. Perfect on its own, and just as great for layering.
Capsul Birthstone Cuff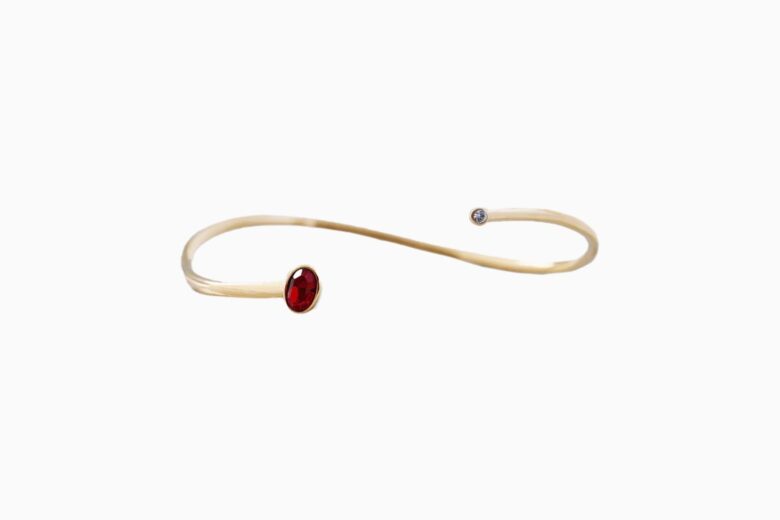 Wear your birthday on your sleeve with this infinity-shaped Swarovski birthstone cuff by Capsul A unique and feminine piece that harnesses the powers of your birthstone in a glittering display, perfect to bring out the stylish, minimalist in you.
Chain and Link Bracelets
A timeless piece that never goes out of fashion, chain and link bracelets, collectively called chain link bracelets, are a popular feature on Instagram right now as they are so versatile, and perfect for stacking or layering. They are one of the most favored bracelet styles for women.
Oliver Cabell Herringbone Gold Bracelet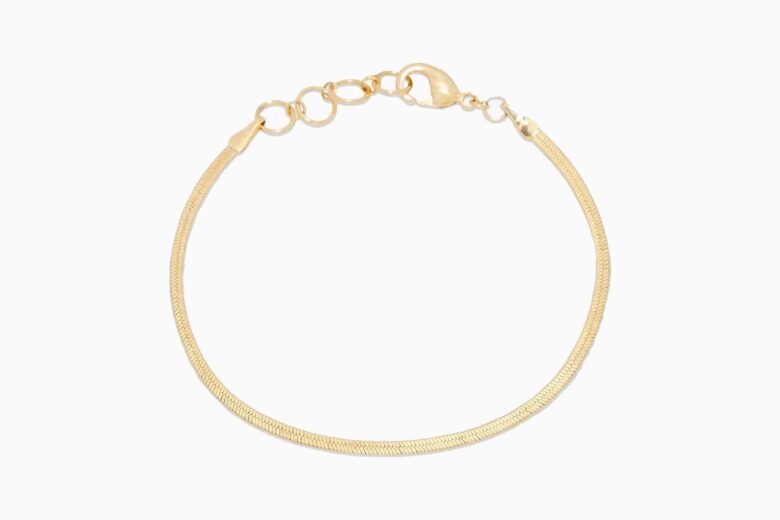 This exquisitely made Oliver Cabell Herringbone bracelet is a true chain of love in every sense of the word. Handmade in Italy, its durability and beautiful plating design mean the brand is not only experts in luxury sneakers, but are also masters in creating stunning designer bracelets which are within the reach of most pockets. 
Check our in-depth review of Oliver Cabell's sneakers and our profile on Oliver Cabell's brand.
Gorjana Wilder Alphabet Bracelet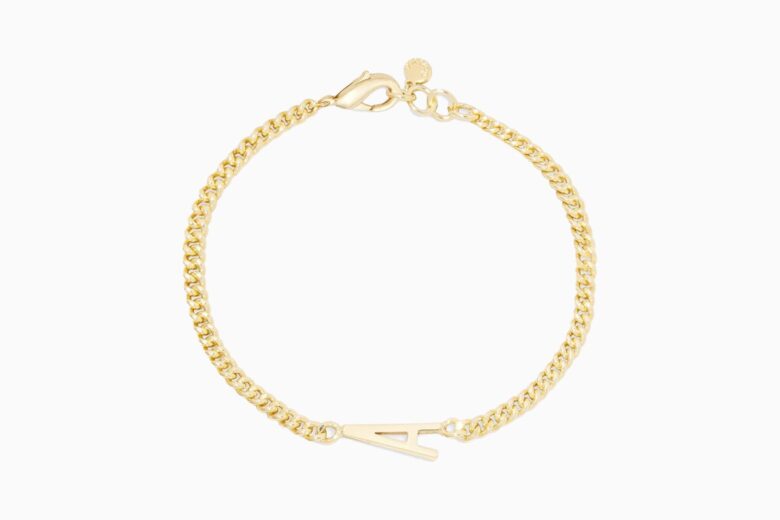 Be a monogrammed miss, and spell out the secrets of your heart and soul with this beautiful gold plated alphabet bracelet from Gorjana. Choose your first or last initial (or whichever letters speak to your heart) to be placed at the centerpoint of the elegant chain for a charming and individual Alphabet bracelet that will never go out of style.
Swarovski Constella Bracelet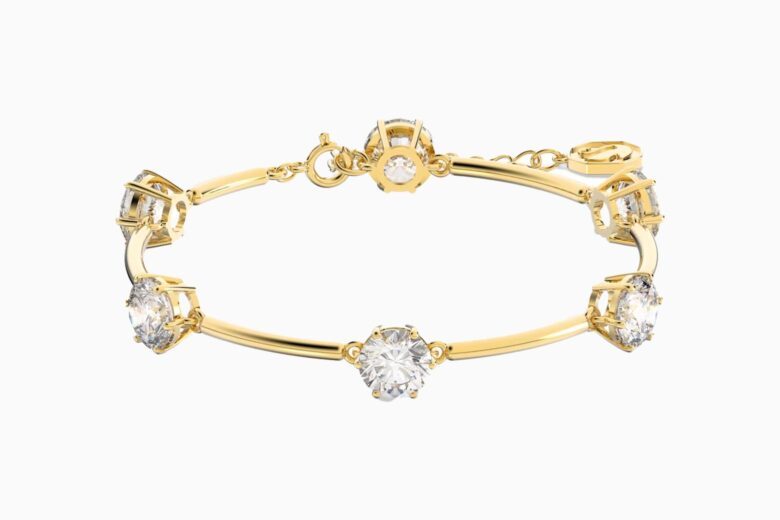 The mysteries of the cosmos combine in one fashionable bracelet from Swarovski. This delicate piece features a row of round, brilliant cut stones nestled in a gold plated band. Worn alone during the day or stacked with other designs by night, the Swarovski constella bracelet will be sure to let your inner light shine through even on the darkest of nights.
Gucci Interlocking G 18K Bracelet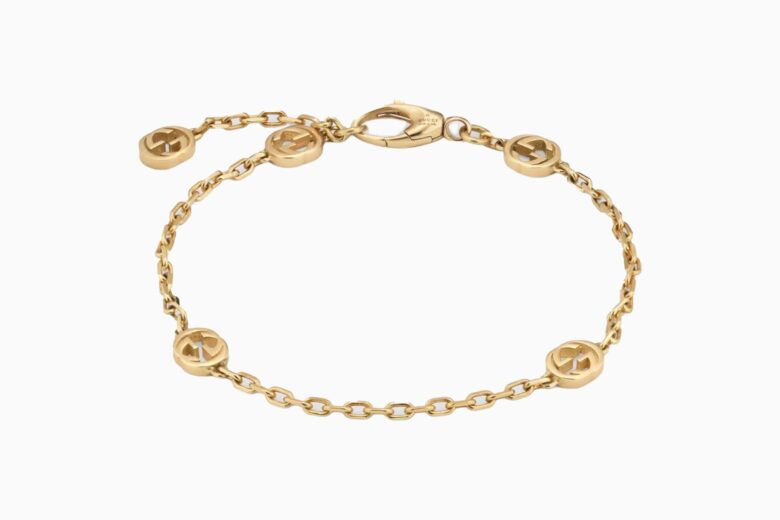 Featuring the emblematic GG logo, this luxury bracelet is a statement piece, yet at the same time dainty and elegant enough to be a sophisticated and subtle choice. Made of 18 karat yellow gold, the interlocking Gs are unmistakably Gucci, yet they give the appearance of delicate charms, making this Gucci bracelet a versatile and timeless option.
Vincero The Chain Link Bracelet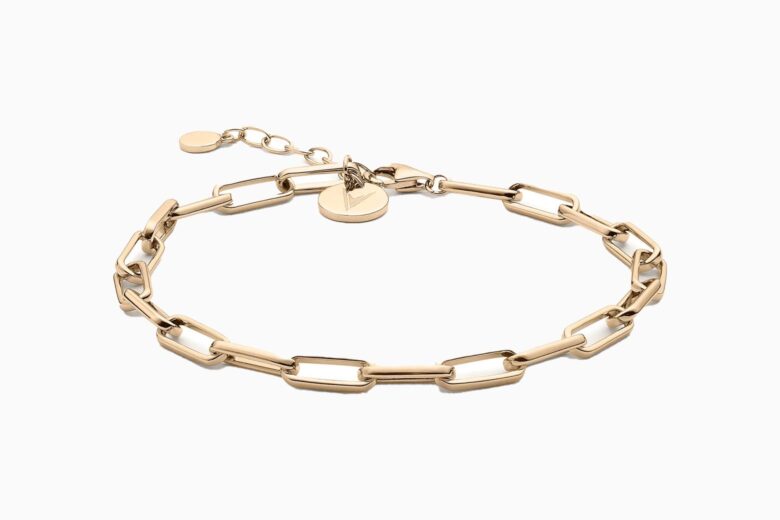 The epitome of classic chain link bracelet design. A distinctive yet delicate choice, this chain link bracelet is fully adjustable and accented with a Vincero charm. Its timeless and sophisticated style means it is a chain link bracelet which can be worn alone or stacked with your favorite Vincero watch.
Bangle Bracelets
A bangle distinguishes itself from a bracelet in that it is traditionally round and rigid, forming a full circle without any clasps or hooks that usually feature in bracelets. The bangle is the most versatile of all women's bracelets, striking on its own as a dignified statement piece, or dramatic and eye-catching when stacked along your forearm in theatrical display.
Swarovski Infinity Bangle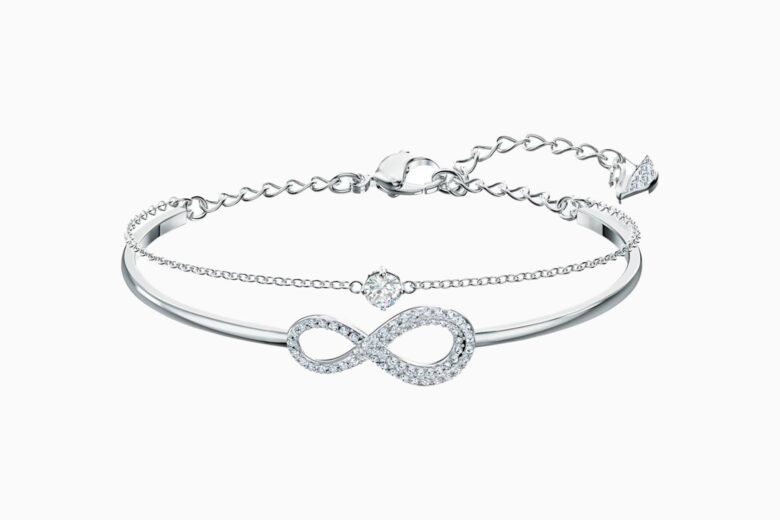 This elegantly sparkling Swarovski bangle is complemented by tiny white shimmering crystals which will make you dazzle at any evening event. It features a figure of eight infinity symbol, further adding to the timeless quality of this Swarovski bracelet which you will want to wear to infinity and beyond.
Federica Tosi Tube Bangle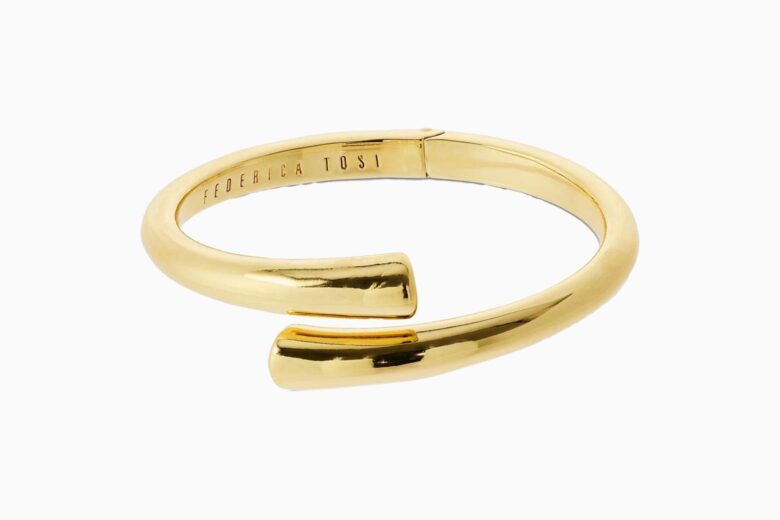 The perfect bangle to take you effortlessly from the school run to cocktail hour. A simple and unadorned design yet with a bold and confident look, this Federica Tosi tube bangle is a classic minimalist piece.
Faris Gold Warp Bangle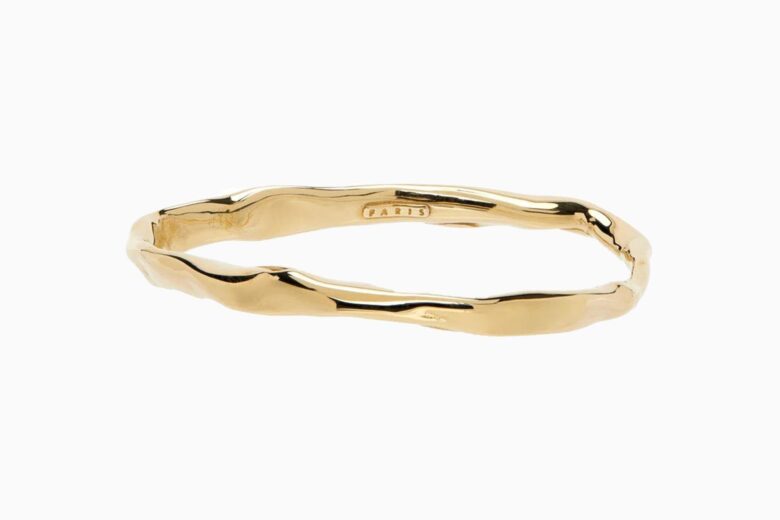 The uneven, wavy-edged shape of this trendy bangle is reminiscent of the shells and coral that line the sandy seashore. This handcrafted sculptural Faris warp bangle is unique and gives a cutting-edge look that will update any outfit.
Jennifer Fisher Single Coil Bangle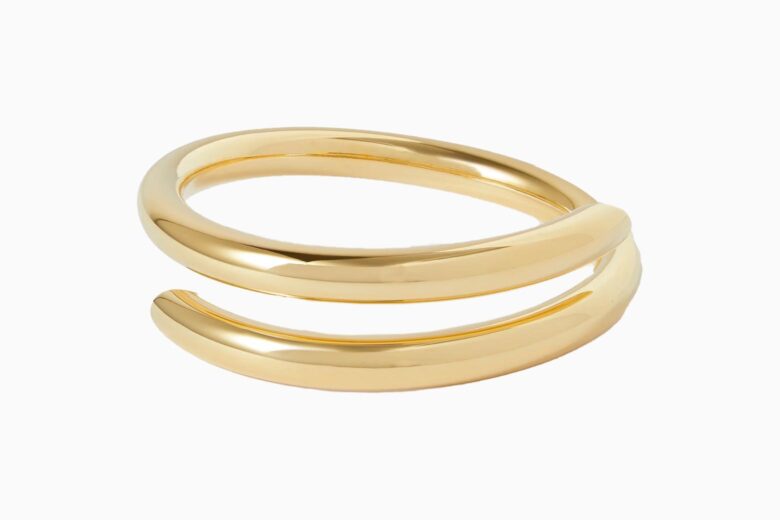 A stylish single coil gold-plated design which seems to be two bangles in one! Made from gold-plated brass which has been completely hollowed out to give it a lightweight, ethereal feel. The smooth shape of this single coil bangle is both feminine and empowering.
Tennis Bracelets
Tennis bracelets are perhaps the most elegant and timeless piece in any jewelry collection. Named after the American tennis legend Chris Evert, who lost her diamond bracelet during an important game and refused to carry on playing until she found it again. A tennis bracelet is formed by a fine chain of sparkling diamonds, cubic zirconia or crystals nestled side by side.
Swarovski Tennis Deluxe Bracelet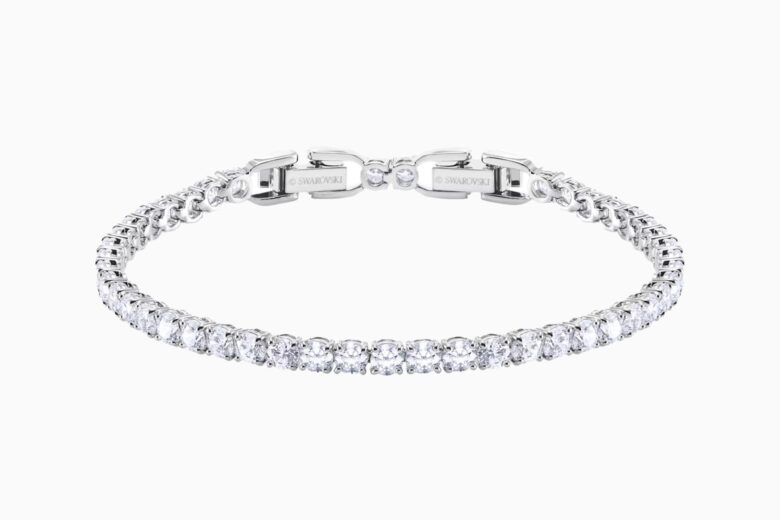 These zirconia stones sparkle even more brilliantly than real diamonds, meaning that this deluxe bracelet from Swarovski scores style points on every occasion. An exquisite bracelet that exudes class, the Swarovski tennis bracelet will make the perfect gift for loved ones or friends.
Jacquie Aiche Yellow Gold and Diamond Tennis Bracelet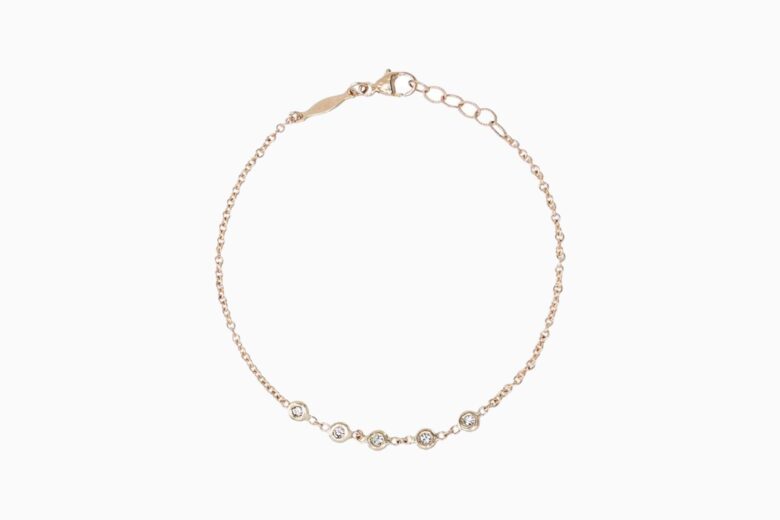 An inspired take on the classic tennis style, this Jacquie Aiche bracelet features five white diamonds on a fine 14 karat yellow gold chain. A delicate and luxurious choice, the Jacquie Aiche tennis bracelet makes a tasteful addition to any jewelry collection.
Ariel Gordon Diamond Hex Tennis Bracelet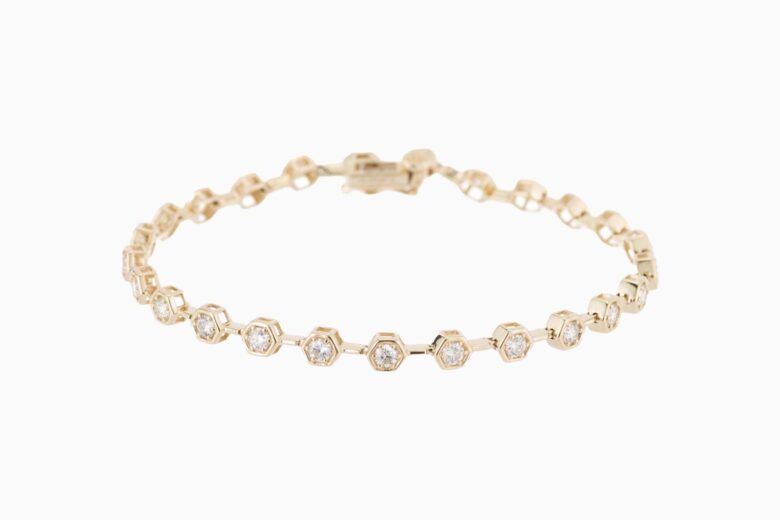 If you want to watch the match in style, look no further than this gorgeous diamond hex tennis bracelet from Ariel Gordon, one of the best designer jewelry brands. Featuring just over 1.5 carats of round, brilliant cut diamonds nestled in gold, hexagonal cut links, this luxury diamond hex tennis bracelet is a crowd pleaser and style winner in every way.
Dorsey Kate White Sapphire Silver Riviere Bracelet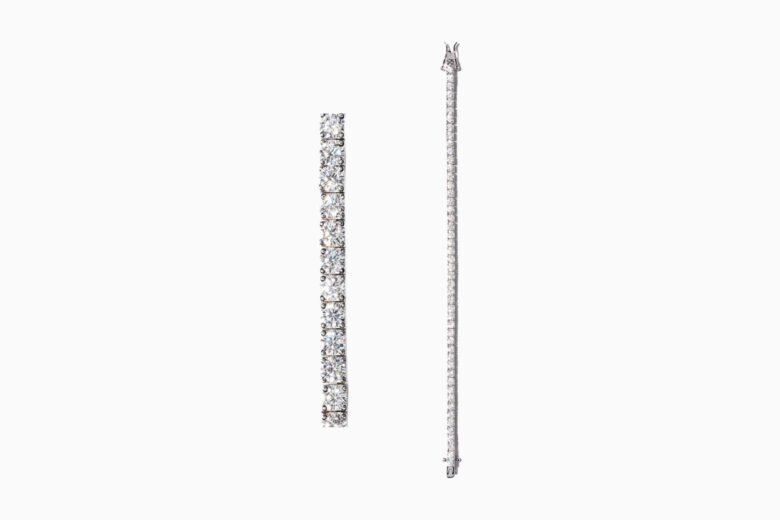 This gorgeously sparkling single strand bracelet features 47 lab-grown white sapphires and a custom made clasp. It is on the more affordable side of the tennis bracelet range, yet the quality and sparkle of the Kate riviere tennis bracelet is a fine match for any of the more expensive options.
Gemstone and Pearl Bracelets
Luxurious pearls and dazzling gemstones can make bracelets into strikingly beautiful and extremely valuable pieces of jewelry. The abundance of gemstone shades makes for shimmering color combinations. Pearls and gemstones are also a popular choice in jewelry due to their energetic, mystical, and healing properties.
Gorjana Power Gemstone Aura Bracelet for Love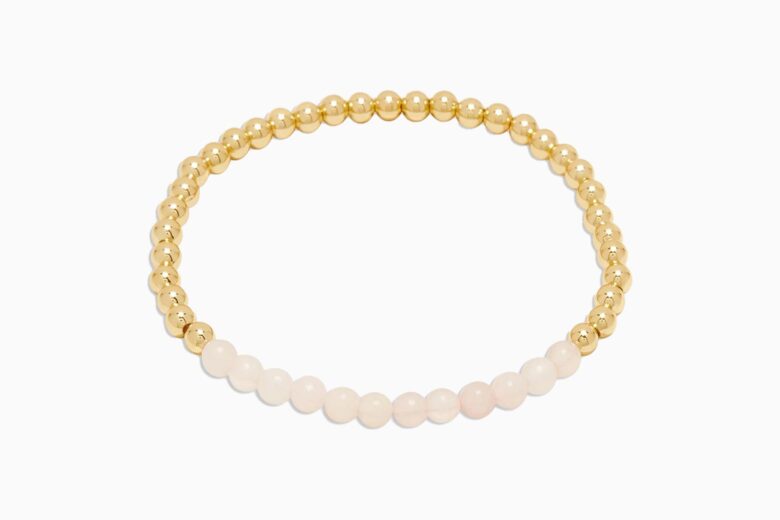 A delicate mix of pale rose quartz gemstones and 18-carat gold plated beads, this intricate and relaxed rose quartz aura bracelet harnesses the power of rose quartz, known as the stone of the heart and unconditional love. Layer with other power gemstone bracelets for a striking yet playful look.
Alighieri The Calliope Bracelet with Pearls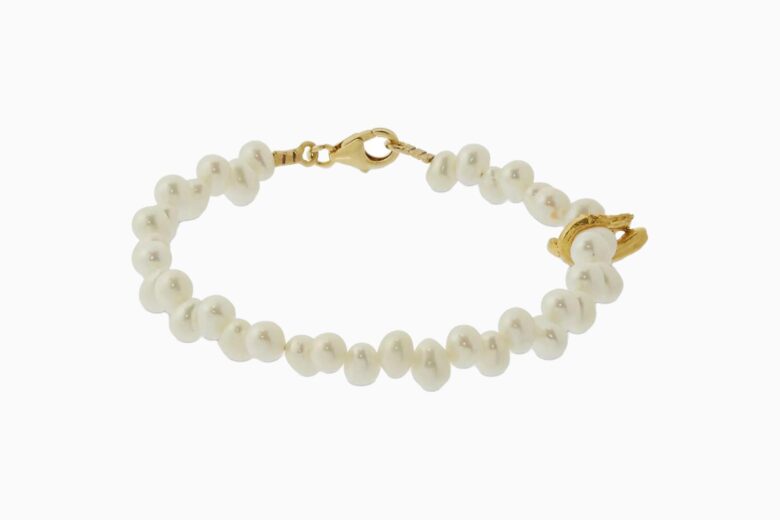 Chunky freshwater pearls set unevenly give this 24-carat gold-plated bronze bracelet an original and fresh touch. Although pearls have maintained their popularity for decades, with this slightly edgy calliope bracelet you can be sure to remain streets ahead of the style pack.
Mizuki 14 Karat Gold, Pearl and Diamond Bracelet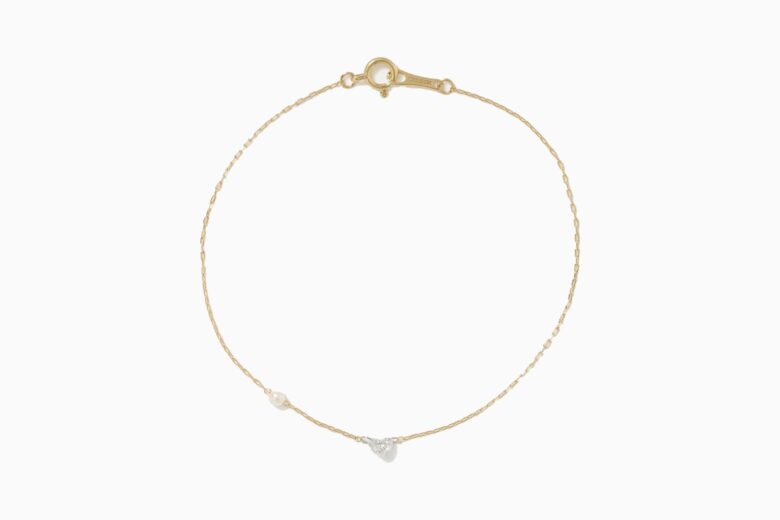 An incredibly dainty yet dignified bracelet, this delicate option from Mizuki contains a discreet Akoya pearl from Vietnam and a 0.15-carat heart-shaped diamond. The subtle yet sophisticated gold, pearl and diamond bracelet will elevate any of your looks in a heartbeat.
Gucci Interlocking G 18K Bracelet with Gemstones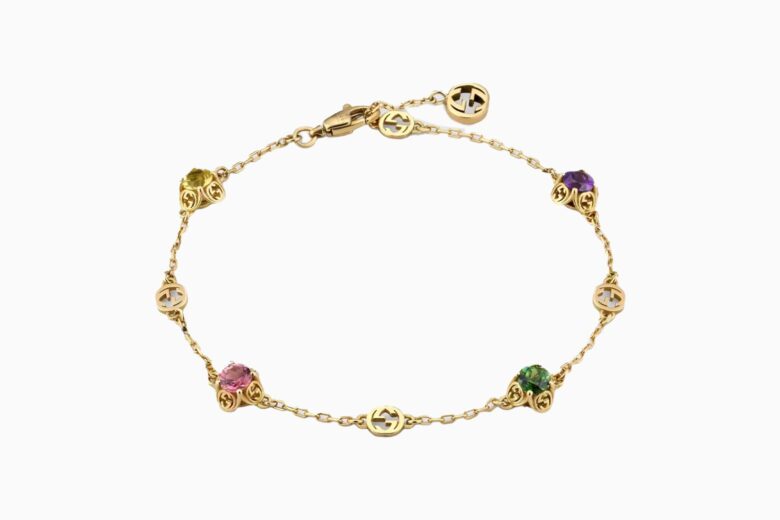 Beryl, tourmaline and amethyst gemstones come together in this gorgeous piece from Gucci. The delicate yellow gold chain features the iconic interlocking Gs, making this Gucci gemstone bracelet a colorful and fashionable choice for those who wish to live a colorful life.
Charm Bracelets
Charm bracelets are a cherished and highly sought-after bracelet style that never seems to go out of fashion. Usually composed of a simple silver or gold chain to which decorative pendants or symbols—'charms'—are added. The Ancient Egyptians used charm bracelets to ward off evil spirits and bad luck, and they are just as popular today for their lively and highly personal style.
Dior Rose Des Vents Bracelet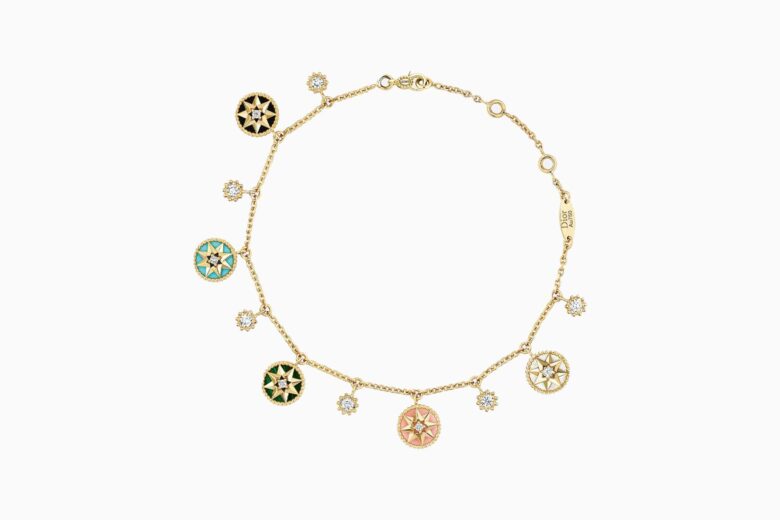 A stunning interpretation of the classic charm bracelet from Dior, which features charms of mother-of-pearl, pink opal, malachite, turquoise, and onyx. A luxurious choice that also boasts 6 tiny diamonds, this Dior bracelet will be sure to bring you luck wherever you go.
Missoma Lena Amazonite Chain Bracelet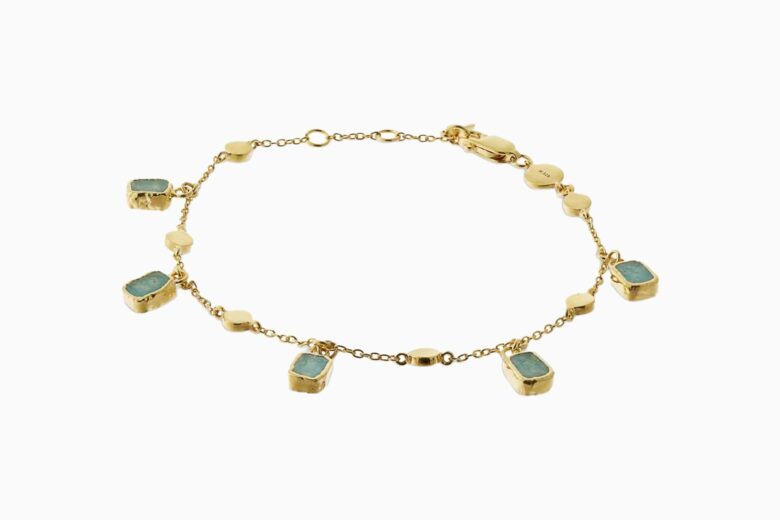 The iridescent tones of amazonite are both mesmerizing and refreshing, and these deep aqua-green charms provide a unique contrast against the 18-karat gold-plated sterling silver chain. Amazonite stones have a calming, soothing quality, making this Missoma amazonite charm bracelet an ideal gift for those who need to unwind—yourself included.
Celine Separables Charm Bracelet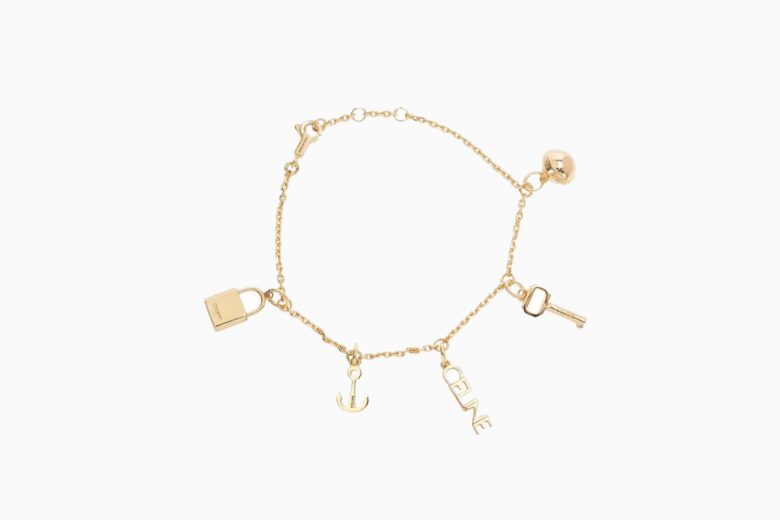 A traditional yet trendy offering from Celine, this fine, gold-plated Charms de Celine bracelet is decorated with 5 distinctive pendants which will emphasize your refined, modern style. A classy option made for going out or staying in, this Celine charm bracelet is an indispensable staple for your jewelry box.
Anine Bing String Link Bracelet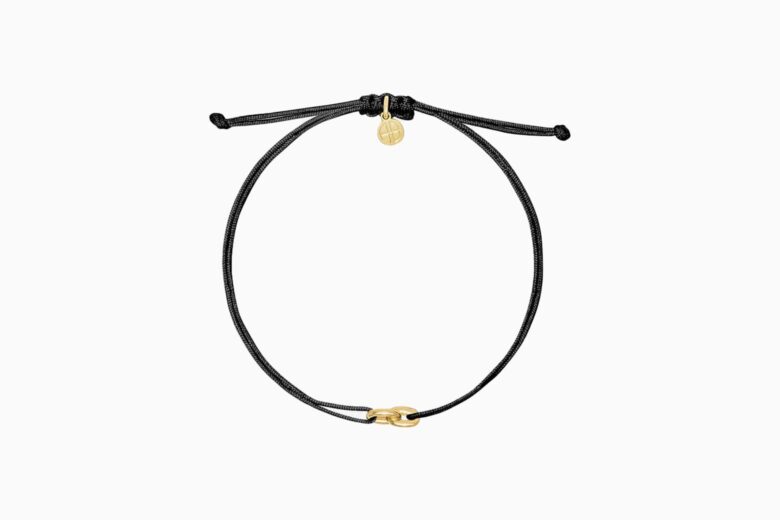 The perfect choice for a casual, everyday look, this 100% silk bracelet, available in black or an eye-catching red, is accented with a solid 14-karat yellow gold double link charm. A discreet and understated piece, this string link bracelet is ideal for layering.
Beaded Bracelets
If you're looking for a pop of color at a more affordable price range, then beaded bracelets are your answer. Playful and cheerful beaded chain bracelets add a relaxed, up-to-date, and lively touch to a more traditional statement piece.
Alo Yoga Black Onyx Mala Bracelet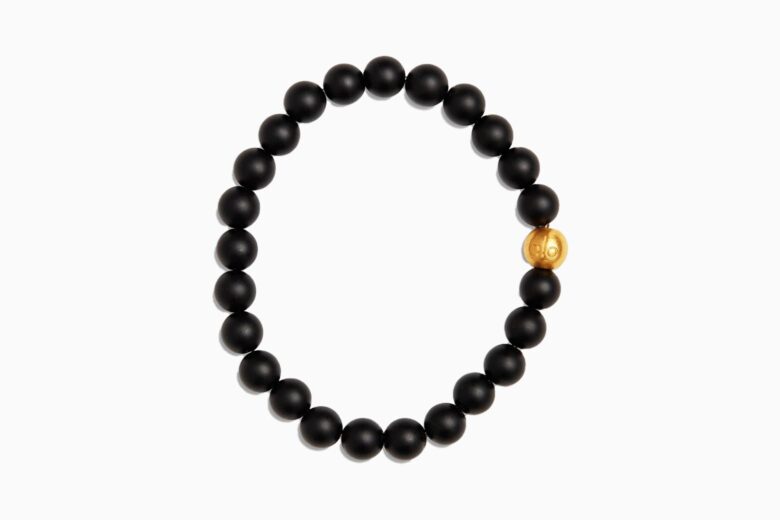 For those who are mindful of their style, this black onyx mala bracelet is for you. These precious stones are ethically sourced, and each strand is hand-beaded by an all-female team of Tibetan artisans during their prayer practices. The perfect onyx bracelet for on-the-go zen if you ask us.
Learn more about the Alo Yoga brand.
Isabel Marant Casablanca Beaded Bracelet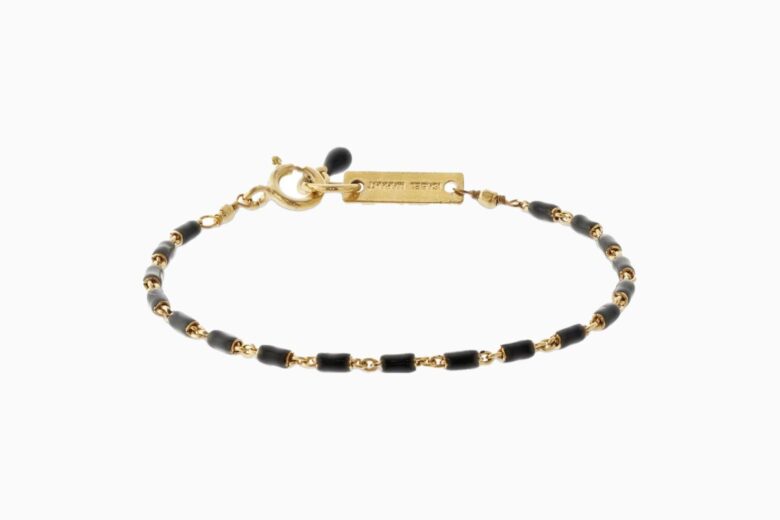 A beautiful and highly stylish black and gold combo, this dainty bracelet has a refreshing, contemporary vibe. Striking enough to be worn alone, the Isabel Marant bracelet is also perfect for stacking with other delicate black, gold, or silver beads.
Yvonne Léon Malachite Topaz Beaded Bracelet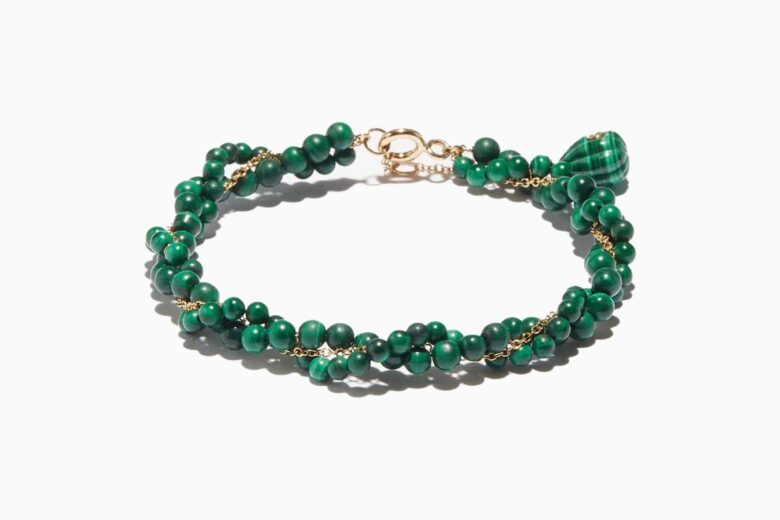 The resplendent green hues of malachite are used to stunning effect in this gorgeous green bracelet, strung with 51 carats of glossy, marbled malachite beads. Regal and striking, this unique malachite bracelet is your very own green light for every occasion!
Sydney Evan Evil Eye 14-Karat Gold Multi-Stone Bracelet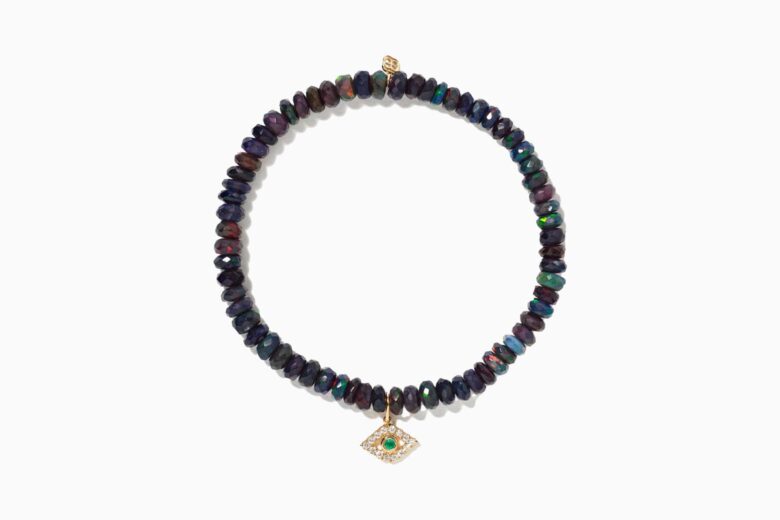 Heading towards the luxury end of the beaded bracelet range, we find this exquisite multi-stone bracelet from Sydney Evan. It features black and blue Ethiopian opals and a diamond-encrusted Evil Eye, which Evan believes will protect from negativity and enhance goodwill.
Leather Bracelets
For the ultimate modern and dressed-down look, try a stylish leather bracelet. The versatility of this look is certainly part of its charm, leather bracelets can complement anything from a little black dress to a casual pair of jeans, making them easily adaptable to your personal style.
M.Gemi The Andrea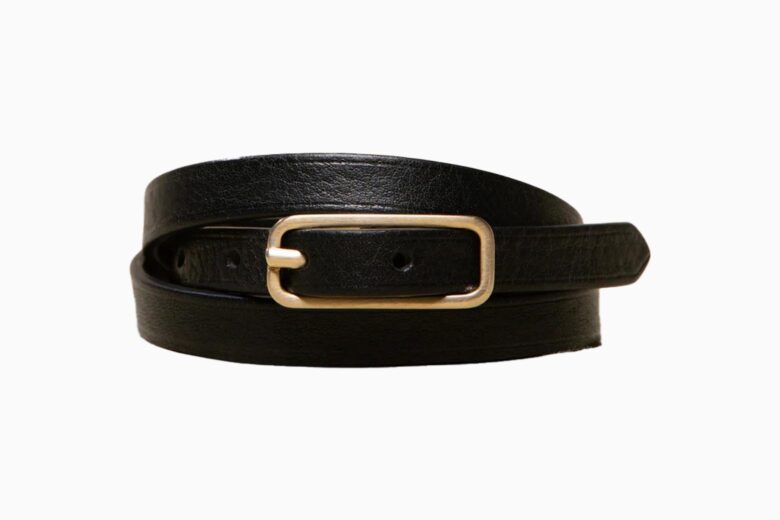 With unisex appeal, this handcrafted wrap-around leather bracelet is a testament to the modern aesthetic and M.Gemi's made-in-Italy craftsmanship. A simple and paired-down design enables the quality of the Italian materials to shine through, making The Andrea an elegant yet understated choice.
Learn more about the story behind M.GEMI.
Valentino Garavani The Rockstud Leather Bracelet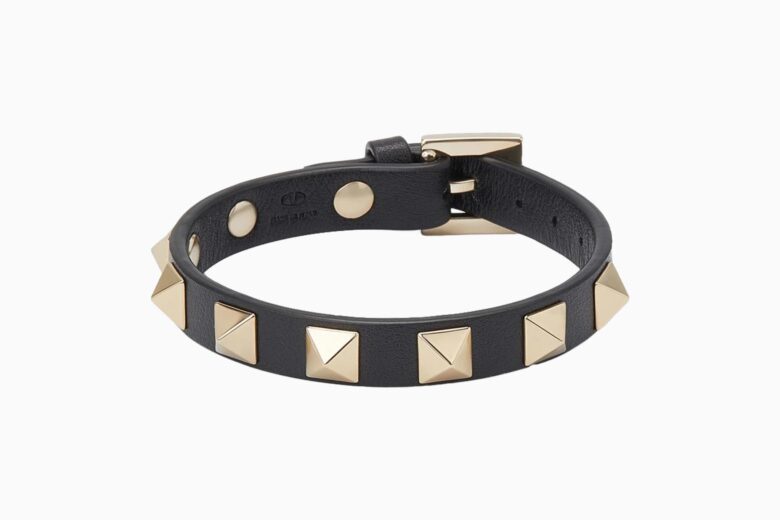 Channel your inner rock god with this unabashed piece from Valentino. A unique bracelet that combines the elegance of leather with spirited Rockstud metal elements. Even if you're not likely to be crowd surfing, this Valentino leather bracelet will be sure to get you noticed.
Balenciaga Black Croc BB Bracelet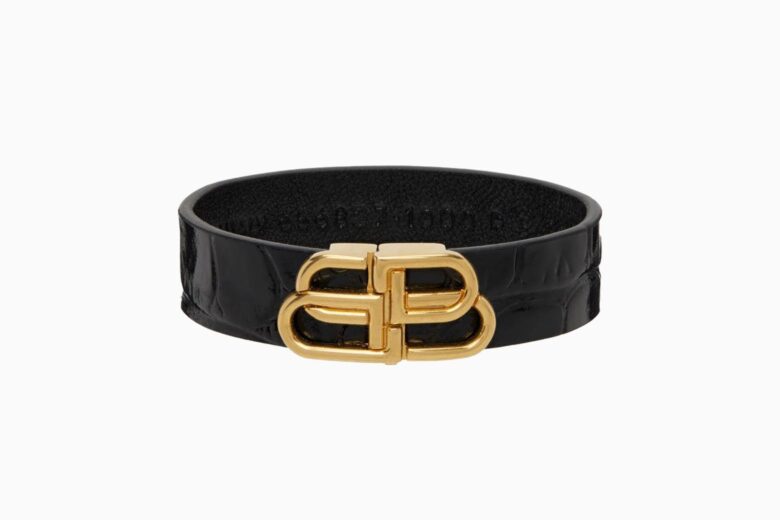 A dignified and elegant take on the leather look, this croc-embossed calfskin bracelet is chic enough to take you from the grocery store to the front row. Featuring a beautiful, gold BB logo at the clasp, this Balenciaga bracelet is a must-have for the fashionistas among you.
Saint Laurent Black Opyum Leather and Gold-Tone Bracelet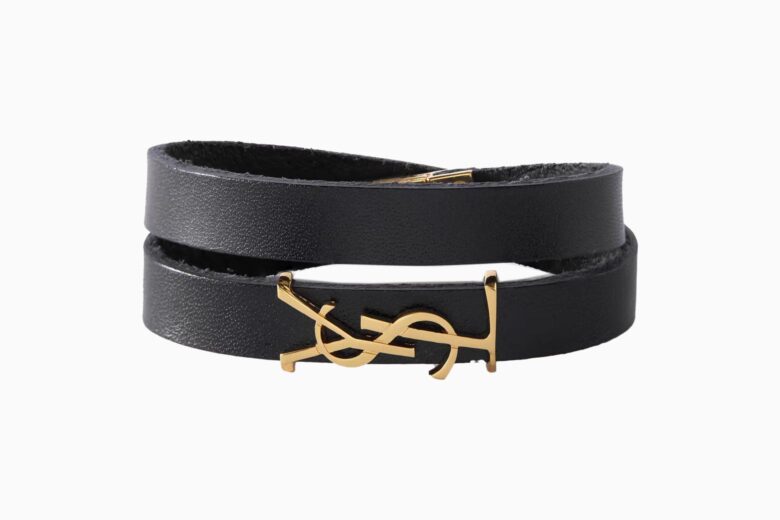 Featuring the iconic YSL lettering at the center, this bracelet has a relaxed vibe while still being dressy enough to complement your formal attire with ease. Made in Italy from supple leather, the Saint Laurent bracelet wraps twice around your wrist for extra style points.
Frequently asked questions about women's bracelets
On which wrist should a woman wear a bracelet?
This is purely a question of personal taste, there is no right or wrong answer. Some believe that wearing a bracelet on your dominant hand (your right hand if you're right-handed), will give it greater exposure, while wearing a bracelet on your non-dominant hand affords it greater protection.
What are bangles?
A bangle is round and rigid, forming a full circle without any clasps or hooks that usually feature in regular bracelets. Bangles are particularly significant in Indian culture, where they signify prosperity.
What is an open bracelet called?
An open bracelet is otherwise known as a cuff bracelet. This is a solid piece of metal that wraps around your wrist, leaving a small space to wriggle your wrist through. A cuff bracelet has no clasp or closure but is kept in place by the rigidity of the metal.
How many bracelets is too many?
Nobody is watching! Stacking is the new black when it comes to arm fashion, so don't be afraid to mix styles and materials. That said, you don't want to weigh yourself down, so test out your layered look before you leave the house!