One piece swimsuits are no longer just a pool-lapping practicality and they're destined for more than motherly modesty. The modern maillot is making a splash this season. And star-studded celebrities are totally onboard as they opt for the sophisticated styles in sultry cuts. We believe that every woman and every figure requires a distinctly decadent one piece bathing suit. 
Any mesmerizing maillot must decide which parts to reveal and which to conceal. They lure us in with sensual silhouettes that simultaneously leave a little to the imagination. And as these swimsuit brands flaunt effortless extravagance—the Summer essentials have the power to make the most mundane body parts feel like an alluring attraction.
An asymmetrical style shows off a single shoulder. Romantic ruffles add a feminine finesse. And a sultry-cut out radiates seductive charisma. Trendy prints cry out for poolside selfies. And a low scoop back will see that you are Santorini-ready. A textured suit seamlessly hides a season of treats. And a superlative compression contains body sculpting powers. A high leg cut exudes an elongating charm. While your sweetheart neck will graciously prevent unwanted tan lines. A playful plunge keeps it spicy. And cut-away bottoms are trailblazing the cheeky revolution.
Needless to say, the sought-after swimsuit style is worth having in your Summer arsenal. And you probably won't want to book your hot destination without one. But as you can see, there are plenty of fish in the sea. And finding your soulmate swimsuit can be tricky. Luckily, we've done the deep dive for you. And this list of whimsical one pieces is your glamorous guide to a sizzling Summer.
The 25 best one piece women's swimsuits
Andie Swim Amalfi: Best overall one piece swimsuit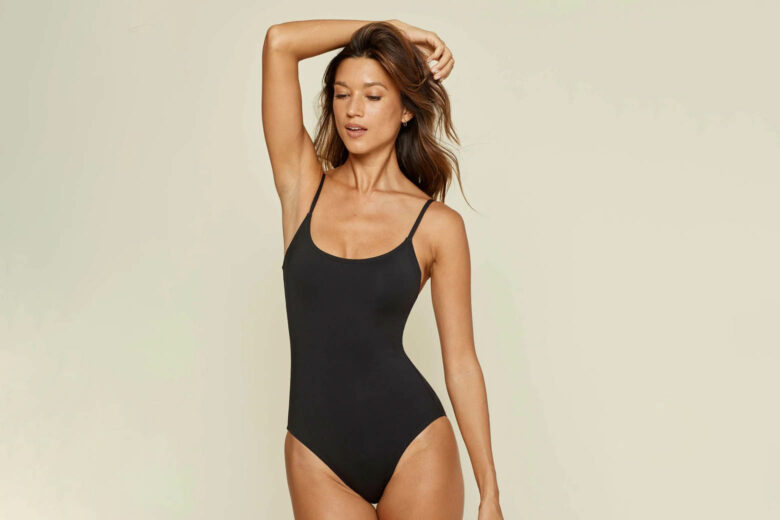 Andie Swim is renowned for their pursuit of swimwear perfection. And the strappy Amalfi is no exception. The signature scoop neckline reveals just enough to keep them guessing. And the moderate leg cut oozes effortless confidence. The thin straps add a flirty touch. And their ability to adjust allows you to relax without the risk of a slip-up (or slip-out).
Whether you're sunbathing with a book or dabbling in water sports—this stylish one piece suit will provide you with all the support you need.
Best for: Uncomplicated confidence.
Colors: Black, navy, red cherry
Size range: XS-XXXL
Summersalt Sidestroke : Best one shoulder swimsuit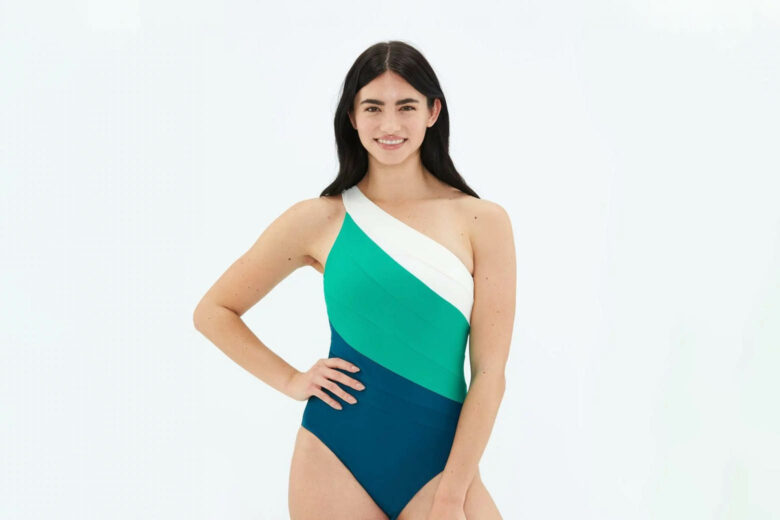 It's not called the "Unicorn of Swimsuits" for nothing. The sumptuous Sidestroke is a rare find for a number of reasons. Superior compression offers optimal support. And the figure-hugging fabric is wildly flattering on every physique. Full booty coverage speaks to the 'leave a little to the imagination' approach that will make your mama proud. While three toned color blocking takes us to whimsical lands.
This brilliant bathing suit understands your basic beach needs. And it fulfills them all at once.
Best for: A stroke of genius.
Colors: Sea Urchin & Amber & White,  Lava & Hibiscus & White, Seaweed & Seaglass & White 
Size range: XS-XXXL
Gucci Sparkling Jersey: Best white one piece bathing suit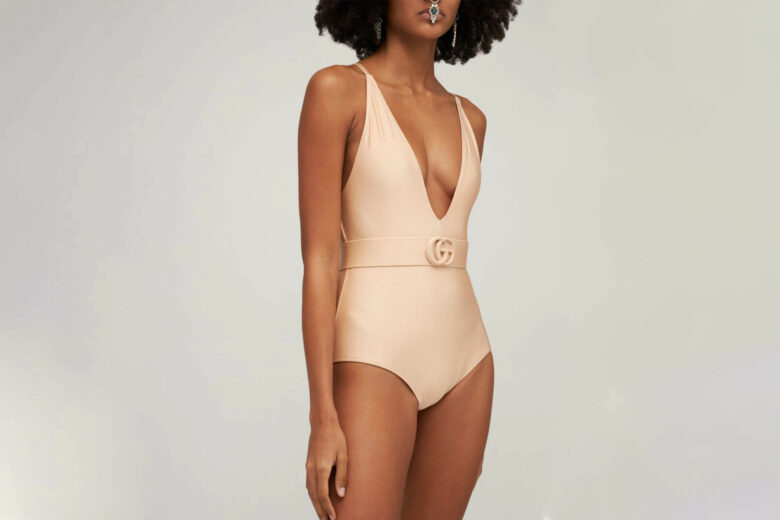 Glitter meets Gucci and there's nothing more glamorous. The Italian brand is already famous for making their mark in the world of luxury. But this light shimmer takes their iconic opulence one step further. Inspired by the '70s, the sparkling jersey fabric speaks to the glitz and glam of the decade. While soft ivory hues whisper tones of subtle sophistication.
This elegant one piece swimsuit belongs on the stage of Swan Lake. But a resort poolside will have to do.
Best for: Beauty meets rebellion in an archival reprisal of the 1970's.
Color: Ivory
Size range: XXS-XXL
Eberjey Lago: Best Textured Swimsuit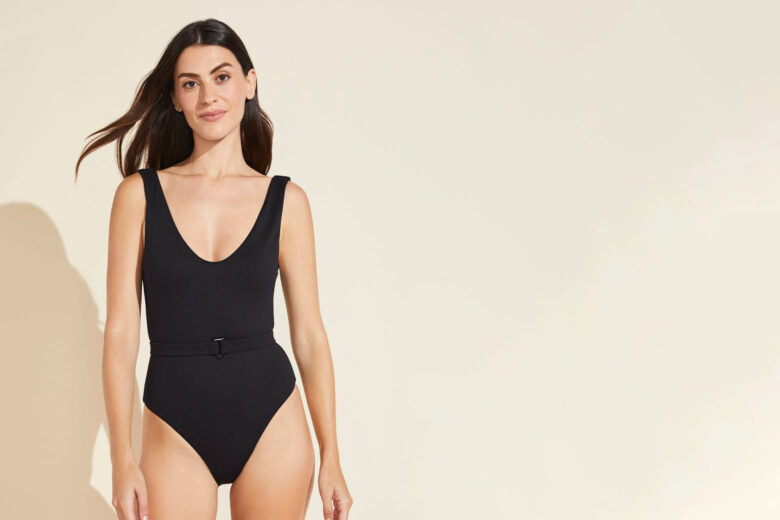 Say hello to Summer with this mesmerizing minimalist maillot. The elongated, sleek silhouette exudes sophisticated simplicity. While black contours and a waist-defining belt are effortlessly flattering. A low scoop back and cheeky bottom cut allude to a flirtatious afterthought. The Lago's sustainable materials are free of chemicals. And they simultaneously offer optimal sun protection.
This subtle swimsuit radiates confidence. And it is made to sculpt your form without restricting your comfort.
Best for: A masterclass is minimalist maillots.
Color: Black
Size range: XS-L
Oseree Lumiere: Best sparkly one piece suit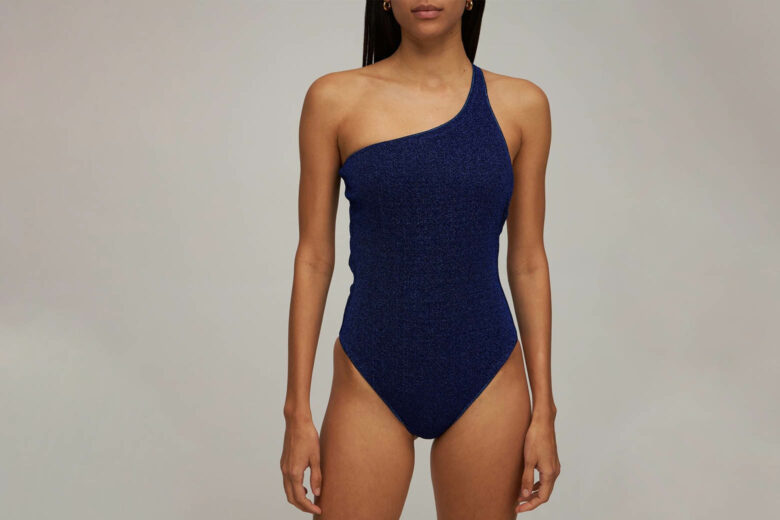 Sit back as the Summer sun catches your costume and radiates flashes of light to outshine the others. The Italian brand cuts back in all the right places with a one shoulder and a cheeky cut bottom. The dark colorways make room for the glittering fabric to take the stage. And an asymmetrical silhouette speaks to an avant-garde design.
This sultry swimsuit proves that one-pieces are back to make a splash. And the bikini-rival may just be this season's star of the show.
Best for: A sizzling swimsuit to rival revealing separates with sophistication.
Colors: Black, blue, gold
Size range: S-L
Hunza G: Best green one piece swimsuit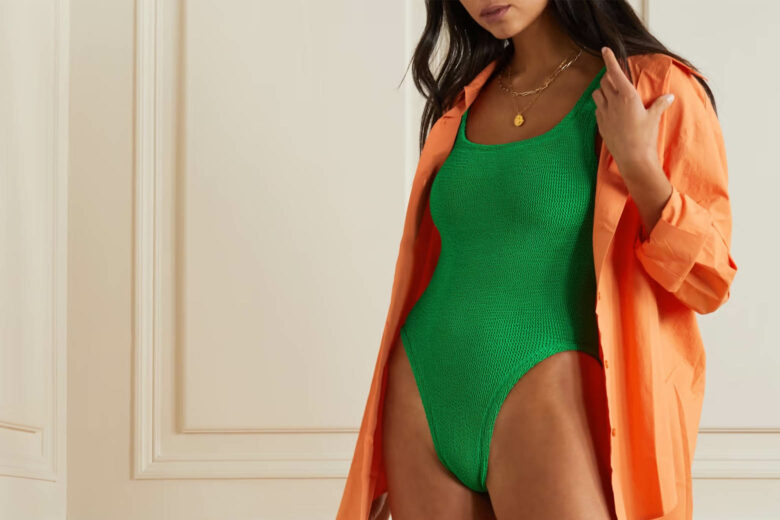 Pretty woman walking down this street—this is the new soundtrack to your life in typical Hunza G style. The British brand is renowned for Julia Roberts' iconic dress in the '90s film. And it hasn't lost its tantalizing effect since.
This high leg swimsuit flaunts a retro design in a bright emerald colorway. And a flirty low back and cut away bottom keep it coy.
Best for: Stopping him in his tracks.
Colors: Emerald, blue, white
Size range: XS-L
Vitamin A Demi: Best underwire one piece bathing suits for women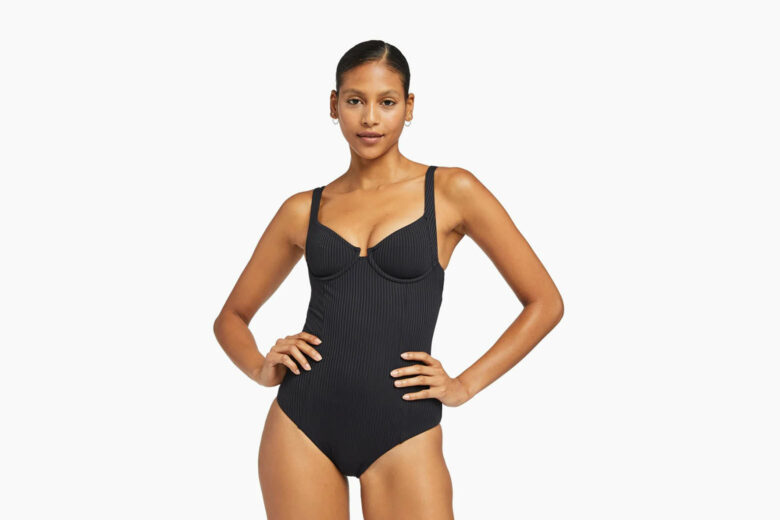 Versatility has never looked as fresh as Vitamin A's Demi detailing. The sophisticated silhouette oozes confident simplicity. And the minimalist design makes us appreciate the finer things in life. The structured, underwired bathing suit offers a little bit of support in all the right places. While textured fabrics draw you in with an alluring appeal. And the neutral colorways will never grow tired.
This flexible swimsuit will effortlessly double up as a chic bodysuit under denims (did somebody say happy hour?)
Best for: Making all the right moves in all the right places.
Colors: Chocolate, black, sea green
Size range: XS-XXL
Swimsuits For All: Most flattering one piece swimsuit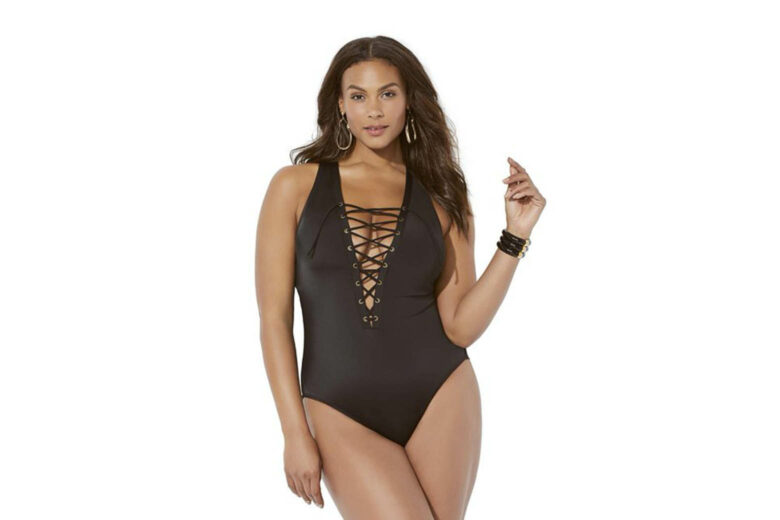 This brand celebrates the female form with every shape and size. And this decadent design is made to flatter every figure. The sumptuous swimsuit flaunts power mesh tummy-control to contour your curves. And the full-coverage bottom is motion tested to stay in place. So you can relax in the water and let this powerhouse maillot take care of the rest.
Some might say that confidence starts with the right swimsuit. And there's nothing more beautiful than a confident woman.
Best for: Contouring confidence.
Colors: Black, red, blue
Size range: XS-6XL
Andie Swim Tulum: Best classic red swimsuit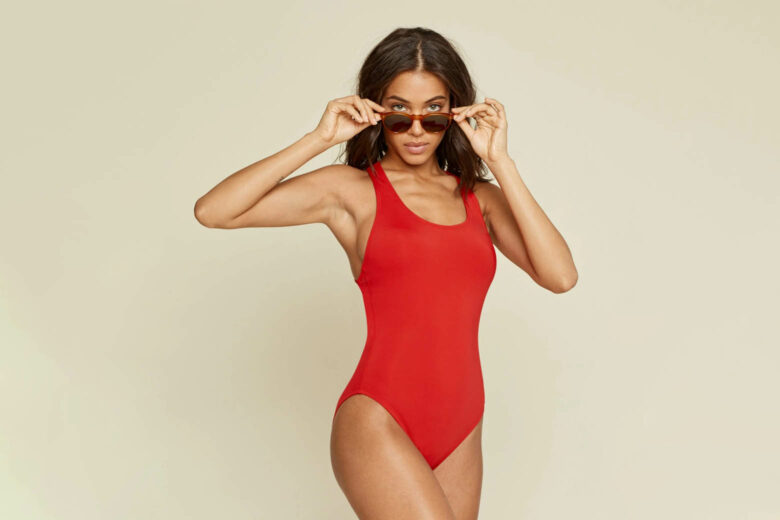 Every woman deserves her Baywatch moment and this is yours. The cherry red Tulum promises to give Pamela Anderson some stiff competition. And the minimalist silhouette oozes refined relaxation. The cross back straps offer subtle support. While they simultaneously agree with an athletic-feminine design. The all round medium-coverage cuts are slightly mischievous. Yet they are careful not to give too much away.
You don't need to be a trained lifeguard to do a slow jog in this red one-piece.
Best for: Slow beach jog (screaming after kids).
Colors: Black, navy, red
Size range: XS-XXXL
Toteme Logo: Best Graphic One Piece Women's Swimsuits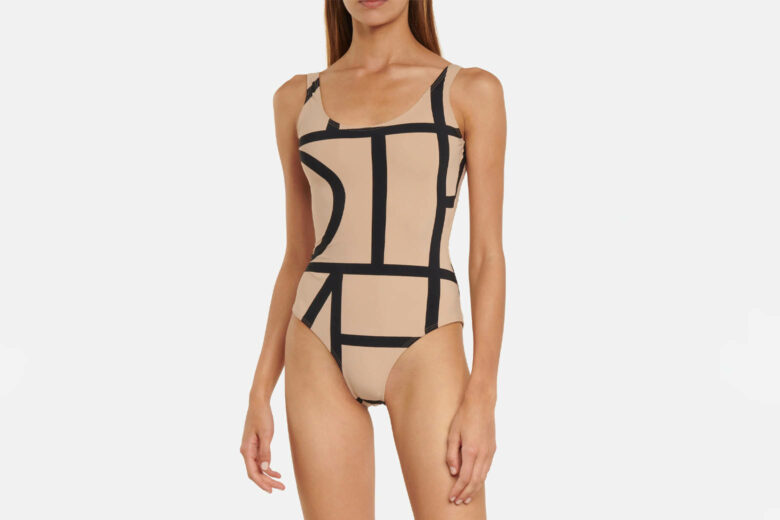 A graphic punch compliments neutral colorways in this contemporary design. The Swedish brand understands how to make a stance with an unassuming style. And their black magnified monogram is the modern minimalism we've come to adore. The low scoop back and high rise legs create an alluring silhouette. And the soft, stretch fabric will mold to your skin, while keeping the UV rays at bay.
This avant-garde piece deserves to be paired with glamorous sunglasses (and a photographer).
Best for: Glamorous getaways.
Color: Beige
Size range: XXS-XL
Zimmermann Tropicana: Best print one piece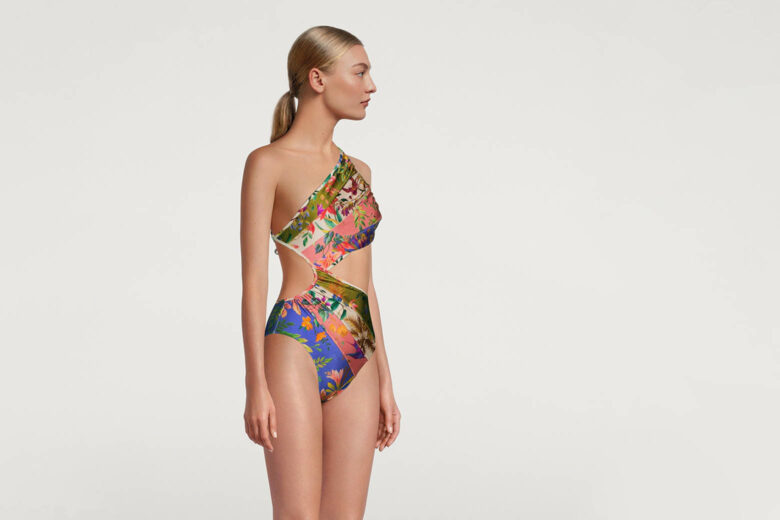 More is always more. And it's no secret that Zimmermann lives by this mantra. From flamboyant frills to exotic prints and miscellaneous materials—the Australian designer knows how to produce show stopping styles. And his Tropicana one piece does just that.
This modern maillot flaunts vibrant hues and enchanting prints. You can't enter a room quietly in this sizzling swimsuit. And you probably won't want to when you're instantly flooded with praise.
Best for: Alluring architecture and bewitching prints.
Colors: Multi-colored
Size range: XS-XL
Marysia Palm Springs: Best scalloped swimsuit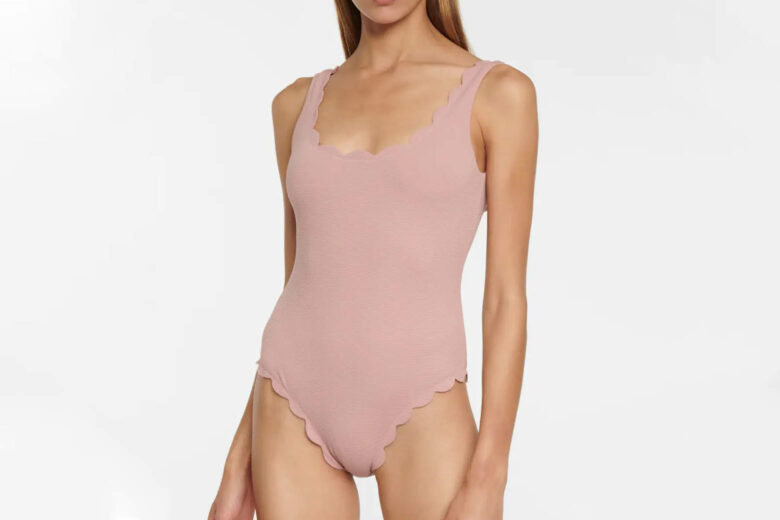 Scalloped swimsuits are reminiscent of collecting shells along the sea shore. And nothing induces that kind of childhood nostalgia like Marysia's Palm Springs silhouette. The minimalist style radiates refined simplicity, while a sleek, black colorway will effortlessly step up your seaside saunter.
Either way, these cute swimsuits have earned the right to witness a scoop of sweet soft serve dripping down your chin.
Best for: Poolside playfulness.
Colors: Black, pink
Size range: XXS-XXL
Summersalt Perfect Wrap: Best wrap one piece women's swimsuit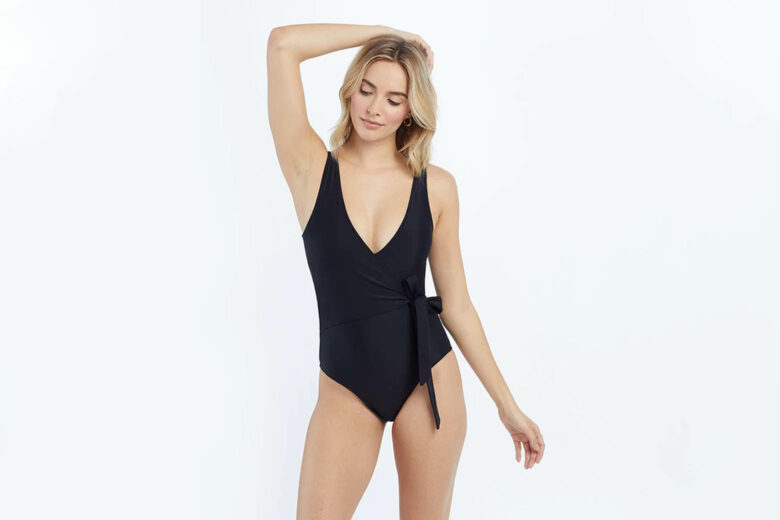 Let's call it a wrap. This universally flattering fit is all you need to spring into Summer with excited confidence. And with eleven unique prints or colorways to choose from—you can make your mark without revealing all of your secrets.
These sumptuous swimsuits seek to uncover your individualistic style. And from leopard print to modern zebra to island floral—the world is your oyster this season.
Best for: Revealing your ipseity whilst concealing your Winter secrets.
Colors: Leopard, olive, floral
Size range: XS-XXXL
Lisa Marie Fernandez: Best waist-cinching swimsuit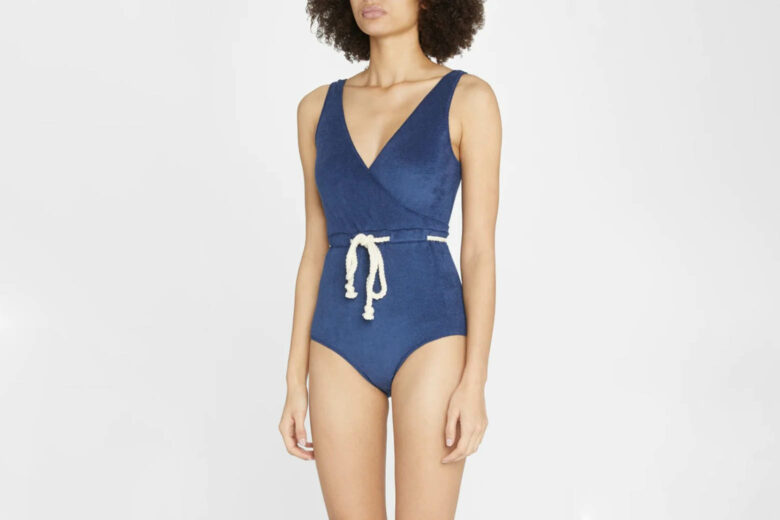 The navy colorway and rope detailing oozes sailor sophistication. But the simple style is careful not to take it overboard. A playful neck plunge speaks to the stereotypical nature of the out-at-sea lifestyle. While concealing bottom cuts keeps it clean and classy. The label's signature stretch-cotton terry is tantalizingly fitting. And the white rope belt is more than just a fashion statement. It's an hourglass necessity.
This chic bathing suit is worth having in your arsenal. But you'd better act fast, the best-selling classic never lasts long on the shelves.
Best for: A mischievous maillot mate.
Color: Navy
Size range: XXS-XL

Andie Swim Mykonos: Best cheeky one piece swimsuit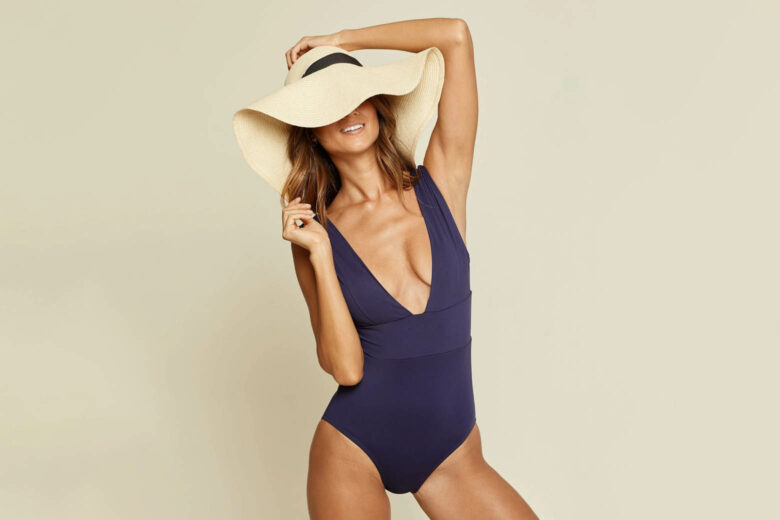 This plunging neckline is your excuse to call a friend and book a cruise in Mykonos. Or just head to the beach for a weekend getaway. Either way, this sultry swimsuit will make you feel like a million bucks. This cheeky one piece swimsuit by Andie Swim is revealing on the top but concealing on the bottom. And you can confidently flaunt a flirtatious decollete cut without feeling overexposed.
This black swimsuit knows how to champion your tantalizing physique.
Best for: Cruise-liners in the Caribbean.
Colors: Black, cherry red, navy
Size range: XS-XXXL
Matteau: Best square one piece suit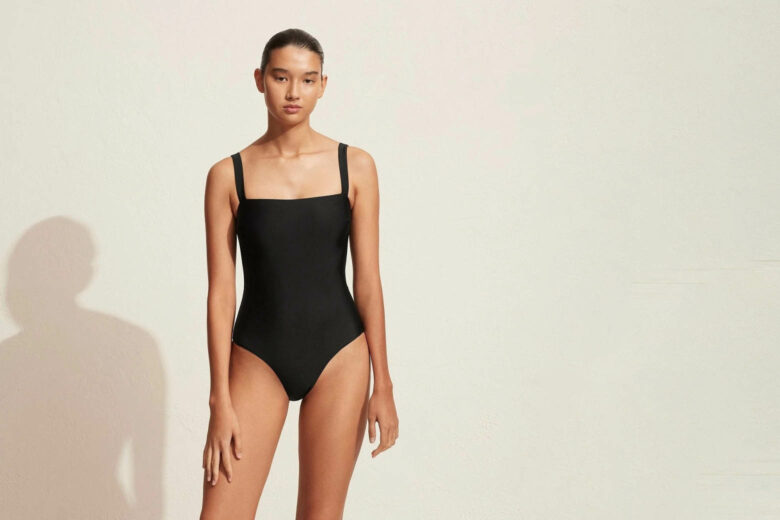 Just like Balloo, these Australian sisters are all about the simple bare necessities. And their minimally majestic one pieces are made to be worn time and time again. The sleek black or light brown colorways do little to detract from your natural beauty. And a square neckline and wide straps allude to a contemporary silhouette that effortlessly flatters your form while providing maximum support.
These versatile bathing suits will take you from Bali one season to the Bahamas the next.
Best for: A brown swimsuit to match your tan.
Colors: Brown, black
Size range: XS-XL
Tropic of C: Best black one piece swimsuit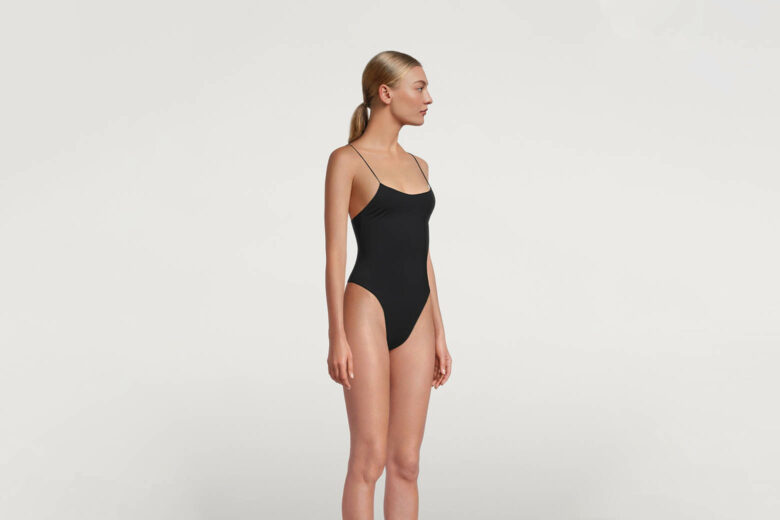 Everybody needs a LBS (little black swimsuit). And we know just the one. This winning number thoughtfully marries a classical design with contemporary details. The modest silhouette is met by delicate spaghetti straps and a lavishly low back, while a sleek colorway speaks to a carefree yet confident character.
Sometimes you just need a swimsuit to lie back and allow an oversized sun hat to do the rest. And what better choice than this little black swimsuit.
Best for: Soaking in the sun.
Color: Black
Size range: XS-L
The Attico: Best high neck one piece swimsuit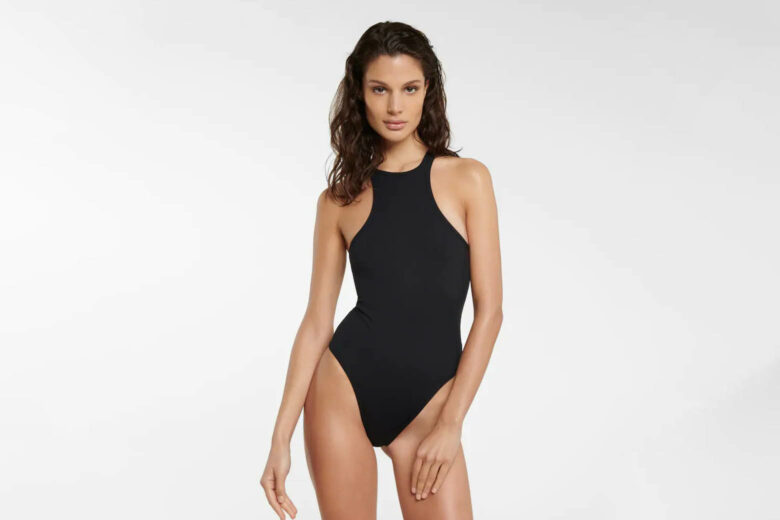 Nothing says high-end fashion like a high neck one piece swimsuit. And The Attico does it flawlessly. The round neck and racerback oozes effortless sophistication. And the supportive fit is made to tackle every condition. The high neck design will protect your chest from excessive sun. And the versatile design is made to lap up lengths one athletic stroke at a time.
Needless to say, the fine ribbed, black silhouette is the quintessential addition to your active Summer.
Best for: Lapping up lengths in luxury.
Color: Black
Size range: XXS-7XL
Versace Greca: Best designer bathing suit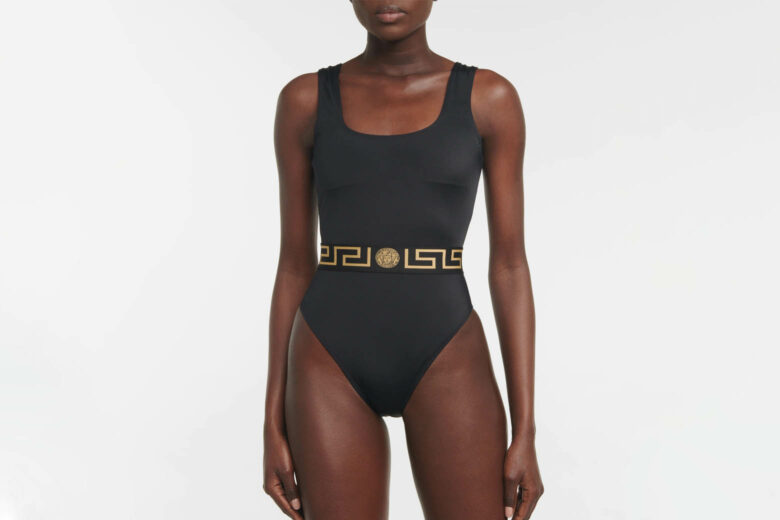 Versace. Versace. Versace. That's one way to get your attention. And when it comes to attention-grabbing details, this designer bathing suit will stop at nothing. The Italian brand's Greca collection is all about that signature, Greek-inspired motif. And this Medusa belt shows it off in all the right places. Not only does the Mediterranean style exude casual confidence—it cinches in the waist to create an hourglass silhouette.
The black colorway and classical outline make this timeless suit an investment into a future of blissful breakaways.
Best for: Whispering sweet nothings into your ear.
Color: Black
Size range: XS-XL
Cover Swim: Best sun protective one piece swimsuit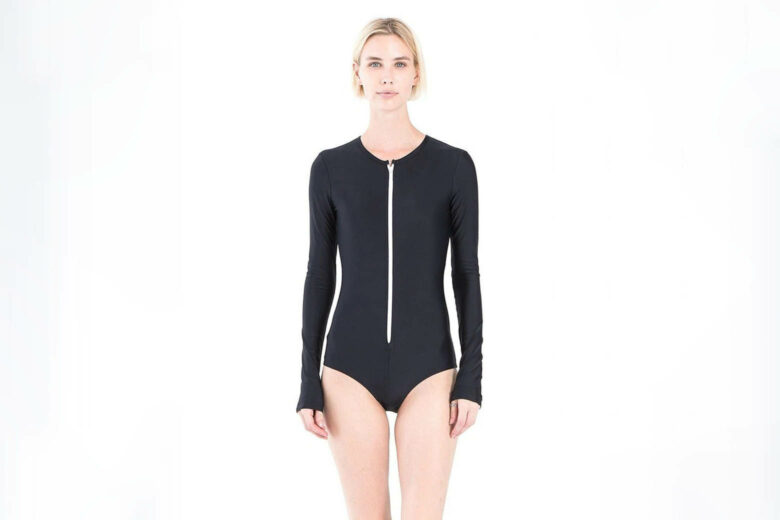 Scorching climates don't have to be synonymous with weathered skin. Cover Swim has got you, well, covered. Their long-sleeved line prioritizes maximum coverage to safeguard your skin from harmful rays. And sweat-wicking fabric regulates your body temperature for optimal comfort. Recycled nylon promotes longevity and sustainability. Neutral colorways promise to outlast seasonal trends. And a white bulk zip will catch any contemporary eye.
You're just one zip-up away from your carefree Summer in the sun.
Best for: Youthful complexions meet Summer vacations.
Colors: Black, beige
Size range: XS-XL
Jade Swim: Best strapless one piece swimsuit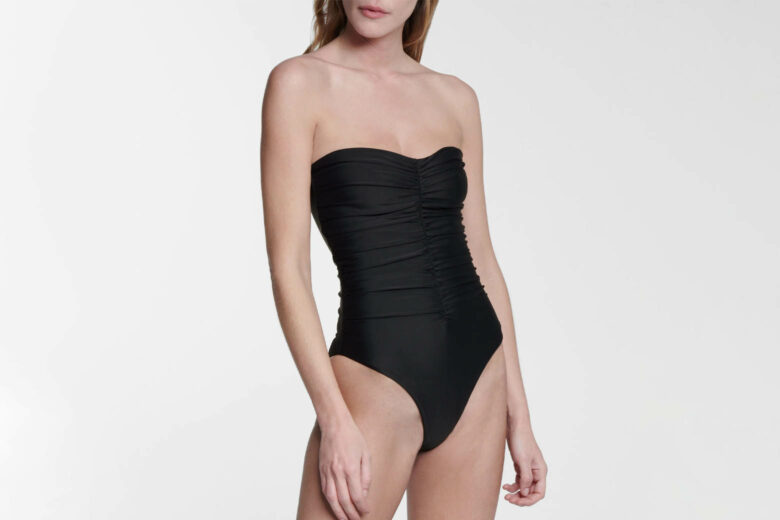 A sweetheart neck and romantic ruffles are all you need for this season's Summer lovin'. And when we say Summer lovin', we're talking about loving yourself first and foremost. This strapless one piece swimsuit by Jade Swim is made to be worn with confidence in every size. And the ruched detailing does a remarkable job of miraculously masking your Winter secrets.
This black silhouette is fiercely flattering. Now all you need is a good book, a bit of me-time and a whole lot of self-care.
Best for: Summer lovin' happened so fast.
Color: Black
Size range: XXXS-7XL
Norma Kamali: Best cut out one piece swimsuit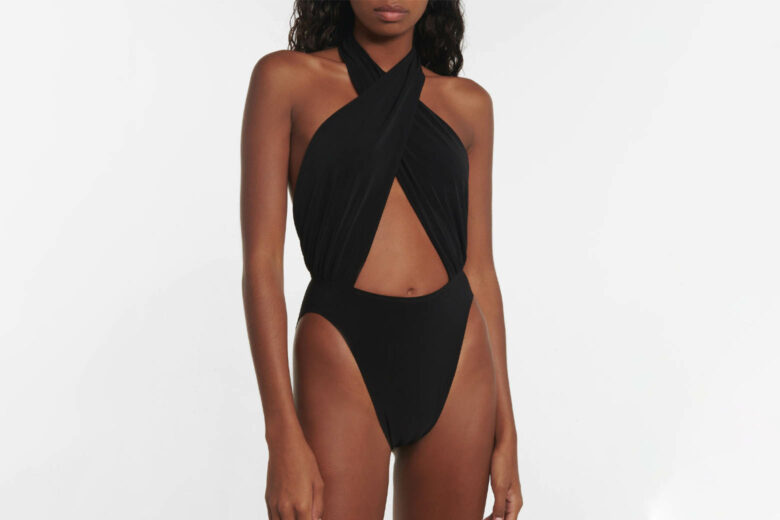 The Swinging Sixties is all grown up with this modern rendition of the retro halter neck. The cut out one piece swimsuit is everything we love about the decadent decade. But this time it's back with a new classically chic finesse. The slender black colorways of this Norma Kamali swimsuit whispers tones of subtle sophistication. While dramatic cut out speaks to the striking style of the New York designer.
Pair this cheeky one piece swimsuit with an eye-catching pareo. And you've got yourself your first pool party ensemble of the season.
Best for: Stepping out with saucy sophistication.
Color: Black
Size range: XXS-XL
Evarae Ivory Karisa: Best versatile one piece swimsuit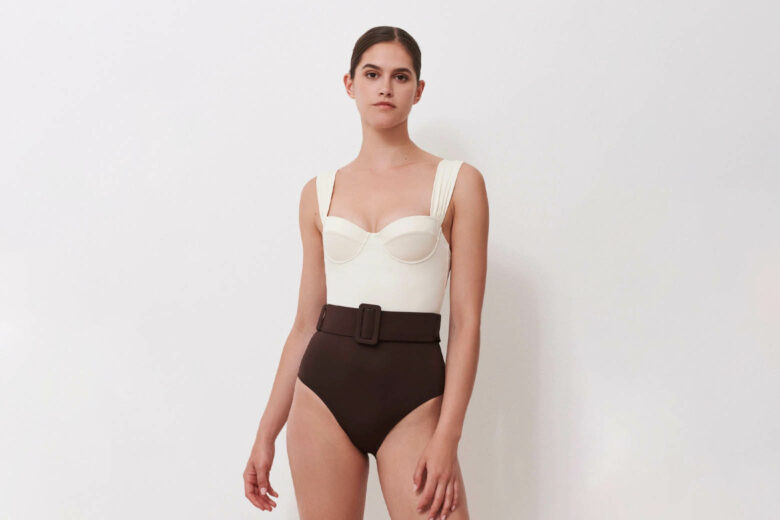 Take some creme with your coffee with this color-blocking composition. Evarae's stretch-econyl material seamlessly sculpts your silhouette, while waste-consciousness remains in the forefront of their sustainable fashion. The belted waist is all you need to achieve that hourglass physique, hile adjustable straps offer all the support you need.
The versatile temperament of this Evarae swimsuit makes it the quintessential addition to any capsule wardrobe.
Best for: An ivory and brown swimsuit is what color-blocking dreams are made of.
Colors: Ivory & Brown
Size range: XS-L
Eres Aquarelle: Best spaghetti strap swimsuit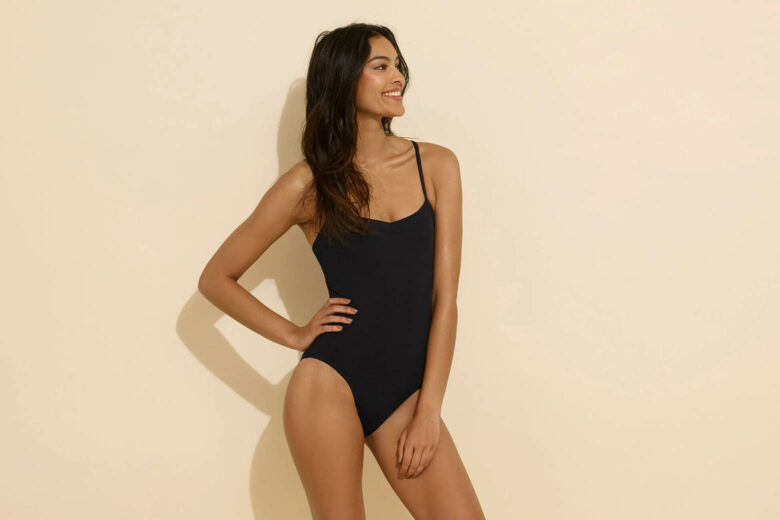 Delicate details take on darker tones in this rendition of the black swan swimsuit by Eres Aquarelle. The dainty straps add an air of femininity. While a low back speaks to a youthful appreciation for sophistication. The square neck adds a chic edge to an otherwise classical design. And an almost-black colorway enhances the sultry mood of the elongating silhouette.
This minimalist design exudes simplicity in its finest form. And it allows your natural beauty to take center stage.
Best for: Black swan brilliance.
Color: Dark purple
Size range: XXXS-7XL
Bondi Born: Best halterneck swimsuit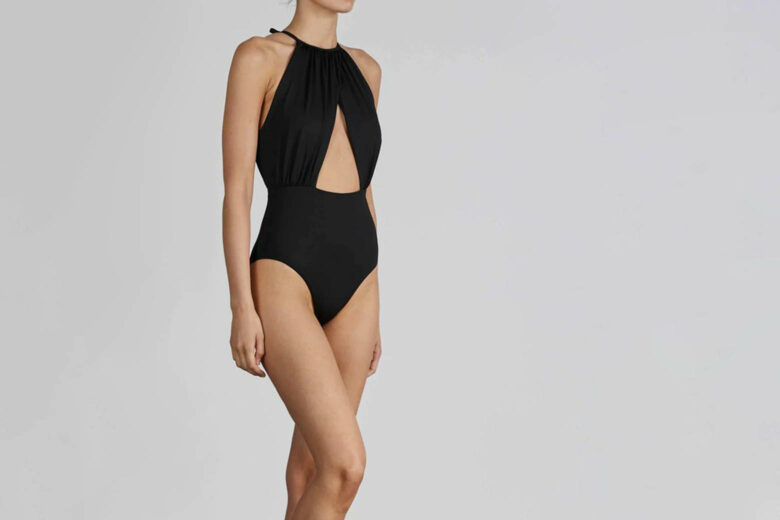 Not only is this majestic maillot one of our favorite one piece swimsuits women. It's one of our best swimsuit brands. Full stop.
The Bondi Born Camilla cut out understands how to spice it up whilst maintaining an air of sophistication. The sultry cutouts are flawlessly complimented by glamorous halter neck ties. The clean black colorway speaks to the timeless trend of countless Summers.
Best for: Seductive cutouts meet sophisticated classics.
Color: Black
Size range: XS-XL
Frequently asked questions about one piece women's swimsuits
What is the most flattering swimsuit?
Flattering fits come in all shapes and sizes. A waist belt is brilliant for cinching in the waist for that hourglass effect. And you can never go wrong with a black colorway to conceal your Winter secrets. Ruffled details also do a remarkable job of hiding all your lumps and bumps. While a high leg one-piece swimsuit is all you need to elongate your legs. Check our selection of the best one-piece swimsuits for women to find the best one for you.
What body type looks good in a one-piece swimsuit?
Ever heard the saying 'every body is a swimsuit body'? Well it couldn't stand more true for an obliging one piece. And brands such as Andie Swim, The Attico, and Swimsuits For All have made it their mission to celebrate every female form with flattering fits. So if you are struggling to find a one-piece to sculpt your silhouette—try one of their customized, cute swimsuits. 
Are one or two-piece swimsuits better?
Two-piece swimsuits are fantastic for evening out tan lines and flaunting the results of countless crunches. But we may just be unapologetically biased towards the sophisticated one-piece. One-pieces are no longer confined to your mother's wardrobe. They're back with sultry cutouts, halter neck designs, and clean colorways. After all, can a white one-piece swimsuit ever really be boring?
What is the point of a one-piece swimsuit?
One-piece swimsuits are a Summer essential. They're made to tackle the waves without coming loose. And they'll conceal your stomach's secrets. Bright colors such as Hunza G's green one piece swimsuit will spice up your Summer ensembles. And a sleek, black silhouette begs to be dressed up with a pair of denims. At the end of the day, the right one piece swimsuit is your gateway to a more confident self.