Once confined to local, often disorganized spaces and carrying a certain stigma, the pre-loved luxury goods market is getting a new lease of life and love online.
Today, buying pre-owned pieces is a luxurious experience that is both convenient and sustainable.
Looking stylish, at a fraction of the cost, while being kinder to the planet? Check, check, and check.
Whether you are on the lookout for a classic Louis Vuitton handbag, on a hunt for a rare vintage Rolex watch, or desperately want a Hermès Birkin and don't want to wait on their list, luxury resale websites are the new place to be.
With millions of luxury pieces awaiting to be rediscovered and reloved, scoring that covetable Gucci handbag and other unique fashion finds is literally just a click away. Best of all, going through a verified second-hand reseller helps ensure that you get quality items with proven and genuine authenticity.
We round up the best and chicest destinations to buy pre-loved or past-season designer pieces online.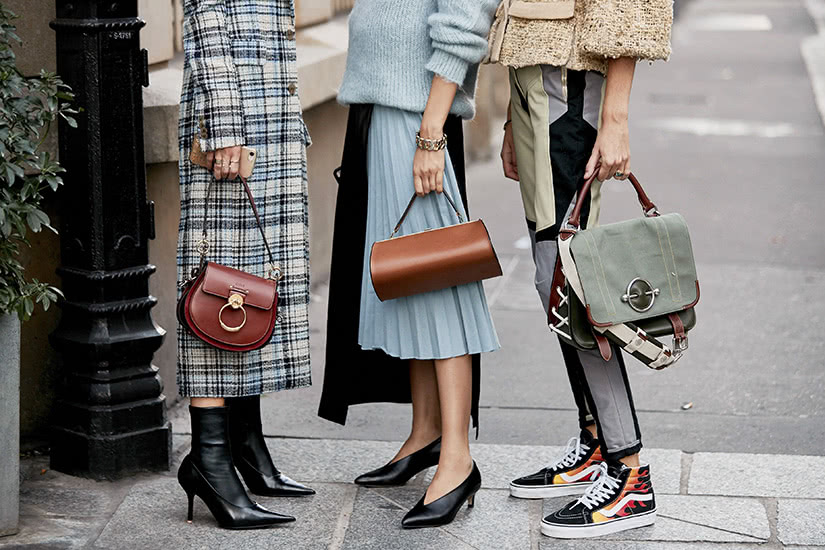 The most popular luxury resale sites
Looking for the best place to buy pre-owned designer handbags and luxury clothes online with trust. These are the top 10 best websites to shop online:
Beware, there are plenty of luxury fakes and counterfeits sold on online consignment stores too. Sites like Poshmark, for example, are open platforms where anyone can sell anything without a proper authentication. For high-end designer bags and luxury clothes, we recommend that you only buy from online stores who do their own verification. Check the end of this article for a few tips to safely buy used luxury goods online.
1. Fashionphile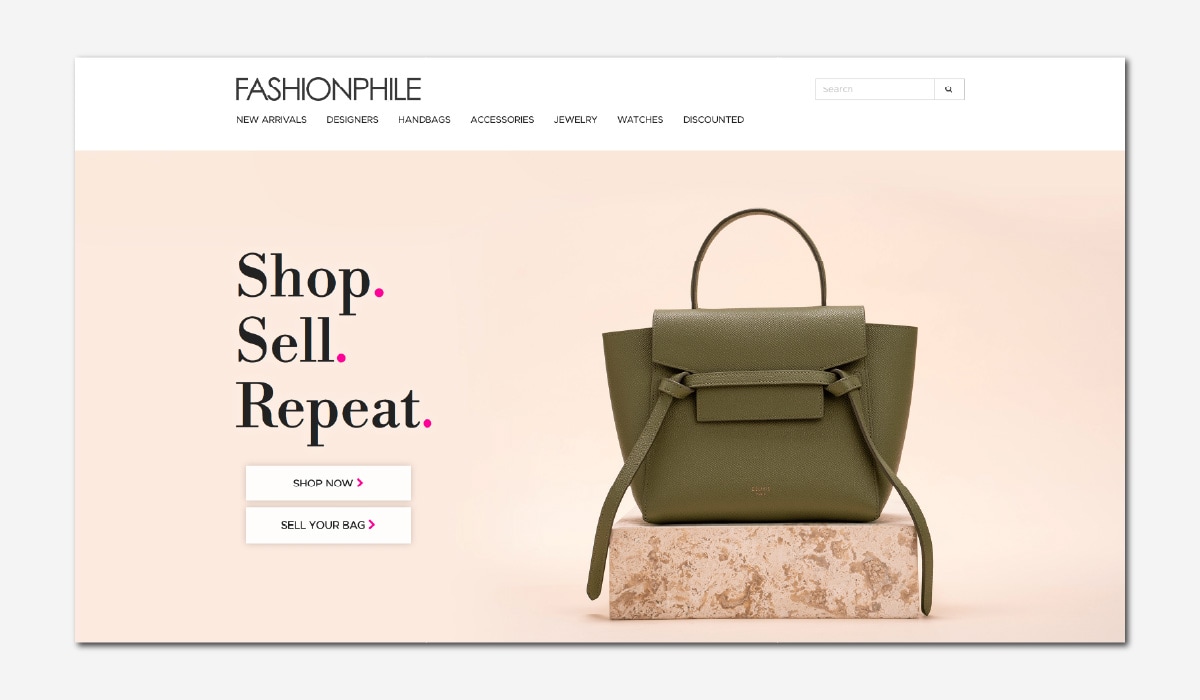 The grand-daddy of online used luxury sales, Fashionphile launched in 1999. The team worked hard to become one of the leading and most trusted second-hand stores online for luxury handbags. The site offers pre-owned handbags from virtually all the luxury brands, including Balenciaga, Céline, Fendi, and Christian Dior.
Beyond designer handbags, Fashionphile is now also selling second-hand jewelry, watches, and accessories. The site recently announced an exclusive partnership with Neiman Marcus to help the brand's customers easily sell their pre-owned goods and get store credits on their next purchase.
Website: www.fashionphile.com
2. Luxury Garage Sale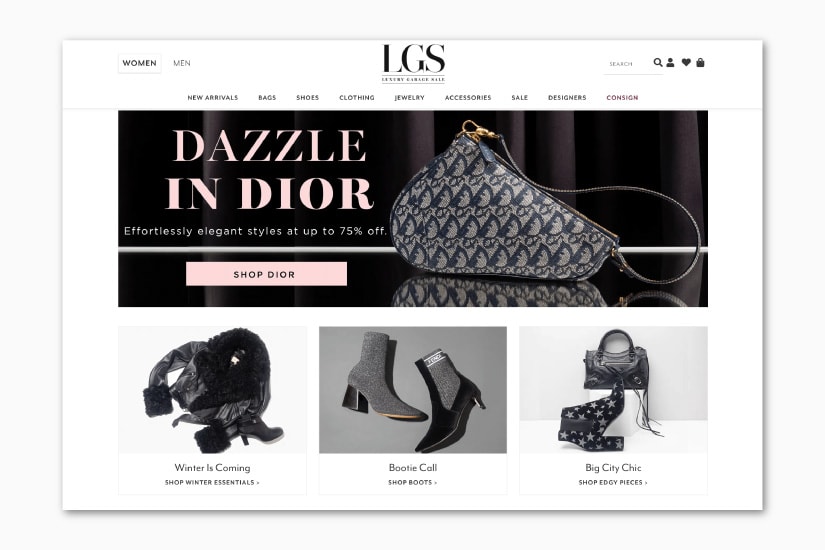 Founded in 2011 with a presence both online and offline, Luxury Garage Sale offers a curated collection of authentic, pre-owned pieces from the world's most beloved luxury brands. Their extensive inventory from brands like Chanel, Louis Vuitton, Hermès, Christian Louboutin and David Yurman is updated daily and sold for up to 80% of the original price. Everything is verified and validated by their team of experts to guarantee quality and authenticity.
In luxury, it's the attention to detail and the little extras that make a difference. With Luxury Garage Sale, buyers can request the help of their complementary stylists to receive styling tips and recommendations.
Website: luxurygaragesale.com
3. Rebag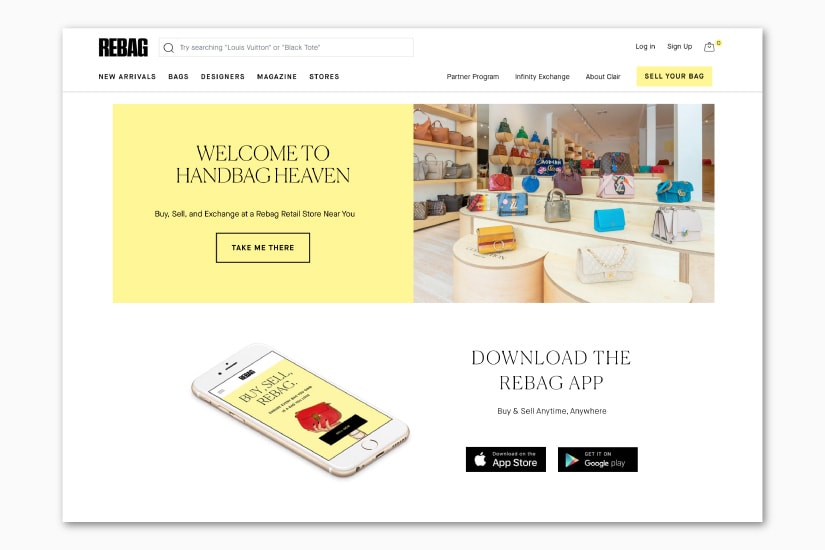 Second-hand luxury website Rebag focuses on designer handbags, clutches, pouches, totes, and everything else in between. You can find pretty much every luxury brand on the site, including Louis Vuitton, Hermès, Chanel, and Gucci.

A particularity of Rebag is the option to return your purchase within 6 months if you don't want to keep it in exchange for credit worth at least 70% of its purchase price. If you like to change bags regularly, this is a neat way to experience many different bags without having to purchase them at full price.

Website: www.rebag.com
4. Vestiaire Collective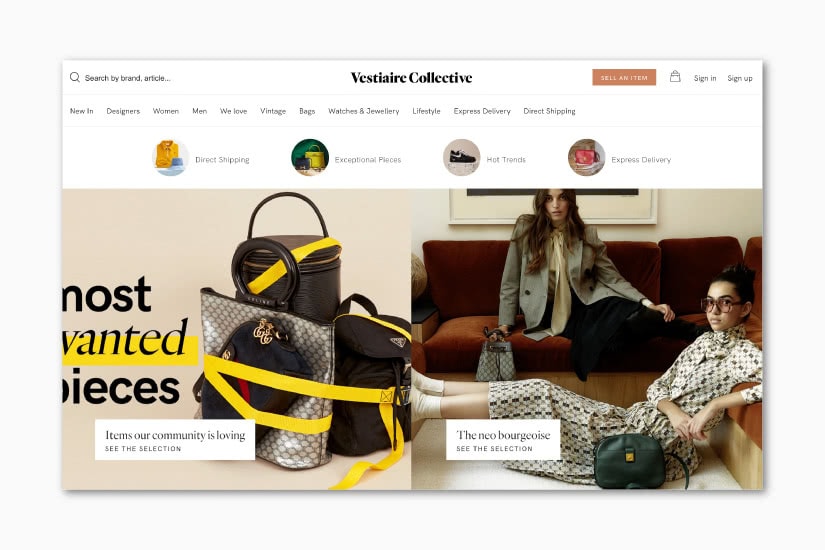 Launched in 2009, Parisian company Vestiaire Collective is a seasoned cornerstone in the ever-expanding pre-owned luxury goods market. Boasting an online community of 9 million fashionistas around the world and counting, Vestiaire Collective is the destination for those in the know.
Once you add a luxury product to the cart, the piece goes through a rigorous authentication and quality control process.
Vestiaire Collective's carefully curated portfolio features a great variety of timeless items (sourced worldwide) from almost every major brand, such as Hermès, Dior and Cartier, as well as contemporary brands such as Isabel Marant, Off-White, and Maison Martin Margiela. Thousands of carefully curated pre-owned luxury pieces are posted every day at up to 70% off retail price.
A useful feature is the ability to create alerts, letting you know when a particular item you are hunting for is listed.
Website: www.vestiairecollective.com
5. Collector Square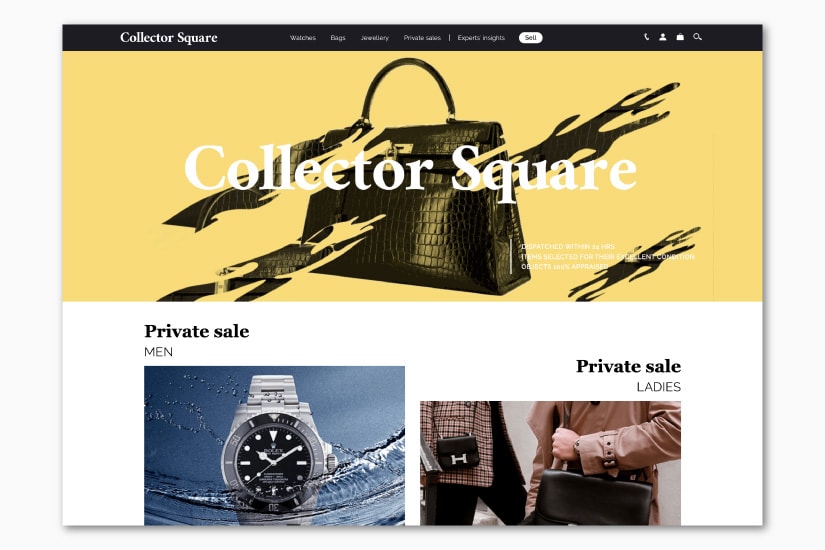 Founded in 2013 by a duo of French entrepreneurs, Collector Square is a European leader in the online second-hand market for luxury bags, watches, and jewelry. With the help of an experienced team of curators, Collector Square carefully selects and verifies each and every item sold on its website.

The team can also leverage the help of their partner, Artcurial, to evaluate the quality and value of items put on sale.

While based in France, the website ships worldwide in 24 hours. It also offers clear and transparent return policies.

Website: www.collectorsquare.com
6. Bob's Watches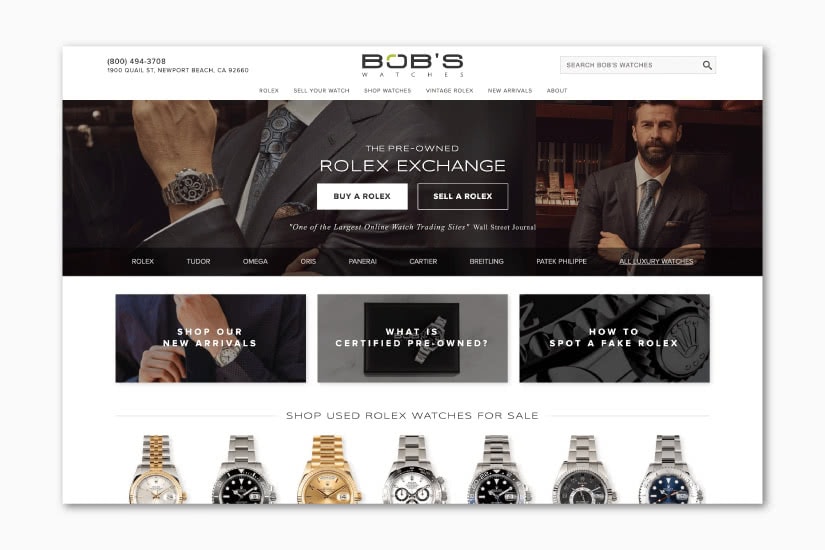 If you are looking for a high-end mechanical watch, Bob's Watches is the uncontested leader in the world of second-hand luxury Rolex watches.
Bob's Watches has been helping people buy and sell their Rolex for years. The site has an extensive inventory of antique, vintage, and contemporary Rolex watches. Each sale is transparent, with the asking price clearly indicated. And critically, the watches sold through Bob's Watches website are all authentic and verified.
With a team of 35 experts exclusively dedicated to Rolex, the site can guarantee the best possible result for both buyers and sellers. Unlike other luxury watch resale websites, Bob's Watches carries the inventory in their warehouse, ensuring a smooth purchase experience.
Website: www.bobswatches.com
7. StockX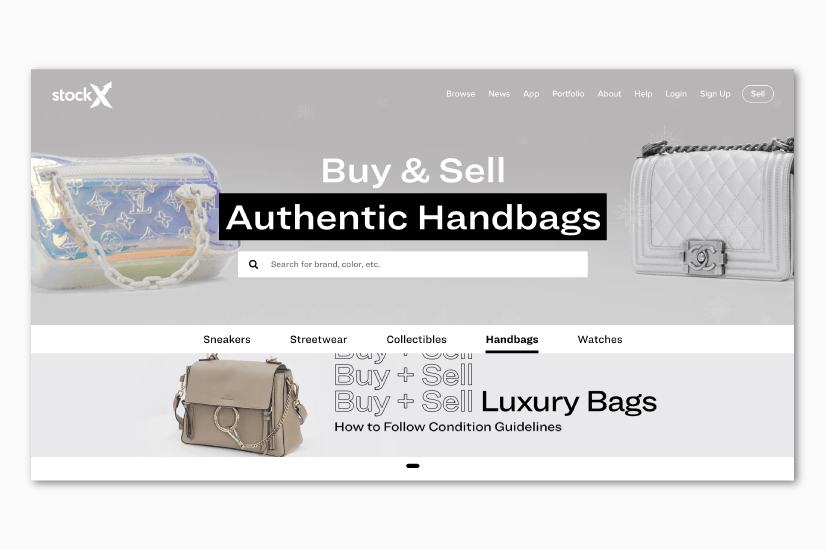 StockX is a bit of an outlier on our list of the best luxury resale websites. Unlike all the other sites on our list, StockX functions more like an auction stock market. Buyers place bids, sellers place asks and when a bid and ask meet, the transaction happens automatically and live on the website. You can even track price fluctuation history. Buyers and sellers remain anonymous.
The site started by selling high-end and rare sneakers such as retro Jordans, Nikes, Yeezys. All are guaranteed to be 100% authentic. It now also sells streetwear bags and watches.
Most of the items on sale on StockX are brand new. Indeed, StockX only accepts authentic items in preowned excellent condition. All items must also include a visible serial code, blind stamp or date code to prove their authenticity. They are then thoroughly inspected by StockX's team to verify and confirm their condition before going on sale.
Sellers offer rare and exclusive pieces from limited collections, such as Supreme drops, to make a profit. It plays on the scarcity of sneakers and other items that are highly popular.
Website: stockx.com
8. The RealReal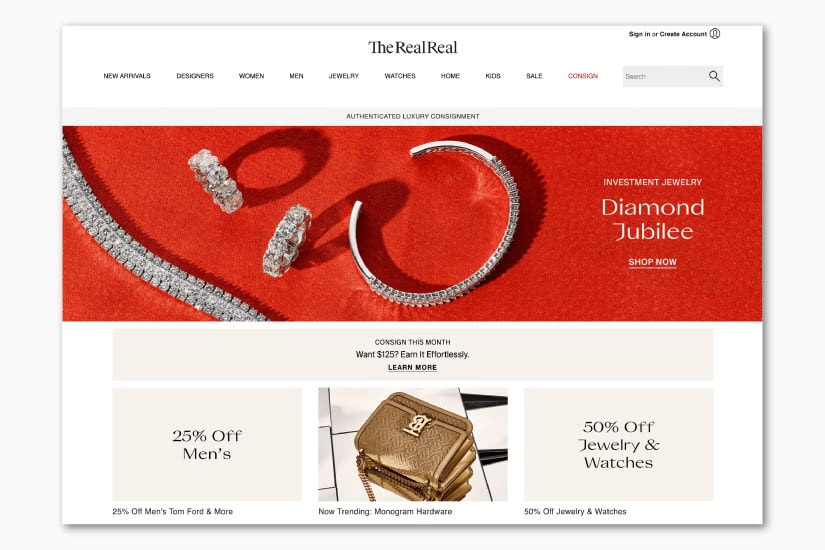 Launched in 2011, the RealReal has three physical stores in New York and Los Angeles and is also a leading online luxury resale site. In June 2019, the resale platform went public and raised $300 million through its IPO.
The San Francisco-based ultra-curated luxury consignment site boasts a large selection of second-hand designer items like handbags, shoes, apparel, accessories, and even home-goods and fine arts at up to 90% off retail prices.
The RealReal has a team of over 100+ experts that authenticate all the consigned luxury pieces from brands such as Chanel, Louis Vuitton, Gucci, and more.
Scrolling through the consigned goods on The RealReal feels like shopping on a premium e-commerce site, but with the thrill of spontaneous discovery – from archival finds to unworn styles on discount.
Website: www.therealreal.com
9. The Luxury Closet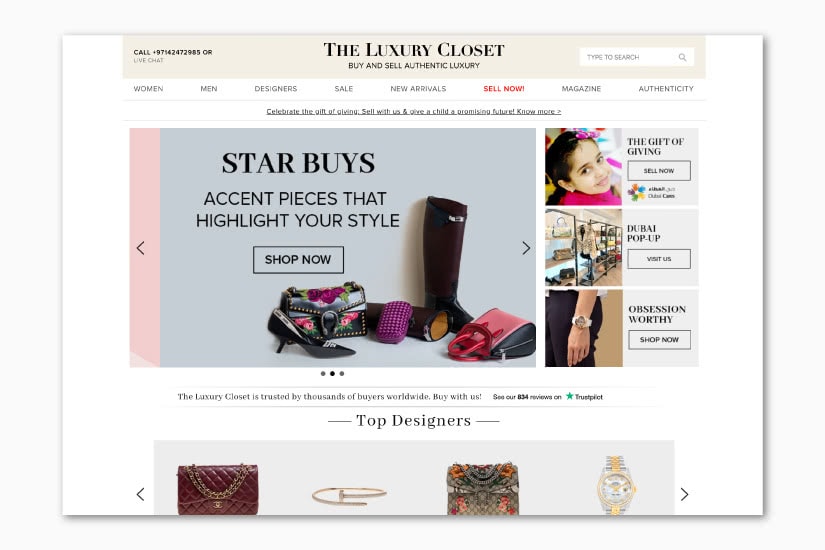 Founded in 2011 in Dubai, The Luxury Closet is a leading online boutique in the Middle East for buying and selling pre-loved luxury items. The site offers a large inventory of designer handbags, clothes, watches and jewelry from luxury brands such as Louis Vuitton, Chanel, Van Cleef and Arpels, Cartier, Rolex, and more.
The Luxury Closet can count on its team of 80 experts to provide excellent customer service and build trust with online shoppers. Everything sold on the site is guaranteed to be 100% authentic so you can buy designer handbags for less with confidence. The site even has a dedicated VIP concierge service in the UAE and Riyadh for sellers who would like to sell eight items or more.
Website: theluxurycloset.com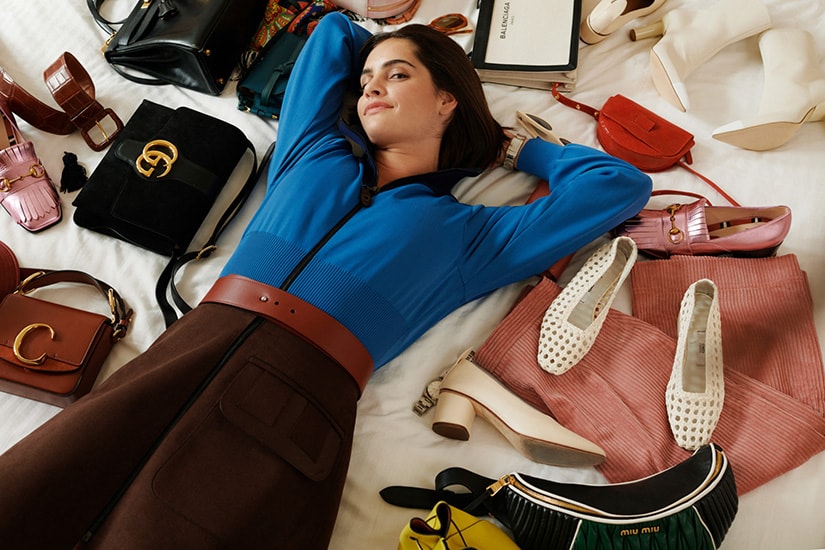 10. What Goes Around Comes Around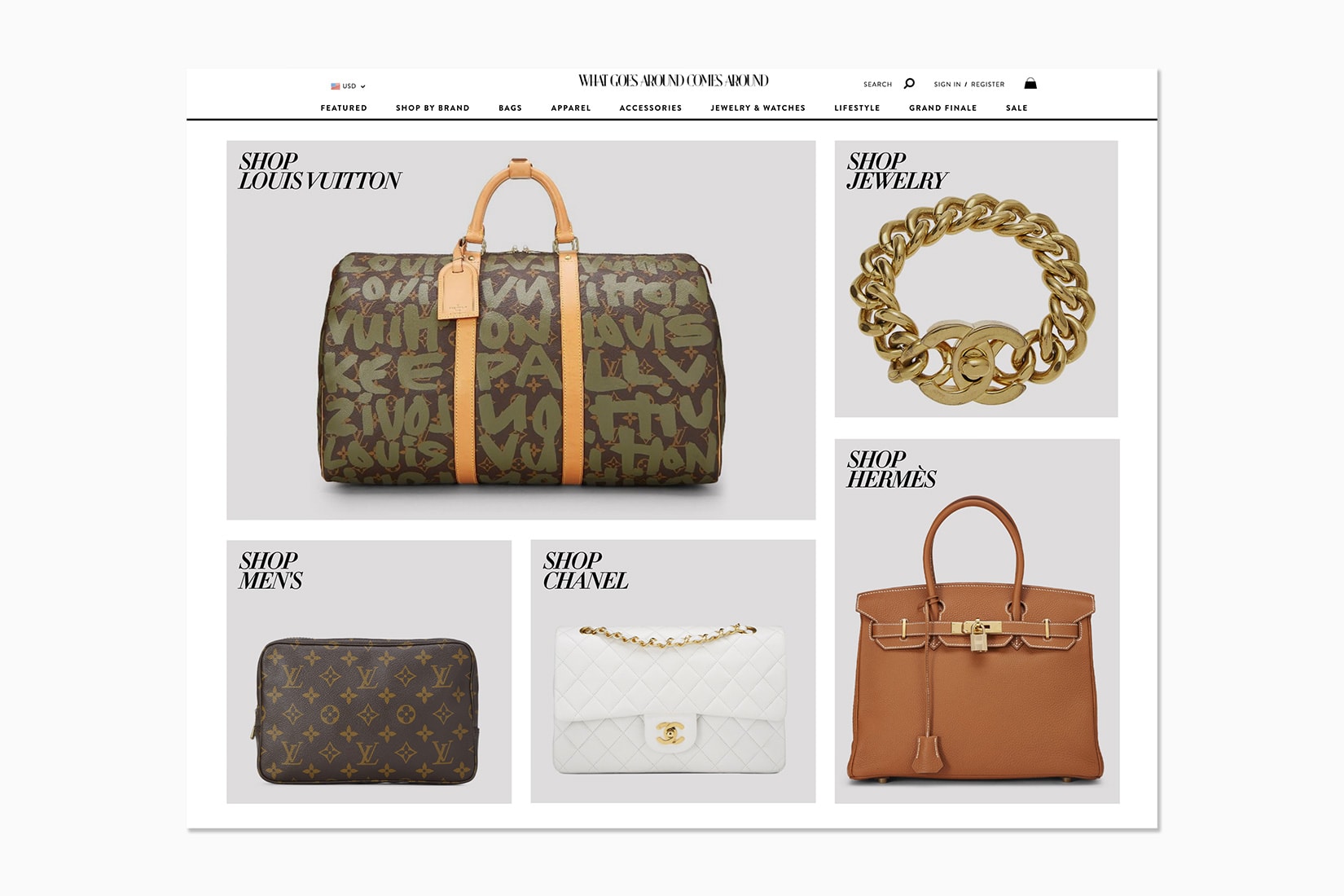 What Goes Around Comes Around has been around (pardon the pun) since 1993. It started off as a store in New York City's Soho neighborhood with a simple mission: elevate traditional vintage shopping into a high fashion experience. The brand rapidly expanded with additional flagship stores in Beverly Hills and online. What Goes Around Comes Around is now an international destination for tastemakers, industry insiders and celebrities alike.
You can buy luxury fashion clothes and accessories from brands such as Gucci, Dior, Balmain, Chloe, Dries Van Noten, and many more at incredibly competitive prices.
The secret? The team behind What Goes Around Comes Around continuously search for highly sought-after fashion items ready to be sold at a discount. They then pass on the savings directly to you!
No wonder the site is a celebrities favourite with Kim Kardashian and Danielle Bernstein among their regular customers.
New discounted designer pieces drop weekly on the site with a huge range of variety to appeal to every style. We'll be visiting this site on repeat —There are always hidden gems and surprise treasures in their collection. But don't take too long to "add to cart", their pieces never stick around long!
Why you'll love it: genuine designer clothes at a discounted price.
Website: www.whatgoesaroundnyc.com
Where to buy new designer bags for less?
If buying second-hand isn't your thing, you can still get attractive discounts on selected designer brands online. The best place to find these deals is none other than Amazon. Many high-end designers are selling accessories, shoes, bags, perfumes, and cosmetics on Amazon. You might not find their clothing lines, but everything else can be bought online at a discount if you know where to look.
Brands like Gucci, Versace, Dolce & Gabbana, and Kate Spade all have their own official pages on Amazon. These are genuine products from past seasons but also sometimes brand new releases.
Here's a selection of their most popular items on Amazon:
Kate Spade
Gucci
Versace
Dolce & Gabbana
Tips to buy second-hand designer items online
We love the idea of giving a second life to pre-owned items. Particularly for luxury goods that were thoughtfully designed and carefully produced to last a long time. Buying second-hand helps you save money but also contributes to reducing waste for a more sustainable economy.
That said, to have a good experience buying pre-loved items online, you need to be attentive. It's unfortunate, but there are too many unscrupulous sellers who will try to sell counterfeit goods.
To avoid any pitfalls, here are five essential tips to keep in mind when shopping online:
Always do your research first and ask as many questions as you want. It's ultimately your responsibility to make sure that the item you buy meets your own expectations.
When buying second-hand, favor designer handbags, purses, pouches, accessories, home decor, and high-end mechanical watches. These items tend to age well if properly maintained.
If you want to buy second-hand clothes, ask for photos of the actual garment to verify its quality.
You should avoid buying pre-owned shoes online as shoes tend to adjust to their owners' feet. The only exception is if you buy second-hand shoes from a resale market like StockX, where the previous owner never wore them. They are sold as new in the original box.
When buying from a resale website, check their return policy and their process to determine the authenticity of the goods they sell.