A good pair of heels will, quite literally, elevate your outfit but they don't look quite as stylish when you're hobbling around in pain after a few hours. So if you're planning on wearing your heels for a longer period of time, you need to make sure they're comfortable.
You could wear minimalist sneakers or just remember to throw a pair of fail-safe flats or walking shoes into your bag… or you could sidestep the issue entirely by choosing the most comfortable heels in the first place.
Fortunately, the designers of today are one step ahead of the game, with comfortable pumps to match any occasion available in almost any style and colour under the sun.
Whether you prefer a high heel, kitten heel, block heel, pointy toe, a classic nude, needle-thin stiletto or a timeless mule, we've tried and tested the most comfortable heels of 2021 to suit your every need.
The heels below are made for wearing during all your favourite activities: strolling, exploring, shopping and dancing the night away.
The 17 most comfortable heels
M.Gemi The Esatto 90mm: Best overall comfortable heels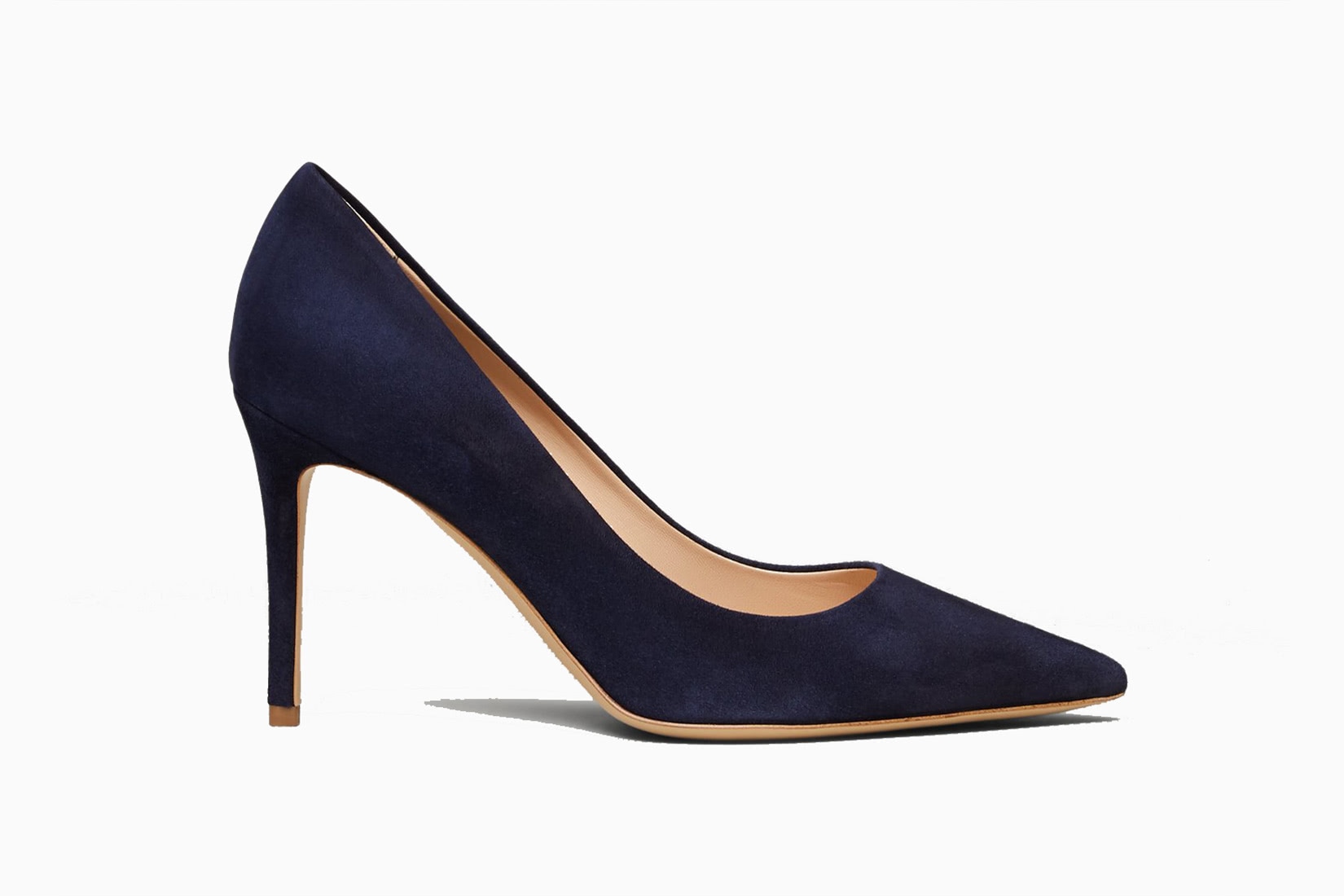 Day or night, you'll dazzle wearing M.Gemi's The Esatto. Classically elegant, this wear-anywhere style is delicate and timeless, offering a heel that you'll run to in years to come. A trendy take without needing to splurge, your soles will thank you for choosing these heels thanks to a super-soft pump and attention-grabbing style.
The quintessential pointed-toe is a popular choice that dresses up any outfit and the 90mm (3.5″) heel is the perfect spot between flats and skyscraper heels. Beautiful and classy, these high heels are a top transitional choice that will carry you through the seasons. A padded insole offers an extra level of comfort and a choice between black leather, black patent or two suede colourways means there's an option for whatever you're pairing these high heel pumps with.
Christian Louboutin Clare Suede Pumps: Best luxury heels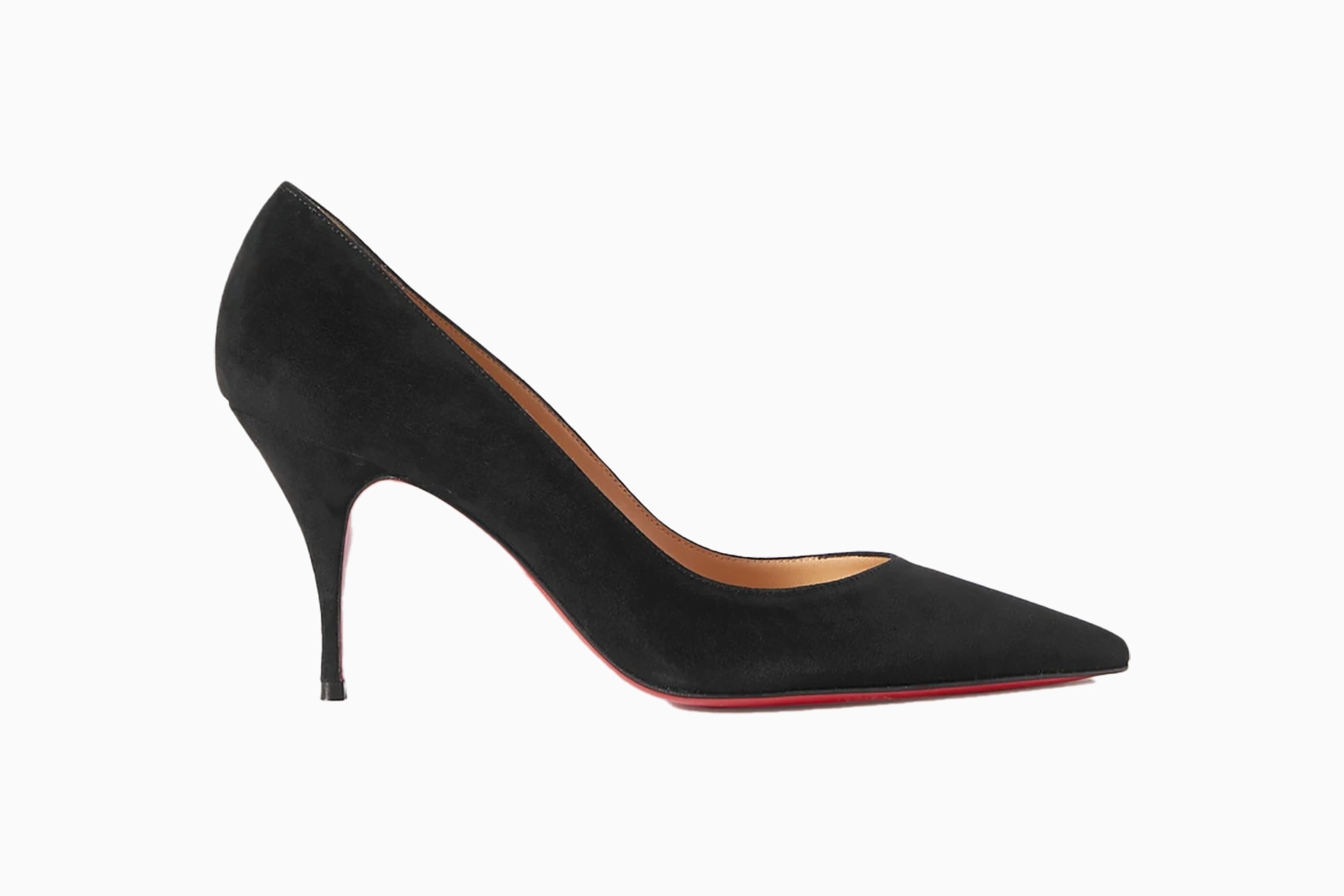 Not sure which heels to reach for your business meetings or cocktails with friends? Louboutins promise to pull any look together and few luxury shoe brands are quite as iconic as these. The red-soled Clare pumps are a premium option that adds a touch of luxury to any outfit. Sculpted in Italy with a velvety suede leather upper, set on a moderate needle-thin 80mm (3.1″) heel and finished with a pointed toe, if you're looking to invest in one pair of classic yet comfortable heels, you should make it these ones.
 A signature style means Christian Louboutin chic and versatile pumps can be paired with virtually anything: the only rule is to ensure the red sole can be spotted when you're out and about. The classic combination of black heel and red sole elevates even the simplest outfit effortlessly, making these stiletto heels the one to go for no matter what mood you're in.
DreamPairs Low Heels: Best value heels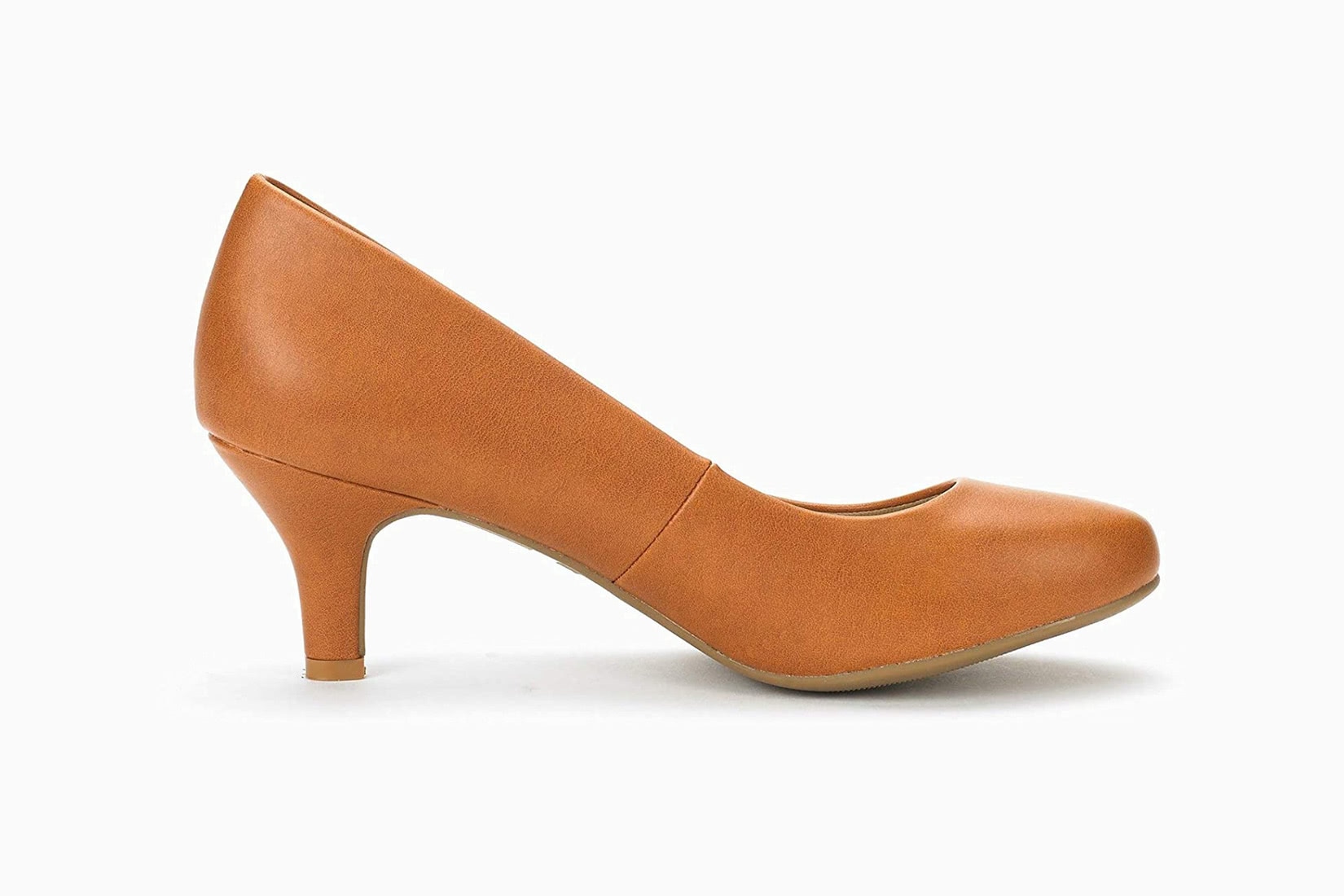 Dream Pairs is a go-to brand for any woman on the hunt for a sophisticated casual silhouette without a high price tag. The Dream Pairs Luvly comes with a kitten heel for a chic elevated final touch to your day to day wardrobe. Flattering and versatile, the low heel complements jeans through to dresses while the classic round-toe and Latex padded insole add an extra level of comfort.
An easy slip-on design makes this low heel pump an effortlessly comfortable option for travelling from the office to the bar and a range of colours means the only difficulty you'll have is choosing which pair to buy first. Opt for the black suede for a classic look, add a hint of colour with the nude pair or subtly elevate your outfit with a dash of red lipstick and the matching red heel.
M.Gemi The Lustro: Most comfortable heels for walking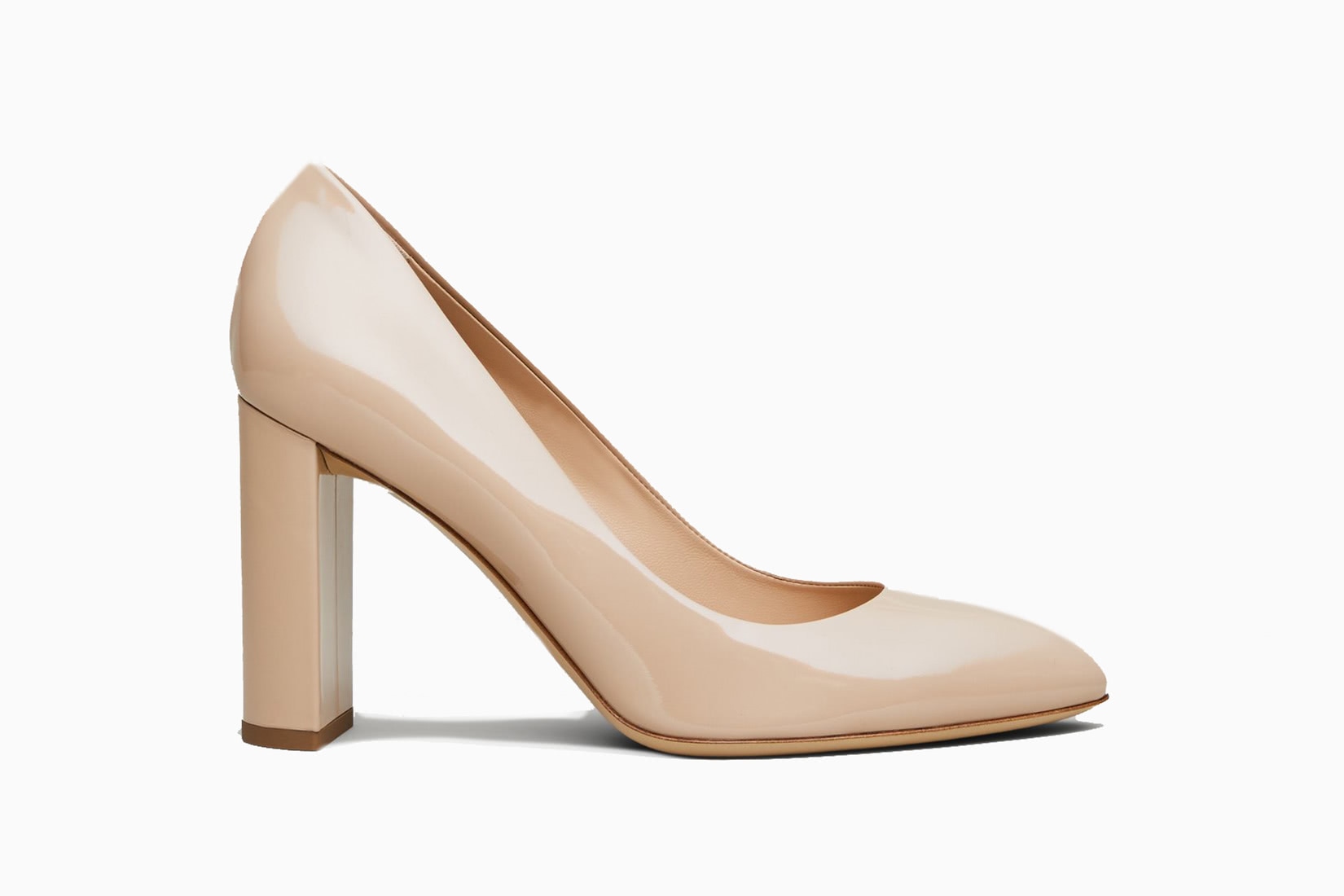 Leave the back up flats at home next time you're wearing heels and walking all day because M.Gemi's The Lustro combines everything needed from a high heel that'll literally take the pain out of walking in heels. A 90mm (3.5″) heel might look intimidating if you know you'll be on your feet for a while but a super-cushioned and flexible shape means you'll almost forget you're walking taller than usual.
With their gorgeous, delicate profile, these nude block heels are beautifully crafted and supportive, with an elevated and flattering look without any kind of toe-pinching. The style and quality make these heels a pair you'll treasure for years. An almond toe and slim block heel make these incredibly walkable with excellent workmanship. Pair the warm neutral patent heels with dark coloured clothing for a fresh look or keep it classic with the staple black patent heels.
Tod's Black Leather Pumps: Most comfortable heels for work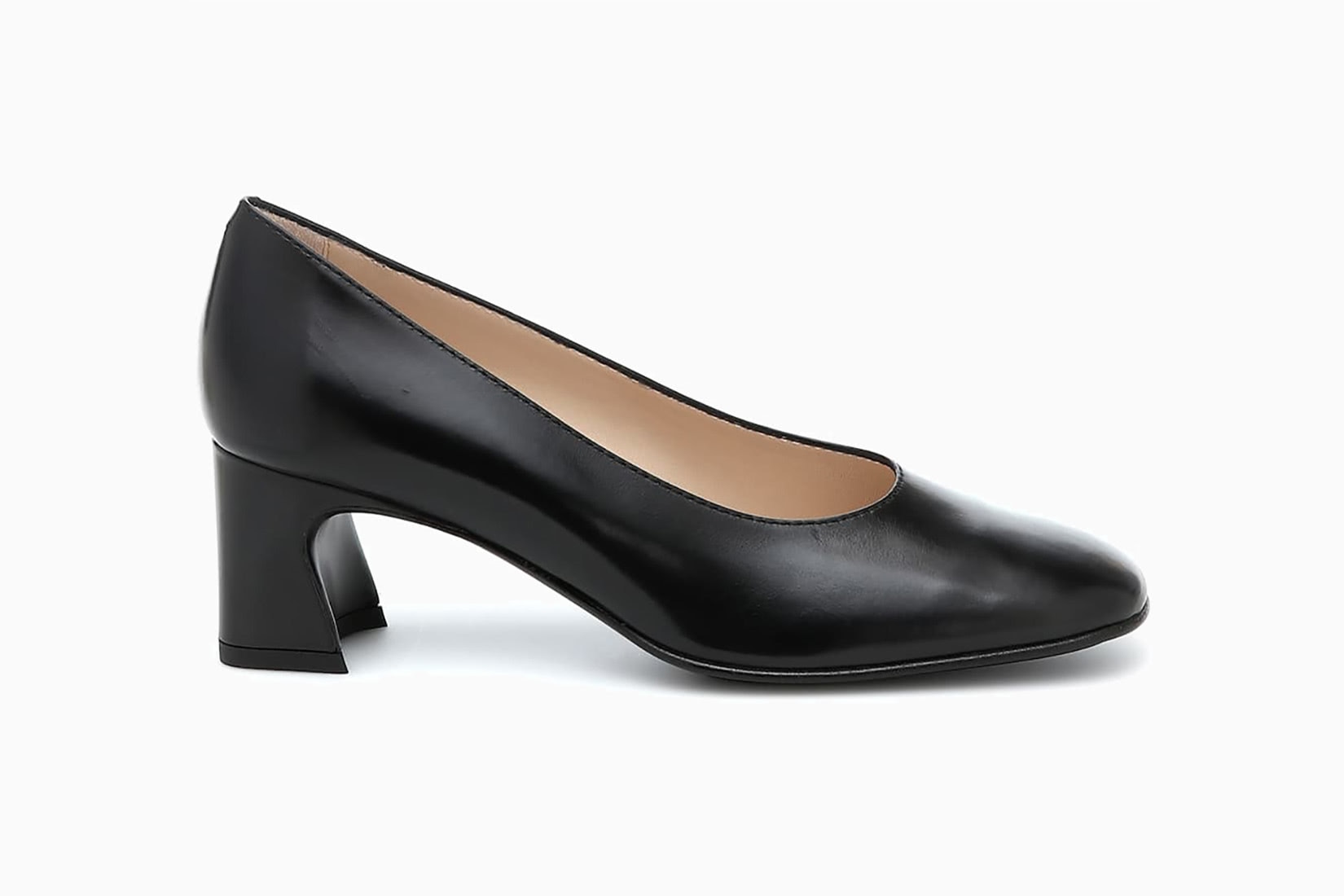 Take the stress out of outfit planning on a Monday to Friday basis with the addition of Tod's Black Leather Pumps to your work wardrobe. Classy and stylish, this mid-height heel will easily take you from meeting to meeting and the Italian artisanal black leather and lightly padded insole are proof enough that a comfortable work heel actually exists. A round toe takes no prisoners in the boardroom and a classic silhouette makes these heels easy enough to pair with any work outfit.
This sturdy block heel adds a modern look and provides more comfort than an initial glance would assume. The outsole features the label's signature dependable grip, which means you can confidently stroll through your day without any fears of slipping when in a rush. Kate Middleton, The Duchess of Cambridge, is a fan of Tod's, and the brand is known for its premium quality fabrics. Style yours with an oversized blazer for a chic office ensemble.
Gianvito Rossi 85mm Pumps: Most comfortable designer heels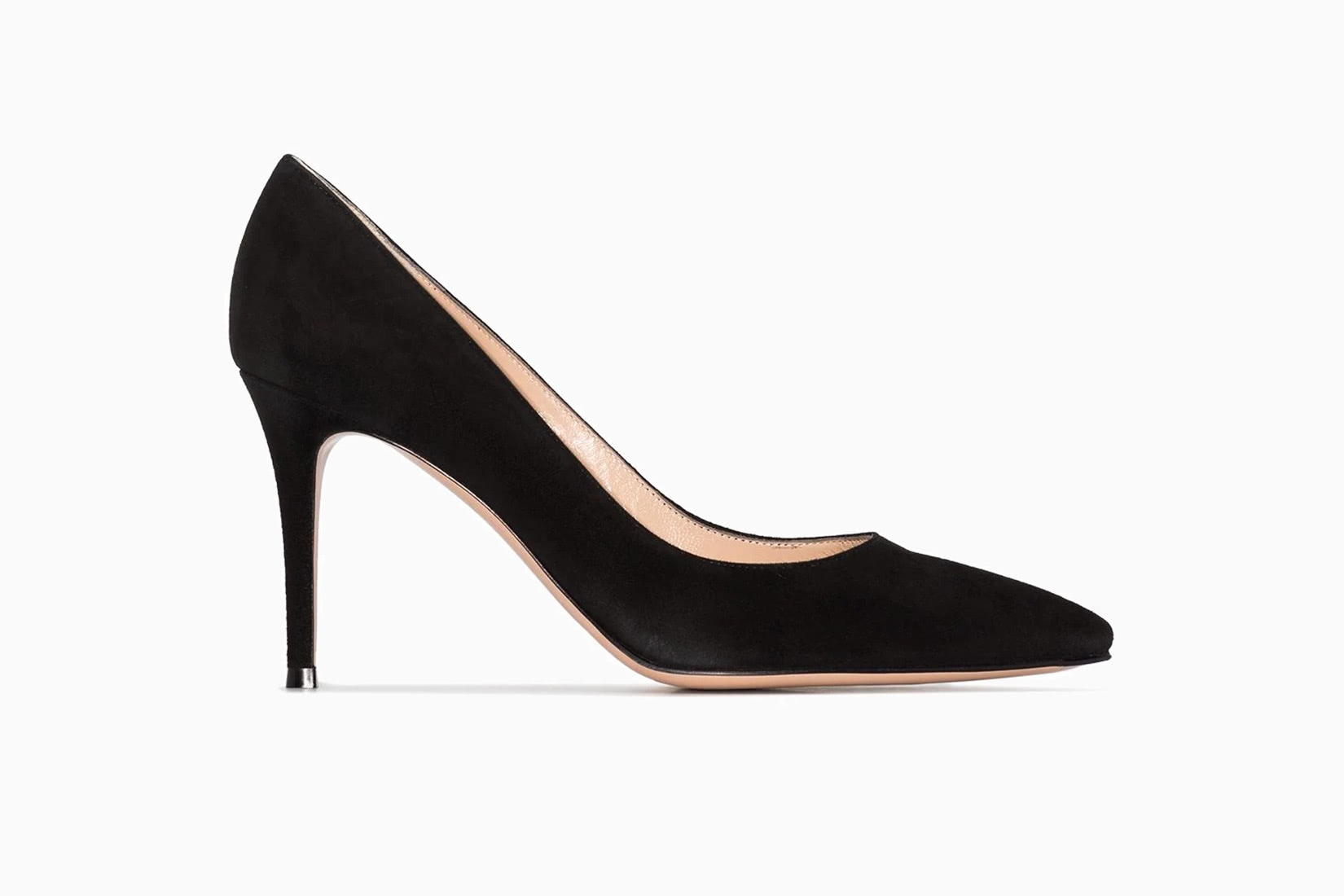 This no-nonsense wardrobe staple is a designer heel you'll never regret spending money on. "Most comfortable" is certainly an impressive accolade in the vast and ever-expanding world of high heels but the Gianvito Rossi Pumps are fully deserving of such a title. An instant classic, these heels were designed to look good and feel good, with a mid high stiletto heel and an understated silhouette. Gianvito's timeless elegance is never more prominent than with the Gianvito 85mm pumps, an Italian-crafted high heel cut from supple suede and a pointed toe to round it off.
Gianvito Rossi is the epitome of high-quality Italian craftsmanship and the label has earned a reputation for designing some of the world's most wearable high heels.
Wear them casually or formally — The black suede heels and nude heels are ageless and great pairs to invest in. Or branch out from the norm with a smooth, chic and elegant grey pair.
Clarks Sheer Rose: Most comfortable heels for standing all day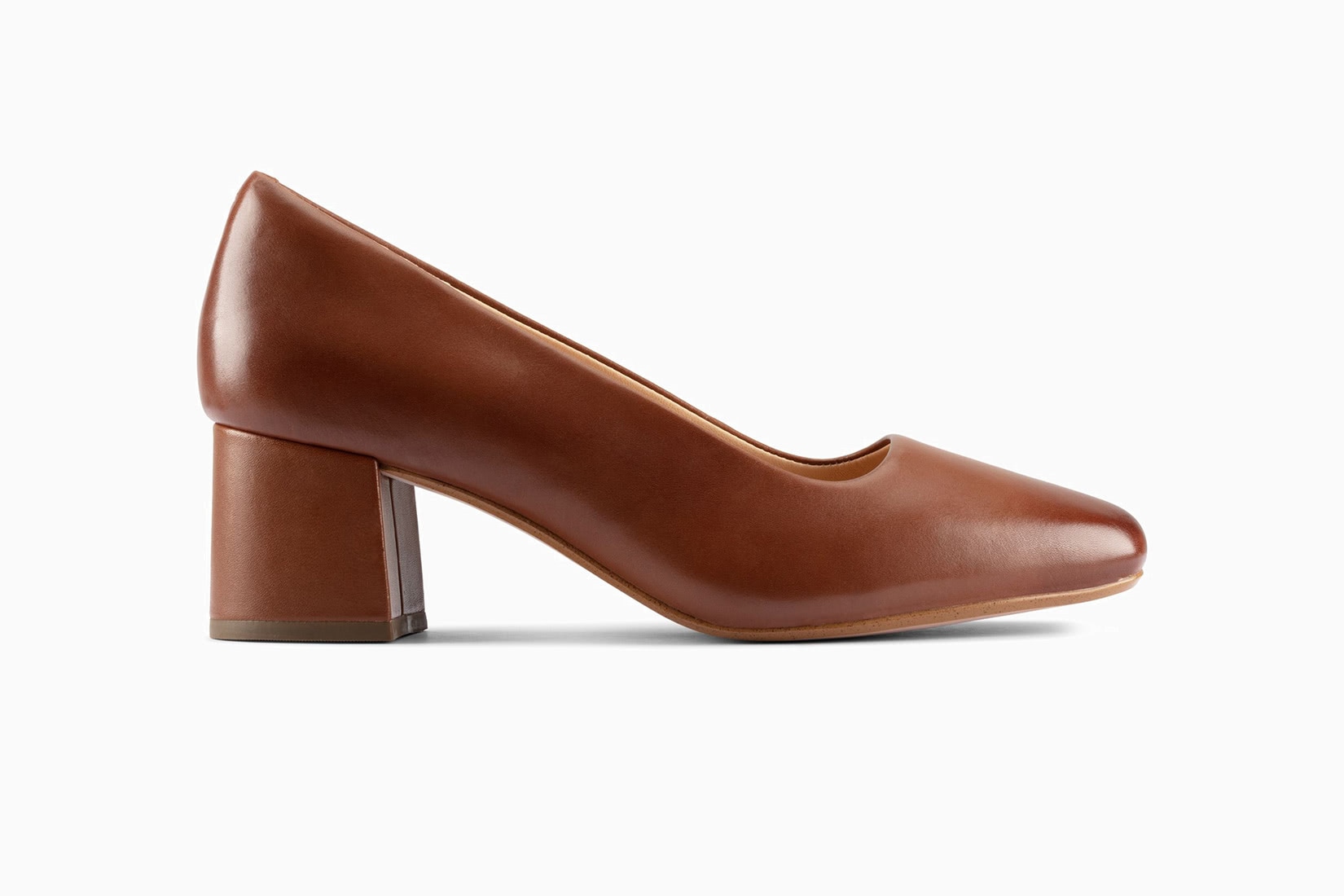 If you're in the market for a new pair of heels that refuse to let you down no matter what kind of stress you put them through, this pair from Clarks is a winner. No one likes waiting around but what makes it even more unbearable is a relentless throbbing pain from your heels. Clarks' Sheer Rose has a squared toe and wearable 65mm block heel that guarantees comfort for hours.
Available in three colours (Black Leather, Tan Leather and Blush Patent), either option adds a clean and minimalistic look with a big style impact. This is a heel that effortlessly dresses up raw edge jeans, adds an extra layer of elegance to dress skirts or provides a contemporary pairing with cropped trousers.
The durable sole for dependable grip and the brand's dual density Cushion Plus™ technology for unbeatable comfort make for a very cosy heel and a desk-to-dinner staple.
If you know you'll be on your feet all day, this is the heel to go for.
Nina Genaya: Most comfortable heels for a wedding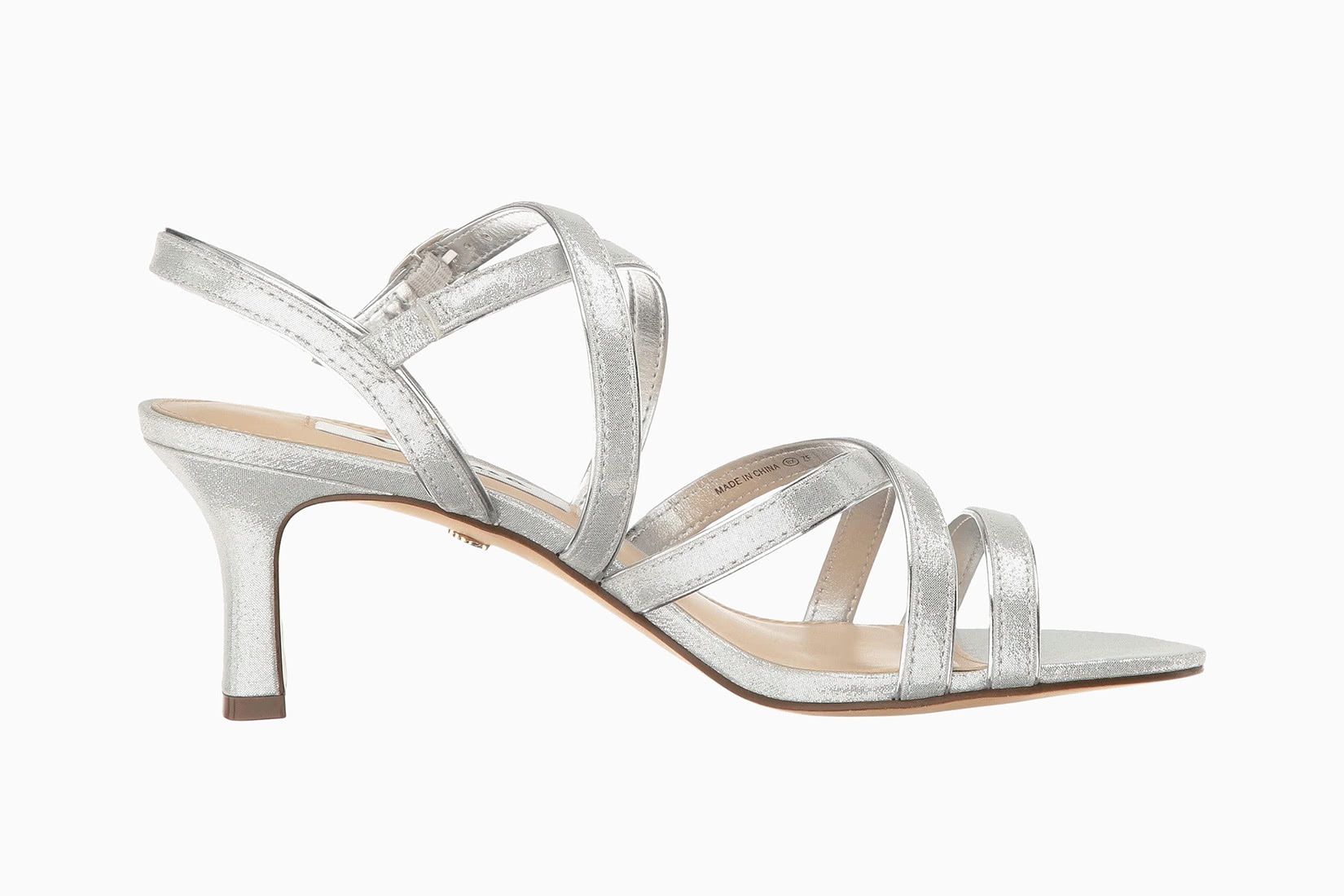 Shoes can make or break a wedding outfit, thanks to their ability to keep you dancing for hours on end, or sat in the corner of the room nursing a glass of Champagne to ease the throbbing in your toes. The Nina Genaya is the perfect choice for any day to night occasion, with a strappy silhouette and a flattering fit. Available in six different colours, the silver reflective pair are a simple addition to any wedding outfit, promising a dazzling touch of elegance without the temptation to take them off halfway through the evening.
A bullseye midpoint of comfort and style means you can dance for hours while wearing the Genayas without even remembering you're wearing brand new sandals. A 50mm (2.5″) heel is high enough to lengthen the leg without accidentally reaching for the stars or compromising your ankles. Prefer a more simplistic look? Go for the black and gold-lined option or the navy.
Porte & Paire Black Leather Sandals: Most comfortable heels for dancing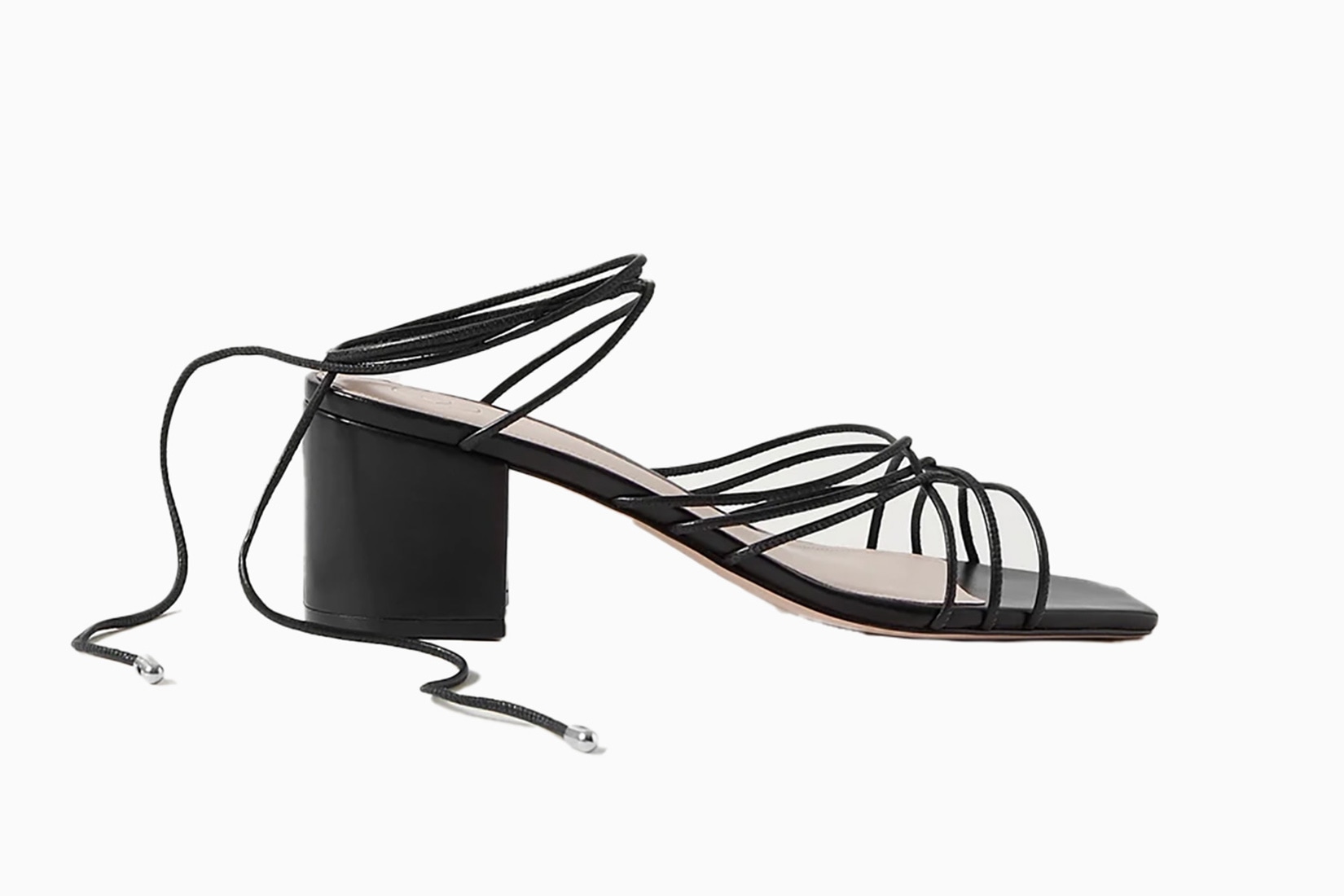 Barely-there heels are a staple to any woman's wardrobe and a strong, black pair of strappy sandals can be worn over and over for many an occasion.
Porte & Paire's black leather sandals are chic and smooth, with a square toe, a 60mm block heel and a cushioned insole for luxurious comfort. Made from supple black leather and designed with slim straps that dance over your feet, these are the heels to grab for a night out with friends with the confidence that you'll go home without any of the typical high heel pain.
Equal parts chic, stylish and comfortable, the woven design means these heels can add a touch of fun to whatever you're wearing. Pair with a cotton slip dress for an easy summer look that's perfect for whatever song's playing next.
Jimmy Choo Neutral Romy 60: Best nude comfortable heels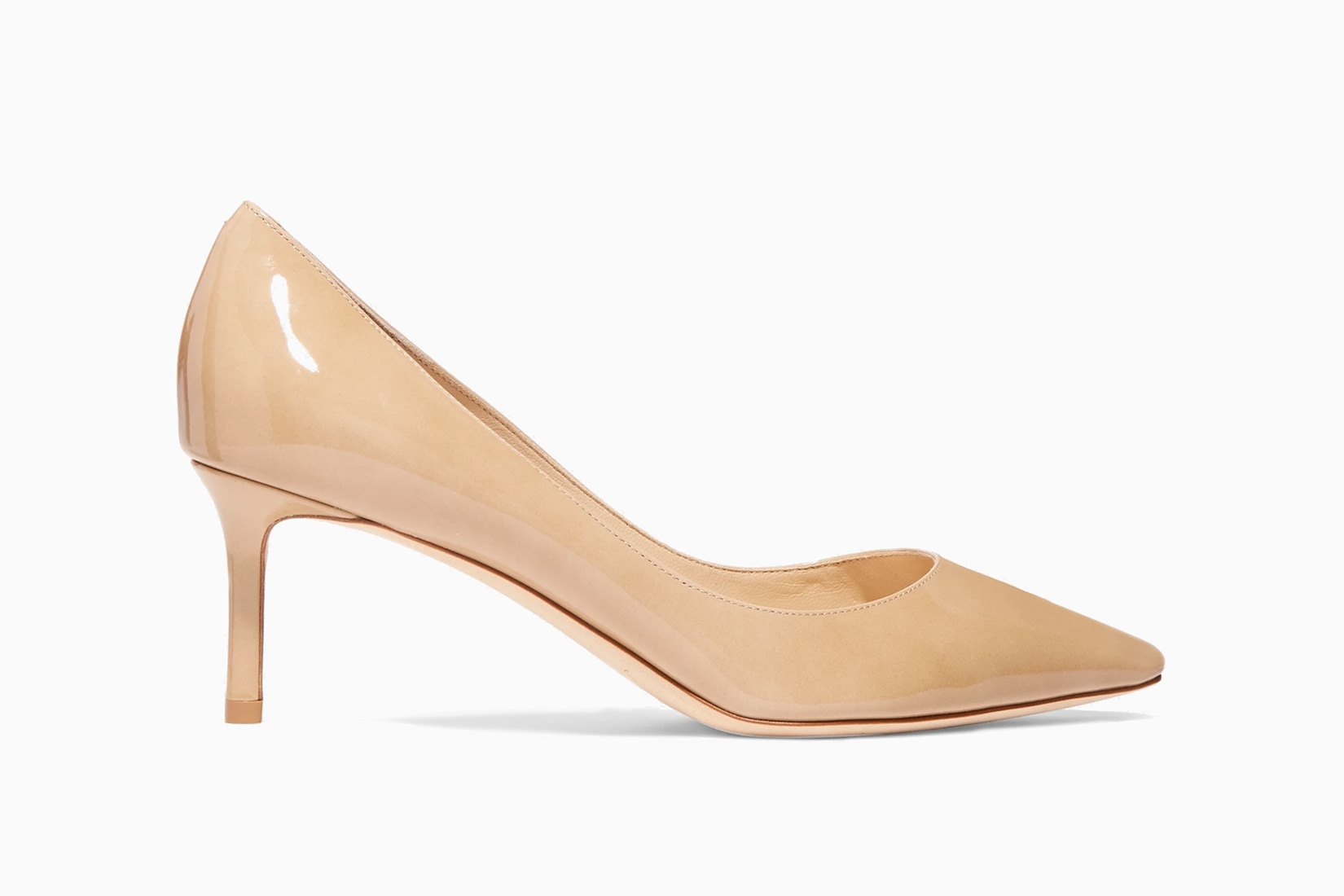 Your classic nude pumps deserve an upgrade. Pulled out of the wardrobe for weddings, dinner and drinks, important meetings or something in-between, a strong pair of nude heels is something you'll thank yourself for buying in the future. Elongate your legs with Jimmy Choo's Neutral Romy 60, letting the updated take on the pointed toe, high-shine finish and classic silhouette take the lead. Favoured by royals and fashion editors alike, these nude heels are made of cream patent leather and instantly polish up even the plainest of outfits.
A 60mm (2.4″) heel makes them the perfect midpoint for leg lengthening while allowing you to confidently go about your day. Beautifully handcrafted, expect compliments galore whenever you pull these out of your wardrobe. Timeless, trendy and ever-wearable, a good pair of nude heels will always save the day when the rest of your outfit needs a quick pick-me-up.
Aquazzura Bow Tie Pumps: Best comfortable black heels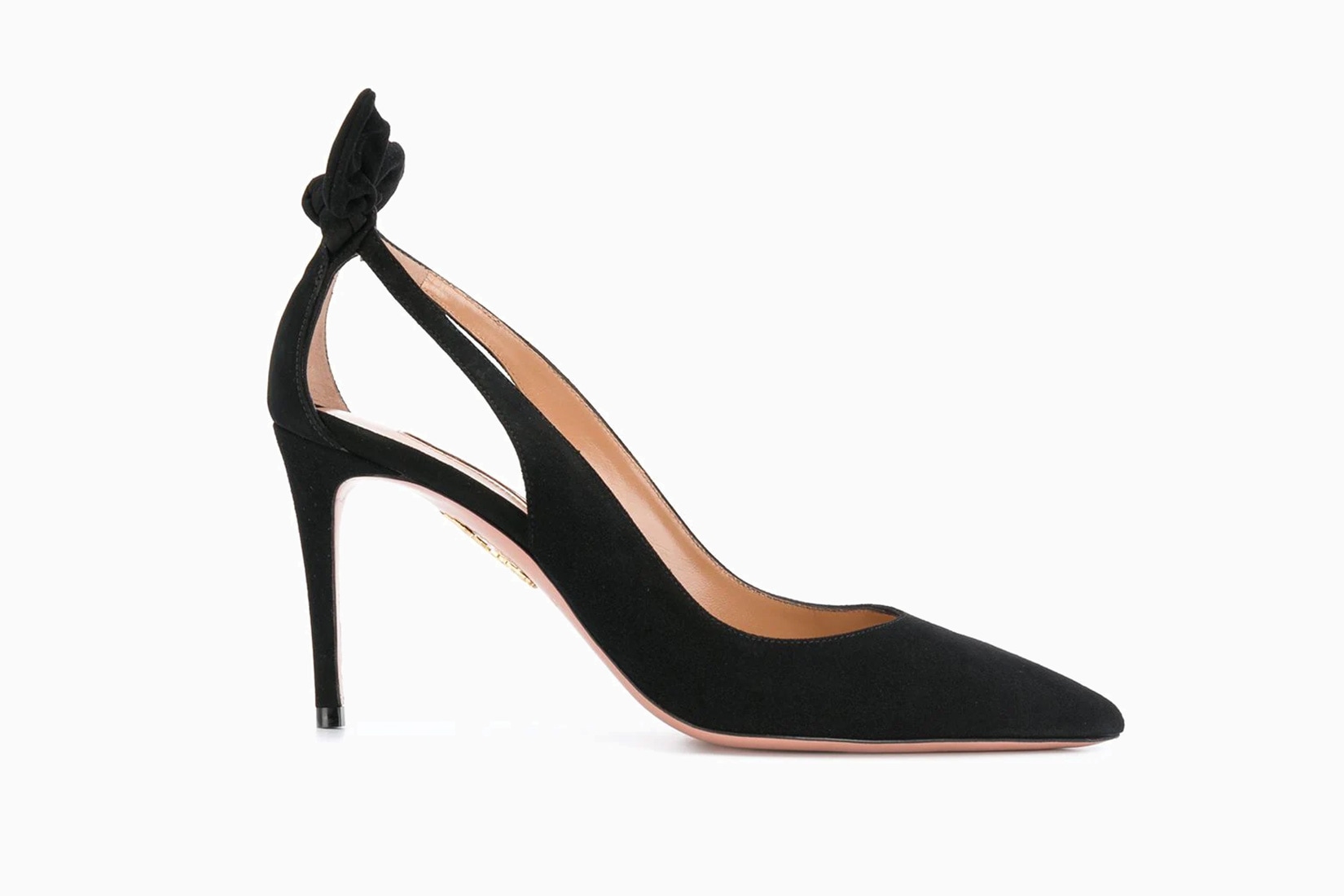 It's impossible to go wrong with a good pair of black heels and a comfortable yet stylish pair should be the first pair of heels you invest in. Find a classic pair that is versatile with a hint of playfulness and consider it one of your best fashion investments of all time. A firm favourite of shoe lovers everywhere comes from Aquazzura.
Expertly sculpted in Italy from velvety smooth black suede, Aquazzura's timelessly elegant Bow Tie pumps are definitely worthy of the front row seat they'll take in your wardrobe, ready to be pulled out at virtually all occasions (and we mean all occasions). Both the Duchess of Cambridge and Meghan Markle make a strong case for the versatility of Aquazzura's Bow Tie pumps  — the pointy heels were spotted on many royal visits. 
With a slingback strap and ladylike silhouette, the point-toe pumps comfortably rest on an 85mm stiletto heel while the cutouts follow the natural lines of the foot and leave a glimpse of skin on show. The high heel is fashionably wearable in a way that only Aquazurra knows how, and exudes class and style whenever they're effortlessly slipped on. Let the bow ties at the back do the talking by pairing these with an all-black outfit, or tap into Aquazurra's sense of fun by mixing colours, textures and fabrics from top to bottom.
Naturalizer Michelle Pump: Most comfortable platform heels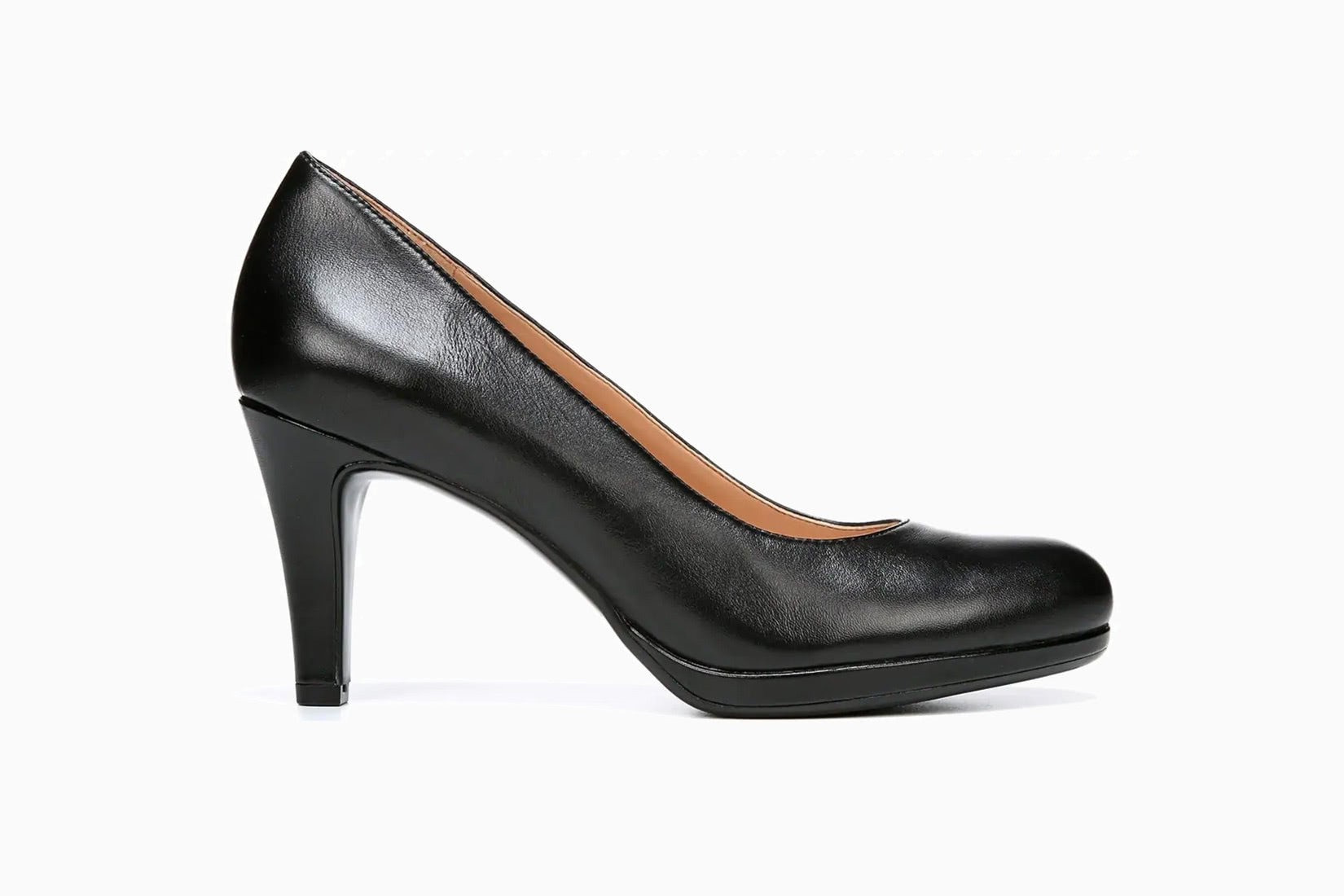 Not only do platform heels never go out of style, but they're also completely seasonless. You'll throw them on for summer parties or wintery nights out, making them one of the most versatile styles of heel out there and therefore one of the best fashion investments you'll make.
Our favourites are the Naturalizer Michelle platform pump, a pair of heels renowned for having a level of comfort as high as the heel itself.
A dual density cushioning on a patented contoured footbed with arch support provides an extra level of comfort and yet another reason to reach for these heels. The durable non-slip outsole of these platforms offers enhanced stability as you stroll around town. Available in many different shades, there's a pair to match whatever you fancy wearing for seasons to come.
Castañer espadrille wedges: Most comfortable wedge pump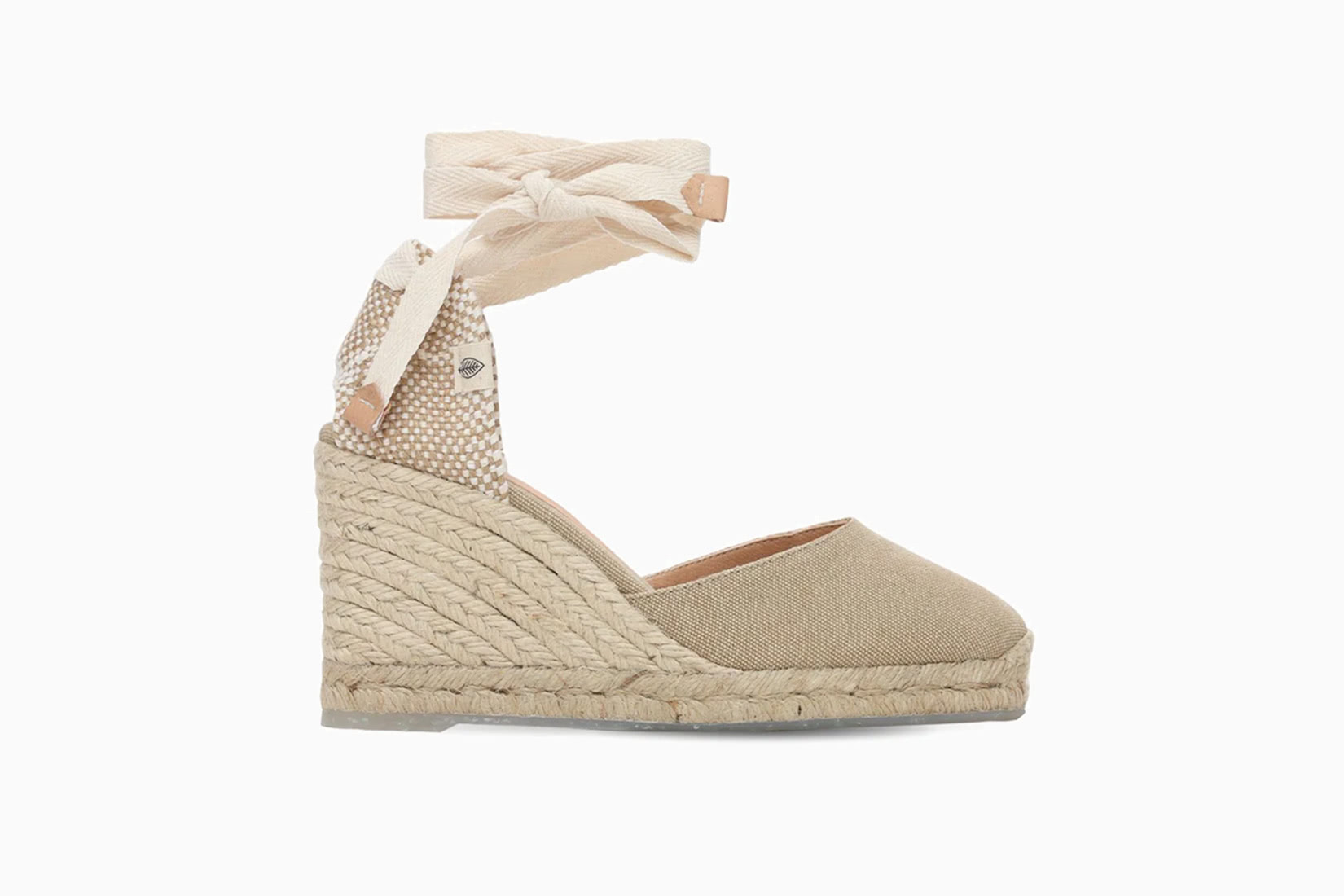 True comfort comes in the form of wedge heels, thanks to the even distribution of weight throughout the foot. Luckily, they're also one of the biggest summer footwear trends year after year, so if you're thinking of investing in a pair of comfortable wedge heels this month, Castañer's espadrille wedges will be a great addition to your wardrobe. Chic, comfortable and with a closed toe for those summer "off pedicure" days, these wedges feel luxurious, easy and smooth to walk in. 
Available in different neutral colours, they're a brilliant addition to your suitcase for evenings spent strolling along the promenade or laughing with family and friends at a barbecue. Pretty ribbon ties fasten securely around the ankles, allowing you to relax and enjoy your day without worrying about foot pain. Pair them with blue jeans or airy summer dresses for an easy summer solution.
Stuart Weitzman NearlyNude Leather Sandals: Most comfortable ankle strap heels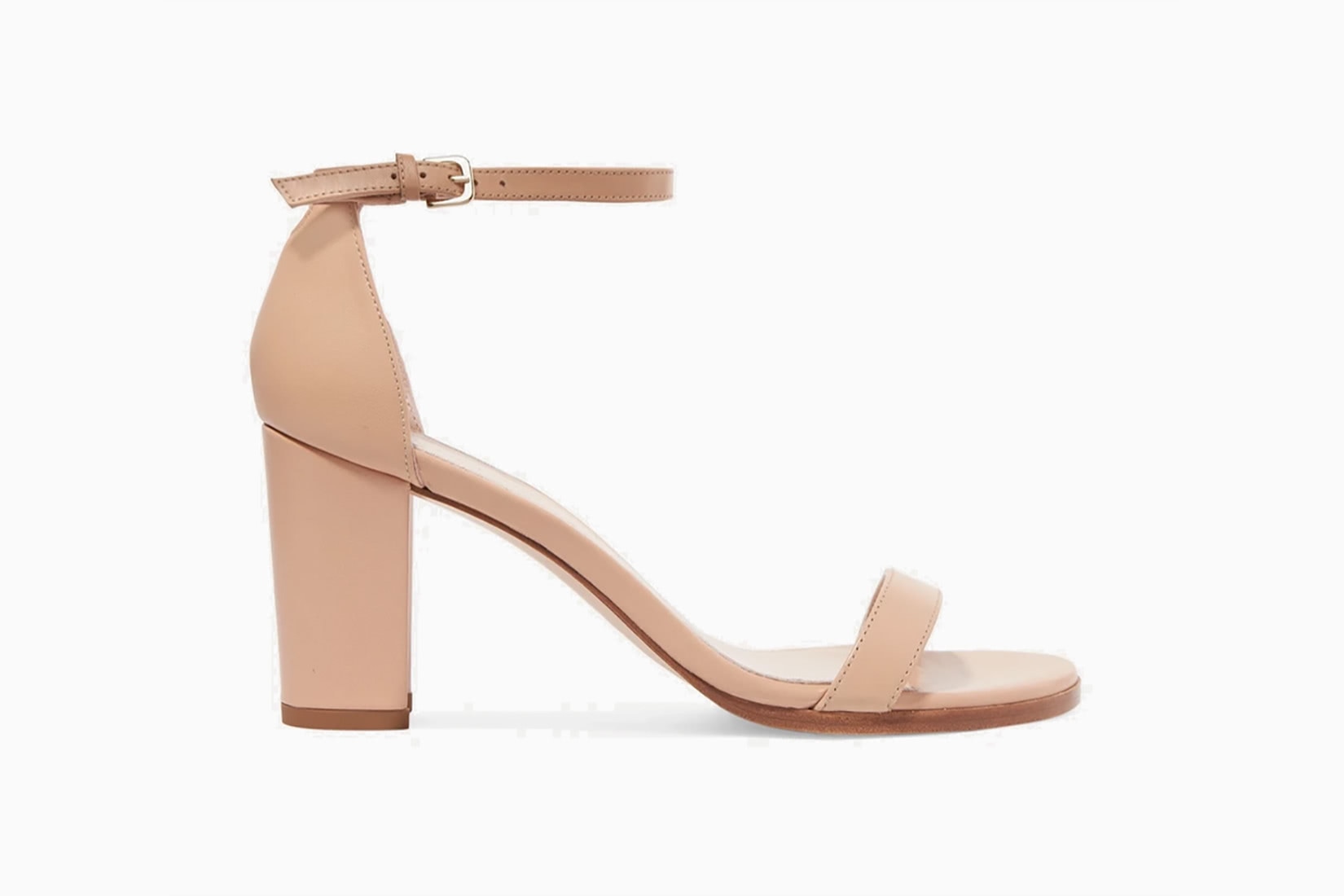 Reach for an ankle strap heel when you're planning on dancing and you'll never look back. Sure, a stiletto might be the traditional choice but once you've made the switch you'll be a long-time convert.
Expertly crafted in Spain from smooth leather, it's the 80mm block heel that you'll likely notice first when you're admiring Stuart Weitzman's NearlyNude Leather sandals. The heel is exactly the right height to be dressed up or worn casually, making these comfortable strappy sandals the first thing you'll add to your "to pack for holiday" list for evening strolls or Sunday morning brunch. The adjustable ankle strap with hidden elastic adds an extra layer of support and comfort.
Classic, versatile and a pair to reach for in many years to come, they look just as cool with floral dresses as they do with cropped jeans and a white t-shirt.
No wonder then these minimalist sandals are favoured among the stylish crowd — from Gigi Hadid to actress Emma Roberts and former First Lady Michelle Obama.
Cole Haan Grand Ambition Pump: Most comfortable heels for wide feet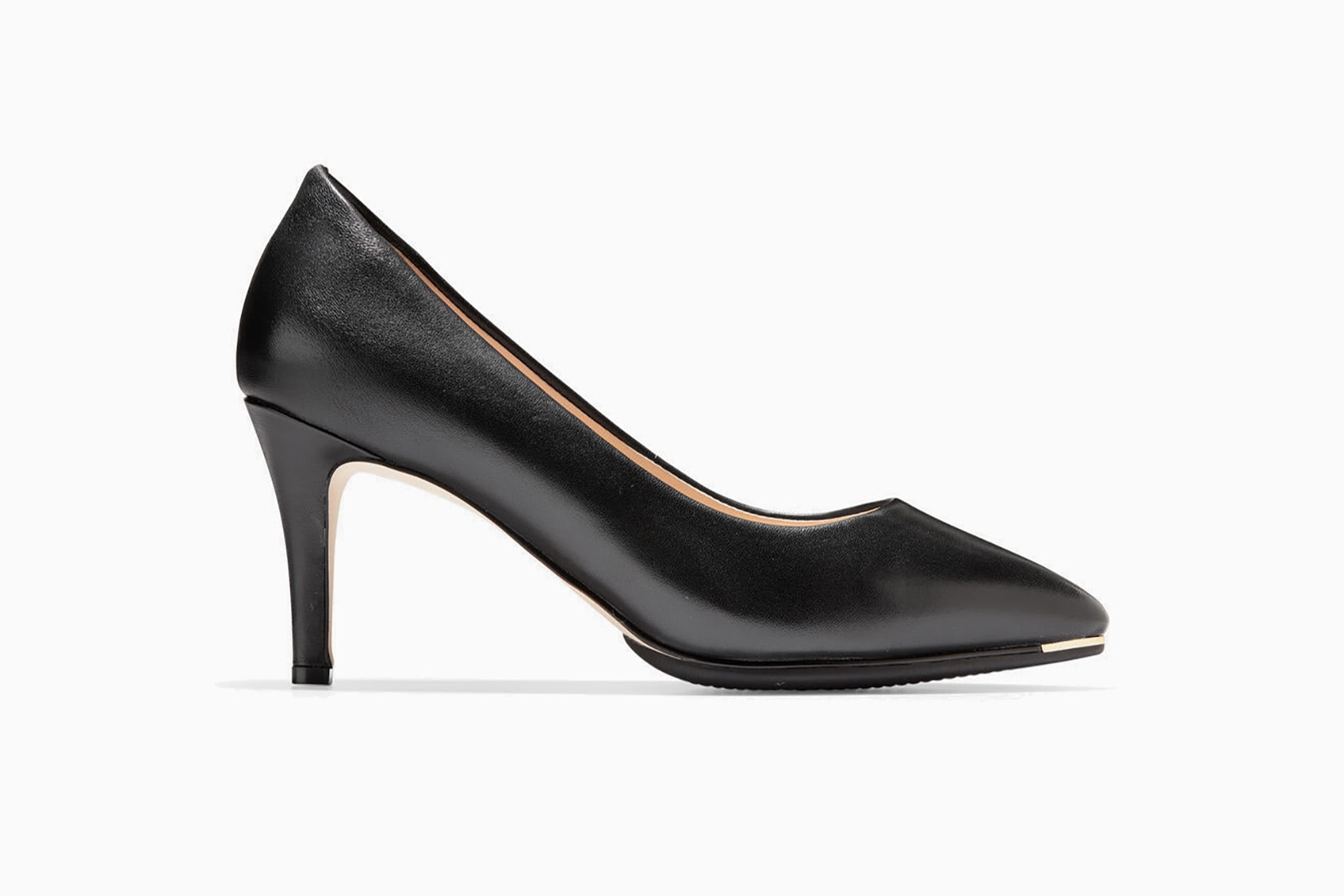 Finding stylish and flattering shoes for wide feet can be a case of trial and error without even taking into account shoes with a heel. Breeze past the fears of sacrificing squeezed toes or numb feet with Cole Haan's Grand Ambition Pump. 
The name says it all — this pair is designed with the grand ambition to change the way you think about comfort: With its uncompromised fit, feel, flexibility, and cushioning, we'd say it's mission accomplished.
These heels come with a supportive, anatomically contoured cushioned footbed and lightweight construction from the platform to the heel for overall comfort from the very first wear.
With an elite comfort-level heel that's ultra-chic and practical, these fashionable and wearable shoes take the stress out of finding wide-fit heels once and for all.
Keep it simple with a black heel or add a splash of summer with a white pair.
Vionic Amor Mariana: Most comfortable heels for flat feet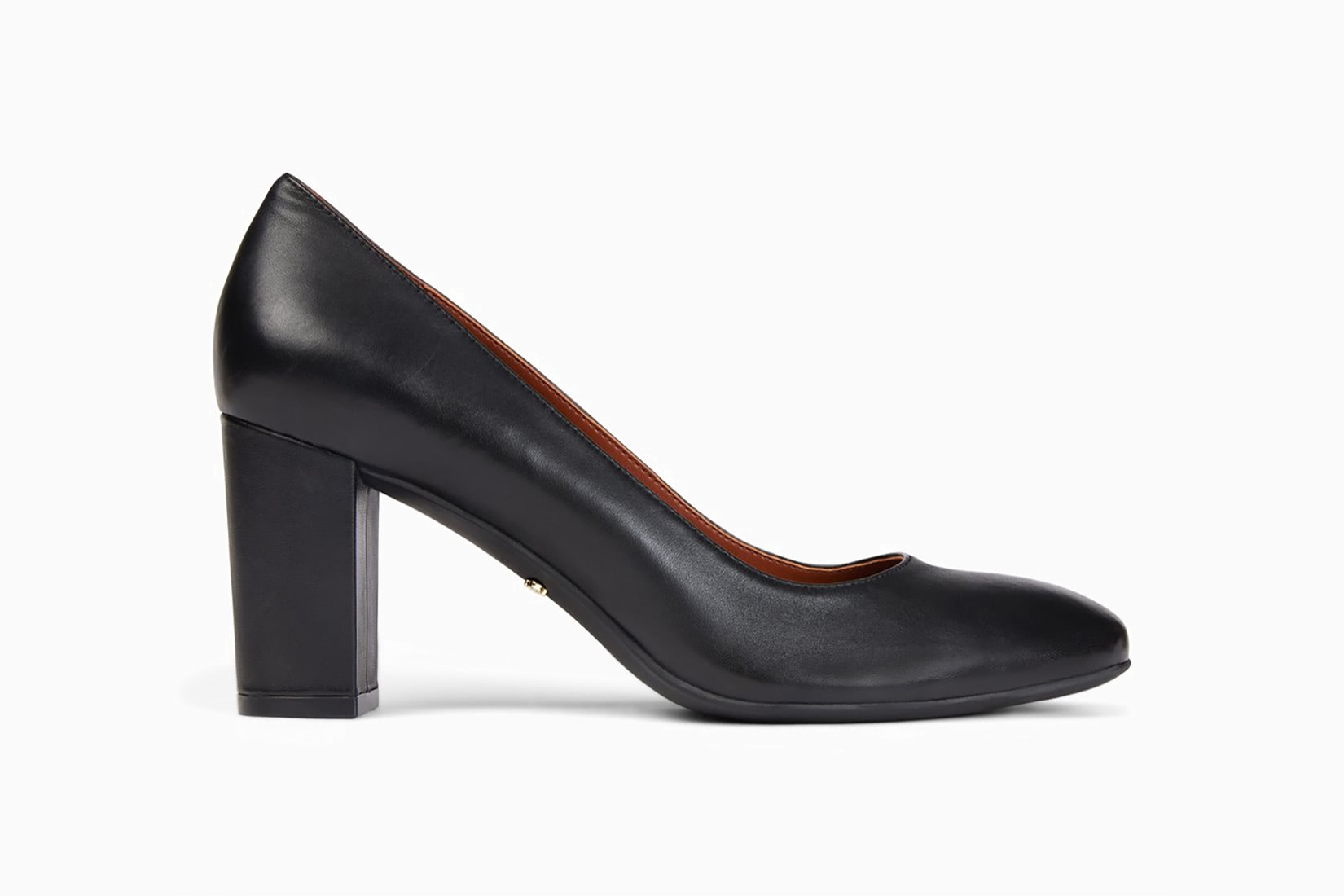 It might seem easier just to forego heels entirely and stick to flats if you struggle with arch issues and the Roulette-style guessing game of whether your new heels will do their job or not is something that none of us want to tackle. Vionic Amor Mariana might be the answer to your problems, helping you stay pain-free and fabulous even when your feet are determined not to play along. Ready to party from the get go, these heels will breezily skip past all the frustrations out of shoe shopping.
Versatile enough to be worn to a wedding, day time event or at work, they're a go-to for comfort and style. A 76mm (3″) heel lengthens legs without any calf pain and a round toe leaves plenty of room for wider feet. Pretty and feminine, these heels are a joy to dance in whatever the occasion. Keep the party theme going with the Wine colourway or go back to basics with classy black or tan heels.
Rogier Vivier Flower Strass Satin Pumps: Most expensive pair of heels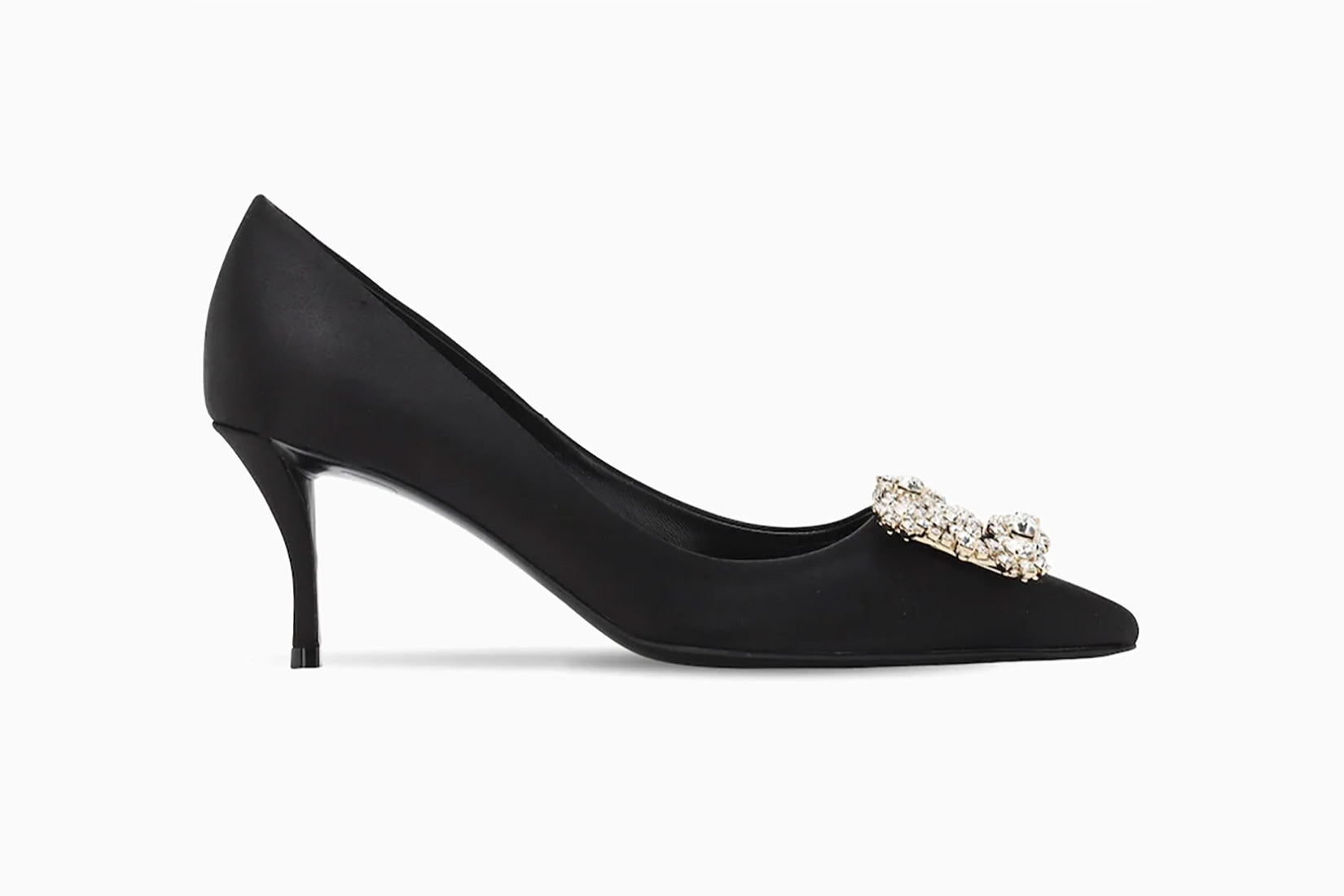 If there's one thing we can say for certain, it's that you'll dazzle any room with this pair of Rogier Vivivier's Flower Pumps. Glamorous from start to finish, these are the heels you'll save for cocktail soirées and exclusive evening occasions. It's hard to know what to focus on first with these Rogier Viviers: you'll flit between admiring the label's signature crystal-embellished buckle, the subtle sheen and elegant pointy toes. 
Made in Italy from smooth satin, these ultra-sexy heels demand attention everywhere they go. A manageable 65mm (2.5″) heel is high enough to make an entrance without sacrificing comfort in favour of style and Rogier Vivier's dedication to quality means you can stand tall for as long as needed. In short, they're the epitome of shoes that'll brighten your day — both literally and metaphorically — before you've even put them on.
Buyers guide to comfortable heels
Do your feet a favour and choose wisely when it comes to investing in your next pair of heels. Before you click "checkout", keep in mind these factors:
Choose your material wisely
Leather or suede heels might be more expensive but the premium quality means they'll almost definitely outlive synthetic materials. Leather and suede are also more supple, moulding to the shape of your foot a lot faster and also don't tend to rub as much.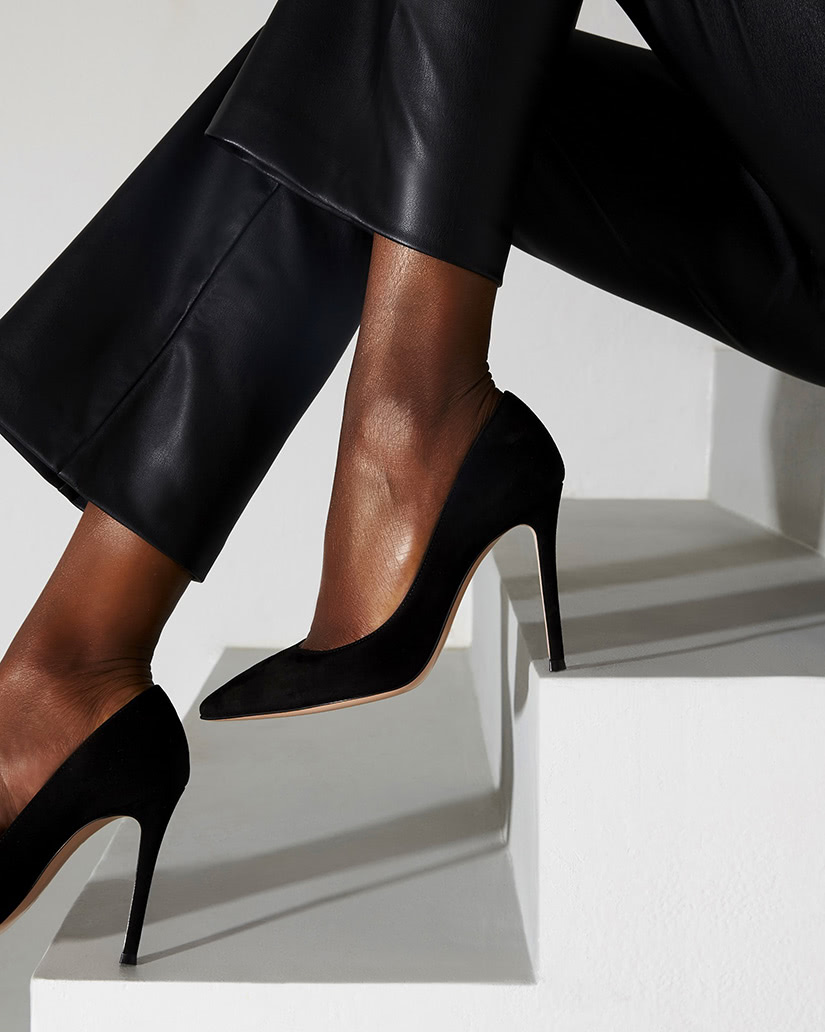 Buy the right size
It might go without saying, but you should never buy high heels that don't fit properly — or beware the curse of slowly starting to resent ever wearing them. High-heels should fit snugly and hold the foot firmly in place to prevent blisters or ankle pain. For best results, try your heels on at the end of the day after a busy day of walking. Feet are generally less swollen in the morning, so this gives a good idea of how comfortable they'll be after a few hours of standing up.
Types of heel
If comfort is key, a wedge heel might be your secret weapon. You should also look out for heels with an ankle strap, pairs with a lower heel height and heels with plenty of space around the toes. If you can't stay away from higher heels, choose a pair that has a sturdier and thicker heel for more stability to counteract the extra height. Spindly stilettos might look incredible, but offer the least support for your feet.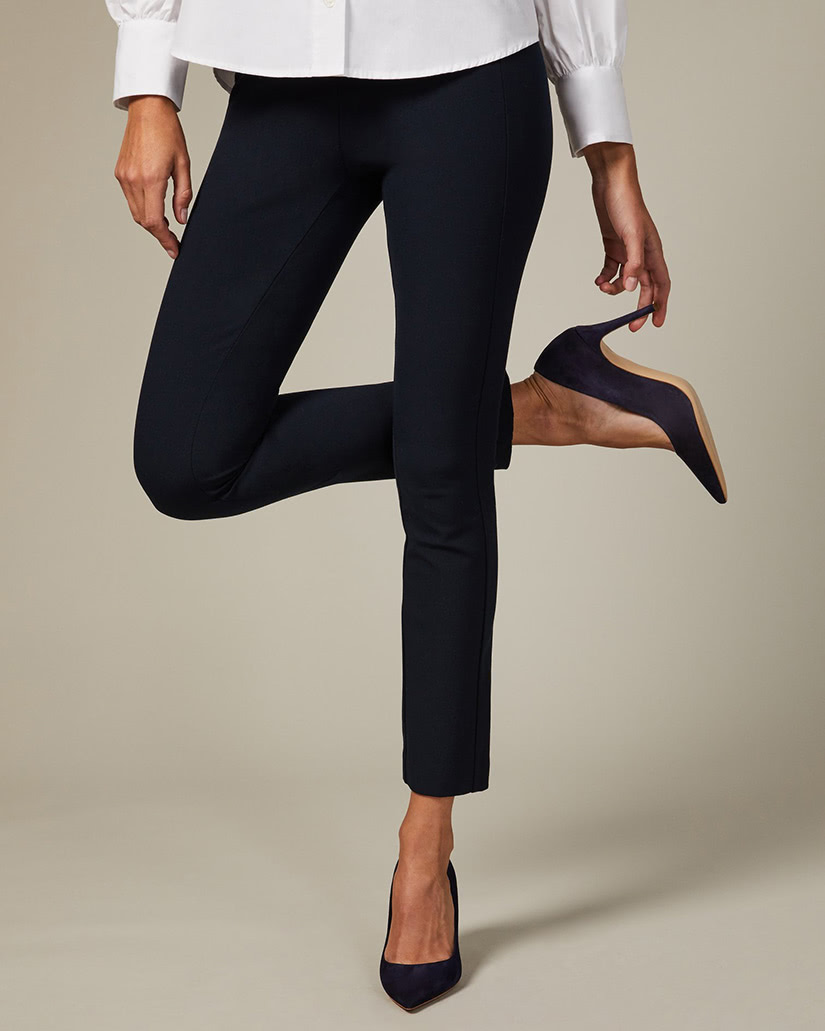 Wiggle your toes
Heels might feel slightly too big if there's room to wiggle your toes but prioritise these over heels that cramp your feet. Long term, this can lead to arthritis if your toes are constantly pushing for more room. Round toe and almond toe shoes offer more space than classic pointy toes.
Heel height
Heels between 30mm and 90mm (1.2" to 3.5") are thought to be the comfiest, providing elevation without being sky-high and putting too much tension on your legs and lower back. Opt for low heels if you're planning on standing or dancing for hours on end, or treat yourself to high heels if you won't be on your feet for long.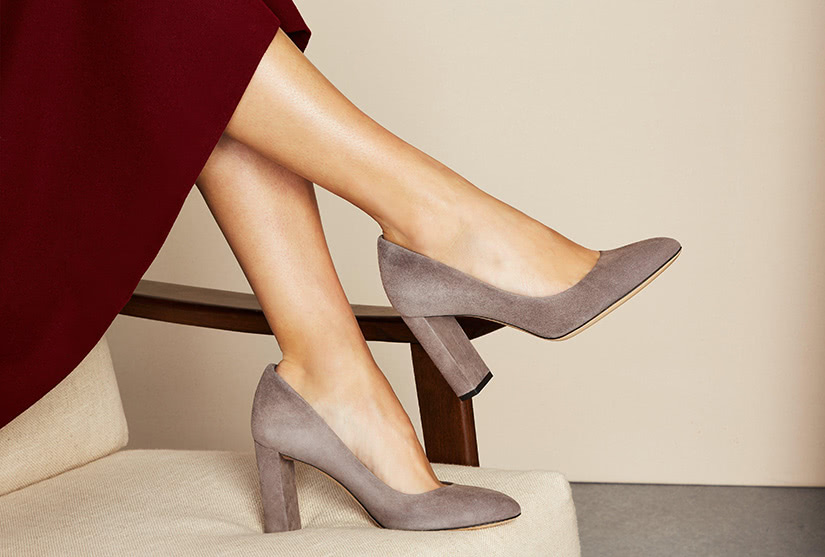 Comfort and cushioning
Cushioned soles can be a lifesaver when it comes to comfortable heels and a memory foam sole can be the difference between throwing a favourite pair to the back of your wardrobe or putting them on just to wander around the house for fun. If you do accidentally buy a pair of heels that are akin to sleeping on a bed of concrete, invest in some memory foam insoles to bridge the gap.
Frequently asked questions about comfortable heels