A good pair of women's heels will, quite literally, elevate your outfit, but they don't look quite as stylish when you're hobbling around in pain after a few hours. So if you're planning on wearing your high heels for a longer period of time, you need to make sure they're comfortable.
You could wear sneakers or just remember to throw a pair of fail-safe flats or walking shoes into your designer work bag… or you could sidestep the issue entirely by choosing the most comfortable heels in the first place—yes, it's possible.
Fortunately, today's designers are one step ahead of the game, with comfortable high heel shoes to match any occasion available in almost any style and color under the sun. Whether you prefer a high heel, kitten heel, block heel, pointy toe, a classic nude, needle-thin stiletto, or a timeless mule, we've tried and tested many types of heels to suit your every need.
The most comfortable heels below are made for wearing during all your favorite activities: strolling, exploring, shopping, and dancing the night away.
The 19 most comfortable heels you can actually walk, stand, and dance in
M.Gemi The Esatto: Most comfortable heels overall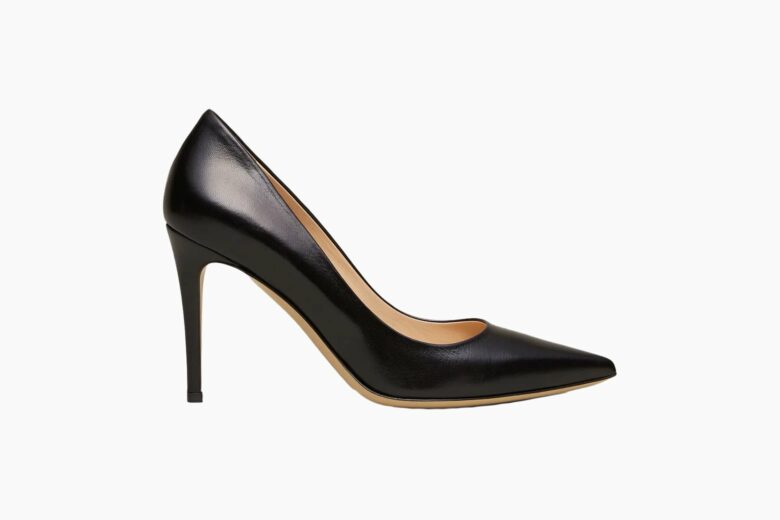 Day or night, you'll dazzle wearing The Esatto by M.Gemi—a favorite brand of ours for exquisite Italian craftsmanship. Handmade in Italy, this wear-anywhere style is delicate and timeless, offering a classically elegant high heel that you'll run to in years to come. A trendy take without needing to splurge, your soles will thank you for choosing these comfy heels thanks to a super-soft pump and attention-grabbing style.
The quintessential pointed-toe is a popular choice that dresses up any outfit, and the 3.5-inch (90 mm) heel is that just-right spot between flats and skyscraper heels. Beautiful and classy, these high heels are a top transitional choice that will carry you through the seasons. A padded insole offers an extra level of comfort and a choice between black leather, black patent, and classic suede colorways means there's an option for whatever you're pairing these high heel pumps with.
Best for: Setting a new standard for high standards.
| | |
| --- | --- |
| Heel height: | High heel, 3.5 inches (90 mm) |
| Colors: | Black, Navy Suede, Cappuccino + More |
| Material: | Suede or Italian Nappa Leather |
Emmy London Claudia: Most comfortable designer high heels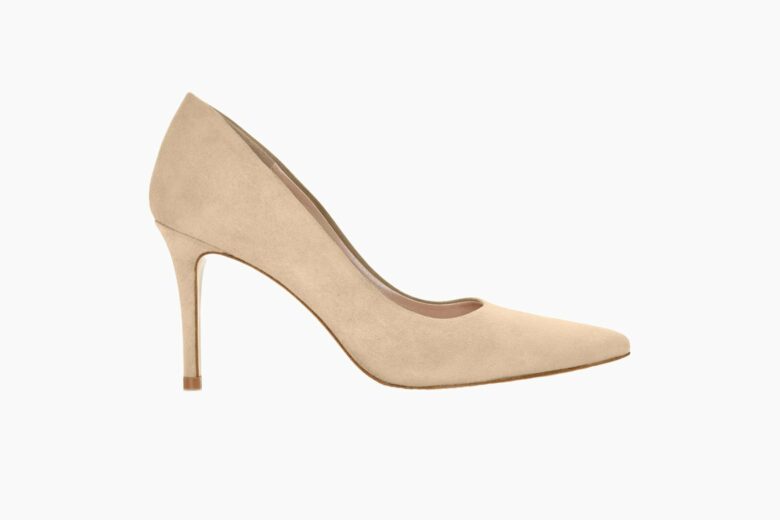 Renowned for its delicate designs and fiercely feminine footwear, Emmy London quickly found its feet in high-end circles—with the Claudia heel being amongst their most popular heel styles. The pointed-toe court shoe exudes a polished elegance. The padded leather insole cushions every step with cloud-like comfort. The soaring straight heel is enough to elevate any outfit, whilst transforming your legs to runway-ready heights. And the soft suede silhouette is both timeless and on-trend.
The Claudia comes in a range of Emmy London's signature shades to fit your mood. The versatile jet-black pair dresses sultry slips and distressed denims alike. Their comfortable tan heels are perfect for dressing up your oversized blazer and impressing in the boardroom. We adore the bright red heels with matching lips when we need a slight confidence boost. Whilst their leopard print version is all about taking a (slightly daring) walk on the wild side. But regardless of hue, our best part is that we can always trust these comfortable designer heels to carry us through with effortless sophistication—without the fear of twisting an ankle trying.
Best for: European elegance.
| | |
| --- | --- |
| Heel height: | High heel, 3.2 inches (85mm) |
| Colors: | Black, Nude, Tan + More |
| Material: | Suede |
Dream Pairs Annee Pumps: Most comfortable value heels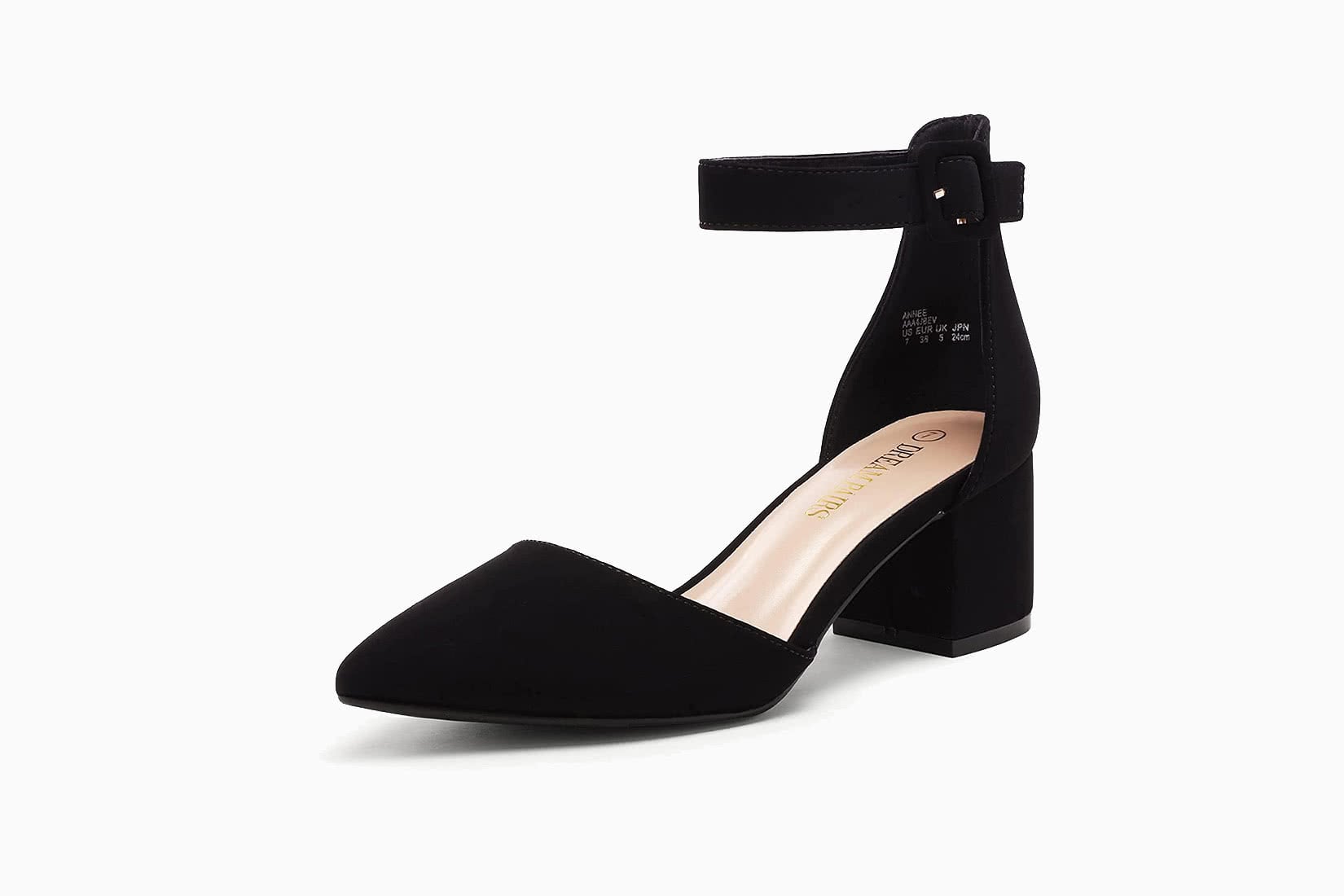 Dream Pairs is a go-to brand for any woman on the hunt for a sophisticated casual silhouette without a high price tag. Flattering and versatile, the Dream Pairs Annee complements jeans through to dresses, while the D'orsay pointed toe and Latex padded insole add an extra level of comfort.
The ankle strap design and chunky low heel make this chunky pump an effortlessly comfortable option for traveling from the office to the bar. While a wide range of colors means the only difficulty you'll have is choosing which pair to buy first. Opt for the black suede for a classic look, add a hint of color with the nude pair, or subtly elevate your outfit with a dash of red lipstick and the matching red heel.
Best for: A dreamy pair and a dreamier price tag.
| | |
| --- | --- |
| Heel height: | Mid-block heel, 2.2 inches (57 mm) |
| Colors: | Black, Nude, Red + More |
| Material: | Suede |
M.Gemi The Lustro: Most comfortable heels for walking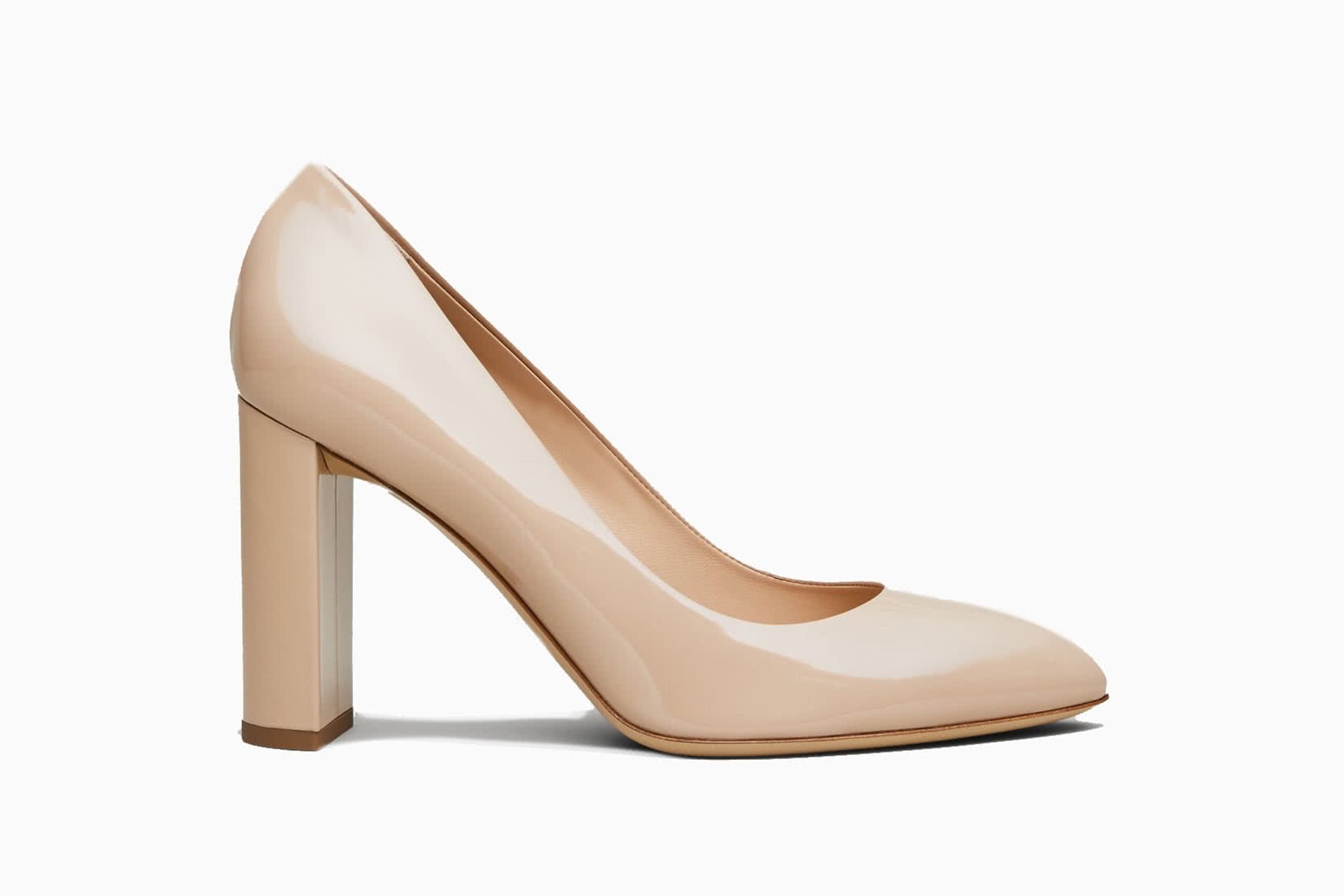 Leave the backup flats at home next time you're wearing heels and walking all day because M.Gemi's The Lustro combines everything needed from a high heel that'll literally take the pain out of walking in heels. A 3.5-inch (90 mm) heel might look intimidating if you know you'll be on your feet for a while but a super-cushioned and flexible shape means you'll almost forget you're walking taller than usual. (For an even more walkable heel, opt for the shorter iteration—The Lustro 70mm)
With their gorgeous, delicate profile, these nude block heels are beautifully crafted and supportive, with an elevated and flattering look without any kind of toe-pinching. The style and quality make these comfy heels a pair you'll treasure for years. An almond toe and slim block heel make these incredibly walkable with excellent workmanship. Pair the warm neutral patent heels with dark-colored clothing for a fresh look, or keep it classic with the staple black patent heels.
Best for: Walking the walk.
| | |
| --- | --- |
| Heel height: | High heel, 3.5 inches (90 mm) or 2.8 inches (70mm) |
| Colors: | Black Patent, Gray, and Natural Patent |
| Material: | Suede or Patent Leather |
Clarks Linnae Pump: Most comfortable heels for standing all day
If you're in the market for a new pair of heels that refuse to let you down no matter what kind of stress you put them through, this reliable black leather pair from Clarks is a winner. No one likes waiting around but what makes it even more unbearable is a relentless throbbing pain from your heels. Clarks' Linnae Pump has a classic rounded toe and wearable mid-height block heel that guarantees comfort for hours.
"Made for feel-good wear", this is a heel that effortlessly dresses up raw-edge jeans, adds an extra layer of elegance to dress skirts, or provides a contemporary pairing with cropped trousers.
The brand's ergonomic, high-density foam footbed for all-day-long comfort makes for a very cozy heel and a desk-to-dinner staple.
If you know you'll be on your feet all day, these are the wearable heels to go for.
Best for: The last woman standing.
| | |
| --- | --- |
| Heel height: | Mid-height block heel, 1.8 inches (45 mm) |
| Colors: | Black |
| Material: | Leather |
Emmy London Josie: Most comfortable block high heel shoes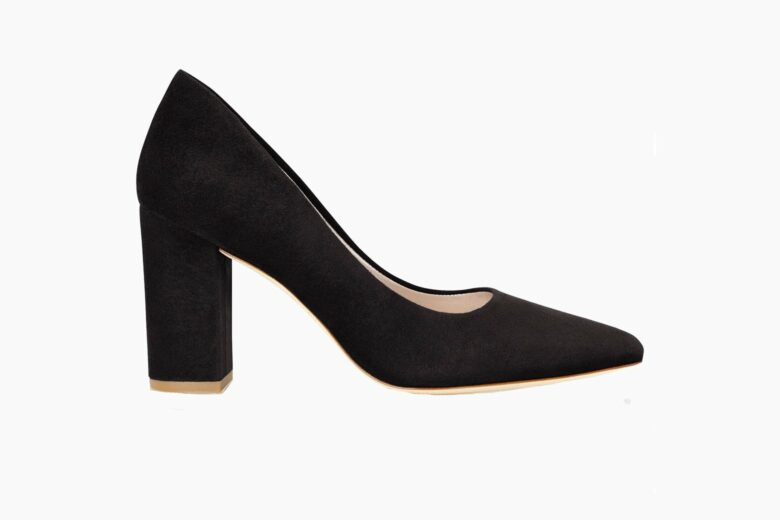 Kate Middleton loves them. And so do we. Emmy London's Josie epitomizes contemporary elegance with grace and ease. The pointed toe fits into any sophisticated soiree. The 85mm block heel adds a modern aesthetic as well an air of practical utilitarianism. Whilst the padded insole enhances the comfort of the shoe even further.
Lined with leather, the suave suede exterior runs the gamut in scintillating hues. The jet black chunky heels are perfect for pairing with your LBD for an evening affair. The lipstick red is a failsafe pick for making a vibrant entrance. Style your timelessy on-trend tweed with a Fall chocolate brown iteration. Or keep it fresh and Spring-inspired in a jade green pair in the office. Whatever your shade, these block heels are well worth adding to your rotation of exquisitely elevated but endlessly walkable heels.
Best for: The royal treatment for your feet.
| | |
| --- | --- |
| Heel height: | High heel, 3.2 inches (85mm) |
| Colors: | Black, Navy, Brown + More |
| Material: | Suede |
Anine Bing Viola: Most comfortable heeled sandals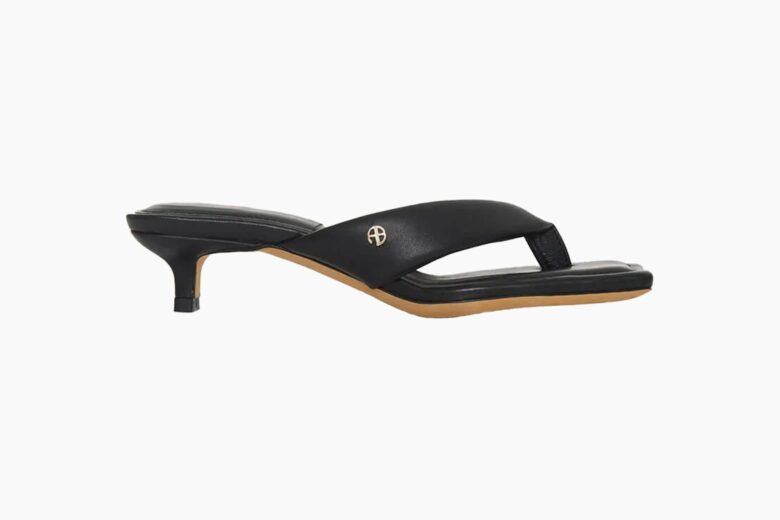 Taking their style cues from the 90s, Anine Bing's sumptuous sandals are the ultimate versatile Summer shoe. The trademark of the simple silhouette is the exaggerated square toe—a design that is flooding our Insta feeds. The bolder sandal straps speak to a laidback contemporary attitude, whilst the dainty kitten heel adds an elegant, feminine flair.
Made in Portugal from 100% goat leather, the soft fabric aids your step with cloud-like cushioning. And in doing so, the decadent design flawlessly marries fashion and functionality. Dress them down with nonchalant mom jeans and chic chiffons. Or dress them up with your boss-girl suit. Either way, these comfortable heeled sandals are kind of like wearing your favorite everyday slip-ons. But they're slightly more (precisely 45.72mm) elevated—in height and style.
Best for: Freeing your toes.
| | |
| --- | --- |
| Heel height: | Kitten heel, 1.8 inches (46mm) |
| Color: | Black |
| Material: | Leather |
Christian Louboutin Pigalle Follies Pumps: Most comfortable black heels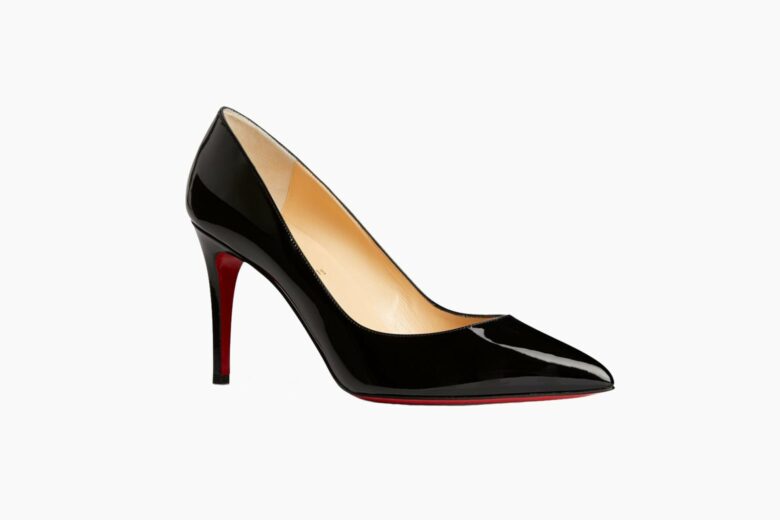 It's impossible to go wrong with a good pair of black heels, and a comfortable yet stylish pair should be the first pair of heels you invest in.
Louboutins promise to pull any look together, and few luxury shoe brands are quite as iconic as these. The red-soled comfortable black pumps are a premium option that adds a touch of luxury to any outfit. Glamorous from start to finish, these are the heels you'll reach for your business meetings as much as cocktail soirées and exclusive evening occasions.
Sculpted in Italy with a velvety suede leather upper, set on a moderate needle-thin 3-inch heel, and finished with a pointed toe, if you're looking to invest in one pair of classic yet comfy heels, you should make it these ones. A signature style means Christian Louboutin chic and versatile pumps can be paired with virtually anything: the only rule is to ensure the red sole can be spotted when you're out and about. The classic combination of black heel and red sole elevates even the simplest outfit effortlessly, making these black high heels the one to go for no matter what mood you're in.
Best for: Pointing your shoerobe in the right direction.
| | |
| --- | --- |
| Heel height: | High heel, 3.3 inches (85 mm) |
| Colors: | Black or Neutral |
| Material: | Patent Leather |
Jimmy Choo Neutral Romy 60: Most comfortable nude heels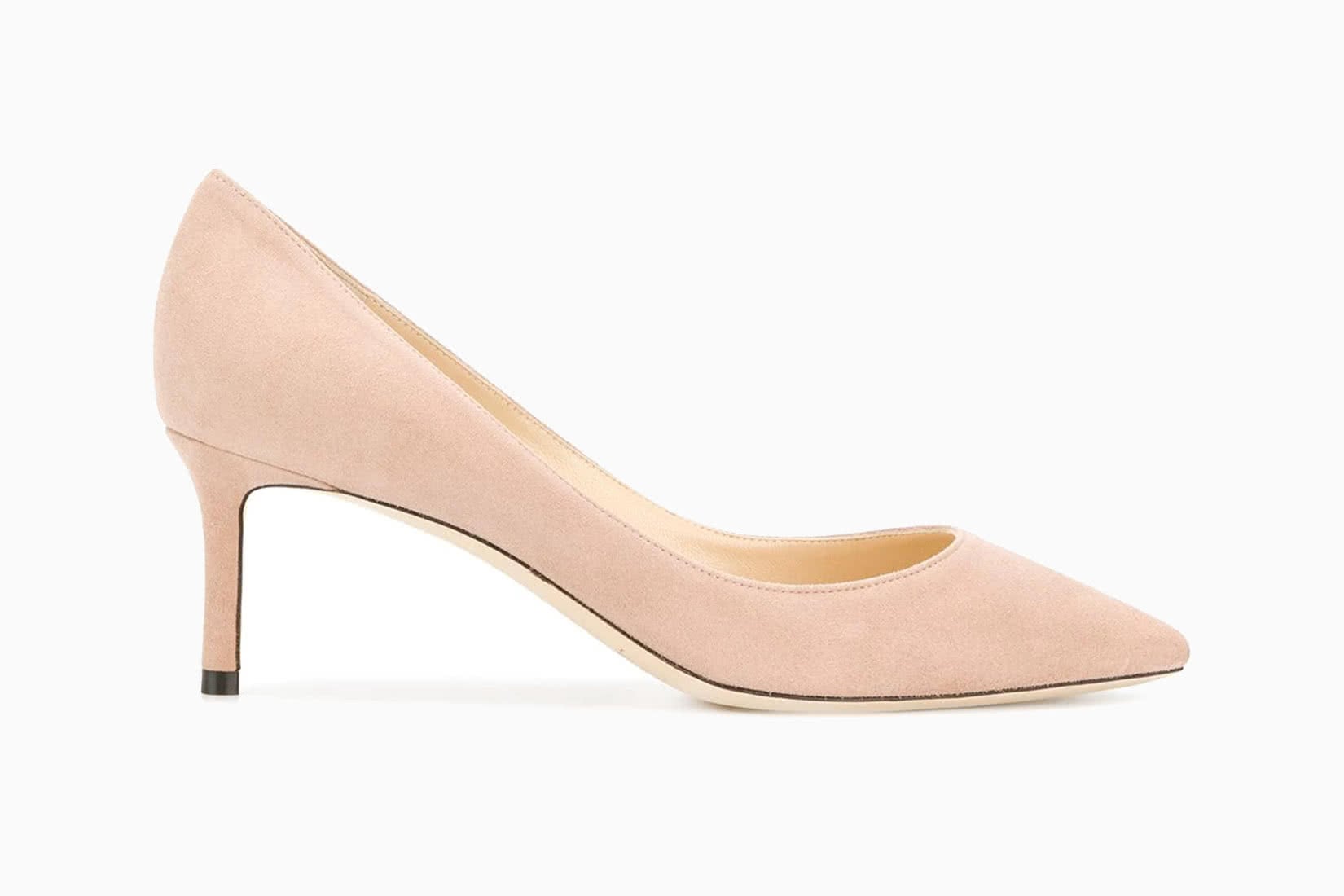 Your classic nude pumps deserve an upgrade. Pulled out of the wardrobe for weddings, dinner and drinks, important meetings, or something in-between, a strong pair of nude heels is something you'll thank yourself for buying in the future. Elongate your legs with Jimmy Choo's Romy 60, letting the updated take on the pointed toe and classic silhouette take the lead. Favored by royals and celebrities (think Michelle Obama and Oprah Winfrey) alike, these nude heels are made of antique-rose suede and instantly polish up even the plainest of outfits.
The modest 2-inch heel makes them the perfect midpoint for leg lengthening while allowing you to confidently go about your day. Beautifully handcrafted, expect compliments galore whenever you pull these out of your wardrobe. Timeless, trendy, and ever-wearable, a good pair of nude heels will always save the day when the rest of your outfit needs a quick pick-me-up.
Best for: Subtle sophistication.
| | |
| --- | --- |
| Heel height: | Mid-height heel, 2.5 inches (60 mm) |
| Colors: | Nude, Black, and Navy |
| Material: | Suede |
Tod's Block Heel Loafers: Most comfortable heels for work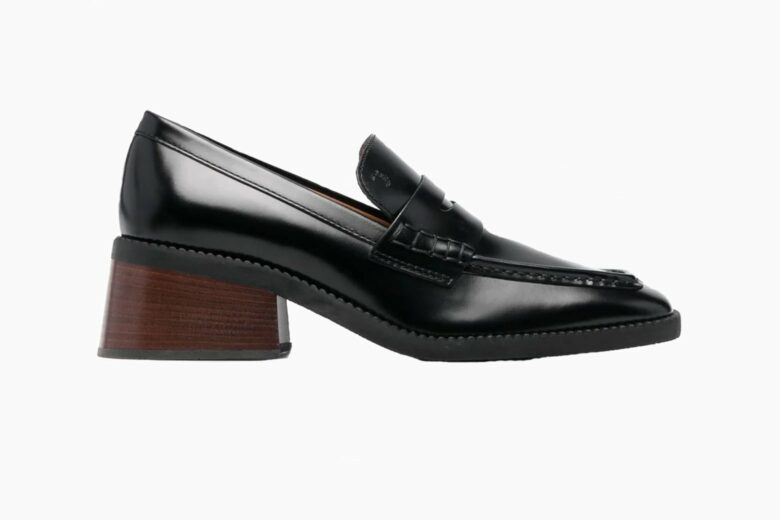 Take the stress out of outfit planning on a Monday-to-Friday basis with the addition of Tod's Block Heel Leather Loafers to your business casual wardrobe. Classy and stylish, this elevated loafer will easily take you from meeting to meeting and is proof enough that a comfortable work heel actually exists.
A square toe takes no prisoners in the boardroom, and a classic silhouette makes these slip-on heels easy enough to pair with any work outfit. The sturdy low block heel adds a modern look and means you can confidently stroll through your day without any fears of twisting your ankles when in a rush.
Kate Middleton, The Duchess of Cambridge, is a fan of Tod's, and the brand is known for its premium quality fabrics. Style yours with an oversized blazer for a chic office ensemble.
Best for: Raising the bar on penny loafers.
| | |
| --- | --- |
| Heel height: | Mid-height block heel, 2.2 inches (60 mm) |
| Color: | Black |
| Material: | Leather |
Cole Haan Grand Ambition Pump: Most comfortable heels for wide feet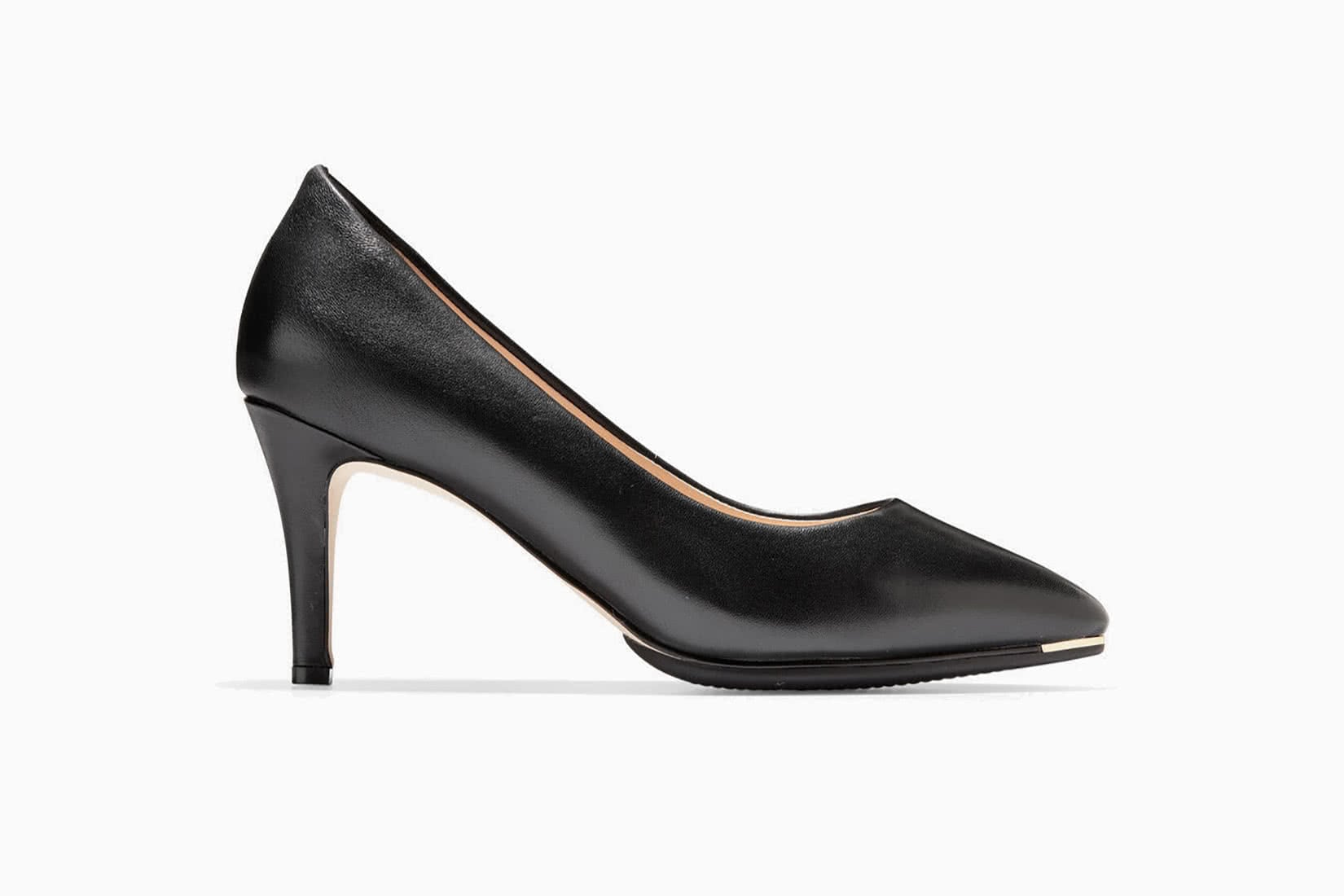 Finding stylish and flattering shoes for wide feet can be a case of trial and error without even taking into account shoes with a heel. Breeze past the fears of sacrificing squeezed toes or numb feet with Cole Haan's Grand Ambition Pump.
The name says it all—this pair is designed with the grand ambition to change the way you think about comfort: With its uncompromised fit, feel, flexibility, and cushioning, we'd say it's mission accomplished.
Scientifically designed with the help of the University of Massachusetts Amherst's Biomechanics Laboratory, these heels come with a supportive, anatomically contoured cushioned footbed and lightweight construction from the platform to the heel for overall comfort from the very first wear. With an elite comfort-level heel that's ultra-chic and practical, these fashionable and wearable shoes take the stress out of finding wide-fit heels once and for all. Keep it simple with a black heel or add a splash of summer with a white pair.
Best for: Grand ambitions for comfort.
| | |
| --- | --- |
| Heel height: | High heel, 3 inches (75 mm) |
| Colors: | A range including Black, Nude, and White |
| Material: | Leather or Suede |
Stuart Weitzman NearlyNude Sandals: Most comfortable heels for a wedding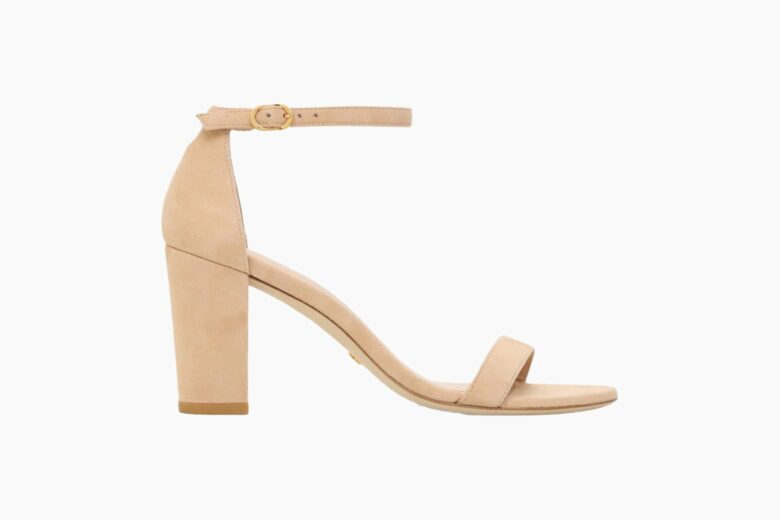 Shoes can make or break a wedding outfit, thanks to their ability to keep you dancing for hours on end, or sat in the corner of the room nursing a glass of Champagne to ease the throbbing in your toes. Expertly crafted in Spain, the Stuart Weitzman NearlyNude Sandal is the perfect choice for any day-to-night occasion, with a barely-there silhouette and a flattering fit. Destined for the spotlight, the minimalist pair is a simple addition to any wedding outfit, promising a dazzling touch of elegance without the temptation to take them off halfway through the evening.
A bullseye midpoint of comfort and style means you can dance for hours while wearing the NearlyNude without even remembering you're wearing brand-new sandals. A 3-inch heel lengthens the leg without accidentally reaching for the stars or compromising your ankles, and the cushioned footbeds make them comfortable enough for all-day-long comfort.
No wonder then these minimalist sandals are favored among the stylish crowd—from Gigi Hadid to actress Emma Roberts and former First Lady Michelle Obama.
Best for: Comfort and chic tying the knot.
| | |
| --- | --- |
| Heel height: | High heel, 3.2 inches (80 mm) |
| Colors: | A range including Nude and Metallic |
| Material: | Suede or Metallized Polyester |
Gianvito Rossi Portofino Sandal: Most comfortable heels for clubbing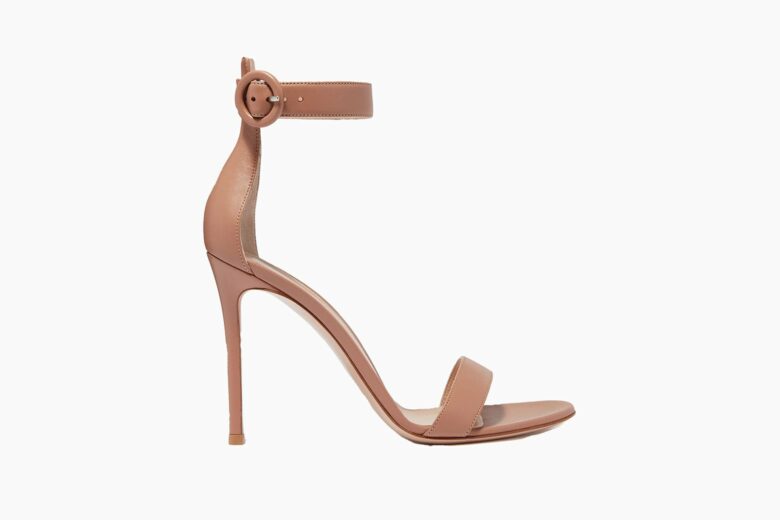 Gianvito Rossi is the epitome of high-quality Italian craftsmanship and the label has earned a reputation for designing some of the world's most wearable high heels.
Reach for an ankle strap heel when you're planning on dancing, and you'll never look back. Sure, a classic stiletto might be the traditional choice, but once you've made the switch, you'll be a long-time convert.
This Gianvito Rossi Portofino Sandal features lightly cushioned insoles set on 85mm heels for luxurious comfort. Equal parts chic and comfortable, these are the party-perfect pump to grab for a night out with friends with the confidence that you'll go home without any of the typical high-heel pain.
Pretty and feminine, these barely-there heels are a joy to dance in, whatever the occasion. Keep the party theme going with the metallic silver colorway, or go back to basics with nude heels.
Pair with a cotton slip dress for an easy summer look that's perfect for whatever song's playing next.
Best for: Dancing feet are the happy feet.
| | |
| --- | --- |
| Heel height: | High heel, 3.5 inches (85 mm) |
| Color: | Pink |
| Material: | Leather |
Gucci GG Slingback Pumps: Most comfortable pumps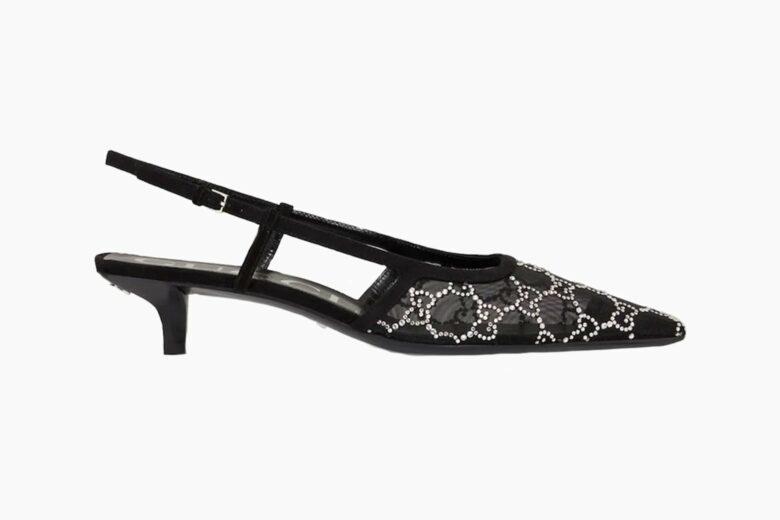 Find a classic pair of comfortable pumps that are versatile with a hint of playfulness, and consider it one of your best fashion investments of all time.
If there's one thing we can say for certain, it's that you'll dazzle any room with this pair of Gucci's crystal slingbacks (as seen on Dakota Johnson and Alexa Chung).
Made in Italy from leather and black mesh incrusted with GG crystals, these kitten heel pumps mix timeless elegance with avant-garde details. Featuring a pointy toe, a slip-on style, and enough crystals to perk up any day of the week, it's impossible to feel anything but gloriously happy wearing Gucci slingback pumps.
And if ever there were a pair of shoes that'll step up to the table when you need an extra buzz to add to your outfit, it would be these. You'll want to wear them as a final touch for festival glam, throw them on with cropped jeans and a white t-shirt for a dazzling finish and, when you've run out of excuses, wear them again anyway.
Best for: A diamond's gotta shine.
| | |
| --- | --- |
| Heel height: | Kitten heel, 1.4 inches (35 mm) |
| Colors: | Black mesh with GG crystals |
| Material: | Mesh & suede |
Aquazzura Bow Tie Pumps: Most comfortable stiletto heels
Expertly sculpted in Italy from velvety smooth suede, Aquazzura's timelessly elegant Bow Tie pumps are definitely worthy of the front row seat they'll take in your wardrobe, ready to be pulled out at virtually all occasions (and we mean all occasions). Both the Duchess of Cambridge and Meghan Markle make a strong case for the versatility of Aquazzura's Bow Tie pumps— the pointy heels were spotted on many royal visits.
With a slingback strap and ladylike silhouette, the point-toe pumps comfortably rest on a 3-inch stiletto heel while the cutouts follow the natural lines of the foot and leave a glimpse of skin on show.
The high heel is fashionably wearable in a way that only Aquazurra knows how, and exudes class and style whenever they're effortlessly slipped on. Let the bow ties at the back do the talking by pairing these with an all-black outfit, or tap into Aquazurra's sense of fun by mixing colors, textures, and fabrics from top to bottom.
Best for: Bow tie in shoe form.
| | |
| --- | --- |
| Heel height: | High heel, 3.3 inches (85 mm) |
| Colors: | Black or Neutral |
| Material: | Suede |
New Republic Malibu Platform Sneaker: Most comfortable high heel sneakers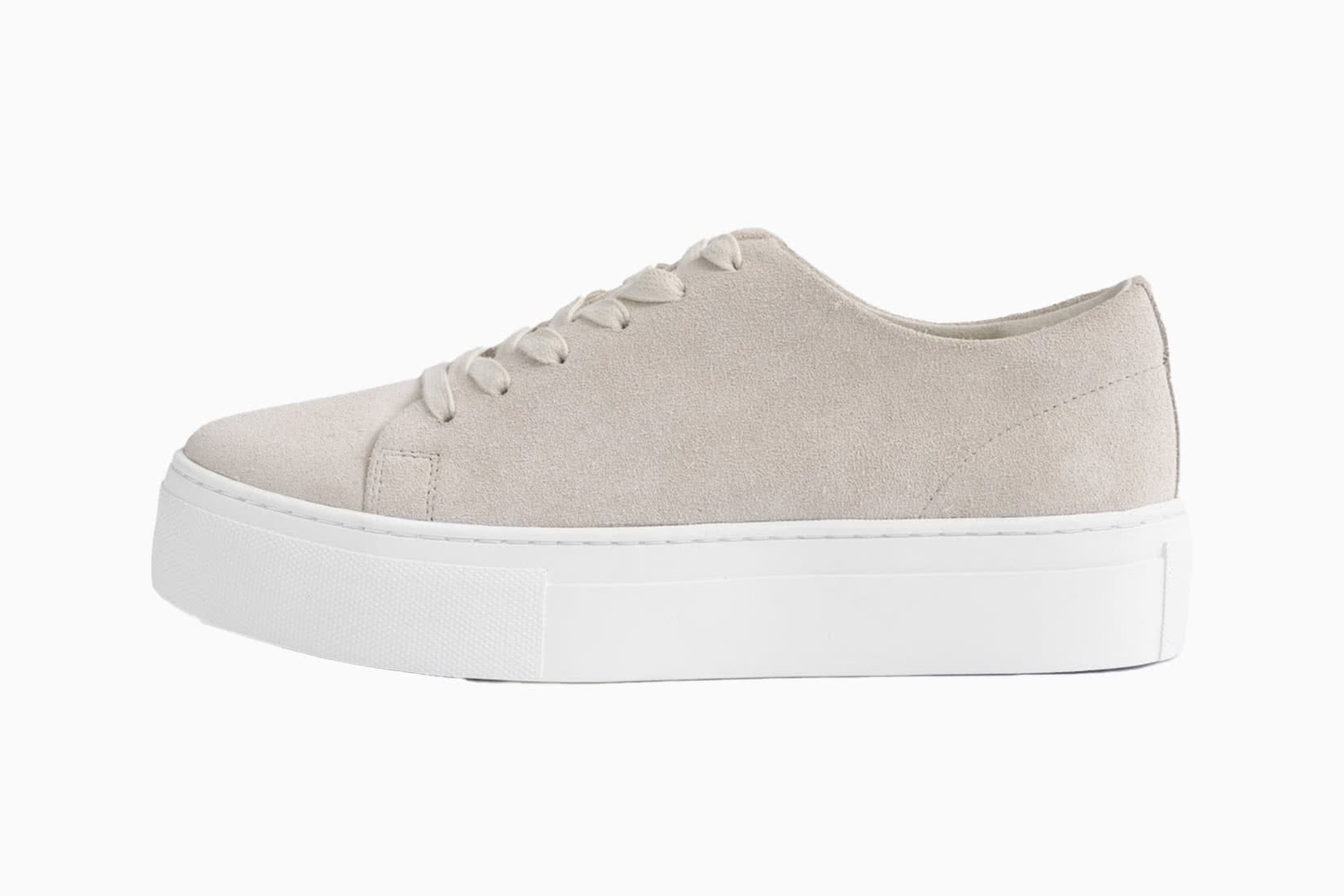 It might seem easier just to forego heels entirely and stick to flats if you struggle with arch issues and the Roulette-style guessing game of whether your new heels will do their job or not is something that none of us want to tackle.
Ready to party from the get-go, sneakers with heels are infinitely comfortable and breezily skip past all the frustrations out of shoe shopping. Or is that cheating?
The New Republic high heel sneakers might be the answer to your problems, helping you stay pain-free and fabulous even when your feet are determined not to play along.
Featuring a chunky platform sole for an effortless lift and TENCEL footbed for extra cushion, these platform sneakers are exactly what you need when you're on your feet all day.
Best for: Sneaking in the world of heels.
| | |
| --- | --- |
| Heel height: | Platform heel |
| Colors: | Bone or Sandstone |
| Material: | Suede |
Manolo Blahnik Maysale Mules: Most comfortable kitten heels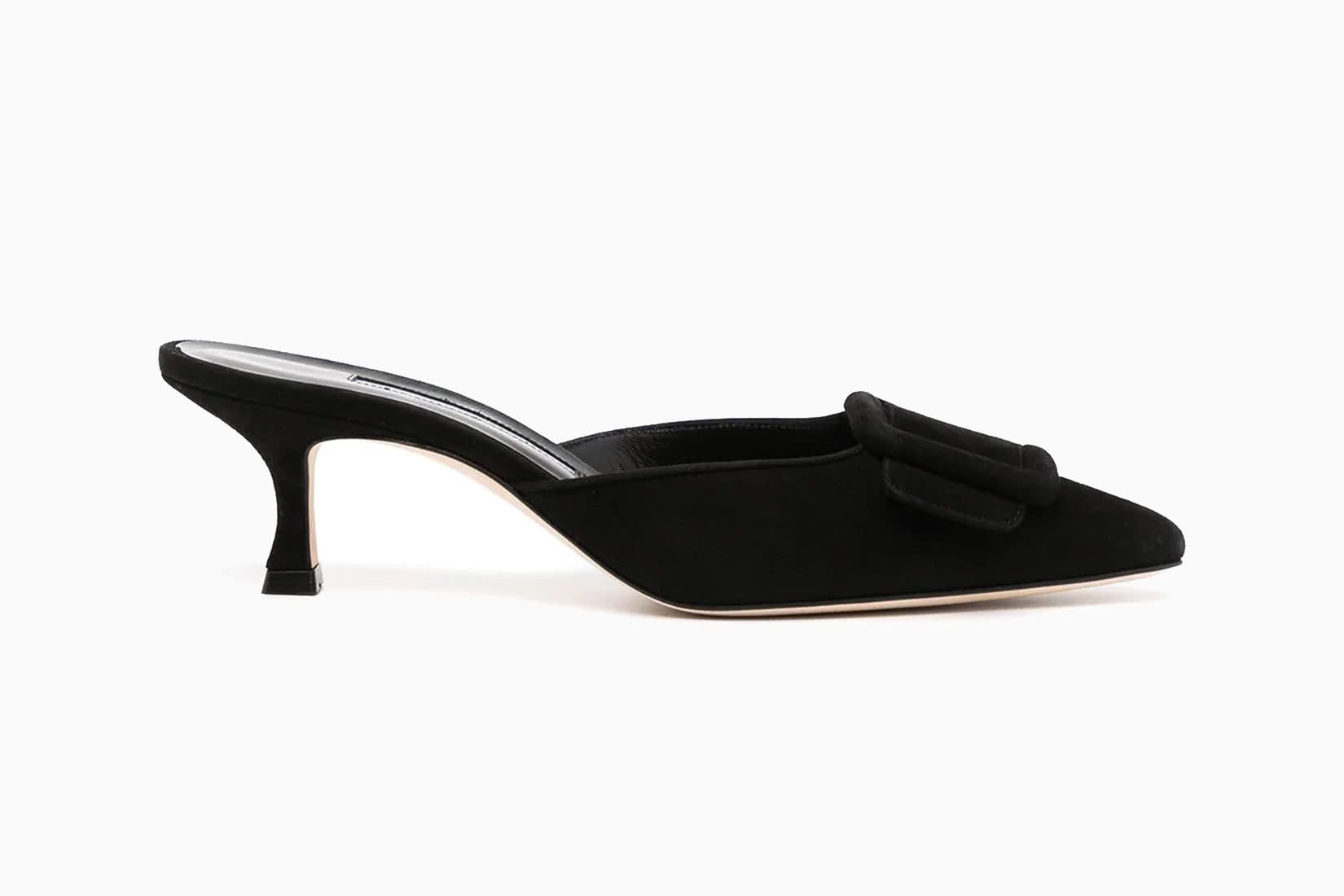 These Manolo Blahnik mules are what the ultimate kitten heels should be: comfortable and chic.
Crafted by artisans in Italy from soft suede, these cute heels have an elegant pointed toe with the brand's signature decorative buckle topper, a backless design, and a gently fluted 2-inch kitten heel for a comfortable fit.
Best for: Slipper-like comfort.
| | |
| --- | --- |
| Heel height: | Kitten heel, 2 inches (50 mm) |
| Colors: | Black, Tan, Navy + More |
| Material: | Suede |
Castañer Carina Canvas Espadrille Wedges: Most comfortable wedge pumps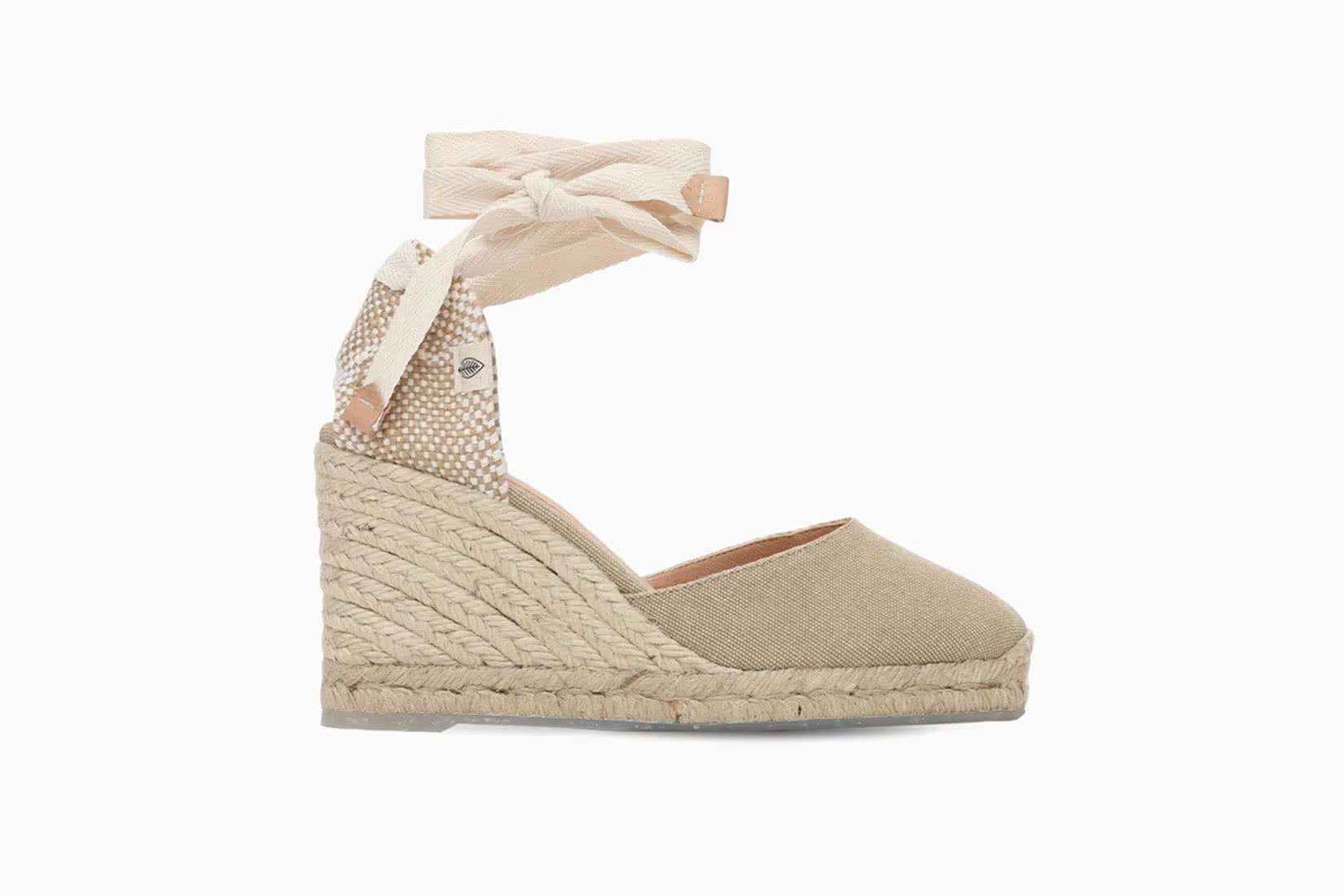 True comfort comes in the form of wedge heels, thanks to the even distribution of weight throughout the foot. Luckily, they're also one of the biggest summer footwear trends year after year, so if you're thinking of investing in a pair of comfortable wedge heels this month, Castañer's espadrille wedges will be a great addition to your wardrobe. Chic, comfortable, and with a closed toe for those summer "off-pedicure" days, these wedges feel luxurious, easy, and smooth to walk in.
Available in different neutral colors, they're a brilliant addition to your suitcase for evenings spent strolling along the promenade or laughing with family and friends at a barbecue. Pretty ribbon ties fasten securely around the ankles, allowing you to relax and enjoy your day without worrying about foot pain. Pair them with blue jeans or airy summer dresses for an easy summer solution.
Best for: Wedges of comfort.
| | |
| --- | --- |
| Heel height: | Wedge heel, 2.4 inches (60 mm) |
| Colors: | Black, Beige, Navy + More |
| Material: | Fabric |
Naturalizer Joy Heeled Sandal: Most comfortable ankle strap heels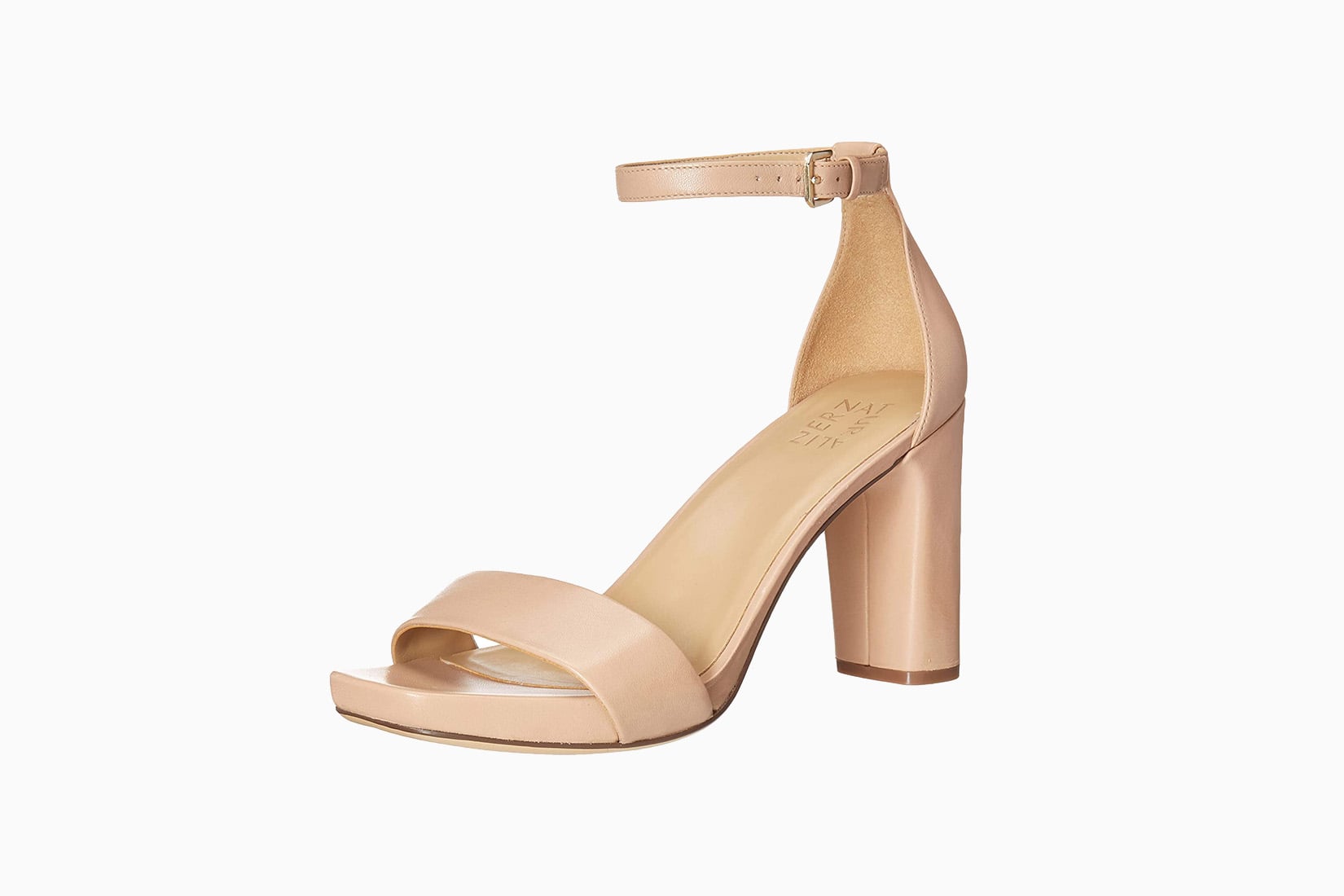 Not only do platform heels never go out of style, but they're also completely seasonless. You'll throw them on for summer parties or wintery nights out, making them one of the most versatile styles of heel out there and therefore one of the best fashion investments you'll make.
Our favorites are the Naturalizer Joy, a pair of ankle strap heels renowned for having a level of comfort as high as the heel itself.
A dual-density cushioning on a patented contoured footbed with arch support provides an extra level of comfort and yet another reason to reach for these platform high heels. The durable non-slip outsole of these platforms offers enhanced stability making it the first thing you'll add to your "to pack for holiday" list for evening strolls or Sunday morning brunch.
Available in many different shades, there's a pair to match whatever you fancy wearing for seasons to come.
Best for: To have and to hold.
| | |
| --- | --- |
| Heel height: | High heel, 3.5 inches (90 mm) heel, and 0.75 inches (19 mm) platform |
| Colors: | Black, Nude, Bronze + More |
| Material: | Leather |
Buyers guide to comfortable heels for women
Do your feet a favor and choose wisely when it comes to investing in your next pair of heels. Before you click "checkout", keep in mind these factors:
Choose your material wisely
Leather or suede heels might be more expensive, but the premium quality means they'll almost definitely outlive synthetic materials. Leather and suede are also more supple, molding to the shape of your foot a lot faster, and also don't tend to rub as much.
Buy the right size
It might go without saying, but you should never buy high heels that don't fit properly—or beware the curse of slowly starting to resent ever wearing them. High heels should fit snugly and hold the foot firmly in place to prevent blisters or ankle pain. For best results, try your heels on at the end of the day after a busy day of walking. Feet are generally less swollen in the morning, so this gives a good idea of how comfortable they'll be after a few hours of standing up.
Types of heel
If comfort is key, a wedge heel might be your secret weapon. You should also look out for heels with an ankle strap, pairs with a lower heel height, and heels with plenty of space around the toes. If you can't stay away from higher heels, choose a pair that has a sturdier and thicker heel for more stability to counteract the extra height. Spindly stilettos might look incredible, but offer the least support for your feet.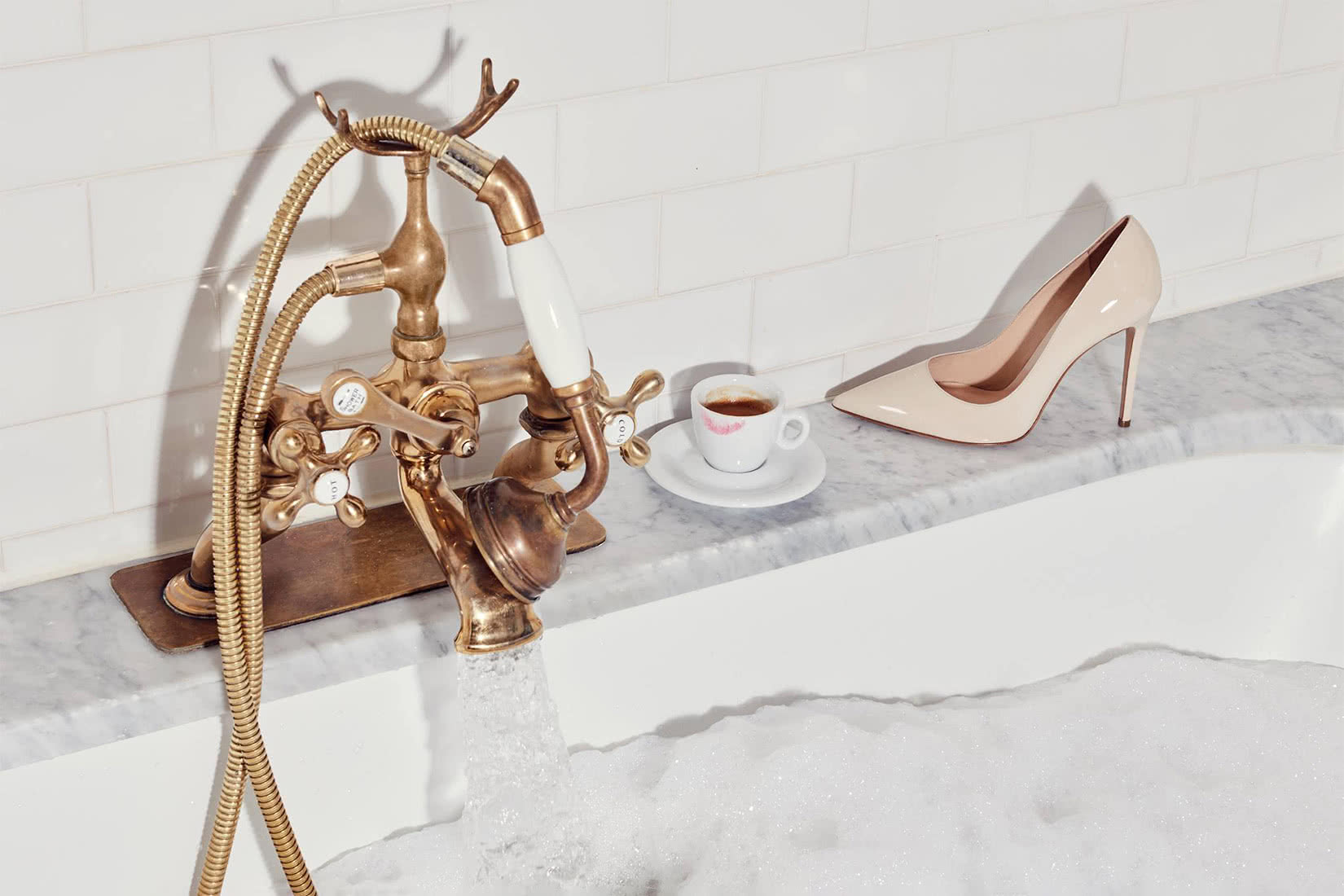 Wiggle your toes
Heels might feel slightly too big if there's room to wiggle your toes but prioritize these over heels that cramp your feet. Long term, this can lead to arthritis if your toes are constantly pushing for more room. Round-toe and almond-toe shoes offer more space than classic pointy toes.
Heel height
Heels between 30 mm and 90 mm (1.2" to 3.5") are thought to be the comfiest, providing elevation without being sky-high and putting too much tension on your legs and lower back. Opt for low heels if you're planning on standing or dancing for hours on end, or treat yourself to high heels if you won't be on your feet for long.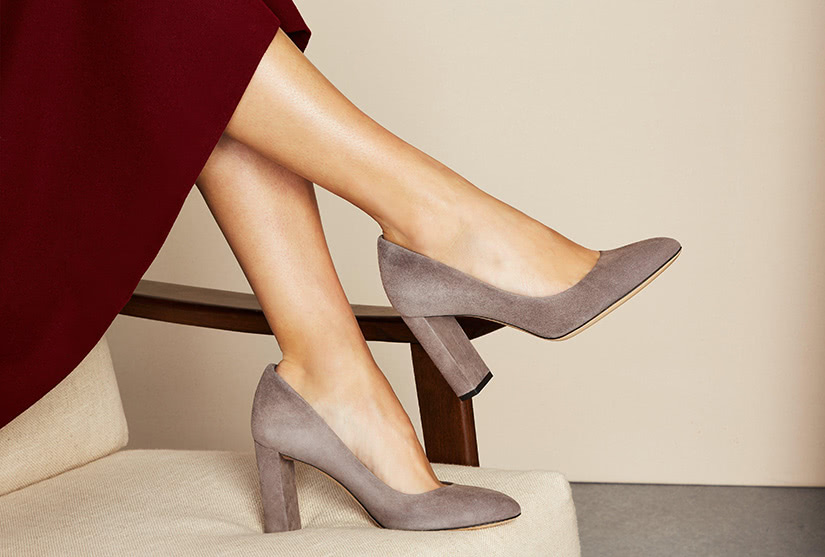 Comfort and cushioning
Cushioned soles can be a lifesaver when it comes to comfortable heels and a memory foam sole can be the difference between throwing a favorite pair to the back of your wardrobe or putting them on just to wander around the house for fun. If you do accidentally buy a pair of heels that are akin to sleeping on a bed of concrete, invest in some memory foam insoles to bridge the gap.
Frequently asked questions about comfortable heels