Slipping on a gorgeous bathrobe is the ultimate signal that your 'me-time' is about to commence. Your scented candles are alit, your herbal tea is brewing, and you've dressed in your best snuggly pyjamas. All that's left is the final touch which makes all the difference: Your fluffy robe.
Indeed, cocooning ourselves in the best bathrobe is a necessary indulgence after a stressful day. Not to mention, it's our post-bath ensemble, our Saturday morning brunch-making uniform, and our curling-up-with-a-movie attire.
Yes, we're in our bathrobes rather a lot.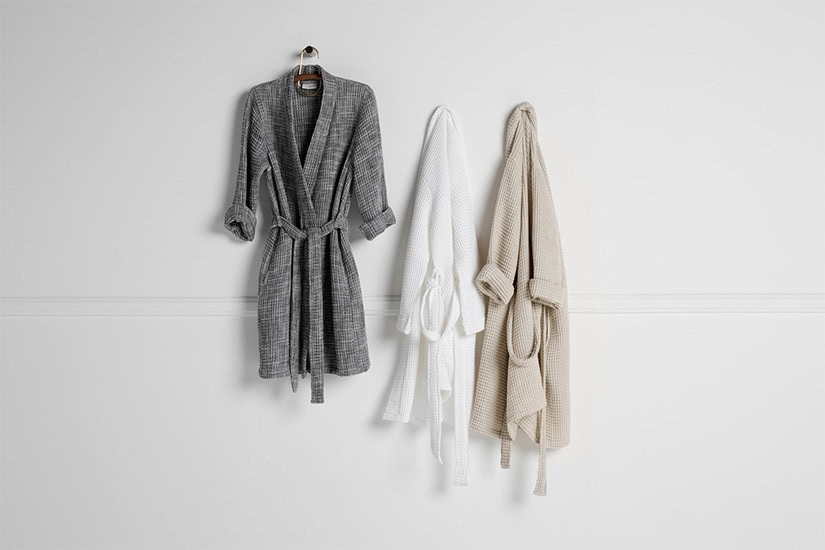 There's no reason your bathrobe, like the rest of your wardrobe, shouldn't be a gorgeous reflection of your personality. Fortunately, there are plenty of styles to choose from:
From satin kimonos to spa robes, fluffy robes to cotton bathrobes, we're gathered the best women's bathrobes to elevate your downtime.
The 17 best women's robes
To help you find the bathrobe brand that's best for you, check our style guide to choosing the best robes for women after the list.
Brooklinen Waffle: Overall best women's robe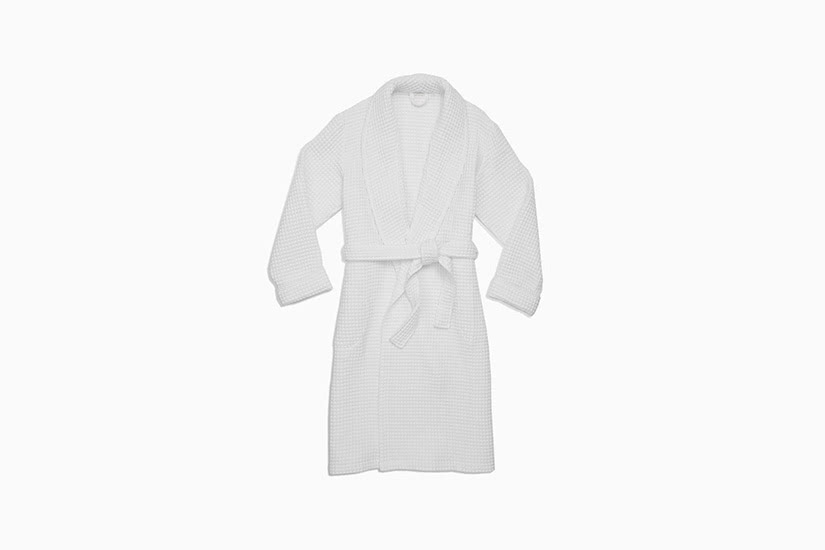 It doesn't get much more zen than the Brooklinen Waffle Bath Robe, crafted from 100% Turkish cotton.
The classic style with its eponymous weave pattern is perfect for drying off after a relaxing bath or lounging about the house when you simply want to #chill (while remaining very much in style, of course).
The wide collar and flattering fit equals instant chic– so, you can happily lounge in it all day without feeling like you're doing your style a disservice. In fact, it'll convey that you're meticulous in style, even 'off the clock'.
Plus, the waffle-like surface absorbs water beautifully. So, you can slip straight from your warm bath into your crisp, timeless waffle robe, and be cosy and dry in minutes.
It's not all about functionality, though: With 350 GSM (grams of cotton per metre), the Brooklinen Waffle Bath Robe oozes snuggly vibes, too.
Best for: The perfect digestif to a hot bath; best served with a glass of fine wine, and a good read.
Material: 100% Turkish cotton.
Colours: Graphite, Smoke, or White.
Coco de Mer: Best luxury robe for women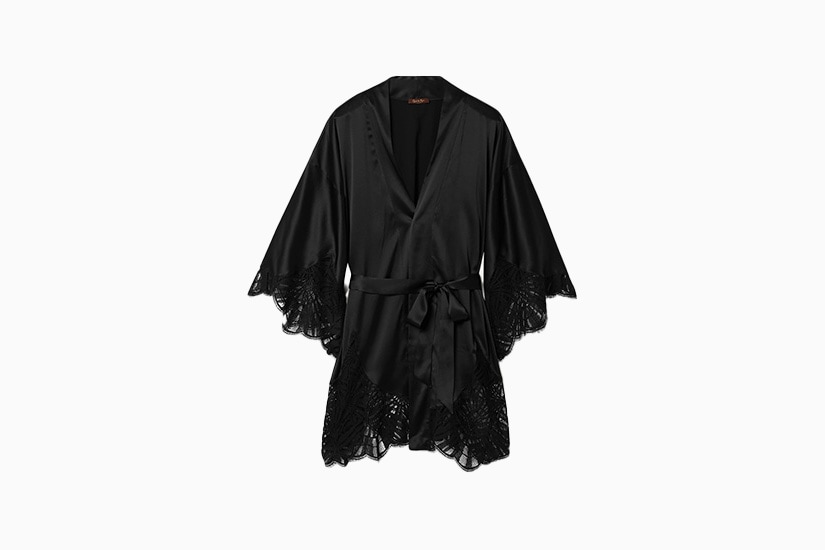 Just because you're lounging at home, it doesn't mean you can't look and feel glamorous. Perfect for the boudoir, the Fuji robe by Coco de Mer will have you relaxing to the max in the soft swathes of satin.
The dainty scalloped lace trim is complete with elegantly draped kimono sleeves for an ultra-feminine feel. The sash belt creates a beautiful silhouette when tied up, or bestows an air of je ne sais quoi when left lazily open.
This luxe satin robe proves that you can still dress up to stay in (though it is tempting to throw on some heels and head out on the town). The Coco de Mer Fuji is the perfect sexy bathrobe for a romantic night in or an evening all to yourself.
We will say this though: Prepare to break a heart when you answer the door to the pizza delivery guy.
Best for: The finest of luxury robes to bring your inner goddess out to play.
Material: 40% silk, 40% cotton, 10% polyamide, 10% elastane.
Colour: Black.
Richie House: Best value women's robe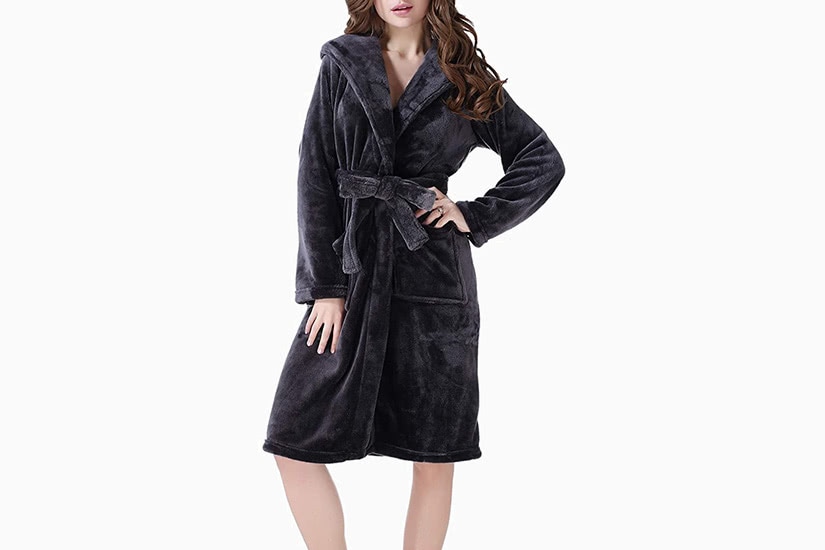 For a plush bathrobe that's big on comfort yet small when it comes to the price tag, the Richie House Bathrobe is perfect. Leaving not an inch of you uncovered, this robe feels like you tripped and fell into a cloud of cosiness (gracefully, of course).
The 100% polyester coral fleece fabric (coral fleece is a considerable step up from your run-of-the-mill fleece) is a dream against your skin. Falling to the ankle and complete with a generous shawl collar, you'll be positively mummified, in the very best of ways.
The superior stitching and strong fabric mean this robe will see you through many a Netflix and chill before you even have to think about replacing it. So, the Richie House Bathrobe possesses all the skills to keep you warm, snug, and cosy on a cold winter's night.
Best for: Feeling like you've climbed right inside a soft feather pillow.
Material: 100% polyester.
Colours: Black, Coffee, or Coconut.
Skin: Best terry cloth bathrobe for women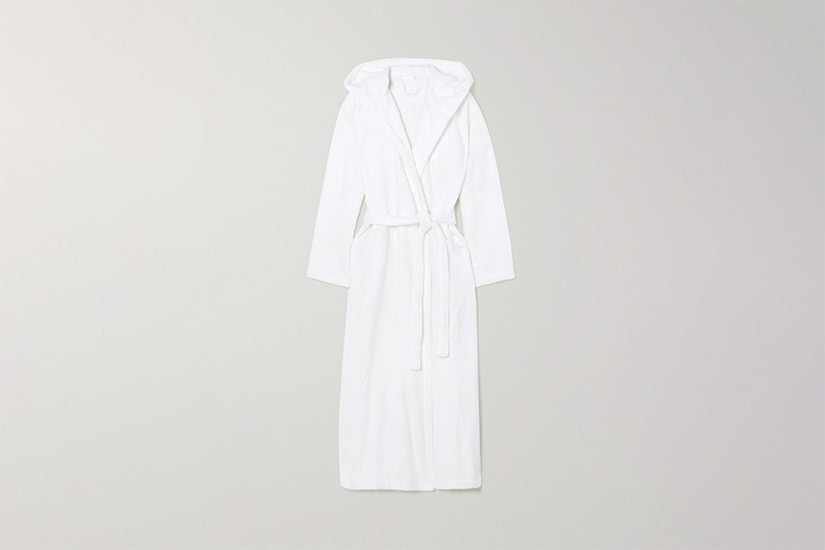 Cotton terry is revered for its water-absorbing qualities. Of course, this makes a cotton terry bathrobe the best thing in which to wrap yourself after a steamy shower or a relaxing bath. None is better qualified than the Hamam robe by Skin.
Irresistibly soft and comfortable, this fluffy cotton terry robe comes with a matching headband– perfect for chilling on the sofa with a facemask. It's very much akin to hammam spa robes, or the kind you'd find hung up on the back of your Ritz penthouse suite. As such, you're bound to feel brushed by luxury wrapped in this robe.
The spacious hood and cinching belt keep the Skin Hamam robe nicely practical, with the cheeky side-split allowing plenty of room for manoeuvre. The ankle-length of this robe means you can dry off from head-to-toe super easily, minimising that pesky limbo time between bath and sofa.
Best for: Those seeking a terry cloth bathrobe to drying off and chilling out.
Material: 100% cotton.
Colour: White.
Parachute Cloud: Best cotton robe for women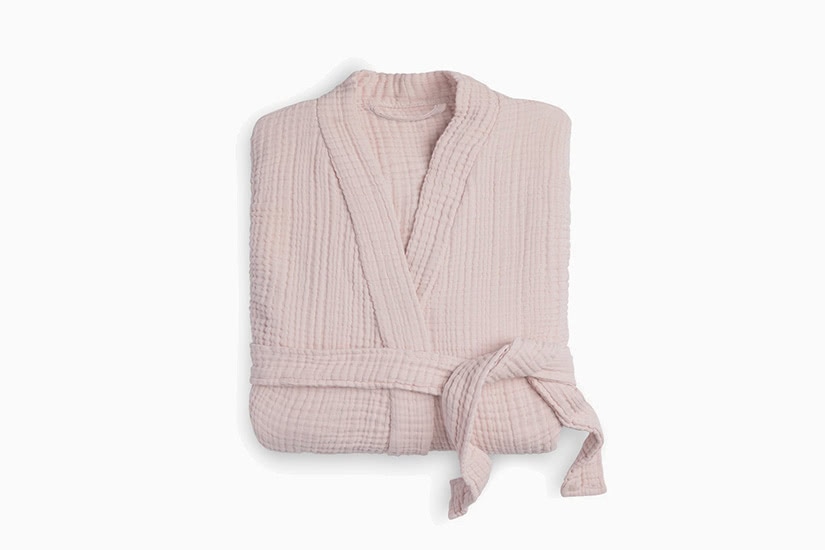 There are plenty of reasons to opt for a cotton robe: They're lightweight, pretty, and supersoft. Parachute simply gives you another. Their Cloud Robe is all of the above, and much more:
Beautiful in its simplicity, the Parachute robe is crafted from fluffy 2-ply gauze for ultimate softness. The whole robe is made from 100% premium long-staple Turkish cotton, which is luxurious, yet light. The relaxed fit is offset with a cinching waist-tie, and the two hidden pockets are perfect for stashing bits and bobs.
Falling to the knee, you can accentuate your relaxed-luxe look with a chic pair of fluffy slippers. The Parachute Cloud Robe is perfect for pottering about on a weekend morning or snuggling up on the sofa with your significant other.
Best for: Kicking back in pure cotton-cloud comfort, to melt away the stresses of the day.
Material: 100% Turkish cotton.
Colours: Rose, Mulberry, or Amber.
Parachute Waffle: Best women's waffle bathrobe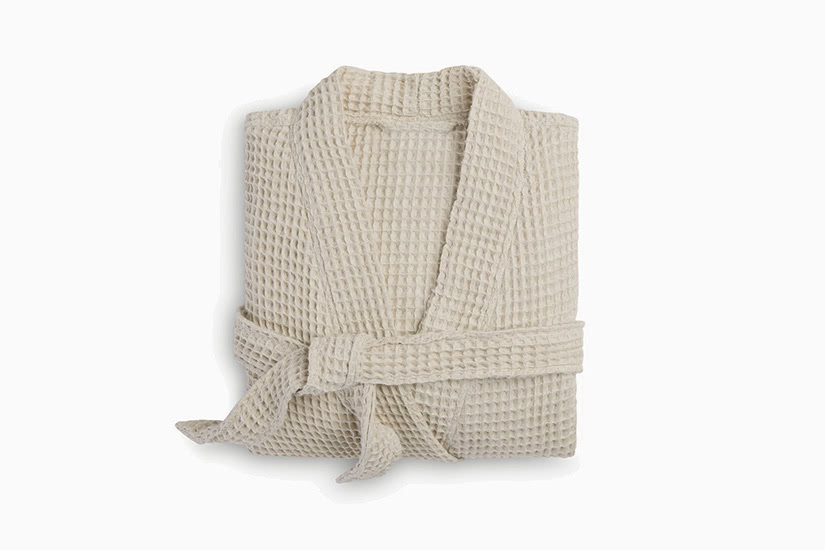 Sometimes, the finest things are done with the utmost simplicity. That's certainly the case with Parachute's Waffle Robe.
Inspired by the world's most luxurious spas, slipping into this lightweight robe will revive calming memories of virgin mojitos sipped while you indulged in an aromatherapy foot massage. The quality of this waffle robe means it requires no embellishments– the refined craftsmanship speaks for itself.
The 100% long-staple Turkish cotton on the Parachute Waffle Robe simply begs to be worn, and the lightweight fabric is luxurious yet practical. Plus, the folded collar and secure waist-tie complete with two hip pockets result in an indulgent bathrobe that supplies everything you need to relax in style.
Best for: Emulating the tranquil vibes of your favourite spa retreat, right at home.
Material: 100% Turkish cotton.
Colours: White, Tan, or Grey.
La Perla: Best silk robe for women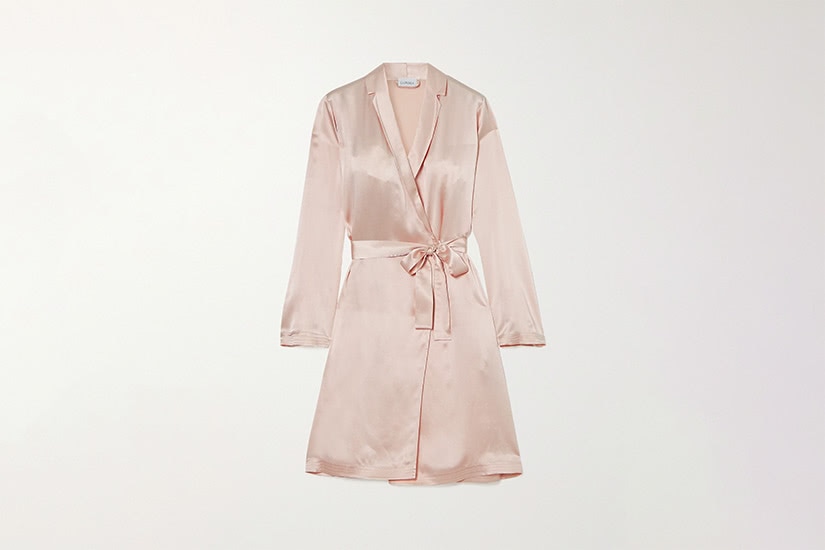 Your day may be full of chores, errands, and decidedly unglamorous tasks. No matter. Slipping on the ultra-feminine La Perla silk bathrobe will make you feel as luxe, glamorous, and carefree as it gets.
Spun from soft silk yarns, this elegant silky robe falls to just above the knee with a subtle sensuality that's still totally acceptable to wear around the children. The 'Wild Rose' hue is delicate and refined, and perfect for complementing your naturally flushed morning face.
There's a simple tie fastening, which is secured with a button for better staying-power (so, no 'accidentally' making the postman's day). Simply put, the La Perla Satin-silk robe works wonders for elevating your loungewear to sensuous new heights.
Best for: Infusing some Sophia Loren-style sensuality into your nightwear, even if you're just doing the dishes.
Materials: 100% silk.
Colour: Wild Rose.
Brooklinen: Best women's linen robe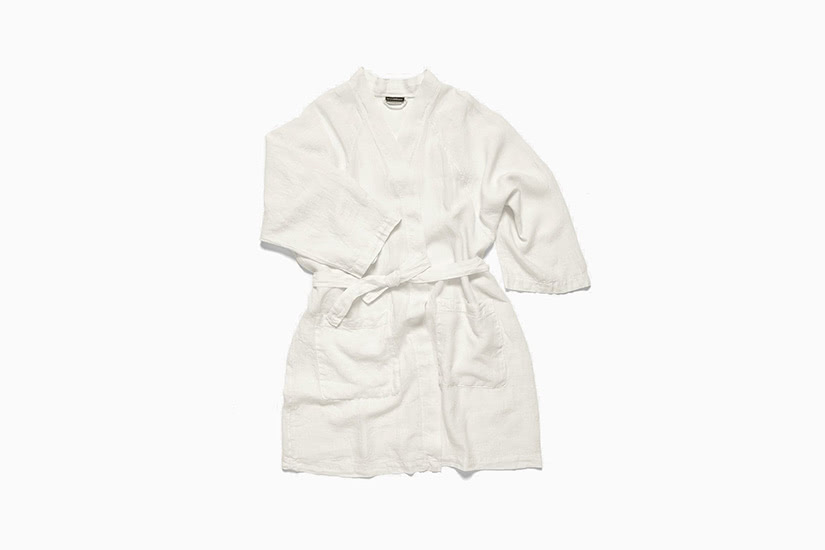 Have you ever considered a linen bathrobe? If not, Brooklinen is sure to change your mind. Their Linen Robe supplies all the benefits of linen garments– it's breathable, highly absorbent, lightweight, and most importantly, luxurious to the touch.
Crafted from the finest Belgian and French flax, the Linen Robe goes through a stone washing process, resulting in feather-like softness. So, whether you're lounging by the pool, drying off after a shower, or even post-rain dance, you'll be winning in linen.
Despite being ultra-lightweight, linen acts as a natural insulator. Yep, the Brooklinen Linen Robe isn't just for the summer months– it'll look and feel cushty layered over your favourite fleece pyjamas, too. The front pockets, waist tie, and nature-inspired colour palette work symbiotically to make this robe absolutely gorgeous.
Best for: Wrapping yourself in the many benefits of pure linen for ultimate effortless cool.
Material: 100% linen.
Colours: Cream, Graphite, or Mist.
Cuyana: Best women's robe for lounging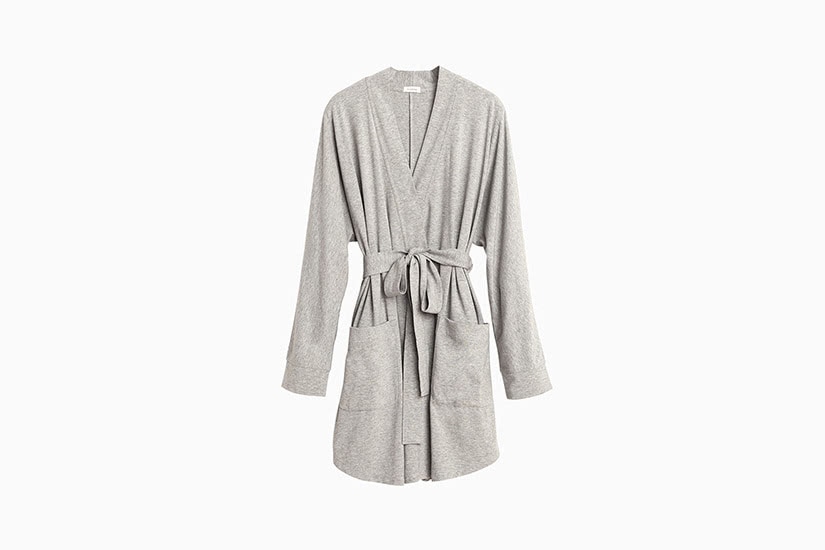 For most of us, our bathrobes tend to transcend the bathroom and merge seamlessly into our loungewear wardrobe too. So, to see us through both bathtime and lounge time, we must arm ourselves with a robe that's up to the task. Enter the Cuyana Pima Modal Robe.
Crafted from the brand's signature Peruvian Pima long-staple cotton, the robe is impossibly soft. It's perfect for layering up over loungewear, or swiftly replacing your coat when you walk in your front door (no judgements here). However, you'll want to wear this over bare skin for the ultimate profit of its softness.
Falling just above the knee, the Cuyana Pima Modal Robe features a high-low hem. It's super flattering, yet functional: The large pockets can house your chill-time essentials so you don't have to lift a finger, and the belt brings the ensemble neatly together.
Best for: Lazy hours sheathed in softness and luxury.
Material: 100% Pima cotton.
Colours: Heather Grey or Black.
Brooklinen Super-Plush: Best plush bathrobe for women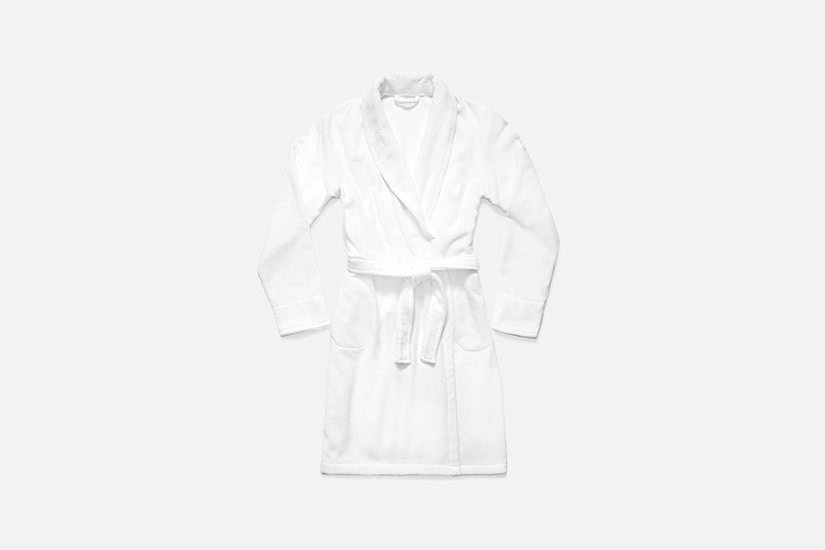 While there's plenty to be said for lightweight robes, there is something oh-so-luxurious about bundling yourself into a thick, plush robe fit for royalty. The Brooklinen Super-Plush Robe is the epitome of deluxe, with its 100% Turkish cotton and extra-thick feel.
This robe is Brooklinen's first wearable item. And boy, for a first try, did they get it spot on. The design was inspired by the brand's Super-Plush Towel range, bringing the luxurious attributes of their beloved towels, and transforming them into a wearable robe. Brooklinen, we're impressed.
Aside from being built for comfort, the Brooklinen Super-Plush Robe is functional, too. The piped collar will keep your neck and chest nice and cushty, plus the cuffed edges and sturdy waist-tie all contribute to the luxe aesthetic.
Best for: Wrapping yourself up swathes of plushness for cosy vibes all round.
Materials: 100% Turkish cotton.
Colours: White, Smoke, or Graphite.
Eberjey: Best fleece bathrobe for women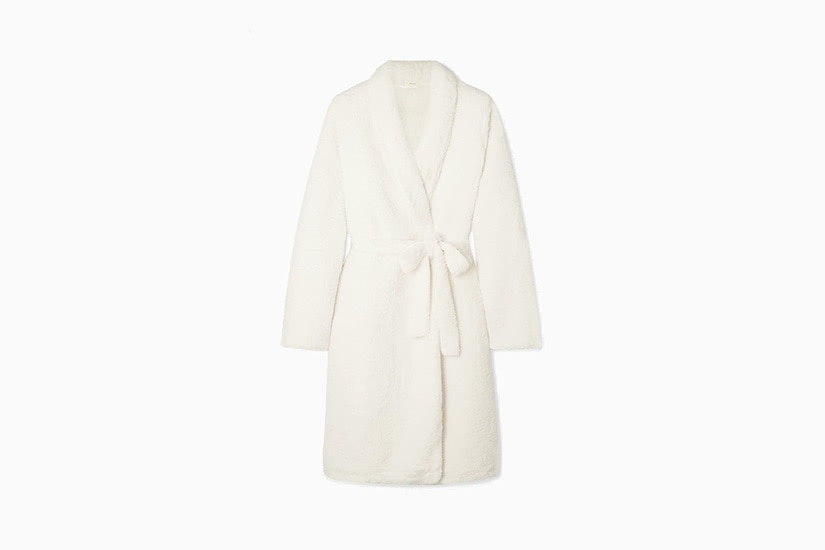 There's nothing like a fleece robe to keep you warm and cosy on a chilly morning. Named after the Nepalese mountain guides who know a thing or two about keeping cushty, the Sherpa robe by Eberjey is pure snugness.
The slip-on robe looks the part and categorically delivers when it comes to toasty comfort.
Throw it on after a steamy shower, or settle down with a movie and a glass of Bordeaux for unadulterated relaxation. The wrap-around design and tie-waist of the Eberjey Sherpa robe keep it nice and secure while you're pottering around making coffee in the morning, too.
Best for: For those who love easy living, you're just a Sherpa robe away.
Materials: 100% polyester with 100% modal lining.
Colour: Ivory.
Parachute Classic: Best towel bathrobe for women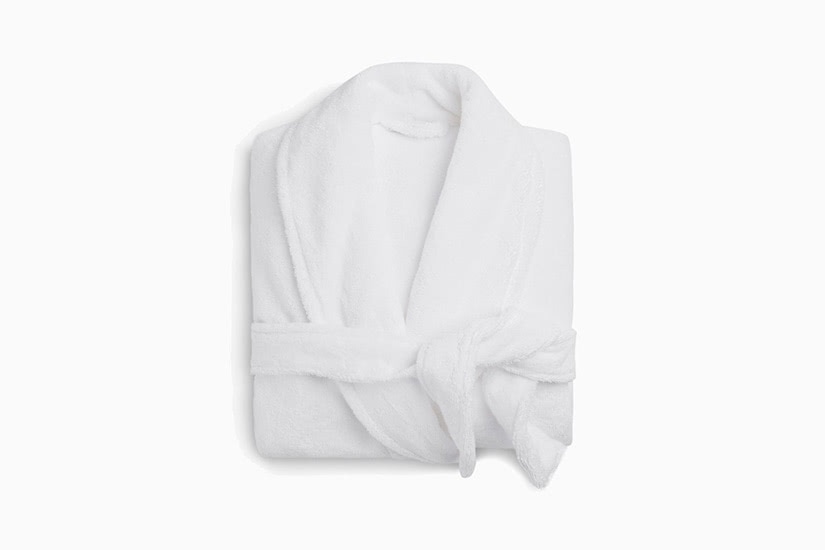 If you've ever been tempted to pilfer the complimentary bathrobe from your last 5* hotel stay, the Parachute Classic Bathrobe is a must-have. And this way, you get to keep your deposit…
Loomed from 100% long-staple Turkish cotton, this towel robe is a heavyweight with 450 grams of cotton per square metre. Seeing as Parachute makes the best towels for after showers, it makes sense that their towel robes are on point, too.
The plush robe will easily absorb any rogue water droplets post-shower or bath, so you'll feel clean, dry, and cosy simultaneously. Plus, the cosy shawl collar, robust waist-tie and generous length will have you wrapped up like a gorgeous birthday present in the Parachute Classic Bathrobe.
Best for: Those on the prowl for a plush towel robe for after-shower opulence.
Material: 100% Turkish cotton.
Colours: Blush, Mineral, or White.
Parachute Speckled Waffle: Best women's spa robe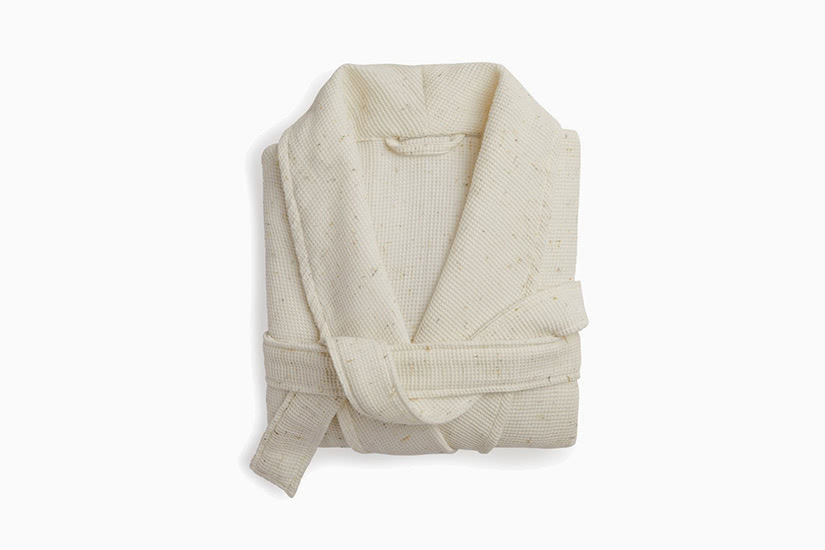 If you want to experience spa-esque luxury every day, you'll be a step closer with the Parachute Speckled Waffle Robe. While it won't supply an on-demand masseuse (unless you enlist your partner– good luck with that), slipping into this spa robe will offer you an oasis of calm.
The mini honeycomb weave makes this robe particularly indulgent. Its gentle ivory hue is speckled with flecks of natural colour, inspired by those cushty autumn knits we all adore.
It's not only for autumn, though. The 100% Turkish cotton is both lightweight and cosy, making it a go-to all year round. Just envisage this gorgeous garment layered up with your favourite brushed cotton pyjamas, and you're simply a pair of cushty slippers away from paradise.
Of course, the Parachute Speckled Waffle Robe complete with those all-important patch pockets, shawl collar, and waist-tie for ultimate easy-wearing.
Best for: Creating a spa lodge atmosphere à la maison for everyday luxury.
Materials: 100% Turkish cotton.
Colour: Ivory.
MAXMODA: Best women's robe for summer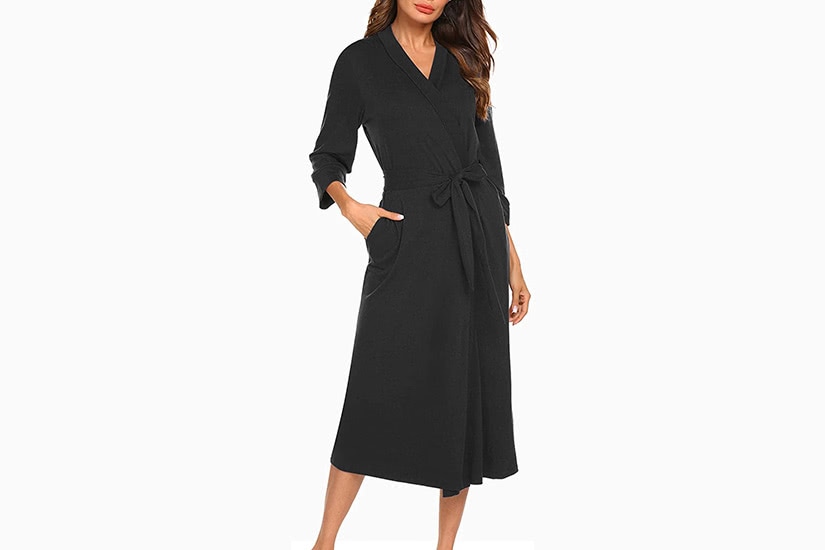 In summer, the last thing we want to do is bundle ourselves into a tonne of fabric when it's already sweltering outside. However, if you choose wisely, you can reap the rewards of a sumptuous bathrobe, even in the summer months. As it happens, the MAXMODA Kimono robe is perfect.
Crafted from 95% cotton and 5% spandex, this lightweight summer robe feels like a dream against your skin with a flattering cling. The fabric cascades in pleasing swathes, forming an elegant silhouette. It's warm and soft, but still breathable.
So, the MAXMODA Kimono robe is perfect for throwing on after your bath, yet also for a little sun protection when you're chilling by the pool.
The ¾ sleeves wrap-around design falls to the mid-calf for effortless casual chic, and the roomy pockets are great for keeping your chill-time must-haves close at hand.
Best for: Keeping cool, calm, and covered during long, hazy days and relaxing evenings.
Materials: 95% cotton, 5% spandex.
Colours: Black, Dark Grey, or Lilac.
Alexander Del Rossa: Best hooded women's bathrobe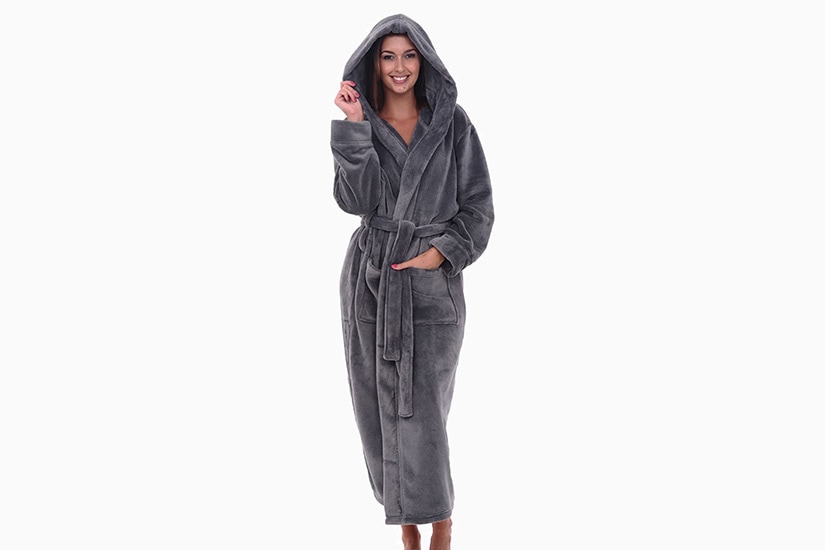 For some, a hooded bathrobe is neither here nor there. To others, a robe sans hood is like a cappuccino without chocolate sprinkles– simply not worth having. If you fall into the latter category, the Alexander Del Rossa robe could be just what you're seeking.
Crafted from 330 GSM coral microfibre fleece (the thickest fleece around, to you and I), this hooded robe promises to keep you toasty as can be. It's a floor-length, long robe too. So, with the hood pulled up, you'll be covered head-to-toe.
The inner and outer waist ties mean there are zero risks of any inadvertent undo-ing, so you'll be 100% insulated at all times. The risk being, of course, that your other 'normal' clothing might start to gather dust.
With the Alexander Del Rossa robe available in a gorgeous rainbow of colours, you might just find yourself making excuses to go out to the mailbox when you're rocking this regalia.
Best for: Those for whom 'toasty' is your preferred state of being.
Materials: 100% polyester.
Colours: Steel Violet, Candy Dreams, or Burgundy.
TowelSelections: Best budget bathrobe for women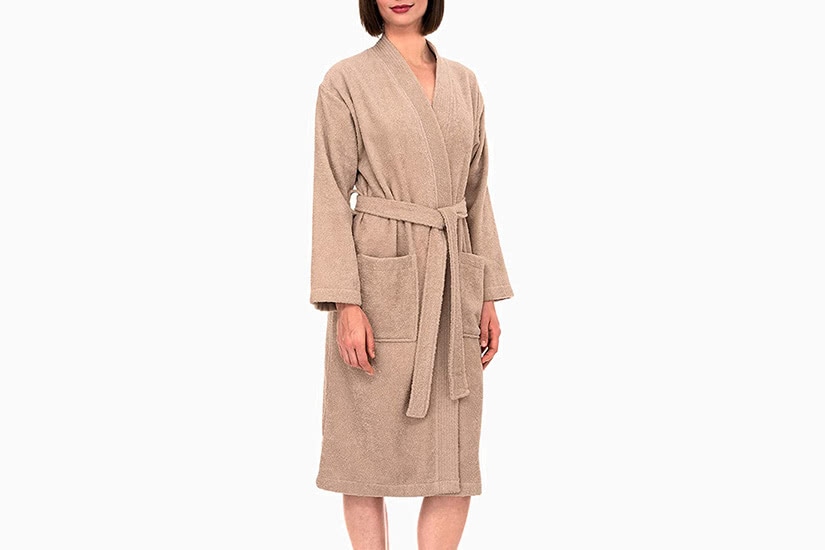 Even if you're watching those pennies, it doesn't mean your relaxation time has to suffer. With the TowelSelections Bathrobe, you can enjoy the perks of a premium robe, on a budget.
The double-stitched, kimono-style bathrobe is tailored from 100% Turkish cotton, making it as warm and cushty as the best of them. The terry cloth is woven in loops to maximise absorbency and does a great job of conserving your body heat after a languorous bath.
The luxurious cotton is breathable and gets softer after a few spins in the washing machine. Functionality aside, it looks gorgeous. The kimono style is super flattering on all body shapes, with the waist-tie and collar detail offering feminine flair.
As one of the best robes under $50, the TowelSelections Bathrobe is truly everything a bathrobe should be, and much more.
Best for: Those who won't let their budget get in the way of premium me-time.
Materials: 100% Turkish cotton.
Colours: Cloudburst, Daybreak, or Honeydew.
Meng: Most expensive women's robe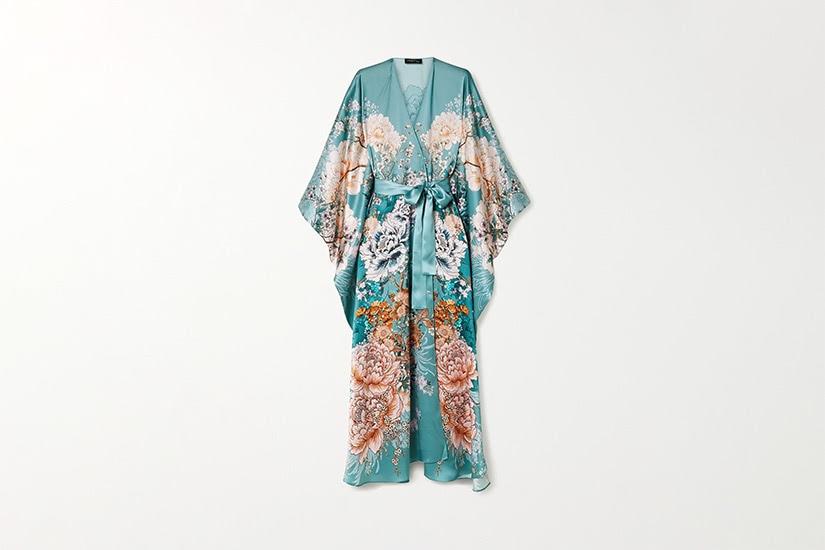 For a luxury robe that'll steal the show even when you've just rolled out of bed, try the Meng silk-satin kimono on for size.
Truly an eye-catcher, this opulent robe is impossibly pretty. Crafted in an elegant blue floral print, the Meng kimono takes loungewear to a luxurious new level.
The long length, waterfall-draped sleeves, and sash belt work fluidly to create an hourglass silhouette to die for. Plus, it's no less than 100% silk, so it truly feels as good as it looks. Which of course, is absolutely beautiful.
No one will blame you for wanting to head out to the nearest black-tie dinner, such is the resplendence of the Meng kimono robe.
Best for: Enveloping yourself in the finest silken kimono, like it was made for you.
Material: 100% silk.
Colour: Blue Floral.
Style guide for ladies robes
Seeing as we spend a fair proportion of our downtime in our bathrobes, we should know what to look for when we're on the search for a new one:
Materials and weaves, explained
Flannel
Flannel makes for a classic and timeless bathrobe. Though often used in the manufacture of men's bathrobes, the fuzzy softness makes a great choice for women, too. It's naturally insulating, which makes flannel bathrobes perfect for winter.
Cotton terry
Cotton terry robes are hugely popular. They're typically made from either Egyptian or Turkish cotton, and thus are great for absorbing larger amounts of water. As such, cotton terry is the way to go if you mostly use your bathrobe for just that– wrapping up after a bath (or shower).
Velour
Velour cotton is an excellent choice if you're seeking a warm, plush, and luxurious bathrobe. Make sure it's made from at least 80% cotton for the best quality, so you can enjoy a texture that's close to pure velvet.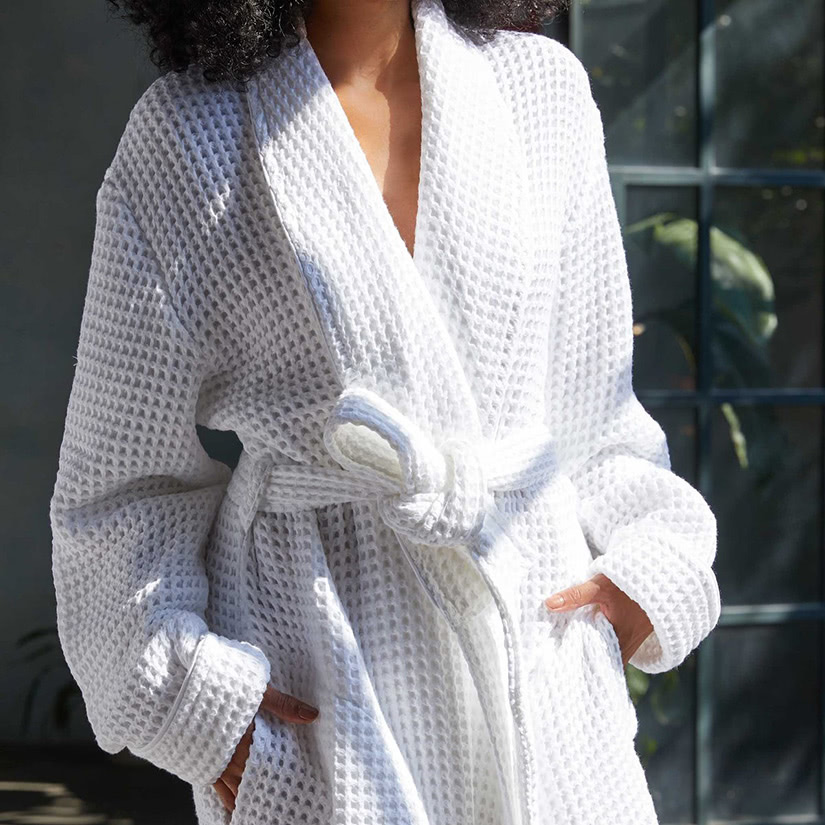 Waffle
Waffle is perhaps the ultimate fabric for a spa-style bathrobe. Waffle cotton is very easy to identify, as it's so-called after the waffle-like diamond pattern that forms the fabric. Waffle robes are brilliant for absorbing water after a shower and work wonders in emulating a true spa experience at home.
Silk/satin
Revered for their smooth, luxurious touch, silk robes are a firm favourite for those who adore a little grandeur in their me-time. These bathrobes thrive in warmer climes thanks to their lightweight qualities, though they don't fare too well in the colder months.
Silk robes are best for lounging about the house (not to mention look elegant), but they're not as absorbent as cotton robes. Well, now you have an excuse to select two robes from our list…
Styles
Kimono
Inspired by traditional Japanese dress worn by geisha, kimono-style bathrobes are the most elegant. They are characterised by billowing sleeves, wide, sash belts, and flowy silk-satin. However, you can also find kimono-style robes which are crafted from cotton, and therefore more suitable for wearing post-shower, as well as lounging.
Shawl collar
A shawl collar is a lovely detail to have on your new bathrobe. Simply put, a shawl collar is a rolled collar and a lapel rolled into one. It adds subtle detail and structure to your robe and is part and parcel of a classic bathrobe style.
Hooded
To hood or not to hood? Well, it's entirely up to you. However, while a hood seems unnecessary in the warmer seasons, this feature is a must-have in winter. A hood takes your robe to new heights when it comes to warmth and cosiness, allowing you to feel truly wrapped up and toasty.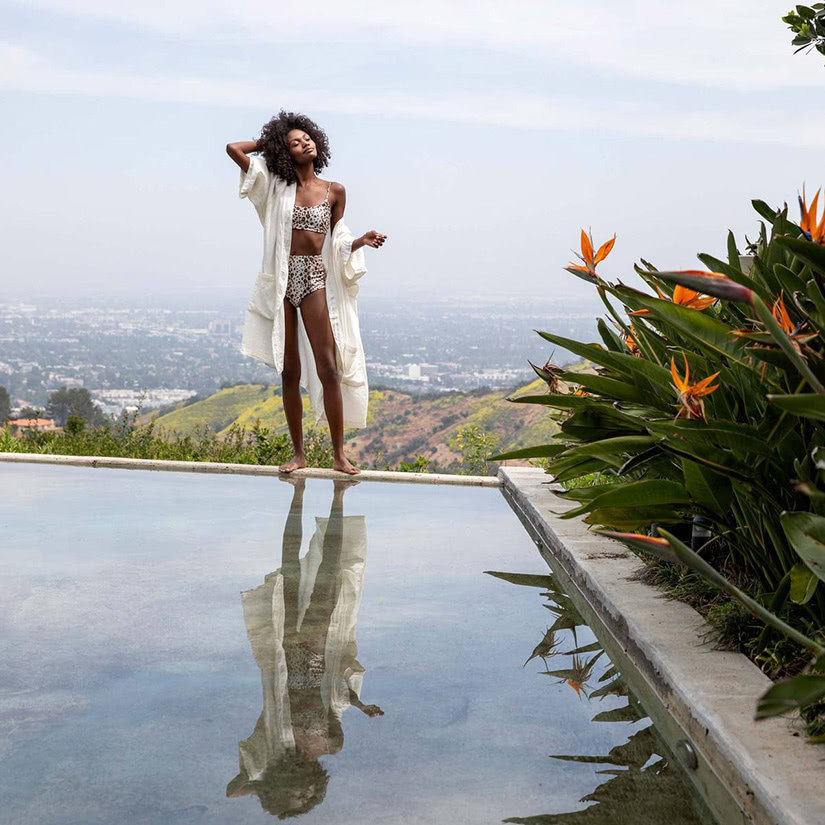 Dressing gown versus bathrobe
The two terms have become somewhat interchangeable in recent years. However, purists will tell you that a bathrobe is to slip into after (you guessed it) a bath or shower. If that's what you mostly use your robe for, then pick an absorbent fabric which will help eliminate any pesky water droplets.
A dressing gown, on the other hand, is primarily for lounging around the house, doing chores, or throwing on over your pyjamas for a more respectable look when you're heading out to the mailbox.
Frequently asked questions about bathrobes for women