Can I be honest with you? I've read dozens of men's capsule wardrobe guides online, and there's one thing that constantly annoys me with them all. They all make the same mistake that instantly puts me off. They want to dictate how you should dress according to their own personal lifestyle. Those guides are often written by people working in the fashion industry and, as a result, prescribe you a significant investment in time and money to build a wardrobe according to their particular needs. Those aren't necessarily what you need.
So at Luxe Digital, we've decided to take a different approach to men's minimalist capsule wardrobe. We're not going to prescribe you a set of three different suits and two different dress shoes in different colors.
Instead, we want you to think of your minimalist wardrobe as a system. A system that starts and ends with you and your lifestyle. It's a simple yet radical change to approaching your closet.
We've organized this guide into clothing categories (e.g., tops, bottoms, shoes, etc.) to make it easier for you to navigate. Feel free to jump straight to the section you feel you need the most help with.
But first, let me quickly tell you what exactly is a capsule wardrobe and why you should care about creating your own.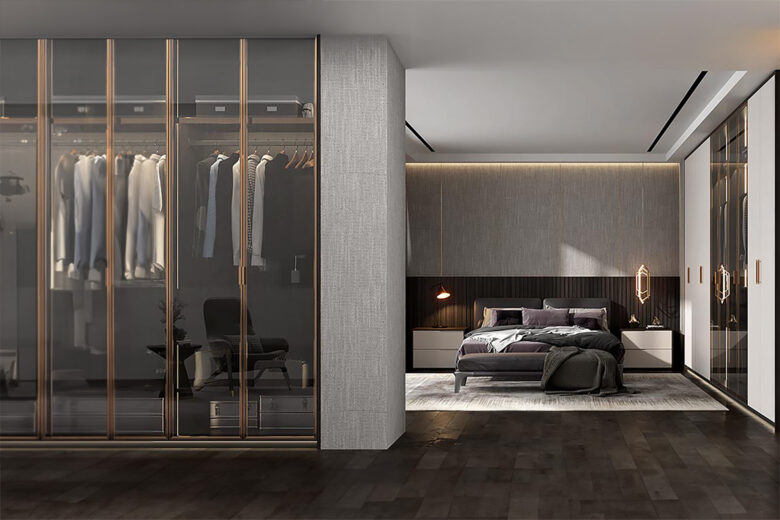 Oh, and if you're interested, we also have a dedicated capsule wardrobe guide for women.
What is a men's capsule wardrobe?
A men's capsule wardrobe is a small and thoughtfully curated collection of clothes that go well together to easily create a variety of outfits. It's a great way to have a lot of options with a minimalist wardrobe.
More broadly, we think creating your own capsule wardrobe is a fantastic opportunity to think more carefully about the clothes that make you happy and the image of yourself you want to project to others. It's also a good way to splurge on fewer but better pieces of clothing.
Why does a capsule wardrobe matter?
Before we look at our system to create your perfect capsule wardrobe, let's briefly talk about why it matters.
Essentially, there are four benefits to having a minimalist wardrobe:
You can afford nicer stuff
You waste less time deciding what to wear
You can travel lighter
You can avoid fashion faux-pas
The last three benefits are fairly self-explanatory, but let's briefly look at the first one before moving on.
By thoughtfully curating a minimalist wardrobe, you'll avoid a significant amount of money wasted buying too many clothes that you'll seldom wear but yet clutter your wardrobe. And, like my grandmother always says, we're not rich enough to buy cheap stuff.
At Luxe Digital, we're firm believers in buying fewer but better things. Things that will last for a long time, crafted with care and high-quality materials, and designed with a timeless style.
That's the perfect segway to talk about our system.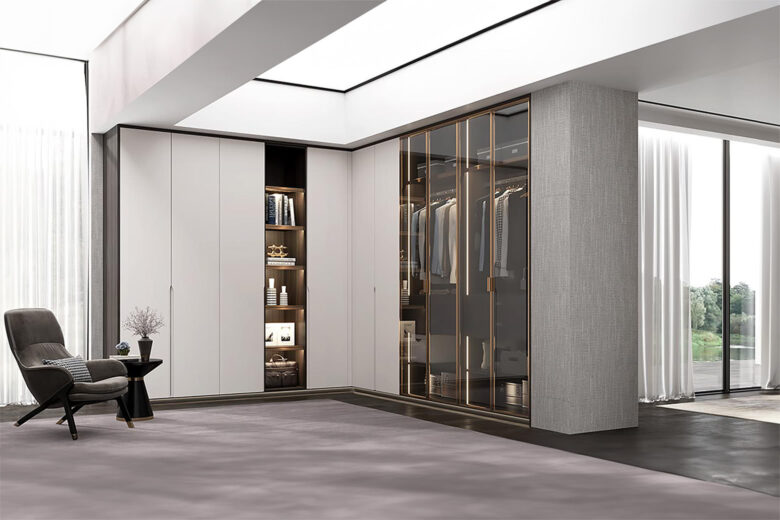 Luxe Digital's capsule wardrobe system for men
After being disappointed with the other capsule wardrobe guides for men online, I decided to take a couple of days to think deeply about a better way to do this.
My goal was simple: to find a framework that would make it easier for you, our reader, to see exactly how to think about your minimalist wardrobe and how to execute it.
After intense thinking and discussions, I ended up with four essential guiding principles. I creatively decided to name them Luxe Digital's capsule wardrobe system.
These are the four principles to keep in mind when shopping for clothes:
Versatility
Timelessness
Quality
Your lifestyle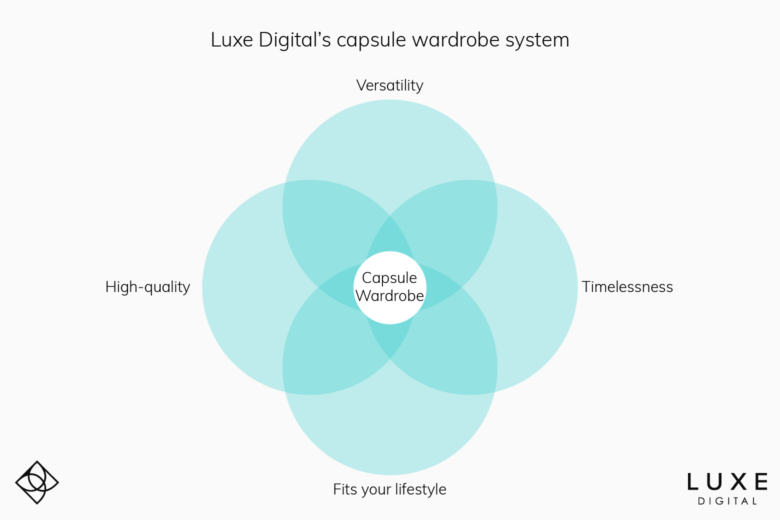 Let's quickly go through them in more detail to make sure that we're on the same page.
Versatility: when curating clothes for your minimalist wardrobe, you want to select options that can be easily dressed up or dressed down depending on the occasion but also layered to adjust to the weather.
Timelessness: avoid short-term fashion fads that will look passé next year. Opt instead for clothes that are stables essentials through the years.
Quality: one of the benefits of buying less stuff is that you can afford to spend more on the things you buy. You don't have to spend a lot of money on flashy brands, but you should spend the extra cash to get the highest quality options available so they will stay with you for a long time.
Your lifestyle: last but crucial, consider what your day-to-day looks like when constructing your minimalist wardrobe. Do you need to dress business professional every day or only on occasion? What kind of weather is in your country? How much physical activity do you do on a daily basis?
How to create a capsule wardrobe for men?
Now that you understand our system to create a more intentional wardrobe, it's time to put that knowledge into practice.
We've identified four simple steps to creating the perfect men's capsule wardrobe:
Step 1: Make an inventory and trim away
Assuming you're not currently living in a cave, the first step to creating your capsule wardrobe is to clear out any items from your existing wardrobe that shouldn't be there.
Take everything out of your wardrobe and create four piles:
Keep: these are your favorite pieces, the ones you wear on a regular basis. They will be the starting point for creating your capsule wardrobe.
Store for later: the classic pieces that you love and still wear, but only on special occasions or different weather. Pack these pieces away to make some space in your current wardrobe. Check our round-up of the best packing cubes if you need a good storage solution.
Recycle: the clothes that are too worn out, stained, or damaged beyond repair should be discarded and recycled.
Donate or sell: the pieces that are still in good condition but don't fit your current style, body type, or lifestyle. Donations to charities and second-hand resale sites are conscious alternatives for parting with things.
Pro tip: Follow the rule of three in your capsule wardrobe. The key to creating a capsule wardrobe is to ensure that each piece can sit effortlessly alongside at least three others in your wardrobe. And when you look at it like that, the outfit combinations are basically endless.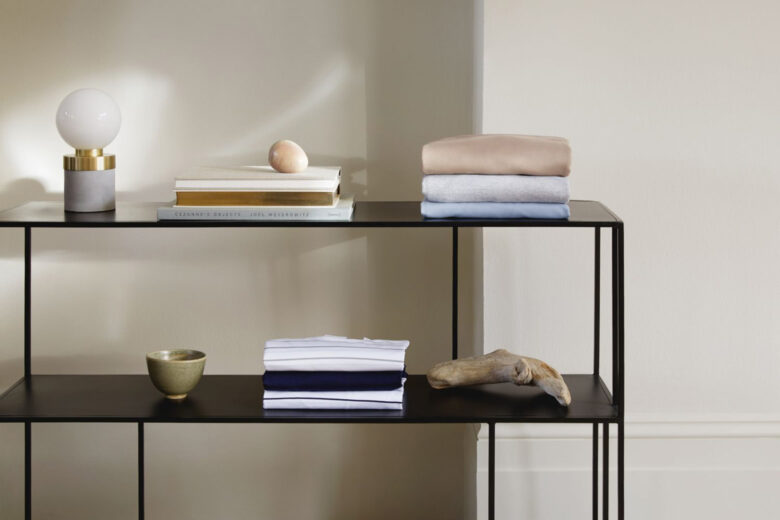 Step 2: Make a list of what's missing
Now the fun starts. Look at the items you decided to keep and create a list of what's missing to cover your daily needs.
Get clear on your style and consider your lifestyle.
The beauty of a capsule wardrobe is that it's entirely personal to you.
Pay attention to the outfits that you love wearing and look for common traits. Why do you like them?
These insights will help you define your personal uniform—a collection of clothes you love to wear and that makes you feel confident.
Once you know your style, factor in your lifestyle.
What do you do for a living? Do you work in an office, or do you mostly WFH? What are your hobbies?
Then start to put together a list of the clothes you need for your daily life.
Pro tip: Opt for clothing that suits your current lifestyle and can be styled in different ways and worn in different contexts.
Step 3: Intentional shopping
Equipped with your list, it's time to go shopping. But this time, you'll be purposefully shopping with a very clear idea of what you want.
Don't cut any corners. If something doesn't fit exactly what you're looking for, don't buy it.
The whole point of creating a capsule wardrobe is to be very intentional and deliberate about the items that you'll buy and keep. So if you're unsure, just leave it. You can always come back to it later.
When shopping for clothes, we recommend focusing on a few selected brands that you know fit your personal style and lifestyle. These should be your trusted brands. You know how their sizing works and you can trust the quality of their manufacturing process.
We have a list of the best online shopping stores for men to help you along the way. But if we were to select just a few, we would strongly recommend Luca Faloni for timeless and elegant gentlemen's clothes and Wester Rise for their everyday collection of comfortable activewear clothes. Both brands offer high-quality garments at a fair price. You can learn more about Luca Faloni here and about Western Rise here.
Step 4: Practice styling everyday outfits
Now it's just a matter of playing with what you've got. Test different combinations to see how they feel. Dress up or dress down, depending on the occasion.
If you've followed our guide and principles, this should be easy and quick since you can't go wrong with anything in your closet.
Bonus: Other things to keep in mind
If you stop reading here, you should already know 80% of what you need to create your personal capsule wardrobe. However, our senior style editors have a few extra tips if you want to perfect your style.
What are the best colors for a capsule wardrobe for men?
The best colors for a capsule wardrobe for men are neutral colors such as black, navy blue, and white. You can expand into bolder colors like red, bright blue, or green, depending on your personal preferences, once you've built a solid foundation with versatile neutral colors.
You might find it helpful to think of colors and color combinations as a pyramid. At its base, you'll find the neutral tones that form your foundation. The second level is made of seasonal colors that work well for certain moments of the year or certain occasions. And at the top of the pyramid are bright colors and patterns that are bolder and completely optional.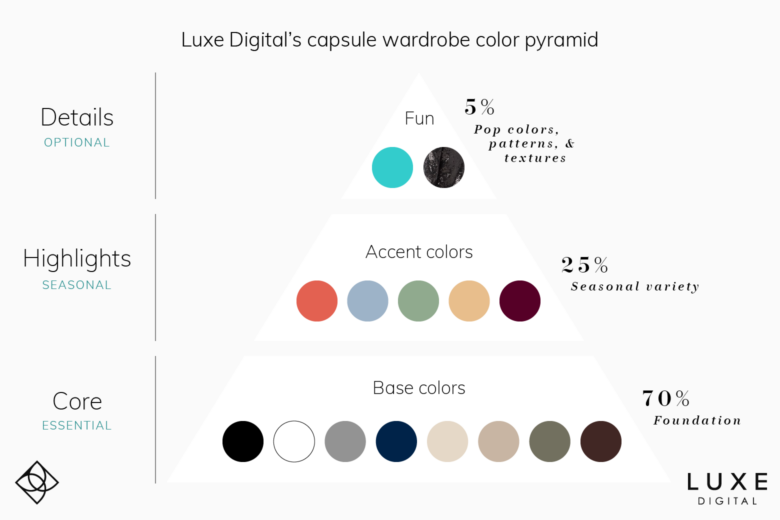 But we do not believe you must stick to a set of colors if you do not want to. The only rule here is to prefer matching colors for extra versatility and outfit combinations.
If you are unsure about how to pick matching colors, read our color wheel guide for some inspiration.
How many pieces do you need for a capsule wardrobe?
A typical capsule wardrobe for men is built around 20 to 30 pieces, including everything from your T-shirts to your pants, sneakers, and accessories. The exact number of pieces that you need will depend on your personal preference and lifestyle, however.
Check our detailed list of all the pieces needed for a capsule wardrobe below to see all the details.
What about accessories?
Accessories for men are one of the best venues to show more (or less) of your personality. Some accessories will be essential to your minimalist wardrobe (like a belt or two), while others are completely optional (such as bracelets or necklaces).
To keep your closet organized and simple, we recommend the same principles as for the rest of your wardrobe when choosing accessories: focus on versatility, timelessness, quality, and something that you'll be happy to wear on a regular basis.
How much should I spend on my capsule wardrobe?
One of the main advantages of following our four steps guide to building your capsule wardrobe is that, when it's time to go shopping, you'll be a man on a mission with a clearly defined list of things to get. Planning ahead is one of the best ways to maintain a budget that works for your wallet. It will help you to stay on track and to avoid overspending when buying new pieces.
In general, we recommend that you focus on quality over quantity.
You don't need to buy expensive stuff, but you can spend a little more than you would usually do if you're confident that the piece you're buying will last you a long time and bring you joy every time you wear it.
If you want to become a more intentional shopper, it's important to educate yourself about the quality of the fabrics you buy (see our guide to sustainable fabrics).
Another benefit of buying high-quality clothes from reputable brands is that, usually, they will retain their value on the secondhand market if, one day, you decide to part with them. This is especially true with accessories such as luxury watches.
What is in a men's capsule wardrobe? Our take on your capsule wardrobe
As mentioned above, we don't agree with most of the fashion bloggers online who prescribe a specific number of items that all men absolutely need to have in their capsule wardrobe. The type and number of items that you keep will really depend on you and your lifestyle.
To make this guide as helpful as possible, we'll focus instead on the categories of clothes that you'll most likely need on a daily basis and the kind of questions you should ask yourself before buying a new piece.
Sounds good?
Let's get started!
Shirts
This is the biggest category of them all, so bear with us for a moment. Men's tops include your wardrobe essentials: T-shirts, shirts, polos, sweatshirts, hoodies, and cardigans.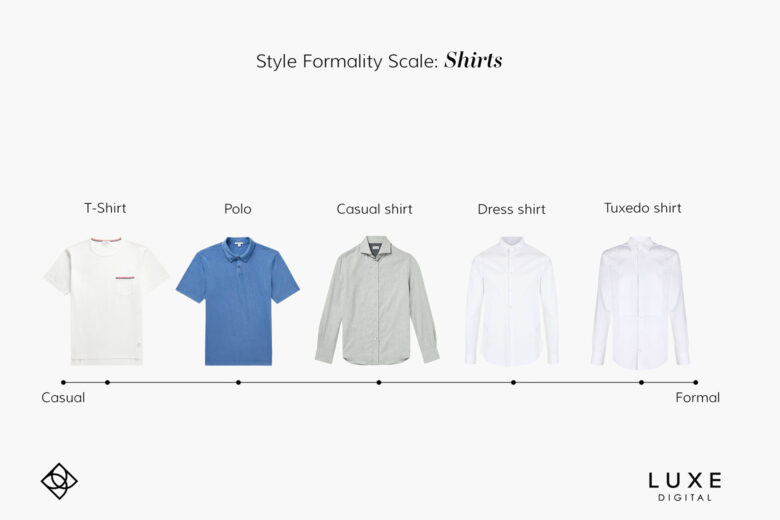 We'll start with the absolute essential for every man: T-shirts.
T-shirts
You'll need at least three or four different T-shirts in your capsule wardrobe. I recommend more than that if you mostly work from home or live in a warm weather. But you can probably get by with just three T-shirts if you mostly wear formal shirt for the rest of the week.
Personally, I prefer V-neck T-shirts for a slightly more sophisticated look and more comfort, but that's entirely up to your personal preferences. I recommend at least one basic white T-shirt and one black T-shirt. These two can be a baseline to layer with other clothes depending on the weather. The more T-shirts you have in your wardrobe, the most creative you can get with the other ones with colors, prints, and patterns.
Check our round-up of the best T-shirts for men to see our curated selection of the best options out there.
Polo shirts
I love Polo shirts in the summer for a smart casual look. You can probably get along with just two Polo shirts in your minimalist wardrobe, but if you live in a warm country and enjoy a lot of time outdoors, I would recommend a couple more to give you more options. Navvy blue and black are safe choices to get started. Beyond these two colors, the rest is up to your personal preferences.
Take a look at our curated selection of the best Polo shirts for men to find the perfect ones for you.
Casual shirts
Casual shirts are another great option to be relaxed yet elegant when not in the office. They're my go-to tops for the summer (especially linen shirts), with the sleeves rolled up. They're also perfect for going out in the evening.
Two casual shirts in your wardrobe are enough for most men, but it's another area worth splurging on if you spend a lot of time going out. Check our list of the best casual shirts for men to see the top options available right now.
Dress shirts
Dress shirts are a foundation of your daily attire for most business professionals who aren't WFH. If that's you, I recommend having five different dress shirts, one for each day of the week. Opt for bright neutral colors such as white and light blue. Check shirts are great add-ons to bring more diversity and versatility to your look.
I still recommend having at least one white dress shirt in your wardrobe, even if you don't need to dress up every day. You'll need it for formal events and special occasions.
We've shortlisted the best dress shirts for men here.
Style note: You'll see on our shirts' formality scale chart above that there's a fifth type of shirt that exists. Those are called Tuxedo shirts and are reserved for very formal occasions with a black tie attire. I don't think you need to purchase such a shirt for your minimalist capsule wardrobe, except if you're regularly attending galas and other formal events. You can instead rent one, together with a tuxedo, whenever you do need one.
Check our black tie dress code guide for men to learn more about this particular style.
Tops
I'll bundle the four classic top options into a single section as they are mostly interchangeable. You'll just need to adapt your selection depending on the level of formality you want to achieve.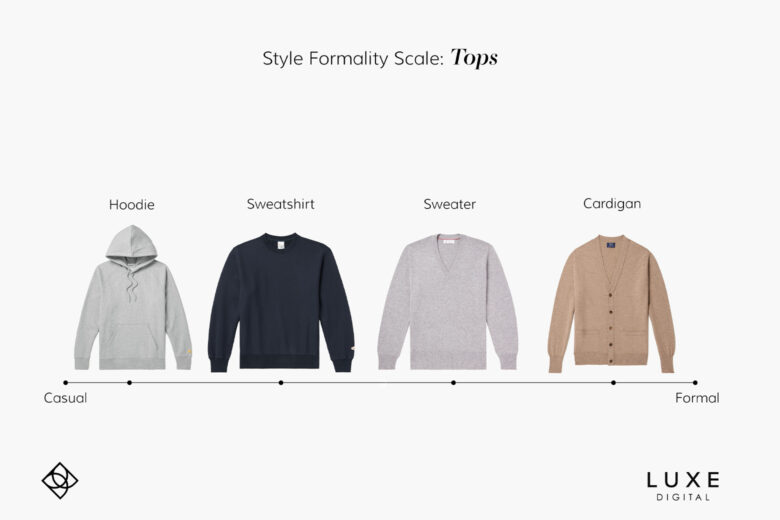 Hoodies are totally optional in your wardrobe. I love wearing mine when traveling, but I rarely ever wear it otherwise. Check our selection of the best hoodies for men if you want to add one to your wardrobe too.
Sweatshirts are my favorite of the bunch for their versatility. They are comfortable and casual but can be worn as part of a smart casual outfit if you opt for premium materials. We've rounded up the best sweatshirts for men here to help you pick the best options for you.
Sweaters are similar to sweatshirts but come with different necklines and material options. I recommend having at least one cashmere V-neck sweater in your wardrobe to layer on top of a shirt when the weather gets chilly. Find the best sweaters for your style here.
Cardigans are another great option to layer on top of your shirt, T-shirt, or Polo for a sophisticated look when the weather gets cold. You don't have to have one in your wardrobe, but I would recommend at least one dark-colored cardigan for the winter months. Take a look at our shortlist of the best cardigans for men.
Pants
There's a lot of variety in the type of pants you can wear too, so we've broken down this section into five categories. We have a round-up of the best pants for men by category if you want to dive deeper into the subject.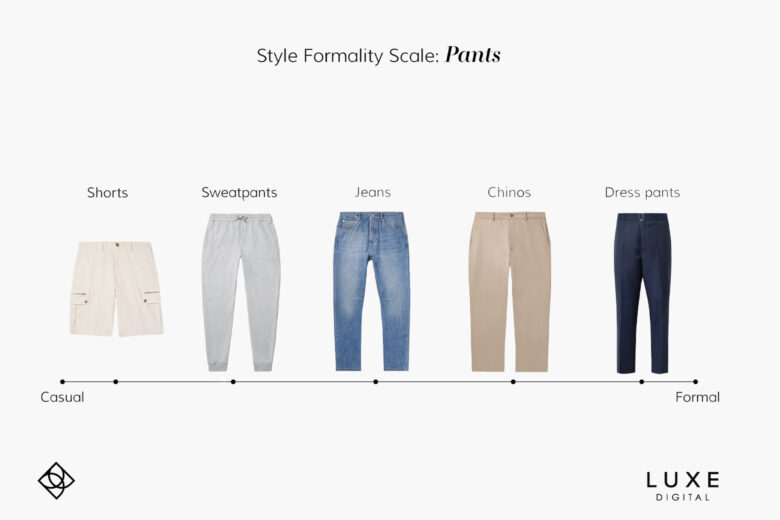 Jeans
You'll need at least one pair of jeans in your capsule wardrobe. I recommend a dark blue pair that can easily be dressed up with a shirt for a casual business attire, or dressed down with your T-shirt or polo for a casual weekend look. Take a look at our selection of the best jeans brands for men to see the different options available.
Chinos
Chinos are my go-to pants for most days of the week. They're more comfortable than jeans yet more elegant and versatile with different colors available. I recommend having at least one pair of light beige Chinos in your wardrobe.
Dress pants
Dress pants are a bit of a weird category. If you're working in an office that requires a formal shirt but not necessarily a suit, you'll want to have at least three different dress pants in your wardrobe. You won't need to buy dress pants as standalone if you need to wear a suit to the office, however, as they'll be part of the outfit. And you can probably get along with just a pair of Chinos if you want to dress up for special occasions but don't work in an office.
Sweatpants and joggers
If you're working from home or spend a lot of time indoors during the winter, I think a premium pair of sweatpants is a must. They are the most comfortable type of pants available and can still look somewhat dressy if you opt for a clean-cut design with premium materials. See our curated list of the best sweatpants for men to find the perfect one for you.
Joggers, on the other hand, are completely optional. Unlike sweatpants that are made primarily with cotton, joggers can include nylon and other materials that are lighter and more breathable, making them the perfect choice for working out in cold weather. I also love to wear them when traveling in an airplane. Not every man will need a pair of joggers in their capsule wardrobe, however. If you do need one, we got you covered with our list of the best joggers here.
Shorts
Unless you're living in Antarctica, you'll need at least two pairs of shorts in your wardrobe. This is a category in which you can go as crazy as you want with the materials and colors, as you'll most probably be wearing your shorts in a casual setting. We've rounded up our absolute favorite shorts for men here.
I would also include in this category swim shorts as some are so versatile that you can wear them all day long if you want to. Check our curated selection of the best swim trunks for men.
Underwears
This section will be brief because, when it comes to your underwear, you can really go any direction you prefer. I personally like short trunks for their support, comfort, and breathability. If you're unsure, I recommend you try different types of underwear to see what you prefer and then invest in a set of 10 models that suit you best.
Check our round-up of the best underwear for men as well as our selection of the best socks for men to find the best fit for you.
One important thing: don't try to save money by buying cheap underwear. They won't be as comfortable or durable as the slightly more expensive options. It's the garment that's closest to your skin all day long, so you shouldn't cut corners in this department.
Shoes
Shoes, and sneakers in particular, are some of the most popular topics on Luxe Digital. Our ranking of the best luxury sneakers for men, for example, is one of the most read articles every year.
And I can see why.
Shoes are a great way to express your personality by adding an edge to your outfit.
To keep this simple, I recommend you start by having only two pair of shoes in your capsule wardrobe: a pair of dress shoes for serious occasions and a pair of sneakers or boots for everything else.
In terms of brands, we really like KOIO, Oliver Cabell, Amberjack, and Axel Arigato for their broad collection of timeless styles. From sneakers to boots and dress shoes, these four brands will have you covered.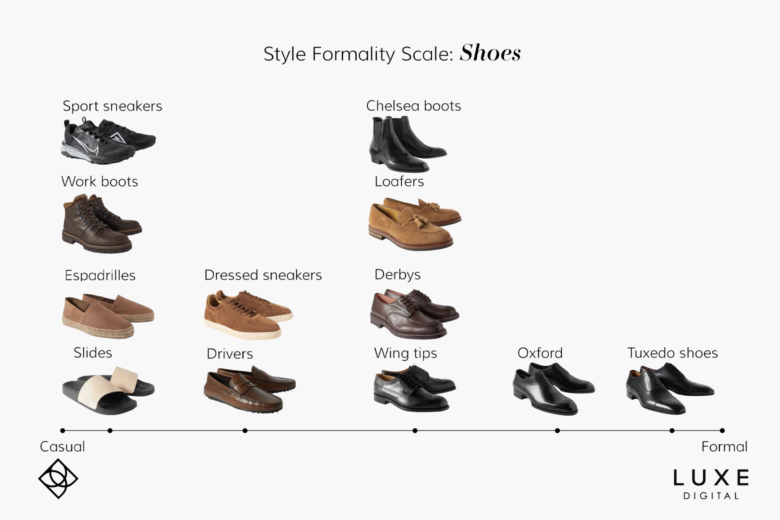 Take a look at our selection of the best dress shoes for men to see the different styles that are available and find the perfect pair for you.
For the other days, I suggest you start with our guide to the best casual shoes for men. In it, we explain the different types of casual shoes that you can choose from. Once you've narrowed down your preferences, you can check our list of the best shoes for standing all day, as that includes a lot of comfortable options.
We also have dedicated guides to:
Oh, and if you're living in a hot weather country or near the beach, I think a trusty pair of flip-flops is also essential. They're inexpensive and don't take up a lot of storage space, which makes them perfect for a minimalist wardrobe.
Coats & Jackets
Most guys can get along with just two types of jackets in their wardrobe: a formal sports jacket or blazer and their everyday coat or jacket. If you add seasons into the mix, you'll also need at least one winter coat and probably a mid-season raincoat too.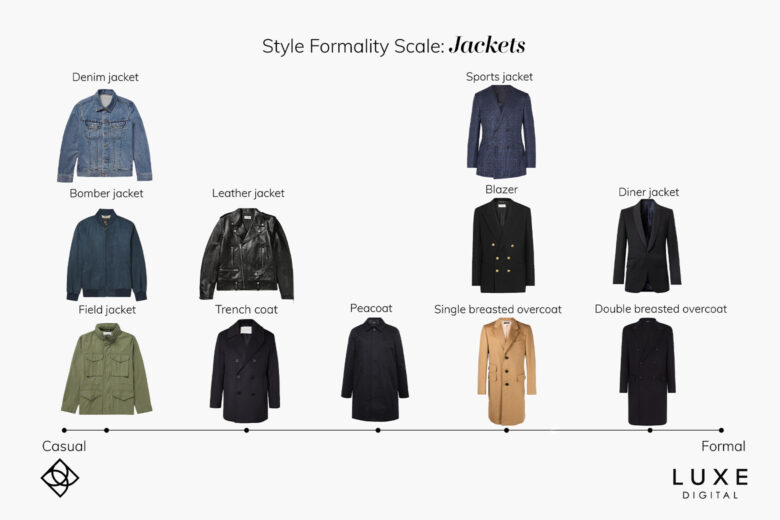 A formal sports jacket or a blazer is the perfect garment to instantly elevate your outfit. Even if you're wearing a T-shirt and jeans, adding a sports jacket on top immediately makes you look more elegant. I think it's the perfect item to add versatility to your capsule wardrobe for those days when you need to dress smart casual.
For your everyday jacket, you can decide based on your lifestyle and personal preferences if you want to go for a casual look (check our guides to the best bomber jackets for men, the best denim jackets, the top field jackets, and the best overshirts, for more inspiration), or a more edgy look (check our selection of the best leather jackets for men and the best motorcycle jackets).
For seasonal jackets, we've also rounded up the best winter coats for men and the best trench coats for mid-season wear.
You can stop reading here if you'd like, and you'll be covered with the absolute essentials for a minimalist capsule wardrobe for men. You got the pieces you need to construct a large range of simple yet versatile outfits to take you through the week.
If you want to take your wardrobe to the next level, however, we think accessories are a great way to add more diversity and personality to your style. Keep scrolling if you want to see more options.
Watches
Adding one or two high-quality timepieces to your wardrobe isn't essential, but it's a great way to add personality and charm to your outfit. If there is one category in which you should invest more money, it's your watch collection. High-end mechanical watches are beautiful but can also be a solid investment when done right. In your entire wardrobe, your watches are probably the items that will maintain the most value on secondhand markets.
We have a thorough series covering the different types of watches for men on Luxe Digital. If you're unsure where to start, I suggest you check our story on the best watches for men first. It's a great introduction to the world of luxury watches.
Next, you can look deeper into the different watch categories with these guides:
Oh, and we also have an expansive ranking of the most popular luxury watch brands if you want to better understand the history behind every manufacturer.
Jewelry
Honestly, I'm not big on jewelry myself. A watch on my wrist is sufficient for me. That being said, jewelry is another great way to add personality to your outfit. More power to you if you're bold enough to rock a necklace, a pair of earrings, or some premium bracelets.
Take a look at our jewelry category if you want to learn more about gemstones, gold, and how to style them.
Bags
I have to admit, I'm a huge bags' fan. I like to be prepared for anything, and it starts with having the right type of bag for the job.
If you were to only get one bag, I suggest you take a look at our list of the best EDC backpacks. Those are great for covering 99% of your daily needs. Some men prefer sling bags, however.
If you're like me and want to expand a little bit on this category, you should also consider getting a dedicated gym bag (perfect for storing your shoes and gym clothes separately), a tactical backpack for those long weekend hikes, a tote for your groceries, and a weekender to travel in style.
Small accessories
While last on our list, this category is one we've put a lot of thought into. Small accessories should help simplify your day-to-today, add comfort to your life, and be practical.
We've narrowed this down to only three essential items for a capsule wardrobe: your wallet, a belt, and your sunglasses. That's it!
Wallets are crucial to keep your valuables tight and secured. These days, for me, it's reduced to just a few cards (credit cards, driving license, ID), so I like to go with the smartest minimalist wallet possible. Check our guide to see what our preferred options are.
Belts are an essential part of your attire, really. They're part of the accessory category, but you'll most likely need at least one belt in your wardrobe. I personally like to have one dress leather belt and one casual braided belt for my casual days. Check our selection of the best belts for men to see the top options.
Sunglasses are absolutely essential to keep you comfortable (and stylish) through the summer. It's important to invest in a pair of sunglasses that offers the right level of UV protection to protect your eyes. See our round-up of the best sunglasses for men to find the perfect pair for you.