Stylishly versatile, spaciously organized, and effortlessly washable—a great beach bag is the understated beach essential. And while the humble carryall rarely receives much attention for all it does, a cheap knockoff hardly goes unnoticed. Well, at least not by us. There's no worse way to spend your Summer retreat than with aching shoulders, relentlessly rummaging or scrubbing down a stained accessory. This begs the question—how many chiropractic consultations will it take before you invest in the right bag to carry the load?
But beach bags aren't just a utilitarian practicality. They're your risk-free way to try out new trends without the commitment. If you aren't ready to hit the dopamine dressing trend, why not opt for dopamine accessorizing—a more subtle alternative? Try it with Summersalt's vibrant color-blocking hues. They promise to add a smile-inducing edge to every coastal ensemble.
For the minimalist at heart, we have countless options to build up your capsule wardrobe collection—from woven classics to avant-garde silhouettes and contemporary graphic designs. And for those looking to add a playful touch to their monochrome swimsuits, we've found exotic prints to do the trick.
Fold it up or carry it on, these beach bags are ready to hop on a plane and head to the beach. Are you joining?
Dagne Dover: Overall best beach bag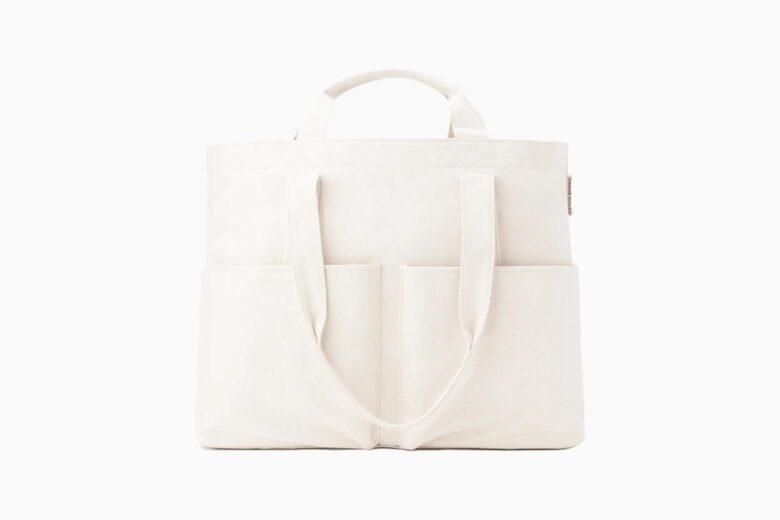 We went looking for a beach bag that was washable, durable, and stylishly versatile. Dagne Dover clearly understood the assignment with this Vida cotton tote bag—making it our best overall pick to cart your beach essentials. The large wipeable interior lining makes sunscreen spills effortless to clean. While a plethora of pockets make finding your keys a breeze.
This functionally fashionable beach bag comes in black and white. But if you're looking for a dopamine kick—we're obsessed with the limited edition orange. 
Check our in-depth review of Dagne Dover's bags and our profile on Dagne Dover's brand.
| | |
| --- | --- |
| Best for: | Mary Poppins' beach bag. |
| Colors: | Black, White, and Orange |
Off-White: Best designer beach tote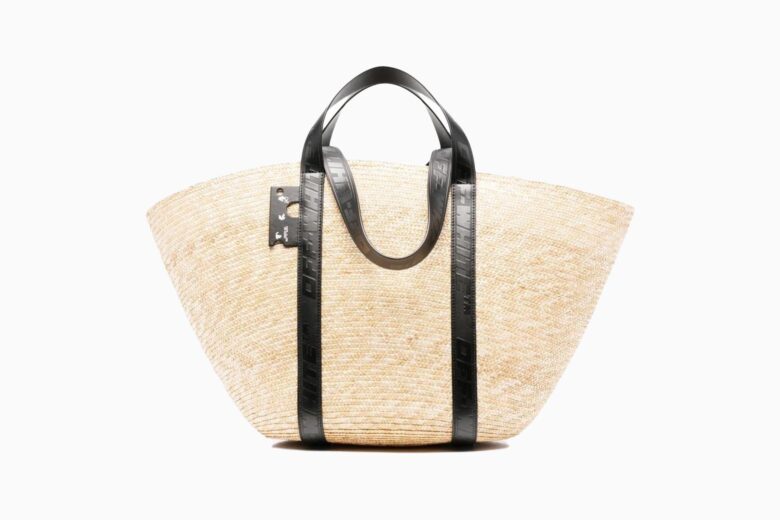 We love Off-Whites' designer beach bags for their avant-garde styles. But this classically chic beach bag takes the cake. The woven straw silhouette speaks to timelessly romantic beach trips. The black industrial strap adds a contemporary streetwear touch. And the brand's signature Hands Off logo does just enough to make a statement without being over the top.
Pair this stylishly versatile tote with your best one-piece swimsuit for a look that shows off your eye for fashion in an elegantly understated way.
| | |
| --- | --- |
| Best for: | Understated designer details. |
| Colors: | Straw |
Hoxis: Best value beach tote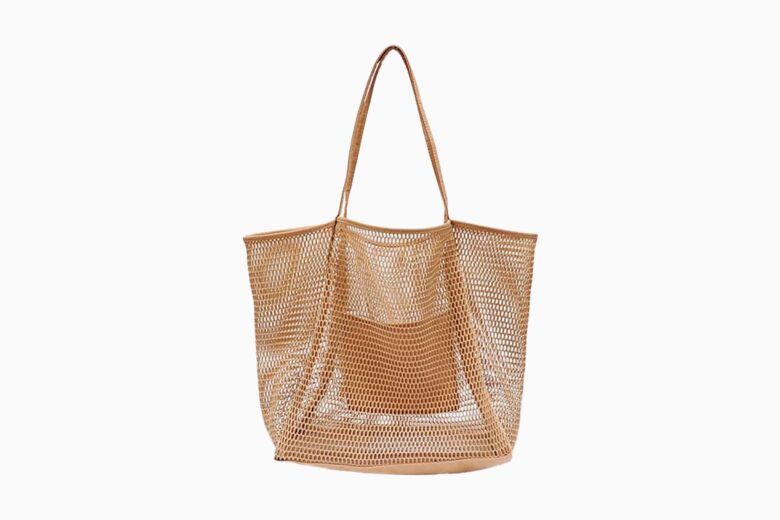 This is your chance to try dopamine dressing without the commitment. Hoxis' mesh bag runs the gamut in colors—from bright coral to green, pink or yellow. The vibrant hues are the perfect way to add a splash of color to your beach attire. But if you prefer to stick to neutrals, tan, black, and cream options are sure to do the trick.
Our best advice? At this price, just get one of each. These durable mesh beach totes are effortless to clean and double up as shopping bags or gym companions. So they'll never be short of work.
| | |
| --- | --- |
| Best for: | Allowing your true colors to shine through. |
| Colors: | Tan, Black, Coral + More |
Bellroy: Best beach bag with zipper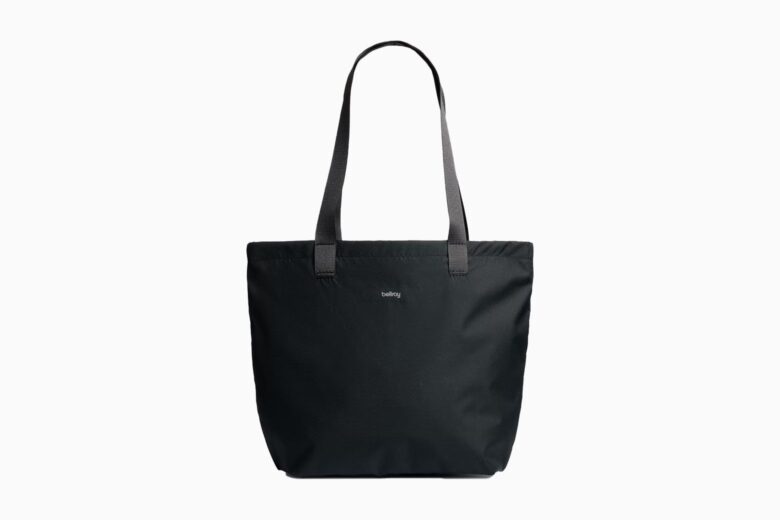 Best known for its utilitarian style, it's no surprise that Bellroy is one of our favorite brands for the best beach bags. The waterproof tote bag is perfect for traveling in any weather. A plethora of pockets provide a painless unpacking experience. And the ultra-wide zipper allows you to see everything inside a spacious main compartment without rummaging.
This light tote flaunts a modern minimalist silhouette in black or gray. And paired with your best women's baseball cap, it's all you need to complete a carefree, understated celebrity look.
| | |
| --- | --- |
| Best for: | Carefree organization. |
| Colors: | Black and Gray |
Cuyana: Best beach bag tote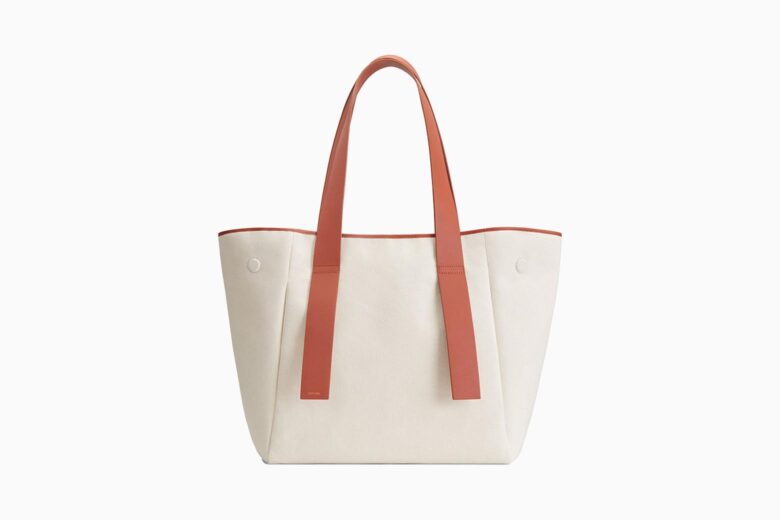 It's no secret that Cuyana is the queen of capsule wardrobes. And this canvas tote is without doubt one to add to your arsenal. The soft cream silhouette makes room for a tanned leather trim and handles. The spacious compartment promises to fit all your essentials—and then some. While zip and slip pockets are there to keep your valuables safe.
We think that this beach bag tote is one of the luxury brand's best pieces, and if you know our affiliation for Cuyana, you'll know that that says a lot.
| | |
| --- | --- |
| Best for: | Capsule wardrobe classics. |
| Colors: | Cream |
Horizn Studios: Best crossbody beach bag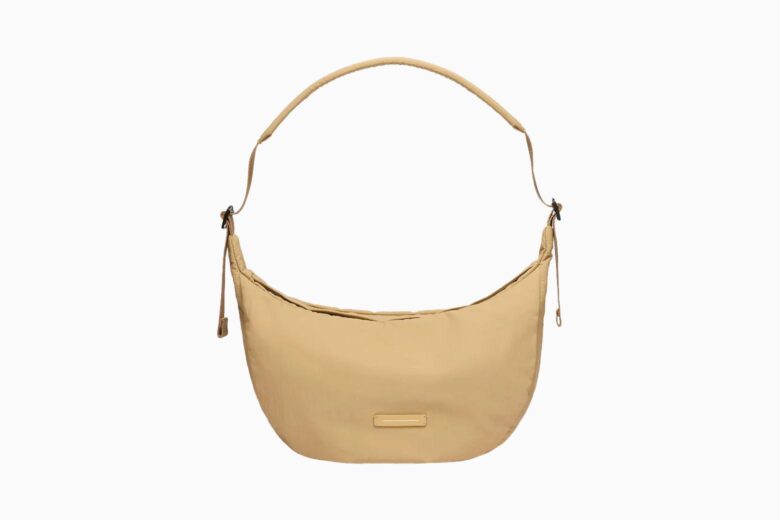 Nothing screams trailblazer like Horizn Studios' oversized cross-body bag. The avant-garde silhouette flaunts water-resistant fabrics that are designed to last. The spacious compartment is all you need for a good-read, sunnies, and sunscreen. While the internal zip pocket takes care of all your bits and bobs. This sustainable brand goes the extra mile in protecting the environment with its recycled, vegan-leather materials.
Pair the Chiado bag with your favorite white sneakers for the ultimate casual chic styling.
| | |
| --- | --- |
| Best for: | Sustainable cross-bodies that are totally on-trend. |
| Colors: | Black and Tan |
M.Gemi: Best beach purse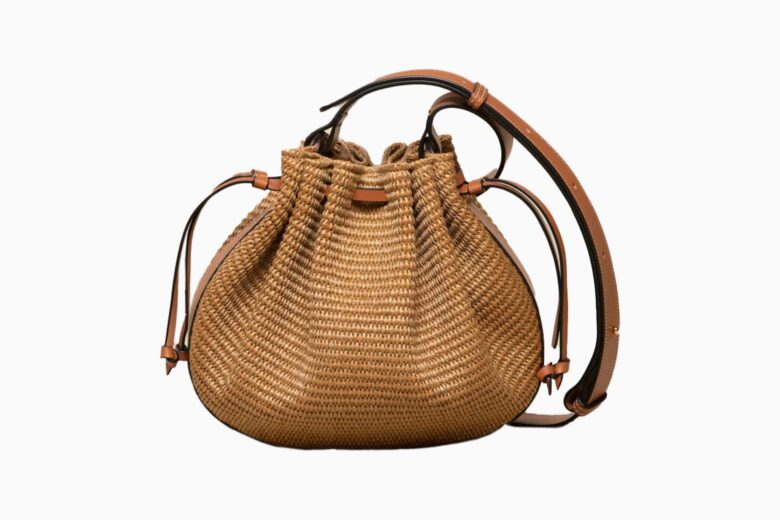 M.Gemi's Nora Bucket Bag stays true to the luxury brand's elegant style and impeccable Italian craftsmanship. The small adjustable crossbody is just the right size for all your beach essentials without unnecessarily getting the way. The sumptuous silhouette is carried by adjustable straps for customized comfort. And the black or tan lightweight raffia makes spontaneous beach getaways a breeze.
Pair this versatile beach purse with your best oversized sun hat for a Summer lovin' match made in heaven.
Learn more about the story behind M.GEMI.
| | |
| --- | --- |
| Best for: | Resort relaxation—refined. |
| Colors: | Black and Tan |
Away Travel: Best packable beach bag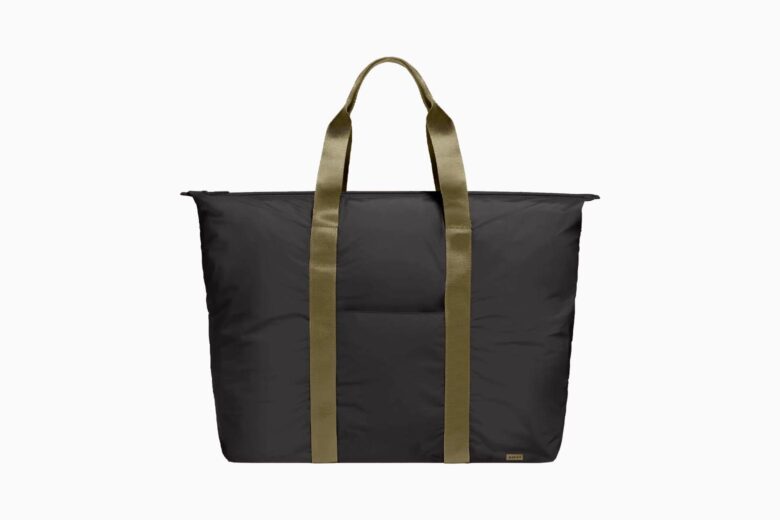 Away has already made its mark in the travel industry with its fashionable functional luggage line. And you'd be remiss not to add this carryall to your coastal getaway collection. The lightweight, foldable bag makes for a flexible travel companion. The water-resistant nylon is effortless to clean. And a plethora of pouches keeps things running smoothly.
Fulfill your dopamine dressing dreams with a vibrant pacific blue or cayenne orange. Or keep it neutral with black or navy. Either way, this packable Summer bag is your excuse to book a trip.
| | |
| --- | --- |
| Best for: | Foldable flexibility. |
| Colors: | Black, Blue, Orange + More |
Oroton: Best large beach bag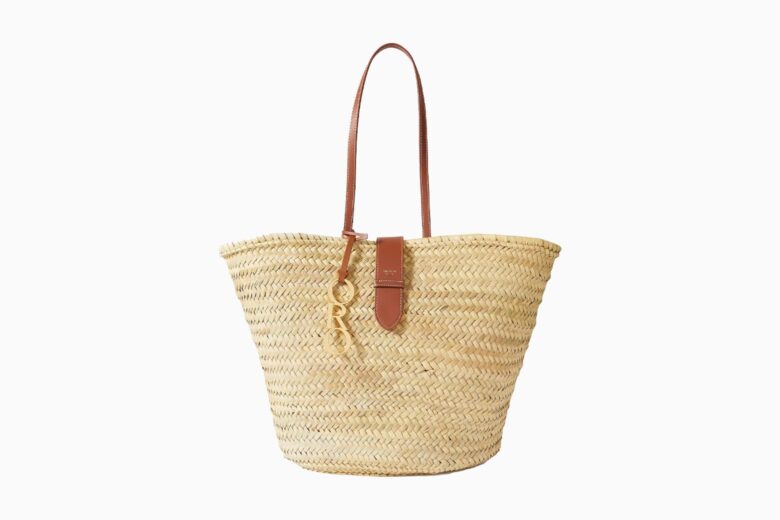 If you're lucky enough to spend a full day (or even better, a full Summer) on the beach, a large beach bag is a quintessential addition to your arsenal. And Oroton's large Madison bag knows just how to do it. Perfectly sized, it promises not to forget your vacation novel or mid-morning snack. And accented with the brand's signature gold hardware, it's a piece to add an air of sophistication to any coastal ensemble.
Style this oversized beach bag with your best designer sunnies for timelessly chic beach accessorizing (cue the compliments!).
| | |
| --- | --- |
| Best for: | Preparing for a full beach day—snacks and all. |
| Colors: | Straw |
Hereu: Best straw beach bag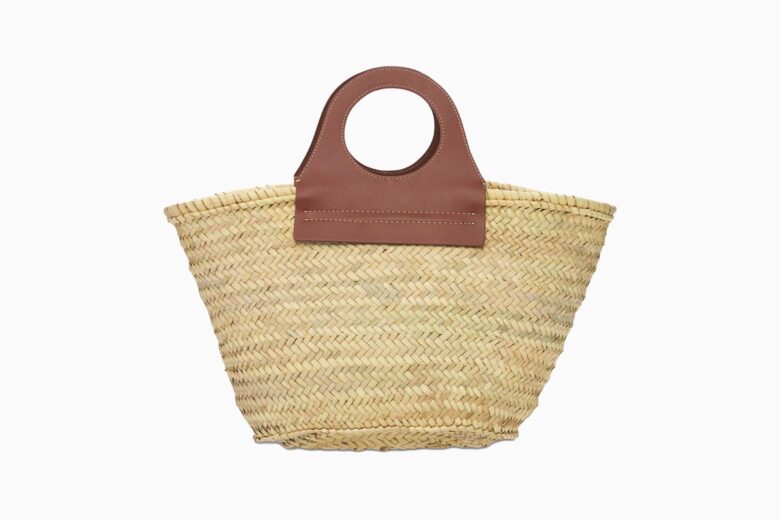 There's nothing like woven straw to kickstart the Summer with effortless elegance. And nobody does that better than Hereu. The versatile silhouette will complement your full range of swimsuits. The handwoven exterior and leather handle speak to a timeless love affair. While the contemporary cut keeps the overall look unassumingly chic.
Marry this Hereu Summer bag with woven espadrilles and allow the partnership to perfect your style.
| | |
| --- | --- |
| Best for: | Whimsical woven detailing. |
| Colors: | Chestnut |
Longchamp: Best mesh beach bag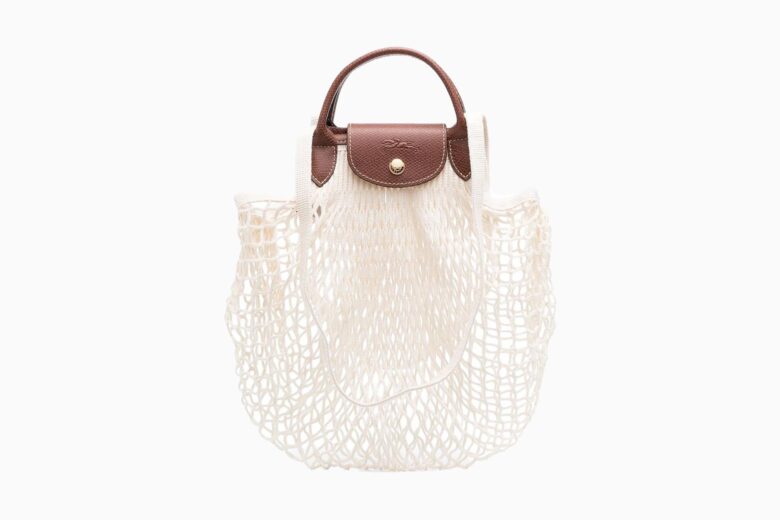 Renowned for its effortlessly edgy elegance, the French brand stays true to unparalleled Parisian styling. And the Le Pliage cotton tote is case in point. The cream contrast stitching hits the elusive sweet spot between timeless and trendy. While the leather trim and gold-hardware maintain an air of sophistication.
Pair this Longchamp designer beach tote with stylish Summer shoes for a look that'll take you from the beach to cocktail hour in a snap.
| | |
| --- | --- |
| Best for: | The South of France embodied in a bag. |
| Colors: | Cream |
Alo Keep It Dry Packable Tote: Best lightweight summer tote bag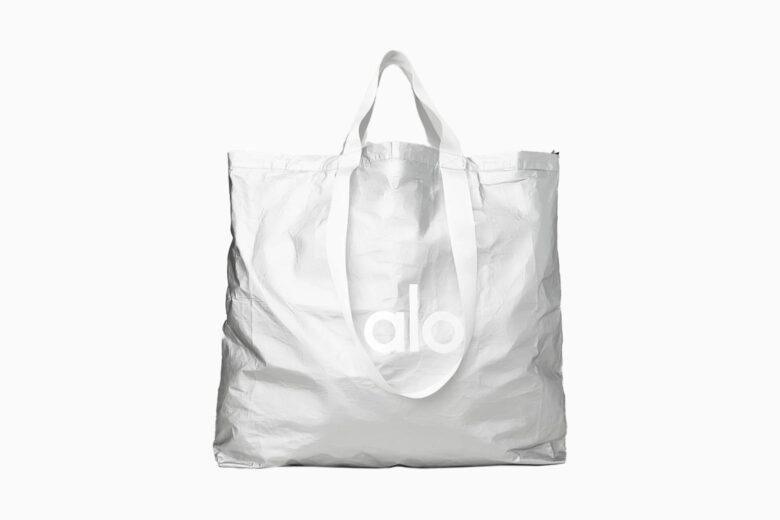 With sustainability at the heart of the brand, we love Alo Yoga for its environmentally-conscious attitude as well as its eye for on-trend details and functionality. This lightweight Summer tote is a perfect example. The sturdy straps are ready to take on anything you throw at (in) the sizable interior. And the modern minimalist exterior is all you need to subtly show off sporty sophistication.
This Alo oversized beach bag is easy to pack for when you need an extra bag to separate wet swimwear.
| | |
| --- | --- |
| Best for: | Multifunctional fashion. |
| Colors: | Silver and Black |
Dagne Dover Dakota: Best beach backpack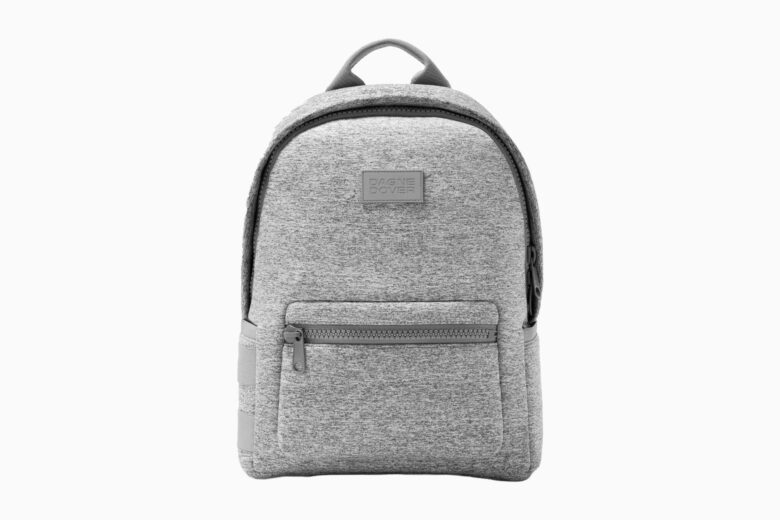 Dagne Dover's bags do it all in an organized fashion. But the Dakota beach backpack tops our list for a number of reasons. The versatile neoprene is made from the brand's signature Recycled Repreve lining for sustainably stylish rendition. The spacious compartment flaunts multiple sleeves to stay on top of things. And the contemporary silhouette comes in gorgeous neutral or vibrant hues—from Dune brown to Violet pink.
This water-resistant backpack shouldn't be confined to the beach. And it effortlessly doubles up as a college or gym bag in the cooler months.
| | |
| --- | --- |
| Best for: | Having your back in everything. |
| Colors: | Black, Moss Green, Orange + More |
Summersalt: Best neoprene beach bag for women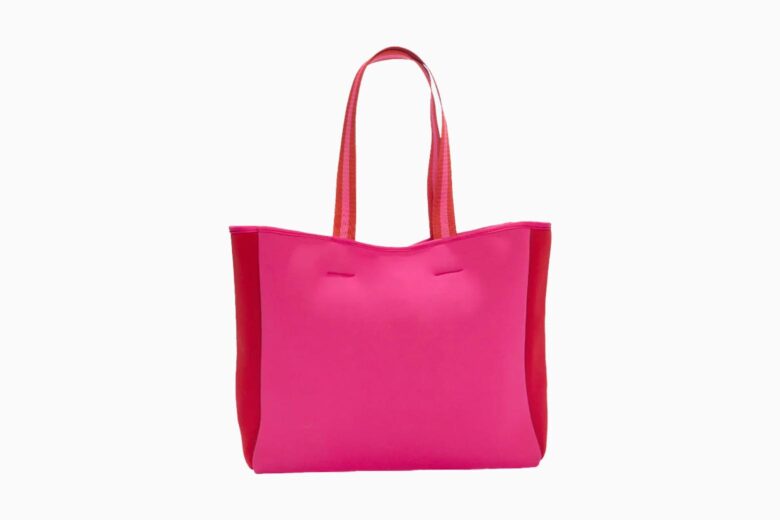 As one of our best swimsuit brands for women, it's no surprise that Summersalt makes a killer beach bag. The water-resistant neoprene speaks to coastal practicalities. Soft, durable straps and a roomy interior make carrying everything you need effortless.
Being forerunners in dopamine dressing, it makes sense that dopamine accessorizing would be second nature to the smile-inducing brand. And we can't get enough of the cutting-edge color combinations splashed onto these Summer tote bags.
| | |
| --- | --- |
| Best for: | Make a splash with color-blocked neoprene. |
| Colors: | Pink and Green |
Isabel Marant: Best raffia designer beach bag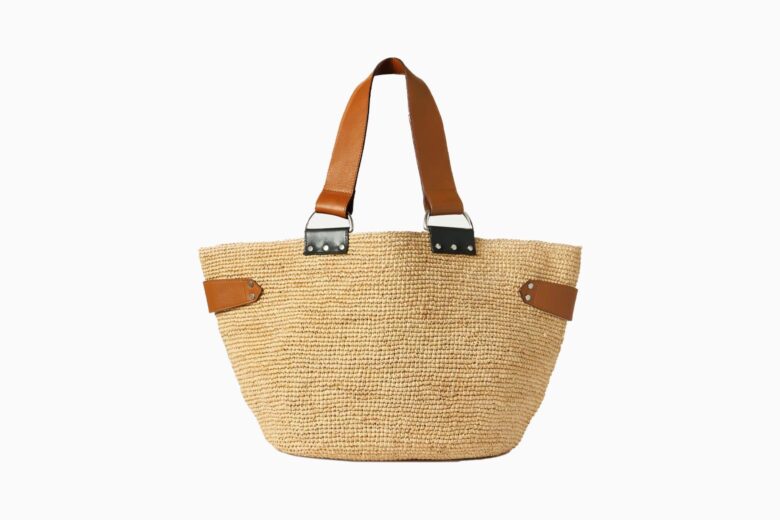 Renowned for her avant-garde details, Isabel Marant can do no wrong when it comes to designer beach bags. The woven raffia silhouette is everything we love about the sunny season. A roomy interior will ensure that nothing gets left behind. And sturdy leather handles promise to accompany you on endless adventures.
This timeless classic is an investment into a lifetime of coastal getaways. And if you don't have one planned, book it now.
| | |
| --- | --- |
| Best for: | Elevated essentials. |
| Colors: | Straw |
Axel Arigato: Best canvas beach bag for women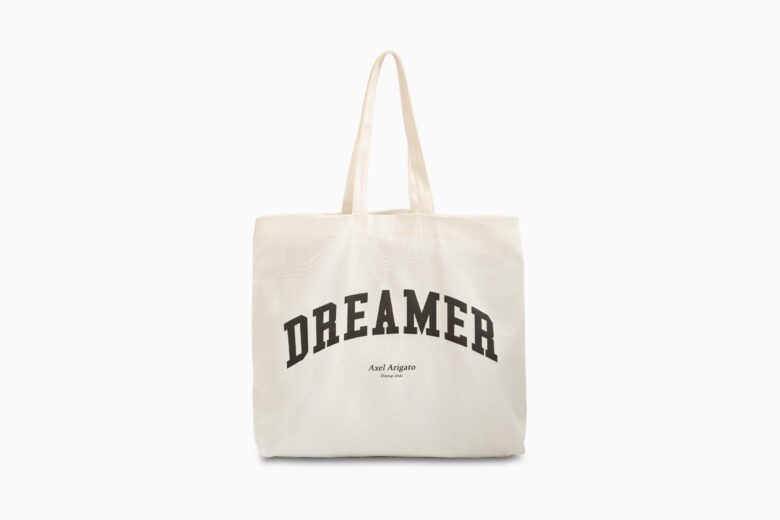 Chuck everything inside in a snap—Axel Arigato's tote is the perfect canvas for carefree coastal convenience. The durable design and large interior is made to carry a holiday's worth of paraphernalia. The machine-washable fabric is in line with the relaxed nature of the bag. The minimalist white silhouette gives way to printed graphics on the side, finished off with the iconic brand's signature monogram.
If this tantalizing tote doesn't have you dreaming about Summer holidays, we don't know what will.
| | |
| --- | --- |
| Best for: | Switching to relaxed mode. |
| Colors: | Off-white |
Anine Bing: Best woven beach bag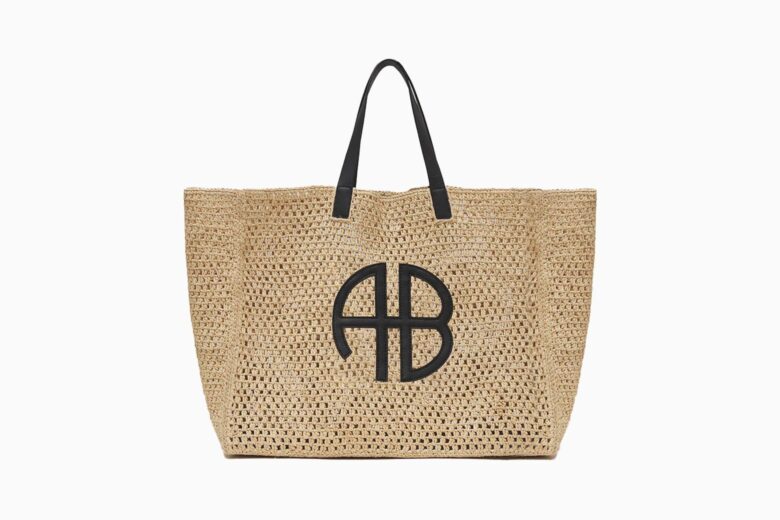 Made from seagrass, this woven beach bag is a quintessential addition to your coastal capsule accessory collection. The large compartment will happily take on your beach towel. The natural straw tones tell a story of timeless holidays.
Designed to go with anything, the Anine Bing tote attracts vibrant tones or minimalist neutrals alike. And in doing so, it'll see you through every seasonal trend.
| | |
| --- | --- |
| Best for: | Weaving together a multitude of styles. |
| Colors: | Straw |
Frette: Best pool bag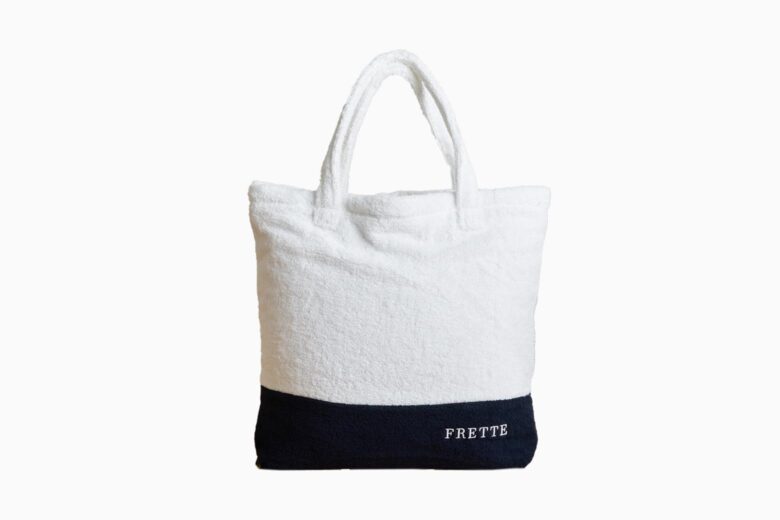 Lounging at a resort pool and beach vacations usually go hand in hand. But that doesn't mean that they require the same bag. The Frette pool bag is made from terry cloth for extra absorbency and a soft, towel-like aesthetic. The simple silhouette comes in white with a black, yellow or gray fringe. And the signature Frette logo only adds to the luxury of the design.
Carry this Frette terrycloth tote around the resort in your matching robe, and you'll look like you're settling into your second home.
| | |
| --- | --- |
| Best for: | Polished poolside practicality. |
| Colors: | White & Black, White & Yellow and White & Gray |
Bluboon: Best waterproof beach bag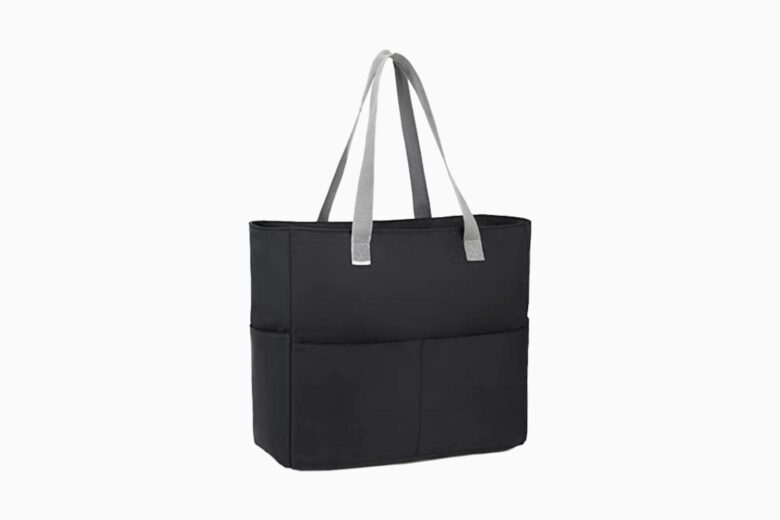 There's nothing the Bluboon beach bag can't handle. The durable waterproof polyester exterior allows for that carefree beach attitude. Plenty of pockets make all the essentials grabbable—including a pouch for your favorite water bottle on the side and flip-flops in the front. The zip front keeps it all secure. And padded straps provide your shoulders with the necessary reprieve.
This multitasking companion runs the gamut in exotic prints. And the price tag is the only excuse you need to get one for every swimsuit.
| | |
| --- | --- |
| Best for: | Playful prints. |
| Colors: | Black, Orange leopard, Floral + More |
Calpak Travel: Best compact beach bag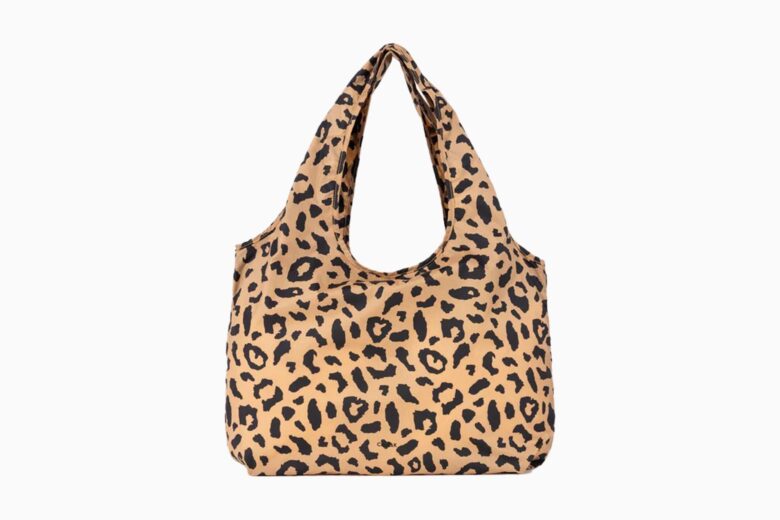 Calpak's soft bags are quickly earning a name for themselves amongst the rich and famous. And we're not surprised. The compact collapsable silhouette is effortless to pack for Summer retreats. Made from durable, waterproof fabric you'll never have to fret over unsolicited spills. While a variety of playful prints and unique hues speak to distinctive moods and personalities.
These exotic totes may be A-list ready but you would never guess from the price tag.
| | |
| --- | --- |
| Best for: | A splash of whimsy. |
| Colors: | Lilac, Green daisy, Cheetah + More |
May Tree: Best clear beach bag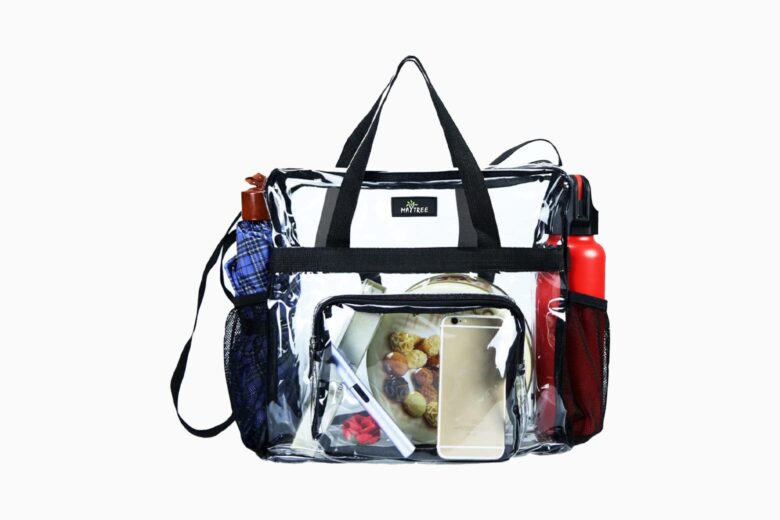 It wouldn't be a transparent beach bag story without including our favorite clear tote. And May Tree's multifunctional rendition tops the charts. The waterproof vinyl exterior is spillproof and perfect for young mothers. The spacious interior fits anything imaginable. While a front zip pocket and side pouches do all your compartmentalizing for you.
This see-through beach bag puts an end to relentless rummaging once and for all. Now that's a true love story.
| | |
| --- | --- |
| Best for: | Wearing your heart on your sleeve type transparency. |
| Colors: | Clear |
Frequently asked questions about beach bags
What is the best bag to bring to the beach?
If you're packing for the family,  Dagne Dover is the best large beach bag with pockets. If you're looking for something packable for your coastal holiday, Away's foldable tote is a standout. And if your beach ensemble needs a pop of color, Summersalt's cute beach bags are our go-to. But to find exactly what you're looking for, we recommend reading our reviews of all our best beach bags for women.
What makes a good beach tote?
A good beach tote is light on the shoulders. It is spacious enough for all your essentials (including a good read). It is easy to clean and made to endure countless beach trips. And it'll either add a playful edge to your Summer getup or it'll timelessly complement every ensemble with a classical style.
Can I bring a beach bag as a carry-on?
Who doesn't love a multifunctional bag? We know that we do. There's no better way to save packing space for your weekender than doubling up your beach bag as a carry-on. Brands like Dagne Dover, Horizn Studios, and Bellroy are all about that. That's why we love them (amongst other things).
Does neoprene make a good beach bag?
Neoprene is just as good for cute beach bags as it is for keeping you warm in the water. The water-resistant material is easy to clean, soft on the shoulders, and it has that coastal aesthetic. What more could you ask for?