You don't become one of the Holy Trinity of watchmakers just like that. It takes decades upon decades of unwavering attention to detail, savoir-faire passed down through generations, and an uncompromising taste for creativity and originality. Patek Philippe has all this—in droves.
Patek Philippe is one of the oldest watchmaking companies in the world. Its timepieces are some of the most exclusive and coveted watches in existence. Prices have hit new and staggering highs. And Patek Philippe shows no signs of slowing down yet.
At a glance
| | |
| --- | --- |
| | |
| Industry: Watches | Founded: 1839 |
| Headquarters: Country | Founder: Jean Adrian Philippe and Antoni Norbert Patek |
| Watch Collections: sports watches, dress watches, women's watches, and pocket watches | Parent organization: Privately owned |
| Annual Revenue: $2.02 billion USD | Website: patek.com |
Patek Philippe prices
How much does a Patek Philippe watch cost?
The starting price for a Patek Philippe men's watch is around $18,000 for an Aquanaut. The iconic Patek Philippe Nautilus price is at least $27,000, while the most expensive Patek Philippe watches reach over $300,000.
What is the most expensive Patek Philippe watch?
The most expensive Patek watch ever sold is a Grandmaster Chime 6300A-010, made especially for the Only Watch Charity Auction in Geneva in 2019. It sold for a staggering $31.19 million USD. Made from steel, it features 20 different complications, including an alarm, earning it the status of the most complex Patek Philippe wristwatch ever created.
What is the cheapest Patek Philippe watch?
The cheapest Patek watch is the Aquanaut. Patek watches have a starting price of around $18,000. Patek Philippe's line of women's watches is also one of the more affordable options. Patek Philippe Twenty-4 watches start at around $13,000.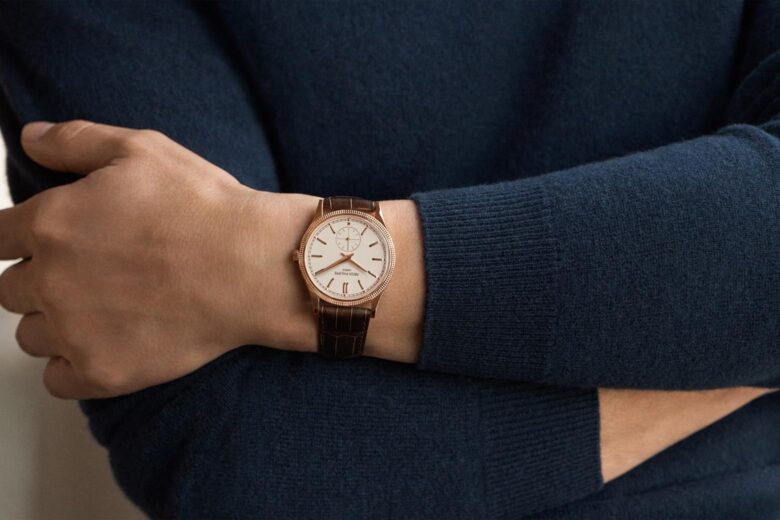 About the brand
History of Patek Philippe
The story of Patek Philippe starts with Antoni Patek. He was born in Poland but fled his country in the early 1800s, seeking asylum in Paris and then Geneva in 1833. Here, along with Czech-born watchmaker Franciszek Czapek, he began buying and fitting watch movements in his own cases under the name Patek, Czapek & Cie.
On a trip to Paris in 1844, Patek met an innovative French watchmaker named Jean Adrien Philippe, who had gained a reputation in the industry for his keyless watch wound by a crown.
The Patek Philippe collaboration was born in 1851, and the brand quickly garnered positive attention and established a name for itself. Its accomplishments and innovations included a precision regulator, a Patek watch that could display multiple time zones, a perpetual calendar for pocket watches, and the first-ever double chronograph.
The ethos behind the company was clear: a quest for perfection. Soon, members of the royal family and other aristocrats were seen sporting Patek Philippe creations.
During the Great Depression in the 1930s, the company sought external investment. Two Genevan brothers stepped forward, Jean and Charles Stern, who purchased a majority interest. Following this, the company started making its own in-house movements and also launched its flagship model, the Patek Philippe Calatrava.
Patek Philippe is still owned by the Stern family to this day. They have overseen the release of an incredible number of boundary-pushing timepieces, including a tourbillon movement that achieved a precision record at the Geneva Observatory that remains unbeaten, as well as the company's first Nautilus sports watch in 1976, plus its first annual calendar in 1996.
In 2001, The Patek Philippe Museum was opened, dubbed a 'Temple to Watchmaking', and is considered one of the best horological museums in the world—unsurprisingly, as it is, after all, owned by one of the top luxury watch brands in the world.
Interesting facts about the brand
In 1857, Queen Victoria ordered a self-winding lady's timepiece from the company. She also owned a second Patek watch, worn suspended from a diamond and enamel brooch.
In 1989, the company released the Calibre 89. It features no less than 33 complications—the most ever in a portable timepiece.
The brand has reportedly made less than 1 million Patek watches since 1839. This gives you an idea of the exclusivity of owning a Patek Philippe watch.
The most complicated Patek watches take more than two years to create.
To own a Patek Philippe Grandmaster Chime Ref.6300G, you have to make an application to the Stern family so they can ensure that Patek watches are only bought by people who can prove their appreciation for them.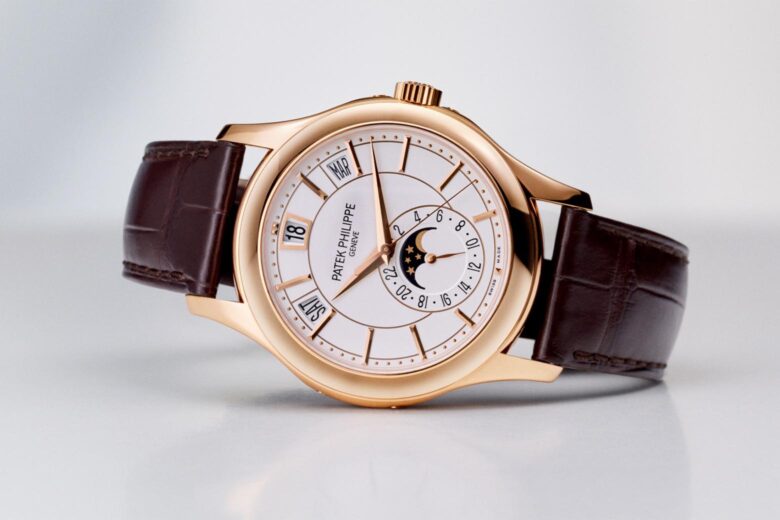 Patek Philippe's product range
Patek Philippe makes men's watches in several different categories.
There are the highly technical Grand Complications and Complications, timepieces that boast a number of complex features such as tourbillons or perpetual calendars.
Then there are the brand's dress watches in the form of the iconic Patek Philippe Calatrava, 1920s-style Gondolo, and elusive Golden Ellipse.
Additionally, you have the brand's famous luxury sports watches in the form of the Nautilus and Aquanaut.
And, finally, there's a series of women's watches called Twenty-4, as well as a small number of luxury pocket watches.
As for how much a Patek Philippe watch costs? It varies depending on the model, but the most affordable is the Aquanaut, while the highest Patek Philippe watch price goes to the brand's Grand Complications.
Signature materials and craftsmanship
Apart from being one of the oldest watchmaking companies in the world—and apart from making some of the most expensive luxury watches of all time—one of the things that makes a Patek watch unique is the unparalleled commitment to quality.
This is a company that has a true eye for excellence. The creation of each individual component, of which there are around 250, is an exceptionally intricate process, but no corners are cut. Between 40 and 60 steps are needed, even for something as minor as the wheels.
And while the company is not shy of modern technology, using computerized lasers to cut the base of Patek watches, for example—there is still the belief that machines alone cannot achieve perfection.
Indeed, Patek Philippe invests a huge amount in artisan processes such as enamel painting and delicate engraving while each part is hand-finished and hand-assembled. Even the hands are hand-polished.
Patek Philippe's company president, Thierry Stern, personally inspects every repeater before it leaves the factory. As if that wasn't proof enough of the brand's dedication to perfection, they also introduced the Patek Philippe Seal in 2008, a standard more demanding than any other in the industry. This is part of the reason behind the high Patek Phillipe watches price.
Where is Patek Philippe made?
Patek Philippe's main manufacture, or factory, is on the outskirts of Geneva in Plan-les-Ouates where other famous watchmaking brands like Rolex also have factories. The factory has ten floors and is nearly 200 meters long. The Patek Philippe Calatrava Ref.6007 was released in 2019 as a special edition to mark the completion of this new factory.
Brand values
| | |
| --- | --- |
| Vegan options: | No |
| Carbon-neutral: | No |
| Gives back: | Yes |
Patek Philippe watches
The Patek Philippe collection includes 142 different models across 9 distinct watch families, from the iconic Patek Philippe Calatrava and Nautilus to the women's Twenty-4 watches.
Each of the brand's 54 movements is made in-house. Most are mechanical—either manual or automatic—but there are quartz options too. Case sizes and shapes vary from slim and rectangular to chunkier and round while materials range from stainless steel to precious metals like rose gold or platinum. You'll find a diversity of dial colors as well as highly decorative timepieces too.
Patek Philippe Grand Complications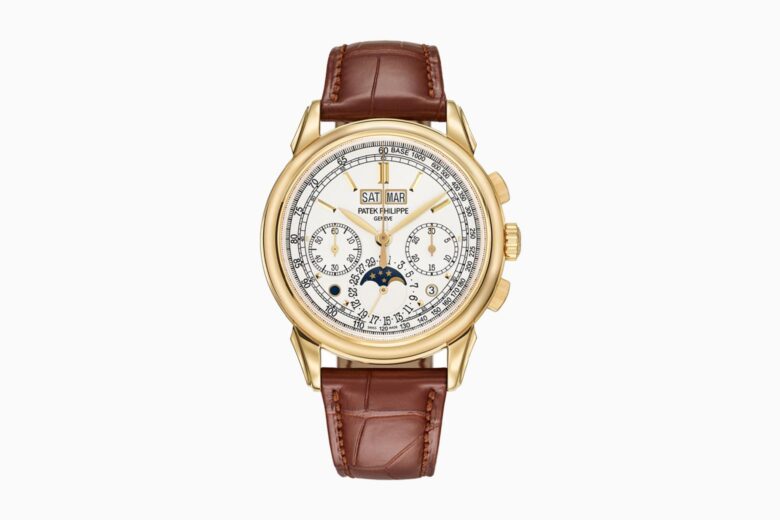 In the world of watchmaking, the general rule is: the more complicated, the better. Hence the allure of Patek's Philippe's collection of Grand Complications, each of which features multiple masterfully crafted additional features (sometimes as many as 20 inside one case), from minute repeaters to tourbillons. In fact, the brand has made the world's most complicated portable timepiece not once, but twice.
But it's not all about technical prowess. The exterior of these watches is just as carefully considered as the interior.
| | |
| --- | --- |
| Price: | $85,000 – $311,600 and price on request |
| First release year: | 1910 |
| Current case size: | 36 mm – 47.7 mm |
| Movement: | Automatic and manual |
| Water resistance: | 30 m (and some not water-resistant at all) |
| Crystal: | Sapphire |
Patek Philippe Complications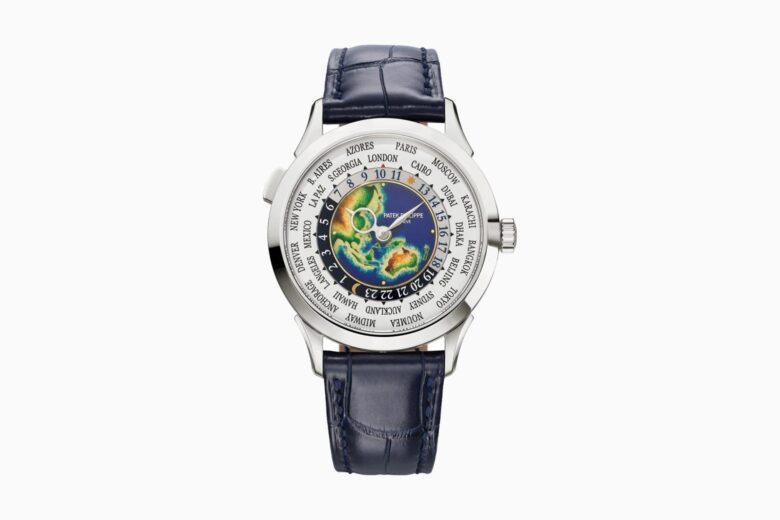 The Complications collection represents Patek Philippe doing what it does best: combining intricate engineering with timeless aesthetics to create luxury watches that are both functional (whether it's an annual calendar or dual time zone) and spectacular works of art.
The majority of these models are available in rose, yellow, or white gold, although there are stainless steel options too. Each features a high-quality caliber made in-house.
| | |
| --- | --- |
| Price: | $33,000 – $152,100 |
| First release year: | 1923 |
| Current case size: | 33 to 42 mm |
| Movement: | Automatic and manual |
| Water resistance: | 30 m and 60 m |
| Crystal: | Sapphire |
Patek Philippe Calatrava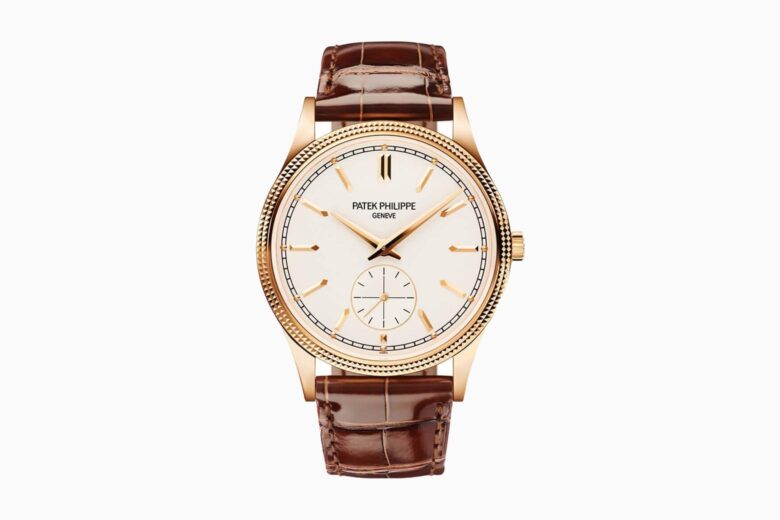 Not many dress watches reach the level of esteem and renown that the Patek Philippe Calatrava enjoys today. First released in 1932, it's the luxury timepiece of choice for many watch lovers who have fallen in love with its clean-lined, uncluttered elegance and harmonious Bahaus-inspired form. The watch brand also makes versions of this model for women, which often feature diamonds and other graceful decorations.
| | |
| --- | --- |
| Price: | $27,600 – $91,400 |
| First release year: | 1932 |
| Current case size: | 34.6 mm – 40 mm |
| Movement: | Automatic and manual |
| Water resistance: | 30 m |
| Crystal: | Sapphire |
Patek Philippe Gondolo
While only released in 1993, the bold and eye-catching geometry of the Patek Philippe Gondolo watches recalls the Art Deco movement. These timepieces are indeed a tribute to the brand's collaboration with Brazilian watch dealer Gondol & Labouriau, which began back in 1872. With its rectangular, tonneau, or pillow-shaped case, the Gondolo collection is a deviation from Patek Philippe's typical preference for round watches, and these luxury watches are exclusively available in precious metals.
| | |
| --- | --- |
| Price: | $31,300 – $196, 800 |
| First release year: | 1905 |
| Current case size: | 31 x 34.8 mm or 30 x 33.8 mm |
| Movement: | Manual |
| Water resistance: | 30 m |
| Crystal: | Sapphire |
Patek Philippe Golden Ellipse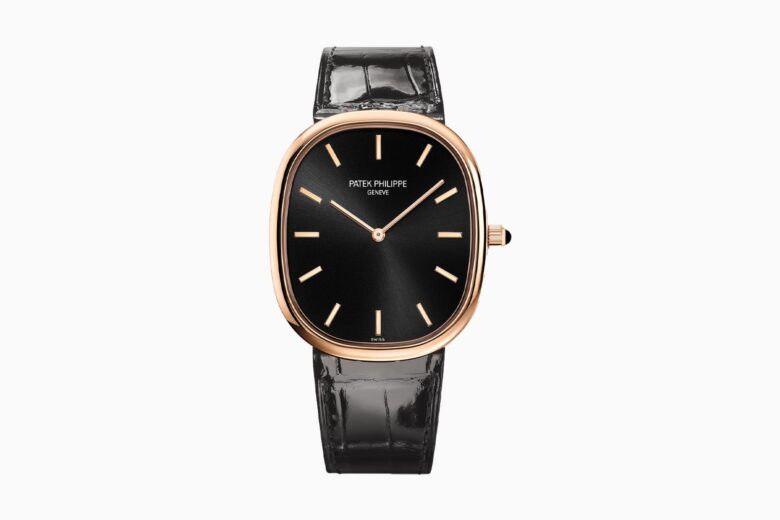 The second oldest Patek watch model, as well as the thinnest, the Patek Philippe Golden Ellipse is noteworthy for its unconventional elliptical shape, somewhere between round and rectangular, and based on the golden ratio, scientifically proven to please the human brain. Other distinguishing factors include the colorful dials, simple hour markers, and hidden lugs, showing that Patek Philippe is as much a master of form as it is of function.
| | |
| --- | --- |
| Price: | $31,700 – $67,000 |
| First release year: | 1968 |
| Current case size: | 34.5 x 39.5 mm |
| Movement: | Automatic |
| Water resistance: | 30 m (although the 5738/51G-001 is only dust-resistant) |
| Crystal: | Sapphire |
Patek Philippe Nautilus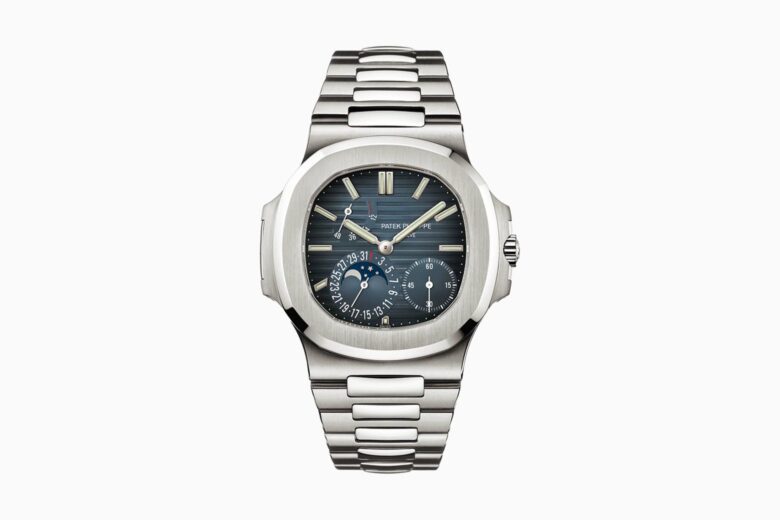 Released in the mid-'70s, the Nautilus was a sharp break with convention and immediately got people talking with its unusual case shape, blue dial, and stainless steel finish. Designed by Gérald Genta, who had already disrupted the industry with his Royal Oak design for Audemars Piguet, the Nautilus was inspired by an ocean liner porthole and was one of the first stainless steel sports watches at the time.
The Nautilus is aesthetically striking but can withstand wear and tear. In fact, it was originally made of a metal alloy that had been used in the construction of WWII tanks.
| | |
| --- | --- |
| Price: | $27,600 – $130,800 and price on request |
| First release year: | 1976 |
| Current case size: | 32 mm to 40.5 mm |
| Movement: | Automatic and quartz |
| Water resistance: | 30 m, 60 m, or 120 m |
| Crystal: | Sapphire |
Patek Philippe Aquanaut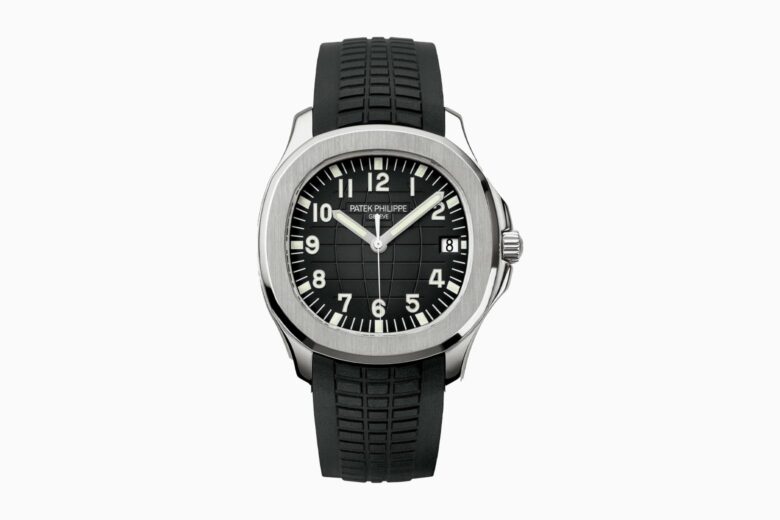 Originally released as a dressier and more refined version of the Nautilus, the Aquanaut captured the attention and admiration of watch aficionados in just the same way as its forerunner. Supposedly commissioned by an anonymous client who wanted a reliable but attractive watch to give to high-level army officers, the Aquanaut has a robust military feel to it with its rubber strap. It's also available in an array of vibrant colors, unlike many of Patek Philippe's other timepieces.
| | |
| --- | --- |
| Price: | $18,900 – $195,700 |
| First release year: | 1997 |
| Current case size: | 35.6 mm to 42.2 mm |
| Movement: | Automatic and quartz |
| Water resistance: | 30 m, 60 m, and 120 m |
| Crystal: | Sapphire |
Patek Philippe Twenty~4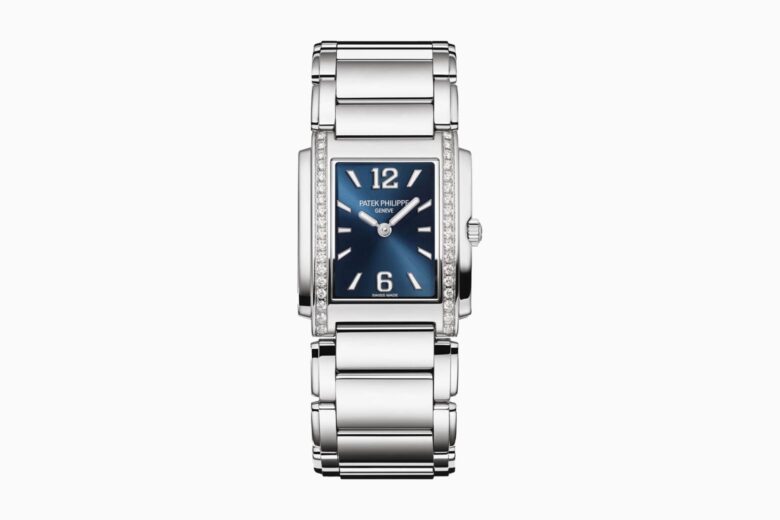 The Twenty-4 is Patek Philippe's collection of ladies' watches. The goal was to create something versatile for the modern woman. The original models resembled the Art Deco-style of the Gondolo but more rectangular, and had a quartz movement, while more recent versions are round and self-winding. Perfectly proportioned to be understated yet still command attention, these timepieces are dream women's luxury watches.
| | |
| --- | --- |
| Price: | $13,800 – $44,600 and price on request |
| First release year: | 1999 |
| Current case size: | 36 mm or 25.1 x 30 mm |
| Movement: | Automatic and quartz |
| Water resistance: | 30 m |
| Crystal: | Sapphire |
Patek Philippe Pocket Watches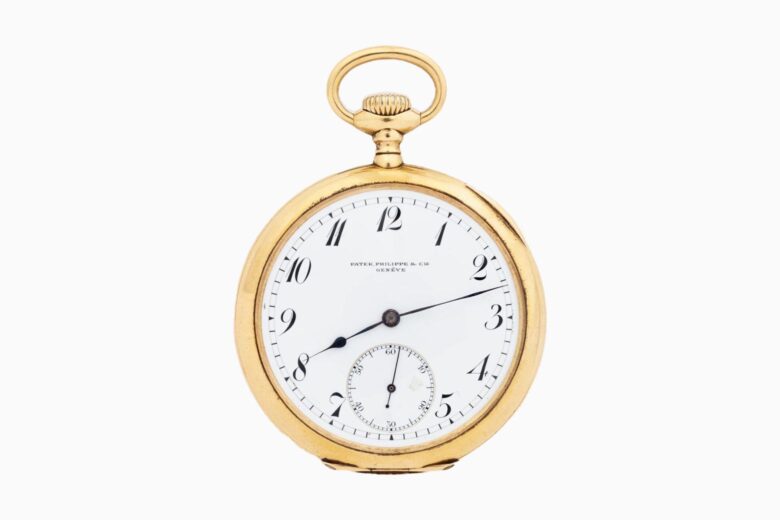 For collectors and watch lovers who want something truly special—something that showcases the highest level of horological prowess and talent—then a Patek Philippe pocket watch is the ultimate investment. The brand takes its role in protecting the traditions of high-end watchmaking seriously and, as such, continues to craft small numbers of beautifully finished manually wound pocket watches. If you fancy a Patek Philippe gold watch, some of these pocket watches are perfect.
| | |
| --- | --- |
| Price: | $38,300 – $50,500 |
| First release year: | 1845 |
| Current case size: | 44 or 48 mm |
| Movement: | Manual |
| Water resistance: | Only humidity and dust-resistant |
| Crystal: | Sapphire |
Where to buy Patek Philippe
You can buy a Patek Philippe watch at one of the company's three beautiful showrooms in Geneva, Paris, or London. There are also the brand's authorized retailers, listed here, or authorized distributors, listed here. Otherwise, you can search on reputable online marketplaces such as Jomashop, FARFETCH, Mr Porter, or Fashionphile for pre-owned Patek watches. For more tips on buying a luxury watch, check out our watch guide. 
Patek Philippe shipping
If buying a Patek Philippe watch online from a trusted online marketplace where the authenticity is guaranteed, you can pick from a range of delivery options. Jomashop has a set international shipping fee of $150, while FARFETCH charges different rates depending on the country, and Fashionphile will allow you to choose a third party for delivery if they don't already ship to your country. 
Patek Philippe return policy
Online marketplaces usually accept returns and refunds of your Patek Philippe watch within a certain time period. For example, Jomashop has a 3-day return period for a full refund. For FARFETCH, you have 14 days, and with Mr Porter, 28 days. Make sure to keep the original packaging, including any papers or books that come with the watch.
Patek Philippe customer service number
New York service centre number: +1 2122181240
Patek Philippe social media profiles
Frequently asked questions about Patek Philippe watches
Is Patek a good investment?
Patek watches are a good investment because, in general, most Patek Philippe watches hold or increase in value thanks to the quality of the craftsmanship and the increased demand over time. For rarer models, the value goes up even more.
Do all Patek Philippe go up in value?
Most Patek Philippe watches go up in value as there gradually become fewer of each model available, pushing up demand and prices. All Patek Philippe watches hold their value thanks to the impressive quality of the craftsmanship.
Is it difficult to buy Patek Philippe?
It is difficult to buy a Patek Philippe as you can't just pick one up off the shelf. You need to go to a trusted jeweler or find one on a reputable online marketplace. There's also fierce competition for the most popular models.
Why Patek Philippe is expensive?
Patek Philippe watches are expensive because of the time and care that goes into crafting them. The quality is among the best in the world while the brand's impressive heritage also contributes to the high Patek Phillipe prices.