Even total watch novices understand that Rolex is a watch brand like no other. To say the company sets the standard in luxury watches is an understatement. Rolex is the standard. The gold standard, relentlessly pushing past the frontiers of what's possible in a timepiece since it was founded at the start of the 20th century.
At a glance
| | |
| --- | --- |
| | |
| Industry: Watches | Founded: 1905 |
| Headquarters: Geneva, Switzerland | Founder: Hans Wilsdorf |
| Watch Collections: dive watches, dress watches, racing watches, and pilot watches | Parent organization: Hans Wilsdorf Foundation |
| Annual Revenue: $13 billion USD | Website: rolex.com |
Rolex prices
How much does a Rolex cost?
The starting price for a Rolex is around $4,000 for the brand's most popular and simplest offering, an Oyster Perpetual. The average price of a Rolex across all models is $20,000 with the most expensive watches reaching between $30,000 and $40,000.
What is the most expensive Rolex?
To date, the most expensive Rolex ever sold is the Paul Newman's Rolex Daytona which was bought at auction for a gasp-worthy $17.8 million. The Rolex Daytona has always been a favorite among collectors, and this particular model had the added bonus of being worn on a daily basis by American actor Paul Newman.
What is the cheapest Rolex?
As the market currently stands, the cheapest Rolex is the Oyster Perpetual with a starting price of $4,900. Available with a variety of dial colors, the Oyster Perpetual has no additional complications other than being able to tell the time but remains an elegant luxury watch.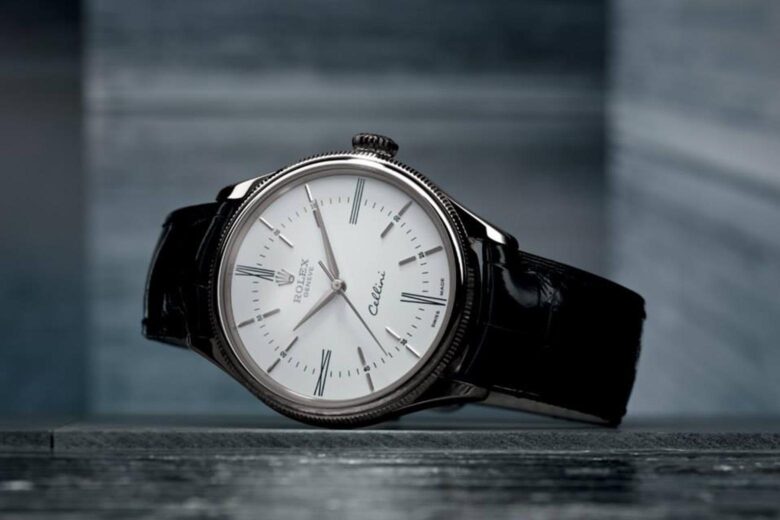 About the brand
History of Rolex
Rolex was founded in 1905 in London by Hans Wilsdorf and his brother-in-law, Alfred Davis, and was originally called Wilsdorf & Davis Ltd. The company started out assembling and selling luxury watches imported from Switzerland. In 1914, they were awarded a Class A precision certificate by the Kew Observatory, an award normally reserved for marine chronometers.
In 1915, the company was renamed Rolex Watch Co., most likely because the name Wilsdorf was bad publicity during WW1 when anti-German sentiment was rife. Four years later, the company moved to Switzerland, where the brand's now iconic crown logo was registered as its trademark in 1925.
This was followed by a period of major innovation for the company, including the release of the first Oyster case in 1926, the Oyster Perpetual in 1931, the Datejust in the 1940s, and the Submariner in 1953. In 1953, a Rolex was also worn by Edmund Hilary on his ascent of Mount Everest, securing Rolex's position as a bastion of craftsmanship and quality.
Wilsdorf died in 1960 and left the company to the Hans Wilsdorf Foundation, a charitable trust. To this day, the company is one of the world's most famous luxury (watch) brands and continues to push boundaries and raise benchmarks in horlogerie. It's the name behind some of the best men's watches in existence and retains an active role in sponsoring the world's most exclusive sporting events.
Interesting facts about Rolex
Rolex made the world's first ever waterproof wristwatch in 1926, known as Oyster.
Rolex sponsors many major sports events, such as Wimbledon and the US Open, as well as adventures like the Arctic Arc Expedition.
Rolex's unique yellow gold is a mixture of 18k gold made in the brand's own foundry. Gold Rolex watches are some of the most expensive watches for men out there.
Most watchmakers set their hour markers using machines, but Rolex does each one by hand.
Rolex has its own exclusive stainless steel grade, 904L, known as Oystersteel. It's the most expensive stainless steel in the world and boasts extreme corrosion resistance.
Rather than the Roman numeral IV, Rolex chooses to use IIII, known as the 'Clockmaker's Four'. Why? Simply because it looks better.
The Rolex DeepSea has traveled down into the Mariana Trench, the deepest place on Earth, and still kept accurate time.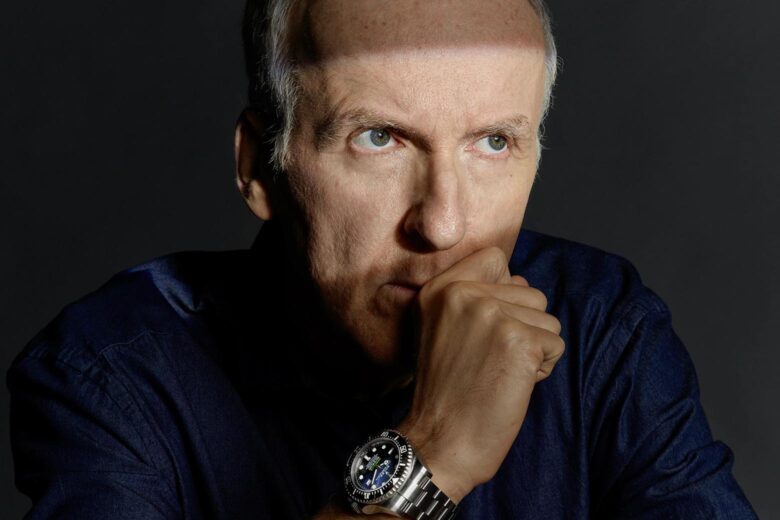 Rolex product range
Rolex produces luxury watches across the five major timepiece categories: dress watches, field watches, pilot's watches, racing watches, and dive watches. Its Cellini collection is the brand's line of dress watches, while its Professional watches include the iconic Rolex Explorer (a classic field watch), the Air-King pilot watch, the Cosmograph Daytona racing watch, and, of course, dive watches like the legendary Rolex Submariner.
While there is a specific Rolex watch family called the Oyster Perpetual, Oyster Perpetual also refers to the brand's self-winding movement (Perpetual) and the screw-down case back that makes the watch water-resistant. In fact, the Oyster case was the world's first waterproof watch case.
The words 'Oyster Perpetual' on the dial of a Rolex watch mean that the watch has an Oyster case and a Perpetual movement. As far as Rolex is concerned, the world really is your oyster, with every Rolex watch except those in the Cellini collection being an Oyster Perpetual.
Signature materials and craftsmanship
Rolex is a titan in the watchmaking world, entirely self-sufficient when it comes to supply and manufacture, creating its own parts, materials, and even its own instruments and tools.
Indeed, one of the many things that distinguish Rolex from competitors and put these Swiss watches in a class of their own is that the brand creates all its components in-house and makes some of its raw materials too—like its gold and steel alloys, Everose Gold and Oystersteel respectively.
But Rolex's innovations go beyond materials. The luxury watch brand's highly skilled technicians and craftsmen have also formulated and patented Cerachrom, a material first seen on the highly durable bezel of the Cosmograph Daytona; Syloxi, a silicon hairspring; Parachrom, a hairspring made from a paramagnetic alloy; and Chromalight, a luminescent material that glows for up to eight hours, almost twice as long as standard luminescence.
Rolex produces around a million watches per year, a vast number when you compare it to around 60,000 made annually by Patek Philippe and around 70,000 a year produced by Audemars Piguet. It's even more impressive when you consider that each and every Rolex watch is hand-assembled, hand-tested, and takes around a year to complete—which partly explains why Rolex prices are so steep.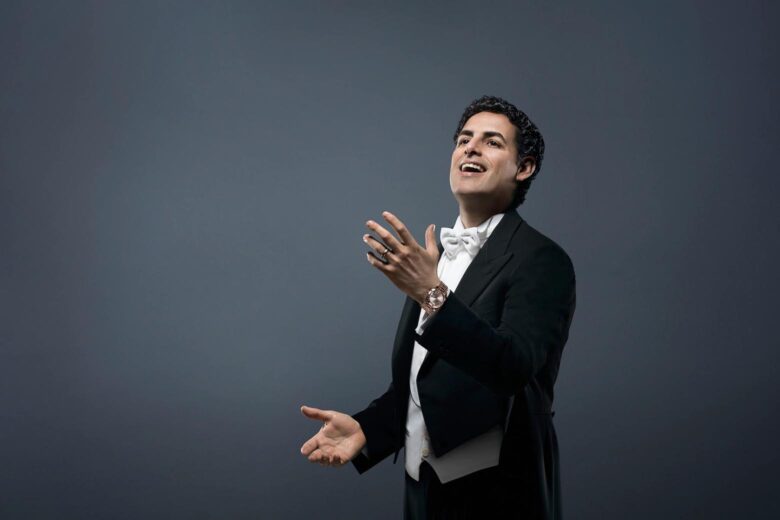 Where is Rolex made?
Rolex watches are exclusively made in Switzerland across four different sites. There's Geneva Plan-Les-Ouates where the cases and bracelets are made; the Bienne facility where the movements are made; and Geneva Chêne-Bourg where the dials are made. Meanwhile, the company headquarters—and the place where all the components are assembled by hand into a finished timepiece—are in Geneva Acacias.
What kind of person wears a Rolex?
The kind of person to wear a Rolex is typically someone who values quality, functionality, and design. Rolex men's watches are almost unrivaled when it comes to craftsmanship and engineering, while many of the brand's timepieces have highly practical features such as time-keeping in two time zones or extreme water-resistance. Rolexes are also the favorites of the rich and famous, including the likes of Clint Eastwood, Paul Newman, Barack Obama, Steve McQueen, and, of course, James Bond.
Brand values
| | |
| --- | --- |
| Vegan options: | No |
| Carbon-neutral: | No |
| Gives back: | Yes |
Rolex watches for men: Classic vs. Professional
Rolex men's watches can be divided into two categories: Professional and Classic. The former includes all the sports, tool, and field watches, such as the Daytona or the Submariner. The Classic watches are typically dress watches, such as the Cellini.
That said, there's nothing stopping you from wearing a Professional men's Rolex with a tuxedo or other formal wear. Similarly, you could also wear a Rolex dress watch every day with more casual clothing. In fact, many Rolex dress watches boast water-resistance to 100-metres. While this is more appropriate for swimming than diving, it's proof that, for Rolex, aesthetics and functionality need not be at odds.
Rolex Professional watches
Rolex Submariner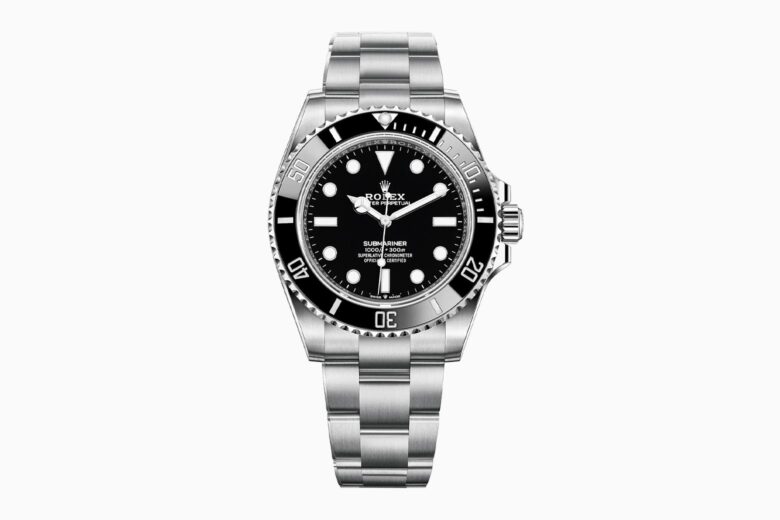 The Submariner is indisputably Rolex's most famous and most coveted watch model—and that says a lot for a brand whose timepieces consistently rank as some of the best in the world. Some would even say it's the best Rolex.
This iconic dive watch has evolved over the years, and each iteration manages to surpass the previous. Today, it represents the qualities that define the company: an unrivaled commitment to quality, exceptional functionality, and style that transcends time.
| | |
| --- | --- |
| Price: | $8,300 – $37,900 |
| First release year: | 1953 |
| Current case size: | 41 mm |
| Movement: | Automatic |
| Water resistance: | 300 meters |
| Crystal: | Sapphire |
Rolex Sea-Dweller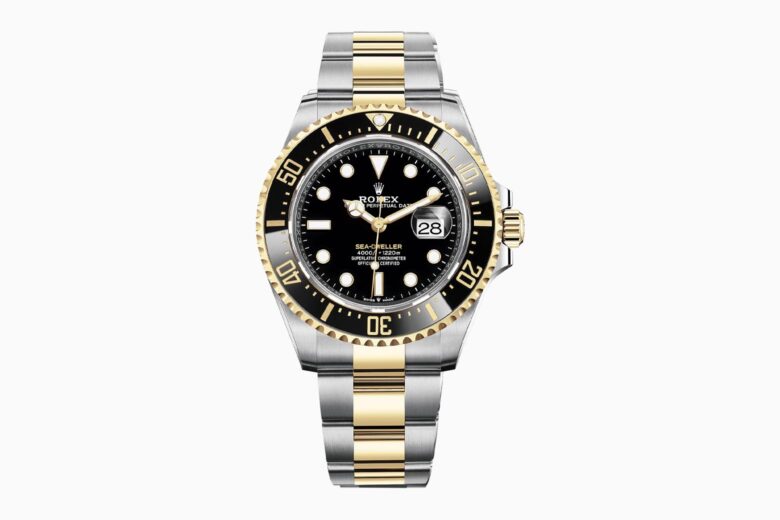 The Rolex Sea-Dweller might be the lesser known cousin of the Submariner but those in the know consider this professional dive watch just as smart an investment. The Sea-Dweller is essentially the Submariner but on steroids. Ultra-resistant and designed for intrepid ocean endeavors, it can go deeper and for longer—a serious dive watch for a wearer who feels at home out of their depth.
| | |
| --- | --- |
| Price: | $12,000 – $15,824 |
| First release year: | 2008 |
| Current case size: | 43 – 44 mm |
| Movement: | Automatic |
| Water resistance: | 1,220 m |
| Crystal: | Sapphire |
Rolex GMT Master II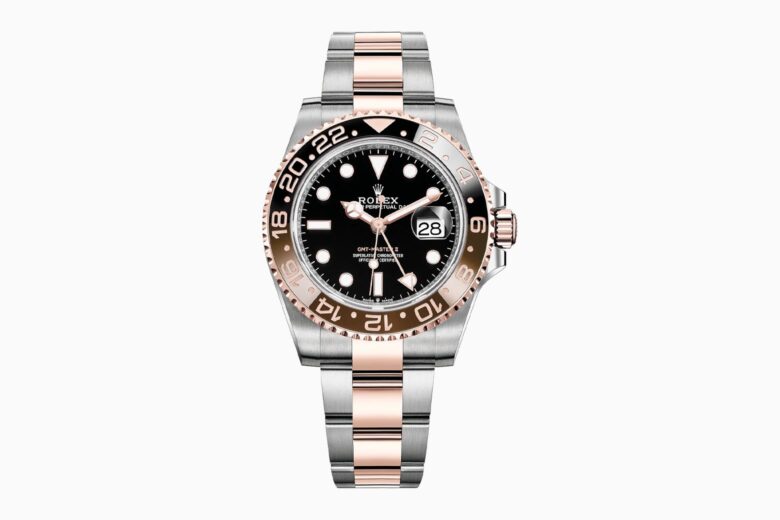 The ultimate watch for jet-setters and modern nomads, the Rolex GMT Master II is defined by its 24-hour GMT two-color bezel, instantly recognizable and made from indestructible ceramic, allowing the wearer to tell the time in two different time zones simultaneously. This highly sought-after timepiece is now available in a range of color combinations, each with the same robust functionality and sleek, streamlined aesthetic.
| | |
| --- | --- |
| Price: | $10,200 – $38,700 |
| First release year: | 1982 |
| Current case size: | 40 mm |
| Movement: | Automatic |
| Water resistance: | 100 m |
| Crystal: | i.e Sapphire |
Rolex Cosmograph Daytona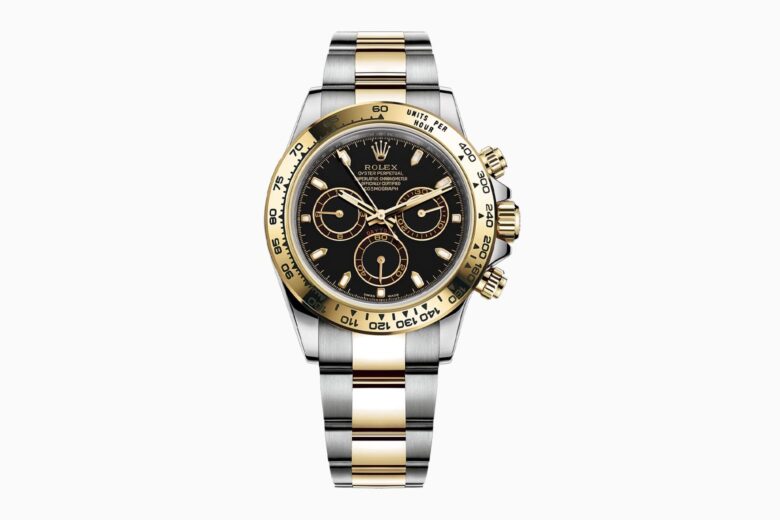 Specially made for professional racing car drivers and named after the iconic racetrack in Daytona Beach, Florida, the Cosmograph Daytona is one of Rolex's most popular and legendary models. The perfect watch for road warriors, risk-takers, and auto enthusiasts, the Cosmograph Daytona's value seems to be increasing exponentially. Look out for the model featuring a dial made from meteorite (yes, you read that correctly).
| | |
| --- | --- |
| Price: | $13,400 – $39,440 and price on request |
| First release year: | 1963 |
| Current case size: | 40 mm |
| Movement: | Automatic |
| Water resistance: | 100 m |
| Crystal: | Sapphire |
Rolex Explorer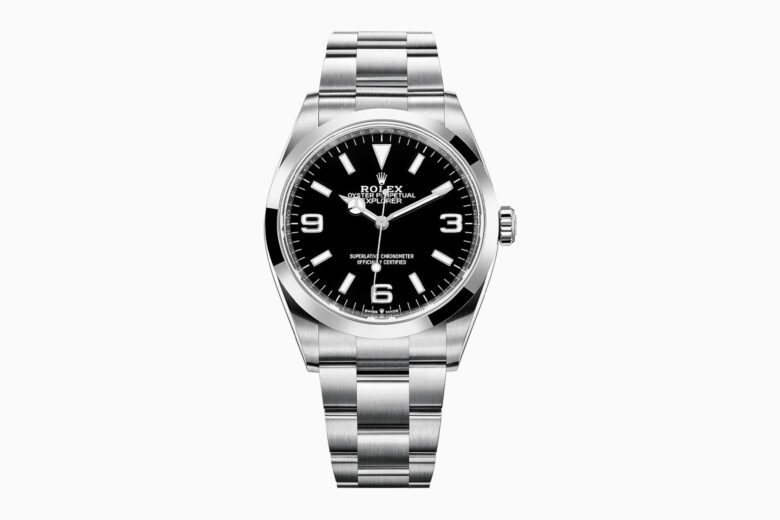 Few watches have experienced extreme terrains and otherworldly landscapes like the Rolex Explorer and Rolex Explorer II. Worn by professional adventurers as they set out on polar, mountaineering, and caving expeditions, these timepieces are the last word in rugged and robust reliability. They were even on the wrists of Edmund Hillary and Tenzing Norgay when they became the first people to summit Mt. Everest in 1953.
| | |
| --- | --- |
| Price: | $6,600 – $10,300 |
| First release year: | 1953 |
| Current case size: | 36 – 42 mm |
| Movement: | Automatic |
| Water resistance: | 100 m |
| Crystal: | Sapphire |
Rolex Milgauss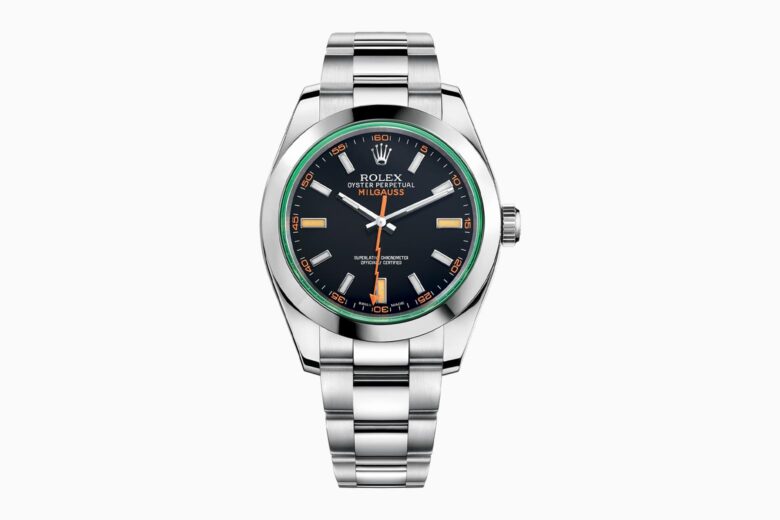 Perhaps one of the more covertly cool watches in the Rolex collection, the Rolex Milgauss is often overlooked, which makes it a more unusual and original choice for collectors. Originally designed to keep time in the presence of electromagnetic interference, its scientific credentials add another level of character to an otherwise sporty and stylish timepiece.
| | |
| --- | --- |
| Price: | $8,500 |
| First release year: | 1956 |
| Current case size: | 40 mm |
| Movement: | Automatic |
| Water resistance: | 100 m |
| Crystal: | Sapphire |
Rolex Air-King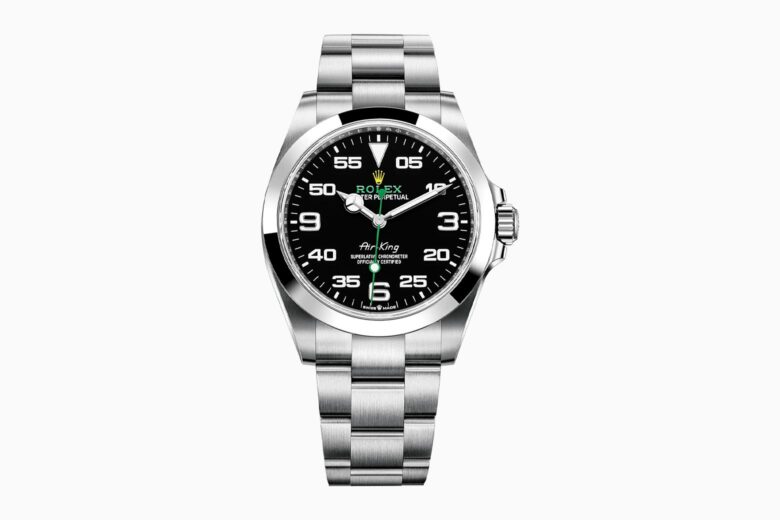 The Rolex Air-King is a symbol of the brand's enduring alliance with the world of aviation, made for soaring through the skies with its distinctive black dial, large hour markings, and highly-legible minute scale for navigational time readings. The vibe is minimalist, the functionality exceptional, and the quality supreme. Oh, and it's one of the more affordable Rolexes too.
| | |
| --- | --- |
| Price: | $6,900 |
| First release year: | 1958 |
| Current case size: | 40 mm |
| Movement: | Automatic |
| Water resistance: | 100 m |
| Crystal: | Sapphire |
Rolex Yacht-Master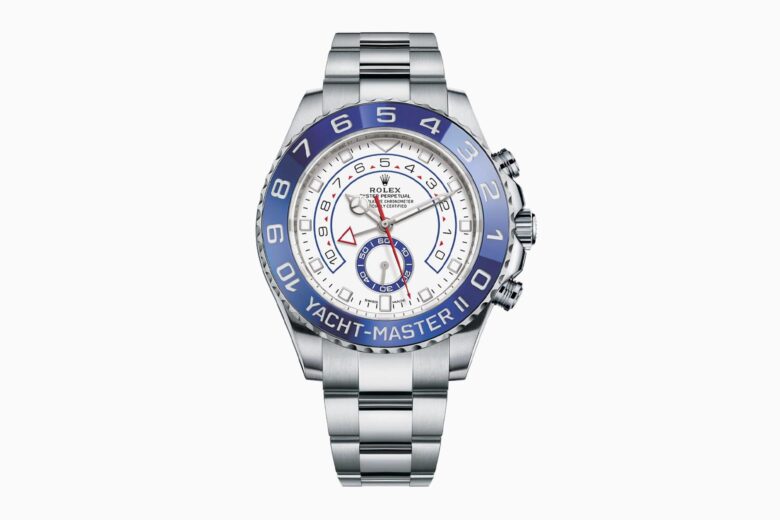 The Yacht-Master is a watch made to survive the high seas. But that doesn't mean you need to be a certified skipper to rock it. With the right combination of sailor chic and robust reliability, it's equally at home strolling the bars around the marina as it is peeling through cresting waves. The timepiece's bidirectional rotatable 60-minute bezel, specifically made for yacht competitions, is available in Rolesium, aka 950 platinum, for unforgettable luxury.
| | |
| --- | --- |
| Price: | $10,900 – $39,000 and price on request |
| First release year: | 1992 |
| Current case size: | 37, 40, and 42 mm |
| Movement: | Automatic |
| Water resistance: | 100 m |
| Crystal: | Sapphire |
Rolex Classic watches
Rolex Day-Date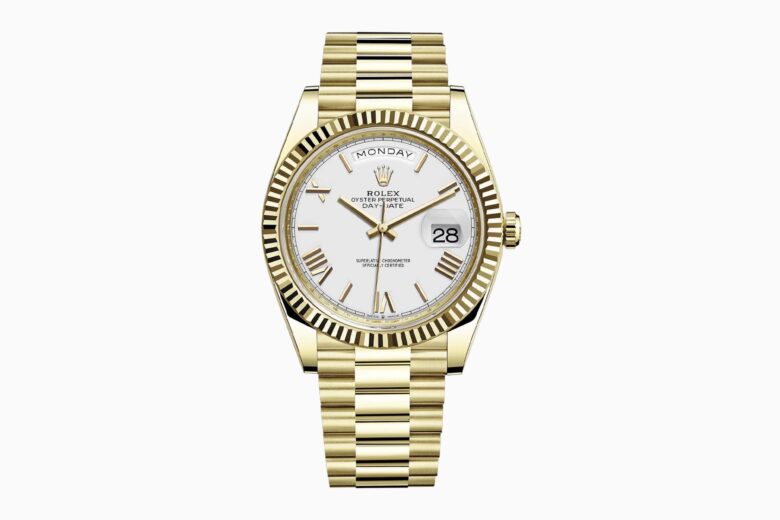 The epitome of elegance, the Rolex Day-Date is the perfect everyday timekeeper—if you like your everyday to be supremely sophisticated. This self-winding and waterproof watch features the day and date displayed in separate windows. It's available with the President bracelet first created for its launch—hence its nickname, The Rolex President (although this might also be due to the fact it's a favorite among certain heads of state).
| | |
| --- | --- |
| Price: | $32,300 – $40,000 and price on request |
| First release year: | 1956 |
| Current case size: | 36 or 40 mm |
| Movement: | Automatic |
| Water resistance: | 100 m |
| Crystal: | Sapphire |
Rolex Oyster Perpetual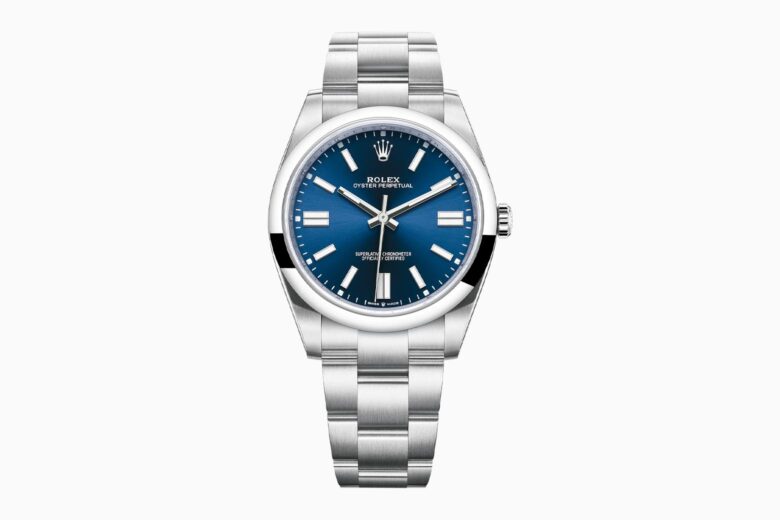 Pure and unpretentious, the Rolex Oyster Perpetual is a classic. Today's models are descendants of the original Oyster—the one that made horological headlines for being the world's first waterproof wristwatch. Precise, water-resistant, and self-winding with a Perpetual rotor, they're all made from the brand's proprietary Oystersteel and are instantly recognizable. This is a watch you could wear anywhere, anytime, and represents Rolex at its best.
| | |
| --- | --- |
| Price: | $4,900 – $5,700 |
| First release year: | 1950 |
| Current case size: | 36 or 41 mm |
| Movement: | Automatic |
| Water resistance: | 100 m |
| Crystal: | Sapphire |
Rolex Datejust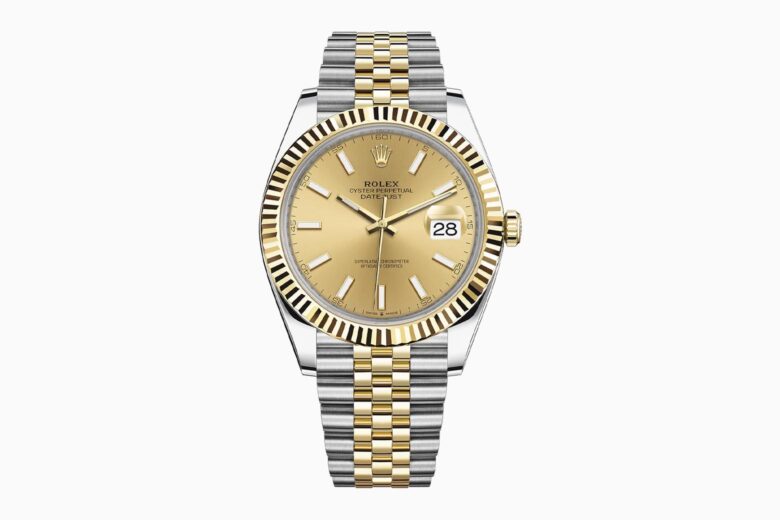 The first automatic waterproof chronometer to display the date in a window at 3 o'clock, the Rolex Datejust is yet another example of Rolex setting a new standard in watchmaking. Effortlessly cool and originally released as a celebration of the brand's 40th anniversary, today it's available with your choice of bracelet and dial color, finish, and material. How does mother-of-pearl sound? Or a bezel set with diamonds?
Although Rolex lists the Lady Datejust separately on its website, we've included these Rolex watches for women here with the male versions.
| | |
| --- | --- |
| Price: | $6,300 – $39,800 |
| First release year: | 1945 |
| Current case size: | 28 mm for the Lady DateJust or 31, 36, and 41 mm for the DateJust |
| Movement: | Automatic |
| Water resistance: | 100 m |
| Crystal: | Sapphire |
Rolex Sky-Dweller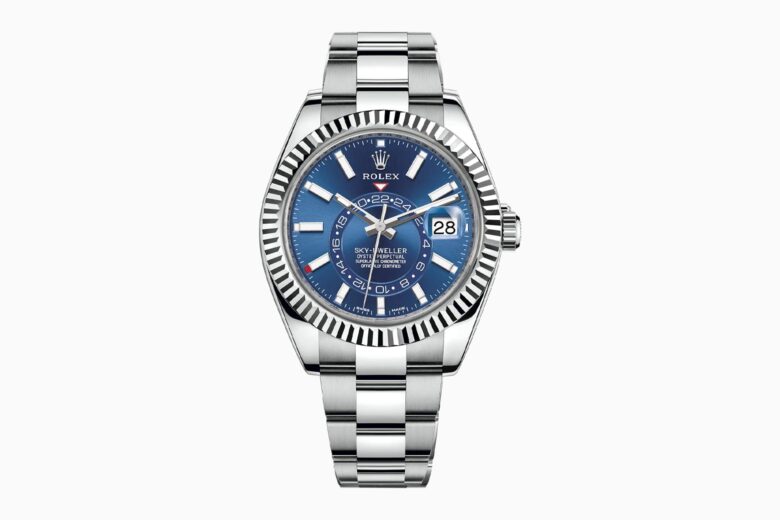 A luxury watch designed for frequent flyers or anyone with a serious case of wanderlust, the Rolex Sky-Dweller displays the time in two time zones simultaneously and has a Chromalight display for optimum visibility. But the most impressive feature? An annual calendar with the months indicated in 12 apertures around the dial and the current month marked in red. Your neighbor on the plane won't be able to look away.
| | |
| --- | --- |
| Price: | $14,400 – $39,000 and price on request |
| First release year: | 2012 |
| Current case size: | 42 mm |
| Movement: | Automatic |
| Water resistance: | 100 m |
| Crystal: | Sapphire |
Rolex Cellini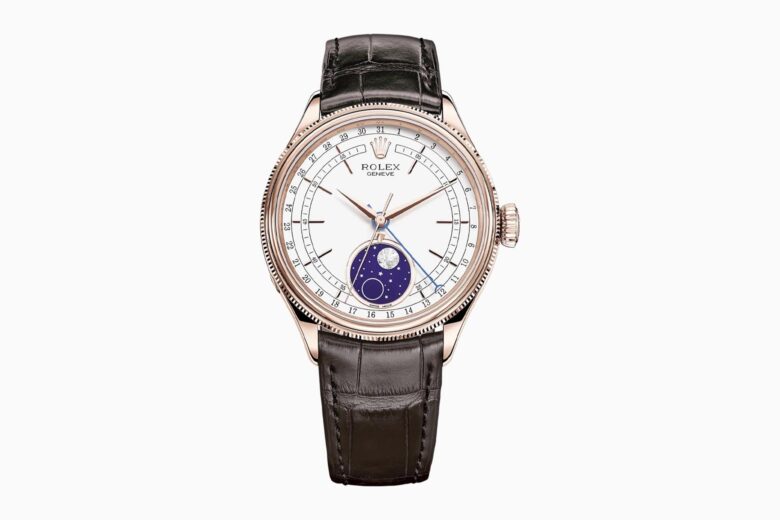 A markedly different Rolex offering, the Cellini showcases the brand's ability to switch from highly functional professional timepieces to superbly elegant dress watches. Traditional yet contemporary simultaneously, with a rather noble and distinguished aura, the Cellini Moonphase features a patented moonphase module that's said to be astronomically accurate for 122 years. Barak Obama has also been spotted wearing one.
| | |
| --- | --- |
| Price: | $2,500 |
| First release year: | 2005 |
| Current case size: | 39 mm |
| Movement: | Automatic |
| Water resistance: | 50 m |
| Crystal: | Sapphire |
Rolex bracelets
Oyster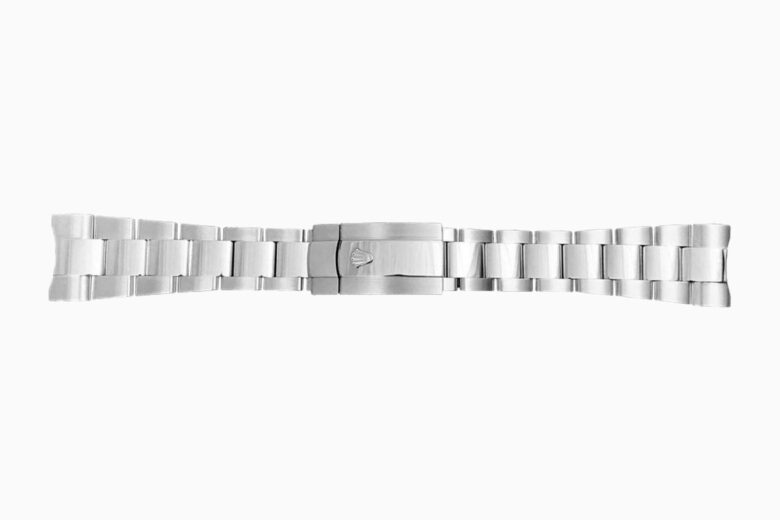 The most ubiquitous Rolex band, the Oyster is also the most popular and versatile. Officially launched in 1948, this three-piece link metal bracelet features a wide row of large central links framed by two thinner links on either side. You'll find it on timepieces such as the Oyster Perpetual, Datejust, Day-Date, and Sky-Dweller. It's available in a range of materials from steel to platinum.
Jubilee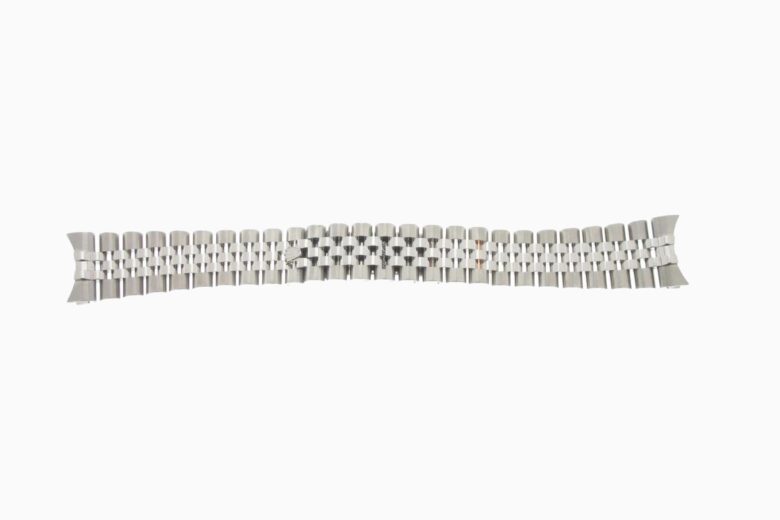 Debuted alongside the Rolex Datejust in 1945 as part of the brand's 40th anniversary, the Jubilee was Rolex's first in-house bracelet—a major breakthrough for the brand. With its grand and prestigious style, it's ideal for dress watches like the Datejust and hasn't changed much from the original design. In the 1950s, Rolex started creating the bracelet in a two-toned metal called Rolesor.
President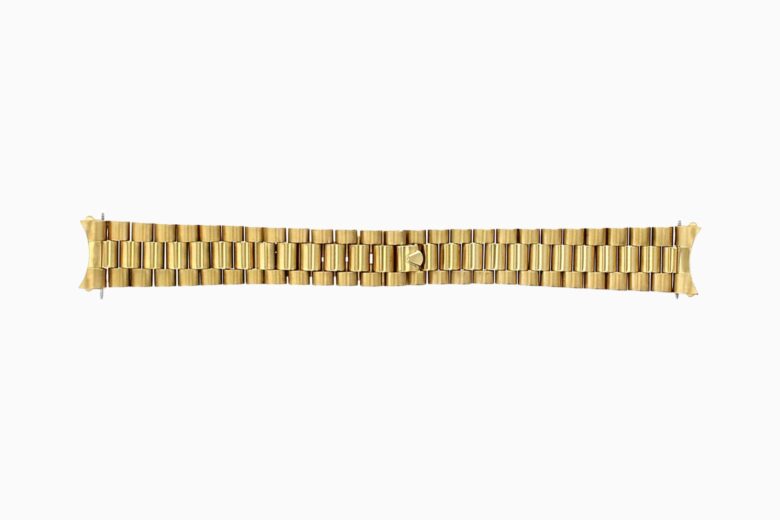 In 1956, Rolex released the Day-Date. Such an iconic watch required an equally iconic bracelet. Hence, the President. A sort of amalgamation of the Jubilee and Oyster bracelets, this three-piece link metal bracelet is only made in precious metals: yellow gold, rose gold, white gold, and platinum. You'll find it today on the Day-Date and some Lady Datejust watches and it is only ever paired with the Crownclasp.
Pearlmaster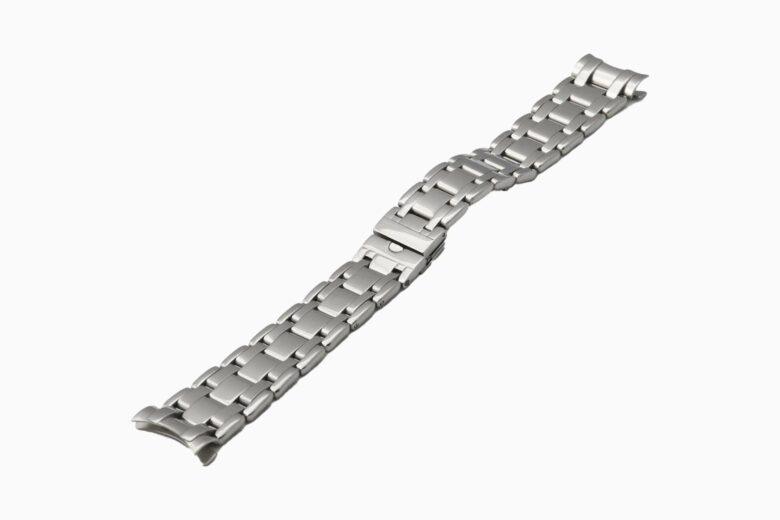 One of the more recent Rolex bracelets and also one of the rarest, the Pearlmaster was launched in 1992 alongside the Pearlmaster watch. This five-piece link metal bracelet with rounded flat links is only available in precious metals and with the Crownclasp. It's also sometimes found set with diamonds and gemstones.
Oysterflex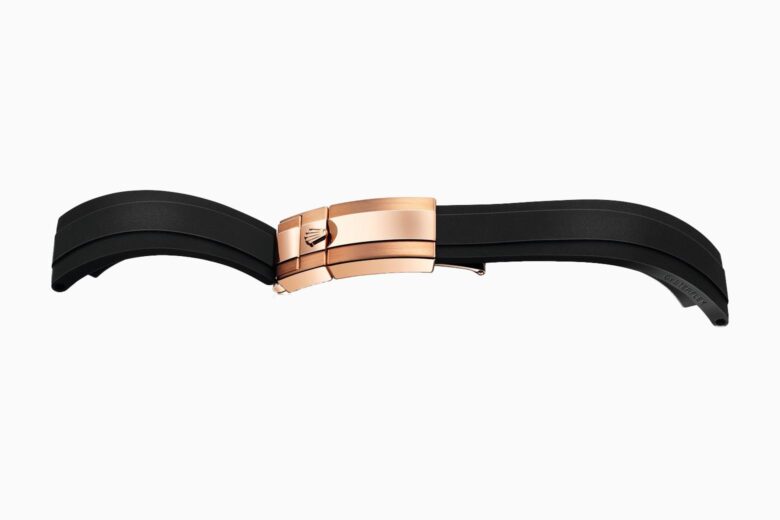 Oysterflex was launched in 2015 as a brand-new Rolex offering. What initially appears to be a standard rubber strap is actually anything but ordinary. At its core is a titanium and nickel alloy metal blade wrapped with black elastomer. The result? A bracelet that's lightweight and comfortable but also breathable and highly durable.
Leather Strap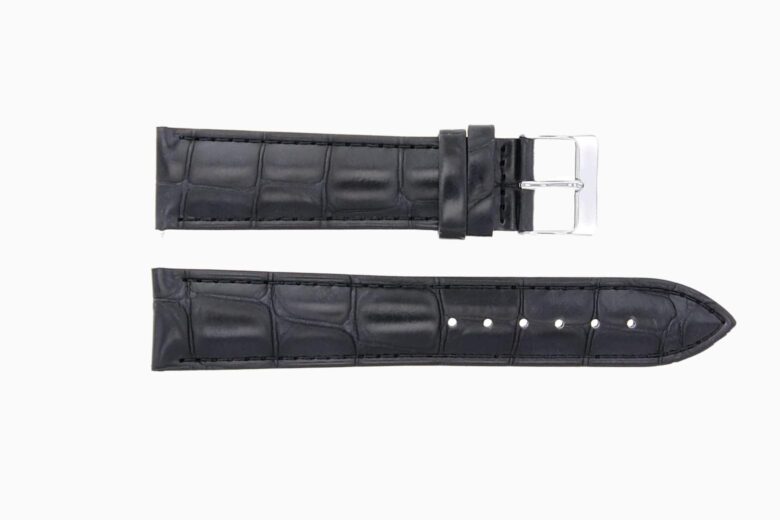 The very early Rolex watches for men featured a leather strap—before the brand developed its water-resistant Oyster case. Today the only Rolex watch that you'll find with a leather strap is the Cellini, Rolex's dedicated dress watch series.
Rolex clasps
Oysterclasp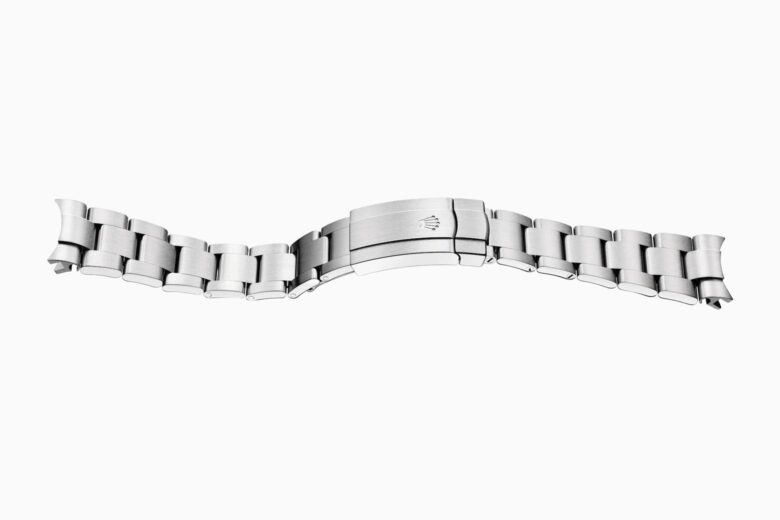 A fold-over buckle-style clasp, the Oysterclasp is ideal for simple everyday wear, featuring two wings hidden beneath a cover. It's the brand's oldest clasp and you'll find it primarily alongside the Oyster bracelet and on timepieces in the Classic line such as the Datejust or Sky-Dweller.
Oysterlock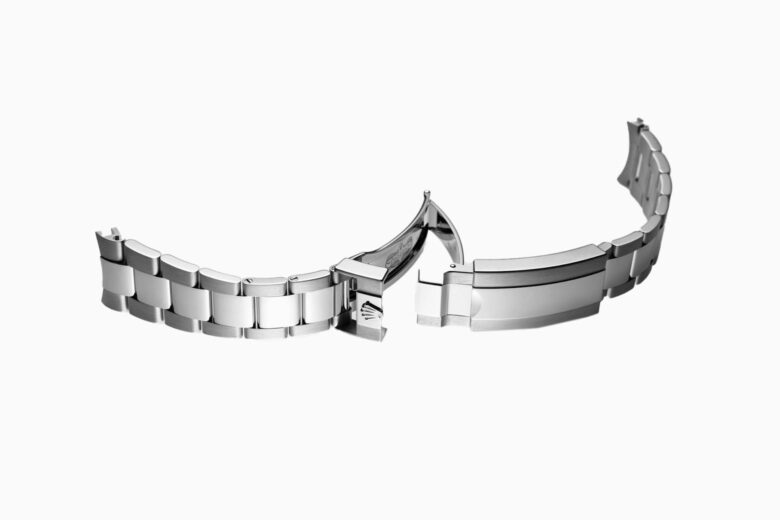 Very similar to the Oysterclasp, the Oysterlock distinguishes itself with an added security lock. You'll find it on the brand's Professional line of watches, such as the Submariner or Daytona.
Crownclasp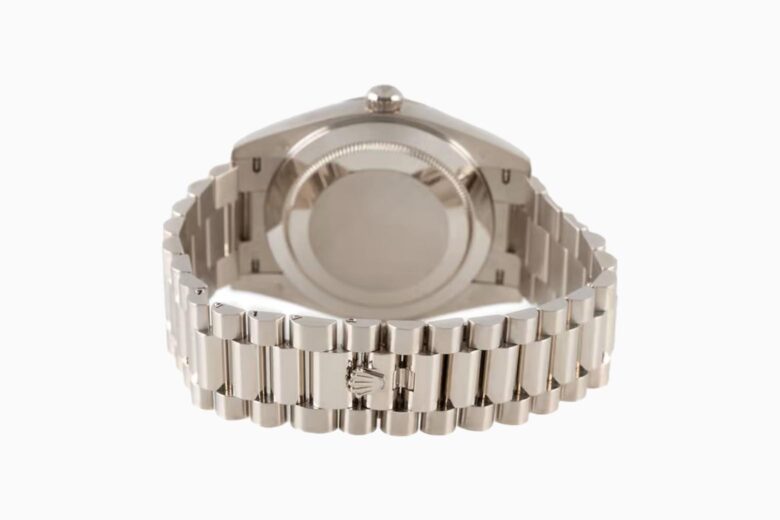 With a fold-over mechanism and a small Rolex crown that functions as a lever to open it, the Crownclasp is the perfect choice for a dressier vibe as, when closed, it's almost invisible. You'll find it alongside the President, Jubilee, and some Pearlmaster bracelets.
Rolex also boasts three different extension systems for those who want to adjust Rolex sizes.
The first is Easylink, a mechanism that allows the wearer to adjust the bracelet's length by around 5 mm. It's simple to do, and you don't need any tools. Simply open the Easylink to loosen the bracelet or fold it to tighten it.
For those who want to wear their watch over a wetsuit for diving, for example, the brand has invented a Fliplock extension system that extends the bracelet by 22 mm. Or there's the technically impressive Glidelock, which allows you to extend the bracelet in 2 mm increments, up to 26 mm maximum.
Where to buy Rolex watches
While you can't buy a Rolex watch directly via the brand's website, they do have a list of their official jewelers where you can buy a Rolex and where the authenticity is guaranteed. You could also buy a Rolex from a reputable second-hand online marketplace such as Jomashop, Fashionphile, or FARFETCH. Another option is the online men's designer clothing website, Mr Porter.
Rolex shipping
If you choose to buy a Rolex online, the most trusted second-hand watch websites will offer a range of delivery options. Jomashop, for example, has a set international shipping and delivery fee of $150 (not including customs charges and taxes), while FARFETCH charges different fees depending on the country. Mr Porter also has various delivery options to choose from. 
Rolex return policy
Returning a Rolex is usually a fairly simple process. Websites like Jomashop accept returns for a full refund within 3 days. FARFETCH accepts returns within 14 days and Mr Porter accepts returns for a complete refund within 28 days. Just ensure you have the original packaging (including any papers or books) and the watch is in the same condition as when you received it. 
Rolex social media profiles – H2
Frequently asked questions about Rolex watches
Which is the cheapest watch of Rolex?
The cheapest Rolex watch is an Oyster Perpetual which you can buy for around $5,700. This simple time-keeper is a classic entry-level Rolex, and while there are no additional complications other than very accurate time-keeping, it looks elegant and won't break the bank.
What is a good price for a Rolex?
A good price for a Rolex depends on which model you want. The price of a Rolex Cosmograph Daytona, for example, is vastly different from that of a classic Oyster Perpetual. But a good price for a second-hand Rolex is around $7,000.
How did Rolex get its name?
The reason for Rolex's name is not known, but the most commonly accepted theory is that the founder, Hans Wilsdorf, wanted a word that is easily pronounced in multiple languages and would look good as a logo. For more on Rolex's history, see our watch guide to Rolexes. 
How long will a Rolex run without wearing it?
Rolexes will run for about 70 hours, or two days, without you wearing them. You could also invest in a watch-winder to help them keep their charge. For more information about Rolex watches, from prices to styles to brand history, see our in-depth guide.