We'll give credit where credit is due. And compact card holders are trending with good reason. The convenient accessory is designed to seamlessly slip into your everyday routine. While they simultaneously secure your finances and prevent last-minute panics (we've all been there). But the practical necessity is no longer confined to utility-dressers, as our favorite designers take care of all your fashion needs with asymmetrical cuts, contemporary prints, and extravagant embellishments.
Modern minimalist card holder wallets are perfect to fit into your workout tights to take you out for post-gym brunch. Decadent designer iterations are your risk-free excuse to try out new trends like dopamine dressing. Asymmetrical saddle flaps make an avant-garde style statement. Zip-slips take care of cash for tips (or your touch-up lipstick). Lanyard straps have escaped high school locker rooms and are prepared for carefree nights on the town. And card holders with RFID protection are your quintessential travel accessory.
Whatever your style, you've got to hand it to them—these top card holders hit fashionable functionality on the head. And bulky wallets around the world are waiting to be kicked to the curb, as their younger, slimmer sisters are itching to take their spots.
KAAI Croco: Best overall card holder for women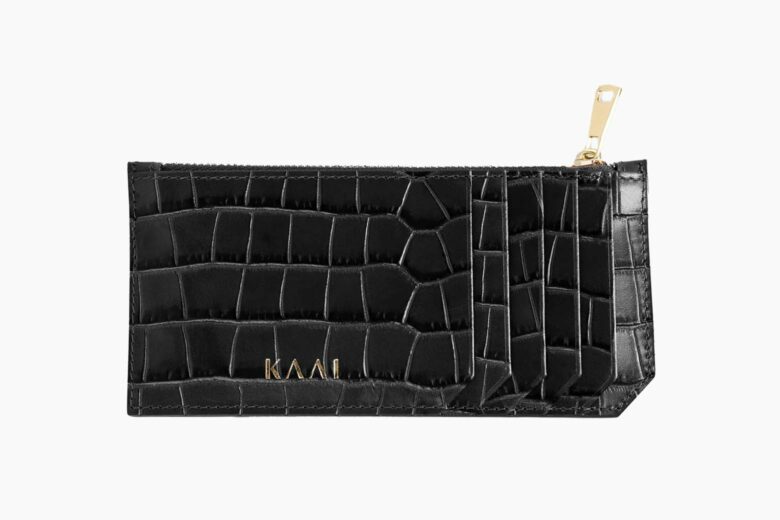 Dynamite comes in small packages—a saying epitomized by this Kaai croco card holder. Embellished with the Belgian designer brand's logo in gold, the on-point accessory showcase is everything we love about Kaai's designer bags in miniature form. Plus, it comes in a spectrum of hues—from minimalist blacks and browns to vibrant orange and blues, there's a tone to match your mood (and your bag).
Best for: A masterclass in modern minimalism.
Gucci: Best designer card holder for women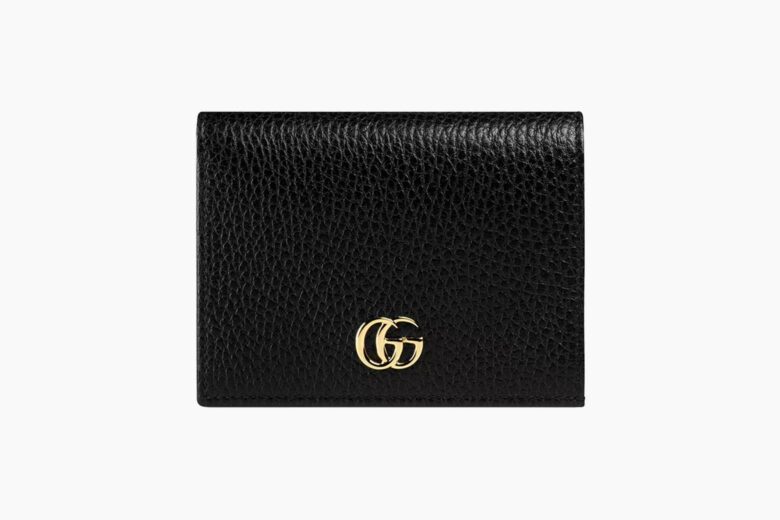 It may be tiny, but Gucci's signature accents are instantly recognizable. With the iconic Double G gold hardware and classical black pebbled leather, this Gucci luxury card holder isn't going anywhere. The timeless accessory promises to transcend a lifetime of trends. And with vintage appeal, it's likely to increase in value in future years. So consider it a smart investment (as if you need an excuse).
Best for: Nothing but a smart investment—and killer accessory.
Dagne Dover Accordion: Best value card case wallet for women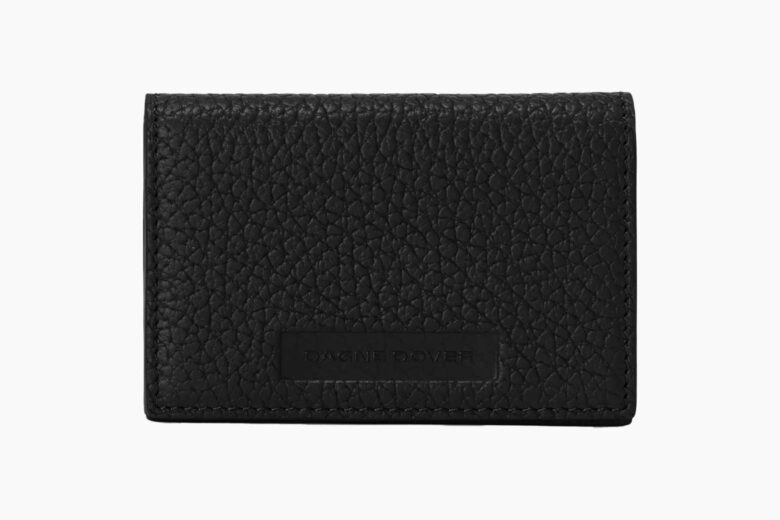 It's no secret that we're big fans of Dagne Dover. And now that we've added this card case wallet to our sustainable set of totes and backpacks, you won't find us scrabbling for cash or cards again. Made from recycled reprieve, this guilt-free purchase comes in the contemporary brand's iconic colors (we dare you to try orange). 
Check our in-depth review of Dagne Dover's bags and our story behind the brand.
Best for: Pared-back perfection.
Senreve Carte Folio: Best women's leather credit card holder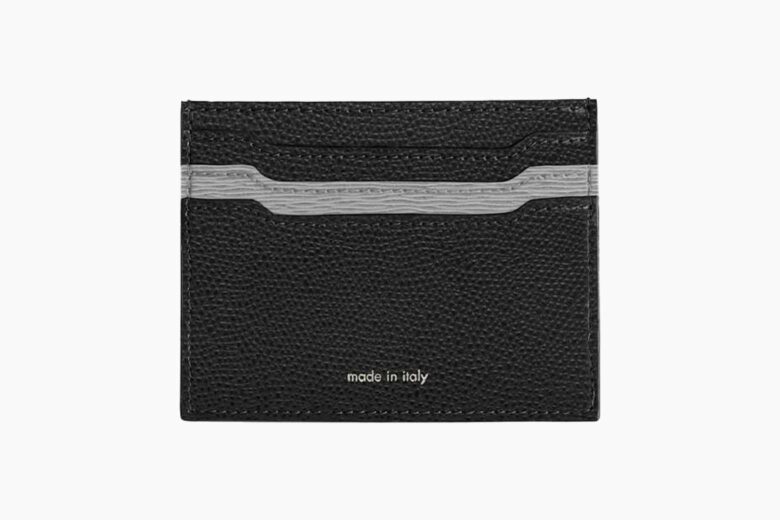 Famous for fashionably functional accessories, our favorite celebrities, influencers and in-the-know shoppers have signed off on this luxury brand. And it won't be long before you spot this modern minimalist leather card holder at every designer store and A-list party. Flash your Senreve carte folio, and the drinks are on them—welcome to the club.
Learn more about the story behind Senreve.
Best for: In-the-know shoppers unite.
Cuyana Flap: Best small card holder wallet for women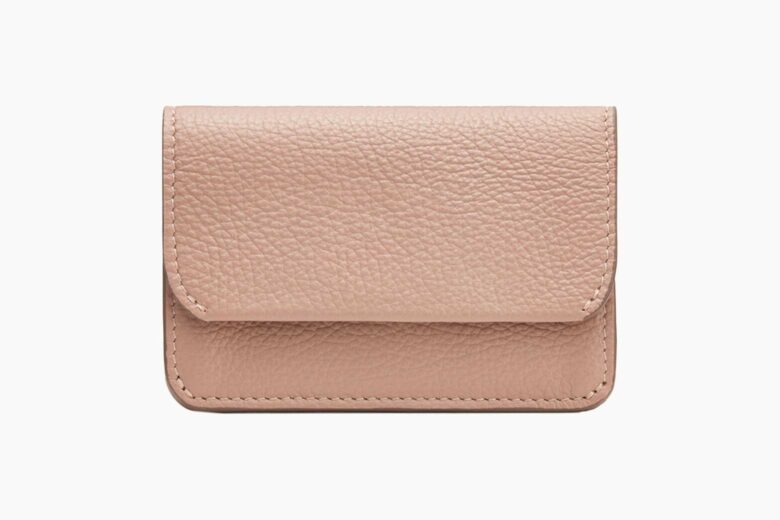 Cuyana is the queen of timeless totes and elevated essentials. And this small card wallet is case in point. The sleek design fits flawlessly into compact crossbodies for hands-free navigation around canape hour. While a touch of neutral pebbled leather peeking out your denim pocket unassumingly slips into every ensemble—keeping it neat.
Best for: Small things great.
M.Gemi The Alice: Best bifold designer card case for women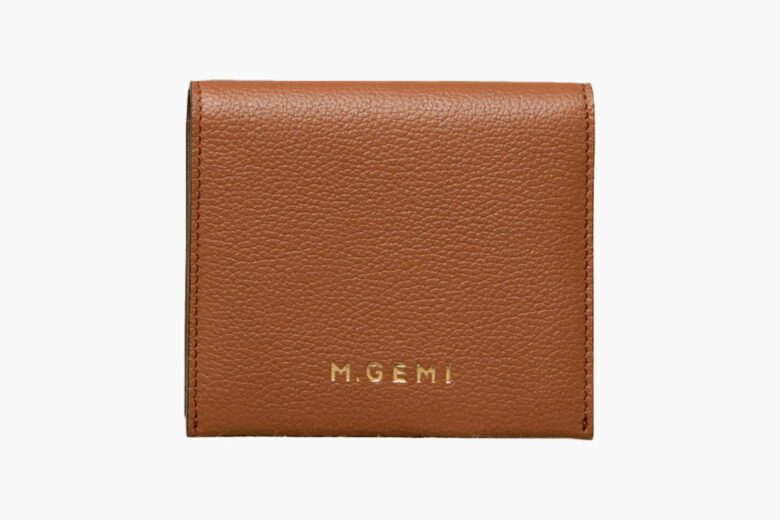 Made in Italy, M.Gemi is renowned for its artisanal attention to detail and meticulous craftsmanship. Add its eco-efforts to that, and you've got accessories that consciously stand the test of time—such as this bifold leather card holder. Play it safe with the classical tan iteration. Or stay on-trend with a vibrant teal.
Learn more about the story behind M.GEMI.
Best for: Artisanal details take the luxe factor up a notch.
Bellroy Folio Mini: Best women's card case with RFID protection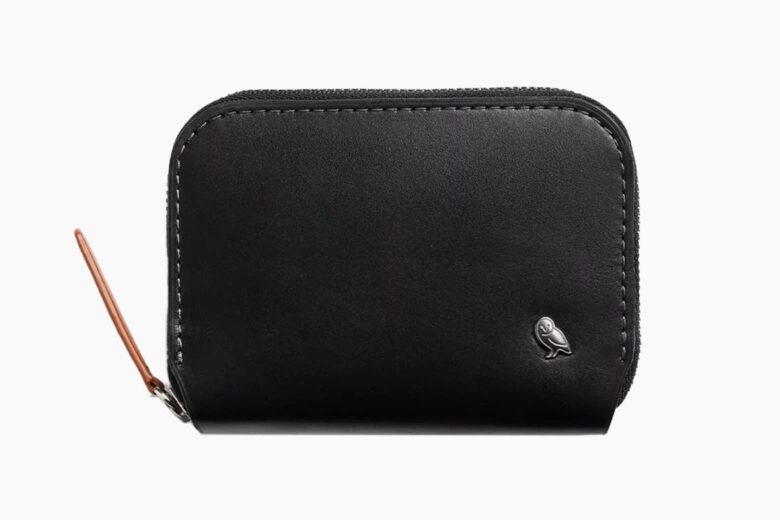 When fortnite security looks this good, there's no reason to risk RFID skimming. We love Bellroy for thinking of the finer details. And whilst we weren't aware that RFID protection was a thing, now that we do, this luxury card is our new favorite travel essential. It's also made from recycled bottles and is roomy enough for multiple cards, folded bills, and coins. Talk about the total package.
Take a look at our Bellroy wallets review to learn more about the brand and our experience with their superb products.
Best for: Your head of security in wallet form.
Dior Saddle: Best flap designer card holder for women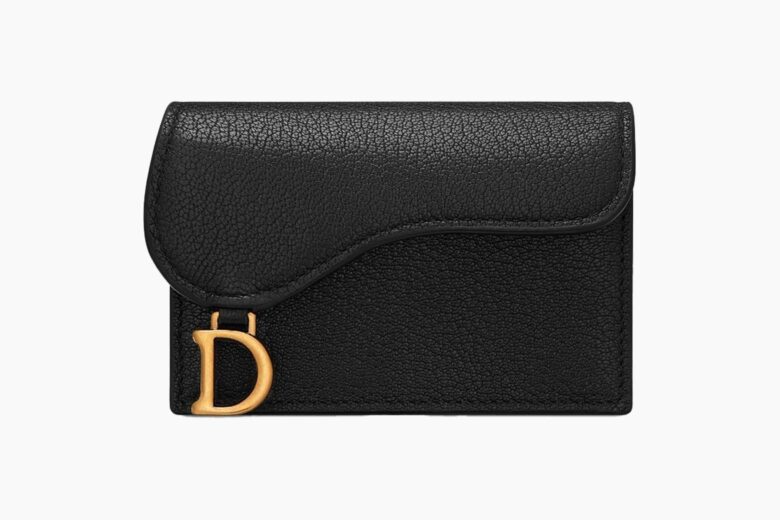 Dior's iconic Saddle bag is here in card holder form. This fashionable flap speaks to the French luxury brand's delicate twists on traditional items. The Dior card holder is made from durable goatskin, ready to hold the daily essentials over a lifetime. While the brand's iconic gold hardware makes itself known, contrasted against the versatile black colorway.
Best for: Saddle up; this asymmetrical flap will take you for a (long) ride.
Behno Devon: Best zip-around card case wallet for women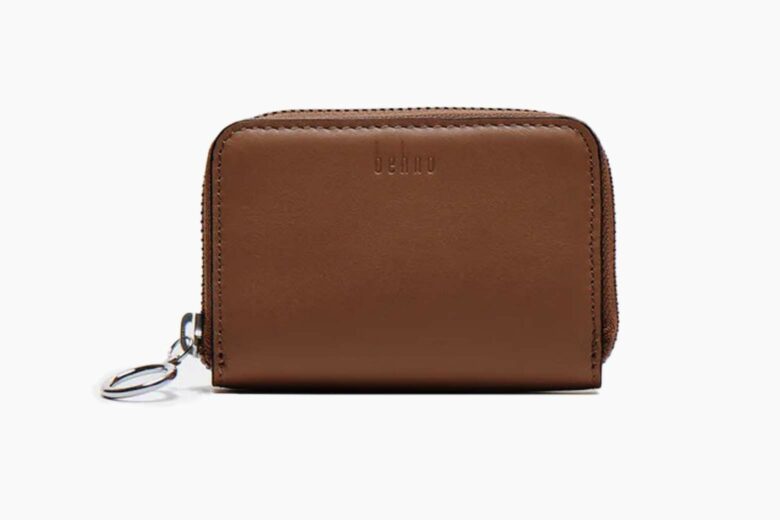 Whether you call it a card holder or wallet, this zip-around rendition ticks all our boxes for the luxury staple. Made from supple leather, the sturdy silhouette features two interior compartments. The gift-ready packaging makes it the perfect present for just about anyone (yourself included). While the cocoa colorway is as sweet and timeless as your favorite chocolate.
Best for: Zipping around from one happy hour to the next.
Mansur Gavriel: Best women's zip card case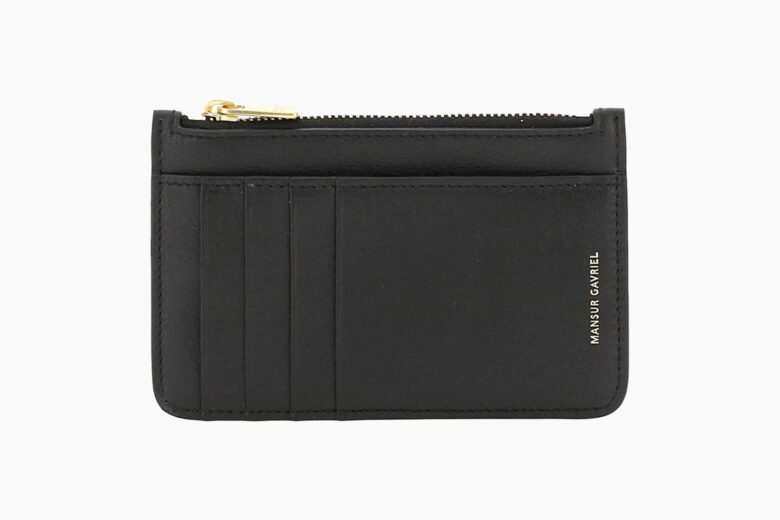 This female-led brand knows a thing or two about a woman's needs and desires—this zip card case meeting both. The everyday essential is elevated in both functionality and fashion. With four vertical slits and a zip pocket, every card or note has its place. While exotic hues prove that timeless staples don't have to be boring.
Learn more about the story behind Mansur Gavriel's brand.
Best for: Putting it in its place—with fierce femininity.
Bottega Veneta: Best dopamine dressing designer card case for women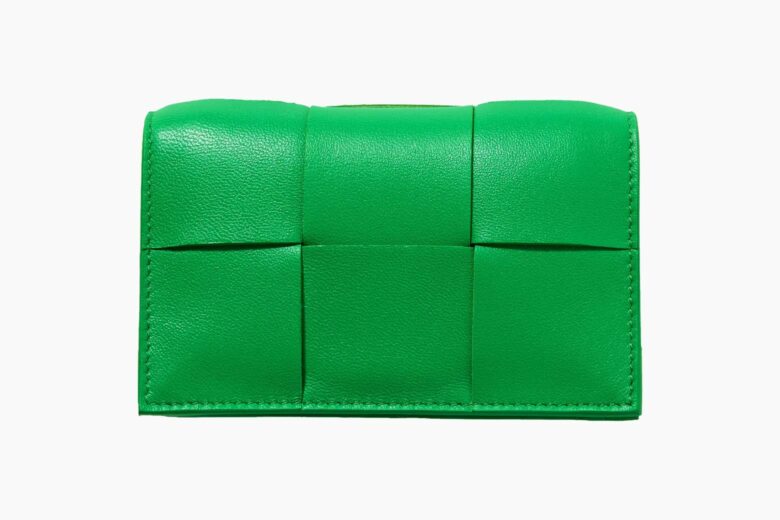 There's no doubt about it, dopamine dressing is totally on-trend. But our minimalists at heart are struggling to adopt it. Cue dopamine accessorizing—the risk-free alternative to showing off your affiliation with fashion. And what better way to dip your toe in the vibrant waters than with Bottega Veneta's bright green card holder wallet. This intrecciato leather silhouette promises to make a splash—without going overboard.
Best for: The green light to embrace dopamine dressing.
Jacquemus Le Porto Pichoto: Best wristlet card holder for women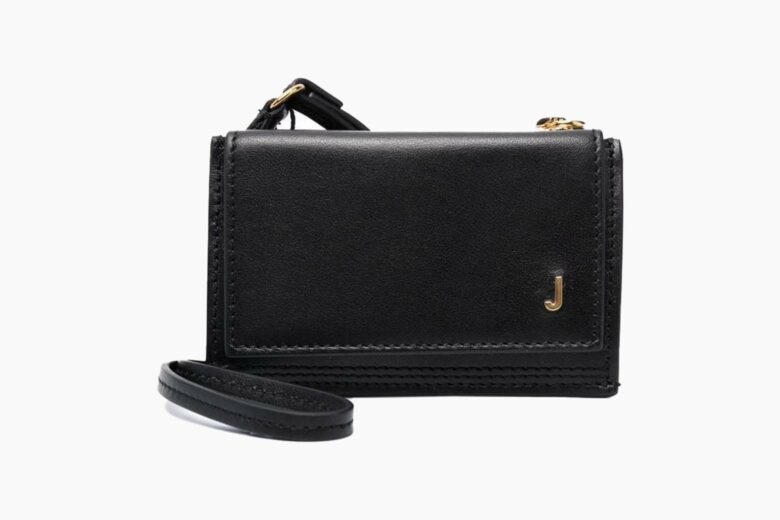 Add a wrist strap to your card holder wallet, and you won't need anything else to leave the house. Jacquemus is renowned for making some of the best women's wallets. But Le Porto Pichoto takes style and practicality to a whole new level. The minimalist black leather silhouette features exquisitely exposed stitching around the edges, embellished with gold hardware. And the internal zip makes room for one or two extra essentials (lipstick touch-ups, we see you).
Best for: Wrist wrap-arounds eliminate all risk.
Stella MCCartney Falabella: Best vegan card holder for women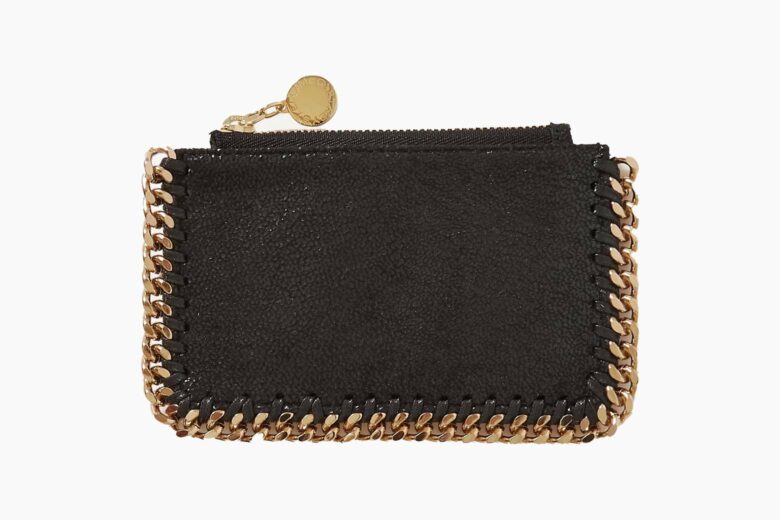 Trust Stella MCCartney to turn the quintessential cardholder into a work of art. The sleek black colorway is accented by exaggerated gold chain stitching around the edges. While the vegan leather silhouette is ethically stylish. Contrast this sumptuous Falabella card holder with your best Summer white dress for an effortlessly chic ensemble.
Best for: Bringing the va va voom—vegan style.
Prada Logo-Plaque: Best women's card holder with strap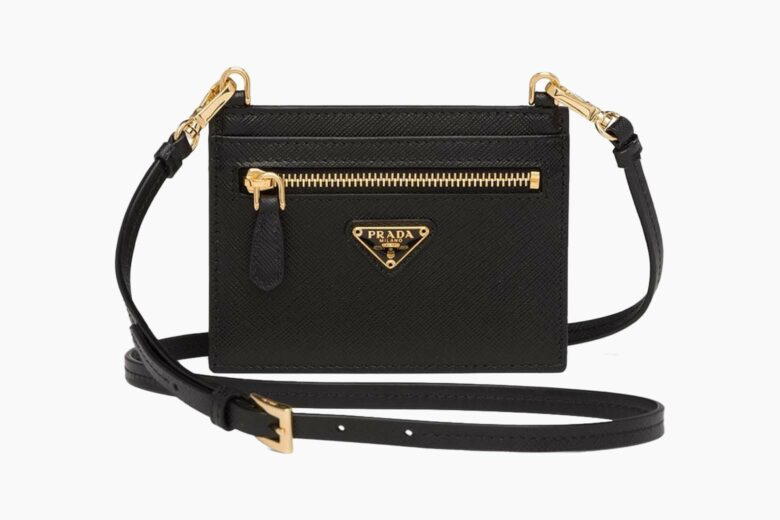 From Prada to nada—not quite, but you'll feel like you're carrying nothing with this strap Prada card holder. Perfect for any night out, the black silhouette complements every ensemble. While the contemporary twist on a high-school classic (the lanyard), plays a key role in allowing you to let your hair down and dance the night away.
Best for: Carefree security.
Saint Laurent Monogram: Best black card case for women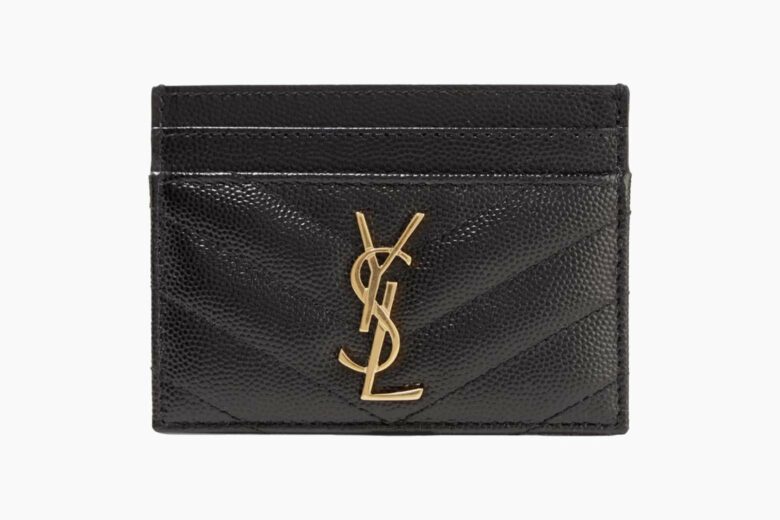 To have and to hold, Saint Laurent vows to keep your cards secure. And they look fabulous doing it. With a sleek black silhouette and oversized gold monogram, this versatile YSL card case slips into any accessory—be it your designer work bag or cute evening crossbody.
Best for: Your everyday saving grace.
The Row: Best compact leather card holder for women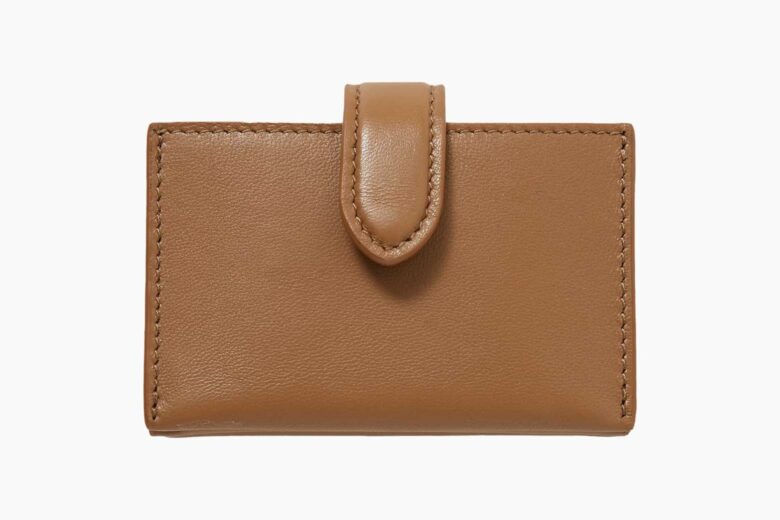 Founded by the Olsen sisters, it's no surprise that The Row has released some of the most luxurious card holders. This celebrity-approved iteration deserves a front row. The simple accordion silhouette showcases high-quality finishes and impeccable attention to detail. While tan or ivory hues whisper tones of versatile sophistication.
Best for: Accordion silhouettes make space for more.
Balmain x Netflix: Best women's card holder with chain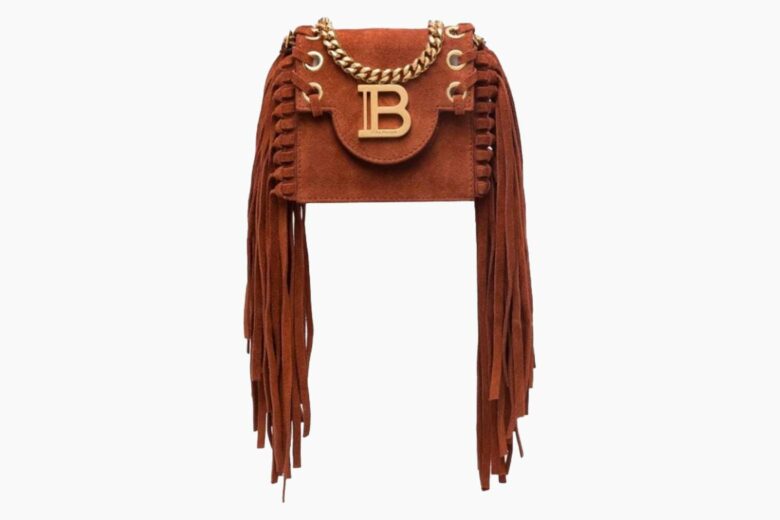 After witnessing the result, we can only hope that Balmain and Netflix collaborate more often. Inspired by the Netflix original, The Harder They Fall, Balmain flaunts the brand's eccentric style with exaggerated accents. This iconic card holder demands attention with its signature fringed sides, suede silhouette, and enormous monogram with a matching gold chain.
Best for: Being unapologetically binge-worthy.
Fendi: Best ID card holder for women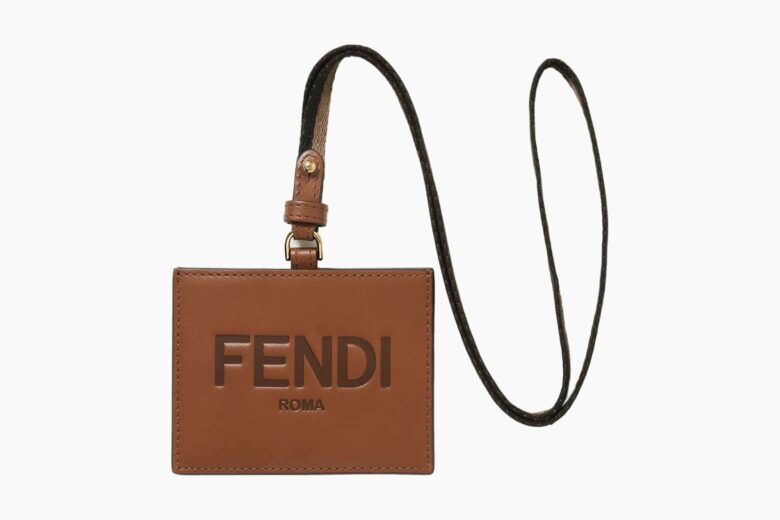 You never know when you may need to produce an ID. And whether you see it as flattering or insulting, you won't want to be denied entry when the time comes. Made in Italy, this Fendi card holder epitomizes la dolce vita with debossed tanned leather, a clear PVC for your ID, and a removable canvas lanyard.
Best for: Always prepared.
Burberry Icon: Best women's card holder with print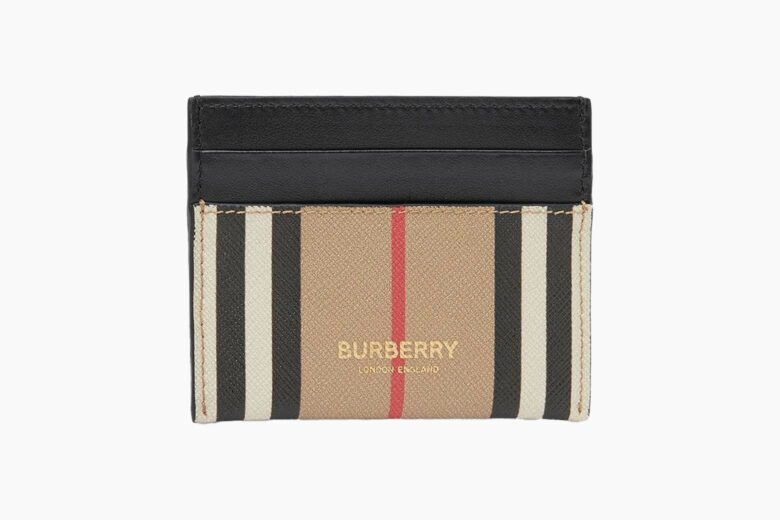 Vintage check never goes out of style. And neither does Burberry. Pair them together, and you've got a piece that promises to stand the test of time. This classical card holder pays homage to its British heritage with its signature Icon stripe. While the planet-conscious accessory simultaneously supports organic farming soil fertility. Need an excuse? You've got it.
Best for: Classical countryside meets stylish sustainability.
Acne Studios: Best slim card holder wallet for women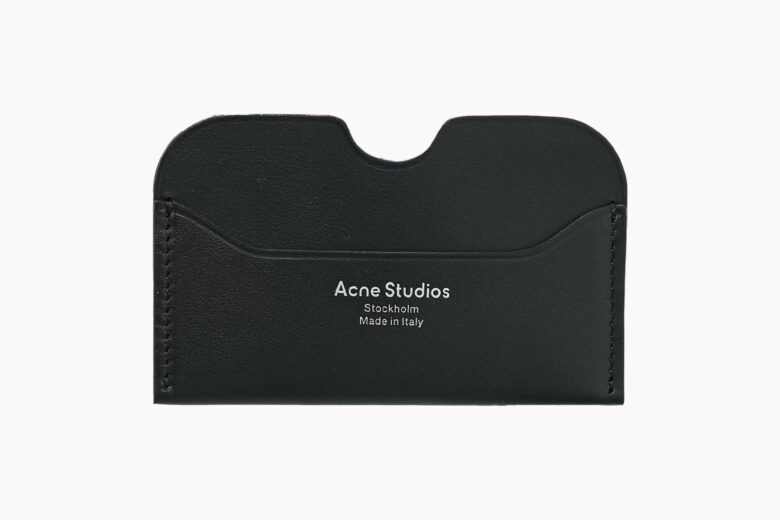 Less is more when you're trying to slip in without causing a scene. Acne Studios understands that. And their iteration of the classical card holder is particularly slim and perfect for pockets. The minimalist black silhouette features two slots and a center compartment. Finished off with the label's logo, it's all you need for most occasions.
Best for: Fitting in.
Louis Vuitton Trunk Multicartes: Most expensive card holder for women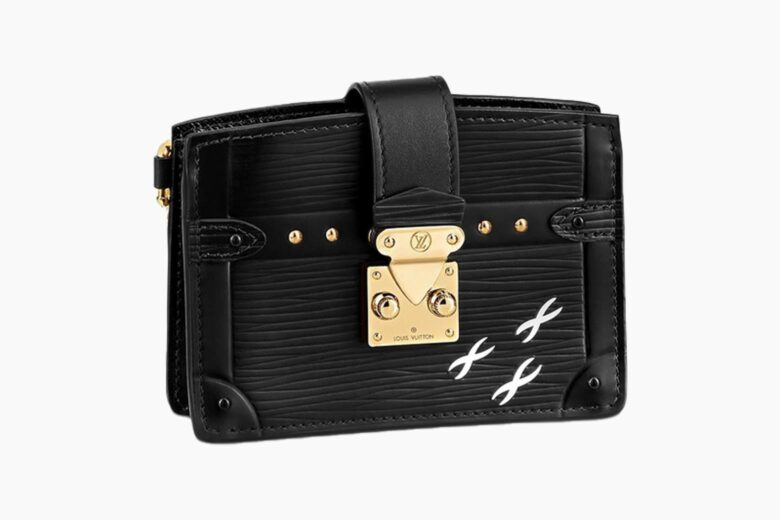 We'd be remiss to end this list without mentioning the Louis Vuitton card holder. But we wouldn't do that. The Trunk Multicartes is a miniature version of the brand's signature Trunk clutch. And the iconic design features the same S-lock clasp and decadent details. This timeless classic doesn't come cheap, but consider it a once-in-a-lifetime purchase.
Best for: This trunk doesn't hold junk.
Frequently asked questions about designer card holders for women
What is a card holder?
In an era where less is often more (especially when it comes to downsizing), card holders are the new big (or small) thing. Simply put, a card holder is designed to hold cards, although it often has a sleeve for cash. It is smaller than a purse or wallet and can often slip into pockets.
Which designer brand has the best leather?
Our favorite designers are totally on board this fashionable functional trend. And luxury brands like KAAI, Cuyana, Gucci, Bottega Veneta and Stella MCCartney—to name a few— have designed some of the best leather (and vegan leather) card holders out there.
Is a designer wallet worth it?
It may be small, but if you're anything like us, your wallet shows face daily. So you'll want it to look good and stand the test of time. Our top designer wallets not only nail timeless trends, but are also high quality and made to last. So yes, we think they're worth it. 
How do you carry cards without a wallet?
If your wallet is too bulky for your delicate clutch or evening crossbody, you'll need a card holder to carry your cards. The compact accessory is designed to fit the essentials without taking up space. They usually slip into your pocket—no tote necessary.