We've all been there: Dawn hasn't yet broken, and you're due out the door in 20 minutes. Need a little immediate motivation? Have a pair of the best slippers for women at the ready. So, you can swing out of bed, slide your feet right in, and shuffle downstairs to the coffee machine before your day hits full throttle.
Then, when you return home having been on your feet all day (whether in heels, boots, or luxury sneakers), there they are: A pair of the best house slippers ready to welcome you into their cushty soles.
For busy women, the twilight comfort of a cozy pair of pajamas and a pair of house slippers is a sanctuary that's tough to match.
Perhaps your day is full of Zoom meetings, undertaken from your home office. We'll say only this: You've only got to look smart from the waist up… So, maybe you need a pair of go-to house shoes for days spent at home.
Or you're at the office all day, and desire the sumptuous solace a great pair of indoor slippers can offer. Either way, our list of the best slippers for women has you, and your feet, covered—from the cloud-like extra fluffy kind to the minimalist hotel-style slipper.
The only problem is: You'll never want to take them off.
Psst: they'd also make the perfect gift too.
The 23 best slippers for women
To help you find the slippers that are best for you, check our style guide to choosing the best slippers for women after the list.
Senreve Shearling Slipper: Overall best women's slippers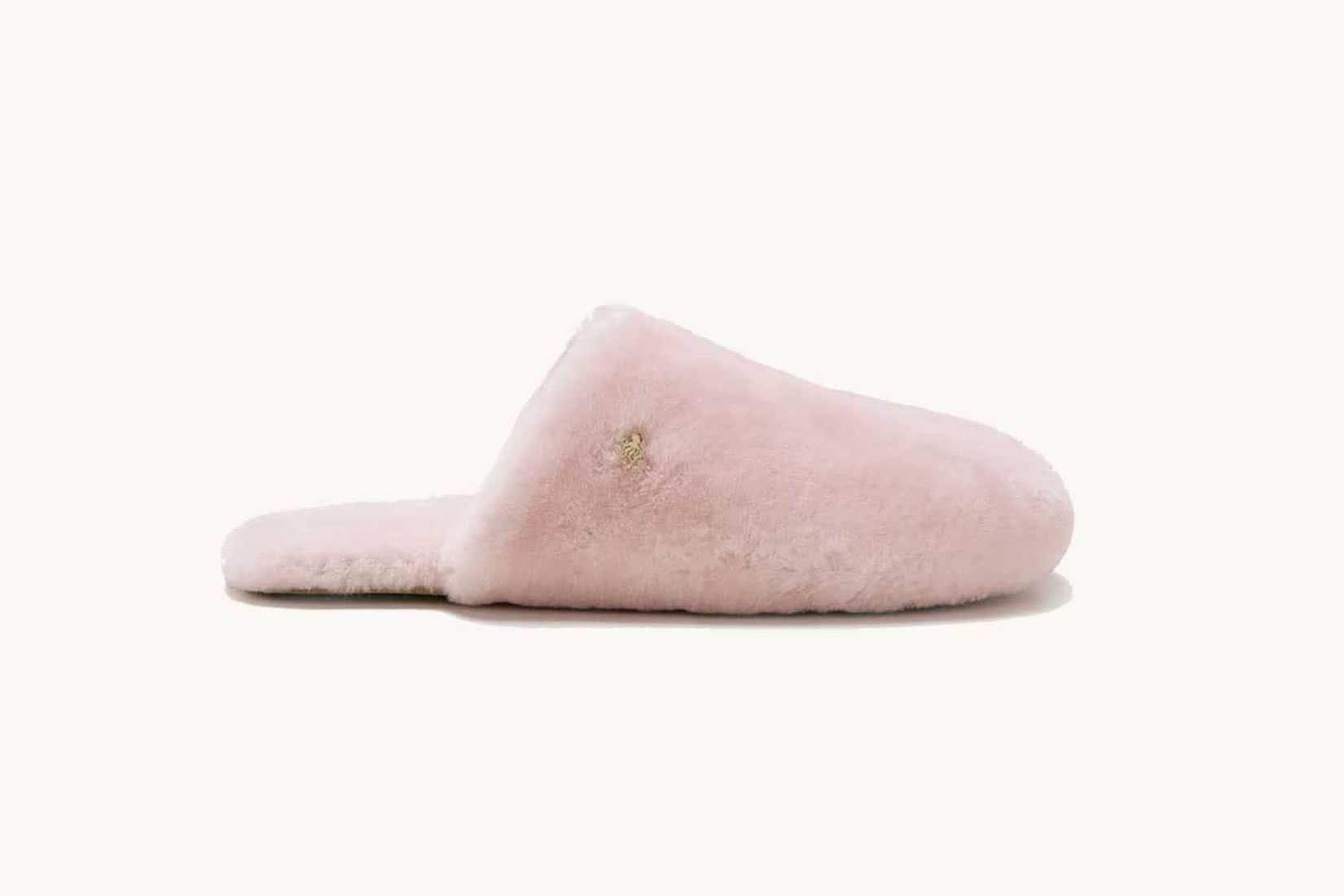 Your feet deserve a break, too. A favorite brand of ours for stylish designer work bags, Senreve knows we don't need to sacrifice comfort for productivity. And these plush shearling slippers are the perfect testament to that.
Made with 100% Australian shearling, these Senreve's luxurious fluffy slippers are the cozy, stay-at-home companions we can totally see ourselves hanging out with on the daily, whether we are relaxing around the house or working from home.
The pastel color palette is totally versatile and will easily match with your favorite chilling clothes. Plus, they're soft and flexible which means you'll sink into these cute slippers like gooey marshmallows—perfect for going all Netflix 'n' chill, with no pesky hard bits digging into you.
Learn more about the story behind Senreve.
| | |
| --- | --- |
| Best for: | A nice, warm hug for your feet. |
| Colors: | A range including Baby Pink, Plum, and Smoke. |
Gucci: Best luxury house slippers for women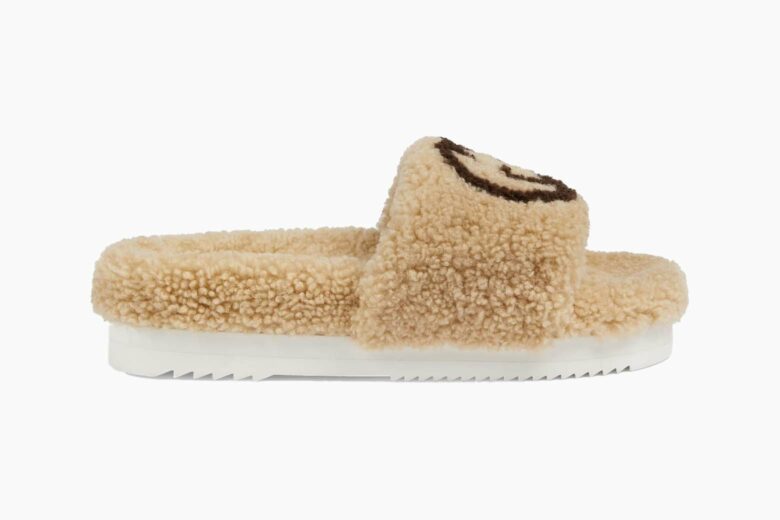 Slippers are indulgent. Gucci is indulgent. Put them together, and you've got the most sumptuous accessory we could think of.
Whilst we don't often invest in slippers, we think it's time to start. Especially if it means that every day starts and ends with a touch of glamor and unparalleled comfort.
Gucci's house slippers are exquisitely crafted from sustainably sourced, light brown Merino wool. As good-looking as they feel, you'll be proud to answer your doorbell at unexpected hours. And the exaggerated interlocking G logo leaves no mistaking what affluent label graces your feet.
| | |
| --- | --- |
| Best for: | Starting and ending every day with a touch of indulgence. |
| Color: | Sand |
| Material: | Merino wool |
| Care: | Spot clean |
Parachute Classic: Best value women's slippers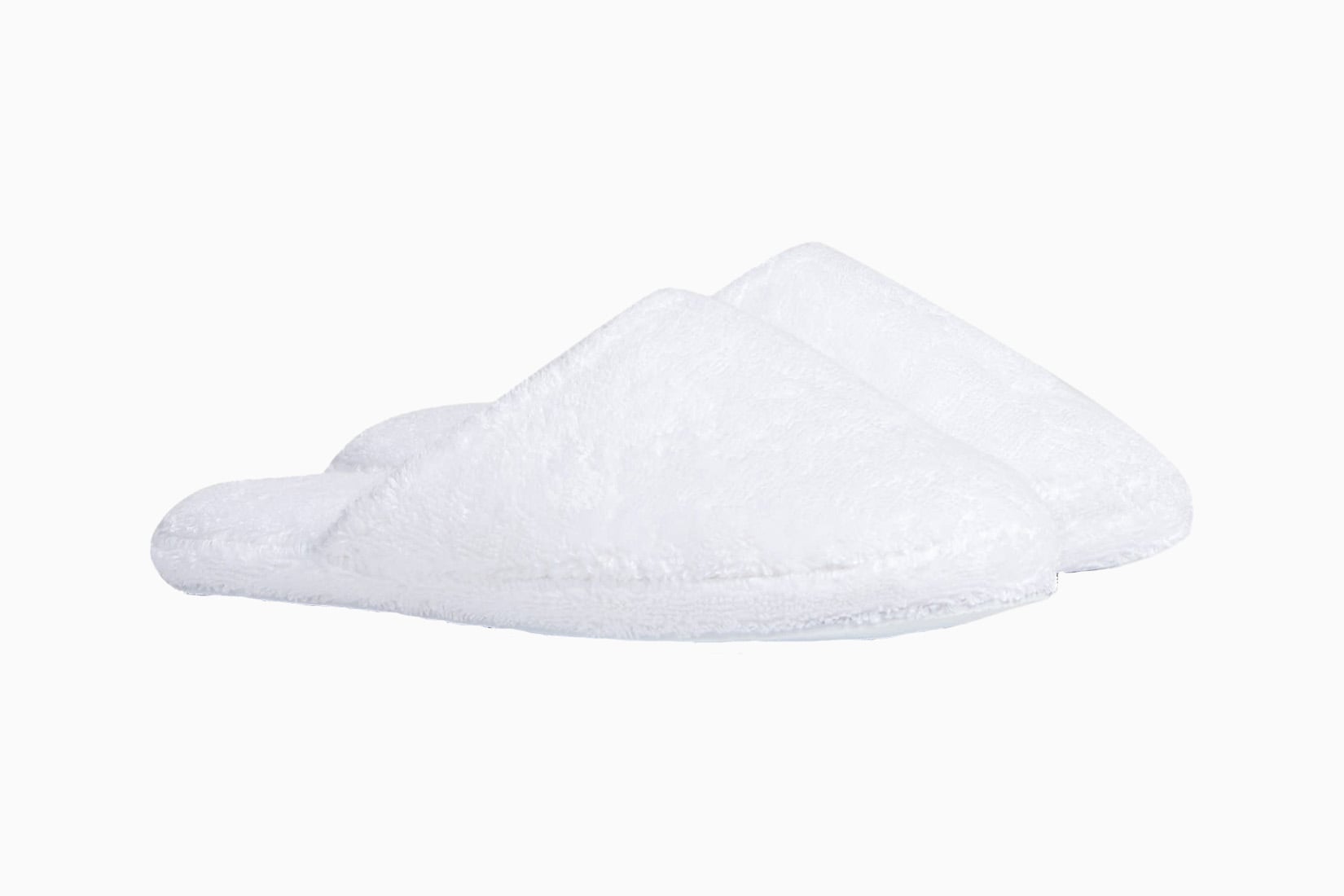 Your bed is beautifully dressed with luxury hotel-style bed sheets, and you've got one of the best bathrobes to match. So, why stop there? Emulate hotel luxe at home with the Classic Turkish cotton slippers by Parachute—hotel toiletries not included.
Coming in pure, bright white, sliding into these slippers will remind you of your last high-end hotel stay, and the pure relaxation that came with it.
Crafted from plush terry fabric, sliding into these slippers is like 5* luxury, with your feet being the VIP guests. And, being soft, pliable, and breathable, you can pad around your home in ultimate comfort. They also have a rubber sole for gripping and are machine washable.
In essence, these cushioned slippers are made to make you feel calm, cool, and collected, starting with your toes.
| | |
| --- | --- |
| Best for: | Reliving your favorite hotel break at home, every day. |
| Colors: | White or Stone. |
Naked Cashmere Mule: Best giftable women's slipper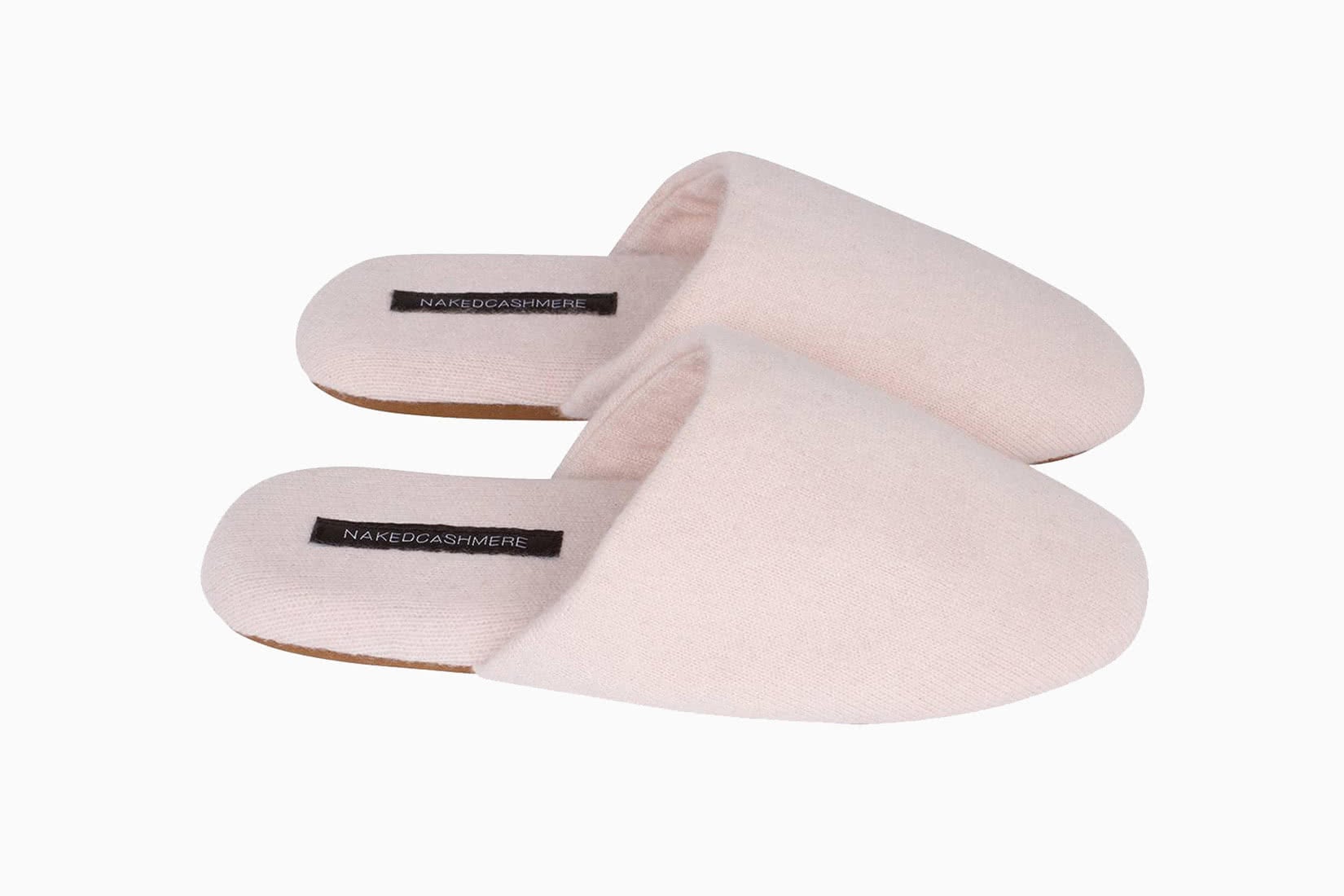 67 grams of 100% cashmere and padded insole in a cozy slipper? Your feet will thank you.
These foot-hugging cashmere mule slippers by Naked Cashmere are spoiling us with pure luxury comfort for maximum unwinding.
Just like the best cashmere sweaters for women, these cashmere slippers make the perfect gift for women and Secret Santa's stocking filler.
Learn more about the story behind Naked Cashmere.
| | |
| --- | --- |
| Best for: | Your beloved cashmere sweater in slipper form. |
| Colors: | A range including Black, Sandy, and Truffle. |
UGG Coquette: Best women's backless sheepskin slipper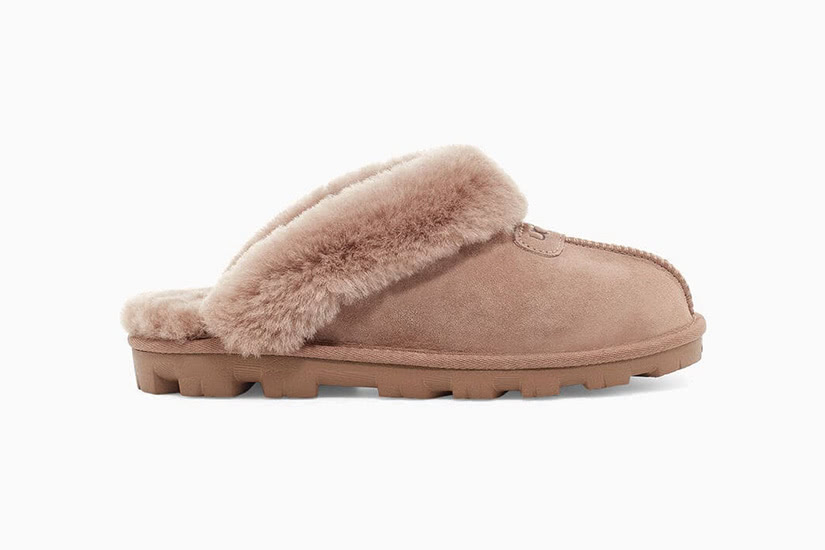 UGG slippers (and let's not forget their boots!) have deservedly reached 'iconic' status, and are beloved by comfort and style enthusiasts across the world.
Not short of celebrity endorsements, the Coquette Slipper, in particular, has been the slipper of choice of stars from Reese Witherspoon to Jennifer Lopez. And who can blame them? UGG slippers for women are rightly regarded as the epitome of at-home chic.
With soft sheepskin and a lightweight rubber sole, plus the comfort-oozing round toe, these women's slippers are to die for. It goes without saying, the attention to detail and lovely quality means UGG slippers are incredibly long-lasting, too.
| | |
| --- | --- |
| Best for: | A celebrity-loved retreat for your feet. |
| Colors: | Chestnut, Berry, or Burnt Olive. |
Vionic: Best women's slippers for arch support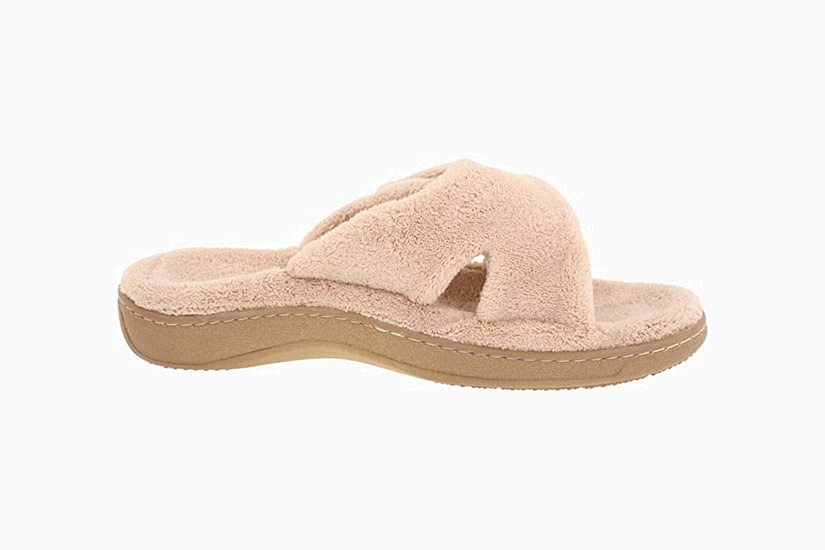 Sometimes, we don't give our feet the support they well and truly deserve. After all, they carry us all day non-stop and never ask for anything in return.
So, treat your achy soles to the Relax slippers with arch support by Vionic. They feature an adjustable instep buckle strap for a personalized fit, so you can create optimal comfort that's tailored to you.
Using Orthaheel technology, the slippers are specifically designed to fit snugly to your arches and support your weary feet. Plus, the footbeds are wrapped in microfibre, which works as a shock absorber. Essentially, the Vionic Relax slippers boast an array of carefully crafted features to make sure comfort and support are of the highest order.
| | |
| --- | --- |
| Best for: | Saving your soles, and giving your feet the support they deserve. |
| Colors: | Tan, Black, or Navy. |
Alo Yoga Cloud It: Best women's slippers for indoor outdoor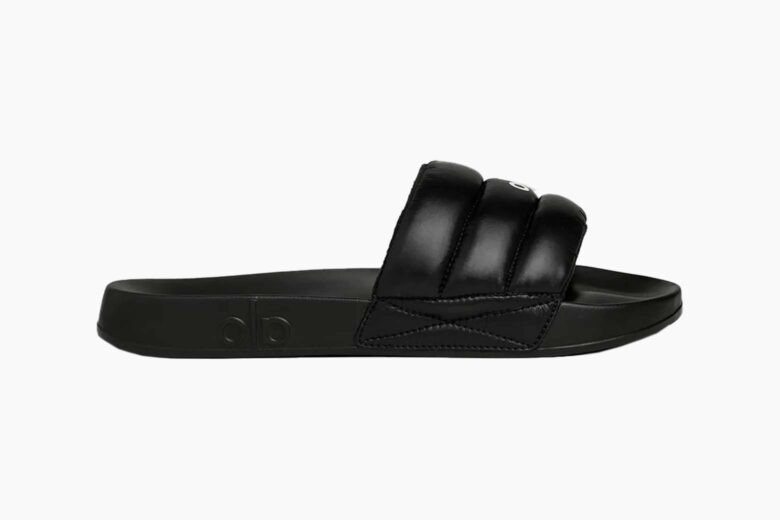 Call it a slipper. Call it a slide. When it comes to Alo Yoga, we're far too zen to get caught up in the semantics. And truth be told, this pair will likely make our list of the best slippers, as well as the best slides.
With a stretchy nylon strap and impossible soft rubber sole, the accommodating slip-ons effortlessly mold to your feed for perfectly tailored comfort. And as the closest thing to walking on air, you won't have to risk broken glass or dust on your toes to reap the benefit of gliding through life barefoot.
From studio to street to couch, these happy (soles) take our meditative mindsets off the yoga mat and into our everyday routine. After all, horizontal is a pose, too, right?
| | |
| --- | --- |
| Best for: | Manifesting a zen-like mindset with every step. |
| Colors: | Black |
| Materials: | Nylon and rubber |
| Care: | Spot clean |
Aeyde Kelly: Best shearling slipper for women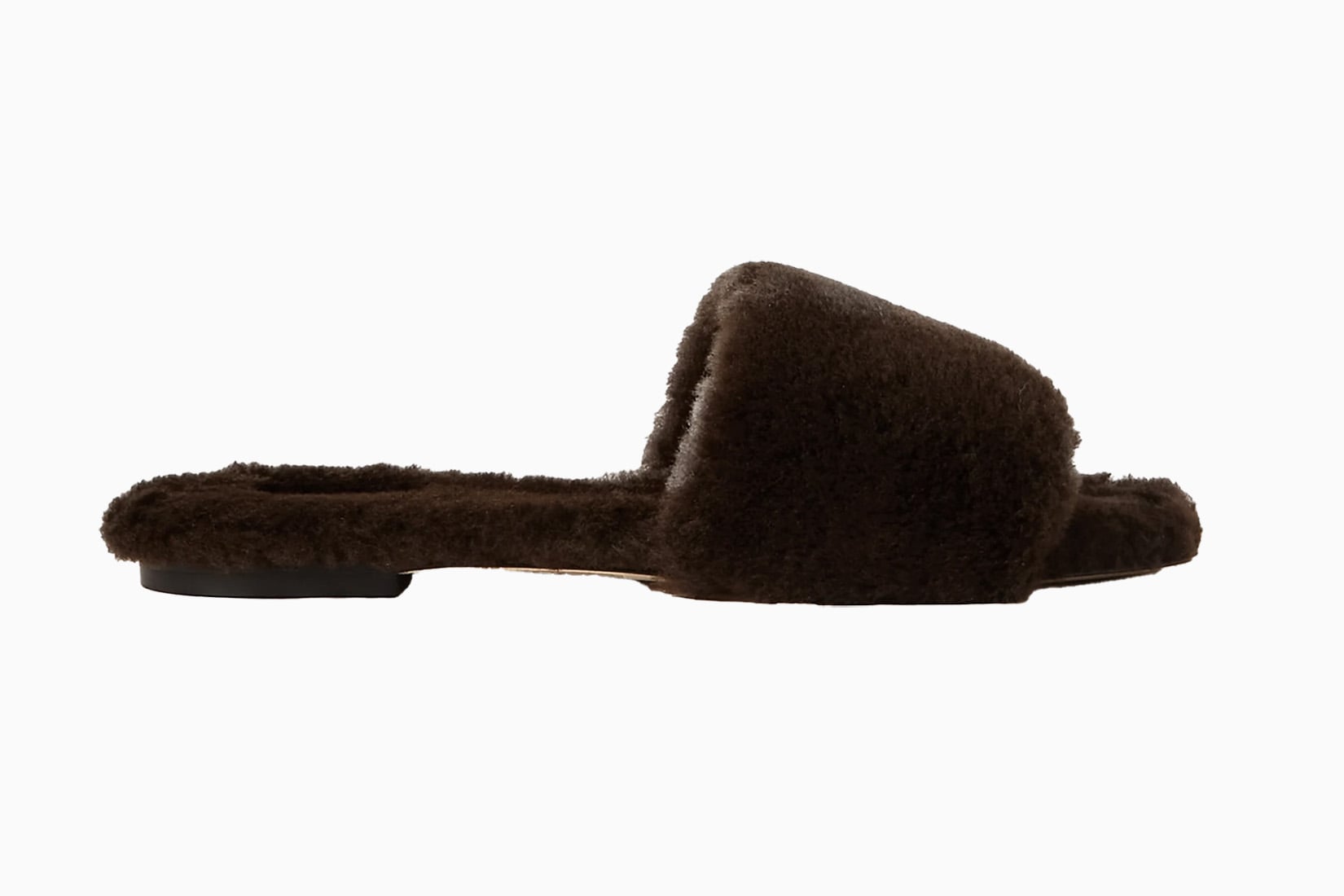 These shearling slippers by Aeyde have probably crossed your social media feed a time or two and might just have to make their way into your capsule closet.
Crafted in Italy from 100% natural, sustainably sourced shearling, these plush house slippers are soft and snug, chic, and comfortable.
They're super easy to slide on, with the open-toe meaning you can still show off your jazzy pedicure.
They also have a leather sole which means that, yes, you can wear them beyond the house with relaxed tailoring or your favorite jeans and a white t-shirt.
| | |
| --- | --- |
| Best for: | The ultimate laidback-luxury statement. |
| Colors: | Chocolate or Cream. |
Eberjey Sherpa: Best faux shearling slippers for women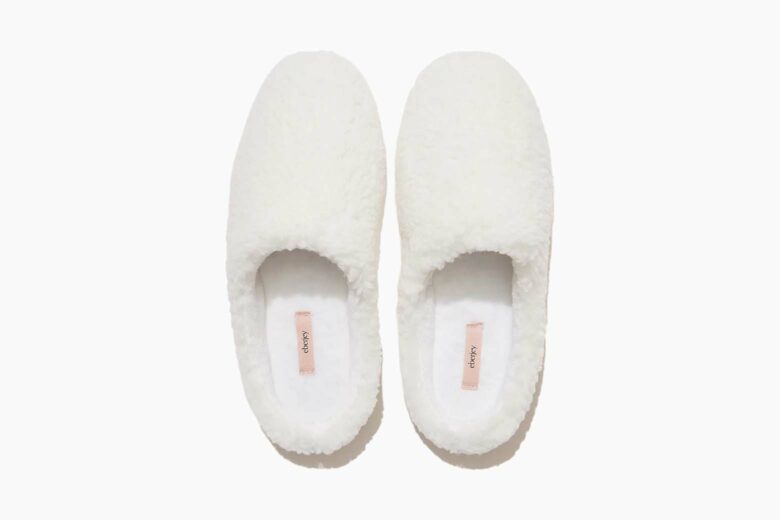 As the queen of luxury loungewear and home comforts, Eberjey is our go-to for everything soft and sumptuous.
Crafted from faux shearling, these cozy slippers are just as snug as real shearling but can be enjoyed without thinking about whether animals were harmed in the process.
The clean ivory silhouette and impossibly cozy interior epitomize what it means to walk on cloud nine. And you'll only catch us floating through our mornings and evenings—afternoons, too when taking WFH days with these faux shearling slippers.
| | |
| --- | --- |
| Best for: | Walking on cloud nine from morning to night. |
| Color: | White |
| Material: | Faux sherpa |
| Care: | Spot clean |
Bombas Gripper Slipper: Best slipper socks for women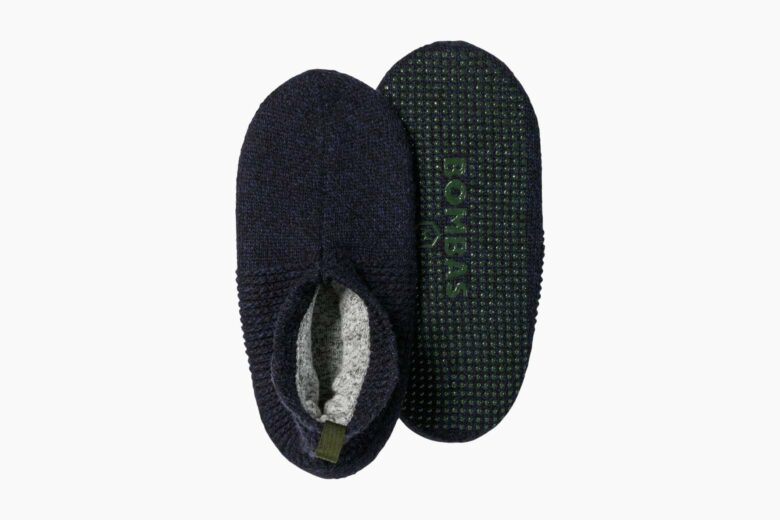 Living up to their mantra—Bee Better—Bombas is renowned for perfecting the design of a simple sock for on-the-move comfort. But every busy bee needs a break. So these slipper socks are your cue to slip on sweats and take some me-time.
Newsflash: we love slippers but hate actually slipping. And this gripper slipper knows that. The special grips on the exterior mean that we can dance around the house, pjs and a glass of red in hand, without the fear of ruining our white furniture. And as one of the best slippers for travel, you won't have to compromise all home comforts on business trips and wanderlusting vacays.
Coming in a range of hues and cute prints, we have a pair of Bombas sock slippers to match every pj set. But we're excused—because, for every pair purchased, they donate a pair to home shelters.
| | |
| --- | --- |
| Best for: | Bee-ing slip-proof, snug, and sympathetic. |
| Colors: | Black, Blue, Beige + More |
| Material: | Wool blend |
| Care: | Machine wash |
Mou: Best fluffy slippers for women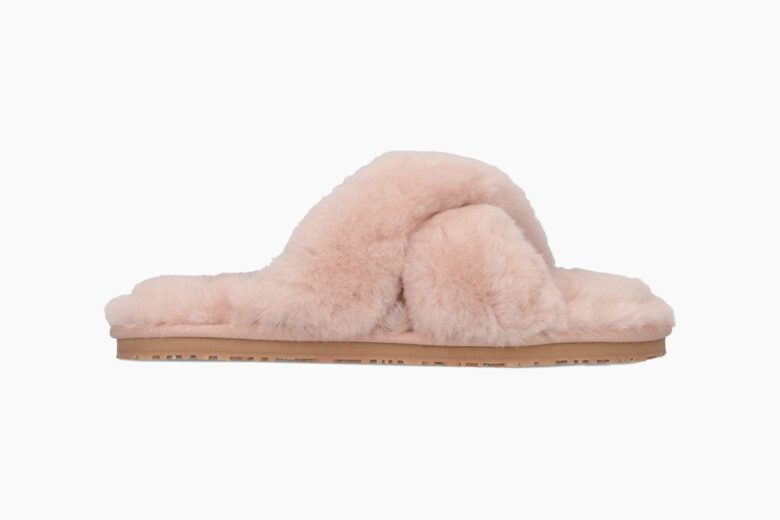 They're so fluffy. We're gonna die. Whether you know the reference or not, the sentiment holds true for Despicable Me lovers and comfort seekers alike.
The rubber sole makes them outdoor-approved, so you don't have to think twice about popping out to fetch the post. Whilst the sheep shearling is sustainably sourced and impossibly soft. 
Reminiscent sliding down rainbows, floating through clouds, and riding unicorns, these fluffy slippers live up to all our wildest childhood fantasies—but with an adultlike elegance.
| | |
| --- | --- |
| Best for: | Living up to fluffed-up fantasies. |
| Colors: | Grey and pink |
| Material: | Shearling |
| Care: | Spot clean |
Anine Bing Lizzie: Best women's slippers for summer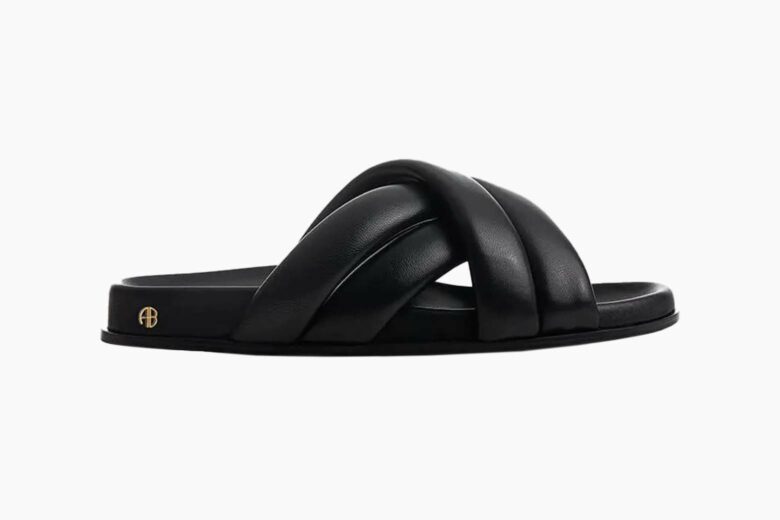 Designed by ex-model Anine Bing, we won't confine these sumptuous slides to the slipper category. But flaunting cloud-like comfort, they certainly meet the requirements.
Made in Turkey from 100% lambskin leather, the timeless silhouette is endlessly soft and made to last. The puffy cross-over straps speak to a chunky, contemporary aesthetic. Whilst the minimalist Anine Bing gold logo discreetly elevates without being ostentatious.
As our best Summer slippers for women, we strongly advocate showing these sophisticated slides off outside of the house.
| | |
| --- | --- |
| Best for: | Slipping into Summer with style and comfort. |
| Colors: | Black and brown |
| Material: | Lamb leather |
| Care: | Spot clean |
Parachute Shearling Wool Clog: Best women's slippers for winter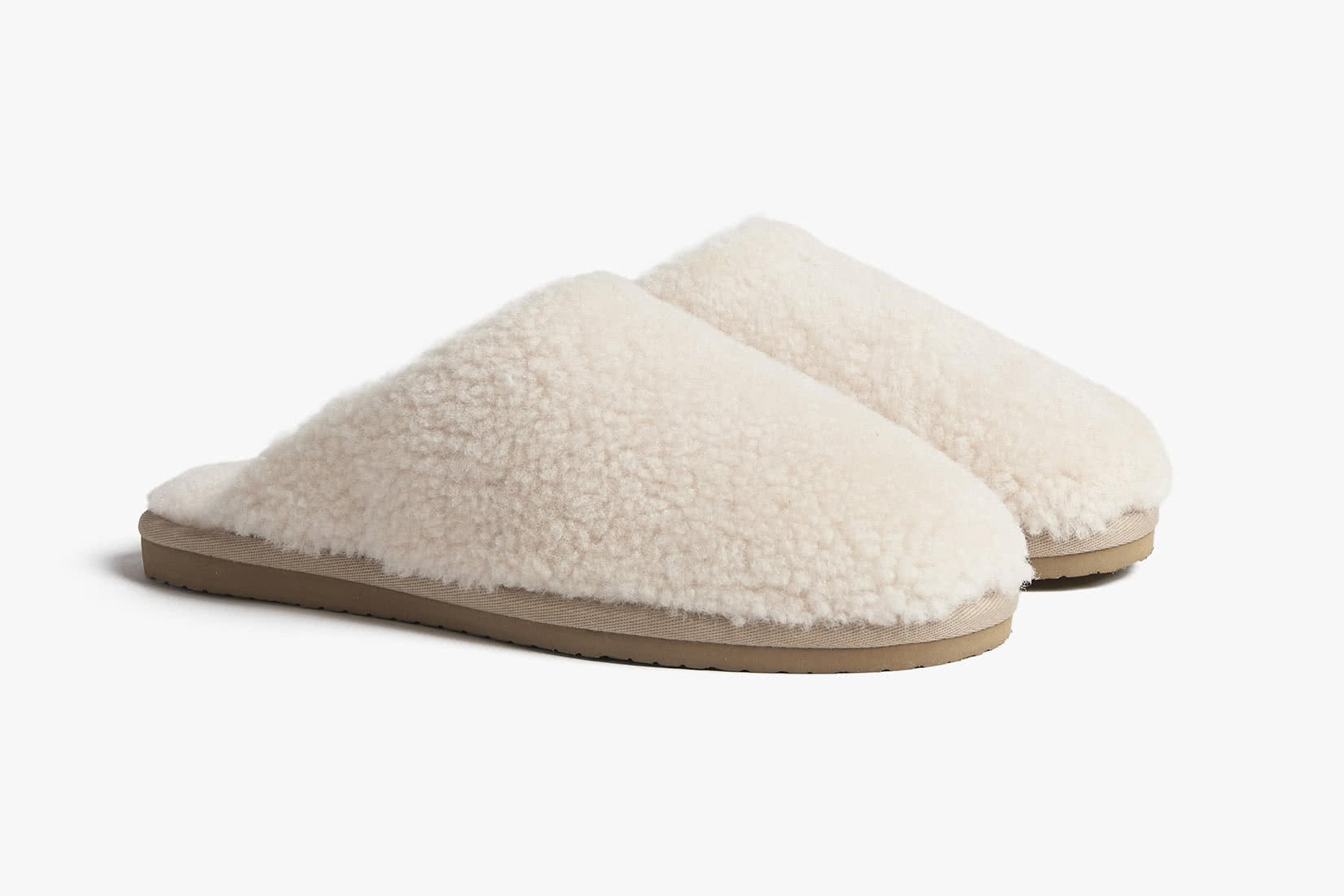 For a company founded in notoriously sun-baked California, Parachute sure knows how to craft a rocking pair of winter slippers.
So, when the winds are wild, and the air is glacial, arm yourself with a pair of Parachute's cosy, 100% wool clogs. Like fluffy clouds for your feet, these warm slippers will keep your feet toasty.
The sturdy foam soles mean you can step out of the house, no problem.
| | |
| --- | --- |
| Best for: | Winter slippers to warm your feet (and hearts!) in the chilly months. |
| Colors: | White. |
ULTRAIDEAS: Best memory-foam women's slippers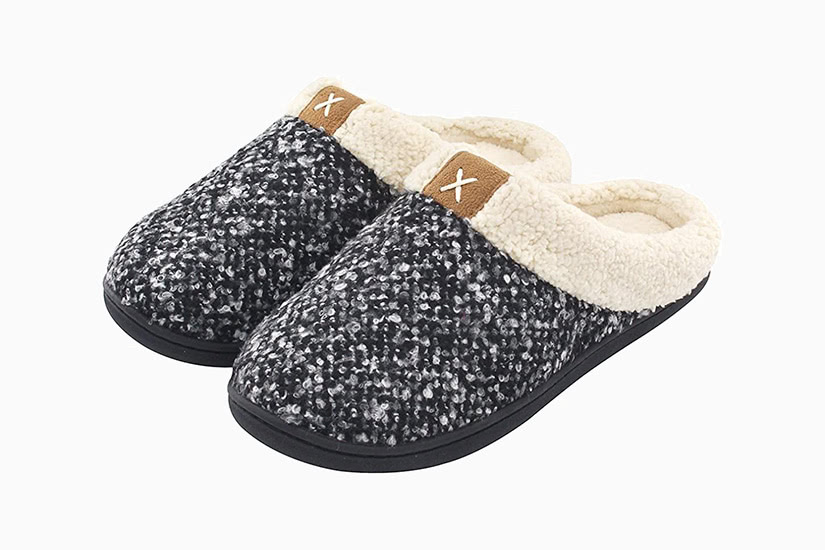 Memory foam isn't just for luxury mattresses. Now you can treat yourself to a pair of memory-foam slippers that literally mold to the unique shape of your foot.
ULTRAIDEAS slippers feature high-density memory foam with shock absorption, which stretches to a customized fit after only a few outings.
They're not just a one-trick pony, either: ULTRAIDEAS have covered everything. The anti-slip outsole allows you to move silently throughout your home. Great for burglars, yes, but also great for not waking the whole house when you venture to the bathroom at 4am.
Perhaps most importantly, the soft fleece upper and collar mean your feet will feel snug the moment you step into the ULTRAIDEAS memory-foam slippers.
| | |
| --- | --- |
| Best for: | Tucking your feet into their very own memory-foam mattress, complete with a fluffy fleece blanket. |
| Colors: | Black/Grey, Purple, or Royal Blue. |
Canada Goose Cypress: Best bootie slippers for women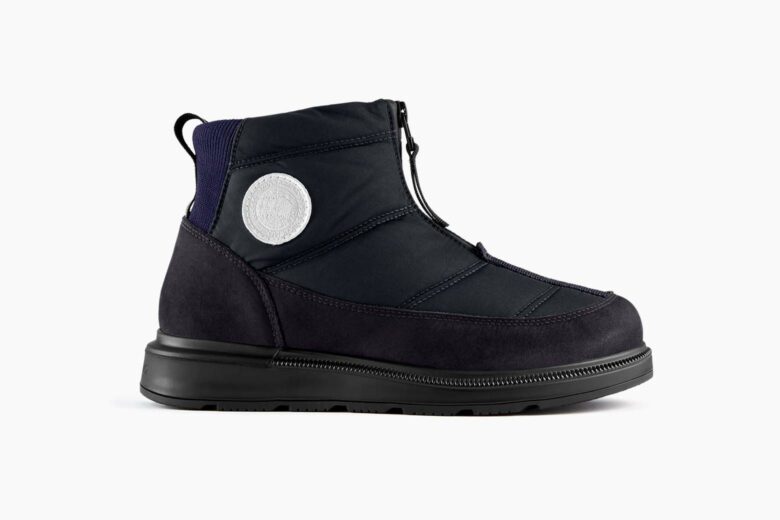 Worthy of their cult-favorite status, Canada Goose is renowned for its premium quality and unparalleled comfort—especially in icy climates.
These bootie slippers live up to the name in fashion and functionality. Designed with longevity and weightlessness in mind, they epitomize what it means to have a featherlight footprint—literally and environmentally.
As one of our best women's slippers with a rubber sole, the versatile silhouette transitions seamlessly from indoors to outdoors. And the insulated upper packs down effortlessly, making it a standout for travel in particular. Take them out with your snow jacket and beanie. Or sidle up to a fire in sweats. The only time we're taking these booties off is to climb into bed.
| | |
| --- | --- |
| Best for: | Taking our feet into hibernation. |
| Colors: | Black, navy, white + more |
| Material: | Nylon |
| Care: | Spot clean |
Soma Lattice: Best women's fuzzy slippers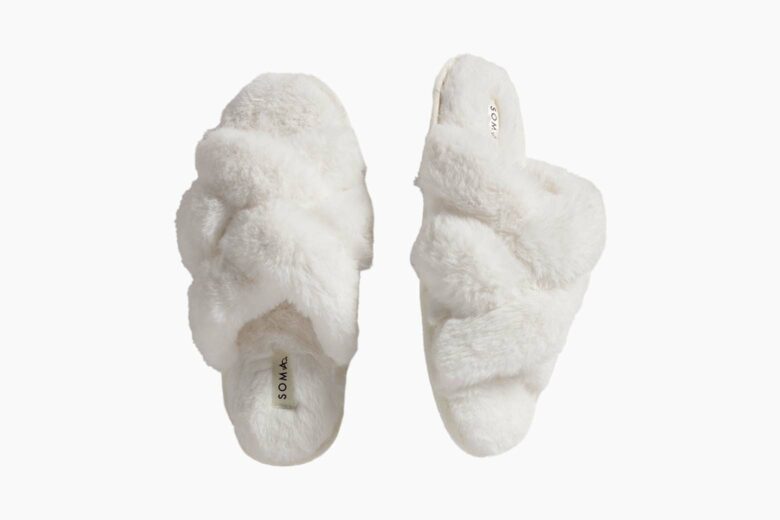 Let's be honest: at-home spa days rarely hit the mark—unless you gear up for them. But before you give up on DIY masks, aromatic candles, and bath salt soaks altogether, we implore you to do it all again, but this time with your feet snugly cocooned in Soma's fuzzy slippers.
Reminiscent of luxury hotel indulgences and spa comforts, the white silhouette is made to be worn with a matching white robe and cucumbers on the eyes. But the real magic lies in their superlative comfort. 
As the sartorial equivalent of a foot massage, your feet will feel as if they've died and gone to podiatric paradise. Plus, these fuzzy slippers make the perfect gift for any woman in your life who deserves a little pampering. We can think of a few.
| | |
| --- | --- |
| Best for: | Settling into spa-like comforts. |
| Colors: | White |
| Material: | Polyester |
| Care: | Spot clean |
Allbirds Sugar Sliders: Best women's slippers for sweaty feet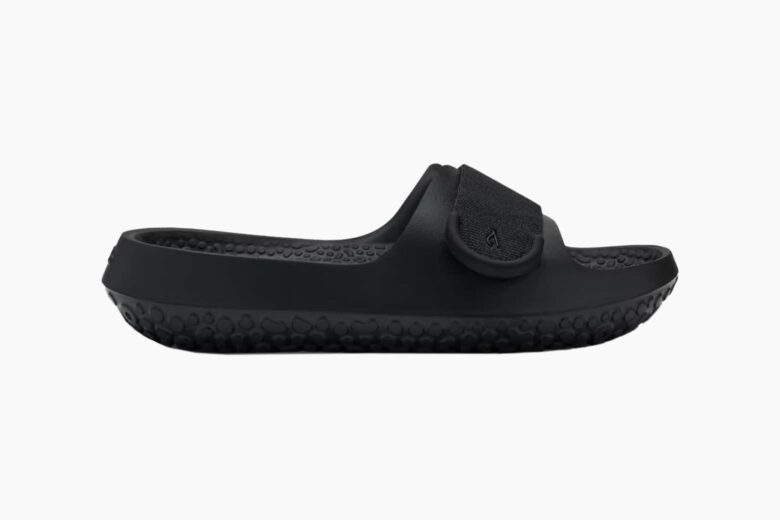 We get it. You don't like to talk about it. So allow us to do the talking, and you can just sit back and listen.
Sweaty feet are a thing. But they're also a thing that can be avoided with these Allbirds Sugar Sliders. Made from their signature SweetFoam, the natural fiber is both breathable and bouncy. Clearly, they've found their footing when it comes to sustainable, stylish comfort.
The conscious material is acclaimed as the world's first carbon-negative EVA (yep, the production process actually absorbs more carbon from the air than it emits.) And made from recycled polyester, the webbed straps eliminate waste and foot odor altogether.
We're taking these sweat-proof slides from the bedroom to the beach to the bar and everywhere in between. Do the same, and you may just receive those much-sought-after foot massages from your partner.
Learn more about the story behind Allbirds.
| | |
| --- | --- |
| Best for: | Finding your footing in sweat-free comfort and style. |
| Colors: | Black, grey, and orange |
| Material: | SweetFoam |
| Care: | Spot clean |
Birkenstock: Best women's slippers for wide feet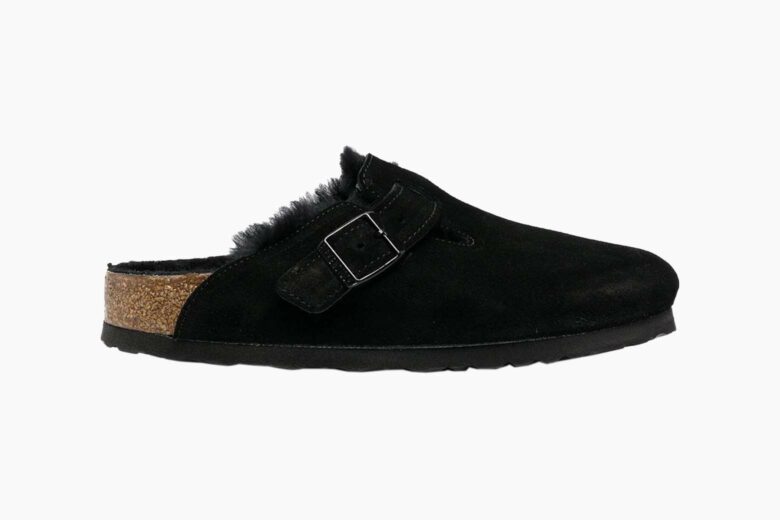 Engineered to mold to your feet, you don't get a shoe much more comfortable than Birkenstocks in general. But these Birkenstock Bostons are in a league of their own.
The impossibly soft shearling interior will rival any of your best slippers. Whilst the round toe leather exterior is flawlessly finished by the vintage-inspired side nubuck buckle. The slip-on design makes them effortless to slide on and off (although we doubt you'll ever want to.)
We still can't decide whether they're inherently a slipper or a slide. But we think they deserve to be preserved for special occasions—such as curling up next to a fire after a long work day.
| | |
| --- | --- |
| Best for: | Tailored fits meet end-of-day delights. |
| Colors: | Black |
| Materials: | Leather and shearling |
| Care: | Spot clean |
M.Gemi The Matilde: Best open-toe slippers for women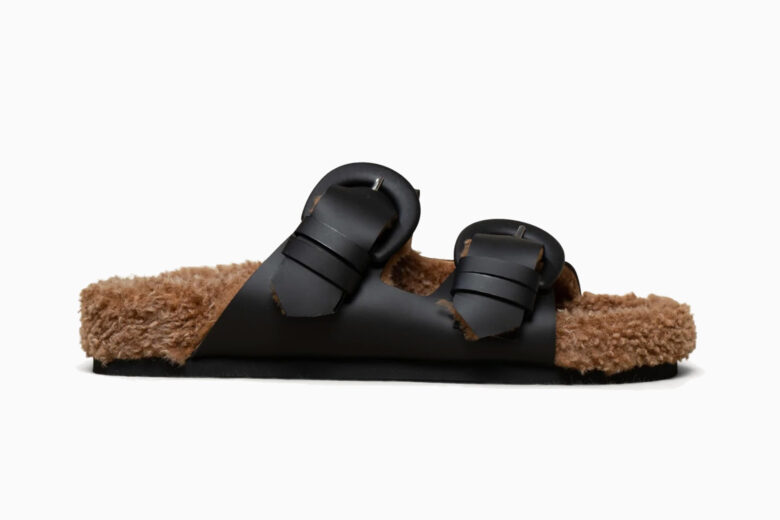 Hand-made in Italy, we adore everything M.Gemi. But these shearling slip-ons are exceptional.
The calf leather is buttery soft and speaks to a high-end sophistication with adjustable buckles. While the shearling interior is reminiscent of our most comfortable slippers. Marrying the two together, these stylish slides are the best of all possible worlds in fashionably functional footwear.
When it comes to wear, you can save them for around the house or make them your everyday shoe. Personally, we'll probably get two pairs to solve that problem. But don't let us tempt you.
| | |
| --- | --- |
| Best for: | Beautiful on the inside and out. |
| Colors: | Black and brown |
| Material: | Leather and shearling |
| Care: | Spot clean |
M.Gemi Felize: Best moccasin slippers for women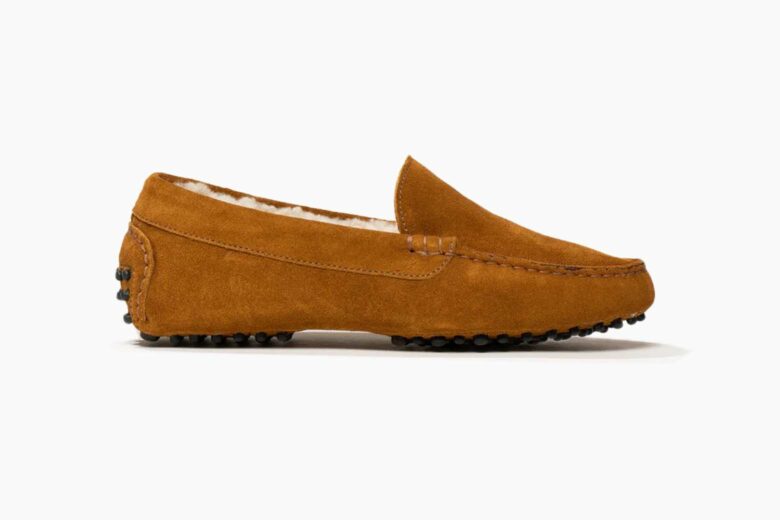 Handmade in Tuscany, Italy, M.Gemi's shearling moccasins are only 'slippers' in the very loosest sense of the term.
Falling somewhere between a cozy slipper and comfy loafers, the M.Gemi Felize is the extremely well-shod lovechild of two cornerstone shoe styles.
With a super-soft genuine shearling-lined interior and a true moccasin construction that molds to your foot for a glove-like fit, these shearling slippers are literally made to pair with your favorite loungewear set.
Featuring genuine gommini rubber sole, they're wasted if you limit them to inside the home. No, these beauties deserve to be showcased to the world. Okay, maybe not with your cocktail dress. But truly, they will have you treading comfortably on all surfaces, from concrete pavements to plush pile carpets.
| | |
| --- | --- |
| Best for: | Indulgent comforts, inside and out. |
| Colors: | Black, caramel, burgundy + more |
| Material: | Suede |
| Care: | Spot clean |
Koio: Best slip-on slippers for women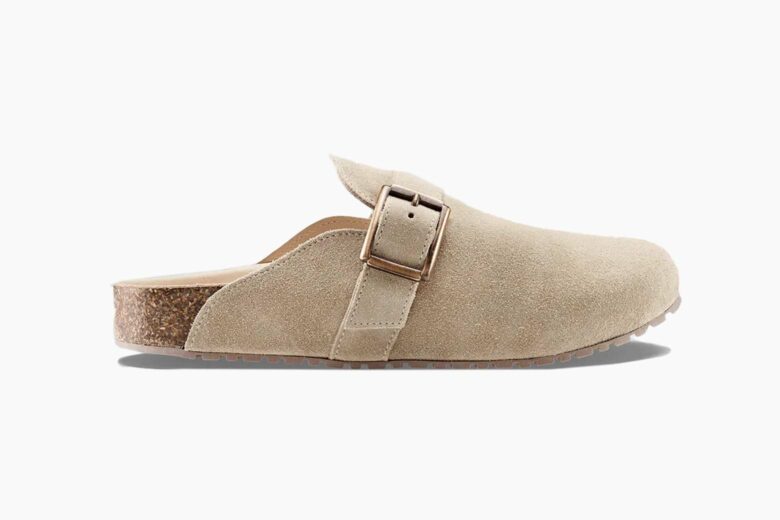 As a more sustainable Birkenstock alternative, we appreciate everything that this luxury brand is doing for the environment and our feet.
Koio's slip-ons are handmade in Italy from premium, conscious materials. The LWG-certified leather is responsibly tanned and cognizant of water consumption and managing emissions. The natural rubber sole is sourced from responsibly managed forests. And the soft midsole includes recycled cork and recycled rubber. 
When it comes to style, this slipper is equally alluring. Effortlessly cool and casual, the timeless silhouette is reminiscent of a classical clog aesthetic. While the neutral hues lend themselves to most occasions—including a date with your book on the couch.
| | |
| --- | --- |
| Best for: | Having both feet in when it comes to slip-on sustainability. |
| Colors: | Sand and camel |
| Material: | Suede leather |
| Care: | Spot clean |
Senso Idella: Best women's backless faux-fur slipper (vegan)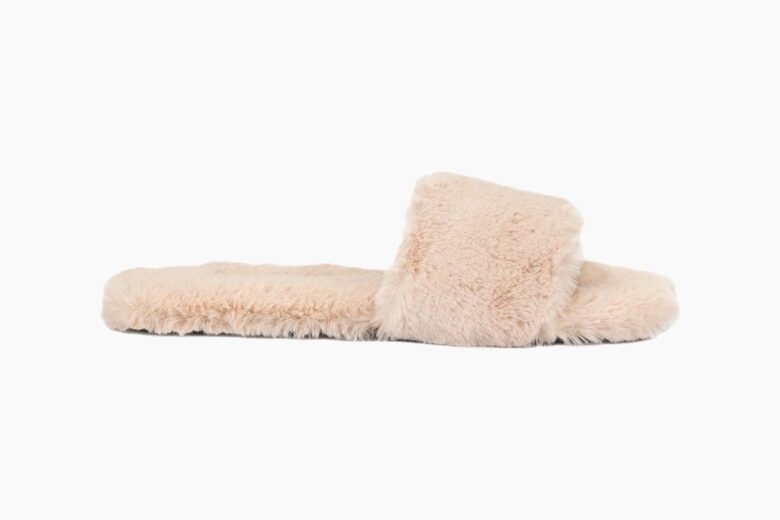 Vegans rejoice: we've found a pair of cruelty-free faux fur slippers that are just as luxurious as the real thing.
Loved by Gigi and Bella Hadid, the Australian brand only uses the finest materials and flaunts impeccable attention to detail in every minimalist design. The Senso Idella slippers are a case in point. Impossibly soft from the moment you unbox, they're carefully engineered to maintain their quality and outlast multiple seasons of endless wear. 
And while style is less pertinent when it comes to picking a slipper, it certainly doesn't hurt that these open-toe fluffy house shoes look fantastic with casual mom jeans. Although personally, we think they look even better paired with a glass of champagne and luxury loungewear, bringing in the weekend.
| | |
| --- | --- |
| Best for: | Conscious and celebrity-approved. |
| Colors: | Champagne |
| Material: | Artificial fur |
| Care: | Spot clean |
HomeTop: Best budget slippers for women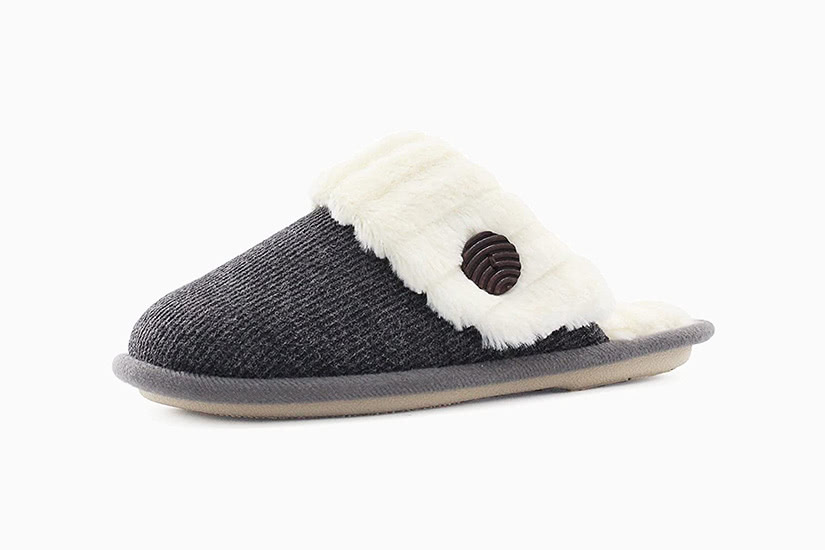 Your feet can look a million dollars, without having to spend… Well, a million dollars. For an excellent budget slipper, try on the HomeTop house slippers for size.
It's the elegant design of these fleece slippers that truly make them stand out. Two-tone knitting is combined with über-silky plush fleece, topped off with a cute little wooden button detail. So, it doesn't matter if you're pairing them with raggedy leggings and a shabby tee, 'cause everyone will be looking at your lush feet!
A memory-foam insole allows for a personalized fit, while the cute knit uppers are completely breathable. So, your feet will feel light, airy, and healthy (even if your post-work brain doesn't!).
The HomeTop house slippers feature an anti-slip outsole, so you can tread around your house in the small hours –if that's what you're into– without making a peep.
| | |
| --- | --- |
| Best for: | Money-savvy women who won't let your budget get in the way of sumptuous slippers. |
| Colors: | Black, Grey, or Pink. |
Style guide: Know what to look for in a perfect pair of slippers for women
Slippers do a lot more than they get credit for. Sure, it's easy to find a pair that look cute. But, a good pair should possess a few key features which will go ways to optimize your comfort, while looking, and feeling lush:
Breathable fabric
Our feet sweat. Many of us are on our feet all day. It's natural, but it's icky. So, to mitigate any pesky sweat, make sure your new slippers are made from breathable material. These types of fabric work by pulling moisture away from your feet, allowing the air to circulate, and your feet to breathe.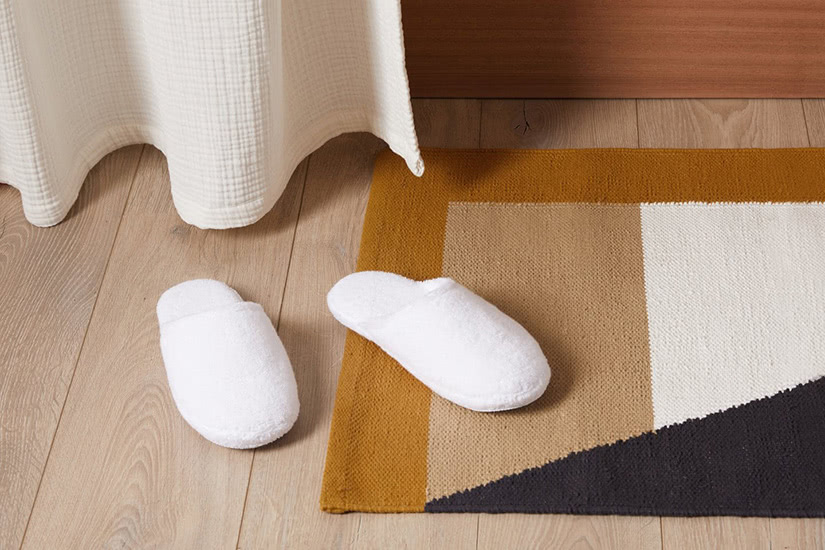 Tip: don't skip the socks. They act as a barrier between your shoes and your feet.
So, whether it's breathable knit, polyester, or plush faux fur, just check that it's breathable. If you go with UGGs, you'll be fine, as sheeps wool is naturally breathable.
Memory-foam insoles
Like the famous mattresses, memory-foam insoles allow your slipper to form the unique shape of your foot. This allows for maximum comfort, and a personalized fit. Memory foam also has great byproducts, such as relieving tension, providing arch support, and stopping foot roll.
Anti-slip soles
Well, anti-slip soles pretty much do what they say on the tin. Slippers with these soles are decked out with grip, so you don't find yourself slipping and sliding your way across the dining room floor! It's no doubt that this is a must-have feature on your new slippers.
NB: Quality is everything
Lastly, but most importantly, select slippers which are excellent quality. Yes, it may mean spending a little more. But in the long run, you won't have to invest in a new pair every year.
So, it's worth making sure the seams are well sewn, the soles are strong, and the fabric is durable.
Frequently asked questions about women's slippers