It's official. Buckets are back. And we're taking our hats off (or putting them on) to fashion it-girls for cosigning the retro trend. From Rihana's eccentric renditions to Hailey Bieber's crocheted classics, there's no limit to where these popular sun hats can take you. If you allow it, that is.
You may remember them as the enemy to childhood fun, as they were constantly tugged and pulled over your sand-filled ears. But our favorite designers are here to change your sentiment towards the skin-saving accessory. And after seeing Dior's decadently embroidering or Gucci's retro raffia, it's enough to eradicate force-wearing from your bucket hat memories altogether.
Needless to say, dermatologists are jumping in their seats. After decades of stressing the importance of coverage, they can rest easy knowing that the bucket hat trend has taken care of all their wrinkled woes. The trendy accessory is no longer confined to beach vacations and mountain trails—it wears multiple hats when it comes to functionality and fashion. We don't know if the dermatologists have been colluding with fashion icons and influencers. But if you've been to a Harry Styles concert recently, you'll know that bucket hats are far more than a practicality—they're a quintessential style staple. And we're all for it.
Whether you're "a hat person" or not—it's time to tick this Y2K trend off your bucket list.
Alo Beachside Bucket Hat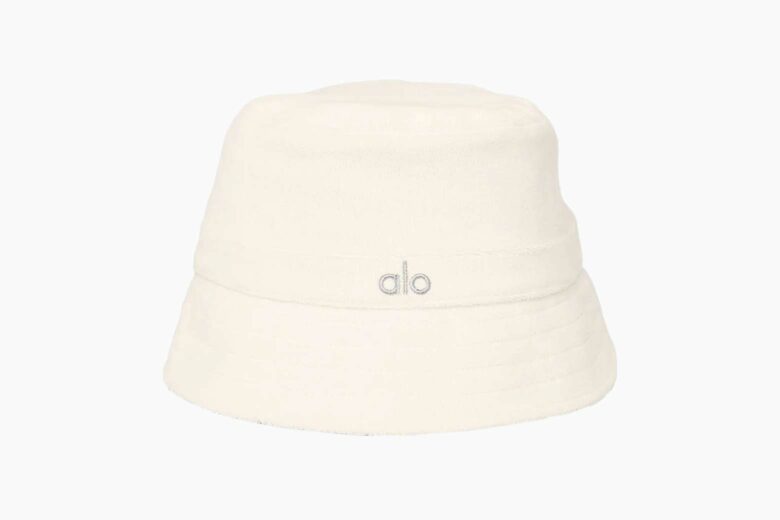 Alo effortlessly versatile bucket, welcome to our capsule wardrobes.
True to form, this sustainable brand's French terry cloth accessory tops off any Summer look. Dominate in white on the tennis court. Make a splash in blue or orange at the beachside. Or show off your on-trend fashion sense in black. Whatever your hue, this Alo bucket hat has got you covered (in style and skin protection).
Best for: Soaking up the sun—no sweat.
Adidas Trefoil Bucket Hat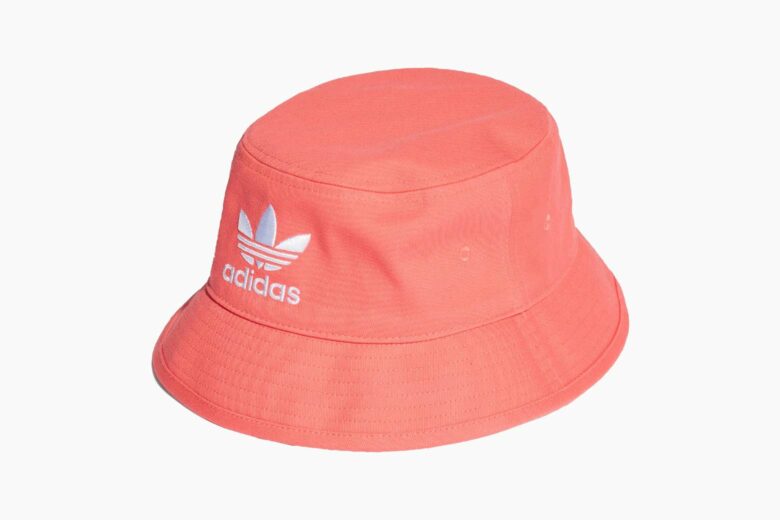 Showing off Adidas' signature sporty style, you'll be taken seriously as a streetwear icon in Adidas' iconic bucket hat. The classical silhouette is made from lightweight cottons, perfect for warmer weather. While the brand continues to leave its mark in fashion with its visible signature logo. And the contemporary coral color could easily pass as versatile and neutral in a time when brights are in.
Best for: Streetwear staples.
Nike Sportswear Bucket Hat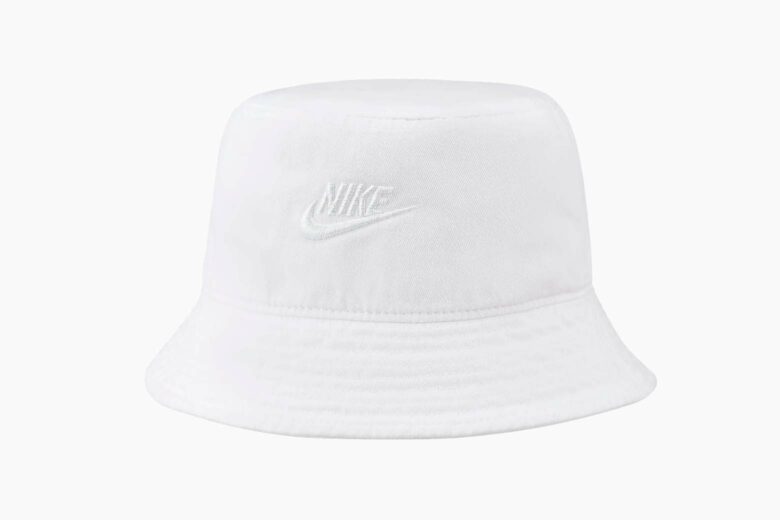 Thanks to the rise in athleisure in fashion, Nike is no longer confined to courts and courses. And once you get your hands on (head into) this bestselling accessory, you'll want to be seen anywhere and everywhere. The washed fabric and casual silhouette speak to the laidback, less is more movement. And we love the old-school neutral hues for timeless versatility—especially when paired with a simple white tee.
Best for: From courts to cocktails.
Gucci Canvas Wide Brim Hat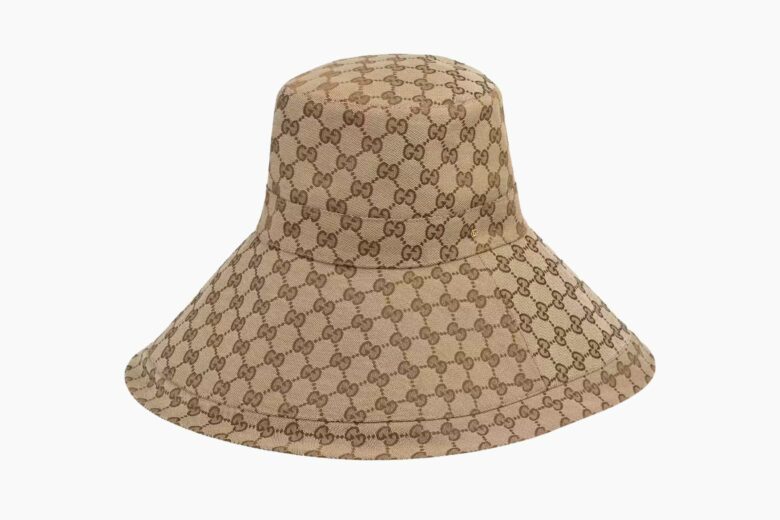 All you need is a touch of Gucci to look and feel like a million bucks. And we think this canvas designer bucket hat is just the touch you need. Defined by the iconic brand's signature motif, the versatile accessory will add a classy edge to any white dress. While your favorite Summer shoes finish off the look with minimal effort.
Best for: Redefining your Summer wardrobe.
Dior D-Oblique Small Brim Bucket Hat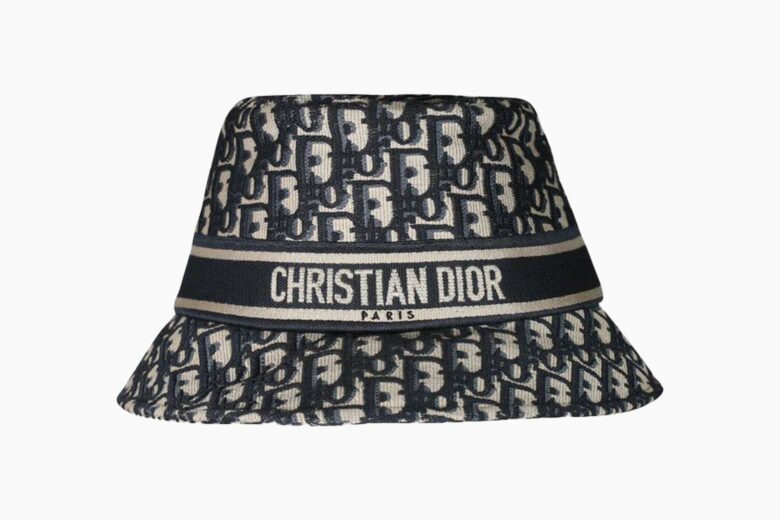 If we could cover ourselves in this embroidered navy pattern from head to toe, we would. But for now, just our heads will do. Made in Italy, this designer bucket hat knows how to turn heads with its signature Dior's motif. Pair it with chic sunglasses and you'll be unplayable in Paris.
Best for: More is more.
Prada Raffia Hat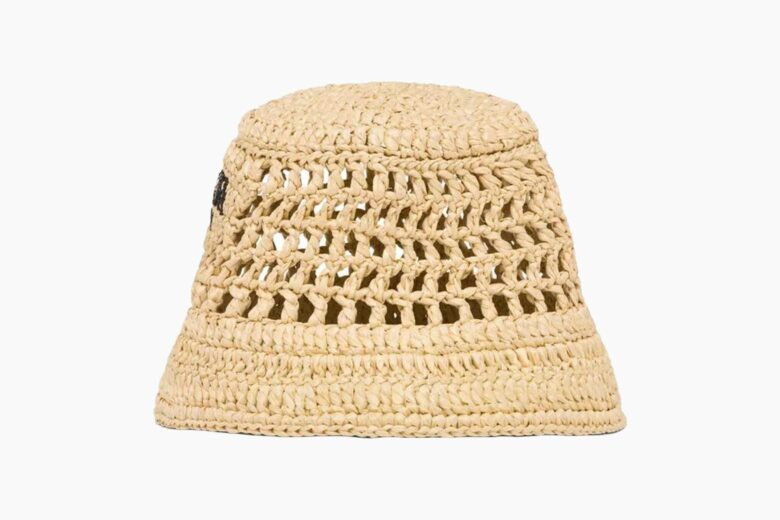 Weaving together retro renaissance silhouettes with romantic raffia, Prada's iteration nails the bucket hat trend. And there's no second guessing who the designer is—the iconic brand's renowned motif is embroidered in front, loud and proud. Pair this adorable accessory with Andie Swim's minimalist swimsuits, for a timeless ensemble that'll see you through many seasons to come.
Best for: Weaving together Summer staples.
Burberry Reversible Bucket Hat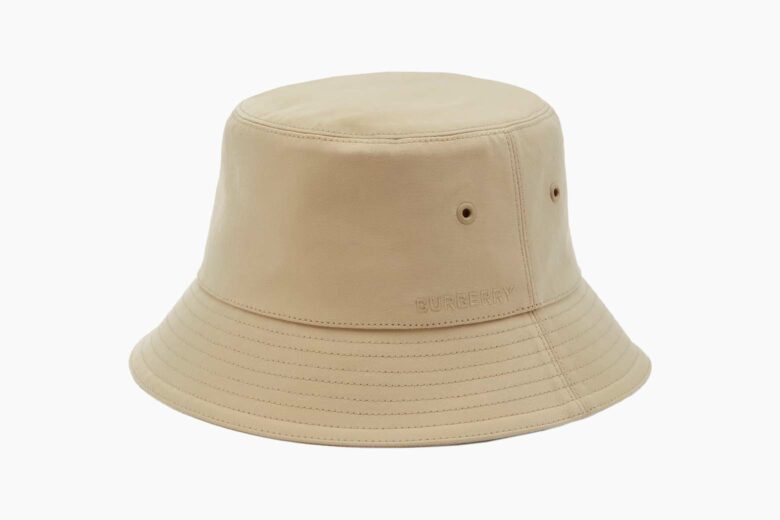 What better way to celebrate the comeback of bucket hats and grow your arsenal than with Burberry's reversible rendition?
It's rare that we find it difficult to pick a side. But we can honestly say that both the honey and checked sides deserve equal wear. Pair with comfortable sandals in Summer or lug sole boots in Winter. This two-in-one piece is the ultimate quintessential seasonless staple.
Best for: Dangerous duos.
JW Anderson Asymmetric Tech Bucket Hat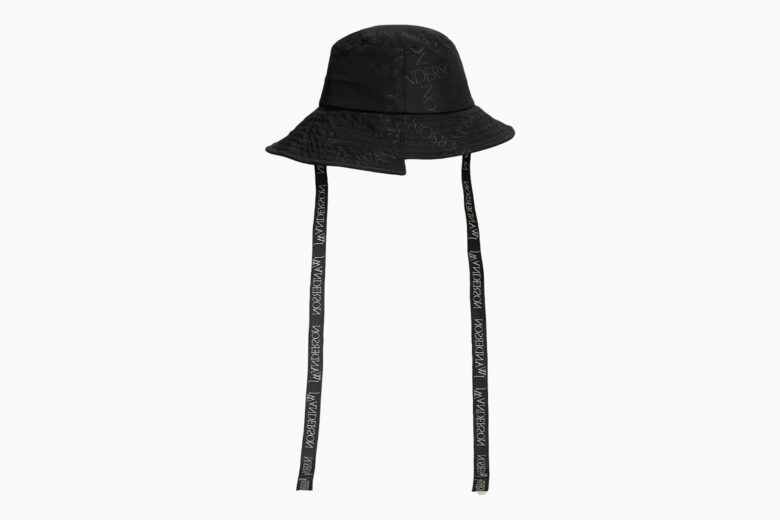 Trust luxury ecommerce Luisaviaroma to point us towards one of the most trendy bucket hats today. We can't get enough of JW Anderson's take on the often overlooked accessory. Tie-able ribbons wrap up the overall colonial classic style. While asymmetrical logo embellishments marry retro with contemporary. All you need is a modern maillot and you're good to go.
Best for: Timeless classics get a modern makeover.
Anthropologie Bow-Tie Bucket Hat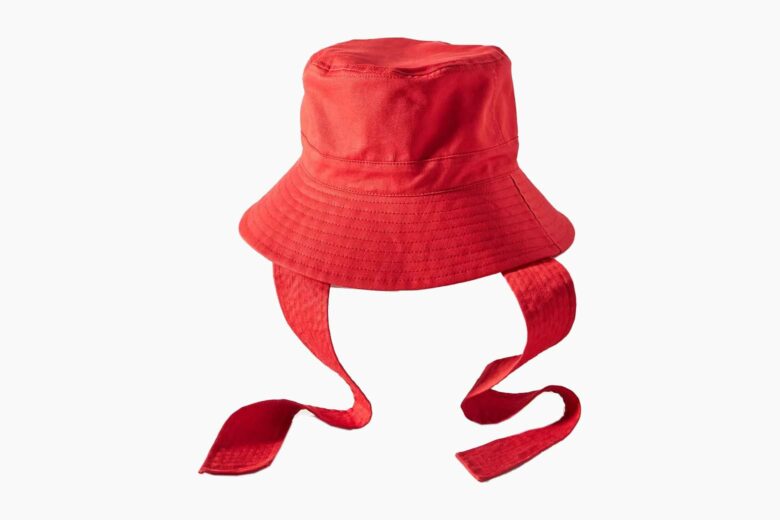 The bow-tie is just the cherry on top. We love everything about Anthropologie's approach to bucket hat season. The vibrant red oozes confidence and is bound to attract compliments. While the sailor-inspired navy is anything but overboard for our minimalists at heart.
Pair this cute bucket hat with Randolph sunglasses for an effortlessly chic fashion moment.
Best for: Tying it all together.
Jacquemus Le Bob Artichaut Bucket Hat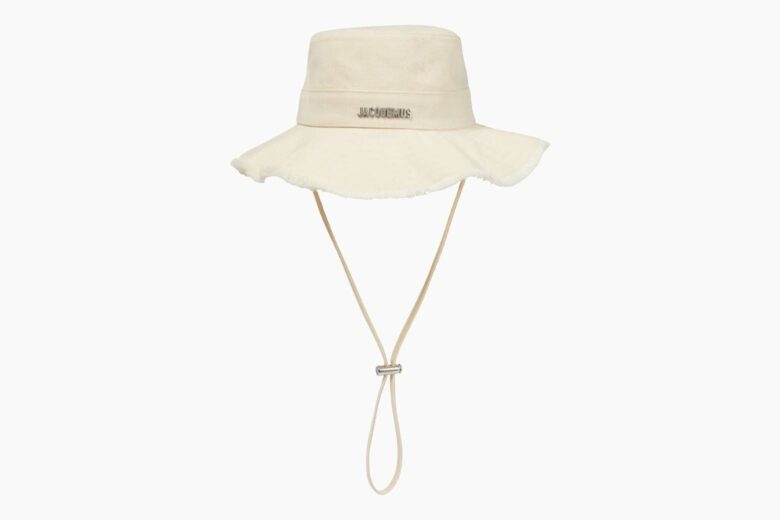 Hats off to Jacquemus for keeping our hats on. And while the practicality of the drawstring detail doesn't go unnoticed, it is also totally on-trend.
The soft cream cotton canvas, silver hardware logo and frayed edges come together to reinvent rustic elegance. Pair this Jacquemus women's bucket hat with string with effortless slides, you'll have the ultimate functionally fashionable ensemble.
Best for: Tugging at our fashion heart strings.
Celine Cotton Bucket Hat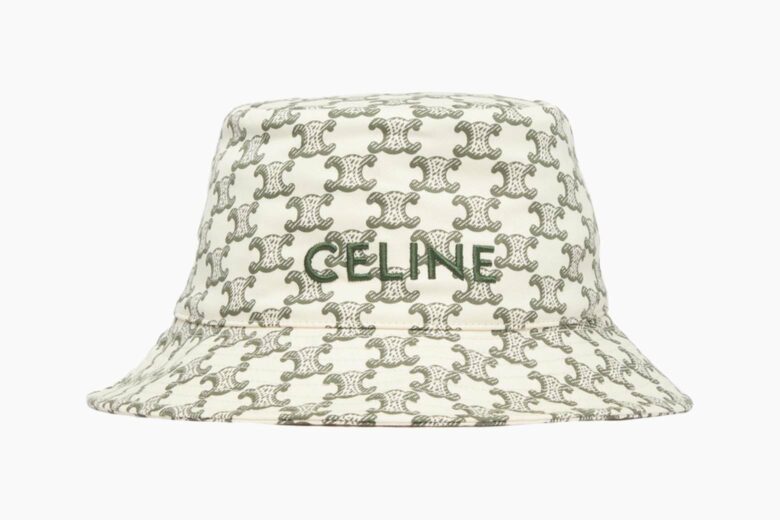 Who doesn't love a 360-degree monogram? And even better when it provides 360-degree skin protection. Made in France, Celine's cotton silhouette exudes everything nous adorons about the fashion capital. It's nonchalant, chic, and classical all in one—upleveling cute bucket hats one khaki monogram at a time. Magnifique!
Best for: Manifesting la capitale de la mode.
Kangol Bermuda Bucket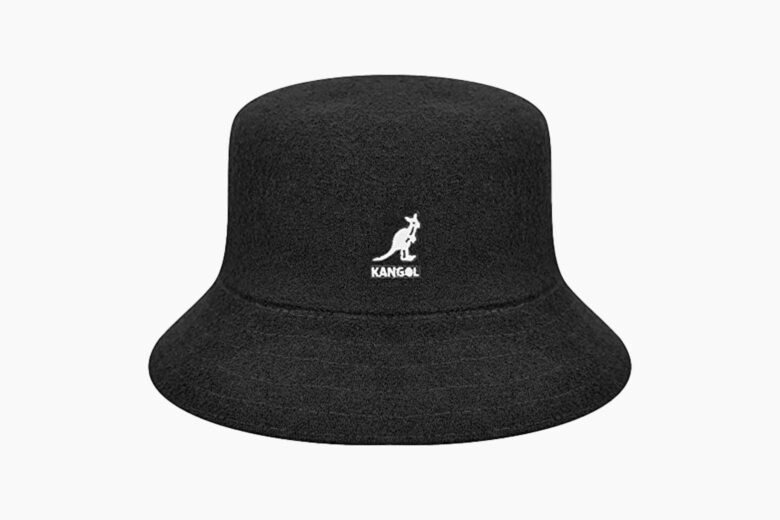 As an O.G. in bucket hats, Kangol has been a key contributor to the bucket hat trend. And we can only imagine that this Bermuda iteration had a part to play. The simple silhouette features a textured blend fabric and comes in a range of mood-matching hues—from neutrals to Scarlet red or Mykonos Blue. While the iconic kangaroo motif is there to hop around the London social scene.
Best for: Yes you Kan!
North Face Cypress Bucket Hat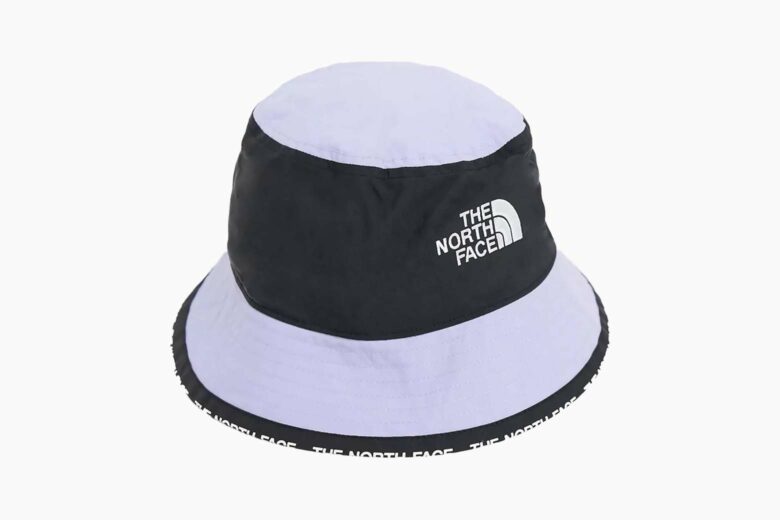 As one of our favorite brands for outdoor gear, we'd be remiss to leave North Face off our list. This color-block bucket hat is more than just a fashion statement. Made for adventure, the smooth fabric uses FlashDry technology which wicks sweat away from the skin and is snag-resistant.
Best for: Climbing gear meets cult streetwear.
Madewell Embroidered Bucket Hat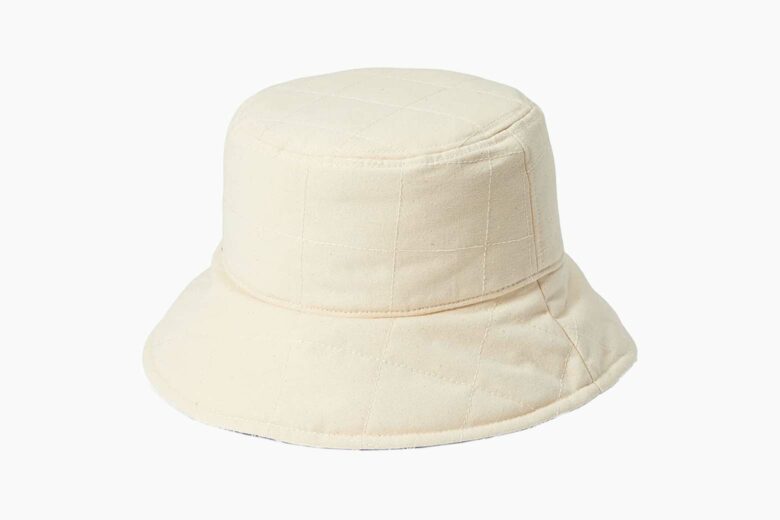 Reminiscent of our childhood beach days, this Madewell bucket hat won't have to be forcefully tugged over your ears by a parent. The embroidered beige canvas flaunts all our Summer favorites—from pineapples to florals—to add a playful edge to your sultry swimsuits. While the classical round silhouette is dermatologist-approved.
Best for: Nostalgic moments add a playful edge.
Isabel Marant Haley Bucket Hat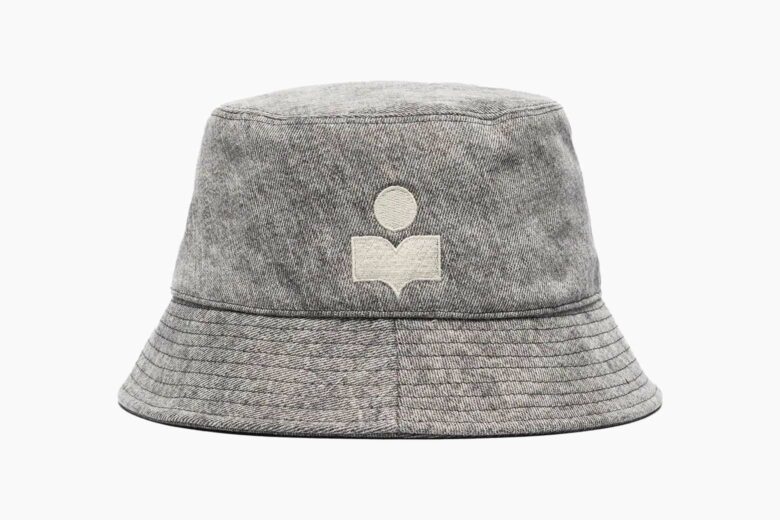 As one of our favorite female French designers, Isabel Marant's hat collection shouldn't be overlooked. From chic baseball caps to classical woven wide brims—she seldom misses the mark. And this Haley bucket hat certainly doesn't. The faded gray denim speaks to the '90s influence, and the signature, embroidered motif stands out from a distance.
Best for: Retro rebellion.
Frequently asked questions about bucket hats for women
What material is best for bucket hats?
Our best bucket hats run the gamut in materials. Breathable cottons are imperative for sweltering climates. Cozy wools warm up your ears in Winter. Crocheted combinations are all the rage. Washed-out denims speak to the '90s trend. Canvas silhouettes endure a lifetime of wear. And fast-drying fabrics (like French terry cloth) are ready to tackle any adventure.
How do you pick a bucket hat?
Choose a bucket hat that speaks to you. If you're new to the bucket hat trend and aren't quite ready to go all-out—pick neutral fabrics that subtly complement your outfit. And if you've been waiting for this revival since the '90s, bucket hats lend themselves to highly eccentric tastes.
Do people look good in bucket hats?
We love a bucket hat women's outfit. Not only is it a new accessory to explore colors and textures with, but a bucket hat can be more sophisticated than your baseball caps or beanies. If your face is longer, opt for one that covers your forehead. And if your face is rounder, a higher crown can have an elongating effect.