From functional to fashionable, the iconic slip-on loafer is made for much more than loafing about. The best loafers for women are trailblazing new trends one decadent detail at a time. And while you may feel like you've kept your slippers on for a day, the comfortable leather shoes look cover-worthy.
The classical slipper loafer quickly became an elegant blank canvas for big designers to make their mark. Gucci formalized the functional design with its signature equestrian style, giving birth to the iconic horsebit loafer. And George Henry Bass added his two cents when he turned a childhood superstition into a famous fashion statement with the Penny loafer. The Scotts couldn't help but flaunt a kilted tassel flair. While Belgians kept it simple with delicate details.
So whether you're looking to take the wheel in stylish comfort with suede driver loafers or looking to add designer decadence to your minimalist attire—the perfect pair of loafers is a quintessential addition to any seasonless wardrobe.
Let's get loafing.
Koio Brera: Overall best loafers for women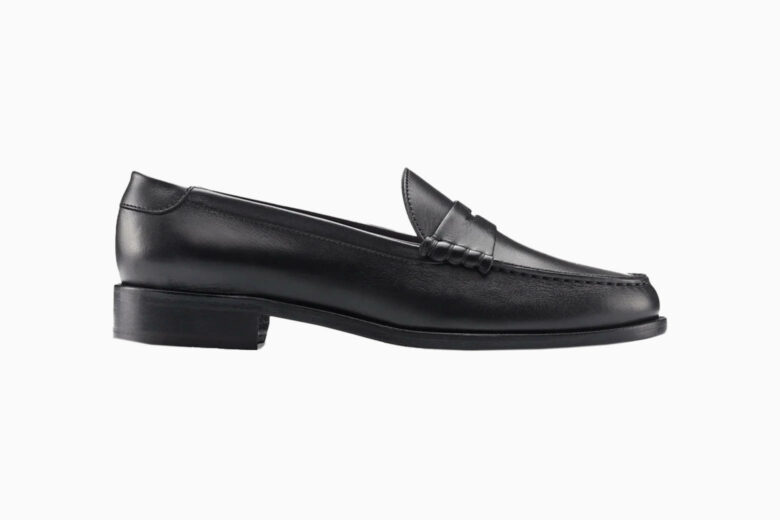 Handstitched by Tuscan shoemakers, these classical Penny's are everything thay you could ask for in a loafer. They're made from soft, buttery leather that molds to your foot. And a slightly-stacked heel is just enough to elevate every outfit. Exposed stitching and hand painted edges speak to Koio's impeccable attention to detail.
These timelessly-trendy slip-ons never go out of style in neutral hues. And when you're still wearing them daily in a few decades time—you'll mark them out as one of your best lifetime purchases.
Best for: Decadent details meet timeless classics.
Style: Penny loafer
Material: Leather
Colors: Black, Gray, and Tan
Gucci Jordaan: Best designer loafers for women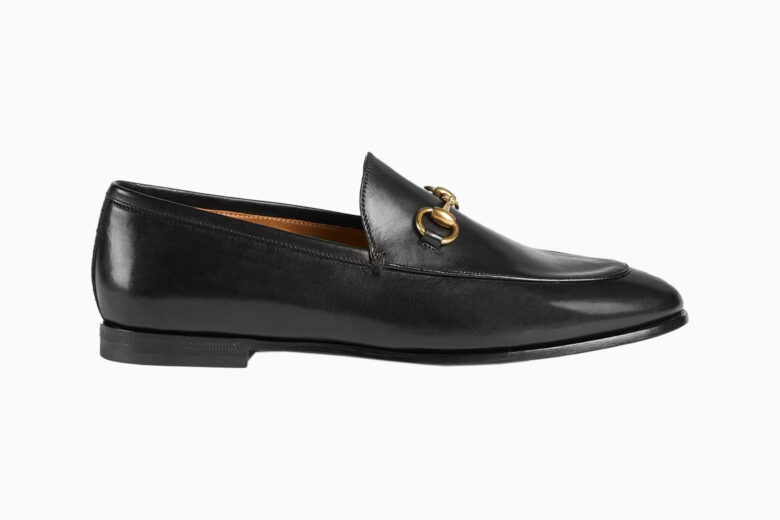 Known for their luxury, equestrian designs, the Italian fashion house made the farm shoe glamorous with the famous horsebit finish. The Jordaans pay homage to the timeless classics and embellished with the antique horsebit detail. And the softest black leather speaks to the opulence of the sumptuous shoe. In fact, the only real difference is the slimmed down silhouette. And we think that this is the perfect adjustment to eliminate all midstep slip-off fears.
These slimmed-down Gucci horsebit loafers belong in a museum (along with the originals). But they'll do a lot more good on your feet.
Best for: Dressing your feet in famous fashion statements.
Style: Horesbit loafer
Material: Leather
Color: Black
Sperry Seaport: Best women's value loafers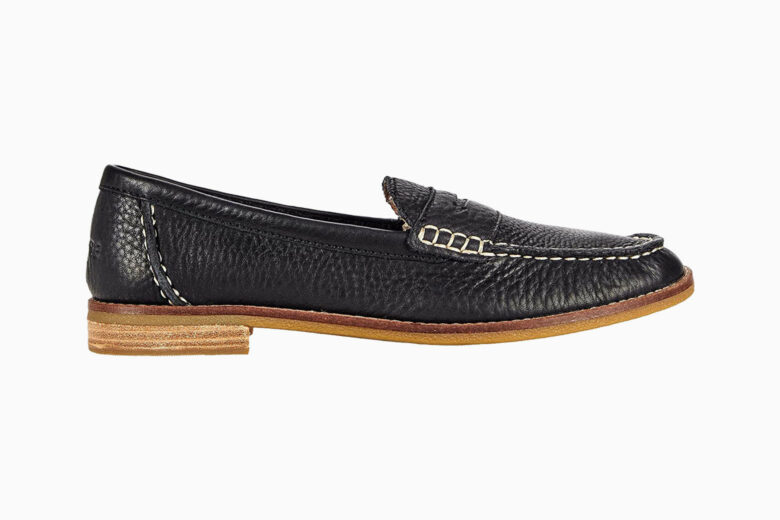 Designed to conquer slippery ship decks, Sperry's shoes are one of our functional fashion favorites. And this pair of comfortable penny loafers blew our socks off. The American brand flaunts full-grain leathers with the classical moccasin stitching. And the cushioned memory foam sole promises cloud-like comfort for those on-the-go days.
These affordable no-nonsense loafers come in a range of equally alluring neutral hues. We take that as an excuse to get an extra pair (or two).
Best for: Conquering slippery surfaces in style.
Style: Penny loafer
Material: Leather
Colors: Black, Rose, and Tan
M.Gemi The Silvia: Best leather loafers for women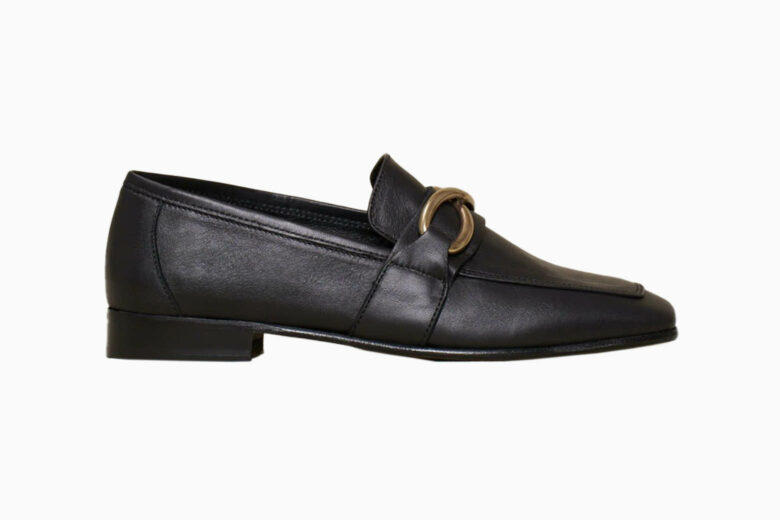 If you think that loafers can't be contemporary, this Italian-made pair by M.Gemi will prove you wrong. The square-toe silhouette embodies clean-cut modernism. While an elongated vamp is a flattering fit for every leg type. And horsebit or not, we love M.Gemi's take on the Gucci classics with their signature infinity-shaped hardware.
These black leather loafers are keeping up with the latest trends without losing their timeless quality and classical heritage. We're all for it.
Learn more about the story behind M.GEMI.
Best for: Classical and contemporary collaborate to create a signature style.
Style: Horsebit loafer
Material: Leather
Colors: Black, Navy, Saddle + More
Saint Laurent: Best women's penny loafers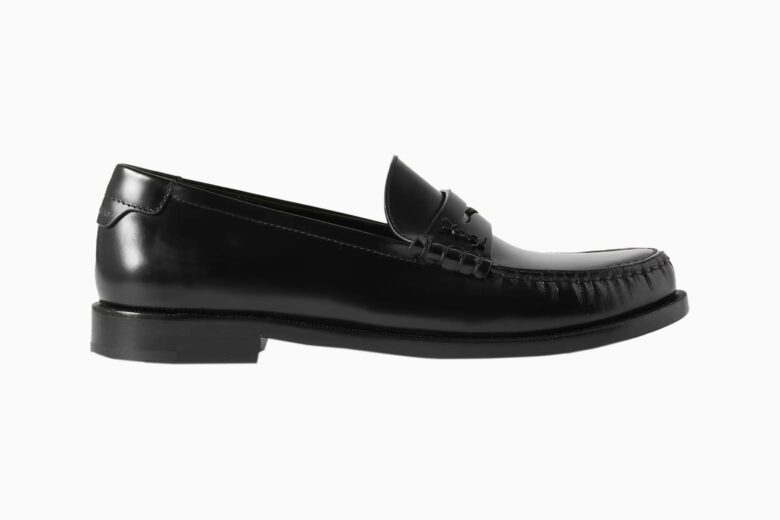 No longer made for holding pennies, the iconic penny slot remains a fashion statement in these slightly-contemporary classics. The slip-on style, soft leather, and flat sole make everyday wear effortless. While exposed stitching is slightly rough around the edges and honors a long heritage of Italian shoemaking.
These black women's penny loafers are everything we adore about the time-honored style. But as we've come to expect from Saint Laurent, they're set apart by subtle refined details—such as a monogrammed heel.
Best for: Monograms make a mark.
Style: Penny loafer
Material: Leather
Color: Black
Mansur Gavriel: Best square toe loafers for women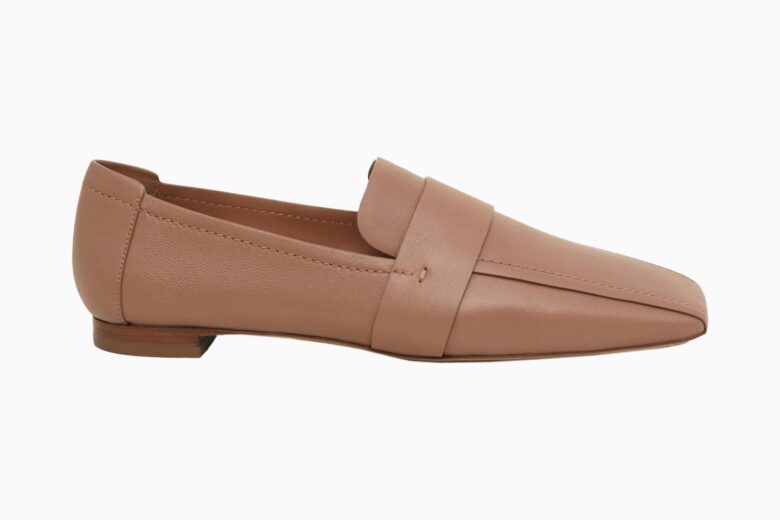 Make a timelessly trendy fashion statement in these square toes. Mansur Gavriel may be famous for their designer work bags and totes but we think these loafers deserve a standing ovation of their own. The soft Italian leather speaks to the brand's thoughtful craftsmanship. And a range of contemporary neutral tones makes it almost impossible to choose just one. 
This simple silhouette is your masterclass in modern minimalism with clean cuts and effortlessly chic styling.
Best for: Sumptuous simplicity.
Style: Penny loafer
Material: Leather
Colors: Biscotto, Caramel, Black + More
Aeyde Martha: Best pointed toe loafers for women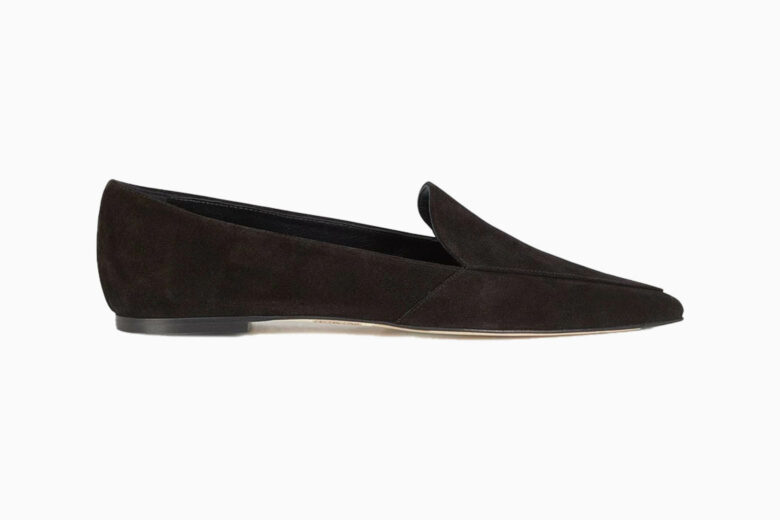 Aeyde's Martha loafers understand how to add an air of sophistication to every outfit. The brand's signature red thread is contrasted by a black leather silhouette. And cushioned soles make every step comfortable. The streamlined shape speaks to the less-is-more contemporary. While a sharp pointed toe simultaneously oozes feminine elegance.
Pair these understated slip-ons with a longer black leather coat for style perfection. Or add sophisticated finesse to your favorite mom jeans. Either way, you can't go wrong.
Best for: Comfortable couture.
Style: Slipper loafer
Material: Leather
Color: Black
Alexander McQueen: Best women's black loafers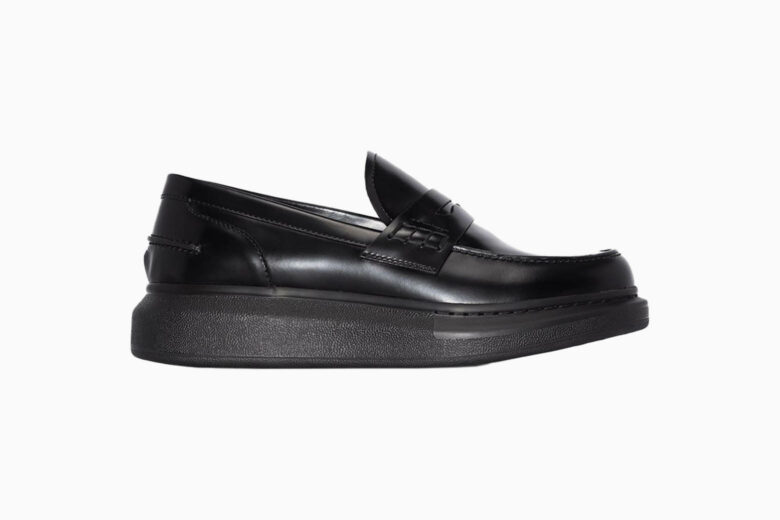 Best known for its oversized sneakers and statement accents, we cannot get enough of Alexander McQueen's take on the classical loafer. And while all the traditional features remain intact., they wouldn't be McQueens, without its signature touch—chunky soles. These loafer platforms play homage to the brand's iconic sneakers. And the almond-shaped toe takes the comparison one step further.
This pair can go straight from the office to night-outs to the cobbled streets of Paris. Care to join? We know that we would.
Best for: Preppy shoes take a cheeky sneaker turn.
Style: Penny loafer
Material: Leather
Color: Black
Prada: Best white loafer for women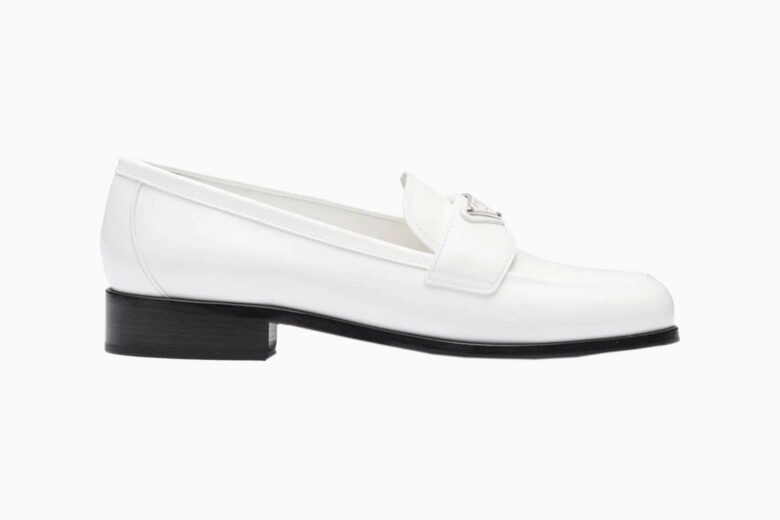 Renowned for their traditional styles with a modern influence, these Prada loafers are everything we love about the opulent brand. The soft white leather pair embodies the functional comfort of the original style. While contrasted black soles give them a contemporary edge. A stacked heel elevates the look even further. And the iconic logo in place of historical penny slots is all we need to add these white loafers to our carts immediately.
These white Penny's are your understated-oversized glasses in the form of a shoe. Talk about a design of perfect contradictions.
Best for: Traditional with a trendy spin.
Style: Penny loafer
Material: Leather
Color: White
Tod's Gommino: Best brown loafer shoes for women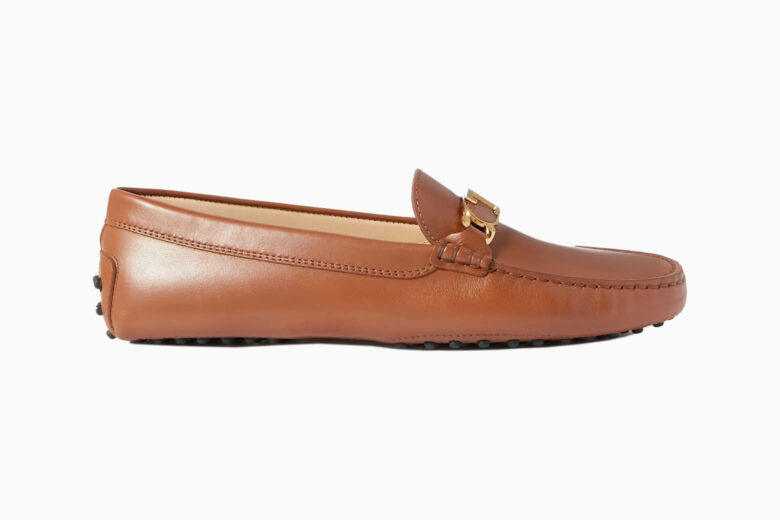 Born out of the need for non-slip accelerators, driving loafers are still one of our favorite styles. And Tod's has knocked it out of their park with its luxe rendition of the practical shoe. The gripped pebbled soles curve to cup the heels. And a soft brown leather showcases gold monogrammed plaques across the ramp.
This casual chic shoe encourages you to take your foot off the pedal when touring Rome. But the pebbled grips will keep your foot on it when it comes to the road. Talk about saving lives.
Best for: Steering the way to sumptuous styles.
Style: Driving loafer
Material: Leather
Colors: Brown
Sam Edelman Loraine: Best horsebit loafer for women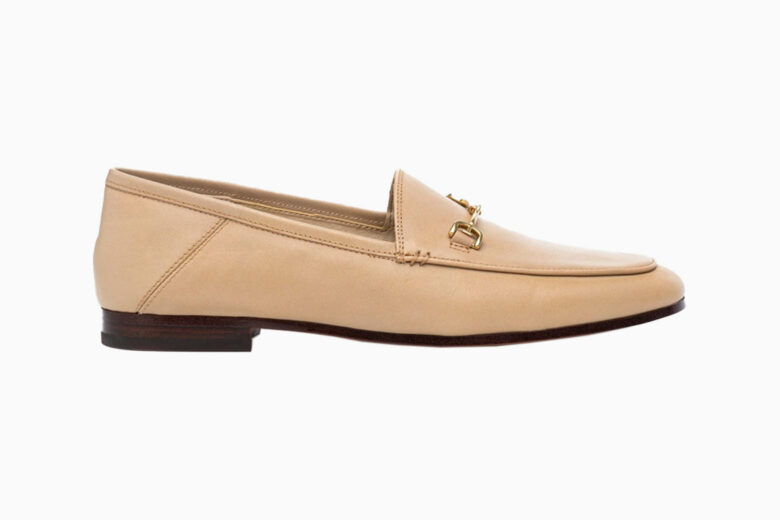 Sam Edelman honors the classical horsebit with traditional loafer styles. But a wide range of colors and prints ensures that these women's loafers are anything but boring. Take a trip to the wild side with leopard print loafers. Stand out in a metallic gold pair. Or keep it classy with a soft beige and black suede.
The best option? Get a few variations of these dressy flats. When you see the price, it'll be difficult not to pick one for each occasion (talking from experience).
Best for: Taking on new trends.
Style: Horsebit loafer
Material: Leather
Colors: Black, Beige, Gold + More
Madewell Corinne: Best lug sole loafers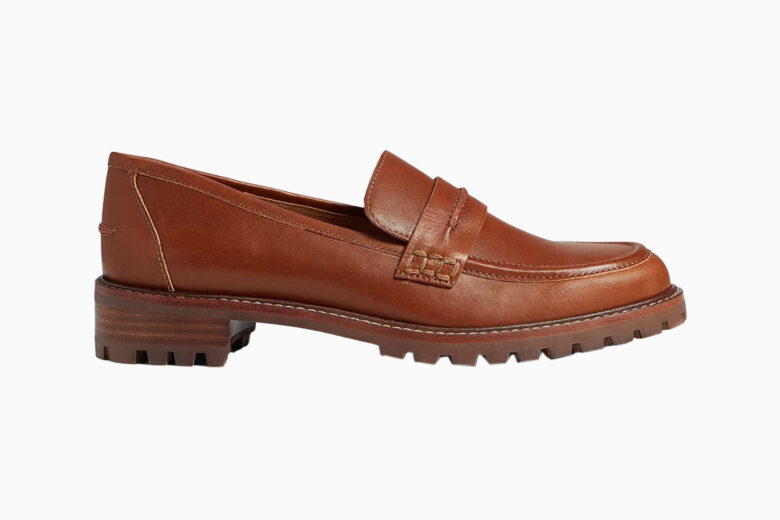 We think that a lug sole is the perfect cheeky touch to the elegant shoe. And while not all brands get it right, Madewell has managed to flawlessly marry the utilitarian lug with the typical tailored style.
These comfortable lug sole loafers offer added height without a heel. The breathable leather makes them the seasonless shoe for every climate. And the soft brown palette speaks to classical versatility.
Best for: Casual contemporary marries a colonial classic.
Style: Lug sole loafer
Material: Leather
Colors: Dried maple, Black
Ganni: Best chunky loafers for women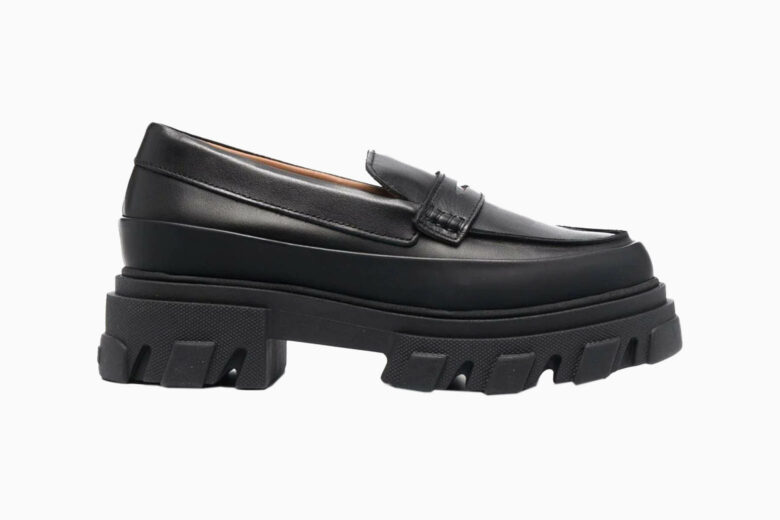 Here's another chunky rendition to warm your classical contemporary heart. This is an even bolder take on Ganni's signature chunky loafer style. And we adore the exaggerated platforms. The visible welts and rubber trims pair well with ankle socks for a slightly more masculine feel. While the soft black leather and traditional Penny loafer strap maintain an air of feminine sophistication.
Contrast these chic chunky loafers with frills and florals to get the full powerhouse woman look.
Best for: Contradictory contrasts exude a futuristic feel.
Style: Penny loafer
Material: Leather
Colors: Black

Alexandre Birman: Best suede loafer shoes for women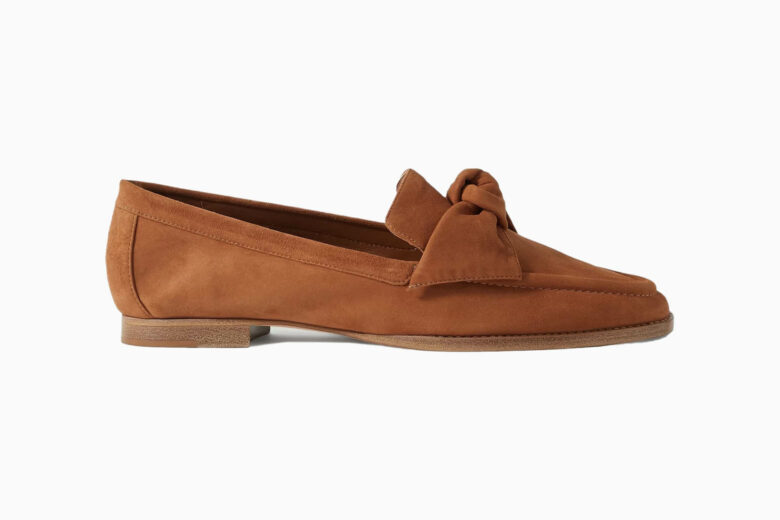 It's a wrap! Your search for the perfect loafer shoes ends here. Alexandre Birman's signature bow is the flawless finish to the exquisite shoe. It speaks to the soft brown suede silhouette and it ties in perfectly with the casual chic slip-on style. The low heels take the relaxed rendition up a notch and the slightly square toe makes these women's loafers quintessentially modern.
These Alexandre Birman's designer loafers aren't fussy when it comes to pairing. They can be dressed up with dresses. Or taken down with denims. Either way, expect to be asked for your shoe details wherever you go.
Best for: A relaxed rendezvous.
Style: Slipper loafer
Material: Suede leather
Colors: Brown
Isabel Marant Frezza: Best kiltie loafer pumps for women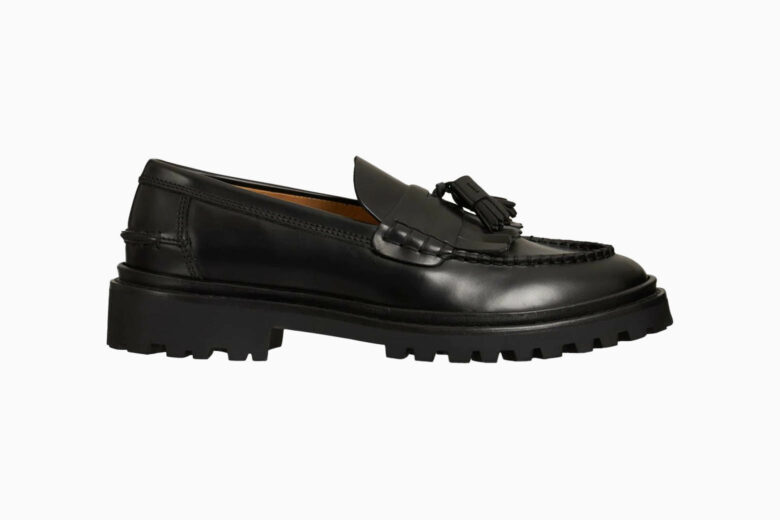 If you love a kiltie loafer as much as we do, you won't be able to resist this pair of Isabel Marants. The glossy black leather loafers make room for the tassel details. And the kilt accent is just enough to add fun texture without overpowering the sophisticated shoe. The rounded toe and lug sole speak to an old-school sneaker style.
These effortlessly versatile lug sole loafers can go anywhere with anything (it's time to take a break white sneakers).
Best for: Tantalizing tasseled textures.
Style: Kiltie loafer
Material: Leather
Color: Black
Tory Burch Eleanor: Best heeled loafers for women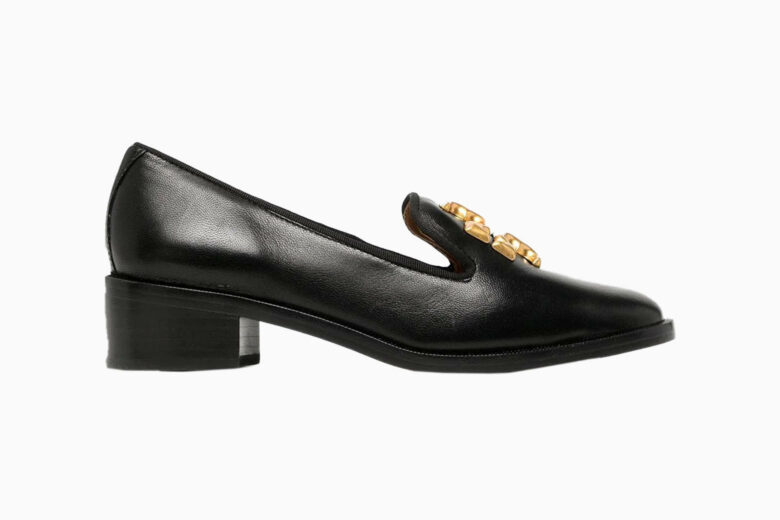 Comfortable elevation is no small (feet). But Tory Burch knows exactly how to do it with luxurious block heels. So it's no surprise that they easily make our list of most comfortable heels. This polished pair flaunts a glossy black silhouette. And the label's signature gold monogram hardware takes center stage once again. The subtle square toe plays its part flawlessly. And soft leather insoles envelop your feet in cloud-like luxury.
Pair these confident preppy shoes with a loose fitting suit for the ultimate designer look. And trust us when we say that nobody will be able to say "no" to you.
Best for: Instant confidence without a catch.
Style: Slipper loafer
Material: Leather
Color: Black
Clark's Shaylin: Best platform loafer pumps for women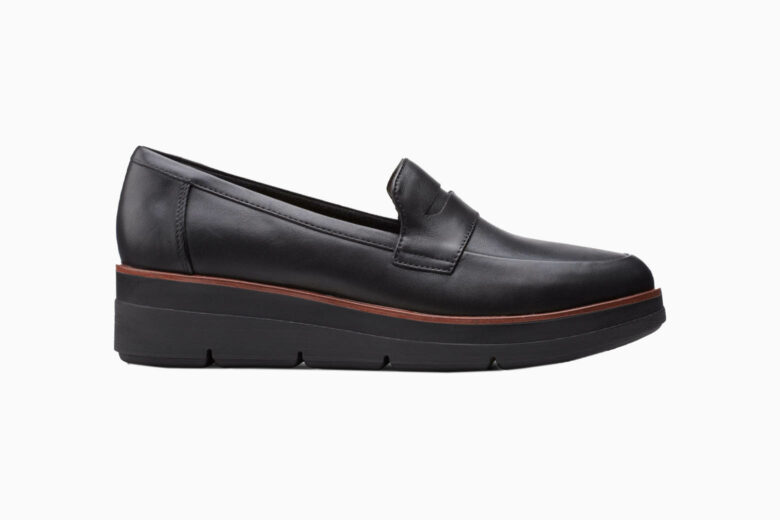 Famous for their sheepskin slippers, Clark's is on a mission to create functional and fashionable shoes. And these platform loafers are no exception. The all-black tones are broken up by their signature subtle red strip. The lightweight style allows for that barefoot feel. While the footbed uses the latest technology to rest your foot in supreme comfort.
Once you put these Clark's Shaylin loafers on, you'll never want to take them off. Plus they give you that added height that many of us covet.
Best for: Trendy technicalities.
Style: Penny loafer
Material: Leather
Color: Black
M.Gemi The Felize: Best women's driving loafers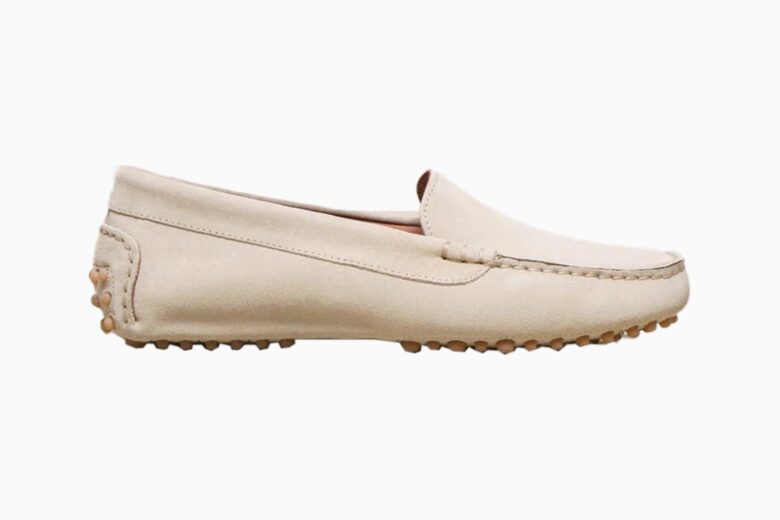 Made to get behind the wheel, these driving loafers by M.Gemi aren't taking a backseat in the fashion world. They're handcrafted in Italy using decadently soft suede fabrics and play homage to the traditional driver style.
But a modern twist comes in the form of fifteen unique colorways. The Felize loafers are not scared to go bold with a vibrant magenta, blood orange, and jewel green. While classic black suedes are your new best dressy flats. Personally, we think you need a pair of both.
Best for: Driving your style forward.
Style: Driver loafers
Material: Suede leather
Colors: Orange, Green, Black + More
Gucci Princetown: Best backless loafers for women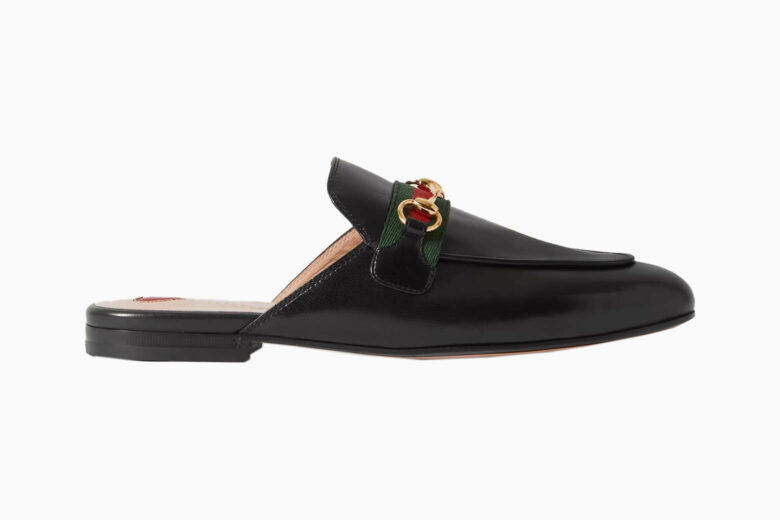 These Guccis may feel like slippers, but these preppy shoes are far too gorgeous to keep at home. They're perfect for shopping sprees with an effortless slip-on style. And if you're looking for a pair to add some glam to your office look—they're your number with a glossy black leather silhouette.
These Gucci loafers pay tribute to the traditional design with equestrian features. And the gold horsebit hardware set on a tricolor strip is everything that we adore about the luxurious brand in one pair of shoes.
Best for: The glamorous horsebit goes backless.
Style: Horsebit loafers
Material: Leather
Colors: Black and White
Gianvito Rossi: Best espadrille loafers for women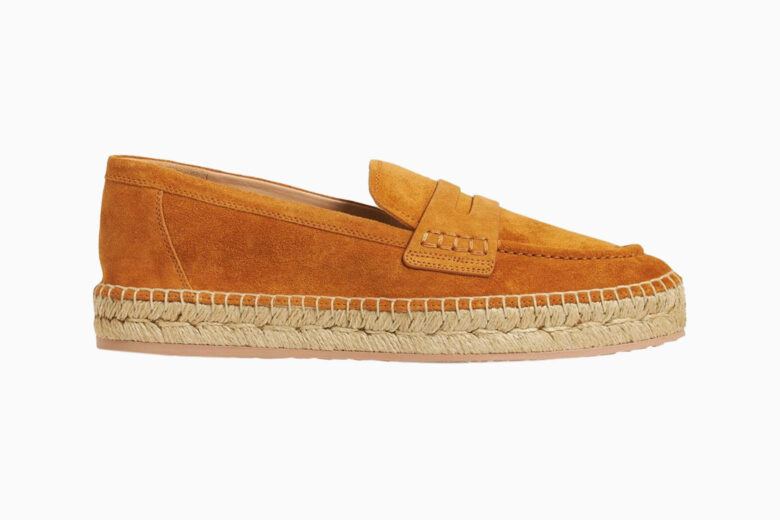 Gianvito Rossi never fails to make our list of best espadrilles for women. And this combination of classical countryside with a touch of Spanish fiesta is exactly why we love the Italian designer. It's a culmination that is difficult to do flawlessly, but when done so, you'll see exactly why the contradictory European styles work so well together.
This soft suede silhouette is set on a slight platform for extra height. And the warm caramel color ties in perfectly with the traditional woven sole.
Best for: Classical English country girl gets a Spanish makeover.
Style: Penny loafers
Material: Suede leather
Colors: Caramel

Toteme: Best packable loafers for women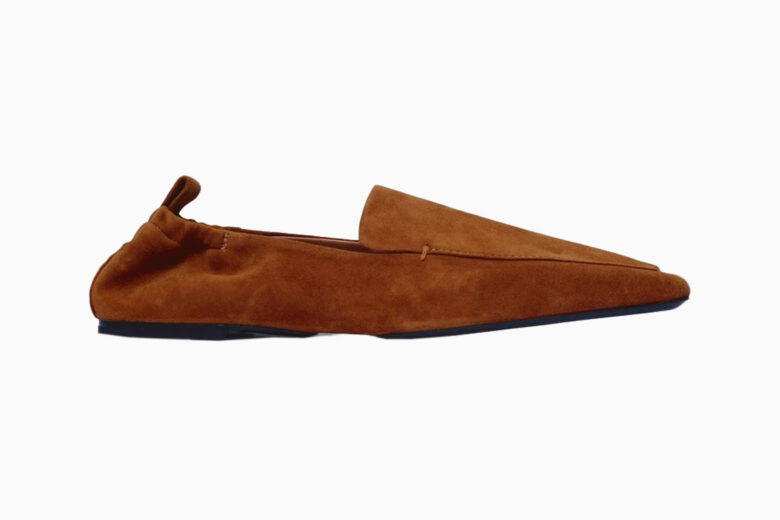 Flats are generally known for their comfort. So when you step into one of our most comfortable flats, you know that you're onto something special. Designed to fold neatly into a bag, it's no surprise that they're highlighted as travel shoes. They're perfect to wear on a plane. And the snug fit might even give your favorite slippers a run for their money.
These Toteme slip-ons showcase the brand's signature square toe. And the soft tan suede pair is bound to pair beautifully with everything in your case.
Best for: Flexible—with a foldable design and versatile style.
Style: Slipper loafers
Material: Suede leather
Color: Tan
Salvatore Ferragamo: Best embellished women's loafers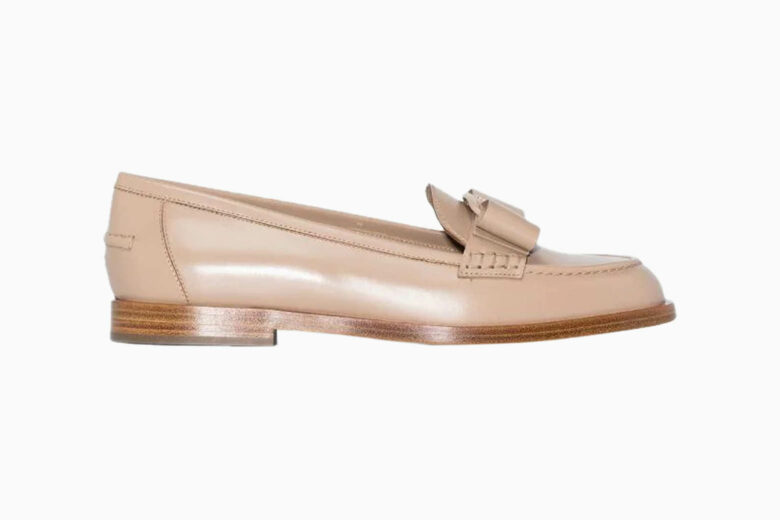 Sometimes more is more. And when it comes to Salvatore Ferragamo's embellishments we're all for it. This pair features the brand's signature Viva bow detailing. And their iconic monogram subtly takes center stage. These elegant loafers by Salvatore Ferragamo are elevated even further by the stacked sole and almond toe.
The cashew beige hues speak to the femininity of the delicate accents. They make us feel like we're dancing through the day. Are you joining?
Best for: Decadent detailing.
Style: Penny loafers
Material: Leather
Color: Beige
Franco Sarto: Best faux leather loafers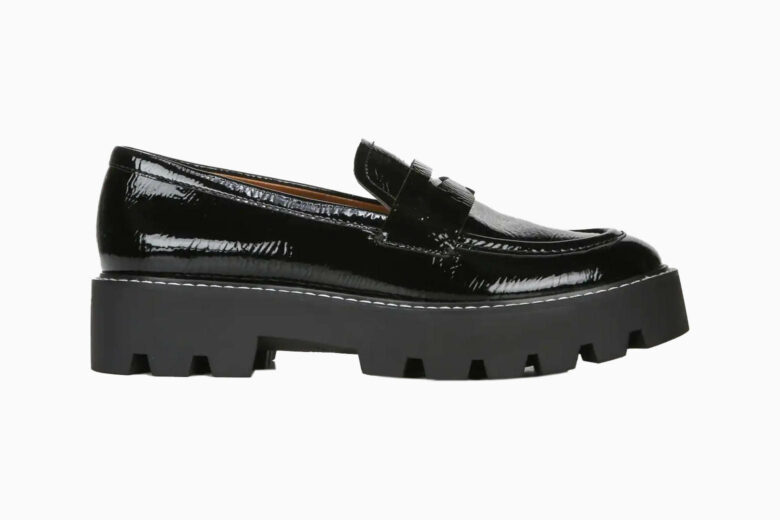 These Franco Sarto loafers are the perfect cheeky start to your stylish season. The thick lug rubber soles speak to avant-garde designs. While the traditional Penny loafer style maintains an air of sophistication. The faux leather comes in a range of neutrals—from glossy black to burgundy. And allows for the same opulent look without the guilt, making all vegans smile.
These chunky loafers are right on-trend. But they're classical enough to keep their timeless charm.
Best for: Chunky cheekiness without the culpability.
Style: Penny loafers
Material: Faux leather
Colors: Black, Burgundy, Cream + More
Buyers guide to women's loafers
Born to milk cows, the loafer shoe was named after the cattle loafing area. Fishermen quickly caught on to the practical laceless style. But farmers and fishermen were hardly fashion icons of the time. So it took the Royal family's vote of confidence before the sumptuous slip-on made its way into high-end circles.
Loafer Styles
Everyone seems to have their own take on the loafer shoe. And as a result, we're left with multiple loafer styles. Although we're not complaining. The varying designs leave us with ample choice to pick a few of the sumptuous slip-on shoes.
The Slipper Loafer
Closest to the original incarnation of the countryside classics, slipper loafers are characterized by a no-toe stitch.
The Penny Loafer
Born to carry pennies for luck or emergency calls, Penny loafers showcase a strip with the iconic penny slit.
The Tassel Loafer
If you like the look of laces but find tying them a hassle—tassel loafers are your style.
The Kiltie Loafer
Leather kilted tassels are all you need for that extra bit of texture.
The Belgian Loafer
Delicate at heart, Belgian loafers flaunt thin bow-like tassels for a casual posh appearance.
The Horsebit
Gucci horsebit loafers are famous for making the slip-ons formal. And these days all the designers have jumped aboard the fancy trend.
The Basket Loafer
Born for the beach, basket loafers make for a breathable Summer option.
Materials
Luxurious loafers are typically made from leather—suede, faux or natural. Suede leather loafers are renowned for their relaxed-but-refined style. Glossy leather loafers speak to that opulent formal sophistication. And faux leather provides a similar decadent look while simultaneously staying true to a vegan lifestyle.
Embellishments
Along with the varying styles, loafer embellishments come in all shapes and sizes. The traditional Penny loafer calls for a small penny slit. Tassel loafers flaunt a frayed western flair. Kilted accents speak to a more refined tassel detail. Belgian loafers keep it dainty with tiny bows and delicate frills. And the horsebit loafer stays true to the Gucci equestrian rendition with hardware resembling the bit between horses' teeth.
Not to mention all the signature designer details which are yet to inherit a formal name. But you'll have to check out our full list of the best loafers for women to get a load of those.
Frequently asked questions about women's loafers
Which brand is best for women's loafers?
This really depends on what you're looking for specifically. You can never go wrong with Gucci loafers for an iconic horsebit style. Sperry's are perfect for a non-slip finesse. And Franco Sarto flawlessly marries chic chunky soles with the classical loafer silhouette. But to see all our absolute best brands, we recommend reading our full list of best loafers for women. You're bound to find your (sole)mate.
Are loafers good for women?
Our best loafers for women maintain that formal, sophisticated style while incorporating feminine touches such as gold hardware and delicate bows. This makes them the seasonless shoe to tie together almost any ensemble. We'd even go so far as to say that every woman needs a pair.
What should women wear loafers with?
Pair your traditional slipper loafers with your favorite mom jeans for sophisticated comfort. Contrast chunky lug soles with flowy florals to add a cheeky edge to an elegant maxi. Go cover-ready with black leather on leather by pairing them with a long leather coat. And add an air of sophistication to your Winter knits. Loafers really are the shoes to complement everything. And once you start styling them, you'll never want to stop.
Should you wear socks with loafers?
Like most things, it depends on the style of loafers. If you're going for that Gucci glam look, you can leave your socks at home. But if you're opting for a contemporary look with chunky lug soles, crinkled socks around the ankles are all the rage.