If you're looking to add a little something extra to your outfit and never thought that a baseball cap could be it, think again. Not just used for your favorite sporting activity but as a statement piece for any outfit. The perfect baseball cap can hide a bad hair day or cover for you after missing one too many washes. Don't worry we won't tell!
The right color, pattern, and material will allow you to stay trendy no matter the season and no matter your mood. Today, baseball caps for women are versatile, stylish, and glamorous. You'll love how it can get you looking casually chic or effortlessly charming. Pair them with luxury sneakers and sexy pants to keep your style on point.
Whether you're aiming for a look that's over the top or looking to stay low-key, our picks for the best women's baseball caps will meet your every need.
The 21 best baseball caps to go from casual to chic in no time
Alo Off-Duty: Overall best women's cap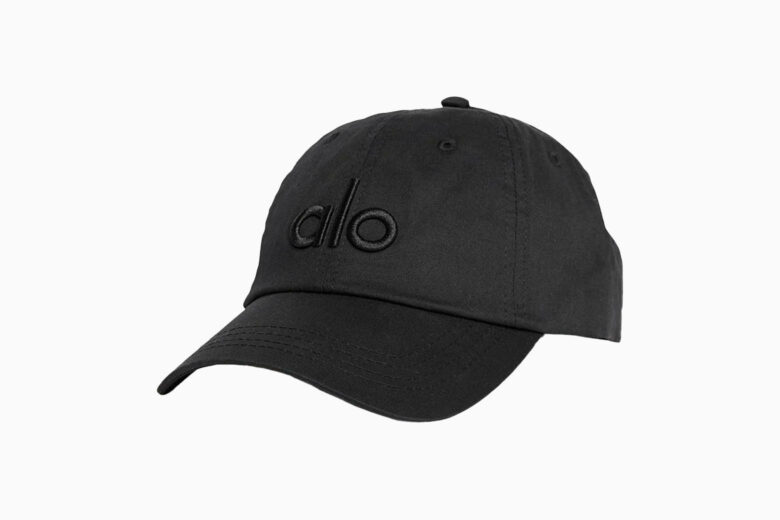 This has got to be one of the coolest dad hats around. The year-round cap is lightweight, comfy, and versatile enough to go from the gym to lunch without any fuss.
Inspired by the classic dad hat, Alo Off-Duty is an updated streetwear version to top off any stylish woman's wardrobe. Learn more about the Alo Yoga brand.
| | |
| --- | --- |
| Best for: | A celebrity-approved off-duty look. |
| Colors: | Black, Powder Blue, Powder Pink + More |
Gucci Jumbo GG: Best designer cap for women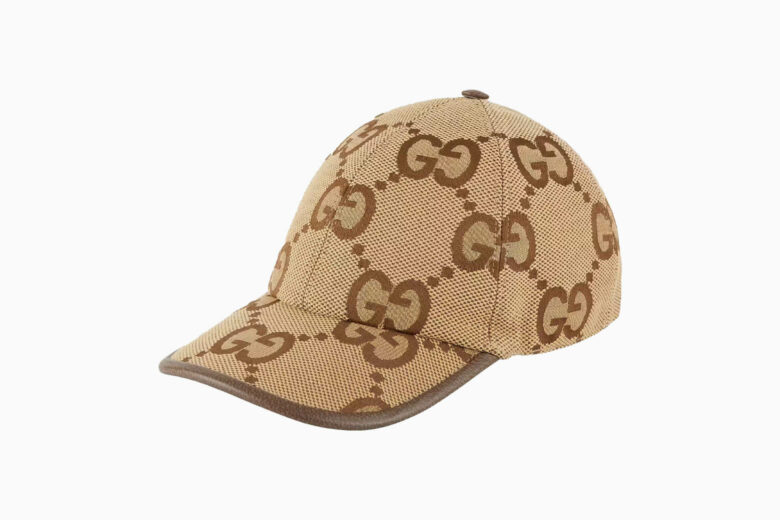 This camel and ebony cap complete with brown leather trim, carries the signature GG logo recognized far and wide.
The house of Gucci never fails to deliver on timeless pieces that will be around for years to come. Made in Italy from cotton-blend canvas, this is one cap you need in your designer collection.
| | |
| --- | --- |
| Best for: | A luxury take on the classic headpiece. |
| Colors: | Camel and ebony |
Adidas Saturday Hat: Best value baseball cap for women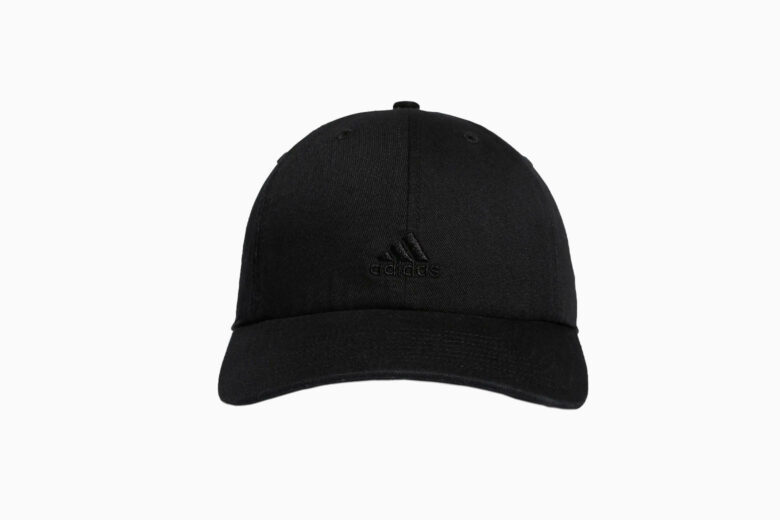 Despite the name, the Adidas Saturday Hat is in fact our go-to everyday hat. Diverse enough to go from school runs and shopping to workouts and cocktails.
The Adidas Saturday Hat has a moisture-wicking sweatband and adjustable backstrap for added comfort.
| | |
| --- | --- |
| Best for: | Multiplicity with a modest price tag. |
| Colors: | Black |
Nike Heritage 86: Best sporty women's baseball cap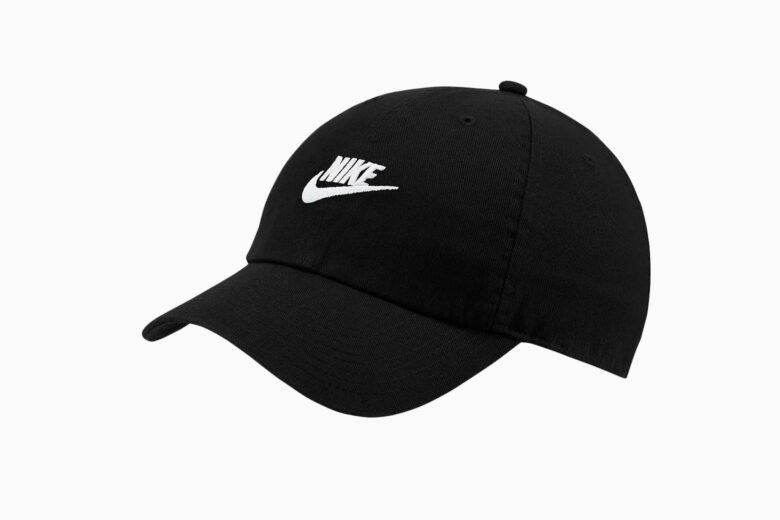 Sporting the Nike Heritage cap will make your workout sesh a walk in the park. You'll want to meet up with the girls simply to showboat your style, just be sure to get a few reps in too.
Whether you're an avid sportswoman or simply looking for a cute ultra-sporty cap to match your getup, take a look at the Nike Heritage 86. Just do it!
| | |
| --- | --- |
| Best for: | Getting into the workout mood. |
| Colors: | Pomegranate, Obsidian |
New York Yankees: Best classic baseball cap for women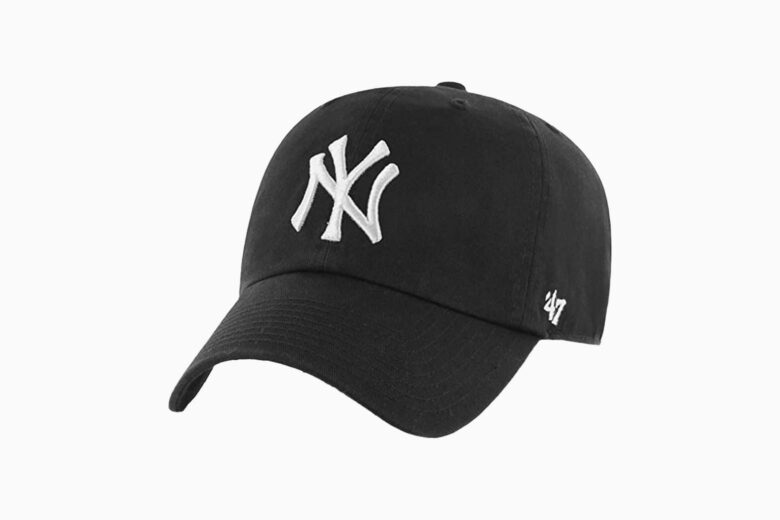 Our list won't be complete without the addition of the classic NY Yankees baseball cap. Stylish, sleek, and sexy, what more could you ask for?
This classic topper has been featured on the heads of many celebrities, giving these caps cult status followings around the world.
| | |
| --- | --- |
| Best for: | A topper that will never go out of style. |
| Colors: | Black, Red, Natural + More |
Allbirds The Cap: Best wool baseball cap for women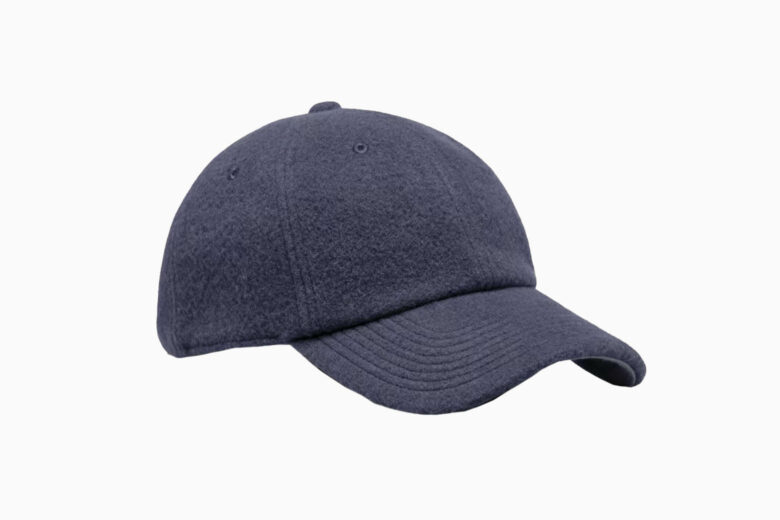 Made from the finest Merino wool, consider this cap the equivalent of your favorite cozy blanket.
The Cap by Allbirds has a wool backstrap that hugs your head in all the right places. Made using sustainable practices, it will appeal to the earth child in you.
Learn more about the story behind Allbirds.
| | |
| --- | --- |
| Best for: | Keeping you warm and cozy. |
| Colors: | Midnight |
Isabel Marant Tyron: Best canvas baseball cap for women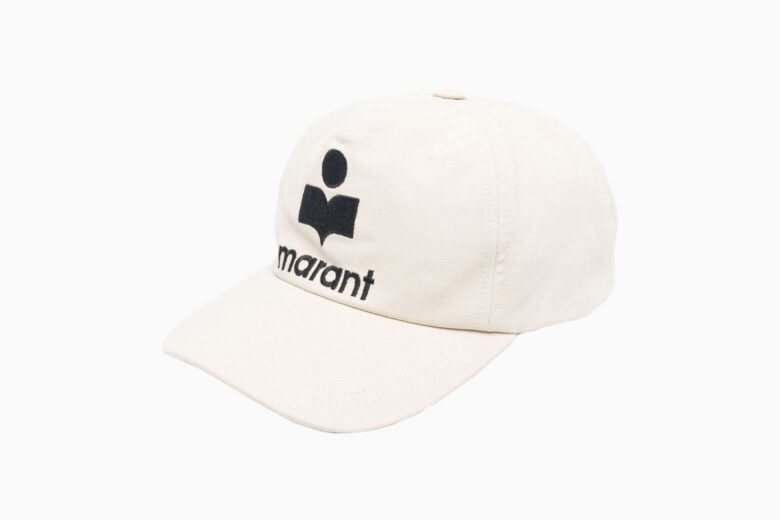 These caps are made from cotton canvas fabric which is soft and breathable. The elegantly embroidered logo on the front is an eye-catcher. Women with thick hair can adjust the velcro strap to get the perfect fit.
Pair the Isabel Marant Tyron with a sophisticated trench coat to get your smart-casual look on point.
| | |
| --- | --- |
| Best for: | Thick hair, don't care. |
| Colors: | Ecru, Pink, Black |
Alpha Industries Embroided Nylon: Best nylon women's baseball cap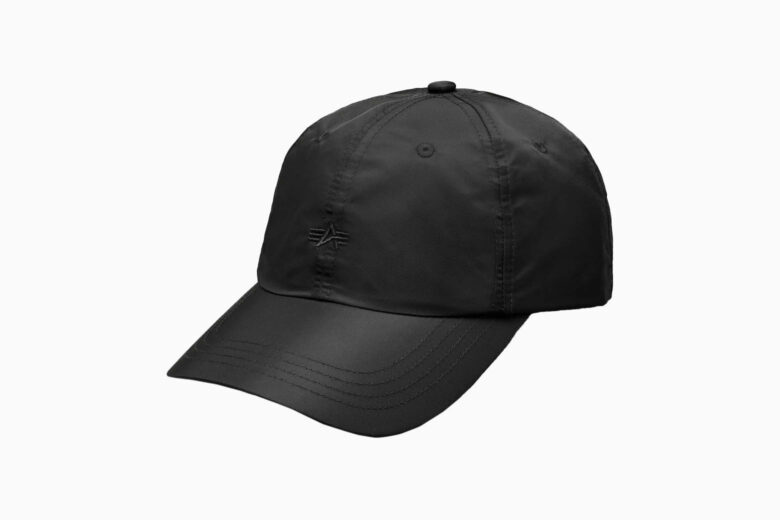 The monochromatic Alpha logo gives this cap an understated sleek appearance. The perfect way to cover up those bad hair days.
If you've got a small head, this baseball cap won't leave you lost under. The Alpha Nylon cap has a paracord back closure to give you a comfortable fit.
| | |
| --- | --- |
| Best for: | Elegant style with a perfect fit. |
| Colors: | Black, Sage, Gunmetal |
Axel Arigato Exist: Best cotton baseball cap for women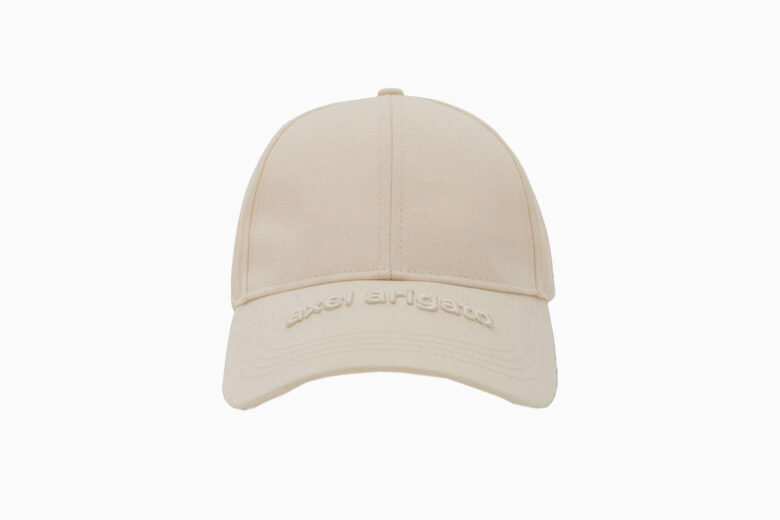 You won't be able to resist this classically styled 100% cotton baseball cap. Perfect to pull together your collegiate look.
The earthy colors of the Axel Arigato Exist baseball caps serve as an ideal headpiece to tone down the most vibrantly colored outfit. If you rather keep your outfit neutral then this cap is the best finishing touch.
| | |
| --- | --- |
| Best for: | A wardrobe staple to match with anything. |
| Colors: | Beige, Black, Brown + More |
Anthropologie: Best faux leather baseball cap for women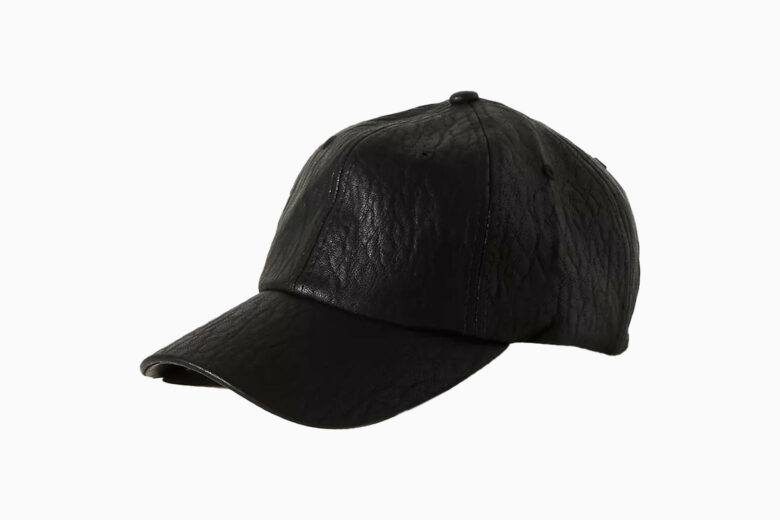 Whether you want to glam up a casual outfit or carry through your sleek high-fashion style, this faux leather cap will help you do it.
This is the hot ticket item for any season. Pair this with your favorite white t-shirt and you will be the epitome of effortless glamor.
| | |
| --- | --- |
| Best for: | Adding instant glamor without the fuss. |
| Colors: | Black, Ivory |
On: Best women's baseball cap for running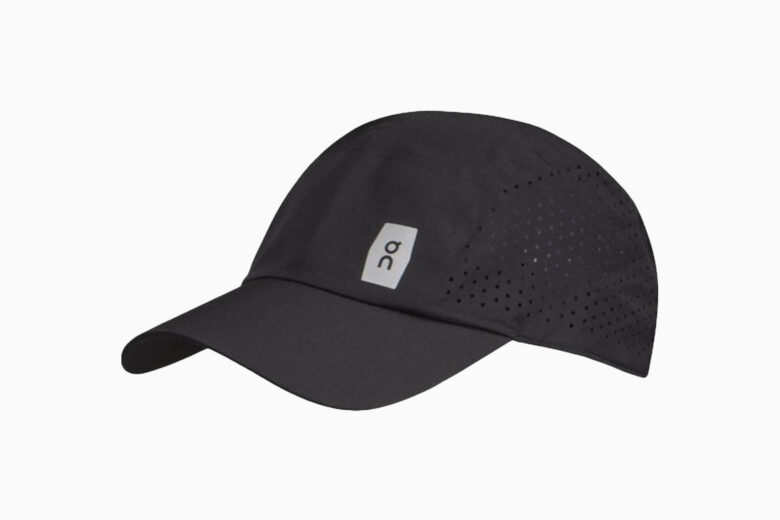 You'll be running the show with this cap ON! This is our favorite cap for those high-intensity running sessions. You don't need to worry about the post-workout wet head either. This cap is made from a super fast-drying fabric and is well ventilated to keep you cool while running.
| | |
| --- | --- |
| Best for: | Running like the breeze. |
| Colors: | Black, Navy, Mulberry + More |
Totême Soho: Best minimalist women's baseball cap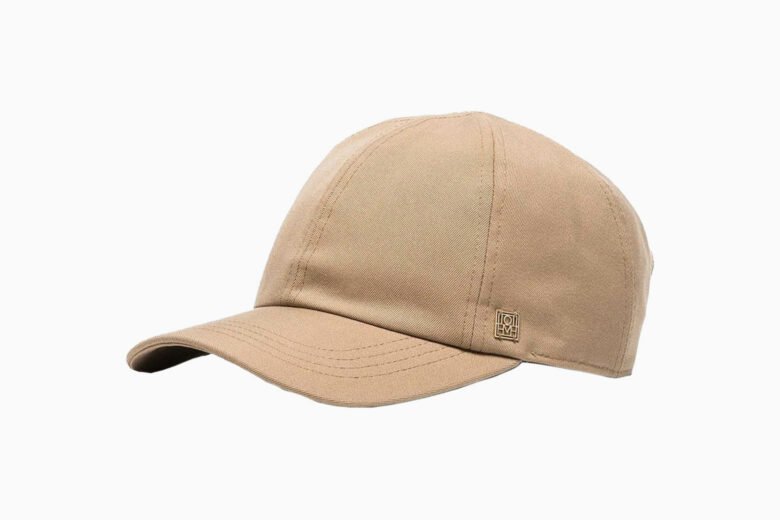 This cap is a stunning addition to any fashionista's wardrobe. Style it together with a vintage dress and cool sneakers for a totally retro look.
You'll find the signature Totême gold-tone metal logo on the front corner of the cap which finishes off its minimalistic design.
| | |
| --- | --- |
| Best for: | When modesty needs to be key. |
| Colors: | Khaki |
Balmain: Best fashion baseball cap for women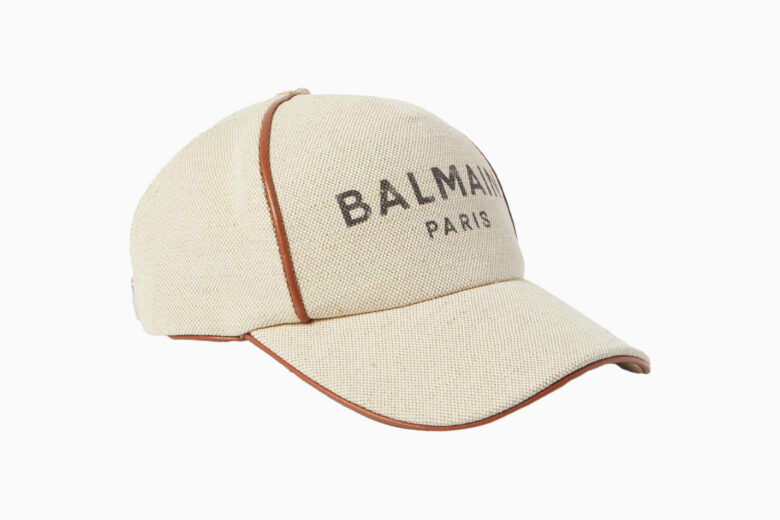 Surely our list couldn't be finished without a cap representing the fashion capital of the world. The Balmain Paris logo dons the front panel of this cap by the luxury French fashion house.
Style this cap with anything really, it can get every one of your outfits looking fashion-forward.
| | |
| --- | --- |
| Best for: | Setting trends, not following them. |
| Colors: | Beige |
Anine Bing Jeremy: Best black baseball cap for women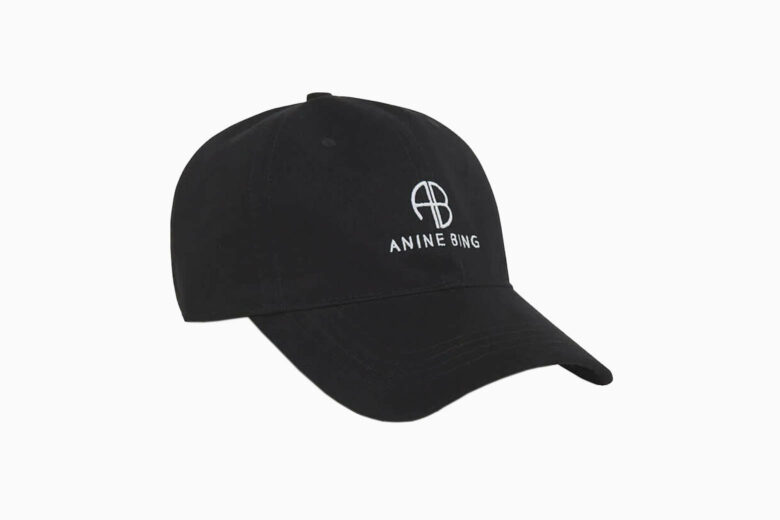 Fashion tip: You can't go wrong with black! The Anine Bing Jeremy cap has got you covered, literally. It can camouflage messy hair while at the same time adding panache to your style.
A simple black cap can help you pull off any look with unfailing class.
| | |
| --- | --- |
| Best for: | Getting the LBD feeling with your cap. |
| Colors: | Black, Red, Camel + More |
ThirdLove: Best white baseball cap for women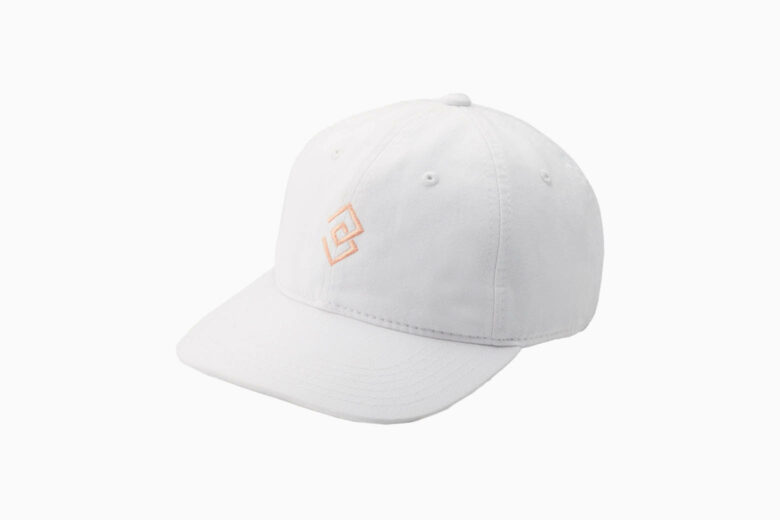 Finish off your Hamptons look with this ultra sexy white baseball cap. Perfect for lazy days on the beach, it's an exquisite addition to your leisurewear. The bio-enzyme washed fabric gives the Thirdlove White Baseball cap a softer feel and faded look.
| | |
| --- | --- |
| Best for: | Laid back days spent at leisure. |
| Colors: | White, Black |
Canada Goose: Best breathable women's baseball cap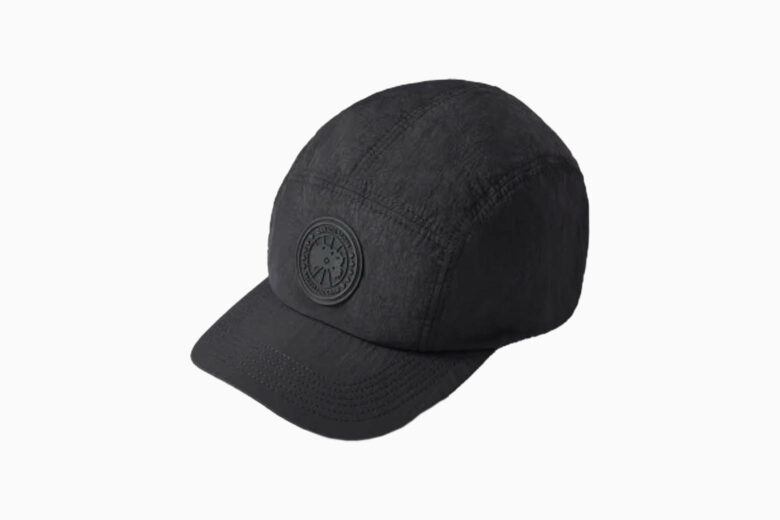 If you intend on wearing your cap all day then you definitely need one that offers breathability. The 5-panel design of the Canada Goose cap has just this in mind.
The low-profile fit allows for excellent sun coverage. It's great for a day out to keep you shaded and cool.
| | |
| --- | --- |
| Best for: | Staying stylish for longer. |
| Colors: | Black |
Alo District Trucker: Best trucker baseball cap for women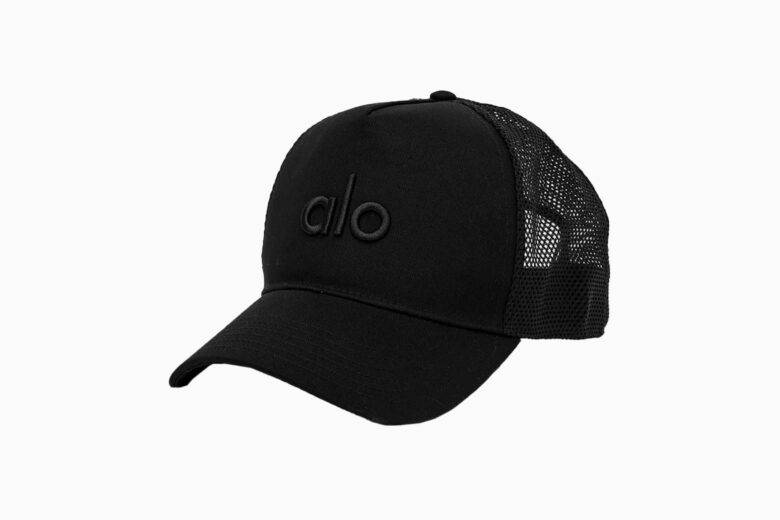 If you're in search of a fun hat then the trucker cap has got to be it. This mesh back trucker hat comes with an adjustable snapback closure to ensure a great fit.
A firm favorite amongst celebrities like Rihanna and the Beckhams, the trucker cap isn't going out of style anytime soon.
| | |
| --- | --- |
| Best for: | Keeping it hip and happening. |
| Colors: | Black, Pink, Navy |
Madewell Broken-in: Best casual women's baseball cap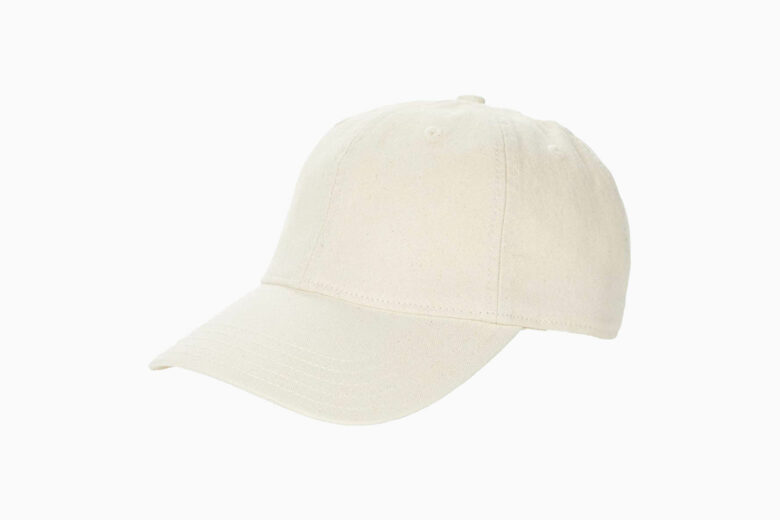 The broken-in look of this Madewell cap is perfect for any casual outfit. Every laid-back girl's dream cap, without any logo to distract.
The backstrap comes in contrasting brown leather to add the most simplistic yet desirable finishing touch.
| | |
| --- | --- |
| Best for: | Adding a vintage touch to your look. |
| Colors: | Alabaster, Black, Olive |
Courreges: Best vinyl baseball cap for women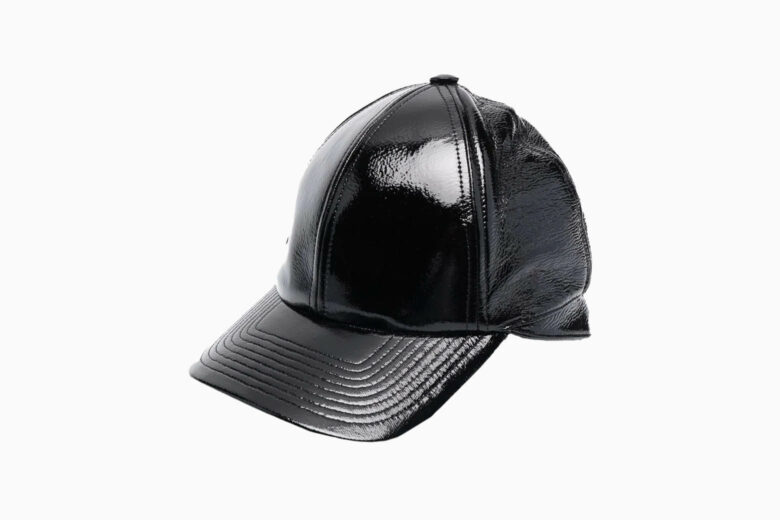 The wet-look vinyl cap by Courreges oozes sex appeal. It has a leather-like feel to it and a low back for extra back-of-head coverage.This cap will go great with a stylish bomber jacket and ripped jeans. Why not be daring and add it to a full-on leather ensemble.
| | |
| --- | --- |
| Best for: | Being bold and daring. |
| Colors: | Black, Sand |
Saint Laurent: Best tweed baseball cap for women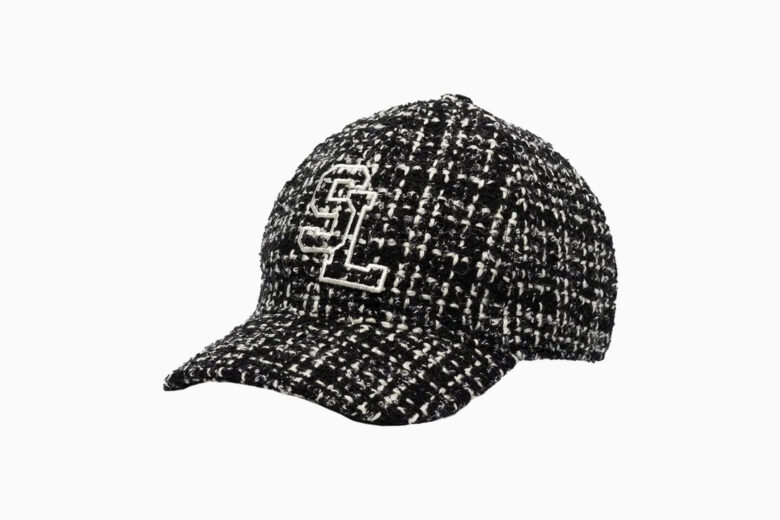 Saint Laurent is known for its quintessential French charm. This cap is no exception. The wool-alpaca blend is luxurious, to say the least.
Wear it with a killer pair of boots and a classy blazer for an ageless look.
| | |
| --- | --- |
| Best for: | Charming the hats off folks. |
| Colors: | Black/Ivory |
Miu Miu Sequin: Most expensive women's baseball cap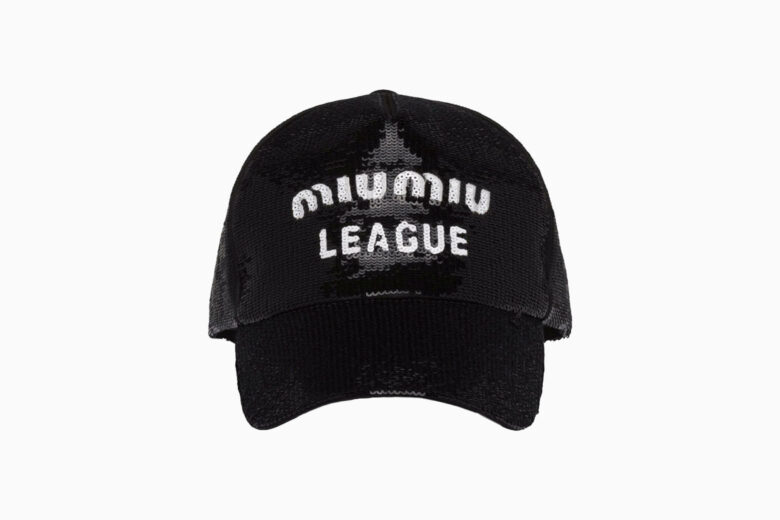 Our major splurge item is the Miu Miu sequin-embellished baseball cap. Noticeably an item that is sure to reach iconic status amongst its fans.
Pair this with some gorgeous comfy heels and you're all set for a night out in the town. Just watch out for the paparazzi, because this cap is sure to turn heads.
| | |
| --- | --- |
| Best for: | The ultimate take on high-impact luxury. |
| Colors: | Black |